---
Also dont miss: Official Culture and Companions Devoted to Liberty
---
The top British microbiologist and whistleblower who recently turned up dead, the victim of an apparent suicide, had close links to the dark world of secret intelligence.
Exclusive to American Free Press
By Gordon Thomas
Dr. David Kelly was not employed by MI5 or MI6—or any other intelligence service. But he enjoyed unique access to all the world's top spy agencies. In Britain, France, Germany, North America, Japan and Australia: they all consulted him.
Into his office—room 2/35—in the Ministry of Defense Proliferation and Arms Control Secretariat in London, came emails and phone calls asking for his help.
Kelly knew about types and strains of micro-organisms, numbers of shells and aerial bombs filled with botulinum toxin. He knew the latest figures for the production of bio-weapons material in China, the gallons of growth material in Syria, Pakistan—and which countries had sold the material.
He kept a large amount of his secret data in his study at home. There on his desktop computer were tens of thousands of secret documents and photographs. For a man who was not a spy it was a collection of data any intelligence officer would envy.
[...] Since 1995 Kelly had worked for the Mossad—with the full blessing of MI6, Britain's secret intelligence service. Kelly had played a key part in helping the FBI try and trace the origins of the Ames-strain of anthrax—the rod-shaped, spore-forming bacterium, which turned up in letters across America mailed anonymously in the wake of 9-11, causing widespread panic.
He had orchestrated the defection of a top Russian microbiologist, Vladimir Pasechnik, working on a doomsday biological weapon—"capable of destroying a third of the planet's population."
He had been the only outsider allowed by the CIA to question a top Chinese defector, Col. Xu Junping, head of the People's Liberation Army Foreign Affairs Office, about China's bio-warfare program.
Kelly's involvement in intelligence work had placed him on the hit list of Saddam Hussein's notorious death squad and those of the Chinese Secret Intelligence Service, CSIS.
The BBC report on its showcase radio program, Today, had ignited the fuse which had been sizzling for weeks when no weapons of mass destruction had been found. Kelly had himself expressed doubts that they would turn up in Iraq. But he had never expected those doubts to be made public.
Forty-eight hours after Kelly's death, the BBC admitted that Kelly was the source.
But was that sufficient reason for a battle-hardened scientist—who had successfully confronted Iraq's security services and had walked unharmed through the intelligence world—to have taken his life?
The questions which remain so far unresolved are:
• What were the MI5 officers seeking when they grilled Kelly after his second appearance before the Commons Select Committee?
• Why did Kelly arrive home so upset that his wife, Janice, was visibly shocked at his manner and appearance?
•Why did Kelly leave his home suddenly on the afternoon of Thursday, July 17?
• Why, after his body was discovered, did MI5 officers and forensic scientists from Porton Down, Britain's bio-chemical research establishment, search the Kelly home? They left with a number of items sealed in bags. The police would not say what the items had to do with Kelly's death.
* What information did MI6 continue to allow Kelly to share with Israel? What did Mossad offer Britain in return?
* What did Kelly know about Russia's experiments with smallpox at a secret research center, known as Corpus 6? It is situated in a sprawling complex deep inside the larch and birch forests near the remote Siberian town of Koltsovo.
The smallpox virus, which was eradicated from the planet in 1979, in a weaponized form is a deadly virus. Officially, samples of the virus are held in only two high-security freezers at the Center for Disease Control in Atlanta and at Koltsovo.
Kelly who had visited Koltsovo, had warned his intelligence contacts that it was "very possible that stocks of smallpox could be in the hands of states like North Korea and Iran or in the possession of terror groups like al Qaeda."
Such claims will ensure that Kelly's death will be increasingly linked to his secret work for spy agencies.
Kelly's involvement with Mossad came in April 1995, when he traveled with two MI6 officers from London to New York. At the city's Israeli consulate, they met two Mossad officers. Present were officers of the Canadian Secret Intelligence Services and agents from the FBI.
The purpose of the meeting was to track how 32 tons of bacterial growth medium—essential for manufacturing lethal germs—was being illegally exported to Iraq from Montreal.
Kelly—already a world-ranking expert on biological weapons—had played a "crucial role" in identifying the growth medium.
While many of the details to this day remain secret, Shabtai Shavit, who had been Mossad director general at the time of the operation, would later pay tribute to Kelly's "great skills."
It also ensured that the scientist was first choice when the UN came to appoint a senior advisor to supervise the break-up of Iraq's weapons of mass destruction program after the first Gulf War.
Kelly's ability to do so placed him on Saddam's hit list. But in the end Saddam turned out to be too frightened of the repercussions to have assassinated a senior UN official at the time Iraq was rebuilding itself after the 1991 war.
In between working in Iraq, Kelly was also in charge of the program to dismantle Russia's biological warfare weapons program under the trilateral agreement brokered between Russia, the United States and Britain.
In Moscow, Kelly met Russia's top microbiologist, Pasechnik. Pasechnik was then a 53-year-old chemist who was director of the Ultrapture Biopreperations Institute in St. Petersburg.
The two men had become friends to the point where Pasechnik told Kelly—according to an MI5 document—that Pasechnik was "part of the Biopreparat, a large secret program, which is developing biological weapons like plague and smallpox."
Kelly knew that plague, or Yersinia pestis, had brought the Black Death that wiped out a third of the population of Europe in 1348. It was air-transmitted, propelled by pneumonia-like coughing.
Kelly reported what he had been told to Christopher Davis, then an MI6 officer who had an office in the Metropole Building near Trafalgar Square, in London. Davis was an analyst on the Defense Intelligence Staff and an acknowledged expert in chemical and biological weapons.
Now retired and living in Virginia, Davis has said his job was "to take all the bits and pieces and try to assemble them into a picture of something." Kelly's news galvanized the normally quiet and reserved Davis. Davis informed his own MI6 controller—a man still known only as ADI-53.
Within weeks, with the help of Kelly, MI6 had mounted an operation to whisk Pasechnik from the Paris science conference he was attending. Traveling by Eurostar train, the Russian and his MI6 minders arrived in London.
Pasechnik was taken to a safe house—probably similar to the one where Kelly was grilled by intelligence agents in the last hours of his life.
Kelly supervised the interrogation of Pasechnik. Later the Russian was given a job at the Center for Applied Microbiology and Research, run by the Department of Health.
In February 2000 he founded a company called Regman Biotechnologies. Its articles of association said it was a privately owned company "working to provide powerful alternatives to antibiotics." Kelly was a frequent visitor to the company. And he often took the Russian with him to Porton Down.
To go there Pasechnik had signed the Official Secret's Act—forbidding him to talk about his work. A similar stricture governed Kelly and all the other scientists at Porton Down.
But Mossad sources have said that Pasechnik was a leading specialist in DNA sequencing—sophisticated research which is a vital element in developing biological weapons—and defenses against them.
On Nov. 2, 2001, later described by friends as being in the best of health, the 64-year-old Russian was found dead in his village home outside Salisbury. The cause of death was certified as a stroke. [...]
MoD tried to burn Kelly 'media plan'

By Michael Smith, Sandra Laville and Neil Tweedie
(Filed: 02/08/2003)

Ministry of Defence officials were preparing to destroy a "media plan" about Dr David Kelly three days after his death, The Telegraph learned yesterday.
The latest twist in the affair came on the day Lord Hutton opened his inquiry into the circumstances surrounding the MoD scientist's death by announcing that Tony Blair would be publicly held to account in the witness box.

The Prime Minister's appearance, under the scrutiny of the dead man's family, is likely to be one of the most crucial tests of his premiership.
A key part of Lord Hutton's inquiry is the way in which Dr Kelly's name was leaked to the media, and the attempt to destroy documents will raise suspicions of a cover-up. [...]
New US Army chief sworn in

WASHINGTON (AFP) Aug 02, 2003
General Pete Schoomaker was sworn in Friday as chief of staff of the US Army, returning from retirement to lead a service strained by post-war operations in Iraq and Afghanistan and at odds with its civilian leader.
Schoomaker, who served as commander of the US Special Operations Command until his retirement in 2000, succeeds General Eric Shinseki, who clashed with US Defense Secretary Donald Rumsfeld over the size of the US occupation force in Iraq.
In his confirmation hearing this week, Schoomaker said the army would probably need more than the 480,000 soldiers now on active duty because of the demands on the force. [...]
"But I'm going to take a little risk here and I'm going to tell you that, intuitively, I think we need more people. I mean, it's just that simple," Schoomaker said. [...]
US scraps nuclear weapons watchdog
Julian Borger in Washington
Thursday July 31, 2003
The Guardian
A US department of energy panel of experts which provided independent oversight of the development of the US nuclear arsenal has been quietly disbanded by the Bush administration, it emerged yesterday.

The decision to close down the national nuclear security administration advisory committee - required by law to hold public hearings and issue public reports on nuclear weapons issues - has come just days before a closed-door meeting at a US air force base in Nebraska to discuss the development of a new generation of tactical "mini nukes" and "bunker buster" bombs, as well as an eventual resumption of nuclear testing. [...]
U.S. Air Raids In '02 Prepared For War in Iraq
By Michael R. Gordon (New York Times)

LAS VEGAS, July 19 -- American air war commanders carried out a comprehensive plan to disrupt Iraq's military command and control system before the Iraq war, according to an internal briefing on the conflict by the senior allied air war commander.

Known as Southern Focus, the plan called for attacks on the network of fiber-optic cable that Saddam Hussein's government used to transmit military communications, as well as airstrikes on key command centers, radars and other important military assets.

The strikes, which were conducted from mid-2002 into the first few months of 2003, were justified publicly at the time as a reaction to Iraqi violations of a no-flight zone that the United States and Britain established in southern Iraq. But Lt. Gen. T. Michael Moseley, the chief allied war commander, said the attacks also laid the foundations for the military campaign against the Baghdad government.
Indeed, one reason it was possible for the allies to begin the ground campaign to topple Mr. Hussein without preceding it with an extensive array of airstrikes was that 606 bombs had been dropped on 391 carefully selected targets under the plan, General Moseley said.
''It provided a set of opportunities and options for General Franks,'' General Moseley said in an interview, referring to Gen. Tommy R. Franks, then head of the United States Central Command. While there were indications at the time that the United States was trying to weaken Iraqi air defenses in anticipation of a possible war, the scope and detailed planning that lay behind the effort were not generally known.
The disclosure of the plan is part of an assessment prepared by General Moseley on the lessons of the war with Iraq. General Moseley and a senior aide presented their assessments at an internal briefing for American and allied military officers at Nellis Air Force Base in Nevada on Thursday.
Among the disclosures provided in the internal briefings and in a later interview the General Moseley:
*New information has shown that there was not a bunker in the Dora Farms area near Baghdad, where American intelligence initially believed Mr. Hussein was meeting with his aides. The site was attacked by F-117 stealth fighters and cruise missiles as the Bush administration sought to kill Mr. Hussein at the very onset of the war. Still, Iraqi leaders were believed to be in the Dora Farms area, General Moseley said.
*Air war commanders were required to obtain the approval of Defense Secretary Donald L. Rumsfeld if any planned airstrike was thought likely to result in deaths of more than 30 civilians. More than 50 such strikes were proposed, and all of them were approved.

Comment: For what? For Oil!? There are NO weapons of mass destruction! Before the US invasion Iraq was a reasonably well developed nation in spite of the brutal UN sanctions, with its people enjoying a decent standard of living. Sure Saddam was a dictator, but dozens of other similar regimes exist around the world, so why pick on Iraq?
Sadly, as is often the case in our world, the truth can be found about 180 degrees from the party lines being spewed from the mouths of our leaders and the media whores.
Think about it, Iraq was attacked, not because it was a threat but because it posed no threat at all. This is the standard tactic of the school yard bully. Why try and get the big kid's pocket money when it is much easier to beat up on the wimp and steal his...
And so Rumsfeld personally and knowingly approved the murder of at least 1,500 innocent Iraqi civilians even before the "war" had begun. With a swish of his pen he wiped out 30+ Iraqi men, women and children at a time, and this just a drop in the ocean of the countless innocents who have died as a result of the US lust for power and control over the past 227 years.
The most sobering thought however is that many many millions of America citizens approved of this, and similar actions throughout the last 50 years.
By essentially wanting to believe the lies of these con men, Americans and all others "dupes" throughout the globe share in the responsibility of the carnage wrought.
Iraqi oil pipeline blown up as daughter blasts Saddam aides
Saturday August 2, 11:08 AM

Saboteurs blew up a key oil pipeline in northern Iraq, as Saddam Hussein's eldest daughter, Raghad, accused his aides of "betraying" the deposed Iraqi president and causing the fall of Baghdad. [...]
The Anglo-American military conquest of Iraq is starting to be seen, experienced and resisted as just that -- a military conquest.
Graham Usher writes from Baghdad
08/01/03: (Al-Ahram Weekly) Ten weeks after the first monument to Saddam Hussein fell in Fardous Square the dominant mood in Baghdad is fear. Talk to any Baghdadi and the conversation soon turns to the wave of car-jackings, theft, lootings and rape coursing through the city. The few Iraqi police on the streets gripe they are guarding the wrong places or are given unloaded pistols in neighbourhoods awash with guns. Jittery US soldiers frisk women at checkpoints, use tanks to protect retail stores and chase drunks from under bridges. Dusk empties the streets long before curfew. Women do not leave their homes after four in the afternoon; many won't return to work. All are frightened; few feel free; no one is safe.
"This is not what I imagined liberation to be," says Ali Talib Ali, general manger at one of Baghdad's four electricity power stations. He has six guards with one gun to defend 280 employees. Everyday there is more looting of a plant already stripped of tools, money, spare parts and equipment. The US army left the site a month ago, yet to return. "Nobody believed things could become so out of control after being so controlled for so long," he says.
Most Iraqis blame the US-led "coalition" administration for the mess. A few are adopting violent forms of protest, expressed in audacious form. On Baghdad's Haifa Street on 1 July an Iraqi rolled down the sunroof of his car to fire a rocket propelled grenade at a US army convoy, leaving two soldiers wounded and an Iraqi civilian dead from a burst of useless, retaliatory US fire. A Humvee jeep was left ablaze for over an hour. People danced around the gutted carcass in celebration. [...]
Iraq: soldiers doling out "Dirty Harry" style vigilante justice
BAGHDAD (AFP) - At the checkpoint, the Americans found a handgun, ordered the 56-year-old man out of his car and proceeded to bash his head with a rifle butt.
Rahim Nasser Mohammed points to his right temple, the side of his mouth and lifts his shirt, to show the spots where the soldier cudgeled him again and again nearly a month ago.
His story -- that of a government employee pulled over in his car by the US army -- seems one in a thousand as reports mount of beatings and sometimes deaths of Iraqi civilians at the hands of US soldiers. [...]
For an Iraqi Family, 'No Other Choice'
Father and Brother Are Forced by Villagers to Execute Suspected U.S. Informant
By Anthony Shadid
Washington Post Foreign Service
Friday, August 1, 2003
THULUYA, Iraq -- Two hours before the dawn call to prayer, in a village still shrouded in silence, Sabah Kerbul's executioners arrived. His father carried an AK-47 assault rifle, as did his brother. And with barely a word spoken, they led the man accused by the village of working as an informer for the Americans behind a house girded with fig trees, vineyards and orange groves.
His father raised his rifle and aimed it at his oldest son.
"Sabah didn't try to escape," said Abdullah Ali, a village resident. "He knew he was facing his fate." [...]
From correspondents in Baghdad
23jul03
US forces in Iraq have suffered cases of probable suicide, a senior military official said today, amid slumping morale among troops faced with daily and deadly attacks.
The senior officer, who asked not to be named, said that among 53 US military non-combat deaths since May 1, when the war was declared effectively over, were "probable" suicides as well as a large number of road accidents. [...]
By Bill Gertz and Rowan Scarborough
Washington Times
The Pentagon adopted a new strategy in its search for Iraq's weapons of mass destruction. It is called the "big impact" plan.
The plan calls for gathering and holding on to all the information now being collected about the weapons. Rather than releasing its findings piecemeal, defense officials will release a comprehensive report on the arms, perhaps six months from now.
The goal of the strategy will be to quiet critics of the Bush administration who said claims of Iraq's hidden weapons stockpiles were exaggerated in order to go to war.
President Bush on Wednesday said "miles of documents" have been gathered and are being analyzed. He described the material as containing "mounds of evidence" on Iraq's weapons. [...]
US bartering arms for soldiers for Iraq
By Thalif Deen
UNITED NATIONS - Faced with a rising death toll among its soldiers in Iraq, the United States is trying to "buy" foreign troops for a proposed 30,000-strong multinational force in Baghdad.
"When they were seeking UN support for a war on Iraq, they were twisting arms," one Asian diplomat said. "Now they are offering carrots in exchange for our troops."
The inducements - including weapons and increased military aid - have apparently been offered to at least three countries whose troops Washington desperately needs to bolster the fledgling multinational force in Iraq and relieve the pressure on US forces in the war-ravaged country.
The administration of President George W Bush has intensified efforts to seek troops from India, Pakistan and Turkey in order to bolster a multinational force that now includes troops mostly from former Soviet republics and Latin American nations. [...]
7 more cases of mystery illness
Military trying to identify malady that killed lake area soldier
U.S. probing pneumonia incidents among Middle East troops
Father dismisses leaked Deepcut inquiry
By Sandra Laville
The Telegraph

The father of a soldier who died in mysterious circumstances at an Army barracks believes a police inquiry will not provide the answers to his son's death. [...]
Mr Gray, of Hackney, east London, who has campaigned for a public inquiry after the soldiers were found with fatal gunshot wounds, believes his 17-year-old son was murdered. [...]
US Moves to Close Down Al-Jazeera TV
Wolfowitz the Censor
By ROBERT FISK
BAGHDAD.
Wolfowitz, a right-wing ideologue and fervent supporter of Israel, is one of the cabal of advisers who pushed the US administration into war with Iraq on the grounds that Saddam possessed weapons of mass destruction and that the destruction of his regime would open the way to a new, democratic Middle East. He used the equally right-wing and Murdoch-owned Fox Channel to make his allegations against Al-Jazeera, many of which are palpably false. He claimed, for example, that the staff of Al-Jazeera "have a way when they want to cover somebody favorably, including Saddam Hussein in the old days, of slanting the news incredibly ... and now, the minute they get something that they can use to spread hatred and violence in Iraq, they're broadcasting it around."
In fact, as the station's Baghdad bureau chief, Wadah Khanfar, points out in his letter --addressed to Bremer, a copy of which has been obtained by The Independent --"Al-Jazeera did not cover Saddam Hussein favorably. Both Yasser Abu Hilala (one of the channel's senior correspondents) and I myself have been expelled from Baghdad by the former regime for our reporting. The Baghdad bureau was shut down twice by the former Ministry of Information for unfavorable coverage, and once by Al-Jazeera itself in protest over attempts at censorship. Al-Jazeera reporters in Iraq have even been physically assaulted by former Information Minister Mohamed Saeed As-Sahaf for daring to broadcast events which cast the regime in an unfavorable light."
Sources: 9/11 Report Suggests Saudi Ties
By JOHN J. LUMPKIN and JOHN SOLOMON, Associated Press Writers
August 2, 2003
WASHINGTON - Classified sections of Congress' Sept. 11 report lay out a web of connections among Saudi businessmen, royal family, charities and banks that may have aided al-Qaida or the suicide hijackers, according to people who have seen the report.
The report raises the possibility that one or more Saudi men who were connected to some of the hijackers or their acquaintances were tied to Saudi intelligence. It also suggests a Muslim imam in the United States may have been a facilitator for some hijackers, the sources said, speaking only on condition of anonymity.
U.S. investigators are setting out anew to determine whether the connections are innocent coincidences in an Islamic culture that urges charitable support or a pattern of pro-terror money and patronage flowing from the wealthy kingdom that is a longtime U.S. ally, according to government officials familiar with those efforts. [...]
...Last Thursday, July 24th I was "downsized" from my job of 3 years at a software company.
Later the same day I heard that President Bush's economic team would be doing a bus tour through Wisconsin and Minnesota this week touting Bush's tax cut and its prosperous economic effects.
"What a bunch of BS. I'd like to give their PR tour a dose of reality," is what I thought. So I packed up the minivan and decided to follow their bus around the countryside and talk to whoever would listen about the real facts--that this economy stinks, and Bush's tax cuts are making it worse. [...]
FBI bulletin notes ferry systems could be vulnerable to attack
By Melanthia Mitchell
The Associated Press
SEATTLE — The FBI issued another in a series of nationwide bulletins this week indicating U.S. ferry systems could be the next target in an al-Qaida terrorist attack. [...]
Ray Lauer, an agent in the FBI's Seattle office, said the bulletin was a general reminder to law enforcement agencies, noting that such reminders have been issued every week since the Sept. 11, 2001, terrorist attacks on New York and Washington, D.C. [...]
Israeli newspaper wrote, Syria had aimed missiles at Israel
Pravda
The intrigue around Syria is gathering steam again. Several days ago, the prime minister and the foreign minister of this country harshly criticized the USA's and Israel's policy in the Middle East. The two Syrian officials called upon the countries of the region to unite in the face of the danger on the part of the two states. It did not take long for the reaction to follow. [...]
The Israeli newspaper Ha'aretz published an article, in which it was said that Syria had aimed 100 ballistic missiles at Israel. The missiles, the newspaper wrote, were equipped with VX paralytic gas in their warheads. This is the way Syria is going to strive for parity with nuclear arms-possessing Israel. [...]
It seems curious that Damascus officially rejects the possession of the weapons of mass destruction. However, Israel does not hurry to let the whole world know, how many nukes it has, or it if has any at all. [...]
Model community split by a fence

Israel is defying US warnings and pushing ahead with its giant fence around the Palestinians, reports Alan Philps in Jayous, West Bank
The Telegraph
[A]id agencies are distributing flour and cooking oil to the once rich farmers, who are about to join the rest of the Palestinians in poverty and dependence on foreign aid.
The cause is a giant fence - one of Israel's largest construction projects - which is separating the 3,000 villagers from their farmland. The growling of Israeli bulldozers as they gouge out the hillsides and tear up the orchards to create the fence has drowned out the rhythms of agriculture. [...]
An enthusiastic young teacher finds an Orthodox Jewish school full of moral purpose and wide-open debate. But then he starts talking about the Middle East.
By Barry Siegel, Times Staff Writer
[...] In his early days there, Maksik embraced this approach. It fit well with his own ideas. Shalhevet no longer shocked him. Despite the yarmulkes and prayer schedule, he believed these students were just regular kids.
Then came what he'd later call "the first sign of a problem."
Visitors from the Israeli Consulate arrived on campus one morning in October 2000 to talk at a town hall. Israeli Prime Minister Ariel Sharon had just paid his controversial visit to the Temple Mount in Jerusalem. Maksik raised his hand. He asked what he thought was an obvious question: Had Sharon been intentionally provocative?
The room fell silent, as if an electrical plug had been pulled. Some of the rabbis turned and glared at the new young teacher.
Maksik saw in their eyes that he had missed something about this school. [...]
Beautiful young shock troops for Bush
At a weekend pep rally in Washington, a thousand college Republicans clap, cheer and party -- and reveal a troubling dark side.
By Michelle Goldberg
July 28, 2003 | WASHINGTON --
Just as presidential Svengali Karl Rove, dressed in a light-gray suit and mint-green striped tie, began to speak Friday at a gala dinner for college Republicans in Washington, piercing whistles sounded. A half-dozen protesters had made their way into the auditorium, and they began to chant something inaudible about George Bush and death. Security staffers ejected them within seconds, but even before they were out the door, hundreds of clean-cut collegians were on their feet, shouting "KARL! KARL! KARL!"
Then the chant changed, and they were screaming "USA! USA! USA! USA! USA!" their faces hard and triumphant atop blue suits and evening gowns as they belted out the letters. They screamed and screamed and then erupted in wild cheers.
No US-Japan deal on military suspects

Japan and the United States have failed to reach a new agreement on dealing with members of the American military accused of serious crimes in Japan.
After 45 days of negotiations, a US state department spokesman said officials had made considerable efforts to strike a deal by Friday's deadline, but substantial differences remained...
The large number of US forces in Okinawa is an extremely sensitive issue, and has in the past generated much local resentment.
About 26,000 of the 48,000 US military personnel in Japan are hosted on the island string, even though they make up less than 1% of the Japanese landmass.
The Return of "Old Europe"
Unplugged from the Matrix
By WAYNE MADSEN
CounterPunch
Sensible people (and they are in a clear majority) in London, Paris, Berlin, Rome, and other European capitals are planning for the eventual running out of town of Tony, Silvio, and their political and media allies and capos. Meanwhile, for Americans who despise the Bush regime, take heart that throughout "Old Europe," you have many fellow travelers. If you want to unplug from the Matrix, go to Europe, enjoy the French joie de vivre, the Spanish hospitality, and the British wry sense of humor. Our European allies are doing all they can to rid themselves of their scourges of neo-conservatism and they are with us all the way in our upcoming campaign to cleanse our corridors of power of the same blight.
Eurodisney en grande difficulté financière
'Suicide bomber' destroys Russian military hospital
Associated Press
20:44 Friday 1st August 2003
A vehicle exploded outside a Russian military hospital near Chechnya tonight, destroying the building, killing at least 33 people and wounding 76.
The blast demolished the four-storey red brick hospital in the city of Mozdok in Russia's North Ossetia region.
Interfax news agency said a truck packed with explosives crashed through the hospital gates, with a suicide bomber behind the wheel. [...]
New Zealand's North Island hit by earthquake
An earthquake measuring 4.6 on the Richter scale was felt across much of New Zealand's lower North Island early Saturday local time, but there were no reports of damage. [...]
Record hailstone reported in Nebraska storm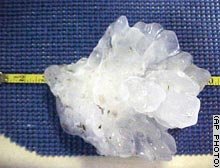 Counties declared disaster areas
President Bush declared five Northeast Ohio counties disaster areas Friday, clearing the way for federal assistance with recent tornado, storm and flood damage. [...]
FEMA Assesses Damage In Coleridge
COLERIDGE, Neb. (AP) -- More than a month after a deadly tornado hit the area, federal officials returned to town Friday to make a more thorough damage assessment.
The review by the Federal Emergency Management Agency will help determine the amount of assistance that will be provided to Cedar County under President Bush's disaster declaration. [...]
BBC
Hidden deep beneath the Earth's surface lie one of the most destructive and yet least-understood natural phenomena in the world - supervolcanoes. Only a handful exist in the world but when one erupts it will be unlike any volcano we have ever witnessed. The explosion will be heard around the world. The sky will darken, black rain will fall, and the Earth will be plunged into the equivalent of a nuclear winter.
The last supervolcano to erupt was Toba 74,000 years ago in Sumatra. Ten thousand times bigger than Mt St Helens, it created a global catastrophe dramatically affecting life on Earth. Scientists know that another one is due - they just don't know when... or where.
It is little known that lying underneath one of America's areas of outstanding natural beauty - Yellowstone Park - is one of the largest supervolcanoes in the world. Scientists have revealed that it has been on a regular eruption cycle of 600,000 years. The last eruption was 640,000 years ago... so the next is overdue.

Comment: Yesterday we carried the story of the " bulge" at Yellow Stone National Park. Today's article mentions the fact that the last of these "super volcano" eruptions was 74,000 years ago in Sumatra.

"Coincidentally" Mars is to make it's closest pass for 73,000 years in a little over 3 weeks time. Could there possibly be a connection? What, if any are the possible gravitational effects on earth of such a close pass? We may know the answer soon.
Very interesting also is that this figure of 73,000 years, initially calculated by Jean Meeus was revised to 60,000 years as of May 2003, by Myles Standish at NASA's Jet Propulsion Laboratory, "as new calculations were supplied"
Forest Fire Forces Evacuation of 1,800 in Canada
By Allan Dowd
Fri August 1, 2003 06:47 PM ET
VANCOUVER, British Columbia (Reuters) - Hundreds of people were ordered to evacuate their homes on Friday as a wind-whipped forest fire defied efforts to control it and roared through the tinder-dry mountains of British Columbia. Officials ordered the 1,800 residents of Barriere, British Columbia, about 185 miles northeast of Vancouver, to leave immediately, having issued a similar order on Thursday to about 30 families in the community of McLure. [...]
Narrow Wind Causes Huge Ocean Impact, Says University Of Toronto Physicist
University Of Toronto
2003-08-01
A narrow but intense wind may be the mechanism responsible for the existence of a newly discovered ocean convection site east of Greenland, says a University of Toronto scientist. [...]
In nuclear India, 50,000 starve in Orissa
The Daily Times
August 2, 2003
BHUBANESWAR: For all those who take pride in India's nuclear status and technological progress, here's some food for thought - nearly 50,000 people in Orissa are starving and need emergency feeding, say officials. [...]
US Homelessness and Poverty Rates Skyrocket
3.5 million people, 39% of them children, currently experience homelessness every year. 60% of all new homeless cases are single mothers with children.
Recent studies suggest that the United States generates homelessness at a much higher rate than previously thought. By its very nature, homelessness is impossible to measure with 100% accuracy. More important than actually knowing the precise number of people who experience homelessness is how to go about ending it.
A growing number of cities, including Los Angeles, Seattle, and Atlanta, are criminalizing activities of the homeless, according to the National Coalition for the Homeless. More than 60 cities are introducing measures to make it illegal to beg or sleep on the streets, to sit in a bus shelter for more than an hour, or to walk across a parking lot if the person doesn't have a car parked there.
In 2002 the US Conference of Mayors reported a 19% increase in shelter requests due to homelessness in 25 surveyed cities. Requests for shelter by families increased by 20%.
On average 30% of all requests for shelter went unmet in 2002, with 38% of requests by families going unmet. In 60% of the reporting cities, emergency shelters had to turn away families due to lack of resources, with 56% reporting they had to turn away other homeless people.
People are remaining homeless for at least 6 months on average with 82% of cities reporting an increase in the length of time people are homeless.
There has been a 40% increase in the Berkeley, California homeless population over the last two years. New York City has reported a 42% increase over the last two years, Boston a 37% increase, Los Angeles, CA a 47% increase, San Diego, CA 41%, Washington, D.C. 39%, Seattle, WA. 43%, Portland, OR 36%, Chicago, IL 47%, St. Louis, MO 34%, Atlanta, GA 40%, Tampa, FL 46%, St. Petersburg, Fl 45%, Miami, FL 49%, New Orleans, LA 41%, Phoenix, AZ a staggering 56%, with most other major cities reporting at least a 25-30% increase over the last two years.
41% of all homeless are single males, 41% families, 13% single females, and 5% being unaccompanied minors. The homeless population is estimated to be 50% African American, 35% white, 12% Hispanic, 2% Native American, and 1% Asian.
An average of 23% suffer from mental illness, 38% suffer from substance abuse, 10% are veterans, and 22% are employed.
Over 40% of homeless persons are eligible for disability benefits, but only 11% actually receive them. Most are eligible for food stamps, but only 37% receive them. Most homeless families are eligible for welfare benefits, but only 52% receive them.
Published reports suggest that most homeless families with children are headed by single women between the ages of 26 and 30 who have never been married and have two children. According to one study, homeless women are significantly more likely to have low birth weight babies than are similar poor women who have housing.
Lack of affordable housing leads the list of causes for homelessness, with mental illness and lack of needed services, substance abuse, low paying jobs, domestic violence, unemployment, poverty, prison release, down turn in economy, limited life skills and cuts in public assistance being the other top reported causes.
DNA extractable from fingerprints
By Charles Choi
UPI Science News
7/31/2003 9:30 AM
NEW YORK, July 31 (UPI) -- Even if the only evidence forensic analysts can pull from a crime scene is a fingerprint smudged beyond recognition, a new technique developed by Canadian scientists soon could harvest enough DNA from the print to produce a genetic identity.
The novel system can extract DNA in only 15 minutes, even if a print has been stored for a year. Scientists expect the invention to help crime-fighters solve mysteries, and already are in talks with the Royal Canadian Mounted Police. In addition, researchers predict the technology could be at least twice as cheap as existing DNA collection methods. [...]
More 'Cressie' sightings in Newfoundland
Last Updated Fri, 01 Aug 2003 12:08:54
WINDSOR-GRAND FALLS, NFLD. - The alleged sighting of a mysterious creature has reignited talk of whether Newfoundland's Crescent Lake has its own version of the Loch Ness Monster.
Reports of "Cressie" sightings in the lake near Roberts Arm – about 150 kilometres northwest of St. John's on Notre Dame Bay – go back over half a century.
When Seeing Is Believing. Or Is It?
By DAN BARRY
New York Times
NATALIA LULOVA could be like other 12-year-olds. She could be practicing how to swim, how to jump rope, how to spit through gaps in her teeth. Instead, she diligently practices the paranormal exercise of "seeing" with her eyes blindfolded ...
Mr. Komissarov said that he helps his disciples to activate a sensor in the brain that enables them to read or bicycle with eyes closed. The point, he said, is to illustrate the powers of the brain, powers so vast that they bring aches to the heads of most adults who try to comprehend them. [...]
Charles Fort
New Lands
[...] at Ballyconneely, Connemara coast of Ireland, was seen a phantom city of different-sized houses, in different styles of architecture; visible three hours. It is said that no doubt the appearance was a mirage of some city far away--far away, but upon this earth, of course. [...]
LOCH FIND ROCKS NESSIE SCEPTICS
SARAH BRUCE

An Accidental discovery in the depths of Loch Ness could finally force the scientific community to acknowledge there could be a monster out there. [...]
Unraveling a secret of the sea
Gulf experiment seeks to explain the Bermuda Triangle BY MITRA MALEK BRADENTON BEACH -- Some scientists wonder if giant gas bubbles could be sucking ships beneath the Bermuda Triangle. [...]
ABC News On Line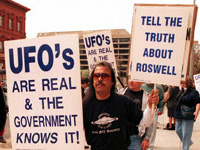 Flying saucers, UFOs, extra-terrestrial life - most people think it is all fiction. But for some it is all too real and an international conference was held in Perth in Western Australia to discuss the "hidden truths", information that a so-called secret government is withholding from the public. [...]
SEARCHING FOR THE TRUTH OUT THERE
The Citizen
[...]Gloucester men Andy Lloyd, a charge nurse at Gloucestershire Royal Hospital, and his friends Dave and Martin Cosnette are all nationally recognised experts on UFOs. The three stargazers are reaching out to the public and setting up a hotline to report UFO sightings in Gloucestershire. [...]
"This year's bright appearance of Mars will be an added incentive and the increase in stargazers may turn up more reports of Unidentified Flying Objects."
Kecksburg site of documentary

By Ann Saul Dudurich
TRIBUNE-REVIEW

Cameras will be rolling in Kecksburg today as the Sci Fi Channel continues production of its two-hour investigative documentary, "The New Roswell: Kecksburg Exposed." [...]
In an effort to shed light on the uncertain events of Dec. 9, 1965 -- when some people claim an unidentified flying object came to Earth in the Mt. Pleasant Township community -- the cable channel will sponsor what it bills as a "town meeting" at 10 a.m. in the Kecksburg fire hall. [...]
Tomb reveals Ancient Egypt's humiliating secret
Dalya Alberge
The Times (London)
Ancient Egyptians "airbrushed" out of history one of their most humiliating defeats in battle, academics believe.
In what the British Museum described as the discovery of a lifetime, a 3,500-year-old inscription shows that the Sudanese kingdom of Kush came close to destroying its northern neighbour. [...]
Attacker bit nose and spat it on ground
This is Worcester
..."This incident seems barbaric," Judge Michael Mott told him as he granted bail. "It's something that dogs do to each other." [...]
The Bilderberg conference 2003 Photo Album
'Possessed' sex fiend is jailed
By Elissa Hunt

A MAN who claimed to be possessed by the spirit of an 18th century woman has been jailed for sex offences against two girls at a seance. [...]
Plaintiffs to get $6.54 each in Bakker lawsuit
By Tonya Maxwell

ASHEVILLE - Nearly 165,00 people who sued former PTL televangelist Jim Bakker 16 years ago will each get $6.54 for the effort.
Heart missing from housemaid's body: Another body sans internal organs
by Sandasen Marasinghe
Yet another body of a Lankan with vital organs missing arrived yesterday at the Katunayake Airport. The victim was a housemaid and a mother of six who had left for Jordan in 1993. The post-mortem conducted at the Colombo Hospital Morgue found the heart missing in the body. [...]
Early in June the body of a Lankan male who died in Italy was flown to Sri Lanka stripped of its vital organs.
Russian wants to sell Hitler's 'penis'
11:10 Friday 1st August 2003
A Russian man who claims to be in possession of Hitler's mummified penis is to put it up for sale.
Ivan Zudropov says he's prepared to allow a DNA test on it to confirm its origins.
Mr Zudropov claims his father, Vasiliy, was a Red Army soldier who saw action in Berlin and was one of the troops who was first into the Nazi's command bunker, where he found Hitler's body.
Mr Zudropov said the Russian soldiers had stripped the body of clothing, then kicked and punched it before hacking it up, and that his dad had decided to keep a piece as a souvenir.
He told the Express Gazeta daily: "My father wanted to take a souvenir from Hitler. He first wanted to cut off his head, but later he decided to cut off his penis."
He said he now wanted to sell the bizarre family heirloom for £12,000. He added that the mummified penis was just two-and-half-inches long.
---
Check out the Signs of the Times Archives
Send your comments and article suggestions to us.
---
Fair Use Policy
Contact Webmaster at signs-of-the-times.org
Cassiopaean materials Copyright ©1994-2014 Arkadiusz Jadczyk and Laura Knight-Jadczyk. All rights reserved. "Cassiopaea, Cassiopaean, Cassiopaeans," is a registered trademark of Arkadiusz Jadczyk and Laura Knight-Jadczyk.
Letters addressed to Cassiopaea, Quantum Future School, Ark or Laura, become the property of Arkadiusz Jadczyk and Laura Knight-Jadczyk
Republication and re-dissemination of our copyrighted material in any manner is expressly prohibited without prior written consent.
.