---
New Article!: French Connection 7

Also dont miss: Official Culture and Companions Devoted to Liberty
From a QFS Member
There was a special report tonight on 'human airport inspection' via computer to be done on each passenger slated to board a plane which will check several parameters on each individual including:
1. any criminal record
2. any outstanding tax violations, penalties, etc.
3. any litigation
4. any activity by Internet or other, consisting of terrorist or espionage activity.
5. organizations or affiliations
The entire operational link-up is expected to be installed nationwide within six months and will be operational within 12 months from today. This activity will fall under Homeland Protection, to be carried out by Federal and State enforcement agencies. These agencies will have 'police powers', to prevent a passenger, if suspect, from boarding a plane and to be detained, right there, on the spot, at the airport.
So I figure, with objective thinking, we have a 12 - 18 month window, afterwhich, I now doubt that you or I will retain the right(s) to leave or enter this country as citizens, and obviously, this is just, very bad news.
The Watchful & the Wary

From FBI and CIA headquarters to small-town police departments, the government is building a massive intelligence network designed to spy on terrorists -- and on everyday Americans.
By Robert Dreyfuss
July/August 2003 Issue

[...] Authorities can now more easily gain access to phone and email logs, travel information, credit files, library records, and reams of other personal data. Using new law-enforcement powers created by the 2001 Patriot Act and an order by Attorney General John Ashcroft easing restrictions on FBI investigations, they can find out which websites people visit and which classes they're taking, infiltrate political meetings and worship services, tap phone lines, monitor postings in online chat rooms, even secretly search homes and businesses. Since 9/11, there has been a dramatic increase in the use of surveillance warrants -- which allow government agencies to spy on individuals and organizations without judicial review -- as well as far-reaching subpoenas that require businesses to disclose information about their customers. And the government is working to combine information on individuals that is now scattered in countless public and private computer files into one huge database that could be used to look for patterns in people's financial or travel habits.
Earthquake Web site becoming more popular in US
A magnitude 4.0 earthquake in north California on Tuesday night has illustrated the growing popularity of a US Geological Survey Web site that allows people to describe how they felt a quake.
A Los Angeles Times report said by midafternoon Wednesday, 835 people had recorded their impressions of the earthquake, which caused goods to fall off shelves at local stores.
Citizens going to the Web site can make comments in a category labeled "Shake Maps" under the subtitle, "Did You Feel It?" [...]
Hail storm and low winds help firefighters put out blazes
20:27 Thursday 31st July 2003
A hail storm and falling winds helped firefighters bring the worst of the blazes that have ravaged the French Riviera under control. [...]
At least 58 dead, over 30 missing in Nepal landslides

KATHMANDU (AFP) Aug 01, 2003
At least 58 people have been killed in Nepal and over 30 were missing after massive landslides engulfed homes following heavy rains throughout the country this week, state-run radio said Friday. [...]
Bulge in lake worries YNP scientists
By CAROLE CLOUDWALKER
Beneath the serene surface of Yellowstone Lake, where death from hypothermia comes within 30 minutes, seethes a boiling underwater world.
And like a pot too long on the stove, it could boil over, says U.S. Geological Survey geologist Lisa Morgan, Ph.D., of Colorado.
She and others from the USGS have been studying the hottest hot spot in the 7,731-foot elevation lake, a spot which Morgan has termed an "inflated plain." It lies south-southwest of Storm Point near Mary Bay, in the northern end of the lake. [...]
"We're thinking this structure could be a precursor to an hydrothermal explosive event," Morgan said last week. "But we don't think this is a volcano." [...]
Huge fire brought under control in northern Portugal

LISBON (AFP) Aug 01, 2003
Firefighters said Thursday they had gained control of a huge blaze that has raged in northern Portugal for more than four days and killed two people as the government found itself in the hot seat for not doing enough to prevent wildfires.
Officials said the fire, which has already destroyed at least 7,000 hectares (17,000 acres) of pine trees since it broke out Sunday afternoon, was still burning but had been stabilised. [...]
Fires continue to ravage Croatia's Adriatic coast

ZAGREB (AFP) Jul 31, 2003
Forest fires continued Thursday to rage along Croatia's Adriatic coast, destroying some 2,000 hectares (4,600 acres) of pinewood and bushes on the southern islands of Brac and Hvar, officials said. [...]
Fires destroy citrus, olive trees in Lebanon

TYRE, Lebanon (AFP) Jul 31, 2003
Fire spread Thursday across five hectares (12 acres) of mostly citrus trees and olive groves in southern Lebanon, a civil defence source told AFP. [...]
Two bodies recovered after earthquake hits Bangladesh hills
(AFP)
31 July 2003
CHITTAGONG - The bodies of two women have been found following an earthquake measuring 5.09 on the Richter scale in a remote village in southeastern Bangladesh, residents said on Thursday...
The epicenter of the earthquake was near the Myanmar border 180 kilometers (112 miles) southeast of Bangladesh's second city Chittagong, where minor damage was reported. A small tremor was felt Wednesday, which together with torrential rains triggered a landslide that left six people dead...
Calamity-prone Bangladesh, criss-crossed by 230 rivers, has been hard hit since heavy rains began in April, submerging stretches of the country and setting off flash floods.
Some 85 people died in storms around Bangladesh before the weekend downpour and another 62 people earlier died in a heatwave.
Second appeal for China earthquake aid
The Red Cross Society in China's south-west Yunnan province has issued a second urgent appeal for aid, to help victims of last week's earthquake.
State media says the earthquake, which measured 6.2 on the Richter scale, killed 16 people and injured at least 584 others in Dayao county.
Many of the victims live in remote, mountainous areas, which have been difficult for rescuers to reach.
The Red Cross says 700,000 people have been seriously affected and are in desparate need of relief supplies.
0.80 N, 127.325 E, summit elevation 1715 m, stratovolcano
Friday 1st August 2003
Mount Gamalama, an active volcano in Indonesia's eastern Maluku province, erupted on Thursday blanketing the regional capital of Ternate with thick ash. There were no reports of casualties or damage following the eruption and Residents had not been evacuated. Dust and ash fell in Ternate, around 30 kilometers (20 miles) north of the mountain. Gamalama, which last erupted in 2000, is one of 500 volcanoes in Indonesia. Of these, 128 are active and 65 are listed as dangerous.
Humans cause global warming, US admits
The US Government has acknowledged for the first time that man-made pollution is largely to blame for global warming.
But it has again refused to shift its position on the Kyoto Protocol, an international treaty designed to mitigate global warming which the Bush administration rejected last year.
In a 268-page report submitted to the United Nations, the US Environmental Protection Agency (EPA) endorsed what many scientists have long argued - that human activities such as oil refining, power generation and car emissions are significant causes of global warming.
The White House had previously said there was not enough scientific evidence to blame industrial emissions for global warming...
"The changes observed over the last several decades are likely mostly due to human activities."
That position is at odds with the president's supporters in the motor, oil and electricity industries - who maintain that more research is needed to be certain of the link between global warming and the by-products of manufacturing.
The United States is the world's largest emitter of so-called greenhouse gases.
Last year, the Bush administration triggered international outrage when it walked away from the Kyoto treaty.
President Bush said the treaty's goal of reduction in emissions would be too costly to the American economy.
Comment: This attitude of finally recognizing the problem but doing nothing about it because the long-term problems would cut into short-term profits is typical of the psychopathic "official" culture of the US. It doesn't matter to Bush, Cheney, and the oil barons what the state of the world will be for their children. They want to exploit it completely during their own lifetimes.
This is typical of the psychopathic personality whose interest is their immediate need to feed.
Of course, some of these "people" may also be aware of coming changes to the Earth from the skies, the likely return of a 3600 year comet cluster that put an end to the Bronze Age the last time it passed our way. Perhaps they have plans for taking cover in their bunkers with their families, and therefore they have little concern for what will happen to the children of others.
U.S. Signs Environmental Memo With Mexico
WASHINGTON, DC, July 31, 2003 (ENS) - The United States and Mexico signed a Memorandum of Understanding (MOU) Wednesday to create permanent bilateral working groups to cooperate on issues of biotechnology, water resources, forest resources, sustainable rural development and environmental services...
Agricultural trade between the United States and Mexico reached some $12.8 billion in 2002, up more than 100 percent since 1994 when the North American Free Trade Agreement went into effect...
"By forging a closer working relationship with Mexico's principal environmental agency, we can work collaboratively on better watershed management and irrigation techniques and research to help develop drought-resistant crops," said Veneman.
Comment: Sounds like a pact to spread the use of genetically modified foods.
EPA Hit With Suit Over Dirty Air in National Parks
WASHINGTON, DC, July 31, 2003 (ENS) - Environmentalists have filed a petition seeking to force the U.S. Environmental Protection Agency (EPA) to correct flaws in air regulations that would improve protection of air quality in national parks and wilderness areas across the country.
In response to a previous lawsuit by Environmental Defense, the U.S. Court of Appeals for the DC Circuit ordered EPA in 1990 to review and revise its inadequate regulations, but the agency has not acted on these findings...
"In some of the most revered areas in the West - from Yellowstone to the Grand Canyon - smog levels are worsening and ecosystems are threatened by rising industrial pollution levels," said Vickie Patton, a senior attorney at Environmental Defense. "EPA was directed by a federal court of appeals to put in place sensible measures to guard against these worsening air pollution levels but has dropped the ball."
White House to Open Rocky Mountain Energy Council to the Public
WASHINGTON, DC, July 31, 2003 (ENS) - The Bush administration today announced a public meeting to gather public input into the formation of the Rocky Mountain Energy Council, a controversial White House energy task force. The meeting will be held Tuesday, August 26, 2003, from 8 a.m. to 12 p.m. at the Sheraton Denver West hotel in Lakewood, Colorado.
The Rocky Mountain Energy Council is an administrative initiative to work across the federal governments and with state governments to more effectively manage energy development on public lands in the Rocky Mountains.
After learning that the council held closed meetings in Denver on July 8 and 9, the Natural Resources Defense Council (NRDC) filed a Freedom of Information Act (FOIA) request with the White House Council on Environmental Quality demanding access to records related the recently established energy group.
The organization says that the White House's newly created Rocky Mountain Energy Council undermines the administration's statutory obligation to "foster and promote the improvement of environmental quality."
Members of Congress Oppose Camisea Project
WASHINGTON, DC, July 31, 2003 (ENS) - Some ten members of Congress weighed in Wednesday with their concerns about public financing for a massive natural gas project in Peru known as the Camisea Gas Project...
The Export Import Bank is considering more than $200 million in financing for the $2.6 billion project, which seeks to develop two natural gas deposits in the Peruvian Amazon and to construct two pipelines to deliver the gas to Lim and Callao, Peru...
According to an internal report by the US Export Import Bank, obtained through the Freedom of Information Act, proposals to mitigate the environmental impacts of the project are "woefully inadequate" and the project will likely lead to landslides, destroy critical natural habitats, and spread diseases among indigenous peoples.
Comment: We reported on this project the other day. It will bring large profits to Bush's oil and gas buddies.
Mystery Cancer Wiping Out Tasmanian Devils
Thu July 31, 2003 09:47 AM ET
SYDNEY (Reuters) - A mysterious cancer is killing Australia's Tasmanian devils, whose spine-chilling screeches, dark color and reputed bad temper prompted early settlers to give them their chilling name, wildlife officials said on Thursday. [...]
The disease, thought to be caused by a virus, will not wipe out the devil as such diseases often spare a few isolated animals who reproduce and replenish the population. [...]
From a QFS Member
I had to just post on this before I ran to the nearest lavatory. It may be old news but I don't recall it being mentioned, apologies if it has.
I picked up a catalogue today that was inside a local English newspaper. It was advertising and I quote:
The first "Defenders of Freedom" coin honouring PM Blair and President Bush!

* Depicted in glorious colour

* Historic limited edition

* a deeply poignant keepsake...to commemorate the bravery of our allied soldiers who fought to free the oppressed people of Iraq...

Be one of the first to mark this moment in history and own this strictly limited edition true collectors item...the coin is legal tender in the US...protectively encapsulated to preserve its perfect uncirculated condition for future generations...

Defenders of Feeedom coin £10 save more 3 for £25.
The pictures of Blair and Bush cheesing it on a coin with a Union Jack fluttering in the background is SO bad that it actually made me laugh out loud - albeit bitter-sweet laughter. Did any of you in the States come across them?
Well, that's my Christmas present list taken care of. (My Grandmother adores Bush. She'd probably wear them as ear rings if I bought her a pair).
Eyeing a post-Hubble universe

By Rachel Clarke
BBC News Online in Washington
Last Updated: Thursday, 31 July, 2003, 23:39 GMT 00:39 UK
"Not since Galileo turned his telescope towards the heavens in 1610 has any event so changed our understanding of the universe as the deployment of the Hubble Space Telescope."
So says Nasa's official introduction to the Hubble, but officials at the US space agency are now planning its demise and that is upsetting many scientists.
The facts are simple. Launched in 1990, the telescope was always destined to have a limited life. Planning is well under way for a new space telescope - the James Webb - to launch in 2011 and the Hubble mission is slated to end by 2010.
UK bans iPod gadget

A gadget that lets you send songs from Apple's iPod music player to an FM radio has fallen foul of UK laws.
Israel imposes 'racist' marriage law
Palestinian-Israeli couples will be forced to leave or live apart
By Justin Huggler in Jerusalem
01 August 2003
Israel's Parliament has passed a law preventing Palestinians who marry Israelis from living in Israel. The move was denounced by human rights organisations as racist, undemocratic and discriminatory.
Under the new law, rushed through yesterday, Palestinians alone will be excluded from obtaining citizenship or residency. Anyone else who marries an Israeli will be entitled to Israeli citizenship.
By: Mohammed Shaker Abdallah
[...] Shortly afterward came the eighth visit being paid by Sharon to the official residence of the U.S. president while the cordial atmosphere that engulfed Abbas' visit seemed to be somehow experimental and to some extent "manufactured" - everything, every move and every statement that emerged during Sharon's visit seemed somehow to be not artificial, natural and coherently harmonious. One has to compare the reluctant attitude to Bush's performance when he received Abbas with that assured and established friendship shown by the American president to his Israeli guest, calling him by his first name, Ariel, patting his arm and intimately whispering in his ear.
It might appear that the goal sought by Sharon during his Washington visit was to eradicate any gains that could have been garnered through Abbas' visit and it appears too that he has succeeded at least on two fronts: one is the POW issue, and the other involves the separation fence.
Palestinians say US, Israel want Palestinian civil war
Syria Times
Palestinian resistancemen accused the United States and Israel on Wednesday of trying to spark a Palestinian civil war by building a new "Berlin Wall" in the West Bank and threatened to reassess a shaky truce.
Their anger highlighted Palestinian resentment that U.S. President George W. Bush did not persuade Israeli Prime Minister Ariel Sharon at talks on Tuesday to stop building what Israel calls a security fence and demanded a crackdown on resistancemen.
"There is a conspiracy between the aggressive minds of Israel and the United States against Palestinian hopes and independence," said Abdel-Aziz Rantissi, a leader of Hamas in the Gaza Strip.
"The Americans need what the Israelis need -- a civil war in the Palestinian territories."
The Palestinians` reaction and the disappointment expressed by mainstream Palestinian leaders after the talks, pointed to trouble ahead for Palestinian Prime Minister Mahmoud Abbas, who had been hoping to show gains after his own White House meeting.
Abdulwahab Badrakhan
Al-Hayat 2003/07/31
This only highlights the legendary weakness of Arab diplomacy. What we are witnessing for the thousandth time is the scenario of Israel's lies and deceptiveness laid out to an American president who is fully prepared to believe everything, because all he thinks about is the Jewish money and votes he will need in his forthcoming elections campaign.
And for that great goal, vital to the world and humanity, it makes no difference whether the gang of Sharon releases the hostages or keeps them, nor does it make any difference if the new "Berlin Wall" takes up further Palestinian land or if it destroys the trust between Israelis and Palestinians. There is even no need to cause a crisis with Sharon because of the settlements, and consequently, there is no need for any change in the traditional U.S. policy just to implement the Roadmap. In the end, that map was created to silence the Palestinians.
Sharon: Implementation Of Roadmap Beginning
AP 2003/07/31
The implementation of the first phase of the U.S.-backed "Roadmap" peace plan is beginning, Israeli Prime Minister Ariel Sharon said Thursday, hours after returning from talks at the White House.
Sharon said that the following stages of the plan could be implemented only when the first stage, including a "total cessation of violence," is completed. The Roadmap leads through three main phases to creation of a Palestinian state in 2005...
Sharon said he told U.S. President George W. Bush that Israel is prepared for "painful concessions" in exchange for real peace, but would insist on full implementation of each part of the Roadmap.
"The experience of the past shows that the worst mistake, after reaching an agreement, is ignoring violations in implementation, even if they appear small," he said.
Sharon said the Roadmap plan should be implemented in stages, according to performance, not following a time line. The plan itself contains both elements, and Palestinians have been pressing the Bush administration to publish a schedule for carrying out its provisions.
Comment: Sharon's career has been marked by violence. This includes the regular sabotaging of the peace process through attacks on Palestinians, very often after extended periods of calm.
It was Sharon who set off the latest period in the fall of 2000 when he visited the Temple Mount in Jerusalem, knowing full well that this would be taken as a provocation by the Palestinians. At that time, the Palestinian Authority had been created following the Oslo Accords. Sharon had made it clear that he was against these accords. He continues to work for the establishment of a "Greater Israel" that includes portions of Egypt, Jordan, and Syria.
Therefore, Sharon is announcing to his faithful that they have nothing to fear, that there will never be a Palestinian State, because he is there to ensure that there will never be a "total cessation of violence".
Arafat calls for urgent Quartet meeting on Israeli 'escalation'
By Amos Harel, Haaretz Correspondent, Haaretz Service and Agencies
[...] Arafat's aide, Nabil Abu Rudeineh, told the AFP news agency that "the senior Palestinians called for the Quartet to convene urgently to make a number of decisions in light of the escalation in Israeli activities."
Ahead of the meeting, Abu Rudeineh said that its participants "would examine the Israeli escalation expressed through the lack of release of [Palestinian] prisoners, the continuation of the settlements, the refusal to withdraw from residential areas and the construction of the wall," a reference to the fence that Israel is building to separate itself from the West Bank.
Meanwhile, Prime Minister Ariel Sharon said Thursday that Israel's biggest mistake in the past had been its restraint in responding to violations of previous agreements with the Palestinians.
"Past experience teaches us that once a diplomatic agreement has been reached, the greatest mistake is to ignore seemingly minor violations in its implementation," he said at a graduation ceremony at the National Security College, near Tel Aviv.
As examples, he cited Europe's willingness to overlook Nazi Germany's violations of agreements prior to World War II, as well as Israel's own experiences.
"For the past three years, we have paid a heavy price for Israel's restraint over the daily violations of the Oslo accords," he said. [...]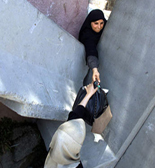 Comment: Shocking comments from Sharon, "the Butcher of Jenin" as he accuses the Palestinians of violations of agreements, ignoring the fact that he and his government conducts a thinly veiled policy of genocide against the Palestinian people...

Palestinian Women pass bags through a hole in the masive wall sealing off the Gaza strip.
Israel is defying the terms of a new peace plan saying it will issue a tender to build 22 new homes in a Jewish settlement in the occupied Gaza Strip.
The US-backed "road map" peace plan calls for Israel to "freeze all settlement activity" as part of reciprocal moves intended to end 34 months of Israeli-Palestinian violence and establish a Palestinian state by 2005.
But the Israel Lands Authority said the Defence Ministry had approved a bid for the 22 housing units to be built in the Neveh Dekalim settlement in the western part of the Gaza Strip. [...]
Canadian Minister Jailed in Lebanon
[...] A Canadian minister was arrested by Lebanon and held in prison for weeks before he was even allowed to contact Canada. Why was he arrested? For visiting Israel.
Lebanese authorities arrested a Canadian minister earlier this month on charges of collaborating with Israel, Lebanese Prosecutor General Adnan Addoum acknowledged Wednesday.
Addoum said Bruce Balfour, 52, was arrested on July 10 at Beirut airport on a military court order issued in absentia, which accused him of the crime of visiting Israel and "collaborating with the enemy."
Lebanese authorities received information that Balfour had traveled between Lebanon and Israel in a "suspicious" manner, and issued a warrant in April for his arrest.
Addoum said Balfour is now being held at the suburban Roumieh prison northeast of Beirut. Canadian newspapers have reported that Balfour is a native of western Canada who was in the Middle East directing an evangelical project, Cedars of Lebanon, to help replant the biblical cedar forests in northern Lebanon. [...]
RAW, Mossad creating trouble, claims Pak
IANS
LAHORE: Indian and Israeli intelligence agencies have ganged up to stir trouble in Pakistan's border with Afghanistan, Pakistan's intelligence agencies have alleged.
The agencies, in a report to the government quoted by Online news agency, have asked it to take "ample measures" to combat terrorism allegedly linked to Indian diplomatic missions in Afghanistan and Indian and Israeli spy outfits. [...]
"The sources revealed that RAW, Mossad and Khad (the former Afghan secret service) have regrouped after 23 years and are planning to launch terrorist activities in Pakistan," it said.
Israeli Spooks Gain Admiration from U.S.
By Linda S. Heard
[...]According to Mossad defector Victor Ostrovsky in his exposé of the Israeli spy agency By Way of Deception, Israeli agents weren't very co-operative with their American counterparts when a truck bomb killed 241 Lebanon-based U.S. Marines in October 1983. Ostrovsky claims that Israel knew in advance that the attack was planned and failed to warn its friends.
No doubt Israeli nuclear whistle-blower Mordechai Vanunu would agree that the Mossad lives up to its watchword of "deception". He now languishes in an Israeli gaol after being lured to Italy by a female Mossad agent.
Egyptian nuclear scientist who was once a professor at Alexandria University Yahya Al Mashad isn't alive to tell his tale about the deadly craft of the Mossad. He wound up dead in a Paris hotel room. Some 14 Egyptian nuclear scientists have lost their lives in suspicious circumstances, at least some of the deaths were the work of the Mossad.
After the infamous Lavon Affair, Egypt remains suspicious of Israeli intelligence agencies. The year 1952 witnessed an improvement in relations between the U.S. and Gamal Abdel Nasser's government, which hoped that the U.S. would financially support the Aswan Dam development programme.
Israel wanted no such rapprochement between Washington and Cairo and sent espionage agents to Egypt charged with bombing U.S. interests and shifting the blame on to the Egyptians.
Bags filled with acid were placed on top of nitro-glycerine and hidden in fake books, which were put on the shelves of American libraries in Alexandria and Cairo in the knowledge that it would take several hours for the acid to destroy the coverings and set off the bombs.
Fortunately for Nasser two Jewish youths were caught red handed carrying identical bombs and after their confessions a gang of six were rounded up. The scandal led to the eventual resignation of Israel's Minister of Defence Pinhas Lavon, later considered to have been made a scapegoat. [...]
By Michael Bazeley
Mercury News
[...] Nationwide, complaints about moving and storage companies jumped 33 percent from 2001 to 2002, according to the Council of Better Business Bureaus. In March, authorities in Florida arrested and indicted 16 interstate moving companies and 74 employees on charges that they lured customers with low-ball estimates and then increased their prices later, in some cases holding customers' property hostage. [...]
Palm Beach County to crack down on movers
By Anthony Man
The Sun-Sentinel

A state law designed to crack down on wayward movers will get stepped-up enforcement in Palm Beach County, state officials said Monday. [...]
Tampering With Simple Principles
Muhammad Al-Shibani • m@alshibani.net

It seems the American Administration is either insisting on further fanning Arab feelings of hatred and anger over its foreign policy or its advisors are working intentionally or out of ignorance and on their own to put more fuel to a raging fire. The desecration of the dead bodies of Uday and Qusay, the two sons of Saddam Hussein killed by the American forces last week, and the way they have been shown on television is an outrageous, disgusting and unjustified act. The Americans seemed keen on showing every part of the bullet-riddled and mutilated bodies. Even if this action is viewed as lawful under man's law it is completely against all divine laws.
Fingerprinting At Saudi Ports Starting Next Year
AP 2003/07/31
Saudi Arabia is planning a new fingerprinting process to keep track of foreign workers and curb visa and passport fraud, a Saudi immigration official was quoted as saying Thursday.
The move is expected to be implemented by the beginning of next year, Lt. Gen. Abdulaziz Al Sejeni, the general manager of the passport division, said in remarks carried by Al-Watan newspaper. "The new technique will end all violations, narrow the circle around forgers of passports and visas, and bar foreign labor from ... leaving the country in an illegal way," he said.
Saudi Arabia's population is 22 million, including 7 million foreigners, many of whom work as domestic helpers, drivers or laborers. Foreigners need local sponsors to live and work in the kingdom and problems sometimes arise when workers try to leave before a contract is completed or employers fail to live up to their side of the contract.
Comment: The other so-called beacon of "democracy" in the Middle East long supported by the United States is the Kingdom of Saudi Arabia. No surprise that they would begin implementing similar measures to those the US is putting into place. The powers that be want it to be as difficult as possible for people to travel and move freely throughout the globe.
CIA Adviser: Progress in Iraqi WMD Hunt
BARRY SCHWEID
Associated Press
WASHINGTON - A CIA adviser told lawmakers Thursday that progress was being made in the hunt for Iraq's weapons of mass destruction, but Democrats decried the so-far fruitless searches and questioned the Bush administration's rationale for war.
David Kay, who is serving as a special adviser for the weapons search, said inspectors have found physical evidence of Iraqi activity on weapons of mass destruction, but he declined to discuss details. He said investigators had made a "tactical and strategic decision" to focus on biological rather than on chemical or nuclear programs, saying, "Those are the areas that we're principally talking about progress."
Comment: Bush and company have been so brazen in their lies and manipulations over the question of the supposed WMD that they have awoken the dinosaur of the Senate, Ted Kennedy, who was moved to remark:
"It's looking more and more like a case of mass deception. There was no imminent danger, and we should never have gone to war."
Amazing! Months after the fact, a year after Bush starting banging the drums for war against Saddam to shore up his problems with Enron, Kennedy is starting to think that it was a case of mass deception! Give the man the quick thinking award!
The article also notes that the Bush administration approved payment of $30 million to the informant who helped troops find Saddam's two sons, the largest reward ever made under a U.S. program.
"It's actually for services rendered," State Department spokesman Richard Boucher said. "It's a lump sum payment of $30 million."
Evidence of WMD plotting found in Iraq
By David Rennie and George Jones

The United States has found evidence of an active programme to make weapons of mass destruction in Iraq, including "truly amazing" testimony from Iraqis ordered to dupe United Nations inspectors before the war, the man leading the hunt said yesterday.
David Kay, a former UN inspector and now the CIA's leading consultant who is joint head of the Iraq Survey Group (ISG), offered an unprecedentedly bullish assessment of the hunt for weapons of mass destruction.
Although he called for patience, he predicted that doubters were in for a "surprise" by the time his work was done.
That evidence included documents detailing how to conceal arms plants as commercial facilities, and for restarting weapons production once the coast was clear, officials told reporters. [...]
Comment: It seems it is time to trot out the fact they found those scary documents yet once again. Keep saying it over and over to mesmerize the American mind. It's like those hypnosis tapes to listen to while sleeping, "You are a thin person. There are WMD in Iraq."
So far it is working.
The above article goes on to say, "Solid evidence was being uncovered, but would not be made public hastily, until the teams had 'solid proof', Mr Kay added. However, he predicted that public patience would be rewarded."
These are just a bunch of hard working guys who want to reward you for your docile patience. Docility and Domestication are what protects you. All good things come to those who wait. Rewards for those who don't ask why American soldiers and 10,000 Iraqis needed to die so they could make announcements about scary documents, who don't demand that Bush answer a few questions about 9/11, who don't worry about their freedoms yanked away never to be seen again.
Doubters will pay for their lack of belief and be "surprised", which we can read as "be exposed to public ridicule and shame while cheering 'patriots' zealously shout, 'In your face, pacifist pansy.'" One can almost feel the hope well up in such "patriots" over such announcements. Waiting. Patiently. Poised to leap in to action to publicly justify their blood lust, while their children are quietly shipped off to the next war.
The inmates have taken over the asylum.
Iraq's WMD hunters find no smoking gun
By Reuters
WASHINGTON (Reuters) - The two men leading the U.S. hunt for weapons of mass destruction in Iraq will brief senators that they have found evidence of programs to develop such weapons but no "smoking gun," U.S. officials say. [...]
They will detail "promising leads" and brief lawmakers that there was "certainly evidence of a program" to develop biological, chemical and nuclear weapons, the official told Reuters on condition of anonymity.
2 more GIs die in separate attacks
New York Times
[...] Mr. Bush's vague and sometimes nearly incoherent answers suggested that he was either bedazzled by his administration's own mythmaking or had decided that doubts about his foreign and domestic policies could best be parried by ignoring them.
Mr. Bush will simply not engage the issue of whether his administration exaggerated the Iraqi threat in the months leading up to the American invasion. When asked whether the United States had lost credibility with the rest of the world since neither weapons of mass destruction nor a strong Al Qaeda connection had been uncovered in Iraq, the president veered off into a tour through American history and the difficulty of coming up with an Iraqi version of Thomas Jefferson. He then skidded to a halt with the announcement that "I'm confident history will prove the decision we made to be the right decision." [...]
Given the rambling non-answers the president gave to questions about Iraq and the economy, it was interesting to hear how focused he was when someone asked how, with no opponent, he planned to spend $170 million or more on the primary. "Just watch me," Mr. Bush said concisely. There is one area in which the president's thinking is crystal clear.
Uday, Qusay win sympathy in death
By Rym Brahimi
CNN Correspondent
Wednesday, July 30, 2003 Posted: 1409 GMT
BAGHDAD, Iraq (CNN) -- When Ahmed al Rahdi was the captain of Iraq's national soccer team, Uday Hussein ran all the sports programs.
Al Rahdi says he was given gifts and money when the team won -- and tortured and jailed whenever they played poorly.
But with Uday dead, al Rahdi says he has put the bad things behind him
"He could have given himself up but he chose to die rather than surrender," al Rahdi says. "When I saw the body and the pictures, I began to sympathise with him."
Despite Uday's cruelty toward him, he says he probably would have agreed to hide Saddam's son in his house if he'd been asked to. It's a question of honor, he says.
"We Iraqis use strong, cruel words, we talk of revenge. But when an opponent is weak, this anger turns into remorse or sympathy -- we want to help that person."
Al Rahdi says he believes Uday died a martyr but admits he would not have felt the same way had Iraqis, not U.S. soldiers, killed Saddam's son.
"Just as he was cruel to people, he deserved to be treated by them with cruelty," he says.
It's an illustration of the complex relationship between Iraqis, their torturers and the occupying power -- the United States. Nothing is easy here -- even the killing of tyrants is controversial.
"Don't tell me the Americans couldn't take them prisoners, they can throw tear gas, sleeping gas," says one Iraqi man. "They should be brought to justice, not simply by killing them." [...]
US aims for mid-2004 elections in Iraq; two soldiers killed
Friday August 1, 10:54 AM
The United States aimed for Iraqi elections by mid-2004, but a new regional council set up in toppled dictator Saddam Hussein's heartland met with local indifference as two more US troops died in rebel strikes. [...]
By Chris Floyd
[...] But beyond these dark -- indeed, "murky" -- bloodlusts and grandiose stratagems, which no doubt played their part, the "facts on the ground" in Iraq increasingly indicate that the prime mover behind the invasion was simple, brutal, ugly, banal greed. The Bushists are making money hand over iron fist from their conquest, and preparing to turn Iraq into a playground for unfettered crony capitalism. We'll be exploring the details here in coming weeks.
Meanwhile, we should all chew, like good bovines, on Wolfowitz's other chilling revelation this week: that "murky intelligence" (unsound, unreliable, marred by forgeries, etc.) is a perfectly acceptable basis for launching aggressive wars -- and could be used again when it's time for the next war. [...]
Outrageous Bush Executive Order on Iraq Oil Must Be Investigated
EarthRights International
President Bush has issued an Executive Order, so far completely unreported, that purports to grant broad legal immunity to oil companies operating in Iraq. The Order is, on its face, outrageous, and should be investigated. [...]
Under this Order, an oil company complicit in human rights violations, or one that causes environmental damage, would be immune from lawsuits. The language of the Executive Order is so broad that it might as well have been written by lawyers for Halliburton, ExxonMobil and ChevronTexaco. [...]
Bush has busy Crawford vacation schedule

By: Associated Press
Fundraisers will help will fill President Bush's schedule during his month-long working vacation at his ranch near Crawford.
In August, Bush will mix public policy events with six fund-raisers -- in Colorado, California, Oregon, Washington and Minnesota.
The practice allows the administration, in certain cases, to bill taxpayers for half the travel costs of the political activity.
On Saturday Bush will leave Washington for his Crawford ranch.
The president's campaign aides have talked of raising up to $200 million this year in preparation for his 2004 re-election bid.
Checking Our Balances

Political accountability is insufficient to protect our liberties as the Bush administration wages secret war on terrorism
Susan N. Herman
The American Lawyer
07-23-2003

No camera crews are embedded in the U.S. Department of Justice, so its report in May to Congress on how it has been conducting the war against terrorism provided a rare and welcome source of information.
Yet congressional critics maintained that this report was typical of the Bush administration's grudging attitude toward sharing power and even information with Congress.
This self-study came after repeated requests for information. It provided only the information the Justice Department wanted to share. And it was vague in some places, sketchy in others. [...]
The New Resistance: People of the Web
John Kaminski
[...]I imagine that me and my circle of Internet friends must be somewhat like the French Resistance of its time, spreading the latest rumors of war and trying to debunk false charges of terror laid at our feet by men who pretend to be our leaders but who are really the stooges of a foreign power, an alien menace even, these soulless men who run the banks, keep us in chains, and obliterate our Constitution in the process. [...]
It is the way of the world now. The real people are on the Internet, trying to let others know about the lethal lies that are being foisted upon us at every turn. The fake people are sending press releases to cynical and unreliable newspapers, urging others to support the War on Terror, without realizing (or worse, perhaps they do!) that the war on terror is really a war on freedom, perhaps their very own. [...]
Censoring the 9/11 report: neocons project their fantasies onto blank pages
by Justin Raimondo
antiwar.com
[...] Keeping the classified section of the report under wraps, yet constructing a myth around the alleged contents, would provide the perfect camouflage – but for whom ? [...]
The World Can't Trust What America Says
John Kaminski
[...]Talk about a big lie. Talk about lack of integrity. And the American people, anesthetized as they are with ill-gotten gains, over-the-counter drugs, bad schools and worse, TV, don't even raise a collective eyebrow. Telling the truth is just not important to them anymore, if it ever was. [...]
War in Iraq 'may encourage more al-Qa'eda attacks'
By George Jones, Political Editor

The toppling of Saddam Hussein may have hampered the war against international terrorism, an influential group of MPs said yesterday.
The Commons foreign affairs select committee said that attempts by al-Qa'eda to exploit the Iraq conflict could encourage further terrorist attacks against British and American forces in the country or further afield. [...]
Poindexter bails out of Pentagon amid controversy
Reuters News Service
WASHINGTON -- John Poindexter, the Iran-Contra scandal figure who headed two criticized Pentagon projects, including one that would have enabled investors to profit by predicting terrorist attacks, will quit his post within weeks, defense officials said today. [...]
Poindexter served as President Ronald Reagan's national security adviser in the 1980s. He became a central figure in the Iran-contra scandal in which Reagan administration officials diverted cash from secret sales of arms to Iran to bankroll Nicaraguan guerrillas at a time when such aid was forbidden by Congress.
He was convicted of lying to Congress, but the conviction later was set aside. [...]
Congress begins to say 'no' to White House
By Gail Russell Chaddock | Staff writer of The Christian Science Monitor
August 01, 2003 edition
WASHINGTON – The Congress that has signed off on more than $1 trillion in new tax cuts - and sat on the sidelines as the commander in chief took a nation to war - is finding its voice. And, lately, that voice has been saying, "No."
From planning postwar Iraq to reining in drug costs at the local pharmacy, lawmakers are challenging Bush administration decisions. The resistance is growing, and, increasingly, it's coming from both sides of the aisle. And it's eroding the view that this wartime president is invincible. [...]
Homeland Security courts Silicon Valley
By Alorie Gilbert
Staff Writer, CNET News.com
July 31, 2003, 5:11 PM PT
MOUNTAIN VIEW, Calif.--The government has about $1 billion to spend next year on the development of new homeland security technologies and is looking toward Silicon Valley for ideas on how to spend it. [...]
Alexander is the deputy director of the Homeland Security Advanced Research Projects Agency (HSARPA), a recently formed group charged with funding development and research of technology that could help the government thwart and respond to terrorist attacks and other national disasters. The mission of the group, Alexander said, is to tap academia and industry players for innovative research projects that could help secure "critical infrastructure" such as energy plants and telecommunications lines. [...]
Zyuganov Backs Besieged Billionaires
By Ron Popeski
Reuters
Friday, Aug. 1, 2003. Page 5

Communist leader Gennady Zyuganov set aside ideological differences with wealthy tycoons on Thursday, saying they had been treated badly by the Kremlin in the dispute over oil giant Yukos and calling for their support in elections.
Zyuganov, two-time loser in past presidential polls, said legal action against Yukos had created uncertainty that businessmen could not accept.
Comment: The old communist will be supporting the tycoons because they have the money that will be necessary to finance a successful presidential bid against Putin next year. And this is also why Yukos is coming under attack. The owner, Mikhaïl Khodorkovski, is one of the world's richest men (26th on the Forbes list). He is an ex-member of the Young Communists who has contributed money to several political parties: Iabloko, the Union of the Forces of the Right, and the Communists.
Friday, August 1, 2003 Posted: 0740 GMT
SEOUL, South Korea (CNN) -- North Korea has accepted six-way talks on the nuclear crisis, South Korean officials and media have confirmed.
Korean reporters were told the talks would include the two Koreas, the United States, China, Japan and Russia. [...]
Reuters accused of widespread racism in US class-action lawsuit
By Andrew Buncombe
The Independent
01 August 2003
The Reuters news group and one of its US subsidiaries is being sued for racial discrimination over allegations that a "white, public school attitude" tolerated and encouraged a racist environment in which black employees were abused and persecuted.
The class action announced yesterday alleges that black employees at Radianz ­ a US-based internet services subsidiary of Reuters ­ were forced to work in "an outrageous, patently offensive environment". One black employee was repeatedly referred to as "my nigger" by a white supervisor and was sent racially offensive emails, the action alleges. [...]
Britons held over Morocco bombings
22:25 Thursday 31st July 2003
A Briton is being held in Morocco in connection with the May bombings in Casablanca that killed 44 people.
A second Briton is also being held by authorities in the north African country, but a Foreign Office spokeswoman refused to confirm if he is suspected of terrorism. [...]
Guatemala Bleeds; US Press Shrugs
By JEFFREY ST. CLAIR
All hell is breaking loose in Guatemala and few outside that tragic nation seem to care or even notice. [...]
City: 100 Corporate Raiders on the Prowl
By Yevgenia Borisova
Moscow Times
Staff Writer There are about 100 companies in the city "specializing in the unfriendly consumption of businesses" and they must learn to work in the interests of the city, the head of City Hall's economic security department, Alexander Korsak, said Thursday.
Comment: Corporate raiders are about as low on the totem pole as you can get. Of course, in this world, upside down as it is, they do quite well. We recently had an encounter with one of them, albeit a very small fish.
Canada leaves softwood lumber talks
Last Updated Thu, 31 Jul 2003 19:42:21
VANCOUVER - Canada pulled out of softwood lumber talks Thursday after American producers rejected the latest draft agreement intended to put an end to the long-running trade dispute.
[...] But British Columbia Forestry Minister Mike de Jong says he's beginning to believe the United States doesn't want to resolve the problem. He says it's tempting to let the World Trade Organization or NAFTA resolve the issue.
Comment: Canada has always been the laboratory to see how the US would eventually treat the rest of the world. The election of 1998 was fought over the issue of Free Trade. Canadians were lulled into voting for the project with vague references to cheaper TV sets. Of course, shortly after Free Trade was brought in, the Canadian dollar tanked to historical lows vis-a-vis the US dollar and goods from the US became even more expensive.
But this was heralded as a good thing by the Canadian business community because it made Canadian products cheaper to export. The US has been devising all sorts of strategies to prevent Canadian goods from benefiting from the lower dollar in the US, all the while the Americans have been using the stronger US dollar to buy up more and more of Canada.
Judge Rules to Proceed With Circus Elephant Case
WASHINGTON, DC, July 31, 2003 (ENS) - The U.S. District Court for the District of Columbia has ruled against Ringling Bros. and Barnum & Bailey Circus to allow a case to go forward charging the circus with violating the Endangered Species Act (ESA) for its alleged abuse of endangered Asian elephants.
NASA Scientist Discovers New Species Of Organism In Mars-like Environment
|...] "Since other bodies of the Solar System lack our oxygen-rich atmosphere, microorganisms that thrive without oxygen are good candidates for astrobiology research," said Hoover. "If, or when, we find life on other planets, our first discoveries will probably be microorganisms."
By exploring the limits of life on Earth, these scientists hope to shed new light on what kinds of life might exist on other places in our solar system, such as the planet Mars or on Ganymede or Europa, two of Jupiter's 52 moons. Because these celestial bodies are thought to have water, scientists consider them likely candidates to sustain life.
For this reason, microorganisms like Spirochaeta americana, that thrive in the sulfide-rich hypersaline, alkaline mud sediments of Mono Lake are of great interest to astrobiologists. "The goal of astrobiology is to answer the question of whether life exists exclusively here on Earth, or is widely distributed throughout the universe," Hoover said.
"Planets like Mars have conditions that would challenge the existence of highly organized multicellular organisms such as we find on Earth, but that doesn't mean these harsh places can't sustain microbial life forms," he said. "By studying microorganisms found in Earth's extreme places, like Mono Lake, we can better understand how life might exist on Mars."
Archaeologists Excited to Explore Unique Roman Tomb in Sofia
Lifestyle: 31 July 2003, Thursday.
A unique Roman tomb was discovered by accident in Bulgaria's capital Sofia. During works to repair the city's water conduit, a tomb was unearthed as part of the Roman necropolis under the St Sofia basilica.
The tomb dates back to the fourth or the beginning of the fifth century B.C. according to the head of the archaeological team Mario Ivanov. This is one of the biggest burial places discovered in the region, he pointed out.
Shot in the Arm: Arkansas Kids at Risk
Story by Jason Friedman
Posted 7/31/2003 10:10:06 PM
5 year-old Brendan Campbell knows the painful routine. "If you don't want it, your parents hold you down," he remembers. "It hurts bad. First you do one, then you do the other. Then you can't walk."
For Brendan, they're painful memories of much-needed vaccinations. For health experts, they're memories more kids should be having. Right now, only 71 percent of all toddlers get the vaccinations the CDC recommends. That's compared to a national average of 75 percent.
State health officials say there's really no excuse to avoid the shots. They say the risk of side-effects is minimal and so is the cost. A round of shots only costs five dollars.
Comment: That's right. Hold that kid down! Get those mind-control substances into his body. "It'll hurt us more than it hurts you."
Web of lies and deceit surround woman accused in missing child hoax
RYAN LENZ
Associated Press Writer

INDIANAPOLIS (AP) -- Ever since Donna Lynette Walker was a child, friends say, she has delighted in disrupting the lives of those around her: She made crank calls in disguised voices, concocted hard-luck stories and conned people out of money.
But even investigators familiar with Walker's record are baffled by what they say was her latest hoax.
Authorities say that last weekend, Walker called the parents of a girl abducted 17 years ago and pretended to be their long-lost daughter. The girl's family members were crushed, her father reduced to tears, when they learned on Wednesday that it was a lie. [...]
Police: Parents allowed girl to stay with man who molested her
Associated Press
HOPEWELL, Pa. -A couple allowed a relative who had been convicted of molesting their 10-year-old daughter to babysit the girl, police said.
Minneapolis council member demands changes after shooting of toddler
David Chanen, Star Tribune
Published August 1, 2003

Minneapolis City Council Member Don Samuels feels helpless and useless.
To energize his Third Ward's North Side neighborhoods, which have been plagued by shootings involving children in the last week, he has started a three-day fast and vigil in a tent at 26th and Knox Avs. N. in the Jordan neighborhood.
Woman tells military hearing of plot to kill Marine husband
GIDGET FUENTES
Associated Press
SAN DIEGO - An Arizona woman testified at a military hearing Thursday that she and her lover planned to kill her Marine Corps husband while he was on duty in Kuwait and disguise it as a terrorist attack by having her lover hurl a grenade into his guard shack.
One dead, police officer and two others injured in Texas shooting during apparent drug deal
By Associated Press, 7/31/2003 23:32
TYLER, Texas (AP) One man was shot to death and a police officer and two others were wounded Thursday afternoon when the officer interrupted an apparent drug transaction at an apartment complex near Texas College, authorities said.
July 22, 2000

A: One thing that is interesting about East Texas, or more specifically, Northeast Texas, is that the water is very heavily fluoridated. This makes one more susceptible to intense forms of ELF mind programming. There have been some experiments conducted in this area relating to this.
Q: (A) That's Extremely Low Frequencies?
A: Yes.
Q: (A) But the water tasted so GOOD! It was the best water I ever drank! I'm serious!
A: That is by design.
Q: (A) Oh, they're so tricky! I mean, you drink the water there and you just say "This is SO good!" And you want more and more!
A: If you wish to catch bees, are you going to use a net, or some honey, maybe??
Suspect in Baylor player's death suggests he acted in self-defense
07/31/2003
By SHANI GEORGE / The Dallas Morning News
© 2003, The Dallas Morning News
CHESTERTOWN, Md. – Former Baylor basketball player Carlton Dotson, charged with murder in the shooting death of former teammate Patrick Dennehy, said Wednesday that he felt his friend had betrayed him and suggested that he acted in self-defense during a confrontation.
"I thought he was my friend, but he betrayed me," Mr. Dotson said in a jailhouse interview with The Dallas Morning News. "If someone points a gun at you and shoots and it doesn't go off, what would you do? If someone is pointing a gun at you and they start putting more bullets into the gun, what would you do?"
Asked what he did, Mr. Dotson laughed and did not answer.
During the interview, at the Kent County, Md., jail where he is being held without bail in Mr. Dennehy's death, Mr. Dotson also said that his life has been threatened – but he wouldn't give details – and that he has been hearing voices.
Asked what the voices are telling him, he said: "We are many. We are strong. We are behind you. We support you. We are ready for war. ... A spiritual war."
Wearing an orange jail jumpsuit, he talked to a reporter by phone behind a glass partition in a room in which he was alone, with no guards.
He asked the reporter whether she was a Christian, and when she replied that she was, he got up, banged repeatedly on the wall and said, "Yes, yes, yes."
In the first part of the interview, he constantly looked over his shoulders and related a confusing story about meeting someone named Roman in Texas. "I met him and he disappeared. ... He touched me and prayed for me and said, 'You'll be able to do miraculous things.' "
He later appeared more calm, answering questions in a conversational manner. At the end of the 10-minute session he asked for prayers and said: "I'm really not a bad person. Some things happen that aren't in your control."
Lawyer not present
He spoke without his attorney, Grady Irvin Jr. of Florida, who later told The Associated Press that he had no knowledge of his client being with Mr. Dennehy when guns were present. "Until they [the media] get some hard facts, I think it's journalistically irresponsible to report inferences," he said.
Also in the interview, Mr. Dotson, who lost his athletics scholarship at the end of the season, challenged head coach Dave Bliss, calling him a liar for saying that he and Mr. Dotson both agreed that he wouldn't return next season.
And he confirmed previous reports by his estranged wife that Baylor had sent him to see a Waco therapist because of his behavior, what he called attention deficit disorder.
"What I should have seen and need to see is a priest," he said.
Baylor athletics spokesman Scott Stricklin said the school stands by Mr. Bliss and his account of Mr. Dotson's leaving the team. "We have no reason to doubt Dave when he said that," he said.
Beyond that, Mr. Stricklin said, "I don't think it's wise for the university to get in an argument with someone who's in jail and charged with a murder."
Focus on God
Two Maryland high school friends who visited Mr. Dotson Wednesday said they were surprised at his focus on religion. One of the women, who declined to give her name, said, "He never talked this way before. He never talked about these godly things and never referred to God so much."
Comment from a Reader
After five years of what seemed to be a deluge of psychopaths entering my personal realm, my life seemed to be in shambles. Thus I paid very careful attention to all the Cassiopaean articles on this subject. It indeed has helped to quickly identify the psychopath. Sometimes in places I hadn't thought of looking.
The other day, after having our only means of income mutilated by the post office, I commented to a lady about "what are the odds?" She replied, "Have you heard of the story of Job? Why God was so proud of Job that he told Satan to look at his faithful servant, Job. Satan didn't believe God, so God told Satan that he could do anything to Job he wanted except kill him. Thus Job lost everything, including his children. Yet Job didn't once speak a word against God, which made God so proud. See, you must be like Job, one that God is so proud of."
I thought about what she said for a moment and then responded, "No! It sounds more like Job played the role of victim while these two sadistic psychopaths had a contest to see just how far than could push their poor victim before he broke."
Having her belief system viewed in such a logical light, she nervously said, "Well... I just hope God is never that proud of me."
I responded, "Pray tell, just who was in the presence of this so called psychopathic God and his psychopathic protagonist, to be able to relate this sick interchange? Think about it! If this story were true, just how sick could these two beings be to cause such death and suffering just to prove that they could get Job to go along with the program no matter what they did to him and his family. Yes, Job and his family suffered just to puff up this so called God's ego. Thus, this God must be a psychopath."
He also is definitely in service to himself.
In an effort to hang onto her belief system, she cried, "But, God gave Job so much more than he already had afterwards!" As if this could excuse what he allowed to happen to Job?
I responded, "So if you were Job's wife, you would be just fine that this God had murdered your children just to prove his point? Sounds to me like this God has a problem with selfishness and a great big hole where his feelings of love and empathy should be. Did it never occur to you that Jesus said that you would know them by the fruits of their spirit? The fruits that this God displayed in the story of Job would earn him the title of the Ultimate Psychopath. Perhaps he was the first psychopath!"
With that, the lady looked as if she would be sick as the light of factual logic burned away her belief system and she began to awaken. But, just as quickly as the light bulb flickered on, it went right back out as she changed the subject and quickly left. It is her desire to stay asleep for the truth, although it will set you free, it isn't for the faint of heart. I hope that someday, she has the courage to start seeing the truth.
Filer's Files #31 -- SIGHTINGS CONTINUE WITH CLOSE ENCOUNTERS
Crop circles found by Howden farmer
GIANT crop circles and mysterious symbols have appeared in a Howden farmer's wheat field. The intricately patterned phenomenon was spotted last Thursday by a local long-distance truck-driver, although a tour bus driver from Lincolnshire said he saw the crop circles a day earlier as he drove along the Ouse Bridge.
"The field was normal one day, the next day the crop circles had appeared," revealed the truck-driver who wished to remain anonymous.
The crop circles have puzzled Howden farmer Mr Robert Huddlestone, of Grove Farm, owner of the 50-acre field.
"They cover about 80 square yards and are very intricate and precise," he said. [...]
UFOs ARE SEEN FLYING OVER TOWN
Daventry Today
A MAN spotted two jellyfish like objects which he could only describe as UFOs flying over his Daventry home. On the same day an hour before a cameraman recorded footage of similar colour and shape vessels in the night sky in Worcestershire.
Adrian Dalton, 32, of Hemans Road, Daventry was standing in his back garden with his son on Tuesday, July 22 between 10pm and 10.30pm.
He first became aware of them when he saw two black objects in the distance which he thought were birds. Next thing, they were above his home.
He said: "They were like two brown jellyfish in the sky, they looked like they were swimming and I had not taken any drugs." [...]
The parochial and the paranormal
by Anna Mansell
THE new minister for Bridestowe and Sourton has an interesting and unusual sideline to his parochial duties He is an adviser on the paranormal.
The Rev Arthur Parsons, 58, is a Ministry of Deliverance and Healing adviser. The position takes him all over the county to deal with a wide range of conditions from the paranormal and poltergeists, to the healing of memories and physical problems.[...]
Giordano Bruno: 16th Century UFOlogist?
Former Microsoft executive delivers books on a yak after quitting job
Thu Jul 31, 2:20 PM ET
LOS ANGELES (AFP) - A former top executive of US software giant Microsoft Corp has traded his high-flying job to deliver books to remote villages in Nepal on the back of a yak.
John Wood, a 39-year-old senior executive at the Washington-state based company quit his 300,000-dollar-a-year post and launched a charity in 2000 to boost literacy in remote Asian communities in countries such as India and Nepal.
The firm's former director of business development for China used the substantial cash cushion he had built up while in the technological fast lane to set up the non-profit Room for Read which focuses its energies on Asia. [...]
Spiritual Uplift Just a Cellphone Call Away
By Kevin O'Flynn
Staff Writer
Until this summer, cellphone users could only download erotic pictures, catch up on the latest stock prices and see tomorrow's weather forecast. But as of July, they can deal with matters more spiritual by listening to religious services pitched at the Orthodox believer.
With a simple punch of three buttons, you can listen to a priest give the church's point of view on thorny theological problems or find out where the nearest monastery is. Press a few more numbers and for about 40 cents you can find out whether you should eat meat or fish on a certain day or remain on a fast.[...]
---
Check out the Signs of the Times Archives
Send your comments and article suggestions to us.
---
Fair Use Policy
Contact Webmaster at signs-of-the-times.org
Cassiopaean materials Copyright ©1994-2014 Arkadiusz Jadczyk and Laura Knight-Jadczyk. All rights reserved. "Cassiopaea, Cassiopaean, Cassiopaeans," is a registered trademark of Arkadiusz Jadczyk and Laura Knight-Jadczyk.
Letters addressed to Cassiopaea, Quantum Future School, Ark or Laura, become the property of Arkadiusz Jadczyk and Laura Knight-Jadczyk
Republication and re-dissemination of our copyrighted material in any manner is expressly prohibited without prior written consent.
.