---
New Article! Laura and KAH have written an important new article that will put today's Signs page into perspective:

"Official Culture" in America: A Natural State of Psychopathy?
CBS NEWS -- A teenage girl was stabbed to death by her boyfriend 17 years ago. Her mother was so traumatized that she began looking into teen dating violence.
What she discovered stunned her: Girls as young as 12 in cities and towns across the country are going to court to get restraining orders against their teenage boyfriends.
And it was physical and sexual violence, not unlike adult domestic violence, that led Mark Smith to kill his 15-year-old girlfriend.
Correspondent Vicki Mabrey reports.
"I was so high on adrenaline that there was no way that I could stop what I was doing until I came down from that rush," says Mark Smith, describing the day that he stabbed his girlfriend to death just hours before their high school homecoming game. [...]
Police say he was waiting in her house when she got home from school, angry that Jenny had recently broken off their volatile year-long relationship.
"I wasn't going to let her, you know, try and tell me what to do," says Mark, who stabbed Jenny 66 times with a butcher knife as she entered the house. [...]
Vicki says her daughter never told her that Mark had gone from affectionate and charming to menacing and controlling over the course of their relationship. "She was confiding in 14- and 15-year-old girls who thought that they could handle it," says Vicki.
Why did Mark want power and control over Jenny? He says it's just how he was brought up at home.
"I was always like that. I've always had to have some type of control," says Mark, who admits that he would slap Jenny when she resisted. "It seemed like it was all a normal thing for me."
Vicki, however, says she had never heard of teen domestic violence until after her daughter's murder. "I was just absolutely dumbfounded. And at his trial, I started hearing these other teenagers talk about Jenny and Mark's relationship," recalls Vicki.
I mean, they were talking about the abuse and, you know, the slapping her around. But, 'That's no big deal. Everybody does it.'"
Soon after, Vicki began visiting schools across the country, driving home the message that teen violence is a big deal.
She's also written a book, "Saving Beauty From The Beast," using her daughter's story to point out the warning signs and stressing that control does not equal love.
"Sometimes the schools will say we don't really think we have a problem, but we believe we need to educate," says Vicki. "And then, the kids will come up later and tell me, 'Yes, it is going on here. There is a problem.'"
And it's a problem, she now says, that's starting to get national attention. In fact, a recent study of 4,000 girls in Massachusetts by the Centers For Disease Control and Harvard University found that a surprising 1 in 5 adolescent girls reported being "physically and/or sexually hurt" by a boyfriend – and, as a result, were at greater risk for pregnancy, drug use and suicide. [...]
Camille Zuniga of San Jose, Calif., took out a restraining order two years ago against her former boyfriend.
From the beginning of their relationship, Camille says he was jealous and possessive. "It started out with the way he talked to me. He started belittling me and, you know, telling me that no one cared for me. That my family didn't care about me," says Camille. "And that he's the one that' s been taking care of me. That's what he told me, that he's the one that takes care of me."
It wasn't long before she was completely dependent on him – and just six months into their relationship, she says he convinced her to have his baby. She was 15.
"He told me that I was going to get pregnant," says Camille. "I was going to have his baby, and that I was going to get pregnant so he knew that I wasn't going to do anything anymore."
He became violent while she was pregnant.
"The sex issue was still a huge part. We would have sex. When I would be crying, he would just tell me to stop until he was done," says Camille. "If I had wanted to leave, he would grab me by my arm and not let me leave, you know? Or he would physically just block my way from getting anywhere. I just I had to stay there and there was nothing I could do about it."
Did she recognize that what he was doing was abuse? "I thought abuse was only hitting me," says Camille. "So I didn't think that it was just my problem, that's what I thought. You know, that I have to get him to stop." [...]
"You're trapped. And you don't even realize it. They can get out of it. But that's when it can be dangerous - when they want to try and make that break."
That happened to Camille when she tried to leave her ex-boyfriend, who began stalking her. The last straw, she says, was when he attacked her while she was holding their baby: "He charged at me. He hit me in my head like five or six times with a closed fist. And he knocked me over. And I was so shocked. I couldn't believe that happened. So I ran to the phone to call the police, because he was on top of me hitting me in the head."
Her boyfriend was arrested and pled guilty to assault. He appeared before Judge Eugene Hyman, who created the first juvenile domestic violence court in the country to deal solely with teenage batterers and their victims.
"If I have someone doing an episode of domestic violence, then I have to worry whether or not at what level are they gonna go to next," says Hyman. "Are they going to start using weapons? Are they gonna start choking till the person dies? You know, what's gonna happen?" [...]
"We are talking about the kid next door, the kid down the street, the kid in the school," says Hyman. "We're talking about the homecoming king. We're talking about everyone." Where does the need for power and control come from? "I think it comes from the chaotic home life," says Vicki. "They had no control in their home life. And I'm talking about the young men, or the batterer. You know, not a lot of nurturing. Maybe a house where the parents weren't home a lot … I think that's where it starts."
Cameras are rarely allowed in for juvenile proceedings, but Judge Hyman let 60 Minutes II in to highlight what he says is a crisis in Santa Clara County, Calif. Many times, he's handling 75 cases, similar to this one, where a 17-year-old kicked his pregnant girlfriend. And while he does see the occasional female offender, 9 times out of 10, it's boys punching, choking, and even raping their girlfriends. [...]
Incarceration didn't change Camille's ex-boyfriend. Police say he' s continued to stalk her, and they've issued a warrant for his arrest. Camille keeps renewing the restraining order and carries it with her at all times – a piece of paper that's supposed to save her life.
"The question that floats around in my mind is like, 'Well, what is this gonna do, when he's in front of my face,'" says Camille. "What is this gonna do, when he's angry or he's coming at me or he's chasing me or he's in my house? What am I gonna do with this piece of paper."
Camille was only 15 when she got involved with her boyfriend – the same age as Jenny Crompton when she was murdered by Mark Smith.
Smith is now serving life in an Iowa prison, and Vicki confronted him eight years ago. She says she needed to know what motivated him to kill her daughter.
"I just think he is a boy that needed to have control and couldn't get it. And that's the only way he knew," says Vicki. "A lot of guys like him. A lot of people like him walking around."
Driver charged in death pleads insanity
BY L.L. BRASIER
FREE PRESS STAFF WRITER
Satan told him to run into car, suspect say [...]
Man described as 'Antichrist' guilty of sexual charges
Moseman H. Williams pleaded guilty to six charges of having sexual relations with a minor in a case that involves his "cultlike control" over a New York mother and daughter.
By JAY CONLEY
THE ROANOKE TIMES
A psychiatrist described Moseman H. Williams as "the Antichrist" - a master manipulator-cum-prophet who charmed his way into a wealthy New York doctor's home, persuaded her teenage daughter to charge her dad with molestation and convinced the mother and daughter he was their savior. [...]
S. Rockwood chief met teen for sex, attorney says
BY BEN SCHMITT AND CECIL ANGEL
FREE PRESS STAFF WRITERS
South Rockwood's police chief left a 17-year-old lying on the ground after shooting him during an early-morning rendezvous last week, an attorney said Monday. [...]
Gang arrested after child ritual sacrifice
Police investigating the ritual sacrifice murder of a young African boy whose dismembered torso was found in the River Thames have arrested a gang suspected of bringing hundreds of people, including many children, into Britain illegally.
Detectives said they believed the gang was responsible for trafficking Adam - the name given by police to the boy whose torso was found - into the country.
Scotland Yard is convinced that he was brought here to be murdered in a ritualistic sacrificial ceremony. It is thought the gang passed Adam on to those who killed him for the "benefit" of whoever commissioned the sacrifice of the boy, who was aged between four and seven and whose mutilated torso was found floating near Tower Bridge in September 2001. [...]
Chilling details in alleged child killings

Concord, New Hampshire-AP -- Chilling details have been released about two missing children from New Hampshire.
Court documents show that a father accused of killing his two children has confessed to authorities that he shot them. According to the documents, 44-year-old Manuel Gehring told police he buried them in a shallow grave in the Midwest after saying a prayer and making a cross out of duct tape on each child's chest. [...]
Abuse Suits Point at Jehovah's Witnesses
Flurry of Lawsuits Allege Cover Up of Sexual Abuse by Jehovah's Witnesses
The Associated Press
SACRAMENTO July 29 — Four lawsuits filed in California claim Jehovah's Witnesses officials have been covering up alleged sex abuse of children by congregation leaders, adding to a series of similar suits nationwide. [...]
Police Officer to be Retried in Brutality Case
VOA News
31 Jul 2003, 00:41 UTC U.S. prosecutors say they will retry a white former police officer accused of assaulting a handcuffed black youth during a videotaped arrest. [...]
Blair insists his desire for power is undiminished
By Paul Waugh Deputy Political Editor The Independent 31 July 2003

A defiant Tony Blair insisted yesterday that his appetite for power was "undiminished" despite losing the public's trust over the failure to find weapons of mass destruction in Iraq.
In his last press conference before his summer holiday, the Prime Minister dropped strong hints that the Iraq Survey Group of weapons inspectors had already found some evidence to back his case for war.
Texas Baby Dies After Being Left in Car
By LYNN BREZOSKY, Associated Press Writer
HARLINGEN, Texas - A 2-month-old girl died after being left inside a sweltering parked car while her mother was in a Target store applying for a job, police said. [...]
Death Row killer's redemption song
A Nobel Peace Prize nominee - and convicted killer - could be executed as early as next year. BBC News Online's Chris Summers visited him recently on Death Row at San Quentin prison in California.
When 17-year-old Stanley Williams and his pal Raymond Washington founded the Crips street gang in Los Angeles 32 years ago they created a Frankenstein's monster.
The Crips have spread, like a plague, to cities and towns in 43 US states, as well as Canada, South Africa and Germany.
When he was sentenced to death for four murders in 1981 Williams was still very proud of the Crips and revelled in being leader of the notoriously bloodthirsty alliance.
He spent seven years in solitary confinement after prison officials were warned about a gang war which was about to erupt behind bars.
But gradually he realised the error of his ways and in 1993 he began work on a series of books which encouraged kids not to join gangs or get involved in violence.
In his books Tookie warns kids against joining gangs
In 2001 he was nominated for the Nobel Peace Prize by Swiss MP Mario Fehr because of his "extraordinary youth violence prevention and intervention work", which includes his own website.
But Williams' struggle for redemption may have come too late to save his life.
White-collar crime wave rolls in
Norwegian companies are increasingly being hit by internal economic crime, while investigations steadily uncover widespread financial irregularities. Local police can barely keep up. [...]
Bank apologizes for citing Hitler
BY TAMMY CHASE Business Reporter
Glenview State Bank executives apologized to Jewish people on the bank's Web site Tuesday night, after a bank newsletter to customers praised Adolf Hitler as an economic leader of the 1930s. [...]
In the 1,500-word newsletter, Raub talks of how Hitler was the only major leader during the 1930s who successfully resuscitated his country's economy when others such as President Franklin Roosevelt could not, and "led German workers to work harder than anyone else in Europe." [...]
Raub said Hitler avoided deflation unlike other European nations and reduced unemployment. [...]
The bank also apologized for a remark Raub made regarding Palestine. [...]
Secret Service Reveals Identity Theft Tool
Agency Taking Steps To Fight White-Collar Crime
SAN DIEGO -- Anyone with a Social Security number, credit card or bank account can become a victim of identity theft. A new tool from the Secret Service may be able to help protect people before they become victims.
To hinder the fastest growing white-collar crime in America, the Secret Service is taking steps to help law enforcement and identity theft victims. [...]
Local police become involved in a campaign against cybercrime
[...] It's Internet fraud, one of the crimes moving from paper to the cyber world. [...]

Buck says about 50 to 60 percent of crimes the New Lenox Police Department handles somehow involve a computer. [...]
Signs celebrating deaths of Saddam's sons criticized
By Associated Press

CLARKSVILLE, Tenn. - State-hired paving contractors say they were being patriotic when they posted the words "Odai and Qusai dead - way to go 101st" on two electronic message boards.
But some found the roadside messages about the deaths of Saddam Hussein's sons offensive rather than inspiring.
"Our soldiers are not members of a sports team to be rooted for," Roberta Halgrim of Adams told The Leaf-Chronicle newspaper. "They are not gladiators. They are our protectors, and they are willing to pay the ultimate price for peace, not bragging rights." [...]
Ex-Diplomat Joseph Wilson: Bush May Start Another War in 2004 To Win The Election
Former U.S. Ambassador to Iraq Joseph Wilson predicts the situation in Iraq will deteriorate so much over the next year Bush may resort to start another war in order to win the 2004 election.
Wilson is the retired diplomat who visited Niger in a CIA-sponsored trip last year during which he determined the alleged Iraq-Niger uranium deal was bogus. His conclusion was ignored by the Bush White House.
Comment: Listen to Democracy Now's coverage of Wilson's speech here.
Daniel Patrick Welch

After all these years, it still amazes how Americans can remain so disconnected from the world events in which we play so central a role. I use the term "world events" loosely, since the US today seems to have lost even its historically tenuous connections with the reality of the rest of the world. We continue to call our baseball championships the World Series, oblivious to how quaint and naive, at best--or arrogant and self-absorbed, at worst--it has always seemed to the rest of the world. This has been the hallmark of Americans' role in the world--a curious blend of ubiquitous involvement paired with near-total ignorance.[...]
Let's find out.
by Justin Raimondo
It was a moment of harmonic convergence, when the fibbers of the left and the prevaricators on the right were aligned in perfect cosmic harmony. Never mind who lied us into war, averred impeached presidential liar Bill Clinton:
"What happened, often happens. There was a disagreement between British intelligence and American intelligence. The president said it was British intelligence that said it. . . . British intelligence still maintains that they think the nuclear story was true. I don't know what was true, what was false. I thought the White House did the right thing in just saying, 'Well, we probably shouldn't have said that.' You know, everybody makes mistakes when they are president. I mean, you can't make as many calls as you have to make without messing up once in awhile. The thing we ought to be focused on is what is the right thing to do now. That's what I think."
Leading Democrats were shocked , but Clinton's comments are hardly surprising to the nonpartisan mind. For a confirmed sociopath there is no such thing as truth or falsehood: all that matters is what advances his ambitions and momentary desires. What's astonishing is that the neocons are wearing Clinton's endorsement of lying tactics as a badge of honor. [...]
Bush Accepts Blame for African Uranium Charge
By Steve Holland
WASHINGTON (Reuters) - After weeks of blaming others, President Bush for the first time accepted responsibility on Wednesday for making a now-discredited charge that Iraq was seeking uranium from

"I take personal responsibility for everything I say," Bush said when asked about the disputed claim during a wide-ranging White House Rose Garden news conference.
Bush also denied exaggerating the Iraqi threat in the runup to the war as some Democrats have charged and said his decision to go to war was based on "good, sound intelligence" that Iraq was developing weapons of mass destruction. [...]
Bush Calls Threat of New Attacks 'Real'
"The threat is a real threat," Bush said.
Comment from a Reader: This is from a friend, a former school teacher who is battling throat cancer, but obviously still in good enough spirits to come up with this: "I was thinking maybe a new colorcode should evolve: Green -Bush is out of office, Yellow - Bush is in office but out of the country, Orange - Bush is in office, in the country but sleeping, Red - Bush is awake and trying to think."
The usual mangled speech but Bush is let off the hook in rare press conference
By Rupert Cornwell in Washington
The Independent
[...]The main lesson to emerge from the 50-minute session, the first since the invasion of Iraq four months ago, was how easily the chief executive evaded any serious damage - and how the reporters made it easy for him to do so.[...]
US commander in Iraq admits war crime

And the Washington Post doesn't even notice

In a Washington Post article reprinted below, the tenth and eleventh paragraphs are as follows:
Col. David Hogg, commander of the 2nd Brigade of the 4th Infantry Division, said tougher methods are being used to gather the intelligence. Wednesday night, he said, his troops picked up the wife and daughter of an Iraqi lieutenant general. They left a note: "If you want your family released, turn yourself in."
Such tactics are justified, he said, because, "It's an intelligence operation with detainees, and these people have info." They would have been released in due course, he added later.
Of course, it's irrelevant whether hostages "would have been released in due course." Taking hostages is a war crime, with no ifs, ands, or buts.
Geneva Convention, Part III, Section I, Provisions Common to the Territories of the Parties to the Conflict and to Occupied Territories, Article 34: "The taking of hostages is prohibited."
Period, end of section. There's no list of exceptions.
It doesn't say hostage-taking is OK, if the US does it. Or if the women and children are "released in due course." Or if the hostage-takers get the information they want. It says, "The taking of hostages is prohibited."
Col. David Hogg should be arrested and prosecuted. No ifs, ands, or buts.
—H&HH
The Road Not Taken - Thoughts While Passing The Point Of No Return
By John Kaminski
July 30, 2003
Sometimes when we're traveling, we get so engrossed in our own conversations we fail to see significant things. We speed by these emotional landmarks without noticing them. It may be the very thing we've been looking for all our lives, but we miss it for a distracting remark that happens to turn our heads in the wrong direction at that very moment.

Think of what constitutes the point of no return. The days that follow ignorant and unwise decisions are always filled with grief and remorse. Sometimes, in the distance between the moment where we passed it and the spot where we realize we've passed it, the epiphany dawns on us: there is no turning back, despite all our fondest wishing and hoping, despite all our teary promises to do better next time. Real life has no reset button. Then comes that hollow time, with its aluminized applause of silence, when understanding crashes in on us. Some mistakes, like the death of your mother or your son, simply cannot be corrected. Sometimes, in this life, there is simply no going back.

So it is with the American dream, lying crushed in the bleeding dust of official lies presented as eternal truths by neatly dressed young people trying in vain to speak English correctly in front of mobile television cameras, saying things like "the American people support what has been done in Iraq" and trying to show their spontaneous sincerity as the scripted words slither from their painted lips.

America has been twisted from an example of hope for the world into an armed robber intent on fleecing everyone it meets. Just recently, America has changed the world from a place of hope to a place of fear. [...]
Josh Marshall noted the odd popularity of the "flypaper" theory of why invading Iraq will help the War on Terror. The idea here is that by putting our soldiers into Iraq, they will draw the fire of Arab and Muslim radicals from all the world 'round and therefore prevent said radicals from attacking the United States. Andrew Sullivan endorsed the plan and in the wake of General Sanchez's decision to do the same so has Glenn Reynolds.
But surely if this is not madness then nothing is.
Plutocrats Gushing Over Iraqi Oil
While Iraqis have to wait for the most essential services to be restored, British and American oil companies are profiting from the flow of Iraqi crude, which is being restored by the Army Corps of Engineers at U.S. taxpayers' expense.
Exclusive to American Free Press
By Christopher Bollyn
Big Oil is already profiting from discounted and subsidized Iraqi crude provided by the U.S. Army Corps of Engineers (USACE) while the population of occupied Iraq lacks the most basic services: security, water and sewage, electricity, and telecommunications.
American consumers and taxpayers are picking up the tab for the reconstruction of Iraq, directly and indirectly, as the congressionally-funded USACE is working to increase the flow from Iraqi oilfields.
The abundant oil of southern Iraq is flowing again, thanks largely to the USACE, which was commissioned by the Department of Defense and the secretary of the Army to restore Iraq's oil production.
USACE was given the task to repair Iraq's oil infrastructure in "February or March," USACE Lt. Col. Gene Pawlik told American Free Press. "We will be there until we restore oil production to pre-war levels," although he couldn't say how long it would take to reach the pre-war level of 2.5 million barrels per day.
Vice President Dick Cheney said on April 9, when Baghdad fell to coalition forces, that by the end of the year Iraq's oil production would reach 3 million barrels a day. To meet that goal USACE is working with Kellogg Brown & Root (KBR), a Houston-based engineering firm and subsidiary of Halliburton, the oil-services company formerly headed by Cheney.
Pawlik said the USACE today is primarily civilian with only 600 uniformed personnel and about 34,500 civilian employees.
The Army effort headed by USACE is known as Task Force RIO (Restore Iraqi Oil) and is being directed by Brig. Gen. Robert Crear.
The fact that Iraq may have even more oil than Saudi Arabia, something AFP has reported for months, is now being mentioned by the mainstream media: "The shattered nation [Iraq] may have the world's largest reserves of oil," read the headline of The New Yorker on July 21. The informative article noted that the abundant oil of the Basra area "has the cheapest production costs in the world, at about a dollar a barrel."
All the Iraqi oil currently being exported is from the Basra area, near the gulf coast in the extreme south of the country, where a cluster of rich oil fields, including the "super giant" Rumaila and Majnoon fields, are found. The Basra area is reportedly producing 350,000 to 400,000 barrels a day.
While the United States has some 150,000 troops stationed in Iraq, the combined coalition allies have less than one-tenth that number in the country. Despite the minute size of the British contingent in Iraq, the occupied oil-rich Basra area is primarily under British military control, Pawlik told AFP.
Not surprisingly, a British-owned tanker was the first to load Iraqi oil since the beginning of the war.
A British Petroleum (BP) tanker "lifted" 2 million barrels of high-quality Basra light crude oil at the gulf port of Mina al-Bakr on July 13. ChevronTexaco was scheduled to load 2 million barrels on July 21, and Shell to take its share the following week. A fourth bidder, a "Swiss trading firm" called Taurus, was also involved in the July sale of 8 million barrels of Iraqi crude. Who the Geneva-based Taurus is, however, remains unknown.
The July sale of freshly pumped Iraqi crude was sold for less than $25 per barrel, "more than $5 per barrel below standard U.S. crude prices," The Observer (UK) reported on July 13, adding, "British and American tankers making off with the first few million barrels of Iraqi oil are only likely to confirm long-held suspicions of war skeptics," it reported.
At least three-quarters of the new Iraqi oil will be heading for the U.S., while Iraqis are reportedly now paying five times more for gas than they did under the former Ba'ath regime.
BP, which enjoyed record profits of more than $3 billion in the first quarter of 2003 "due to higher worldwide refining margins and improved retail margins, particularly in the USA," reportedly planned to ship its Iraqi crude to the United States. Across the United States, BP has 14,900 service stations under the new dandelion-like yellow and green logo.
BP spokesman, Scott Dean, told AFP that the new logo, which does not identify the company as "British Petroleum," had met with "positive" responses from consumers.
Through mergers and acquisitions, formerly American-owned oil companies such as Amoco, ARCO, Burmah Castrol and Vastar, made the London-based British Petroleum the largest oil and gas producer in the United States and one of the largest gasoline retailers by 2001.
BP has some $40 billion of fixed assets in the United States, with operations in almost every state, including the Alaska pipeline, which it operates, and 42,000 U.S.-based employees.
[...] Despite promises to use the oil revenues to benefit the Iraqi people, a senior source with the U.S. Agency for International Development (USAID) told The Observer that restoration of essential infrastructure for the civilian population of Baghdad could take as long as a year: "He believed it could take a year just to get the water treatment system in Baghdad functioning again."
Deputy Secretary of Defense Paul Wolfowitz said that production of Iraqi oil had surpassed the 1 million barrel per day mark when he gave a rosy briefing to Pentagon reporters about his four-day "whirlwind tour" of Iraq on July 23.
"There is no humanitarian crisis. There is no refugee crisis. There is no health crisis. There has been minimal damage to infrastructure; minimal war damage, lots of regime damage over decades, but minimal war damage to infrastructure except for telecommunications, which we had to target," Wolfowitz said.
Luke Zahner, spokesman for USAID, told AFP the Baghdad sewage system has "not been functioning for 10 years" and that tons of raw sewage are being dumped into the Tigris River every day.
The lack of functioning water treatment facilities is the primary reason for an epidemic of water-borne diseases that has worsened since the war began.
Comment: Leaving aside Wolfowitz's barefaced lies above (see below article), the important point that Zahner omits is that the nonfunctioning water treatment facilities in Baghdad are the result of the decision by George Bush Senior in 1991, after the first Gulf War "turkey shoot" was over, to order the bombing of some 1400 water treatment plants in Iraq in spite of a CIA report that this would have little or no effect on Saddam merely bringing suffering and illness to Iraqi civilians.
Indeed it seems that the truth is that Iraq had restored their water treatment facilities after the bombardment 12 years ago, only to have them bombed back to the stone age again in the renewed aggression this year.
It would seem that far from the Arabs "hating us because of our freedom and democracy" it is we (with our democratically elected governments presumably acting in our name) who hate the Arabs and wish to inflict as much needless suffering on them as possible.
Iraq has the largest oil reserves in the world, and we are expected to believe that the power and money-mad war mongers at PNAC did NOT know this as they drew up plans to invade 3 years ago.
Significantly, Iraq's oil reserves are said to "surpass those of Saudi Arabia", this information coming out at around the same time that the 9/11 report is released, pointing the finger at the Saudis for aiding and abetting the attacks of 9/11. Are we next to see an invasion and overthrow of the "brutal regime" in Saudi Arabia?

What will be the battle cry this time?
"We are coming with a mighty force to liberate your:
a) People b) Women c) donkeys d) oil e) loins f) souls from bodies.
Chaos, Despair Reign in Iraq; Go Unreported By Mainstream
As U.S. Troops Are Picked Off, Scores of Iraqis Dying Daily
The chaos, death and suffering that have befallen the Iraqi people as a result of the destruction of their nation's vital infrastructure by coalition forces is a non-story for the plutocratic controlled media.
Exclusive to American Free Press
By Christopher Bollyn
As an increasing number of Americans lose their lives in "post-war" Iraq, the mainstream press sees fit to report only the essential facts. Clearly, most of the happenings in that war-torn nation are deemed unworthy for the network nightly news. Kept out of the news reports, and off the television screens, is the urgent and widespread humanitarian catastrophe in Iraq, which has resulted from the coalition bombing of essential infrastructure.
"Desperation" and "chaos" are words frequently used to describe the living conditions in which most of Iraq's 25 million people struggle to survive after the Anglo-American invasion.
What is meant by "chaos," however, and what it means in human terms, and how it came to Iraq is apparently a non-story for the controlled media.
On the network news, one occasionally hears an Iraqi voice clamoring for "services." "Services" refers to electricity, water, communication and sanitation. However, those essential services have ceased to exist in much of Iraq since the U.S.-British occupation began.
The failure by the occupying powers, Britain and the United States, to provide these basic services has taken a huge toll on Iraqis.
Electricity is crucial in Iraq because without electricity to run the water treatment plants there is no clean water.
In Baghdad, the capital, there is electricity for only two to four hours a day, according to The Guardian (UK) of July 11. "There is no warning of it going off. Most of the wealthier households have generators. Baghdad's water system is powered by electricity. No power, no water."
As a result the number of Iraqi children dying from diarrhea, the No. 1 killer of infants, has more than doubled since last year, according to the UN Children's Fund (UNICEF). While the ailment "may sound trivial, in Iraq it kills," said the agency's spokesman, Geoffrey Keele.
"We've recorded a 2.5-fold increase in the number of children contracting diarrhea, some chronically, compared to May last year. It means that 72 percent of the children we surveyed had diarrhea," Keele said.
Cholera was also on the rise, with scores of confirmed cases identified in Basra, in southern Iraq.
Other diseases such as dysentery and typhoid, which are spread through contaminated water and food, are "becoming a real problem for children," Keele said.
The "viceroy of Iraq," Lewis Paul Bremer III, the Yale graduate who until recently served as managing director of Kissinger Associates, places the blame for the health crisis squarely on the ousted regime of Saddam Hussein.
"We need to undo the enormous economic damage that has been done here over the last 30 years," Bremer said recently about Iraq's lack of electricity. "This is a problem we inherited from a regime that for 35 years under-invested in every aspect of this country."
Comment: Bremer is a consummate liar it seems. Iraq was a flourishing country until the US attack in 1991. It was then that the "enormous economic damage" was done.
According to UNICEF, however, 85 percent of the Iraqi population and 96 percent of the urban population had safe drinking water as recently as February 2002, one year before the Anglo-American invasion.
Prior to the Gulf War of 1991, more than 90 percent of the Iraqi population had safe drinking water. In 1990, the Iraqi people enjoyed one of the highest standards of living in the Middle East. Iraq was then the only Arab country in which the vast majority of the population had access to clean water.
Prior to Gulf War I in 1991, Iraq had a high standard of living, with the majority of the population in a relatively wealthy "middle-class" status.
With low infant mortality and high levels of education and widespread access to potable water and sanitation, Iraq ranked 67th on the UN Development Program (UNDP) Human Development Index in 1990. After the first Anglo-American assault and 10 years of sanctions, Iraq had fallen to 125 on the UNDP Human Development Index.
How did Iraq fall? Targeted bombings during two wars and 12 years of sanctions paved the way.
"The sanctions against Iraq are the most comprehensive, total sanctions that have ever been imposed on a country," Marc Bossuyt of the UN's Economic and Social Council wrote in June 2000. "The situation at present is extremely grave. The transportation, power and communication infrastructures were destroyed during the [first] Gulf War, and have not been rebuilt owing to the sanctions. The industrial sector is also in shambles, and agricultural production has suffered greatly. But most alarming is the health crisis that has erupted since the imposition of the sanctions."
U.S. says Syria incapable of reining in Lebanon terrorists
By Haaretz Service
Syria today is incapable of stopping the activities of terror organizations operating in south Lebanon, as well as the flow of money and military supplies from Iran to the area, a senior U.S. source told Prime Minister Ariel Sharon, Israel Radio reported Thursday morning. [...]
What is Israel's "democracy" ?
Syrian Times
So far, more than 3000 Palestinians have been killed, about 45,000 injured and over 10,000 arrested since the Palestinian Intifada started in September 2000 following the provocative visit by Ariel Sharon to the holy al-Aqsa Mosque in occupied Jerusalem. Since then, Israel's acts of mass genocide and brutal destruction have been at full swing against the Palestinian people. The anti-Palestinian bloodshed and destruction, maintained under the alleged banners of "combating terrorism", protecting Israel's "security" and establishing "peace" continued unabated. Israel's criminal and brutal acts were seen growing to make best use of the consequences of the US invasion and occupation of Iraq.
The whole tragic state of affairs is the direct product of Israel's "democracy" which is embodied in those criminal and inhuman acts against the Palestinians just because they want to resist the ugly occupation of a "democratic" state, to defend their own land and to achieve freedom and independence. This is virtually an integral part of Israel's "alleged" democracy. This very democracy has been breeding terrorism and violence and successively producing racist and extremist Israeli leaders whose main pre-occupation is to perpetuate occupation and aggression, to expel -if not wipe out- the native Palestinian people and to set up a purely Jewish "Eretz Yisrael" state extending from the Nile to the Euphrates in the very heart of the Arab region. The "Jewish state" in the racist sense was explicitly expressed by US President George W. Bush and Israel's Prime Minister Ariel Sharon during the recent summit in Jordan's Aqaba.
Palestinians report Israelis escalate violation
SyriaTimes
The Palestinian National Resistance Movements, Hamas and Islamic Jihad have announced that Israel committed more than 70 violations of the declared truce, warning that continuying these violations exposes the truce to collapse.
Palestinian boy's organs save four Israelis
Reuters
The family of a Palestinian boy killed in an accident has helped save the lives of four Israeli children by donating his organs, a rare act after 34 months of conflict between Israelis and Palestinians. [...]
His family authorised the donation of his organs yesterday over the objections of many of their neighbours angered by Israeli crackdowns on a Palestinian uprising for independence.
"We want Israelis and Americans to know that while the Israeli army kills Palestinians we give life to Israeli children," Murad Aoude, one of Qaher's 17 siblings, said today. [...]
Palestinians hold key to peace, DeLay says
BY JAMES BENNET
New York Times Service
JERUSALEM -Calling himself ''an Israeli at heart,'' House Majority Leader Tom DeLay told Israeli legislators Wednesday that the burden for achieving peace rested with the Palestinians, who he said must eradicate terrorism.
Speaking a day after President Bush met at the White House with Israeli Prime Minister Ariel Sharon, DeLay said that Bush ''made clear that the prospects of peace are the responsibility of the Palestinian Authority,'' which must "fight terror and dismantle terrorist capabilities.'' [...]
DeLay Says Palestinians Bear Burden for Achieving Peace
"Israel is not the problem," he said. "Israel is the solution." [...]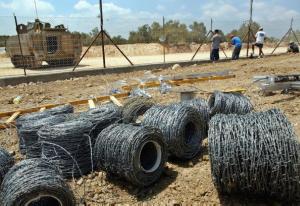 Materials for "The Fence" in the occupied territories. Won't the Palestinains feel "more secure" looking at this day in and day out?
US backs Indian border fencing
PTI THURSDAY, JULY 31, 2003 WASHINGTON:
The US has backed India for erecting fences along the Indo-Pak border and Line of Control to stop infiltration in Jammu and Kashmir and said Pakistan must end cross-border terrorism and dismantle terrorist training camps.
Comment: Fences and more fences. The Israelis are trying to fence in the Palestinians, India is fencing out the Pakistanis. Maybe the Republicans will want to put a fence around Texas to keep the Democrats from going to New Mexico.
The chorus of the following song has been adapted to fit Canada, Ireland, and probably other countries. But it is the verses that apply to all lands. However, chances are you've never heard them or sang them in school. Read them and you'll see why.
THIS LAND IS YOUR LAND
By Woody Guthrie
This land is your land, this land is my land,
From California to the New York Island,
From the redwood forest to the gulfstream waters,
This land was made for you and me.
As I went walking that ribbon of highway
I saw above me that endless skyway,
I saw below me that golden valley,
This land was made for you and me.
This land is ...
I roamed and rambled, and I followed my footsteps,
To the sparkling sands of her diamond deserts,
All around me a voice was sounding,
This land was made for you and me.
This land is ...
When the sun come shining, then I was strolling,
And the wheat fields waving, and the dust clouds rolling,
A voice was chanting as the fog was lifting,
This land was made for you and me.
This land is ...
In the squares of the city by the shadow of the steeple
Near the relief office I saw my people
And some were stumbling and some were wondering
if This land was made for you and me.
This land is ...
As I went rumbling that dusty highway
I saw a sign that said private property
But on the other side it didn't say nothing
This land was made for you and me.
This land is ...
Nobody living can ever stop me
As I go walking my freedom highway
Nobody living can make me turn back
This land was made for you and me.
You Call This Justice? How Ashcroft Coerces Guilty Pleas
By ELAINE CASSEL
Counterpunch.org
July 30, 2003
The Washington Post reported on the tragedy and travesty of the convictions of six men in Lackawanna, New York, the so-called "Lackawanna Six." John Ashcroft's prosecutors charged the men with conspiring to attend an al-Qaeda terrorist camp. Does that sound a little far-fetched to you? Like two lovers conspiring to have an illicit affair that is never consummated? Or two stock brokers talking about how they might pull off some scam? [...]
All six pled guilty and will serve an average of nine years in prison. Their lawyers are sick about it, the men and their families resigned to their fates. Why did they plead? [...]
Canadian's death 'murder,' Iran says Ottawa welcomes admission; will continue to push for return of remains
Jul. 30, 2003
TEHRAN (AP-CP) — Iran's vice-president said today that the Canadian freelance photojournalist who died in police custody earlier this month was murdered, the first time an official has admitted that Zahra Kazemi was beaten to death.
Earlier statements, including a report from a presidential committee, had acknowledged that Kazemi died from injuries sustained from a blow to the head, but suggested it could have been an accident.
"The murder was caused by brain hemorrhage due to a blow inflicted on her (head)," Vice-President Mohammad Ali Abtahi told reporters after a cabinet meeting.

Memo calls Bush 'Shrub'
Jul. 31, 2003. 01:00 AM
REGINA—Saskatchewan's plan to get the United States to reopen borders to Canadian beef took a hit yesterday when it was revealed that an internal government document flippantly referred to U.S. President George W. Bush as "Shrub."
"Re: Petition to President Shrub," is the title of the memo, dated Tuesday, and sent to NDP members by party researcher Ted Bowen.
The memo was sent to media outlets by mistake.
The nickname comes from a book entitled Shrub: The Short But Happy Political Life of George W. Bush published in the United States, that describes Bush as politically savvy but a shallow thinker and beholden to special interests.
When contacted, an apologetic Bowen insisted that referring to Bush as a shrub is common in Texas where he comes from.
Official: Yukos Affair Is Tricky
By Catherine Belton Staff Writer
President Vladimir Putin is determined to keep the escalating investigations into Yukos from evolving into a wholesale review of early privatizations, according to a senior official.
"We have to steadily move away from this situation without revisiting the results of privatization," the senior official told foreign journalists late Tuesday on the condition of anonymity. "The position of the president is that privatization will not be revised."
Comment: Putin may say this publically, but a section in last week's Courrier International discusses the relationship between the new Oligarchs, Putin, and the Kremlin old guard in greater detail. It is no surprise that the oligarch's, the new rich in Russia who made their billions after the break up of the old Soviet State, were involved in illegal activities.
Putin has the goods on these people and is using the threat of prosecution to prevent them from engaging in politics. So, no, privatization will not be revised as a project, but those who were involved in the first wave better heed the message...or face the consequences.
U.S. Official Says North Korea a 'Hellish Nightmare'
By Martin Nesirky
Thu July 31, 2003 01:15 AM ET
SEOUL (Reuters) - Top U.S. arms negotiator John Bolton described North Korean leader Kim Jong-il on Thursday as a tyrannical dictator who lived like royalty while jailing thousands and keeping many hungry in a "hellish nightmare." [...]
One in Three Below Poverty Line
Nairobi - One in three people continued to live below the poverty line in Uganda in 2002, despite progress made in recent years which has lifted over four million Ugandans out of impoverishment, says a new report issued on Wednesday by the UN's Economic Commission for Africa (ECA). [...]
Thai Government Celebrates 'Independence'

From IMF AP 2003/07/31

The Thai government celebrated its "independence" from the International Monetary Fund, confirming it will repay on Thursday the final installment of a US$12 billion loan it had taken to deal with the 1997 Asian financial crisis.
Prime Minister Thaksin Shinawatra plans to give a radio speech Thursday night to announce the repayment of the final installment of US$1.6 billion, one year ahead of schedule.
US proposes planet watch

By Richard Black BBC Science correspondent

The US Government is hosting a summit on a proposed International Earth Observation System.
Washington says a system to gather and collate information about the changing planet is necessary in order to make informed environmental decisions.
However, some observers believe it is no more than an excuse to delay action on global warming.
[...] This heavyweight line-up illustrates the importance which the Bush administration attaches to the initiative. Yet precisely what the proposed observation system would do is not entirely clear.
Excuse
The idea is to gather and collate environmental data from a range of sources, making something which scientists do already more systematic.
The US is asking for a 10-year commitment which will see the project gradually expand from the West into developing countries.
But there is no budget as yet, nor is it clear where the money is to come from.
There is concern among scientific and environmental groups that the Bush administration could use the observation system as an excuse for taking no action on climate change.
More data is always valuable, they say - but there is already enough to show that global warming is happening and needs to be tackled now.
Comment: At the moment, all this information comes in to a large, black hole. It simply disappears and no one has access to it. Looks as if the US wants to do a vacuum cleaner operation and gets its hands on the data it doesn't already have, take it out of public circulation.
Hard to believe that they are doing this in order to combat the changes to the planet wrought by their psychopathic exploitation. More likely they want to keep an eye on the indicators of the coming catastriphe so they know when to head into their underground cities...
Thursday 31st July 2003
Government authorities in Central Java province have put residents living near the Dieng volcano on 'top alert' for a possible major eruption, officials said on Wednesday. The Sileri crater, one of several active craters on the Dieng mountain range, has witnessed increased activity over the past several days, belching hot lava containing sulphur onto nearby areas. Villagers living in a 1 kilometer radius of the crater, have to stay on alert for a possible major eruption or poisonous gas from the Sileri crater. For the time being, the Sileri crater is closed to tourists.
No evacuation had been ordered as yet, even though hectares of potatoes and other vegetable plantations in a radius of 100 metres from the crater had already been heavily damaged.
Landslides kill at least 19 in Nepal

KATHMANDU (Reuters) - At least 19 people were killed on Thursday when landslides triggered by heavy rains struck a village in west Nepal, a government official said. [...]
Norris Geyser Basin closed due to geothermal activity
By SCOTT McMILLION
Chronicle Staff Writer
Something's cooking in Yellowstone National Park, and it's not just the weather.
At Norris Geyser Basin, new steam vents and mud pots are popping up, some geysers are draining themselves and Porkchop geyser has erupted for the first time since 1989.
All that, and the ground temperature has risen to 200 degrees Fahrenheit in places, hot enough to boil water at Yellowstone's altitude.
That's also hot enough to cook eggs on the ground, not to mention kill trees and other plants.
Things are changing rapidly enough that the National Park Service has closed about half of the famous geyser basin to visitors due to safety concerns.
There are 12,500 feet of trails in the basin on the west side of the park, and 5,800 of them are now closed until "conditions have returned to acceptable ground temperatures and stable surface conditions," the Park Service announced this week.
"It sounds like they're having some growing pains down there," said Tim McDermott, codirector of the Thermal Biology Institute at Montana State University.[...]
The increased activity was first noticed July 11 and Porkchop geyser erupted July 16, the first time it's blown in 14 years.
Prior to 1989, that geyser was in continuous eruption for four years, a period that ended with an "explosion," the Park Service said.[...]
Shanghai Daily News
This will likely be the hottest summer in Shanghai in 70 years, according to local forecasters.
Today's high is expected to reach 37 degrees Celsius, marking the 20th day this year the mercury has topped 35 degrees. The record for days with temperatures above 35 degrees was set in 1934, when the city suffered through 23 scorchers, according to the Shanghai Meteorological Bureau. [...]
Weather hinders firefighting efforts in Montana

By BECKY BOHRER, Associated Press
Smoke and flames rise from the Robert Fire on Wednesday, July 30, 2003, at Glacier National Park, Mont. WEST GLACIER, Mont. (July 30, 4:09 p.m. ADT) - A wildfire menacing Glacier National Park paused Wednesday, but uncooperative weather kept firefighters from making a full attack on the 14,200-acre blaze that has forced hundreds of people from their homes.
Firefighters had to suspend their backburn efforts until just the right combination of humidity, temperature and wind developed, said fire information officer Bill Beebe.
In addition, a weather inversion held smoke close to the ground, making conditions too dangerous for helicopters to fly their spot attacks for much of the day, he said.
The forecast for Wednesday afternoon called for winds gusting to 22 mph and temperatures up to 100 degrees in Glacier National Park, whose spectacular mountain views make it one of the nation's most popular parks [...]
Nolan Zavoral
Star Tribune

It was supposed to be an open house, but it turned into something more because the Wellstone name was attached.
For four hours Tuesday, a flood of people -- an estimated 1,000 or more -- filled the lawn of a corner office building on Raymond Av. in St. Paul. There were lines everywhere.
There was a line to file up the two flights in the brick building to see the Wellstone Action offices, named in honor of U.S. Sen. Paul Wellstone and his wife, Sheila, who died in a plane crash in northern Minnesota on Oct. 25, along with their daughter, Marcia Markuson, and three campaign aides.
A nonprofit organization with no formal political ties, Wellstone Action champions causes "for progressive change and economic justice." [...]
Billionaire's ads challenge U.S. case for Iraq war

Fri Jul 25, 7:45 PM ET
NEW YORK (Reuters)

Billionaire philanthropist George Soros is running full-page ads in major U.S. newspapers on Sunday challenging the honesty of the Bush administration's case for waging war in Iraq.
The ads in The New York Times, the St. Louis Post-Dispatch, and the Houston Chronicle, are titled, "When the nation goes to war, the people deserve the truth."

A dozen statements made by President George W. Bush, Vice President Dick Cheney, Secretary of State Colin Powell and Secretary of Defense Donald Rumsfeld making the case for war are reprinted and described as either exaggerated or false.

The statements center on claims about Iraq having weapons of mass destruction and large quantities of poison gasses.

The Hungarian-born Soros, 72, emigrated to the United States from Britain in 1956 and built a fortune as a financier. He is founder of a network of philanthropic organizations active in more than 50 countries that focus on education, public health, human rights and economic reform.

The ads, estimated to cost about $185,000, were co-sponsored by U.S. philanthropists Dorothy and Lewis B. Cullman.

"Both George Soros and Lewis Cullman have been deeply concerned about the deception used to justify the war in Iraq," said Michael Vachon, a spokesman for Soros.

"They believe their fellow citizens should also be concerned and took out these ads to move them to action."

Bush has defended the case for war, saying he is confident that weapons of mass destruction will eventually be found in Iraq and that criticism of intelligence about Iraq's military capabilities amounts to quibbling.

Public opinion on the issue is closely divided, according to a Quinnipiac University Poll released this week. It showed U.S. voters believed the administration did not intentionally exaggerate evidence that Iraq was developing nuclear weapons by 50 to 44 percent with a 3 percent margin of error.
Comment: Blah Blah yadda yadda, more idiotic polls that are probably made up. The bottom line is this: Forget about polls, to us it is unthinkable that anyone that credits themselves with a properly functioning brain, a pair of eyes, and a pair of ears cannot see what is screamingly obvious. However if the above poll is in fact accurate, then we may have to come to another more alarming conclusion.
US threatens confiscations unless Bahraini company withdraws from Iraqi cell phone business

Move leaves Iraqi market open for American companies

by Andrew Buncombe July 30, 2003

America's desire to rebuild Iraq in its own image even extends to setting up a mobile phone network that only works for US phones.
A Bahraini company that established a network accessible to those without American phones has been forced to scrap its plans after a week.
Batelco had started placing more than $5m (£3m) of aerials and other equipment for GSM mobiles across Baghdad. Foreign businessmen and journalists were able to abandon expensive satellite phones for the first time. But mindful of its desire to set up a tender for the country's mobile network, the US authorities apparently started to put pressure on Batelco, threatening to confiscate its equipment.
"They applied enough pressure for us to push the button," said Rashid al-Snan, the company's regional operations manager. "I feel really sorry - sorry for the Iraqis and sorry for the foreigners who were using the network. It's a pity we had to stop. We really put in an effort and felt a cheer coming towards us from all over the world."
Comment: "We are coming with a mighty force to liberate your people"
George W. Bush, refering to the imminent invasion of Iraq, March 2003
Metals set Hiroshima radiation record straight
Nickel confirms record of A-bomb risk 58 years ago.
31 July 2003
TOM CLARKE
Scientists have deciphered a faint message in metals that bore silent witness to the first atomic bomb explosion, which rocked the Japanese city of Hiroshima at the end of the Second World War. [...]
The confirmation is also important to child victims of the Hiroshima and Nagasaki bombs. Children are more susceptible than adults to the cancer-causing properties of radiation. Infant victims are now reaching the age at which cancers become common.
The man in the street may have heard about the deformed Iraqi children, born following the first Persian Gulf war. But Americans remain largely un aware about the shocking number of children with horrifying birth defects born to U.S. vets who returned home after the war ended in 1991.
Exclusive to American Free Press
By Christopher J. Petherick
American veterans of the 1991 war in Iraq, who reported suffering a wide array of debilitating illnesses now known as Gulf War Syndrome (GWS), have had an alarming number of children born with severe birth defects, according to several independent researchers. The Pentagon and the Department of Veterans Affairs (VA), however, have refused to acknowledge a direct relationship between those who served in or around Iraq during the war and the increase in birth defects among their offspring.
On Jan. 17, 1991, the United States attacked Iraq to expel the country's forces from Kuwait after it was invaded in 1990. Some 697,000 U.S. soldiers and sailors participated in the war, which barely lasted a month-and-a-half.
[...] "Sixty-seven percent of babies born to the 400,000 vets who suffer from Gulf War Syndrome have birth defects," said Joyce Riley, a former nurse who flew in Iraq and the founder and spokesperson of the American Gulf War Veterans Association. "But the Department of Defense and Veterans Affairs do not want America to know the number of sick, dead and deformed kids that vets are having. It's another cover-up."
Mrs. Riley served in the Gulf War as a captain in the Air Force Reserve and flew C-130 missions with a medical team in support of the war.
"A lot of the babies are being born with organs out of place—kidneys in the wrong place, hearts out of the body," Riley told AFP. "The most [common birth defect] is failure to thrive, where they could not keep weight on and just didn't make it."
Though the government refuses to acknowledge that many children of vets are suffering, Mrs. Riley says the evidence linking the ghastly birth defects to Iraq is overwhelming.
"One nurse who served over there—all three of her children were born autistic," she said. "We've also seen a lot of what is known as 'Goldenhar Syndrome,' that is where there is a missing left eye and left ear. It's very strange. A lot of people believe this has something to do with the radiological problem related to the use of depleted uranium."
"Goldenhar Syndrome is a congenital birth defect which involves deformities of the face," reports the National Craniofacial Association (NCA), a non-profit organization based in Tennessee that assists families of children born with facial deformities. "It usually affects one side of the face only. Characteristics include: a partially formed or totally absent ear; the chin may be closer to the affected ear; one corner of the mouth may be higher than the other; or a missing eye."
[...] Some believe it is due to the vast number of highly toxic depleted uranium rounds fired into Iraq by U.S. forces. Others contend that it is due to the many vaccines given to troops working in the area. Still others argue that it is the result of the demolition of Iraq's stockpiles of chemical and biological weapons.
As more veterans come forward, researchers are confident that a link will be established and GWS sufferers and their children will finally get the justice they deserve.
7 more cases of mystery illness
Military trying to identify malady that killed lake area soldier
By Marsha Paxson
Lake Sun
LAKE OF THE OZARKS -- Seven more soldiers in Iraq have contracted the same puzzling illness that has killed two soldiers, including one from the lake area.
The latest cases bring the number of affected troops to 19. All have been evacuated to the same Landstuhl, Germany, hospital where Spec. Josh Neusche, 20, of Montreal was treated before he died July 12.
Robo-nurse could help cope with future Sars outbreaks
China has developed a 'robo-nurse' to treat patients in the event of future Sars outbreaks, according to reports [...]
Random searches at airports would catch more terrorists than the current system of passenger profiling.
[A]ccording to the MIT grad students, if the airports employed only random searches the terrorists would not be able to practice against the system. The MIT research explains it this way: an average airport has the ability to do extra screening on eight percent of the passengers.
Currently, the CAPPS system uses profile criteria to choose up to six percent of those people for extra screening, the remaining two percent are selected randomly. But if all eight percent were selected randomly, the MIT research shows there is a better chance of catching terrorists or people hiding weapons. That's because with a purely random system, potential terrorists would have no way of knowing ahead of time if they were likely to receive extra screening and they would have no way of practicing against the system. [...]
Air Crew Mistook Letter-Opener for Knife
TOKYO (Reuters) - An American Airlines plane made an emergency landing in Tokyo on Wednesday after crew mistook a letter-opener found on board for a knife, Japanese police said. [...]
Planned Air Marshal Cuts Meet Hostility
By LESLIE MILLER, Associated Press Writer
July 31, 2003
WASHINGTON - A Bush administration plan to cut back the air marshal program that mushroomed after the Sept. 11 attacks was rejected by Republicans and Democrats in Congress.
Democratic senators on Wednesday denounced the plan as "crazy" and "mindboggling" in light of a new warning that al-Qaida may try more suicide hijackings. [...]
U.S. Changes Air Passenger Screening Plan
By Deborah Charles
Wed Jul 30,10:41 PM ET

WASHINGTON (Reuters) - The U.S. Department of Homeland Security hopes to begin testing a revised air passenger screening program soon following hundreds of complaints that the original proposals would lead to invasion of privacy, officials said on Wednesday. [...]
By John Leyden Posted: 30/07/2003 at 10:01 GMT
As Europe mulls the idea of implanting radio chips into euro notes, Japan has gone a step further with plans to incorporoate the controversial technology in currency that will enter circulation next year.[...]
Already, privacy activists and some technologists are already voicing their concern over the privacy implications of RFID tags attached supermarket goods. Such fears can only be magnified when this technology is included in the money in our pockets.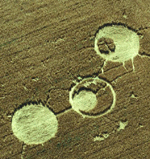 A Crop Circle Field Report
[A] private scientific research team documented physical evidence that confirmed Art Rantala's eyewitness observation that the Mayville/Kekoskee, Wisconsin crop circle formation was not made by hoaxers. [...]
Comment: Good photos, with some showing the U.S. Air Force taking a very active interest.
It's fake, 'no doubt' - others aren't so sure
Experts converge on Howell crop circles

BY TOM TOLEN
News Staff Reporter
[...]Wilson also was impressed with the complex weaving inside the crop circle. "You can get hoaxers to do limited weaving, but it would be nearly impossible to get the kind of weaving we saw," he said.
Wilson said it appears the U.S. Air Force is now interested in crop circles. When he went to a site in Wisconsin last week he was questioned by investigators from Scott Air Force Base in Illinois, who arrived in a helicopter. Wilson says he also observed a military helicopter fly over the Howell Township site Tuesday, but it did not land. [...]
WITNESSES TO THE INCREDIBLE: Winged Weirdoes and Imps
Menlo Park physicist Kent Cullers directs research and development for SETI, the institute that searches for intelligent life out there. He also supports organizations that support people with visual impairments.
By Marion Softky
"I'm the first totally blind physicist and astronomer in the United States -- and probably the world." [...]
Current, former sheriffs square off in Henrico
Tom Lappas
Henrico Citizen Editor
[...] Mathews faced significant scrutiny shortly before the 1999 election, when he recounted for a newspaper reporter his recollections of what he believes was a UFO visit to his Varina farm several decades ago.
In an article, Mathews said he believed the UFO was responsible for the subsequent death of his dog.
Wade said that those comments further damaged the reputation of the Sheriff's Office.
"To me, it's embarrassing to go out in public and have someone say, 'Hey Sheriff, have you ever seen a UFO' That's happened to me a number of times." [...]
---
Check out the Signs of the Times Archives
Send your comments and article suggestions to us.
---
Fair Use Policy
Contact Webmaster at signs-of-the-times.org
Cassiopaean materials Copyright ©1994-2014 Arkadiusz Jadczyk and Laura Knight-Jadczyk. All rights reserved. "Cassiopaea, Cassiopaean, Cassiopaeans," is a registered trademark of Arkadiusz Jadczyk and Laura Knight-Jadczyk.
Letters addressed to Cassiopaea, Quantum Future School, Ark or Laura, become the property of Arkadiusz Jadczyk and Laura Knight-Jadczyk
Republication and re-dissemination of our copyrighted material in any manner is expressly prohibited without prior written consent.
.