---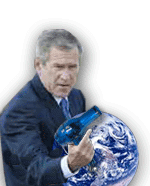 Global warming a weapon of mass destruction, says British scientist
Mon Jul 28,11:57 AM ET
LONDON (AFP) - Human induced global climate change is a weapon of mass destruction at least as dangerous as nuclear, chemical or biological arms, a leading British climate scientist warned.
John Houghton, a former key member of the Intergovernmental Panel on Climate Change, said Monday that the impacts of global warming are such that "I have no hesitation in describing it as a weapon of mass destruction." He said the United States, in an "epic" abandonment of leadership, was largely responsible for the threat. "Like terrorism, this weapon knows no boundaries," Houghton said. "It can strike anywhere, in any form -- a heatwave in one place, a drought or a flood or a storm surge in another"
The US mainland was struck by 562 tornados in May, killing 41 people, he said, but the developing world was hit even harder. For example, pre-monsoon temperatures this year in India reached a blistering 49C (120F), 5C (9F) above normal.
"Once this killer heatwave began to abate, 1,500 people lay dead -- half the number killed outright in the September 11 attacks on the World Trade Centre," Houghton said. He said British Prime Minister Tony Blair begun to face up to this, rhetorically at least, but "nowadays everyone knows that the US is the world's biggest polluter, and that with only one 20th of the world's population it produces a quarter of its greenhouse gas emissions." "But the US government, in an abdication of leadership of epic proportions, is refusing to take the problem seriously -- and Britain, presumably because Blair wishes not to offend George Bush -- is beginning to fall behind too," Houghton said.
Defense Dept. Program Taking Terror Bets
Program Models 'Futures' Markets
POSTED: 3:20 p.m. EDT July 28, 2003
A new Department of Defense program allows traders to bet on the likelihood of future terrorist attacks...

The program works much like the financial markets where traders buy and sell "futures" based on the possibility of a specific event in the Middle East, 11 News reported.
Some of the examples listed on the agency's Web site include the assassination of Palestinian leader Yassar Arafat and a missile attack by North Korea. Bidders would profit if the events for which they hold futures occur.
Defense officials said the market-based system is highly accurate when assessing such things as political and civil stability, economic health and military disposition of Middle East countries.
Participants would only have to pick a username and password to participate and the agency said it won't have access to their identities or funds...
Comment: This is a really sick idea, but we all know the power of the free market, right?
What is surprising is that there appear to be some people in Congress who are as horrified at this idea as we are.
"I think this is unbelievably stupid. That is a gentle thing to say about a program that is so devoid of value," Sen. Byron Dorgan, D-North Dakota, said. "It combines the worst of all our values in my judgment. It's a tragic waste of taxpayer money. It will be totally offensive to almost everyone."
"[The] idea of a federal betting parlor on atrocities and terrorism is ridiculous and grotesque," Sen. Ron Wyden, D-Oregon, said. "The bizarre plan we are describing today is a waste of taxpayer money and it needs to stop immediately. The program's intent is clear: the federal government is encouraging people to bet on and make money from atrocities and terrorist attacks."
Of course, the moral horror is matched by the fiscal horror of wasting "taxpayers' money".
Hicks' dad stages NYC cage protest
Tuesday 29 July 2003, 10:05 AM
The father of an Australian imprisoned by the US military for allegedly fighting with the Taliban shut himself in a wire cage on a New York street Monday to highlight his son's plight.
"I wouldn't even keep a dog like this," Terry Hicks said, referring to his son David's incarceration for the past 19 months at the US military detention camp at Guantanamo Bay in Cuba.
"I have a dire need to speak to David eye-to-eye. My main worry is his mental state," Hicks said.
David Hicks has been held without charge or access to legal counsel and faces trial by a special military tribunal.
Comment: Washington classifies the 600 prisoners in Guantanamo Bay as "enemy combatants," effectively denying them the protection of the Geneva Conventions on the rights of prisoners of war. The uncertain status makes it possible to hold them indefinitely without trial. US citizens can be subjected to the same if they are classified as "terrorists" by Ashcroft "Justice".
By the way, anyone had any news about what's his name....Osaddam, uh, no. Oselma? No, that isn't it. You remember, that guy that used to hide under our beds. What was his name? You know, the guy whose family was in business with the Bush family.
On Guantanamo And The Prisoners' Legal Rights
Fewzia Khaled Al-Hayat 2003/07/24
On July 4th, the U.S. government announced its intention to bring six of the detainees at Guantanamo Bay to a military court as "enemy fighters." According to initial reports, the military court is in the process of construction, and will include an execution chamber.
However, these reports rarely mention the legal rights of the prisoners at Guantanamo. Apart from the commotion that was sparked in Britain because two of the prisoners to face trial are British, no serious objection has been made in other parts of the world. In this respect, how long will the legal aspect of such an important issue continue to be ignored, while the U.S. moved heaven and earth over the prisoners it lost in Iraq?
200 arrested as Montreal protest turns violent
MICHELLE MACAFEE
CANADIAN PRESS
Jul. 28, 2003. 08:07 PM
MONTREAL - Demonstrations against a World Trade Organization meeting degenerated into vandalism of downtown stores and luxury vehicles today, with police eventually arresting more than 200 people.
While the majority of the 400 or so activists gathered for the demonstration were peaceful in their opposition to the informal meeting of about 25 international trade ministers, pockets of violent protest early in the day prompted police to declare the entire gathering illegal. [...]
Israeli bill would separate married couples
Jul. 28, 2003. 09:09 PM
JERUSALEM (AP) — Human rights groups protested a proposed Israeli law today that would force Palestinians who marry Israelis to live separate lives or move out of Israel.
The bill, to be debated by the parliamentary internal affairs committee tomorrow, would prevent Palestinians from the West Bank and Gaza Strip who marry Israeli Arabs from obtaining residency permits in Israel. [...]
U.N. Votes 2,100 More Troops for Congo Force

By Colum Lynch
Washington Post Staff Writer
Tuesday, July 29, 2003
UNITED NATIONS, July 28 -- The U.N. Security Council voted unanimously today to reinforce a U.N. peacekeeping mission in Congo, authorizing the deployment of 2,100 troops in addition to a force of nearly 8,700 "blue helmet" troops that is struggling to restore peace in the Central African country. [...]
Tuesday, July 29, 2003 02:00 GMT
WARRI, Nigeria (AP) -- Toting babies and stirring cooking pots, village women have been occupying a Shell Oil installation in a peaceful demonstration for jobs and other benefits amid surging ethnic violence in Nigeria's restive oil delta.
At least 20 people have been killed in the Niger Delta since mid-July in attacks allegedly linked to tribal competition for oil revenues.
Meanwhile, about 80 local women have set up house in Shell's Amukpe pipeline station, after a peaceful takeover in early July. [...]
Russian population to shrink by fifth in next 50 years
13:39 2003-07-28
Pravda.ru
The population of Russia is likely to fall by 18% over the next half a century, according to the Population Reference Bureau. Researchers believe that by 2050 the population will have fallen from its current level of 145.5 million to 119 million. They also predict that India will become the most populous country in the world, with 1.628 billion inhabitants, followed by China with 1.394 billion. The US will rank third with 422 million people. [...]
Arroyo Says Mutiny Signals Underlying Problems

By John O'Callaghan
MANILA (Reuters) - A failed mutiny by 300 Philippine soldiers took on political overtones Monday as police arrested an aide to ousted President Joseph Estrada and the government ordered an investigation into the roots of the weekend uprising. [...]
White House: Condi Rice staying
By Paul Sperry
WorldNetDaily.com
July 29, 2003 1:00 a.m. EST
WASHINGTON – The White House denies reports that National Security Adviser Condoleezza Rice plans to resign over the State of the Union controversy. [...]
The Big Dig
FBI Searches for Buried Documents of Potentially Classified Information
By Pierre Thomas and Risa Molitz
July 28— Former Air Force intelligence officer Brian Regan, who was convicted of trying to spy for Saddam Hussein and China, buried thousands of pieces of potentially classified information at undisclosed locations in the Washington metropolitan region, sources told ABCNEWS.
The information includes more than 10,000 pages of documents, slides and videos — some of which pertain to satellites and early warning systems, according to sources.
This disclosure raises important questions about the security of supposedly secure U.S. institutions housing the nation's most sensitive secrets. Officials are scrambling to figure out how Regan got so much material out of government sites, the sources told ABCNEWS.
Comment: Another piece in the Intelligence Community vs the Bush Reich saga?
US captures Saddam's 'life-long bodyguard'
Ananova.com
07:14 Tuesday 29th July 2003
The US military says one of Saddam Hussein's "life-long bodyguards" has been captured.
American soldiers fired two shots before storming the bodyguard's house in Tikrit, Saddam's home town.
Minutes later, they brought the unnamed man out of the home bleeding and dressed only in his underwear and a T-shirt. [...]
Comment: What a contrast to the 200 troops, attack helicopters, and anti-tank missiles that were employed to allegedly kill Saddam's sons.
ISRAEL'S FATA MORGANA SECURITY WALL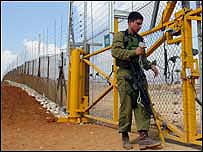 by Hans Lebrecht
July 28, 2003

One thing is sure: as said above, the grand profits for erecting this "fence" are going also in this case into the bank accounts of the big contractor corporations, to increase the value of their shares at the stock exchange, and possibly also into the pockets of bribed order distributing star state officials and army generals. May be, too, that George W. Bush is offended that those profit grabbing contractors are all of the "blue-white" Israeli type, and not to one, or to too few American bribe pocketing friends of his. If so, a man like Bush had to say a word of criticism against the outlay of Israel's "fence". He owes it to his corporation chums who might have been overlooked by Sharon and his myrmidons.
Clashes Over Security Fence as Sharon Visits U.S.

By Wael al-Ahmad
ANIN, West Bank (Reuters) - Israeli troops fired rubber bullets Monday to break up a protest over Israel's construction of a security fence in the West Bank as Prime Minister Ariel Sharon began a visit to the United States.
At least five people, including an American, were wounded in the clash as protesters including Israelis, Palestinians and foreigners surged toward the fence and tried to tear down a gate near the northern West Bank village of Anin, witnesses said.
The clash highlighted the anger stirred by the construction of the fence, an issue on which Israel and the United States disagree. It is likely to be raised in talks between Sharon and President Bush in the White House Tuesday. [...]
Pravda
Russia's news agency RIA Novosti informs Syrian Foreign Minister Farouk Al-Sharaa said at a press-conference in Damascus that the US ignored the attempts that Damascus made to normalize relations with Washington. The Syrian foreign minister explains the fact with influence of Israel: "US's decisions concerning Syria are influenced by Israel. It is because of Israel's pressure that the US doesn't want to establish good relations with Damascus. The majority in the US Administration are afraid of Israel."
Syrian Prime Minister Mustafa Miro advanced even further. Right before his visit to Turkey, the prime minister said that "US's policy is aimed at establishment of a new order in the Middle East. This is the reason why I think that Turkey, Syria and Iran must unite. Targeting one at a time, the US will do the same with us what it did with Iraq." According to Mustafa Miro, "Americans, the current rulers of Iraq, are Syria's neighbors. They are not better than Saddam."
Raid Qusti • Riyadh Bureau Chief

RIYADH, 29 July 2003 — Six terror suspects and two police officers were killed yesterday in Uyoon Al-Jawa, a province of Al-Qasim, when police exchanged fire with the suspects at a farm after receiving information that wanted suspects were hiding there.
Bush, Saudi to Meet Amid 9/11 Report Flap
By KEN GUGGENHEIM, Associated Press Writer
July 29, 2003
WASHINGTON - Saudi Arabia's foreign minister flew here Monday for talks with President Bush amid a raging controversy over a congressional report on the Sept. 11 terror attacks. [...]
Sultan Flays Congress Report on Sept. 11
Mohammed Alkhereiji • Arab News Staff

JEDDAH, 29 July 2003 — Prince Sultan, second deputy premier and minister of defense and aviation, responded angrily on Friday to a US congressional report implying that Saudi Arabia had a role in the Sept. 11, 2001, attacks.
The US Congressional report raised suspicions but failed to reach a definite conclusion about whether Omar Al-Bayoumi, a Saudi who knew two of the Sept. 11 hijackers while living in San Diego, was connected to the Saudi government.
"All members of Congress know Saudi Arabia and the American government under the leadership of President Bush has said officially that the Kingdom is not a party in these affairs," Prince Sultan said.
By correspondents in Washington
July 29, 2003
US officials said they have new threat information regarding possible airline suicide hijackings planned for the rest of this northern summer, the Washington Post reports today. [...]
France and Germany Consider Possible Roles in Postwar Iraq
By ELAINE SCIOLINO
The New York Times
PARIS, July 28 — The open-ended American military occupation of Iraq is forcing European powers that opposed the war, notably France and Germany, to contemplate whether and how to help with the aftereffects. [...]
U.S. Military Presses India on Troops for Iraq

NEW DELHI (Reuters) - Washington's top soldier, Chairman of the Joint Chiefs of Staff, Richard Myers, landed in New Delhi Monday to press India to send troops to Iraq as the U.S. struggles to find Asian allies to share the burden.
Although Japan has agreed to send peacekeepers, it has not set a timeframe. Pakistan, a key U.S. ally in the war on terror, has adopted a wait-and-see approach and Bangladesh appears unlikely to commit troops.
Rejecting Washington's request for a division -- 15,000-20,000 men -- New Delhi said this month it could not join peacekeeping operations in Iraq without a clear U.N. mandate. [...]


Opposition lawmakers rush to the chairman to stop the passage of a bill allowing Japanese Self Defense Forces to be sent to Iraq
Comment: Very few of the American "lawmakers" must have any soul. Most were more than happy to send the troops off to die and kill. Of course, now that the deed is done there are mutterings here and there. More photos from the above link. If only something like this had happened in Congress . . .
BBC
A new school funded by a Christian charity is to put closed circuit TV cameras in every classroom to clamp down on rowdy pupils. [...]
Comment: We wonder if the Japanese lawmakers were under video surveillance...
Blair accused of genocide in Iraq
By Stephen Castle in Brussels
The Independent
29 July 2003
Tony Blair was accused yesterday of war crimes including genocide, as a dossier of 22 alleged incidents involving British troops in Iraq was lodged with a new international court in The Hague.
FIVE CIVILIANS KILLED IN SADDAM RAID BLUNDER
American agents are blamed for raid that became a massacre

By Robert Fisk in Baghdad
29 July 2003
The American killing of up to 11 Iraqi civilians in Baghdad during an abortive attempt to seize Saddam Hussein on Sunday has provoked disturbing questions as well as widespread anger in the city. Many witnesses now say armed Americans in civilian clothes also participated in the raid - after which at least three of the wounded were spirited away by US troops and have not been seen since.
Lest we forget, the truth shall set you free

by Liberez L'Ours July 28, 2003
Four months and four days ago an angelic-looking little girl died in the city of Basra:
Some people hate that photo. I posted just the link to it on a well-known internet forum populated by respectable, patriotic Americans and within an hour it was censored as "inappropriate." Imagine! The character text of the internet link itself is so incendiary that it could not be shown!
A friend of mine in Europe suggested that we should just let her memory rest in peace, as if the photo is disturbing to her soul. I disagreed with him on the grounds that we should not look away from the harsh reality but rather, we should show everyone the Truth; more specifically, we should show ourselves the Truth about ourselves and America: the blood of innocents stains our hands.
I wrote an email to www.arabnews.com and asked them if they would post my request to learn the name of the little girl's family. I wanted to send them some money to help them. I also wanted to simply learn the name of the little girl we killed.
I hardly ever give away even a nickel, but I would help in this case if I could. But I can't. Odds are, even trying to send money to a family in Iraq would put me on the Bush Regime's Terror Watch List (i.e. the Bush Family Enemy List), and perhaps even earn me a visit from the FBI. Instead I ponder the photo of the Angel of Basra which I have taped to my bulletin board -- and the other photo of her I tacked to the door of my bedroom -- so that at least I will never forget the Truth about Bush's Iraq War, and the tragic death of this little girl. She might have become anything in the world: a doctor, scientist, astronaut, mathematician, or simply a grown-up. We'll never know. And we will probably never even learn her name. But she will not be forgotten, not if I can help it.
These days, these endlessly long hot days of summer and American shame, I tend to my own business but I also write and communicate with other people on the internet. Most of my writing falls into the "incendiary rant" category, and there are thousands or millions of people who write better, but that doesn't bother me because I try to put into words the fire I feel in my belly. As long as my fire burns hot then there is hope that others more eloquent than I will take up the task of stopping the evils of the Bush Regime and their Forever War.
I saw the Furher Bush on TV last week gloating over the deaths of Saddam sons. He appeared in his Rose Garden for a few minutes to speak about the wondrous and positive outcomes we can expect from these latest killings. But he spoke not a word about the thousands of innocents he has ordered killed, and he wouldn't even stay for a few minutes to answer any questions from reporters. I think he knew that they would pester him with questions about why he lied about the reasons for starting the Iraq War. So, like the groundhog on February 2nd he popped up above ground, saw his dark rodent shadow and dove back into his little bunker to wait out the rest of winter.
Unfortunately, if this man is allowed to continue as president we face not six more weeks of winter but six or six hundred years! Bush has the means, motive, opportunity and essential stupidity to make the Dark Ages look like the good old days. The key thing to remember is that Bush's words are not "The Truth." The Truth is what he and his regime members do and cause to happen, not what they say before or after. And the truth is that a dark, evil cloud has spread across the globe, and the epicenter is Bush's bunker in Washington D.C.
Sarah Hall and Richard Norton-Taylor
Monday July 28, 2003
The Guardian
The credibility of the defence secretary, Geoff Hoon, is looking increasingly fragile after his own officials were last night forced to contradict claims that he had never spoken to David Kelly, the biological weapons expert.
British want Saddam captured alive
DAN MCDOUGALL
The New Scotsman
BRITAIN'S new envoy to Baghdad called yesterday for Saddam Hussein to be brought to trial for his crimes and not killed like his sons Uday and Qusay...
Speaking yesterday, Sir Jeremy said the deaths of Uday and Qusay was a "genuine success" for the US-led coalition in Iraq. But he said the hunt for their father remained the key priority for UK and US forces.
He said: "We have now got to get the father. I would like to see him brought before a court, but that is in the hands of the military team looking for him. I would say it is quite important to do that."
Sir Jeremy was a key player in Britain's efforts to secure a UN Security Council resolution authorising war. He said the hunt for weapons of mass destruction was the top priority for the UK in Iraq, but not the United States.
"It is fair to say the weapons of mass destruction issue is of greater significance to the UK than to the US because our government based the justification for war entirely on the need to disarm Saddam, while Washington had a wider remit," he said.
Sir Jeremy added there was "a hell of a lot to do" in Iraq before the "troubling" security situation could be remedied, but he firmly denied the US had failed to stabilise the country.
Comment: Dream on, Sir Jeremy. He hasn't noticed that Bush doesn't care a whit for what the Brits think. Bush has left his toady Blair out to hang with the Niger uranium scandal and the British prisoners at the concentration camp at Guantanamo. But, then, toadies, especially foreign ones, don't carry much weight at the Imperial Court.
The article also mentions that a tribal elder from Saddam's clan had tried to claim the bodies of Uday and Qusay but was rebuffed by US officials, who told him to produce Saddam first.
"The Americans told me Saddam Hussein can come and get them. This is political talk. We are all relatives and we can do this on his behalf. The Americans know the current situation with Saddam Hussein, so this talk is undesirable. It is up to the relatives to come forward and claim the bodies, so I came to take them. They are our dead and we want to bury them according to Islamic law."
UK troops reveal their new ordeal in 120F Iraq
Exclusive: MoD attacked as heat casualties fly home
IAN BRUCE, Defence Correspondent
BRITISH troops have been flown home from Iraq as casualties of the heat amid claims they are being forced to live in squalid conditions...
Concerns include tents with no air-conditioning in 120F, having to drink "blood-temperature" bottled water because of a shortage of refrigerators, and fly-infested chemical toilets.
While the cash-strapped Czech Republic has provided its military police detachment under UK command with cooled sleeping quarters and cold drinks, British troops are suffering exhaustion from working in temperatures of more than 110 degrees during the day and then being unable to sleep in humid night conditions where the thermometer seldom falls below 70 degrees.
Six elderly Iraqi Jews brought to Israel
Sunday July 27, 2003
JERUSALEM (AP) Six of the estimated 34 Jews remaining in Iraq have arrived in Israel, including a 99-year-old woman, officials said.
The six were elderly and the effort to take them out of Iraq was considered a humanitarian mission, said Giora Rom, director general of the Jewish Agency, the organization responsible for bringing Jews to Israel.
Iraq once had a community of 130,000 Jews, but about 120,000 made their way to Israel between 1949 and 1952, with smaller numbers of Jews leaving the country in subsequent years...
Channel 2 reported that the six had been flown from Iraq to Jordan with British aid and from there to Israel on a specially chartered plane.
Sex workers helpless as young men 'bond' in gang rape outings
John Aglionby in Phnom Penh
Sunday July 27, 2003
The Observer
When Rosa leaves for work every evening she knows the odds are high she will be gang raped.
'If I'm lucky I only have to sleep with one man per night,' said the 21-year-old, wafer-thin prostitute as a co-worker helps adjust her skirt, held together with safety pins, in the yard of a Phnom Penh house. 'But usually when the man takes me to wherever we're going, others are waiting. [...]
Rosa's experiences are increasingly commonplace among the 60,000-80,000 sex workers in Cambodia. Gang rape is now one of the most popular after-dark pastimes among the affluent, unmarried 20-30 something males of the country's larger towns. [...]
The rapists don't care either. They see it as a bonding experience with their friends.
'It's the best way to have fun in the evenings,' said 30-year-old Chet. [...]
Chet said: 'They've had sex so many times it doesn't make any difference. It's not like we're handling virgin goods.' [...]
Italy gets tough on child sex offenders
Sophie Arie in Rome
Sunday July 27, 2003
The Observer
Alessandra Mussolini, grand-daughter of Italy's fascist dictator Benito, is leading a campaign to have Italian child abusers chemically castrated to stop them from re-offending. [...]
Pedophile loses urge after brain tumor removed
Associated Press
CHARLOTTESVILLE, Va. - [...] Though charming and intelligent, the 40-year-old man couldn't stop leering at female nurses. He had been in trouble with the law for sexual advances toward his stepdaughter, and now he was talking about raping his landlady.
University of Virginia Medical Center neurologists Dr. Russell Swerdlow and Dr. Jeffrey Burns had never seen a case like this.
The man had an egg-sized brain tumor pressing on the right frontal lobe. When surgeons removed it, the lewd behavior and pedophilia faded away. Exactly why, the surgeons cannot quite explain. [...]
Three killed in orgy of vigilantism

Three men died gruesome deaths in an orgy of vigilantism in Kwa Mashu north of Durban on Sunday night, police said.[...]
China gives all-clear to last 12 Sars patients
The Straits Times
July 29, 11.19 am
BEIJING -- China's last 12 patients suffering from Sars no longer have symptoms, health officials said on Tuesday, signalling the end to an outbreak that created panic, baffled medical professionals and left hundreds dead. [...]
Bloomberg, who has lower approval ratings than even David Dinkins ever did, dissed a group of visiting Chinese acrobats, claiming New York was too poor to give them a proper letter of greeting - a cultural nicety that is expected in China. [...]
Blasts at liberal 'traitors' win US book war
Lawrence Donegan in San Francisco
Sunday July 27, 2003
The Observer
Two large American publishers are to launch off-shoots to capitalise on the latest literary phenomenon gripping the United States: the right-wing diatribe.
Hillary Clinton's autobiography leads this month's US bestseller lists, but over the last year it has been books written from the opposite end of the political spectrum - many of them accusing her husband of everything from treason to destroying the American way of life - which have gripped the imagination of the book-buying public.
Among the most successful has been Treason: Liberal Treachery From the Cold War to the War on Terrorism by newspaper columnist Ann Coulter, which calls all Democrats traitors and urges the rehabilitation of Red-baiting Senator Joe McCarthy, who led a witch hunt against liberals in the Fifties. [...]
Comment: More evidence that "politics" in the US is extremely sick. Name-calling rather than debate. Yet this country has the arrogance to promote itself as the leader of the "democratic world"!
Cataloging the wretched reporting of Judith Miller.
By Jack Shafer
If reporters who live by their sources were obliged to die by their sources, New York Times reporter Judith Miller would be stinking up her family tomb right now. In the 18-month run-up to the war on Iraq, Miller grew incredibly close to numerous Iraqi sources, both named and anonymous, who gave her detailed interviews about Saddam Hussein's weapons of mass destruction. Yet 100 days after the fall of Baghdad, none of the sensational allegations about chemical, biological, or nuclear weapons given to Miller have panned out, despite the furious crisscrossing of Iraq by U.S. weapons hunters. [...]
New York creates gay-only high school
By CAROLINE ALPHONSO
From Tuesday's Globe and Mail
Tuesday, Jul. 29, 2003
New York plans to open what may be the first public high school in the United States for gay, lesbian, bisexual and transgender students, a move critics charge is a step backward in education. [...]
"We desegregated schools on racial lines years ago because we found it absolutely unacceptable. Now this feels like a step backwards toward segregation along sexual-orientation lines," said Anthony Paré, chair of the department of integrated studies in education at McGill University. [...]
Giant meteorite wrecked forest

Moscow (SA) - A giant meteorite that struck the Irkutsk region of Siberia last September had the force of a nuclear bomb of medium power and devastated a huge area of taiga, Russian scientists reported on Friday.
A 10-strong expedition of scientists and doctors was unable to identify and reach the place where the meteorite landed until mid-May. It was finally located in the very remote, wooded semi-mountainous region of Bodaibo, northeast of Irkutsk and Lake Baikal.
"Over an area of 100 square kilometres trees were smashed in a pattern characteristic of very powerful blast effects," expedition leader Vadim Chernobrov told a news conference.
He said that the meteorite had disintegrated before hitting the ground and had left about 20 craters, up to 20 metres in diameter, with an explosion "equivalent to the power of an atomic bomb of medium size".
A video made by the expedition and shown to reporters showed shattered and sometimes burnt tree stumps, charred by the high temperatures released by the explosion. [...]
The brightest such phenomenon ever recorded during human history also happened over Siberia. In 1908 a meteorite hit the Tunguska region, devastating the forest over an area of some 2 000 square kilometres. [...]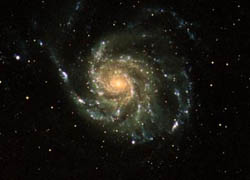 Intriguing Images Arrive From Galaxy Mission
Jet Propulsion Lab -- NASA's Galaxy Evolution Explorer has beamed back revealing images of hundreds of galaxies to expectant astronomers, providing the first batch of data on star formation that they had hoped for.
The recent ultraviolet color images from the orbiting space telescope were taken between June 7 and June 23, 2003 and are available online...
"The images clearly show active star formation in nearby galaxies, and large numbers of distant ultraviolet galaxies undergoing starbursts," said Dr. Christopher Martin, the mission's principal investigator and an astrophysics professor at the California Institute of Technology in Pasadena, which leads the mission. [...]
Three die in France forest fires
BBC
Tuesday, 29 July, 2003, 04:42 GMT

Three people have died in forest fires that have swept through countryside near the French Riviera - the first fatalities of this summer's devastating blazes.
President Jacques Chirac has announced severe penalties for those caught deliberately starting fires.
Two of those killed were a British couple who were found dead in woods outside the village of La Garde Freinet. [...]
Heat Wave, Drought Hit Europe's Economy
Mon Jul 28, 8:02 PM ET
By ALEXANDRU ALEXE, Associated Press Writer
BUCHAREST, Romania - A heat wave and a drought are gouging a multibillion-dollar hole into Europe's economy, crippling shipping, shriveling crops and driving up the cost of electricity.
In Romania, dredgers dug into the Danube on Monday to deepen the river bed for hundreds of stalled barges, while in Croatia, five tons of dead fish polluted a lake.
Levels on the Danube were under two yards near Bazias in southwestern Romania, more than a yard below the minimum needed for barge traffic. At the southern port of Zimnicea, dredgers scooped up sludge from the river bed Monday, attempting to deepen navigation channels for the 251 ships waiting to move upstream to key markets in central and northern Europe.
Weeks of heat and dryness also choked other parts of the Balkans and the rest of Europe.
Croatia's major rivers — the Sava, Drava, Kupa and Danube — were reported at their lowest levels ever, threatening water and electricity shortages, while Serbia's ecology minister, Adjelka Mihajlov said his republic's major rivers were at their lowest in 100 years.
Heralding potential ecological disaster, Grigore Baboianu, the director of the Danube Delta Reservation, said 10 percent of the delta's unique wetlands, home to rare waterfowl and other animals, had dried up, while about 40 percent of the delta's water had evaporated.
Upstream on the Danube, ships traveling from Austria to Germany were not carrying full loads because of low water levels. The drought also affected barge traffic on other rivers — the Elbe was impassable despite some weekend rain, and the Rhine was only deep enough to support lightly loaded boats. Many goods normally moving on the Elbe between Hamburg and the Czech Republic were offloaded and put on trucks.
Hartmut Rhein, of Germany's Deutsche Binneschifffahrt AG, said the increased costs of using trucks or canals instead of normal river traffic will mean higher prices for heavy equipment, scrap metal, building materials and grain.
Although there were no shortages yet, some shipments are "just taking longer and getting more expensive," Rhein said.
The worst drought in years, brought on by a prolonged heat wave that has kept temperatures well above 86 degrees for weeks, agriculture ministers from the European Union (news - web sites) were demanding compensation from EU headquarters for affected farmers.
Farm lobby groups in the European Union say the drought has cost more than $5.7 billion in losses. Hardest hit within the EU have been Italy, France, Germany, Portugal and Austria, where farmers' representatives warn of harvests up to 60 percent below normal yields for some crops.
Lack of rain beyond occasional brief thunder storms have also slashed crops outside the EU — in the Czech Republic, Hungary, Serbia, Croatia and Romania. In Hungary alone, the government estimated drought-induced agricultural losses at about $434 million as corn stalks wither and fruit orchard leaves turn yellow.
After weeks of forest fires, dipping river levels and lack of rain, the drought made front-page news in parts of Europe.
"France is thirsty," read the lead story of Le Figaro newspaper Monday, as residents coped with limits on car washing, watering lawns and filling swimming pools.
Farmers in 55 of France's 96 departments were on alternate-day irrigation plans and were requested to regularly report the status of their water meters to local authorities, Le Figaro said. Violations carried fines of up to $1,720 for a first-time infraction.
Southern and eastern France have been hard hit by the drought, without significant rainfall in about two months. As river levels dip, several regions have banned fishing, including the central Loire and southern Hautes-Alpes departments until Sept. 21.
Forest fires fueled by the lack of rain and humidity have burned through 50,000 acres since the beginning of the month.
The Danube, which flows across 10 European countries, is also an essential source of electricity, supplying water to hydroelectric and nuclear power plants across the region. The volume of the Danube was at 3,066 cubic yards a second, the lowest in 160 years, according to Romanian shipping companies.
"A trip (to Western Europe) that normally took six days now takes three weeks, and we're loading only at half capacity," said Victor Crihana, director of Trans-Europa, an Austrian-Romanian shipping company.
Workers at Romania's only nuclear power plant at the southern port of Cernavoda were ready to shut down its reactor if water levels fell another 3.3 feet.
In Italy, where a heat wave and accompanying drought have lasted weeks, the national grid was overloaded by the use of air conditioners, causing summer blackouts for the first time in over 20 years. The Po River, which feeds many lesser rivers in northern Italy, was at near record low levels.
Rivers in the forest areas in northwestern Croatia were so low that some systems were pumping only mud instead of water and residents had to have bottled water delivered to their doorsteps.
Alberta fire continues to roar
Last Updated Mon, 28 Jul 2003 21:53:24
HILLCREST, ALBERTA - More than 500 firefighters battled a giant wildfire in southwestern Alberta on Monday that has kept 1,000 people on evacuation alert since the weekend.

Earthquake aftershocks rattle nerves in Japan
Mon Jul 28, 6:40 AM ET
By Isabel Reynolds
TOKYO (Reuters) - Thousands of people were set to spend a third night in makeshift shelters in northern Japan on Monday, as a series of aftershocks rattled an area where hundreds had been injured in more powerful earthquakes (news - web sites) over the weekend...
Monday's magnitude 5.0 tremor hit northern Miyagi prefecture, shortly after 4 a.m. (1900 GMT Sunday).
That quake came two days after bigger tremors on Saturday. The first, measuring 5.5 on the Richter scale, hit shortly after midnight, followed by another measuring 6.2 about seven hours later.
Earthquake hits India's northeast, western region
New Delhi, July 27, IRNA -- Two earthquake shook the Northeastern and Western Indian region Sunday but there were no reports of any casualty.
A tremor, measuring 3.8 on the Richter scale, hit the Narmada River region and was felt along the borders of Western Indian states of Gujarat, Maharashtra and Central Indian state of Madhya Pradesh at 10:05 a.m. (local time), the Indian Meteorological Department said.
The epicenter of the quake lay at 21.7 degrees North latitude and 74.6 degrees East longitude, it said.
A moderate quake measuring 4.5 on the Richter scale hit north eastern Indian state of Tripura and areas near Indo-Bangladesh border at 4:48 p.m. (local time), the Met department said.
The epicenter of the quake lay at 23.5 degrees North latitude and 91.6 degrees East longitude, it said.
Earthquake jolts southern Bangladesh
CHITTAGONG, Bangladesh, July 27, SPA -- A 5.09-magnitude earthquake jolted the southern Bangladesh port city of Chittagong early Sunday, officials said.
Earthquake in western Turkey injures 10
An earthquake measuring 5.6 on the Richter scale injured about 10 people in the western Turkish province of Denizli and also caused some damage to buildings, officials said...
The quake was the third temblor to jolt the town of Buldan in Denizli province in eight hours.
Two quakes, measuring 5 and 4.1 on the Richter scale respectively, struck the region around 0100 GMT and 0115 GMT, without causing any casualties or damage.
They were followed by the 5.6-strong quake at 0836 GMT, which was also felt in neighbouring provinces...
An earthquake measuring 6.4 on the Richter scale killed 176 people in the eastern province of Bingol in May.
Comment: There were also a few other quakes (above 5.0) on July 27: Primor, Russia: 6.7; Southern Bolivia: 6.0; Fiji: 5.2 and 6.6.
DUSHANBE. July 26 (Interfax) - Tajikistan experienced an earthquake on Saturday that measured up to 4.5 points on the Richter scale, the Dushanbe seismological station announced.
"The epicenter of the earthquake was 22 kilometers northeast of Dushanbe, in the Vakhdat district. Jolts of up to 5 points were registered at the epicenter," station sources told Interfax.
No reports on casualties or destruction have been made available yet.
Couple nearly hit by lightning, in bed
Monday, July 28, 2003 21:02 GMT

OSLO, Norway (AP) -- Trying to sleep through a storm wasn't easy for a Norwegian couple -- their cast-iron double bed took a direct hit from a lightning bolt that lit up the bedroom. [...]
New on Fox: When objects impale people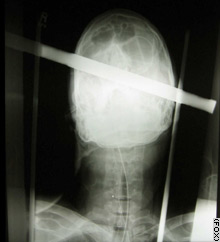 British Wannabes Crowned Karaoke World Champions
Mon Jul 28,10:20 AM ET
HEINOLA, Finland (Reuters) - The British have been declared the world's best bar room crooners after winning the inaugural world karaoke championships, though they avoided a showdown with karaoke-mad Japan, who refused to compete.
British restaurant worker Danni Gadby, 23, and stock analyst Uche Eke, 31, were crowned champions in the small Finnish town of Heinola in the early hours of Sunday morning after belting out classics such as Frank Sinatra's "Fly Me to the Moon." [...]
Comment: The Signs staff is currently in training and will be ready for next year's competition.
Bank offers dog gold credit card
Ananova.com
17:10 Monday 28th July 2003
A dog has been offered a gold credit card with a £10,000 limit. The Royal Bank of Scotland sent an application form to Raymond Slater's pet Shih Tzu, Monty.
Monty, from Stockport, Greater Manchester, was offered a gold credit card and the chance to earn air miles. An RBS spokeswoman said: "We have apologised for any inconvenience caused to Mr Slater.
"We bought the name from a list broker and have no idea why Monty's details were provided. His name has now been removed from the database and we are sending a hamper to Mr Slater by way of apology."
And Finally...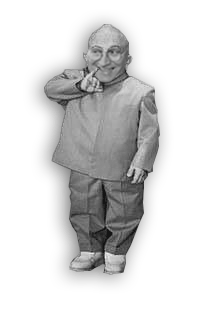 Cheney to have French Cult clone him, 1/8 his size
JK News Wire
In a completely bizarre move, VP Dick Cheney has announced that he intends to have himself cloned in a travel-sized version. These will be rented out to potential voters. The step is a new direction for Republicans who are attempting to win points with voters after a poll reporting that the number one reason people avoid the voting booths is that they are increasingly dissatisfied with choosing between two liars. Cheney reported to say that "...This is so much better than just telling the truth."
---
Check out the Signs of the Times Archives
Send your comments and article suggestions to us.
---
Fair Use Policy
Contact Webmaster at signs-of-the-times.org
Cassiopaean materials Copyright ©1994-2014 Arkadiusz Jadczyk and Laura Knight-Jadczyk. All rights reserved. "Cassiopaea, Cassiopaean, Cassiopaeans," is a registered trademark of Arkadiusz Jadczyk and Laura Knight-Jadczyk.
Letters addressed to Cassiopaea, Quantum Future School, Ark or Laura, become the property of Arkadiusz Jadczyk and Laura Knight-Jadczyk
Republication and re-dissemination of our copyrighted material in any manner is expressly prohibited without prior written consent.
.