---
Navy chief nominee may have killed self
By RICHARD BENKE
ASSOCIATED PRESS WRITER
ALBUQUERQUE, N.M. -- Oilman Colin McMillan, who was awaiting Senate confirmation as Navy secretary, died at his ranch from an apparent gunshot wound, and investigators said Friday it might have been self-inflicted.
"All indications are it could be suicide, but we're not going to reach that conclusion until the investigation is over," said District Attorney Scot Key of Alamogordo.
McMillan "had a recurrence of cancer," but "everybody thought he was recovered, recuperating quite well," Sen. Pete Domenici, R-N.M., said Friday on the Senate floor.
McMillan, 67, died around lunch time Thursday, and his body was found by two employees on his 55,000-acre Three Rivers ranch in southern New Mexico, said Roswell Mayor Bill Owen, a family spokesman and longtime McMillan employee. The state medical investigator's office was conducting an autopsy Friday to determine a cause of death, said Tim Stepetic, the office's associate director.
Domenici called McMillan "someone who succeeded at everything he tried and everything he did, and yet he was about as humble as anyone you will ever meet."
McMillian had run Permian Exploration Corp. in Roswell, chaired President Bush's New Mexico presidential campaign in 2000 and served as an assistant defense secretary under Bush's father. The son nominated McMillan in May for the Navy post, which had been vacant since Gordon England left in January to become deputy secretary of the new Homeland Security Department.
President Bush said he and his wife were "saddened by the death of our good friend."
"Colin was a public servant and patriot," Bush said. McMillan was a member of the New Mexico House of Representatives
from 1971 to 1982 and ran for U.S. Senate in 1994, losing to incumbent Democratic Sen. Jeff Bingaman in a bitter and costly campaign.
"His death is a loss to us in New Mexico. It is a loss to the country," Bingaman said on the Senate floor. "He was well-respected for his straight dealing and his integrity."
McMillan served in the Marine Corps from 1957 to 1972 and was assistant defense secretary in the early 1990s, when Vice President Dick Cheney was defense secretary. He was also state chairman for Bob Dole's presidential campaign in 1996.
Owen said he worked for McMillan for about 22 years in the oil and gas industry, at McMillan Production Co. He praised his honesty, ethics and business skill.
"He was involved in numerous types of business, was successful in all those business ventures and did so in a very up-front and honest and straightforward fashion," Owen said.[...]
Comment from Reader: Note this fellow's connection to Roswell, and the mayor/govt of that city. Also, his long time ties to the Shrubs, the oil industry, the MIC and the unstable wavering densities of New Mexico..."President Bush said he and his wife were 'saddened by the death of our good friend.'... 'Colin was a public servant and patriot,' Bush said." Mmm hmm...and probably a liability to the junta for some reason. Oh look, here it is: "[...]He praised his honesty, ethics and business skill."
What Congress Does Not Know about Enron and 9/11
It is time for Congress to face the truth: In order to give Enron one last desperate chance to complete the Taliban pipeline and save itself from bankruptcy, senior levels of US intelligence were ordered to keep their eyes shut and their subordinates ignorant.
By Atty. John J. Loftus
First published May, 2003:
A captured Al Qaida document reveals that US energy companies were secretly negotiating with the Taliban to build a pipeline. The document was obtained by the FBI but was not allowed to be shared with other agencies in order to protect Enron. Multiple sources confirm that American law enforcement agencies were deliberately kept in the dark and systematically prevented from connecting the dots before 9/11 in order to aid Enron's secret and immoral Taliban negotiations. [...]
U.S. puts bodies on display, reports successes in Iraq
By Israel Shamir
05/25/03: War is crime, but this is the manly crime defying effeminate mores and rigid society. The most convinced pacifist can be carried away by the sight of charging cavalry, attacking troops, roaring tanks and fighter jets taking off a desert strip. Not in vain, women admired warriors, poets sung their mighty deeds, and priests anointed their heads. We can fetch a Roman adage or a Koranic verse, a line from Shakespeare or Nietzsche to praise a leader of men and disregard the costs of war. We can forgive a bloodshed, it's sordid affairs that can't ever be forgiven.
Murder of the deposed Arab ruler's young sons is the ultimate sordid crime of President Bush. It transformed him from a fool into a villain, from the dubious vanquisher of a disarmed state into a vile murderer, from a deceiver into a bloody crook, from the vainglorious chieftain on board of the aircraft carrier into a vicious monster. Whatever we think of Saddam Hussein, cynical and cruel murder of his sons is an abysmal collapse into archaic mode. This is worse than Napoleon's murder of young Duc d'Enghien, worse than the crimes of Richard III. Stalin and Hitler, Churchill and Roosevelt killed millions, but they did not hunt down children of their adversaries.
If the president would tear their noble hearts and gobble them dripping blood on his starched shirt he would not be more disgusting. It is a moral collapse of the ruling class: his schools, Harvard and Yale, once aristocratic breeding ground of American gentlemen, reached moral nadir under the guidance of Lawrence Summers the Platitudinous, Samuel Huntington the Trivial, Leo Strauss the Godless and Alan Dershowitz the Torturer. Probably Sing Sing would produce a more suitable ruling class at lesser cost. [...]
U.S. troops storm homes, arrest ambush suspects
FAHHAMA, Iraq (Reuters) - U.S. forces arrested 16 men in a pre-dawn raid north of Baghdad on Friday, including two suspected of being behind a bomb and gun ambush that killed a U.S. soldier and Iraqi interpreter in the capital. [...]
Body double needs to see proof that Uday is dead
TRACEY LAWSON
[...] Yahia's uncanny resemblance to Uday was to dictate his fortune. Aged 24, he was plucked from military service in Iraq and told he had a new job - as the body double of Uday.
Sixteen years on, and after more than a decade in exile in the west, he is unable to believe the terror he suffered at Uday's violent hands is finally over.
"Only when I have seen a photograph of Uday's body can I believe he is dead," said Yahia yesterday. "Only then will I go to sleep very well after 12 years of knowing that Uday is trying to kill me." [...]
By Chris Floyd

The armchair warriors who directed the American-led conquest of Iraq would like us to believe that the estimated 10,000 innocent civilians who died in the invasion were simply unfortunate, inadvertent, unavoidable, accidental victims of a just and noble action. No one wanted these innocent people to die. Surely no American leader ever knowingly ordered a mission with the certain knowledge that innocent people were going to be killed by it. These deaths just happened; no one is to blame for them.
That's what the armchair warriors tell the world -- and themselves too, no doubt, when they look into the mirror every morning. But like almost every other statement issued by the Bush Regime on the subject of Iraq, this comforting fairy tale is a cynical, blood-soaked lie. To take just one example: U.S. military commanders revealed last week that up to 1,500 civilian deaths were personally approved by Pentagon chief Donald Rumsfeld.
Roman scandal: Bogus evidence from a bogus reporter
By Michael Young [myoung@inco.com.lb]
[...]Burba betrayed her profession. Despite the fact that she and Panorama considered the Niger documents forgeries, Burba still handed them over to the Americans and then avoided mentioning the story when Bush made use of her material.
More bluntly, Burba provided forgeries to the Americans, kept quiet later on when she knew the Bush administration was using the documents to substantiate a falsehood, and is today trying to cover up the whole thing by claiming that she always doubted the Niger documents were real anyway. That's not shoddy journalism; that's Nixonian deceptiveness.
Observers will surely bring up the Berlusconi link to ask whether Panorama was doing the bidding of the Italian prime minister, its owner, when it gave the US administration evidence it was happy to later manipulate. Up to now there is no evidence of this. However, Burba's behavior hardly enhances the magazine's credibility or an impression that it is politically independent.[...]
Bush Orders Troops Positioned Off Liberian Coast
WASHINGTON — President Bush on Friday ordered an unspecified number of U.S. troops to be positioned off the coast of wartorn Liberia to assist West African peacekeeping forces.
The U.S. role will be limited, the White House said in a statement.
"The president has directed the secretary of defense to position appropriate military capabilities off the coast of Liberia" to help support the peacekeeping force, it said.
The statement did not say how many U.S. troops or ships would be involved. [...]
Israel to transfer 2 West Bank cities
By JOSEPH COLEMAN

JERUSALEM (AP) - Israel announced on Friday it would transfer two more West Bank cities to Palestinian control and shut down three roadblocks, moving ahead cautiously with a U.S.-backed peace plan as the Palestinian premier met with President George W. Bush in Washington.
The statement by Israeli Prime Minister Ariel Sharon's office said decisions on which cities would be handed over and the timing of the transfers would be taken next week in a meeting between the Israeli defense minister the Palestinian security chief.
Further handovers of cities and dismantling of roadblocks are among moves the Palestinian Authority has been demanding as part of implementing the "road map" peace blueprint. So far, Israel has pulled troops out of parts of Gaza and the West Bank town of Bethlehem.
The announcement came as sporadic violence continued despite a cease-fire.
An Israeli soldier opened fire on a truck on the West Bank on Friday, killing a 4-year-old boy and wounding two other children. The Israeli army said the shooting was accidental.
Israel rebukes Romanian president for saying Holocaust not unique to Jews
03:03 AM EDT Jul 26
JERUSALEM (AP) - Israel issued a stern rebuke Friday to Romania after its president was quoted by a newspaper saying the Nazi Holocaust was "not unique to the Jews."
Israel summoned the Romanian ambassador to the Foreign Ministry, ministry spokesman David Saranga said. At the same time, Israel directed its ambassador in the Romanian capital Bucharest to submit a strong protest to that government.
This is the second time in two months Romanian Ambassador Valeria Mariana Stoica has received an official protest over a statement about the Holocaust.
On June 13, the Romanian government denied there was a Holocaust within its borders. Following protests from Israel and Romanian Jews, the government acknowledged Romanian fascists deported and exterminated Jews during the Second World War.
In an interview with Israel's Haaretz newspaper published Friday, Romanian President Ion Iliescu said: "The Holocaust was not unique to the Jewish population in Europe. Many others, including Poles, died in the same way."
Iliescu noted his father, a Communist, was sent to a camp and died a year after his release.
"In the Romania of the Nazi period both Jews and Communists were treated equally," he said.
Comment: For many years, Holocaust survivers in Israel were treated with contempt by the other Israelis. It was only in the sixties that this began to change. Maybe the Zionists who worked hand-in-hand with the Nazis had a guilty conscience, hard as that is to imagine. Now, of course, Israel has recuperated the Holocaust as justification for its own war of genocide against the Palestinians, as well as using it to blackmail, threaten, and coerce anyone to raises the slightest hint of criticism of their rascist politics.
Yukos CEO Expects More Arrests
Viktor Korotayev / Reuters
Friday, Jul. 25, 2003. Page 2

Russia's richest man, Mikhail Khodorkovsky, said the confrontation pitting his oil giant Yukos against the Kremlin was becoming more acute and he feared more police action against his company was imminent.
"The tension is rising. We feel there could be more arrests and searches," he told reporters late Wednesday after a Moscow court refused to release a key business ally who is being investigated on charges of theft.
Britain Investigates Chelsea Ownership
By Alex Nicholson
Staff Writer
Friday, Jul. 25, 2003. Page 5
Britain's stock market watchdog said Thursday it has opened an investigation into the murky ownership structure of the parent company that owned London soccer club Chelsea prior to its purchase by billionaire Chukotka Governor Roman Abramovich.
"Information accumulated from sources has prompted us to begin inquiries into the nature and status of certain shareholdings in Chelsea Village," Financial Services Authority, or FSA, spokesman David Cliffe said by telephone from London.
Canada, Iran trade barbs as diplomatic row heats up
Last Updated Fri, 25 Jul 2003 21:43:14
OTTAWA - Diplomatic relations between Canada and Iran deteriorated Friday as the ambassador to Iran returned to Ottawa and the foreign affairs minister rejected claims of Canadian injustice.
Ambassador Philip MacKinnon will meet with Foreign Affairs Minister Bill Graham over the weekend to discuss Zahra Kazemi, who was beaten to death in Iranian police custody after taking photos of a Tehran prison.
The photojournalist was buried in Iran, despite repeated requests from her son and Canadian authorities to return the body to Canada.
Bahraini Company Makes Bold Wireless Claim In Iraq
AP 2003/07/24

With the Iraqi phone system in shambles and no cellular service other than temporary networks for military and aid officials, the U.S.-led administration plans to start seeking bids next week for three wireless phone networks serving most of Iraq.
So it came as a surprise to U.S. officials this week when foreigners in Baghdad found themselves suddenly able to get service on their cell phones from Bahrain Telecommunications Co.
The company, known as Batelco, boldly spent $5 million in the past five weeks setting up its own wireless network in Baghdad without seeking permission of the U.S.-led occupation authority.
Entertainer banned after Bush remark
Presidential 'chicken legs' joke leads bookstore's customers to complain
By MICHAEL ZITZ
Date published: 7/24/2003
Apparently, it's become un-American--or at least highly controversial--for a woman to publicly say that the president of the United States' body is less than perfect.
A Baltimore acoustic artist has been banned from playing the Fredericksburg Borders Books & Music store--apparently because she made fun of President Bush's legs between songs in her show Friday night at Central Park.
Julia Rose, a singer-songwriter and a fitness advocate who often shows audiences her six-pack abs, told a Fredericksburg Borders audience Friday: "George Bush has chicken legs. He needs to pump some iron."
"I never bashed Bush as president. I merely said his lower body needs some serious definition," Rose explained later.
Bush supporters use carrier photo in raising money
By Glen Johnson
Globe Staff
WASHINGTON -- The White House said that President Bush's landing on an aircraft carrier to declare the end of war in Iraq was not intended for his political gain. But a conservative group that supports Bush's policies has built a fundraising campaign around an official Navy photo of the president on the ship's deck.
Citizens United for the Bush Agenda is asking up to $1,000 from 30,000 people who were mailed the photo in the past month. [...]
By Richard Cohen
Thursday, July 24, 2003
Earlier this month CIA Director George Tenet accepted responsibility for the assertion in George Bush's State of the Union address that Iraq had tried to secure uranium in Africa. It was said at the time that Tenet had fallen on his sword. It is now clear that he fell on his credibility instead.
In a game of White House sword-passing not seen since the Nixon administration, it now turns out that yet another administration official -- Stephen Hadley of the National Security Council -- has stepped forward to take a piece of the blame himself. He follows Tenet and various White House and CIA underlings -- so many confessions, so many swords, so many people responsible yet none of them accountable. [...]
PESTE BUBONIQUE / 10 cas confirmés
El Watan
La peste bubonique qui a sévi durant le mois de juin à Kehaïlia, à Oran et ses environs a fait jusque-là dix cas confirmés et un cas probable. 52 personnes originaires de différentes localités limitrophes ont été admises à l'hôpital d'Oran, dont une hospitalisation à Saïda. «Nous continuerons à hospitaliser des cas suspects pour éviter tout risque de propagation de cette maladie.»
Comment: The bubonic plague is back in Algeria. This article mentions ten identified cases around the city of Oran. Another articke in this weeks's Courrier International mentions the awful sanitary conditions that have led to this outbreak. There is also an outbreak of meningitus in the same region.
Earthquake jolts Japan; 200 injured
Agence France-Presse
Tokyo, July 26
More than 200 people were injured in northeastern Japan on Saturday as a strong earthquake measuring 6.2 on the Richter scale destroyed a number of houses, cut power supplies and caused mudslides, police and reports said.
None of the injuries were believed to be very serious but the quake, which followed another strong tremor just hours earlier, also cut power to more than 100,000 households and derailed a train.
The second powerful tremor struck around 7:13 am (2213 GMT Friday) with the focus located 12 kilometres below sea level and off the coast of northern Miyagi prefecture, some 350 kilometres north of Tokyo.
The earlier quake, measuring 5.5 on the the Richter scale, hit at 12:13 am (1513 GMT), disrupting road and rail traffic.
There are more than an 80 percent chance that the Big One will occur in the coming two decades, according to an agency official.
Comment: You can check out all of the recent seismic activity here. The earth has been busy.
Santa Maria Volcano (Guatemala)
Thursday 24th July 2003
Eruption of Santa Maria volcano started at 1330 hr (UT) on 23rd July. Ash and gases moved towards the west rising to 15,000 ft. [...]
Hail storm kills nine, flattens 1,000 homes in China
ABC.net.au
Friday, July 25, 2003. 7:21pm (AEST)
A powerful hail storm has killed nine people, injured 11 more and flattened over 1,000 homes in north-west China, according to state press. [...]
Storm brings raging washes, winds at 60 mph, power outages
IRENE HSIAO
Tucson Citizen
July 25, 2003
(Tucson, AZ) - Runoff snared three cars in a wash on the Northwest Side and power was knocked out to homes in scattered areas as a storm hit last night with 60-mph winds. [...]
WEATHER HIGHLIGHTS from Weather Matrix

Severe weather reports across the [United States]:
• Flooding occurred in much of Florida and western Texas with the heavy rainfall over the day. In Harris County, Texas, over 3.00 inches of rain fell in only 1 and 1/2 hours.
• Hail was reported for Florida and a few locations in New York and Vermont. Hail as large as 1 inch fell in Vermont from the heavy thunderstorms.
• Scattered strong wind reports occurred in Montana, coastal Texas, Florida and New York. One wind gust near El Campo, Texas, saw a man get trapped under a grain trailer tarp when a strong wind gust blew him off the trailer.
• The all time record was broken in Salt lake City of days of at least 100 degrees yesterday with a 10th consecutive day over the century mark. The old record of 9 was set from July 14th through July 22nd of 1960.
• Records set from across the West Thursday [...]
firstscience.com
by Paul Simons
The weather can sometimes throw spectacular and very weird displays which often leave scientists baffled.

If you thought the weather was just sunshine and showers what do you make of balls of glowing light, showers of frogs, giant lumps of ice that fall from the heavens, ships floating in the sky, and many other weird sights? Weather can behave in very bizarre ways, and scientists have to scratch their heads when they try to explain some of these unusual phenomena.[...]
Legendary Dog-Eating Catfish Dies
BERLIN (Reuters) - A giant catfish that ate a dog and terrorized a German lake for years has washed up dead, but the legend of "Kuno the Killer" lives on. [...]

Low water levels and a summer heat wave probably killed the catfish, among the biggest found in Germany. The northern city of Bremen plans to stuff it and put in a museum.
More Mutilated Cattle in La Pampa
El Diario de la Pampa

General Acha (Agencia) - On Wednesday, July 16, three calves and a cow were found mutilated in fields adjacent to this city. "Until one sees it, or it happens to [ones animals], one doesn't believe it," said a cattleman whose property is located some 30 kilometers from Genera Acha and who asked El Diario to keep his identity confidential.

The cattleman said than on July 16, "two calves and a 'masked' calf, weighing some 200 kg. each, were found mutilated some 500 meters away from his house in a flat open field. The males were missing an eye, an ear and their tongues, while the female was had its nipples sheared off with surgical precision," he noted, betraying his surprise when he said "when we found them, they were still issuing some sort of smoke or vapor from their carcasses, as though recently dead."

"All of the animals had their heads pointed southward," he pointed out, noting that "he was certain that the animals had been alive the previous evening." "We did not dare get close to them or touch them, but on the fourth day, no animal, predador, fox or chimango (vulture) came close," he said. Finally, the confused cattleman said: "We plucked up our courage, got them together and burned them."

Another cattleman who told a similar story explained that that very same Wednesday, "a very docile cow that was near the house vanished, and was later found two secions away from where it normally grazed." [...]
Columbus Neighborhood Concerned Over Plans For Bio Lab

Some residents are upset that Ohio State University has selected a site on the West campus to build a bio-research lab to study deadly pathogens such as anthrax and plague.
The site overlooks a 43-acre public park and is near a preschool and a health clinic. [...]
Longview boy viciously attacked by child gang
LONGVIEW - Detectives are trying to figure out if a group of boys attacked 7-year-old Joshua Lee because he wouldn't join their gang.
The members of the gang are no older than 12.
The attack occurred when Joshua Lee went outside to ride his bicycle around his Longview neighborhood Monday evening. [...]
Father orders pit bull to attack son
CLEVELAND, July 25 (UPI) -- A Cleveland man is on trial accused of unleashing a pit bull on his son for discipline, a newspaper reported Friday. [...]
'GIANT SUCKING SOUND' OF LOST JOBS GETS LOUDER
by Randolph T. Holhut
American Reporter Correspondent
DUMMERSTON, Vt. -- The recession is over.
So says the National Bureau of Economic Research, the official arbiter of U.S. business cycles. It announced on July 17 that the recession that began March 2001 ended eight months later in November 2001.
The 2001 recession was one of the briefest since World War II, but the bureau also found that it was followed by one of the weakest recoveries. In the months that followed the end of the 2001 recession, the supposedly recovering economy grew at half the rate of previous upturns.
That might explain why there now are 9.3 million Americans that are jobless and why the U.S. unemployment rate is currently at 6.4 percent - the highest it has been in nearly a decade. In the 19 months since the end of the 2001 recession, more than 2 million jobs disappeared. [...]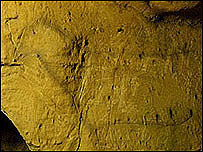 Museum planned for prehistoric cave art
By Dr David Whitehouse BBC News Online science editor
The earliest-known example of prehistoric cave art in Britain could get a new £4.5m museum.
The ibex is partially obscured by 1940s graffiti
A lottery bid is being prepared to allow the cave art to go on public view, although the exact details have yet to be worked out.
The art - first revealed in June - consists of 12,000-year-old engravings of birds and an ibex carved into the stone walls at Creswell Crags, on the border of Derbyshire and Nottinghamshire.
Explorer who discovered the 'Titanic' sets out to prove that Noah's flood formed Black Sea
By David Usborne
23 July 2003
The Independent
No one disputes that the Black Sea was once a fresh-water lake that in ancient times became inundated by the salty Mediterranean. The arguments have been over how quickly it happened - was it only gradual? - and in what period. Until recently, most experts dated the flood to about 9,000 years ago.
But Mr Ballard thinks it was more recent, perhaps 7,500 years ago, which could more credibly make it the same flood that gave us the story of Noah. Moreover, he thinks it was sudden. As the ice age ended, sea levels rose and a strip of land dividing the Mediterranean and the Black Sea was breached.
It was, according to Mr Ballard, 61, a truly cataclysmic event. Previous expeditions tell us that the invasion of Mediterranean waters pushed up water levels in the Black Sea basin by about 500 feet (155 metres) and drowned about 60,000 square miles.
Mr Ballard thinks it was so rapid that salt water pushed in with 200 times the force of the Niagara Falls and that the rate of increase in the water level was six inches a day.
Mellow Out Rug Rats With Pipsqueak Pepper Spray
CHICAGO (Wireless Flash) -- A Chicago man may end up more revered among parents than Dr. Spock. He's invented a "pipsqueak pepper spray."
Joe Culotta claims his ChildCalm mist spray can cut a kid's tantrum time in half, thanks to natural calming odors like lavender and chamomile.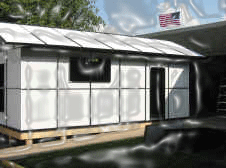 As SARS, Bioterror Fears Grow, Prototype Isolation And Treatment Facility To Be Built In Pittsburgh Area Beginning Mid-August
ALEXANDRIA, Va. -- Three northern Virginia companies today announced plans to assemble a prototype facility outside of Pittsburgh next month that could be used for isolating patients in the event of a terrorist attack with weapons of mass destruction, containing a SARS outbreak, or providing shelter for victims of natural disasters.
Assembly of the approximately 6,000 square-foot, 150-bed building, called an Emergency Isolation and Treatment System (EITS), will begin in mid-August and will be open to the public during the last week of August. [...]
Florida Has Human Cases Of West Nile For First Time This Year

NAPLES, Fla. -- The West Nile virus has been detected in two Florida residents, marking the state's first human cases of the deadly mosquito-borne virus this year. A 76-year-old Marco Island man and an 85-year-old Panhandle woman have been diagnosed with the virus, health officials said Thursday [...]
Fresh Sars worry hits Hong Kong
The previous outbreak led to mass testing
Tests on 18 suspected Sars patients in Hong Kong have sparked fears of a re-emergence of the virus.
Even though it is likely that the respiratory infections suffered by the patients are caused by influenza, not Sars, it will be days before the official all-clear can be given. [...]
Comment: Just when you thought it had gone away, the CDC decides it wasn't through with us yet. But shortly after this release the below article was released. Perhaps China decided to fight back . . .
New HK SARS outbreak ruled out
HONG KONG, China (CNN) -- Eighteen people suspected of having the SARS virus at a Hong Kong psychiatric institution are in fact suffering from influenza, the territory's government has announced.
In a statement Friday afternoon officials said tests had "yielded positive results for Influenza A" while none had come up positive for SARS. [...]
Microflares on Sun could play major role in heating corona
The Sun's big, bright, explosive flares are the attention grabbers, but tiny, more numerous microflares may have nearly as much influence on the solar atmosphere, according to new data from the University of California, Berkeley's RHESSI satellite.

Solar flares, the largest explosions in the solar system, propel energetic particles into space and are thought to be the main source of heat pumping the Sun's outer atmosphere to a few million degrees Celsius - hotter than the surface itself.
Now, solar observations by the RHESSI (Reuven Ramaty High-Energy Solar Spectroscopic Imager) satellite show that microflares a million times smaller are far more frequent and may together provide a major portion of the heat in the corona. [...]
Planetary Satellites Named
By David Tytell and Richard Tresch Fienberg
Jupiter, seen here in a true color image taken by NASA's Cassini spacecraft, is the king of the planetary moons. With 61 identified satellites, it tops the nearest contender, Saturn, by 30 objects. Courtesy NASA/JPL/University of Arizona.

At the 25th General Assembly of the International Astronomical Union, held from July 13–26 in Sydney, Australia, the Working Group for Planetary System Nomenclature announced the names of two dozen planetary satellites discovered since 2000. On the list were 11 Jovian moons, 12 Saturnian moons, and one around Uranus.
Six of Jupiter's moons were named for conquests of the Greek god Zeus and five for the daughters of Zeus. The Saturnian satellites were named for Norse, Inuit, or Gallic giants. Uranus's moon was named Trinculo, for a character in William Shakespeare's The Tempest .
For more information about planetary moons, visit Sky & Telescope's Guide to Planetary Satellites.
NEO News (07/25/03) Tsunami & sub-km NEAs
Dear Friends and Students of NEOs:
Once again, the press are reporting that the asteroid impact hazard has decreased. It seems as if every published scientific paper on asteroid science is instantly interpreted as a change in the hazard. But this is not necessarily so.
This edition of NEO News focuses on two related issues: the risk from impact by NEAs (Near Earth Asteroids) less than 1 km in diameter, especially the risk from impact tsunami, and the atmospheric breakup of NEAs with diameter less than 200 m. [...]
I find it curious that the publication of various models of NEA populations and (in this case) of atmospheric penetration are interpreted in the press as changes in the impact hazard. However, few have reported the very real decrease in the hazard that results from the steady progress of the Spaceguard Survey in discovering NEAs larger than 1 km, which is where most of the hazard lies and where we are making the greatest progress in reducing this hazard. [...]
RESIDENTS in Croxley reported sightings of a UFO which circled above them for ten minutes before vanishing without trace.
Mervin Harris, from Forbuoys Newsagents on Baldwins Lane, Croxley, witnessed it yesterday (Thursday) at 4pm.
He said: "It went across in front of me."
Five locals are reported to have seen the strange craft.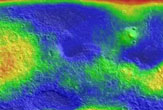 New Map of Water Ice on Mars
By SPACE.com Staff

25 July 2003 A new global map of Mars shows likely locations of water ice based on observations of hydrogen made by NASA's Odyssey spacecraft.
The presence of hydrogen is a strong indicator that water -- most of it almost surely frozen -- exists near the surface of Mars, embedded in the soil. Liquid water might exist on the red planet, but no data so far has provided firm indications. [...]
Small Galaxy Springs 'Dark Matter' Surprises
Astronomers from the University of Cambridge, UK, have found for the first time the true outer limits of a galaxy. They have also shown that the dark matter in this galaxy is not distributed in the way conventional theory predicts. [...]
New observatory rises on South African mountaintop
Terry Devitt
A new observatory that promises to give Wisconsin astronomers unique access to the southern sky is now a prominent feature on a remote South African plateau.
The observatory that will house the largest optical telescope in the Southern Hemisphere, known as the Southern African Large Telescope (SALT), is now nearly complete, according to astronomers at UW-Madison. [...]
'Highest concentration of handicapped in held Kashmir'
HELD SRINAGAR: The Indian ruthlessness in containing the freedom struggle in occupied Kashmir has resulted in the highest concentration of the physically and mentally handicapped persons anywhere in India, reports the Hindustan Times.
Haggard Single Critical of Media Coverage of Iraq War
By John Gerome
Associated Press Writer
[...]In an essay on Haggard's Web site, the singer writes, "I don't even know the Dixie Chicks, but I find it an insult for all men and women who fought and died in past wars when almost the majority of America jumped down their throats for voicing an opinion. It was like a verbal witch-hunt and lynching." [...]
Propaganda campaign against Mufti in 1940
The British government planned to discredit an Arab leader with fake intelligence documents to boost support in the Middle East and the war effort in 1940, according to declassified files. The Foreign Office considered a propaganda campaign against Palestinian cleric Haj Amin al-Hussein by exposing false documents linking him with Italy yet Foreign Secretary Anthony Eden considered the ploy too risky.
In December 1940 a Colonial Office civil servant warned: "If we claimed to have found documents which the Italians knew did not exist, we might compromise the source of our information. I feel that we must stick to our original plan of setting the ball rolling by a whispering campaign."
The Grand Mufti of Jerusalem retreated to Baghdad as he was thought to be organising terrorist attacks against British soldiers in Palestine. Officials considered kidnapping him and trying him in Jerusalem but this was also abandoned. Instead the Government decided to discredit him in a 'whispering campaign' by exposing his lavish lifestyle and disagreements within his clique. In a Foreign Office file from January 7th, 1941, Eden said of the Mufti: "Even if he is not a grave danger to our war effort, he is certainly an infernal nuisance," as he threatened the destabilisation of the region with the 8th Army fighting the Axis forces in North Africa. The files were declassified at the National Archives in Kew.
When The WTO Comes to Montreal
Who Ever Asked Us?
By PAUL BEAULIEU
July 23, 2003
Counterpunch
The worst thing about WTO rules is how they lock us into this free market model of economic development. It's one thing to elect a government that believes in free market policies. It's quite another to be bound to such policies, so that electing a more interventionist government makes no difference. Who ever asked the citizens of Canada if they wanted to live under WTO rules? Who are the people who come up with these rules, and in whose interest? These are questions that need discussion. Instead, the government of Canada is embarking on another round of WTO negotiations, without consulting the people of Canada.
Lastras wins sprint finish

Stage 18: Bordeaux - Saint-Maixent-l'Ecole - 203.5km.
Spaniard Pablo Lastras won a classic sprint finish on Stage 18 of the Tour de France as the leading pair of Lance Armstrong and Jan Ullrich were happy to spend the day in the peloton.
Dealer arrested in Jesus relic forgery

Experts determined the inscription had been added to the box later.

JERUSALEM (AP) -- Police have arrested an Israeli antiquities dealer suspected of creating two forgeries that shook the religious and archaeological world, including a burial box purported to be that of Jesus's brother James.
Oded Golan also is suspected in connection with a shoebox-sized tablet inscribed with forged instructions for caring for the Jewish Temple.
Golan appeared in a Jerusalem court Tuesday, one day after police arrested him at his home in Tel Aviv on suspicion of forging and dealing in fake antiquities.
In court, police unveiled forgery equipment they said was found in Golan's home, including stencils, stones and partially completed forgeries. The dealer was being detained by police.
Justice Dept. Probes Clear Channel
The Associated Press

SAN ANTONIO - The Justice Department is investigating Clear Channel, the nation's largest radio owner, amid complaints about consolidation and the use of coercive tactics by the company, officials said Friday.
---
Check out the Signs of the Times Archives
Send your comments and article suggestions to us.
---
Fair Use Policy
Contact Webmaster at signs-of-the-times.org
Cassiopaean materials Copyright ©1994-2014 Arkadiusz Jadczyk and Laura Knight-Jadczyk. All rights reserved. "Cassiopaea, Cassiopaean, Cassiopaeans," is a registered trademark of Arkadiusz Jadczyk and Laura Knight-Jadczyk.
Letters addressed to Cassiopaea, Quantum Future School, Ark or Laura, become the property of Arkadiusz Jadczyk and Laura Knight-Jadczyk
Republication and re-dissemination of our copyrighted material in any manner is expressly prohibited without prior written consent.
.