---
Sections on today's Signs Page:
---
SOTT Focus
---
Paul Craig Roberts sez "We Are All Prisoners Now"

Laura Knight-Jadczyk
sott.net
2007-12-27 16:51:00

Today I read Paul Craig Robert's new essay on the state of the U.S. I couldn't have said it better, though I already figured out that 9/11 was an inside job and Roberts is having a hard time going there. Roberts points out with succinct clarity that:




Freedom and democracy in America have been reduced to no-fly lists, spying without warrants, arrests without warrants or evidence, permanent detention despite the constitutional protection of habeas corpus, torture despite the prohibition against self-incrimination--the list goes on and on.

[...]

Present and former high government officials, with top secret security clearances, cannot fly with a tube of toothpaste or a bottle of water despite the absence of any evidence that extreme measures imposed by "airport security" makes flying safer.

Elderly American citizens with walkers and young mothers with children are meticulously searched because US Homeland Security cannot tell the difference between an American citizen and a terrorist.

All Americans should note the ominous implications of the inability of Homeland Security to distinguish an American citizen from a terrorist.

When Airport Security cannot differentiate a US Marine General recipient of the Medal of Honor from a terrorist, Americans have all the information they need to know.


Comment on this SOTT Focus
---
Best of the Web
---
The Great American Lock-Up: We Are All Prisoners Now

Paul Craig Roberts
Counterpunch
2007-12-27 14:26:00

"They're locking them up today
They're throwing away the key
I wonder who it'll be tomorrow, you or me?"

The Red Telephone (LOVE, 1967)

At Christmas time it has been my habit to write a column in remembrance of the many innocent people in prisons whose lives have been stolen by the US criminal justice (sic) system that is as inhumane as it is indifferent to justice. Usually I retell the cases of William Strong and Christophe Gaynor, two men framed in the state of Virginia by prosecutors and judges as wicked and corrupt as any who served Hitler or Stalin.

This year is different. All Americans are now imprisoned in a world of lies and deception created by the Bush Regime and the two complicit parties of Congress, by federal judges too timid or ignorant to recognize a rogue regime running roughshod over the Constitution, by a bought and paid for media that serves as propagandists for a regime of war criminals, and by a public who have forsaken their Founding Fathers.


Comment on this SOTT Focus

---

CIA Torture and other War Crimes

Philip Giraldi
Huffington Post
2007-12-26 10:13:00

The Nuremburg Tribunals at the end of the Second World War defined an aggressive war against another country if that country has not attacked you first or threatened to do so as "essentially an evil thing...to initiate a war of aggression...is not only an international crime; it is the supreme international crime differing only from other war crimes in that it contains within itself the accumulated evil of the whole."

A number of leading Nazis were executed for their unprovoked attack on Poland. The Bush administration has its own Poland in Iraq, and if there is an American attack on Iran it would also fit the Nuremberg definition.

Unlike at Nuremberg, however, no one will be held accountable.

Comment on this SOTT Focus

---
U.S. News
---
The FCC's Christmas Gift to Big Media

Amy Goodman
Truthdig
2007-12-24 17:40:00

On Dec. 18, the five commissioners of the Federal Communications Commission met in Washington, D.C., and, by a 3 to 2 vote, passed new regulations that would allow more media consolidation. This, despite the U.S. public's increasing concern over the nation's media being controlled by a few giant corporations.

Comment on this SOTT Focus

---

Flashback: FCC Proposes Greater Media Consolidation

Stephen Lendman
SJ Lendman Blog
2007-12-13 02:54:00

On October 17, FCC chairman Kevin Martin proposed lifting the 1975 media cross-ownership rule that forbids a company from owning a newspaper and television or radio station in the same city even though giant conglomerates like Rupert Murdock's News Corp. and the (Chicago) Tribune Company already do. On November 13, he expanded on his earlier plan claiming changes will only allow cross ownership "in the largest markets where there exists competition and numerous voices."

Comment on this SOTT Focus

---

Man's houseguest arrested after body found in trash can


Associated Press
2007-12-27 00:40:00

Pharr, Texas - A 31-year-old man who was staying with an acquaintance for a few days faces a murder charge after the home owner returned to find a woman's body in a trash can.

Police identified the woman as 44-year-old Emelda Deleon of Pharr.

Mark Anthony Estrada was arrested by San Antonio police yesterday.

Home owner Oscar Martinez says he returned from a holiday trip to Mexico last night and had a voice message from Estrada. In the message, Estrada warned him not to bring his children into the house.

Comment on this SOTT Focus

---

Announcing the 2007 P.U.-litzer Prizes

Jeff Cohen and Norman Solomon
AlterNet
2007-12-26 22:42:00

The year's stinkiest media performances.

Many journalists qualified for the 16th annual P.U.-litzer Prizes, but only a few were able to win recognition for turning in one of the truly stinkiest media performances of the year. As the judges for this uncoveted award, we have done our best to confer this honor on the most deserving.

And now, the winners of the P.U.-litzers for 2007:

Comment on this SOTT Focus

---

Military family members share public's division on Iraq war, Bush

Gregg Zoroya
USA Today
2007-12-26 21:12:00

Close family members of U.S. troops are split on whether the Iraq invasion was a mistake, and 55% disapprove of President Bush's job performance, according to USA TODAY/Gallup Polls focusing on immediate relatives of servicemembers.


Comment on this SOTT Focus

---

Update: 2 Arrested in Deaths of 6 in Rural Wash.


Associated Press
2007-12-26 21:01:00

CARNATION, Wash. - A man and a woman have been arrested in the deaths of six people, likely family members and including two young children, at a rural property east of Seattle, authorities said Wednesday.

The two, a 29-year-old woman and a man in his early 30s, were being held for investigation of homicide, King County sheriff's Sgt. John Urquhart said.


Comment on this SOTT Focus

---

Which country scares you the most?

Brendan John Worrel
China Daily
2007-12-26 20:30:00

In a CBS Evening News special series "Primary Questions," news presenter Katie Couric asked 12 United States presidential candidates, "Which country scares them the most?" and if they were president, "what would they do about it?"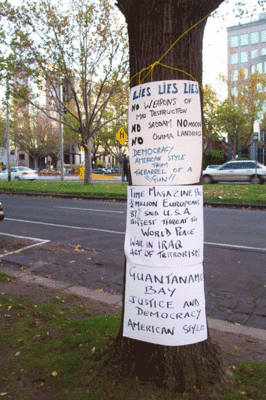 ©Women for Peace - Australia
Comment on this SOTT Focus
---

US braces for baby boom retirement wave


Agence France-Presse
2007-12-24 13:47:00

The first of the vast US baby boom generation goes into retirement in January, setting off a demographic tidal wave with wide-ranging economic, political and social implications.

Kathleen Casey-Kirschling, born on January 1, 1946, is acknowledged as the nation's first baby boomer and the first to apply for social security benefits, for which she will be eligible in 2008.

Comment on this SOTT Focus

---
UK & Euro-Asian News
---
In Europe, Where's the Hate?

Gary Younge
The Nation
2007-12-20 10:36:00



This is not new. From Austria to Antwerp, Italy to France, fascists have been performing well at the polls for more than a decade. Nor are they shy about their bigotry.

Comment on this SOTT Focus
---

Russia-Belarus talks signal renewed cooperation against US

Niall Green
World Socialist Web Site
2007-12-27 09:54:00

Russian President Vladimir Putin visited Minsk December 13 for two days of talks with the president of Belarus, Aleksander Lukashenko. Their meeting came just prior to a session of the Russia-Belarus Union, a body established in the 1990s to encourage integration between the two countries.

International political analysts have speculated that the frosty relationship between Putin and Lukashenko is thawing, opening up the possibility that the two ex-Soviet states are advancing towards a merger.


Comment on this SOTT Focus

---

Russia launches final satellites for its own GPS


Reuters
2007-12-26 20:58:00

MOSCOW - Russia successfully launched a rocket on Tuesday carrying the last three satellites to complete a navigation system to rival America's GPS.

The military-run GLONASS mapping system works over most of Russia and is expected to cover the globe by the end of 2009, once all its 24 navigational satellites are operating.

Comment on this SOTT Focus

---

Serb parliament adopts Kosovo resolution


Agence France-Presse
2007-12-26 20:59:00

BELGRADE - Serbian lawmakers endorsed on Wednesday a resolution underlining their opposition to Kosovo's independence and warning of repercussions for the Balkan country's European integration.

After almost eight hours of debate, 220 deputies voted for the resolution, 14 MPs were against and three abstained from the vote.

Comment on this SOTT Focus

---

Gun crime on the rise as number of armed police falls

Benedict Brogan
Daily Mail
2007-12-26 18:54:00

The number of firearms officers working in areas where gun crime is soaring has fallen sharply, figures released reveal.

And despite a steep overall rise in firearms-related offences, the total number of weapons-trained officers has dropped.

Comment on this SOTT Focus

---
Around the World
---
Police state descends on Pakistan: Four dead in rioting


Channel NewsAsia
2007-12-27 14:38:00



Karachi: At least four people were killed on Thursday as angry mobs took to the streets of Pakistani cities to protest the assassination of Benazir Bhutto, torching scores of vehicles and buildings.

Two people were shot dead in rioting in the eastern city of Lahore and two others were killed in the southern province of Sindh, Bhutto's birthplace and stronghold, police said.

Sporadic gunfire could be heard echoing around the streets of Lahore where shops and vehicles could be seen on fire.

The markets and shops immediately closed down as paramilitary patrols roamed the streets in an attempt to keep a lid on the violence, a local police officer told AFP.

Meanwhile, Pakistan paramilitary and police forces were put on the highest "red alert" level after the assassination.

Comment on this SOTT Focus

---

Bhutto assassination 'moves us closer' to potential nuclear apocalypse, expert says

Nick Juliano
Raw Story
2007-12-27 13:03:00

Predicts Pakistan will not dissolve, but US lacks options dealing with nuke-armed country

The death of Pakistani opposition leader Benazir Bhutto has left the US lacking in options for dealing with the tumultuous, nuclear-armed, militant-rich nation and has raised the possibility that the country's weapons will fall into the wrong hands, leading to a possible apocalypse, a foreign policy expert tells RAW STORY.

Comment on this SOTT Focus

---

Pakistan: Al-Qaeda© claims Bhutto's death

Syed Saleem Shahzad
Adn Kronos International
2007-12-27 11:29:00

A spokesperson for the al-Qaeda terrorist network has claimed responsibility for the death on Thursday of former Pakistani prime minister Benazir Bhutto.

Comment on this SOTT Focus

---

US prepares to increase occupation forces in Afghanistan

Joe Kay
World Socialist Web Site
2007-12-27 09:45:00

The Bush administration is preparing to significantly increase US troop levels in Afghanistan in an attempt to quell growing popular hostility to the US and NATO occupying forces. It is doing so with full confidence that it will face no significant opposition from the Democratic-controlled Congress.


Comment on this SOTT Focus

---

US to vastly expand military presence in Pakistan


The Nation (of Pakistan)
2007-12-27 09:18:00

EARLY next year, US special forces are expected to vastly expand their presence in Pakistan, as part of an effort to train and support indigenous counter-insurgency forces and clandestine counter-terrorism units, according to American defence officials involved with the planning, reports Washington Post.

Comment on this SOTT Focus

---

Pakistan's Bhutto killed in attack

Sadaqat Jan & Zarar Khan
Associated Press
2007-12-27 09:14:00

RAWALPINDI, Pakistan - Pakistan opposition leader Benazir Bhutto was assassinated Thursday in a suicide attack that also killed at least 20 others at the end of a campaign rally, aides said.


Comment on this SOTT Focus

---

Polish Troops Face War Crimes in Afghanistan, Coverup Alleged

Zoltán Dujisin
IPS News
2007-12-27 07:45:00

Poland has woken up to the possibility that its troops in Afghanistan were involved in a war crime against defenceless civilians.

Comment on this SOTT Focus

---

Expelled EU and U.N. officials leave Afghanistan

David Fox
Reuters
2007-12-27 07:26:00

KABUL - A senior United Nations official and another from the European Union left Afghanistan on Thursday after the government ordered their expulsion, accusing them of holding talks with the Taliban and for paying cash to the group.

The expulsions have caused a diplomatic row between the government and key aid agencies who fear the loss of two such experienced Afghan hands could hinder multi-million-dollar reconstruction and development efforts.

Comment on this SOTT Focus

---

Foul play? Four shot dead at Pakistan rally: police


Agence France-Presse
2007-12-27 07:20:00

ISLAMABAD - Four people were shot dead and three wounded at an election campaign rally for former Pakistan prime minister Nawaz Sharif on Thursday, police said.

Witnesses said the gunfire appeared to have come from a nearby compound belonging to a rival political party backing President Pervez Musharraf, but this was not immediately confirmed by police.

Comment on this SOTT Focus

---

South Sudanese rejoin national government


Agence France-Presse
2007-12-27 07:16:00

KHARTOUM - Former south Sudanese rebels rejoined the national government on Thursday, two months after walking out because of disputes over the implementation of a peace deal that ended two decades of war.

The move came after Sudanese President Omar al-Beshir signed decrees authorising a reshuffle of cabinet posts to members of the former rebel Sudan People's Liberation Movement, an official said.

Comment on this SOTT Focus

---

No proof Iranian gov't behind IEDs: Afghan diplomat


CTV.ca
2007-12-27 07:08:00

Afghanistan's Ambassador to Canada appears to be cautious about blaming Iran for improvised explosive devices (IEDs) being used in attacks against Afghan and NATO soldiers in his country.

Comment on this SOTT Focus

---

Chavez: Venezuela to pick up hostages

CHRISTOPHER TOOTHAKER
AssociatedPress
2007-12-27 03:37:00

CARACAS, Venezuela - Venezuelan President Hugo Chavez prepared to send planes and helicopters into neighboring Colombia to pick up three hostages who have been held for years by leftist rebels.

The hostages' release would be the most important in the Colombian conflict since 2001, when the FARC freed some 300 soldiers and police officers it had captured and held.

Comment on this SOTT Focus

---

Referee pulls out red card, then a gun


Reuters
2007-12-26 23:52:00

Kuala Lumpur - A Malaysian referee took out his gun and fired warning shots in the air after a local soccer match turned unruly following the suspension of a player, a newspaper said Tuesday.

The referee, who was also a policeman, ran to his patrol car to get his gun after players mobbed him for showing the red-card to one of them, the New Straits Times said.

Comment on this SOTT Focus

---

North Korea says may slow nuclear disablement


Reuters
2007-12-26 23:34:00

North Korea may slow the pace of disablement of its nuclear facilities, blaming a delay in the delivery of energy aid promised under a disarmament deal, Kyodo news agency reported, quoting a Pyongyang official.

"There is a delay in the implementation of economic compensation obligations to be undertaken by the other countries in the six-party talks," Hyun Hak Bong, deputy director of the North Korean Foreign Ministry's American affairs bureau, was quoted as saying late on Wednesday.

Comment on this SOTT Focus

---

Ahmadinejad Calls for Formation of Religious Think Tanks in the U.S.


Baztab.com
2007-12-26 20:54:00

Ahmadinejad insisted on Friday that for finding out the reality of the pure Islam, it is necessary that religious think tanks are formed in the U.S.

Iranian President Mahmud Ahmadinejad insisted on Friday that for finding out the reality of the pure Islam, it is necessary that religious think tanks are formed in the U.S.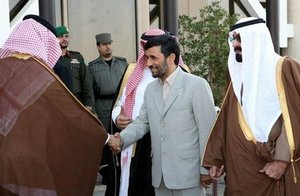 © Mehr news agency
Iranian President Mahmoud Ahmadinejad arrives in Saudi Arabia to attend this year's hajj pilgrimage in the Muslim holy city of Mecca.

Comment on this SOTT Focus
---
Big Brother
---
Airport profilers: They're watching your expressions

PAUL SHUKOVSKY
Seattle P-I
2007-12-27 02:52:00

If a pair of Transportation Security Administration officers strolling by a Sea-Tac Airport ticket counter wish you happy holidays and ask where you're traveling, it might be more than just Christmas spirit.

Travelers at Sea-Tac and dozens of other major airports across America are being scrutinized by teams of TSA behavior-detection officers specially trained to discern the subtlest suspicious behaviors.

TSA officials will not reveal specific behaviors identified by the program -- called SPOT (Screening Passengers by Observation Technique) -- that are considered indicators of possible terrorist intent.

Comment on this SOTT Focus

---

Christmas shopping horror: Man, wife blasted by Taser

Joe Kovacs
WorldNetDaily.com
2007-12-26 19:29:00

Officers zap couple at mall after anonymous 9-1-1 call

A Wisconsin man is reportedly planning to take legal action after he and his wife were blasted by a police Taser as they were finishing their holiday shopping Christmas Eve at a mall in Madison.


Comment on this SOTT Focus

---
Axis of Evil
---
Israeli companies help Turkey use drones in N. Iraq

Yossi Melman
Haaretz
2007-12-27 07:05:00

Personnel from Israel's Aerospace Industries are assisting the Turkish army in activating Israeli-made unmanned aircrafts for use in military operations in Kurdish northern Iraq, Turkish sources were quoted as saying in a report to be published Thursday in the Turkish Daily News.

Comment on this SOTT Focus

---

Ex-Mossad agent hopes to get rich blaming Iran for Lockerbie

Marc Horne
Scotland on Sunday
2007-12-22 06:48:00

HE IS already responsible for one Hollywood blockbuster. Now a former Israeli secret agent is planning to turn the Lockerbie disaster into a big screen hit, blaming Iran, not Libya, for the atrocity.

Juval Aviv was behind the book that inspired the acclaimed Steven Spielberg blockbuster Munich.

Comment on this SOTT Focus

---

Neocons: We expected Israel to attack Syria

Yitzhak Benhorin
Ynet News
2007-12-27 05:37:00

They are a unified group of American intellectuals, who held key positions in Bush administration and were blamed for getting US into Iraq. Most of them are Jews, so they are obviously accused of risking America in favor of Israel. Israeli Meyrav Wurmser claims that if situation is bad, Israelis are also to blame

Comment on this SOTT Focus

---

Sexual Violence as Occupational Hazard - In Iraq and at Home in the U.S.A.

Marie Tessier
The Women's Media Center
2007-12-26 23:23:00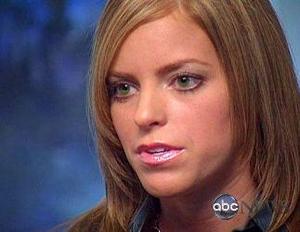 ©ABC News
Jamie Leigh Jones speaking to ABC News



Jamie Leigh Jones was just 20 in 2005 when she took a leap of faith to work in Iraq for her employer, military contractor Kellogg, Brown & Root, then a subsidiary of Halliburton. She went on a mission she believed in.

Comment on this SOTT Focus

---

Pope hails persecuted Christians as modern martyrs and continues with propaganda against Muslims


Reuters
2007-12-26 18:19:00

Vatican City - Pope Benedict said on Wednesday that Christians faced persecution, torture and death in some parts of the world and continued to be made martyrs for their faith.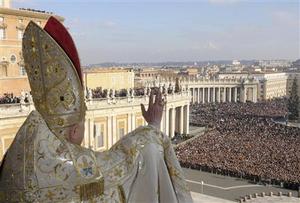 ©REUTERS/Osservatore Romano
Pope Benedict XVI blesses his faithful as he leads his Urbi et Orbi message (to the city and the world) from the central balcony of Saint Peter's Square at the Vatican
Comment on this SOTT Focus
---
Middle East Madness
---
Turkey thanks US for aiding airstrikes


Agence France-Presse
2007-12-27 14:48:00

Abdullah Gül, the Turkish President, praised the US for providing military intelligence as Turkey confirmed its third airstrike in ten days against Kurdish rebel hideouts in northern Iraq. The attack on Nirvorokan in Dohuk province was the third against Kurdistan Workers' Party (PKK) targets in northern Iraq that the military has confirmed since December 16, in addition to a cross-border ground operation.

Comment on this SOTT Focus

---

Russia to sell advanced air defense systems to Iran


RIA Novosti
2007-12-27 14:40:00

Iran signed a contract with Russia on Tuesday for the delivery of advanced S-300 air defense missile systems to the Islamic Republic, an Iranian news agency reported on Wednesday.

Comment on this SOTT Focus

---

Expelled EU, U.N. Officials Leave Afghanistan

David Fox
Reuters
2007-12-27 14:20:00

A senior United Nations official and another from the European Union left Afghanistan on Thursday after the government ordered their expulsion, accusing both of holding talks with the Taliban and for paying cash to the group.

The expulsions have caused a diplomatic row between the government and key aid agencies who fear the loss of two such experienced Afghan hands could hinder reconstruction and development efforts.


Comment on this SOTT Focus

---

Syrian MP threatens to retaliate against Dimona


Jersualem Post
2007-12-27 07:17:00

"If Syria feels threatened by Israel, it will be hard to stop our missile operators from responding to the Israeli aggression by attacking the Dimona nuclear reactor," Syrian legislator Muhammad Habash was quoted as saying Saturday.

Comment on this SOTT Focus

---

Top Ten Myths about Iraq 2007

Juan Cole
Informed Comment
2007-12-27 06:56:00

10. Myth: The US public no longer sees Iraq as a central issue in the 2008 presidential campaign.




In a recent ABC News/ Washington Post poll, Iraq and the economy were virtually tied among voters nationally, with nearly a quarter of voters in each case saying it was their number one issue. The economy had become more important to them than in previous months (in November only 14% said it was their most pressing concern), but Iraq still rivals it as an issue!


Comment on this SOTT Focus
---

Shear Terror! Iraqi Hairdressers Forced Underground

Diaa Hadid
Associated Press
2007-12-26 20:28:00

BAGHDAD, Iraq - Umm Doha cuts hair and waxes eyebrows in secret from her living room because making women look pretty can get a person killed in her Sunni-dominated Baghdad neighborhood.

Hardline Muslim extremists who believe it is sinful for women to appear beautiful in public have forced many beauticians to move their trade underground.


Comment on this SOTT Focus

---

Iraq: 'Awakening' Forces Arouse New Conflicts

Ali al-Fadhily and Dahr Jamail
IPS
2007-12-26 18:20:00

FALLUJAH - The controversial move of the U.S. military to back Sunni "Awakening" forces has created another wedge between Sunni and Shia political groups.

Comment on this SOTT Focus

---
The Loan Gunmen
---
Americans 'walk' from loans

David Hirst
The Age
2007-12-23 14:42:00

THE Dow soared 200 points in a Christmas rush on Friday that belied emerging details that US banking, mortgage companies and credit rating faced collapse while the nation's mortgage insurance industry plunged into chaos.

Comment on this SOTT Focus

---

Citi, Merrill, JPMorgan Face Larger Writeoffs

Jonathan Stempel
Reuters
2007-12-27 13:47:00

Citigroup Inc may need to slash its dividend 40 percent to preserve capital, and with Merrill Lynch & Co and JPMorgan Chase & Co may write off more than $33 billion of debt this quarter as the credit crunch deepens, a Goldman Sachs & Co analyst said.

"

It will be a couple of quarters before the current credit crisis is fully digested by the markets,

" the analyst, William Tanona, wrote in a report released on Thursday. "Fourth-quarter trading results are likely to be among the weakest we have seen in some time."

Comment on this SOTT Focus

---

Saxo Bank issues its 2008 "Outrageous Predictions"

Yazad Darasha
Business 24/7
2007-12-27 13:50:00

Predicting stocks, commodities and currency markets is usually viewed as a fool's game. These are traditionally volatile and unpredictable markets and only the extremely courageous or the exceptionally foolhardy will venture into this domain.

Denmark-based Saxo Bank last year predicted equity markets in 2007 would take their cue from "the desolate spiral of US home sales, but could find relief in M&A deal flow". Come 2007, the equity markets in the West stand battered by the sub-prime mortgage crisis and home builders in the US are looking for white knights to bail them out.

Comment on this SOTT Focus

---

Record Christmas bonuses on Wall Street

Naomi Spencer
World Socialist Web Site
2007-12-27 09:51:00

As millions of US households struggle with unmanageable mortgage payments, falling home values and foreclosure, Wall Street executives are awarding themselves record year-end bonuses.

Major US banks are reporting billions of dollars in write-offs from bad investments and double-digit losses in stock value. Nevertheless, among the four largest investment firms - Goldman Sachs, Morgan Stanley, Lehman Brothers and Bear Stearns - bonuses amount to nearly $30 billion.

Year-end payouts on Wall Street are 14 percent higher this year than last, bringing total compensation at the four firms to nearly $50 billion for 2007. Bonuses have increased at double-digit rates year after year on debt speculation and spiking energy and home costs, which have hurt working class families.


Comment on this SOTT Focus

---
The Living Planet
---
Update! More than 130 feared dead after Indonesian rains


Agence France-Presse
2007-12-27 07:16:00

Indonesian rescuers hunted Thursday for victims of landslides and floods on Java island that have left more than 130 people feared dead and tens of thousands displaced, officials said.

Landslides hit two districts in Central Java in the early hours of Wednesday morning, engulfing entire homes and blocking roads, while floods in East Java swept away a bridge, leaving an estimated 50 missing.

Comment on this SOTT Focus

---

Saving Plants that Save Lives


wwf
2007-12-27 06:37:00

Poor or non-existent collection controls are threatening the survival of many of the plant species used in traditional and modern medicines. Some estimates indicate that 15,000 of the 50,000 - 70,000 plant species used for medicinal purposes and mostly collected from the wild may be threatened, many as a direct result of unsustainable collection practices.

Three years of collaboration in which WWF has played a key role have now produced the first set of principles and criteria for the sustainable wild collection of plants.

Comment on this SOTT Focus

---

Earthquake hits Turkey


YahooNews
2007-12-27 02:07:00

ANKARA, Turkey - An earthquake with a preliminary magnitude of 5.5 shook the Turkish capital early Thursday, rattling furniture and rousing residents from their sleep, authorities said. There were no immediate reports of injuries.

Comment on this SOTT Focus

---

Powerful quake hits Alaska


Reuters
2007-12-27 11:22:00

A powerful magnitude 6.5 quake hit off Alaska's Aleutian Islands on Wednesday, the US Geological Survey said, but it did not immediately trigger a tsunami warning.

Comment on this SOTT Focus

---
Health & Wellness
---
Fewer Children Outgrowing Allergies to Milk, Eggs


HealthDay News
2007-12-27 11:49:00

Childhood milk and egg allergies may be more persistent and harder to outgrow than they were a generation ago, U.S. researchers report.

Comment on this SOTT Focus

---

Radio ablation cuts need for heart shocks

Gene Emery
Reuters
2007-12-27 00:02:00

Treating heart attack victims with radio waves helps reduce the likelihood that implantable defibrillators will need to jolt ailing hearts into beating properly, researchers reported on Wednesday.

The radiowave technique involves sending a probe into the heart, finding scar tissue from an earlier heart attack, and using radio waves to destroy the portion of that scar that can catastrophically disrupt the heartbeat.

Comment on this SOTT Focus

---

Bayer recalls Contour test strips for diabetes


Reuters
2007-12-26 23:55:00

A unit of Bayer AG recalled diabetes test strips used with its Contour TS Blood Glucose Meter because they may result in 5 to 17 percent higher blood glucose readings, the U.S. Food and Drug Administration said on Wednesday.

The test strips are used by diabetic patients to monitor their daily blood sugar levels.

Bayer Diabetes Care said the recalled test strips were produced on new manufacturing equipment and that it has fixed the problem.

Some 53 production lots were affected by the recall, totaling 230,000 bottles of strips, a Bayer spokeswoman said. Each bottle typically contains 25 to 50 strips.

Comment on this SOTT Focus

---

Slimming pill could go on sale in Britain next year

Ian Sample
Guardian Unlimited
2007-12-26 19:15:00

The first over-the-counter slimming pill to go on sale in Britain could be available in pharmacies as early as next year. The drug, which has been marketed in the US under the name Alli since June, is a half-strength version of a pill called Xenical that is currently only available in Britain under prescription for treating obesity.

Comment on this SOTT Focus

---
Science & Technology
---
Study maps life in extreme environments


PhysOrg
2007-12-27 15:00:00

A team of biologists have developed a model mapping the control circuit governing a whole free living organism. This is an important milestone for the new field of systems biology and will allow the researchers to model how the organism adapts over time in response to its environment. This study marks the first time researchers have accurately predicted a cell's dynamics at the genome scale (for most of the thousands of components in the cell).

Comment on this SOTT Focus

---

Book Argues That Bell Stole Phone Idea

Brian Bergstein
PhysOrg
2007-12-27 14:54:00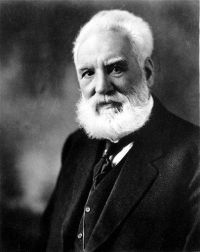 ©(AP File Photo)
This is an undated file photograph of Alexander Graham Bell, inventor of the telephone. A new book claims to have definitive evidence of a long-suspected technological crime -- that Alexander Graham Bell stole ideas for the telephone from a rival, Elisha Gray.



In 'The Telephone Gambit: Chasing Alexander Graham Bell's Secret', journalist Seth Shulman argues that Bell - aided by aggressive lawyers and a corrupt patent examiner - got an improper peek at patent documents Gray had filed, and that Bell was erroneously credited with filing first.


Comment on this SOTT Focus

---

In Search For Water On Mars Via Clues From Antarctica


Mars Daily
2007-12-27 00:30:00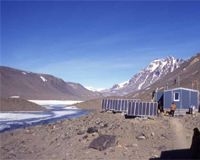 ©Earle M. Holland, courtesy of Ohio State University.
Long Term Ecological Research Network site in Taylor Valley , one of the McMurdo Dry Valleys in Antarctica .



Scientists have gathered more evidence that suggests flowing water on Mars -- by comparing images of the red planet to an otherworldly landscape on Earth. In recent years, scientists have examined images of several sites on Mars where water appears to have flowed to the surface and left behind a trail of sediment. Those sites closely resemble places where water flows today in the McMurdo Dry Valleys in Antarctica, the new study has found.

Comment on this SOTT Focus

---

Global Map Reveals Mineral Distribution On Mars


Mars Daily
2007-12-27 00:23:00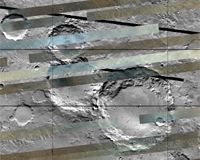 ©NASA/JPL/JHUAPL/Applied Coherent Technology



Scientists are getting a clearer image of mineral distribution on the surface of Mars, thanks to the Compact Reconnaissance Imaging Spectrometer for Mars (CRISM), one of six science instruments on NASA's Mars Reconnaissance Orbiter, currently circling the planet. More than 200 just-released "spectral maps" reveal the distribution of various minerals on the surface of Mars -- the first installment of the Global Mars Map, which will eventually cover the entire planet.

Comment on this SOTT Focus

---

XMM-Newton Detects Pulsed Heartbeat Of A Weird New Type Of Star


Space Daily
2007-12-27 00:09:00


©Russel Kightly Media
An artist's impression of a Rotating Radio Transient.



XMM-Newton has detected periodic X-ray emission, or the pulsed heartbeat of a weird new type of star. Collecting the X-rays from the so-called rotating radio transient has confirmed the nature of the underlying celestial object and given astronomers a new insight into these exotic objects. The observations were made using XMM-Newton's European Photon Imaging Camera (EPIC), which targeted the celestial object RRAT J1819-1458. Astronomers observed the object for around 12 hours and detected pulsations in the X-ray data that show the source to be rotating once every 4.26 seconds.

Comment on this SOTT Focus

---

A triple merger of galaxies


ESO Press
2007-12-21 20:01:00

VLT's NACO instrument reveals a triple cosmic collision

Using ESO's Very Large Telescope, an international team of astronomers has discovered a stunning rare case of a triple merger of galaxies. This system, which astronomers have dubbed 'The Bird' - albeit it also bears resemblance with a cosmic Tinker Bell - is composed of two massive spiral galaxies and a third irregular galaxy.

Comment on this SOTT Focus

---

Single brain cell's power shown


BBC News
2007-12-26 19:09:00

There could be enough computing ability in just one brain cell to allow humans and animals to feel, a study suggests.

Comment on this SOTT Focus

---

Bible put on a pinhead-size chip


BBC News
2007-12-24 19:05:00

Researchers in Israel say they have succeeded in putting a version of the Bible on a chip smaller than a pinhead.

Its 300,000 words in Hebrew were inscribed on a silicon surface at the Haifa Institute of Technology.

Scientists say the aim of the project is to increase young people's interest in nanoscience and nanotechnology.

Comment on this SOTT Focus

---
Our Haunted Planet
---
No new articles.
Don't Panic! Lighten Up!
---
The Most Wonderful Time of the Year: Pass the Razor Blades

Ben Tripp
Counterpunch
2007-12-27 14:38:00

Consider Kwanzaa and Chanukkah mentioned. One of my favorite activities during the holiday season is going out among the common folk to see how much Fun they're having. And golly, they're having so much fun. I never saw so much fun. Probably termites don't have this much fun. But hold on there, pardner. Don't get me wrong. I'm not one of these 'holiday malaise' types you see around. I don't get all despondent and start listening to The Smiths just because people have slapped a coat of glitter and some fairy lights over the smoking ruins of our nation, folks lurching around with manic grins smeared across their anxiety-ridden faces, trying this one last season to stave off the wolves of debt, homelessness, and shame. In fact I'm about as patriotic as they come, where Christmas is involved. Santa Claus, Baby Jesus, and Wal-Mart just about sums up the season for me, and not in any particular order. But there's something a little jaundiced about the proceedings this year, it seems. It could be something as minor as the voices in my head that tell me what I have to do to make the pain go away, or it could be something bigger, like the moral revulsion some people experience when they see millions of mindless zombies shopping their way to penury while the very planet convulses under the strain of their obscene lifestyles. But whatever the source, I find myself feeling kind of down this year. As always.


Comment on this SOTT Focus

---
---

Remember, we need your help to collect information on what is going on in your part of the world!
Send your article suggestions to: sott(at)signs-of-the-times.org

---
Click here to return to the Signs of the Times Archive
Click here for today's Signs Page