---
Sections on today's Signs Page:
---
SOTT Focus
---
No new articles.
Best of the Web
---
No new articles.
U.S. News
---
Nebraska Police: Man killed 2 women, beat and raped a third


CNN/Associated Press
2007-12-26 17:48:00

Omaha, Nebraska -- A man killed two women and left their bodies in the basement of a house, then beat and raped the daughter of one of the victims in the same home, authorities and a relative of the victims said.

Comment on this SOTT Focus

---

Washington Police: Six bodies found on rural property, three are homicides


CNN/Associated Press
2007-12-26 17:43:00

Carnation, Washington -- The bodies of six people have been found at a rural property east of Seattle, King County sheriff's detectives said Wednesday.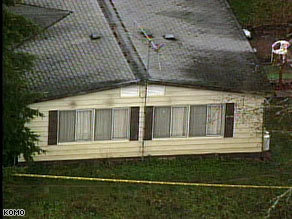 ©KOMO
A view of the Carnation home where the bodies of three people were discovered Wednesday.
Comment on this SOTT Focus
---

What's So Great About Gated Communities?

Barbara Ehrenreich
AlterNet
2007-12-26 07:38:00

Another utopia seems to be biting the dust. The socialist kibbutzim of Israel have vanished or gone increasingly capitalist, and now the paranoid residential ideal represented by gated communities may be in serious trouble. Never exactly cool -- remember Jim Carrey in The Truman Show? -- these pricey enclaves of privilege are becoming hotbeds of disillusionment.

At the annual meeting of the American Anthropological Association in Washington last week, incoming association president Setha Lowe painted a picture so dispiriting that the audience guffawed in schadenfreude. The gated community residents Lowe interviewed had fled from ethnically challenging cities, but they have not managed to escape from their fear. One resident reported that her small daughter has developed a severe case of xenophobia, no doubt communicated by her parents:




"We were driving next to a truck with some day laborers and equipment in the back, and we stopped beside them at the light. She [her daughter] wanted to move because she was afraid those people were going to come and get her. They looked scary to her."


Comment on this SOTT Focus
---

Judicial Watch Announces List of Washington's ''10 Most Wanted Corrupt Politicians'' for 2007


Mathaba News Network
2007-12-26 05:04:00

Judicial Watch: Promoting Integrity, Transparency and Accountability in Government, Politics and the Law. Note that current presidential candidates Obama, Clinton and Giuliani are all on the top 10 most corrupt politicians list.

Washington, DC - Judicial Watch, the public interest group that investigates and prosecutes government corruption, today released its 2007 list of Washington's "Ten Most Wanted Corrupt Politicians." The list, in alphabetical order, includes:

1. Senator Hillary Rodham Clinton (D-NY): In addition to her long and sordid ethics record, Senator Hillary Clinton took a lot of heat in 2007 - and rightly so - for blocking the release her official White House records. Many suspect these records contain a treasure trove of information related to her role in a number of serious Clinton-era scandals. Moreover, in March 2007, Judicial Watch filed an ethics complaint against Senator Clinton for filing false financial disclosure forms with the U.S. Senate (again). And Hillary's top campaign contributor, Norman Hsu, was exposed as a felon and a fugitive from justice in 2007. Hsu pleaded guilt to one count of grand theft for defrauding investors as part of a multi-million dollar Ponzi scheme.

Comment on this SOTT Focus

---

Driver crashes into Chicago newscast


Reuters
2007-12-24 05:01:00

The driver of a minivan who interrupted a local TV newscast while it was on the air by crashing into the station's glass-walled studio, was charged on Monday with reckless driving, authorities said.

Gerald Richardson, 25, was seen driving erratically moments before veering into the street-level studio on Sunday night, the Chicago Sun-Times reported.

Comment on this SOTT Focus

---

Tiger escapes San Francisco zoo cage and kills 1

Louise Chu
Associated Press
2007-12-26 04:02:00

A tiger that mauled a zookeeper last year escaped from its pen at the San Francisco Zoo on Tuesday, killing one man and injuring two others before police shot it dead, authorities said.

Comment on this SOTT Focus

---

Lakota group secedes from U.S.

Bill Harlan
Rapid City Journal (South Dakota)
2007-12-21 18:09:00

Political activist Russell Means, a founder of the American Indian Movement, says he and other members of Lakota tribes have renounced treaties and are withdrawing from the United States.

Comment on this SOTT Focus

---
UK & Euro-Asian News
---
Britain in secret talks with the Taliban

Thomas Harding and Tom Coghlan
Telegraph, UK
2007-12-26 01:51:00

Agents from MI6 entered secret talks with Taliban leaders despite Gordon Brown's pledge that Britain would not negotiate with terrorists, The Daily Telegraph can disclose.

Comment on this SOTT Focus

---

Russia, Greece sign deal for 14 firefighting aircraft


RIA Novosti
2007-12-26 07:34:00

Russia has signed a contract with Greece to deliver between seven and 14 Be-200 multirole amphibious aircraft, primarily used for aerial firefighting, the Emergency Situations Ministry said on Wednesday.

Developed by the Beriev Aircraft Company, the Be-200 has a number of uses, including fire fighting, as an air ambulance, in search-and-rescue, cargo and passenger transport and maritime surveillance.

Comment on this SOTT Focus

---

China closes zoo where tiger was killed


Associated Press
2007-12-26 07:15:00

China has closed an understaffed zoo where a rare Siberian tiger was found beheaded and skinned last week and where seven tigers died in the last four years, state media reported Wednesday.

Comment on this SOTT Focus

---

'Too few armed police' say Tories


BBC
2007-12-26 05:05:00

Armed police numbers have dropped despite a rise in gun crime, the Conservatives have said.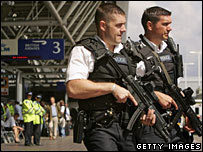 ©Unknown



The fall in numbers has been most serious in "hotspot" areas with the biggest rises in offences, figures obtained by the Tories suggest.

For instance, in Northamptonshire, gun offences tripled in 10 years - but the number of armed officers fell by 56%.

The Home Office said police numbers were "historically high" and armed police strength was a local decision.



Comment on this SOTT Focus

---

UK: Tory MP's Wet Night Sleeping Rough


Sky News
2007-12-26 04:54:00

A Tory MP has spent a wet night sleeping rough on the streets of London to highlight the issue of homelessness.

Grant Shapps said he awoke to the sound of heavy rain on his sleeping bag after bedding down in a street in Victoria.

The Tory housing spokesman was guided through the experience by a constituent who lived on the streets for a year after being thrown out of home at the age of 14.

"I was told that the worst thing is not the cold but the wet," Mr Shapps said.

"I was fine for most of the night, until about 5am when the rain started to pour down."

He added: "The biggest lesson is the extent to which you feel incredibly vulnerable on the street.

Comment on this SOTT Focus

---

UK: 'Pensioner kills his wife, dumps her body among Christmas presents, and then kills himself by driving Smart car into tree'

Liz Hull and Arthur Martin
The Daily Mail
2007-12-25 03:56:00

A man murdered his wife and left her body among presents under their Christmas tree before killing himself by crashing his car.

Roger Goswell, 66, was found dying by paramedics after he drove into a tree at high speed.

Comment on this SOTT Focus

---

Russia successfully tests new ICBM

Vladimir Isachenkov
Associated Press
2007-12-25 19:57:00

MOSCOW - Russia's military on Tuesday successfully test-fired a new intercontinental ballistic missile capable of carrying multiple nuclear warheads - a weapon intended to replace aging Soviet-era missiles.

The RS-24 missile was launched from the Plesetsk launch facility in northern Russia and its test warheads successfully hit designated targets on the Kura testing range on the Kamchatka Peninsula some 4,340 miles east, Strategic Missile Forces spokesman Alexander Vovk told The Associated Press.


Comment on this SOTT Focus

---

Afghanistan expels top officials


BBC
2007-12-25 18:51:00

Two high-ranking officials from the European Union and the United Nations - one British, the other Irish - have been ordered to leave Afghanistan.

The two men, based in Helmand province, southern Afghanistan, had been holding meetings with different tribes and groups, including possibly the Taleban.

The Afghan government has given them 48 hours to leave and the UN has said that it will comply with the request.

But officials hope to resolve what they have called a misunderstanding.

Comment on this SOTT Focus

---
Around the World
---
S. Korean rescuers find wreckage believed to be missing ship


CNN
2007-12-26 17:51:00

Seoul, South Korea -- Fourteen seamen went missing after a ship carrying nitric acid sank off the coast of South Korea in rough seas Tuesday, maritime police said, according to South Korea's Yonhap news agency.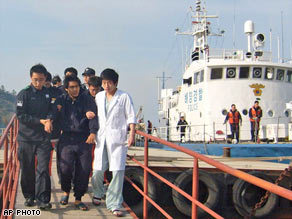 ©AP
A Myanmarese sailor is helped on his way to a hospital upon his arrival at the Yeosu port, South Korea.
Comment on this SOTT Focus
---

Indonesia, Thailand mark tsunami with prayers


Reuters
2007-12-26 17:37:00

Calang, Indonesia - Hundreds of Indonesians prayed at mass graves in Aceh province on Wednesday, while in Thailand Buddhist monks held a ceremony to remember the many thousands who died in the Indian Ocean tsunami three years ago.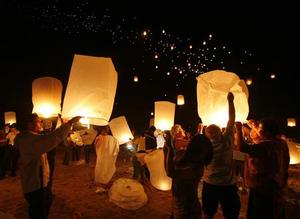 ©REUTERS/Chaiwat Subprasom
Floating paper lanterns fill the sky over the Andaman Sea in remembrance of the Indian Ocean tsunami victims in Khao Lak, in Thailand's Phang Nga province, north of the resort island of Phuket
Comment on this SOTT Focus
---

400 Nepal Maoists cross into India


Times of India
2007-12-26 15:15:00

NAINITAL: About 400 Nepali Maoists belonging to Young Communist League entered the Indian side of international border on Wednesday and raised anti-India slogans in Champawat district of Uttarakhand. Police said the Maoists, both men and women in the age group of 18-25, were accompanied by two Nepal MPs of Nepal Communist Party. They were protesting against what they alleged encroachment of their land on the other side of the border by Indians.


Comment on this SOTT Focus

---

Hindus burn churches in India leaving one dead, 30 hurt


Agence France-Presse
2007-12-26 09:56:00

Hindus attacked at least 10 churches in eastern India leaving one man dead and 30 injured on Christmas night, police said Wednesday.

Protesters backed by the Vishwa Hindu Parishad (World Hindu Council) set fire to six churches and ransacked another four in the heart of Orissa state, police officer Narsingh Bol told AFP.

Comment on this SOTT Focus

---

Heart of darkness: Record numbers of child soldiers drafted into Congo war

Jonathan Brown
The Independent
2007-12-24 14:07:00

Record numbers of children are being recruited to fight on the front line of eastern Congo's escalating and increasingly brutal conflict, it is claimed today.

Comment on this SOTT Focus

---

Death toll in Nepal bridge collapse rises to 15


RIA Novosti
2007-12-26 07:31:00

At least 15 people died and over 100 are still missing after a crowded bridge collapsed into a mountain river in western Nepal, China's Xinhua news agency said.

The suspension bridge over the Bheri River in the Surkhet district, some 320 kilometers (200 miles) west of the capital, Kathmandu, collapsed while over 400 people were crossing it.

Local media said the people had been on their way to attend a full moon festival celebrating the end of the rice harvest.

Comment on this SOTT Focus

---

3 dead, 1 survivor in Panama plane crash

Juan Zamorano
Associated Press
2007-12-25 19:53:00

PANAMA CITY - The bodies of a California businessman, his teenage daughter and the Panamanian pilot of a plane that crashed over the weekend were found Tuesday in Panama's mountains, officials said. A 12-year-old American girl survived.

Michael Klein, 37, Talia Klein, 13, and pilot Edwin Lasso were found dead, Panama's civil protection agency said.

Comment on this SOTT Focus

---

Japan Test Fires Its First Raytheon-Built Standard Missile-3

Kauai HI
SpaceWar.com
2007-12-20 18:15:00

The Japan Maritime Self-Defense Force successfully flight tested its first Raytheon Company (NYSE: RTN)-built Standard Missile-3. The SM-3 Block IA missile engaged and destroyed a medium-range ballistic missile target more than 60 miles above the Pacific Ocean. Personnel at the U.S. Navy's Pacific Missile Range Facility on Kauai launched the ballistic missile target while the crew of the Japanese destroyer JS KONGO (DDG-173) fired the intercepting missile.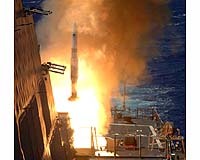 ©Unknown
SM-3 is being developed as part of the MDA's sea-based Aegis Ballistic Missile Defense System. The missiles will be deployed on Aegis cruisers and destroyers to defend against short-to-intermediate range ballistic missile threats in the midcourse phase of flight.
Comment on this SOTT Focus
---
Big Brother
---
Legal analyst: In wrong hands, FBI biometric info 'can follow you forever'

David Edwards and Jason Rhyne
TheRawStory
2007-12-24 07:45:00

A newly announced FBI plan to catalog precise physical characteristics of individuals around the world -- a vast $1 billion dollar project that makes the bureau's fingerprint database look quaint by comparison -- is raising eyebrows among critics who worry about how the data may be used.



Taking advantage of the science of biometrics, which relies on precise body measurements unique to every human being, the FBI hopes to be able to identify criminal and terrorist suspects by face-shape, scars and even iris patterns.


Comment on this SOTT Focus

---

Police Begin Fingerprinting at Traffic Stops

Sarah Thomsen
WBAY-TV
2007-12-26 07:08:00

If you're ticketed by Green Bay police, you'll get more than a fine. You'll get fingerprinted, too. It's a new way police are cracking down on crime.

Comment on this SOTT Focus

---
Axis of Evil
---
Israel has megaton nuclear bombs


TheNews.com
2007-12-25 05:13:00

Israel mounted an air strike in the Gaza Strip on Monday, killing two Hamas activists and wounding two, the Palestinian Islamist group and medical staff said.

Hamas, which seized control of Gaza in June when it routed Palestinian President Mahmoud Abbas's forces, said the four men were travelling in a car near the border fence with Israel and close to the al-Bureij refugee camp when the attack occurred.

An Israeli army spokesman said an air strike had been launched against militants in the central Gaza Strip but that he had no more details. Israel has killed more than 20 activists in the past two weeks in increased military action in the coastal territory.

Meanwhile, a Washington-based military think tank has revealed that the Zionist regime has produced nuclear weapons with 'a yield of one megaton'. A new report complied by the Centre for Strategic and International Studies (CSIS) claims Israeli nuclear warheads have both air and sea capabilities.

Comment on this SOTT Focus

---

Psychopathic values! Police academy class slogan: Cause PTSD


Associated Press
2007-12-25 19:43:00

BOISE, Idaho - A state police academy leader has disavowed the slogan of the most recent graduating class urging one another to "go out and cause" post-traumatic stress disorder.

Each class at the Idaho Police Officer Standards and Training Academy is allowed to choose a slogan that is printed on its graduation programs, and the class of 43 graduates came up with "Don't suffer from PTSD, go out and cause it."




Comment on this SOTT Focus

---

Flashback: U.S. Repeatedly Rebuffed Iraq on Blackwater Complaints

Sudarsan Raghavan and Steve Fainaru
Washington Post
2007-09-23 18:47:00

Senior Iraqi officials repeatedly complained to U.S. officials about Blackwater USA's alleged involvement in the deaths of numerous Iraqis, but the Americans took little action to regulate the private security firm until 11 Iraqis were shot dead last Sunday, according to U.S. and Iraqi officials.

Comment on this SOTT Focus

---
Middle East Madness
---
Israeli guards beat Santa Claus with truncheons near Bethlehem to protect illegal settlers on Arab lands


Agence France-Presse
2007-12-22 09:50:00

Israeli guards beat five demonstrators, including one dressed as Father Christmas, during a protest on Friday against Israel's separation barrier in the West Bank, organisers said.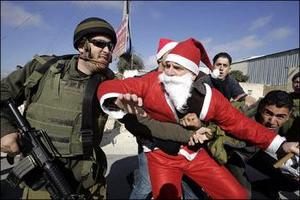 ©AFP
An Israeli soldier tackles a Palestinian protester dressed as Santa Claus or Father Christmas
Comment on this SOTT Focus
---

Iran says to get missile system from Russia: report


Reuters
2007-12-26 09:50:00

TEHRAN - Iran's defense minister said on Wednesday that Iran had agreed to buy an S-300 surface-to-air missile system from Russia, Iranian media reported.

"The S-300 system, under a contract signed in the past with Russia, will be delivered to Iran," Defense Minister Mostafa Mohammad Najjar told Fars News Agency, without giving details.

Comment on this SOTT Focus

---

Turkish jets strike Kurdish rebel bases

Suzan Fraser
Associated Press
2007-12-26 09:48:00

ANKARA - Turkish warplanes hit eight suspected Kurdish rebel hideouts in northern Iraq on Wednesday, the third cross-border air assault in 10 days, Turkey's military said.

The warplanes struck in an "effective pinpoint operation" targeting eight caves and other hideouts being used by the separatist rebels of the Kurdistan Workers' Party, or PKK, the military said in a statement posted on its Web site.

Comment on this SOTT Focus

---

More bodies pulled from debris of collapsed building in Egypt


RIA Novosti
2007-12-26 07:37:00

Egyptian rescue workers have pulled out five more bodies from under the rubble of a 12-floor residential building, bringing the death toll to 19, national media said on Wednesday.

The city's mayor, Adel Labib, gave workers 48 hours to clear away the debris of the building, which caved in on Monday morning in the port city of Alexandria after the majority of residents had left for work.

On Tuesday, Egyptian rescuers pulled out a 24-year-old woman who had been buried beneath the rubble for about 24 hours, bringing the number of survivors to three.

Comment on this SOTT Focus

---

Israeli occupation creates hell on earth, even for Christians


The Palestinian Information Center
2007-12-26 05:36:00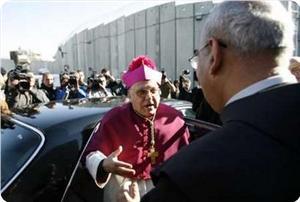 ©Unknown
The Latin Patriarch of Jerusalem Michel Sabbah arrives at the IOF checkpoint outside Bethlehem





From Khalid Amayreh in Bethlehem



Christmas is a season of good will. However, for Israel and its notoriously mendacious propaganda machine, Christmas is also a hasbara opportunity for spreading lies and disseminating disinformation and half truths about Christians in the Holy Land.

The usual seasonal dosage of lies includes such claims that Christians in the Holy Land suffer more from Muslim persecution than from the Israeli and apartheid, and that Christian emigration is not really attributed to Israel's Nazi-like repression of the Palestinian people but rather to Palestinian "Muslim" intolerance and violence.

Well, such lies are not new. Israel itself is a state based on lies and lying has always been and continues to be Israel's policy and modus operandi. In fact, it is very hard for one to be Zionist and not to be a liar. In truth, Zionism and mendacity are two sides of the same coin.

Comment on this SOTT Focus

---

Bethlehem Christmas Cancelled: The Wall Must Fall


Window Into Palestine
2007-12-25 05:25:00

My best wishes to all who are celebrating Christmas and a Happy Eid.

This morning I saw a news article on the internet entitled "Peace Reigns in Bethlehem." This is how "peace" is so distorted to the world. As long as atrocities and crimes continue without resistance to them, and it does not affect Israel, then this is what is known as "peace," an utterly meaningless word.

With that, I add this video which is entitled "Bethlehem Christmas Cancelled: The Wall Must Fall." Unfortunately, it will take a lot more than this wall to fall in order to achieve what is really needed ... justice in Bethlehem and in Palestine, and of course, justice for the Palestinian refugees.



Comment on this SOTT Focus

---
The Loan Gunmen
---
U.S. Economy: Home Prices Declined 6.1% in October

Joe Richter and Courtney Schlisserman
Bloomberg
2007-12-26 15:39:00

Home prices in 20 U.S. metropolitan areas fell in October by the most in at least six years, raising the risk that more Americans will walk away from properties that are worth less than they owe.

Values fell a greater-than-forecast 6.1 percent from October 2006, the S&P/Case-Shiller home-price index showed today. The decrease was the biggest since the group started keeping year-over-year records in 2001.


Comment on this SOTT Focus

---

Holiday Spending Is Weak, as Retailers Expected

Michael Barbaro
The New York Times
2007-12-26 13:38:00

American consumers, uneasy about the economy and unimpressed by the merchandise in stores, delivered the bleak holiday shopping season retailers had expected, if not feared, according to one early but influential projection.

Spending from Thanksgiving to Christmas rose just 3.6 percent over last year, the weakest performance in at least four years, according to MasterCard Advisors, a division of the credit card company. By comparison, sales grew 6.6 percent in 2006 and 8.7 percent in 2005.


Comment on this SOTT Focus

---

Tent city in suburbs is cost of U.S. home crisis

Dana Ford
Reuters
2007-12-21 10:50:00

ONTARIO, Calif. - Between railroad tracks and beneath the roar of departing planes sits "tent city," a terminus for homeless people. It is not, as might be expected, in a blighted city center, but in the once-booming suburbia of Southern California.


Comment on this SOTT Focus

---

Chrysler CEO: We're 'operationally' bankrupt


CNN
2007-12-26 10:09:00

Automaker scrambling to sell assets just months after private equity buyout as credit crunch deepens - report

Chrysler Corp., the troubled automaker bought by private equity just four months ago, is scrambling to sell assets amid indications of huge losses, as access to cash becomes increasingly scarce, according to a published report Friday.

Comment on this SOTT Focus

---

October home prices post record decline

Stephen Bernard
Associated Press
2007-12-26 09:54:00

NEW YORK - U.S. home prices fell in October for the 10th consecutive month, posting their biggest monthly decline since early 1991, according to the Standard & Poor's/Case-Shiller home price index.

The record 6.7 percent drop marked the 23rd consecutive month of price deceleration.

Comment on this SOTT Focus

---

Man wants his $400K stolen by the FBI back

Greg Sowinski
The Lima News
2007-12-26 07:14:00

LIMA - Two robbers who broke into Luther Ricks Sr.'s house this summer may have not gotten his life savings he had in a safe, but after the FBI confiscated it he may not get it back.

Ricks has tried to get an attorney to fight for the $402,767 but he has no money. Lima Police Department officers originally took the money from his house but the FBI stepped in and took it from the Police Department. Ricks has not been charged with a crime and was cleared in a fatal shooting of one of the robbers but still the FBI has refused to return the money, he said.

"They are saying I have to prove I made it," he said.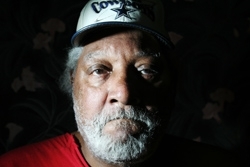 ©Matthew Hashiguchi
Luther Ricks Sr. sits in the living room of his Greenlawn Avenue home where authorities took more than $400,000 from him earlier this year following a fatal self-defense shooting in his house. The FBI now has his money and is refusing to give it back.
Comment on this SOTT Focus
---

Crisis may make 1929 look a 'walk in the park'

Ambrose Evans-Pritchard
The Telegraph
2007-12-26 06:47:00

As central banks continue to splash their cash over the system, so far to little effect, Ambrose Evans-Pritchard argues things are rapidly spiralling out of their control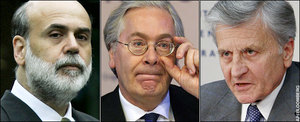 ©Telegraph
Faces of power: The Fed's Ben Bernanke, the BoE's Mervyn King, the ECB's Jean-Claude Trichet
Comment on this SOTT Focus
---

Rapidly, Buffett Secures a Deal for $4.5 Billion

Vikas Bajaj
The New York Times
2007-12-26 00:48:00

Warren E. Buffett may be a choosy shopper, but when he sees a firm he likes, he moves fast.

After just two weeks of negotiations, Mr. Buffett, who has been looking for acquisitions on which to spend his company's billions of dollars, snagged an industrial conglomerate in a deal announced Tuesday. The Pritzker family of Chicago will sell to Mr. Buffett's firm, Berkshire Hathaway, a 60 percent stake in Marmon Holdings for $4.5 billion.

Comment on this SOTT Focus

---

MAXjet Files for Bankruptcy and Stops Flying


aviation.com
2007-12-25 21:08:00

MAXjet Airways ceased operations on Monday -- leaving jets on tarmacs and stranding passengers on Christmas Eve -- as the all-business class airline filed for bankruptcy protection.

MAXjet took what it called a "drastic measure" because of soaring fuel prices and the deteriorating credit market. But analysts suggested competition from AMR Corp.'s American Airlines on one of MAXjet's key routes also played a big role.

"High fuel prices were a contributing factor, but American's inauguration in October of (service between New York's John F. Kennedy International Airport and London's Stansted Airport) was the coup de grace," said Robert Mann, an airline consultant in Port Washington, New York.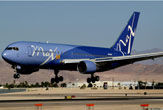 ©Bryan Correira
A MAXjet Boeing 767-200ER lands at Las Vegas after a flight from London Stansted Airport. Launched in 2005, MAXjet offered 'all premium' flights between the UK, New York, Las Vegas and Los Angeles but ultimately couldn't compete with airlines with deeper pockets. High fuel prices and the deteriorating credit market were also contributing factors to MAXjet stopping flying and filing for bankruptcy.
Comment on this SOTT Focus
---
The Living Planet
---
Update: Landslides leave up to 81 dead or missing in Indonesia


Reuters
2007-12-26 17:27:00

Jakarta - Landslides and floods caused by torrential rains have left up to 81 people dead or missing in Indonesia's Central Java province, police and rescue officials said on Wednesday.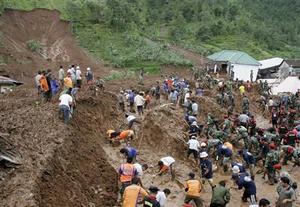 ©REUTERS/Andry Prasetyo
Indonesian soldiers and villagers dig into mud to search for landslide victims in Karang Anyar district near Solo, Indonesia's Central Java province
Comment on this SOTT Focus
---

Venezuela Coast Shaken by Magnitude 5.0 Earthquake

Matthew Walter and Steven Bodzin
Bloomberg
2007-12-26 11:24:00

Venezuela was shaken by a magnitude 5.0 earthquake today. There were no reports of damage to oil installations, the state energy company said.

Comment on this SOTT Focus

---

CHALLENGES 2007-2008: Climate Change Gives Rise to New World Order

Mario Osava
IPS
2007-12-26 10:27:00

RIO DE JANEIRO - Once again, humanity is facing the risk of catastrophe. The terror of destruction by nuclear missiles ready to be launched at the touch of a button has given way to the disturbing possibility of global warming going past the point of no return, and this is turning traditional international coalitions and geopolitical concepts upside down.

Comment on this SOTT Focus

---

Tremor hits Iran town on anniversary of deadly quake


Agence France-Presse
2007-12-26 05:02:00

The ancient Iranian city of Bam was hit by a mild earthquake almost four years to the day after a catastrophic quake there killed tens of thousands of people, state media reported on Wednesday.




Comment on this SOTT Focus

---

Dozens said dead in Indonesia landslides


Associated Press
2007-12-25 23:48:00

JAKARTA, Indonesia - Hours of heavy rain triggered landslides Wednesday that killed at least 59 people in western Indonesia, media reports said.


Comment on this SOTT Focus

---

Walrus Habitat is Melting Away

Dan Joling
livescience.com
2007-12-25 20:46:00

Federal marine mammal experts in Alaska studying the effects of global warming on walrus, polar bears and ice seals warn there are limit to the protections they can provide.

They can restrict hunters, ship traffic and offshore petroleum activity, but that may not be enough if the animals' basic habitat - sea ice - disappears every summer.

"Ultimately it's beyond my scope," said Joel Garlich-Miller, a walrus expert for the U.S. Fish and Wildlife Service in Anchorage. "I can't make ice cubes out there."

Garlich-Miller said 3,000 to 4,000 mostly young walrus died this year in stampedes on land on the Russian side of the Chukchi Sea, the body of water touching Alaska and Russia just north of the Bering Strait. Instead of spending the summer spread over sea ice, thousands of walruses were stranded on land in unprecedented numbers for up to three months.

Anatoly Kochnev, who conducts walrus research for Russia's Pacific Institute of Fisheries and Oceanography, said the loss of 3,000 to 4,000 animals this year from mostly one demographic could be disastrous.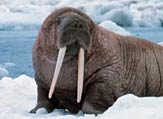 ©NOAA
A walrus rests on sea ice. Experts no fear the diminishing icy landscape of the Arctic landscape could damage walrus populations.
Comment on this SOTT Focus
---

Magnitude 6.0 quake hits northern Japan


Reuters
2007-12-25 20:00:00

A magnitude 6.0 earthquake hit northern Japan on Tuesday, 62 miles northeast of the city of Sendai, the U.S. Geological Survey reported.

It said the quake struck 30 miles deep off the eastern coast of the main island of Honshu at 11:04 p.m. (1404 GMT).

Comment on this SOTT Focus

---

Sri Lanka floods subside, 40,000 in temporary shelters


AFP
2007-12-25 10:48:00

Sri Lanka's monsoon floods were subsiding but just over 40,000 people remained in temporary shelters, the disaster management centre said Tuesday.

Comment on this SOTT Focus

---
Health & Wellness
---
Mutation may cause inherited neuropathy


University of Chicago
2007-12-26 03:24:00

Mutations in a protein called dynein, required for the proper functioning of sensory nerve cells, can cause defects in mice that may provide crucial clues leading to better treatments for a human nerve disorder known as peripheral neuropathy, which affects about three percent of all those over age 60.

Comment on this SOTT Focus

---

Flashback: New fears over MMR link to autism

Stephen Adams
The Telegraph
2007-09-07 10:18:00

Fresh fears over a possible link between the measles, mumps and rubella (MMR) vaccine and autism have been raised after a new study found that almost double the number of children could have the condition than previously thought.

Comment on this SOTT Focus

---

Nurse gave four-year-old autism-linked MMR vaccine against wishes of parents

Ben Clerkin
Daily Mail
2007-12-26 10:14:00

A nurse disregarded the wishes of a four-year-old's parents by giving her the MMR jab.

Comment on this SOTT Focus

---

Ransom-Note Ads About Children's Health Are Canceled

Joanne Kaufman
New York Times
2007-12-20 10:10:00

The Child Study Center at New York University said on Wednesday that it would halt an advertising campaign aimed at raising awareness of children's mental and neurological disorders after the effort drew a strongly negative reaction.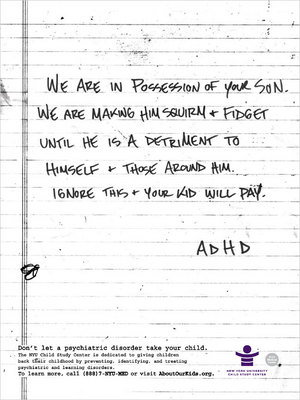 ©New York Times
Disorders like autism, depression, bulimia and attention-deficit hyperactivity disorder were the focus of the pro bono campaign.
Comment on this SOTT Focus
---

One person out of every thousand has synaesthesia - smell sounds or hear colours


University of Granada
2007-12-26 07:58:00

Most of these people are not aware they are synaesthetes and feel certain about the way they perceive things: they think the way they experience the world is normal. But, when they realize that something is not quite right, they become disappointed.

- The research field has grown from grapheme-colour synaesthesia to include other forms of synaesthesia in which flavours are evoked by music or words (lexical-gustatory synaesthesia), space structures by time units, colours by music, etc.

- Experts on Experimental Psychology from the University of Granada (Universidad de Granada) are studying this phenomenon. The results of this research have been published by the following scientific journals, among others: Cortex, Experimental Brain Research and Consciousness and Cognition.

Comment on this SOTT Focus

---

Brain imaging and genetic studies link thinking patterns to addiction


University of California - San Francisco
2007-12-26 07:53:00

Scientists have for the first time identified brain sites that fire up more when people make impulsive decisions. In a study comparing brain activity of sober alcoholics and non-addicted people making financial decisions, the group of sober alcoholics showed significantly more "impulsive" neural activity.

The researchers also discovered that a specific gene mutation boosted activity in these brain regions when people made impulsive choices. The mutation was already known to reduce brain levels of the neurotransmitter dopamine. The newly found link involving the gene, impulsive behavior and brain activity suggests that raising dopamine levels may be an effective treatment for addiction, the scientists say.

The research is reported in the Dec. 26, 2007 issue of the "Journal of Neuroscience."

Comment on this SOTT Focus

---

Poor Americans in the United States suffer hidden burden of parasitic and other neglected diseases


Public Library of Science
2007-12-25 07:40:00

Large numbers of the poorest Americans living in the United States are suffering from some of the same parasitic infections that affect the poor in Africa, Asia, and Latin America, says the Editor-in-Chief of PLoS Neglected Tropical Diseases.

In an article entitled "Poverty and Neglected Diseases in the 'Other' America," Professor Peter Hotez (George Washington University and the Sabin Vaccine Institute) says that there is evidence that the parasitic diseases toxocariasis, cysticercosis and toxoplasmosis as well as other neglected infections are very common in the United States, especially among poor and underrepresented minority populations living in inner cities and poor rural areas. Such infections are known as neglected tropical diseases (NTDs) because they afflict mostly poor people and are often ignored by public health officials and political leaders despite their enormous medical importance.

Comment on this SOTT Focus

---

Why fish oil is good for you


Physorg
2007-12-26 06:37:00

It's good news that we are living longer, but bad news that the longer we live, the better our odds of developing late-onset Alzheimer's disease.

Many Alzheimer's researchers have long touted fish oil, by pill or diet, as an accessible and inexpensive "weapon" that may delay or prevent this debilitating disease. Now, UCLA scientists have confirmed that fish oil is indeed a deterrent against Alzheimer's, and they have identified the reasons why.


Comment on this SOTT Focus

---

Some Types Of Temporary Neurological Problems Associated With Increased Risk For Stroke, Dementia


Science Daily
2007-12-26 05:57:00

Patients who experience symptoms described as transient neurological attacks, such as temporary amnesia or confusion, may have a higher risk for stroke and dementia, according to a study in the December 26 issue of JAMA.

Transient neurological attacks (TNAs) are episodes involving temporary (less than 24 hours) neurological symptoms. These symptoms can be nonfocal (that can include nonlocalizing cerebral symptoms), focal (known as transient ischemic attacks [TIAs], similar to ischemic stroke, except for duration [commonly 2-15 minutes, maximum 24 hours]), or a mixture of both focal and nonfocal. Although it has been well-documented that patients with TIA are at high risk of major vascular disease, few studies have examined whether nonfocal TNAs are a serious health threat, according to background information in the article.

Comment on this SOTT Focus

---

Japan PM Apologizes for Tainted Blood

Mari Yamaguchi
Associated Press
2007-12-26 05:11:00

Japan's prime minister apologized Tuesday to four people who contracted hepatitis C from tainted blood products and promised to enact legislation to compensate them.

Yasuo Fukuda met the hepatitis sufferers at his office. They are among hundreds seeking damages from the government and pharmaceutical companies in the blood products scandal. Part of the meeting was broadcast on television.


©AP/ Yoshikazu TSUNO
Japanese Prime Minister Yasuo Fukuda, left, bows as he apologizes to victims and relatives of hepatitis C, who were caused by tainted blood products, at his office in Tokyo on Tuesday December 25, 2007. Fukuda and his ruling coalition would seek new legislation to compensate all the victims of dirty blood products contaminated with hepatitis C



"I apologize for the years of indescribable suffering you have gone through," said the prime minister, who has struggled to regain public support following a series of scandals. "The only way to respond to your wishes is to enact legislation, and I'll do my utmost to achieve that goal."

The plaintiffs say they contracted hepatitis C, mainly in the 1980s, from defective blood-clotting agents that the government and the pharmaceutical companies kept using despite knowledge of their potential contamination.

Hepatitis C is a chronic, blood-borne virus that can cause liver ailments, including cancer, cirrhosis and liver failure. It is treatable, but those who have the disease are often unaware of their infection.

Comment on this SOTT Focus

---

Clue to migraine headache cause


BBC
2007-12-26 04:52:00

Scientists may be a step closer to uncovering the cause of certain types of debilitating migraine headaches.

A French team observed activation in the hypothalamus region of the brain as sufferers had a migraine attack.

The hypothalamus has long been suspected as it regulates physiological responses to factors known to trigger headaches, such as hunger.

It is hoped the discovery, featured in the journal Headache, could lead to new treatments.

Comment on this SOTT Focus

---

E. coli Thrives in Beach Sands

Andrea Thompson
livescience.com
2007-12-25 21:02:00

The perils of a day at the beach aren't always as easy to see as riptides, broken shells and jellyfish - the sand at the shore may harbor E. coli and other potentially dangerous disease-causing bacteria, a recent study showed.

E. coli is one of the main species of bacteria that live in the lower intestines of mammals, including humans - one person excretes billions of them in a day. Pathogenic strains of E. coli can cause vomiting and diarrhea.

Government testers look for E. coli as an indicator of fecal contamination at freshwater beaches all over the country, because the other microbes present are more difficult to detect (another bacteria is used to test for fecal matter at ocean beaches because E. coli does not survive well in salt water).


Comment on this SOTT Focus

---

Child Care in First Two Years Greatly Affects IQ


livescience.com
2007-12-25 20:57:00

How well children are cared for in their first two years directly affects brain development and IQ later in life, a new study finds.

Researchers studied abandoned young children in Romanian orphanages over time and found that those placed in foster care at younger ages had significantly higher IQ's than those placed in foster care after the age of 2.

"Our findings suggest that there may be a sensitive period in the first two years of life in which experiences are especially important in shaping cognitive development," said principal investigator Charles Zeanah, professor and chief of child psychiatry at Tulane University School of Medicine. "This work adds to a growing body of scientific evidence about the importance of early relationship experiences."

The research, done in collaboration with scientists at Harvard University, the University of Maryland and Temple University, is detailed in the Dec. 21 issue of the journal Science.

Comment on this SOTT Focus

---
Science & Technology
---
Speculations based on myth: Science tests theories on the Star of Bethlehem

Frank D. Roylance
Baltimore Sun
2007-12-26 17:06:00

Mark Kidger of the European Space Agency confesses to a certain obsession at this time of year -- one that has nothing to do with the big bang or dark energy.

"It's probably the oldest mystery in astronomy," the British scientist said.

Kidger is speaking of the "Star of Bethlehem," the heavenly sign in the Gospel of St. Matthew that guided the wise men in their search for the baby Jesus.


Comment on this SOTT Focus

---

Astrobiology Top 10: The Baptistina Breakup


Astrobiology Magazine
2007-12-25 16:45:00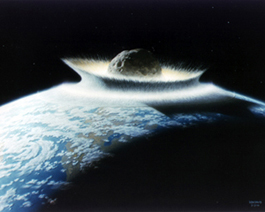 ©Unknown



Astrobiology Magazine is looking back over 2007, highlighting the Top 10 astrobiology stories of the year. At number 9 is a story about a breakup event in the main asteroid belt. This event produced the impactor that hit Earth 65 million years ago, ending the age of the dinosaurs and having a profound effect on the evolution of life as we know it. (This story was originally published on September 8, 2007.)

Comment on this SOTT Focus

---

Heat from Earth's Magma Contributing to Melting of Greenland Ice


ScienceDaily
2007-12-18 14:59:00

Scientists have discovered what they think may be another reason why Greenland 's ice is melting: a thin spot in Earth's crust is enabling underground magma to heat the ice.

Comment on this SOTT Focus

---

Repressed Memory: Case for the research paper and wishful thinking

Ashley Pettus
Harvard Magazine
2007-12-26 10:06:00

Are some experiences so horrific that the human brain seals them away, only to recall them years later? The concept of "repressed memory," known by the diagnostic term dissociative amnesia, has long fueled controversy in psychiatry. During the 1980s, claims of childhood sexual abuse based on recovered memories led to a spate of highly publicized court cases. A number of the supposed victims retracted their allegations in the early 1990s, admitting that they had been swayed by therapeutic techniques. Yet the scientific validity of dissociative amnesia has remained contested ground.

Comment on this SOTT Focus

---

Human Memories of the Doomsday Comet

Michael Goodspeed
thunderbolts.info
2007-12-21 08:13:00

For several weeks in the fall of 2007, amateur astronomers and sky watchers around the world were entranced by the mysterious, energetic display of Comet Holmes 17P. The Internet still abounds with exotic theories about the comet's nature -- some have claimed it is the "Blue Kachina" foretold in Hopi Prophecy, others assert that the secret government shot it with a nuclear missile, and still others say its nucleus is acquiring mass and turning into a PLANET.

Garish and unfounded speculations aside, it is interesting that Comet Holmes, while providing a remarkable cometary "light show" and inciting great interest, never appeared to the naked eye as more than a tiny, luminous "fluff ball" of light. Certainly, without the aid of telescopes and space satellites, its unremarkable glow amongst a vast network of stars and planets would not have captured the average person's attention. Nor would anyone observing it have had any reason to feel terror.

Comment on this SOTT Focus

---

Yemen: Over thousand rare ancient archaeological pieces found in Tehama


SABA
2007-12-23 08:08:00

Excavation operations at the area of Khamis Bani Sa'ad in Tehama district of Hodeidah province have discovered over a thousand of rare archaeological pieces dating back to 300 thousand years BC.

A French expert said that some pieces indicated that the area's inhabitants had been fishermen not farmers as they are now, but the most important discovery is a horse tooth and what is amazing here is that this kind of horses dose not live currently in this area but in the Middle Asia.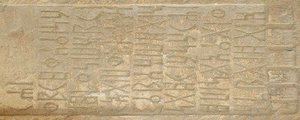 ©Unknown
Over thousand rare ancient archaeological pieces found in Tehama
Comment on this SOTT Focus
---

Towards Cloaking Visible Light: Three-dimensional Metamaterials For The Optical Wavelength Range


ScienceDaily
2007-12-24 07:30:00

Last year researchers from Duke University stunned the world when they announced a cloaking device for the microwave range. This device made use of metamaterials that had a negative refractive index for electromagnetic radiation. The metamaterials were carefully designed split-ring resonators with a structure size much smaller than the wavelength. Only 10 stacked layers of metamaterials were necessary to achieve the desired invisibility effect.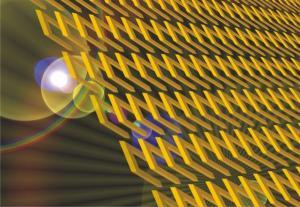 ©Stuttgart University/ MPI
3D metamaterials. Gold nano split ring resonators are stacked.
Comment on this SOTT Focus
---

Astrobiology Top 10: Brought Back to Life


Astrobiology Magazine
2007-12-26 07:17:00

Astrobiology Magazine is looking back over 2007, highlighting the Top 10 astrobiology stories of the year. At number 8 is the recovery of DNA from ancient microorganisms. The DNA showed an "exponential decline" after 1.1 million years, indicating how long DNA could be preserved in rocks in cold places. Such knowledge could help astrobiologists in their quest to understand early life on Earth and to look for life in cold places like Mars and Europa. (This story was originally published on August 15, 2007.)


Comment on this SOTT Focus

---

Explosives On A Chip: Unique Structure Enables New Generation Of Military Micro-detonators


ScienceDaily
2007-12-23 06:41:00

Tiny copper structures with pores at both the nanometer and micron size scales could play a key role in the next generation of detonators used to improve the reliability, reduce the size and lower the cost of certain military munitions.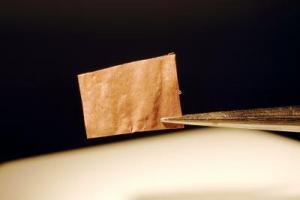 ©Gary Meek
Copper structure shown here is a precursor material for explosive compounds used in military detonators. The copper structure can be formed on chips, then converted to an explosive compound. The compound is being used to improve US Navy detonator devices.



Developed by a team of scientists from the Georgia Tech Research Institute (GTRI) and the Indian Head Division of the Naval Surface Warfare Center, the highly-uniform copper structures will be incorporated into integrated circuits -- then chemically converted to millimeter-diameter explosives. Because they can be integrated into standard microelectronics fabrication processes, the copper materials will enable micro-electromechanical (MEMS) fuzes for military munitions to be mass-produced like computer chips.

Comment on this SOTT Focus

---

Mysterious Cosmic Powerhouses Explored


Science Daily
2007-12-25 06:33:00

By working in synergy with a ground-based telescope array, the joint Japanese Aerospace Exploration Agency (JAXA)/NASA Suzaku X-ray observatory is shedding new light on some of the most energetic objects in our galaxy, but objects that remain shrouded in mystery.

These cosmic powerhouses pour out vast amounts of energy, and they accelerate particles to almost the speed of light. But very little is known about these sources because they were discovered only recently. "Understanding these objects is one of the most intriguing problems in astrophysics," says Takayasu Anada of the Institute for Space and Astronautical Science in Kanagawa, Japan. Anada is lead author of a paper presented last week at a Suzaku science conference in San Diego, Calif.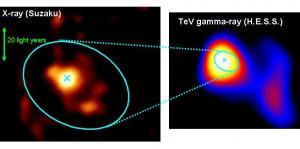 Suzaku resolved an X-ray source (left) that was also seen in gamma rays by the H.E.S.S. array (right). The object, HESS J1614-518, is accelerating protons to nearly the speed of light (Credit: JAXA/H.E.S.S.)
Comment on this SOTT Focus
---

New method enables scientists to see smells


Rockefeller University
2007-12-26 05:20:00

Animals and insects communicate through an invisible world of scents. By exploiting infrared technology, researchers at Rockefeller University just made that world visible. With the ability to see smells, these scientists now show that when fly larvae detect smells with both olfactory organs they find their way toward a scented target more accurately than when they detect them with one.

Comment on this SOTT Focus

---

The Quest for a New Class of Superconductors


Los Alamos National Laboratory
2007-12-20 19:09:00

Fifty years after the Nobel-prize winning explanation of how superconductors work, a research team from Los Alamos National Laboratory, the University of Edinburgh, and Cambridge University are suggesting another mechanism for the still-mysterious phenomenon.

Comment on this SOTT Focus

---

Near-Earth Asteroid Fly-By to Occur Jan. 29


spaceweather.com
2007-12-24 19:00:00

Mark your calendar: On Jan. 29, 2008, one night before a Tunguska-class (50m-wide) asteroid threatens to strike Mars, an even larger asteroid will fly past our own planet.

Comment on this SOTT Focus

---

'Drilling Up' Into Space for Energy

Charles J. Hanley
Statesman.com
2007-12-23 18:47:00

BALI, Indonesia - While great nations fretted over coal, oil and global warming, one of the smallest at the U.N. climate conference was looking toward the heavens for its energy.

The annual meeting's corridors can be a sounding board for unlikely "solutions" to climate change - from filling the skies with soot to block the sun, to cultivating oceans of seaweed to absorb the atmosphere's heat-trapping carbon dioxide.

Unlike other ideas, however, one this year had an influential backer, the Pentagon, which is investigating whether space-based solar power - beaming energy down from satellites - will provide "affordable, clean, safe, reliable, sustainable and expandable energy for mankind."



Comment on this SOTT Focus

---
Our Haunted Planet
---
'Alien' seeks to end UFO discussions


The Yomiuri Shimbun
2007-12-23 11:20:00

Opposition lawmakers have joined ruling party members in calling on Cabinet members to stop talking about UFOs.

Comment on this SOTT Focus

---

Ministry of Defense to open British UFO X-files

Aislinn Simpson
Telegraph, UK
2007-12-26 01:36:00

Top-secret details about hundreds of sightings of Unidentified Flying Objects are to be released for public viewing in response to the nation's continuing fascination with the subject.

Comment on this SOTT Focus

---

NASA told to study own files for UFO data

Sean D. Hamill
Chicago Tribune
2007-12-25 18:43:00

Agency ordered to meticulously comb for documents about 1965 Pennsylvania incident.

KECKSBURG, Pa. - The U.S. government says nothing of note happened in this small town in the hills of southwestern Pennsylvania at 4:47 p.m. on Dec. 9, 1965. A meteor may have passed by, but no alien ship or Russian space probe fell to Earth, as many here believe.

Still, Bill Bulebush, 82, says he knows what he saw, heard and smelled, despite the doubts of the government and others in this community 40 miles southeast of Pittsburgh.

Comment on this SOTT Focus

---
Don't Panic! Lighten Up!
---
Santa in G-string arrested on DUI charge


Associated Press
2007-12-26 15:09:00

LOS ANGELES - Some gifts from Kris Kringle are better kept wrapped.

A man in a Santa hat was arrested Sunday night for investigation of drunken driving after he was spotted outside Grauman's Chinese Theater in Hollywood wearing a wig, a red lace camisole and a purple G-string, police said.


Comment on this SOTT Focus

---
---

Remember, we need your help to collect information on what is going on in your part of the world!
Send your article suggestions to: sott(at)signs-of-the-times.org

---
Click here to return to the Signs of the Times Archive
Click here for today's Signs Page