---
Sections on today's Signs Page:
---
SOTT Focus
---
No new articles.
Best of the Web
---
Zap! Did they getcha? Mind games passing for news


YaYaCanada
2007-12-20 15:23:00






BBC: Al-Qaeda to give 'open interview'
Advertisements posted on Jihadist websites said questions sent to them over the next month would be passed to al-Qaeda's deputy leader for his reply.




What is the purpose of the above news item, you may well ask. The job of the news media is supposedly to inform us of current events and sometimes to present reasoned analysis, so of what are we being informed here? Well, pretty much only that Al Qaeda is alive, healthy, and operating through websites - which, unfortunately we cannot verify since no URLs are provided.



Comment on this SOTT Focus

---
U.S. News
---
Decline in Iraq news boosted U.S. opinion of Bush's War

David Morgan
Reuters
2007-12-21 12:36:00

A recent decline in U.S. news coverage from Iraq coincides with improved public opinion about the war just as the 2008 presidential campaign heads to an early showdown, a study released on Wednesday said.

Comment on this SOTT Focus

---

Killed by the Cops

Jeff Kelly Lowenstein
ColorLines
2007-12-21 11:34:00

This summer ColorLines and The Chicago Reporter conducted a joint national investigation of fatal police shootings in America's 10 largest cities, each of which had more than 1 million people in 2000. Several striking findings emerged.

Comment on this SOTT Focus

---

Killed by the Cops Part 5: Turning to Tasers

Jessica Hoffmann
ColorLines
2007-12-21 11:15:00

Phoenix police became the first in the country to use Tasers, but will that decrease shootings?

After major stories in local media pointed to high rates of police shootings of civilians, the Phoenix Police Department in 2003 became the first big-city department in the U.S. to systematically implement the use of Tasers. (Taser International, the world's largest manufacturer of the weapons, is headquartered in Scottsdale.) Although initial reports suggested that the use of Tasers had led to a decrease in the number of officer-involved firearms shootings, subsequent years' records do not indicate any notable improvement. In fact, after a drop in 2003, the number of fatal police shootings in Phoenix rose back up to 14 in 2004. Further, Taser shootings themselves have been implicated in the deaths of several civilians. Keith Graff, 24, died after being Tased for 84 seconds by a Phoenix police officer in 2005. In July 2007, 49-year-old Ronald Marquez died after being shot with Tasers by Phoenix police - and the local East Valley Tribune celebrated it as a victory, because Marquez had allegedly been in the progress of strangling his three-year-old granddaughter, and the girl was saved without any injury to officers.

Comment on this SOTT Focus

---

Killed by the Cops Part 4: Race as a Trigger

Shelly Zeiger
ColorLines
2007-12-21 11:10:00

Would an unarmed black man be spared a barrage of 41 bullets fired by police officers if he were white? It is a question that's been consuming Joshua Correll ever since Amadou Diallo, a 22-year-old Guinean immigrant, was killed by New York police officers in 1999 as he reached into his pocket for an object the officers believed to be a gun.

Comment on this SOTT Focus

---

Killed by the Cops Part 3: Missed Signals

Jeff Kelly Lowenstein
ColorLines
2007-12-21 10:55:00

The Chicago Reporter found that 45 percent of Chicago police officers named in wrongful death suits have had multiple lawsuits against them but receive minimal internal discipline.

The accounts of both sides converged only at the end: the death of Dantwan Betts, who was shot and killed by Chicago Police Officer Richard Doroniuk. Before that point, much differed.

Comment on this SOTT Focus

---

Killed by the Cops Part 2: Why So High?

Jessica Hoffmann
ColorLines
2007-12-21 10:44:00

The Phoenix metropolitan area, with the highest rate of fatal police shootings among the 10 biggest U.S. cities, is also the most dangerous in the nation for Latinos.

It was hot and quiet in Mesa, Arizona, as a crowd gathered outside the headquarters of the police department on Aug. 25, 2007. On this day in 2003, the parents of 15-year-old Mario Madrigal Jr. called the police in a panic because their oldest son was threatening to kill himself with a kitchen knife. Within hours, they found themselves watching helplessly as Mario Jr. was shot and killed by police officers, who say he had threatened them with the knife. Four years later, about 100 people, most of them wearing black T-shirts, joined the family in insisting that Mario was a threat to no one but himself that night and that he was killed by a police force ill-equipped to engage with mental-health crises and Mesa's growing Latino community. "We need changes in how officers approach us Hispanics," Mario Madrigal Sr. said. "They should be much more educated [in] knowing our culture...and understand that we are human beings."

Comment on this SOTT Focus

---

Killed by the Cops Part 1: Unequal Protection

Gabriel Thompson
ColorLines
2007-12-21 10:25:00

Even with the change in administration and a drop in crime, the number of people killed each year by the NYPD remains steady.

Early in the morning of January 24, 2004, Timothy Stansbury Jr. and his friend Terrence Fisher were enjoying a birthday party in a friend's apartment when they left to retrieve additional compact discs (Fisher was the party DJ). They took to the roof, a technically prohibited but commonly used shortcut for residents moving within the buildings of the Louis Armstrong Houses in Bedford-Stuyvesant, Brooklyn. They picked up the CDs at Fisher's apartment, were joined by another companion and headed back up the stairs to return to the party.

Just before 1 a.m., the threesome reached the top of the stairwell, with 19-year-old Stansbury in the lead. As he arrived at the door leading to the roof, it swung open from the outside, and a single bullet was fired into his chest, landing between his ribs and cutting through all three lobes of his right lung. He tumbled down the stairs, bleeding profusely. The high school senior died less than three hours later.

Comment on this SOTT Focus

---

Schwarzenegger proposing to free 22,000 inmates early to save money

Andy Furillo
sacbee.com
2007-12-21 10:58:00

In what may be the largest early release of inmates in U.S. history, Gov. Arnold Schwarzenegger's administration is proposing to open the prison gates next year for some 22,000 low-risk offenders.

According to details of a budget proposal made available to The Bee, the administration will ask the Legislature to authorize the release of certain non-serious, nonviolent, non-sex offenders who are in the final 20 months of their terms.

Comment on this SOTT Focus

---

"Is this what democracy looks like?" Police brutality against protesters over vote to demolish housing

Cain Burdeau
Philly.com/Associated Press
2007-12-21 05:25:00

New Orleans - Despite occasionally violent protests outside, the City Council voted yesterday in favor of demolishing about 4,500 public housing units, a milestone in New Orleans' effort to balance its heritage and its hurricane rebuilding efforts.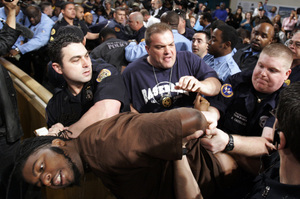 ©Alex Brandon/AP
Police restrain a man before the New Orleans City Council's meeting to vote on tearing down 4,500 public housing units.
Comment on this SOTT Focus
---

US media ignoring top humanitarian stories: aid group


Agence France-Presse
2007-12-21 00:14:00

NEW YORK - While US headlines in 2007 were dominated by celebrity gossip, next year's US presidential election and Iraq, humanitarian stories went largely unreported, according to Medecins Sans Frontieres.

The aid organization, also known as Doctors Without Borders, identified violence, forced displacement and disease in the Central African Republic, Somalia and Sri Lanka among the top 10 underreported stories of 2007.

Comment on this SOTT Focus

---
UK & Euro-Asian News
---
UK: Teacher dies after slicing neck with chainsaw

Natalie Paris
The Telegraph
2007-12-21 11:40:00

A music teacher has died after slicing his neck with a chainsaw he was using to cut wood in his garden.

Alistair Green, 31, died within minutes of the accident on Wednesday lunchtime at his home in Market Harborough, Leics.

An inquest has been opened into the death of the guitar tutor who gave private lessons and taught in schools in the area for more than seven years.

Comment on this SOTT Focus

---

UK: BAA airport workers vote to strike in January over pensions row


Thomson Financial
2007-12-21 11:16:00

Workers at the seven UK airports owned by BAA, part of Spain's Grupo Ferrovial SA, have voted to strike over a pensions dispute next month.

Trade union members at Heathrow, Gatwick, Stansted, Southampton, Glasgow, Edinburgh and Aberdeen airports will stage 24-hour walkouts from 6am on Jan 7 and 14 and a 48-hour stoppage on Jan 17 against plans to close their final salary pension scheme to new members from Dec 1, the Unite union said.

Comment on this SOTT Focus

---

France Following the U.S. Example: A sharp increase in police repression

Antoine Lerougetel
World Socialist Web Site
2007-12-20 19:07:00

Since the election of Nicolas Sarkozy to the presidency of the French Republic last May, there has been a tangible rise in the repressive activity and brutality of the police. This is how his right-wing Gaullist government aims to deal with resistance to his programme of destruction of the social and democratic rights of workers, youth and immigrants. In so doing, Sarkozy aims to create the conditions for an increase in the profitability and competitiveness of French big business in the global economy.

This repression has intensified particularly since the betrayal of the rail strike on November 21, which left workers and youth politically isolated and boosted the government's confidence in its ability to intensify its brutal state measures.


Comment on this SOTT Focus

---
Around the World
---
Naomi Klein: A decade after Acteal's massacre, war is again on Mexico's horizon

Naomi Klein
The Guardian
2007-12-21 11:47:00

To those who remember the violent campaigns against Zapatistas, the tensions today feel eerily, dangerously familiar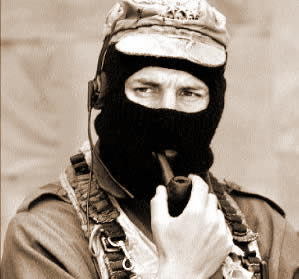 ©N/A
Subcomandante Marcos



Nativity scenes are plentiful in San Cristóbal de las Casas, a colonial city in the highlands of Chiapas, Mexico. But the one that greets visitors at the entrance to the TierrAdentro cultural centre has a local twist: figurines on donkeys wear miniature ski masks and carry wooden guns.

It is high season for "Zapatourism", the industry of international travellers that has sprung up around the indigenous uprising here, and TierrAdentro is ground zero. Zapatista-made weavings, posters and jewellery are selling briskly. In the courtyard restaurant, where the mood at 10pm is festive, verging on fuzzy, college students drink Sol beer. A young man holds up a photograph of the rebel leader, Subcomandante Marcos, as always in a mask with a pipe, and kisses it. As he does so, his friends snap yet another picture of this most documented of movements.

Comment on this SOTT Focus

---

South Africa: Patients With Drug Resistant TB at Large

Clare Nullis
Associated Press
2007-12-21 11:43:00

South African authorities have threatened to use police in door-to-door searches to compel 23 patients with highly infectious, drug resistant tuberculosis to return to the hospital they escaped from last week.

The patients had complained that they wanted to spend Christmas with their families. Some had been in the hospital for more than 18 months.

Eastern Cape health department spokesman Siyanda Manana said Wednesday that court orders would be delivered to the patients' homes Thursday.

"If they do not return immediately, department officials will be accompanied by members of the South African Police Service in a door-to-door search," he said.

In all, 49 patients fled from the Jose Pearson hospital near the coastal city of Port Elizabeth last week by cutting a gap through the wire fence surrounding the isolation unit.

Comment on this SOTT Focus

---

Panama to probe US invasion


BBC
2007-12-21 11:30:00

The national assembly in Panama has declared a day of national mourning to mark the anniversary of the US invasion 18 years ago.

The assembly also set up a commission to investigate how many people were killed during the invasion.

The government estimates up to 500 Panamanians were killed, but human rights groups say more than 1,000 died.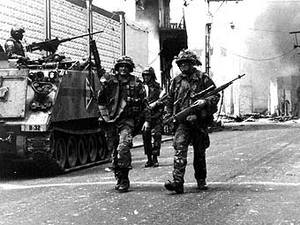 ©archives.org
Comment on this SOTT Focus
---

Japan: Fire at Mitsubishi Chemical plant leads to 2 dead


Xinhua
2007-12-21 11:25:00

A fire broke out Friday morning at a chemical plant of Mitsubishi Chemical Corp. in central Japan's Ibaraki Prefecture, leaving two employees dead and two others in missing.

According to firefighters, the fire started at around 11:30 a.m. at a cracking furnace at the No. 2 ethylene plant of Mitsubishi Chemical's Kashima factory in Kamisu city, and subsided one hour later.

Comment on this SOTT Focus

---

35 die in Pakistan suicide blast near home of former minister

Laura King
Los Angeles Times
2007-12-21 05:02:00

Karachi, Pakistan -- Striking on one of the year's most important Muslim holidays, a suicide bomber killed at least 35 people and injured dozens more this morning near the home of a former government minister in volatile northwest Pakistan, police said.

The attack, apparently aimed at ex-Interior Minister Aftab Khan Sherpao, heightened tensions less than three weeks before parliamentary elections that are almost certain to alter the balance of power in Pakistan, considered a crucial U.S. ally in the fight against the Taliban and Al Qaeda.

Comment on this SOTT Focus

---

South Korea president to back Lee probe


Reuters
2007-12-21 01:15:00

South Korean President Roh Moo-hyun will approve a special counsel to look into fraud allegations against the president-elect despite calls to veto the measure, local media reported on Friday.

Conservative Lee Myung-bak, who stormed to victory in Wednesday's vote with pledges to revive the economy, faces the prospect of being the first president-elect to undergo a criminal investigation.

Comment on this SOTT Focus

---

North Korea resists Dec 31 declaration deadline

Arshad Mohammed and Sue Pleming
Reuters
2007-12-21 00:57:00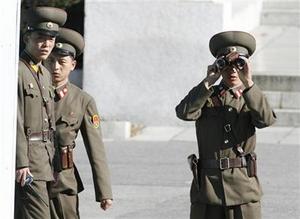 ©REUTERS/Jo Yong-Hak
North Korean soldiers in the demilitarized zone separating the two Koreas, November 2, 2007.



The United States is still struggling to get North Korea to disclose its nuclear programs, a challenge in a society so tight-lipped that it would keep even clothing sizes secret, a U.S. official said on Thursday.

Comment on this SOTT Focus

---

Smear campaign continues! U.S. grand jury indicts 5 in Argentine "suitcase scandal"


Reuters
2007-12-21 00:08:00

MIAMI - A U.S. grand jury indicted four Venezuelans and a Uruguayan on Thursday on charges of acting as unregistered foreign agents for Venezuela who allegedly tried to cover up a scheme to smuggle $800,000 in cash to Argentina.

The indictment formalizes charges brought last week when four of the five were arrested in connection with the case, which touched off corruption allegations in South America and diplomatic tensions between Washington and Buenos Aires.

Comment on this SOTT Focus

---

Venezuela, Argentina Accuse US of Smear Campaign

Chris Carlson
Venezuelanalysis.com
2007-12-13 23:53:00

Government authorities from both Venezuela and Argentina accused the United States of carrying out a smear campaign against them yesterday after US officials arrested four individuals accused of being agents of the Venezuelan government. US officials alleged that the arrested individuals were involved in trying to cover up an "international scandal" between Venezuela and Argentina, but both countries have rejected the claims.

Three Venezuelan citizens and one Uruguayan citizen were arrested in Miami on Tuesday night and appeared before a federal court yesterday on charges of "acting and conspiring to act as agents of the Bolivarian Republic of Venezuela within the United States," according to an official statement from the US Department of Justice.

Comment on this SOTT Focus

---

India and China launch war games


BBC
2007-12-20 22:02:00



India and China have begun a landmark joint military exercise, the first of its kind between the two largest armies in the world.


Comment on this SOTT Focus

---
Big Brother
---
Swedish company aims to ID people in Web photos

Jennifer L. Schenker
Business Week
2007-12-21 15:54:00

A picture may be worth 1,000 words, but when you use words to search for pictures on the Net, the result is often worthless. Just try looking on Google Images for, say, photos of your kids. Maybe you'll find one or two shots on a photo site, if you use such services. But you're just as likely to get a collection of random photos. (Searching for BusinessWeek's Paris bureau chief yielded pictures of Dick Cheney, a UFO, and Buddha.)

Comment on this SOTT Focus

---

Australia to get net censorship soon


News.com.au
2007-12-21 15:00:00

NEW restrictions on online chatrooms, websites and mobile phone content will be introduced within a month to stop children viewing unsuitable material.

Comment on this SOTT Focus

---

No proof airport security makes flying safer

Maggie Fox
Reuters
2007-12-21 03:13:00

Airport security lines can annoy passengers, but there is no evidence that they make flying any safer, U.S. researchers reported on Thursday.

A team at the Harvard School of Public Health could not find any studies showing whether the time-consuming process of X-raying carry-on luggage prevents hijackings or attacks.

They also found no evidence to suggest that making passengers take off their shoes and confiscating small items prevented any incidents.

Comment on this SOTT Focus

---

EU mandates electronic IDs for sheep and goats; Pilot program for the last judgement?

Joe Fay
The Register
2007-12-21 12:53:00

The European Union has pledged to make life easier for both farmers and putative messiahs by ensuring that goats and sheep will in future be identified electronically.

Comment on this SOTT Focus

---

35-Year-Old Woman Tasered In Front Of Customers At Best Buy


wftv.com
2007-12-20 17:17:00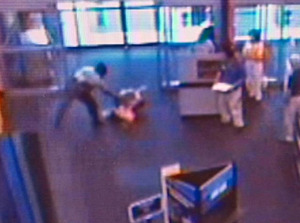 ©Unknown



DAYTONA BEACH, Fla. -- In front of a crowd of customers, a Volusia County woman was shocked by a taser while she was trying to shop. The 35-year-old yoga instructor got so loud and irate inside a busy Daytona Beach store, a police officer tasered her.

The surveillance video from inside the Daytona Beach Best Buy has the American Civil Liberties Union up in arms. The police officer said she used the taser to

calm the irate and upset woman down.



Comment on this SOTT Focus

---
Axis of Evil
---
Israeli Foreign Ministry employees threaten to disrupt Bush's visit


Ma'ariv (by way of BBC Worldwide Monitoring)
2007-12-21 16:10:00

US President George Bush's historic visit to Israel in approximately three weeks may be affected by disruptions due to the sanctions declared by the Foreign Ministry's Department for Management and Administration over their terms of employment. The department's employees have warned that they would not operate the ministry's limousine fleet and would not handle hotel accommodations for the members of the entourage.

Comment on this SOTT Focus

---

Evil quote of the Week


Lawrence of Cyberia
2007-12-21 15:08:00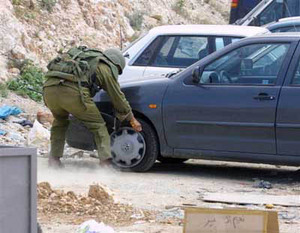 ©CSCAweb
An Israeli soldier slashes the tires on Palestinian private cars on 11 Jan 2003, following the new closure imposed on the Occupied Territories





"The best thing is that you're not obliged to follow any laws or rules. You feel like you are the law. You are the law. You decide. It's as if the moment you leave Israel and pass through the Erez Checkpoint into the Gaza Strip, you are the law. You are God."



- comment by one of the IDF soldiers interviewed by Israeli psychologist Nofer Ishai-Karen. Cited by Dalia Karpel in an article entitled The Person Who Gets People To Talk/המדובבת which was published in Ha'aretz's Hebrew edition on 21 Sept 2007, but did not appear in the English edition. (Translation mine).

Comment on this SOTT Focus

---

US government denies CIA tapes showed Guantanamo torture - but of course we'll never know

Roland Lloyd Parry
Agence France-Presse
2007-12-21 14:46:00

US government lawyers flatly denied Friday that videotapes destroyed by the CIA contained any scenes of the torture of terror suspects in Guantanamo Bay, in a keenly watched court hearing here.

Comment on this SOTT Focus

---

Outgoing senior Israeli FM official calls for military pact with Washington

Barak Ravid
Haaretz
2007-12-21 12:16:00

An outgoing senior Foreign Ministry official has urged Israel to press for strengthened American defense guarantees, and to sign a military pact with Washington before the end of the Bush administration.

Comment on this SOTT Focus

---

Former US Intelligence official: 'Israel is not going to allow its nuclear monopoly to be threatened' and will attack Iran

Yitzhak Benhorin
Ynet News
2007-12-21 12:13:00

Bruce Riedel, a former career CIA official and senior adviser to three US presidents, including Bush, tells Newsweek he came back from trip to Israel in November convinced that Jewish state would attack Iran. 'Israel is not going to allow its nuclear monopoly to be threatened,' he says

Comment on this SOTT Focus

---

Bah! Humbug!: Bush won't discuss CIA torture tapes

Randall Mikkelsen
Reuters
2007-12-20 19:34:00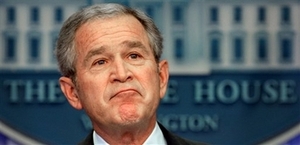 ©AP Photo/Ron Edmonds



President George W. Bush insisted on Thursday he did not learn until recently that the CIA destroyed videotapes of harsh interrogations, and said he would not speak any more in public about the issue currently under investigation by the administration and Congress.

Comment on this SOTT Focus

---

Official faces prosecution for exposing CIA and MI6 nuke smuggling protection racket

Julian Borger and Ian Cobain
The Guardian
2007-12-21 10:36:00

· Police search for evidence of leaks to US authors
· Book claims CIA and MI6 failed to halt smuggling

A senior customs investigator could face prosecution under the Official Secrets Act over suspicions that he exposed how US and British intelligence agencies interfered in his attempts to halt an international nuclear smuggling ring.

Comment on this SOTT Focus

---

Bush, Maliki Break Iraqi Law to Renew U.N. Mandate for Occupation

Raed Jarrar and Joshua Holland
AlterNet
2007-12-20 23:56:00

A majority of Iraqi lawmakers say renewal requests not ratified by the parliament are illegal.

On Tuesday, the Bush administration and Iraqi Prime Minister Nouri al-Maliki pushed a resolution through the U.N. Security Council extending the mandate that provides legal cover for foreign troops to operate in Iraq for another year.

The move violated both the Iraqi constitution and a law passed earlier this year by the Iraqi parliament -- the only body directly elected by all those purple-finger-waving Iraqis in 2005 -- and it defied the will of around 80 percent of the Iraqi population.



Comment on this SOTT Focus

---

Propaganda Alert! Saudi at Guantanamo charged in ship attack plot


Reuters
2007-12-20 23:54:00

MIAMI - Prosecutors for the Guantanamo war crimes tribunals charged a Saudi Arabian prisoner on Thursday with plotting with al Qaeda to blow up a ship off the coast of Yemen or in the Strait of Hormuz.

A Pentagon spokesman said the captive, Ahmed Mohammed Ahmed Haza al Darbi, was formally served with charges of conspiracy and providing material support for terrorism. The charges still must be approved by a Pentagon official overseeing the Guantanamo tribunals before they can proceed to trial.



Comment on this SOTT Focus

---
Middle East Madness
---
Killing with impunity: Palestinian Policeman gunned down by IDF for doing his job

Gideon Levy
Ha'aretz
2007-12-21 15:27:00

This is a story about the pathetic attempt of the Palestinians to govern in what remains of their territories. A story about Israeli arrogance and a terrifyingly quick trigger finger. A story about our disdain for Palestinian lives. And a tragic story about Mohammed Salah, who because of his back pains stopped laying floors in construction projects in Ma'aleh Adumim and went to work for the Palestinian police force.

This is a story that should not have happened. No excuse in the world can justify the brutal behavior of a dozen masked, undercover Israel Defense Forces soldiers, speeding in their commercial van through the streets of Bethlehem as though it were their city, disobeying instructions to stop. When they finally did stop, they shot an innocent policeman to death who had dared to open the door of their vehicle, not endangering anyone, only looking for stolen or other illegal merchandise.

Comment on this SOTT Focus

---

It's Not Just The Palestinians Who Won't Recognize A "Jewish State"


Lawrence of Cyberia
2007-12-19 15:19:00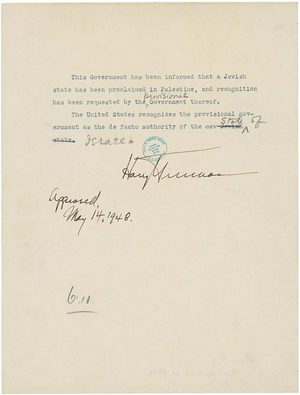 ©U.S. National Archive



I am currently working on a long post about why the PLO recognizes the state of Israel, but refuses to meet Olmert's demand for formal recognition of Israel as a "Jewish state"; and about the hysterical response that the PLO's refusal has provoked among some of the Usual Friends Of Israel™.

While I was working on it this afternoon, I came across a document in the U.S. National Archives (click image left to enlarge), that I thought deserved a mention in its own right.

Comment on this SOTT Focus

---

No surprises: Israel rarely prosecutes troops - Report

Amy Teibel
Associated Press
2007-12-18 11:25:00

In the past seven years, the Israeli military has indicted just 10 percent of soldiers suspected of criminal offenses against Palestinians, an Israeli human rights group reported Tuesday, saying the figure raises questions about Israel's willingness to prosecute.

The Yesh Din group said just 9 percent of investigations led to convictions. The conviction rate was less than 7 percent when the investigations focused on the killing and injury of civilians in the West Bank and Gaza Strip, it said.

Comment on this SOTT Focus

---

Looking to Security from Paper Police

Ali al-Fadhily
IPS News
2007-12-21 12:48:00

In a country with no security and no jobs, just about anyone can work as a policeman.

"To survive in Iraq under U.S. occupation, there are only two jobs; police and garbage collection," Baghdad journalist Mohammad al-Dulaymi told IPS. "Unemployment is leading many Iraqis to join the security forces despite the risk involved."

Comment on this SOTT Focus

---

All Iraqi Groups Blame U.S. Invasion for Discord, Study Shows

Karen DeYoung
Washington Post
2007-12-19 12:21:00

Iraqis of all sectarian and ethnic groups believe that the U.S. military invasion is the primary root of the violent differences among them, and see the departure of "occupying forces" as the key to national reconciliation, according to focus groups conducted for the U.S. military last month.

Comment on this SOTT Focus

---

Return of Fascism: Six Palestinians killed as Israeli army sweeps into central Gaza Strip

Rami Almeghari
IMEMC
2007-12-21 04:46:00

Six Palestinians, including five resistance fighters, have been killed on Thursday, as the Israeli army swept early on into the central Gaza Strip town of Maghazi, IMEMC learned.


Comment on this SOTT Focus

---

Shades of Nazi Germany vs the Jews! Privatising Zionism

Neve Gordon and Erez Tzfadia
IMEMC
2007-12-20 04:32:00

For less than four dollars an hour, the Jewish teenagers removed furniture, clothes, kitchenware and toys from the homes and loaded them on to trucks. As they worked diligently alongside the many policemen who had come to secure the destruction of 30 houses in two unrecognised Bedouin villages, Bedouin teenagers stood by watching their homes being emptied.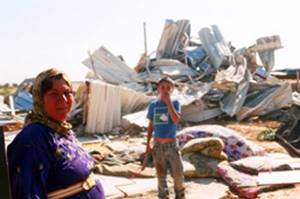 ©IMEMC
A destroyed Bedouin home in the Negev
Comment on this SOTT Focus
---

U.S. and Iranian Governments Block Citizen Peace Talks

Brian Beutler
AlterNet
2007-12-21 00:42:00

Citizen-driven dialogues provide a gateway to more significant talks -- and could help interrupt a violent crisis.

About five years ago, a young Iranian man became involved with the Center for Justice and Peacebuilding at Eastern Mennonite University in Harrisburg, Pa., where he joined a program through which college students and recent graduates learn practical skills in conflict resolution. At the end of his stay, he returned to Iran, where he became a member of the Iranian Ministry of Foreign Affairs and, via email, kept in touch with his religious friends in the United States.

Comment on this SOTT Focus

---

Moqtada al-Sadr may extend freeze on militia


Reuters
2007-12-20 20:53:00

Iraqi Shi'ite cleric Moqtada al-Sadr is considering extending a freeze on the activities of his powerful Mehdi Army militia, his spokesman said.

"Yes, there is a chance that the freeze on the Mehdi Army will be extended," Salah al-Ubaidy told Reuters late on Wednesday.

Comment on this SOTT Focus

---

Zionazis in action: Sick Gazans beg for treatment on Israel's doorstep

Joseph Krauss
Middle East Online
2007-12-19 20:43:00

Mustafa Hillu writhes underneath blankets, the pain pulsing outward from the cancer in his right leg, and he cries out for someone to persuade Israel to let him in for treatment.

If the 36-year-old father of five is not granted entry soon doctors will have to amputate his leg at the groin to prevent the cancer in his femur from spreading, according to his family and an Israeli rights group.

"The security services said they would not let him pass for security reasons. But he can't even walk. He has cancer... we have to carry him to the bathroom," his brother Marwan says.

Comment on this SOTT Focus

---

Shades of Nazis vs Jews! For Israel's Arab Citizens, Isolation and Exclusion

Scott Wilson
Washington Post
2007-12-20 20:29:00

Fatina and Ahmad Zubeidat, young Arab citizens of Israel, met on the first day of class at the prestigious Bezalel arts and architecture academy in Jerusalem. Married last year, the couple rents an airy house here in the Galilee filled with stylish furniture and other modern grace notes.

But this is not where they wanted to live. They had hoped to be in Rakefet, a nearby town where 150 Jewish families live on state land close to the mall project Ahmad is building. After months of interviews and testing, the town's admission committee rejected the Arab couple on the grounds of "social incompatibility."

Comment on this SOTT Focus

---

Iraq 'torture complex' discovered

Helen Puttick
BBC News
2007-12-20 22:50:00

US and Iraqi forces have discovered a "torture complex" in an al-Qaeda safe haven near Muqdadiya in central Diyala province, the US military has said. Three buildings containing chains on the walls and ceilings, and a metal bed connected to a power supply were found during an operation on 9 December.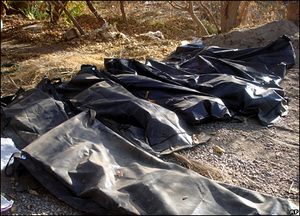 ©AP
The remains of 26 people were also uncovered in several mass graves near the site.
Comment on this SOTT Focus
---
The Loan Gunmen
---
Please Sir, I want some more: Bonuses on Wall Street surge 14 percent

Joe Bel Bruno
Associated Press
2007-12-21 11:16:00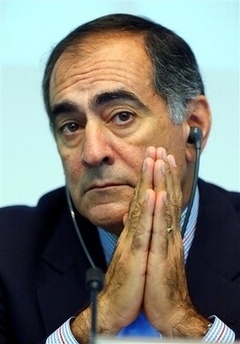 ©AP Photo/Keystone, Eddy Risch
John J. Mack, CEO of Morgan Stanley.



This might have been one of Wall Street's most dismal years in a decade, but that hasn't stopped bonus checks from rising an average of 14 percent.

Four of the biggest U.S. investment banks - Goldman Sachs Group Inc., Morgan Stanley, Lehman Brothers Holdings Inc. and Bear Stearns Cos. - will pay out about $49.6 billion in compensation this year. Of that, bonuses are traditionally estimated to represent 60 percent, or almost $30 billion.

Comment on this SOTT Focus

---

Resisting the Globalization of Food - The Return of the Bread Riot

Ashley Dawson
CounterPunch
2007-12-20 20:20:00

On September 13th, 2007, Italian shoppers, led by a confederation of consumer organizations, staged one of the country's first pasta strikes. In the elegant but rather grimy deindustrialized city of Turin where I'm currently living, erstwhile home to the FIAT auto factories, there were few signs of consumer anger boiling over. No pickets of irate housewives dressed up in inflatable spaghetti costumes outside local groceries, no sign-wavers at the local farmers' market. Was this simply another risible example of the famous Italian proclivity to strike over virtually everything?

Italian consumers were encouraged to boycott pasta for the day in order to protest against price rises of up to 27% over the last year. Pasta was, however, simply a symbolic target. The consumer organizations that masterminded the strike asked shoppers to stay away from markets in general in order to protest against price run-ups in everything from gasoline to rent to the cost of a cup of espresso in the local café. Carlo Rienzi, head of one of these organizations, called on the Italian government to pass a decree opening markets on Sundays for special direct sales of food by farmers to consumers, which, he argued, would help lower prices in general.

Comment on this SOTT Focus

---

Jeb Bush and the Subprime Mortgage Crisis

Alan Farago
CounterPunch
2007-12-20 20:12:00

It was a classic run on the bank. Until his recent resignation under fire, Coleman Stipanovich, a Bush loyalist, headed the Florida State Board of Administration, responsible for investing billions of dollars of state funds. Stipanovich's brother, "Mac", is a former chief of staff in the governor's office, Jeb Bush campaign manager, and now partner in the law firm, Fowler White, Boggs-the Tallahassee lobbying whip of the Growth Machine (he is also board member of US Sugar).

Jeb Bush left Tallahassee for Miami in January 2007, having served two terms as governor. He incorporated Jeb Bush & Co., and in June was hired as a consultant with Lehman Brothers, the Wall Street investment banking firm.

In July and August, Stipanovich approved the purchase of $842 million in securitized mortgage bonds from Lehman. Today the value of those bonds is practically zero, vanished in the debt crisis that is tipping the national economy into a recession.

Comment on this SOTT Focus

---
The Living Planet
---
Study reveals severe decline of Europe's common birds

Alison Benjamin
The Guardian
2007-12-21 12:08:00

Almost half of common European birds are heading towards "continental extinction", a new report warns today.

The alarming rate of decline revealed in the report has fuelled fears for the future of many of the continent's birds, including the grey partridge, lesser spotted woodpecker and crested lark.

Almost half (45%) of Europe's common birds have declined over a 26-year period according to the report, the State of Europe's Common Birds 2007.

Comment on this SOTT Focus

---

Update: Aftershocks rock New Zealand city after major quake


Agence France-Presse
2007-12-21 01:34:00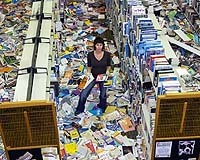 ©Agence France-Presse
Penny Walsh checks the damages in the local library following a powerful earthquake in Gisborne, New Zealand, 21 December 2007. A state of emergency was declared for the centre of the eastern New Zealand city of Gisborne after a powerful 6.8 earthquake flattened buildings and caused widespread damage.



Aftershocks continued to rattle the eastern New Zealand city of Gisborne Friday after a powerful 6.8 earthquake smashed buildings and left a gaping hole in a street.

Comment on this SOTT Focus

---
Health & Wellness
---
Scientists Identify Brain Abnormalities Underlying Key Element of Borderline Personality Disorder


Weill Cornell Medical College
2007-12-21 13:55:00

Innovative Brain Imaging Brings Into View Centers Linking Poor Impulse Control with Negative Emotion, NewYork-Presbyterian/Weill Cornell Team Reports

Accompanying AJP Commentary Commends Study's Unique Systematic Approach.

Using new approaches, an interdisciplinary team of scientists at NewYork-Presbyterian Hospital/Weill Cornell Medical Center in New York City has gained a view of activity in key brain areas associated with a core difficulty in patients with borderline personality disorder - shedding new light on this serious psychiatric condition.

"It's early days yet, but the work is pinpointing functional differences in the neurobiology of healthy people versus individuals with the disorder as they attempt to control their behavior in a negative emotional context. Such initial insights can help provide a foundation for better, more targeted therapies down the line," explains lead researcher Dr. David A. Silbersweig, the Stephen P. Tobin and Dr. Arnold M. Cooper Professor of Psychiatry and Professor of Neurology at Weill Cornell Medical College, and attending psychiatrist and neurologist at NewYork-Presbyterian Hospital/Weill Cornell Medical Center.



Comment on this SOTT Focus

---

Study Quantifies Orphanage Link to I.Q.

Benedict Carey
The New York Times
2007-12-21 05:41:00

Psychologists have long believed that growing up in an institution like an orphanage stunts children's mental development but have never had direct evidence to back it up.

Now they do, from an extraordinary years-long experiment in Romania that compared the effects of foster care with those of institutional child-rearing.

Comment on this SOTT Focus

---

Teen Sexual Behaviour Linked To Sex Education, US Study

Catharine Paddock
Medical News Today
2007-12-21 05:35:00

A new US study found that the sexual behaviour of teenagers is linked to whether or not they have had formal school sex education.

The study is available as an early online issue of the January 2008 imprint of the Journal of Adolescent Health, and was conducted by lead author and epidemiologist Trisha Mueller and colleagues, from the Division of Reproductive Health at the US Centers for Disease Control and Prevention (CDC), based in Atlanta, Georgia.

Comment on this SOTT Focus

---

Premenstrual symptoms getting on your nerves?


BioMed Central
2007-12-20 18:24:00

For some women premenstrual syndrome (PMS) is a minor monthly annoyance, but for others, more severe symptoms seriously disrupt their lives. However despite the number of women affected, science has yet to offer a full explanation or universal treatment. Now intriguing new findings published in the online open access journal BioPsychoSocial Medicine suggest not only that PMS is tied to decreased nerve activity each month, but also that those with extreme symptoms may have a permanently depressed nervous system.

A team of Japanese researchers led by Tamaki Matsumoto from the International Buddhist University in Osaka investigated whether the activity of the autonomic nervous system, which plays a vital role in equilibrium within the human body, changed during the menstrual cycle. The team measured heart rate variability and hormone levels and used questionnaires to evaluate physical, emotional and behavioural symptoms accompanying 62 women's menstrual cycles.

Comment on this SOTT Focus

---

Twins study shows genetic basis for face and place recognition


University of Michigan
2007-12-20 18:13:00

New evidence suggests our brains are hardwired before birth to recognize faces and places. But in contrast, the neural circuitry we use to recognize words develops mainly as a result of experience.

That's according to new findings from the University of Michigan.

"There's been a big debate about whether face recognition is a function we're wired to perform for survival. This is the first study to look at that question using brain imaging in twins," said psychology professor Thad Polk, the first author of a paper on the results that are published in the Dec. 19 edition of The Journal of Neuroscience.

Polk and his colleagues used functional MRI to examine brain activity in sets of identical and fraternal twins who viewed pictures of faces, houses, chairs, made-up words and abstract control images. Faces, houses, and words are known to elicit distinct patterns of activity in the brain's ventral visual cortex, on the bottom of the brain, behind and around the ears.

Comment on this SOTT Focus

---

What's the Rush? Taking Time to Acknowledge Loss is not that Bad

Bryan C. Daniels
University of Missouri
2007-12-20 18:05:00

There are two guarantees in every person's life: happiness and sadness. Although lost opportunities and mistaken expectations are often unpleasant to think and talk about, these experiences may impact personality development and overall happiness. A seven-year study conducted by Laura King, a researcher at the University of Missouri, indicates that individuals who take time to stop and think about their losses are more likely to mature and achieve a potentially more durable sense of happiness.

"People are generally in a hurry to be happy again, but they need to understand that it's okay to feel bad and to feel bad for a while," said King, who teaches psychology in the College of Arts and Science. "It's natural to want to feel happy right after a loss or regrettable experience, but those who can examine 'what might have been' and be mindfully present to their negative feelings, are more likely to mature through that loss and might also obtain a different kind of happiness."

Comment on this SOTT Focus

---
Science & Technology
---
Lab comes one step closer to building artificial human brain

Clint Witchalls
The Guardian
2007-12-21 14:43:00

An ambitious project in Switzerland was scoffed at - but researchers have just succeeded in simulating a rat's brain in silicon


©IBM
Computer model of a single neocortical column from a rat's brain



In a laboratory in Switzerland, a group of neuroscientists is developing a mammalian brain - in silicon. The researchers at the Ecole Polytechnique Fédérale de Lausanne (EPFL), in collaboration with IBM, have just completed the first phase of an ambitious project to reproduce a fully functioning brain on a supercomputer. By strange coincidence, their lab happens to lie on the same shores of Lake Geneva where Mary Shelley dreamt up her creation, Dr Frankenstein.

Comment on this SOTT Focus

---

Russian scientists claim if asteroid hits Mars, Earth unaffected


RIA Novosti
2007-12-21 12:48:00

An asteroid, which is believed to be on a collision course with Mars, will not affect the Earth if it hits the 'Red' planet in January 2008, a Russian Academy of Science spokesman said on Friday.

Sergei Smirnov said the asteroid, which is traveling at 8 miles per second, was discovered in November by American scientists.

He said the explosion could be on a scale equal to the Tunguska event, when a meteorite, which crashed into central Siberia in 1908 caused destruction on a nuclear scale. The enigma still thrills scientists all over the world.

Comment on this SOTT Focus

---

Star Wars: U.S. weapons guidance satellite launched into space


Associated Press
2007-12-20 16:38:00

A rocket carrying a GPS satellite to better guide military weapons was launched into space Thursday.

The Delta 2 rocket lifted off from Cape Canaveral at 3:04 p.m. with the modernized NAVSTAR Global Positioning System Block 2R military navigation satellite aboard for the U.S. Air Force.

Comment on this SOTT Focus

---

Move Over, Silicon: Advances Pave Way For Powerful Carbon-Based Electronics


Space Mart
2007-12-21 01:18:00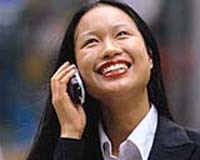 ©Unknown
The new technology could find almost immediate use in radio electronics, such as cell phones and other wireless devices that require high power output.



Bypassing decades-old conventions in making computer chips, Princeton engineers developed a novel way to replace silicon with carbon on large surfaces, clearing the way for new generations of faster, more powerful cell phones, computers and other electronics.

Comment on this SOTT Focus

---

Ursid Meteors


spaceweather.com
2007-12-21 00:28:00

Comet 8P/Tuttle is coming and it is bringing a meteor shower with it. "We could be in for a Merry surprise on Dec. 22nd when Earth passes through a trail of comet dust," says astronomer Peter Jenniskens of the SETI Institute.

Previous returns of Comet Tuttle to the inner solar system have been attended by outbursts of meteors, most recently in 1980 and 1994. During those flurries, dozens of meteors per hour streamed from the constellation Ursa Minor--hence the name of the shower, "the Ursids."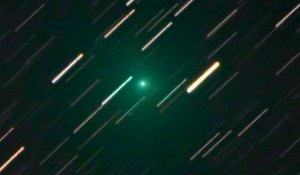 ©Chris Schur
Comet 8P/Tuttle photographed Dec. 2nd by Chris Schur of Payson, AZ. The 7th magnitude comet is visible through binoculars in the constellation Cassiopeia.
Comment on this SOTT Focus
---

Dutch cops to ditch helicopters for airships in green bid


spacemart.com
2007-12-21 00:17:00

Dutch police Thursday said they would do their bit to fight climate change by using airships instead of helicopters to monitor protests and port security in Rotterdam.

"We want to do our little bit," the Police Chief for Rotterdam, Aad Meijboom, told the ANP news agency.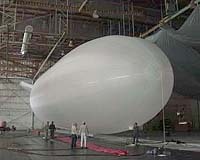 ©unknown
Comment on this SOTT Focus
---

10,000 Earths Worth Of Fresh Dust Found Near Star Explosion


spacedaily.com
2007-12-21 00:11:00

Astronomers have at last found definitive evidence that the universe's first dust - the celestial stuff that seeded future generations of stars and planets - was forged in the explosions of massive stars. The findings, made with NASA's Spitzer Space Telescope, are the most significant clue yet in the longstanding mystery of where the dust in our very young universe came from.

Scientists had suspected that exploding stars, or supernovae, were the primary source, but nobody had been able to demonstrate that they can create copious amounts of dust - until now. Spitzer's sensitive infrared detectors have found 10,000 Earth masses worth of dust in the blown-out remains of the well-known supernova remnant Cassiopeia A.

"Now we can say unambiguously that dust - and lots of it - was formed in the ejecta of the Cassiopeia A explosion. This finding was possible because Cassiopeia A is in our own galaxy, where it is close enough to study in detail," said Jeonghee Rho of NASA's Spitzer Science Center at the California Institute of Technology in Pasadena. Rho is the lead author of a new report about the discovery appearing in the Jan. 20 issue of the Astrophysical Journal.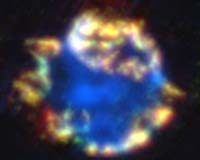 ©NASA/JPL-Caltech
This beautiful bulb might look like a Christmas ornament but it is the blown-out remains of a stellar explosion, or supernova. The remains, called Cassiopeia A, are shown here in an infrared composite from NASA's Spitzer Space Telescope. Silicon gas is blue and argon gas is green, while red represents about 10,000 Earth masses worth of dust. Yellow shows areas where red and green overlap. The fact that the red and green do overlap indicates that this supernova is synthesizing dust and gas together. This is the smoking gun indicating that supernovae were significant suppliers of fresh dust in the very early universe -- something that was hard to demonstrate prior to the Spitzer observations.
Comment on this SOTT Focus
---

Traffic jam mystery solved by mathematicians


University of Exeter
2007-12-20 18:21:00

Mathematicians from the University of Exeter have solved the mystery of traffic jams by developing a model to show how major delays occur on our roads, with no apparent cause. Many traffic jams leave drivers baffled as they finally reach the end of a tail-back to find no visible cause for their delay. Now, a team of mathematicians from the Universities of Exeter, Bristol and Budapest, have found the answer and published their findings in leading academic journal Proceedings of the Royal Society.

Comment on this SOTT Focus

---
Our Haunted Planet
---
Japan's Defense Minister troubled over legal issues if UFO arrives


Japan News Review
2007-12-21 15:47:00

Defense Minister Shigeru Ishiba said Thursday that he was troubled over potential legal issues if a UFO arrives in Japan, requiring action by the Self-Defense Forces, Japanese media reports.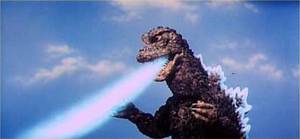 ©Toho Company
Japan's Defense Minister: "Nobody ever questioned the legality over mobilizing the Self-Defense Forces in the Godzilla movies."
Comment on this SOTT Focus
---
Don't Panic! Lighten Up!
---
Netherlands: Stray cat makes 2,000 km journey under car hood


RIA Novosti
2007-12-21 13:06:00

A stray cat has tracked down its owners after making a 2,000-km (1,200-mile) journey from Portugal to the Netherlands under a car hood, the Dutch ANP news agency said on Friday.

Jaap and Ine Hulleman, a couple from the Netherlands, had been staying in Tavira, a city on Portugal's southern coast, where they got attached to a tabby-colored cat. They named it Tijger (Tiger).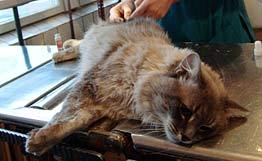 ©Unknown
Comment on this SOTT Focus
---

Hungary: Entire beach stolen


Ananova
2007-12-21 11:46:00

Border crossing crooks were blamed after an entire beach including beach huts, sun loungers and sand were stolen.

Land locked Hungary has no beaches of its own and tonnes of sand had been shipped in to make the riverside at Mindszentas as near to the real thing as possible.

But managers who closed up the leisure park for winter have found that 6,000 cubic metres of sand as well as playground rides, the huts, and even the wooden shops had been stolen.

Comment on this SOTT Focus

---

Ridiculously Funny Medical Stories


Mercola.com
2007-12-21 03:34:00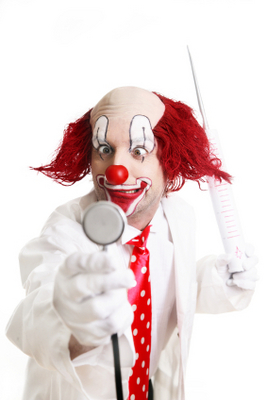 ©n/a



If you've been a reader of my newsletter for any amount of time, you're already well aware of the many worrisome accounts about the increasing number of medical errors a patient may experience, ranging from improperly prescribed or contaminated medications, to the mistakes health care workers conveniently ignore.

Comment on this SOTT Focus

---

Pot suspect served hash cake for lunch


Associated Press
2007-12-21 00:16:00

AMSTERDAM, Netherlands - A man being held in a Dutch police cell on suspicion of growing cannabis got an unintended treat in his lunch - a piece of hashish-laced cake, a spokesman said Thursday.

"It was an accident," said Alwin Don, police spokesman in the southern province of Zeeland.

Comment on this SOTT Focus

---
---

Remember, we need your help to collect information on what is going on in your part of the world!
Send your article suggestions to: sott(at)signs-of-the-times.org

---
Click here to return to the Signs of the Times Archive
Click here for today's Signs Page