---
Sections on today's Signs Page:
---
SOTT Focus
---
Majesterium and the Tipping Point

RH
Sott.net
2007-12-14 11:17:00

"Time passes, but they're always five to seven years from the bomb." -- Shlomo Brom, Israel's deputy national security adviser under former Prime Minister Ehud Barak

As Israeli politicians continue to beat the war-drums over what they (now alone) claim to be an imminent threat from a nuclear-capable Iran, very similar hysterical rhetoric is being used in the attempt to convince us of a very different if equally catastrophic threat to life on earth - "climate change". The doomsayers tell us we have ten years, at most, to reverse the inevitable destruction or face the dire consequences of cities under water, earthquakes, tsunamis and the dreaded, if not racist, tropical diseases moving north. While researching this article I came across a blog that made a very salient point:

Comment on this SOTT Focus

---

Freedom's just another word for...

Henry See
Sott.net
2007-12-14 14:50:00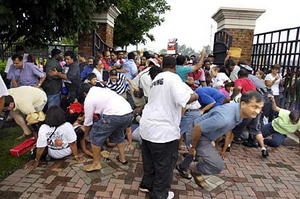 ©Richmond Times-Dispatch
People fighting over used iBooks offered for $50 by the Henrico County school system in Virginia. "A rush to purchase $50 used laptops turned into a violent stampede Tuesday [August 2005], with people getting thrown to the pavement, beaten with a folding chair and nearly driven over. One woman went so far as to wet herself rather than surrender her place in line."



I hear the sound of torn shirts and people being trampled underfoot. Yes, it is that time of year again: Christmas shopping time.

Comment on this SOTT Focus

---
Best of the Web
---
Searching For Zion

Emily Raboteau
Transition Magazone
2007-12-14 15:56:00

The security personnel of El Al Airlines descended upon me at Newark International Airport like a flock of vultures. There were five of them, in uniform, blockading the check-in counter. They looked old enough to have finished their obligatory service in the Israeli Defense Forces but not old enough to have finished college, which put them beneath me in age. I was prepared for their initial question, "What are you?", which I've been asked my entire life. Really, there is no satisfactory word for what I am.

Comment on this SOTT Focus

---

You want Flies with That?

Les Visible
Smoking Mirrors
2007-12-14 15:18:00

In a meeting with Khomenei Putin stated that an attack on Iran should be viewed as an attack on Russia. No wonder then that Zionista shill Amanpour did her little sleaze piece on him...Putin...dark Czar...fixed election....whispers of murder....Putin this... Putin that. Good thing they don't get up to that sort of thing in the USA. We be squeaky clean.

Comment on this SOTT Focus

---

Intrusive Brain Reading Surveillance Technology: Hacking the Mind

Carole Smith
Dissent Magazine
2007-12-14 05:42:00

"We need a program of psychosurgery for political control of our society. The purpose is physical control of the mind. Everyone who deviates from the given norm can be surgically mutilated.

The individual may think that the most important reality is his own existence, but this is only his personal point of view. This lacks historical perspective. Man does not have the right to develop his own mind. This kind of liberal orientation has great appeal. We must electronically control the brain. Someday armies and generals will be controlled by electric stimulation of the brain."

Dr José Delgado. Director of Neuropsychiatry, Yale University Medical School Congressional Record, No. 26, Vol. 118 February 24, 1974.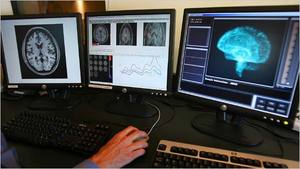 ©Omneuron
Comment on this SOTT Focus
---
U.S. News
---
Republicans Urge Supreme Court to Allow Preemptive Strikes in Elections

Steven Rosenfeld
AlterNet
2007-12-13 17:44:00

The Justice Department and other GOP partisans argue states can adopt new barriers to voting to combat imagined threats to elections.

A new legal strategy that allows states to pass repressive election laws in the name of fighting voter fraud -- even if there is scant evidence such fraud exists or threatens election outcomes -- is emerging before the 2008 election, and the Department of Justice's Voting Section appears to be its biggest champion.

Comment on this SOTT Focus

---

Biochemist guilty of dissolving husband in acid


Canoe.ca
2007-12-14 17:39:00

A biochemist who killed her husband by knocking him out and pouring hydrochloric acid on him was convicted Wednesday of first-degree murder.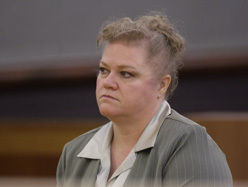 ©AP
Murder suspect Larissa Schuster listens during a hearing Wednesday, Dec. 12, 2007, in a Los Angeles County courthouse.
Comment on this SOTT Focus
---

2 Ph.D Students Killed on LSU Campus

Melinda Deslatte
Associated Pree
2007-12-14 16:28:00

BATON ROUGE, La. - Two students were found shot to death in a home invasion at a Louisiana State University apartment, and officials decided to keep the campus open Friday while police searched for three suspects.


Comment on this SOTT Focus

---

Drugs row jars Clinton at last-chance debate


Agence France-Presse
2007-12-14 05:43:00

JOHNSTON, Iowa - Hillary Clinton personally said sorry to Barack Obama Thursday, after a key aide questioned her White House rival's past use of drugs, in a misstep which overshadowed a vital campaign debate.

Clinton had hoped to use the last Democratic showdown before Iowa's caucuses launch 2008 nominating contests on January 3, to sweep away talk of slipping poll numbers and reports of turmoil in her campaign.

Comment on this SOTT Focus

---

Poisonings, suicides fuel rise in U.S. injury deaths

Will Dunham
Reuters
2007-12-14 00:37:00

The death rate from injury in the United States is rising this decade after declining since the late 1970s, spurred by increases in accidental poisonings and suicides, health officials said on Thursday.

The injury death rate nationally increased 5.5 percent from 1999 to 2004 after a two-decade period of decline, according to the U.S. Centers for Disease Control and Prevention.

Comment on this SOTT Focus

---

Lawmakers vote to hold Bush aides in contempt

Thomas Ferraro
Reuters
2007-12-14 00:29:00

The Senate Judiciary Committee voted on Thursday to hold two men who have been top aides to President George W. Bush in contempt for refusing to comply with subpoenas in its probe of the firing of federal prosecutors.

On a largely party-line vote, the Democratic-led panel sent contempt of Congress citations against White House Chief of Staff Josh Bolten and former Deputy Chief of Staff Karl Rove to the full Senate for consideration.

Comment on this SOTT Focus

---

New York Principal Tells Teachers To Dumb-Down Standards

Andrew Kirtzman
CBS
2007-12-13 23:56:00



City Hall Angered; Central Park East High Students Miffed



Have teachers at an East Harlem school been ordered to lower their standards because many students there are poor?

That's the impression some got from their principal's memo.

And now City Hall has stepped in.

The weather was gloomy Thursday outside Central Park East High School, but the talk was about a controversial memo from the school's principal.

Comment on this SOTT Focus

---

Appeals court strikes down parts of anti-terrorism law


Associated Press
2007-12-12 12:46:00

A federal appeals court has struck down portions of a law that makes it a crime to provide "material support or resources" to organizations classified as terrorist by the State Department.

Parts of the 1996 anti-terrorism law and its 2004 amendments are unconstitutionally vague, a three-judge panel of the Ninth U.S. Circuit Court of Appeals ruled Monday.

Comment on this SOTT Focus

---
UK & Euro-Asian News
---
Cyprus port staff stage walkout, shipping affected


Reuters
2007-12-13 14:52:00

Port workers in Cyprus called a day-long strike on Thursday, disrupting shipping to the island in a collective bargaining dispute with the Finance Ministry.

Comment on this SOTT Focus

---

Turnout sets gov't thinking in Athens


eKathimerini
2007-12-14 14:43:00

The large attendance at Wednesday's rally against the government's pension reforms has forced the ruling conservatives to rethink their strategy in handling the politically sensitive issue, sources said yesterday.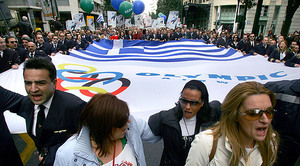 ©EPA
The country's biggest general strike brought air, land and sea transportation to a halt
Comment on this SOTT Focus
---

Damage control attempt? Prince Phillip's letters to Diana


ABC News
2007-12-14 11:54:00

Princess Diana's letters read at inquest: correspondence reveals affectionate relationship with Prince Phillip and Dodi al-Fayed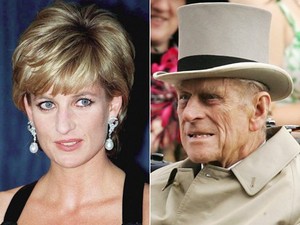 ©Getty Images
Letters revealed at Princess Diana's inquest suggest a warm relationship with her father-in-law at the time, Prince Phillip.
Comment on this SOTT Focus
---

NATO chief urges Russia to be flexible in arms pact row


Agence France-Presse
2007-12-14 05:46:00

TOKYO - The head of NATO said Friday he has not given up on persuading Russia to reverse its decision to suspend a key Soviet-era arms pact, urging Moscow to be flexible.

"It's deplorable. It's regrettable," NATO Secretary General Jaap de Hoop Scheffer said of Russia's recent announcement that it had frozen its participation in the Conventional Forces in Europe (CFE) treaty.

Comment on this SOTT Focus

---

Banning samurai swords


Reuters
2007-12-14 00:08:00

London - The government said Wednesday it would ban the sale of samurai swords because the weapons had been used in a number of serious, high-profile attacks.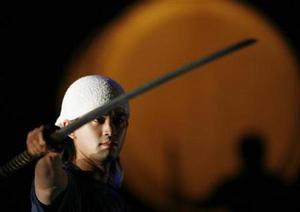 ©REUTERS/Laszlo Balogh
A dancer of Chanbara "The Masters Of The Samurai Sword" from Japan performs during a rehearsal before their second show in Budapest December 4, 2007.
Comment on this SOTT Focus
---
Around the World
---
School bus rams into train in India, 20 dead


RIA Novosti
2007-12-14 15:59:00

At least 18 people, many of them children, died on Friday in the northern Indian state of Punjab when a passenger train collided with a school bus in thick fog, the local NDTV television said on Friday.

The cause of the accident, in which many people were also injured, was not immediately clear.

"It was gatekeeper's fault as the train was approaching and the bus driver apparently could not see the train due to dense fog" the channel quoted a senior local police official as saying.

Comment on this SOTT Focus

---

Notorious pirate ship found by divers in Caribbean


RIA Novosti
2007-12-14 15:57:00

Divers have discovered the wreckage of a ship once captained by one of the most legendary pirates in history near the Dominican Republic, local media said on Friday.

The wreckage of the Quedagh Merchant, which was captured by notorious pirate William Kidd in 1698 carrying treasure from East India, was found just 10 feet from the surface off Catalina Island.

A team of scuba-diving archaeologists from the United States that have been working on the wreckage have discovered cannons, which might have been used as ballast, and bits of anchors under the cannons.

Comment on this SOTT Focus

---

Two French killed in Mauritania balloon accident

Ibrahima Sylla
Reuters
2007-12-14 14:46:00

Two French tourists were killed in northern Mauritania when the hotair balloons they were using to cross the mountainous region burst during a sandstorm, security sources said on Friday.

Four other French citizens were injured, two of them seriously, in the incident which took place near the oasis of Ain Ehl Taya, some 45 km (28 miles) southwest of the town of Atar in Mauritania's desert north.

Comment on this SOTT Focus

---

Gunman Opens Fire in Japan Sports Club

Carl Freire
Associated Press
2007-12-14 14:28:00

A gunman opened fire at a sports club in southwestern Japan on Friday night, killing one employee and wounding seven other people before escaping, police said.

A 26-year-old club employee was shot dead at a Renaissance sports club in the city of Sasebo on the southwestern island of Kyushu, Sasebo police spokesman Tamotsu Honda said. Seven other people, including two girls, ages 9 and 10, were hospitalized.

The attack comes amid an apparent turf war among underground groups on Kyushu. Last month, a reputed organized crime leader was shot to death and his driver fatally stabbed in Fukuoka, just weeks after the brazen fatal shooting of a patient at a hospital who was mistaken for gang member.

Comment on this SOTT Focus

---

Venezuela, Argentina Accuse US of Smear Campaign

Chris Carlson
Venezuelanalysis.com
2007-12-13 23:53:00

Government authorities from both Venezuela and Argentina accused the United States of carrying out a smear campaign against them yesterday after US officials arrested four individuals accused of being agents of the Venezuelan government. US officials alleged that the arrested individuals were involved in trying to cover up an "international scandal" between Venezuela and Argentina, but both countries have rejected the claims.

Three Venezuelan citizens and one Uruguayan citizen were arrested in Miami on Tuesday night and appeared before a federal court yesterday on charges of "acting and conspiring to act as agents of the Bolivarian Republic of Venezuela within the United States," according to an official statement from the US Department of Justice.

Comment on this SOTT Focus

---

Ecuador to Evict U.S., Offer Air Base to China

April Howard
AlterNet
2007-12-13 23:02:00

When the U.S. Air Force Southern Command's 10-year usage rights for Ecuador's Manta air base expire in 2009, it can expect to be evicted.

When the U.S. Air Force Southern Command's 10-year usage rights for Ecuador's Manta air base expire in 2009, it can expect to be evicted in favor of China.



Comment on this SOTT Focus

---
Big Brother
---
U.S. military command hacks Wikipedia

James Gordon Meek
Daily News
2007-12-13 19:56:00

Wikipedia sleuths Wednesday exposed the U.S. military hackers who labeled Fidel Castro an "admitted transsexual" and deleted sensitive information about Gitmo detainees from the Web site.

Volunteers working for the online encyclopedia traced digital fingerprints found on Wikipedia.org to Joint Task Force-Guantanamo, the U.S. military command running the Camp Delta terrorist prison in Cuba.

Comment on this SOTT Focus

---
Axis of Evil
---
The right wing's Jerusalem gambit

Gregory Levey
Salon
2007-12-13 12:49:00

A new coalition of religious hard-liners with ties to President Bush seeks to scuttle any plans for dividing Jerusalem between Israelis and Palestinians.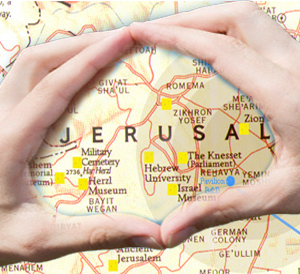 ©Salon
Comment on this SOTT Focus
---

U.N. rights envoy suspects CIA of Guantanamo torture

Stephanie Nebehay
Reuters
2007-12-14 05:56:00

GENEVA - A United Nations investigator said on Thursday he strongly suspected the CIA of using torture on terrorism suspects at Guantanamo Bay, suggesting many were not being prosecuted to keep the abuse from emerging at trial.

On a visit to the U.S. detention centre in Cuba last week, Martin Scheinin, U.N. special rapporteur on protecting human rights while countering terrorism, attended a pre-trial hearing of Salim Ahmed Hamdan, Osama bin Laden's former driver.

Comment on this SOTT Focus

---

Psychopath Dershowitz on Waterboarding

Mike Whitney
Information Clearing House
2007-12-11 19:35:00

Alan Dershowitz is a skillful debater, a capable attorney, and and a ferocious defender of Israel. He is also a Harvard professor and a former member of OJ Simpson's legal defense called the Dream Team.

An article by Dershowitz appeared on op-ed page of the Wall Street Journal on November 7, 2007, titled "Democrats and Waterboarding". In that article Dershowitz makes a spirited defense of waterboarding, going so far as to say that (he believes) the Democrats "will lose the presidential race if it defines itself as soft on terror." Dershowitz thinks the Democrats are headed for trouble if they assume the "pacifistic stance" that he identifies with Cindy Sheehan and Michael Moore. By using Moore and Sheehan as examples; it is clear that Dershowitz accepts the media's attempts to dismiss them as part of an imaginary "leftist fringe".

Comment on this SOTT Focus

---

Torture: Are Americans 'Better Than That'?

Ray McGovern
Consortium News
2007-12-13 18:14:00

A boyish, inquisitive face with an innocent look peered out from the Washington Post's lead story on torture. It was well groomed, pink-shirted John Kiriakou, a CIA interrogator who could just as easily pass for the local youth minister.

The Dec. 11 report by the Post's Joby Warrick and Dan Eggen, which describes Kiriakou's experience in interrogating suspected terrorists, raises in an unusually direct way an abiding question: Should the United States of America be using forms of torture dating back to the Spanish Inquisition?

Comment on this SOTT Focus

---
Middle East Madness
---
Apartheid-style fight for democracy looms in Israel

James Bowen
Irish Times
2007-12-08 15:43:00

Samuel Johnson, who once said that "a second marriage is the triumph of hope over experience", would have had something pithy to say about anybody expecting justice for the Palestinians from the Annapolis process. Too many past initiatives have been derailed by the intransigence of Israeli governments whose tactic has long been to delay justice in order to deny justice.

Comment on this SOTT Focus

---

ICRC urges Israel to "respect its obligations under international humanitarian law" as Gaza suffers genocidal sanctions


Agence France-Presse
2007-12-14 10:37:00

Palestinians have become a "hostage to the conflict" between militants and the Israeli armed forces and are bearing the brunt of the hostilities, the international Red Cross warned on Thursday.

Comment on this SOTT Focus

---

PCHR Weekly Report: 8 killed, 21 wounded, 28 abducted by Israeli forces

Saed Bannoura
IMEMC News
2007-12-14 10:42:00

According to the Palestinian Center for Human Rights (PCHR) Weekly Report, in the week of the 6th to 12th of December, 2007, 8 Palestinians were killed by Israeli forces, 21 were wounded, and 28 were abducted by Israeli forces.

Comment on this SOTT Focus

---

Mobile Labs to Target Iraqis for Death

Robert Parry
Consortium News
2007-12-13 19:01:00

U.S. forces in Iraq soon will be equipped with high-tech equipment that will let them process an Iraqi's biometric data in minutes and help American soldiers decide whether they should execute the person or not, according to its inventor.

"A war fighter needs to know one of three things: Do I let him go? Keep him? Or shoot him on the spot?" Pentagon weapons designer Anh Duong told the Washington Post for a feature on how this 47-year-old former Vietnamese refugee and mother of four rose to become a top U.S. bomb-maker.

Comment on this SOTT Focus

---
The Loan Gunmen
---
Schultz: 'A financial tsunami is upon us'

Peter Brimelow
Market Watch
2007-12-14 10:13:00

The Fed flops and Wall Street is worried. But one letter veteran has been here before, not that it makes him any cheerier.

Comment on this SOTT Focus

---

Existing Home Sales Fall to Record Low in October

Patrick Rucker
Reuters
2007-12-14 09:38:00

Existing home sales fell 1.2 percent in October to a record low 4.97 million-unit pace, according to a report on Wednesday that showed the

downturn in the U.S. housing market was deepening.



Home prices fell at a record pace and the inventory of homes for sales increased as the housing market felt the pinch of tighter lending standards.

Comment on this SOTT Focus

---
The Living Planet
---
Death toll after Tropical Storm Olga in Caribbean rises to 38


RIA Novosti
2007-12-14 15:19:00

The death toll in the Caribbean in the aftermath of Tropical Storm Olga has risen, with at least 38 dead and many more missing, local newspaper reports said Friday.

Rescuers reported the deaths of at least 12 people from neighboring Haiti who died on a farm in the Dominican Republic.

Over 35,000 people have been evacuated in the hardest hit northern province of Santiago after the Yaque del Norte River burst its banks and washed away a number of homes.

Comment on this SOTT Focus

---

Greece: Cold snap to take grip today


eKathimerini
2007-12-14 14:39:00

The weather is set to deteriorate significantly today with snow and bitterly cold winds forecast for the next couple of days.

Comment on this SOTT Focus

---

Heavy snow grinds traffic to a standstill

Andrew Ryan/Globe staff
The Boston Globe
2007-12-13 23:37:00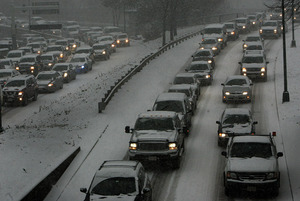 ©Boston Globe/David L. Ryan
Traffic stood still this afternoon on Storrow Drive.



Boston, Massachusetts - Stay where you are.

A blinding storm has paralyzed streets, highways, and interstates with snow falling at a rate of 1 1/2 inches an hour as Boston gets slammed with its first blast of winter.

Comment on this SOTT Focus

---

Weird weather in Arizona: Funnel clouds, desert snow, mudslides


AZFamily
2007-12-11 18:19:00

Weather conditions in the Phoenix area have been taking a strange turn, as a normally mild and dry climate has turned cold, wet, stormy and snowy!

Comment on this SOTT Focus

---

North Texans Adapt To 'Crazy' Weather


NBC
2007-12-12 18:01:00

With the latest storm system demonstrating something of a split personality, North Texans said they would like a little consistency from the weather.

One minute it feels like a winter freeze, but a few hours later, it feels like a spring shower.

Comment on this SOTT Focus

---
Health & Wellness
---
UK: Illegal drug use costing army a 'batallion a year'


Agence France-Presse
2007-12-14 14:54:00

The army is losing the equivalent of nearly a battalion to illegal drug use every year, research released Friday said.

Research from the Royal United Services Institute (RUSI), a defence think tank, showed the losses are greater than the total number of fatalities and serious injuries resulting from Britain's involvement in Iraq and Afghanistan.

An article in RUSI's journal showed an increase in positive test results for illegal substances, through the defence ministry's compulsory testing (CDT) programme, from 517 cases in 2003 to 769 last year -- almost a battalion's worth.

Comment on this SOTT Focus

---

Born to Shop: How Marketers Brainwash Babies

Terrence McNally
AlterNet
2007-12-13 06:52:00

Marketers are targeting kids at disturbingly young ages, compromising the nation's health, creativity and democracy.

Santa's shopping is in full swing. Peak season for what I consider child abuse, family abuse and democracy abuse -- marketing to children. I'm of the baby boomer generation. When I was a kid, there was Tony the Tiger hawking Frosted Flakes and little elves selling me cookies, but marketing to children was peanuts -- well, probably Cracker Jacks.

Everything has changed, and changed gradually on such a scale that we are paying an enormous price -- in kids' physical, mental and emotional health, and in the health of our families and our democracy.

Comment on this SOTT Focus

---

Minn. to Ban Mercury in Beauty Products

Martiga Lohan
Associated Press
2007-12-13 23:46:00

ST. PAUL - The quest for thicker lashes and defined eyes should get safer on Jan. 1, when Minnesota bans mercury from mascara, eye liners and skin-lightening creams.

Comment on this SOTT Focus

---
Science & Technology
---
Filmmakers believe they have solved riddle of China's Sanxingdui ruins

Zhou Yan and Zhou Lei
Xinhua
2007-12-14 12:27:00

For Yang Gancai and his wife Wang Yi, seven years of efforts to chronicle the "disappearing worlds" of Chinese ethnic minorities in a remote village on the country's border with Myanmar bring more than an award-winning documentary.

The couple are known for their 2006 success with "Transformation", a 140-minute documentary shot over five years which depicted the slash-and-burn agricultural methods of the Akha ethnic group living in complete isolation in Manbang village of Yunnan Province until a border patrol road was built in 2001, and the radical changes that followed as traditional houses were demolished and electricity was installed.

Comment on this SOTT Focus

---

Spacewalkers to inspect station for meteoroid strike

Irene Klotz
Reuters
2007-12-14 05:53:00

CAPE CANAVERAL, Florida - Two astronauts on the International Space Station will make a spacewalk next week to find out if a micrometeoroid strike damaged a critical part of the outpost's power system, officials said on Thursday.

The station is not in any danger and is still producing enough power to support the arrival of a Russian cargo ship this month, said station deputy program manager Kirk Shireman.

Comment on this SOTT Focus

---

Major Quake May Strike Bay Area Next Year, Experts Say

Christine Dell'Amore
National Geographic
2007-12-14 01:01:00

The San Francisco Bay Area is ripe for a major earthquake, and it could strike as early as next year, experts announced yesterday.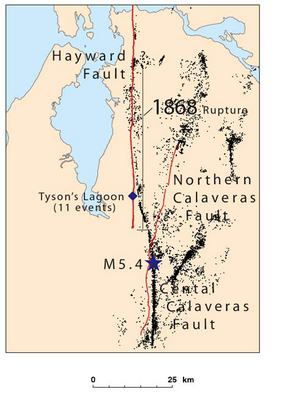 ©USGS
A map details earthquake activity (black dots) and "surface traces" of major fault lines (red lines) in the San Francisco Bay Area.
Comment on this SOTT Focus
---

Building Blocks of Life Formed on Early Mars?

Brian Handwerk
National Geographic
2007-12-14 00:41:00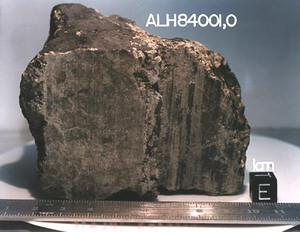 ©NASA
A chunk of 4.5-billion-year-old Martian rock was found in 1984 in the Allan Hills region of Antarctica. The meteorite contains organic compounds - the building blocks of life.



The building blocks of life as we know it may have formed on Mars during a meeting of fire and ice, a new study reports.

The Martian meteorite called Allan Hills 84001, which was found on Earth in 1984, is known to include organic compounds - a class of molecules that contain carbon and hydrogen.



Comment on this SOTT Focus

---

Canadian museum unveils long, long-lost dinosaur

Claire Sibonney
Reuters
2007-12-14 00:19:00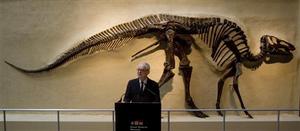 ©REUTERS/Fred Thornhill
Director and CEO of the Royal Ontario Museum, William Thorsell, attends the opening of the museum's New Age of Dinosaurs and Age of Mammals exhibit in Toronto December 12, 2007.



Canada's Royal Ontario Museum unveiled the skeleton of a massive dinosaur on Wednesday that had been lost for decades -- in its own collection.

Comment on this SOTT Focus

---

Kidd's Ship Found Off Dominican Island

David McFadden
Associated Press
2007-12-13 23:19:00

SAN JUAN, Puerto Rico - A U.S. underwater archaeology team announced Thursday it has likely discovered the shattered remnants of a ship once captained by the notorious buccaneer William Kidd off a tiny Dominican Republic island.


Comment on this SOTT Focus

---

Best meteor shower of 2007


NASA
2007-12-03 19:50:00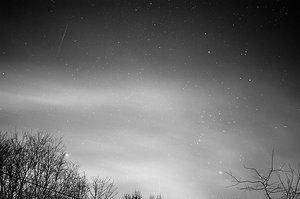 ©Christopher Colley



Mark your calendar: The best meteor shower of 2007 peaks on Friday, December 14th.

"It's the Geminid meteor shower," says NASA astronomer Bill Cooke of the Marshall Space Flight Center. "Start watching on Thursday evening, Dec. 13th, around 10 pm local time," he advises. "At first you might not see very many meteors - but be patient. The show really heats up after midnight and by dawn on Friday, Dec. 14th, there could be dozens of bright meteors per hour streaking across the sky."

Comment on this SOTT Focus

---
Our Haunted Planet
---
No new articles.
Don't Panic! Lighten Up!
---
$85,000 cellphone bill shocker

Tarina White
Calgary Sun
2007-12-13 17:27:00

Downloading music and movies onto a computer using a mobile phone racked up a jaw-dropping $85,000 phone bill for a Calgary man.

Comment on this SOTT Focus

---

It's news! Man bites rabid dog in southern India

Y.P. Rajesh
Reuters
2007-12-14 15:04:00

Upset that a stray rabid dog was fleeing with a duck from his compound, a man in southern India caught the animal, wrestled with it and bit it hard in the throat before it was beaten to death, a newspaper said.

Comment on this SOTT Focus

---

Charges dismissed in 'snowball trial'

Colleen Locke
9News
2007-12-13 22:55:00

BRECKENRIDGE - A judge dismissed a case against an Australian man charged with assault for throwing a snowball at a co-worker after prosecutors dropped the assault and harassment charges against him.

The case was dismissed Thursday after Summit County prosecutors dropped the two charges against 21-year-old Andrew Thistleton saying it was in "the best interest of justice." They didn't elaborate.


Comment on this SOTT Focus

---
---

Remember, we need your help to collect information on what is going on in your part of the world!
Send your article suggestions to: sott(at)signs-of-the-times.org

---
Click here to return to the Signs of the Times Archive
Click here for today's Signs Page