---
Sections on today's Signs Page:
---
SOTT Focus
---
Signs Economic Commentary for 26 November 2007

Donald Hunt
sott.net
2007-11-26 07:18:00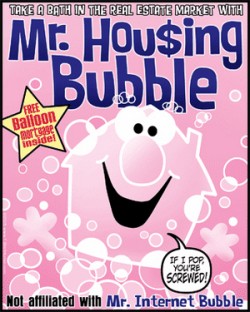 ©2006 t-shirthumor.com


Summary: Gold and oil rose again and the dollar fell last week continuing trends that were interrupted last week in a classic short-lived "correction." Right now with real estate and the dollar no one really knows where the bottom is, and with gold and oil, no one knows where the top is. One analyst even predicted a 90% drop in the value of the dollar.

How many times do we have to read that "we've never been in this situation before," or "we are going to see economic times the likes of which no living person has seen," before we get the picture?


Comment on this SOTT Focus
---
Best of the Web
---
Deprogramming the Bush Cult: Understanding 9-11 Anxiety, Avoiding a National Jonestown

Kevin Barrett
Mujca
2007-11-24 12:36:00

Public radio presents itself as a harbor of calm and pure sweet reason, a haven from the stormy, polluted seas of commercial radio. Its announcers speak in somnolently mellifluous brown-corduroy voices, and its music tends toward the alpha-brainwave easy-listening end of the classical repertoire.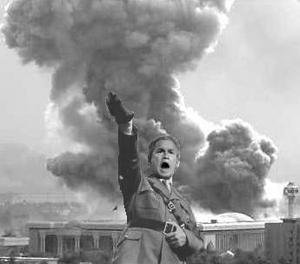 ©n/a



Bringing up such a disreputable, anxiety-provoking topic as 9/11 truth on our mellowly respectable public airwaves may seem cruel and unusual. Indeed, I feel an odd mixture of pity and sadistic glee every time I do it. The announcer's voice usually speeds up and jumps an octave or two as it seeks a quick escape from the source of anxiety - me.

If calling in with 9/11 truth is like shaking the announcer's hand with a joy buzzer, getting them to do a whole show on the subject is more like subjecting the announcer to a full-scale CIA interrogation. I well remember the discomfiture in the voice of Wisconsin Public Radio host Ben Merens as he responded to David Griffin, "You actually believe the Bush Administration carried out the attacks?" Another WPR host, Joy Cardin, suffered an hour-long constricted larynx during her May 1st, 2006 interview with hardcore 9/11 truth speaker Morgan Reynolds. The following week she sounded so relieved I was afraid she might have an on-air orgasm during her obligatory counter-interview with a "why 'conspiracy theorists' believe such crazy things" sound-bite spewer.

My own "Eureka moment" for understanding 9/11 anxiety came during a private telephone conversation with one of my favorite public radio personalities, Jean Feraca. After a brief discussion of my view of 9/11, Jean's lively, lovely, eternally-curious voice sounded increasingly strained, pained, almost depressed. Finally she blurted out: "If you really believe that, why don't you leave the country?"

The last person I would expect to hear utter a mindless "America - love it or leave it" primate grunt is Jean Feracca. Fox News, sure. But Jean? Doesn't she understand that we 9/11 truth activists love America too much to leave her? Walking out on America after 9/11 would be like leaving a family member who has been shot by a mugger to die slowly on the sidewalk.

Jean Feraca's "love it or leave it" blurt-out helped me understand what 9/11 anxiety can do to otherwise thoughtful, cultivated, cosmopolitan people. It underlined for me the key role of the cycle of anxiety-induction followed by anxiety-reduction in the 9/11 psy-op and the mind-control regime that followed.

Comment on this SOTT Focus

---

The world is ruled by serial killers and we the sheeple allow it


Desert Peace Blog
2007-11-24 00:23:00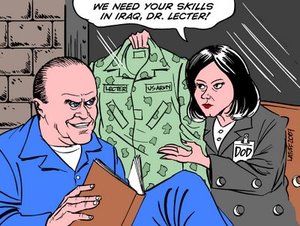 ©Carlos Latuff



There is no other explanation as to what has been happening to us over the past few decades.... war after war leading to other wars... never to peace.
How is it that the people, the citizens of the world are allowing this to go on?

The wars spoken of have taken on a new face, at one time it was army Vs. army... today it is army vs civilians.... in some cases, army Vs. innocent children. Yet, despite protests and demonstrations... these crimes continue.

The Bushes, the Olmerts, the Blairs and others have one common goal; to rid the world of Islam. They have all cooperated in this agenda in a systematic style only used by serial killers. They have gone as far as to 'stage' crimes in their own countries to appear as if they were committed by Islamic terrorists. They point their fingers at Islam every chance they get... when in reality it is they that are the criminals.

Comment on this SOTT Focus

---

Law Prof. Boyle calls for Civil Resistance: Today's civil resisters are the sheriffs! The Bush Jr. administration officials are the outlaws!

Prof. Francis A. Boyle
Global Research
2007-11-24 00:46:00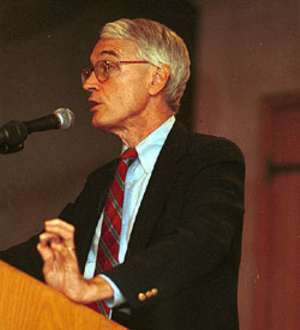 ©n/a
Esteemed Professor and Law Expert Francis A Boyle says 9/11 was allowed to happen, war on terror is facilitating the downfall of The Republic, concentration camps are in place and US citizens are the targets



Since the impeachable installation of George Bush Jr. as President by the U.S. Supreme Court's Gang of Five, the people of the world have witnessed a government in the United States that has demonstrated little if any respect for fundamental considerations of international law, human rights, or the United States Constitution.

Instead, the world has watched a comprehensive and malicious assault upon the integrity of the international and domestic legal orders by a group of men and women who are thoroughly Machiavellian and Straussian in their perception of international relations and in their conduct of both foreign affairs and American domestic policy.

Even more seriously, in many instances specific components of the Bush Jr. administration's foreign policy constitute ongoing criminal activity under well recognized principles of both international law and United States domestic law, and in particular the Nuremberg Charter, the Nuremberg Judgment, and the Nuremberg Principles, as well as the Pentagon's own U.S. Army Field Manual 27-10 on The Law of Land Warfare, which applies to President Bush Jr. himself as Commander-in-Chief of United States Armed Forces under Article II, Section 2 of the United States Constitution.

Comment on this SOTT Focus

---
U.S. News
---
All 4 on board dead in Minnesota plane crash


Associated Press
2007-11-26 16:46:00

A small airplane was making its second attempt to land at a small airport when it turned upside down and crashed, killing all four people on board, authorities said Monday.

Federal Aviation Administration spokeswoman Elizabeth Isham Cory said the airplane had left Aberdeen, S.D., Sunday bound for Faribault, where it crashed.

Investigators were attempting to find out why it was making a second try to land at the Faribault Municipal Airport and what made it crash instead, she said.

The four-seat plane burst into flames and scattered debris across the airfield when it crashed just off the runway.

Comment on this SOTT Focus

---

Military training program for teens expands in US

Mira Oberman
Agence France-Presse
2007-11-25 12:52:00

Dozens of teens dressed in uniforms provided by the US Marines stand at attention in the gym of a Chicago public high school as a drill sergeant goes through a list of the day's do's and don'ts.

Comment on this SOTT Focus

---

Trent Lott to resign before end of the year


MSNBC
2007-11-26 08:06:00

NBC News has learned that Trent Lott's in the midst of informing close allies that he plans to resign his senate seat before the end of the year.

Comment on this SOTT Focus

---

'Baby Grace' Mystery Leads to Texas Pair

Angela Brown
Associated Press
2007-11-25 21:36:00

DALLAS - A man and woman who never reported her toddler missing have been arrested by investigators searching for the identity of a girl whose body washed ashore in a storage bin in Galveston Bay.


Comment on this SOTT Focus

---

Tens of Thousands Converge on Washington to Demand End to Iraq War

William Hughes
WRMEA
2007-11-25 21:14:00

TENS OF THOUSANDS of anti-war activists gathered on Saturday, Sept. 15, 2007 under a sunny sky in Washington, DC to rally, march and stage a "symbolic die-in" to end the Iraq war, bring the troops home, and prevent a U.S.-led attack on Iran. An estimated 100,000 peace advocates attended the massive rally, organized by Iraq Veterans Against the War and the progressive Act Now to Stop War and End Racism (ANSWER) Coalition.

Comment on this SOTT Focus

---

Homeless families at a high in NYC

Robin Shulman
The Boston Globe
2007-11-25 16:48:00

No child is supposed to sleep on the street in New York. The city is unique among major cities in that it has guaranteed - by consent decree and later court orders - shelter to every homeless individual or family.

But on a recent cold and rainy night, Cristal, Rocheleet, and Bryan Garcia, ages 13, 16, and 17, splayed out on a sidewalk across the street from a city office that is supposed to help people find a place to spend the night. They huddled under layers of clothes and towels, taking shelter with their parents below a tin scaffold.

Comment on this SOTT Focus

---

Psychopath denied release - thank goodness!

John Agar
The Grand Rapids Press
2007-11-25 16:35:00

Allegan County -- Forty years after he killed two girls, Theodore Glenn Williams -- held under a defunct sexual-psychopath law -- will remain confined in a psychiatric hospital.

A federal appeals court panel has determined Williams still is dangerous with "an additional mental abnormality that creates a likelihood of future violent conduct."

Comment on this SOTT Focus

---

62% of Americans believe government knew about 9-11 in advance

Andy Soltis
New York Post
2007-11-24 12:17:00

Nearly two-thirds of Americans believe the federal government had warnings about 9/11 but decided to ignore them, a national survey found.

And that's not the only conspiracy theory with a huge number of true believers in the United States.



The poll found that more than one out of three Americans believe Washington is concealing the truth about UFOs and the Kennedy assassination - and most everyone is sure the rise in gas prices is one vast oil-industry conspiracy.

Comment on this SOTT Focus

---

Christian school president resigns amid scandal


Reuters
2007-11-25 00:36:00

The president of Oral Roberts University (ORU), a fundamentalist Christian school in Tulsa, Oklahoma, has resigned amid allegations of improper use of the institution's funds.

School president Richard Roberts is the son of the televangelist the university is named after and the scandal recalled his father's own controversies such as his 1987 announcement on television that God would "call him home" if he did not raise $8 million.

Comment on this SOTT Focus

---

Malibu wildfires partly contained

Jill Serjeant
Reuters
2007-11-24 23:47:00

A wildfire fueled by gusty winds destroyed dozens of homes from the mountains to the beaches of Southern California's ritzy Malibu on Saturday and is only partially under control, fire officials said.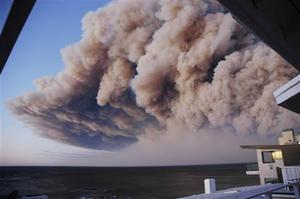 ©REUTERS/Marie Maitre
Smoke drifts out over the Pacific Ocean from a fast-spreading wildfire that has destroyed a dozen homes in Malibu, California November 24, 2007.
Comment on this SOTT Focus
---

Institutionalized Glorification of our Greed and Gluttony: Thanksgiving Reflections of an Anti-Capitalist

Jason Miller
Thomas Paine's Corner
2007-11-24 22:28:00

Gluttony and greed kill more than the sword.

- Italian proverb

Gluttony and surfeiting are no proper occasions for thanksgiving.

~Charles Lamb, 1821

Another propaganda-driven greed-fest has nearly passed in the land of the corporatized and the home of the subservient. Obedient little wage slaves and consumers that most of us are (to varying degrees of course), we have once again dutifully greased the wheels of the monstrous capitalist machine and made our proper sacrifices at the altar of Mammon. Between our voracious inhalation of all manner of edibles to our obscene spree of rapacious spending using money eagerly fronted by the usurious kings of finance capital, Thanksgiving and Black Friday are celebratory days indeed for the moneyed elite comprising the allegedly non-existent ruling class in our "egalitarian" and "democratic" nation.

Comment on this SOTT Focus

---

Two year old locked in car during shopping spree


WGAL Maryland
2007-11-24 20:42:00

Hagerstown, Md - A Franklin County couple has been charged after leaving a young child in a car while they shopped.

Comment on this SOTT Focus

---

Holiday spirit in action: Utah Man Assaulted With Flying Can Of Gravy


KUTV - Salt Lake City Utah
2007-11-24 20:30:00

WEST VALLEY CITY - An argument over parking outside a nursing home got one man so aggravated he hit the other with a can of gravy.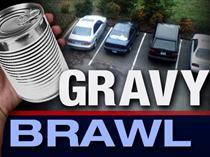 ©Unknown
Comment on this SOTT Focus
---

Mind Control: Mayor Resigns, Claims Abduction By Satan Worshipers


4029tv.com
2007-11-21 18:23:00

Centerton, Ark. -- The mayor of an Arkansas town resigned on Wednesday, claiming he was abducted and brainwashed by Satan worshippers nearly three decades ago.

Centerton Mayor Ken Williams said he has been living under an assumed name for nearly 30 years. He had been mayor since 2001.

Williams told authorities he was born Don LaRose and that in the mid-1970s, he was a preacher in Indiana. He said he was abducted and brainwashed into forgetting all about his life as Don LaRose.

Link to the full video report HERE.

Comment on this SOTT Focus

---

Transgender Politician Sued for "Fraud" by Losing Opponent

Cara
AlterNet
2007-11-24 17:44:00

Cara: Claiming that one's full history of gender statuses is important to an election is ridiculous.

This post, written by Cara, originally appeared on Feministe

Comment on this SOTT Focus

---
UK & Euro-Asian News
---
Sending a Message: British MPs warn against dividing Europe over U.S. missile shield


RIA Novosti
2007-11-26 17:31:00

A British parliamentary committee conceded that Russia's opposition to U.S. missile shield plans in Europe will be difficult to overcome, and called for greater international cooperation on the issue.

U.S. plans to deploy missile defense elements in Poland and the Czech Republic have become the most controversial issue in relations between Russia and the United States, bringing them to their lowest point since the Cold War.

In a report released on the weekend, the Foreign Affairs Select Committee said: "We conclude that Russian opposition to U.S. ballistic missile defence (BMD) plans in Central Europe largely reflects Moscow's sensitivity about the presence of NATO infrastructure in its former satellite states. As such, Russian opposition will be hard to overcome."

Comment on this SOTT Focus

---

"Commando Protesters" Shut Down Toulouse University During Blockade Vote


AFP
2007-11-26 14:51:00

The president of the University of Human Sciences Toulouse II - Le Mirail, Daniel Filâtre, announced the administrative closure of the institution on Monday afternoon following incidents in the morning during a student vote on lifting the blockade of the university.

The administrative closing of the university, blocked since November 6 by students opposed to the law on the autonomy of universities, is in effect from Monday at 17:00 until Thursday morning. Students have been notified to vacate the premises.

Comment on this SOTT Focus

---

Putin blames U.S. for vote monitor pullout

Oleg Shchedrov
Reuters
2007-11-26 07:16:00

President Vladimir Putin said on Monday Russia had information suggesting the United States influenced a decision by OSCE international observers not to monitor the December 2 parliamentary election.

Comment on this SOTT Focus

---

Brown to endorse new generation of nuclear power

Patrick Wintour and David Adam
The Guardian
2007-11-26 02:23:00

Gordon Brown will call for an acceleration of nuclear power today in a speech to business leaders designed to show he is focused on the long term and will not buckle in the face of negative headlines.

During his annual address to the Confederation of British Industry, the prime minister will also give his personal endorsement of the third runway project at Heathrow.

Comment on this SOTT Focus

---

Rival Croatian parties in battle to form government


Agence France-Presse
2007-11-26 02:11:00

ZAGREB - Croatia's ruling conservatives and left-wing opposition both expressed confidence of being able to hammer out a coalition government after the narrowest elections in the young country's history.

The rival claims came after the electoral commission revealed inconclusive results showing the ruling Croatian Democratic Union (HDZ) having a wafer-thin lead over the opposition Social Democratic Party (SDP)in Sunday's poll.

Comment on this SOTT Focus

---

Orthodox Church warns against force in Penza sect standoff


RIA Novosti
2007-11-25 17:24:00

The Orthodox Church has spoken out against using force in a standoff with a religious sect, who have sealed themselves in a cave to await the end of the world, the Russian church's chief spokesman said Friday.

The sect, which calls itself The True Russian Orthodox Church, was formed by one Father Pyotr, a 43-year-old diagnosed schizophrenic currently in custody. He is believed to have ordered his followers underground last week. The group of 28 adults and four children are threatening to set themselves on fire if police try to force them out.

Comment on this SOTT Focus

---

US is 'worst' imperialist: archbishop

Abul Taher
Times Online
2007-11-25 13:13:00

THE Archbishop of Canterbury has said that the United States wields its power in a way that is worse than Britain during its imperial heyday.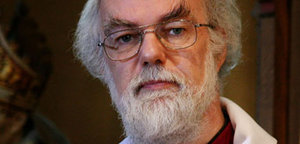 ©Times of London
Comment on this SOTT Focus
---

Military Chief Says Russia Not Obliged To Protect World From US


RIA Novosti
2007-11-19 13:08:00

Yury Baluyevsky, the chief of Russia's general staff, said in an interview with the Russia Today TV channel on Tuesday that the Russian Armed Forces were under no obligation to protect the world from the U.S. Answering a question as to whether or not the world could count on Russia to defend it from "insidious American plans," Baluyevsky replied, "Today, there is no need to be afraid of the Russian Armed Forces. However, I do not believe that the Russian military is obliged to defend the world from the evil Americans".

Comment on this SOTT Focus

---

Tony Blair: Mention God and you're a 'nutter'

Jonathan Wynne-Jones and Patrick Hennessy
Telegraph
2007-11-25 11:00:00

Tony Blair has sparked controversy by claiming that people who speak about their religious faith can be viewed by society as "nutters".

The former prime minister's comments came as he admitted for the first time that his faith was "hugely important" in influencing his decisions during his decade in power at Number 10, including going to war with Iraq in 2003.

Comment on this SOTT Focus

---

Riot police arrest 150 in new anti-Putin demo


Agence France-Presse
2007-11-25 07:08:00

SAINT PETERSBURG - Russian riot police on Sunday detained opposition leaders and some 150 other protestors in Saint Petersburg as they broke up the second demonstration against President Vladimir Putin in two days.

Exactly a week ahead of December 2 parliamentary elections, anti-riot troops swarmed through Saint Petersburg to prevent a small group of protestors from marching on the historic Winter Palace, home of the tsars until the Bolshevik Revolution.




Comment on this SOTT Focus

---

Georgian president resigns ahead of snap elections


Agence France-Presse
2007-11-25 07:03:00

Georgian President Mikheil Saakashvili resigned Sunday in order to campaign in snap presidential elections, the deputy speaker of parliament in the ex-Soviet republic said in a special session.

"President Saakashvili has officially resigned from his position," the deputy speaker, Mikheil Machavariani, said.

The parliament also confirmed January 5 as the date for the early election, which Saakashvili called in the wake of violent clashes between police and protestors earlier this month. Parliament Speaker Nino Burjanadze will be interim president until the vote.

Comment on this SOTT Focus

---

French president in China to boost ties


Agence France-Presse
2007-11-25 07:03:00

BEIJING - French President Nicolas Sarkozy arrived here Sunday seeking to boost trade and bilateral ties while addressing key international issues including the environment and Iran.

During the three-day state visit, his first to China since taking office in May, Sarkozy is also expected to deepen political relations between Paris and Beijing.


Comment on this SOTT Focus

---

Oil platform catches fire north of UK


Associated Press
2007-11-25 06:52:00

An oil platform in the North Sea caught fire Sunday, and helicopters were fighting strong winds to rescue the 159 workers aboard it, the Royal Air Force said.

At least 44 of the workers were quickly removed from the Thistle Alpha platform about 120 miles northwest of Britain's Shetland Islands, and seven rescue helicopters were trying to save the others, said RAF spokesman Michael Mulford.

Comment on this SOTT Focus

---

British-U.S. link seen hurting U.K. ties with Russia

Sophie Walker
Reuters
2007-11-25 00:44:00

Britain's closeness to the United States is at least partly to blame for the poor state of its relations with Russia, British lawmakers said on Sunday.


©REUTERS/Larry Downing
President George W. Bush (R) welcomes Prime Minister Gordon Brown to their first meeting at the Presidential retreat, Camp David, outside of Thurmont, Maryland, July 29, 2007.
Comment on this SOTT Focus
---

Just like Pavlov's dogs. Thai patriotism law seeks to halt cars for anthem


Reuters
2007-11-24 19:52:00

BANGKOK - A proposed new law to boost patriotism in Thailand would be "chaotic" because it would require motorists to stop when the national anthem is played twice a day, lawmakers said on Friday.


©Bangkok Traffic
A traffic jam in Bangkok
Comment on this SOTT Focus
---
Around the World
---
Kenya Police Allegedly Involved In Mass Civilian Killings


AHN
2007-11-26 16:55:00

Police in Kenya have been said to be involved in the slaying of about 500 people in Nairobi between June and October this year.

The Kenya National Commission on Human Rights (KNCHR) said the victims were killed execution-style, based on their investigation on hundreds of missing men who are members of the Mungiki sect, according to CNN News.

KNHCR, in its report, said the bodies of those missing bodies were discovered at Nairobi's City Mortuary after a major major police operation against the sect.

Comment on this SOTT Focus

---

Australia may say farewell to Queen after republican leader wins election

Bernard Lagan
The Times
2007-11-26 16:39:00

Australia will hold a referendum on removing the Queen as head of state after Kevin Rudd, the Labor leader and a staunch republican, swept to power at the weekend, bringing an end to 11 years of Conservative rule.

Mr Rudd, 50, a former diplomat, has promised to hold a plebiscite on severing links with the monarchy. He said yesterday that he would withdraw Australian troops from Iraq and ratify the Kyoto pact on climate change.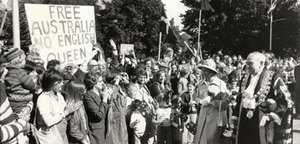 ©Unknown
Comment on this SOTT Focus
---

Bolivian protesters clash with police, storm jail

David Mercado
Reuters
2007-11-26 01:50:00

SUCRE, Bolivia - Demonstrators opposed to efforts by Bolivian President Evo Morales to overhaul the constitution on Sunday torched police stations and stormed a jail, freeing 100 inmates, while on the streets protesters clashed with police and one officer was killed.

The protests in the southern city of Sucre came hours after pro-government allies in a constitutional assembly approved a preliminary draft late on Saturday of the new constitution, a key Morales political project.


Comment on this SOTT Focus

---

Seven dead in Brazilian stadium disaster


Reuters
2007-11-26 01:50:00

RIO DE JANEIRO - At least seven people died and dozens were injured on Sunday when part of a spectator stand collapsed at a stadium in northeastern Brazil during a professional soccer match, firefighters said.

Television footage from Salvador, a candidate city to host soccer World Cup matches in 2014, showed a hole in the floor of the stadium's upper tier and the bodies of several people who had apparently fallen to the street below. Others were being treated inside the stadium.

Comment on this SOTT Focus

---

Chavez to Freeze Relations With Colombia

Sandra Sierra
Associated Press
2007-11-25 22:42:00

CARACAS, Venezuela - President Hugo Chavez said Sunday he is putting relations with Colombia "in the freezer" after its president ended the Venezuelan leader's role mediating with leftist rebels in the neighboring country.


Comment on this SOTT Focus

---

Kenyan police 'killed thousands'


BBC
2007-11-25 21:57:00

A human-rights organisation has claimed that Kenyan police killed as many as 8,040 people by execution or torture during a crackdown on a banned sect.

The group said a further 4,070 people had gone missing as security forces tried to wipe out the Mungiki sect.

Comment on this SOTT Focus

---

Sharif Back in Pakistan From Exile

Zarar Khan and Stephen Graham
Associated Press
2007-11-25 21:46:00

LAHORE, Pakistan - Former Prime Minister Nawaz Sharif returned from exile Sunday to an ecstatic welcome from thousands of supporters and immediately stepped up the pressure on U.S.-backed military ruler Pervez Musharraf to end emergency rule.


Comment on this SOTT Focus

---

Congo: The world continues to look away. Don't

Brian O'Connell
Sydney Morning Herald
2007-11-24 21:25:00



Some stories, as horrific as they are, need to be read by everyone. This is one of them.



Ombeni is late. School starts in 20 minutes and she still has to get her son Daniel's books sorted, make his lunch and do a few odd jobs around the house. Her home is a two-room mud shack, in a honeycombed complex of corrugated iron and twisted branches dug into the hills surrounding Bukavu, in eastern Democratic Republic of Congo (DRC).

It's a half hour's walk from her front door to Daniel's school, where she fixes his collar and kisses him goodbye. He gives a quick look around to make sure none of his classmates is looking, and returns her affection. Ombeni continues her journey another kilometre down the road, to her own classroom. This is her first year back at school, and her headmaster says she is a model pupil: "If only everyone was like her."

By rights, Ombeni should be nearing the end of her university life, perhaps fending off marriage requests or applying for teaching posts in the city. But her schooling, and her life's journey, were brutally interrupted almost five years earlier.

Comment on this SOTT Focus

---

Saying no to Iraq war was victory, Canada's Chretien says


CTV
2007-11-25 13:21:00

Former prime minister Jean Chretien says one of the major victories in his career was standing up against pressure to join the U.S. invasion of Iraq.

Comment on this SOTT Focus

---

Shut Up (About) Chavez

Paul Buchheit
Information Clearing House
2007-11-25 01:28:00

It gets tiresome to hear the one-sided media coverage of Hugo Chavez. Yes, he's authoritarian. He's also abrasive, arrogant, stubborn, and all too human. But he knows what happened to leaders in Iran and Guatemala and Chile and Haiti over the past half-century when they tried to defy the western world by nationalizing oil and other industries. He's influenced by the memory of the US-backed attempt to depose him in 2002. And he can see the effects of unregulated multinational companies in Nigeria, where in 2004 80% of the revenue from the oil industry went to only 1% of the population, and only 2% of Shell Oil's employees were from the local population.

Comment on this SOTT Focus

---

Japan to test PAC-3 missile defense in Tokyo


Reuters
2007-11-25 00:27:00

Japan is to test the deployment of high-tech PAC-3 missile interceptors next month at about 10 locations in Tokyo, the Yomiuri Shimbun newspaper reported on Sunday.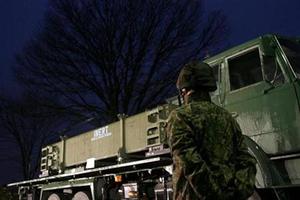 ©REUTERS/Kiyoshi Ota
A member of the Japan Air Self-Defense Force (JASDF) stands in front of a lorry loaded with a Patriot Advanced Capability-3 (PAC-3) missile canister for training at Iruma Air Base in Sayama, north of Tokyo March 30, 2007.
Comment on this SOTT Focus
---

Pakistani media challenges emergency rule

Robert Birsel
Reuters
2007-11-25 00:10:00

Outraged Pakistani journalists have been confronting police on the streets since President Pervez Musharraf imposed emergency rule three weeks ago and muzzled the vibrant media that blossomed under his rule.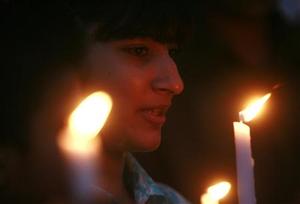 ©REUTERS/Athar Hussain
A girl takes part in candlelight protest against media curbs imposed after emergency rule in Karachi on November 24, 2007.
Comment on this SOTT Focus
---

Howard Defeated in Australian Elections


Associated Press
2007-11-24 17:17:00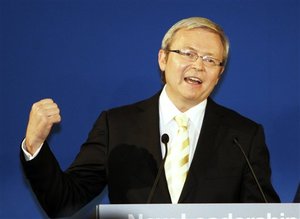 ©AP Photo/Rob Griffith
Australia's new Prime Minister Kevin Rudd gestures during his post-election press conference following his victory in Brisbane, Australia, Saturday, Nov. 24, 2007.



Conservative Prime Minister John Howard, one of the Bush administration's staunchest allies, suffered a humiliating election defeat Saturday at the hands of an opposition leader who has vowed to pull troops out of Iraq.

Labor leader Kevin Rudd, a Chinese-speaking former diplomat, has also promised to sign the Kyoto Protocol on global warming, leaving the U.S. as the only industrialized country not to have joined it.

Comment on this SOTT Focus

---

Getting ready for a false flag? Missing Canadian radioactive material worries officals

Ian MacLeod
National Post Canada
2007-11-24 15:10:00

OTTAWA -- A record number of low-level radioactive materials, the kind terrorists could fashion into dirty bombs, have gone missing in Canada this year, raising concerns about the effectiveness of federal controls over nuclear materials.




Comment on this SOTT Focus

---

Censorship! Ontario School Board Bans Fantasy Book


Associated Press
2007-11-22 14:06:00

BURLINGTON, Ontario - A Roman Catholic school board in Ontario ordered the popular fantasy book "The Golden Compass" taken off library shelves at dozens of schools Thursday after receiving a complaint about the author referring to himself as an atheist.

Comment on this SOTT Focus

---
Big Brother
---
Houston police testing unmanned aircraft

Stephen Dean
KPRC TV
2007-11-21 20:56:00

WALLER COUNTY, Texas -- Houston police started testing unmanned aircraft and the event was shrouded in secrecy, but it was captured on tape by Local 2 Investigates.

Neighbors in rural Waller County said they thought a top-secret military venture was under way among the farmland and ranches, some 70 miles northwest of Houston. KPRC Local 2 Investigates had four hidden cameras aimed at a row of mysterious black trucks. Satellite dishes and a swirling radar added to the neighbors' suspense.

Then, cameras were rolling as an unmanned aircraft was launched into the sky and operated by remote control.




Comment on this SOTT Focus

---

Are Tasers Being Overused?

M J Stephey
Time
2007-11-25 20:05:00

Though the Taser has been around for more than 30 years, the brand-name stun gun gained new notoriety last month when Andrew Meyer, a 21-year-old student, scuffled with University of Florida police and uttered his now infamous entreaty "Don't tase me, bro!" - just moments before he, in fact, got tased. The rather dramatic incident, captured on camera and uploaded to YouTube, spawned a catchy new anti-establishment anthem, picked up and repeated mostly by college students. But it has also renewed questions about whether Tasers pose any danger, and whether the police are using them too often.

Comment on this SOTT Focus

---

Canadian Man Dies 4 Days After Being Tasered


Associated Press
2007-11-25 19:50:00

A Canadian man died Saturday, four days after police used a Taser stun-gun on him because he reportedly was acting erratically in a store, police said. He was the third person to die in recent weeks in Canada after being shocked by the hand-held weapon.

Comment on this SOTT Focus

---

Children must give prints for passports

Jason Lewis
Daily Mail
2007-11-25 19:39:00

Children over the age of six will have their fingerprints taken when applying for a passport to comply with new EU regulations.

The European Commission says youngsters must be fingerprinted for all new EU passports and national ID cards - even those issued in the UK.

Comment on this SOTT Focus

---

U.S. to fingerprint Canadians


The Canadian Press
2007-11-21 13:24:00

U.S. officials will start taking 10 fingerprints from Canadians entering the country on visas when they start expanding a four-year security program this month.

Comment on this SOTT Focus

---

Warrantless Searches And Orwellian Double Speak


Newsbuster.com
2007-11-25 07:40:00

You Will Soon Be Microchipped - All Your Thoughts And Every Movement Will Be Logged And Monitored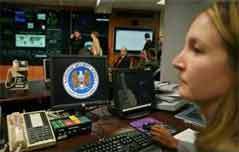 ©Unknown
Worker at NSA



NSA WorkerThe Bush administration tells us the main reason for warrantless wiretapping and searches is, warrantless searches and spying are necessary in order to keep us safe from the terrorist. They imply if we don't have anything to hide it should not matter if they conduct warrantless searches and that no matter what political party happens to be in power, now or in the future, that this newly granted authority will not be misused. This same line of thinking is parroted mainly by the conservative, bootlicking pundits, bloggers and by what has become known as the graduates of the Joseph Goebbels School of Broadcasting and Propaganda on talk radio.

Comment on this SOTT Focus

---

Tasers a form of torture, says UN


Agence France-Presse
2007-11-24 16:44:00

Taser electronic stun guns are a form of torture that can kill, a UN committee has declared after several recent deaths in North America.

"The use of these weapons causes acute pain, constituting a form of torture,'' the UN's Committee against Torture said.

Comment on this SOTT Focus

---

Scandalous!!!! 18 arrested in antiwar protest by veterans

Tania deLuzuriaga and Charles M. Sennott
Boston Globe
2007-11-12 16:18:00

More than a dozen members of an antiwar veterans group were arrested yesterday as they protested the exclusion of their message from Boston's Veterans Day parade.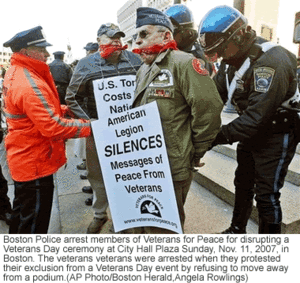 ©Associated Press
Comment on this SOTT Focus
---

Firefighters Being Trained to Spy on US Citizens

Eileen Sullivan
Associated Press
2007-11-23 16:19:00

Firefighters in major cities are being trained to take on a new role as lookouts for terrorism, raising concerns of eroding their standing as American icons and infringing on people's privacy.

Unlike police, firefighters and emergency medical personnel don't need warrants to access hundreds of thousands of homes and buildings each year, putting them in a position to spot behavior that could indicate terrorist activity or planning.

Comment on this SOTT Focus

---

Cameron calls for ID cards halt


BBC
2007-11-22 08:36:00

Gordon Brown will look "weird" and out of touch if he presses on with ID card plans despite the loss of child benefit records, David Cameron has said.

Comment on this SOTT Focus

---

Cellphones: Secret Warrants Granted Without Probable Cause

Ellen Nakashima
The Washington Post
2007-11-23 23:31:00

Federal officials are routinely asking courts to order cellphone companies to furnish real-time tracking data so they can pinpoint the whereabouts of drug traffickers, fugitives and other criminal suspects, according to judges and industry lawyers.

In some cases, judges have granted the requests without requiring the government to demonstrate that there is probable cause to believe that a crime is taking place or that the inquiry will yield evidence of a crime. Privacy advocates fear such a practice may expose average Americans to a new level of government scrutiny of their daily lives.

Comment on this SOTT Focus

---
Axis of Evil
---
Flashback: Proto-Fascism in America

David Neiwert
Cursor
2003-08-26 09:00:00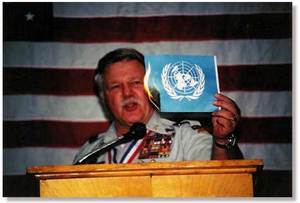 ©David Neiwert
Bo Gritz burned a U.N. flag at a 'Preparedness Expo' in 1998.
Comment on this SOTT Focus
---

Flashback: Tracking Fascism

David Neiwert
Cursor
2003-08-25 18:14:00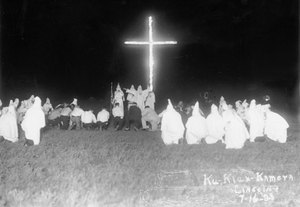 ©n/a
The Ku Klux Klan is an original, US fascist organization.
Comment on this SOTT Focus
---

Flashback: Bush pressuring Blair to stop British bribery investigation

Kim Randall
Alaska Report
2006-12-03 09:18:00

The Bush administration is trying to impede a British probe into bribery allegations against BAE Systems.

According to a November 19th London Sunday Times article, London's Serious Fraud Office (SFO), is looking into information about a "slush fund" - amounting to nearly $120 million -- set up by BAE for Saudi royal family members.

Comment on this SOTT Focus

---

US obtains Swiss records and flies in British witness in BAE investigation

David Leigh and Rob Evans
The Guardian
2007-11-26 07:22:00

· Washington wants papers from SFO's Saudi inquiry
· Britain trying to block questions on payments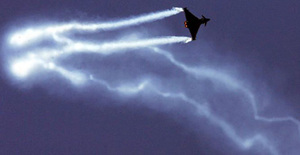 ©Jerome Delay/AP
Britain's arms relationship with Saudi Arabia includes a recent £4.4bn deal for 72 Eurofighter Typhoons.


US corruption investigators have gone behind the back of Downing Street to fly a British witness to Washington to testify about Saudi arms deals with the UK arms firm BAE Systems, the Guardian can disclose. In a hitherto secret move, Swiss federal prosecutors have also agreed to hand over to Washington financial records linked to the Saudi royal family.

Comment on this SOTT Focus

---

U.S. Army recruiting anthropologists

Andrew Chung
Toronto Star
2007-11-25 00:41:00

A young officer on his rookie tour bracing against the Afghan dust storms and worried about a suicide attack - would he be able to untangle the nuances of a tribal land dispute? Would he know to let a certain village elder take credit for a new well in order to gain a powerful ally?


Comment on this SOTT Focus

---

Flashback: The Core of Fascism

David Neiwert
Cursor
2003-08-25 17:21:00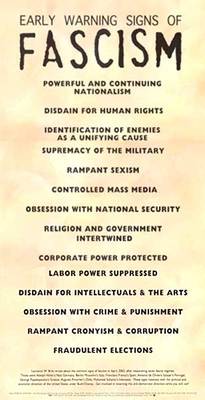 ©n/a
Comment on this SOTT Focus
---

Israel in Darfur and Arab National Security

Ahmad Hussein AS-SHIMI - Translated by Adib S. Kawar. Revised by Mary Rizzo
Islam Online
2007-11-24 14:31:00

"Israel's Success in developing its relations with western African states - especially these falling south of the Great Sahara region bordering Arab African states - shall achieve very important strategic gains for it, which shall overcome areas of its strategic weakness due to the tight band of Arab States surrounding it, to reach to the open Arab back in a place Arabs do not expect".... this is the resume of words ex Israeli chief of staff, General Hayem Laskoff, described his country's policy in relation to the African continent, that policy in which the Israel role becomes more apparent whenever conflicts comes to the open in its different arenas, especially after the discovery of natural resources such as oil and uranium in the continent.


Comment on this SOTT Focus

---

Flight logs reveal secret torture flights; European countries colluded

Stephen Grey
Times Online
2007-11-25 13:29:00

THE secret flight plans of American military planes have revealed for the first time how European countries helped send prisoners, including British citizens, to the Guantanamo Bay prison camp.

Comment on this SOTT Focus

---

No Surprise: French prosecutors throw out Rumsfeld torture case

Thierry Leveque
Reuters
2007-11-25 13:26:00

The Paris prosecutors' office has dismissed a suit against Donald Rumsfeld accusing the former U.S. defense secretary of torture, human rights groups who brought the case said on Friday.

Comment on this SOTT Focus

---

Report: US will not force Israel's hand in Annapolis

Yitzhak Benhorin
Ynet News
2007-11-25 09:57:00

Washington Post reports President Bush unlikely to force Prime Minister Olmert to make difficult decisions during peace talks. White House officials say Bush highly skeptical of Palestinians' ability to deliver

The United States has no intention of pressuring Israel into unexpected decisions at the upcoming peace conference in Annapolis, the Washington Post reported Saturday.

Comment on this SOTT Focus

---

Israel-Palestinian conflict a no-go for '08 hopefuls

Stephen Collinson
Agence France Presse
2007-11-21 09:50:00

In the 2008 White House race, rows are raging on Iran, Iraq and the tattered US image abroad, but one core foreign policy question rarely merits a mention -- the Israeli-Palestinian crisis.

Comment on this SOTT Focus

---

Flashback: Understanding Fascism

David Neiwert
Cursor
2003-11-25 07:58:00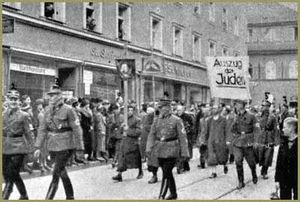 ©Yad Vashem Photo Archives
Facism in the past: Citizens out to applaud the 'exodus of the Jews' the morning after Kristallnacht, 1938.
Comment on this SOTT Focus
---

Flashback: I. Projecting Fascism

David Neiwert
Cursor
2003-08-25 07:35:00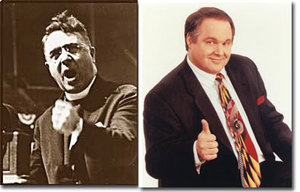 ©n/a
Right wing political propagandists then and now: Father Coughlin, left, and Rush Limbaugh
Comment on this SOTT Focus
---

Flashback: Rush, Newspeak and Fascism: An Exegesis

David Neiwert
Cursor
2003-08-30 07:03:00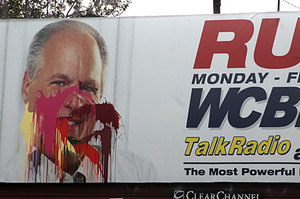 ©Unk


Introduction

Is fascism an obsolete term? Even if it resurrects itself as a significant political threat, can we use the term with any effectiveness?

Comment on this SOTT Focus

---

Video: Noam Chomsky on U.S. Policy Towards Iran

Paul Jay and Noam Chomsky
Information Clearing House
2007-11-19 18:06:00





Are assumptions about Iran wrong?

"Suppose it was true that Iran is helping insurgents in Iraq. I mean, wasn't the United States helping insurgents when the Russians invaded Afghanistan? Did we think there was anything wrong with that? I mean, Iraq's a country that was invaded and is under military occupation. You can't have a serious discussion about whether someone else is interfering in it. The basic assumption underlying the discussion is that we own the world."

Comment on this SOTT Focus

---
Middle East Madness
---
Effect of abuse is shocking! 42% of Qatari women condone beatings


Al Arabiya
2007-11-26 17:02:00

A new study in Qatar shows that 42% of women support the use of violence against them, prompting calls for an education campaign in the Gulf emirate with the popular tribal saying that "A sister is one hair in her brother's beard."

The study conducted by the Supreme Council for Family Affairs in Qatar revealed that 41.97% of Qatari women believe they deserve the physical abuse at the hands of their male relatives.

Comment on this SOTT Focus

---

Hezbollah dismisses Annapolis talks as "media show"


Reuters
2007-11-26 02:29:00

BEIRUT - Lebanon's Hezbollah militant group said on Sunday a U.S.-hosted Middle East peace conference this week was only a "media show" in support of Israel.

The United States aims to relaunch peace talks on Palestinian statehood at Tuesday's conference in Annapolis, Maryland, that will bring together Arabs and Israelis.



Comment on this SOTT Focus

---

Iraqi Shiite Leader Defends Iran

Sameer N. Yacoub
Associated Press
2007-11-25 22:13:00

BAGHDAD - Iraq's most influential Shiite politician said Sunday that the U.S had not backed up claims that Iran is fueling violence here, underscoring a wide gap on the issue between Washington and the Shiite-led Baghdad government.

Comment on this SOTT Focus

---

'Wave Of Violence' Against Women In Iraq Undercuts White House's Claims Of Success

Amanda Terkel
Think Progress
2007-11-24 16:16:00

In recent weeks, the Bush administration has cited declining violence in Iraq as evidence of the success. Earlier this month, President Bush said that Iraqis are slowly "taking back their country."

But last night, NBC Nightly News aired a segment about a "wave of violence that's gone largely unreported lately against women in Iraq." The report noted that Iraqi women, once "the most emancipated in the Arab world," are increasingly unable to walk around without a hijab, wear cosmetics, or work. Watch the report:

Comment on this SOTT Focus

---

American-backed ethnic cleansers strut across Iraq

Hala Jaber
Times Online
2007-11-25 13:11:00

IT WAS 9.30am when three men entered Haidar Musa's sweet-shop and shot him repeatedly in the head as his eight-year-old daughter Zainab crouched in terror behind the counter.

By midday his stricken wife Kahiriya had packed Zainab and four other children into a car with a few possessions and fled their home town of Abu Ghraib for a life of penury in Baghdad, 20 miles to the east.

Comment on this SOTT Focus

---

Israel: Thousands of domestic violence complaints neglected

Yael Branovsky
Ynet
2007-11-25 12:01:00

A Welfare and Social Services Ministry report obtained by Ynet on Saturday reveals that thousands of appeals to domestic violence centers were not dealt with because of a lack of financial resources. The budget allocation for domestic abuse prevention rose by 18% from 2000-2005 while the number of complaints to domestic violence shelters went up 73%.


Comment on this SOTT Focus

---

Iraq nullifies Kurdish oil deals

Ammar Karim
Agence France-Presse
2007-11-25 07:24:00

BAGHDAD - Iraq's oil ministry has declared all crude contracts signed by the Kurdish regional authorities with foreign companies null and void, a government official said on Saturday.

"The ministry has nullified all contracts signed by the Kurdistan Regional Government," the official told AFP, asking not to be named. "They will not be recognised."

The government in Iraq's northern autonomous Kurdish region has signed 15 exploration and exportation contracts with 20 international companies since it passed its own oil law in August, infuriating the Baghdad government.

Comment on this SOTT Focus

---

Ten Recent Reasons Why Annapolis Will Fail

Desert Peace
Uruknet
2007-11-25 06:50:00


©Ben Heine - Cartoons
Comment on this SOTT Focus
---

Propaganda Alert! U.S. to reduce Iraq troop levels by 5,000

Missy Ryan
Reuters
2007-11-25 06:52:00

Overall U.S. troop levels in Iraq will fall by about 5,000 when a combat brigade completes its pullout from the country's volatile Diyala province next month, U.S. military officials said on Saturday.

The 3rd Brigade, 1st Cavalry Division is the first brigade not be replaced by fresh troops from the United States since the U.S. commander in Iraq General David Petraeus announced plans to cut forces by some 20,000 by July 2008 as violence ebbs.

Comment on this SOTT Focus

---

Facts regarding Israel's Fuel and Electricity Cuts to the Gaza Strip


uruknet.info
2007-11-23 19:23:00

Particularly disturbing is Israel's deliberate prevention of humanitarian assistance, funded by the international community and designated for Gaza's 1.5 million residents who have been living under a near total siege since June 2007.

Comment on this SOTT Focus

---

Gaza siege puts public health at risk as water and sanitation services deteriorate warns Oxfam


reliefweb.int
2007-11-20 19:20:00

Humanitarian agency Oxfam International today said there is an increasing risk to public health in Gaza as water and sanitation services begin to buckle under the strain of Israel's restrictions on fuel, vital maintenance goods and spare parts into Gaza.

According to Oxfam International's partner the Coastal Municipalities Water Utilities (CMWU) 15% of Gaza's population - 225,000 people - is not receiving an adequate amount of drinking water due to the lack of diesel.

Comment on this SOTT Focus

---

War Criminals: Israeli Leaders to the Hague!

Michael Warschawski
Alternative Information Center
2007-10-30 19:03:00

A few years ago, Ariel Sharon's former adviser, Dov Weisglass, threatened to impose "a diet" on the Palestinians, i.e. to organize a siege aimed at making them hungry, while not completely starving them, thereby creating distress while avoiding an outright humanitarian crisis that would be likely provoke international intervention. The reaction of the international community, however, obliged the Israeli government to back off.



Yet four years later, what was considered by the international community as a major war crime, now seems to be accepted as completely legitimate.

Comment on this SOTT Focus

---

Darkness falls on the Middle East

Robert Fisk
The Independent
2007-11-24 17:33:00

In Beirut, people are moving out of their homes, just as they have in Baghdad.

So where do we go from here? I am talking into blackness because there is no electricity in Beirut. And everyone, of course, is frightened. A president was supposed to be elected today. He was not elected. The corniche outside my home is empty. No one wants to walk beside the sea.

When I went to get my usual breakfast cheese manouche there were no other guests in the café. We are all afraid. My driver, Abed, who has loyally travelled with me across all the war zones of Lebanon, is frightened to drive by night. I was supposed to go to Rome yesterday. I spared him the journey to the airport.

It's difficult to describe what it's like to be in a country that sits on plate glass. It is impossible to be certain if the glass will break. When a constitution breaks - as it is beginning to break in Lebanon - you never know when the glass will give way.

Comment on this SOTT Focus

---

Propaganda Alert! Market Bomb Blamed on Iran-Backed Groups

Kim Gamel
Associated Press
2007-11-24 13:54:00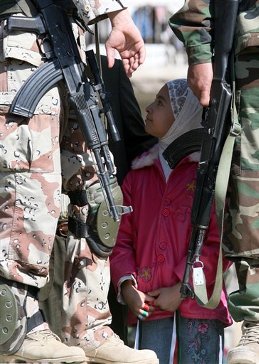 ©AP Photo/Hadi Mizban
An Iraqi girl attends a ceremony to mark the reopening of central Baghdad's Abu Nuwas street for traffic.



BAGHDAD - The U.S. military on Saturday blamed the deadly bombing of a pet market in Baghdad on Iranian-backed Shiite militants, raising concerns that escalating activity by Shiite extremists could jeopardize a relative calm that has offered new hopes for Iraqis after years of turmoil.


Comment on this SOTT Focus

---

U.S. Navy steps up fuel deliveries to Gulf forces

Stefano Ambrogi
Reuters
2007-11-23 12:50:00

The U.S. military has stepped up chartering of tankers and requests for extra fuel in the U.S. Central Command area, which includes the Gulf, shipping and oil industry sources say.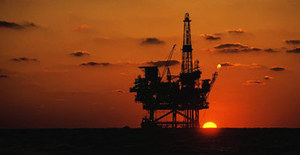 ©Larry Lee/Corbis
Oil platform in the Gulf of Mexico at sunset.
Comment on this SOTT Focus
---
The Loan Gunmen
---
Citigroup Shares Hit 5-year Low on Report of 'Massive' Layoffs

Greg Morcroft
MarketWatch
2007-11-26 16:46:00

Citigroup shares fell under $30 for the first time in five years at one point on Monday after CNBC reported the firm could lay off up to 45,000 staffers.


©BigCharts.com
Citigroup stock price for 1 year period - Nov 2006 - 2007.
(Link to larger graph)
Comment on this SOTT Focus
---

Fed Plans to Ease Funding Pressures by Adding Cash

Ye Xie and Craig Torres
Bloomberg
2007-11-26 14:29:00

The Federal Reserve sought to ease concern that banks will be short of cash next month by planning its first long-term injection of year-end funds in two years.

The Fed's New York branch said in a statement that it plans a series of repurchase agreements, starting with an $8 billion injection on Nov. 28, extending into next year. The move follows the European Central Bank's commitment last week to make extra cash available to "counter the re-emerging risk of volatility'' in money markets.

Comment on this SOTT Focus

---

Markets unsure if they will decouple from US

Michael Mackenzie
Financial Times
2007-11-26 12:15:00

Global markets are reflecting unease that a deteriorating US economy, which comprises about 25 per cent of total world activity, could torpedo the notion that Asia and other countries can "decouple" from a sickly North America.

Comment on this SOTT Focus

---

Dollar Displaces Yen, Franc as Carry Trade Favorite

Bo Nielsen
Bloomberg News
2007-11-26 07:01:00

Using the dollar to pay for purchases of currencies with higher yields is proving to be the most profitable trade in the foreign-exchange market.

Comment on this SOTT Focus

---

Northern Rock: Branson takes pole position

Philip Inman
The Guardian
2007-11-26 01:50:00

Northern Rock will name Sir Richard Branson's Virgin Group as the most suitable bidder to assume control of the stricken bank, it emerged last night.

Virgin, which heads a consortium of financial institutions, will have a clear run to buy the bank after bosses at Northern Rock and the government agreed its bid should be preferred over rival offers.

An announcement is expected as early as today. Treasury plans to nationalise the bank are believed to be held in reserve should the deal break down.

Comment on this SOTT Focus

---

The dwindling dollar takes toll on Europe

Dominic Rushe and James Ashton
The Times Online
2007-11-25 23:59:00

At the Dubai Air Show this month Airbus secured the largest single aircraft order in history. The 80-plane deal with the Emirates airline is worth about $20 billion (£10 billion) and adds to an estimated $82 billion backlog for the European manufacturer this year.

The order should have been the crowning achievement in a fantastic year. Airbus has been flying high in 2007 on orders for the A380, the biggest passenger plane in the world, and praise for the soon-to-be launched A350. Before Dubai the European giant had already won more than 1,000 orders and pulled ahead of its rival Boeing in the sales race.

But even as Airbus heads for a record-breaking year, its profits have gone into a tailspin, dragged down by the weakness of the US dollar. It's a story that is worrying executives and investors on both sides of the Atlantic.

Comment on this SOTT Focus

---

Banks Gone Wild

Paul Krugman
The New York Times
2007-11-25 22:18:00

"What were they smoking?" asks the cover of the current issue of Fortune magazine. Underneath the headline are photos of recently deposed Wall Street titans, captioned with the staggering sums they managed to lose.

The answer, of course, is that they were high on the usual drug - greed. And they were encouraged to make socially destructive decisions by a system of executive compensation that should have been reformed after the Enron and WorldCom scandals, but wasn't.

Comment on this SOTT Focus

---

Madness! Global Derivatives Market Expands to $516 Trillion

Kabir Chibber
Bloomberg
2007-11-22 21:08:00

The market for derivatives grew at the fastest pace in at least nine years to $516 trillion in the first half of 2007, the Bank for International Settlements said.

Credit-default swaps, contracts designed to protect investors against default and used to speculate on credit quality, led the increase, expanding 49 percent to cover a notional $43 trillion of debt in the six months ended June 30, the BIS said in a report published late yesterday.

Comment on this SOTT Focus

---

Mortgage Failures Could Create Nightmare

Joe Bel Bruno
Associated Press
2007-11-25 13:35:00

New Wave of Mortgage Failures Could Create a Nightmare Economic Scenario

When Domenico Colombo saw that his monthly mortgage payment was about to balloon by 30 percent, he had a clear picture of how bad it could get.

His payment was scheduled to surge by an extra $1,500 in December. With his daughter headed to college next fall and tuition to be paid, he feared ending up like so many neighbors in Ft. Lauderdale, Fla., who defaulted on their mortgages and whose homes are now in foreclosure and sporting "For Sale" signs.

Comment on this SOTT Focus

---

Freddie Mac Risks Larger Credit Losses, Moody's Says

Kabir Chibber
Bloomberg
2007-11-23 19:00:00

Freddie Mac, the second-largest U.S. mortgage-finance company, may report wider losses than it forecast as the slump in credit markets worsens, Moody's Investors Service said.

Freddie Mac, which reported this week a record loss of $2.02 billion for the third quarter earlier this week, may have underestimated when it projected that 0.11 percent of the debt it guarantees will go bad in the next two years, Moody's analysts Brian Harris and Craig Emrick said in a report.

Comment on this SOTT Focus

---

"A Generalized Meltdown of Financial Institutions"

Mike Whitney
CounterPunch
2007-11-24 18:29:00

Reality has finally caught up to the stock market. The American consumer is underwater, the banks are buried in dept, and the housing market is in terminal distress. The Dow is now below its 200-Day Moving Average -- the first big "sell" signal. Anything below 12,500 could trigger program-trading and crash the market. The increased volatility suggests that we are watching a "real time" meltdown.

Comment on this SOTT Focus

---

Forecast: U.S. dollar could plunge 90 pct


United Press International
2007-11-19 15:10:00

A financial crisis will likely send the U.S. dollar into a free fall of as much as 90 percent and gold soaring to $2,000 an ounce, a trends researcher said.

"We are going to see economic times the likes of which no living person has seen," Trends Research Institute Director Gerald Celente said, forecasting a "Panic of 2008."

"The bigger they are, the harder they'll fall," he said in an interview with New York's Hudson Valley Business Journal.

Celente -- who forecast the subprime mortgage financial crisis and the dollar's decline a year ago and gold's current rise in May -- told the newspaper the subprime mortgage meltdown was just the first "small, high-risk segment of the market" to collapse.

Comment on this SOTT Focus

---

The Holiday's Shopping Season Can't Stop the Coming 'Severe Recession'

Danny Schechter
Alternet
2007-11-24 11:29:00

The media is complicit in "shop-apocalypse," as consumers go wild in a shaky economy.

Comment on this SOTT Focus

---

Will Europe impose exchange controls to head off disaster?

Ambrose Evans-Pritchard
Telegraph
2007-11-24 01:06:00

The die is now cast. As the euro brushes $1.50 against the dollar, it is already too late to stop the eurozone hurtling into a full-fledged economic and political crisis. We now have to start asking whether the EU itself will survive in its current form.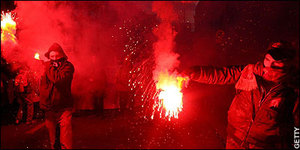 ©GETTY
Is the eurozone set to go up in flames?
Comment on this SOTT Focus
---

Japanese shift cash out of U.S. investments

Martin Fackler
International Herald Tribune
2007-11-24 00:58:00

TOKYO: Many in Japan are starting to speak of "quitting America," but they are not talking about a rise in anti-American political fervor. Rather, they mean a move away from American investments that is altering global capital flows and helping to weaken the dollar.

The move is seen in decisions of individual investors like Daijo Okudaira, a 66-year-old clerk at a Tokyo consulting company. Like many Japanese, Okudaira had long limited his overseas investments to the relative safety of securities from developed countries, particularly the United States.

Comment on this SOTT Focus

---
The Living Planet
---
Typhoon kills eight in Philippines


RIA Novosti
2007-11-26 17:25:00

Eight people died and two others are missing after Typhoon Mitag slammed into the Philippines, local media said on Monday.

All the dead were from the central region of Bicol, where the typhoon flooded about 1,000 hectares of rice fields, destroying roads and houses. Over 290,000 people were evacuated from the storm-hit region.

Comment on this SOTT Focus

---

Three killed in earthquake in Indonesia


RIA Novosti
2007-11-26 17:20:00

At least three people have been killed and 45 injured in an earthquake in eastern Indonesia, the head of the republic's emergencies center said on Monday.

"Early Monday morning the Sumbawa island was hit by a series of quakes, the most powerful of them, measuring 6.7 on the Richter scale occurred at 2.53 local time (19.53 GMT)," Rustam Pakaya said, adding that the earthquake had killed three people and damaged hundreds of buildings.

Comment on this SOTT Focus

---

USGS: Arctic Russia Sea Holds 9.3B BBL, 32TCF Unfound Oil, Gas

Ian Talley
rigzone.com
2007-11-25 19:45:00

The Laptev Sea shelf underneath Russia's Arctic waters holds an estimated 9.3 billion barrels of oil equivalent and 32.3 trillion cubic feet of natural gas in undiscovered resources, the U.S. Geological Survey said Friday.

The USGS is currently reassessing its estimation of the petroleum resource base in the Arctic circle based on new data, region by region.

Based on USGS's last assessment in 2000, the entire Arctic region was previously thought to contain almost 25% of the world's undiscovered oil and natural gas, but harsh conditions have thus far prevented mass development.

Of the 9.3 billion barrels of oil equivalent estimated, the USGS believes 3.07 billion barrels could be crude.

Comment on this SOTT Focus

---

6.4 quake hits Indonesia


disasternews.net
2007-11-25 19:39:00

An earthquake measuring 6.4 on the Richter scale struck shortly after midnight Monday (local time) off the Indonesian coast, the U.S. Geological Survey reported.

The quake, initially reported as magnitude 6.7, occurred at 12:02 a.m. (11:02 a.m. Sunday EST). It hit 25 miles west-northwest of Raba on Sumbawa island and 810 miles east of Jakarta.

Comment on this SOTT Focus

---

Weather disasters 'quadruple in 20 years'

Megan Levy and agencies
Daily Telegraph
2007-11-25 13:34:00

The number of weather-related disasters has quadrupled in the past 20 years and more should be done to prepare for them, according to Oxfam.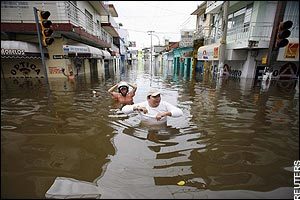 ©Reuters
Severe flooding ravaged Mexico this month
Comment on this SOTT Focus
---

Tiger eats tiger in NE China zoo


Xinhua
2007-11-25 12:09:00

A Siberian tiger in a zoo in northeast China was killed and eaten by four tigers it had lived with for five years over the weekend.

The desperate tigers, which are supposed to be under the highest level of state protection in China, turned on the 12-year-old, 330-pound tiger and tore off its left leg on Saturday afternoon at the privately-owned Shenyang Glacier Zoo in Shenyang, capital of northeast China's Liaoning Province.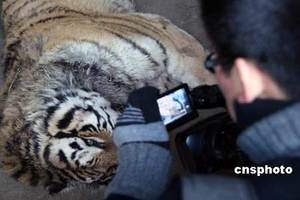 ©China News
A Siberian tiger is killed on Nov. 18 by three fellow tigers in the Glacier Zoo in Shenyang, Liaoning Province due to severe lack of food this winter.
Comment on this SOTT Focus
---

Mild earthquake shakes Israel


Ynet
2007-11-24 11:58:00

Earthquake hits Israel for third time this week: The Geophysical Institute of Israel (GII) reported Saturday that a 4.1 magnitude earthquake was felt throughout the country. No injuries or damage were reported.

According to reports, the earthquake hit around 00:19 am, originating in Israel's plains area.

Comment on this SOTT Focus

---

Salmon farms braced for jellyfish invasion

John Ross
The Scotsman
2007-11-25 10:12:00

SCOTLAND'S salmon producers have been put on alert due to an invasion of stinging jellyfish which have already wiped out a fish farm in the Irish Sea.

Comment on this SOTT Focus

---

U.N.: Greenhouse Gases Hit High in 2006

Eliane Engeler
Associated Press
2007-11-25 10:07:00

Two of the most important Greenhouse gases in the Earth's atmosphere reached a record high in 2006, and measurements show that one - carbon dioxide - is playing an increasingly important role in global warming, the U.N. weather agency said Friday.

Comment on this SOTT Focus

---

Quake hits off coast of Indonesia's Sumatra


Reuters
2007-11-25 00:06:00

An earthquake with a 6.2 magnitude hit off the coast of Indonesia's Sumatra island, the country's meteorological agency said on Sunday.

The quake struck 28 km southwest of Mukomuko in Bengkulu, Sumatra at a depth of 55 km, the agency said in a text message, adding that there was no risk of a tsunami.

Comment on this SOTT Focus

---

Climate a threat to Mediterranean


eKathimerini
2007-11-24 16:36:00

The Mediterranean will be one of the regions of the world that will suffer most from climate change as rising temperatures and water shortages cripple agriculture and tourism, a seminar in Athens heard yesterday.

If warnings about the environmental and health repercussions of global warming have failed to convince governments to take action, threats of a serious blow to key industries may be taken more seriously, experts told a seminar on the economic impact of climate change organized by the British Embassy in association with Kathimerini and Skai.

Comment on this SOTT Focus

---

Philippines, Vietnam brace for dual typhoons


CBC News
2007-11-23 01:42:00

Almost half a million people fled coastal villages in Vietnam and the Philippines on Friday as two separate typhoons roared towards the southeast Asian countries.

Typhoon Mitag, with sustained winds of 175 kilometres per hour, is expected to make landfall on the small Philippines island province of Catanduanes on Saturday, the same day Typhoon Hagibis is supposed to strike the Vietnamese coast.

Comment on this SOTT Focus

---

31 people on bus thought dead after China landslide: official


Agence France-Presse
2007-11-24 00:11:00

Thirty-one people, including four children, on a bus that was engulfed by a massive landslide in central China early this week are almost certainly dead, a local official said Friday.

The passengers were on the bus in mountainous Badong county, Hubei province, on Tuesday when the landslide occurred and are feared to have all died, Xinhua news agency said, citing local officials and the bus company.

Comment on this SOTT Focus

---

US marines join cyclone aid effort in Bangladesh


Agence France-Presse
2007-11-24 00:04:00

DHAKA - US marines arrived to bolster relief efforts in Bangladesh on Friday as concerns mounted for survivors of killer Cyclone Sidr which devastated the disaster-prone nation more than a week ago.

Navy personnel from the USS Kearsarge, anchored close to the southern Bangladesh coast, has begun medical evacuations and transportation of water to some of the worst-affected coastal areas, a US embassy spokesman said.




Comment on this SOTT Focus

---
Health & Wellness
---
Researchers find mirror fools phantom limb pain

Gene Emery
Reuters
2007-11-26 17:35:00

Viewing the reflected image of an intact limb in a mirror can fool the mind into thinking that a lost leg or foot still exists, dramatically relieving phantom limb pain, researchers reported on Wednesday.

At least 9 out of 10 amputees report feeling sometimes-severe pain in the missing limb, often the result of a sensation that the arm or leg is stuck in the wrong position. The sensation can be excruciating and pain drugs often do little to help.

But some studies have suggested that using a mirror to trick the mind into thinking the lost limb is still there may help. Doctors do not understand why it works, but it appears to help a confused brain reconcile sensations coming from the severed nerves.

Comment on this SOTT Focus

---

Family says shots gave son autism

Jacque Hillman
Jackson Sun
2007-11-26 14:13:00

Yates, 7, loves chewing gum. He'll go through every compartment in a purse looking for it intently. He doesn't give up unless he's distracted with something else.

He loves to flush the toilet, and once he put tennis balls down the toilet so it overflowed and he could watch the water run. He's also shut the bathtub drain and turned the water on.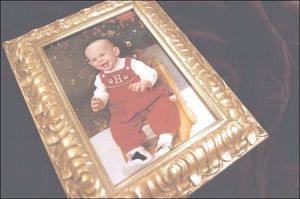 ©Jackson Sun
This portrait of Yates was taken when he was 6 months old.
Comment on this SOTT Focus
---

Drug firms accused of biasing doctors' training

Jim Giles
Nature
2007-11-20 09:00:00

Can the pharmaceutical industry be trusted to fund doctors' compulsory education without introducing bias? The issue is dividing Congress, academics and drugs companies. Now, preliminary data have emerged suggesting that industry-sponsored courses skew training material in favour of commercial interests.

Comment on this SOTT Focus

---

Are your products safe? You can't tell

Sussane Rust, Meg Kissinger and Cary Spivak
Journal Sentinel
2007-11-24 22:35:00

Take a look at your shoes, your shampoo, your carpet, your baby's bottles, even the dental sealants in your mouth. These products contain chemicals that disrupt the natural way hormones work inside of you.

The chemicals known as endocrine disruptors are all over your house, your clothing, your car. The chemicals are even in you.

They promise to make skin softer, clothes smell fresher and food keep longer. The problem is, neither the companies that make these products nor federal regulators are telling you that some of these substances may be dangerous. Many have been found to cause life-threatening illnesses in laboratory animals.

Comment on this SOTT Focus

---

Magnetic pulses to brain can treat depression: study


Agence France-Presse
2007-11-25 17:20:00

Stimulating the brain with rapid bursts of magnetic energy is a safe and effectively treatment for major depression, a new large-scale study has found.

The finding offers a ray of hope to the 20 to 40 percent of patients who do not respond to antidepressants and psychotherapy and to those who do not wish to treat their illness with drugs.

"This study provides new support for the efficacy of TMS (transcranial magnetic stimulation) as a 'stand alone' treatment for depression," said John Krystal, editor of Biological Psychiatry which will publish the study on December 1.

"This finding could be particularly important for patients who do not tolerate antidepressant medications, for whom they are not safe, or who have not benefited from other alternative treatments."

Comment on this SOTT Focus

---

Flashback: The therapeutic role of melatonin in cancer worthy of study


McMaster University, Department of Clinical Epidemiology
2005-11-22 12:39:00

The role of melatonin for the treatment of cancer is looking compelling, according to a new study published in the Journal of Pineal Research. Researchers say that the results are so compelling that cancer funding agencies should be eager to support clinical trials to evaluate its therapeutic role in a variety of cancers.

Melatonin is a hormone naturally found in humans. Its association with cancer has been shown in many studies assessing links between shift work and cancer rates, and shown a consistent relationship. The association between melatonin levels and cancer progression has suggested to some that melatonin may be a modifier of cancer progression. In this latest study, researchers examined all clinical trials assessing the role of melatonin as a therapy for solid tumor cancers. They used a methodology called meta-analysis, a technique of analyzing multiple studies.

The authors reviewed 10 randomized clinical trials that included a total of 643 cancer patients with a variety of different solid tumor cancers. The types of cancers involved included lung, brain, skin, renal and breast cancer. "In this analysis, the effects appeared to be consistent across studies" say the authors. The researchers examined the effect of large doses of melatonin (10-40mg/day) on survival rates at one year. Melatonin reduced the risk of death at one year by 34%. "Effects this large certainly warrant further clinical trials" say the authors. The study also showed that melatonin was predominantly safe and had a beneficial effect on sleep patterns of patients.

Comment on this SOTT Focus

---

Sinus problems are treated well with safe, inexpensive treatment


University of Michigan Health System
2007-11-19 12:05:00

An inexpensive, safe and easy treatment is an effective method for treating chronic nasal and sinus symptoms - more effective, in fact, than commonly used saline sprays, according to a new study from University of Michigan Health System researchers.

The study is the first of its kind to show greater efficacy of saline irrigation treatments versus saline spray for providing short-term relief of chronic nasal symptoms, the authors report. Participants in the study who were treated with irrigation experienced a much greater benefit than those who were treated with saline spray, in terms of both the severity and frequency of their symptoms.

"The irrigation group achieved a clinically significant improvement in quality of life in terms of the severity of their symptoms, whereas the spray group did not," says lead author Melissa A. Pynnonen, M.D., clinical assistant professor in the U-M Department of Otolaryngology. "Strikingly, they also experienced 50 percent lower odds of frequent nasal symptoms compared with the spray group."

Comment on this SOTT Focus

---

People with rare type of memory loss still sensitive to others, study shows

Kelly Connelly
Baycrest Centre for Geriatric Care
2007-11-22 21:55:00

People with a devastating brain injury that has wiped out many of their personal memories may still be able to understand other people's feelings and intentions, according to a joint study by the Rotman Research Institute at the Baycrest Centre for Aging and the Brain, and York University's Department of Psychology, Faculty of Health.

Comment on this SOTT Focus

---

Disturbing! FDA staff urge psych warnings for two flu drugs

Kim Dixon
Reuters
2007-11-24 00:53:00

U.S. Food and Drug Administration staffers are recommending new warnings about psychiatric events observed in some patients taking Roche Holding AG's Tamiflu and GlaxoSmithKline Plc's Relenza, according to documents released on Friday.

An FDA advisory panel will review the recommendations for the anti-viral influenza drugs at a meeting next week.

The FDA held a similar meeting two years ago in response to reports of a dozen deaths of children in Japan who had been taking Tamiflu.

Comment on this SOTT Focus

---

Health watchdog warns of UK sexual health crisis

David Batty
The Guardian
2007-11-23 23:23:00

The UK has one of the highest rates of HIV infection in Europe largely due to a growing epidemic of the disease in the black African community and among gay men, the Health Protection Agency (HPA) warned today.

The sexual health crisis is also worsening due to rising rates of other sexually transmitted infections (STIs) among young adults, the government health watchdog also warned.


Comment on this SOTT Focus

---
Science & Technology
---
Sanctuary of Rome's 'Founder' Revealed

Ariel David
Associated Press
2007-11-21 10:07:00

Rome - Archaeologists on Tuesday unveiled an underground grotto believed to have been revered by ancient Romans as the place where a wolf nursed the city's legendary founder Romulus and his twin brother Remus.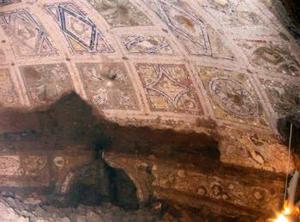 ©AP Photo/Italian Culture Ministry, HO
This photo made available by the Italian Culture Ministry during a press conference in Rome, Tuesday, Nov. 20, 2007, shows an underground grotto believed to have been worshipped by ancient Romans as the place where a wolf nursed the city's legendary founder Romulus and his twin brother Remus. Decorated with seashells and colored marble, the vaulted sanctuary lies buried 16 meters (52 feet) inside the Palatine hill, the palatial center of power in imperial Rome.
Comment on this SOTT Focus
---

Evolution of Comet 17P Holmes

Krzysztof Czart
Astronomia.pl
2007-11-22 09:41:00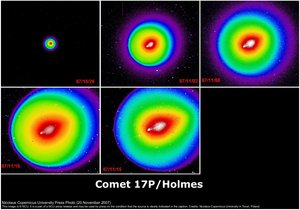 ©Nicolaus Copernicus University in Toruń.
Sequence of images of Comet 17P/Holmes obtained with the TSC 60/90 telescope in the V filter. They show the increase in the comet's envelope size. The colours are chosen here in order to best show the cometary nucleus (the bright point in the centre) and matter moving away from the nucleus (to the right of the nucleus).
Comet 17P/Holmes has been intriguing astronomers since the end of October, when its sudden outburst in brightness, the biggest in the history of comet research, was observed. Scientists from Nicolaus Copernicus University in Torun in Poland have published a series of images illustrating the evolution of the comet.
Comment on this SOTT Focus
---

China acclaims moon images, mission deemed a success


Reuters
2007-11-26 02:08:00

China's leaders celebrated the first images sent from the country's first lunar satellite on Monday, saying they showed their nation had thrust itself into the front ranks of global technological powers.

Chinese Premier Wen Jiabao, visiting the scientists who have guided the lunar probe Chang'e 1 into space and around the moon, proclaimed the mission a success after it began to send back images, according to Xinhua news agency.

Comment on this SOTT Focus

---

Illuminating Study Reveals How Plants Respond To Light


terradaily.com
2007-11-25 23:03:00

Most of us take it for granted that plants respond to light by growing, flowering and straining towards the light, and we never wonder just how plants manage to do so. But the ordinary, everyday responses of plants to light are deceptively complex, and much about them has long stumped scientists.

Now, a new study "has significantly advanced our understanding of how plant responses to light are regulated, and perhaps even how such responses evolved," says Michael Mishkind, a program director at the National Science Foundation (NSF). This study, which was funded by NSF, will be published in the November 23, 2007 issue of Science.

By conducting experiments with Arabidopsis--a small flowering plant widely used as a model organism--the researchers discovered that the plant prepares to respond to light while it is still in the dark, even before it is exposed to light. This preparation involves producing a pair of closely related proteins (known as FHY3 and FAR1) that increase production of another pair of closely related proteins (known as FHY1 and FHL) that had been identified in previous studies as critical participants in the plant's light response.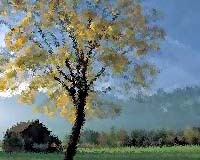 ©unknown
Although these steps had been identified in previous studies, the discovery of how FHY3 and FAR1 regulate plant responses to light adds an important new dimension to our understanding of them.
Comment on this SOTT Focus
---

Marine Scientists Warn Human Safety, Prosperity Depend On Better Ocean Observing System


terradaily.com
2007-11-25 22:51:00

Speedy diagnosis of the temper and vital signs of the oceans matters increasingly to the well being of humanity, says a distinguished partnership of international scientists urging support to complete a world marine monitoring system within 10 years. The Partnership for Observation of the Global Oceans (POGO) says warming seas, over-fishing and pollution are among profound concerns that must be better measured to help society respond in a well-informed, timely and cost-effective way.

"A system for ocean observing and forecasting that covers the world's oceans and their major uses can reduce growing risks, protect human interests and monitor the health of our precious oceans," says Dr. Tony Haymet, Director, Scripps Institution of Oceanography, University of California San Diego, USA, and Chair of POGO's Executive Committee.

"The world community resolved to construct a comprehensive, integrated ocean observing system two decades ago. The good news is we have demonstrated that a global ocean observing system can be built, deployed and operated with available technologies. Now we must move from experiment and proof-of-concept to routine use. We have progressed less than halfway to our initial goals. Let's complete the task before we are struck by more tsunamis or comparable calamities."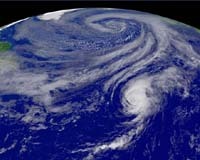 ©unknown
"Oceans cover a majority of our planet - 71% - yet are vastly under-sampled," says Dr. Tony Haymet. "We have an urgent need and new technological marvels available today to complete a system by which marine scientists could authoritatively diagnose and anticipate changing global ocean conditions - something akin to the system that enables meteorologists to predict weather."
Comment on this SOTT Focus
---

Flashback: Like ozone hole, polar clouds take bite out of meteoric iron


University of Illinois at Urbana-Champaign
2004-04-15 12:21:00

Polar clouds are known to play a major role in the destruction of Earth's protective ozone layer, creating the springtime "ozone hole" above Antarctica. Now, scientists have found that polar clouds also play a significant role in removing meteoric iron from Earth's mesosphere. The discovery could help researchers refine their models of atmospheric chemistry and global warming.
Using a sensitive laser radar (lidar) system, laboratory experiments and computer modeling, researchers from the University of Illinois at Urbana-Champaign and the University of East Anglia in Norwich, England, studied the removal of meteoric iron by polar mesospheric clouds that they observed during the summer at the South Pole.

"Our measurements and models have shown that another type of reaction that takes place in the upper atmosphere -- this time related to ice particles -- plays a very important role in the processes that influence the chemistry of metal layers in this region," said Chester Gardner, a professor of electrical and computer engineering at Illinois and one of the co-authors of a paper to appear in the April 16 issue of the journal Science.

Comment on this SOTT Focus

---

Researchers find memory can be manipulated by photos


UCI
2007-11-25 12:15:00

The camera may not lie, but doctored photos do according to new research into digitally altered photos and how they influence our memories and attitudes toward public events.

When presented with digitally altered images depicting the 1989 Tiananmen Square protest in Beijing and a 2003 anti-war protest in Rome, participants in a new study by American and Italian researchers recalled the events as being bigger and more violent than they really were, suggesting that viewing doctored photographs might affect people's memories of past public events.

Comment on this SOTT Focus

---

Mankind 'shortening the universe's life'

Roger Highfield
Science Editor
2007-11-21 16:54:00

The startling claim is made by a pair of American cosmologists investigating the consequences for the cosmos of quantum theory, the most successful theory we have.


Comment on this SOTT Focus

---

A Hazy Future for a 'Jewel' of Space Instruments

Kenneth Chang
The New York Times
2007-11-20 14:38:00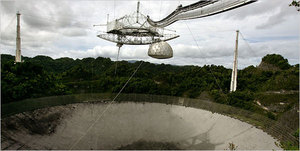 ©Brennan Linsley/Associated Press
The Arecibo radio telescope is a thousand feet wide and 167 feet deep



The next time an unexpected comet shows up in the inner solar system, Amy J. Lovell may not get time at the Arecibo radio telescope in Puerto Rico to observe it before it swings back out.

Comment on this SOTT Focus

---

Asteroids may return after deflection


The Times of India
2007-11-20 14:35:00

London: A new study by scientists suggests that asteroids which are deflected on a collision course with Earth are likely to return for another potential clash.

Comment on this SOTT Focus

---

Complacency Management

Jon Lebkowsky
World Changing
2007-11-16 14:08:00

I've been thinking a lot about risk assessment and management since my recent public conversation with Denise Caruso of the Hybrid Vigor Institute. We were talking about her latest book, Intervention: Confronting the Real Risks of Genetic Engineering and Life on a Biotech Planet, a clear-headed assessment of the importance of risk assessment within biotech industries, where she found a troubling complacency about the potential for things to go Terribly Wrong when genetically engineered organisms are introduced into the wild.

Comment on this SOTT Focus

---

Babies Judge Character Well

Andrea Thompson
LiveScience
2007-11-21 13:06:00

Even at just a few months old, babies can size up others and decide whom they'd rather hang out with, a new study finds.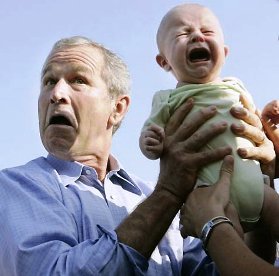 ©Unknown
Baby sizes up Bush correctly.
Comment on this SOTT Focus
---

Flashback: Biblical hero Samson may have been sociopath as well as strongman, according to new research


University of California - San Diego
2001-02-20 17:19:00

Samson, the Israelite hero and judge who was undone by the temptress Delilah, exhibited almost all of the symptoms of a person with Antisocial Personality Disorder, known in the psychology trade as ASPD.

According to Dr. Eric Altschuler, Samson exhibited six out seven criteria for diagnosis of ASPD (as identified by the American Psychiatric Association in its diagnostic bible, the DSM-IV) and a person need only manifest three of the seven criteria to be diagnosed with the disorder. Altschuler, a physician and research fellow in the Dept. of Psychology at the University of California, San Diego, is the lead author of the research paper, "Did Samson Have Antisocial Personality Disorder?" published in this month's Archives of General Psychiatry.

"Appreciation of the diagnosis of ASPD for Samson may not only help us to better understand the Biblical story, but it also may increase our understanding and awareness of instances when a leader has ASPD " said Altschuler, Also, we hope these findings encourage interest in the history of ASPD because the study of the history of a disease can provide clues to its pathogenesis."

Comment on this SOTT Focus

---

In Georgia, a missing link?

Alex Rodriguez
Chicago Tribune
2007-11-24 09:08:00

Remarkable finds are changing beliefs about human evolution and migration from Africa

DMANISI, Georgia - The forested bluff that overlooks this sleepy Georgian hamlet seems an unlikely portal into the mysteries surrounding the dawn of man.


Comment on this SOTT Focus

---

Metal detector pair find Roman Briton skeleton

Gary Cleland
Telegraph
2007-11-24 00:02:00

The 1,800-year-old skeleton of one of Roman Britain's "social elite" has been discovered by two men with metal detectors who had already unearthed a £1 million Viking treasure.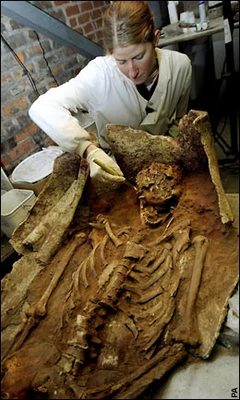 ©PA
Mags Felter of the York Archaeological Trust examines the skeleton
Comment on this SOTT Focus
---
Our Haunted Planet
---
Canada: Triangular UFO spotted over Deline

Christine Grimard
Northern News Services
2007-11-26 09:10:00

FORT FRANKLIN - An unidentified flying object was seen hovering over Deline the morning of Nov. 2.

Simon Neyelle was on his way home at 5 a.m. when he first saw a bright light hovering near a ridge just outside of the community.

Comment on this SOTT Focus

---

Since 1975, North Bergen (New Jersey) had most reports in USA

Jim Hague
North Bergen Reporter
2007-11-26 08:21:00

For some reason, this densely-populated town in northern Hudson County has had the highest number of reported sightings of aliens and unidentified flying objects (UFOs) over the last 30 years.

Most of them have been centered out of the southeastern end of North Hudson Braddock Park, a large park named after deceased boxer James "Cinderella Man" Braddock.

The North Bergen sightings have been documented and reported to several agencies, including the National UFO Reporting Center in Seattle and the Center for UFO Studies in Chicago.

Since two people reported a major sighting to federal authorities back in 1975, there have been a total of 775 sightings or incidents involving North Bergen residents, easily the highest total of reported incidents in the United States, according to Marc Sodderstrom of the National UFO Reporting Center in Seattle.

Comment on this SOTT Focus

---

New Zealand: Girl's eyes gouged to lift Maori curse


ninemsn.com.au
2007-11-25 23:37:00

A 14-year-old New Zealand girl has had her eyeballs gouged by relatives who thought she was possessed by the devil.

The girl was the cousin of Janet Moses, a 22-year-old mother of two who died on October 12 during the same ceremony to lift a Maori makutu (curse), the Dominion Post newspaper reported.



Comment on this SOTT Focus

---

Silent lights over Gloucestershire are UFO puzzle


This is Gloucestershire
2007-11-22 00:30:00

The last thing Dave Perkins expected to see as he locked up at work was a UFO. But he has no other explanation for the mysterious red lights he spotted above Longhope.

Comment on this SOTT Focus

---
Don't Panic! Lighten Up!
---
Women spend three years getting ready to leave the house


Daily Mail
2007-11-26 16:49:00

It's a figure which will surprise even the most impatient husband - women spend nearly three years getting ready to leave the house.

That's because the average time needed for all those last-minute outfit changes, twirls in front of the mirror and rummages in the handbag is an hour and 12 minutes for every big night out.

And with the typical woman needing 40 minutes to get ready for work every morning as well, the amount of time spent preening adds up to more than two years and nine months over a lifetime.

Comment on this SOTT Focus

---

Undercover restorers fix Paris landmark's clock

Emilie Boyer King
The Guardian
2007-11-26 07:43:00

'Cultural guerrillas' cleared of lawbreaking over secret workshop in Pantheon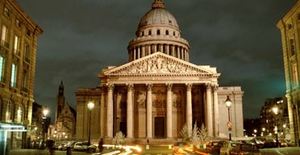 ©Alamy
Clock watching ... the Pantheon in Paris.


It is one of Paris's most celebrated monuments, a neoclassical masterpiece that has cast its shadow across the city for more than two centuries.

Comment on this SOTT Focus

---

Shocking! Doctors untangle the strange case of the giant hairball


CNN
2007-11-24 13:00:00

It may not be the most appetizing reading before a hearty holiday meal, but the New England Journal of Medicine is devoting part of its Thanksgiving issue to a giant hairball -- and not the feline kind.

The prestigious journal details the case of a previously healthy 18-year-old woman who consulted a team of gastrointestinal specialists.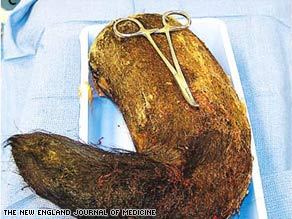 ©the New England Journal of Medicine
Doctors say this hairball removed from a woman's stomach weighed 10 pounds.



She complained of a five-month history of pain and swelling in her abdomen, vomiting after eating and a 40-pound weight loss.

Comment on this SOTT Focus

---

Disingenuous department: Man says he shot cow after mistaking it for coyote


Associated Press
2007-11-24 19:08:00

COLFAX TOWNSHIP, Mich. - A man says he shot and killed a neighbour's cow after mistaking it for a coyote.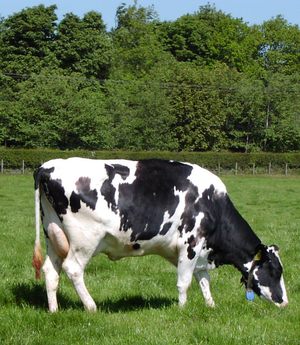 ©Unknown
Friesian/Holstein cow
Comment on this SOTT Focus
---

Parody: End of Mayan Calendar Coincides with Impact of Shock Wave from Comet Holmes

mgoosen
The Spoof
2007-11-15 14:48:00

Scientists at the Mount Palomar Observatory in California and Caltech have confirmed that the "blast front" from Comet 17P/Holmes will hit the Earth on Dec 21, 2012. By odd coincidence, this is the day that the Mayan Calendar ends, and is predicted by some to correlate with the end of the world.

Comment on this SOTT Focus

---

Shirley MacLaine Talks with Bill O'Reilly About UFOs


Fox News
2007-11-24 08:40:00

LAURA INGRAHAM, GUEST HOST: And in the "Personal Story" segment tonight, Academy Award winning actress Shirley MacLaine frequently raises eyebrows with her out of this world views, like her claim that she's had close encounters with aliens, and out of body experiences. She spoke to Bill last week about UFOs while promoting her new book, "Saging While Aging."




Comment on this SOTT Focus

---
---

Remember, we need your help to collect information on what is going on in your part of the world!
Send your article suggestions to: sott(at)signs-of-the-times.org

---
Click here to return to the Signs of the Times Archive
Click here for today's Signs Page