---
Sections on today's Signs Page:
---
SOTT Focus
---
No new articles.
Best of the Web
---
France: Sarkozy seeks confrontation with the working class

Peter Schwarz
World Socialist Web Site
2007-11-14 11:18:00

France faces a confrontation between its right-wing president, Nicolas Sarkozy, and the working class which could develop into one of the bitterest social clashes in recent French history...

At the heart of the various disputes are the special pensions paid to state-employed workers. The so-called "régimes spéciaux" have their roots in the 19th century and allow state employees engaged in particularly arduous occupations to retire at either 50 or 55...

For the French ruling elite, the abolition of such régimes spéciaux is a crucial step in cutting back all forms of social welfare - even more for political than for economic reasons.

Comment on this SOTT Focus

---

Torturing Palestinian Detainees

Stephen Lendman
S J Lendman Blog
2007-11-14 09:32:00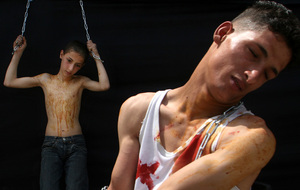 ©rafah.virtualactivism.net
Palestinian youth demonstrate Israeli torture techniques



B'Tselem is the conservative Israeli Information Center for Human Rights in the Occupied Territories with a well-deserved reputation for accuracy. A group of prominent academics, attorneys, journalists and Knesset members founded the organization in 1989 to "document and educate the Israeli public and policymakers about human rights violations in the Occupied Territories, combat the phenomenon of denial prevalent among the Israeli public, and help create a human rights culture in Israel" to convince government officials to respect human rights and comply with international law.

Its work covers a wide range of human rights issues that include detentions and torture. In May, 2007, it prepared a detailed 100 page report titled "Absolute Prohibition: The Torture and Ill-treatment of Palestinian Detainees" that's now available in print for those who request it. This article summarizes its findings that represent a joint effort by B'Tselem and HaMoked: Center for the Defense of the Individual that was founded in 1988 to support Palestinian rights during the first intifada in the late 1980s.

Since the early 1990s, B'Tselem published more than ten reports on Israelis' use of torture and mistreatment of Palestinian detainees. This is the latest one in an effort to raise public awareness and help abolish these abhorrent practices. The findings are based on testimonies solicited from a small "unrepresentative" sample of 73 Palestinian West Bank residents who were arrested between July, 2005 and January, 2006, agreed to tell their stories, and who met predetermined criteria for the study.

Comment on this SOTT Focus

---

Latin America's Shock Resistance

Naomi Klein
The Nation
2007-11-08 07:03:00

In less than two years, the lease on the largest and most important US military base in Latin America will run out. The base is in Manta, Ecuador, and Rafael Correa, the country's leftist president, has pronounced that he will renew the lease "on one condition: that they let us put a base in Miami--an Ecuadorean base. If there is no problem having foreign soldiers on a country's soil, surely they'll let us have an Ecuadorean base in the United States."

Since an Ecuadorean military outpost in South Beach is a long shot, it is very likely that the Manta base, which serves as a staging area for the "war on drugs," will soon shut down. Correa's defiant stand is not, as some have claimed, about anti-Americanism. Rather, it is part of a broad range of measures being taken by Latin American governments to make the continent less vulnerable to externally provoked crises and shocks.

This is a crucial development because for the past thirty-five years in Latin America, such shocks from outside have served to create the political conditions required to justify the imposition of "shock therapy"--the constellation of corporate-friendly "emergency" economic measures like large-scale privatizations and deep cuts to social spending that debilitate the state in the name of free markets. In one of his most influential essays, the late economist Milton Friedman articulated contemporary capitalism's core tactical nostrum, what I call the shock doctrine. He observed that "only a crisis--actual or perceived--produces real change. When that crisis occurs, the actions that are taken depend on the ideas that are lying around."

Comment on this SOTT Focus

---
U.S. News
---
Congress Should Participate in an Iran "War Game"

Jim McDermott
AlterNet
2007-11-14 16:02:00

What if Congress and the American people could have seen realistic accounts of the casualties and consequences of the Iraq war before the President ordered the invasion? Would Congress have given the President authority to use force? If the American people could have watched Congress participate in a realistic war game exercise, would the run-up to the Iraq war have run out of steam?

We may never know the answers to these questions about the Iraq war, but that is not the case concerning a potential military strike against Iran. We've heard the rhetoric from the President. I believe that Members of Congress should call for and participate in an Iran war game to fully understand the casualties and consequences of an Iran military strike.

Comment on this SOTT Focus

---

Dick Cheney's Sadistic Passion for Shooting Tame Animals

Martha Rosenberg
AlterNet
2007-11-14 15:36:00

While most people are lamenting the violence in Pakistan, Burma, Afghanistan and Iraq, apparently it's not enough bloodshed for Vice President Dick Cheney.

Last month in a caravan of 15 sport utility vehicles and an ambulance -- no jokes, please -- Cheney made his way to Clove Valley Rod & Gun Club, about 70 miles north of New York City, near Poughkeepsie, for a day of controlled bloodletting.

Comment on this SOTT Focus

---

Opinion of an American with conscience: War in Iraq still nothing but big lies

Alicia Lopez
El Paso Times
2007-11-14 14:35:00

With all the catastrophes taking place, the fires in California, the floods in Mexico, etc., the Iraq war seems to have taken a back seat, at least in the media.

I am here to remind the American people of this disastrous Bush-Cheney-Rumsfeld-led war, begun under the guise of the spector of weapons of mass destruction (of which there were none) then changed to "Democracy for the Iraqi People," which seems as far a goal to reach as traveling to the moon on a broomstick.

The invasion began on March 20, 2003, four long years ago. We still see no light at the end of a very long tunnel.

Comment on this SOTT Focus

---

Activist sets up telephone talks between US, Iranian citizens

John C. Drake
The Boston Globe
2007-11-14 14:33:00

A Somerville peace activist with a knack for political theater set up a display yesterday with a simple proposition: Let anyone who passed by pick up the phone and talk to Iranian citizens, giving regular citizens in both countries a chance to do what the activist said the country's leaders have failed to do: talk to each other.


Comment on this SOTT Focus

---

Key U.S. bishop voices alarm over Iraq

Michael Paulson
The Boston Globe
2007-11-14 14:29:00

BALTIMORE - Increasingly frustrated by the war in Iraq and worried about bellicose talk toward Iran, the outgoing president of the US Conference of Catholic Bishops described the situation in Iraq yesterday as "unacceptable and unsustainable" and called for the Bush administration to work with Iran and Syria to stabilize the region.


Comment on this SOTT Focus

---

Majority of Americans say Bush & Cheney should be impeached


American Research Group
2007-11-13 14:01:00

A total of 64% of American voters say that President George W. Bush has abused his powers as president. Of the 64%, 14% (9% of all voters) say the abuses are not serious enough to warrant impeachment, 33% (21% of all voters) say the abuses rise to the level of impeachable offenses, but he should not be impeached, and 53% (34% of all voters) say the abuses rise to the level of impeachable offenses and Mr. Bush should be impeached and removed from office.


Comment on this SOTT Focus

---

Judith Regan Sues Murdoch Empire for Being Called Anti-Semite


The Smoking Gun
2007-11-14 13:42:00

Judith Regan, the volcanic publishing industry figure who sought to publish O.J. Simpson's "I Did It" (and trysted with Bernard Kerik in an apartment overlooking Ground Zero) today sued Rupert Murdoch's media conglomerate for defamation, claiming that she was unjustly tarred as an anti-Semite when fired last year.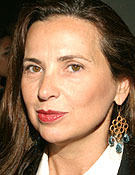 ©Unknown
Judith Regan



In a blistering $100 million lawsuit filed today in New York State Supreme Court, Regan, 54, accuses several defendants, including Murdoch's News Corporation and HarperCollins Publishers, of orchestrating a smear campaign that was intended to advance the Murdoch political agenda and protect "Rudy Giuliani's presidential ambitions."

Comment on this SOTT Focus

---

Why Bush Doesn't Have to Suspend the Constitution

William Hughes
Baltimore IMC
2007-11-13 04:43:00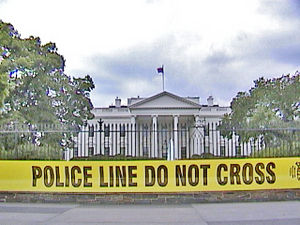 ©n/a
President George W. Bush doesn't have to mimic Pakistan's dictator, Gen. Pervez Musharraf, and suspend the Constitution, since he doesn't have any opposition. The two major political parties are controlled by the same Wire Pullers. Meanwhile, an "Axis of Zionists," Michael Mukasey at Justice, Michael Chertoff at Homeland Security and Joshua Bolten at the WH, now have a choke hold on key positions in our government. America is in deep doo-doo!
Comment on this SOTT Focus
---

Why on Earth Are Hillary and Obama Supporting Pro-Corporate Trade Deals?

Joshua Holland
AlterNet
2007-11-13 23:34:00

With the announcement that Hillary Clinton will join Barack Obama in supporting a new trade deal with Peru that passed in the House last week -- the first in a series of "free-trade" deals that are based on the deeply unpopular NAFTA model and being pushed through Congress by the Bush administration -- the divide between the two Democratic front-runners and the American electorate couldn't be clearer.

There's certainly no constituency for it within the universe of Democratic primary voters -- all of the Peruvian and most American unions oppose it, as do key environmental and anti-poverty organizations -- and it certainly won't win any "swing" voters to the party or make the Democratic brand more popular in any battleground states.

Comment on this SOTT Focus

---

Only time will tell if new San Francisco ID card beneficial

Wyatt Buchanan
San Francisco Chronicle
2007-11-13 21:45:00

The Board of Supervisors voted today to make San Francisco the largest U.S. city to issue municipal identification cards to its residents, regardless of whether or not they are in the country legally.

Comment on this SOTT Focus

---

Hysteria Alert! It's white stuff and it might be toxic!

Randall Beach
New Haven Register
2007-11-13 19:41:00

New Haven, Conn. - Felony charges against the two runners whose spreading of a flour trail led to a large-scale biohazard scare were nolled in court Thursday after they agreed to pay $4,000 to local charities.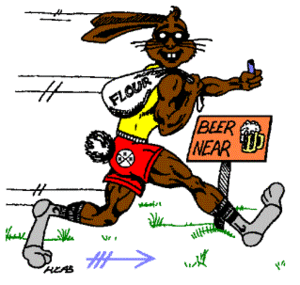 ©unknown
Hash House Harrier Running Club
Comment on this SOTT Focus
---
UK & Euro-Asian News
---
Sarkozy calls for end to strikes


BBC
2007-11-14 21:39:00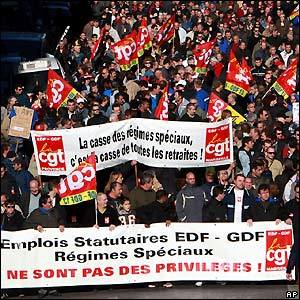 ©AP
Thousands of public transport and utility workers have gone on strike across France, including here in Marseille, throwing the transport system into chaos.



French President Nicolas Sarkozy has called for a speedy end to transport strikes against his pension reforms.

His spokesman said the action ought to stop "in the interest of passengers" now that conditions for talks with the unions on the package had been created.

Rail and bus services were crippled in Wednesday's action over cuts affecting 500,000 public sector employees.

Unions have voted to extend their protest for another 24 hours - with more disruption expected on Thursday.

Comment on this SOTT Focus

---

Strike Hobbles French Traffic

Elaine Ganlet
Associated Press
2007-11-14 17:10:00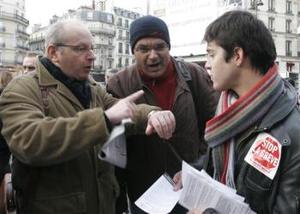 ©AP Photo/Jacques Brinon
An unidentified anti-strike militant, right, argues with striking unionists outside the Saint Lazare train station in Paris.



Paris - Striking transportation workers cut train service and forced Parisians to walk, bike or skate to work Wednesday in a pivotal standoff with President Nicolas Sarkozy over his bid to pare down labor protections. But both sides quickly sought a graceful exit.

In a potential breakthrough, Sarkozy accepted a union proposal for talks between government, unions and companies affected by the strikes about contested retirement reforms, his chief of staff Claude Gueant told the daily Le Monde.

Comment on this SOTT Focus

---

French energy strikers aim to cut power exports

Muriel Boselli
Reuters
2007-11-13 06:14:00

Paris - The target of a 24-hour French energy strike on November 14 is to cut enough power output capacity to curb exports of French utility giant EDF, but not to hurt consumers, an energy union official said on Tuesday.

Employees of EDF and gas company GDF, along with rail workers, are due to walk off the job in large numbers on Wednesday in protest over planned changes to their pensions.

Comment on this SOTT Focus

---

French university students continue strikes

Jef Costello
libcom.org
2007-11-12 17:03:00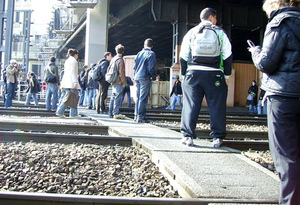 ©Unknown
Students blocking Gare du Nord in April 2006



Many of France's 84 universities are now on strike and blockaded, Rouen, Nantes,Tours, Tolbiac (Paris 1), La Sorbonne Clignancourt, Lille I et III, Rennes II, Toulouse, Perpignan, Caen (Lettres et Sciences), Nanterre, Montpellier I, II and II, Pau, Aix, Lyon II, Metz, Limoges, Nancy and Paris VIII. Some universities have strikes with no blockades, Le Havre, and Toulouse Rangeuil. Some universities have agreed other action Grenoble, Dijon, Lorient and Rennes I. The national coordination meeting that was held over the weekend has advised students to extend the struggle. The main tactic suggested was to block train stations tomorrow, strike committees or AG at 13 universities will blockade stations and only two universities have said that they will not. The rail-workers strike is due to begin tomorrow evening at 8pm. Solidarity actions will be important as if the students unite with the other strikers across France then the level of pressure on Sarkozy will be immense.

Comment on this SOTT Focus

---

Outside View: Russia ready to leave INF

Andrei Kislyakov
United Press International
2007-11-14 16:24:00

It looks as if Russia has long guessed the American moves to create a missile defense system in Europe and is responding tit-for-tat and even figure-for-figure.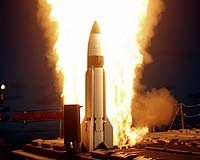 ©Unknown
disclaimer: image is for illustration purposes only
Comment on this SOTT Focus
---

In Serbia, reports of widespread abuse in mental institutions

Dan Bilefsky
The Boston Globe
2007-11-14 14:53:00

A 21-year-old man with Down syndrome tied to a metal crib for 11 years. Children, naked from the waist down, left to eat and defecate in their beds. A 7-year-old girl with fluid in her brain left untreated "because she will die anyway."

These are some of alleged abuses in Serbian state mental institutions and orphanages described in a report to be released today by Mental Disability Rights International, a group based in Washington, D.C., that spent four years investigating the conditions and the treatment of some of the nearly 17,200 children and adults with disabilities in institutions in Serbia.

Comment on this SOTT Focus

---

Sect members dig tunnel, await apocalypse in Central Russia


RIA Novosti
2007-11-14 14:33:00

Cult followers in central Russia's Penza Region have dug a shelter, stocked it with food and are waiting for the apocalypse, which they say is due in May 2008, a local prosecutor said on Tuesday.

A total of 29 sect members, including four children, of the so-called True Russian Orthodox church have moved into the shelter, which contains underground wells, a kitchen, monastic cells and other facilities. They wrote a letter to local authorities saying they had gone underground of their own free will.

"The inhabitants of the underground shelter have threatened to set themselves on fire if forced out," Alevtina Volchkova said, adding that a criminal investigation has been launched against the sect leader, who calls himself Father Pyotr.

He is likely to undergo a psychiatric examination and will face up to three years in prison if found guilty of infringement of his followers' rights. The prosecutor also said all the cult members are from other Russian regions or former Soviet countries, and some have breached Russian laws.

Comment on this SOTT Focus

---

Chinese Foreign Minister declares support for Iran in Tehran

Tehran Times Political Desk
Tehran Times
2007-11-14 11:47:00

TEHRAN -- The expansion of comprehensive cooperation between Iran and China is in the two countries' national interests and will help reinforce peace and stability in the region and the world, President Mahmud Ahmadinejad said here on Tuesday.


Comment on this SOTT Focus

---

Airline websites 'are misleading'


BBC News
2007-11-13 06:30:00

At least 200 European airline websites are misleading the consumer, a study by the European Commission has found. Websites are failing to show taxes and charges, and refusing to advertise the lowest fare prominently, according to the report.

Comment on this SOTT Focus

---

Danish PM wins re-election with slim majority


Agence France-Presse
2007-11-14 00:36:00

COPENHAGEN - Danish Prime Minister Anders Fogh Rasmussen's centre-right bloc won Tuesday's election with the slimmest possible majority and will now seek to form a broader but possibly shakier alliance.

"We have received a mandate to continue our work ... I want to seek a broad majority in parliament and I will invite all the parties who supported the government in for talks on a joint program," Rasmussen told supporters after declaring victory.

Rasmussen's Liberal-Conservative minority coalition has governed with the support of the far-right anti-immigrant Danish People's Party (DPP) since 2001.


Comment on this SOTT Focus

---

U.S. missile shield in Europe aimed against Russia - army chief


RIA Novosti
2007-11-13 22:16:00


©n/a



Missile defense elements the United States plans to deploy in Central Europe are undoubtedly directed against Russia, the country's top military commander said on Tuesday.

Comment on this SOTT Focus

---
Around the World
---
Philippine: Army denies brainwashing Oakwood soldiers


Balita
2007-11-14 14:42:00

Army denies brainwashing soldiers involved in last year's failed power grab

The Philippine Army on Monday said it has not authorized Oakwood mutiny officers to "brainwash" the nine soldiers undergoing investigation in connection with last year's failed plot to overthrow the Arroyo government.

Army spokesman Lt. Col. Ernesto Torres said the Army did not give Capt. Milo Maestrecampo and 1Lt. Lawrence San Juan the explicit instruction to talk to the soldiers and convince them into turning as witness against their superior officers.

Maestrecampo and San Juan were among the more than 300 officers and soldiers who staged the short-lived Oakwood mutiny in July 2003 which the Magdalo Group claimed was meant to dramatize their protest against corruption in government.

The soldiers' counsel, Vicente Verdadero, has said the two officers were reportedly sent by the Army's Intelligence Security Group after they were brought to Fort Bonifacio last week from their original detention cell in Camp Capinpin in Tanay, Rizal.

The nine are part of the 14 remaining soldiers who are under detention for their participation in the attempt to withdraw support from President Arroyo.

The plot was allegedly headed by former Scout Ranger commander Brig. Gen. Danilo Lim and former Marine commandant Maj. Gen. Renato Miranda.

Comment on this SOTT Focus

---

Death toll in Philippine Congress bombing rises to three


RIA Novosti
2007-11-14 14:31:00

A congressional aide has died in hospital following a bomb attack on the Philippine House of Representatives, bringing the death toll in the explosion to three.

Tuesday's attack on the south wing of the Congress building, located north of the capital, Manila, also killed Muslim Congressman Wahab Akbar and his driver.

10 other people were injured in the bombing.

Comment on this SOTT Focus

---

Anti-French riot erupts in Chad


BBC News
2007-11-14 06:37:00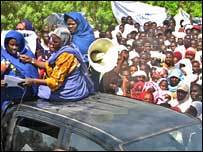 ©Agence France-Presse



Several thousand students have held violent anti-French protests in Chad. Police dispersed demonstrators with tear gas in the capital, N'Djamena, after cars belonging to white foreigners and diplomats were attacked.

Comment on this SOTT Focus

---

India stands by Myanmar status quo

Bertil Lintner
Asia Times
2007-11-13 21:15:00

CHIANG MAI - Myanmar's principal foreign ally China has shown in the wake of the military junta's recent armed crackdown on pro-democracy demonstrators that Beijing is more interested in maintaining stability than pushing for democratic regime change. So then could India, Myanmar's other key regional ally, be persuaded to use its influence to facilitate political change?


Comment on this SOTT Focus

---

Afghanistan rich with mineral resources


CTV.ca
2007-11-13 20:47:00

Afghanistan has significant amounts of undiscovered non-fuel mineral resources that could present a great source of wealth for the country, says the U.S. Geological Survey.

A 2007 preliminary assessment by the USGS, unveiled today at a U.S.-Afghan Business Matchmaking Conference in Washington, shows estimates for copper and iron ore resources have the most potential for extraction in Afghanistan.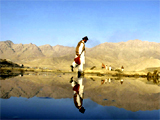 ©AP / Rafiq Maqbool
An Afghan man crosses a road full of water on his way to home in the outskirts of Kabul, Afghanistan.



Scientists also found indications of abundant deposits of colored stones and gemstones, including emerald, ruby, sapphire, garnet, lapis, kunzite, spinel, tourmaline and peridot.

Gold, mercury, sulfur, chromite, talc-magnesite, potash, graphite and sand and gravel were also listed as examples of mineral resources available for extraction.

Comment on this SOTT Focus

---
Big Brother
---
NY, US: If Politician Has Way, You'll Pay Big For Feeding Birds


CBS
2007-11-12 22:24:00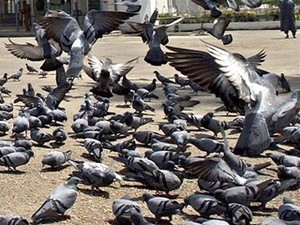 ©Associated Press
A NYC lawmaker wants to ban feeding pigeons.



Too many pigeons in New York City. One solution, slap the hand that feeds them with a $1,000 fine.

As CBS 2 HD has learned, it's all part of a plan that also creates one strange new city position. Don't feed the pigeons ... or else. A new pigeon plan is in the works that includes the creation of -- get this -- a pigeon czar.

Comment on this SOTT Focus

---

Only In Japan? New vending machine can identify minors


The Yomiuri Shimbun
2007-11-13 22:13:00

A cigarette vending machine that can tell adults from minors by determining their approximate ages based on bone structure, wrinkles and the way their skin sags went on sale Monday.

Comment on this SOTT Focus

---
Axis of Evil
---
F.B.I. Says Blackwater Guards Killed 14 Iraqis Without Cause

David Johnston and John M. Broder
The New York Times
2007-11-14 13:33:00

Federal agents investigating the Sept. 16 episode in which Blackwater security personnel shot and killed 17 Iraqi civilians have found that at least 14 of the shootings were unjustified and violated deadly-force rules in effect for security contractors in Iraq, according to civilian and military officials briefed on the case.

Comment on this SOTT Focus

---

War Whore Rice: Israelis and Palestinians should be prepared for painful concessions during upcoming negotiations


Associated Press
2007-11-14 13:03:00

US Secretary of State Condoleezza Rice said Tuesday that Israelis must be prepared for "difficult and painful sacrifices to some of their longest-held aspirations" during upcoming talks with Palestinian leaders.

Comment on this SOTT Focus

---

Crisis in the U.S.: "Plan B"?

Richard C. Cook
Global Research
2007-11-14 12:23:00

Strange events are taking place in the U.S.

By August 2007, a lot of very smart people were reading the tea leaves, convinced that the upper echelons of the U.S. government had their own hidden reasons for forecasting an event even more heinous than the attacks of September 11, 2001.

President George W. Bush, Vice President Richard Cheney, and Secretary of the Department of Homeland Security Michael Chertoff had been hinting that another 9/11 could be coming.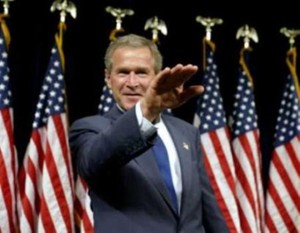 ©Unknown
Comment on this SOTT Focus
---

In Iraq, the silence of the lambs

Ali al-Fadhily
Asia Times
2007-11-13 21:12:00

BAGHDAD - The separation of religious groups in the face of sectarian violence has brought some semblance of relative calm to Baghdad. But many Iraqis see this as the uncertain consequence of a divide and rule policy.

Claims are being made that sectarian violence in Iraq has fallen because that the US military "surge" has succeeded in reducing attacks against civilians. But Baghdad residents say that they now live in a largely divided city that has brought an uneasy calm.


Comment on this SOTT Focus

---
Middle East Madness
---
US Military Weaknesses: Top Pentagon Brass reluctant to wage war on Iran

Michel Chossudovsky
Global Research
2007-11-14 16:02:00

While US attack plans against Iran are in an advanced state of readiness, there are growing divisions between the military and the White House regarding these attacks.




"U.S. defense officials have signaled that up-to-date attack plans are available if needed in the escalating crisis over Iran's nuclear aims, although no strike appears imminent .... Among the possible targets, in addition to nuclear installations like the centrifuge plant at Natanz [are] Iran's ballistic missile sites, Republican Guard bases, and naval warfare assets that Tehran could use in a retaliatory closure of the Straits of Hormuz, a vital artery for the flow of Gulf oil." (AP, November 8, 2007)


Comment on this SOTT Focus
---

Three U.S. soldiers killed in Iraq: military


Reuters
2007-11-14 06:05:00

BAGHDAD - Three U.S. soldiers were killed in two separate incidents in northern Iraq, the U.S. military said on Wednesday, the latest casualties in what has been the deadliest year of the war for U.S. forces.

Two soldiers died and four were wounded when they were hit by a roadside bomb in restive Diyala province northeast of Baghdad on Tuesday, the military said in a statement.

Another soldier was shot and killed near the volatile city of Mosul, 390 km (240 miles) north of Baghdad.


Comment on this SOTT Focus

---

Iran hands IAEA nuclear blueprints

George Jahn
Associated Press
2007-11-14 05:50:00

VIENNA, Austria - Iran has met a key demand of the U.N. nuclear agency, handing over long-sought blueprints showing how to mold uranium metal into the shape of warheads, diplomats said Tuesday.

Iran's decision to release the documents, which were seen by U.N. inspectors two years ago, was seen as a concession designed to head off the threat of new U.N. sanctions.

But the diplomats said Tehran has failed to meet other requests made by the International Atomic Energy Agency in its attempts to end nearly two decades of nuclear secrecy on the part of Iran.

Comment on this SOTT Focus

---
The Loan Gunmen
---
Florida Holds $2.2 Billion of Debt Cut to Junk Status

William Selway and David Evans
Bloomberg
2007-11-14 16:41:00

The Florida agency that manages about $50 billion of short-term investments for the state, school districts and local governments holds $2.2 billion of debt that was cut below investment grade.


Comment on this SOTT Focus

---

Copper Futures Jump after 7.7 Earthquake in Chile

Pav Jordan
Reuters
2007-11-14 13:44:00

A powerful 7.7 quake hit mineral-rich northern Chile on Wednesday, injuring some people and damaging buildings in and around Antofagasta, a coastal city that is the country's mining capital, the government and media reports said.

Tocopilla, a city 75 miles north of Antofagasta, was the hardest hit by the quake and Chile's Interior Ministry said it had preliminary reports of minor injuries.

©Reuters/Graphics
A powerful 7.7 quake hit northern Chile on Wednesday, the U.S. Geological Survey reported.
Comment on this SOTT Focus
---

Carnage on Wall Street as loans go bad

Steve Schifferes
BBC
2007-11-14 12:50:00

The scale of the losses that will hit Wall Street banks could approach half a trillion dollars as large numbers of sub-prime home loans go bad.

Comment on this SOTT Focus

---

Wealth fails to trickle down to the lower, working classes

John Buell
Bangor Daily News
2007-11-13 04:55:00

Forbes is up to its old tricks. Once again it celebrates the wealthiest among us with its annual Forbes 400. The minimum entry fee for this exclusive club is a net worth of $1.3 billion. Once upon a time, during the hardly socialist era of Reagan's America, a mere few hundred million would suffice. Any time a leftwing columnist worries about escalating wealth, he or she is accused either of envy or of failing to recognize the benefits everyone derives from the accomplishments of the wealthy elite. There are, however, sound reasons to worry about the causes and consequences of gaping wealth disparities.

Comment on this SOTT Focus

---

All We Want for Christmas is a Good Economy

Marie Cocco
AlterNet
2007-11-14 00:18:00

Sometime before the average price of gas topped the $3-a-gallon mark, just as Wall Street was getting jumpy about its year-end bonuses -- the cache is expected to dip by 10 percent this year, down from last year's record haul of $23.9 billion -- an inevitable moment arrived. The economy beat Iraq as the issue of most concern to Americans, according to a Newsweek poll.

It's hard to fret over whether Manhattan financiers will be buying summer estates in the Hamptons next year, or merely renovating that waterfront cottage with so much potential. Still and all, in an economy where for years the greatest rewards have trickled up, it gives me the jitters to think that the rich might suddenly become more like the rest of us: suffering the fallout from the too-often-ignored scandals and the utter neglect of nagging problems that are distinguishing characteristics of American economic policy.

Comment on this SOTT Focus

---

UK: Fastest rise in food prices for 14 years

Harry Wallop
Telegraph.co.uk
2007-11-13 22:07:00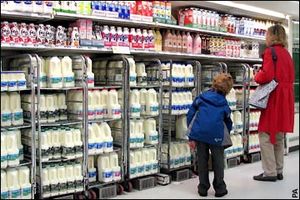 ©PA
After a decade of low prices in supermarkets, vegetables, milk, bread and meat are all expected to show substantial rises



Food prices are increasing at their highest rate for more than a decade, official figures showed yesterday.

Increased wheat, dairy, meat and vegetable prices mean food factories are having to pay six per cent more for their raw ingredients than a year ago - the highest annual rate since 1993, said the Office of National Statistics (ONS).

Comment on this SOTT Focus

---

Indian banks torture delinquent borrowers

Raja M
Asia Times
2007-11-13 21:52:00

MUMBAI - "They ripped my shirt, shaved my moustache, cut my hair and gave electric shocks on my chest and even spat on my face." CLN Murthy, a scientist with the Hyderabad-based Indian Institute of Chemical Technology, described how debt recovery agents tortured him after he defaulted on a US$25,000 loan from ICICI, India's second-largest bank, with $79 billion in assets.


Comment on this SOTT Focus

---
The Living Planet
---
U.S. Navy Ordered to Lessen Sonar's Harm


Associated Press
2007-11-13 22:29:00

San Francisco - A federal appeals court on Tuesday ordered the U.S. Navy to lessen the harm its high-power sonar does to whales and other marine life during exercises off the Southern California coast.


Comment on this SOTT Focus

---

Polar bears in danger? Is this some kind of joke?

James Delingpole
The Times
2007-11-12 17:31:00

Why don't polar bears eat penguins? Because their paws are too big to get the wrappers off, obviously. It's not a joke you hear so often these days, though, because polar bears are now a serious business. They're the standard-bearers of a tear-jerking propaganda campaign to persuade us all that, if we don't act soon on climate change, the only thing that will remain of our snowy-furred ursine chums will be the picture on a pack of Fox's glacier mints.

Comment on this SOTT Focus

---

7.7 Magnitude Earthquake Rattles Chile


CNN
2007-11-14 13:33:00

A major earthquake hit northern Chile on Wednesday, and local television showed cars crushed under a section of collapsed building and terrified, confused residents in the streets.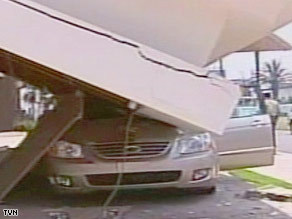 ©TVN Chile
A car lies crushed under part of a building Wednesday in Antofagasta.



Ricardo Lagos Weber, minister of government affairs, who spoke from Santiago an hour after the quake hit, said there were no immediate reports of injuries. But he said information from isolated areas in the far north had yet to come in.

Comment on this SOTT Focus

---

As China's mega dam rises, so do strains and fear

Chris Buckley
Reuters
2007-11-14 01:20:00

The slopes of Chenjialing Village have shuddered and groaned lately, cracking and warping homes and fields, and making residents fear the banks of China's swelling Three Gorges Dam may hold deadly perils.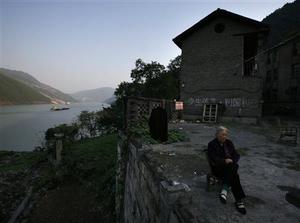 ©REUTERS/David Gray
A boat sails past on the Yangtze River as an old lady sits in the courtyard of her apartment block in the area known as Old Badong county in the Hubei Province near the town of Badong in central China, Nov. 5, 2007.
Comment on this SOTT Focus
---

Strange Space Weather over Africa

Dr. Tony Phillips
Science at NASA
2007-11-14 00:13:00

Something strange is happening in the atmosphere above Africa and researchers have converged on Addis Ababa, Ethiopia, to discuss the phenomenon. The Africa Space Weather Workshop kicked off Nov. 12th with nearly 100 scientists and students in attendance.


Comment on this SOTT Focus

---

Cyclone Sidr: It Gets Worse

Chris Mooney
thedailygreen
2007-11-13 22:16:00

Cyclone Sidr, currently in the Bay of Bengal and headed towards India or Bangladesh, recently became the 15th Category 4 or 5 storm of 2007, with sustained winds estimated at 115 knots or more than 130 miles per hour. Now, it's all a matter of where and when.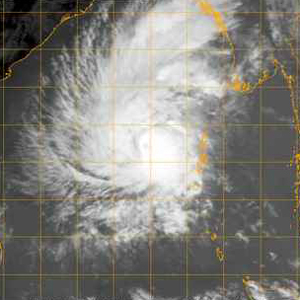 ©Naval Research Laboratory
Comment on this SOTT Focus
---

Seismic activity rock Sulu area in West New Britain

Elizabeth Vuvu
thenational.com
2007-11-13 21:09:00

There has been increased seismic activity, confirmed as volcanic tremors, in the Sulu area in West New Britain province but authorities said there were no threats that Mt Pago volcano might erupt soon.

The provincial disaster office said the resurgence of the seismic activity was felt at 10pm last Monday night in the Sulu/Silanga area. Acting disaster director Peter Morlin said the Rabaul Volcano Observatory had already been informed and disaster officers in Kimbe were observing the activities.

He said earth tremor data coming from Mt Pago stations were indicating a build-up of seismic activity again.


Comment on this SOTT Focus

---

NASA Sees Arctic Ocean Circulation Do an About-Face


physorg.com
2007-11-13 20:35:00

A team of NASA and university scientists has detected an ongoing reversal in Arctic Ocean circulation triggered by atmospheric circulation changes that vary on decade-long time scales. The results suggest not all the large changes seen in Arctic climate in recent years are a result of long-term trends associated with global warming.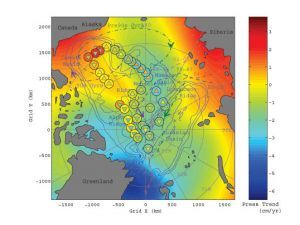 ©NASA
This shows contours of the trend in ocean bottom pressure from 2002 to 2006 as measured by GRACE along with hypothetical trends that would apply at the circles if ocean salinity reverted from 1990s values to climatological conditions over the same period.




The team, led by James Morison of the University of Washington's Polar Science Center Applied Physics Laboratory, Seattle, used data from an Earth-observing satellite and from deep-sea pressure gauges to monitor Arctic Ocean circulation from 2002 to 2006. They measured changes in the weight of columns of Arctic Ocean water, from the surface to the ocean bottom. That weight is influenced by factors such as the height of the ocean's surface, and its salinity. A saltier ocean is heavier and circulates differently than one with less salt.

Comment on this SOTT Focus

---
Health & Wellness
---
Shocking! Tree man 'who grew roots' may be cured

Matthew Moore
The Telegraph
2007-11-14 14:03:00

An Indonesian fisherman who feared that he would be killed by tree-like growths covering his body has been given hope of recovery by an American doctor - and Vitamin A.

Dede, now 35, baffled medical experts when warty "roots" began growing out of his arms and feet after he cut his knee in a teenage accident.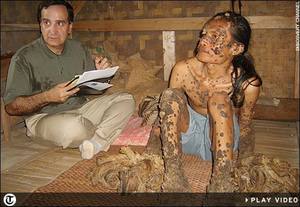 ©Discovery Channel
Watch: Dr Anthony Gaspari believes that he has diagnosed Dede's rare condition
Comment on this SOTT Focus
---

Flashback: Out of Order

Usha Sutliff
USC News
2004-02-17 08:44:00

Abnormality in two key brain structures may provide a developmental basis for psychopathology, says a USC neuroscientist. Faulty wiring in key connections may be a culprit.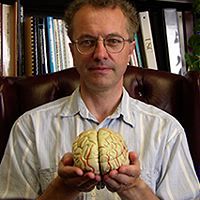 ©Usha Sutliff
USC researcher Adrian Raine: "There's faulty wiring going on in psychopaths. They're wired differently than other people, It's literally true in this case."
Comment on this SOTT Focus
---

Flashback: Brain Scans Show Abnormalities In Psychopaths

Randall Parker
FuturePundit
2004-03-16 08:26:00

A USC professor used MRI brain scans, a battery of cognitive function tests, and criminal histories to compare normal people with psychopaths and also to compare psychopaths who manage to avoid getting caught with psychopaths who get arrested for committing crimes.

Comment on this SOTT Focus

---

Outbreak of lethal bird flu confirmed in Britain


Agence France-Presse
2007-11-14 06:09:00

Veterinary authorities confirmed an outbreak of the potentially lethal Asian strain of bird flu in eastern England on Tuesday, in a new blow to the British farming industry.

More than 6,000 poultry were ordered to be slaughtered at the site in Suffolk, where an exclusion zone was imposed on Monday after a suspected outbreak was found.

"I can now confirm that the strain of avian influenza found in the infected premises is the highly pathogenic avian influenza H5N1 strain," said deputy chief veterinary officer Fred Landeg.


Comment on this SOTT Focus

---

U.S. sets record in sexual disease cases

Mike Stobbe
Associated Press
2007-11-14 06:00:00

More than 1 million cases of chlamydia were reported in the United States last year - the most ever reported for a sexually transmitted disease, federal health officials said Tuesday.

Officials at the Centers for Disease Control and Prevention said they think better and more intensive screening accounts for much of the increase, but added that chlamydia was not the only sexually transmitted disease on the rise.

Gonorrhea rates are jumping again after hitting a record low, and an increasing number of cases are caused by a "superbug" version resistant to common antibiotics.


Comment on this SOTT Focus

---

Food industry defends carbon monoxide use in meat

Christopher Doering
Reuters
2007-11-14 02:04:00

Two of the biggest U.S. meat processors on Tuesday defended a packaging technique designed to keep meat looking fresh at grocery stores even as U.S. lawmakers criticized it as unsafe and misleading.

Packers use carbon monoxide to stabilize the color of meat, but some Democrats said the process misleads consumers by making the products look safer than they really are, and puts the public at risk of eating spoiled meat.

Comment on this SOTT Focus

---

Mouse Studies Confirm the Key to Longevity

Dr. Mercola
Mercola.com
2007-11-14 00:00:00

Mice lacking the insulin receptor substrate are more resistant to aging than normal mice, according to University College London researchers.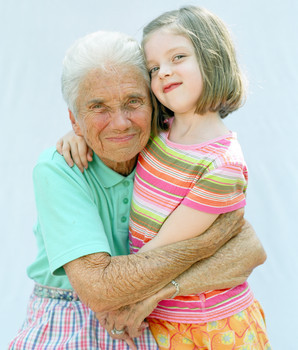 ©n/a



The finding further confirms the link between insulin signaling pathways and aging, and may have implications on aging in humans.

In the study, mice were engineered to lack either insulin receptor substrate IRS-1 or IRS-2, both proteins that are activated by the hormone insulin, which regulates glucose and fat metabolism. Compared with normal mice, the mice lacking IRS-1 had:

* A 20 percent increase in their average lifespan (30 percent for female mice)

* Better health as they aged

In contrast, mice lacking IRS-2 had shorter lives than normal mice, and developed signs of obesity and type 2 diabetes.
Sources:

* The FASEB Journal October 10, 2007

* UPI.com October 23, 2007

Comment on this SOTT Focus

---

Lyme disease IS all in your head

Leslie Buterin
The Lyme Lady
2007-11-13 21:02:00

The symptoms of Lyme disease are not easy to classify. Trying to find a doctor who believes your symptoms are not psychological can be frustrating.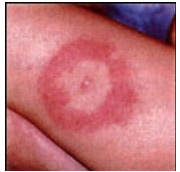 ©NYC Department of Health
Bull's-eye circular skin rash (erythema migrans) appears at the bite site after three days to a month. As the patch expands, the center of the rash may clear, resulting in a bull's-eye appearance. Although the majority of people with Lyme disease dovelop the rash, 20 to 40 percent do not. (CDC)
Comment on this SOTT Focus
---

NASA technology helps predict and prevent future pandemic outbreaks

Jennifer Bender
eurekalert.org
2007-11-13 20:07:00



Research presented at the American Society of Tropical Medicine and Hygiene Meeting in Philadelphia



With the help of 14 satellites currently in orbit and the National Aeronautics and Space Administration's (NASA) Applied Sciences Program, scientists have been able to observe the Earth's environment to help predict and prevent infectious disease outbreaks around the world.

The use of remote sensing technology aids specialists in predicting the outbreak of some of the most common and deadly infectious diseases today such as Ebola, West Nile virus and Rift Valley Fever. The ability of infectious diseases to thrive depends on changes in the Earth's environment such as the climate, precipitation and vegetation of an area.

Comment on this SOTT Focus

---
Science & Technology
---
New hydrogen storage material found


United Press International
2007-11-14 17:05:00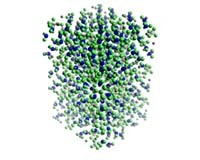 ©Unknown
disclaimer: image is for illustration purposes only



University of Virginia scientists said they discovered a new class of hydrogen storage materials that could make storing and transporting energy more efficient.

Comment on this SOTT Focus

---

Clean, Carbon-Neutral Hydrogen On The Horizon


Energy Daily
2007-11-14 16:51:00

Hydrogen as an everyday, environmentally friendly fuel source may be closer than we think, according to Penn State researchers. "The energy focus is currently on ethanol as a fuel, but economical ethanol from cellulose is 10 years down the road," says Bruce E. Logan, the Kappe professor of environmental engineering. "First you need to break cellulose down to sugars and then bacteria can convert them to ethanol."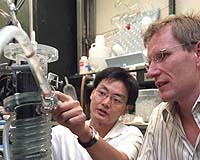 ©Unknown
Hydrogen produced from cellulose and other renewable organic materials could be blended with natural gas for use in natural gas vehicles.
Comment on this SOTT Focus
---

Alternative fuels may boost pollution


Agence France-Presse
2007-11-14 16:45:00

Some alternative vehicle fuels such as liquid coal can cause more harmful greenhouse gas emissions than polluters such as petrol or diesel, scientists warned in a US study released Tuesday.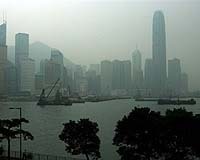 ©Unknown
Comment on this SOTT Focus
---

Experts find jawbone of pre-human great ape in Kenya

Katie Nguyen
Reuters
2007-11-14 01:57:00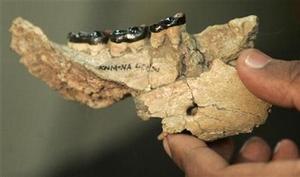 ©REUTERS/Antony Njuguna
A Kenyan scientist holds a fossil at the Kenya National Museum in Nairobi November 13, 2007.



Researchers unveiled a 10-million-year-old jaw bone on Tuesday they believe belonged to a new species of great ape that could be the last common ancestor of gorillas, chimpanzees and humans.

Comment on this SOTT Focus

---

Unknown health impact of nanotech worries some

Amanda Beck
Reuters
2007-11-14 01:47:00

Nanotechnology has been hailed as the science of the future, with micro-particles already powering innovations that remove lines from faces, strengthen beer bottles and clean clothing without water.

Yet early studies also indicate some of these particles, enabled by the latest in engineering science, can cause cancer.

Comment on this SOTT Focus

---

Comets: The Loose Thread


thunderbolts.info
2007-11-13 22:44:00

Spacecraft have now visited four comets. What they found contradicts what was expected and falsifies accepted comet theory. But that theory is woven with every other astronomical theory into a cosmology that defines the universe as we know it. The fall of comet theory will inevitably bring us a new and different universe.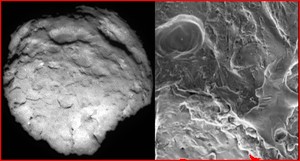 ©NASA/JPL/Malin Space Science Systems
Comet Wild 2 is shown in close-up above. Beside it is a microscopic view of an EDM (electrical discharge machined) surface. Note the flat-floored depressions with steep scalloped walls and terracing. The small white spots on the comet can then be reasonably identified as the active cathode arcs that produce the cometary jets.
Comment on this SOTT Focus
---

The biofuel scam - and it's a 'beaut'

Charles Cooper
CNet News.com Blog
2007-11-13 22:19:00

When it comes to navigating a way out of the nation's energy crisis, you have to wonder whether the fix is already in.

Comment on this SOTT Focus

---
Our Haunted Planet
---
UFO spotted over Sunderland, UK

Sue Watson
Sunderland Echo
2007-11-14 13:40:00

Did space invaders come to Sunderland?

Mum-of-four, Neala Fenton, was pacing the floor in the early hours rocking her baby son back to sleep when she looked out the window and spotted a strange light overhead in the night sky.


Video - Click HERE to view the UFO footage shot in Sunderland


Comment on this SOTT Focus

---

Whether a cloud, a ghost, an angel or a hoax, it's Blue for sure!


Local6.com
2007-11-12 07:26:00





A strange blue cloud seen floating and darting around customers, freezing for 30 minutes and then speeding from an Ohio gas station, remains unexplained even though it was caught on security cams.

Comment on this SOTT Focus

---

Was it a UFO? Two witnesses believe it was

Elizabeth Cook
Star News
2007-11-13 02:35:00

An Elk River resident and his girlfriend claimed to see an unidentified flying object in the area recently.

On Nov. 2 at 2:37 a.m., the couple called police reporting seeing a UFO in the eastern sky from the 11000 block of 200th Avenue NW.

Comment on this SOTT Focus

---

UFOs are no joke, pilot's group says


Agence France-Presse
2007-11-13 18:16:00

UFOs may be fodder for comedians but there was no joking Monday when a group of former pilots recounted seeing strange phenomena in the sky and demanded the US government reopen an investigation into unidentified flying objects.

Several pilots offered dramatic accounts of witnessing UFOs -- including a transparent flying disc and a triangular craft with mysterious markings -- as they insisted their questions needed to be taken seriously more than 30 years after the US file was closed.

Comment on this SOTT Focus

---
Don't Panic! Lighten Up!
---
Bush tops list of 'coldest' celebs in website film list


Agence France-Presse
2007-11-14 17:04:00

President George W. Bush rarely comes out a winner in movie industry awards -- and being named "Coldest Person in Hollywood 2007" is not much of an accolade.

Independent movie website Film Threat on Wednesday named the US leader top of its annual "Frigid 50" list, an irreverent look at the individuals who are "cold" as opposed to "hot" properties.

Comment on this SOTT Focus

---

Flashback: Ahoy, mateys ! Thar be Jewish pirates!

Adam Wills
Jewish Journal
2007-09-19 16:08:00

There's no arrr-guing that pirates are in.

As of last weekend, Disney had plundered $1 billion worldwide with "Pirates of the Caribbean: Dead Man's Chest," and International Talk Like a Pirate Day -- that's Sept. 19, for you landlubbers -- has gone from an inside joke between two friends to a mock holiday celebrated in more than 40 countries.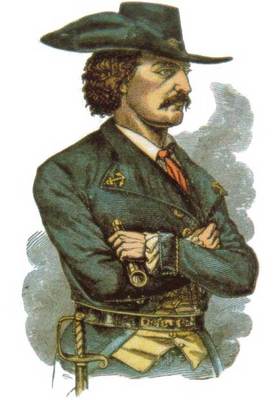 ©Jewish Journal
Sephardic Jewish pirate Jean Lafitte
Comment on this SOTT Focus
---

Halloween Fallout: 'Fairy tale' ruined by Facebook


ninemsn.com.au
2007-11-13 19:43:00

A US man who lied to his boss about a family emergency has been caught out after a photograph of him dressed as a fairy in a tutu at a Halloween party appeared online.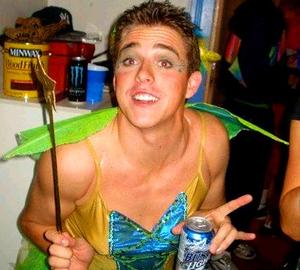 ©n/a
Kevin Colvin had a little bit of explaining to do when his pictures appeared on Facebook.
Comment on this SOTT Focus
---
---

Remember, we need your help to collect information on what is going on in your part of the world!
Send your article suggestions to: sott(at)signs-of-the-times.org

---
Click here to return to the Signs of the Times Archive
Click here for today's Signs Page