---
Sections on today's Signs Page:
---
SOTT Focus
---
John F. Kennedy and the Psychopathology of Politics

Laura Knight-Jadczyk
sott.net
2006-11-15 12:00:00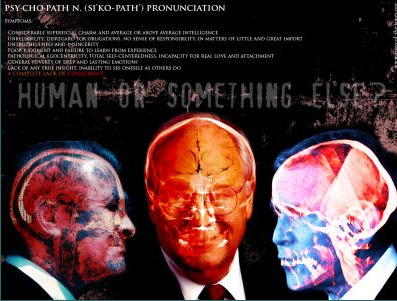 Today I want to continue with the subject of John Kennedy; there's only one week left before the anniversary of his death, so I'm going to have to really put the pedal to the metal to get to the end of the subject on time. As it happens, now that the subject weighs so heavily on my mind, I find that there are things that constantly remind me of what America lost, the terrible state of the world today as a consequence of that loss, and the ultimate reasons behind it all.

Comment on this SOTT Focus

---
Best of the Web
---
Our Man in Islamabad

Stephen Lendman
S J Lendman Blog
2007-11-13 14:29:00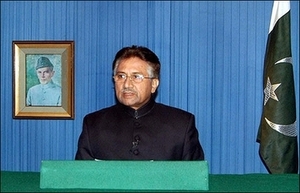 ©Press Information Department
Pakistani President Perevez Musharraf addresses the nation.



The Islamic Republic of Pakistan was established in August,1947 when its majority Muslim population separated from British-controlled India and became a sovereign state. Since then, the country has been plagued by wars, political instability, and a series of military coups as it continues stumbling unsuccessfully toward democracy.

Comment on this SOTT Focus

---

Venezuela: Between ballots and bullets

James Petras
James Petras Website
2007-11-13 14:22:00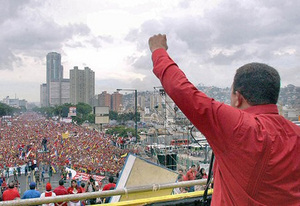 ©Unknown
Chavez enjoys massive support from Venezuelans



Venezuela's democratically elected Present Chavez faces the most serious threat since the April 11, 2002 military coup. Violent street demonstrations by privileged middle and upper middle class university students have led to major street battles in and around the center of Caracas.

Comment on this SOTT Focus

---
U.S. News
---
Absurdity: Florida man jailed for jaywalking


Associated Press
2007-11-13 10:25:00

A man was in jail Saturday after refusing to sign a $15 jaywalking ticket two days earlier.

Comment on this SOTT Focus

---

Anti-War Voters Lash Out at Democrats They Helped Put in Office

Nicholas Johnston
Bloomberg
2007-11-13 08:24:00

When the Democratic Party called up recently to ask Myrna Burgess for a campaign contribution, she answered with an emphatic ''no.''

''Nothing has been done as far as the war is concerned,'' said Burgess, 72, an Amtrak worker from Levittown, Pennsylvania.


Comment on this SOTT Focus

---

Democrats in 2007: Majorities in Congress, Still Caving to Bush

Robert Parry
AlterNet
2007-11-13 01:18:00

One year ago, the Democrats ended Republican control of Congress, stirring millions of Americans to hope that George W. Bush's Iraq War and his assault on the U.S. Constitution finally would be stopped.

Twelve months later, many of those once-hopeful voters feel bitter disillusionment toward the national Democratic Party, which has surrendered in showdown after showdown with the weakened President, from continuing to write blank checks for the Iraq War to ceding more power to him for his surveillance operations.

Comment on this SOTT Focus

---

Veterans' Suicides: a Hidden Cost of Bush's Wars

Penny Coleman
AlterNet
2007-11-13 01:01:00

On November 6, the Joshua Omvig Suicide Prevention Bill became law. The bill was named for a 22-year-old Iowa reservist who took his own life eleven months after coming home from Iraq. Though Josh is one of hundreds of combat veteran suicides since the wars began in 2001, it is his name that has become symbolic of the campaign to get the military to take the mental health of America's vets seriously.

Comment on this SOTT Focus

---

Ridiculous! Great Grandmother Strip-Searched At N.Y. Casino


CBS
2007-11-13 00:17:00

Woman, 65, Furious Over Treatment At Yonkers Raceway

A great-grandmother from Mount Vernon is filing suit for allegedly being strip searched at the Yonkers Raceway casino. As CBS 2 HD has learned, the angry woman says it was over a winner's slip that was missing.

Myrna Jones is appalled at the way she was treated.

"I felt just humiliated, embarrassed," Jones said.

The 65-year-old said it was 13 months ago Monday when she was with friends at the Empire City Casino at Yonkers Raceway. She was playing video slot machines.

Comment on this SOTT Focus

---

Boston: 18 arrested in antiwar protest by veterans

Tania deLuzuriaga and Charles M. Sennott
The Boston Globe
2007-11-12 22:08:00


More than a dozen members of an antiwar veterans group were arrested yesterday as they protested the exclusion of their message from Boston's Veterans Day parade.


Comment on this SOTT Focus

---

2 Mich. Teens Charged in Dismemberment

Corey Williams
Associated Press
2007-11-12 21:37:00

DETROIT - Two thrill-seeking teenagers stabbed an adult acquaintance, took a blowtorch to his corpse and threw his severed head into a river, prosecutors said Monday as they charged the pair.


Comment on this SOTT Focus

---

Norman Mailer dead at the age of 84

Bob Minzesheimer
USA Today
2007-11-10 23:42:00

Norman Mailer, one of the last surviving literary lions to roar out of World War II, died Saturday morning.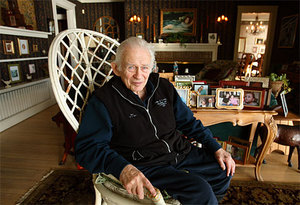 ©USA Today
Norman Mailer sits in front of family photos at his home in Provincetown, Mass. He believed in the supremacy of fiction over fact, but he wrote some of his best work as the "New Journalism" movement emerged in the mid-1960s. He pioneered subjective reporting that read like a novel.
Comment on this SOTT Focus
---

Threatened with a Taser, handcuffed and cited... for cleaning a beach

Paul Liberatore
Marin Independent Journal
2007-11-11 22:14:00

No good deed goes unpunished.

At least that's how Muir Beach resident Sigward Moser felt Friday after he says he was threatened with a Taser gun, forced to the ground and handcuffed by a National Park Service ranger for refusing to stop cleaning up the oily beach beneath his home.


Comment on this SOTT Focus

---

Judge Orders White House to Hold E-Mails

Pete Yost
Associated Press
2007-11-12 17:57:00

A federal judge Monday ordered the White House to preserve copies of all its e-mails, a move that Bush administration lawyers had argued strongly against.

U.S. District Judge Henry Kennedy directed the Executive Office of the President to safeguard the material in response to two lawsuits that seek to determine whether the White House has destroyed e-mails in violation of federal law.

Comment on this SOTT Focus

---
UK & Euro-Asian News
---
French unions strike over reforms


BBC
2007-11-13 15:13:00

France's national rail workers have begun an open-ended strike called in protest at President Nicolas Sarkozy's planned pension reforms.

Rail employees stopped work at 2000 (1900 GMT) in an action expected to affect thousands of commuters.

Utility workers are also set to strike. They may be joined by teachers and civil servants on 20 November.


Comment on this SOTT Focus

---

Military chief says Russia not obliged to protect world from U.S.


RIA Novosti
2007-11-13 11:28:00

Yury Baluyevsky, the chief of Russia's general staff, said in an interview with the Russia Today TV channel on Tuesday that the Russian Armed Forces were under no obligation to protect the world from the U.S.

Answering a question as to whether or not the world could count on Russia to defend it from "insidious American plans," Baluyevsky replied, "Today, there is no need to be afraid of the Russian Armed Forces. However, I do not believe that the Russian military is obliged to defend the world from the evil Americans".

Gen. Yury Baluyevsky is flying to Brussels later today to discuss with NATO chiefs of staff, among other things, Russia's suspension of its Conventional Armed Forces in Europe (CFE) Treaty obligations.

Comment on this SOTT Focus

---

Chinese Foreign Minister in Tehran for political talks


Tehran Times
2007-11-13 11:21:00

TEHRAN - Chinese Foreign Minister Yang Jiechi is to arrive here today to hold political talks with Iranian officials, Foreign Ministry spokesman Mohammad-Ali Hosseini said on Monday.


Comment on this SOTT Focus

---

Japan ready to mediate in Iranian nuclear issue: academic


Tehran Times
2007-11-13 11:17:00

TEHRAN - Naoki Tanaka, the president of the Japanese Center for International Public Policy Studies, said here on Monday that Japan is prepared to mediate between Iran and the United States to help resolve Iran's nuclear standoff with the West.


Comment on this SOTT Focus

---

Greece: Police imposter rapes 9-year-old schoolgirl


eKathimerini
2007-11-13 09:48:00

Police have arrested a 45-year-old man accused of raping a 9-year-old girl in Exarchia, central Athens, last week, authorities said yesterday.

Comment on this SOTT Focus

---

Georgian opposition names united challenger to Saakashvili


Agence France-Presse
2007-11-13 03:03:00

TBILISI - Georgia's opposition Monday named a prominent businessman to challenge President Mikheil Saakashvili in a snap presidential poll, amid growing US pressure for Tbilisi to lift a state of emergency.

Georgia's fractured opposition agreed to unite behind the candidacy of wine entrepreneur and government critic Levan Gachechiladze for the January 5 election, opposition leaders said at a press conference.

Former foreign minister Salome Zurabishvili will run on the ticket as Gachechiladze's candidate for prime minister.

Comment on this SOTT Focus

---

Merkel, Sarkozy say sanctions and trade curbs on Iran possible


Agence France-Presse
2007-11-13 02:49:00

French President Nicolas Sarkozy and German Chancellor Angela Merkel warned Monday more sanctions may be necessary to persuade Iran to suspend nuclear work and opened the possibility of reducing trade ties with Tehran.

"We are on the same wavelength: no nuclear weapons for Iran," Sarkozy told reporters after talks with Merkel.

"Germany and France believe in the usefulness of sanctions."

Merkel said she and Sarkozy had also considered other ways to tighten the screws on Iran if no agreement on sanctions could be struck within the UN Security Council.

Comment on this SOTT Focus

---

Thousands of turkeys slaughtered on farm in Norfolk as bird flu strikes again

David Derbyshire
Daily Mail
2007-11-13 00:43:00

Thousands of turkeys, geese and ducks were being slaughtered last night after bird flu was found at a farm in Norfolk.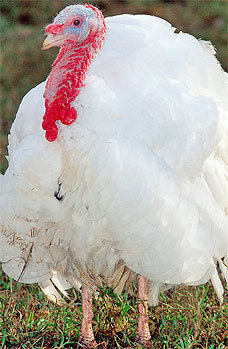 ©Unknown
Victim: The affected farm in Norfolk is home to 5,000 turkeys
Comment on this SOTT Focus
---
Around the World
---
Two Somali radio stations silenced


Al-Jazeera
2007-11-13 11:32:00

Somali government forces have stormed two radio stations in Mogadishu and ordered them off the air, drawing protests from press freedom groups.


Comment on this SOTT Focus

---

Vietnam hunts escaped crocodiles


BBC
2007-11-13 10:51:00

Soldiers and villagers are hunting for hundreds of crocodiles washed away from a farm after floods in central Vietnam.

The reptiles were swept away on Saturday when a flash flood knocked down a fence at a crocodile farm in Khanh Hoa province, officials said.

At least seven of the animals have been shot or recaptured, media reports said, but no-one yet knows how many escaped.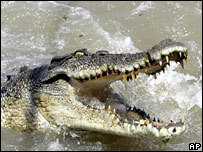 ©Unknown
Thousands of crocodiles were housed at the farm



About 5,000 crocodiles lived on the farm. They are reared in Vietnam for their skin and meat.

Forest rangers, soldiers and militiamen have been searching for the creatures since they were washed away from the farm, apparently into a nearby stream.

Comment on this SOTT Focus

---

7 Polish soldiers detained on suspicion of violating international law in Afghanistan


Associated Press
2007-11-13 10:11:00

Polish military police detained seven soldiers who served in the country's military mission in Afghanistan on suspicion of violating international law, the Defense Ministry said Tuesday.

In a statement released Tuesday, Polish military prosecutors said the seven soldiers were detained on suspicion of "violating international law and norms, especially the Hague and Geneva Conventions" while serving as part of the 1,200-strong Polish division of the NATO-led mission in Afghanistan.

Comment on this SOTT Focus

---

China defends databases on foreign journalists

Lindsay Beck
Reuters
2007-11-13 00:00:00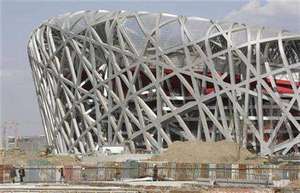 ©Reuters/Reinhard Krause


Chinese Olympic officials defended on Tuesday the collection of information on journalists, saying such databases would be used to help the media at Beijing 2008, not to create blacklists or hinder reporting.



Comment on this SOTT Focus

---

Amnesty urges NATO to end Afghan prisoner transfers amid torture fears


Agence France-Presse
2007-11-13 02:49:00

Human rights watchdog Amnesty International urged NATO-led forces in Afghanistan Tuesday to stop transferring prisoners to the Afghan authorities, saying it feared they could be tortured.

In a new report, Amnesty said the NATO-led International Security Assistance Force (ISAF) could be exposing detainees to abuse, including whipping, beatings, exposure to extreme cold and food deprivation.

It singled out Afghanistan's National Directorate of Security (NDS) as a major offender and said the agency "currently poses a serious threat to those in its custody".

Comment on this SOTT Focus

---

Bhutto Placed Under House Arrest Again

Zarar Khan
Associated Press
2007-11-13 00:25:00

Opposition leader Benazir Bhutto was placed under house arrest for the second time in four days to prevent her staging a march on Tuesday to protest emergency rule, police said. A close aide to the former prime minister said she would try to lead the 185-mile procession anyway.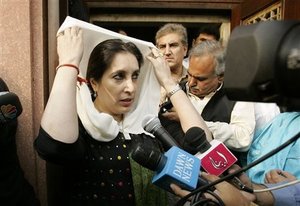 ©AP Photo/Wally Santana
Opposition leader Benazir Bhutto pays her respects at the Allama Iqbar shrine in Lahore, Pakistan, Monday, Nov. 12, 2007.
Comment on this SOTT Focus
---

A rare gem: False rumor squelched and truth told on internet

Richard Aregood
Guardian UK
2007-11-12 21:54:00

Beijing denied a story about an Olympic Bible ban spread by the rightwing media but it was actually a Catholic news service that shut it down.

The story had everything going for it. It was outrageous. It was emotionally laden. It involved suppression of religion by godless communists. The flurry of attention in the comments section of rightwing political and religious websites was instantaneous. The problem was that it wasn't true.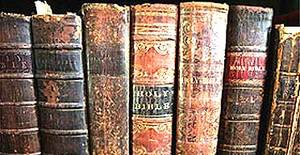 ©Associated Press
China said atheletes are free to bring Bibles for personal use.
Comment on this SOTT Focus
---
Big Brother
---
Surveillance State! New Jersey School Cameras Fed Live To Cops

Jay Dow
CBS
2007-11-12 19:40:00

Surveillance cameras rolling inside our local schools is nothing new, but what's taking place inside Demarest's public schools is truly cutting edge: a live feed from more than two dozen cameras with a direct connection to the police.

It's an expensive, but effective tool that could be a sign of the times with an increase in school shootings over the years.

The system, which cost about $28,000, can even track movement in a crowded room.

Comment on this SOTT Focus

---
Axis of Evil
---
Bush Vetoes Health and Education Bill

Jennifer Loven
Associated Press
2007-11-13 15:04:00

NEW ALBANY, Ind. - President Bush, escalating his budget battle with Congress, on Tuesday vetoed a spending measure for health and education programs prized by congressional Democrats.

Comment on this SOTT Focus

---

Hidden costs 'raise US war price'


BBC
2007-11-13 10:16:00

The US wars in Iraq and Afghanistan are costing nearly double the amount previously thought, according to a report set to be released by Congress.

Democrats say the wars have cost $1.5 trillion - almost twice the requested $804bn (£402bn) - because of "hidden costs", the Washington Post reports.

That figure would amount to $20,000 for an average US family of four, it adds.

And some of the figures cited in the report were labelled speculative by funding experts, the Post says.

Among the indicators contributing to the higher cost of the conflicts are higher oil costs and payments to war veterans.

Comment on this SOTT Focus

---

CIA Plot To Assassinate Chavez Said Uncovered

Alimamy Bakarr Sankoh
VHeadline.com
2007-11-13 07:47:00

CIA agents and foreign secret services in at least three concrete subversive plots to destabilize the Chavez government and obstructing the Referendum

In a press release, issued today, Sunday, November 11, the Hugo Chavez International-Foundation for Peace, Friendship & Solidarity (HCI-FPFS) says it has learnt from credible sources of a plot to assassinate the President of Venezuela, Hugo Chavez.

Comment on this SOTT Focus

---

How the CIA Enlisted the Chicago Mob to Put a Hit on Castro

Bruan Smith
Chicago Magazine
2007-11-13 07:24:00

Ever wonder about the sanity of America's leaders? Take a close look at perhaps the most bizarre plot in U.S. intelligence history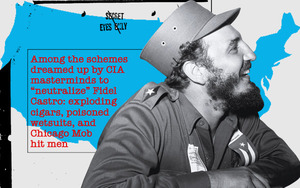 ©Chicago Magazine
Comment on this SOTT Focus
---

Israel bans food but allows entry of thousands of Fatah promotional items into Gaza


The Palestinnian Information Center
2007-11-13 00:30:00

The interior ministry in the caretaker government denounced Fatah movement for transporting tens of of thousands of promotional items through the Karam Abu Salem crossing into the Gaza Strip, while the IOA along with the PA leadership refuse to allow the entry of basic foodstuffs to alleviate the suffering of Gaza inhabitants.

Comment on this SOTT Focus

---
Middle East Madness
---
IAF chief says criticism against force 'unfair'

Hanan Greenberg
Ynet
2007-11-10 08:19:00

IAF chief, Maj.-Gen. Eliezer Shkedi, spoke about the problematic issue of targeting terrorists operating from within the civilian population in crowded Gaza neighborhoods at a conference on terror and democracy at the Shaarei Mishpat Academic College in Hod Hasharon on Thursday.

"I would never give my troops an order to hurt civilians and children. We make every effort to hit the terrorists themselves and not the civilian population," he stated.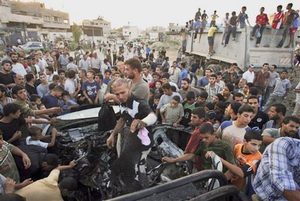 ©AP
Air strike in Gaza
Comment on this SOTT Focus
---

Hamas rounds up Fatah activists after Arafat rally in Gaza

Avi Issacharoff and Amos Harel
Haaretz/The Associated Press
2007-11-13 09:14:00

Hamas has rounded up scores of Fatah activists in the Gaza Strip following a Monday rally that drew more than 200,000 supporters and ended in gunfire that killed seven people, officials said on Tuesday.

Islam Shahwan, spokesman of the Hamas-led Executive Force, said it had detained about 50 Fatah members since the rally.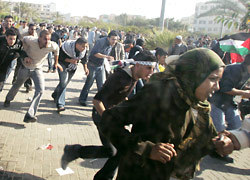 ©n/a
Fatah supporters running for cover during clashes at Monday's major Gaza rally in honor of Yasser Arafat.
Comment on this SOTT Focus
---

Israel is a bottomless pit of inhuman cruelty: 'How can a dying man pose a security threat?'

Roi Mandel
Ynet
2007-11-13 09:16:00

High Court orders State to reexamine its decision not to allow seven gravely ill Palestinians from Gaza entry into Israel or passage to West Bank, Jordan to receive life-saving treatment.

Na'al al-Kurdi, 21, from Gaza is dying of cancer; for the past four months Na'al has been waiting for a permit from the State of Israel to enter the country in order to receive medical care in one of its hospitals. This permit has not been granted so far due to "security concerns."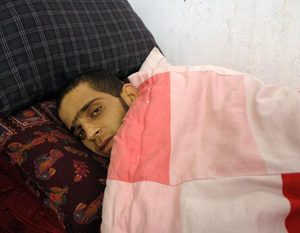 ©Unknown
Na'al al-Kurdi. Can't stand up



On Monday the High Court has ordered the State to reexamine its decision regarding the transfer of seven Palestinian patients from Gaza into Israel for treatment, and issue a decision on the matter within one week.

The High Court's ruling came following a petition by Physicians for Human Rights filed last week. Some of the organization's members said they were astonished by the state's refusal to allow people in critical condition to enter Israel on the pretense that they posed a security threat.

The group petitioned the court last Thursday and requested that 11 patients in critical condition be allowed entry into Israel, or passage to the West Bank or Jordan in order to receive life-saving treatment there.

On Monday morning, shortly before the High Court handed down its ruling on the petition, the Shin Bet declared it would allow four of the 11 patients entry into the country.



'Can't even stand up'



One of those whose entry has been banned is Na'al, who suffers from a carcinogenic tumor in his testicles. Na'al has undergone chemotherapy at the Shifa hospital in Gaza, but last July his doctors recommended that he undergo further tests at the Sourasky Medical Center in Tel Aviv.

Comment on this SOTT Focus

---

Fatah gangsters spoil Arafat's commemoration in Gaza


The Palestinian Information Center
2007-11-13 05:06:00

Gaza -- The interior ministry in the PA legitimate government of Premier Ismael Haneyya on Monday held Fatah faction fully responsible for the violent acts committed by its elements after they commemorated, in Gaza city, the third anniversary of Yasser Arafat's death.

Comment on this SOTT Focus

---

Flashback: IOA blocks Palestinian mother from visiting detained son for 12 years


Jerusalemites/Palestine Info
2007-03-10 04:13:00

The Israeli occupation authority (IOA) is still insisting on denying the Palestinian mother of detainee Mutasem Mawkadi from visiting him in his Israeli jail for the 12th year running.

The mother filed a complaint and managed to win a permit to visit him but the date of the permit was contrary to the visiting dates of her son.

The mother, 64, suffers a number of illnesses and could not walk normally due to acute pains in her feet and knees.

The IOA claims that banning visits to Mawkadi, 36, is due to the fact that he is dangerous to Israeli security.

Comment on this SOTT Focus

---

US group: Iraqis face wide-raging problems in Mideast, detentions in Lebanon


Associated Press
2007-11-12 22:54:00

Iraqi refugees face a wide array of problems in the Middle East, from lack of basic assistance to political obstacles, and are being increasingly detained in Lebanon, a U.S. group advocating refugee protection said in a report Monday.

The report by the Washington-based Refugees International was issued after its team visited Lebanon, Syria and Egypt for a month to gauge what homeless Iraqis deal with. An advance copy of the report, dated Nov. 14, was made available to The Associated Press.

Comment on this SOTT Focus

---

PHR: 9 Palestinian patients died after Israel barred their entry for treatment


The Palestinnian Information Center
2007-11-12 22:46:00


©n/a



Ron Yaron, the coordinator in the physicians for human rights organization (PHR), confirmed that nine Palestinian patients died lately after the IOA blocked their entry to the Palestinian lands occupied in 1948 in order to receive medical treatment.

Comment on this SOTT Focus

---

A Lethal Year

Charley Reese
LewRockwell.com
2007-11-12 21:21:00

The pro-war crowd has been emphasizing the recent drop in American casualties in Iraq, measured by the month, but the fact remains that 2007 has been the most lethal year of war for Americans, and it's not over yet.

At this writing, 853 Americans have died in 2007, which tops the previous record of 849 in 2004. Altogether, 3,858 Americans have lost their lives in Iraq. The sad thing is that they are dying for nothing, because the cowardly Congress refuses to stop the war by cutting off the funds.

Comment on this SOTT Focus

---
The Loan Gunmen
---
Space Defense Program Gets Extra Funding

Walter Pincus
The Washington Post
2007-11-13 15:25:00

While wrestling with wars in Iraq and Afghanistan, the Pentagon is preparing weapons to fight the next battle from space, according to information in the 621-page, House-Senate conference report on the fiscal 2008 defense appropriations bill.

Comment on this SOTT Focus

---

Yipee! Wal-Mart Profit Up, Expects Good Holiday

Marcus Kabel
Associated Press
2007-11-13 14:54:00

BENTONVILLE, Ark. - A year after its worst holiday sales season ever, Wal-Mart Stores Inc. may rebound to have a good season after finding the right mix of merchandise and marketing to complement its return to a focus on low prices.


Comment on this SOTT Focus

---

Investment Firm Names Gore as a Partner

Matt Richtel
The New York Times
2007-11-13 09:51:00

San Francisco - Deepening his ties to Silicon Valley, former Vice President Al Gore said on Monday that he had become a partner in the venture capital firm Kleiner Perkins Caufield & Byers.

The alliance provides Mr. Gore an additional pulpit for his advocacy of environmental causes, but also gives the Nobel laureate an opportunity to nurture green businesses.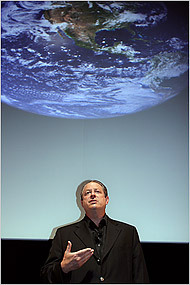 ©Valery Hache/Agence France-Presse - Getty Images
Former Vice President Gore during a speech in June in Cannes, France, before the screening of "An Inconvenient Truth."
Comment on this SOTT Focus
---

Currency Controls Return as Central Banks Fight Gains

Gavin Finch and Ye Xie
Bloomberg News
2007-11-13 08:04:00

Central banks from Bogota to Mumbai are imposing foreign-exchange curbs to take control of their soaring currencies from traders dumping the dollar.

Comment on this SOTT Focus

---

E*Trade Shares Fall; Analyst Says Bankruptcy and Run On The Bank Possible

Edgar Ortega
Bloomberg News
2007-11-13 07:59:00

E*Trade Financial Corp. lost more than half its market value after the online brokerage forecast a decline in fourth-quarter earnings and a Citigroup Inc. analyst said the company may go bankrupt.

Comment on this SOTT Focus

---

'Sub-prime black hole is getting scarier'

Nikhil Kumar
The Independent
2007-11-13 07:43:00

Blackstone's president warned that the sub-prime crisis on Wall Street was getting "deeper, darker and scarier" yesterday as the US private equity firm posted a loss for the third quarter, hit by a fall in real-estate revenues and charges related to its initial public offering.

Comment on this SOTT Focus

---

U.A.E., Qatar May Drop Dollar Peg in Six Months, Merrill Says

Matthew Brown
Bloomberg
2007-11-08 20:07:00

The United Arab Emirates or Qatar may drop their currencies' pegs to the dollar within six months as inflationary pressures outweigh the benefits of maintaining the links, Merrill Lynch & Co said.

''We believe there is a significant risk of a change in the policy regimes of either the U.A.E. of Qatar in the coming six months,'' Merrill Lynch said in a research note published today. ''Speculation pressure on other members of the GCC will remain and we expect Kuwait to maintain constant appreciation against the dollar.''

Comment on this SOTT Focus

---

$100 Oil May Mean Recession as U.S. Economy Hits 'Danger Zone'

Simon Kennedy and Joe Richter
Bloomberg
2007-11-12 18:29:00

Rising fuel prices that businesses and consumers took in stride earlier this year may now be near the point of pushing the weakened U.S. economy into recession.

"We are in a danger zone,'' says Nariman Behravesh, chief economist at Global Insight Inc. and a former Federal Reserve economist. "It would take two shocks to bring the economy to its knees. We got one shock in the form of the credit crunch. Oil could be that second shock.''

Comment on this SOTT Focus

---
The Living Planet
---
World's Smallest Bear Faces Extinction

Eliane Engler
Associated Press
2007-11-13 16:11:00

GENEVA - The world's smallest bear species faces extinction because of deforestation and poaching in its Southeast Asian home, a conservation group said Monday.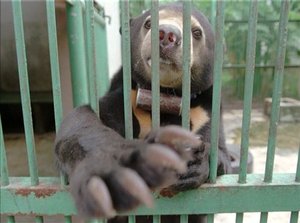 ©AP Photo/Richard Vogel, File
A 9-month-old baby Asian sun bear reaches out through his cage at his new home at the Wildlife Division of the Thai Forestry Department in Banglamung.
Comment on this SOTT Focus
---

China Pandas Forced to Migrate for Food

Henry Sanderson
Associated Press
2007-11-13 16:09:00

BEIJING - Giant pandas are being forced to move from a remote mountainous area in southwestern China due to food shortages as their staple bamboo withers, an animal expert said Monday.

Comment on this SOTT Focus

---

Double Trouble: What Really Killed the Dinosaurs

Charles Q. Choi
LiveScience
2007-11-13 12:25:00

Instead of being driven to extinction by death from above, dinosaurs might have ultimately been doomed by death from below in the form of monumental volcanic eruptions.

The suggestion is based on new research that is part of a growing body of evidence indicating a space rock alone did not wipe out the giant reptiles.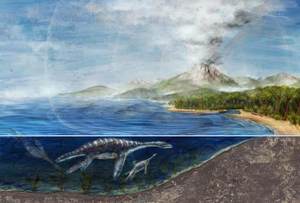 ©Nicolle Rager, National Science Foundation
New research suggests that volcanoes that erupted between 63 million to 67 million years ago may have contributed to a mass dinosaur extinction.
Comment on this SOTT Focus
---

Typhoon Peipah kills at least 28 in Vietnam


RIA Novosti
2007-11-13 11:08:00

At least 28 people have been killed in Vietnam by Typhoon Peipah, which continues to wreak havoc on already flooded areas of central Vietnam, a disaster official said on Tuesday.

Seven provinces are affected by the latest flooding, the fifth since August, with 61,000 houses underwater and hundreds of thousands of people evacuated. Water levels in rivers across the region continue to rise to record levels.

Comment on this SOTT Focus

---

Black, Azov Sea oil spill contamination to last six months


RIA Novosti
2007-11-13 11:03:00

Experts said it will take six months for oil products spilled into the Black Sea and the Sea of Azov at the weekend to dissolve or be washed ashore.

About 2,000 metric tons of oil, and almost 7,000 tons of sulfur in containers, were spilt into the sea amid a powerful storm on Sunday that killed at least six sailors, sank four ships and split open an oil tanker.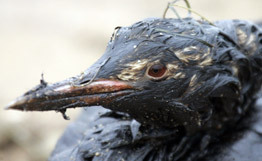 ©Unknown



"Most of the fuel oil will settle on the bottom and will be thrown ashore gradually," said Vitaly Spiridonov of World Wildlife Fund Russia, adding that the seabed's fauna and flora would suffer the most.

Comment on this SOTT Focus

---

Chile's San Rafael glacier fast disappearing


Agence France Presse
2007-11-09 20:23:00

Chunks of glacial ice tinkled in whisky glasses as chilled tourists gazed in wonder from their boat at the massive San Rafael glacier and the markers tallying its losing battle against global warming.

"How can we stop this," asked German visitor Herman Kirst, 70, reflecting on the 100 meters (yards) that the glacier has shrunk this year, and every year since Captain Luis Kochifas began ferrying tourists to this spot in 1978.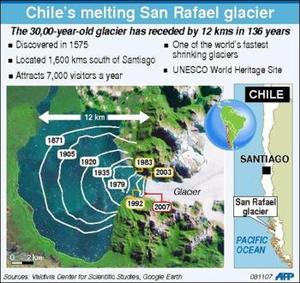 ©AFP
Graphic showing Chile's 30,000-year-old San Rafael glacier, which has receded 12 kilometres since 1871.
Comment on this SOTT Focus
---

High winds in southern British Columbia down power lines, strand travellers

Jeff Lee
CanWest News Service
2007-11-12 20:19:00

High winds battered much of southern British Columbia Monday, leaving more than 200,000 people without power and stranded thousands more as almost every form of air and water transportation was affected.

Environment Canada estimated winds would reach 90 kilometres per hour, disrupting travel by ferries, float planes and even small regional commuter aircraft between the Lower Mainland and much of Vancouver Island.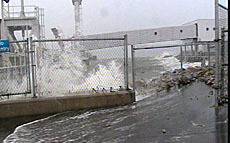 ©CBC News
Wind and waves washed through the Tsawwassen Ferry terminal Monday morning as a major storm shut down ferry service on several routes.
Comment on this SOTT Focus
---

146 accidents on record snow day in Alaska


United Press International
2007-11-12 20:12:00

A record-setting 5 inches of snow fell on Anchorage, Alaska, contributing to 146 traffic accidents.

Sunday's record snowfall for the calendar day -- which beat the previous record of 3 inches for a Nov. 11, 1944, snowstorm -- led to 146 accidents and 86 cars being caught in ditches between midnight and 11 p.m., the Anchorage Daily News reported Monday.

Comment on this SOTT Focus

---

Record early onset of severe winter weather in Austria


Deutsche Presse-Agentur
2007-11-12 20:09:00

The coldest winter in large parts of Austria has struck unexpectedly early, with meteorologists talking Sunday of weather conditions that occur in the Alpine republic once every 30 to 50 years. About 150 centimetres of fresh snow fell in the Alps within 48 hours.

A storm brought on by a low pressure system moved across Upper Austria on Sunday afternoon, leaving houses and roads covered or blocked by fallen trees.

Comment on this SOTT Focus

---
Health & Wellness
---
How the Brain Maps Symbols to Numbers

Nikhil Swaminathan
Scientific American
2007-11-13 12:45:00

New research shows the prefrontal cortex handles the work of associating numerals with matching quantities.

In a study that involved teaching monkeys to associate Arabic numerals with their corresponding quantities, German researchers fingered the prefrontal cortex as the part of the mammalian brain that is responsible for relating symbols with abstract concepts.

The finding was surprising to the Andreas Nieder, head of the Primate NeuroCognition Laboratory at the University of Tübingen, and his graduate student Ilka Diester, who figured that the intraparietal sulcus, a lateral region in the rear brain, handled this task.

Comment on this SOTT Focus

---

Eating fish, omega-3 oils, fruits and veggies lowers risk of memory problems


American Academy of Neurology
2007-11-13 10:01:00

A diet rich in fish, omega-3 oils, fruits and vegetables may lower your risk of dementia and Alzheimer's disease, whereas consuming omega-6 rich oils could increase chances of developing memory problems, according to a study published in the November 13, 2007, issue of Neurology®, the medical journal of the American Academy of Neurology.

Comment on this SOTT Focus

---

Brain matures a few years late in ADHD, but follows normal pattern


NIH/National Institute of Mental Health
2007-11-13 09:58:00

In youth with attention deficit hyperactivity disorder (ADHD), the brain matures in a normal pattern but is delayed three years in some regions, on average, compared to youth without the disorder, an imaging study by researchers at the National Institutes of Health's (NIH) National Institute of Mental Health (NIMH) has revealed. The delay in ADHD was most prominent in regions at the front of the brain's outer mantle (cortex), important for the ability to control thinking, attention and planning. Otherwise, both groups showed a similar back-to-front wave of brain maturation with different areas peaking in thickness at different times.

Comment on this SOTT Focus

---

Connection between startled response and schizophrenia


Public Library of Science
2007-11-13 09:29:00

Schizophrenia is a debilitating psychiatric illness. Its cause is currently poorly understood, and there is no known cure. In a new study published online this week in the open-access journal PLoS Biology, Akiko Watanabe and colleagues report the identification of a gene linked to the condition.

Of particular interest to the study of schizophrenia is the so-called "gating" mechanism in the brain. This mechanism organizes information that comes from the sense organs, and when it malfunctions, it is believed to be responsible for the characteristic symptoms of schizophrenia: delusions, hallucinations, and social withdrawal.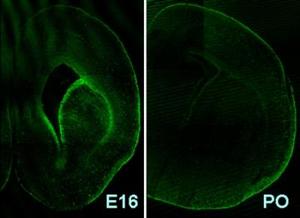 ©Yoshikawa et al.
Expression of Fabp7 protein in mouse brains at embryonic day 16 (left) and postnatal day 0 (right). At both stages, Fabp7 is strongly expressed in the ventricular zone and radial glia, where neurogenesis is prominent.
Comment on this SOTT Focus
---

Drugs for ADHD 'not the answer'


BBC News
2007-11-12 02:37:00

Treating children who have Attention Deficit Hyperactivity Disorder (ADHD) with drugs is not effective in the long-term, research has shown.

A study obtained by the BBC's Panorama programme says drugs such as Ritalin and Concerta work no better than therapy after three years of treatment.

Comment on this SOTT Focus

---
Science & Technology
---
Why quantum physicists talk like mystics

Jaime Licauco
Inquirer
2007-11-12 12:33:00

One of the most difficult problems confronting psychics, mystics, visionaries or clairvoyants, is how to make what they see real to ordinary people who do not and cannot see it the same way they do.

And since they are in the minority, their views are often ignored or disregarded by the majority, which constitutes the mainstream opinion.

What psychics and mystics see as the real nature of the physical universe lies outside the purview of classical or orthodox science. And, because of this, it is considered to be unreal or non-existent.

To ordinary people, anyone who insists that there are such things as psychic or paranormal powers or phenomena must surely be hallucinating or imagining things.

Comment on this SOTT Focus

---

Oldest Temple, Mural in the Americas Found in Peru

Kelly Hearn
National Geographic
2007-11-13 11:42:00

What may be the oldest documented mural in the Americas has been found inside a 4,000-year-old temple near the Peruvian coast, researchers reported yesterday.

The discovery, made by Peruvian archaeologist Walter Alva in a looted site known as Ventarrón, is located in Peru's Lambayeque valley, some 500 miles (804 kilometers) from the capital, Lima.

Comment on this SOTT Focus

---

Alien Life Can Survive Trip to Earth, Space Test Shows

James Owen
National Geographic
2007-11-13 11:36:00

We could have alien origins, say scientists who sent fossilized microscopic life-forms into space and back inside an artificial meteorite.

The researchers attached the baseball-size rock to the outside of the European Space Agency's Foton M3 spacecraft to test whether biological material could survive the round-trip journey.

Sculpted from stone from the Orkney Islands in northern Scotland, the rock contained fossilized microbes and the molecular signatures of microbes.

Comment on this SOTT Focus

---

Pre-dating the love of chocolate

Anna-Marie Lever
BBC
2007-11-13 10:19:00

Chemical and archaeological evidence has pushed back the earliest known use of cacao, the key ingredient of chocolate, by 500 years.

The chemical compound, theobromine, which only occurs in the cacao plant, has been found on pottery vessels dating back to as early as 1000 BC.

Experts say the vessels were used to serve a fermented cacao drink that was made from the sweet pulp of the plant.

The vessels were unearthed at sites in Puerto Escondido, Honduras.

Comment on this SOTT Focus

---

Probing Question: Are Asteroids a Threat to Earth?


Physorg.com
2007-11-12 09:40:00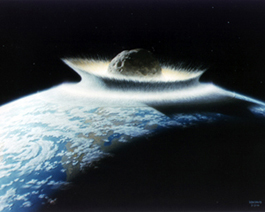 ©NASA
Artist's concept of a catastrophic asteroid impact



Hollywood thrillers such as Deep Impact helped to jump-start America's interest in knowing what our "deflection strategy" would be if a giant asteroid was on a potentially catastrophic collision course with Earth.

Comment on this SOTT Focus

---

"Holming" in on a really bright comet


icRenfrewshire.co.uk
2007-11-12 09:30:00

Stargazers will be in seventh heaven when one of the most spectacular sights in the night sky becomes visible above Paisley.

And, to make the outlook even brighter, Buddies won't even need binoculars or telescopes to identify the celestial wanderer.

They'll see it all with the naked eye.


©Sky and Telescope
Comment on this SOTT Focus
---

The key to unlocking the secret of highly specific DNAzyme catalysis


University of Illinois at Urbana-Champaign
2007-11-13 09:25:00

Using an extremely sensitive measurement technique, researchers at the University of Illinois have found clear evidence that a lead-specific DNAzyme uses the "lock and key" reaction mechanism. In the presence of zinc or magnesium, however, the same DNAzyme uses the "induced fit" reaction mechanism, similar to that used by ribozymes.

"The lock and key mechanism explains why this particular lead-specific DNAzyme makes such a sensitive and selective sensor," said U. of I. chemistry professor Yi Lu, a corresponding author of a paper accepted for publication in Nature Chemical Biology, and posted on the journal's Web site.

"Understanding the relationship between conformational change and reaction is important in obtaining deeper insight into how DNAzymes work and for designing more efficient sensors," said Lu, who also is a researcher in the university's department of biochemistry, the Beckman Institute, and the Center of Advanced Materials for the Purification of Water with Systems.

Comment on this SOTT Focus

---

Russia, India to join in moon mission


Agence France-Presse
2007-11-12 23:52:00

The leaders of veteran allies Russia and India agreed Monday to launch a joint unmanned mission to the moon during Kremlin talks on boosting military and trade ties.

Indian Prime Minister Manmohan Singh announced the plan after talks with Russian President Vladimir Putin during which the two discussed projects for a more than twofold increase in trade by the end of the decade.

"The symbol of our cooperation is the joint agreement to send an unpiloted space ship to the moon for scientific investigation," Singh said in comments broadcast on Russian state television after the meeting.

Comment on this SOTT Focus

---

Rethinking Jupiter

Lee Pullen
Astrobio.net
2007-11-12 20:45:00

Jupiter is known as many things: king of the planets, an impressive gas giant, defender of the inner solar system. This last notion comes from the idea that Jupiter is so massive that its gravitational influence deflects objects like comets, which, as they spiral toward the Sun, could potentially hit inner planets such as the Earth.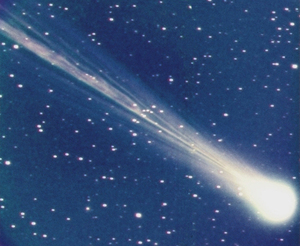 ©Unknown
Comet impacts pose a serious threat to life on Earth.
Comment on this SOTT Focus
---

Argo buoys unlocking ocean, climate secrets

Mike Lyons
PalmBeachDailyNews.com
2007-11-11 20:26:00

From tropical storm to hurricane to nor'easter, the short but troubled life of Noel made headlines along the Eastern seaboard over the last two weeks.

Here in South Florida, Noel took a huge bite out of the beaches, removing an estimated 12,000 truckloads of sand. Along the coastline of New England, Noel made history, generating waves 45 feet high along the Georgian Bank, 6 feet higher than those measured during the famous "Perfect Storm" of October 1991. Noel's waves were the highest recorded at the buoy since online records began in 1984.

The swamped buoy in the Georgian Bank is one of dozens deployed in the Atlantic Ocean, Gulf of Mexico and Caribbean Sea that track wave heights, record sea-surface temperature and provide a variety of real-time weather data.

Comment on this SOTT Focus

---
Our Haunted Planet
---
It's a bird, it's a plane: It's a spate of UFO sightings that put Gulf Breeze on the extraterrestrial map

Dusty Ricketts
Northwest Florida Daily News
2007-11-10 10:03:00

Santa Rosa County Commissioner John Broxson was always a skeptical person.

He never believed the stories of Bigfoot, the Loch Ness Monster or unidentified flying objects.

But something happened nearly 20 years ago to make him change his mind on at least one of those phenomena.

"Frankly, I saw something that blew my mind," Broxson said. "It's a mystery to me. It just looked like something I wasn't expecting to see.

Comment on this SOTT Focus

---

Former pilots and officials call for new U.S. UFO probe


Reuters
2007-11-12 22:46:00

WASHINGTON - Democratic U.S. presidential hopeful Dennis Kucinich may have been ridiculed for saying he had seen a UFO, but for some former military pilots and other observers, unidentified flying objects are no laughing matter.

Comment on this SOTT Focus

---
Don't Panic! Lighten Up!
---
Indian man marries dog to cast off curse


RIA Novosti
2007-11-13 11:11:00

A 34-year-old man in the Indian state of Tamil Nadu married a dog on Sunday in order to try to rid himself of a curse he believed had been placed upon him for killing two dogs, local media reported.

Selva Kumar, an agricultural worker, said that when he was 18 years old, "he stoned two mating dogs to death and hung them with a rope from a nearby tree."

Soon after the incident, Kumar told the Hindustan Times newspaper, his "legs and hands got paralyzed and I lost hearing in one ear. Only recently, after treatment, I have managed to become mobile and that, too, with a crutch".

Comment on this SOTT Focus

---

Darwin Award Candidate: Best to use tools when loosening lug nut


Associated Press
2007-11-13 10:57:00

A man trying to loosen a stubborn lug nut blasted the wheel with a 12-gauge shotgun, injuring himself badly in both legs, sheriff's deputies said.

The 66-year-old man had been repairing a Lincoln Continental for two weeks at his home northwest of Southworth, about 10 miles southwest of Seattle, and had gotten all but one of the lug nuts off the right rear wheel by Saturday afternoon, Kitsap County Deputy Scott Wilson said.

Comment on this SOTT Focus

---

Bride marries drunken groom's brother


ninemsn.com.au
2007-11-13 01:20:00

Villagers at a wedding in Bihar decided the groom had arrived too drunk to get married, and so the bride married the groom's more sober brother instead, police said on Monday.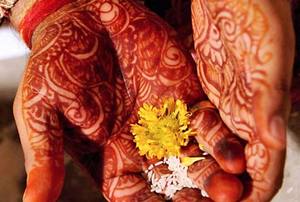 ©Getty Images
The younger brother readily agreed to take the groom's place beside the teenage bride at her family's invitation, witnesses said.
Comment on this SOTT Focus
---

Wisconsin Cop Shocked by Own Taser


Associated Press
2007-11-12 22:25:00

MADISON, Wis. - A police officer has been reprimanded for accidentally discharging a Taser, causing an injury _ to the police officer.

Madison police released a report Monday on the July 31 incident, without revealing the officer's name or gender. The department said the Taser accidentally discharged during a standard checkout procedure.


Comment on this SOTT Focus

---

Satire: U.S. Intelligence: Iran Possesses Trillions Of Potentially Dangerous Atoms


The Onion
2007-11-12 18:43:00

WASHINGTON - Barely two months after U.N. inspectors in Iran failed to find evidence of an active nuclear weapons program, the Department of Homeland Security uncovered new information Monday proving the Middle Eastern nation has obtained literally trillions of atoms - the same particles sometimes used to make atomic bombs - for unknown purposes.


Comment on this SOTT Focus

---
---

Remember, we need your help to collect information on what is going on in your part of the world!
Send your article suggestions to: sott(at)signs-of-the-times.org

---
Click here to return to the Signs of the Times Archive
Click here for today's Signs Page