---
Sections on today's Signs Page:
---
SOTT Focus
---
No new articles.
Best of the Web
---
No Evidence Iran Building Nuclear Weapons: Mohamed ElBaradei


The Associated Press
2007-10-29 20:41:00

The head of the U.N. nuclear watchdog said Sunday he had no evidence Iran was working actively to build nuclear weapons and expressed concern that escalating rhetoric from the U.S. could bring disaster.

"We have information that there has been maybe some studies about possible weaponization," said Mohamed ElBaradei, who leads the International Atomic Energy Agency. "That's why we have said that we cannot give Iran a pass right now, because there is still a lot of question marks."

"But have we seen Iran having the nuclear material that can readily be used into a weapon? No. Have we seen an active weaponization program? No."

Comment on this SOTT Focus

---

Another Homeland Boondoggle in the Works

Jeff Stein
CQ National Security Editor
2007-10-29 20:26:00

Who needs to spend $22 million on a commission to study homegrown terrorism? Only Congress, of course. It thinks the FBI, the Department of Homeland Scurity, think tanks, universities, journalists and independent scholars aren't doing enough.

By a vote of 404 to 6 last week, the House of Representatives passed a bill (HR 1955) to create a 10-member "National Commission on the Prevention of Violent Radicalization and Homegrown Terrorism."

Comment on this SOTT Focus

---
U.S. News
---
Bush Says Congress Is Wasting Time

Brian Knowlton
New York Times
2007-10-30 14:05:00

President Bush lashed out at Congress today, the third time he has done so in two weeks, this time saying the House had wasted time on "a constant string of investigations" and the Senate had similarly wasted its efforts by trying to rein in the Iraq war. Its failure to send a single annual appropriations bill to his desk, he said, amounted to "the worst record for a Congress in 20 years."

"Congress is not getting its work done," the president said in brief remarks from the North Portico of the White House.

Comment on this SOTT Focus

---

North Carolina: Seven college students die in beach house fire


Reuters
2007-10-30 14:42:00

Seven South Carolina college students were killed and six were injured on Sunday when a fire swept through a beach home in a U.S. resort community, officials said.

Police in Ocean Isle Beach, North Carolina, received an emergency call at 7:01 a.m. EDT, the town said in a statement. When rescue services got there two minutes later, the house was completely engulfed in flames, according to the statement.

Comment on this SOTT Focus

---

Acid leak forces hundreds to flee Minnesota town


Associated Press
2007-10-30 14:38:00

More than 80 cars from two trains derailed early Monday and one car leaked a powerful acid, releasing a vapor cloud that closed schools and forced hundreds of residents to evacuate. No injuries were reported.

Comment on this SOTT Focus

---

Food for thought: Why Does the U.S. Sentence Adolescents To Life without parole?

Shery F. Colb
FindLaw
2007-10-29 07:23:00

Last year the United Nations voted on a resolution to abolish life imprisonment without the possibility of parole for children and young adolescent offenders. The vote was 185 to 1 in favor of abolition, and the United States was the lone dissenter. Until 2005, moreover, when the Supreme Court outlawed the juvenile death penalty under the Eighth Amendment in the case of Roper v. Simmons, twenty states had allowed the execution of murderers who committed their crimes before the age of 18.

In this column, I will explore ways of thinking about crime in the U.S. that might help explain this punitive approach to juvenile offenders.

Comment on this SOTT Focus

---

UFO Reporting Center operates out of former missile site

Nicholas K Geranios
Seattle Post Intelligencer/Associated Press
2007-10-30 07:16:00

HARRINGTON -- To find the new home of The National UFO Reporting Center, you must go several yards underground at a former nuclear missile site in Eastern Washington.

The National UFO Reporting Center, which moved to this sparsely populated farm country from Seattle last year, is basically a telephone, tape recorder and desktop computer run in an underground bunker by one man who collects and publishes UFO reports from across the country.

Comment on this SOTT Focus

---

Dumbing down the sheeple! 1 in 10 schools are 'dropout factories'

Nancy Zuckerbrod
Associated Press
2007-10-30 01:24:00

It's a nickname no principal could be proud of: "Dropout Factory," a high school where no more than 60 percent of the students who start as freshmen make it to their senior year. That dubious distinction applies to more than one in 10 high schools across America.

"If you're born in a neighborhood or town where the only high school is one where graduation is not the norm, how is this living in the land of equal opportunity?" asks Bob Balfanz, the researcher at Johns Hopkins University who defines such a school as a "dropout factory."

Comment on this SOTT Focus

---

Democrats propose U.S. income tax surcharge to pay for Iraq war


Associated Press
2007-10-30 00:31:00

Three senior House Democrats, seeking to highlight the costs of the Iraq war, proposed a U.S. income tax surcharge Tuesday to finance the approximately $150 billion (€105.8 billion) spent annually on operations in Iraq.

The plan's sponsors acknowledged the tax measure is unlikely to pass, but Democrats have been seeking in recent weeks to contrast the approximately $190 billion (€134.1 billion) cost of the Afghanistan and Iraq wars with the $23 billion (€16.2 billion) increase that Democrats want in domestic programs.

Comment on this SOTT Focus

---

Totally Absurd! Richard Clarke Former Security Czar Calls For Closed Internet

Michael Vail
UK Register
2007-10-29 23:41:00

Richard Clarke, the man who served President Bush as a special adviser for cyber security, has a five-point plan for saving the internet.

Speaking at a Santa Clara University conference dedicated to "trust online," Clarke called the net "a place of chaos in many ways, a place of crime in many ways," but laid out several means of righting the ship, including biometric IDs, government regulation, and an industry wide standard for secure software. He even embraces the idea of a closed internet - which seems to have sparked a death threat from net pioneer Vint Cerf.

Comment on this SOTT Focus

---

95% of Americans mistrust Bush (shock!)


PressTV
2007-10-29 20:45:00

A new poll indicates that a vast majority of the Americans are doubtful about the US administration's ability to solve Iraq's crisis.

According to New York Times/CBS News poll, 95 percent of US citizens mistrust the way the Bush administration handles the Iraq war.

Comment on this SOTT Focus

---

Court 'closes at five', thus, inmate executed


News.com.au
2007-10-29 20:40:00

A Texas death-row inmate was executed after a local court refused to stay open an extra 20 minutes to hear an appeal.

At 10am on September 25, the US Supreme Court announced it would review in early 2008 an appeal by two Kentucky death row inmates challenging the legality of the lethal injection.

Comment on this SOTT Focus

---

Gorbachev Slams U.S. War on Terror


PressTV
2007-10-29 20:36:00

Former Soviet leader Mikhail Gorbachev has criticized the U.S. for its approach to the war on terrorism in his speech in Kentucky, USA.

Gorbachev affirms that the approach taken by the U.S. left people living in occupied nations humiliated, which would cause them to turn to terrorism.

Comment on this SOTT Focus

---

Marshals Pose As Supporters To Arrest Tax Evaders


WBZTV.com
2007-10-29 19:55:00

It took ten months and one ruse for U.S. marshals to get convicted tax-evaders Ed and Elaine Brown out of their fortress-like home in Plainfield and finally under arrest.

The marshals posed as supporters to dupe the couple and take them into custody Thursday night, the head marshal said Friday.

"They invited us in, and we escorted them out," U.S. Marshal Stephen Monier said in the first public disclosure of details of the arrest.

A small team of marshals pulled off the ruse, arresting the Browns without incident on the couple's front porch, Monier said.

Comment on this SOTT Focus

---

Air Force Readying Cyber Strikes

Noah Shachtman
Wired Blog Network: Danger Room
2007-10-09 19:25:00

The Pentagon's network warriors have traditionally focused on defense. Not any more.

There's been a "radical change in U.S. policy when it comes to its cyber warfighting stance," according to Inside the Air Force. A few months back, Pentagon officials were saying that "the military had no plans to shift its cyber warfare focus from a defensive mindset to an offensive one." But now that the Air Force has declared themselves the service in charge of all things electronic, "high-ranking service officials say they are developing offensive strategies to attack enemies' cyber assets."

Comment on this SOTT Focus

---

Tired of faking Democracy: Democrats Plan a Shorter Workweek

David M. Herszenhorn
New York Times
2007-10-27 19:21:00

Shortly after winning a majority last year, Democrats triumphantly declared that they would put Congress back to work, promising an "end to the two-day workweek." And indeed, the House has clocked more time in Washington this year than in any other session since 1995, when Republicans, newly in control, sought to make a similar point.

But 10 months into the session, with their legislative agenda often in gridlock with the Bush administration and a big election year looming, the Democrats are now planning a lighter schedule when the 110th Congress begins its second year in mid-January.

Comment on this SOTT Focus

---

FBI Whistleblower Sibel Edmonds To Tell All

Brad Friedman
Brad's Blog
2007-10-29 17:58:00

She's Prepared to Name Names, Including Those of Two 'Well-Known' Congress Members Involved in Criminal Corruption

The 'Most Gagged Person in U.S. History' Tells The BRAD BLOG She's Now Exhausted All Other Channels...

Attention CBS 60 Minutes: we've got a huge scoop for you. If you want it.

Remember the exclusive story you aired on Sibel Edmonds, originally on October 27th, 2002, when she was not allowed to tell you everything that she heard while serving as an FBI translator after 9/11 because she was gagged by the rarely-invoked "States Secret Privilege"? Well, she's still gagged. In fact, as the ACLU first described her, she's "the most gagged person in the history of the United States of America."

Comment on this SOTT Focus

---
UK & Euro-Asian News
---
Gas explosion near Paris kills one, dozens hurt


Reuters
2007-10-30 14:21:00

One person was killed and 42 injured, 15 seriously, in a gas explosion in a building northeast of Paris, emergency officials said on Tuesday. Police said a fire broke out after an explosion of a gas mains in the centre of the suburb of Bondy.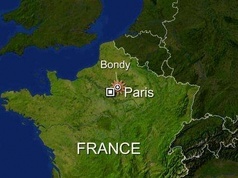 ©Unknown



"One person was found dead in the wreckage of the building," a local authority spokesman said.

Comment on this SOTT Focus

---

PROPAGANDA: Lessons in hate found at leading mosques

Sean O'Neill
The Times
2007-10-30 00:00:00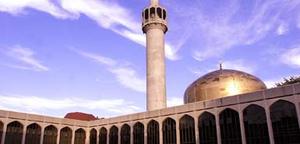 ©n/a



Books calling for the beheading of lapsed Muslims, ordering women to remain indoors and forbidding interfaith marriage are being sold inside some of Britain's leading mosques, according to research seen by The Times.

Comment on this SOTT Focus

---

Flashback: al Qaeda subcontracted by British intelligence - MI6 'halted bid to arrest bin Laden'

Martin Bright
The Guardian
2002-11-10 10:38:00

British intelligence paid large sums of money to an al-Qaeda cell in Libya in a doomed attempt to assassinate Colonel Gadaffi in 1996 and thwarted early attempts to bring Osama bin Laden to justice.

Comment on this SOTT Focus

---

MI5 mythmakers say Saudi king's 7-7 claim is 'a myth'

Robert Winnett and James Kirkup
The Telegraph
2007-10-30 10:40:00

The intelligence services have become embroiled in a rare public row with the Saudi government by describing comments about the 7/7 London bombings made by the Saudi king as a "myth".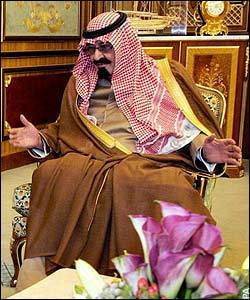 ©Telegraph
King Abdullah accepted that al-Qa'eda remains a problem in his country

Comment on this SOTT Focus
---

Serial jailbreaker escapes for fourth time


Reuters
2007-10-30 02:22:00

A Belgian inmate made a dramatic escape from jail for the fourth time Sunday evening after his armed accomplices landed in the prison grounds in a hijacked helicopter, prosecutors said Monday.

Nordin Benallal, self-styled "escape king" with several convictions for armed robbery and carjacking, has previously run from a prison van, walked out of jail wearing a wig and sunglasses and scaled a prison wall with a rope ladder.

Comment on this SOTT Focus

---

Russia to invite international observers to December elections


RIA Novosti
2007-10-30 01:05:00

MOSCOW - Russia will invite international observers to monitor the country's parliamentary elections set for December 2, the head of the Central Election Commission said on Monday.

"The invitations to the international observers will be sent out tomorrow," Vladimir Churov said, adding that the observers would total up to 400.

The announcement by the Central Election Commission came after repeated speculation that Russia wanted to limit the number of observers at the elections to just 50.

Comment on this SOTT Focus

---

Travel Advisory: War Criminals Beware, Justice Ahead

Amy Ross
Jurist
2007-10-29 23:57:00

JURIST Guest Columnists Amy Ross of the University of Georgia Department of Geography and Chandra Lekha Sriram, Chair of Human Rights at the University of East London School of Law (UK), say that former US Defense Secretary Donald Rumsfeld's quick exit from a Paris speaking event last week in the face of a torture lawsuit brought by human rights organizations in a French court shows that univeral jurisdiction laws are making an impact by limiting "zones of impunity," even if the most powerful often remain beyond the reach of actual prosecution...

Comment on this SOTT Focus

---

Prince Philip 'told MI6 to murder Diana and lover'

Andrew Vine
Yorkshire Post
2007-10-29 20:47:00

Sensational claims that Princess Diana was murdered on the instructions of the Duke of Edinburgh after she expressed fears of an attempt on her life dominated the opening of the inquest into her death yesterday.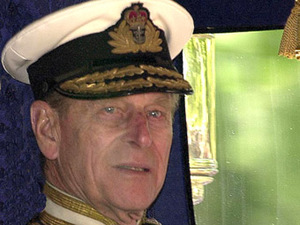 ©BBC
Prince Philip



The jury heard allegations that Prince Philip was at the heart of a conspiracy to murder Diana and her lover, Dodi Fayed, after ordering MI6 to prepare a report on them for the Royal Family. The car crash that killed them both in Paris on August 31, 1997 was then engineered, the jury heard.

Comment on this SOTT Focus

---

EU Reform Same as Rejected Constitution


FreeMarket News
2007-10-09 19:34:00

The release of the European Scrutiny Committee report on the European Union Intergovernmental Conference is further proof that new Reform Treaty is essentially the same as the EU Constitution. In particular, this respected House of Commons Committee concludes that two documents are "substantially equivalent".

Comment on this SOTT Focus

---
Around the World
---
Flashback: Police 'had role in' Bali blasts: Former Indonesian President


The Australian
2005-10-12 08:42:00



INDONESIAN police or military officers may have played a role in the 2002 Bali bombing, the country's former president, Abdurrahman Wahid has said.



In an interview with SBS's Dateline program to be aired tonight, on the third anniversary of the bombing that killed 202 people, Mr Wahid says he has grave concerns about links between Indonesian authorities and terrorist groups.

While he believed terrorists were involved in planting one of the Kuta night club bombs, the second, which destroyed Bali's Sari Club, had been organised by authorities.

Comment on this SOTT Focus

---

Japanese Minister reveals his 2002 Bali bombing link

Leo Lewis
Times Online
2007-10-30 09:20:00

The Japanese Minister of Justice suggested yesterday a mysterious connection between himself and an al-Qaeda agent involved in the 2002 Bali nightclub bombings.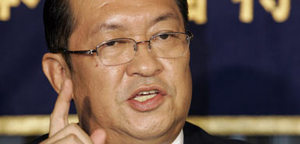 ©Shizuo Kambayashi/AP
Kunio Hatoyama announced new measures to counter terrorism
Comment on this SOTT Focus
---

Flashback: U.S. to assist those forced to aid FARC

Stephen Dinan
The Washington Post
2007-09-30 05:51:00

The Homeland Security Department will begin issuing waivers to grant asylum or refugee status to individuals who aided FARC, a Colombian guerrilla group the U.S. has deemed a terrorist organization, if the individuals were forced to provide the help.

The Bush administration has been criticized for denying applications from many who say they were forced to help terrorist organizations under threat of death. Federal law says would-be immigrants who provide material support to terrorist organizations are not eligible for immigration.




Comment on this SOTT Focus

---

Japan halts Afghanistan mission


BBC News
2007-10-29 23:29:00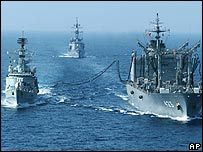 ©Associated Press
Japan's refuelling mission has proved controversial at home



Japan has carried out what is reported to be its last refuelling operation for coalition forces in Afghanistan before its mission expires this week. The government's mandate for the support mission runs out on 1 November.

Comment on this SOTT Focus

---

Uganda Rains Affect Conflict's Displaced

Katy Pownall
Associated Press
2007-10-29 22:56:00

The heaviest rains to hit Uganda in decades are washing away Santa Ayaa's seeds of peace.

Last year's truce between Lord's Resistance Army rebels and Ugandan government troops largely calmed years of fighting that sent Ayaa fleeing her village. She grew confident enough that she wouldn't have to run again that she planted peanuts and potatoes near the Latanya relief camp where she lives.

But now, she and others displaced by the conflict are among the hardest hit by the downpours, which have destroyed homes, roads and bridges across the nation. The rains began in July and have become Uganda's worst flooding in 35 years. These days, Santa Ayaa's crops lie rotting in the ground.

Comment on this SOTT Focus

---

Toronto man struck in eye by police Taser


CBC
2007-10-29 21:46:00

A man is in hospital and may lose one of his eyes after being hit by a police Taser over the weekend in Toronto.

The province's Special Investigations Unit has been called in to review the incident.


Comment on this SOTT Focus

---
Big Brother
---
US Spent $43.5 Billion on Intel in 2007


Associated Press
2007-10-30 14:32:00

The U.S. government spent $43.5 billion on intelligence in 2007, according to the first official disclosure under a new law implementing recommendations of the Sept. 11 commission.

Director of National Intelligence Mike McConnell released the newly declassified figure Tuesday. In a statement, the DNI said there would be no additional disclosures of classified budget information beyond the overall spending figure because "such disclosures could harm national security."

The intelligence agencies have fought multiple legal attempts to disclose spending for the 16 intelligence agencies, including the CIA, the Defense Department, the Treasury Department and the Homeland Security Department, among others. They have argued that adversaries can divine secrets about intelligence activities if they can track budget fluctuations year to year.

Comment on this SOTT Focus

---

Flashback: Be nice or else. AT&T Will Suspend Accounts of Detractors


BetaNews
2007-10-01 05:51:00

Telecommunications company AT&T updated its terms of service for its DSL customers recently with an interesting addition: the company will now suspend the accounts of those who talk badly of it. The new line reads that service may be suspended if a customer's comments "tends to damage the name or reputation of AT&T, or its parents, affiliates and subsidiaries."


Comment on this SOTT Focus

---

Police now patrolling social Web sites


United Press International
2007-10-03 20:00:00

Members of the Milwaukee Police Department now have a new beat to find criminals: social Web sites like MySpace and Facebook.

The Milwaukee Journal Sentinel reported Tuesday that police officers have begun patrolling the Internet sites where guilty parties sometimes freely admit to committing various crimes without apparent fear of reprisal.

Comment on this SOTT Focus

---
Axis of Evil
---
Not a Surprise: U.S. Resisting Ban on Cluster Bombs

David Cronin
Inter Press Service
2007-10-30 01:18:00

The U.S. is leading efforts to resist a complete ban on cluster bombs, human rights activists have complained.

But a conference called by European governments in Brussels Tuesday is regarded as a step towards an international agreement on eliminating cluster weapons -- in which hundreds of small 'bomblets' are packed together.

Although an accord appears likely to be reached during 2008, activists are concerned over diplomatic manoeuvres by Washington to ensure that it will not be too stringent.

Comment on this SOTT Focus

---

Getting away with murder: Immunity Deal Hampers Blackwater Inquiry

Lara Jakes Jordan
Associated Press
2007-10-29 19:37:00

The State Department promised Blackwater USA bodyguards immunity from prosecution in its investigation of last month's deadly shooting of 17 Iraqi civilians, The Associated Press has learned.

The immunity deal has delayed a criminal inquiry into the Sept. 16 killings and could undermine any effort to prosecute security contractors for their role in the incident that has infuriated the Iraqi government.

"Once you give immunity, you can't take it away," said a senior law enforcement official familiar with the investigation.

Comment on this SOTT Focus

---

US forces torture Press TV reporter


PressTV
2007-10-08 19:39:00

Press TV correspondent in Afghanistan, Fayez Khurshid has said that he was tortured by US forces after his illegal detention last night.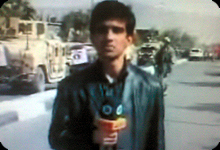 ©Unknown
Comment on this SOTT Focus
---
Middle East Madness
---
Pity those who pity: Olmert's approval ratings up after he disclosed his prostate cancer


Jerusalem Post
2007-10-30 14:29:00

Polls published Tuesday after Prime Minister Ehud Olmert disclosed he has prostate cancer put his approval ratings at their highest point since last summer's flawed war in Lebanon.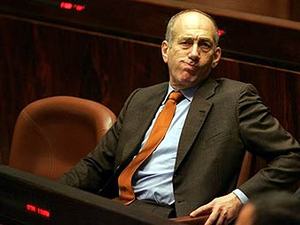 ©AFP



A Dahaf Research Institute survey taken immediately after Olmert's announcement Monday showed 41 percent of Israelis said Olmert was doing a "good" job, a 6 percentage point increase from the previous month.

Comment on this SOTT Focus

---

Major Iraqi dam in danger of collapse


(AFP
2007-10-30 13:02:00

Iraq's largest dam is in danger of collapse and could putting hundreds of thousands at risk in the cities of Mosul and Baghdad.

Comment on this SOTT Focus

---

Iraqi fisherman nets shark 160 miles from sea


Reuters
2007-10-30 13:03:00

A two-meter shark has been caught in a river in southern Iraq more than 200 km (160 miles) from the sea.

Comment on this SOTT Focus

---

Surprise! IAEA findings on Iran dismissed


BBC News
2007-10-30 09:51:00

France and the US have dismissed a finding by the head of the UN's nuclear watchdog Mohammed ElBaradei that there is no evidence of Iran building a bomb.

Comment on this SOTT Focus

---

Israel can't cut power to Gaza: attorney general

Adam Entous
Reuters
2007-10-30 01:37:00

Israel's attorney general told the government on Monday it could not cut electrical power to the Gaza Strip as part of its sanctions against the Hamas controlled territory, although he did approve other measures.

Israel began implementing economic sanctions on Sunday in what it said was a response to Palestinian rocket fire on Israeli towns from the Hamas-controlled coastal enclave.



Comment on this SOTT Focus

---

AIDS virus invaded U.S. from Haiti: study alleges

Will Dunham
Reuters
2007-10-30 01:24:00

The AIDS virus invaded the United States in about 1969 from Haiti, carried most likely by a single infected immigrant who set the stage for it to sweep the world in a tragic epidemic, scientists said on Monday.

Michael Worobey, a University of Arizona evolutionary biologist, said the 1969 U.S. entry date is earlier than some experts had believed.

The timeline laid out in the study led by Worobey indicates that HIV infections were occurring in the United States for roughly 12 years before AIDS was first recognized by scientists as a disease in 1981. Many people had died by that point.

Comment on this SOTT Focus

---

Low Morale Has U.S. Troops in Iraq Pretending to Patrol

Dahr Jamail
AlterNet
2007-10-30 01:03:00

Morale among US soldiers in the country is so poor, many are simply parking their Humvees and pretending to be on patrol, called "search and avoid" missions.

Iraq war veterans now stationed at a base here in upstate New York say that morale among US soldiers in the country is so poor, many are simply parking their Humvees and pretending to be on patrol, a practice dubbed "search and avoid" missions.

Comment on this SOTT Focus

---
The Loan Gunmen
---
OPEC to study currency basket for pricing: Venezuela


Reuters
2007-10-27 01:11:00

OPEC is likely to discuss creating a basket of currencies for oil pricing at its next summit due to the steady decline in the dollar, Venezuela's Energy Minister Rafael Ramirez said on Friday.

"The need to establish a basket of currencies ... will probably be a point of discussion in the next OPEC summit," Ramirez told reporters during an evening event in the presidential palace.

Comment on this SOTT Focus

---

The Bank of the South: An Alternative to IMF and World Bank Dominance

Stephen Lendman
Stephen Lendman Blog
2007-10-30 01:05:00

In July, 2004, the IMF and World Bank commemorated the 60th anniversary of their founding at Bretton Woods, NH to provide a financial framework of assistance for the postwar world after the expected defeat of Germany and Japan. With breathtaking hypocrisy, an October, 2004 Development Committee Communique stated: "As we celebrate the 60th anniversary of the Bretton Woods Institutions....we recommit ourselves to supporting efforts by developing countries to pursue sustainable growth, sound macroeconomic policies, debt sustainability, open trade, job creation, poverty reduction and good governance." Phew.

In fact, for 63 hellish years, both these institutions achieved mirror opposite results on everything the above comment states. From inception, their mission was to integrate developing nations into the Global North-dominated world economy and use debt repayment as the way to transfer wealth from poor countries to powerful bankers in rich ones.

Comment on this SOTT Focus

---

Greenspan Says Solution to Inequality Is to Lower U.S. Wages

Sirotablog
Working for Change
2007-10-29 23:55:00

Former Federal Reserve Chairman Alan Greenspan has been in the news lately trying to pretend he's had nothing to do with the slow-motion economic meltdown America is currently experiencing in the housing, job and labor market. But he is still the same old Alan Greenspan - the one who opposes the minimum wage, and wants to drive wages in general into the ground. In fact, he admitted as much in a recent interview on Democracy Now. At about 39 minutes into this clip, you can hear him say this:

Comment on this SOTT Focus

---

Japan's Unemployment Rate Unexpectedly Rises for Second Month

Jason Clenfield
Bloomberg
2007-10-29 23:39:00

Japan's unemployment rate unexpectedly rose for a second month and the Labor Ministry downgraded its assessment of the jobs market as hiring slowed.

The unemployment rate climbed to 4 percent in September from 3.8 percent last month and 3.6 percent in July, the statistics bureau said today in Tokyo. The improvement in the jobs market "has weakened in recent months,'' the Labor Ministry said, adding the phrase to its monthly description.

Comment on this SOTT Focus

---

Dollar and oil hit new records

Michael Mackenzie
Financial Times
2007-10-29 20:20:00

Oil hit a new record high of $93.80 and the dollar struck a new low on Monday as investors showed their growing certainty that the US Federal Reserve will cut interest rates on Wednesday.

The same conviction also saw gold approach $800 a troy ounce - its highest level for 28 years - while equities made gains. The move into gold reflects how investors fear rising inflation from the twin forces of higher oil prices and a weaker dollar.

Comment on this SOTT Focus

---

Central Banks Sell 475 Tons Of Gold


Reuters
2007-10-10 19:19:00

Central banks which signed the Central Bank Gold Agreement sold 475.75 tonnes of gold in the third year of the agreement ending September 26, said a statement released on Wednesday by the Bank for International Settlements on behalf of the signatories.

Also on Wednesday, Germany's Bundesbank told Reuters that it will hold on to the vast bulk of its gold reserves in the next 12 months, selling only enough bullion to mint coins.

Comment on this SOTT Focus

---
The Living Planet
---
Flood wreaks havoc in Nellore district, India


The Hindu
2007-10-30 04:27:00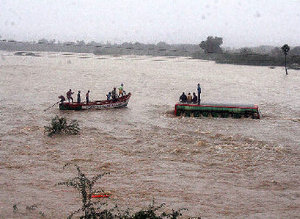 ©n/a
Villagers in a boat trying to rescue passengers waiting for help on the top of a private bus in Pandluru stream on Monday.



Eleven persons were killed, several tanks breached, hundreds of houses either collapsed or suffered extensive damage, while road and rail networks were damaged as widespread rain disrupted normal life across the district on Monday.

Comment on this SOTT Focus

---

Update: Tropical Storm Noel Kills at Least 20


Associated Press
2007-10-29 17:20:00

SANTO DOMINGO, Dominican Republic - Tropical Storm Noel brought heavy rain and flooding to the Dominican Republic on Monday and officials said at least 20 people had died.

At least 20 other people were reported missing from the storm, which lashed Hispaniola, the island the country shares with Haiti, said Ramon Franco of the Dominican emergency services agency.

Comment on this SOTT Focus

---
Health & Wellness
---
Baby born with birth defects every 30 seconds in China


Window of China
2007-10-30 14:50:00

Birth defects in China have increased by nearly 40 percent since 2001, according to statistics from the country's birth deformity monitoring center.

The figure was cited in a recent report by Jiang Fan, deputy head of the National Population and Family Planning Commission, at a conference in Chengdu, capital city of Southwest China's Sichuan Province.

Comment on this SOTT Focus

---

UV light may offer "double whammy" for cancer

Michael Kahn
Reuters
2007-10-30 02:26:00

Using ultraviolet light may one day offer a "double whammy" to kill cancer cells by better focusing antibody-based drugs and triggering the body's own defenses to eliminate tumors, researchers said on Tuesday.

In two studies with mice, a British team cloaked antibodies -- the immune system proteins that tag germs and cancer cells for elimination -- with an organic oil that blocked them from reacting until illuminated with ultraviolet light.

Comment on this SOTT Focus

---

TV raises blood pressure in obese kids: study


Reuters
2007-10-30 01:05:00

Watching too much television may not only help make children fat, it may also raise their blood pressure, U.S. researchers said on Tuesday.

They found obese children who watched four or more hours of TV a day were three times more likely to have high blood pressure than children who watched less than two hours a day.

"There is a significant association between hours of television watched and both the severity of obesity and the presence of hypertension in obese children," Dr. Jeffrey Schwimmer of the University of California, San Diego and colleagues wrote in the American Journal of Preventive Medicine.

Comment on this SOTT Focus

---

Green Schools Offer Healthier Classrooms -- and Might Boost Test Scores

Samantha Cleaver
AlterNet
2007-10-30 00:52:00

Green classrooms not only produce happier and better students, but they can save school districts thousands in energy costs.

Every day, 20 percent of Americans wake up, eat breakfast, and walk, bike, or drive to school. Once there, many students and teachers spend their days in classrooms with walls covered in toxic paint, breathing congested air, and squinting from inadequate lighting.

Comment on this SOTT Focus

---

Study reveals 'huffing' household chemicals connected to teen suicide

Dave Brendsel
University of Denver
2007-10-29 23:12:00

With suicide as the third leading cause of death among adolescents in the United States, a new University of Denver (DU) study reveals inhaling or "huffing" vapors of common household goods, such as glue or nail polish, are associated with increased suicidal thoughts and attempts.

Comment on this SOTT Focus

---
Science & Technology
---
Massive Black Hole Smashes Record


NASA
2007-10-30 16:34:00

Using two NASA satellites, astronomers have discovered the heftiest known black hole to orbit a star. The new black hole, with a mass 24 to 33 times that of our Sun, is more massive than scientists expected for a black hole that formed from a dying star.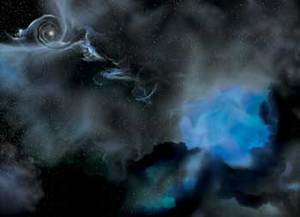 ©Aurore Simonnet/Sonoma State University/NASA
In this artist's portrayal of the IC 10 X-1 system, the black hole lies at the upper left and its companion star is on the right. The two objects orbit around a center of gravity once every 34.4 hours. The stellar companion is a type known as a Wolf-Rayet star. Such stars are highly evolved and destined to explode as supernovae. The black hole companion is shedding its outer envelope in a powerful wind, and some of this gas is captured by the black hole's powerful gravity.
Comment on this SOTT Focus
---

Hubble sees the graceful dance of 2 interacting galaxies


ESA/Hubble Information Centre
2007-10-30 16:29:00

A pair of galaxies, known collectively as Arp 87, is one of hundreds of interacting and merging galaxies known in our nearby Universe. Arp 87 was originally discovered and catalogued by astronomer Halton Arp in the 1970s. Arp's Atlas of Peculiar Galaxies is a compilation of astronomical photographs using the Palomar 200-inch Hale and the 48-inch Samuel Oschin telescopes.

The resolution in the Hubble image shows exquisite detail and fine structure that was not observable when Arp 87 was first discovered in the 1970's.

Comment on this SOTT Focus

---

Evidence of "Memory" Seen in Cells & Molecules


Georgia Institute of Technology
2007-10-30 14:46:00

Research reported October 29 in the online version of the journal Proceedings of the National Academy of Sciences (PNAS) provides evidence that some molecular interactions on cell surfaces may have a "memory" that affects their future interactions. The report could lead to a re-examination of results from certain single-molecule research.

Comment on this SOTT Focus

---

Mars Caves Forged by Volcanoes and Meteors

Larry O'Hanlon
Discovery News
2007-10-30 01:05:00

If Mars looks like a primordial Earth-on-ice, the similarity ends just below the surface where Martian caves are borne not of slow dripping processes but from brief, intensely violent times, say researchers.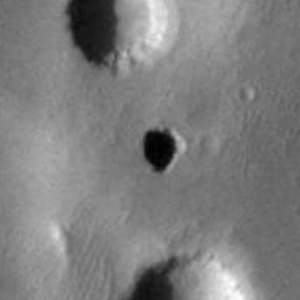 ©NASA/JPL-Caltech/ASU/USGS
This image from the Mars Odyssey orbiter, shows a patch of Martian ground, centered on a possible cave skylight informally called "Annie," which has a diameter about double the length of a football field.
Comment on this SOTT Focus
---

Human-generated ozone will damage crops, according to MIT study

Nancy Stauffer
MIT News
2007-10-26 23:20:00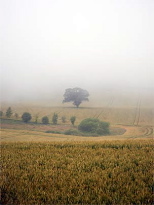 ©n/a
MIT research has shown that increases in ozone will have a detrimental effect on crops, pastures and forests, severely affecting the world's economy.



A novel MIT study concludes that increasing levels of ozone due to the growing use of fossil fuels will damage global vegetation, resulting in serious costs to the world's economy.

Comment on this SOTT Focus

---

Study Reveals that Nitrogen Fertilizers Deplete Soil Organic Carbon

Saeed Khan
University of Illinois, College of ACES
2007-10-29 23:04:00

The common practice of adding nitrogen fertilizer is believed to benefit the soil by building organic carbon, but four University of Illinois soil scientists dispute this view based on analyses of soil samples from the Morrow Plots that date back to before the current practice began.

Comment on this SOTT Focus

---

EXPLODING COMET: 17P-Holmes is now larger than Jupiter.


Spaceweather.com
2007-10-29 18:48:00

Astronomer Eric Allen of Quebec's Observatoire du Cégep de Trois-Rivières combined images he captured on three consecutive nights (Oct. 25, 26 and 27) and placed them beside a picture of Jupiter scaled to the same distance as the comet: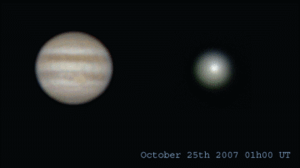 Click on above photo for animation.
Comment on this SOTT Focus
---
Our Haunted Planet
---
Ex-defence minister joins search for aliens

Joanna Smith
The Toronto Star
2007-10-29 16:53:00

A new group is pushing for full disclosure about extra-terrestrials, and they've enlisted a former Canadian cabinet minister to help make their case

Comment on this SOTT Focus

---

India: UFO puzzle has city in a tizzy


The Times of India
2007-10-30 06:58:00

KOLKATA: In the first such incident recorded in Kolkata, an unidentified flying object was spotted in the city's skies early Monday morning.

The fireball, that moved very rapidly and even seemed to change its shape and size, was photographed by a resident of Kalikapur in east Kolkata. Scientists couldn't identify the object though some believe it could be a meteor blazing a trail through the morning sky.

Comment on this SOTT Focus

---

Tunguska Meteoroid's Cousins Found?

Nicholos Wethington
Universe Today
2007-10-29 23:04:00

It's a cosmic whodunit: a meteorite exploded in the air near a remote part of Russia called Tunguska in 1908, and the meteorite that caused the event all but disappeared. Where did it come from? Was it an asteroid or part of a comet? Astronomers have taken up the case, using mathematical simulations to track down the perpetrator. They even think they might even know a few of its siblings.

Tadeusz J. Jopek and his team at the Astronomical Observatory UAM in Poland - in collaboration with the Observatoire de la Côte d'Azur in France - looked for the possible origins of the Tunguska meteor by essentially running the explosion backwards, and mathematically simulating where the parent object of the event would have been before the impact.

By taking the existing forensic evidence of the impact to estimate the velocity and impact angle of the Tunguska meteorite, the team was able to simulate the possible orbit and speed of the object before it hit the earth. In doing this, they created 3311 virtual "particles" as possible origins of the object.

Comment on this SOTT Focus

---
Don't Panic! Lighten Up!
---
Police catch burglar with his pants down


Associated Press
2007-10-30 01:28:00

WEST BEND, Wis. - The suspect in a weekend burglary was easy to identify: He had left his pants behind at the scene. The man squirmed out of his pants and shoes while scuffling with the homeowner, police said. Clad in only a hooded sweat shirt and red boxer shorts, he fled from the house on the city's northwest side.

Police later found him hiding in tall grass in a wooded area. They are seeking charges of disorderly conduct, burglary and possession of stolen property.

Comment on this SOTT Focus

---

More Interest in Mailboxes Than Meteors


Associated Press
2007-10-29 23:23:00

NEW YORK - Two of the world's most famous meteorites failed to attract buyers at an auction Sunday, while an ordinary metal mailbox zapped by a falling space rock in 1984 was sold for the unearthly price of nearly $83,000.

A 30-pound chunk of the Willamette Meteorite, which was found in Oregon in 1902 and has been steeped in ownership controversies for more than a century, was offered by Bonhams auction house at an estimated value of $1.3 million but was withdrawn from sale after bidding ended at $300,000.

Comment on this SOTT Focus

---
---

Remember, we need your help to collect information on what is going on in your part of the world!
Send your article suggestions to: sott(at)signs-of-the-times.org

---
Click here to return to the Signs of the Times Archive
Click here for today's Signs Page