---
Sections on today's Signs Page:
---
SOTT Focus
---
Where Troy Once Stood: The Mystery of Homer's Iliad & Odyssey Revealed

Laura Knight-Jadczyk
sott.net
2007-10-25 15:05:00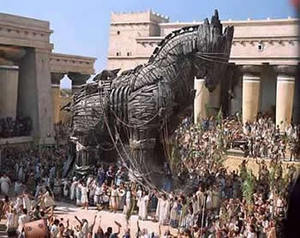 ©n/a
The Trojan Horse, the symbol for being fooled by an outward show and appearance, letting down one's guard, and bringing the enemy inside. Not far from what the world is experiencing today with the rule of psychopaths: intraspecies predators who look like normal humans but are not.



We had just made an international move and were waiting in our new house for our delayed shipping container to arrive with our library. I was quite at loose ends without anything to read when this book arrived in the mail, sent by a friend who knew I was without books. I can tell you that, after reading the cover, if my library had been there, I would never have read it. "Stuff and nonsense!" I snorted! Who was this guy to suggest that Troy was not close to Greece, that all the scholars were wrong?

Well, it's really a good thing I didn't have anything else to read! So many questions answered!

Most people are not aware that not one of forty characteristics of the City of Troy and the Trojan War plain fit the Mediterranean setting. What is astonishing is that the author of the Odyssey does give ALL the information needed to exactly place where Troy Once Stood!

Comment on this SOTT Focus

---
Best of the Web
---
R U Being Lied To? You Bet! - Israeli Foreign Minister Declares Iran "Of Little Threat"


Haaretz - with sott commentary
2007-10-25 15:11:00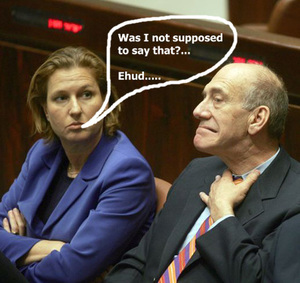 Israeli FM Livni and PM Olmert



[Israeli] Foreign Minister Tzipi Livni said a few months ago in a series of closed discussions that in her opinion Iranian nuclear weapons do not pose an existential threat to Israel, Haaretz magazine reveals in an article on Livni to be published tomorrow.

Livni also criticized the exaggerated use that Prime Minister Ehud Olmert is making of the issue of the Iranian bomb, claiming that he is attempting to rally the public around him by playing on its most basic fears. Last week, former Mossad chief Ephraim Halevy said similar things about Iran...

Comment on this SOTT Focus

---

Bush's warmongering remarks are psychotic

Rosa Brooks
Los Angeles Times
2007-10-25 08:44:00

Forget impeachment.

Liberals, put it behind you. George W. Bush and Dick Cheney shouldn't be treated like criminals who deserve punishment. They should be treated like psychotics who need treatment.

Comment on this SOTT Focus

---
U.S. News
---
Naomi Klein: "The business press and me: a case of unrequited love"

Naomi Klein
Guardian Unlimited
2007-10-25 16:50:00

Finance journalists have attacked my book, but I remain devoted to their papers. After all, they supplied the facts I used.

On a recent visit to Calgary, Alberta, I was taken aback to see my book on disaster capitalism selling briskly at the airport. Calgary is ground zero of North America's oil and gas boom, where business suits and cowboy hats are the de facto uniform. I had a sudden sinking feeling: did Calgary's business class think The Shock Doctrine was a how-to guide - a manual for making millions from catastrophe? Were they hoping for tips on landing no-bid contracts if the US bombs Iran?

When I get worried about inadvertently fueling the disaster complex, I take comfort in the response the book has elicited from the world's leading business journalists. That's where I learn that the very notion of disaster capitalism is my delusion - or, as Otto Reich, former adviser to President George Bush, told BBC Business Daily, it is the work "of a very confused person".


Comment on this SOTT Focus

---

Condoleezza Rice Confronted Regarding War Crimes


AFP
2007-10-25 12:27:00

A woman with her hands painted blood-red confronted Secretary of State Condoleezza Rice at the US Congress Wednesday, shouting "war criminal" before being hauled away by Capitol security.



Comment on this SOTT Focus

---

Flashback: 20 Secrets of an Infamous Dead Spy - Howard Hunt

Lou Cabron
10 Zen Monkeys
2007-01-25 09:20:00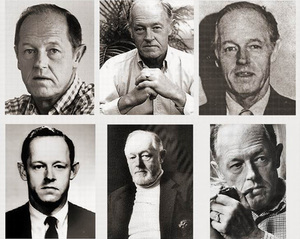 ©Unknown



During his time on this planet, Howard Hunt was everywhere - in both the Pacific and Atlantic theatres in World War II, and in the CIA during its earliest experiments with regime toppling. But he achieved fame for his spectacular failures - including a role in planning the failed Bay of Pigs invasion of Cuba and an infamous break-in to the Watergate hotel. And he also wrote some really rockin' spy novels.

He died on Tuesday.

Here now, a whole slew of stuff you may not have known about this bold political operative...

Comment on this SOTT Focus

---

Detention and Torture: Are We Still Free, or Not?

RU Sirius
10 Zen Monkeys
2007-10-25 08:33:00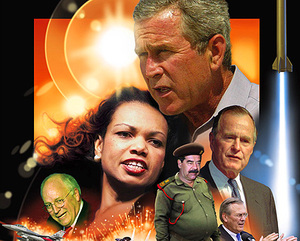 ©Unknown



Just as great as the vitriol coming from presidential critics right now, is the mixture of signals from the activist media regarding the Military Commissions Act signed by Bush last Tuesday.

Friday night, on Bill Maher's Real Time, Maher indicated that, as the result of the so-called "Detainee" bill (aka the Military Commissions Act) passed by Congress on September 28th, we could all get tossed into prison indefinitely without recourse according to the whim of the President. Maher panelist Representative Barney Frank seemingly seconded Maher's opinion. A September 30th New York Times article quoted Bruce Ackerman, a professor of law and political science at Yale, as saying that the bill "allows the administration to declare even a U.S. citizen an unlawful combatant subject to indefinite detention."

Comment on this SOTT Focus

---

DREAM Act 'amnesty' bill fails


World Net Daily
2007-10-24 00:00:00

The Senate today voted down the DREAM Act, a controversial measure that would have paved the way to legal status for thousands of young illegal aliens if they attend college or join the military.

Comment on this SOTT Focus

---

California fires rage on but crews make progress

Adam Tanner
Reuters
2007-10-25 01:08:00

Wildfires that have charred a huge swath of California and destroyed 1,300 homes burned into the night on Wednesday, but firefighters said a break in the weather had given them a chance to go on the offensive.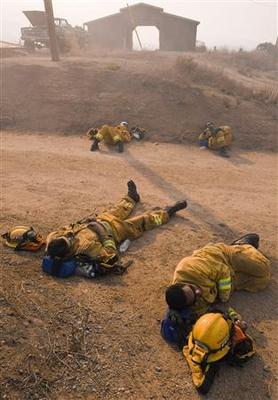 ©REUTERS/Fred Greaves
Firefighters rest after being on duty for three days protecting homes in the path of the Harris Ranch wildfire being fought in the southeastern part of San Diego county, October 24, 2007.
Comment on this SOTT Focus
---

American kids, dumber than dirt

Mark Morford
SF Gate
2007-10-24 18:43:00

Warning: The next generation might just be the biggest pile of idiots in U.S. history


Comment on this SOTT Focus

---

Trillion-dollar war: Afghanistan and Iraq set to cost more than Vietnam and Korea

Leonard Doyle
The Independent
2007-10-24 17:59:00

President George Bush will have spent more than $1 trillion on military adventures by the time he leaves office at the end of next year, more than the entire amount spent on the Korean and Vietnam wars combined.

There are also disturbing signs that Mr Bush is preparing an attack on Iran during his remaining months in office. He has demanded $46bn (£22.5bn) emergency funds from Congress by Christmas and included with it a single sentence requesting money to upgrade the B-2 "stealth" bomber.

Comment on this SOTT Focus

---
UK & Euro-Asian News
---
Russian serial killer: "I felt like God"

Chris Baldwin
Reuters
2007-10-25 17:16:00

The Russian supermarket worker found guilty of murdering 48 people told his trial on Thursday he felt like God as he decided whether his victims should live or die.

"I took the most valuable thing, human life," Alexander Pichushkin said. "I didn't take anything else of value from them. Money, jewellery, I didn't need it. I felt like God."

He described his motives for murder, taunting the court and smirking as journalists recorded his every word after the judge invited him to make a final statement at the closing session of his trial. He will be sentenced next week.

Pichushkin also said he felt like lawyer, jury, judge and executioner presiding over his helpless victims.

Comment on this SOTT Focus

---

Rights violations soar in south Russia: Amnesty


Reuters
2007-10-25 17:13:00

Human rights violations in the Russian region of Ingushetia have increased with a surge in abductions and beatings, Amnesty International said on Thursday.

The New York-based Human Rights Watch urged the European Union to use a meeting with Russia on Friday to challenge Moscow on its human rights record, which it said was worsening.

"The Russian and Ingush authorities must not repeat mistakes made in Chechnya," Amnesty International said in a statement.

"An increasing number of enforced disappearances, abductions and other human rights violations mark the rapidly deteriorating situation in Ingushetia."

Russia's interior ministry declined to comment.

Comment on this SOTT Focus

---

Menezes 'acted like any commuter'


BBC News
2007-10-25 23:59:00

The Brazilian shot dead by police who mistook him for a suicide bomber was acting no differently to any other London commuter, a jury has been told.

Comment on this SOTT Focus

---

Flashback: Dyncorp sex-slave whistle-blowers vindicated

Robert Capps
Salon
2002-08-06 13:04:00

Two former employees of DynCorp, the government contracting powerhouse, have won legal victories after charging that the $2 billion-a-year firm fired them when they complained that co-workers were involved in a Bosnia sex-slave trade.

Comment on this SOTT Focus

---

Report: Taiwan Working on Top Secret Blackout Bomb

Sharon Weinberger
Wired
2007-10-21 08:34:00

Taiwan is developing a bomb designed to wipe out China's electrical system, according to the United Daily News. The newspaper claims that Taiwan -- still dubbed a "renegade Province" by China -- is working on a graphite bomb similar to one the U.S. reportedly used against Serbia in 1999. According to wire articles about the original report:

Comment on this SOTT Focus

---

Foster child to be taken away because Christian couple refuse to teach him about homosexuality

James Mills
Daily Mail
2007-10-24 01:11:00

They are devoted foster parents with an unblemished record of caring for almost 30 vulnerable children. But Vincent and Pauline Matherick will this week have their latest foster son taken away because they have refused to sign new sexual equality regulations. To do so, they claim, would force them to promote homosexuality and go against their Christian faith.

Comment on this SOTT Focus

---

Children as judges? The final proof morality's been turned on its head

Melanie Phillips
Daily Mail
2007-10-23 23:38:00

Please will someone say that this is a joke? Children as young as ten are being given the authority to mete out justice to other children who are guilty of crimes such as vandalism, anti-social behaviour or under-age drinking.

Panels of four children, under only minimal adult supervision, are to have the power to require delinquents to repair the damage they've caused and compensate their victims. Others will mimic roles played in the courts with child ' prosecutors', child 'defence lawyers', child 'administrators' and even child 'ushers'.

Comment on this SOTT Focus

---

Italy: 'Gay' baby ad campaign triggers row


ninemsn.com.au
2007-10-24 18:59:00

Posters of a rosy, puffy cheeked newborn baby have provoked controversy in Italy because the infant is shown wearing a wristband name-tag with the word "homosexual" written on it.

Comment on this SOTT Focus

---

Russia orders 'immediate' purge of all Windows computers as virus fears grow

Sorcha Faal
WhatDoesItMean.com
2007-10-24 18:17:00

Reports circulating within President Putin's Security Council are stating that a 'redline' of Russias Information Security Doctrine has been crossed and that the 'potential' for massive cyber attacks against the military infrastructure of both the Russian and Chinese Military Forces 'appears' to be imminent.

According to these reports, the Security Council's fears are based in one of the most destructive computer viruses ever unleashed upon the World, and as we can read as confirmed by Britain's Guardian Unlimited News Service in their article titled "In millions of Windows, the perfect Storm is gathering", and which says:




"A spectre is haunting the net but, outside of techie circles, nobody seems to be talking about it. The threat it represents to our security and wellbeing may be less dramatic than anything posed by global terrorism, but it has the potential to wreak much more havoc. And so far, nobody has come up with a good idea on how to counter it."


Comment on this SOTT Focus
---
Around the World
---
Afghanistan is lost, says Lord Ashdown

Tom Coghlan
The Daily Telegraph
2007-10-25 15:53:00

Nato has "lost in Afghanistan" and its failure to bring stability there could provoke a regional sectarian war "on a grand scale", according to Lord Ashdown.

Comment on this SOTT Focus

---

Flashback: Trojan War Shows Bush and Blair's Achilles' Heel Say Actors Who See a Modern-Day Similarity

by Louise Jury
UK Independent
2004-05-14 15:16:00

The epic Greek story in the Hollywood movie Troy of bloodthirsty, power-seeking rulers laying ruin to a city has clear parallels with modern British and American leaders and the war in Iraq, the film's stars, Brad Pitt and Saffron Burrows, said yesterday.

Comment on this SOTT Focus

---

30 dead in Pakistan military blast


Agence France-Presse
2007-10-25 10:27:00

A blast tore through a truck carrying paramilitary soldiers in restive northwest Pakistan on Thursday, killing 30 people and wounding at least a dozen more, a senior security official said.

The vehicle, which was packed with ammunition, was travelling outside Mingora, the main city in the scenic Swat valley in North West Frontier Province, when the explosion occurred, the official said.


Comment on this SOTT Focus

---

Uzbek opposition reporter killed in Kyrgyzstan


Agence France-Presse
2007-10-25 10:22:00

BISHKEK - A prominent journalist known for his vocal opposition to Uzbekistan's authoritarian regime was gunned down in neighbouring Kyrgyzstan late Wednesday, police officials said Thursday.

Alisher Saipov, a critic of Uzbekistan's President Islam Karimov and editor of the Uzbek-language Politika newspaper, was shot dead in the southern Kyrgyz town of Osh, the town's police chief Rustam Myrzamatov told reporters.

Comment on this SOTT Focus

---

Former Philippine leader Estrada wins pardon


Agence France-Presse
2007-10-25 10:19:00

Former Philippine president Joseph Estrada was given a full pardon on Thursday just weeks after he was jailed for life on charges of stealing tens of millions of dollars from the nation's coffers.

The announcement came just days after Estrada, a former action movie hero, asked his successor -- President Gloria Arroyo -- to grant him a pardon in what his lawyers called the "national interest".

Arroyo's spokesman said the pardon was granted after the popular 70-year-old agreed not to pursue any other elective office. He said the pardon was granted under a policy of releasing prisoners who have reached 70 years of age.

Comment on this SOTT Focus

---

Boat sinks off Indonesian coast, 30 missing


Reuters
2007-10-25 00:33:00

Thirty people are missing after an Indonesian sailboat sprang a leak and sank on Thursday off the island of Sulawesi, a rescue official said.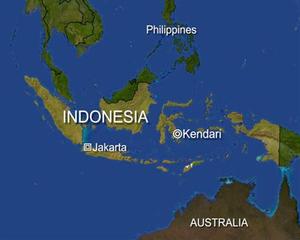 ©REUTERS/Graphics
Comment on this SOTT Focus
---

U.N. demands Darfur parties attend talks

Patrick Worsnip
Reuters
2007-10-25 00:11:00

The U.N. Security Council demanded on Wednesday that Sudan's government and Darfur rebels attend peace talks starting over the weekend and threatened action against anyone impeding the negotiations.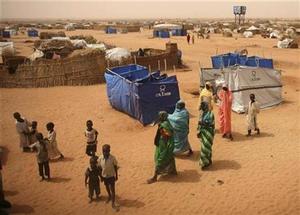 ©REUTERS/Michael Kamber
Internally displaced Sudanese stand in their camp near El-Fasher, capital of the north Darfur region, March 25, 2007.
Comment on this SOTT Focus
---

Lead Detective Quits Bhutto Attack Probe

ZARAR KHAN
Associated Press
2007-10-24 23:46:00

The detective leading Pakistan's inquiry into the suicide attack on Benazir Bhutto withdrew from the case Wednesday after the former prime minister accused him of involvement in the torture of her husband in 1999, a senior official said.

Ghulam Muhammad Mohtarem, home secretary of Sindh province, said the government would form a new team to investigate the deadly attack on Bhutto's homecoming parade in Karachi last week. The bombing killed 136 people and raised fears about the country's stability.

Comment on this SOTT Focus

---

Mexican oil rigs crash leaving 10 dead


Agence France-Presse
2007-10-24 23:13:00

At least 10 people died after two oil platforms crashed into each other in high winds in the Gulf of Mexico, causing a gas leak that forced the evacuation of all workers in the area, state oil firm Pemex said Wednesday.

"Petroleos Mexicanos (Pemex) announces the death of 10 workers ... on board the Usumacinta platform," the Mexican company said in a statement. It said 58 out of a total of 81 Pemex employees and contract workers on the oil rig have been rescued, including five sailors taking part in the rescue operation.

Comment on this SOTT Focus

---

Indian aid money 'goes missing'

Sunil Raman
BBC News
2007-10-23 17:57:00

More than $3m donated to the Indian prime minister's fund for victims of the tsunami and the Kashmir earthquake have gone missing, court papers say. The hole in the accounts came to light through a legal petition filed under the Right to Information (RTI) Act.

Comment on this SOTT Focus

---
Big Brother
---
Flashback: Homeland Security Follies

RU Sirius
10 Zen Monkeys
2007-04-10 09:39:00

According to the sleeve of his latest book, Beyond Fear: Thinking Sensibly About Security, "in an Uncertain World, Bruce Schneier is the go-to security expert for business leaders and policy makers." If only the policy makers would listen, we'd be safer, happier and still free.

Other books include Applied Cryptography, described by Wired as "the book the NSA wanted never to be published."

Beyond Fear deals with security issues ranging from personal safety to national security and terrorism. Schneier is also a frequent contributor to Wired magazine, The Minneapolis Star-Tribune, and many other fine periodicals. He also writes a monthly newsletter, Cryptogram.

I interviewed him on The RU Sirius Show.

Comment on this SOTT Focus

---

Biometric scans to help school inmates line up at grub time

Thelma Guerrero
Statesman Journal
2007-10-25 08:20:00

With the federal government lagging behind on its plans to implement the use of electronic passports, identification cards and driver's licenses, biometric vendors are targeting a new market: schools.

©Statesman Journal
A student at Stayton Middle School places a thumb on an electronic reader used to speed up lunch lines.
Comment on this SOTT Focus
---
Axis of Evil
---
U.S. imposes new sanctions on Iran's military

Sue Pleming
Reuters
2007-10-25 17:25:00

The United States on Thursday dubbed Iran's Revolutionary Guard Corps a proliferater of weapons of mass destruction and imposed sanctions on its Qods force, ratcheting up pressure on Tehran to abandon its nuclear program.

In total, Washington imposed sanctions on more than 20 Iranian companies, major banks and individuals as well as the defense ministry in a bid to force Tehran to stop uranium enrichment and curb its "terrorist" activities.

"Today, Secretary Paulson and I are announcing several new steps to increase the costs to Iran of its irresponsible behavior," said Secretary of State Condoleezza Rice, who made the announcement alongside Treasury Secretary Henry Paulson.




Comment on this SOTT Focus

---

Torture, Paramilitarism, Occupation and Genocide

Steve Lendman
Steve Lendman Blog
2007-10-25 12:58:00

On October 5, George Bush confronted a public uproar and defended his administration claiming "This government does not torture people." Again he lied. Once secret US Department of Justice (DOJ) legal opinions confirm the Bush administration condones torture by endorsing "the harshest interrogation techniques ever used by the Central Intelligence Agency." It also condones paramilitary thuggery, oppressive occupation, and genocide. This unholy combination is the ugly face of an imperial nation run by war criminals. That's the state of things today. First, the practice of torture.


Comment on this SOTT Focus

---

Bush wars to cost 40 times higher than original estimates; $8,000 per man, woman child in US

Nick Juliano
Raw Story
2007-10-25 12:34:00

New estimates show Iraq, Afghanistan will cost US $2.4 trillion; White House refuses to provide estimate


The United States is spending about $8,000 per man, woman and child in the country to pursue wars in Iraq and Afghanistan, according to new estimates that show the wars will cost about $2.4 trillion over the next decade.



Comment on this SOTT Focus

---

The Gestapo Inheritance

Nat Hentoff
The Village Voice
2007-10-23 10:03:00



'We do not torture': Groans from the CIA's black sites beg to differ



Soon after real-time terror hit home, the president gave the CIA authority to interrogate suspected terrorists in its secret prisons, wholly outside our laws or the UN International Convention Against Torture and Other Cruel, Inhuman or Degrading Treatment or Punishment of prisoners. Eventually, hard evidence of torture kept emerging from victims of the CIA's "enhanced interrogation techniques" (as the president likes to call them); from human-rights organizations; and from reports in the European and American press (including this column). In response, the Republican-controlled Congress gave CIA torturers immunity from prosecution in the 2006 Military Commissions Act.

Comment on this SOTT Focus

---

Flashback: Did Bush Spin Like Nixon?


10 Zen Monkeys
2007-01-24 09:52:00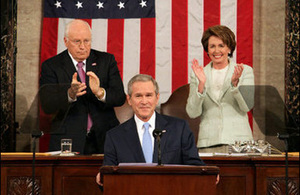 ©Unknown



In this interviewer's humble opinion, the great question now regarding the Iraq debacle isn't: Should we stay or should we go? The more important question is: Have we learned anything?

Comment on this SOTT Focus

---

Rice Calls Iran a Major Obstacle to US Wishful Thinking in the Middle East


Associated Press
2007-10-25 07:50:00

The Bush administration is ready to roll out a package of new sanctions against Iran aimed particularly at the Revolutionary Guard Corps and its Quds Force, which U.S. officials have accused of stirring up trouble in Iraq and elsewhere, according to published reports.

Comment on this SOTT Focus

---

Video :The CFR controls American media


YouTube
2007-10-25 01:33:00

An short interesting video on the origin of Council on Foreign Relations (CFR), one of the most influential organizations in the world.

Comment on this SOTT Focus

---

Damage Control! Blackwater supports State Dept. recommendations

JoAnne Allen
Reuters
2007-10-24 23:35:00

Private security contractor Blackwater USA said on Wednesday it supports recommendations by a State Department panel to boost oversight of contractors in Iraq.

North Carolina-based Blackwater, which employs about 1,000 people in Iraq, said it was pleased the U.S. government was seeking to improve contractor accountability.

Comment on this SOTT Focus

---

The Roll-Out Presses On

Scott Horton
Harper's Magazine
2007-10-24 22:43:00



Cheney Lays the Foundation for War



This weekend the roll-out for the Next War continues. The most remarkable item is a speech delivered by the man who, by all accounts, has aggressively pushed for war against Iran for at least two years: Vice President Dick Cheney. Here are a few take-outs from his speech to the Washington Institute for Near East Policy, up now at the White House web site:

Comment on this SOTT Focus

---
Middle East Madness
---
Dyncorp Mercenaries to Replace Blackwater

Warren P. Strobel
Miami Herald
2007-10-25 13:01:00

Troubled military contractor Blackwater USA is likely to be eased out of its role of guarding U.S. diplomats in Iraq in the aftermath of a shooting last month that left 17 Iraqi civilians dead, U.S. officials said Friday.

While no decisions have been finalized, Blackwater's role in Baghdad is likely to be taken over by one of two other contractors who provide security for the State Department in Iraq, the officials said. They are Triple Canopy and DynCorp International.

Comment on this SOTT Focus

---

In breach of international law Israel to cut power to Gaza

Rory McCarthy
The Guardian
2007-10-25 08:53:00

Israeli officials have proposed dramatic cuts in the supply of electricity and fuel to Gaza in a new effort to halt rocket attacks by Palestinian militants.

Comment on this SOTT Focus

---

Israeli FM concedes Iranian nuclear arms pose little threat to Israel

Gidi Weitz and Na'ama Lanski
Haaretz
2007-10-25 07:59:00

Foreign Minister Tzipi Livni said a few months ago in a series of closed discussions that in her opinion that Iranian nuclear weapons do not pose an existential threat to Israel, Haaretz magazine reveals in an article on Livni to be published tomorrow.

Comment on this SOTT Focus

---

Iraq: US involved in terrorist acts


Press TV
2007-10-25 07:57:00

A report by Iraq's parliament confirms that the US military had cooperated with terrorists in a raid on a village in Diyala province.


Comment on this SOTT Focus

---

Lebanon troops fire on Israeli warplanes

Sam F. Ghattas
Associated Press / Yahoo! News
2007-10-25 12:29:00

Lebanese troops opened fire Thursday on Israeli warplanes flying low over southern Lebanon, but no hits were reported, Lebanese officials said.

Israeli warplanes frequently fly over Lebanese airspace in what Israel says are reconnaissance missions, but this was the first time the Lebanese army has fired on the aircraft since an Aug. 14, 2006, cease-fire ended a monthlong war between Israeli and Hezbollah guerrillas.



Comment on this SOTT Focus

---
The Loan Gunmen
---
Oil hits record over $90


Yahoo/Reuters
2007-10-25 16:40:00

NEW YORK (Reuters) - Oil roared to a new record over $90 on Thursday as tight inventories and fresh signs OPEC will shrug off calls for additional oil from big consumer nations sent prices up nearly 4 percent.

U.S. crude settled up $3.36 to $90.46 a barrel after striking a record $90.60. The rise added to Wednesday's gain of nearly $2. London Brent rose $3.11 to $87.48 a barrel.

Energy officials from OPEC nations Venezuela and Algeria said the producer group will not boost output when it meets informally in Saudi Arabia next month.

"The high prices are not coming from a lack of production," Algerian Energy Minister Chakib Khelil said.

OPEC already has agreed to boost production by 500,000 barrels per day from November (Frankfurt: A0S9N7 - news) 1, but the United States has called on the group to increase output further, while No. 2 consumer China has said prices are too high.

Tracking the explosive rise in crude prices, heating oil futures hit an new all-time record, while gasoline futures rose to their highest level since mid-July.

Comment on this SOTT Focus

---

Merrill Lynch Reports Biggest Quarterly Loss in Its 93 Year History

Bradley Keoun
Bloomberg
2007-10-25 08:05:00

Merrill Lynch & Co. reported the biggest quarterly loss in its 93-year history after taking $8.4 billion of writedowns, almost double the firm's forecast three weeks ago.

Comment on this SOTT Focus

---

Bank of America cuts 3,000 jobs

Jonathan Stempel
Reuters
2007-10-24 23:56:00

Bank of America Corp on Wednesday said it planned to eliminate 3,000 jobs, and shook up its corporate and investment bank after a dismal quarter at that unit led to a 32 percent drop in overall profit.

The second-largest U.S. bank said a majority of the cuts will be in corporate and investment banking, and the rest elsewhere. The cuts amount to 1.5 percent of the bank's 198,000-person workforce.

Comment on this SOTT Focus

---

China's Growth Tops 11% Again, Adding Yuan Pressure

Nipa Piboontanasawat and Li Yanping
Bloomberg
2007-10-24 23:18:00

China's economy, the biggest contributor to global growth, expanded more than 11 percent for a third straight quarter, adding pressure for a stronger currency and higher borrowing costs to prevent overheating.

Gross domestic product rose 11.5 percent from a year earlier, the statistics bureau said today in Beijing, matching the median estimate of 26 economists surveyed by Bloomberg News. The economy's 11.9 percent expansion in the second quarter was the fastest pace in 12 years.

President Hu Jintao is trying to prevent boom turning to bust as a swelling trade surplus fuels stock prices, inflation and factory spending. A sudden slowdown could throw millions out of work, saddle banks with bad loans and hold back a global economy already weakened by the U.S. housing recession.

Comment on this SOTT Focus

---

Home builders: Worst is yet to come

Chris Isidore
CNN Money
2007-10-24 18:19:00

The battered markets for real estate and home building still have farther to fall, according to a range of economists who spoke Wednesday at a forecast conference sponsored by the National Association of Home Builders.

The economists agreed that the problems with home finance markets will continue to hit housing into next year, and that even when there is a recovery, it will be a slow process that will see weakness continue into 2009.

Comment on this SOTT Focus

---
The Living Planet
---
Earth Is Reaching The Point of No Return, Says Major UN Environment Report

Lewis Smith
Times Online
2007-10-25 16:27:00

The speed at which mankind is using and abusing the Earth's resources is putting humanity's survival at risk, scientists have said.

The bleak assessment of the state of the environment globally was issued as an "urgent call for action" amid growing concerns of worldwide waste, neglect and governmental inertia.

Fundamental changes in political policy and individual lifestyles were demanded by the United Nations Environment Programme (UNEP) as it gave warning that the "point of no return" for the environment is fast being approached.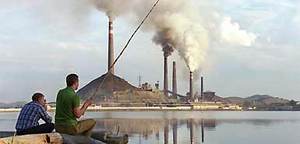 ©Alexander Nemenov/AFP/Getty Images
2 million people are killed each year by air pollution
Comment on this SOTT Focus
---

Indonesia lifts tsunami warning after Sumatra quake


Reuters
2007-10-25 00:40:00

A powerful magnitude 7.1 earthquake jolted the Indian Ocean off Indonesia's Sumatra island early on Thursday, but there were no immediate reports of damage or casualties and a brief tsunami alert was lifted.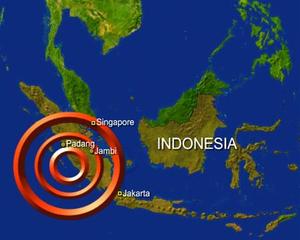 ©REUTERS/Graphics
Comment on this SOTT Focus
---
Health & Wellness
---
Deaths from superbug soaring

Lyndsay Moss
Scotsman News
2007-10-24 00:14:00

Deaths caused by the hospital superbug Clostridium difficile have soared by more than 60 per cent in Scotland in a single year, according to shocking new figures.

The bug, whose spread has been linked to poor cleanliness in hospital wards, was the main cause of death of 164 people last year - up from 100 in 2005. C difficile was also a contributing factor in the deaths of a further 253 people, statistics from the General Register Office for Scotland revealed.

Comment on this SOTT Focus

---

Flashback: New lethal superbug found in Scottish hospitals


Scotsman
2006-08-07 12:00:00

A VIRTUALLY untreatable new superbug has been found in Scotland for the first time after causing death and panic in hospitals in the US and England.

Eleven patients have tested positive for the presence of multi-antibiotic-resistant Acinetobacter, which - unlike MRSA - can only be treated with one medicine.

Health chiefs believe the new superbug is now present throughout Scotland and it is only a matter of time before it mutates into a particularly deadly form which does not respond to any known antibiotic.

Comment on this SOTT Focus

---
Science & Technology
---
1955 'Origin of Life' Paper Retracted by Author

Cornelia Dean
New York Times
2007-10-25 11:26:00

In January 1955, Homer Jacobson, a chemistry professor at Brooklyn College, published a paper called "Information, Reproduction and the Origin of Life" in American Scientist, the journal of Sigma Xi, the scientific honor society.

In it, Dr. Jacobson speculated on the chemical qualities of earth in Hadean time, billions of years ago when the planet was beginning to cool down to the point where, as Dr. Jacobson put it, "one could imagine a few hardy compounds could survive."

Nobody paid much attention to the paper at the time, he said in a telephone interview from his home in Tarrytown, N.Y. But today it is winning Dr. Jacobson acclaim that he does not want - from creationists who cite it as proof that life could not have emerged on earth without divine intervention.

Comment on this SOTT Focus

---

Boeing Tests HALE Hydrogen Propulsion System Using Ford-Developed Engine


Space War
2007-10-25 01:32:00

Boeing, using a Ford Motor Company-developed hydrogen engine, has successfully tested the hydrogen propulsion system of its High Altitude Long Endurance (HALE) unmanned aircraft. "This test demonstrates the technical readiness of the hydrogen engine system and confirms the capability breakthrough in flight endurance and altitude that could be realized by a variety of military and commercial customers," said Darryl Davis, vice president and general manager, Boeing Advanced Precision Engagement and Mobility Systems.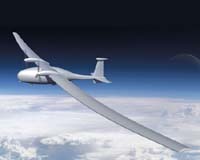 ©Boeing Illustration - Chuck Schroeder
Comment on this SOTT Focus
---

NASA Offers 2 Million Dollar Lunar Lander Competition Prize


Moon Daily
2007-10-25 00:47:00

During the X PRIZE Cup Oct. 27-28, NASA's Centennial Challenges Program will offer prizes totaling $2 million if competing teams successfully meet the requirements of the Northrop Grumman Lunar Lander Challenge. The challenge will take place at Holloman Air Force Base, in Alamogordo, N.M.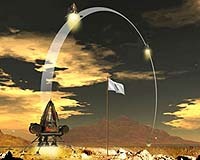 ©Unknown
Comment on this SOTT Focus
---
Our Haunted Planet
---
UK: UFO sighting in Crawley?

Matt Gaw
Crawley Observer
2007-10-23 17:05:00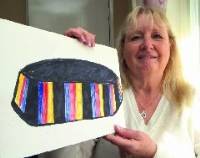 ©Crawley Observer
Symone Clarke



An Ifield psychic claims she was buzzed by a UFO in the early hours of Monday morning.

Symone Clarke, from Ferring Close, reckons she was woken from her sleep by the mysterious visitors hovering outside her window.

Comment on this SOTT Focus

---

There's something weird up there...


Express and Echo
2007-10-25 13:29:00

Strange lights glowing in the sky over Exeter have left residents bemused, confused and feeling slightly silly.

Many people have now come forward after the Echo highlighted the first sighting this week - from a woman afraid nobody would believe her.

In fact, the report prompted a host of calls from residents right across the city who have seen something odd and are now not afraid to talk about it.

Comment on this SOTT Focus

---

UK: Exeter Housewife Sees UFO


Express and Echo
2007-10-25 09:44:00

An Exeter housewife claims she was left stunned after spotting a strangely lit, circular shaped object flying over the city.The woman, who has asked not to be named, lives in Redhills, and spotted the object between 10.50pm and 11.05pm on Sunday.

Comment on this SOTT Focus

---
Don't Panic! Lighten Up!
---
Well, you don't see something like this every day


Reuters
2007-10-25 00:56:00

An Australian barmaid has been fined for crushing beer cans between her bare breasts while an off-duty colleague has been fined for hanging spoons from her friend's nipples, police said Wednesday.

Police in Western Australia said the 31-year old barmaid pleaded guilty in the local magistrate's court to twice exposing her breasts to patrons at the Premier Hotel in Pinjarra, south of the state capital, Perth.

Comment on this SOTT Focus

---
---

Remember, we need your help to collect information on what is going on in your part of the world!
Send your article suggestions to: sott(at)signs-of-the-times.org

---
Click here to return to the Signs of the Times Archive
Click here for today's Signs Page