---
Sections on today's Signs Page:
---
SOTT Focus
---
No new articles.
Best of the Web
---
Video: The Fascist Blueprint

Naomi Wolf
BrasscheckTV/Youtube
2007-10-24 10:23:00





Comment on this SOTT Focus

---
U.S. News
---
Fires threaten remaining power link to San Diego

Bernie Woodall
Reuters
2007-10-24 13:50:00

Wildfires threatened to shut down the last remaining major power transmission link to San Diego, which would make the Californian county an electricity "island", susceptible to major blackouts, the manager of the state power grid said Wednesday.

Comment on this SOTT Focus

---

Emotion Trumps Logic in the Voting Booth

Terrence McNally
AlterNet
2007-10-24 12:35:00

An August op-ed in Kenya's Daily Nation included this sentence: "The candidates will do well to go out and buy a book entitled The Political Brain: The Role of Emotion in Deciding the Fate of the Nation, by Drew Westen." Quoting the article's author, Charles Onyango-Obbo, "Westen has studied elections over the years, and found an inconvenient truth: People almost always vote for the candidate who elicits the right feelings, not the one who presents the best arguments."

Closer to home, as Westen points out, the Republicans led by Karl Rove consistently beat the Democrats at playing to the electorate's emotions. All logic points to Republican losses in '08. But logic doesn't vote -- and logic doesn't win elections. Will the Democrats once more snatch defeat from the jaws of victory, or can they finally learn the crucial lesson that hearts lead minds? Drew Westen weighs in.

Comment on this SOTT Focus

---

Getting Real About the Economics of Cocaine

Bill Piper
AlterNet
2007-10-24 12:23:00

President Bush's plan for battling the war on drugs will only cost taxpayers dearly and make trafficking more profitable.

"Less Gasoline Available to U.S. Consumers" might be how headlines would read in major newspapers if reporters covered recent decreases in the supply of gasoline in the same way they're covering recent decreases in the supply of cocaine. Of course, such a headline wouldn't pass the laugh test. The supply of gasoline may be down 10 percent from last year, but anyone wanting to buy it may do so (without getting in a long line). The same could be said of cocaine, but that hasn't stopped newspapers from repeating President Bush's myth that we're winning the war on drugs.

Comment on this SOTT Focus

---

Christian Cult Embraces Romney Cult

Glenn Johnson
Associated Press
2007-10-24 08:04:00

Mitt Romney's presidential campaign has been embraced in a most unlikely place: at Bob Jones University, the influential Christian college that teaches that his Mormon church is a cult.

Comment on this SOTT Focus

---

Senate passes health funds that Bush opposes

Richard Cowan
Reuters
2007-10-24 03:16:00

The Senate on Tuesday ignored a veto threat and easily passed legislation that would spend more than President George W. Bush wants this year for social programs including health care, education and job training.

By a veto-proof margin of 75-19, the Senate passed the bill that would cost $606 billion in the fiscal year that started Oct 1. Of that total, $152 billion funds programs that Congress tinkers with each year.


Comment on this SOTT Focus

---

Woman Stabs Tied-Up Lover to Drink Blood


Associated Press
2007-10-23 22:12:00

MESA, Ariz. - A woman who stabbed her tied-up lover so she could drink his blood has been sentenced to 10 years in prison. Tiffany Sutton told Maricopa County Superior Court Judge David Udall that she was sorry for the incident and said she never meant to hurt anyone, but received the stiff sentence anyway after he called the crime especially heinous.

Comment on this SOTT Focus

---

U.S. war tab $200 billion for next year

Tim Harper
TheStar.com
2007-10-23 21:06:00



Bush asks Congress to okay an additional $45.9 billion for efforts in Iraq, Afghanistan



George W. Bush has asked the U.S. Congress to approve another $45.9 billion for the wars in Iraq and Afghanistan, bringing the 2008 tab to almost $200 billion and making it the most expensive year of military combat in his so-called "war on terror.''

Democratic leaders vowed they would not "rubber stamp'' the request, but in keeping with their inability to change the course of the war since coming to power in 2006, no one in the congressional leadership vowed to reject the request.

Comment on this SOTT Focus

---
UK & Euro-Asian News
---
China identifies Xi Jinping as the next party leader

Clifford Coonan
The Independent
2007-10-24 03:50:00

The men who will next rule China, the world's most heavily-populated country and emerging economic powerhouse, strode stiffly in identical dark blue suits onto a flower-lined stage.

We know nothing of the decision-making process at a week-long Communist Party congress that anointed them as likely successors to President Hu Jintao, and a place among the most powerful leaders on earth. Decisions in Beijing in coming years will have major repercussions in Britain as the global economy becomes more networked.

Their appointment to a new-look Politburo Standing Committee gives a first glimpse of China's ruling elite, and valuable clues as to who will hold the reins when Hu steps down in 2012.

Comment on this SOTT Focus

---

Tens of thousands in anti-government rally in Budapest


Agence France-Presse
2007-10-24 03:16:00

BUDAPEST - Tens of thousands of people gathered on Tuesday for an anti-government rally in the Hungarian capital, a national holiday here to mark the 51st anniversary of the anti-Soviet uprising.

The police put the number of demonstrators at 30,000. Rally organisers -- the right-wing opposition party Fidesz -- claimed that as many as 250,000 people took part.

Comment on this SOTT Focus

---

Bogus threats and bogus statements! Bush says Europe need for missile shield is 'urgent'


Agence France-Presse
2007-10-24 02:40:00

President George W. Bush on Tuesday warned that Europe urgently needs a US missile defense system to blunt a growing threat from Iran, despite vocal opposition from Russia.

In a speech to the US National Defense University, Bush said the world may have less than a decade before arch-foe Tehran possesses rockets able to reach the United States and strike any country in Europe, perhaps by 2015.



Comment on this SOTT Focus

---

French parliament adopts DNA bill


BBC
2007-10-23 22:06:00

A new immigration bill introducing possible DNA tests for foreigners who want to join relatives in France has been adopted by parliament.

The controversial bill was passed in both the country's National Assembly and in the Senate.

Comment on this SOTT Focus

---
Around the World
---
Singapore Airlines A380 set for first commercial flight


Channel News Asia
2007-10-24 17:23:00

Singapore Airlines' first Airbus A380 superjumbo - the biggest airliner ever built - is set to take to the skies on Thursday for its first commercial flight. Excitement was building ahead of the scheduled 8:00 am (0000 GMT) take-off of SIA Flight SQ380 from the city-state's Changi Airport, which was due to arrive in Sydney about 7.5 hours later.

Comment on this SOTT Focus

---

Fuelling Sedition! Bush to seek global fund for Cuba democracy


Agence France-Presse
2007-10-24 03:31:00

US President George W. Bush on Wednesday will urge countries that do business with Cuba to reconsider, and call for a global fund to promote democracy there after Fidel Castro is gone.

Bush will use a speech at the US State Department -- his first address in four years entirely about Cuba -- to mount a full-throated defense of the four-decade old US embargo and urge Castro's government to to lift restrictions on Internet access, the White House said Tuesday.

Comment on this SOTT Focus

---

Two more Colombian candidates killed before vote


Reuters
2007-10-24 01:08:00

Two more candidates were killed in Colombia on Tuesday before nationwide local elections this weekend, shot by suspected leftist guerrillas as they campaigned in a rural hamlet.

At least 21 people running for posts as governors, mayors and members of local assemblies have been murdered during the campaign for Sunday's election. The government and independent election observers differ on the exact number of killings.

Comment on this SOTT Focus

---

Women peace laureates appeal for Myanmar action

Jeremy Lovell
Reuters
2007-10-24 00:50:00

Six female Nobel Peace laureates called on the world to keep up pressure on Myanmar's military junta to restore liberty and democracy in the country.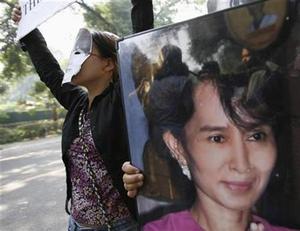 ©REUTERS/Desmond Boylan
A Myanmar pro-democracy activist holds a picture of Nobel Prize winner Aung San Suu Kyi during a protest in New Delhi October 19, 2007.
Comment on this SOTT Focus
---

Vietnam grants amnesty to 8,000 - but not pedophile Glitter


Agence France-Presse
2007-10-23 22:42:00

Vietnamese President Nguyen Minh Triet has given amnesty to more than 8,000 prisoners but British pop singer Gary Glitter, jailed for child molestation, was not on the list, officials said Tuesday.

A total of 8,018 prisoners will be freed from prison including 13 foreigners and 48 others will not be placed behind bars in honour of the communist country's National Day, the officials said.

Comment on this SOTT Focus

---

Shades of the Holocaust! African migrants trying to reach Yemen thrown overboard


BBC
2007-10-23 22:21:00

Sixty six African migrants are dead or missing after being forced overboard by people traffickers off the coast of Yemen, the UN refugee agency says.

The incident involved two smugglers' boats that left the Somali coastal town of Bossaso on Saturday with 244 people aboard, mostly Somalis and Ethiopians.

Comment on this SOTT Focus

---

Castro Claims Bush Could Spark WWIII

Will Weissert
Associated Press
2007-10-23 21:27:00

HAVANA - Fidel Castro wrote Tuesday that President Bush is threatening the world with nuclear war and famine _ an attack on Washington a day before the White House was to announce new plans to draw Cuba away from communism.

Comment on this SOTT Focus

---
Big Brother
---
Terror watch list swells to more than 755,000

Mimi Hall
USA TODAY
2007-10-23 17:25:00

The government's terrorist watch list has swelled to more than 755,000 names, according to a new government report that has raised worries about the list's effectiveness.

The size of the list, typically used to check people entering the country through land border crossings, airports and sea ports, has been growing by 200,000 names a year since 2004. Some lawmakers, security experts and civil rights advocates warn that it will become useless if it includes too many people.

Comment on this SOTT Focus

---

Wiretapping at Its Worst

Brian Beutler
AlterNet
2007-10-24 12:07:00

A revolving door between the telecommunications industry and federal government ensures that the doors to your personal privacy are wide open.

It seemed like shocking news last week when the telecommunications giant Verizon admitted it has readily allowed warrantless national security investigators to browse customer records on thousands of occasions. But given the revolving door between the telecom industry and federal government, no one should be surprised by their cozy relationship.

According to OpenSecrets.org, a website run by the Center for Responsive Politics in Washington, D.C., the worlds are well-connected: There is no shortage of government officials who once worked in the telecommunications industry, and no shortage of telecommunications industry execs who once worked for the government.

Comment on this SOTT Focus

---

More drones to help US Border Patrol smuggle drugs, fight huddled-mass threat

Sean Holstege
The Arizona Republic
2007-10-19 08:13:00

Homeland-security officials will expand the use of drone aircraft, a key tool in the government's border strategy, despite a safety investigation highlighting a string of errors in the crash of a $6.5 million pilotless plane in Arizona last year.

Comment on this SOTT Focus

---

Flashback: Israeli firm gets Mexico border wall contract

Bill Weinberg
Weinberg Report
2006-11-17 12:00:00

How ironic. We noted in August that ex-Israeli security chief Uza Dayan was warning the US against emulating Israeli strategies in securing the Mexican border. Now it appears that Elbit Systems, an Israeli firm which is building the "Aparthied Wall" in occupied Palestine, has been awarded a contract, along with Boeing, to build the wall on the Mexican border. From Israel21C, Oct. 15:

Comment on this SOTT Focus

---

Flashback: A Boeing-Israeli joint venture: spy towers on the US border

Brenda Norrell
Counterpunch
2007-07-18 09:37:00

Boeing has enlisted the aid of Elbit Systems, Israel's major defense contractor, to construct high-tech surveillance along the border of the U.S. and Mexico. So far, the high-tech fiasco is not working and Arizona residents are organizing a lawsuit to halt government spying on U.S. citizens.

Arivaca resident Margaret Keoppen is among those opposing the 98-foot spy tower in her community, part of Project 28 of the Secure Border Initiative.

With a spy viewing range of 10 miles, the spy tower is pointed at the good folks of Arivaca.

"This system is entirely experimental with unknown results and I don't wish to be used as a guinea pig with resulting harm to me, my family, my animals, area wildlife," Keoppen told Project 28.

Comment on this SOTT Focus

---

Public audio surveillance hits London


BBC News
2007-10-18 23:52:00

Listening devices and hidden cameras are being used by police in London to help infiltrate gangs of youths. Detectives hope the hi-tech gadgets - which can be placed in cars, homes or on street corners - can help yield vital intelligence.

Comment on this SOTT Focus

---
Axis of Evil
---
Bush, Hunger and Death

Fidel Castro Ruz
Granma International
2007-10-24 08:32:00

FOR the first time, just before the UN discusses Cuba's proposed resolution condemning the blockade, as it does every year, the president of the United States has announced that he is to adopt new measures to accelerate the "transition period" in our country, equivalent to a new conquest of Cuba by force.

Comment on this SOTT Focus

---

War is a racket! Bush offers to bomb Kurds


Herald Sun
2007-10-24 03:25:00

THE Bush Administration is considering air strikes, including cruise missiles, against the Kurdish rebel group PKK in northern Iraq. The move would be an attempt to stave off a Turkish invasion of that country to fight the rebels.

President George Bush spoke with Turkish President Abdullah Gul by phone yesterday in an effort to ease the crisis.



Comment on this SOTT Focus

---

Bush to urge Cubans to push for democratic change

Caren Bohan
Reuters
2007-10-24 00:23:00

U.S. President George W. Bush will urge Cubans on Wednesday to "shape their destiny" by pushing for peaceful democratic change, in his latest effort to boost pressure on ailing Cuban leader Fidel Castro.

Comment on this SOTT Focus

---

Beating the war drum! Meridor: We must be ready to preempt threats

Hilary Leila Krieger
The Jerusalem Post
2007-10-23 22:52:00

Israeli Ambassador to the US Sallai Meridor declared Monday that Israel should always be prepared "to preempt, to deter and to defeat if we can" when speaking about the threats facing the country.



Chief among those threats was Iran, said Meridor, who called for a unified international as well as domestic American front to counter the Islamic Republic's nuclear ambitions.

Comment on this SOTT Focus

---
Middle East Madness
---
Turkish planes bomb Iraq Kurdish village: Iraqi Kurd

David Clarke and Thomas Grove
Reuters
2007-10-24 16:53:00

DAHUK, Iraq/CIZRE, Turkey - Turkish warplanes attacked an Iraqi village on Wednesday, an Iraqi Kurdish security official said, but Turkey said it wanted to hold back from a major incursion to give diplomacy a chance.

The Iraqi official, speaking on condition of anonymity, said a Kurdish village in mountainous country near Shiranish Islam, 25 km (15 miles) northeast of the northern town of Dahuk, had been heavily bombed at midday. He gave no details of damage.

Comment on this SOTT Focus

---

"Come and see our overflowing morgues"

Mike Whitney
Information Clearing House
2007-10-24 17:00:00




"Everyday, under the pretext of either Al Qaeda, insurgents, militants, or whatever imaginary name you coined, you have not ceased, not even for one day, slaughtering our innocents.

For 4 years, you have not ceased for one single day. Not during holiday periods, not during religious celebrations, not even during the day your so called God was born...if you have a God that is."

Layla Anwar

"A Perfect Baby Formula" An Arab Woman Blues


Comment on this SOTT Focus
---

Iraq Determined to Expel Blackwater Mercenaries Given Immunity to Kill Civilians


Associated Press
2007-10-24 16:09:00

The Iraqi government remains determined to expel the Blackwater USA security company and is searching for legal remedies to overturn an American-imposed decree that exempts all foreign bodyguards from prosecution under local laws, officials said Wednesday.

Comment on this SOTT Focus

---

EU's Solana, Iran's new nuclear pointman have 'constructive' talks


Agence France-Presse
2007-10-24 02:34:00


ROME - foreign policy chief Javier Solana and Iran's new hardline nuclear pointman Saeed Jalili met for the first time on Tuesday for talks both sides described as "constructive."

"There might be a (second) meeting before the end of November," Solana said after the talks with Jalili and his conservative but pragmatic predecessor, Ali Larijani.

It was Solana's first sit-down with Jalili, whose appointment has been viewed as possibly signalling a tougher Iranian stance in the long-running dispute over its contested nuclear programme.

Comment on this SOTT Focus

---
The Loan Gunmen
---
U.S. "undoubtedly in recession"; Top investor quits Dollar for Yen


Reuters
2007-10-24 16:02:00

The United States has entered a recession, according to highly-regarded investor Jim Rogers, who told Britain's Daily Telegraph newspaper on Wednesday he was switching out of the dollar and into yen, the yuan and the Swiss franc.

Comment on this SOTT Focus

---

Home sales plunge by 8 percent

Martin Crutsinger
Associated Press
2007-10-24 12:34:00

WASHINGTON - Sales of existing homes plunged by a record amount in September as turmoil in mortgage markets added more problems to a housing industry in its worst slump in 16 years.

The National Association of Realtors reported Wednesday that sales of existing homes fell 8 percent in September, the largest decline to show up in records dating to 1999. The seasonally adjusted annual sales rate of 5.04 million existing homes was also the slowest pace on record.


Comment on this SOTT Focus

---

Australia: Personal debt worse than during Great Depression

Ashley Hall
Australian Broadcasting Corporation
2007-10-23 22:59:00

This is a transcript from The World Today. The program is broadcast around Australia at 12:10pm on ABC Local Radio.

You can also listen to the story in REAL AUDIO and WINDOWS MEDIA and MP3 formats.

Comment on this SOTT Focus

---

Today's Sociopathic Financial World

Jim Sinclair
Jim Sinclair's MineSet
2007-10-15 20:50:00

It has been said that you cannot grow a conscience. You either have it or not. The most profound example of this mental disorder is:



1. Failure to conform to social norms with respect to lawful behaviors as indicated by repeatedly performing acts that are grounds for arrest.

2. Deceitfulness, as indicated by repeated lying, use of aliases, or conning others for personal profit or pleasure, impulsivity or failure to plan ahead.

3. Irritability and aggressiveness, as indicated by repeated physical fights or assaults.

4. Reckless disregard for safety of self or others.

5. Consistent irresponsibility, as indicated by repeated failure to sustain steady work or honor financial obligations, lack of remorse, as indicated by being indifferent to or rationalizing having hurt, mistreated, or stolen from another.


Comment on this SOTT Focus
---
The Living Planet
---
Volcanic activity seen as cause of earthquakes in British Columbia

Mark Nielsen
Prince George Citizen
2007-10-24 17:51:00

Volcanic activity appears to be the cause of the earthquakes 150 kilometres southwest of Prince George, volcanologist Catherine Hickson said Wednesday, but is stressing that the potential for an actual eruption remains low.

Scientists are continuing to monitor the situation and five seismographs have been moved into the location about 20 km. west of Nazko Cone, a small dormant volcano that last erupted 7,200 years ago.

Comment on this SOTT Focus

---

Record Breaking Temps In NYC For 5th Time In Oct.


CBS
2007-10-23 17:45:00



City On Brink Of Warmest October Ever



For the fifth time this month, a record high temperature was set at LaGuardia Airport on Tuesday, and it's the seventh record high to be set in the last six weeks.

The temperature Tuesday topped out at 80-degrees, breaking the old record set back in 1995.

Comment on this SOTT Focus

---

California wildfires force historic evacuation

Dana Ford
Reuters
2007-10-24 01:29:00

Fierce wildfires raged across Southern California on Tuesday, threatening more than 60,000 homes as night fell and forcing half a million people to flee in the state's largest evacuation.


©REUTERS/NASA/MODIS Rapid Response/Handout
The southern California wildfires are shown in this satellite image provided by NASA October 23, 2007.
Comment on this SOTT Focus
---

Geologists: Collier Glacier in Oregon is shrinking


Associated Press
2007-10-23 21:01:00

Between the North Sister and Middle Sister in Oregon's Cascade Range, Collier Glacier has advanced and receded for hundreds of thousands of years. But like many glaciers, it is headed in one direction these days: backward.

It is in serious peril, says geologist Ellen Morris Bishop of the Fossil-based Oregon Paleo Lands Institute. "We have basically a really sad picture of Collier Glacier today."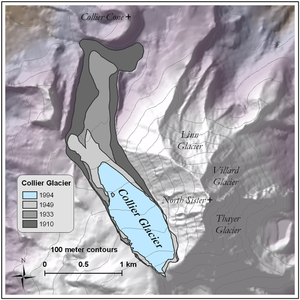 ©Glaciers Online
Comment on this SOTT Focus
---

Raging Calif. Wildfires Force 1M to Flee

Gillian Flaccus
Associated Press
2007-10-23 20:07:00

SAN DIEGO - Faced with unrelenting winds whipping wildfires into a frenzy across Southern California, firefighters all but conceded defeat Tuesday to an unstoppable force that has chased an estimated 1 million people away.

Comment on this SOTT Focus

---
Health & Wellness
---
Mystery virus puzzles health officials; kills more than 300 people, most of them children


Hindustan Times
2007-10-24 17:18:00

HEALTH DEPARTMENT officials are a puzzled lot these days as identification of the mysterious virus, which has killed over 300 people and infected around 1,800 people mostly children, remains a distant dream. The virus continues to be on the prowl in eastern and western Uttar Pradesh even eight months after it started infecting people.

Comment on this SOTT Focus

---

Possible Physical Origin Of Alzheimer's Disease


Science Daily
2007-10-24 01:53:00

For some time, scientists have blamed Alzheimer's disease on a small molecule called amyloid beta protein (A beta) that leaves large gummy deposits in the brain. Recent studies suggest that these A beta proteins stick together to form floating toxic clumps that kill brain cells. Now, UCLA scientists have identified a tiny loop in A beta as the likely culprit behind the adhesion process.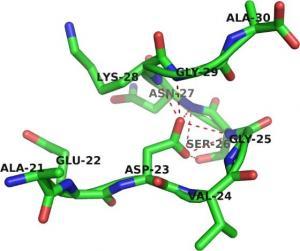 ©University of California
Amyloid Protein Loop. Broken red lines indicate a loop in the amyloid B-protein that enables it to attach to other proteins and form clumps that kill brain cells.
Comment on this SOTT Focus
---
Science & Technology
---
When Science Attacks!

Annalee Newitz
AlterNet
2007-10-24 17:57:00

Two scandals rocked the sci-tech world last week. Not to put too fine a point on it, they reminded us that bad research and implementation can kill.

In South Africa, a widely used antiaircraft cannon called the Oerlikon GDF-005 suffered from what many observers believe was a computer malfunction, which killed nine soldiers and maimed 15 in a training exercise. Its computer-controlled sighting mechanism went haywire, and the gun automatically turned its barrel to face the trainees next to it, spraying bullets from magazines that it automatically reloaded until it was out of ammunition. Many compared the incident to science fiction fare like Robocop or Terminator, in which military bots turn on their masters.

Comment on this SOTT Focus

---

Archaeologists to restart excavations at Herculaneum in Italy


The Hindu
2007-10-24 17:47:00

In an attempt to recover the lost works of Aristotle, Sophocles and Catullus, archaeologists are to restart excavations at the ancient city of Herculaneum in Italy, where a Roman library lies buried beneath 90 ft of lava from the eruption of Mount Vesuvius in AD 79.

"It is impossible, absolutely impossible, to excavate Villa dei Papyri without finding fantastic things. We may find the lost scrolls of Aristotle, or we may find something even more exciting that we had not even thought of yet," Andrew Wallace-Hadrill, the Director of the Herculaneum Conservation Project, told The Daily Telegraph.

Comment on this SOTT Focus

---

History of mass extinction is a grim lesson on climate change

Lewis Smith
Times Online
2007-10-24 16:17:00

The five periods in the history of Earth that had the highest levels of extinction were all linked to climate change, fossil evidence shows.

The findings support fears that wild-life will be driven to extinction in the next few centuries in numbers to rival the death of the dinosaurs 65 million years ago.

Higher temperatures found to be associated with four of the mass extinctions were at about the same level that is forecast by climate change scientists for the next 100 to 200 years.

Comment on this SOTT Focus

---

First Known Belt Of Moonlets In Saturn's Rings Detected


Science Daily
2007-10-24 15:50:00

A narrow belt harboring moonlets as large as football stadiums discovered in Saturn's outermost ring probably resulted when a larger moon was shattered by a wayward asteroid or comet eons ago, according to a University of Colorado at Boulder study.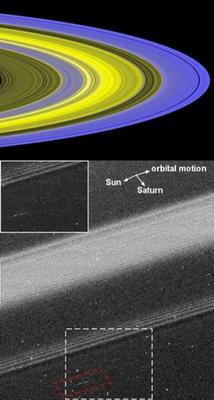 ©NASA/JPL/Space Science Institute/ University of Colorado
A team led by the University of Colorado at Boulder has detected an unseen belt of moonlets in Saturn's outermost "A" ring (top image, outer purple band). The moonlets in the belt were detected by gravity "wakes" 10 miles to 20 miles across (boxed in bottom image) by the narrow-angle camera aboard the NASA Cassini spacecraft.
Comment on this SOTT Focus
---

Obscure Comet Brightens Suddenly

Joe Rao
Space.com
2007-10-24 15:39:00

A small and very faint comet has surprised observers around the world by overnight becoming bright enough to see with the unaided eye.

Comet Holmes, which was discovered in November 1892 by Edwin Holmes, in London England, was no brighter than magnitude 17 in mid-October - that's about 25,000 times fainter than the faintest star that can normally be seen without any optical aid. In order to view an object this faint, one would need a moderately large telescope.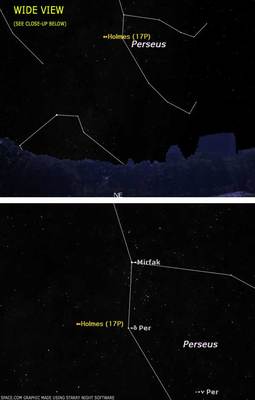 ©Space.com
Comet Holmes' location as of Oct. 24th at 8 p.m. local time from midnorthern latitudes.
Comment on this SOTT Focus
---

A 3,000-year-old mystery is finally solved: Tutankhamun died in a hunting accident

Steve Connor
The Independent
2007-10-24 02:26:00

The mystery behind the sudden death of Tutankhamun, the boy king who ruled Egypt more than 3,000 years ago, may have been finally solved by scientists who believe that he fell from a fast-moving chariot while out hunting in the desert.

Speculation surrounding Tutankhamun's death has been rife since his tomb was broken into in 1922 by archaeologist Howard Carter. X-rays of the mummy taken in 1968 indicated a swelling at the base of the skull, suggesting "King Tut" was killed by a blow to the head.

Comment on this SOTT Focus

---

Large dinosaur footprints found in Australia

Tan Ee Lyn
Reuters
2007-10-24 01:24:00

Large, carnivorous dinosaurs roamed southern Australia 115 million years ago, when the continent was joined to the Antarctica, and were padded with body fat to survive temperatures as low as minus 30 degrees Celsius.

Standing about 12-feet tall, these hardy creatures inhabited the area close to the South Pole for at least 10 million years during the Cretaceous period, an expert said.

Comment on this SOTT Focus

---
Our Haunted Planet
---
Did a UFO really crash land near Wrexham?


Evening Leader
2007-10-24 16:20:00

North East Wales has been something of a hot-spot for UFO sightings in recent years, we take a look at some of the best known encounters.

Comment on this SOTT Focus

---

My close encounter with UFOs over Islington, UK


Islington Gazette
2007-10-24 16:09:00

Surreal photos capture what one man believes are visitors from outer space darting through the skies above Islington - the second UFO spotting in the borough this year.

Dennis Gray, 33, a car dealer who lives in Sebbon Street, Islington, has told of the "deep sense of calm" he felt after capturing the startling images from his front window.

He claims he saw a floating orb and a triangle shaped craft hovering above the Angel in broad daylight.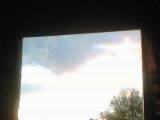 ©Islington Gazette
A ""Christ-like"" figure in the sky at top right of shot.
Comment on this SOTT Focus
---
Don't Panic! Lighten Up!
---
Navy's Definition of Ignorance: US Signs Maritime Pact With Mongolia

Matthew Lee
Associated Press
2007-10-24 06:57:00

Somebody should have looked at a map.

The State Department with great fanfare on Tuesday signed an agreement with landlocked Mongolia that will allow Mongolian ships to be boarded and searched if they are suspected of carrying weapons of mass destruction.

This despite the fact that Mongolia - a vast land that's home to the Gobi Desert, windswept steppes and largely populated by nomadic yak herders - has no navy at all and lies thousands of miles from open waters.

Still, its tiny merchant marine is recognized as one of 32 "flag of convenience" countries by international maritime authorities.

Comment on this SOTT Focus

---

Ecuador Demands Military Base in Miami


Reuters
2007-10-22 23:06:00

Ecuador's President Rafael Correa, who has refused to renew the lease on the Manta air base on Ecuador's coast which is set to expire in 2009, has demanded a military base in Miami in return.

Correa said "We'll renew the base on one condition: that they let us put a base in Miami - an Ecuadorean base" adding "If there's no problem having foreign soldiers on a country's soil, surely they'll let us have an Ecuadorean base in the US."



Comment on this SOTT Focus

---
---

Remember, we need your help to collect information on what is going on in your part of the world!
Send your article suggestions to: sott(at)signs-of-the-times.org

---
Click here to return to the Signs of the Times Archive
Click here for today's Signs Page