---
Sections on today's Signs Page:
---
SOTT Focus
---
No new articles.
Best of the Web
---
No new articles.
U.S. News
---
What? 11 Airspace Violations Around Camp David!


CBS News
2007-10-08 10:20:00

The Secret Service tells CBS News that there were eleven violations of temporary flight restrictions around Camp David, the presidential retreat in Maryland, on Sunday.

President Bush was visiting Camp David this weekend, but the Secret Service said that all of the incidents occurred while Mr. Bush was attending a memorial for fallen firefighters in Emmitsburg, Maryland

Comment on this SOTT Focus

---

Clinton gets snippy with Iowan over Iran

Athena Jones
NBC/NJ's
2007-10-08 09:14:00

Iowa -- At a campaign stop here, Hillary Clinton sparred verbally for several minutes with a man who pressed her on her recent vote to call Iran's army a terrorist organization.

Randall Rolph, from nearby Nashua, asked why he should support Clinton's candidacy when she did not appear to have learned any lessons from having voted to authorize force in Iraq.

Comment on this SOTT Focus

---

Woman fights for life after psycho goes on knife rampage

Alison Gendar, John Lauinger & Christina Boyle
New York Daily News
2007-10-08 01:30:00

New York City, New York - A shirtless madman wielding stolen knives went on a bloody midtown rampage yesterday - stabbing a restaurant worker and a psychologist walking her dog before being shot by an off-duty cop, authorities said.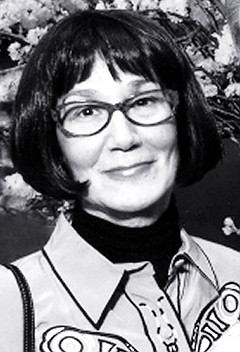 ©Unknown
Susan Barron, a breast cancer survivor, was stabbed repeatedly by madman while walking her dog.
Comment on this SOTT Focus
---

Off-Duty Wis. Deputy Sheriff Kills 6

Robert Imrie
Associated Press
2007-10-08 01:10:00

Crandon, Wis. - An off-duty sheriff's deputy went on a shooting rampage early Sunday at a home where seven young people had gathered for pizza and movies, killing six and critically injuring the other before authorities fatally shot him, officials said.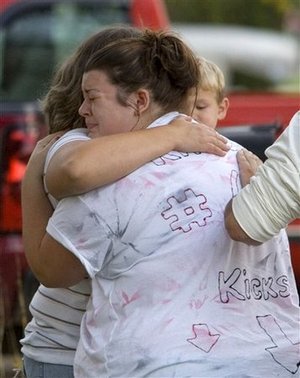 ©Associated Press/Andy Manis
Neighbors hug near where a law enforcement employee went on a shooting rampage Sunday, Oct. 7, 2007.
Comment on this SOTT Focus
---

Absurd! 52c doughnut may cost man 30 years to life

Todd C. Frankel
St. Louis Today
2007-10-07 22:00:00

Shoplifters at Country Mart tend to favor cold medicines and packaged meats. They used to steal cigarettes, too, until tobacco was moved behind the counter. But the doughnuts were never a target for thieves.

Country Mart's doughnuts - fried fresh daily in the store - sell for just 52 cents each. That is why the "shoplifters will be prosecuted" signs are displayed in aisle 4 with the pricey pain and allergy pills, and not in aisle 5 beside the glass doughnut case with its tiger tails, jelly-filleds and eclairs.

Then one man's sweet tooth got the better of him. He stole a doughnut. A single doughnut.

Authorities called it strong-arm robbery. The "doughnut man," as the suspect is now known, faces five to 15 years in prison for his crime. And Farmington, a town of 14,000 people about 70 miles south of St. Louis, has been buzzing about it ever since.

"That someone would take just a single doughnut, not something very expensive or extravagant, that's unique," supermarket assistant manager Gary Komar said, smiling.

Scott A. Masters, 41, is accused of shoplifting the pastry and pushing a store worker who tried to stop him. The worker was unhurt. But with that shove, his shoplifting turned into a strong-arm robbery. Masters, who appeared in court Friday, is stunned. The prosecutor shows no signs of backing down. In fact, because Masters has a prior record, he could get a sentence of 30 years to life.

Comment on this SOTT Focus

---

At Least 6 Dead After Wisconsin Rampage

Robert Imrie
Associated Press
2007-10-07 18:30:00

A local law enforcement employee went on a shooting rampage early Sunday in remote northern Wisconsin, killing at least five people before authorities fatally shot him, officials said.

Comment on this SOTT Focus

---
UK & Euro-Asian News
---
French President Sarkozy to make first visit to Moscow


RIA Novosti
2007-10-08 09:58:00

French President Nicolas Sarkozy was set to make his first visit to Moscow, October 9-10, amid continuing political tension and disagreement between Russia and France.

However, Thomas Gomart, an analyst with the French Institute of International Relations, said that France will seek to develop ties with Russia, despite differences between Paris and Moscow.


Comment on this SOTT Focus

---

Killer of Russian journalist is known, editor says

C.J. Chivers
International Herald Tribune
2007-10-08 02:31:00

The independent Novaya Gazeta newspaper and Russian prosecutors know the identity of the man who killed Anna Politkovskaya, the newspaper's correspondent who was slain in a contract-style killing last year, according to the newspaper's editor and a special report planned for publication Monday.

But the identity of the person who ordered the killing has not been determined and the man who shot Politkovskaya has not been found and arrested, the editor said. He added that more time was needed to investigate the case.

Comment on this SOTT Focus

---

Greece blames neighbor Turkey for spike in illegal immigration


International Herald Tribune/The Associated Press
2007-10-08 02:27:00

Greece's Foreign Ministry on Sunday blamed neighbor Turkey for a surge in illegal immigration.

A ministry statement accused Ankara of insufficient border policing and neglecting its obligations under a 2001 bilateral agreement to send illegal immigrants back to the country of entry.

"We have repeatedly brought attention to the insufficient and lacking policing on the Turkish side of the border," ministry spokesman Giorgos Koumoutsakos said.

"This encourages the influx of illegal immigrants, often in ways that endanger their lives."

Comment on this SOTT Focus

---

Switzerland reeling as radicals create havoc at rightwing political rally

Ian Traynor
The Guardian
2007-10-07 20:46:00

The Swiss capital of Berne was turned into a battle zone at the weekend when leftwing radicals seized control of the main square outside parliament, routing the main far-right political party two weeks before a general election and catching the Swiss police off guard.



Comment on this SOTT Focus

---

Far-right Swiss party divides nation on immigrant issue

Elaine Sciolino
The International Herald Tribune
2007-10-07 18:44:00

The posters taped on the walls at a political rally here capture the rawness of Switzerland's national electoral campaign: Three white sheep stand on the Swiss flag, as one of them kicks a single black sheep away.

"For Greater Security," the poster reads.

The poster is not the creation of a fringe movement, but of the most powerful party in Switzerland's federal Parliament and a member of the coalition government, an extreme-right party called the Swiss People's Party, or SVP. It has been distributed in a mass mailing to Swiss households, reproduced in newspapers and magazines and hung as huge billboards across the country.

As voters prepare to go to the polls for a general election in two weeks, the poster - and the party's underlying message - has polarized a country that prides itself on peaceful consensus in politics, neutrality in foreign policy and tolerance in human relations.

Suddenly, the campaign has turned into a nationwide debate over the place of immigrants in one of the world's oldest democracies and over what it means to be Swiss.

Comment on this SOTT Focus

---
Around the World
---
Mexican leader 'critiques' U.S. border fence


Reuters
2007-10-08 10:08:00

Mexican President Felipe Calderon criticized the planned U.S. border fence designed to stem illegal immigration, saying countries should be "building bridges, not fences" in an interview broadcast on Monday.

On ABC television's "Good Morning America," Calderon lauded President George W. Bush's failed attempt to get the U.S. Congress to approve comprehensive immigration reform, and said the way to stop illegal immigration is to build economic growth and opportunities in Mexico, not fences.



Comment on this SOTT Focus

---

Chopper crash kills 4 soldiers during Musharraf trip

Amiruddin Mughal
Reuters
2007-10-08 06:44:00

GHORI, Pakistan - A Pakistani army helicopter escorting President Pervez Musharraf crashed in Kashmir on Monday, killing four people including two commandos from his security detail, an army spokesman said.



©REUTERS/Amiruddin Mughal
Residents participate in a rescue effort at the wreckage of military helicopter after it crashed near Ghori village, in a valley 18 km (11 miles) south of Muzaffarabad, the capital of Pakistan-administered Kashmir, October 8, 2007.
Comment on this SOTT Focus
---

Ponerization Continues! Costa Ricans narrowly back free trade with U.S.

John McPhaul
Reuters
2007-10-08 00:41:00

Costa Ricans narrowly approved a free trade deal with the United States in a referendum on Sunday that has split the Central American nation like no other issue in decades.

Fifty-two percent of voters backed the Central American Free Trade Agreement, or CAFTA, according to returns from nearly 90 percent of polling stations. Forty-eight percent were opposed.

Comment on this SOTT Focus

---

U.S. urges Japan to pay more for utilities at military bases


Associated Press
2007-10-07 21:35:00

The United States is urging Japan to sharply increase its payments for water supplies and utilities used at U.S. military bases in Japan due to the rising costs of beefing up U.S. military capabilities in the Asia-Pacific region in response to North Korea and China, sources close to the matter said Sunday.



Comment on this SOTT Focus

---

At least 50 killed in militant clashes in Pakistan


Agence France-Presse
2007-10-07 21:25:00

The death toll from clashes between militants and soldiers in Pakistan's restive tribal areas increased to 50 late Sunday, the military said.

Twenty six people were killed when security forces launched an attack against militant bases and hide-outs in the restive North Waziristan region bordering Afghanistan, military spokesman Major General Waheed Arshad said.

Comment on this SOTT Focus

---

Burmese rebels accuse India of betrayal

Randeep Ramesh
The Guardian
2007-10-07 21:19:00

Thirty-four men who are being tried in secret by India, accused of being arms smugglers, are Burmese anti-junta rebels who were once backed by the Indian army, say human rights activists who are demanding their freedom.

The Indian army says the men, who belong to the Arakan ethnic minority that is fighting the Burmese army, were captured by Indian security forces in February 1998, along with a cache of arms and weapons, in the Andaman and Nicobar islands.

Comment on this SOTT Focus

---
Big Brother
---
China's Great Firewall turns its attention to RSS feeds - And tricks to get around it

Jacqui Cheng
Ars Technica
2007-10-08 04:44:00

As many readers who follow the antics of the Chinese government know, when it comes to enforcing the "Great Firewall of China," consistency isn't exactly its strong point. While certain phrases, concepts, and entire web sites are regularly blocked from reaching the eyeballs of many Chinese Internet surfers, things like high traffic are enough to let a number of forbidden concepts slip through. And then there's the indecision of China's Public Security Bureau (PSB), which has blocked certain sites (such as Blogspot and Wordpress blogs) on and off for some time now, and enforces the blocks inconsistently between provinces. For a One True China, there are certainly many interpretations of what is and isn't allowed through the country's cyber connection.

Savvy Internet fans in the people's republic have known for a long time, however, that there have been simple ways to get forbidden information. One of those ways was the magical gift of Real Simple Syndication, or RSS. The Great Firewall can block specific web sites all it wants, but as long as there's an RSS feed, many Chinese surfers can use feeds to access otherwise forbidden information.

Unfortunately, China appears to have finally gotten wise to RSS as of late - reports have been popping up from our readers and around the web of not being able to access FeedBurner RSS feeds as early as August of this year. More recent reports tell us that the PSB appears to have extended this block to all incoming URLs that begin with "feeds," "rss," and "blog," thus rendering the RSS feeds from many sites - including ones that aren't blocked in China, such as Ars Technica - useless.

Comment on this SOTT Focus

---

FBI Puts Antiwar Protesters on Criminal Database; Canada Uses It To Ban Protesters From Entry

Rob Kall
OpEdNews
2007-10-07 00:28:00

Two well-respected US peace activists, CodePink and Global Exchange cofounder Medea Benjamin and retired Colonel and diplomat Ann Wright, were denied entry into Canada On October third. The two women were headed to Toronto to discuss peace and security issues at the invitation of the Toronto Stop the War Coalition. At the Buffalo-Niagara Falls Bridge they were detained, questioned and denied entry.

"In my case, the border guard pulled up a file showing that I had been arrested at the US Mission to the UN where, on International Women's Day, a group of us had tried to deliver a peace petition signed by 152,000 women around the world," says Benjamin. "For this, the Canadians labeled me a criminal and refused to allow me in the country."



Comment on this SOTT Focus

---

City passes camera law: Police cameras required in all new buildings

Madison Park
The Baltimore Sun
2007-10-07 21:14:00

Hoping to deter crime by expanding the use of surveillance cameras, Aberdeen passed a measure that empowers the city government and police to require cameras in new developments.

The Police Department, the Department of Planning and Community Development, and the Department of Public Works will decide whether a new residential, commercial or industrial development must install cameras at "strategic locations" before a development permit is issued.

The City Council passed the measure, which becomes effective next week, by a 4-1 vote.

Cameras installed at new developments will be connected to a watch room at the police station, Mayor S. Fred Simmons said.

Comment on this SOTT Focus

---
Axis of Evil
---
Propaganda Alert! Rare Iranian Protest Targets Ahmadinejad

Ali Akbr Dareini
Associated Press
2007-10-08 16:07:00

An estimated 100 students staged a rare demonstration Monday against Iranian President Mahmoud Ahmadinejad, calling him a "dictator" and scuffling with hardline students at Tehran University.



Ahmadinejad, who was giving a speech to a select group at the university to mark the beginning of the academic year, ignored the chants of "death to the dictator" and continued with his speech on the merits of science and the pitfalls of Western-style democracy, witnesses said.



Comment on this SOTT Focus

---

"It Doesn't Get Any Worse Than That, Ray" - Unmasking AIPAC

William A. Cook
CounterPunch
2007-10-08 01:44:00

Ray Suarez (PBS News Hour Reporter, October 2, 2007):


"You're saying that the national legislature of this country, rather than doing the will of the citizens of the United States, passed that Iran resolution, sanctioning the Republican Guard, because of the American-Israeli Political Action Committee?"


Mike Gravel (Democratic Presidential Candidate):


"Wait a second. They'll (sic) be some information coming out about how this thing was drafted. So the answer is yes, the short answer. ... This is what's at stake with this resolution. And it's the height of immorality, irresponsibility, and the United States Senate, with the Democrats in charge, voted for the passage of this resolution. It doesn't get any worse than that, Ray."


Comment on this SOTT Focus
---

Enhanced Interrogation Methods? No, The Word Is 'Torture'

Bob Higgins
Uruknet
2007-10-05 22:22:00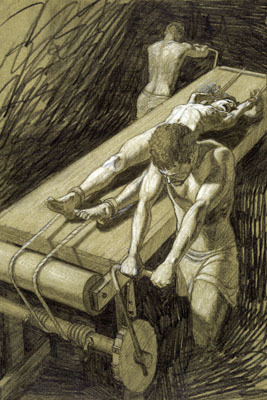 ©n/a



I am sick to death of all the pussyfooting around the subject that has occupied the media for the duration of this premeditated, illegal war of terror that we the people of the United States have allowed to be waged against the people of Iraq, in our name, for the last several years.

No matter how much lipstick and rouge we smear on the face of this war no matter how we attempt to dress up the evil and bestial acts that have been performed in its unholy name, it still has the hideous countenance of an evil swine from hell.

It is an illegal war, begun and conducted under false pretenses, by a group of criminal liars and thieves in the United States Government, abetted by a cowardly congress who abrogated their constitutional duties in exchange for hundreds of millions of dollars in campaign funds and furthered by a complaisant press that ignored their obligation to remain independent from government, from their sponsors and report the facts.

Comment on this SOTT Focus

---

Britain 'on board' for US strikes on Iran

Tim Shipman
Telegraph.co.uk
2007-10-07 21:29:00

British defence officials have held talks with their Pentagon counterparts about how they could help out if America chose to bomb Iran.

Comment on this SOTT Focus

---
Middle East Madness
---
Iraq urges Blackwater prosecution


BBC
2007-10-08 10:07:00

Iraq's government has called for guards from the US security firm Blackwater to be prosecuted for the shooting of 17 civilians in Baghdad last month. An official inquiry found the guards had not been attacked, as they had claimed, calling it a deliberate crime.

Blackwater has insisted its employees responded lawfully to an attack. The US embassy is conducting its own probe.



Comment on this SOTT Focus

---

Britain gave 'inflated expectations' of potential in Iraq: top adviser


Agence France-Presse
2007-10-07 21:42:00

The British government gave "false and inflated expectations" of what could be achieved by its military presence in Iraq, its top military adviser said in an interview published Monday.

Speaking to The Times, Air Chief Marshal Sir Jock Stirrup, the chief of the defence staff, acknowledged that only Iraqis could make Basra, in the south of the country, into a stable, secure and prosperous city.




Comment on this SOTT Focus

---

13 Turkish soldiers killed in Kurdish rebel attack: army


Agence France-Presse
2007-10-07 21:23:00

Thirteen Turkish soldiers were killed Sunday in an attack by Kurdish rebels from the separatist Kurdistan Workers' Party (PKK) in the southeast of the country, the army said in a statement.

The fighting took place in Sirnak province, bordering Iraq, the Anatolia news agency reported, citing the army.

Comment on this SOTT Focus

---

Damage control! Knowing the enemy difficult in Iraq

Katarina Kratovac
Associated Press
2007-10-07 20:46:00

When U.S. sentries fatally shot three guards near an Iraqi-manned checkpoint south of Baghdad, they thought they were targeting enemy fighters planting roadside bombs, according to the American commander of the region.

The shootings, which are still under investigation, underscore a new dilemma facing U.S. troops as former fighters join forces against extremists and Iraqis are increasingly forced to take up arms to protect themselves - how does one distinguish them from the enemy?

The US army makes alliances as the wind blow, one day with the Sunnis, the next with the Shiites, then again with the Sunnis. That is however not any excuse for shooting first and asking questions later or aerial bombardment of residential areas.

Comment on this SOTT Focus

---

Propaganda Alert! Warpimp Petraeus steps up accusations against Iran

Dean Yates
Reuters
2007-10-07 20:46:00

The U.S. military commander in Iraq stepped up accusations over the weekend that Iran was inciting violence there and said Tehran's ambassador to Baghdad was a member of the Revolutionary Guards Qods force.

In Baghdad, Iraq's government raised the death toll from a shooting involving U.S. security contractor Blackwater to 17, from 11 previously. A spokesman accused the firm of "deliberate killing" and said its guards fired without provocation.



Comment on this SOTT Focus

---
The Loan Gunmen
---
Wave of Job Cuts in Financial Industry Expected in London's City


The New York Times
2007-10-08 09:12:00

Thousands of financial professionals in London are likely to lose their jobs over the next year as a result of the credit crunch, and many of them may face a jobless Christmas, experts say.

Comment on this SOTT Focus

---

Blackstone and Apollo interested in Northern Rock


Reuters
2007-10-08 00:15:00

The Blackstone Group and Apollo Management each expressed interest last week in stricken mortgage bank Northern Rock, the Wall Street Journal reported on its Web site on Sunday, citing unnamed sources.

A Blackstone Group spokesman declined to comment on the matter and Apollo could not immediately be reached for comment.

Comment on this SOTT Focus

---

More dollar trouble: Gulf funds drift away from dollar

Babu Das Augustine
Gulf News
2007-10-07 22:43:00

Asset diversification by the Gulf sovereign wealth funds and the possibility that the Organisation of Petroleum Exporting Countries (Opec) will change the pricing of oil from the dollar to another currency could mean more trouble for the dollar.

The dollar has been losing its charm as a reserve currency due to its persistent weakness against a host of other international currencies.

Comment on this SOTT Focus

---
The Living Planet
---
Record 22C temperatures in Arctic heatwave

Steve Connor
The Independent
2007-10-03 09:14:00

Parts of the Arctic have experienced an unprecedented heatwave this summer, with one research station in the Canadian High Arctic recording temperatures above 20C, about 15C higher than the long-term average. The high temperatures were accompanied by a dramatic melting of Arctic sea ice in September to the lowest levels ever recorded, a further indication of how sensitive this region of the world is to global warming. Scientists from Queen's University in Ontario watched with amazement as their thermometers touched 22C during their July field expedition at the High Arctic camp on Melville Island, usually one of the coldest places in North America.

Comment on this SOTT Focus

---

Storm drenches China with heavy rains

Joe McDonald
Associated Press
2007-10-07 20:46:00

A storm drenched China's southeast on Sunday after killing five people on Taiwan and prompting the evacuation of 1.4 million people on the mainland, officials said. In Vietnam, the death toll from a separate storm rose to 55.

Krosa came ashore as a typhoon in China's Zhejiang and Fujian provinces, but weakened and was soon downgraded to a tropical storm, the official Xinhua News Agency said.

Comment on this SOTT Focus

---
Health & Wellness
---
Taser stun guns are safe - And pigs can fly!

Ian Sample
The Guardian
2007-10-08 02:46:00

Taser stun guns issued to police forces across the country have been declared broadly safe, following the largest independent study of injuries inflicted by the weapons.

Comment on this SOTT Focus

---

Indonesia woman dies of bird flu, toll up to 87


Reuters
2007-10-08 00:21:00

A 44-year-old Indonesian woman has died of bird flu, taking the country's total death total from the disease to 87, a health ministry official said on Monday.

The woman, from Pekan Baru city on Sumatra island, fell sick after she bought chicken in a market last month, Azizman Saad, head of bird flu management at the hospital where she was treated, told Reuters.

Comment on this SOTT Focus

---

More than 400 Cosmetics on U.S. Shelves Unsafe When Used as Directed

Richard Wiles
Environmental Working Group
2007-09-26 23:01:00

September 26, 2007

Andrew C. von Eschenbach, M.D.
Commissioner of Food and Drugs
U.S. Food and Drug Administration
5600 Fishers Lane
Rockville, MD 20857

Dear Dr. von Eschenbach:

FDA regulators will attend a forum in Brussels this week in which cosmetic industry representatives and international regulators will discuss "ways to remove regulatory obstacles among the regions" and other issues related to cosmetic marketing and safety (FDA 2007a). Environmental Working Group (EWG) is writing to express deep concern that FDA officials are excluding public health, consumer, and environmental organizations from this meeting while allowing the regulated industry to participate.

While such an unbalanced discussion of consumer safety issues is always unacceptable, this exclusion is even more problematic in light of our new analyses of product safety, which reveal that products sold in the U.S. frequently violate industry safety standards and contain ingredients banned in other industrialized countries. Our findings raise fundamental concerns about closed-door industry-regulator meetings that could further weaken international cosmetic policies.

Comment on this SOTT Focus

---
Science & Technology
---
Cyprus: once home to the dwarf elephants and pygmy hippos


Cyprus Mail
2007-10-08 02:02:00

An excavation in the Famagusta district has unearthed animal remains including tiny elephants and hippopotamuses dating back some 250,000 years.

The recent findings in an area close to Ayia Napa revealed the skeletal remains of dwarf elephants (Elephas Cypriotes) and pygmy hippos (Phanourios minutis) as well as remains of ancient rats and bats.


Comment on this SOTT Focus

---

Shuttle crew lands in Florida for launch practice

Irene Klotz
Reuters
2007-10-08 00:29:00

NASA's second female commander and her six crewmates flew into the Kennedy Space Center in Florida on Sunday for training and a rehearsal for a planned October 23 liftoff.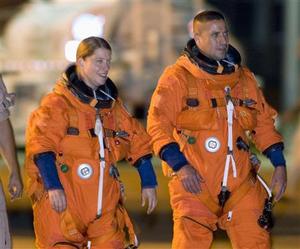 ©REUTERS/Scott Audette
Space shuttle Discovery Commander Pam Melroy (L) and Pilot George Zamka walks to the space shuttle training aircraft at the Kennedy Space Center in Cape Canaveral, Florida October 7, 2007.
Comment on this SOTT Focus
---
Our Haunted Planet
---
Mysterious lights spark UFO scare

Miles Godfrey
The Argus
2007-10-08 12:06:00

Masses of mysterious red lights have sparked another UFO riddle.

More than 60 of the glowing orbs were spotted throbbing and hovering above Uckfield on Saturday night.

Comment on this SOTT Focus

---

'UFO scared me so much I almost went into labour'


Welwyn and Hatfield Times
2007-10-03 09:14:00

Mysterious bright yellow lights were seen plummeting towards a couple's house at "an abnormal speed", writes Simon Wesson.

The Bernasconis, who live in Homestead Road, Hatfield, were "scared to death" when they saw two gleaming lights which they believed were "about to crash just behind their house".


Comment on this SOTT Focus

---

Meteorite Crater Guarded by Peru's Police after U.S. Citizens Attempt to Traffic it


Living in Peru
2007-10-03 09:13:00

Peru's official government news agency reported yesterday that the crater where a meteorite fell in Puno, Peru was being guarded by 20 of Peru's National Police officers.

Chief of the police station, Major Victor Anaya stated that the officers had been placed near the meteorite landing site to keep a group of U.S. citizens from trafficking pieces of the meteorite.



Comment on this SOTT Focus

---
Don't Panic! Lighten Up!
---
No new articles.
---

Remember, we need your help to collect information on what is going on in your part of the world!
Send your article suggestions to: sott(at)signs-of-the-times.org

---
Click here to return to the Signs of the Times Archive
Click here for today's Signs Page