---
Sections on today's Signs Page:
---
SOTT Focus
---
Evil is Real

withconscience
YouTube
2007-09-27 07:24:00



Comment on this SOTT Focus

---
Best of the Web
---
No new articles.
U.S. News
---
246 Dogs Rescued From Filthy Conditions

STEPHANIE JETER
Tyler Morning Telegraph
2007-09-27 09:49:00

GLADEWATER - Sheriff's officials are calling it the worst case of animal cruelty in Upshur County history.

Two-hundred forty-six dogs, mainly small breeds, were rescued from a Gladewater residence Wednesday morning. Many of the dogs were malnourished, diseased and in need of vet care, said Upshur County Sheriff Anthony Betterton.

Comment on this SOTT Focus

---

Hillary Flip-Flops, Contradicts Bill - & Herself - In N.H. Debate

IAN BISHOP and MICHAEL McAULIFF
NY Daily News
2007-09-27 10:28:00

HANOVER, N.H. - Sen. Hillary Clinton scored with a Democratic audience last night by contradicting her husband's belief that a terrorist could be tortured to foil an imminent plot - but what observers didn't know is she was contradicting herself, too.

"It cannot be American policy, period," Clinton (D-N.Y.) told debate moderator Tim Russert, who asked if there should be a presidential exemption to allow the torture of a terror chieftain if authorities knew a bomb was about to go off, but didn't know where it was.

Comment on this SOTT Focus

---

Morgan Stanley Fined Over Sept. 11 Lost E-mail Claim

David Scheer
Bloomberg
2007-09-27 13:36:00

Morgan Stanley, the second-largest securities firm, will pay $12.5 million to settle regulatory claims it wrongly withheld e-mails in arbitration cases by saying they were lost in the Sept. 11 attacks, the company's third sanction for mishandling the records since 2002.

The firm's Morgan Stanley DW subsidiary failed on "numerous occasions'' to produce e-mails for plaintiffs and regulators, while falsely claiming the messages were destroyed in the terrorist attacks, the Financial Industry Regulatory Authority said in a statement today. The accord is the first of its kind, providing $9.5 million to claimants affected by the lapses, Washington-based Finra said.

Comment on this SOTT Focus

---

President Ahmadinejad meets Jewish rabbis in New York


IRNA
2007-09-27 12:18:00

President Mahmoud Ahmadinejad Monday afternoon met with a group of Jewish rabbis who gave him a silver grail as a sign of friendship.

Comment on this SOTT Focus

---

'Commies threat' hysteria: Chinese, US citizens charged with espionage in San Francisco


AFP
2007-09-27 11:01:00

A Chinese national and a US citizen have been charged with conspiring to steal sensitive microchip designs capable of use in military technology, justice officials said Wednesday.

The US Attorney's office in northern California said Lee Lan and Ge Yuefei had been indicted on multiple charges of conspiracy to commit economic espionage and to steal trade secrets.

Lee, 42, a US citizen, and Ge, 34, a Chinese national, had sought to steal secrets from their employer, NetLogics Microsystems, and from the Taiwan Semiconductor Manufacturing Corporation, a statement said.

Comment on this SOTT Focus

---

Manholes burst into flame in Boston North End


Boston Globe
2007-09-26 10:43:00

Three manholes burst into flame in the North End this afternoon, and the resulting smoke required some people to be evacuated from nearby businesses, but the fire was quickly extinguished, the Boston fire department said.

No one was hurt in the incident, which was reported about 5:30 p.m. on Hanover Street, said fire department spokesman Steve MacDonald.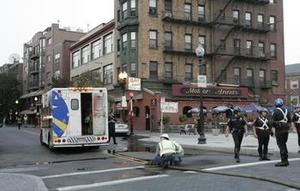 ©John Bohn
Comment on this SOTT Focus
---
UK & Euro-Asian News
---
Ponerization: The good life of the Auschwitz guards

Laura Smith-Spark
BBC
2007-09-27 14:26:00


©USHMM



At first glance, the photographs seem innocuous enough. Men and women in uniform lie back in deckchairs, listen to accordion music, decorate a Christmas tree.

Comment on this SOTT Focus

---

Russia promises retaliation if weapons deployed in space


RIA Novosti
2007-09-27 13:45:00

Russia is ready to take appropriate measures if weapons are deployed in space, the commander of the Russian Space Forces said Thursday.

"Should any country deploy weapons in space, then the laws of armed warfare are such that retaliatory weapons are certain to appear," Col. Gen. Vladimir Popovkin said.

Comment on this SOTT Focus

---

Sarkozy calls for 'New World Order' at U.N.

JT Nguyen
EUX.TV
2007-09-25 12:34:00

France's President Nicolas Sarkozy, in his first appearance before the assembly, called on the UN to avail itself as an instrument for a "new world order of the 21st century."

"In the name of France, I call upon all states to join ranks in order to found the new world order of the 21st century on the notion that the common goods that belong to all of humankind must be the common responsibility for us all," he told the General Assembly.


Comment on this SOTT Focus

---

War Games: U.S. warships arrive in Russia for joint naval exercise


RIA Novosti
2007-09-24 10:15:00

Two U.S. battleships have arrived in Russia's Far East port of Vladivostok to participate in a joint exercise with the Russian Navy.

The USS Lassen (DDG 82), an Arleigh Burke-class guided-missile destroyer; and the USS Patriot (MCM 7), a minesweeper, will participate in the drill, to be held September 28-30. The exercise will include mine-sweeping and anti-submarine operations, the mock interception of a vessel trespassing in territorial waters and a sea-rescue operation.

Comment on this SOTT Focus

---

Russia to join peak oil craze: Russia to run out of oil in 50 years, gas in 75 years - scientist


RIA Novosti
2007-09-24 10:05:00

Russia will run out of crude oil reserves in 50 years, and the country's natural gas will be depleted in 75 years, a geologist specializing in oil production said Monday.

Yevgeny Kozlovsky, who served as geology minister in the Soviet Union, said the forecast was based on predicted production levels and the size of current reserves, including possible new finds.

The scientist, who heads a department at the Russian State Geological Prospecting University, said investment in prospecting totaling at least 50 billion rubles ($2 billion) was needed annually to increase reserves, as well as highly-skilled staff capable of using the funds effectively.

Comment on this SOTT Focus

---

Gordon Brown and his 'rehash' speech

Philip Webster and Sam Coates
The Times
2007-09-27 06:49:00

Gordon Brown was accused last night of rehashing old phrases from Bill Clinton and Al Gore without attribution in his first speech to a Labour conference as Prime Minister.

An analysis by The Times has found strong similarities in both words and structure between Monday's address and speeches made by the two Americans - both former clients of Mr Brown's close adviser Bob Shrum.

Comment on this SOTT Focus

---
Around the World
---
Chilean court extradites ex-Peruvian President Fujimori

César Uco
WSWS
2007-09-27 13:30:00

Peru's ex-President Alberto Fujimori arrived in Lima as a prisoner on Saturday September 22, after being extradited from Chile to face charges of corruption and violations of human rights during his decade in office between 1990 and 2000.

Some 500 of his supporters waited for him at the Jorge Chavez International Airport, but the Peruvian police plane that transported him landed at the Las Palmas naval base in Surco, south of the capital. Minutes later he was transferred to the Directorate of Special Operations (Diroes), where Fujimori will remain over the coming weeks.

Comment on this SOTT Focus

---

Egypt angry at US rights comment

Ian Pannell
BBC News, Cairo
2007-09-26 11:46:00

Egypt has reacted angrily to criticism of its human rights record by the United States.

The White House raised concerns about a number of court cases against the independent press and the closure of a human rights organisation.

Egypt's foreign minister rejected the comments as "unacceptable interference" in the country's internal affairs.

Comment on this SOTT Focus

---

Myanmar junta tries to shut down internet and phone links

David Pallister
The Guardian
2007-09-27 07:17:00

The Burmese junta was last night desperately trying to shut down internet and telephone links to the outside world after a stream of blogs and mobile phone videos began capturing the dramatic events on the streets.

In the past 24 hours observers monitoring the flow of information have noticed a marked downturn, with the reported closure of cybercafes and the disconnection of mobile telephones.

"I was getting emails three days ago but now I seem to have lost contact," said Vincent Brussels, head of the Asian section of Reporters Without Borders. "Those who can still access the internet are finding it very slow and hard to send pictures."

Comment on this SOTT Focus

---

HIV-infected condoms sent to kill Africans, claims archbishop

Chris McGreal
The Guardian
2007-09-27 08:40:00

Mozambique's Roman Catholic archbishop has accused European condom manufacturers of deliberately infecting their products with HIV "in order to finish quickly the African people".

Comment on this SOTT Focus

---

Shock at archbishop condom claim


BBC
2007-09-27 06:49:00

The head of the Catholic Church in Mozambique has told the BBC he believes some European-made condoms are infected with HIV deliberately.

Comment on this SOTT Focus

---

Propaganda Alert! 165 Taliban suspects killed in 2 days


Associated Press
2007-09-27 03:11:00

Two battles killed more than 165 suspected Taliban fighters and one U.S.-led coalition soldier in southern Afghanistan as President Hamid Karzai prepared to discuss his country's escalating violence with President Bush in New York.

An ongoing clash began early Tuesday when several dozen insurgents attacked a joint coalition-Afghan patrol with machine guns, mortars and rocket-propelled grenades near the Taliban-controlled town of Musa Qala in Helmand province, with Taliban reinforcements flowing in all day, a coalition statement said.



Comment on this SOTT Focus

---
Big Brother
---
Building the police state! Tech nightmare on homeland security horizon

Jim Wolf
Reuters
2007-09-23 13:48:00

Americans are facing a brave new world of post-September 11 technology marvels that could soon find their way into billions of dollars of projected homeland security spending.

Gee-whiz know-how -- from swarms of tiny airborne sensors to ever-sharper satellite imagery -- is being developed by companies chasing potentially lucrative federal, state and local deals to address 21st-century security threats.

Comment on this SOTT Focus

---

Big Brother plays dumb! NSA 'may not realize' it collected info on innocent Americans

David Edwards and Nick Juliano
Raw Story
2007-09-25 13:38:00

Powerful supercomputers are vacuuming up so much information that logs of calls to or from innocent Americans could exist in government databases indefinitely, the nation's top intelligence official said Tuesday.

"You may not even realize it's in the database because you do lots of collection," Director of National Intelligence Michael McConnell said, referring to the "inadvertent collection" of Americans' communications through a vast surveillance program instituted after 9/11.

Comment on this SOTT Focus

---

Tennessee cigarette surveillance program begins today

Tom Humphrey
Knox News
2007-09-27 12:35:00

NASHVILLE - Starting today, state Department of Revenue agents will begin stopping Tennessee motorists spotted buying large quantities of cigarettes in border states, then charging them with a crime and, in some cases, seizing their cars.

Comment on this SOTT Focus

---

Flashback: Feel safer yet? Taser wireless shock bullets deliver pain from 100 feet away

Charlie White
SciFi.com
2007-07-10 07:08:00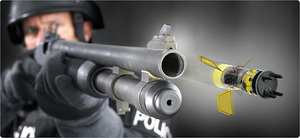 20 seconds of excruciating pain from 100 feet away - feel safer yet?



This Taser XREP can deliver a wireless electric shock from over 100 feet away, and from the looks of it, you don't want to be on its receiving end. Its Neuro-Muscular Incapacitation (NMI) is the same disabling effect delivered by wired Taser weapons. Loaded into an ordinary 12-gauge shotgun, it's designed into a 14-gram package small enough to fit into a gun barrel, yet it can travel at 300 feet per second.

Comment on this SOTT Focus

---
Axis of Evil
---
Blackwater 'may be worse than Abu Ghraib'

Steven Benen
The Carpetbagger Report
2007-09-26 17:19:00

To describe the ongoing Blackwater scandal as a fiasco would be a dramatic understatement. Not only do we have a situation in which private security contractors stand accused of killing Iraqi civilians without provocation, we also have deep divisions brewing between the Pentagon and the State Department, coupled by State stonewalling a congressional investigation.

Comment on this SOTT Focus

---

Rev. Billy Graham: A Prince of War Exposed

William Hughes
Baltimore IMC
2007-09-27 16:18:00

The Rev. Billy Graham, a darling of the Evangelical Right, has never seen a U.S. war that he couldn't bless. He once advocated that President Richard M. Nixon bomb the "dikes" in the north of Vietnam. He also criticized the Rev. Martin Luther King, Jr. for speaking out against the war. A new book, "The Prince of War: Billy Graham's Crusade for a Wholly Christian Empire," by Cecil Bothwell exposes the camera-mugging preacher as a serial warmonger.

Comment on this SOTT Focus

---

Senate approves Bush enabling resolution on Iran branding Iran Guard 'terrorist organization'


AFP
2007-09-27 10:08:00

The US Senate has called for Iran's Revolutionary Guards to be officially designated a "foreign terrorist organization," a day after the House of Representatives passed a similar measure.

The Senate on Wednesday voted 76-22 for the non-binding amendment sponsored by Republican Jon Kyl and independent Joseph Lieberman to place the Iranian Revolutionary Guard Corps, or Pasdaran, on the US terrorist blacklist.

Comment on this SOTT Focus

---

Paid to kill: Shootings by Blackwater Exceed Other Firms in Iraq

John Broder and James Risen
The New York Times
2007-09-27 06:57:00

The American security contractor Blackwater USA has been involved in a far higher rate of shootings while guarding American diplomats in Iraq than other security firms providing similar services to the State Department, according to Bush administration officials and industry officials.

Blackwater is now the focus of investigations in both Baghdad and Washington over a Sept. 16 shooting in which at least 11 Iraqis were killed. Beyond that episode, the company has been involved in cases in which its personnel fired weapons while guarding State Department officials in Iraq at least twice as often per convoy mission as security guards working for other American security firms, the officials said.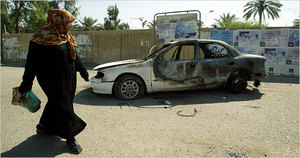 ©Ali Yussef/Agence France-Presse - Getty Images
An Iraqi woman walked past a burnt car at the site where Blackwater guards opened fire, killing nine civilians and a policeman.
Comment on this SOTT Focus
---

Playing the fear card: Renew Surveillance Act or "Americans will die"

Keith Olbermann
msnbc - Countdown
2007-09-26 18:14:00

Howard Fineman and Jane Harman discuss playing politics with fear.




"Fear Factor: The so called Patriot Act had nothing to do with patriotism... So it should come as no surprise that the "Protect America Act" has little to do with protecting Americans... nothing to do with protecting their constitutionally guaranteed freedoms like privacy... and everything to do with the White House's effort to operate outside the law.

Our fifth story on the Countdown: The changes that were made last month to the Foreign Intelligence Surveillance Act were apparently made under false pretenses -- Congresswoman Jane Harman on that, in a moment. First. The Bush administration is tonight fighting to make those changes permanent... seemingly by scaring the Democratic majority into compliance. Hey, it has worked before."


Comment on this SOTT Focus
---
Middle East Madness
---
Jewish community in Iran slams US protest against Ahmadinejad's visit

Dudi Cohen
Ynetnews
2007-09-27 15:14:00

The Jewish community in Iran published a statement Wednesday, slamming the disrespect shown to Iranian President Mahmoud Ahmadinejad by human rights and freedom activists on his recent visit to the United States.

Comment on this SOTT Focus

---

Soldier describes cold blooded murder of unarmed Iraqi civilian

Ned Parker
Los Angeles Times
2007-09-27 14:23:00

BAGHDAD -- A member of a U.S. Army sniper team broke down in tears today as he testified before a military court that he shot and killed an unarmed Iraqi man on the orders of his superior.

Comment on this SOTT Focus

---

Israel plans full-scale military invasion of Gaza; Humanitarian bombing and collective punishment not "effective enough"


RIA Novosti
2007-09-27 08:15:00

Israel is about to perform a full-scale military operation in the Gaza Strip to counter Palestinian rocket attacks, Defense Minister Ehud Barak said Wednesday.

Comment on this SOTT Focus

---

Saudis worried Iran nuclear issue headed to 'confrontation'


AFP
2007-09-27 02:34:00

Saudi Arabia's foreign minister said here Wednesday that Iran's standoff with Western powers over its nuclear program is heading toward a "confrontation."

Saudi Prince Saud al-Faisal met in New York with other Gulf foreign ministers as well as the chief diplomats of Jordan and Egypt, and US Secretary of State Condoleezza Rice on the sidelines of the UN General Assembly.

Comment on this SOTT Focus

---

Mirror please! US Senate brands Iran Guard 'terrorist organization'


AFP
2007-09-27 02:34:00

The US Senate has called for Iran's Revolutionary Guards to be officially designated a "foreign terrorist organization," a day after the House of Representatives passed a similar measure.

The Senate on Wednesday voted 76-22 for the non-binding amendment sponsored by Republican Jon Kyl and independent Joseph Lieberman to place the Iranian Revolutionary Guard Corps, or Pasdaran, on the US terrorist blacklist.



Comment on this SOTT Focus

---

Iraq vet plans to return his medals in protest

Ryan J. Foley
Associated Press
2007-09-25 16:05:00

MADISON, Wis. - An Iraq war veteran said Tuesday he is returning his military medals in what anti-war groups are calling a rare and powerful protest.

Josh Gaines, 27, plans to mail the Global War on Terrorism Expeditionary Medal and National Defense Service Medal to former Defense Secretary Donald Rumsfeld. He said he will do so during a protest scheduled for Wednesday in Madison.

"I'm going to give those back because I truly feel that I did not defend my nation and I did not help with the Global War on Terrorism," said Gaines, who lives in Madison. "If anything, this conflict has bred more terrorism in the Middle East."

Comment on this SOTT Focus

---
The Loan Gunmen
---
Dollar hits another low against euro

Jackie Farwell
Associated Press
2007-09-27 17:54:00

NEW YORK - The U.S. dollar dropped to a record low against the euro for a sixth consecutive session Thursday, sagging under expectations of a U.S. Federal Reserve rate cut next month.


Comment on this SOTT Focus

---

China buy into conspiracy theory: best-selling book Currency Wars on Asia Crisis & Rothschild control of US

Richard McGregor
Financial Times
2007-09-25 16:49:00

The Battle of Waterloo. The deaths of six US presidents. The rise of Adolf Hitler. The deflation of the Japanese bubble economy, the 1997-98 Asian financial crisis and even environmental destruction in the developing world.

In a new Chinese best-seller, Currency Wars , these disparate events spanning two centuries have a single root cause: the control of money issuance through history by the Rothschild banking dynasty.

Even today, claims author Song Hongbing, the US Federal Reserve remains a puppet of private banks, which also ultimately owe their allegiance to the ubiquitous Rothschilds.

Comment on this SOTT Focus

---

France puts off balancing budget

Ben Hall
Financial Times
2007-09-27 10:57:00

The French government on Wednesday unveiled a budget for 2008 that does little towards balancing public finances only days after the prime minister warned the country was "bankrupt".

The first budget under Nicolas Sarkozy's presidency puts on hold France's efforts to trim its public deficit and debt in spite of the protests of its eurozone partners, who want Paris to stick to promises made by the previous government.

The European Commission, which declined to comment on the budget, is considering issuing a formal notice to France telling it to stick to its undertaking to balance its budget by 2010.

Comment on this SOTT Focus

---

Securitisation: When it goes wrong...


The Economist
2007-09-26 21:07:00

A generation has prospered from the wholesale transfer of risk through securitisation. Now it is paying the price.

"THE medium-term outlook for the company is very positive," declared Northern Rock's chief executive, Adam Applegarth, unveiling its first-half results in July. He spoke of a credit book that was "robust". Who would have guessed that less than two months later Britain's fifth-largest mortgage lender would be fighting for its life, its branches besieged by customers demanding their savings back?

The run on Northern Rock is the most dramatic symptom of the contagion gripping the financial markets. Here was a bank that had grown rich from the innovations of recent years, using abundantly stocked wholesale markets to fund its lively growth, using those same markets to offload bits of its loan book as and when they became unattractive.


Comment on this SOTT Focus

---

Majority Of Hedge Funds Say '08 U.S. Recession Likely


Reuters
2007-09-26 21:03:00

NEW YORK - A majority of hedge fund managers say a U.S. recession is "very likely" in 2008, but fewer than one in five said an economic slowdown would be bad for their funds, a survey of several-hundred hedge fund managers released on Tuesday found.


Comment on this SOTT Focus

---

Home sales take sharp tumble

Annette Haddad
Los Angeles Times
2007-09-26 21:01:00

A flurry of reports Tuesday signaled worsening conditions for the already distressed housing markets in California and the nation as a whole.

The supply of unsold homes rose in August as sales plunged 28% from the year before, the California Assn. of Realtors said. There were so many existing single-family homes for sale last month that it would take 11.8 months to sell them all if no additional houses came on the market -- double the 5.9-month supply of a year earlier, the state realty group said.


Comment on this SOTT Focus

---
The Living Planet
---
Are sunspots prime suspects in global warming?

Peter N. Spotts
Christian Science Monitor
2007-09-27 11:30:00

It's a modern-day climate scuffle William Herschel would recognize. He should. He helped trigger it.

In 1801, the eminent British astron­­omer reported that when sunspots dotted the sun's surface, grain prices fell. When sunspots waned, prices rose.

He suggested that shifts in grain prices were a stand-in for shifts in climate. Large numbers of sunspots led to a warmer sun, he reasoned. With more warmth reaching Earth, crop yields would increase, depressing grain prices.

With that, a 200-year hunt began for links between shifts in the sun's output and changes in climate.

Comment on this SOTT Focus

---

Flashback: Is Earth and the solar system entering a nearby interstellar cloud?

Vidal-Madjar, A.; Laurent, C.; Bruston, P.; Audouze, J.
Astrophysical Journal, Part 1, vol. 223, July 15, 1978
2007-02-05 06:23:00


It is suggested that the postulated interstellar cloud should encounter the solar system at some unspecified time in the 'near' future and might have a drastic influence on terrestrial climate in the next 10,000 years.
Comment on this SOTT Focus
---

Massive mountain slip creates new lake in New Zealand


stuff.co.nz
2007-09-27 11:25:00

Helicopter pilot Harvey Hutton, who knows Mount Aspiring National Park well, said he was completing a venison recovery operation about 7.30am yesterday when he discovered half a mountainside had collapsed and a lake had formed behind the slip.

"It's the first major one (slip) I've seen and probably the biggest in my lifetime," Hutton said.

He believed the lake was at least 50m deep and would need to be filled a bit more before it overflowed.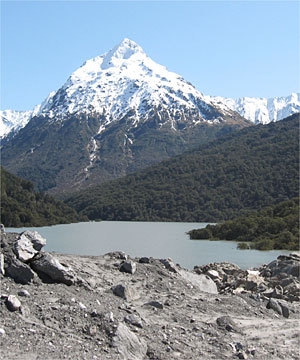 ©DOC
A massive slip in Mount Aspiring National Park has created a new lake, thought to be about 2km long and at least at least 50m deep.
Comment on this SOTT Focus
---

Antarctic: The bugs that came in from the cold


The Independent
2007-09-26 10:54:00

Antarctica's Dry Valleys are among the most desolate places on the planet. Here, no plants cling to the slopes, no small mammals scurry among the scree. The freeze-dried landscapes, with their rocks chiselled by the wind, seem utterly lifeless. When Captain Scott first chanced upon their craggy peaks and troughs in 1905, he labelled them the "valleys of the dead".

Now, a little more than a hundred years on from Scott's exhibition, US scientists have discovered that the icy landscapes may not be so barren after all. Microbiologists from New Jersey have chanced upon tiny frozen organisms that have remained alive for millions of years, embedded in some of the oldest ice on the planet.

Comment on this SOTT Focus

---

Five days of torrential rains kill 4 in Brazil


PressTV
2007-09-27 00:52:00

Five days of continuous torrential rains have left four people dead and displaced thousands in Brazil, government and media say.

Rivers overflowed and flooded 58 cities and towns across the far-southern state of Rio Grande do Sul, the state's Civil Defense Agency said in a statement.

Comment on this SOTT Focus

---

88-degree temperature ties September record high in Cleveland, Ohio

Patrick O'Donnell
The Plain Dealer
2007-09-26 23:49:00

Temperatures around Greater Cleveland hit 88 degrees Tuesday, tying a 107-year-old record.

The normal high for this time of year is 69 degrees. But National Weather Service meteorologist Walter Fitzgerald said hot air circulating clockwise out of the Gulf of Mexico led to the record-tying temperatures.

The last time Cleveland hit 88 degrees on Sept. 25, Germany had a kaiser, Russia had a czar and the United States had Ohioan William McKinley as president.

Comment on this SOTT Focus

---
Health & Wellness
---
Flashback: How the Heart Can Rule the Head

Greg Miller
Science
2007-03-22 20:38:00

Many philosophers have argued that people make decisions about what's right and wrong based on moral principles and rational thought. But other philosophers--and more recently, some psychologists and neuroscientists--have argued that there's more to the story. When faced with a moral dilemma, these scholars say, we rely on emotional reactions as well as our powers of reasoning. In a study of brain damage, published today, neuroscientists report evidence that emotions indeed exert a powerful influence on moral judgments.


In the new study, Antonio Damasio of the University of Southern California in Los Angeles and colleagues examined moral reasoning in six people who had damage to the ventromedial prefrontal cortex (VMPC), a brain region that regulates emotions. The researchers presented the patients with moral dilemmas that forced them to decide whether it was acceptable to sacrifice one person's life to save several others. For example, participants had to decide whether to flip a switch that diverts a runaway trolley from a track leading to five workers to a track leading to just one worker. The researchers also gauged the decisions of 12 people without brain damage and 12 patients with damage to brain regions unconnected to emotion.


Comment on this SOTT Focus

---

Brain Damage 'Causes Bad Behavior'


BBC
2000-11-06 23:59:00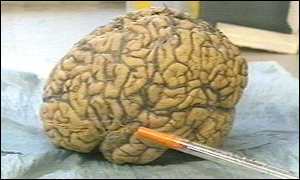 ©BBC
Damage to the brain can change behaviour.



Anti-social behaviour may be linked in some cases to brain damage suffered as a child, researchers have found.

A team from the Institute of Child Health has found that brain damage inflicted on a specific area of the brain can lead to serious anti-social behaviour in puberty and adulthood.

The discovery raises the possibility that brain scans could be used in future to determine which people are most likely to suffer from long-term behavioural problems following an accident.

Comment on this SOTT Focus

---

Wal-Mart Expands $4 Drugs Program

Marcus Kabel, AP Business Writer
AP
2007-09-27 11:11:00

Wal-Mart Stores Inc. is expanding its national $4 generic prescription drug program by about 10 percent, adding drugs for some new conditions.

The world's largest retailer said Thursday it has added drugs covering glaucoma, attention deficit disorder, attention deficit hyperactivity disorder, fungal infections and acne.

Comment on this SOTT Focus

---

No Shock! Federal Study run by former Merck employee says Thimerosal doesn't affect brain function

Alicia Chang
AP
2007-09-27 11:02:00

A mercury-based preservative once used in many vaccines does not raise the risk of neurological problems in children, concludes a large federal study that researchers say should reassure parents about the safety of shots their kids received a decade or more ago.

However, the study did not examine autism - the developmental disorder that some critics blame on vaccines. A separate study due out in a year will look at that issue, said scientists at the federal Centers for Disease Control and Prevention, who led the latest analysis and published results in Thursday's New England Journal of Medicine.



Comment on this SOTT Focus

---

Flashback: Deadly Immunity

Robert F. Kennedy Jr.
Salon.com
2005-06-16 11:09:00

In June 2000, a group of top government scientists and health officials gathered for a meeting at the isolated Simpsonwood conference center in Norcross, Ga. Convened by the Centers for Disease Control and Prevention, the meeting was held at this Methodist retreat center, nestled in wooded farmland next to the Chattahoochee River, to ensure complete secrecy. The agency had issued no public announcement of the session -- only private invitations to 52 attendees. There were high-level officials from the CDC and the Food and Drug Administration, the top vaccine specialist from the World Health Organization in Geneva, and representatives of every major vaccine manufacturer, including GlaxoSmithKline, Merck, Wyeth and Aventis Pasteur. All of the scientific data under discussion, CDC officials repeatedly reminded the participants, was strictly "embargoed." There would be no making photocopies of documents, no taking papers with them when they left.

Comment on this SOTT Focus

---

Scottish obesity 'just behind US'


BBC
2007-09-27 10:53:00

Obesity levels in Scotland are the second highest in the developed world behind the USA, new statistics have revealed.

The figures were published as the Scottish Government announced plans to remove sweets and fizzy drinks from schools.

Under new rules, the amount of chips served in school meals will also be cut and more fruit and vegetables provided.

Children's Minister Adam Ingram said he wanted to change young people's habits.

The figures , released by ISD Scotland, the statistical wing of the NHS, said the "obesity epidemic" in Scotland must be addressed and outlines the extent of the "major public health problem".

Comment on this SOTT Focus

---
Science & Technology
---
Microsoft Livens Up Live Search to Battle Google and Yahoo


AFP
2007-09-27 10:30:00

Microsoft on Thursday began phasing in a slick new version of its Live Search service in a bid to gain ground on leading Internet search rivals Google and Yahoo.

Microsoft's improved Live Search will be available throughout the United States in a week and globally by the end of October, according to vice president of search and advertising platform group Satya Nadella.

Comment on this SOTT Focus

---

Magnetic snakes control fluids, gravity-defying droplets, and solving a dragonfly mystery


American Physical Society
2007-09-27 10:33:00

News from the American Physical Society



Magnetic Snakes Create Water Current



M. Belkin, A. Snezhko, I.S. Aranson, and W.-K. Kwok

Physicists at Argonne National Laboratory have found that magnetic particles suspended in water and subjected to an alternating magnetic field will form snake-shaped structures that can control the flow of the surrounding fluid. Current incarnations of the magnetic snake are a few centimeters long, but the team envisions much smaller versions as pumps to manipulate liquids on microscopic scales or precursors for next-generation magnetic recording media in future computers. The team's recent experiment shows that the speed of the water flowing along the snake depends on how quickly the magnetic field alternates.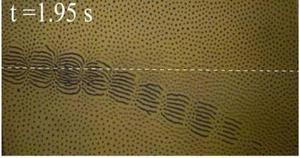 ©M. Belkin, A. Snezhko, I.S. Aranson, and W.-K. Kwok
Alternating magnetic fields create snake-like chains of magnetic particles suspended in fluid. The snakes direct the flow of the surrounding fluid along their lengths, potentially leading to new methods to control fluids in chip-based chemical analysis.
Comment on this SOTT Focus
---

Cave records provide clues to climate change


Georgia Institute of Technology
2007-09-27 10:27:00

When Georgia Tech Assistant Professor Kim Cobb and graduate student Jud Partin wanted to understand the mechanisms that drove the abrupt climate change events that occurred thousands of years ago, they didn't drill for ice cores from the glaciers of Greenland or the icy plains of Antarctica, as is customary for paleoclimatolgists. Instead, they went underground.

Growing inside the caves of the tropical Pacific island of Borneo are some of the keys to understanding how the Earth's climate suddenly changed - several times - over the last 25,000 years. By analyzing stalagmites, the pilar-like rock formations that stem from the ground in caves, they were able to produce a high-resolution and continuous record of the climate over this equatorial rainforest.

Comment on this SOTT Focus

---

Tutankhamun was not black - Egypt antiquities chief


Inquirer - AFP
2007-09-25 23:16:00

CAIRO - Egyptian antiquities supremo Zahi Hawass insisted Tuesday that Tutankhamun was not black despite calls by US black activists to recognize the boy king's dark skin color.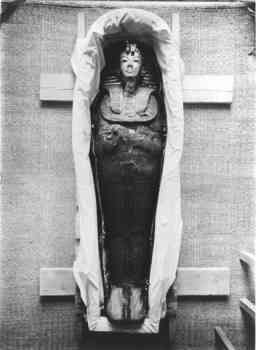 ©n/a
Comment on this SOTT Focus
---
Our Haunted Planet
---
UK: Orange, red and green 'UFO' light show riddle


Herald Express (Torquay)
2007-09-27 09:57:00

South Devon, UK - Ufo fever has again gripped the Bay with a string of witnesses recounting seeing a display of mystery lights over Paignton last weekend.But the source of the last puzzling night-time show witnessed earlier this month has insisted: "It wasn't us this time."


Comment on this SOTT Focus

---

Red fireball and explosion seen by many over Alaska

Scott Chirstiansen
Kodiak Daily Mirror
2007-09-26 01:03:00

Several Kodiakans saw something fall from the sky Tuesday morning that may have landed in mountainous terrain on Kodiak Island. The incident prompted 911 calls and a helicopter search was launched from U.S. Coast Guard Air Station Kodiak, but no crash site was found.

The pre-dawn lightshow happened about 6:45 a.m. and could be seen from several places on Kodiak Island. Some witnesses described a light moving across the sky toward the Gulf of Alaska. Others saw an explosion and red tracers. The light was bright enough to be seen from Kodiak city and Chiniak, about 20 miles away across Chiniak Bay.

Comment on this SOTT Focus

---
Don't Panic! Lighten Up!
---
UK: Major helicopter search for missing boy, 5, ends when he is found asleep UNDER his bed


Daily Mail
2007-09-27 09:39:00

Maybe he thought it would be cosier beneath his bed rather than in it. Or perhaps five-year-old Alex Olver simply fancied a change.

Whatever the reason, the youngster was soon curled up under a blanket and fast asleep, out of sight and oblivious to the commotion developing around the family home.

Comment on this SOTT Focus

---

Extreme Makeover: Man Spent Year Following Bible Rules

Jennie Yabroff
Newsweek
2007-09-27 09:29:00

After A. J. Jacobs spent a year reading the entire Encyclopaedia Britannica for his book "The Know-It-All," he figured he had the yearlong experiment thing down. How much harder could it be to follow every rule in the Bible? Much, much harder, he soon discovered, as he found himself growing his beard, struggling not to curse and asking strangers for permission to stone them for adultery. Jacobs spent the year carrying around a stapled list of the more than 700 rules and prohibitions identified in the Good Book, and also consulted with religious leaders and spent time with the Amish, Hassidic Jews and Jehovah's Witnesses. He spoke to NEWSWEEK's Jennie Yabroff about his experience and his new book, "The Year of Living Biblically" (Simon & Schuster), which goes on sale Oct. 9. Excerpts:

Comment on this SOTT Focus

---

Hundreds flock to see image of Virgin Mary on Miami altar

Christy Tetzler
9News.com
2007-09-25 07:27:00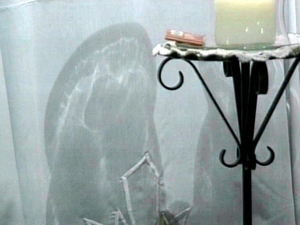 ©Unknown
Virgin Mary on Miami altar.



Hundreds of faithful people lined up at a South Florida church on Thursday and Friday nights, claiming to see visions of the Virgin Mary and Jesus in a cloth tapestry.

Comment on this SOTT Focus

---

Russia: Newborn baby Nadia weighs in at 17lb


Telegraph
2007-09-27 05:13:00

A Siberian woman who gave birth to her 12th child was stunned to find that little Nadia weighed in at 17lb (7.75 kg).

The child, who was delivered by caesarean section earlier this month, joined eight sisters and three brothers. "We were all simply in shock," said Nadia's mother, Tatyana Barabanova, 43, from Russia's Altai region.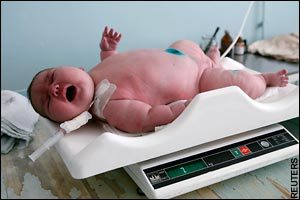 ©Reuters
Nadia joined eight sisters and three brothers
Comment on this SOTT Focus
---

Alaska rehab facility takes in orphaned walrus


Associated Press
2007-09-27 02:49:00

A young walrus is exploring new surroundings at the Alaska SeaLife Center after first appearing without its mother about a month ago near the Red Dog Mine port facility south of Kivalina.

The walrus, born last year and weighing over 400 pounds, seemed exhausted and lethargic, hauling out on the backs of zinc ships as they were loaded. It eluded several attempts to capture it, until last Thursday.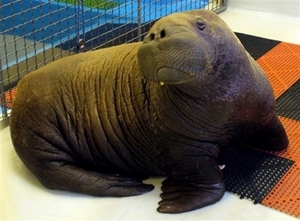 ©AP Photo/Alaska SeaLife Center
In this photo released by the Alaska SeaLife Center shows young walrus at the Alaska SeaLife Center in Seward, Alaska Friday Sept. 21, 2007. The walrus was found without its mother in late August near the Red Dog Mine port facility south of Kivalina, Alaska.
Comment on this SOTT Focus
---

Nudity and Everest don't mix


AP
2007-09-26 00:13:00

Nudity could be outlawed on the world's tallest mountain complaints about the number of climbers attempting to reach its summit without clothes

Nepalese mountaineering authorities are reportedly outraged that people were ditching their clothes on Mount Everest, which is worshipped by some villagers.

Comment on this SOTT Focus

---
---

Remember, we need your help to collect information on what is going on in your part of the world!
Send your article suggestions to: sott(at)signs-of-the-times.org

---
Click here to return to the Signs of the Times Archive
Click here for today's Signs Page