---
Sections on today's Signs Page:
---
SOTT Focus
---
Signs Economic Commentary for 24 September 2007

Donald Hunt
Signs of the Times
2007-09-24 07:40:00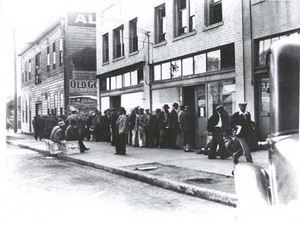 ©Oaklandlibrary.org
Great Depression in Oakland, 1934


Summary: Bank runs, a plunging dollar, skyrocketing gold and oil accompanied rising stocks and a sharp U.S. interest rate cut by the Fed this week. The Fed was in a bind. It needed to respond to the banking crisis caused by the housing collapse by pumping liquidity (money it creates) into the system and restoring confidence. But it can only do that by lowering interest rates which reduces the value of the dollar at a time when the dollar is poised at the brink of an abyss. So it lowered interest rates more than forecast on Tuesday. Stocks rose, but the dollar fell to record lows against the euro and gold and oil rose sharply.


Comment on this SOTT Focus
---
Best of the Web
---
No new articles.
U.S. News
---
GM workers strike in US as contract talks fail


AFP
2007-09-24 17:12:00

Some 73,000 workers at General Motors plants across the United States went on strike Monday after contract talks broke down amid disputes on health care costs and job security.

The automaker has been seeking concessions from labor as it undergoes a massive restructuring in the face of a steady loss of market share to Asian competitors.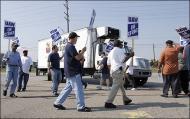 ©AFP
United Auto Workers members picket the General Motors Powertrain Plant.
Comment on this SOTT Focus
---

Generals opposing Iraq war break with military tradition

Mark Sauer
SignOnSanDiego.com
2007-09-23 16:46:00

The generals acted independently, coming in their own ways to the agonizing decision to defy military tradition and publicly criticize the Bush administration over its conduct of the war in Iraq.

What might be called The Revolt of the Generals has rarely happened in the nation's history.

In op-ed pieces, interviews and TV ads, more than 20 retired U.S. generals have broken ranks with the culture of salute and keep it in the family. Instead, they are criticizing the commander in chief and other top civilian leaders who led the nation into what the generals believe is a misbegotten and tragic war.

Comment on this SOTT Focus

---

Flashback: Iranian President Ahmadinejad's letter to the American people

President Mahmoud Ahmadinejad
ICH
2006-11-30 12:00:00

The legitimacy, power and influence of a government do not emanate from its arsenals of tanks, fighter aircrafts, missiles or nuclear weapons. Legitimacy and influence reside in sound logic, quest for justice and compassion and empathy for all humanity. The global position of the United States is in all probability weakened because the administration has continued to resort to force, to conceal the truth, and to mislead the American people about its policies and practices.

Comment on this SOTT Focus

---

Amid Protests, President of Iran Speaks at Columbia

Christine Hauser
The New York Times
2007-09-24 16:01:00

President Mahmoud Ahmadinejad of Iran faced questions this afternoon about his perspective on the Holocaust and Israel during an appearance at Columbia University in New York that provoked anger and was overshadowed by protests even before he had taken the lectern.

Comment on this SOTT Focus

---

Ahmadinejad Says Palestinians Pay Price for Holocaust

Viola Gienger and Janine Zacharia
Bloomberg
2007-09-24 15:53:00

Iranian President Mahmoud Ahmadinejad said the Palestinian people are paying for the Holocaust with the violence in the Middle East and asked why varying views of the genocide aren't allowed to be expressed.

Comment on this SOTT Focus

---

In Search of a Congress


New York Times
2007-09-21 16:20:00

If you were one of the Americans waiting for Congress, under Democratic control, to show leadership on the war in Iraq, the message from the Senate is clear: "Nevermind." The same goes for those waiting for lawmakers to fix the damage done to civil liberties by six years of President Bush and a rubber-stamp Republican Congress.

The Democrats don't have, or can't summon, the political strength to make sure Congress does what it is supposed to do: debate profound issues like these and take a stand. The Republicans are simply not interested in a serious discussion and certainly not a vote on anything beyond Mr. Bush's increasingly narrow agenda.

Comment on this SOTT Focus

---
UK & Euro-Asian News
---
Putin Names New Government

Gregory L. White and Alan Cullison
The Wall Street Journal
2007-09-24 17:01:00

President Vladimir Putin's highly anticipated new Cabinet lineup included few changes from the previous one, perpetuating Russia's main political mystery -- who Mr. Putin will back to replace him in next year's elections.

Mr. Putin stoked speculation about his plans on Sept. 12, when he abruptly removed his prime minister and Cabinet and appointed a little-known bureaucrat, Viktor Zubkov, as the new premier. For over a week since then, rumors of swirled of a major Cabinet shake-up that some analysts said would provide hints of Mr. Putin's intentions by elevating top contenders.

Comment on this SOTT Focus

---

No end in sight to foot-and-mouth outbreak in Britain


Disease/Infection News
2007-09-24 16:44:00

Following four cases of foot-and-mouth at farms in Surrey in the last two weeks another suspected case has now been detected in Hampshire.

The Department for Environment, Food and Rural Affairs (DEFRA) in Britain says a 3km temporary control zone has been established around the site in Petersfield in Hampshire, about 70 kilometres from a premises near Egham, west of London, where the disease was confirmed earlier this month.

Comment on this SOTT Focus

---

Moscow court upholds Berezovsky arrest warrant


RIA Novosti
2007-09-24 16:23:00

The Moscow City Court upheld Monday an arrest warrant for fugitive Russian tycoon Boris Berezovsky on charges of embezzling $13 million from SBS-Agro Bank.

The court rejected the defense team's appeal against the warrant.

The arrest order follows charges that Berezovsky, who lives in the United Kingdom, diverted $13 million from SBS-Agro Bank, once a leading Russian bank, and used the money to buy real estate on the Mediterranean coast.

Comment on this SOTT Focus

---

Shocking! Boy survives two-hour flight to Moscow hanging onto plane wing


RIA Novosti
2007-09-24 16:07:00

A 15-year-old boy from the Urals suffered acute frostbite after riding the wing of a Boeing-737 plane on a two-hour flight from Perm to Moscow, Russian radio station Mayak reported on Monday.

After clinging on for the entire 1300-kilometer (808-mile) flight to Vnukova Airport, the boy, named Andrei, collapsed onto the tarmac. His arms and legs were so severely frozen that rescuers were at first unable to remove his coat and shoes, the radio station said.

The airport did not confirm the report. "We have no information on this," the Vnukovo press service told RIA Novosti.

Comment on this SOTT Focus

---

Croatia: Street falls into hole in Zagreb, dozens homeless


Reuters
2007-09-24 14:45:00

A small street in a residential district of the Croatian capital collapsed into an underground building site, turning dozens of shocked citizens into homeless refugees, Zagreb police said on Monday.

The cave-in happened after construction workers digging a 27-metre deep hole beneath the street to lay foundations for an office block disturbed a strong underground stream, the Jutarnji List daily reported.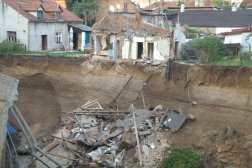 ©Javno
Comment on this SOTT Focus
---

Germany gives up on extradition of CIA suspects


Reuters
2007-09-24 02:29:00

Germany has given up efforts to extradite 13 suspected CIA agents from the United States in connection with the kidnapping a German citizen in 2003, the Justice Ministry said on Sunday.

Earlier this year, a Munich court ordered the arrest of the 13 on suspicion of kidnapping Khaled el-Masri, a German of Lebanese descent who says he was flown from Macedonia to Afghanistan where he was imprisoned for months and tortured.



Comment on this SOTT Focus

---
Around the World
---
Venezuelan Doctors Step Up Protests against Government

Kiraz Janicke
Venezuelanalysis
2007-09-24 03:18:00

A dispute supported by the Venezuelan Medical Federation (FMV), erupted within Venezuela's public hospital system this week with doctors demanding salary increases and improved working conditions. The dispute, which began at Hospital Lídice in Caracas, has spread to Pérez Carreño Hospital, Hospital Vargas, the Maternity Hospital of Catia, Hospital J.M. de los Ríos and the Magallanes Hospital in Catia, after an incident on Monday in which a doctor tackled and removed the firearm of an armed security guard who was attempting to prevent reporters from the private TV channel Globovision from entering a hospital ward to film a doctor's assembly.

Comment on this SOTT Focus

---

China seizes on Mattel apology to emphasize safety


Reuters
2007-09-24 02:54:00

China highlighted Mattel's apology over its recall of huge numbers of toys on Monday to press Beijing's claim that its exports are generally safe and foreign politicians and media have unfairly hyped quality scares.

Before those recalls, a spate of complaints involving unsafe Chinese products ranging from other toys and seafood to toothpaste that entered EU and U.S. markets prompted calls on both sides of the Atlantic for stricter scrutiny of made-in-China goods.

Comment on this SOTT Focus

---

Turkmen leader to meet Rice as relations warm


AFP
2007-09-24 02:51:00

ASHGABAT - The head of the energy-rich Central Asian state of Turkmenistan was to meet US Secretary of State Condoleezza Rice this week as hopes mount for a fresh start in relations.

Turkmen President Gurbanguly Berdymukhamedov flew to the United States on Sunday and was to meet Rice during the week, as well as addressing the United Nations General Assembly on Wednesday, officials said.

Comment on this SOTT Focus

---
Big Brother
---
Privacy? What Privacy? Shin Bet accused of obtaining data from cell phone companies

Yuval Yoaz
Haaretz
2007-09-24 15:34:00

The licenses that the state gives to cell phone companies contain a secret codicil requiring them to give the Shin Bet security service information about conversations and messages that its customers transmit on their cell phones, according to the Movement for Freedom of Information in Israel (FOIM).

However, the cellular companies - Pelephone, Cellcom, Partner and Mirs - as well as the Communications Ministry and the Prime Minister's Office, which oversees the Shin Bet, all declined to confirm the existence of such a directive. If this addendum does exist, it would potentially impair the privacy rights of millions of cell phone customers in Israel without their knowledge.

Comment on this SOTT Focus

---

Homeland Security Presidential Directive #12: Another Bush Diktat Undermines the Constitution

mole333
Culture Kitchen
2007-09-24 14:58:00

"Yeah, that's it. Just relax.
Have another drink, few more pretzels, little more MSG.
Turn on those Dallas Cowboys on your TV.
Lock your doors. Close your mind.
It's time for the two-minute warning.

Welcome to 1984
Are you ready for the third world war?!?
You too will meet the secret police
They'll draft you and they'll jail your niece"

--Dead Kennedys, "We've Got a Bigger Problem Now"

Have you been PERSONALLY affected by the Bush Administration's erosion of our Constitutional Rights? Well, now my family is coming face to face with a direct assault on the Bill of Rights, an assault on my wife's rights. This assault comes directly from Bush with no input from Congress whatsoever.

Comment on this SOTT Focus

---
Axis of Evil
---
Civilian Casualties in Afghanistan: No Coincidence

Prof. Ira Chernus
Global Research
2007-09-24 08:11:00

NATO bombs killed at least 45 civilians in Afghanistan the other day. If you get your news from the front pages of the U.S. mainstream media, you wouldn't know it. The New York Times did run news from Afghanistan on its front page the next day - a rather ghoulish piece about Muslims refusing to give Taliban suicide bombers a religious burial, because suicide bombing is morally reprehensible. And so it is.

But what about pushing a button in an airplane to drop bombs that fall on people's homes? Not so reprehensible, apparently. The Times buried its report on the slaughter in Helmand province back on an inside page, as did the Washington Post. The LA Times relegated to a "World in Brief" notice.

Comment on this SOTT Focus

---

Barak: profile of a brutal child-killer

Khalid Amayreh
Uruknet
2007-09-24 02:10:00

Ehud Barak, the certified Zionist war criminal, is threatening to turn Gaza Strip into a full-fledged concentration camp.


©n/a



Last week, the Israeli war minister who is believed to be responsible for the murder of hundreds of Palestinian children during the first few months of the Aqsa Intifada in 2000 and 2001, disclosed a new policy toward the Gaza Strip resembling very much the manner in which the Nazi authorities treated Jews in the course of World War II.

Comment on this SOTT Focus

---

Report: Cheney may have mulled pushing Israel to hit Iran in effort to draw a military response


Haaretz
2007-09-23 23:58:00

Newsweek Magazine reported Sunday that Vice President Richard Cheney may have considered a plan for Israeli missile strikes against an Iranian nuclear site in an effort to draw a military response from Iran, which could in turn spark a U.S. offensive against targets in the Islamic Republic.



Comment on this SOTT Focus

---

U.S. Stalls on Human Trafficking

Cam Simpson
Chicago Tribune
2007-09-23 21:14:00

WASHINGTON - Three years ago, President Bush declared that he had "zero tolerance" for trafficking in humans by the government's overseas contractors, and two years ago Congress mandated a similar policy.

But notwithstanding the president's statement and the congressional edict, the Defense Department has yet to adopt a policy to bar human trafficking.

A proposal prohibiting defense contractor involvement in human trafficking for forced prostitution and labor was drafted by the Pentagon last summer, but five defense lobbying groups oppose key provisions and a final policy still appears to be months away, according to those involved and Defense Department records.


Comment on this SOTT Focus

---

The eerie familiarity of these preparations for war

Adrian Hamilton
The Independent
2007-09-20 18:35:00



Have we learnt nothing from the shameful and shameless run-up to the invasion of Iraq?

Then, Mohammed ElBaradei, the Nobel prize-winning Egyptian head of the International Atomic Energy Agency, quietly but firmly said that as far as he and his UN agency were concerned, there was no evidence that Saddam Hussein had nuclear weapons or the materials to make them.

His conclusion was simply swept aside as the US and the British tore into the UN inspector, Hans Blix, determined to show that their worst warnings about Saddam were based on fact. ElBaradei and Blix proved right in their denial. Jack Straw and the hapless (in this case) Colin Powell were wrong.

Comment on this SOTT Focus

---

Flashback: I Was Hitler's Boss

Prof. Harold Marcuse
Current History
2005-09-29 18:02:00


©Unknown





Current History, 1:3(November 1941), 193-199



Part of the Hitler in History Project
By Prof. Harold Marcuse (homepage)
Page updated 8/20/07

Comment on this SOTT Focus

---
Middle East Madness
---
Flashback: Letter shows Iran's president seeking religious bond with Bush

Nick Wadhams
Associated Press
2006-05-10 16:59:00

With his 18-page letter, Iranian President Mahmoud Ahmadinejad delivered President Bush a history lesson, philosophy lecture and religious sermon laced with references to Jesus Christ.



Comment on this SOTT Focus

---

Department of Veterans Affairs Reports 73 Thousand U.S. Gulf War Deaths

Clive Boustred
OpEdNews.com
2007-09-22 16:37:00

How come the government numbers of 3,777 as of 9/7/7 are so low? The answer is simple, the government does not want the 73,000 dead to be compared to the 55,000 U.S. soldiers killed in Vietnam Iraq = Vietnam. What the government is doing is only counting the soldiers that die in action before they can get them into a helicopter or ambulance. Any soldier who is shot but they get into a helicopter before he dies is not counted.

73,000 dead amongst the U.S. soldiers for this scale operation using weapons of mass destruction is not high - we expect the great majority of U.S. soldiers who took part in the invasion of Iraq to die of uranium poisoning, which can take decades to kill.

Comment on this SOTT Focus

---

Oups, he did it again: Israeli police to investigate Olmert house purchase

Jeffrey Heller
Reuters
2007-09-24 15:28:00

Israel's attorney-general ordered police on Monday to open a criminal investigation into Prime Minister Ehud Olmert's purchase of a home in Jerusalem.

A complaint filed by an investigative journalist alleged Olmert received a "significant discount" on the price in return for using his influence in Jerusalem city hall to speed up building permits for the contractor who sold him the home.

Olmert denied any wrongdoing in the case, one of several corruption probes that have plagued the Israeli leader since he took office last year and raised questions about his political future as he pursues peace talks with the Palestinians.



Comment on this SOTT Focus

---

Propaganda Alert! Israel says thwarts suicide bomb attack in Tel Aviv


Reuters
2007-09-24 02:03:00

Israeli police seized an explosive belt that was intended to be used in a Tel Aviv suicide bomb attack on the Jewish holiday of Yom Kippur, a police spokesman said on Saturday.

Police spokesman Micky Rosenfeld said police raided an apartment in Israel's commercial capital early on Saturday and arrested four people, including a suspected would-be suicide bomber and an explosive belt he was planning to use.

More bogus allegations to justify an ongoing genocide. Read: The Suicide Bombing Cycle


Comment on this SOTT Focus

---

A Feeling I'm Being Had

Scott Adams
The Dilbert Blog
2007-09-23 22:07:00

I was happy to hear that NYC didn't allow Iranian President Ahmadinejad to place a wreath at the WTC site. And I was happy that Columbia University is rescinding the offer to let him speak. If you let a guy like that express his views, before long the entire world will want freedom of speech.

I hate Ahmadinejad for all the same reasons you do. For one thing, he said he wants to "wipe Israel off the map." Scholars tell us the correct translation is more along the lines of wanting a change in Israel's government toward something more democratic, with less errymandering. What an a**-muncher!


Comment on this SOTT Focus

---

U.S. Repeatedly Rebuffed Iraq on Blackwater Complaints

Sudarsan Raghavan and Steve Fainaru
Washington Post
2007-09-23 18:47:00

Senior Iraqi officials repeatedly complained to U.S. officials about Blackwater USA's alleged involvement in the deaths of numerous Iraqis, but the Americans took little action to regulate the private security firm until 11 Iraqis were shot dead last Sunday, according to U.S. and Iraqi officials.

Comment on this SOTT Focus

---
The Loan Gunmen
---
ECB attacks France over finances


BBC
2007-09-24 17:10:00

European Central Bank chief Jean-Claude Trichet has attacked France for being Europe's "number one spender".

Mr Trichet warned that in comparison to its GDP, the country was well on the way to spending much more than its European neighbours during 2007.

The warning came as Prime Minister Francois Fillon warned that France's finances were in a "critical" state.

Comment on this SOTT Focus

---

French PM Fillon tells farmers 'France is broke'

Henry Samuel
telegraph.co.uk
2007-09-24 17:06:00

France is bankrupt and can no longer afford to pay its workers generous salaries and subsidies, its prime minister has declared.

Francois Fillon made the undiplomatic outburst during a trip to the French island of Corsica, where farmers were demanding more government money.

"I am at the head of a state that is in a position of bankruptcy," he said.

Comment on this SOTT Focus

---
The Living Planet
---
Sea Level Rise Could Flood Many Cities

Seth Borenstein
AP
2007-09-22 16:14:00

Ultimately, rising seas will likely swamp the first American settlement in Jamestown, Va., as well as the Florida launch pad that sent the first American into orbit, many climate scientists are predicting. In about a century, some of the places that make America what it is may be slowly erased.

Global warming - through a combination of melting glaciers, disappearing ice sheets and warmer waters expanding - is expected to cause oceans to rise by one meter, or about 39 inches. It will happen regardless of any future actions to curb greenhouse gases, several leading scientists say. And it will reshape the nation.

Comment on this SOTT Focus

---

Mysterious Lightning Strike Closes Virginia's Grand Caverns

Hannah Northey
DailyNewsRecord
2007-08-27 10:19:00

Darkness continues to envelop Grand Caverns, America's oldest show cave, after a lightning strike damaged the attraction's electrical system earlier this month, officials there say.

Charmaine Detrow, an education coordinator at the Grottoes park, said caverns officials are still mystified as to how cables and a light box, which provide illumination for tours, were struck by lightning. She said the system is inside the cave with no exposure to the elements.

"There's no doubt in our minds it got hit," she said. "The plastic switches are melted onto the metal box."

Comment on this SOTT Focus

---

Storm floods Southern California


UPI
2007-09-23 10:01:00

A freak Southern California storm trapped dozens of cars in lava-like mud and delayed an LA Angels of Anaheim game for the first time.

"A mud slide will really screw up your plans," said Mark Skully, a Sunland resident whose truck became trapped Saturday when mud and debris oozed onto the road at a stop light.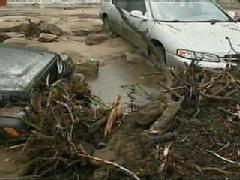 ©foxreno.com
A mudslide triggered by a sudden cloudburst Saturday caused a hillside near Griffith Park to collapse, trapping as many as 14 cars in mud.
Comment on this SOTT Focus
---

Tropical storm Francisco hits China, 6 fisherman missing


Xinhua
2007-09-24 09:54:00

Tropical storm Francisco, the 14th such storm to hit China this year, made landfall in south China's Hainan Province shortly after midday on Monday, causing a fishing boat with eight people on board to capsize.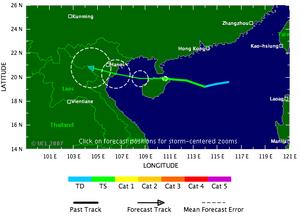 ©TSR



The tropical storm, packing up winds of 72 km per hour and bringing torrential rains, landed at Changfa Township in Wenchang County at 12:30 pm, according to the State Flood Control and Drought Relief Headquarters.

Comment on this SOTT Focus

---

Lightning storm wreaks havoc in Vancouver area


CBC News
2007-09-19 09:49:00

Heavy rains and lightning hit British Columbia's Lower Mainland Tuesday, leaving parts of Surrey under a foot of water and causing structural damage to a home in Coquitlam.

Traffic flows were disrupted by the storm, which also left 2,000 British Columbia Hydro & Power Authority customers without power for much of Tuesday. Power outages were reported in Burnaby, Delta, Coquitlam and Port Coquitlam.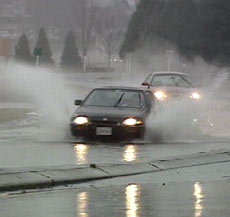 ©CBC
Heavy rain flooded parts of British Columbia's Lower Mainland on Tuesday.
Comment on this SOTT Focus
---

Tornadoes cause damage in Britain


AFP
2007-09-24 09:46:00

A flurry of tornadoes caused damage in a number of towns in central and southern England on Monday, officials and reports said, although no casualties were immediately reported.

Ferocious winds were reported in Farnborough, south of London, Luton and Northampton, north of the capital, and Nuneaton in Warwickshire, west central England, according to police and emergency officials.


©AFP
A flurry of tornadoes caused damage in a number of towns in central and southern England.
Comment on this SOTT Focus
---
Health & Wellness
---
People who 'um' and 'ah' are more memorable than clear speakers


The Daily Mail
2007-09-24 15:53:00

They are seen as a mark of poor communication, and can be. . . um. . . simply maddening for anyone waiting for a punchline.

But the utterances that slow down our sentences actually make us better understood, according to scientists.

They found that "ums", "ers" and "ahs" - known as "disfluencies" - force a listener to pay attention.

Comment on this SOTT Focus

---
Science & Technology
---
No new articles.
Our Haunted Planet
---
UFO over west London

Sara Nelson
This Is Local London
2007-09-18 07:22:00

CLUSTERS of lights in the night sky have left a puzzled family wondering if they were watching a UFO.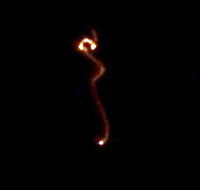 ©Lorna Godden
Lorna Godden took this picture on Saturday night
Comment on this SOTT Focus
---
Don't Panic! Lighten Up!
---
Flashback: Bush Demands That Iran Halt Production of Long Letters

Truthdig
Truthdig
2006-05-15 12:00:00

Days after receiving an 18-page letter from Iranian president Mahmoud Ahmadinejad, President George W. Bush called the lengthy missive "an act of war" and demanded that Iran halt its production of long letters at once.

At the White House, aides said that writing a letter of such length to President Bush, who is known for his extreme distaste for reading, was the most provocative act Mr. Ahmadinejad could have possibly committed.

Comment on this SOTT Focus

---

Satire: Beggars can be choosers! Israel asks U.S. foreign aid be paid in EUROS


Wakeupfromyourslumber
2007-09-23 18:19:00

Secretary of State Rice has acknowledged a communique from Israeli foreign minister Tzipi Levni which requests that all foreign aid payments and loans from the United States be made in Euros rather than in Dollars. Foreign Minister Levni cited the rapidly declining dollar and it's disfavor as a world currency as reasons for the request.


Comment on this SOTT Focus

---
---

Remember, we need your help to collect information on what is going on in your part of the world!
Send your article suggestions to: sott(at)signs-of-the-times.org

---
Click here to return to the Signs of the Times Archive
Click here for today's Signs Page