---
Sections on today's Signs Page:
---
SOTT Focus
---
No new articles.
Best of the Web
---
No new articles.
U.S. News
---
Thousands protest racial injustice in US South


AFP
2007-09-20 16:38:00

Thousands of demonstrators filled the streets of a small Louisiana town Thursday protesting the racial injustice of stiff criminal charges lodged against a group of black students who beat up a white student in a school fight.

The fight followed months of racial tensions after a black student tried to cross the schoolyard's invisible color line and sit under the "white tree" and was met the next morning by nooses hanging from the tree.

Comment on this SOTT Focus

---

Plane crashes in Chattanooga, Tennessee


UPI
2007-09-20 16:34:00

A twin-engine airplane crash landed near the Chattanooga Metropolitan Airport in Tennessee, hitting an unoccupied car and causing injuries to the pilots.

The Beechcraft King Air turbo-prop, was en route from Birmingham, Ala., said Chattanooga Fire Department spokesman Bruce Garner, who was relaying information for airport authorities Wednesday night.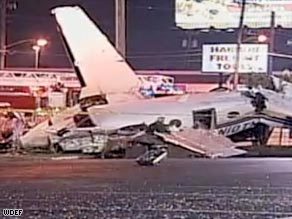 ©WDEF
Comment on this SOTT Focus
---

Car plows into crowd on Las Vegas Strip


Associated Press
2007-09-20 15:14:00

A car plowed into a crowd on a Las Vegas Strip sidewalk on Wednesday, injuring at least a dozen people and sending seven to the hospital, authorities said.

"A gentleman who we believe had a diabetic episode passed out behind the wheel, ran up on the sidewalk and hit a large group of people," said Clark County fire spokesman Scott Allison.

He said most of the injuries appeared to be moderate to serious, but two women were hospitalized with head injuries, Allison said.


Comment on this SOTT Focus

---

South Carolina: Man Gets 421 Years in Bunker Case

Bruce Smith
Associated Press
2007-09-20 14:59:00

A man who admitted to kidnapping a 14-year-old girl and holding her for more than a week in an underground bunker, raping her daily, was sentenced Wednesday to 421 years in prison for a crime the judge called "repulsive."

Vinson Filyaw pleaded guilty Tuesday, moments before his trial, to charges of kidnapping and 10 counts of criminal sexual conduct, one for each day prosecutors said he held the girl captive a year ago in Kershaw County.


Comment on this SOTT Focus

---

The 22 most corrupt members of Congress (and two to watch)


Beyond DeLay
2007-09-18 07:36:00

Washington, DC - Today, Citizens for Responsibility and Ethics in Washington (CREW) released its third annual report on the most corrupt members of Congress entitled Beyond DeLay: The 22 Most Corrupt Members of Congress (and two to watch). This encyclopedic report on corruption in the 110th Congress documents the egregious, unethical and possibly illegal activities of the most tainted members of Congress. CREW has compiled the members' transgressions and analyzed them in light of federal laws and congressional rules.

Sixteen members have been replaced from last year's list of 25.

Comment on this SOTT Focus

---

Iran leader denied on WTC wreath request

Pat Milton
Yahoo News
2007-09-20 07:15:00

A request by Iran's president to lay a wreath at the World Trade Center site next week has been turned down by police and blasted by U.S. diplomats as an attempt to turn ground zero into a "photo op."



Mahmoud Ahmadinejad, who is to arrive Sunday to address the U.N.'s General Assembly, asked the city and the U.S. Secret Service earlier this month for permission to visit the site of the Sept. 11 attacks.

The request to enter the fenced-in site was rejected because of ongoing construction there and due to security concerns, police spokesman Paul Browne said Wednesday.

Comment on this SOTT Focus

---
UK & Euro-Asian News
---
Helicopter wreck found in Siberia, 6 people still missing


RIA Novosti
2007-09-20 15:24:00

The wreckage of an Mi-8 rescue helicopter that had been missing in northwest Siberia since September 9 has been found, the Federal Air Navigation Service said on Thursday.

Contact with the helicopter was lost a few hours after it took off from the village of Shchuchya, in the Yamalo Nenets Autonomous Area, 50 kilometers (30 miles) from administrative center Salekhard.

The wreckage was discovered on the Yamal Peninsula, the northernmost part of the province. The site of the crash is on the Khanmei mountain, at a height of 1,333 meters (4,400 feet) above sea level, according to the head of the search and rescue department of Russia's Federal Air Navigation Service, Sergei Prusov.


Comment on this SOTT Focus

---

UK: Victims to be allowed to punish bullies

Graeme Paton
Telegraph
2007-09-20 14:15:00

Victims of school bullies will be able to mete out their own justice under new Government guidelines published tomorrow.

They will be encouraged to have a say on sanctions for perpetrators - which may include litter-picking, removing graffiti or detentions.

Ministers say it will ensure pupils see punishments as "fair" and give victims greater confidence. The move forms part of a comprehensive crackdown on bullying amid fears that pupil intimidation is on the increase.



Guidance being published by the Department for Children, Schools and Families, will also outline a series of measures to punish "cyber bullies" who use email, mobile phones and social networking websites to victimise others.

These include confiscating mobile phones, lessons teaching children about the risks of new technology and blocks on access to any "harmful" websites from school computers. It would potentially restrict access to websites such as YouTube, which have been used to post humiliating films of teachers and images of fellow pupils being attacked.


Comment on this SOTT Focus

---

NATO pressurises Dutch to stay in Afghanistan

Vanessa Mock
Radio Netherlands Worldwide
2007-09-20 03:34:00

Dutch ISAF badge UruzganNATO is turning up the heat on the Netherlands to keep its troops in Afghanistan. A senior military chief at NATO recently made a formal request to the Dutch government to keep its force in the country.

Meanwhile, NATO Secretary General Jaap de Hoop Scheffer on Wednesday urged that 'no-one should withdraw from Afghanistan'. In an interview with Dutch Newspaper NRC Handelsblad, the Dutchman said he could not imagine that the Dutch would withdraw.

Comment on this SOTT Focus

---

French deputies pass bill tightening rules for immigrants


AFP
2007-09-20 03:06:00

The French National Assembly early Thursday adopted a government bill tightening the rules for immigrants wanting to join their families in France and giving the nod to DNA tests to prove family ties.

In a late-night vote the bill received support from deputies of the ruling UMP and the New Centre party, while the Socialists, Communists and Greens voted against.

Comment on this SOTT Focus

---

Outrage in Greece over secret plan to develop land in region ravaged by fires

Elinda Labropoulou
The Independent
2007-09-19 22:34:00

The Greek government is facing a major embarrassment within days of its re-election after it gave property developers the green light to build on an environmentally sensitive area next to forests ravaged by this summer's deadly fires.


Documents leaked to the Greek press show the finance ministry pushed through an agreement allowing building activity to begin in a protected area in the Southern Peloponnese, the region hardest hit by last month's blazes that killed 67 people and destroyed nearly half a million acres of forest and farmland.



Comment on this SOTT Focus

---

Tens of thousands of CCTV cameras, yet 80% of crime unsolved

Justin Davenport
Evening Standard
2007-09-19 22:27:00

London has 10,000 crime-fighting CCTV cameras which cost £200 million, figures show today.

But an analysis of the publicly funded spy network, which is owned and controlled by local authorities and Transport for London, has cast doubt on its ability to help solve crime.


Comment on this SOTT Focus

---
Around the World
---
Japan's quake-hit nuclear plant catches fire, no leakage


Xinhua
2007-09-20 16:43:00

A fire broke out Thursday morning on the roof of the Kashiwazaki-Kariwa nuclear power plant in Niigata prefecture and was put out half an hour later, Kyodo News said.

The fire started from a power cable of a makeshift air conditioner at the building of the No.1 reactor around 10:50 a.m. local time (0150 GMT), the report said, quoting Tokyo Electric Power Co.

Comment on this SOTT Focus

---

Train hits group of wild elephants in eastern India


RIA Novosti
2007-09-20 15:33:00

A group of four wild elephants has been struck by a train while walking along railway lines in the state of Orissa in eastern India, local media said Thursday.

The goods train dragged the animals along the rails for 70 meters, leaving two adult females dead and one calf with serious injuries. The injured elephant has been taken to a zoo near the state capital Bhubaneswar, where he will undergo medical and psychological treatment.


Comment on this SOTT Focus

---

420 pigs burn alive as Austrian farm catches fire


RIA Novosti
2007-09-20 15:29:00

A total of 420 pigs were burnt alive Thursday in a fire at a farm in the town of St. Leonhard, in Lower Austria, local radio said.

About 100 firefighters managed to prevent the blaze from spreading to a nearby residential building and another pigsty containing 500 pigs. Work was complicated by the fact that the firemen were forced to constantly cool off two underground gas storages located near the fire source in order to prevent an explosion.


Comment on this SOTT Focus

---

U.N. renews NATO troop mandate in Afghanistan

Evelyn Leopold
Reuters
2007-09-20 03:06:00

The U.N. Security Council authorized NATO-led troops to stay in Afghanistan for another year on Wednesday and gave the Japanese government support in its domestic dispute over refueling U.S. and other ships in the Indian Ocean.

The vote was 14-0 with Russia abstaining in the resolution that emphasized "the increased violent and terrorist activities by the Taliban, Al Qaeda, illegally armed groups and those involved in the narcotics trade."

Comment on this SOTT Focus

---
Big Brother
---
U.S. Airport Screeners Are Watching What You Read

Ryan Singel
Wired News
2007-09-20 14:39:00

International travelers concerned about being labeled a terrorist or drug runner by secret Homeland Security algorithms may want to be careful what books they read on the plane. Newly revealed records show the government is storing such information for years.

Privacy advocates obtained database records showing that the government routinely records the race of people pulled aside for extra screening as they enter the country, along with cursory answers given to U.S. border inspectors about their purpose in traveling. In one case, the records note Electronic Frontier Foundation co-founder John Gilmore's choice of reading material, and worry over the number of small flashlights he'd packed for the trip.


Comment on this SOTT Focus

---

Bush Calls for Expansion of Spy Law

Deb Riechmann
Associated Press
2007-09-19 23:11:00

FORT MEADE, Md. - President Bush said Wednesday he wants Congress to expand and make permanent a law that temporarily gives the government more power to eavesdrop without warrants on suspected foreign terrorists.


Comment on this SOTT Focus

---

U.S. Government's Plan to Protect You From Terrorist Livestock

Jim Hightower
Hightower Lowdown
2007-09-19 19:05:00

A new animal-tracking system could put Big Brother in your backyard -- even if you're not a farmer.


Comment on this SOTT Focus

---
Axis of Evil
---
Hessians Redux: Blackwater, U.S. and England

Dr. Sam Hamod
ICH
2007-09-20 17:37:00

...the analogies between Americans fighting for their country and the Iraqis fighting for theirs, in both cases, from foreign invaders, and against mercenaries hired to kill them, is clear and is an unequivocally honest analogy. While most analogies have flaws in them, this one does not.

It's strange that most of our American brethren have forgotten the Hessians, the mercenaries the British hired to fight against us in the Revolutionary War. You may recall that George Washington and his small band of patriots, men who were fighting for their country, crossed the Delaware River during the icy winter season in small boats and caught the Hessians unaware in Trenton and defeated them and broke the spirit of the British regulars who had depended on the famed Hessian mercenaries to finish off General Washington and his troops.

Comment on this SOTT Focus

---

Giuliani, in London, urges broad NATO expansion, including an invitation to Israel

Marc Santora
Herald Tribune
2007-09-20 15:08:00

Making an unusual campaign swing outside his own country, Rudolph Giuliani said Wednesday that he would like to see a broad expansion of the NATO alliance, including an invitation to Israel, and that the United States would use military force if necessary to prevent Iran from developing nuclear weapons.

Giuliani, long a supporter of Israel, acknowledged that pushing its membership in NATO might be viewed as provocative. Still, he said, he thinks it only natural, since the Israelis would be "willing to help us in the effort against terrorism."


Comment on this SOTT Focus

---

The Blood on George Bush's Hands

Bill Gallagher
Niagara Falls Reporter
2007-09-17 07:48:00

DETROIT -- It was certainly one of President George W. Bush's worst performances, and that's saying a lot. Well past his bedtime, he spoke to the nation last Thursday, looking and sounding like a sedated automaton, reading the lines for his latest justification for staying the course in Iraq and telling the American people to consider the preposterous request to have patience and trust his judgment.

Using Gen. David Petraeus and Ambassador Ryan Crocker for convenient cover, Bush assured us that "conditions in Iraq are improving," that "we are seizing the initiative from the enemy" and that "the troop surge is working."

Comment on this SOTT Focus

---

Checkbook Imperialism: The Blackwater Fiasco

Robert Scheer
Alternet
2007-09-19 08:31:00



Why doesn't the Iraqi government have the explicit legal power to expel or adjudicate the U.S.-contracted troops that are killing its citizens?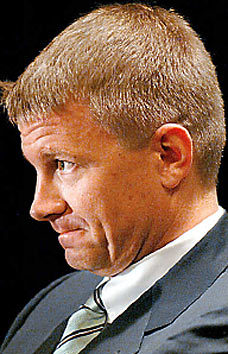 ©n/a
Erik Prince, founder of the Blackwater mercenary firm
Comment on this SOTT Focus
---

Judge Michael Mukasey And A Curious Omission In The Omar Abdel-Rahman Trial


IntelWire.com
2007-09-19 21:05:00

Former federal judge Michael Mukasey -- President's Bush's new attorney general nominee -- has quite an impressive resume. But his highest profile case is also among his most problematic -- the 1995 prosecution of Blind Sheikh Omar Abdel Rahman.

There's one big fish that got away in that case, and his name is Ali Mohamed, an al Qaeda infiltrator who had trained some of the Rahman conspirators while serving in the U.S. Army at Fort Bragg. Mohamed was also an FBI informant who had provided information about al Qaeda to the FBI in 1993.

Comment on this SOTT Focus

---

Iraqi Report Says Blackwater Guards Fired First

SABRINA TAVERNISE and JAMES GLANZ
New York Times
2007-09-19 19:13:00

A preliminary Iraqi report on a shooting involving an American diplomatic motorcade said Tuesday that Blackwater security guards were not ambushed, as the company reported, but instead fired at a car when it did not heed a policeman's call to stop, killing a couple and their infant.

Comment on this SOTT Focus

---
Middle East Madness
---
2 Million Iraqis Forced to Flee Their Homes In The Past Year

Suzanne Goldenberg
Guardian Unlimited
2007-09-20 17:31:00

Nearly two million Iraqis have become refugees in their own land in the past year, redrawing the ethnic and sectarian map of Baghdad and other cities, a report by the Iraqi Red Crescent said yesterday.

In Baghdad alone, nearly a million people have fled their homes.

Last month saw the sharpest rise so far in the numbers of Iraqis forced to abandon their homes - 71.1%.

The forced migration raises questions about claims from the Bush administration that the civilian protection plan at the core of its war strategy is making Iraq safer for Iraqis.



Comment on this SOTT Focus

---

McCain blasts Columbia for letting Ahmadinejad speak

Sam Youngman
The Hill
2007-09-20 16:46:00

Presidential candidate Sen. John McCain (R-Ariz.) harshly criticized Columbia University on Thursday for allowing Iranian President Mahmoud Ahmadinejad to speak on its campus.

"A man who is directing the maiming and killing of Americans troops should not be given an invitation to speak at an American university," McCain said.




Comment on this SOTT Focus

---

Palestinian teenager killed in the Gaza Strip


RIA Novosti
2007-09-20 15:27:00

A Palestinian teenager has been killed in an Israeli ground operation in central Gaza, local TV said Thursday.

According to Palestinian witnesses, the boy had been throwing stones at Israeli tanks when he was hit by shrapnel, and then run over. Two civilians and two Hamas militants are also reported to have been injured.

Hamas said the Israeli ground operation was performed by some 20 combat vehicles supported by infantry troops and aircraft. The TV report said the Israelis had blocked off the residence of a Hamas activist.


Comment on this SOTT Focus

---

Iran releases Iranian-American held since May


Reuters
2007-09-20 03:06:00

An Iranian-American academic has been released from detention in Tehran's Evin prison after being held since May, the Open Society Institute said on Wednesday.

Kian Tajbakhsh, a consultant with George Soros' New York-based Open Society Institute was detained on security-related charges while visiting the country.

Comment on this SOTT Focus

---

False Flag Alert! US leads world outrage at Beirut bombing


AFP
2007-09-20 03:06:00

The United States led a global chorus of outrage Wednesday at the slaying of an anti-Syrian Lebanese lawmaker in Beirut and warned Syria and Iran against trying to destabilize their smaller neighbor.

"I strongly condemn today's horrific assassination of Lebanese member of parliament Antoine Ghanem," said US President George W. Bush, who cited "a tragic pattern" of attacks against champions of "an independent and democratic Lebanon."



Comment on this SOTT Focus

---

CIA Shut Down in Iraq


PajamasMedia
2007-09-19 20:52:00

According to exclusive information obtained by Pajamas Media's Washington editor Richard Miniter, the movement of key CIA station personnel in Baghdad has been all but shut down. Are we witnessing Iran's counter-strike to the surge?

Movements of key CIA station personnel in Baghdad - along with most State department diplomats and teams building police stations and schools - have been frozen for the second day in a row, according to a State department source who spoke on the condition of anonymity.

Essentially, the CIA, State department and government contractors are stuck inside the International Zone, also known as "the Green Zone," in Central Baghdad. Even travel inside that walled enclave is somewhat restricted.

Comment on this SOTT Focus

---
The Loan Gunmen
---
Could a run on a bank happen in the U.S.?

David Callaway
MarketWatch
2007-09-20 17:11:00

It seems like only a few weeks ago that bankers and financial gurus around the world were confidently predicting that the subprime mortgage mess in the U.S. was a local problem that would not affect the global markets.

Then came last Friday, and we all awoke to pictures of British savers lined up in Depression-era, breadline formation to yank their funds out of Northern Rock after the British banking company said it needed to be bailed out by the Bank of England. By Monday, people had begun withdrawing money from other British banks, and by the time things calmed down the government had to step in and pledge to stand behind all deposits at Northern Rock.

Comment on this SOTT Focus

---

German banks warn of subprime market fallout


DPA
2007-09-20 16:46:00

The scale of the fallout from the turmoil that has swept global markets in the wake of the US housing industry crisis further emerged Thursday with two leading German banks detailing the risks to their balance sheets. While Deutsche Bank said that the global market turbulence would hit Germany's biggest bank third-quarter results, Commerzbank reaffirmed what it said in July that it had laid aside 80 million euros (112 million dollars) to cover losses resulting from the US subprime mortgage market.

Comment on this SOTT Focus

---

Dubai to buy large stake in Nasdaq

Julia Werdigier
International Herald Tribune
2007-09-20 16:40:00

Borse Dubai agreed on Thursday to take a stake in the Nasdaq stock exchange in New York and become the first government-controlled stock exchange of the Middle East to hold a significant stake in an American rival, a step that may create political controversy in Washington.

In a complex four-way deal, Borse Dubai plans to take a 19.9 percent stake in Nasdaq and buy Nasdaq's 28 percent stake in London Stock Exchange. Dubai will in turn let Nasdaq buy OMX, the Nordic stock exchange operator, over which the two bourses have been locked in a six-week bidding war. In a separate statement, Qatar, which competes with Dubai as a financial center in the region, said it bought 20 percent of London Stock Exchange but does not "currently" intend to make an offer.

Comment on this SOTT Focus

---

$1 Cdn = $1 US


CBC News
2007-09-20 15:53:00

The Canadian dollar reached parity with the U.S. greenback on Thursday for the first time in almost 31 years, capping a spectacular run that has seen it rise 62 per cent since 2002.

The loonie briefly reached $1.0003 US on foreign exchange markets shortly before 11 a.m. ET, the Bank of Canada said. The loonie's stint at parity was brief, however, as it later slipped back to just under $1 US.

Comment on this SOTT Focus

---

Bank chief under pressure to resign after £10bn U-turn on money markets

Ashley Seager and Larry Elliott
The Guardian
2007-09-20 03:49:00

Mervyn King, governor of the Bank of England, will come out fighting for his reputation today and defend his "tough love" approach to the Northern Rock crisis after a whispering campaign in the City culminated in rumours - denied by both Threadneedle Street and the Treasury - that he was on the point of resignation.

Bank sources said the governor was planning a robust defence of the Bank's part in attempts to rescue Northern Rock as recriminations flew yesterday about how problems at Britain's fifth biggest mortgage lender were allowed to escalate into three days of queues outside the branches of the Newcastle-based bank.

Comment on this SOTT Focus

---

Fears of dollar collapse as Saudis take fright

Ambrose Evans-Pritchard
telegraph.co.uk
2007-09-19 20:45:00

Saudi Arabia has refused to cut interest rates in lockstep with the US Federal Reserve for the first time, signalling that the oil-rich Gulf kingdom is preparing to break the dollar currency peg in a move that risks setting off a stampede out of the dollar across the Middle East.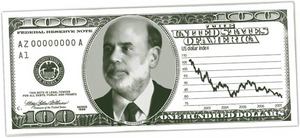 ©telegraph.co.uk
Bernanke the dollar destoyer



"This is a very dangerous situation for the dollar," said Hans Redeker, currency chief at BNP Paribas.

Comment on this SOTT Focus

---
The Living Planet
---
Pine Beetle projected to kill 78 per cent of B.C.'s pine forest by 2015


CP
2007-09-18 17:18:00

The mountain pine beetle is projected to kill more than three-quarters of B.C.'s marketable pine forests within the next eight years, says a report released Monday by the Ministry of Forests.

The report says if the pine beetle kill continues at its current rate, it will kill the equivalent of almost 25 per cent of the province's entire volume of market timber.



©Unknown
Comment on this SOTT Focus
---

India region sees unusual fog


Times of India
2007-09-20 17:08:00

CHANDIGARH - Fog in September? Sounds strange, but it's true. On Wednesday morning, Ambala in Haryana, and from Zirakpur to Ludhiana in Punjab experienced poor visibility due to fog.

For the past three days, Banur resident Surinder Singh has been wondering why visibility on roads is low. Surinder, a carpenter, has never seen fog in September. "It's strange despite such high day temperature, there's fog early in the morning," he said.

Comment on this SOTT Focus

---

Some Gulf oil crews evacuated ahead of storm off Florida


MSNBC
2007-09-20 16:54:00

Gulf Coast residents were on watch and oil companies evacuated hundreds of nonessential workers as forecasters said Thursday that a storm system now off Florida could strengthen as it moves west.

All weather models project the storm, which was located in the Gulf of Mexico off southwest Florida, would make landfall between southeastern Louisiana and the western Florida Panhandle during the next few days after crossing the warm Gulf waters where it should gain strength.


©ACCUWEATHER.COM
This graphic shows two possible scenarios for development of a system of disturbed weather in the Gulf of Mexico.
Comment on this SOTT Focus
---

2.2-magnitude earthquake shakes Dublin


Bay City News Service
2007-09-20 16:48:00

The U.S. Geological Survey is reporting an earthquake with a preliminary magnitude of 2.2 struck at 4:36 a.m. this morning near Dublin.

According to the USGS, the epicenter of the quake was three miles west of Dublin and three miles southwest of San Ramon.

Comment on this SOTT Focus

---

Number of Far East wildfires doubles, area increases tenfold


RIA Novosti
2007-09-20 15:36:00

The total area of fires raging in the Russian Far East has increased tenfold, from 18 to 170 hectares (44.5 to 420 acres), in the past 24 hours, a source in the local emergencies service said Thursday.

The number of fires in Far Eastern taiga doubled - from four to eight - but currently pose no threat to the local population or the infrastructure.


Comment on this SOTT Focus

---

Typhoon Wipha claims at least nine victims in China


RIA Novosti
2007-09-20 15:31:00

At least nine people have been killed in China as a result of Typhoon Wipha, Xinhua news agency reported Thursday.

The typhoon, which hit China Tuesday night, has also left three missing. Over two million people have been evacuated.

As China lacks a specialized emergency ministry to deal with natural disasters, mobilized units of the Chinese People's Liberation Army and the police have been trying to cope with the task.


Comment on this SOTT Focus

---
Health & Wellness
---
Drug resistance bacteria gene in U.S. Midwest


UPI
2007-09-20 17:34:00

A drug resistance gene that allows bacteria to repel certain antibiotics has started to appear in microorganisms taken from Midwestern U.S. patients.

Less than a decade ago, scientists first noticed the BlaKPC gene in bacteria taken from East Coast patients. They found bacteria with an active copy of the gene could defeat carbapenems, a relatively young family of antibiotics that is generally reserved for use in the most critically ill patients.

Comment on this SOTT Focus

---

Chemical clue sheds light on winter depression

Alison Motluk
New Scientist
2007-09-20 15:20:00

The brains of people with seasonal depression may be too efficient at bundling away a key chemical, a new study suggests.

The finding in people with (SAD) backs the prevailing theory about the biochemical causes of depression, and could give clues into new ways to treat the condition.

The prevailing theory of depression is that affected people do not have enough of certain neurotransmitters called monoamines - serotonin, norepinephrine, and dopamine - in the spaces between neurons. Most modern antidepressants work by blocking the absorption of these neurotransmitters back into the cell.


Comment on this SOTT Focus

---

Flashback: Doctor Calls for Truth on Vaccines


Swansea Evening Post
2007-08-02 15:09:00

Vaccinating our children is a routine part of protecting them from illness in childhood - but a new book queries whether it is worth the risk.Dr Andrew Wakefield, who challenged the safety of the MMR vaccine because of fears over a possible link to autism, is currently fighting to save his career, meanwhile the Government insists vaccines are essential and save millions of lives.

The result is that many parents are anxious and confused about the best course of action.

And now another doctor, Dr Richard Halvorsen, raises his concerns - warning that the Government "misleads us about vaccines".

Comment on this SOTT Focus

---

Jenny McCarthy: MMR shot caused son's autism

Julie Deardorff
Chicago Tribune
2007-09-20 07:18:00

She's no Andrew Wakefield, but it will be interesting to see what happens to measles, mumps and rubella vaccination rates in the U.S. now that actress Jenny McCarthy has suggested the MMR vaccine--which does not contain the mercury preservative thimerosal--may have caused her son Evan's regressive autism.

Comment on this SOTT Focus

---

Flashback: New Study Shows Declining Autism Cases Tied to Removal of Mercury From Vaccines

R Krakow
A-CHAMPAction Team
2006-03-01 07:22:00

Take Action! Two Unrelated Government Databases Show Same Downward Trend in Autism Cases

Click Here [pdf]to Read the study/see below to TAKE ACTION:



Thimerosal-Containing Study Shows Decline in Neurodevelopmental Disorders After Removal of Thimerosal-Containing Vaccines



New study published today (3/1/06) shows that the rate of neurodevelopmental disorders (NDs) in children has decreased following removal of thimerosal, a preservative containing the neurotoxin mercury, from American childhood vaccines.


Comment on this SOTT Focus

---

Flashback: Early fears about MMR in secret papers

Mark Watts
The Telegraph
2007-04-02 11:48:00

The Urabe MMR vaccine has been linked to cases of encephalitis

Comment on this SOTT Focus

---
Science & Technology
---
Arctic vault takes shape for world food crops

John Acher
Yahoo News
2007-09-20 07:09:00

In a cavern under a remote Arctic mountain, Norway will soon begin squirreling away the world's crop seeds in case of disaster.

Dynamited out of a mountainside on Spitsbergen island around 1,000 km (600 miles) from the North Pole, the store has been called a doomsday vault or a Noah's Ark of the plant kingdom.

It is the brainchild of a soft-spoken academic from Tennessee who is passionate about securing food for the masses, and will back up seed stores around the world that are vulnerable to loss through war or disaster.

Comment on this SOTT Focus

---
Our Haunted Planet
---
Peru meteorite landing confirmed, illnesses questioned


The Associated Press
2007-09-20 15:56:00

A fiery meteorite crashed into southern Peru over the weekend, experts confirmed on Wednesday, but they remain puzzled over claims it gave off fumes that made 200 people ill.

Local residents told reporters that a fiery ball fell from the sky and smashed into the desolate Andean plain near the Bolivian border Saturday morning.

Jose Mechare, a scientist with Peru's Geological, Mining and Metallurgical Institute, said a geologist had confirmed that it was a "rocky meteorite," based on the fragments analyzed.

Comment on this SOTT Focus

---
Don't Panic! Lighten Up!
---
Man Calls Feds About His Lost Cocaine


Associated Press
2007-09-19 22:44:00

SEATTLE - Federal agents thought there was something fishy about Leroy Carr. On four occasions since last December, Carr either crossed the Canadian border or was found near it with thousands of dollars in cash, according to a complaint filed in U.S. District Court. He also sometimes carried night vision goggles and a GPS device programmed with coordinates for a well-known drug-smuggling trail.

Comment on this SOTT Focus

---
---

Remember, we need your help to collect information on what is going on in your part of the world!
Send your article suggestions to: sott(at)signs-of-the-times.org

---
Click here to return to the Signs of the Times Archive
Click here for today's Signs Page