---
Sections on today's Signs Page:
---
SOTT Focus
---
No new articles.
Best of the Web
---
Reviewing Naomi Klein's "The Shock Doctrine"

Stephen Lendman
SJ Lendman Blog
2007-09-19 16:27:00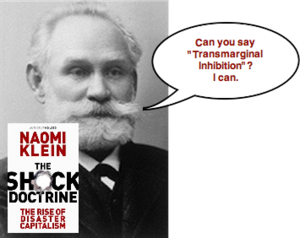 ©Signs of the Times



Naomi Klein is an award-winning Canadian journalist, author, documentary filmmaker and activist. She writes a regular column for The Nation magazine and London Guardian that's syndicated internationally by the New York Times Syndicate that gives people worldwide access to her work but not its own readers at home.

In 2004, she and her husband and co-producer Avi Lewis released their first feature documentary - "The Take." It covered the explosion of activism in the wake of Argentina's 2001 economic crisis. People responded with neighborhood assemblies, barter clubs, mass movements of the unemployed and workers taking over bankrupt companies and reopening them under their own management.

Klein is also the author of three books. Her first was "No Logo - Taking Aim at the Brand Bullies" (2000) that analyzes the destructive forces of globalization. Next came "Fences and Windows - Dispatches from the Front Lines of the Globalization Debate" (2002) covering the global revolt against corporate power.

Her newest book just out is "The Shock Doctrine: The Rise of Disaster Capitalism" that explodes the myth of "free market" democracy. It shows how neoliberal Washington Consensus fundamentalism dominates the world with America its lead exponent exploiting security threats, terror attacks, economic meltdowns, competing ideologies, tectonic political or economic shifts, and natural disasters to impose its will everywhere. Wars are waged, social services cut, and freedom sacrificed when people are too distracted, cowed or bludgeoned to object. Klein describes a worldwide process of social and economic engineering she calls "disaster capitalism" with torture along for the ride to reinforce the message - no "New World Order" alternatives are tolerated.

Comment on this SOTT Focus

---

None Dare Call It Genocide

Llewellyn H. Rockwell, Jr.
ICH
2007-09-18 15:21:00

How comfy we are all in the United States, as we engage in living-room debates about the US occupation of Iraq, whether "we" are bringing them freedom and whether their freedom is really worth the sacrifice of so many of our men and women. We talk about whether war aims have really been achieved, how to exit gracefully, or whether we need a hyper-surge to finish this whole business once and for all.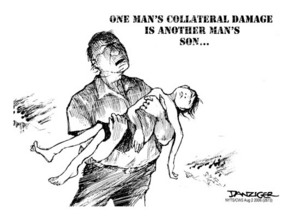 ©Danziger



But there's one thing Americans don't talk about: the lives of Iraqis, or, rather,

the deaths of Iraqis

. It's interesting because we live in an age of extreme multiculturalism and global concern. We adore international aid workers, go on mission trips abroad, weep for the plight of those suffering from hunger and disease, volunteer in efforts to bring plumbing to Ecuador, mosquito nets to Rwanda, clean water to Malawi, human rights to Togo, and medicine to Bangladesh.

Comment on this SOTT Focus

---

Is AIPAC Circulating Letters to Undermine Mideast Peace Again?


State Department
2007-09-17 08:32:00

In this transcript of a briefing given on September 17th, 2007 a reporter asks C. David Welch, Assistant Secretary of State for Near Eastern Affairs at the US State Department if AIPAC is putting conditions on those participants in the upcoming Mideast conference to "recognize Israel" in a letter presumably being circulated among Congress members.



Comment on this SOTT Focus

---
U.S. News
---
Mom denied extra time during medical license exam to feed her newborn

DENISE LAVOIE
Associated Press
2007-09-19 16:22:00

A judge rejected a Harvard student's request Wednesday for extra break time during her nine-hour medical licensing exam so she could pump breast milk for her infant daughter.

Sophie Currier, 33, sued after the National Board of Medical Examiners turned down her request to take more than the standard 45 minutes in breaks during the exam.

She said that if she does not nurse her 4-month-old daughter, Lea, or pump breast milk every two to three hours, she risks medical complications.



Comment on this SOTT Focus

---

Wheelchair-Bound Woman Dies After Being Shocked With Taser 10 Times


Local6.com
2007-09-19 16:20:00

A Clay County woman's family said it's seeking justice after their loved one died shortly after being shocked 10 times with Taser guns during a confrontation with police.

Comment on this SOTT Focus

---

Pentagon Sued Over Mandatory Christianity

Jason Leopold
TruthOut.org
2007-09-19 16:12:00

A military watchdog organization filed a lawsuit in federal court Tuesday against the Pentagon, Secretary of Defense Robert Gates, and a US Army major, on behalf of an Army soldier stationed in Iraq. The suit charges the Pentagon with widespread constitutional violations by allegedly trying to force the soldier to embrace evangelical Christianity and then retaliating against him when he refused.


Comment on this SOTT Focus

---

Great-grandma Betty pleads innocent to resisting arrest over dead grass

Donald W. Meyers
The Salt Lake Tribune
2007-09-18 14:16:00

Betty Perry pleaded innocent Tuesday to charges she failed to water her lawn and resisted arrest when an officer attempted to cite her.

Perry appeared in 4th District Court in Orem to enter her plea in a case prominent Los Angeles attorney Gloria Allred described as a gross injustice.

"Today, law enforcement in Orem has enshrined itself as the laughing stock of our country by prosecuting a 70-year-old great-grandmother for allegedly not watering her lawn," Allred said. "This ill-conceived action ensures Orem's law enforcement authorities first place in the [Guinness World Records] for stupidity."

Comment on this SOTT Focus

---

Mysterious outbreak at Houston school scares parents, teachers


AP
2007-09-17 14:11:00

It is a medical mystery and a parent's nightmare.

Something is making people sick inside a Houston middle school.

So far nobody knows what it is.

The school district says the air is clean and that children and employees should show up for classes at Francis Scott Key Middle School.

Comment on this SOTT Focus

---

NYC soldier jailed for attempt to avoid Iraq

Alfonso A. Castillo
Newsday
2007-09-19 09:53:00

A U.S. serviceman from the Bronx will spend a year in jail after he admitted in court that he arranged to have himself shot in the knee to avoid having to return to Iraq for a second tour of duty, Bronx prosecutors said Tuesday.

Jonathan Aponte, 20, pleaded guilty to third-degree falsely reporting an incident, a misdemeanor. In exchange for his guilty plea, State Supreme Court Justice John Byrne agreed to sentence Aponte to a year in jail on Oct. 17.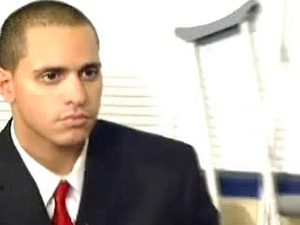 ©wcbstv.com



Aponte's Legal Aid attorney could not be reached for comment Tuesday.


Comment on this SOTT Focus

---
UK & Euro-Asian News
---
Three injured in helicopter emergency landing outside Moscow


Itar-tass
2007-09-19 11:07:00

Three people were injured as a result of an emergency landing of a Ka-226 helicopter on Moscow's orbital road on Wednesday.

"They will be hospitalised shortly," law enforcement agencies told Itar-Tass.

There were two crewmembers and five passengers aboard the helicopter. All of them have been examined by medics, a law enforcement officer said.


Comment on this SOTT Focus

---

Turkish PM, president push for abolition of headscarf ban


AFP
2007-09-19 10:47:00

Turkey's prime minister and president have urged the abolition of a ban on the Islamic headscarf in universities amid a simmering controversy on whether a planned new constitution should lift the restrictions.

Both leaders, former Islamists whose wives and daughters wear the headscarf, argued that the ban violated individual freedoms and the right to education of women who cover up.

Comment on this SOTT Focus

---

Putin's legacy: Russia does not have to curry favour with the west

Jonathan Steele
The Guardian
2007-09-18 22:36:00

Among the neon and the glitz of Moscow's car-choked streets, a new hoarding stands out for its stark simplicity. Apart from the colours of the Russian flag, there is no image and its wording is short: "Putin's plan, Russia's victory".

For Russians over the age of 30, the echo is unmistakable. They are bound to remember a favoured Soviet slogan from Communist days: "The party's plans are the people's plans". But the new hoarding looks forward as well as back. With parliamentary elections due next December, it is a subliminal advertisement for the ruling party, United Russia, which everyone expects to gain the victory that Putin wants for it, in large part because it is associated with him.


Comment on this SOTT Focus

---
Around the World
---
Zimbabwe 'near collapse'


Reuters
2007-09-18 14:00:00

Zimbabwe is "closer than ever to complete collapse" under the weight of a deepening economic crisis that threatens to destabilise southern Africa, an independent report said today.

The International Crisis Group (ICG) called on the Southern African Development Community (SADC) group of nations to overcome internal divisions and focus on ways to persuade Zimbabwean President Robert Mugabe to step down.

Comment on this SOTT Focus

---

On This Day in History: September 18, Mysterious Crash of DC-6B


Brooklyn Daily Eagle
2007-09-18 13:47:00

On September 18, 1961, a DC-6B Airliner carrying 56-year-old Dag Hammarskjöld, the Swedish secretary-general of the United Nations, crashed in a jungle near Ndola in present-day Zambia. On board were a six-man crew plus Hammarskjöld's staff of eight men and one woman. All were killed instantly except for Hammarskjöld and an aide, who were both thrown clear. The party was on a mission concerning a separatist movement in the Republic of the Congo (now the Republic of Zaire). Although the plane was several hours overdue and a police inspector telephoned the airport to describe a mysterious flash, no search party was organized until 10 a.m. The wreckage was sighted at 3:10 p.m. Hammarskjöld had died during the night, but his aide, Sgt. Harold Julien, a security officer, survived for five days, during which time he raved about explosions and sparks in the sky.

Comment on this SOTT Focus

---

Hell & Heroism: Tyranny that rules by terror is threatened by brave few

Andrew Buncombe
The Independent
2007-09-19 01:23:00

In a rare report from Burma, Andrew Buncombe , Asia correspondent, talks to some of the dissenters who live in fear of the ruling junta

The junta has a list - a list that has reverberated through this rain-soaked, fear-ridden city. Arranged in order of their "wanted" priority, the list contains 22 names and faces, addresses and personal details, anything that could help the military find these pro-democracy activists and throw them behind bars.


Comment on this SOTT Focus

---
Big Brother
---
'This machine has the ability to inflict limitless, unbearable pain': US army's new secret weapon

Michael Hanlon
Daily Mail
2007-09-18 23:21:00

"Where do I put my finger? There ... OK? Nothing's happening ... is it on?"

"Yes, it's on. Move your finger a bit closer."

"Er ... ow! OW!" Not good. I try again. "OWWW!" I pull my hand away sharpish. My finger is throbbing, but seems undamaged.

I was told people can take it for a second, maximum. No way, not for a wimp like me.

I try it again. It is a bit like touching a red-hot wire, but there is no heat, only the sensation of heat. There is no burn mark or blister.

Its makers claim this infernal machine is the modern face of warfare. It has a nice, friendly sounding name, Silent Guardian.

Comment on this SOTT Focus

---
Axis of Evil
---
Top 25 Censored Stories of 2008


Project Censored
2007-09-19 13:41:00



#1 No Habeas Corpus for "Any Person"



Sources:
Consortium, October 19, 2006
Title: "Who Is 'Any Person' in Tribunal Law?"
Author: Robert Parry
http://consortiumnews.com/2006/101906.html

Comment on this SOTT Focus

---

Flashback: Weapons the U.S. pretended not to see; The Samson Option: Israel's Nuclear Arsenal And American Foreign Policy

GEOFFREY STEVENS
The Toronto Star
1991-11-16 12:15:00

Seymour Hersh, the reporter who in 1969 first revealed the horror of the My Lai massacre in Vietnam - and won a Pulitzer Prize for his work - is one of North America's finest investigative journalists. In books and in articles, mainly for the New York Times, he has probed such issues as the United States bombing of Cambodia, domestic spying by the Central Intelligence Agency, the excesses of Panama's Manuel Noriega, the power of Henry Kissinger, and the U.S. cover-up in the shooting down of a Korean airliner in Soviet airspace.

In his new book, The Samson Option, Hersh brings the same investigative skills, eye for intrigue, and meticulous footnoting to the story of Israel's emergence as a nuclear power.

Comment on this SOTT Focus

---

Key Lockerbie Witness Admits Perjury

Ludwig De Braeckeleer
Global Research
2007-09-15 13:29:00




They have eyes to see but do not see
and ears to hear but do not hear

Ezekiel 12:2



The Lockerbie Affair has taken yet another extraordinary twist. On Friday August 31st, I received from Edwin Bollier, head of the Zurich-based MeBo AG, a copy of a German original of an Affidavit.

The document is dated July 18th 2007 and signed by Ulrich Lumpert who worked as an electronic engineer at MeBo from 1978 to 1994. I have scrutinized the document carefully and concluded that I have no reason to doubt its authenticity or the truthfulness of its content.

Comment on this SOTT Focus

---

US in Damage control! Iraq to review security firms after shooting

Aseel Kami and Dominic Evans
Reuters
2007-09-19 01:23:00

Iraq will review the status of all security companies after this week's "flagrant assault" by contractors from the U.S. firm Blackwater in which 11 people were shot dead, the government said on Tuesday.

Government spokesman Ali al-Dabbagh said the cabinet backed an Interior Ministry decision to "halt the license" of Blackwater, which provides security for the U.S. embassy, and launch an immediate investigation into the shooting.

Comment on this SOTT Focus

---

MoD cluster bomb hypocrisy

Richard Norton-Taylor
The Guardian
2007-09-18 17:52:00



Humanitarian organisations accuse the Ministry of Defence today of reclassifying one its newest weapons to escape an expected world ban on cluster bombs.

The MoD last year described the Hydra CRV-7 system, which delivers a number of bomblets from a helicopter-mounted rocket pod, as a cluster weapon.

Comment on this SOTT Focus

---

Nato comes clean on cluster bombs

Brian Brady
The Independent
2007-09-17 13:25:00

Nato chiefs will this week finally tell the Serbian government where they drop-ped thousands of cluster bombs during the Kosovo campaign, more than eight years after the bombardment finished.

Allied commanders have bowed to mounting pressure from foreign governments and pressure groups and will hand over full coordinates for the hundreds of bombing sorties. Belgrade hopes this could pinpoint thousands of unexploded munitions still littering parts of the country.

The pledge from Nato's Supreme Headquarters Allied Powers Europe (Shape) will end a delay condemned by human rights groups and described as "shameful" by one British minister.

Comment on this SOTT Focus

---
Middle East Madness
---
How dare they! Egypt, Syria press for IAEA resolution over Israel's nuclear weapons

Simon Morgan
AFP
2007-09-19 16:38:00

Egypt and Syria urged the UN nuclear watchdog on Wednesday to pass a resolution condemning Israel for possessing nuclear weapons.

Comment on this SOTT Focus

---

Flashback: Olmert admits Israel has nuclear weapons

Ben Quinn and agencies
The Telegraph
2006-12-13 16:48:00

A decades-long silence about Israel's possession of nuclear weapons has been broken in an apparent slip of the tongue by the Israeli Prime Minister, Ehud Olmert, during a visit to Europe.

Comment on this SOTT Focus

---

How dare they! Iran draws up plans to defend itself from Israeli attack

Ali Akbar Dareini
AP
2007-09-19 12:28:00

The deputy commander of Iran's air force said Wednesday that plans have been drawn up to bomb Israel if the Jewish state attacks Iran, according to the semiofficial Fars news agency.

Comment on this SOTT Focus

---

Meretz: Cabinet can't whitewash Israeli war crimes in Gaza

Amnon Meranda
Ynet
2007-09-19 11:18:00

Both sides of the political spectrum slammed the security cabinet's decision Wednesday to declare Hamas-controlled Gaza a "hostile entity."

"The Olmert-Barak government, elected on a platform of peaceful promises, seems in reality to specialize only in declarations of war," said Meretz MK Ran Cohen.


Comment on this SOTT Focus

---

Predictable! Iraq-US seek to defuse Blackwater crisis


AFP
2007-09-19 10:47:00

Iraqi and US officials have set up a joint panel in a bid to defuse a crisis over the killing of civilians in a shootout involving US security firm Blackwater, an Iraqi official said Wednesday.

The panel will attempt to thrash out a compromise that will allow Blackwater, which provides protection to US embassy staff and other American officials, to continue its operations in Iraq, government spokesman Ali al-Dabbagh told AFP.



Comment on this SOTT Focus

---

Gaza civilians face fuel and water shortages after Israel 'declares war'

Mark Tran and agencies
The Guardian
2007-09-19 08:26:00

Israel's security cabinet today declared Gaza an "enemy entity", paving the way for possible cuts in fuel and water to the Hamas-controlled territory.

Comment on this SOTT Focus

---
The Loan Gunmen
---
Home Construction Is Slowest in 12 Years


AP
2007-09-19 14:04:00

Construction of new homes fell in August to the slowest pace in 12 years as troubles in the housing industry continued to intensify.
The Commerce Department reported Wednesday that construction of new homes fell by 2.6 percent in August to a seasonally adjusted annual rate of 1.331 million units.

The housing industry is experiencing its steepest downturn in 16 years with analysts forecasting weak prices and further declines in sales for months to come, given rising mortgage defaults which are dumping even more homes on an already glutted market.

Comment on this SOTT Focus

---

Gold hits 16-mo high after rate cut, aims at $730

Atul Prakash
Reuters
2007-09-19 08:24:00

Gold hit a new peak on Wednesday and is poised to scale 28-year highs on safe-haven buying and a sharp drop in the dollar after the U.S. Federal Reserve slashed interest rates.

Comment on this SOTT Focus

---

U.S. Banks Brace for Storm Surge as Dollar and Credit System Reel

Mike Whitney
Counterpunch
2007-09-19 08:22:00

By now, you've probably seen the photos of the angry customers queued up outside of Northern Rock Bank waiting to withdraw their money. This is the first big run on a British bank in over a century. It's lost an eighth of its deposits in three days. The pictures are headline news in the U.K. but have been stuck on the back pages of U.S. newspapers. The reason for this is obvious. The same Force 5 economic-hurricane that just touched ground in Great Britain is headed for America and gaining strength on the way.

Comment on this SOTT Focus

---

Credit fears spread, Australia denies bank trouble rumours

Ian Chua
Reuters
2007-09-18 22:20:00

Credit fears flared in Asia on Tuesday prompting Australia's central bank to quash speculation that one or more regional banks had asked for emergency funding, a day after savers rushed to withdraw deposits from a British lender.

Japan's finance minister provided soothing words to investors, saying he did not see the U.S. subprime mortgage problems inflicting any serious damage on the world's second-largest economy after data showed business sentiment at a two-year low.

Comment on this SOTT Focus

---

Iran cuts foreign dollar assets to 30 %


AFP
2007-09-17 22:11:00

Iran has massively cut down its dependence on the dollar in the face of US pressure over its nuclear program, and now 70 percent of its foreign assets are saved in other currencies or in gold, an official said Monday.

"After the strong fall in the dollar and the decision to transfer our foreign currency reserves into euros, we have taken measures and, now, 70 percent of Iranian assets are in euros, other currencies, or gold," said deputy economy minister Mohammad Zahedi Vafa.

Comment on this SOTT Focus

---

Market Soars As Fed Cuts Interest Rate

Jeannine Aversa
Associated Press
2007-09-18 19:13:00

In a bold strike, the Federal Reserve slashed a key interest rate by a half point on Tuesday -- the first cut in over four years -- and left the door open to further relief to prevent a painful housing slump and jarring credit crunch from driving the country into recession.

Wall Street responded enthusiastically, propelling stocks up 335.97 points -- its biggest one-day point jump in nearly five years. Politicians, shaken by record-high home foreclosures, also welcomed the move.

Comment on this SOTT Focus

---
The Living Planet
---
Dead birds found in Koroneia Lake, Greece


eKathimerini
2007-09-19 15:01:00

Some 200 dead birds have been found at Lake Koroneia near Thessaloniki, prompting experts to express fears yesterday that there could be a repeat of the disaster three years ago when about 30,000 birds died near the lake due to poisoning.

Comment on this SOTT Focus

---

Rain pounds Tohoku, Japan, 3 missing


AP
2007-09-19 14:06:00

Torrential rain lashed the northern part of the Tohoku region Tuesday, leaving three people missing due to floods after record downpours hit some districts. Akita and Iwate prefectures were hit particularly hard, and authorities were searching for the missing people and attempting to restore utilities.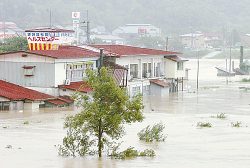 ©Unknown
Buildings are engulfed by muddy waters from the flood-swollen Yoneshirogawa river in Noshiro, Akita Prefecture.
Comment on this SOTT Focus
---

Another Earthquake Rocks Indonesia

Preciosa Dumlao
AHN
2007-09-19 13:57:00

A 6.4 magnitude earthquake jolted Sumatra island in Indonesia Wednesday, but no tsunami, damage or casualties were reported.

The Meteorology and Geophysics Agency said the earthquake's epicenter was 16 miles under the seabed some 101 miles northwest of Lais in Bengkulu province. The temblor struck at 2:27 p.m. local time.

Comment on this SOTT Focus

---

Stink bugs rain down on Estonian island


RIA Novosti
2007-09-11 10:57:00

Ruhnu, a small Estonian island in the Gulf of Riga, in the Baltic Sea, has been deluged by a rain of stink bugs, the Eesti Paevaleht newspaper said Tuesday.

The freakish shower occurred early Monday, and by morning downtown streets were teeming with red and brown bugs with green bellies diffusing an unpleasant smell.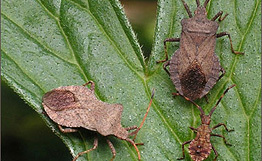 ©Unknown



"In the lamplight, you could see bugs falling from the sky, shaking the leaves," the newspaper quoted a local woman as saying.


Comment on this SOTT Focus

---

UN warns of humanitarian disaster following Africa's torrential rains


RIA Novosti
2007-09-19 10:02:00

Torrential rains that have battered Africa threaten to give rise to a grave humanitarian situation, the Untied Nations Office for the Coordination of Humanitarian Affairs warned in a report.

So far, at least 270 people have died in devastating floods from the continent's east to west coast, and around one million have been affected. As well as wrecking farmland and buildings and leaving hundreds of thousands homeless, the floods have made populations vulnerable to the spread of cholera, dysentery, and meningitis.

The flooding began in mid-June and meteorologists expect another heavy bout of torrential rain in September 18-24. The rains have been the most severe to strike the region in 30 years.


Comment on this SOTT Focus

---

Typhoon loses strength after hitting China


Reuters
2007-09-19 01:23:00

Typhoon Wipha made landfall in eastern China on Wednesday, knocking out power and water supplies to tens of thousands of residents, but promptly lost strength as it traveled inland.

Forecaster Tropical Storm Risk downgraded Wipha to a category one typhoon that would weaken further into a tropical storm as it headed north towards Nanjing.


Comment on this SOTT Focus

---
Health & Wellness
---
Shocks as learning reinforcement: How the brain handles surprise, good and bad


Cell Press
2007-09-19 13:10:00

Whether it's a mugger or a friend who jumps out of the bushes, you're still surprised. But your response - to flee or to hug - must be very different. Now, researchers have begun to distinguish the circuitry in the brain's emotion center that processes surprise from the circuitry that processes the aversive or reward "valence" of a stimulus.

C. Daniel Salzman and colleagues published their findings in the September 20, 2007 issue of the journal Neuron, published by Cell Press.

Comment on this SOTT Focus

---

New understanding of basic units of memory


Duke University Medical Center
2007-09-19 12:37:00

A molecular "recycling plant" permits nerve cells in the brain to carry out two seemingly contradictory functions - changeable enough to record new experiences, yet permanent enough to maintain these memories over time.

The discovery of this molecular recycling plant, detailed in a study appearing early online Sept. 19 in the journal Neuron, provides new insights into how the basic units of learning and memory function. Individual memories are "burned onto" hundreds of receptors that are constantly in motion around nerve synapses - gaps between individual nerve cells crucial for signals to travel throughout the brain.


Comment on this SOTT Focus

---

Common abdominal pain may be due to a potentially treatable newly recognized inflammatory reaction


Mayo Clinic
2007-09-19 11:47:00

As many as one in four people in westernized countries experience pain or discomfort in their upper abdomen, and physicians have almost nothing to offer except anti-acid medicines, which usually don't work. Now, in a small but novel study, researchers have found evidence that an abnormal amount of inflammatory cells populates the upper intestine of affected individuals, which suggests a fresh way of understanding the common complaint.

The study, published in the September issue of Clinical Gastroenterology and Hepatology and conducted by researchers in the U.S., Sweden, England, and Australia, may also point to innovative methods to treat the condition and eliminate discomfort.


Comment on this SOTT Focus

---

Hell on earth: The 10 most polluted places on the planet

Staff reporter
Independent UK
2007-09-18 23:01:00

Lethal Pollution from old mines, radioactivity and chemicals threaten the lives of millions of people.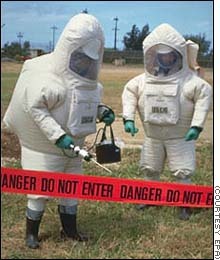 ©CNN
Comment on this SOTT Focus
---

Marijuana Ingredient May Prevent Mad Cow Disease

Michael Hess
RINF
2007-09-18 22:14:00

According to basic research of scientists of the National Centre for Scientific Research in Valbonne, France, cannabidiol (CBD) may prevent the development of prion diseases, the most known being BSE (bovine spongiforme enzephalopathy), which is often called mad cow disease. It is believed that the BSE may be transmitted to human beings. In humans, it is known as Creutzfeldt-Jakob disease.


Comment on this SOTT Focus

---

Elderly at Highest Risk for Suicide

By Sarah Skidmore
Associated Press
2007-09-18 22:25:00

Not long after 72-year-old Anne Beale Golsan had retired on disability from her job as a librarian, she put a stack of paid bills out for the mail, hung up a freshly pressed outfit and taped a note to the front of the house. "Don't come in by yourself. Get somebody to come with you. Sorry, Love Beale."

Her niece arrived at the house they shared in Baton Rouge, La., to find police already there. Golsan had killed herself with a gunshot to the head.


©Unknown
Graphic shows elderly suicide rates by state for 1999-2004
Comment on this SOTT Focus
---
Science & Technology
---
Scientists in Kaluga to mull creating anti-asteroid system


Itar-Tass
2007-09-17 15:17:00

MOSCOW - On the day of the 150th anniversary of the birth of Eduard Tsiolkovsky, the founder of world cosmonautics, scientists meet in Kaluga to discuss matters aimed at protecting the Earth from asteroids.

Comment on this SOTT Focus

---

NASA names the day for Dawn raid on asteroid belt

Lucy Sherriff
The Register
2007-09-18 15:12:00

NASA has confirmed the launch date for Dawn, its mission to the asteroid belt. The space agency is aiming for a launch window that opens at 07:25 (EDT) on 26 September, and closes again 29 minutes later.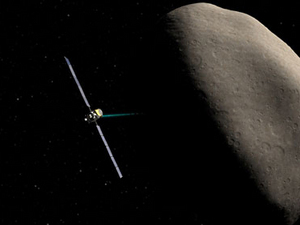 ©n/a
Artist's impression of Dawn flying past the dwarf-planet Ceres.
Comment on this SOTT Focus
---

Astronomers discover warm south pole on Neptune

An Lu
Xinhua
2007-09-19 09:14:00

An international team of astronomers has discovered that Neptune's south pole is much hotter than the rest of the planet, NASA's jet propulsion laboratory (JPL) reported Tuesday.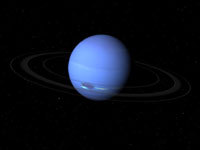 ©NASA/JPL-Caltech
An international team of astronomers has discovered that Neptune's south pole is much hotter than the rest of the planet.
Comment on this SOTT Focus
---

Come fly with me! Sure, but not on a Boeing 787

Dominic Gates
Seattle Times
2007-09-18 23:16:00

A former senior aerospace engineer at Boeing's Phantom Works research unit, fired last year under disputed circumstances, is going public with concerns that the new 787 Dreamliner is unsafe.

Comment on this SOTT Focus

---

Chernobyl to get $505m metal cover to stop radiation

Luke Harding
The Guardian
2007-09-18 22:20:00

Ukraine is to cover the site of the Chernobyl nuclear reactor with a vast metal shelter in a long overdue operation designed to prevent the further leak of deadly radiation.



©Unknown
Chernobyl Facility
Comment on this SOTT Focus
---
Our Haunted Planet
---
Burst pipes, dead trees, power cuts and headaches: a mystery malaise in Cyprus suburbia

Elias Hazou
Cyprus Mail
2007-09-16 14:26:00

Pipes bursting, toilets collapsing, random power cuts and headaches: paranormal phenomena, or is there a perfectly plausible scientific explanation?

For five years, the tenants of a semi-detached house in Strovolos, Nicosia, were experiencing all the above weird happenings.

The family living there must have changed their toilet seat and plumbing 40 times. The pipes would crack open, flooding the floor. Even a 100-year-old olive tree outside the house wilted and died.

Then one day, out of the blue, the episodes stopped.

Comment on this SOTT Focus

---

Bowdon's UFO mystery

Hannah Al-Taraboulsy
Northwich Guardian
2007-09-19 07:40:00

A MOTORIST and passenger in Bowdon spotted a mysterious "round and metallic" object in the sky.

Comment on this SOTT Focus

---

Mysterious shaking along California Central Coast


KSBY
2007-09-17 21:39:00

If you felt a mysterious shaking this morning, you are not alone.

Folks in the Five Cities Area called our newsroom early this morning reporting they felt an earthquake. Turns out, people as far away as Santa Maria to Los Osos also felt shaking.

One San Luis Obispo woman tells us she saw her windows shake three times about five minutes apart.

Comment on this SOTT Focus

---
Don't Panic! Lighten Up!
---
US: Nebraska Senator Ernie Chambers Sues God


KETV
2007-09-19 13:31:00

State Sen. Ernie Chambers is suing God. He said on Monday that it is to prove a point about frivolous lawsuits.

Chambers said senators periodically have offered bills prohibiting the filing of certain types of suits. He said his main objection is that the constitution requires that the doors to the courthouse be open to all.

"Thus anybody can file a lawsuit against anybody -- even God," Chambers said.


Comment on this SOTT Focus

---

Unhappy Belgian puts his country on eBay

Paul Ames
Associated Press
2007-09-18 13:27:00

The keys of the kingdom were posted on eBay.

Fed up with a three-month political standoff, a Belgian teacher posted an ad on the online auction site: "For Sale: Belgium, a Kingdom in three parts ... free premium: the king and his court (costs not included)."

Gerrit Six placed the advertisement on Saturday, offering free delivery, but pointing out that the country was coming secondhand and that potential buyers would have to take on more than $300 billion in national debt.


Comment on this SOTT Focus

---

Married couple connect in chatroom, decide to divorce


metro.co.uk
2007-09-17 21:58:00

A married couple are divorcing after they chatted each other up on the Internet using fake names.

Sana Klaric and husband Adnan poured their hearts out to each other over their marriage troubles.

Using the names 'Sweetie' and 'Prince of Joy' in a online chatroom, the pair thought they had found a soulmate with whom to spend the rest of their lives.

Comment on this SOTT Focus

---
---

Remember, we need your help to collect information on what is going on in your part of the world!
Send your article suggestions to: sott(at)signs-of-the-times.org

---
Click here to return to the Signs of the Times Archive
Click here for today's Signs Page