---
Sections on today's Signs Page:
---
SOTT Focus
---
Signs Economic Commentary for 17 September 2007

Donald Hunt
Signs of the Times
2007-09-17 14:07:00




Summary: In his new book, former Federal Reserve Chair Alan Greenspan is calling for an economic depression. He didn't put it quite that way, of course, but that's what he did when he called for the Fed to raise interest rates through the roof.

Of course, most economists "opt for calm" in predicting a dollar crash. Given their track record in predicting the housing crash, no one should believe their optimistic statements.


Comment on this SOTT Focus
---
Best of the Web
---
Bush setting America up for war with Iran

By Philip Sherwell in New York and Tim Shipman in Washington
Telegraph.co.uk
2007-09-16 22:26:00

"A strike will probably follow a gradual escalation. Over the next few weeks and months the US will build tensions and evidence around Iranian activities in Iraq."

Senior American intelligence and defence officials believe that President George W Bush and his inner circle are taking steps to place America on the path to war with Iran, The Sunday Telegraph has learnt.

Pentagon planners have developed a list of up to 2,000 bombing targets in Iran, amid growing fears among serving officers that diplomatic efforts to slow Iran's nuclear weapons programme are doomed to fail.


Comment on this SOTT Focus

---
U.S. News
---
Too close for comfort? Obama Encounters the Lobby


The Irish Times
2007-09-17 15:27:00

When Barack Obama asked veteran foreign policy expert Zbigniew Brzezinski to introduce him in Iowa this week, the Democratic presidential candidate found himself under attack from pro-Israel activists such as Harvard professor Alan Dershowitz.

Dershowitz warned that Obama had made "a terrible mistake" in keeping company with Brzezinski, a former national security adviser in Jimmy Carter's administration.

Comment on this SOTT Focus

---

A racket! Why Is Bush's Kid Brother Neil Getting Federal Funding?

Liliana Segura
Alternet
2007-09-17 11:01:00

It's all part of a tidy little racket involving No Child Left Behind and strange devices called COWS.

So here's a tidy little racket: After being installed president thanks to a voting fracas in a state conveniently governed by your brother, cook up a national educational curriculum and place at its center the standardized test. Give the curriculum a name with a wink and a nudge, like, oh, "No Child Left Behind." Then, funnel taxpayer money to equipping schools with a gimmicky learning device focused on standardized tests and sold by your other brother, the sadly anonymous one, whose only (fading) claim to fame is a role in the Savings and Loan scandal of the late 80s.

Comment on this SOTT Focus

---

Bush to nominate judge for Attorney General

Thomas Ferraro
Reuters
2007-09-17 03:29:00

President George W. Bush has settled on retired federal judge Michael Mukasey as his choice to replace outgoing Attorney General Alberto Gonzales, people familiar with the selection process said on Sunday.

The nomination of Mukasey, considered a law-and-order conservative and authority on national security issues, was expected on Monday, according to the sources, who asked not to be named.

Comment on this SOTT Focus

---

Psychopath O.J. Simpson Ordered Held Without Bail

By Ryan Nakasashima
Associated Press
2007-09-16 23:25:00

LAS VEGAS - Police arrested O.J. Simpson on Sunday, saying he was part of an armed group who burst into a Las Vegas hotel room and snatched memorabilia that documented his own sports career, long ago eclipsed by scandal.

Comment on this SOTT Focus

---
UK & Euro-Asian News
---
China: Restaurant blast kills 9, injures 25 in Hunan


Xinhua
2007-09-17 13:10:00

Nine people were killed and 25 others injured after what appears to be a deliberately planned explosion in Central China's Hunan Province, local authorities said on Monday.

The blast occurred Sunday evening at a restaurant in Wenjiashi Township, Liuyang City, when more than 30 people were dining, according to police.

Initial investigations showed the diners were treated by a villager from the town, who had been in dispute with the guests over family issues.


Comment on this SOTT Focus

---

China man dies after three-day Internet session


Reuters
2007-09-17 12:23:00

A Chinese man dropped dead after playing Internet games for three consecutive days, state media said on Monday as China seeks to wean Internet addicts offline.

The man from the southern boomtown of Guangzhou, aged about 30, died on Saturday after being rushed to the hospital from the Internet cafe, local authorities were quoted by the Beijing News as saying.


Comment on this SOTT Focus

---

EU watchdog calls for urgent action on Wi-Fi radiation

Geoffrey Lean
The Indipendent
2007-09-16 08:28:00

Europe's top environmental watchdog is calling for immediate action to reduce exposure to radiation from Wi-Fi, mobile phones and their masts. It suggests that delay could lead to a health crisis similar to those caused by asbestos, smoking and lead in petrol.

Comment on this SOTT Focus

---

Greek Governing Party Wins a 2nd Term

Anthee Carassava
New York Times
2007-09-17 01:39:00

ATHENS - The center-right party of Prime Minister Kostas Karamanlis won a second term in power in Greek parliamentary elections on Sunday.

The vote seemed to be an endorsement of the social and economic changes he has carried out, despite widespread anger over his handling of recent disastrous wildfires that left more than 60 people dead and burned half a million acres of farmland.

Comment on this SOTT Focus

---
Around the World
---
Tuareg rebels free 14 Niger soldiers after Libyan intervention


AFP
2007-09-17 03:29:00

Tuareg rebels of the Movement of Niger People for Justice (MNJ) have announced the release of 14 captured Niger soldiers following an intervention by Libya.

"We announce the liberation of 14 Niger soldiers in reply to the appeal of Libyan leader Moamer Kadhafi," an MNJ source reached by telephone from Tripoli told AFP late Sunday.

Comment on this SOTT Focus

---
Big Brother
---
UK: Outrage as DNA profile of seven-month-old baby is added to register

Jason Lewis
The Daily Mail
2007-09-16 23:10:00

The DNA of a seven-month-old baby girl has been added to the police's national database designed to identify criminals.

The disclosure reignited the row over the growth of Britain's DNA register, which is the biggest in the world.

Human rights groups accuse the Government of building a genetic record of the entire UK population by stealth.


Comment on this SOTT Focus

---
Axis of Evil
---
Michael Lerner Discusses The Israel Lobby

Michael Lerner
Tikkun
2007-09-17 17:12:00



1. A Zionist Boy Reads the Prophets - How I came to critique the Israel Lobby



I grew up in the heart of what would eventually become the Israel Lobby in the U.S.

My father and mother were national leaders of the Zionist movement in the U.S. My mother used to talk proudly of how, at five years old, I was standing outside the local bank on Bergen Street in the mostly-Jewish Weequahic section of Newark New Jersey, holding a Jewish National Fund (JNF) box, singing "Hatikvah," and collecting money to plant trees in Israel. When my mother won election as local chair of Hadassah and my father as chair of the Zionist Council, the elation at home was even greater than when she was appointed the administrative assistant in charge of political affairs for the U.S. Senator she helped elect, or when my father became a judge. All the external political accomplishments, I was led to believe, were really not what counts in the world except to the extent that they allowed my parents to help Israel gain support in the U.S.

Comment on this SOTT Focus

---

Nato comes clean on cluster bombs

Brian Brady
The Independent
2007-09-17 13:25:00

Nato chiefs will this week finally tell the Serbian government where they drop-ped thousands of cluster bombs during the Kosovo campaign, more than eight years after the bombardment finished.

Allied commanders have bowed to mounting pressure from foreign governments and pressure groups and will hand over full coordinates for the hundreds of bombing sorties. Belgrade hopes this could pinpoint thousands of unexploded munitions still littering parts of the country.

The pledge from Nato's Supreme Headquarters Allied Powers Europe (Shape) will end a delay condemned by human rights groups and described as "shameful" by one British minister.

Comment on this SOTT Focus

---

Bush Picks Mukasey As Attorney General

By Deb Riechmann
Associated Press
2007-09-16 22:10:00

WASHINGTON - President Bush has settled on Michael B. Mukasey, a retired federal judge from New York, to replace Alberto Gonzales as attorney general and will announce his selection Monday, a person familiar with the president's decision said Sunday evening.


Comment on this SOTT Focus

---
Middle East Madness
---
Hardline president allows burial of American professor in Iran

Nasser Karimi
Associated Press
2007-09-17 12:31:00

Iran's hardline president will honor an American scholar's request to be buried in a historic Iranian city when he dies, the state broadcasting company said.

Comment on this SOTT Focus

---

Iraqi volunteers bury more anonymous victims of violence now than during Saddam's rule: CNN

David Edwards and Nick Juliano
Raw Story
2007-09-17 11:45:00

Every month in Iraq hundreds of victims are struck down by sectarian violence or massive bombing campaigns, and a small band of volunteers has taken it upon themselves to give the unclaimed dead a proper burial.

Comment on this SOTT Focus

---

Blackwater Mercenary License Being Revoked in Iraq After Civilian Massacre

Bassem Mroue
AP
2007-09-17 11:40:00

The Iraqi government said Monday that it was revoking the license of an American security firm accused of involvement in the deaths of eight civilians in a firefight that followed a car bomb explosion near a State Department motorcade.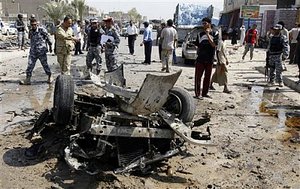 ©AP
The wreckage of a car bomb is seen after a suicide bomber detonated his explosives-laden car near a busy market in the Shiite area of Jamila, killing three people and wounding 10, eastern Baghdad, Iraq, Monday, Sept. 17, 2007. Police said the blast appeared to target a police patrol along Jamila's main street.
Comment on this SOTT Focus
---

U.S. Secret Air War Pulverizes Afghanistan and Iraq

Conn Hallinan
Alternet
2007-09-17 10:51:00

The U.S. military is increasingly relying on deadly air strikes in Iraq and Afghanistan as the ground occupations fall apart, killing untold numbers of civilians.

According to the residents of Datta Khel, a town in Pakistan's North Waziristan, three missiles streaked out of Afghanistan's Pakitka Province and slammed into a Madrassa, or Islamic school, this past June. When the smoke cleared, the Asia Times reported, 30 people were dead.

The killers were robots, General Atomics MQ-1 Predators. The AGM-114 Hellfire missiles they used in the attack were directed from a base deep in the southern Nevada desert.

Comment on this SOTT Focus

---

Security contractors open fire on Iraqi civilians killing at least 9 and wounding 18


Associated Press
2007-09-17 03:29:00

Security contractors opened fire in western Baghdad on Sunday, killing at least nine civilians and wounding 18, Iraqi police said. The U.S. Embassy said contractors working for the State Department were involved in an incident but provided no further details.

The shootings happened about 12:30 on Nisoor Square in the predominantly Sunni neighborhood of Mansour, a police officer said, speaking on condition of anonymity because he wasn't authorized to release the information.

Comment on this SOTT Focus

---

Propaganda Alert! NATO commander confirms more weapons from Iran seized


AFP
2007-09-17 03:29:00

A convoy of explosives seized by NATO troops in Afghanistan definitely came from Iran but not necessarily from the government in Tehran, the top NATO general here said Sunday.

General Dan McNeill, head of the NATO-led International Security Assistance Force (ISAF), confirmed a report in Sunday's Washington Post which said the shipment had been discovered last week.

Comment on this SOTT Focus

---
The Loan Gunmen
---
Report: Greenspan says euro could replace U.S. dollar as reserve currency


AP
2007-09-17 09:50:00

Former U.S. Federal Reserve chairman Alan Greenspan says it's possible that the euro could replace the U.S. dollar as the reserve currency of choice.

Comment on this SOTT Focus

---
The Living Planet
---
No new articles.
Health & Wellness
---
UK: End for traditional doctor's coat


BBC
2007-09-17 15:36:00

The traditional doctor's white coat is to be changed as part of government plans to tackle hospital infections.

The new style clothing will have short sleeves under guidance to come into effect at the start of next year.

Doctors would also not be allowed to wear long-sleeve shirts, jewellery, or watches as part of the measures.

The Department of Health says cuffs are likely to be "very contaminated", and that other forms of protection such as plastic aprons would be introduced.


Comment on this SOTT Focus

---

Women more depressed and men more impulsive with reduced serotonin functioning


Elsevier
2007-09-17 13:15:00

Women and men appear to respond differently to the same biochemical manipulation. Major depressive disorder (MDD) is one of the most common mental disorders, and it is also one of the most studied. It is already known that reduced serotonin transmission contributes to the pathophysiology, or functional changes, associated with MDD and most of today's most popular antidepressants block the serotonin "uptake site", also known as the transporter, in the brain. It is also known that people with MDD are frequently found to have impaired impulse control. A new study being published in the September 15th issue of Biological Psychiatry now reports on important sex and genetic differences in the way that men and women react to reductions in serotonin function, specifically in terms of their mood and impulsivity.


Comment on this SOTT Focus

---
Science & Technology
---
Amazing invention claimed to create MORE energy than you put into it - and could soon be warming your home


Daily Mail
2007-09-15 21:09:00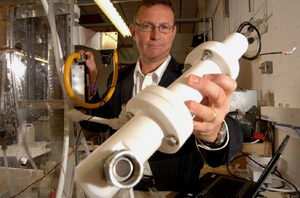 ©Daily Mail

Hot stuff: Ecowatts boss Paul Calver with the device



It sounds too good to be true - not to mention the fact that it violates almost every known law of physics.

But British scientists claim they have invented a revolutionary device that seems to 'create' energy from virtually nothing.

Their so-called thermal energy cell could soon be fitted into ordinary homes, halving domestic heating bills and making a major contribution towards cutting carbon emissions.

Comment on this SOTT Focus

---
Our Haunted Planet
---
Grandmother spots UFO from her doorstep

Robert Collins
Leamington Spa Courier
2007-09-07 11:24:00

Skywatcher Terry Hicks believes she may have seen a UFO flying above Warwick-shire - and is anxious to find out whether anybody else saw anything.
Mrs Hicks, of Guy Street, Warwick, was in her living room on August 28 when she saw a mysterious red and orange shape through her net curtains.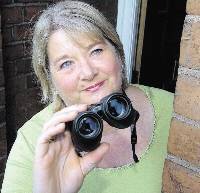 ©Leamington Spa Courier
Terry Hicks scans the sky from the doorstep of her Guy Street home. 07SEP23_14.
Comment on this SOTT Focus
---

Another Fireball Shoots Across Southwestern Skies; Unpredicted Meteor Shower Underway


Spaceweather.com
2007-09-17 09:13:00

ANOTHER FIREBALL: "After seeing the September 13th New Mexico fireball on spaceweather.com, I was surprised to catch a very bright fireball here in Texas just two nights later," reports Tom King who operates an all-night, all-sky camera near Watauga, Texas, not far from Dallas/Fort Worth. "In the video, you can see where the meteor is bright enough to illuminate a power poleand trees!"


©Watauga Skies Observatory
Comment on this SOTT Focus
---

Peru: Meteorite falls and makes a crater in the ground


La Razón
2007-09-17 07:54:00

The countrymen of Carancas (Peru) saw a luminous object that produced a loud sound when it impacted. Apparently it was a meteorite that crashed near the border with Bolivia.

Comment on this SOTT Focus

---
Don't Panic! Lighten Up!
---
Woman saves dog from python in Hong Kong

Simon Parry
Telegraph
2007-09-17 12:30:00

A British woman fought with a 14ft (4.5 metre) Burmese python to save her pet dog from being crushed to death on a walking trail in Hong Kong.

Expatriate Catherine Leonard, 41, kicked and punched the snake after seeing it wrap itself around her pet dog, a 20 kg mongrel called Poppy, near her home in the former British colony.


Comment on this SOTT Focus

---

Venice to ban rice at weddings over pigeons


Reuters
2007-09-17 12:27:00

Throwing rice at newly-weds will soon be banned in Venice as the city steps up its fight against pigeons soiling its squares and chipping away at monuments.

The mayor of the canal city is preparing a measure to stop pigeons banqueting outside the central Palazzo Cavalli, where civil weddings are celebrated, municipal police chief Marco Agostini said on Monday.


Comment on this SOTT Focus

---

Holocaust song title has firm squirming


Reuters
2007-09-17 09:55:00

Canada's biggest phone company has apologized after a punk-rock reference to the Holocaust appeared on billboard advertisements for its cellphones.

The ads for Bell Canada's Solo discount service showed a young woman decked out in flashy punk rock attire, with a button that reads "Belsen was a gas" -- the controversial title of a song by the Sex Pistols, and a reference to Nazi Germany's Bergen-Belsen concentration camp.

Comment on this SOTT Focus

---
---

Remember, we need your help to collect information on what is going on in your part of the world!
Send your article suggestions to: sott(at)signs-of-the-times.org

---
Click here to return to the Signs of the Times Archive
Click here for today's Signs Page