---
Sections on today's Signs Page:
---
SOTT Focus
---
World Trade Center Collapse: Spoofing the DailyKos

by Codependent Thinker, DailyDros
(Inspired by the DailyKos and the bastion of truthiness, BBC)
2007-09-11 23:04:00

Readers of DailyDros have seen more than one outrageous 9/11 conspiracy theory surface on these pages. And there have been a few diaries questioning why conspiracy theory diaries are not allowed. Would it have to do with something about lack of evidence? As we've been told by our fearless leaders repeatedly, there is a TON of evidence linking Bin Laden to the attacks. Sure, they haven't shown it to us, but they said they've got it. That's good enough for us here at DailyDros!

What do the Conspiracy Theorists have, anyway? Physical anomalies, inconsistent eyewitness testimony, physical traces of thermate at the WTC, WTC7. In other words, not much! They call this evidence?! On the other hand, we've got scores of scientists willing to support the idea that because the towers were not demolished, that they could not have been demolished. That's logic. Because the towers were not demolished, that means that there must be a plausible explanation for every aspect of the towers' destruction that SEEMED to be analogous to controlled demolition.

I mean, we have Bin Laden ON TAPE, admitting that he was responsible. In fact, whenever there is a terrorist attack, we have numerous different groups claiming responsibility. Luckily for our safety, this absolutely proves that all the groups claiming responsibility were in fact responsible. That's the way it works, folks. Plain and simple. If you admit it, you did it. To think otherwise would be to believe in Conspiracy Theories, and you'll find none of those here! In the REAL world, criminals don't conspire! And when they do, they get caught. It's that simple! (I mean, why would a good American fake a Bin Laden tape? What is this, a Robert Ludlum novel??)

Comment on this SOTT Focus

---

Flashback: Top Secret! Clear Evidence that Flight 77 Hit The Pentagon on 9-11- a Parody

by Simon Sackville AKA, The Pied Piper of Swindle Swindon
BeyondTopSeekret
2006-01-29 12:00:00

With so much debate going on over what really happened at the Pentagon on 9/11, and the obvious dire lack of coherent commentators to put an end to it once and for all, I decided that it was high time that I added my own reality-based voice to the debate and, in doing so, allow common sense to finally prevail over the ranting of wild-eyed, hairy-knuckled, missing link type conspiracy theorists and liberals alike.

Regardless then of the reams and reams of electronic paper that have been wasted on the inane back and forward over what did or did not happen, the task of showing just what hit the Pentagon could not be easier, which makes it difficult to understand why the debate has lasted so long. If I didn't know better, I might almost think that there was some kind of conspiracy going on. Of course, I DO know better. Conspiracies simply do not exist - except for the small ones, they exist, but the big, scary ones do not, and never have. Everyone knows that.

Anyway, to get to the point. I will present conclusive evidence that Flight 77 hit the Pentagon by way of 10 carefully selected photos that, while they speak for themselves, will be accompanied by some incisive commentary by yours truly.

Let's get started:

Comment on this SOTT Focus

---

National Academy of Sciences Member Calls for New 911 Investigation


SOTT correspondant/OpEd News
2007-09-07 13:08:00

A Signs of the Times reader comments on Lynn Margulis' recent criticism of the official 9/11 conspiracy theory.

Dear Colleagues,

The following appeared today in the UMass/Amherst Daily News Summary for September 6, 2007:




Lynn Margulis, geosciences, is criticizing the official account of the Sept. 11, 2001 attacks on the U.S. and is calling for a new investigation of those events. (Opednews.com, 9/6/07)


Comment on this SOTT Focus
---
Best of the Web
---
Israeli Connected SITE Institute Hypes Dead Grecian Formula Terrorist

Kurt Nimmo
Another Day In The Empire
2007-09-11 16:55:00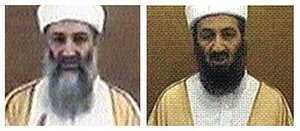 Two "Osamas" - You are being lied to



In an effort to explain away the glaring discrepancy between the 2004 and the 2007 Osamas, Rita Katz, director of the SITE Institute, tells us "bin Laden's beard appears to have been dyed, a popular practice among Arab leaders," and if that is not absurd enough, Anne Giudicelli, a former French diplomat specializing in the Middle East who now runs the Paris-based consultancy Terrorisc, adds "bin Laden is well aware that his reappearance on the world stage - looking fit and with his beard dyed a youthful black - was itself a victory that went beyond anything he actually said" in his latest video. As for the message, the AP informs us it "is a hodgepodge of anti-capitalist vitriol, impassioned Islamic evangelism and what can best be described as a twisted attempt at reconciliation: Join us, or we'll kill you." Of course, it is not explained how a dead nemesis will kill us, a few million infidels.

Comment on this SOTT Focus

---

9-11 Anniversary Propaganda Special!: Demolition theory challenged by Cambridge University engineer


BBC
2007-09-11 14:45:00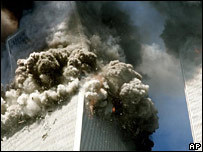 ©AP





Demolition theory challenged



An analysis of the World Trade Center collapse has challenged a conspiracy theory surrounding the 9/11 attacks.

The study by a Cambridge University engineer demonstrates that once the collapse of the twin towers began, it was destined to be rapid and total.

Comment on this SOTT Focus

---

Daily Kos: CIA Engineered Controlled Opposition?

Kurt Nimmo
Another Day In The Empire
2007-08-11 14:53:00



Is it possible Markos Alberto Moulitsas Zúñiga, leader of the "Kossaks," that is to say followers and fawners of the Daily Kos, is a CIA operative? Francis Holland, posting on the My Left Wing messageboard, details Moulitsas' relationship with the CIA:

Comment on this SOTT Focus

---
U.S. News
---
Yellow Peril causes wet knickers among excited scribes

Lewis Page
The Register
2007-09-12 14:30:00

Unnamed Pentagon figures continue to get big ink for their thesis that Chinese military cyber assault is a threat of trouser-moistening magnitude. Last week's media bandwagon, initiated after Financial Times hacks in Washington obligingly got things rolling, is now thundering along unstoppably as foaming tech-dunce scribes pile aboard.


Comment on this SOTT Focus

---

Six Held In West Virginia Torture Horror


The Smoking Gun
2007-09-12 12:49:00

A black West Virginia woman was sexually assaulted, stabbed, and tortured while being held captive by her white abductors, one of whom told her, "That's what we do to niggers around here."


Comment on this SOTT Focus

---
UK & Euro-Asian News
---
Putin names surprise nominee for PM - Victor Zubkov

Mike Eckel
Associated Press
2007-09-12 11:42:00

President Vladimir Putin dismissed his long-serving prime minister Wednesday and nominated little-known Cabinet official Victor Zubkov to replace him in a surprise move that could put Zubkov in the running to replace Putin next year.

The nomination of Zubkov, who currently oversees the government's fight against money-laundering, appeared to have caught much of the Russian political elite off-guard.

Comment on this SOTT Focus

---

Putin dissolves Russian government

Mike Eckel
Associated Press
2007-09-12 08:07:00

President Vladimir Putin dissolved Russia's government Wednesday in a major political shakeup ahead of parliamentary and presidential elections, the Kremlin said.

The dissolution is expected to result in a new prime minister, who will be seen as Putin's choice to succeed him after he steps down next spring.

Comment on this SOTT Focus

---

Schroeder urges Poles, Czechs to respect EU interests


Itar-Tass
2007-09-12 07:02:00

Former German Chancellor Gerhard Schroeder urged the Czech Republic and Poland to make decisions on the deployment of American missile defence on their soil by taking into account the interests of all European countries.

"The problem of American missile defence deployment is discussed in such a way as if these decisions are crucial only for two individual states," Schroeder said while presenting his new book, "Decisions: My Life in Politics" in Moscow on Saturday.

"But this is not so. This concerns all Europe and the whole of the European Union," he added.


Comment on this SOTT Focus

---

British Conservatives plan to ban plasma TV's


The Sun
2007-09-12 06:50:00

THE Conservatives will propose banning plasma screens and other energy-guzzling electrical goods in a report to be unveiled next week.

Comment on this SOTT Focus

---

Rumours! Ivanov to be appointed as Russia's prime minister


AFP
2007-09-12 02:20:00

Russia's First Deputy Prime Minister Sergei Ivanov, widely tipped as a possible successor to President Vladimir Putin, is to be appointed as prime minister very soon, the Vedomosti daily said Wednesday quoting a source close to the Kremlin.

"Sergei Ivanov could be appointed prime minister very shortly, a source close to the presidential administration said yesterday. The issue is practically decided," the daily wrote.

Comment on this SOTT Focus

---

Little known Islamic group claims planned attack on US base in Germany


AFP
2007-09-12 02:20:00

The Islamic Jihad Union, a little-known group from Uzbekistan with links to Al-Qaeda, has said it was behind a recent plot to attack a major US base and other targets in Germany, the interior ministry said Tuesday.

The group was planning to attack the US military airbase in Ramstein and was also targeting "US and Uzbek consulates in Germany," a statement from the German ministry said.





Comment on this SOTT Focus

---
Around the World
---
Total disconnect from reality! Despite many challenges, world faces brighter future: report


AFP
2007-09-10 15:53:00

Despite daunting challenges posed by global warming, water, energy, unemployment and terrorism, the world faces a brighter future with fewer wars, higher life expectancy and improved literacy, according to a report released Monday.

"Although great human tragedies like Iraq and Darfur dominate the news, the vast majority of the world is living in peace, conflicts actually decreased over the past decade," says the 2007 State of the Future report published by the American Council for the Tokyo-based United Nations University, a global think tank.

Comment on this SOTT Focus

---

Mexico gas line explosions force major factories to close down


Canadian Press
2007-09-12 08:02:00

More than 60 per cent of Mexico's steel production was halted and two major auto plants, including Volkswagen's only manufacturing facility in North America, shut down Tuesday after explosions claimed by a leftist group cut natural gas supplies.

Comment on this SOTT Focus

---

Organised crime spends billions of dollars each year to bribe government officials in rich countries

Julian Borger
The Guardian
2007-09-12 07:10:00

International organised crime has become a $2 trillion (£984bn) behemoth that threatens to pervert democracy around the world and fuel already dangerous levels of global inequality, a new study warns.

Comment on this SOTT Focus

---

Australia need to dig deeper to supply Russia uranium

Nabila Ahmed and Jesse Hogan
The Age
2007-09-08 06:56:00

Australian uranium producers have gained a significant export customer, Russia, but will not be able to fully satisfy its demand for the radioactive metal until state governments end their opposition to new mines, say analysts.

Prime Minister John Howard and Russian President Vladimir Putin yesterday confirmed a deal for Australian uranium to be exported to Russia for non-military use.

The former Soviet nation expects to generate $US3 billion ($A3.63 billion) for its economy between 2008 and 2015 by processing Australian uranium for countries such as Japan and the US.


Comment on this SOTT Focus

---

Former Philippine leader gets life for corruption


AFP
2007-09-12 02:20:00

Deposed Philippine president Joseph Estrada was found guilty Wednesday of massive corruption and ordered him to spend the rest of his life in prison.

Comment on this SOTT Focus

---

Japanese PM Abe announces resignation

Yoshiyasu Shida
Reuters
2007-09-12 02:20:00

Embattled Japanese Prime Minister Shinzo Abe said on Wednesday he would resign in hope of making it easier to extend a naval mission in support of U.S.-led operations in Afghanistan, sending shockwaves through Japan.

The hawkish Abe, who took office a year ago promising to boost Japan's global security profile, has suffered low support rates and dwindling clout after his ruling camp suffered an election drubbing in July, but the announcement came as a bolt out of the blue.


Comment on this SOTT Focus

---
Big Brother
---
No new articles.
Axis of Evil
---
Fox News Officials Begin Crafting Iran Bombing Plan

James Rosen
Fox News
2007-09-12 10:43:00

A recent decision by German officials to withhold support for any new sanctions against Iran has pushed a broad spectrum of officials in Washington to develop potential scenarios for a military attack on the Islamic regime, FOX News confirmed Tuesday.

Comment on this SOTT Focus

---

Sheikh Osama and the iPod general

Pepe Escobar
Asia Times
2007-09-12 07:01:00

And among the most important items contained in [President George W] Bush's speeches since the events of the 11th [September 11, 2001] is that the Americans have no option but to continue the war. This tone is in fact an echoing of the words of neo-conservatives like [Vice President Dick] Cheney, [former defense secretary Donald] Rumsfeld and [former chairman of the Pentagon's Defense Policy Board] Richard Perle, the latter having said previously that the Americans have no choice in front of them other than to continue the war or face a holocaust.
- Osama bin Laden video, September 7.
PARIS - World public opinion has just been treated to the face-off of the year - as if orchestrated, with impeccable timing, in a John Woo movie.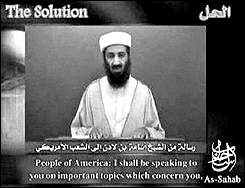 ©Asia Times
Comment on this SOTT Focus
---

Castro accuses US of 9-11 conspiracy


AFP
2007-09-12 02:20:00

An article attributed to Cuban leader Fidel Castro on Tuesday accused the US government of deceiving the world about the September 11 terror attacks in the United States.

The article, written on the sixth anniversary of the attacks, claimed that the Pentagon was hit not by an airplane but by a missile, and says that data on the World Trade Center destruction does not add up.

Comment on this SOTT Focus

---

Flashback: Another Appearance from Beyond the Grave! Bin Laden 'appears' in new 'al-Qaida' video


AP Horse Hockey Department
2007-07-14 21:47:00

Cairo, Egypt - A new al-Qaida videotape posted Sunday on a militant Web site featured a short, undated clip of a weary-looking Osama bin Laden praising martyrdom.

Comment on this SOTT Focus

---

Flashback: Intelligence on Bin Laden whereabouts has gone 'cold': US general


AFP
2007-02-12 10:53:00

WASHINGTON - The United States believes Osama bin Laden is still alive, but intelligence on the Al-Qaeda mastermind has gone "cold," the former commander of US forces in Afghanistan said.

"Our working assumption is that Osama bin Laden is alive," Lieutenant General Karl Eikenberry told CNN's "Late Edition."

Comment on this SOTT Focus

---

Flashback: Pakistan denies Bin Laden is hiding inside its borders - Never mind that he's supposed to be dead

By Justin Huggler, Asia Correspondent, and Andrew Buncombe in Washington
UK Independent
2007-01-13 12:48:00

Pakistan has angrily rejected claims from the US that the senior leadership of al-Qa'ida - presumably including Osama bin Laden and Ayman al-Zawahiri - are holed up in a "secure hideout" inside the country from which they are directing operations and building the strength of their terror network.

The Pakistani reaction came in response to unusually direct claims made in Washington by the outgoing US intelligence chief, John Negroponte, about the whereabouts of the senior al-Qa'ida figures believed to be responsible for the attacks of 11 September.

Comment on this SOTT Focus

---
Middle East Madness
---
The 'proxy war' propaganda: UK troops are sent to Iranian border

Kim Sengupta
The Independent
2007-09-12 15:25:00

British forces have been sent from Basra to the volatile border with Iran amid warnings from the senior US commander in Iraq that Tehran is fomenting a "proxy war".

In signs of a fast-developing confrontation, the Iranians have threatened military action in response to attacks launched from Iraqi territory while the Pentagon has announced the building of a US base and fortified checkpoints at the frontier.

The UK operation, in which up to 350 troops are involved, has come at the request of the Americans, who say that elements close to the Iranian regime have stepped up supplies of weapons to Shia militias in recent weeks in preparation for attacks inside Iraq.

Comment on this SOTT Focus

---

Baghdad neighbours protest over dividing wall


AFP
2007-09-12 14:45:00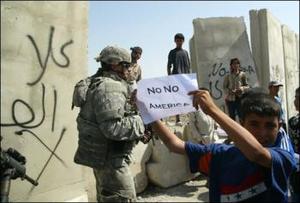 ©AFP



Hundreds of Shiites and Sunnis marched on Wednesday in protest at the building by US troops of a tall concrete wall separating their northwest Baghdad neighbourhoods, an AFP photographer said.


Comment on this SOTT Focus

---

Drop of Sanity: Hospital refuses order to transfer paralyzed Palestinian girl


Reuters
2007-08-29 14:49:00

A Jerusalem rehabilitation center is defying a government order to transfer a Palestinian girl paralyzed in an Israel Defense Forces attack on militants to a hospital in the West Bank.

Maria Amin, who turns six on Thursday, cannot get the care she needs in the Palestinian facility "so she won't be going anywhere" until her well-being is assured, said Shirley Meyer of the Alyn Hospital Rehabilitation Center in Jerusalem.

Maria was paralyzed from the neck down when the car she was traveling in was caught in a missile attack on a leader of the Islamic Jihad militant group in Gaza in May last year. Her mother, grandmother and older brother were killed.


Comment on this SOTT Focus

---

Israel sees nukes everywhere, bombs Syria


Ynetnews
2007-09-12 11:09:00

Washington official says Israeli surveillance shows possible Syrian nuclear installation stocked by North Korea, Israeli Arab newspaper claims target of alleged raid last week was Syrian missile base financed by Iran

Comment on this SOTT Focus

---

Iraq insurgents attack U.S. headquarters

Bassem Mroue
Associated Press
2007-09-11 22:27:00

BAGHDAD - Insurgents fired rockets or mortars Tuesday at the sprawling garrison that houses the headquarters of American forces in Iraq, killing one person and wounding 11 coalition soldiers, the U.S. command said.


Comment on this SOTT Focus

---
The Loan Gunmen
---
Oil hits $80 a barrel for first time

John Wilen
AP
2007-09-12 17:10:00

Oil futures prices rose sharply Wednesday, briefly climbing above a record $80 a barrel after the government reported a surprisingly large drop in crude inventories and declines in gasoline supplies and refinery activity.

Comment on this SOTT Focus

---

Home loan demand rises as interest rates tumble

Julie Haviv
Reuters
2007-09-12 14:59:00

Mortgage applications rose for a second straight week, fueled by demand for home loans as interest rates sank to their lowest since May, an industry group's figures showed Wednesday.

The Mortgage Bankers Association said its seasonally adjusted index of mortgage applications, which includes both purchase and refinance loans, rose 5.5 percent for the week ended September 7.

Comment on this SOTT Focus

---

ECB pumps 75 billion euros into banking system


AFP
2007-09-12 14:57:00

The European Central Bank said Wednesday it was pumping another 75 billion euros (104 billion dollars) into the banking system, in a bid to calm chronic jitters sparked by the US high-risk mortgage market.

In a move aimed at giving euro money markets a bit more air, the ECB said in a statement to the markets that the cash had been made available via an exceptional three-month tender at a marginal or lowest rate of 4.35 percent and a weighted average rate of 4.52 percent.

Comment on this SOTT Focus

---

Y2K Finance Hedge Fund Halts Redemptions and Sales

David Clarke
Bloomberg
2007-09-11 14:51:00

Y2K Finance Inc., the flagship hedge fund of Wharton Asset Management, will halt redemptions until at least December because of credit market turmoil.

Y2K Finance will stop calculating net asset value ''due to current market turbulence,'' the fund, based in the British Virgin Islands, said in a statement today.

Comment on this SOTT Focus

---

Gold tops $720 on trader jitters, dollar decline

Myra P. Saefong & Polya Lesova
MarketWatch
2007-09-11 17:58:00

SAN FRANCISCO -- Gold futures climbed Tuesday to close above $720 an ounce with caution over the anniversary of the Sept. 11 terrorist attacks as well as weakness in the dollar prompting prices to mark their fourth-winning session in a row.


Comment on this SOTT Focus

---
The Living Planet
---
Flashback: Global Cooling killed off Neanderthals


BBC News
2007-02-21 13:52:00

A sharp freeze could have dealt the killer blow that finished off our evolutionary cousins the Neanderthals, according to a new study.

The ancient humans are thought to have died out in most parts of Europe by about 35,000 years ago.


Comment on this SOTT Focus

---

Manchester is rising


manchester.com
2007-09-11 15:06:00

Satellite experts have produced data that shows parts of Manchester have risen by 7 cm in 11 years.

Following recent earthquakes in the city, the NPA Group, a satellite mapping company, revealed that some areas are rising by 6 mm or more every year.

Comment on this SOTT Focus

---

Flashback: Manchester, England, shaken by sixth earthquake in a month

Sophie Tedmanson
Times of London
2007-08-30 16:14:00

A small earthquake rumbled through the city centre of Manchester this morning, the sixth to hit the area this month.

Comment on this SOTT Focus

---

Greece suffers more fires in 2007 than in last decade, satellites reveal


ESA
2007-08-29 14:42:00

Greece has experienced more wildfire activity this August than other European countries have over the last decade, according to data from ESA satellites. The country is currently battling an outbreak of blazes, which began last Thursday, that have spread across the country killing more than 60 people.

ESA's ERS-2 and Envisat satellites continuously survey fires burning across the Earth's surface with onboard sensors - the Along Track Scanning Radiometer (ATSR) and the Advanced Along Track Scanning Radiometer (AATSR) respectively, known as the ATSR Word Fire Atlas, which is available to users online in near-real time.

The ATSR World Fire Atlas is the longest worldwide fire atlas available. Even if the atlas is not supposed to pick up all fires due to satellite overpass constraints and cloud coverage, it is statistically representative from one month to the other and from one year to the other.


Comment on this SOTT Focus

---

Illegal traders drug elephant in bid to sell herd

Huang Zhiling
China Daily
2007-08-30 14:33:00

A male elephant from Southwest China's Yunnan Province has been cured of its addiction to drugs and will soon return to the Xishuangbanna Tropical Rainforest in Yunnan.

Before April 2005, the elephant, named Big Brother, lived peacefully with its herd near the Sino-Myanmar border. But in that year, several illegal elephant traders set their sights on Big Brother and its herd. To control it so that it could lead the herd to where they wanted, the traders kept feeding it bananas laced with drugs.

In less than one month, Big Brother became so addicted that it began to drool and twitch when not given the drugs.


Comment on this SOTT Focus

---

New Lightning Sensors Warn of Hurricane's Power From Far Away


NASA
2007-09-12 13:11:00

A NASA-supported study has introduced a new way to detect lightning outbreaks inside a hurricane from thousands of miles away, giving forecasters new insight into just how powerful an oncoming storm will be.

As a result, researchers can now investigate with greater accuracy how the rate of lightning strikes produced within a hurricane's eyewall is tied to the changing strength of that hurricane. A hurricane's eyewall is the inner heat-driven region of the storm that surrounds the "eye" where the most intense rainfall and most powerful winds occur. By monitoring the intensity of lightning near a hurricane's eye, scientists will be able to improve their forecasts of when a storm will unleash its harshest conditions.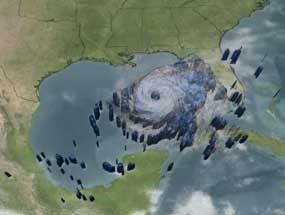 ©NASA
On Sept. 22, 2005, Hurricane Rita threatened the U.S. Gulf Coast. NASA's TRMM satellite helped create this three-dimensional view of the storm; storm clouds shown here in white.
Comment on this SOTT Focus
---
Health & Wellness
---
1 in 8 World Trade Center rescue and recovery workers developed post-traumatic stress disorder


New York City Health Department
2007-08-29 14:59:00

New findings from the WTC health registry show rates were highest among volunteer workers, lowest among police officers

Thousands of World Trade Center rescue and recovery workers were still suffering serious mental health effects three years after the disaster, the Health Department reported today. New findings released from the World Trade Center Health Registry show that one in eight rescue and recovery workers (12.4%) likely had post-traumatic stress disorder when they were interviewed in 2003 and 2004. The findings were published today in the American Journal of Psychiatry, available online here.

Comment on this SOTT Focus

---

US Soldier's Tragic Suicide Just One of Dozens

Aaron Glantz
IPS News
2007-09-12 14:59:00

Dane and April Somdahl own the Alien Art tattoo parlor on Camp Lejeune Boulevard -- just outside the sprawling Marine Corps base of the same name in Jacksonville, North Carolina.

In an interview from the back of her shop, April talked about how her customers' tastes have changed since George W. Bush ordered the invasion of Iraq in March 2003.


Comment on this SOTT Focus

---

United States Continues to Have Highest Level of Health Spending


Johns Hopkins Bloomberg School of Public Health
2007-09-12 13:53:00

The United States continues to spend the most on health care when compared to other Organization for Economic Cooperation and Development (OECD) countries. Health care prices and higher per capita incomes are major factors for higher U.S. spending, according to a study by researchers at the Johns Hopkins Bloomberg School of Public Health and Princeton University.

Compared to the average OECD country in 2004, the United States has fewer health resources - physicians, nurses and hospital beds - and lower utilization of these resources. Health spending for chronic health issues, such as obesity, alcohol consumption and smoking, also contributes to high health spending in the United States. The study is published in the September/October 2007 issue of Health Affairs.


Comment on this SOTT Focus

---

Flashback: Toxoplasma gondii 'turns women into sex kittens' Makes Men Stupid


News.com.au
2006-12-27 12:00:00

A COMMON parasite can increase a women's attractiveness to the opposite sex but also make men more stupid, an Australian researcher says.

About 40 per cent of the world's population is infected with Toxoplasma gondii, including about eight million Australians.

Human infection generally occurs when people eat raw or undercooked meat that has cysts containing the parasite, or accidentally ingest some of the parasite's eggs excreted by an infected cat.

The parasite is known to be dangerous to pregnant women as it can cause disability or abortion of the unborn child, and can also kill people whose immune systems are weakened.

Comment on this SOTT Focus

---

Sleeping Beauty: The hibernation diet

Justin Mullins
New Scientist
2007-08-28 07:28:00

Hibernating animals survive the winter months in a state of torpor. Their body temperature plummets, their heart and breathing rates drop, and their metabolism changes from primarily glucose burning to fat burning. They then live on body fat reserves, sometimes for many months at a time.

Could inducing a similar state of torpor in humans also change our metabolism from glucose burning to fat burning? And if so, would this be an effective treatment for obesity?


Comment on this SOTT Focus

---

Thirty years: difference in life expectancy between the world's rich and poor peoples

Jeremy Laurance
The Independent
2007-09-07 07:47:00

Life expectancy in the richest countries of the world now exceeds the poorest by more than 30 years, figures show. The gap is widening across the world, with Western countries and the growing economies of Latin America and the Far East advancing more rapidly than Africa and the countries of the former Soviet Union.

Comment on this SOTT Focus

---
Science & Technology
---
New evidence on the role of climate in Neanderthal extinction


Physorg.com
2007-09-12 15:26:00

The mystery of what killed the Neanderthals has moved a step closer to resolution after an international study led by the University of Leeds has ruled out one of the competing theories - catastrophic climate change - as the most likely cause.

Comment on this SOTT Focus

---

NASA considering testing astronauts for alcohol - agency head


RIA Novosti
2007-08-30 14:37:00

Following recent media reports that U.S. astronauts have on occasion flown drunk, NASA will consider instituting limited testing of flight crews and employees, the agency's director said.

Addressing a news conference Wednesday, Michael Griffin said that while a newly released report into the allegations revealed no concrete evidence of alcohol use prior to spaceflights, NASA would nevertheless implement a testing program whenever suspicion warranted it or in the event of a mishap.

An independent panel alleged last month that impaired astronauts had flown twice in the past, but the 45-page report released Wednesday by NASA's chief safety officer, Bryan O'Connor, concluded the incidents could not be verified.

"I was unable to verify any case in which an astronaut spaceflight crewmember was impaired on launch day," the report said.


Comment on this SOTT Focus

---

Length of Saturn's day gets shorter

Ker Than
Space.com
2007-09-06 13:44:00

A day on Saturn just got a few minutes shorter, if new calculations are correct.

Using data collected by NASA's Cassini, Pioneer and Voyager spacecraft, scientists have revised the ringed planet's rotation period to 10 hours, 32 minutes and 35 seconds - about 15 minutes shorter than an estimate made only last year.

Those precious minutes could have big implications for how scientists think about Saturn and other gas giants.


Comment on this SOTT Focus

---
Our Haunted Planet
---
No new articles.
Don't Panic! Lighten Up!
---
Latvian mushroom hunter finds $140,000 Maserati in forest


RIA Novosti
2007-09-07 13:51:00

A Latvian mushroom picker has found a Maserati sports car worth $140,000 in a deep forest near the Gulf of Riga, local police said Friday.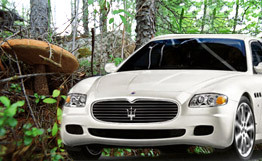 ©Unknown



The luxury car, which was missing its plates, was covered with a camouflage net.

Police are trying to determine whether the car was stolen and are searching for whoever concealed it in the forest.


Comment on this SOTT Focus

---

If the beard is black you must attack; Is bin Laden's beard a signal?


Agence France-Presse
2007-09-12 06:52:00

"First, is this his beard?'' Republican Senator Norm Coleman asked the spy chief.

"Do we expect that - is it a signal?''

Comment on this SOTT Focus

---

Bank robber uses own check in robbery


AP
2007-09-12 03:07:00

ENGLEWOOD, Colo. - A man robbing a bank demanded the money by writing a note on one of his own checks, authorities say. Not surprisingly, he was caught soon afterward.

Forest Kelly Bissonnette, 27, apparently tried to cover his name on the check, then handed the note to a teller Sept. 5 at the Bank of the West in Englewood, according to authorities.


Comment on this SOTT Focus

---

Buffet worker stomps garlic with boots


AP
2007-09-12 03:07:00

NANUET, N.Y. - Stomping on garlic with your shoes on is apparently not the correct way to prepare food. The Rockland County health department hit the Great China Buffet restaurant with two violations after someone took pictures of an employee stomping on a bowl of garlic with his boots in an alley. The man alerted health inspectors.

"I go back there, and the guy's stepping on garlic," said Dan Barreto, who used to eat at the restaurant. "There he was just jumping up and down on it, smashing it up, having a good time."


Comment on this SOTT Focus

---
---

Remember, we need your help to collect information on what is going on in your part of the world!
Send your article suggestions to: sott(at)signs-of-the-times.org

---
Click here to return to the Signs of the Times Archive
Click here for today's Signs Page