---
Sections on today's Signs Page:
---
SOTT Focus
---
No new articles.
Best of the Web
---
Israeli Connected SITE Institute Hypes Dead Grecian Formula Terrorist

Kurt Nimmo
Another Day In The Empire
2007-09-11 16:55:00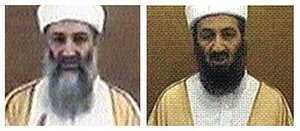 Two "Osamas" - You are being lied to



In an effort to explain away the glaring discrepancy between the 2004 and the 2007 Osamas, Rita Katz, director of the SITE Institute, tells us "bin Laden's beard appears to have been dyed, a popular practice among Arab leaders," and if that is not absurd enough, Anne Giudicelli, a former French diplomat specializing in the Middle East who now runs the Paris-based consultancy Terrorisc, adds "bin Laden is well aware that his reappearance on the world stage - looking fit and with his beard dyed a youthful black - was itself a victory that went beyond anything he actually said" in his latest video. As for the message, the AP informs us it "is a hodgepodge of anti-capitalist vitriol, impassioned Islamic evangelism and what can best be described as a twisted attempt at reconciliation: Join us, or we'll kill you." Of course, it is not explained how a dead nemesis will kill us, a few million infidels.

Comment on this SOTT Focus

---

Middle East Mind Lock: The Occupation Within

James Brooks
Counterpunch
2007-09-10 20:57:00

How were the terms of US political and economic debate severed from basic standards of evidence and common sense? Why does the word "hypocrisy" seem inadequate to describe the pretzel logic of the neo-conservatives? Why do the people of the United States remain inert as the madness at the top claims the authority to hemorrhage its execution of Iraq into a nuclear war on Iran?

John McMurtry is a decorated professor of philosophy who has pursued questions like these to the ideological foundations of today's US-centric global empire. (1) His analysis offers insights that can help us identify and think our way out of this now ubiquitous "mind-lock". McMurtry's approach also turns out to be useful for illuminating core ideological contradictions in Israel's US-supported ethnic cleansing regime, which has been forcing Palestinians off their lands for the last 60 years.


Comment on this SOTT Focus

---
U.S. News
---
Flashback: WTC1 janitor describes explosions before and after plane hit building; CNN decided not to broadcast interview

Deanna Spingola
The Conservative Voice
2005-08-25 16:23:00

William [Rodriguez] had worked for the New York Port Authority for about twenty years. He was in charge of the three stairwells - A, B and C. They were narrow and without windows. There were also 150 elevators in the building. He knew the building well. His job included the maintenance of the three narrow stairwells in the class "A" building - WTC1, the north tower.... Arriving at 8:30 on the morning of 9-11 he went to the maintenance office located on the first sublevel, one of six sub-basements beneath ground level. There were a total of fourteen people in the office at this time. As he was talking with others, there was a very loud massive explosion which seemed to emanate from between sub-basement B2 and B3. There were twenty-two people on B2 sub-basement who also felt and heard that first explosion. At first he thought it was a generator that had exploded. But the cement walls in the office cracked from the explosion. "When I heard the sound of the explosion, the floor beneath my feet vibrated, the walls started cracking and everything started shaking." said Rodriguez, who was crowded together with fourteen other people in the office including Anthony Saltamachia, supervisor for the American Maintenance Company. Just seconds later there was another explosion way above which made the building oscillate momentarily. This, he was later told, was a plane hitting the 90th floor...

Comment on this SOTT Focus

---

New DVD Examines World Trade Center Destruction on 911


911Truth.org
2007-09-06 15:44:00

In this press release, Architects and Engineers for 9/11 Truth announces a new DVD addressing the evidence of controlled demolition using explosives in all 3 World Trade Center high-rise "collapses." In addition, Gage joined Bonnie Faulkner on the radio yesterday--9/11 Blueprint: The Architecture of Destruction: Interview with Bay Area architect Richard Gage about the organization he has formed, Architects and Engineers for 9/11 Truth. Listen to this Guns and Butter interview here.

Comment on this SOTT Focus

---

Admitted Killer Walks Away From Hospital


Assocated Press
2007-09-11 14:44:00

An admitted killer with a history of escapes walked away from a psychiatric hospital, scaring residents of the surrounding area.

The search for William Enman, 64, was extended as far as Canada because authorities said he might own land in Nova Scotia, said Ellen Lovejoy, a spokeswoman for the state Department of Human Services. In the area around the hospital, police have used dogs and infrared scanners to try to find him.

In the 1970s, Enman was found not guilty by reason of insanity in the beating deaths of his roommate and the man's 4-year-old son.


Comment on this SOTT Focus

---

Former Congressional Office of Technology Assessment Senior Staff Member Calls for New Investigation of 9-11

Alan Miller
OpEdNews.com
2007-09-06 22:43:00

In an online editorial yesterday, Joel S. Hirschhorn, PhD, former Senior Staff Member of the Congressional Office of Technology Assessment (OTA), called for a new investigation of 9/11. "First, let the technical truth emerge. Then, if necessary, cope with the inevitable political, conspiracy and other questions. But let us not allow a possible painful truth block the primary task of determining once and for all what caused the collapse of the WTC towers and building no. 7."

Dr. Hirschhorn is a nationally recognized engineer who has testified before Congress more than 50 times on technology, science, and environmental issues. In addition to his work for the OTA, Dr. Hirschhorn also served as Director of Environment, Energy and Natural Resources for the National Governors Association.



Comment on this SOTT Focus

---

They're locking the exits. Black Hawk helicopters play key U.S. border role

Tim Gaynor
Reuters
2007-09-10 22:33:00

TUCSON, Ariz - Pilot Rich Rouviere gazes through night vision goggles as he speeds the Black Hawk helicopter to where a high-tech drone far above has pinpointed 11 intruders from Mexico.

As he sets the aircraft down in a swirling tornado of dust and debris, two agents in military style fatigues and flak jackets jump out and swiftly round up all but two of them, illuminated by a laser from the drone. From alert to arrest, the operation has taken 17 minutes.

Welcome to a little known double act between spy planes and fast, military helicopters that is blazing a trail for the future of U.S. border security in a remote desert wilderness south of Tucson, Arizona.


Comment on this SOTT Focus

---

Pilot lands plane on Route 3 in Tyngsborough

John C. Drake
Boston Globe
2007-09-10 20:55:00

A pilot from Holliston safely landed his single-engine plane on a Tyngsborough highway yesterday after the plane ran low on fuel, State Police said.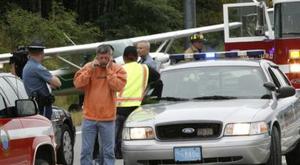 ©Boston Globe
Pilot James Hilliard of Holliston (second from left) after he landed his plane on Route 3 in Tyngsborough yesterday.
Comment on this SOTT Focus
---
UK & Euro-Asian News
---
Russia tests world's most powerful vacuum bomb


RIA Novosti
2007-09-11 15:28:00

Russia has tested a thermobaric bomb that is the most powerful in the world, a top military official said Tuesday.

Known as a vacuum bomb, it uses a fuel-air explosive and can create overpressures equal to an atomic bomb, said Alexander Rukshin, deputy chief of the General Staff of the Russian Armed Forces.


Comment on this SOTT Focus

---

Netherlands: Disturbed anti-war protester can't find soldier, kills civilian with axe instead


Assocated Press
2007-09-11 14:09:00

A U.S. citizen has confessed to using an axe to kill a Dutch student after failing to find a soldier to attack, his lawyer said Tuesday.

The suspect, Carlos Hartmann, 41, of Tecumseh, Mich., has confessed to the Sept. 8 killing on a train platform in the southern city of Roosendaal, defence lawyer Peter Gremmen said.

Gremmen said Hartmann wanted to punish the Netherlands for its support of the war in Iraq.

Hartmann appeared before a judge Tuesday and was ordered held for another two weeks for investigation.

"He hates soldiers, and says that the army kills people, so it would be legitimate if he were also to kill someone . . . from the American military - or from its NATO allies," Gremmen said in a telephone interview.



Comment on this SOTT Focus

---

German town ditches traffic lights

Catherine Bosley
Reuters
2007-09-10 12:13:00

A town council in Germany has decided the best way of improving road safety is to remove all traffic lights and stop signs downtown.

From September 12, all traffic controls will disappear from the centre of the western town of Bohmte to try to reduce accidents and make life easier for pedestrians.

In an area used by 13,500 cars every day, drivers and pedestrians will enjoy equal right of way, Klaus Goedejohann, the town's mayor, told Reuters.

Comment on this SOTT Focus

---

ETA targets Spanish government building in failed car bomb


AFP
2007-09-11 01:57:00

Spanish security forces on Monday defused an ETA car bomb targeting a government building in northern Spain after its detonator failed to go off, one day after the Basque separatist group vowed to "keep striking", officials said.

The car packed with about 80 kilogram (180 pounds) of explosives was parked outside the gates of a defence ministry building in Logrono but it failed to go off properly, said the government representative for the Rioja region, Jose Antonio Ulecia.


Comment on this SOTT Focus

---
Around the World
---
Happy new year: Ethiopia celebrates the Millennium, seven years late

Steve Bloomfield
The Independent
2007-09-11 14:18:00

In the Millennium Bazaar, a series of market stalls just behind Meskel Square in the centre of Addis Ababa, everything is stamped "2000". From plastic bowls and key rings to packets of crisps and vases of plastic flowers, all are marketed as millennium specials.

Elsewhere in the world today it is 11 September 2007. But in Ethiopia, which runs on a unique Coptic calendar more than seven years behind the Gregorian calendar, it is a far more auspicious day: New Year's Eve, 1999.

Government officials hoped the opportunity to celebrate the dawn of a new millennium for a second time would persuade hundreds of thousands of tourists to descend. Tourism chiefs planned for up to 300,000 visitors, and encouraged those returning from Ethiopia's vast diaspora to stay with family so that the hotels could fit in all the visitors.


Comment on this SOTT Focus

---

Blast at Indonesian nuclear research centre injures six


DPA
2007-09-11 09:45:00

At least six people were injured in an explosion that ripped through the chemical laboratory building of Indonesia's centre of science and technology in West Java province of Banten, local media reports said Tuesday.

The accident took place on Monday afternoon at the centre's central laboratory for nuclear industry substance technology, run by the National Atomic Energy Agency (Batan) in Banten's Serpong district, the state-run Antara news agency reported.

Comment on this SOTT Focus

---

Busy counterinsurgency! Afghan 'suicide' attack kills 27, dozens hurt


AFP
2007-09-11 01:57:00

A suicide bomber slammed a bomb-packed rickshaw into a police convoy in southern Afghanistan Monday, killing 27 people, around half of them civilians, officials said.

The early evening attack in the small town of Gereshk was one of the deadliest seen in Afghanistan, which has suffered a rash of suicide blasts as part of an intensifying Taliban-led insurgency.

Comment on this SOTT Focus

---

Poets, presidents, pastors to fast for 40 days

Marcela Valente
InterPress Service News Agency
2007-09-10 20:14:00

A group of celebrities from several countries have joined a rolling 40-day fast beginning this Thursday to call for cancellation of the foreign debt of the world's poorest countries.


Comment on this SOTT Focus

---

U.S. Threatens to Blacklist Eritrea


The Media Line
2007-09-10 19:52:00

The United States has warned Eritrea it will declare it a "state sponsor of terrorism" if it does not stop its support of Al-Qa'ida in neighboring Somalia.

The warning came on Sunday in a public announcement made by U.S. Assistant Secretary of State for African affairs Jendayi Frazer. The east-African nation denied the allegations and described them as "preposterous," AP reported.

Comment on this SOTT Focus

---
Big Brother
---
No new articles.
Axis of Evil
---
9-11 Anniversary Propaganda Special!: Demolition theory challenged by Cambridge University engineer


BBC
2007-09-11 14:45:00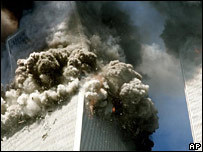 ©AP





Demolition theory challenged



An analysis of the World Trade Center collapse has challenged a conspiracy theory surrounding the 9/11 attacks.

The study by a Cambridge University engineer demonstrates that once the collapse of the twin towers began, it was destined to be rapid and total.

Comment on this SOTT Focus

---

Flashback: Al-Qaeda cleric exposed as an MI5 double agent

By Daniel McGrory and Richard Ford
Times of London
2004-03-25 12:00:00

ONE of al-Qaeda's most dangerous figures has been revealed as a double agent working for MI5, raising criticism from European governments, which repeatedly called for his arrest.

Britain ignored warnings - which began before the September 11 attacks - from half a dozen friendly governments about Abu Qatada's links with terrorist groups and refused to arrest him. Intelligence chiefs hid from European allies their intention to use the cleric as a key informer against Islamic militants in Britain.


Comment on this SOTT Focus

---

Flashback: US 'planned attack on Taleban' before 9-11

George Arney
BBC
2001-09-18 15:44:00

A former Pakistani diplomat has told the BBC that the US was planning military action against Osama Bin Laden and the Taleban even before last week's attacks.

Niaz Naik, a former Pakistani Foreign Secretary, was told by senior American officials in mid-July that military action against Afghanistan would go ahead by the middle of October.

Comment on this SOTT Focus

---

Flashback: 911 Hijack 'suspects' alive and well


BBC News
2001-09-23 15:28:00

Another of the men named by the FBI as a hijacker in the suicide attacks on Washington and New York has turned up alive and well.

The identities of four of the 19 suspects accused of having carried out the attacks are now in doubt.

Saudi Arabian pilot Waleed Al Shehri was one of five men that the FBI said had deliberately crashed American Airlines flight 11 into the World Trade Centre on 11 September.

His photograph was released, and has since appeared in newspapers and on television around the world.

Comment on this SOTT Focus

---

Twenty-Two Things We Now Know Six Years After 911

Bernard Weiner
The Crisis Papers
2007-09-04 14:19:00

Each year around the anniversary of 9/11, I summarize what we ordinary citizens have learned since that awful day in 2001. This is the sixth annual look backwards, an update based on new information about those horrific events and what followed.

What we now more fully understand is how the CheneyBush Administration utilized the murderous terrorism of 9/11 as the one-size-fits-all justification for their unfolding domestic and foreign agenda.

By and large, one can sum up that overall agenda as: Amass and control power in the U.S. and much of the world, and, in cahoots with their corporate supporters, loot the treasury. All this was to be carried out secretly, with no accountability.

Comment on this SOTT Focus

---

9-11, Six Years Later

Paul Craig Roberts
creators.com
2007-09-11 13:44:00

On Sept. 7, National Public Radio reported that Muslims in the Middle East were beginning to believe that the 9-11 attacks on the WTC and Pentagon were false flag operations committed by some part of the U.S. and-or Israeli government.

It was beyond the imagination of the NPR reporter and producer that there could be any substance to these beliefs, which were attributed to the influence of books by U.S. and European authors sold in bookstores in Egypt. NPR's concern was that books by Western authors questioning the origin of the 9-11 attack have the undesirable result of removing guilt from Muslims' shoulders.

Comment on this SOTT Focus

---
Middle East Madness
---
Palestinian farmers benefit from Jewish biblical law

Ron Bousso
AFP
2007-09-11 17:13:00

For a Palestinian farmer living on the outskirts of the West Bank town of Hebron, Israel seldom means good news. But this year, Azam Jaber is looking forward to dealing with the Jews.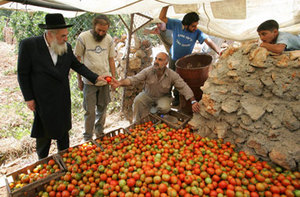 ©AFP
A break for everyone
Comment on this SOTT Focus
---

Flashback: Pakistani-British man warned FBI he had been trained by al Qaeda for 9-11, let go

Lisa Myers
NBC
2004-07-26 16:16:00

More than a year before 9/11, a Pakistani-British man told the FBI an incredible tale: that he had been trained by bin Laden's followers to hijack airplanes and was now in America to carry out an attack. The FBI questioned him for weeks, but then let him go home, and never followed up. Now, the former al-Qaida insider is talking.

Comment on this SOTT Focus

---

Bil'in! Bil'in! - a crack in the wall?

Uri Avnery
IMEMC
2007-09-10 15:00:00

WHEN MY friends fall prey to despair, I show them a piece of painted concrete, which I bought in Berlin.

It is one of the remnants of the Berlin wall, which are on sale in the city.

I tell them that I intend, when the time comes, to apply for a franchise to sell pieces of the Separation Wall.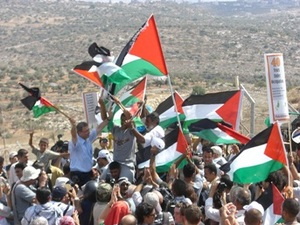 Celebrations at Bil'in
Comment on this SOTT Focus
---

Sources confirm Israeli airstrike on Syria

Christiane Amanpour
CNN
2007-09-11 11:27:00

Israeli aircraft carried out an airstrike inside Syria last week, possibly targeting weapons that were destined for Hezbollah militants, according to sources in the region and in the United States.



Comment on this SOTT Focus

---

Cholera afflicts 7,000 in Iraq


Reuters
2007-09-11 12:09:00

Nearly 7,000 people in northern Iraq have been afflicted with cholera in past weeks, and 10 have died from the diarrhoeal disease, the World Health Organisation (WHO) said on Tuesday.

Fadela Chaib, a spokeswoman for the United Nations agency, said the precise source of the outbreak spanning three governorates -- Sulaimaniya, Kirkuk and Erbil -- was not yet clear, though polluted water was thought to be the cause.

Comment on this SOTT Focus

---

The Fakery of General Petraeus: What Iraqis Think About the Surge

Patrick Cockburn
Counterpunch
2007-09-11 03:06:00

At first sight the Petraeus report looks as if it is going to be one of those spurious milestones in the war in Iraq, (like the Iraq Study Group's report last December), heavily publicized at the time, but not affecting the political and military stalemate in the country.

Unfortunately, the propaganda effort by the White House now underway may have a more malign impact than most propaganda exercises. It claims that victory is possible where failure has already occurred. It manipulates figures and facts to produce a picture of Iraq that is not merely distorted but substantively false.


Comment on this SOTT Focus

---
The Loan Gunmen
---
Iran moves to ditch U.S. dollar

Derek Sands
UPI
2007-09-11 15:12:00

Faced with U.S. economic sanctions and a weak dollar, Tehran is demanding foreign energy companies do business in yen and euros, despite increasingly desperate need for investment.

Comment on this SOTT Focus

---

Dollar hits fresh 15-year low

Peter Garnham
Financial Times
2007-09-11 13:15:00

The dollar fell to a fresh 15-year low against a basket of currencies on Tuesday as the greenback continued to suffer from the prospect of a cut in US interest rates.

Expectations that the Federal Reserve would move to lower interest rates at its meeting on September 18 have increased since last week's US employment report, which showed the recent turmoil in the credit markets had spilled over into the wider economy.

Comment on this SOTT Focus

---

Russia Emerging as Loan Haven 9 Years After Default

Kabir Chibber and Cecile Gutscher
Bloomberg
2007-09-11 12:29:00

What a difference nine years makes.

Banks from New York-based JPMorgan Chase & Co. to ABN Amro Holding NV in Amsterdam are providing more loans to Russian companies than ever as memories of the country's $40 billion default in 1998 fade.

Comment on this SOTT Focus

---

Mortgage brokers say customers couldn't refinance


Reuters
2007-09-11 12:00:00

Some 57 percent of mortgage broker customers with adjustable-rate loans were unable to refinance into a new loan to avoid higher monthly payments in August, a national survey reported on Tuesday.

The poll of 1,744 brokers in the last week of August found that subprime borrowers had trouble refinancing mortgages because loan programs were no longer available, according to a statement from Campbell Communications, the Washington-based research firm that conducted the survey. Prime borrowers were impeded by appraisals and high loan-to-value ratios, it said.

Comment on this SOTT Focus

---

The age of disaster capitalism

Naomi Klein
The Guardian
2007-09-11 07:11:00

In the days after 9/11, America's firefighters, nurses and teachers were hailed as the country's heroes. But President Bush's embracing of the public sector didn't last long. As the dust settled on the twin towers, the White House launched an entirely new economy, based on security - with the belief that only private firms could meet the challenge. In this exclusive extract from her new book, Naomi Klein reports on those who see a profitable prospect in a grim future

Comment on this SOTT Focus

---

American Economy: R.I.P.

Paul Craig Roberts
VDARE.com
2007-09-09 09:24:00

The US economy continues its slow death before our eyes, but economists, policymakers, and most of the public are blind to the tottering fabled land of opportunity.

Comment on this SOTT Focus

---
The Living Planet
---
This year could be warmest on record in eastern Arctic


RIA Novosti
2007-09-11 15:31:00

This year could be the warmest on record since climate monitoring in the Arctic Ocean began, a meteorological official said Tuesday.

"This year, the water is unusually warm in the Arctic Ocean and the summer ice has significantly declined, and is further to the north than usual with only one-year ice present. The ice, due to the influence of warm air and water, has been greatly reduced," Sergei Balyasnikov, the press secretary of the Russian hydrometeorological service's Arctic and Antarctic Research Institute, said.


Comment on this SOTT Focus

---

Gifted research parrot Alex found dead


AP
2007-09-11 14:24:00

A gifted parrot that could count to six, identify colors and even express frustration with repetitive scientific trials has died after 30 years of helping researchers better understand the avian brain.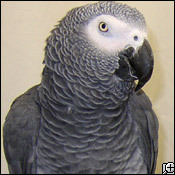 ©Alex Foundation
Comment on this SOTT Focus
---

Farmers in Virginia and Maryland Growing Desperate For Rain

Maria Glod and Philip Rucker
Washington Post
2007-09-11 12:39:00

St. Mary's County farmer Tommy Bowles has been pumping water to his pumpkin patch and corn maze to prepare for pre-Halloween crowds. But he can't afford to irrigate all his crops, and the corn, soybeans and wheat are suffering in the heat and bone-dry soil.

"This is about the worst drought I've seen since I've been in farming -- and I've been farming for 33 years," Bowles, 52, said. "We just haven't really had any rain at all."

Comment on this SOTT Focus

---

15 dead in Nepal floods, landslides


AFP
2007-09-09 11:57:00

Landslides and floods triggered by torrential rains in Nepal have killed at least 15 people in the last three days, officials said Sunday.

"Five bodies were recovered Sunday morning after they were swept away by a flooding river in Rautahat late Saturday," local official Durga Prasad Bhandari told AFP from Rautahat district, 80 kilometres (50 miles) south of Kathmandu.

Comment on this SOTT Focus

---

Record-breaking rainfall pounds Oklahoma City


AP
2007-09-10 11:55:00

Heavy rainfall pounded south Oklahoma City early Monday, causing flash flooding and shattering an 82-year-old daily rainfall record in less than one hour.

By 8:30 a.m. Monday, 6.28 inches of rain had fallen at Will Rogers World Airport since midnight, including 2.73 inches between 3 a.m. and 4 a.m., according to the National Weather Service. The previous record for rainfall in a 24-hour period at the site was 2.4 inches in 1925.

Comment on this SOTT Focus

---

Freak snow in Germany, Austria and the Czech Republic


HotNews.ro
2007-09-06 09:40:00

After an unusually warm summer, Europe saw autumn coming directly with a massive snow fall. In Germany, Austria and the Czech Republic, people were taken by surprise on Thursday morning, waking to see mountains covered in snow.

Comment on this SOTT Focus

---
Health & Wellness
---
Foetal testosterone linked to autistic traits

Mary Muers
Nature
2007-09-11 14:29:00

Researchers who having been tracking a group of children since birth have found that the level of testosterone they were exposed to in the womb is linked to whether they show autistic traits throughout childhood.

The children are now 8 years old. Questionnaires filled out by their parents show that those who had experienced higher levels of testosterone in the womb generally have better pattern recognition and numerical skills, such as remembering car number plates, but are less keen on socialising. None have been diagnosed with autism, but these are traits which, when taken to an extreme, are often present in autistic children.


Comment on this SOTT Focus

---

Vitamin D something of a panacea

Sheryly Ubelacker
Canadian Press
2007-09-11 13:00:00

People who take vitamin D supplements appear to have a lower risk of death from any cause, an analysis of numerous studies has found, adding to the weight of evidence suggesting that the "sunshine nutrient" confers widespread health benefits.

Comment on this SOTT Focus

---

Yawners aren't bored, they're just empathising

Mark Henderson
The Times
2007-09-11 12:37:00

They might look sleepy, bored and switched off, but people with a tendency to yawn a lot actually do so because they are highly attuned to the social world around them.

Those who are prone to contagious yawning - the mysterious phenomenon by which the urge to yawn can be "caught" by watching others doing it - also have particularly high empathy for the emotions of others, research has suggested. They notice that others are yawning and then unconsciously mirror their actions.


Comment on this SOTT Focus

---

Flashback: Yawning, a test of your empathy?


Mixing Memory
2005-06-16 16:24:00

Today as I was riding home from campus on the bus, I was talking on the phone, and my interlocutor yawned. Almost immediately, I yawned as well. She made a joke about it, and I said that it wasn't my fault, because yawning is contagious -- when you see or hear someone yawn, you tend to yawn as well. I thought that was a well-known fact, but apparently she had never heard it, or noticed it before, so my first instinct was to prove that it was true by explaining to her why it happened. Then I realized that I had no idea why it happened. So I decided that when I got home, I would look it up. Let it never be said that I am not a geek.


Comment on this SOTT Focus

---

Fluoride in Southern California Tap Water Puts 64,000 Kids at Risk

Dr. Joseph Mercola
Mercola.com
2007-08-24 12:24:00

Four years ago, the Metropolitan Water District (MWD) decided to add fluoride to the tap water of millions of Californians as of October 2007.

Since then, the American Dental Association (ADA), scientists at Harvard University, and the prestigious National Research Council (NRC) of the National Academy of Sciences have all raised serious concerns about the safety of fluoridated water for infants and young children.

Comment on this SOTT Focus

---

Mediterranean diet 'helps Alzheimer's sufferers'

Bonnie Malkin
telegraph.co.uk
2007-09-11 12:06:00

Oil, fish and vegetables are known to keep the heart healthy, but a new study has found that the Mediterranean diet may help people with Alzheimer's disease live longer as well.

An American study revealed a Mediterranean diet may help people with Alzheimer's disease live longer than patients who eat traditional Western foods, known for being high in saturated fats and hydrogenated oils and lower in fruits and vegetables.

Comment on this SOTT Focus

---
Science & Technology
---
Online crime hits 300 per minute

Ben Farmer
Telegraph
2007-09-11 14:36:00

More than 300 internet crimes are being committed every hour - with a victim hit every ten seconds on average, according to a report.

Three million online crimes were carried out in 2006, according to the study for online identity experts Garlik.

But 90 per cent went unreported because victims did not know the activity was criminal or thought the police would be unwilling or unable to investigate, the study said.


Comment on this SOTT Focus

---

Radio frequencies help burn salt water


AP
2007-09-11 12:21:00

An Erie cancer researcher has found a way to burn salt water, a novel invention that is being touted by one chemist as the "most remarkable" water science discovery in a century.

John Kanzius happened upon the discovery accidentally when he tried to desalinate seawater with a radio-frequency generator he developed to treat cancer. He discovered that as long as the salt water was exposed to the radio frequencies, it would burn.

Comment on this SOTT Focus

---

Bodies Exhumed From Viking Burial Mound


Associated Press
2007-09-10 22:18:00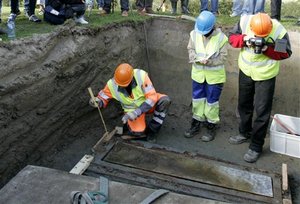 ©AP Photo/ Peder Gjersoe / SCANPIX
Norwegian archaeologists exhume the body of a Viking queen.



OSLO, Norway - Archaeologists opened a Viking burial mound on Monday, seeking to learn more about two women _ possibly a queen and a princess _ laid to rest there 1,173 years ago.


Comment on this SOTT Focus

---

For the birds: Deadly viruses in Australia

Rosslyn Beeby
Canaberra Times
2007-09-10 19:50:00

Scientists claim at least three deadly contagious bird diseases have by-passed Australia's quarantine controls and will spread to native parrots and cockatoos.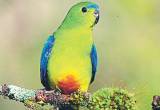 ©Unknown
Comment on this SOTT Focus
---

Age of the cyber spy

Adam Lusher and Tim Shipman
The Telegraph
2007-09-10 19:08:00

At first the air force administrator just thought it was strange.

"Checking the computer systems, he found a file listing user names and passwords. He deleted it and forgot it.

Until it happened again. A similar file re-appeared, within days, in the same system, at Wright-Patterson Air Force Base in Ohio.

"With a lot of help," says a US security source, "He discovered that someone had put a programme copying the first 120 characters of every transaction through that base. So it was sending everyone's login details to... someone."

Comment on this SOTT Focus

---

Right-wingers' brains don't work as well. Less flexibility.

Judy Peres
Chicago Tribune
2007-09-10 19:06:00

The differences between liberals and conservatives may run deeper than how they feel about welfare reform or the progress of the Iraq war: Researchers reported Sunday that their brains may actually work differently.

In a study likely to raise the hackles of some conservatives, psychologist David Amodio and others found that a specific region of the brain's cortex is more sensitive in people who consider themselves liberals than in self-declared conservatives.

The brain region in question helps people shift gears when their usual response would be inappropriate, supporting the notion that liberals are more flexible in their thinking.


Comment on this SOTT Focus

---
Our Haunted Planet
---
No new articles.
Don't Panic! Lighten Up!
---
Idiotic and Ridiculous! Bin Laden's black beard baffles U.S. intelligence


Reuters
2007-09-11 15:09:00

U.S. intelligence officials studying Osama bin Laden's videotape released last week said on Monday they were baffled by his new black beard.

"We don't know if it's dyed and trimmed, or real, but that's one of the things we are looking at," Director of National Intelligence Michael McConnell told a Senate committee hearing. "The last time he appeared it was very different."



Comment on this SOTT Focus

---

London's Harrods hires cobra to guard 62,000 pound shoes


AFP
2007-09-11 14:22:00

To their high society owners, a pair of haute couture shoes can be a precious thing.

But to guard a 62,000 pound (120,000 dollar) pair of ruby- sapphire- and diamond-encrusted Rene Caovilla sandals at their London launch, retailer Harrods went to extreme lengths: bringing in a live Egyptian cobra to patrol the shoe counter.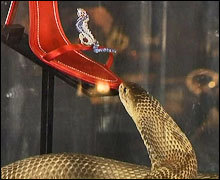 A cobra guards a pair of Rene Caovilla shoes at Harrods department store.



Whether hiring a poisonous snake is, strictly speaking, the most effective means of guarding precious footwear might be a moot point with security experts.


Comment on this SOTT Focus

---

Teen's Yearbook Photo Banned for Flower


Associated Press
2007-09-10 23:28:00

MERRIMACK, N.H. - A New Hampshire teenager's yearbook photo has been rejected, because she's holding a flower. Merrimack High School student Melissa Morin's senior photograph featured her and a small red flower. School officials, however, said the picture is not going to make it in the yearbook because props aren't allowed.


Comment on this SOTT Focus

---
---

Remember, we need your help to collect information on what is going on in your part of the world!
Send your article suggestions to: sott(at)signs-of-the-times.org

---
Click here to return to the Signs of the Times Archive
Click here for today's Signs Page