---
Sections on today's Signs Page:
---
SOTT Focus
---
No new articles.
Best of the Web
---
People Get Ready There's a False Flag Coming

Les Visible
Smoking Mirrors
2007-08-29 13:00:00



Yes folks, it's that time again. If I was talking about the holiday season we'd be thinking about pumpkins and turkeys and holiday lights; Christmas shopping, school pageants and "chestnuts roasting on an open fire". But I'm not talking about the holiday season. I'm talking about the next terror attack. It won't be sugar plums dancing but the new booga booga bin laden dancing by way of Iran. It's time for 'Go west, young terrorist, go west.'

Comment on this SOTT Focus

---

Profit of Doom: Of Vampires, Parasites, and the Demise of Capitalism

Jason Miller
Thomas Paine's Corner
2007-08-29 12:37:00



"It is impossible for capitalism to survive, primarily because the system of capitalism needs some blood to suck. Capitalism used to be like an eagle, but now it's more like a vulture. It used to be strong enough to go and suck anybody's blood whether they were strong or not. But now it has become more cowardly, like the vulture, and it can only suck the blood of the helpless. As the nations of the world free themselves, the capitalism has less victims, less to suck, and it becomes weaker and weaker. It's only a matter of time in my opinion before it will collapse completely." - Malcolm X


Striving with the unwavering dedication of true believers and slaves to the grind, those of us who exist within the geographic, social, cultural, economic, and political boundaries of the United States are collectively destroying the Earth.

Comment on this SOTT Focus

---
U.S. News
---
Idaho Paper Reveals Its Probe of Republican Senator Arrested for Soliciting Sex in Toilet Stall

E&P Staff
Editor and Publisher
2007-08-29 16:41:00

Rumors about the hidden life of Sen. Larry Craig had spread on the Web for months -- including hints that a reporter for the Idaho Statesman was asking the same questions and was about to produce a shocking story at any moment. Today, after news emerged elsewhere of Craig's June arrest in a men's room in Minneapolis, the Statesman revealed its findings.

Comment on this SOTT Focus

---

Canada warns U.S. that passport deadline is unrealistic

Sheldon Alberts
Canwest
2007-08-29 14:15:00

Canada has asked the Bush administration to exempt senior citizens from its controversial plan to require passports for travellers entering the United States across land and sea borders, while also warning that a proposed deadline to implement the rules by the summer of 2008 remains wildly unrealistic.


Comment on this SOTT Focus

---

Gimme Mo Money: Bush to request $50 billion more for Iraq war


Reuters
2007-08-29 01:36:00

U.S. President George W. Bush is preparing to ask Congress for as much as $50 billion in additional funding for the war in Iraq, The Washington Post reported on Wednesday, citing a White House official.

The request signals increasing White House confidence that it can fend off mounting congressional pressure to begin withdrawing U.S. troops from Iraq, the Post reported.

Comment on this SOTT Focus

---

Hentoff: History Will Not Absolve Us

Nat Hentoff
Village Voice
2007-08-28 18:30:00

If and when there's the equivalent of an international Nuremberg trial for the American perpetrators of crimes against humanity in Guantánamo, Iraq, Afghanistan, and the CIA's secret prisons, there will be mounds of evidence available from documented international reports by human-rights organizations, including an arm of the European parliament - as well as such deeply footnoted books as Stephen Grey's Ghost Plane: The True Story of the CIA Torture Program (St. Martin's Press) and Charlie Savage's just-published Takeover: The Return of the Imperial Presidency and the Subversion of American Democracy (Little, Brown).

Comment on this SOTT Focus

---

ADL reinstates regional leader

Keith O'Brien
The Boston Globe
2007-08-29 07:25:00

The national Anti-Defamation League rehired its New England regional director yesterday, less than two weeks after firing him for publicly breaking with the national leadership and acknowledging the Armenian genocide that began in 1915.

The move to rehire Andrew H. Tarsy as regional director marked the second time in a week that the human rights organization reversed course under pressure from the Jewish and Armenian-American communities.

But Abraham H. Foxman, the ADL's national director, said he did not rehire Tarsy to appease critics. What mattered, Foxman said, was that the two men now "see eye to eye."


Comment on this SOTT Focus

---

Flashback: Damage control! ADL says Turkish massacre of Armenians was a 'genocide'

Shmuel Rosner
Haaretz
2007-08-22 04:01:00

Following a barrage of criticism from Jewish supporters, opponents and from Armenian-Americans, Anti-Defamation League Chairman Abe Foxman revised his organizations' stance Tuesday, stating that the 1915-1918 Turkish massacre of Armenians was in fact a "genocide".

In a statement released Tuesday, the ADL said that they "have come to share the view of Henry Morgenthau, Sr. that the consequences of those actions were indeed tantamount to genocide."

Comment on this SOTT Focus

---
UK & Euro-Asian News
---
Florence Gets Tough With Street Car Washers


Ansa.it
2007-08-28 13:19:00

A controversial crackdown on car windscreen washers in Florence kicked into action on Tuesday with more than 15 arrests in the Tuscan city.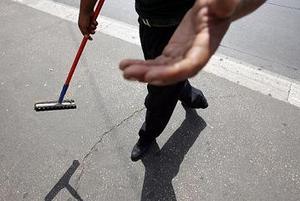 ©n/a
Comment on this SOTT Focus
---

Has Greece been set alight by property developers?


Daily Mail
2007-08-29 15:37:00

Rogue property developers have been accused of starting the forest fires that continue to destroy large swathes of Greece.

Police have arrested 33 suspects amid claims that some were paid by developers to get round planning laws.

Building on woodland is forbidden but there is no official land register, so once a region has been burned and cleared it could be used for construction.

Comment on this SOTT Focus

---

Russia received no evidence from Britain on Lugovoi


RIA Novosti
2007-08-29 07:19:00

Russia has not yet received any evidence from Britain on Andrei Lugovoi, Scotland Yard's key suspect in the murder of a former Russian security officer, the head of the investigating committee at the General Prosecutor's Office said Tuesday.

"We have not received any evidence from London of Lugovoi's guilt, and those documents we have are full of blank spaces and contradictions," Alexander Bastrykin said in an interview for a government daily, Rossiskaya Gazeta, to be published Wednesday.


Comment on this SOTT Focus

---

Death toll reaches 7 in Baku building collapse, 9 rescued


RIA Novosti
2007-08-29 06:25:00

The bodies of seven workers have been pulled from the rubble of a multi-story building that collapsed while under construction on Tuesday in Azerbaijan's capital, Baku.

Nine of the construction workers have been rescued, the country's emergency situations ministry said Wednesday. President Ilham Aliyev is currently at the site.

The Azerbaijan News Service TV channel said the rescued people had managed to contact friends and relatives by phone, and tell them they were trapped in the building's basement.

Police believe at least 38 people are still beneath the debris, while builders said as many as 60 may still be trapped.


Comment on this SOTT Focus

---

Five killed in car crash in West Siberia


RIA Novosti
2007-08-29 06:06:00

A major car accident killed five people, including two children, in western Siberia, a local traffic police source said Wednesday.

A Toyota Avensis and a Toyota Landcruiser collided Thursday on major local highway 133 kilometers (90 miles) from the city of Tyumen. The car's driver presumably fell asleep and drove into oncoming traffic.


Comment on this SOTT Focus

---

Gul sworn in as Turkey president

Hidir Goktas and Paul de Bendern
Reuters
2007-08-29 01:53:00

Foreign Minister Abdullah Gul was sworn in as Turkey's president on Tuesday despite the objections of a powerful military that fears a creeping subversion of the country's secular order under the former Islamist.

Gul, who enjoys popular support, is the first politician with a background in political Islam to win the symbolically important post in Turkey's modern history.

Comment on this SOTT Focus

---
Around the World
---
3 Brazilian airlines ban pilots from landing in rain at Rio's domestic airport


Associated Press
2007-08-29 06:30:00

Some of Brazil's biggest airlines on Tuesday ordered pilots not to land when it is raining at Rio de Janeiro's domestic airport, rulings made after 199 people were killed last month when a jetliner crashed in Sao Paulo in wet conditions.

TAM Linhas Aereas SA, Gol Linhas Aereas Inteligentes SA and VRG Linhas Aereas SA, or Varig, said they were responding to an alert from the Department for Airspace Control.


Comment on this SOTT Focus

---

Over 100 "insurgents" killed in Afghan battle: U.S.


Reuters
2007-08-29 01:31:00

More than 100 suspected insurgents were killed in a battle with U.S.-led troops in southern Afghanistan, the U.S. military said on Wednesday.

The battle erupted after a convoy of Afghan and U.S. coalition forces came under attack in Shah Wali Kot district in Kandahar province, it said in a statement.

U.S.-led close air support attacked insurgent positions in the battle, it added.



Comment on this SOTT Focus

---

Colombia's guerrilla war spills into Venezuela

Benedict Mander in El Nula and San Cristóbal, Venezuela
Financial Times
2007-08-29 01:31:00

Fresh-faced teenage soldiers idly fingering machine guns are stationed all along the pothole-ridden main street of El Nula, a small Venezuelan farming town near the Colombian border. But locals say their presence is both intermittent and ineffectual: this is guerrilla territory.

At the edge of the Andes, where Venezuela's vast flatlands begin stretching out across the Orinoco river basin, this scruffy town is under the grip of Colombia's rebel group, the National Liberation Army (ELN), which controls its inhabitants through extortion, kidnapping and murder.

Comment on this SOTT Focus

---

Taliban agrees to release South Korean hostages after deal with South Korea

Andrew Buncombe
The Independent
2007-08-29 01:31:00

South Korea and the Taliban last night said a deal had been reached to free 19 Christian hostages held for six weeks, with Seoul agreeing to withdraw its 200 troops from Afghanistan by 2008 and end all missionary work there.

News of a deal, brokered after direct talks between the two sides in central Afghanistan, broke out of the South Korean presidency but was swiftly confirmed by Taliban representative Qari Mohammad Bashir who said the first of the hostages would be released today.

Comment on this SOTT Focus

---

Down the drain - US to import water from Canada?

Paul Berton
Toronto Sun
2007-08-28 23:06:00

It has often been said the next world war will be fought not over land or oil, but over fresh water. And Canadians are well aware we sit atop much of the planet's fresh water.

Comment on this SOTT Focus

---
Big Brother
---
Outrageous! The speed camera that will defy bombs and bulldozers

Ben Clerkin
Daily Mail
2007-08-29 16:59:00

They have been demolished with diggers, destroyed by fire and even blown up with explosives by angry motorists.

Now a speed camera billed as the toughest in the world has been designed in an attempt to repel vandals.

The device towers 13ft above the road and features strengthened glass as well as a fire-resistant body and a stiffened steel base.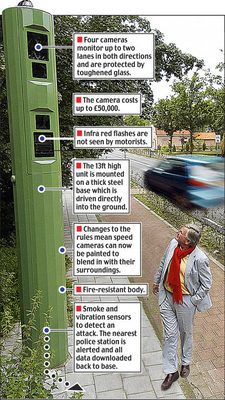 ©Daily Mail
The 13ft speed camera is designed to usher in the police state.
Comment on this SOTT Focus
---

Boeing Bids On Next Generation Global Positioning Satellite System


GPS Daily
2007-08-29 07:22:00

Boeing has submitted its proposal to the U.S. Air Force for the development and production of up to 12 Global Positioning System (GPS) III satellites. The enhanced spacecraft will offer positioning service that is 10 times better than today's system as well as improved anti-jamming capabilities for the warfighter.
"Boeing's GPS III offering builds on our proven 34-year GPS partnership with the U.S. Air Force," said Howard Chambers, vice president and general manager of Boeing Space and Intelligence Systems. "Our best value offer brings together the best of Boeing's space-based navigation and communications capabilities, including our integrated GPS space and control segment experience, to deliver a low-risk, high-value program to the U.S. Air Force."


Comment on this SOTT Focus

---

Virtual cops to patrol cyberspace in China from Sept. 1


RIA Novosti
2007-08-29 06:22:00

Two "virtual" police will start patrolling the Internet in China from September 1 to help combat pornography and other illegal activities, Chinese media reported Wednesday.

Images of Internet police - a man and a woman - will appear on motorcycles, in a car or on foot on the screens of computer users every 30 minutes to remind them of Internet security. By clicking on the icons, users will be connected to the website of the Beijing municipal public security bureau, where they can report porn sites or illicit activities.


Comment on this SOTT Focus

---

Big Brother Democracy

Naomi Klein
The Nation
2007-08-29 02:17:00

Recently, as protesters gathered outside the Security and Prosperity Partnership (SPP) summit in Montebello, Quebec, to confront US President George W. Bush, Mexican President Felipe Calderón and Canadian Prime Minister Stephen Harper, the Associated Press reported this surreal detail:


"Leaders were not able to see the protesters in person, but they could watch the protesters on TV monitors inside the hotel.... Cameramen hired to ensure that demonstrators would be able to pass along their messages to the three leaders sat idly in a tent full of audio and video equipment.... A sign on the outside of the tent said, 'Our cameras are here today providing your right to be seen and heard. Please let us help you get your message out. Thank You.'"


Comment on this SOTT Focus
---
Axis of Evil
---
Israel urged US to attack Iran - not Iraq

Gareth Porter
Inter Press Service
2007-08-29 08:13:00

Israeli officials warned the George W Bush administration that an invasion of Iraq would be destabilizing to the region and urged the United States instead to target Iran as the primary enemy, according to former Bush administration official Lawrence Wilkerson.

Comment on this SOTT Focus

---

War funding continues! Bush to request $50 billion more for Iraq war: report


Reuters
2007-08-29 02:06:00

U.S. President George W. Bush is preparing to ask Congress for as much as $50 billion in additional funding for the war in Iraq, The Washington Post reported on Wednesday, citing a White House official.

The request signals increasing White House confidence that it can fend off mounting congressional pressure to begin withdrawing U.S. troops from Iraq, the Post reported.

The additional funds would come on top of about $460 billion in the fiscal 2008 defense budget and $147 billion in a pending supplemental bill to fund the wars in Afghanistan and Iraq, the Post said.

Comment on this SOTT Focus

---

Beating the Drum! Bush attacks 'forces of radicalism'


Al Jazeera and agencies
2007-08-28 23:04:00

Withdrawing US forces from Iraq would leave the Middle East to the "forces of radicalism" and jeopardise US security, according to George Bush, the US president.

Bush's comments on Tuesday came as Mahmoud Ahmadinejad, the Iranian president, said the US was losing in Iraq and that Iran would fill the "power vacuum" in the region.


Soon after Bush's declaration that he had "authorised our military commanders in Iraq to confront Tehran's murderous activities", US soldiers arrested members of an Iranian electricity ministry delegation in Baghdad on Tuesday.

Comment on this SOTT Focus

---
Middle East Madness
---
U.S. detains Iranian delegation in Iraq


CNN
2007-08-28 17:10:00

U.S. soldiers arrested members of an Iranian government delegation Tuesday at a hotel in Baghdad and took them to an unidentified location, Iran's official IRNA news agency reported.

The Iranians, who work for Tehran's power ministry, were in the capital at the invitation of Iraqi government officials to sign an electricity supply contract, the news agency said.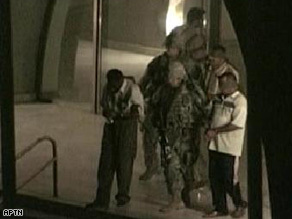 ©APTN
Associated Press Television caught blindfolded men being escorted from a Baghdad hotel
Comment on this SOTT Focus
---

Iran says U.S. accusations on Iraq not true

Fredrik Dahl
Reuters
2007-08-29 14:56:00

Iran rejected on Wednesday U.S. accusations it was fomenting instability in Iraq, a day after President George W. Bush said Tehran's atomic ambitions could put the Middle East "under the shadow of a nuclear holocaust."

The two old foes are embroiled in a standoff over Iran's disputed nuclear program, which the West suspects is aimed at developing weapons but the Islamic state says is peaceful. They also blame each other for the bloodshed in Iraq.

Comment on this SOTT Focus

---

Two children murdered by Israeli army in northern Gaza

Rami Almeghari
IMEMC
2007-08-29 14:42:00

At least two Palestinian children have been killed and a number of others wounded when Israeli army opened heavy fire on a group of children just close to the northern Gaza-Israel border line.


Comment on this SOTT Focus

---

Layla Anwar: More Sacrificial Lambs !

Layla Anwar
An Arab Woman Blues
2007-08-29 14:21:00


Iraqi artist, Mohammed Jaafar. * Explosion *



I had promised myself, I will stop writing for a few days at least. We all deserve a break, including me.

But how can I? Iraqis are not given a break. No respite whatsoever.
So, it seems this is a luxury I cannot afford myself.


Comment on this SOTT Focus

---

Ahmadinejad: Iran ready to fill Iraq power vacuum

Mark Tran
The Guardian
2007-08-29 08:07:00

The Iranian president, Mahmoud Ahmadinejad, today said Tehran was ready to fill an imminent power vacuum in Iraq in remarks that can be seen as a direct challenge to the US.

Comment on this SOTT Focus

---

Bush catapaults more bovine excrement over Iran bomb with warning of 'holocaust'

Tim Reid
Times of London
2007-08-29 08:04:00

President Bush gave warning last night that Iran's pursuit of the atomic bomb could lead to a nuclear holocaust in the Middle East, and promised to confront Tehran "before it is too late".

Comment on this SOTT Focus

---
The Loan Gunmen
---
A third of UK's 700 biggest businesses pay no corporation tax


Daily Mail
2007-08-29 15:39:00

Nearly a third of the UK's 700 biggest businesses paid no corporation tax in the 2005-2006 financial year, an official study has revealed. Furthermore, even companies that do pay corporation tax are able to avoid it to some extent.

Comment on this SOTT Focus

---

CEO pay and benefits on the rise

Joanne Morrison
Reuters
2007-08-29 12:14:00

Top executives at major businesses last year made as much money in

one day

of work on the job as the average worker made over the

entire year

, according to a report released on Wednesday.

Chief executive officers from the nation's biggest businesses averaged nearly $11 million in total compensation, according to the 14th annual CEO compensation survey released jointly by the Institute for Policy Studies based in Washington and United for a Fair Economy, a national organization based in Boston.

Comment on this SOTT Focus

---

Asian markets tumble after U.S. sell-off


AP
2007-08-29 01:47:00

TOKYO - Asian markets tumbled Wednesday following a plunge on Wall Street amid fears the U.S. Federal Reserve won't do enough to ease global credit market turmoil.

Japan's benchmark Nikkei 225 index sank 2.59 percent by the end of Tokyo's morning session, while South Korean shares tumbled as much as 3.1 percent. Toyota, Sony and Samsung were among decliners.

Comment on this SOTT Focus

---

The boardroom bonanza - Directors' pay up 37%

Julia Finch
The Guardian
2007-08-29 01:31:00

Boardroom pay at the UK's top companies soared 37% last year as full-time directors were rewarded with inflation-busting increases in basic salaries, big cash bonuses and substantial payouts from share schemes.

The surge in pay, which takes the average total pay for a chief executive to £2,875,000, is more than 11 times the increase in average earnings and nearly 20 times the rate of inflation as measured by the consumer price index. The ratio between bosses' rewards and employees' pay has risen to 98:1, up from 93:1 a year ago - meaning that the work of a chief executive is valued almost 100 times more highly than that of their employees.

Comment on this SOTT Focus

---

Inside the Countrywide Lending Scam

GRETCHEN MORGENSON
New York Times
2007-08-28 20:17:00

[F]ew companies benefited more from the mortgage mania than Countrywide, among the most aggressive home lenders in the nation. As such, the company is Exhibit A for the lax and, until recently, highly lucrative lending that has turned a once-hot business ice cold and has touched off a housing crisis of historic proportions.

"In terms of being unresponsive to what was happening, to sticking it out the longest, and continuing to justify the garbage they were selling, Countrywide was the worst lender," said Ira Rheingold, executive director of the National Association of Consumer Advocates. "And anytime states tried to pass responsible lending laws, Countrywide was fighting it tooth and nail."

Comment on this SOTT Focus

---

Carlyle bails out its $20bn Dutch fund

Miles Costello and Siobhan Kennedy
Times Online
2007-08-28 18:51:00

Carlyle, the private equity group, has been forced to double the size of a loan to its Dutch-listed investment vehicle after the struggling fund embarked on a string of asset sales and admitted it had been unable to meet recent margin calls.

Carlyle has now provided Carlyle Capital Corporation with credit facilities worth $200 million over just one week. Last Tuesday, Carlyle Capital said it had drawn only $10 million of a $100 million loan offered by the private equity group.

Comment on this SOTT Focus

---
The Living Planet
---
Update! Phoenix to Set Heat Record: 29 Days of 110

Robert Roy Britt
LiveScience.com
2007-08-29 16:49:00

The forecasted high here today is 111 degrees. If the mercury hits that mark, the city will set a record for the most days in a year above 110 degrees, at 29.

The record was tied yesterday when the high hit 111.

Comment on this SOTT Focus

---

Mobile phones used to call owls

Roger Highfield
The Telegraph
2007-08-29 08:23:00

A professor has taken to ringing owls on his mobile phone. What is most remarkable is that they return his calls in a project that could revolutionise surveys of wild bird populations.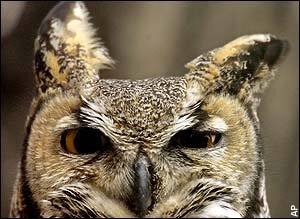 ©Telegraph
Great horned owl: The study is sticking with owls because calls at night are cheaper
Comment on this SOTT Focus
---

How Snakes Survive Starvation


University of Arkansas
2007-08-29 07:12:00

Starving snakes employ novel survival strategies not seen before in vertebrates, according to research conducted by a University of Arkansas biologist. These findings could be used in conservation strategies to determine the health of snake populations.

"These animals take energy reduction to a whole new level," said Marshall McCue, a graduate student in biological sciences in the J. William Fulbright College of Arts and Sciences. He reported his findings in the journal Zoology.


Comment on this SOTT Focus

---

Low oxygen in coastal waters impairs fish reproduction


University of Texas at Austin
2007-08-29 06:16:00

Low oxygen levels in coastal waters interfere with fish reproduction by disrupting the fishes' hormones, a marine scientist from The University of Texas at Austin Marine Science Institute has found.

Incidents of seasonal low levels of oxygen, known as hypoxia, have increased dramatically in coastal waters throughout the world over the past few decades, largely as a result of increased run-off from human agricultural and industrial activities. Hypoxia's long-term impact on marine animal populations is unknown.


Comment on this SOTT Focus

---

Will Baikal Become Ocean

Tatyana Sinitsyna
RIA Novosti
2007-08-28 05:55:00

On the summer's last Sunday, Russia is celebrating the Day of Lake Baikal. This tradition was started in 1999 by the public organization Baikal Environmental Wave. By that time, it was already a UNESCO World Heritage site as a masterpiece of nature and the global strategic freshwater resource. Baikal is flanked by the Republic of Buryatia, the Irkutsk and Chita regions, where celebrations of its holiday are particularly glamorous.

Usually, lakes disappear from the face of the Earth in 10,000-15,000 years because of sediments. But Lake Baikal, which emerged on a tectonic crack 25 million years ago, does not reveal a single sign of ageing. Baikal has passed the test of evolution, which prompted scientists to think that it is not simply a lake, but an embryo of an ocean. Baikal shores are moving apart at a speed of two centimeters a year, while its depth reaches 1,620 meters. It is possible that in the future Baikal will become an ocean if its "career" is not ruined by people.


Comment on this SOTT Focus

---

Moderate Earthquake hits SW Western Australia


Geoscience Australia
2007-08-29 02:50:00


©Geoscience Australia
Comment on this SOTT Focus
---
Health & Wellness
---
Mystery illness kills 68 in central DR Congo


AFP
2007-08-29 17:19:00

Some 68 people have died from a mystery illness over the course of nearly four months in central Democratic Republic of Congo, local authorities said Wednesday.

A total of 212 cases have been detected in Western Kasai province, said Fortunat Tumba Tshitoka, the provincial health minister.

Comment on this SOTT Focus

---

Study suggests we remember the bad times better than the good


Association for Psychological Science
2007-08-29 06:19:00

Do you remember exactly where you were when you learned of the Sept. 11 terrorist attacks? Your answer is probably yes, and researchers are beginning to understand why we remember events that carry negative emotional weight.

In the August issue of Current Directions in Psychological Science, a journal of the Association for Psychological Science, Boston College psychologist, Elizabeth Kensinger and colleagues, explain when emotion is likely to reduce our memory inconsistencies.


Comment on this SOTT Focus

---

Mothers' baby cradling habits are indicator of stress, suggests new research


Durham University
2007-08-29 06:09:00

Mothers who cradle their baby to their right hand side are displaying signs of extreme stress, a new study suggests.

Although most mums feel stressed in the early stages of their baby's life, the study by Durham University researchers suggests their baby cradling habits are a key indicator of whether this stress could become overwhelming and lead to depression.

Previous research has already shown that the majority of mothers prefer to cradle their baby to their left regardless of whether they are left or right handed.

As at least one in ten women develop post-natal depression, studying non-verbal cues such as baby cradling could potentially help doctors and health visitors identify which mothers are in need of extra professional support before it gets too late.

Experts say that stress in mums can lead to depression which can have a detrimental effect on their baby's mental development and wellbeing.


Comment on this SOTT Focus

---

Manto fails to make the grade

Belinda beresford
Mail and Guardian Online
2007-08-28 22:20:00

The African National Congress (ANC) came out in defence of embattled Minister of Health Manto Tshabalala-Msimang this week, reiterating its confidence in her ability to "implement the policies of the ANC-led government in working to achieve better health for all".


Comment on this SOTT Focus

---

On the Right, Public Healthcare for Children is a Socialist Plot

Paul Krugman
Alternet
2007-08-27 19:22:00



Conservative opposition to giving every child in this country access to health care is, in a fundamental sense, un-American.



Comment on this SOTT Focus

---

End Fluoridation, Say Over 500 Physicians, Dentists, Scientists And Environmentalists


Dentistry News
2007-08-10 19:16:00

In a statement released recently, over 600 professionals are urging Congress to stop water fluoridation until Congressional hearings are conducted. They cite new scientific evidence that fluoridation, long promoted to fight tooth decay, is ineffective and has serious health risks.

Comment on this SOTT Focus

---
Science & Technology
---
Google's New Foe: Hulu

Nat Worden
TheStreet
2007-08-29 12:29:00

News Corp. and General Electric planted a flag in cyberspace Wednesday in their bid to steal YouTube's thunder with a rival video site, now called Hulu.

Having announced the partnership in March, the media giants have finally put a homepage up on the Web, though no videos are available yet.

Comment on this SOTT Focus

---

Up Up And Away To Venus


Space Daily
2007-08-29 07:06:00

Scientists hope to learn more about climate changes here on Earth by studying Venus. A prototype balloon could eventually study the planet's surface and examine its atmosphere and the bizarre winds and chemistry within it. A team of JPL, ILC Dover and NASA Wallops Flight Facility engineers designed, fabricated and tested the balloon.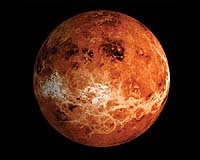 ©ESA
Scientists believe the Venus balloons could also help us learn more about climate changes here on Earth. "Venus is a place where global warming has gone amuck," Hall said. "It's about the same size as our planet, but the surface is about 900 degrees Fahrenheit, and we want to find out why."



Slightly smaller than Earth, Venus is often regarded as Earth's sister planet. Both have similar densities, chemical compositions and gravities. However, its atmosphere is nearly 100 times thicker than Earth's, which causes blazing temperatures at the surface. By flying in the cool skies above Venus, the balloons would avoid that environment.


Comment on this SOTT Focus

---

Frozen Bacteria Repair Own DNA for Millennia

Mason Inman
National Geographic
2007-08-29 06:57:00

Bacteria can survive in deep freeze for hundreds of thousands of years by staying just alive enough to keep their DNA in good repair, a new study says.

In earlier work, researchers had found ancient bacteria in permafrost and in deep ice cores from Antarctica.


Comment on this SOTT Focus

---

Hit the Beach: Why Humans Love Water

Meredith F. Small
Live Science
2007-08-29 06:41:00

I am lying on hot slab of rock on the coast of Maine. Fifty feet down to my right, the Atlantic Ocean crashes against a cliff face. I watch as the water spews upward and across a pile of boulders, leaving tide pools in its wake.

I am completely mesmerized. The waves come and they go and I stare and stare, my mind totally blank.

But then I realize it's not so much blank as content, mentally at rest, and that it's been a while since I've felt this good. The water has apparently washed away any thoughts of stuff I need to do for work, or personal troubles that days before were weighing me down.

I'm on vacation, I say to myself, and that's why happiness has taken over my brain.


Comment on this SOTT Focus

---

'No surprise' Report: Average SAT scores dip again

Justin Pope
AP Education Writer
2007-08-28 21:13:00

Combined math and reading SAT scores for the high school class of 2007 were the lowest in eight years - a trend the College Board attributed largely to the good news that a more diverse pool of students is taking the exam.

Comment on this SOTT Focus

---

Second longest 'Great Wall' in Asia discovered in Iran


ANI
2007-08-27 19:03:00

British and Iranian archaeologists have discovered the ruins of a 200 kilometre long wall, the second longest wall in Asia after the Great Wall of China, in northern Iran.

Experts believe the Gorgan Great Wall in northern Iran's Golestan Province was built at about the same time as the 'Great Wall' and was used as a defence system against the invasions of the Ephthalites, a nomadic people who once lived in Central Asia.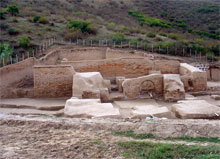 ©Unknown
A view of Gorgan's Defensive Wall.
Comment on this SOTT Focus
---
Our Haunted Planet
---
UFO spotted near Kaitaia, NZ, baffles experts

Richard Edmondson
stuff.com.nz
2007-08-29 13:04:00

A mysterious object seen in skies over the Tasman Sea near Kaitaia is baffling UFO experts.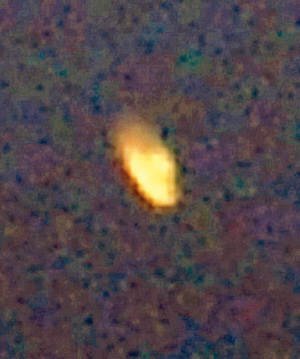 ©W FERGUSSON
Disc-like: The object's shape suggests a circular 'something' with a dome-like top says world UFO expert Dr Bruce Maccabee.
Comment on this SOTT Focus
---

UFOs spotted in Shanghai's night sky again

Gu Jia
Shanghai Daily
2007-08-28 20:13:00

MANY Shanghai residents have called media outlets over the past few days to report spotting unidentified flying objects in the night skies. The latest report came on Sunday night, Eastday.com said today.

Comment on this SOTT Focus

---
Don't Panic! Lighten Up!
---
Heartbroken Bush Runs After Departing Rove's Car

Satire
The ONION
2007-08-29 17:40:00

WASHINGTON, DC - A confused President Bush broke free from the restraint of Secret Service agents and ran in pursuit of departing deputy chief of staff Karl Rove's car for several blocks down Pennsylvania Avenue before being outdistanced by the vehicle.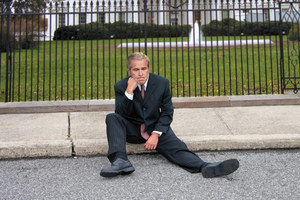 ©The ONION
Bush sits in disbelief as his longtime buddy disappears forever and ever and ever.
Comment on this SOTT Focus
---

Iranian president agrees to Oliver Stone film about his life


RIA Novosti
2007-08-29 06:26:00

Iranian President Mahmoud Ahmadinejad has agreed to let Oscar-winning U.S. film director Oliver Stone make a documentary film about his life.

Ahmadinejad told journalists: "In principle I have no objections to featuring in such a film, but all the details have to be agreed with my advisors."

The president had earlier refused to allow filming to go ahead, saying the director was part of the "Great Satan," a term used in Iran to describe the U.S. since the 1979 Islamic Revolution, when the despotic U.S.-backed Shah Mohammad Reza Pahlavi was overthrown.


Comment on this SOTT Focus

---

Indian suspect on trial despite swallowing knife

SAM DOLNICK
AP
2007-08-29 01:31:00

NEW DELHI - The Indian businessman spent years evading authorities around the world, fleeing accusations that he'd run elaborate bank scams, investigators allege. When he lost an appeal in Germany against extradition to India, he came up with a novel scheme: He swallowed a knife.

For four years, Amarendra Nath Ghosh refused surgery to remove the knife, hampering India's attempts to bring him back to stand trial because medics said flying with the 4-inch metal object lodged in his stomach might prove fatal.

Comment on this SOTT Focus

---
---

Remember, we need your help to collect information on what is going on in your part of the world!
Send your article suggestions to: sott(at)signs-of-the-times.org

---
Click here to return to the Signs of the Times Archive
Click here for today's Signs Page