---
Sections on today's Signs Page:
---
SOTT Focus
---
No new articles.
Best of the Web
---
You, Too, Can and Should Be an "Intelligence Analyst"

Arthur Silber
Once upon a time...
2007-08-27 17:46:00

It is important to recognize... two perspectives and... two kinds of analysis, and to keep them separate. Almost all of our public debate is conducted on the first level of analysis: what various political leaders say their goals and objectives are. In terms of those stated goals, their decisions in foreign policy are uniformly calamitous, and they lead to results that are the opposite of what they claim they hope to achieve.

But from another perspective and utilizing a different analysis, the motives are not irrational at all. When one considers how these unending wars and devastations affect the primary powers that drive them -- and that benefit from them -- they tragically make all too much sense, even if that "sense" is of a kind that some of us find contemptible and entirely loathsome.

No public figure will admit the truth of the second kind of analysis and, I regret to note, most Americans are not the least bit interested in hearing such unpleasant truths. Nonetheless, they are truths: a huge swath of our economy is now devoted to preparing for war, making war, and cleaning up after war. To one degree or another, most members of Congress are beholden to the economic powers that drive the obsessive concern with war, and its cornucopia of economic opportunity. Both parties are enmeshed in the War State, and the current corporatist warmaking apparatus devours almost all those who go into public service. Until this intricate and complex system is altered, nothing else will change, except in comparatively superficial ways.

Comment on this SOTT Focus

---
U.S. News
---
TRUTH NOW: Interview with Gore Vidal On Education in America Today

Linda Sutton
Atlantic Free Press
2007-08-28 12:37:00

"Well, you know, it's just a country of non-readers. They just don't read. Everything is too difficult for them. The New York Times is too difficult. So they have no way of getting information, and the New York Times also tells lies for interested parties. So they're not missing a lot. But you have to have some means of access to the outside world."

Comment on this SOTT Focus

---

Meet Giuliani's Advisors: AIPAC's Dream Team

Ken Silverstein
Harper's Magazine
2007-08-28 09:45:00

"The Republican Party is in desperate straits. How else to explain that Rudy Giuliani - a former mayor with no foreign policy experience - is the Republican front-runner, largely based on his supposed foreign policy expertise?"


Comment on this SOTT Focus

---

Suspect In Texas Killing Spree Arrested in New York


Associated Press
2007-08-28 07:11:00

A man suspected of killing four people in a home near Austin was arrested after a brief standoff in New York's Long Island, and police were investigating whether the slayings were connected to others in recent days in Texas and Pennsylvania.

Paul Devoe III had a handgun with him when authorities found him in at a friend's house in Shirley, N.Y., around midday Monday, but he was persuaded to surrender, according to the U.S. Marshals Service, which worked with local authorities in apprehending the 43-year-old.


Comment on this SOTT Focus

---

Amazing explanation! Smoking Linked To Deutsche Bank Blaze


Post Chronicle
2007-08-28 06:40:00

Careless smoking is believed to be the cause of a deadly fire at New York City's Ground Zero that took the lives of two firefighters.

New York Mayor Michael Bloomberg told a news conference Monday that it tentatively appeared that smoking by construction workers on the 17th floor sparked the fire. Smoking was prohibited in the building but fire officials said the rule as apparently violated routinely.

In addition to the update on the investigation, which is continuing, the mayor announced that three fire department commanders had been relieved of duty in connection with the Deutsche Bank blaze.


Comment on this SOTT Focus

---

Flashback: Two dead, 18 injured in New York skyscraper fire


AFP
2007-08-19 07:13:00

Two firefighters were killed and at least 18 others were injured Saturday after a bank building overlooking New York's Ground Zero site caught fire, the New York Fire Department said.

The blaze occurred when scaffolding caught fire on the former Deutsche Bank building.

Comment on this SOTT Focus

---

Alaska Airlines jet bumps into another at LA


Khaleej Times
2007-08-28 06:25:00

An Alaska Airlines jet bumped into another one on Monday while pulling away from a gate at Los Angeles International Airport, authorities said. No one was injured.

An Alaska Boeing 737 carrying 117 passengers to Washington, D.C., was pushing back from its gate when its left winglet made contact with another Alaska jet, said airline spokeswoman Amanda Tobin Bielawski.


Comment on this SOTT Focus

---
UK & Euro-Asian News
---
PNG Aids victims 'buried alive'


BBC News
2007-08-28 14:33:00

Some people with HIV/Aids in Papua New Guinea are being buried alive by their relatives, a health worker says.

Margaret Marabe said families were taking the extreme action because they could no longer look after sufferers or feared catching the disease themselves.

Comment on this SOTT Focus

---

Austrian may face cannibalism charge


IOL
2007-08-28 09:01:00

A homeless man suspected of killing another vagrant staying at a Vienna shelter may have committed acts of cannibalism, eating the innards of his victim, local police have said.

The killing occurred about three days ago, but the body of the 49-year-old man was only discovered early on Tuesday by an employee at the shelter, police said.


Comment on this SOTT Focus

---

UK: More prisons are not the answer to punishing criminals, says poll

Julian Glover
The Guardian
2007-08-28 08:23:00

A Guardian/ICM poll published today overturns the assumption that the public think tough prison sentences are the best way to tackle crime.

It shows that a majority of voters think the government should scrap its prison building programme and find other ways to punish criminals.
Politicians in all parties routinely assume that voters think prison works. But 51% of those questioned want the government to find other ways to punish criminals and deter crime.


Comment on this SOTT Focus

---

Politkovskaya's son says probe results announced prematurely


RIA Novosti
2007-08-28 07:53:00

The son of murdered Russian investigative journalist Anna Politkovskaya said he did not doubt prosecutors' investigation findings, but that preliminary results should not have been made public.

Russia's chief prosecutor announced earlier Monday that a Chechen-born leader of a Moscow organized crime group, known to the journalist, had masterminded the murder, and said former and serving security and police officers had been arrested in the investigation.

Ilya Politkovsky told RIA Novosti: "We do not doubt the results of the investigation. Powerful work has been done in all directions: the perpetrator, organizer, the client, and so on."


Comment on this SOTT Focus

---

German Jewish Agency staffer arrested on suspicion of sexual assault


Haaretz
2007-08-28 06:31:00

Yigal Greenstein, a Jewish Agency representative in Germany, was arrested at Ben-Gurion International Airport on August 11 after a female coworker filed a complaint that he had sexually assaulted her within the past six months.

The gag order on the affair was partially lifted Monday, but still applies to details of the case pertaining to the complainant's identity.

The woman arrived in Israel several months ago and filed a complaint with police over the alleged incidents. The woman alleges that Greenstein forced her to have sex with him. She said that most of the incidents occurred in his office in Berlin, and on some occasions in his home in Germany. Following the complaint, police opened a covert investigation and began collecting evidence.


Comment on this SOTT Focus

---

Sarkozy reveals his true colors and warns of Iran's nuclear crisis

Henry Samuel
Telegraph
2007-08-28 06:05:00

Nicolas Sarkozy gave warning yesterday that unless the West redoubled its efforts to curb Teheran's nuclear ambitions it could lead to "an Iranian bomb or the bombing of Iran".

The French president, in his first major speech on foreign policy, made it clear he intends to apply the same energetic approach to French diplomacy as he has to domestic policy since taking office in May.

From the Middle East to relations with Russia, the president promised a break with France's traditional Gaullist position of "splendid isolation", particularly towards the United States.


Comment on this SOTT Focus

---
Around the World
---
Sydney's Ring of Steel to Protect Bush is "Madness"

Sabra Lane
ABC News (Australia)
2007-08-28 10:23:00

This Saturday, construction will start on a three-metre high, five-kilometre long fence in Sydney's CBD to protect leaders attending next week's Asia-Pacific Economic Cooperation (APEC) conference.

Comment on this SOTT Focus

---

Indonesia jet black boxes found


BBC
2007-08-28 07:06:00

The flight recorders from an Indonesian airliner that crashed on New Year's Day with 102 people on board have been recovered, officials say.

The discovery of the so-called black boxes comes after a US-operated ship arrived last week to help the search.

The Adam Air Boeing 737 was flying between Java and Sulawesi when it came down off the Sulawesi coast in one of Indonesia's worst air disasters.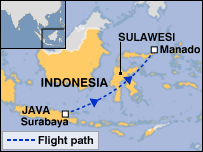 ©BBC
Comment on this SOTT Focus
---

Australia: Child, 2 weeks old, killed by family dog in Willetton

Jim Kelly
The Australian
2007-08-28 06:50:00

A teo-week-old baby girl has died in Princess Margaret Hospital from head injuries after being fatally mauled by a siberian husky just a week after coming home from hospital.

The tiny newborn was attacked in its cot by the siberian husky while her parents watched television in a nearby loungeroom.

Police said the baby was rushed by ambulance to Princess Margaret Hospital but died three hours later from head injuries.

The father's nephew said the family was devastated by the death and asked for the media to respect their privacy while they are grieving for their baby.


Comment on this SOTT Focus

---

New Russia drifting research station N Pole 35 to be created


Itar-tass
2007-08-28 06:00:00

Russia's new drifting research station North Pole 35 will be created in the high latitude part of the Chukchee Sea. So the Rossiya nuclear-powered icebreaker with polar explorers and equipment is sailing towards the area on Tuesday, the sea operations headquarters of the Murmansk Shipping Company in the trust management of which is the entire national nuclear icebreaker fleet, told Itar-Tass.

On the way to the deployment of the North Pole 35 station the icebreaker led to a safe place several transport ships with cargoes for residents of the Arctic coast of Siberia that got trapped in ice in the western sector of the Arctic.


Comment on this SOTT Focus

---

Israeli citizen wanted by Colombia arrested in Moscow


Itar-tass
2007-08-28 05:50:00

An Israeli citizen, wanted by the Colombian law enforcements agencies on charges of terrorism for eight years, has been arrested at the Domodedovo airport of Moscow, a representative of the press service of the department for organised crime and terrorism control of the Russian Interior Ministry told Itar-Tass on Tuesday.

According to his information, the arrest was carried out by officers of the department jointly with men of the Prosecutor-General's Office, the Russian office of Interpol and the Moscow Criminal Police.


Comment on this SOTT Focus

---

Flashback: Interpol Colombia issues arrest warrant against Israeli mercenary


M&C / DPA
2007-04-04 03:53:00

Interpol Colombia issued on Tuesday a so-called 'red notice' calling on 186 member countries to seek the arrest of Israeli mercenary Yair Klein, accused by the South American country accuses of providing terrorist training for paramilitaries and drug gangs.


Oscar Galvis, spokesman for the Colombia secret service DAS, told Deutsche Presse-Agentur dpa that Klein's arrest was requested along with those of his aides Melc Ferri and Sedaca Abraham, also Israeli citizens.


Comment on this SOTT Focus

---
Big Brother
---
UK: Safety fears over new register of all children

Francis Elliot
The Times
2007-08-27 22:28:00

Senior social workers have given warning of the dangers posed by a new government register that will store the details of every child in England from next year.

They fear that the database, containing the address, medical and school details of all under-18s, could be used to harm the children whom it is intended to protect.


Comment on this SOTT Focus

---
Axis of Evil
---
Troops face 'generation of conflict' if fighting the 'great game' goes on, warns head of British Army

ANDREW PICKEN
Scotsman
2007-08-28 17:05:00

THE head of the Army has warned that British troops could be facing a "generation of conflict" if fighting in Iraq and Afghanistan continues.

General Sir Richard Danatt has told his senior staff to prepare for prolonged campaigns.

Comment on this SOTT Focus

---

Pro-'surge' group is almost all Jewish


Jewish Telegraphic Agency
2007-08-28 09:57:00

Four of five members of the board of a campaign promoting President Bush's policies in the Iraq war are Republican Jews.

Comment on this SOTT Focus

---

Attorney General becomes the latest Bush ally to quit


The Independent
2007-08-28 02:09:00

The US Attorney General Alberto Gonzales, a close friend of President George Bush and one of the most controversial members of the administration, resigned abruptly yesterday without explanation.

Mr Gonzales was the architect of the Bush administration's policy of placing detainees captured in the fight against terrorism beyond the protection of any law. His policies cleared the way for brutality against detainees in Iraq, Afghanistan, Guantanamo Bay and other secret "black site" prisons.

Comment on this SOTT Focus

---
Middle East Madness
---
Bush to catapault the propaganda, to say Iraq is front line against Iran


Agence France-Presse
2007-08-28 16:58:00

US President George W. Bush tomorrow will describe Iraq as the front-line against Shiite extremism championed by Iran and the Sunni extremism of Al-Qaeda, an aide said today.

Comment on this SOTT Focus

---

US attack on Iran 'impossible'


AFP
2007-08-28 14:43:00

President Mahmoud Ahmadinejad on Tuesday dismissed the chance of a US attack against Iran as impossible, saying that Washington already had enough trouble in Iraq and Afghanistan.


Comment on this SOTT Focus

---

Study: US preparing 'massive' military attack against Iran

Larisa Alexandrovna and Muriel Kane
Raw Story
2007-08-28 14:38:00

The United States has the capacity for and may be prepared to launch without warning a massive assault on Iranian uranium enrichment facilities, as well as government buildings and infrastructure, using long-range bombers and missiles, according to a new analysis.


Comment on this SOTT Focus

---

Sarkozy's Reward: U.S. gives French oil company some Iraqi oil


Energy Watch
2007-08-10 13:58:00



Total, Chevron to work together in Iraq



France's Total and U.S.-based Chevron have secured an agreement to work together on projects in Iraq -- a move that signals an interest that Western energy companies are preparing to enter the country.

According to an article in Le Figaro, Total and Chevron have signed an agreement for the exploration and development of some of Iraq's biggest oil fields. Collaboration will commence with the Majnoon oil field, which has an estimated output of 50,000 barrels per day.


Comment on this SOTT Focus

---

Egyptian swims home after two years stuck in Gaza


RIA Novosti
2007-08-28 07:26:00

An Egyptian male, trapped for two years in the Gaza Strip, was forced to swim back to Egypt via the Mediterranean Sea, Syrian media reported.


Comment on this SOTT Focus

---

Airplane collision averted at Ben-Gurion Airport again

Eli Senyor
Ynet
2007-08-28 06:27:00

A cargo plane preparing to land nearly crashed into an El-Al passenger plane Monday, in yet another close call at Ben-Gurion International Airport.

Air traffic controllers instructed the cargo plane's pilot to circle before landing, preventing a collision with the passenger plane, which was preparing for takeoff from the same runway.




Comment on this SOTT Focus

---
The Loan Gunmen
---
U.S. Economy: Confidence Weakens by Most in Two Years

Bob Willis
Bloomberg
2007-08-28 17:45:00

Americans' confidence dropped by the most since Hurricane Katrina two years ago, in the first report to reflect the credit-market turmoil in August.

The survey underscores the Federal Reserve's concern that risks to the six-year economic expansion have ''increased appreciably.'' Separate figures showed home prices suffered the biggest decline since at least 2001.


Comment on this SOTT Focus

---

U.S. Stocks Fall Most in Three Weeks

Michael Patterson
Bloomberg
2007-08-28 17:40:00

Aug. 28 -- U.S. stocks posted their biggest drop in three weeks on weaker consumer confidence and speculation tighter credit markets will hurt bank earnings.


Comment on this SOTT Focus

---

The next credit crunch?

Susan Chandler
Chicago Tribune
2007-08-26 13:48:00

Now that the easy money in home mortgages is all but over, consumers may soon be caught in a financial squeeze with their credit cards.

That's the worry among some economists and credit counselors as home lending has shifted abruptly into low gear this summer. That leaves homeowners owing big sums to Visa or MasterCard without an important escape hatch -- the ability to pay down the plastic by dashing off a check from their home equity line of credit or rolling the debt into a new, bigger mortgage.

Comment on this SOTT Focus

---

Credit card defaults keep rising, report says


CNNMoney.com
2007-08-28 13:45:00

American consumers are defaulting on their credit cards at a sharply higher rate compared to last year, in what could be another consequence of the recent subprime mortgage market crisis, according to a report published Tuesday.

Comment on this SOTT Focus

---

US Home prices suffer worst fall since 1987

Al Yoon
Reuters
2007-08-28 13:41:00

House prices suffered their worst decline in at least 20 years in the second quarter, and there is no sign of a bottom for the market, according to data from Standard and Poor's and economist Robert Shiller.

The S&P/Case-Shiller U.S. National Home Price Index fell 3.2 percent to 183.89 last quarter from the same period in 2006, its sharpest decline since the index was created in 1987, S&P said in a statement. The pace of decline accelerated from 1.6 percent in the first quarter.

Comment on this SOTT Focus

---

More Investors Are Betting on Major Selloff in Stocks

Jim Kingsland
CNBC
2007-08-28 09:15:00

Not everyone on Wall Street is convinced that the worst is over.

In fact, some investors are betting tens of millions of dollars that the market is headed for a selloff -- a major selloff.

The reason: worries about a worsening credit crunch, along with speculation that the Federal Reserve may defy expectations and hold off on cutting interest rates at its Sept. 18 meeting.

So far, over $500 million in so-called put options have been purchased betting that the benchmark will tumble anywhere from 5% to 11% in September. Some investors are even buying put options calling for 52% decline. A "put" option increases in value as the underlying stock or index falls.

Comment on this SOTT Focus

---
The Living Planet
---
Why the Weather Went Mad in August on the Korean Peninsula


english.chosun.com
2007-08-28 14:09:00

The weather has been fickle this month and will continue that way. It had been scorching for some time when on Monday the weather suddenly changed. Torrential downpours lasted 10 to 20 minutes in many regions including Seoul and Cheolwon, Gangwon Province, with rain stopping and starting repeatedly. The Korea Meteorological Administration (KMA) on Monday said similar showers with thunder and lightening are expected in Chungcheong Province and southern parts of Korea on Tuesday.

Two major reasons are cited for the unexpected weather changes. A hot and humid North Pacific anticyclone collided with cold air from China and that made air above Korean peninsular unstable, causing the fickle weather, the KMA said. Experts also pointed to an abnormal cloud belt that formed in the air above the Korean Peninsula.



©Unknown
Satellite picture of sky in East Asia by Japanese weather satellite NTSAT. The ordinary east-west cloud belt is seen in the picture taken on Aug. 27, while clouds are stretched north-south in the picture on Aug. 14.
Comment on this SOTT Focus
---

Paracas National Reserve Sea Lions Disappear After Earthquake


LivinginPeru.com
2007-08-27 14:04:00

Peru's Natural Resources Institute (INRENA) has reported that since the earthquake which struck Peru's southern coast and devastated most of the Ica Region, 60 percent of the sea lion population, which lived on Paracas Bay, has disappeared.

Representative for INRENA Protected Areas, Luis Alfaro, told Peru's Andina News Agency, "We can only see 50 sea lions where there used to be 150."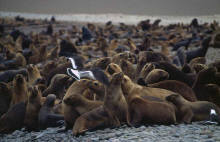 ©LivinginPeru.com
Paracas National Reserve sea lions.
Comment on this SOTT Focus
---

5.5 magnitude earthquake reported in Russia's Kuril Islands


AP
2007-08-28 14:00:00

A magnitude 5.5 earthquake struck off the coast of Russia's Kuril Islands, the U.S. Geological Survey said.

The quake occurred 110 miles (177 kilometers) southwest of Severokurilsk in the Kuril Islands - 1,210 miles (1,950 kilometers) northeast of Tokyo - on Tuesday at 1:16 p.m. local time, the survey's National Earthquake Information Center said.

Comment on this SOTT Focus

---

Cave-in in Barbados swallows house


NationalNews.com
2007-08-28 13:55:00

Ralph Adams, a structural and civil engineer, said that the building collapse at Arch Cot, Brittons X Road, St Michael, was bound to happen at some point.

Adams, who was on the scene offering advice from Sunday, said the neighbourhood knew about the existence of a cave and still allowed people to build on it.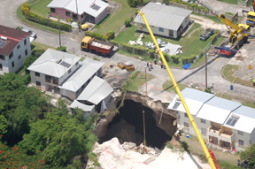 ©NationNews.com
An aerial shot showing the extent of Sunday's cave-in and the surrounding district including nearby construction.
Comment on this SOTT Focus
---

UK: Cuckoos and hedgehogs on the at-risk list of our best-loved wildlife

David Derbyshire
The Daily Mail
2007-08-28 12:23:00

They were once among the most common sights and sounds of the countryside.

But decades of intensive farming, chemical pollution and habitat loss have taken their toll on some of our bestloved wildlife.

From today, the cuckoo, hedgehog and house sparrow join the official 'priority' list of the UK's most threatened animals.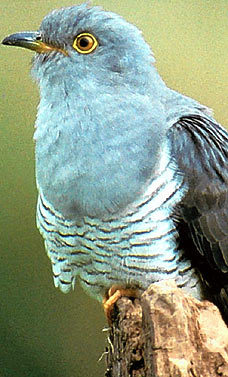 ©Unknown
Cuckoos are among birds threatened



According to the Government, more than 1,000 plants and animals are under threat from extinction or serious decline - twice the number on the last major conservation list published a decade ago.


Comment on this SOTT Focus

---

European hot spots and fires identified from space


ESA
2007-08-28 08:10:00

Hot spots across Southeastern Europe from 21 to 26 August have been detected with instruments aboard ESA satellites, which have been continuously surveying fires burning across the Earth's surface for a decade.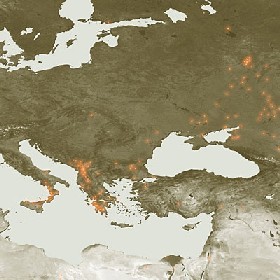 ©ESA
Hot spots across Southeastern Europe from 21 to 26 August have been detected with instruments aboard ESA satellites, which have been continuously surveying fires burning across the Earth's surface for a decade. Working like thermometers in the sky, the Along Track Scanning Radiometer (ATSR) on ESA's ERS-2 satellite and the Advanced Along Track Scanning Radiometer (AATSR) on ESA's Envisat satellite measure thermal infrared radiation to take the temperature of Earth's land surfaces.



Working like thermometers in the sky, the Along Track Scanning Radiometer (ATSR) on ESA's ERS-2 satellite and the Advanced Along Track Scanning Radiometer (AATSR) on ESA's Envisat satellite measure thermal infrared radiation to take the temperature of Earth's land surfaces.

Comment on this SOTT Focus

---
Health & Wellness
---
The Certainty Bias

Jonah Lehrer
The Frontal Cortex
2007-02-20 14:06:00

With less information to go on, the players exhibited substantially more activity in the amygdala and in the orbitofrontal cortex, which is believed to modulate activity in the amygdala. In other words, we filled in the gaps of our knowledge with fear. This fear creates our bias for certainty, since we always try to minimize our feelings of fear. As a result, we pretend that we have better intelligence about Iraqi WMD than we actually do; we selectively interpret the facts until the uncertainty is removed.

Comment on this SOTT Focus

---

Moral judgment fails without feelings

Carl Marziali
University of Southern California
2007-03-21 14:03:00

Neuroscientists from Harvard, USC and Caltech trace abnormal moral choices to damaged emotional circuits

Consider the following scenario: someone you know has AIDS and plans to infect others, some of whom will die. Your only options are to let it happen or to kill the person.

Do you pull the trigger?

Most people waver or say they could not, even if they agree that in theory they should. But according to a new study in the journal Nature, subjects with damage to a part of the frontal lobe make a less personal calculation.

The logical choice, they say, is to sacrifice one life to save many.

Comment on this SOTT Focus

---

Diet in the Dark: Brain scans pinpoint how chocoholics are hooked

Tristan Farrow
The Guardian
2007-08-28 08:43:00

Chocoholics really do have chocolate on the brain. Their grey matter reacts differently when they see or taste chocolate than people who do not crave the food.

British researchers used brain scans to investigate subconscious reactions to the confection and found that the pleasure centres of chocolate lovers' brains lit up more strongly in response to the food than those who are less partial.

There may also be some truth in calling the love of chocolate an addiction in some people. When cravers viewed pictures of chocolate this activated regions of the brain known to be involved in habit-forming behaviours and drug addiction.


Comment on this SOTT Focus

---

Survey finds elevated rates of new asthma among WTC rescue and recovery workers


New York City Health Department
2007-08-28 08:30:00

Findings released today by the Health Department shed new light on the health effects of exposure to dust and debris among workers who responded to the World Trade Center disaster on September 11, 2001. The data, drawn from the World Trade Center Health Registry, show that 3.6% of the 25,000 rescue and recovery workers enrolled in the Registry report developing asthma after working at the site. That rate is 12 times what would be normally expected for the adult population during such a time period. The paper was published today in the journal Environmental Health Perspectives and is available online here.


Comment on this SOTT Focus

---

US: Salmonella found in recalled pet food


UPI
2007-08-28 08:27:00

The U.S. Food and Drug Administration says it has found Salmonella bacteria in two Mars Petcare U.S. dry dog food products that are under recall.

The Franklin, Tenn., company has recalled select five-pound bags of Krasdale Gravy dry dog food sold in Connecticut, Massachusetts, New Jersey, New York, and Pennsylvania, and 50-pound bags of Red Flannel Large Breed Adult Formula dry food sold in Pennsylvania.


Comment on this SOTT Focus

---

Alcoholics show deficits in their ability to perceive dangerous situations


National Institute on Alcohol Abuse and Alcoholism
2007-08-28 08:18:00

-Previous brain-imaging studies have suggested cognitive deficits in alcoholic patients.

-New findings indicate that alcoholic patients show emotional processing deficits as well.

-These deficits primarily affect processing for negative emotional expressions.

Alcoholics tend to be deficient in both cognitive and emotional processes. Previously, most brain-imaging research focused on cognition rather than emotion. A new study uses functional magnetic imaging (fMRI) to examine emotional processing, finding that alcoholics have stunted abilities to perceive dangerous situations.

Results are published in the September issue of Alcoholism: Clinical & Experimental Research.


Comment on this SOTT Focus

---
Science & Technology
---
Shrinking giants, exploding dwarves


Weizmann Institute of Science
2007-08-28 08:03:00

When white dwarf stars explode, they leave behind a rapidly expanding cloud of 'stardust' known as a Type Ia supernova. These exploding events, which shine billions of times brighter than our sun, are all presumed to be extremely similar, and thus have been used extensively as cosmological reference beacons to trace distance and the evolution of the Universe.

Astronomers have now - for the first time ever - provided a unique set of observations obtained with the ESO Very Large Telescope in Chile and the 10-meter Keck telescope in Hawaii, enabling them to find traces of the material that had surrounded a white dwarf star before it exploded. Their data set is unique in that no Type Ia supernova event has ever been observed at this level of detail over a several-month period following the explosion.


Comment on this SOTT Focus

---

A computer simulation shows how evolution may have speeded up


Weizmann Institute of Science
2007-08-28 07:57:00

Is heading straight for a goal the quickest way there" If the name of the game is evolution, suggests new research at the Weizmann Institute of Science, the pace might speed up if the goals themselves change continuously.

Nadav Kashtan, Elad Noor and Prof. Uri Alon of the Institute's Molecular Cell Biology and Physics of Complex Systems Departments create computer simulations that mimic natural evolution, allowing them to investigate processes that, in nature, take place over millions of years. In these simulations, a population of digital genomes evolves over time towards a given goal: to maximize fitness under certain conditions. Like living organisms, genomes that are better adapted to their environment may survive to the next generation or reproduce more prolifically. But such computer simulations, though sophisticated, don't yet have all the answers. Achieving even simple goals may take thousands of generations, raising the question of whether the three-or-so billion years since life first appeared on the planet is long enough to evolve the diversity and complexity that exist today.


Comment on this SOTT Focus

---

Japan researcher says has found an Asian Atlantis

Takanori Isshiki
Reuters
2007-08-27 23:31:00

A researcher investigating underwater rock formations off the coast of Japan believes they are the remnants of an Asian equivalent of Atlantis -- an ancient civilization swallowed up by the ocean.

Marine geologist Masaaki Kimura says he has identified the ruins of a city off the coast of Yonaguni Island on the southwestern tip of Japan.

Comment on this SOTT Focus

---
Our Haunted Planet
---
No new articles.
Don't Panic! Lighten Up!
---
Miners unearth world's biggest diamond

David Beresford and Lee Glendinning
The Guardian
2007-08-28 06:19:00

The world's biggest diamond, believed to be twice the size of the Cullinan, has been discovered in the North-West Province of South Africa. The find has electrified the diamond community, but the circumstances of the discovery are shrouded in mystery.

The diamond is expected to attract furious bidding from buyers worldwide and could fetch up to £15m.


©Unknown
The 203 carat Millennium Star is the second biggest flawless diamond. The newly found stone could produce a stone even bigger.
Comment on this SOTT Focus
---

Missing German kangaroo captured


AP
2007-08-28 02:38:00

Skippi, a wily kangaroo on the run since early August was returned to his home at a petting zoo Monday in southern Germany, but not after a chase through the German Alps that left the animal with a strained leg.

The injured marsupial was captured in a cornfield near Leutkirch im Allgaeu, almost 10 miles from where his journey began, police in the nearby town of Ravensburg said.

Comment on this SOTT Focus

---
---

Remember, we need your help to collect information on what is going on in your part of the world!
Send your article suggestions to: sott(at)signs-of-the-times.org

---
Click here to return to the Signs of the Times Archive
Click here for today's Signs Page