---
Sections on today's Signs Page:
---
SOTT Focus
---
Signs Economic Commentary for 27 August 2007

Donald Hunt
Signs of the Times
2007-08-27 06:37:00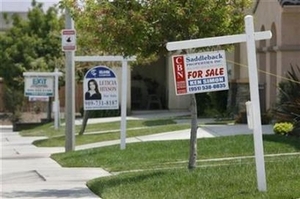 ©2007 Mark Avery/Reuters
For Sale in California


Summary: Stock prices recovered last week, buoyed by news of a rise in housing starts and durable goods orders in July in the U.S. and also by the infusion of unimaginable amounts of newly created money. The problem is that the numbers were for July - before the recent market turbulence. August numbers certainly won't look so good. Despite some short term optimism, the falling U.S. dollar (1.5% against the euro last week) has many people worried behind the scenes. Investors who feel more confident now that the U.S. Federal Reserve Board has decided to lower interest rates also should know that that policy can only go on so long: lowering interest rates on the dollar could easily push the value of the dollar over the edge.

The feeling that something bad is in store for September, either a market crash, another conveniently-timed "incident" in the United States followed by a U.S. attack against Iran, or some kind of large natural disaster, seems to be shared by many this summer.


Comment on this SOTT Focus
---
Best of the Web
---
Market Efficiency Hokum

Stephen Lendman
SJ Lendman Blog
2007-08-27 06:37:00

You know the story triumphantly heard in the West. Markets work best when governments let them operate freely - unconstrained by rules, regulations and taxes about which noted economist Milton Friedman once said in an interview he was "in favor of cutting....under any circumstances and for any excuse, for any reason, whenever it's possible (because) the big problem is not taxes (but government) spending.

Friedman is no longer with us, but by his reasoning, the solution to curbing it is "to hold down the amount of income (government) has (and presto) the way to do it is to cut taxes." He seemed to forget about borrowing and the Federal Reserve's ability to print limitless amounts of ready cash the way it's been doing for years and during the current credit squeeze. Friedman further added in the same interchange "If the White House were under (GW) Bush, and House and Senate....under the Democrats, I do not believe there would be much spending."

Comment on this SOTT Focus

---
U.S. News
---
Troops Cheer Call For Iraq Withdrawal


AP
2007-08-26 16:04:00

A call by Puerto Rico's governor for a U.S. withdrawal from Iraq earned a standing ovation from a conference of more than 4,000 National Guardsmen.

Gov. Anibal Acevedo Vila said Saturday that the U.S. administration has "no new strategy and no signs of success" and that prolonging the war would needlessly put guardsmen in harm's way.

Comment on this SOTT Focus

---

Obesity Rates Climb All Through U.S.

Kevin Freking
AP
2007-08-27 15:44:00

Loosen the belt buckle another notch America: Obesity rates continued their climb in 31 states last year. No state showed a decline. Mississippi became the first state to crack the 30 percent barrier for adult residents considered to be obese.

West Virginia and Alabama are just slightly behind, according to the Trust for America's Health, a research group that focuses on disease prevention.

Comment on this SOTT Focus

---

Fresh Meat for the 'War on Terror' Grinder: Many Take Army's 'Quick Ship' Bonus

Josh White
Washington Post
2007-08-27 11:26:00

More than 90 percent of the Army's new recruits since late July have accepted a $20,000 "quick ship" bonus to leave for basic combat training by the end of September, putting thousands of Americans into uniform almost immediately.

Many recruits who take the bonus -- scoring in many cases the equivalent of more than a year's pay -- leave their homes within days, recruiters said. The initiative is part of an effort by Army officials to meet year-end recruiting goals after a two-month slump earlier this year. With the fiscal year ending Sept. 30, the Army hopes the extra cash motivates those interested in joining or entices those just considering enlisting.


Comment on this SOTT Focus

---

Woman Killed in Lake Powell Boat Crash


Associated Press
2007-08-26 11:16:00

A powerboat traveling more than 30 mph slammed into the canyon wall on Lake Powell, killing a 20-year-old passenger, the National Park Service said Sunday.

Rangers tried CPR, but Danielle Sorensen of Delta did not respond Saturday and was declared dead by a nurse who was flown to the scene.

Six other people on the boat, including the driver, were seriously injured but were expected to recover, the Park Service said.


Comment on this SOTT Focus

---

Former National Security Advisor Zbigniew Brzezinski backs Obama


AXcess News
2007-08-27 11:02:00

Former U.S. National Security Advisor Zbigniew Brzezinski said on Bloomberg television Friday that he was endorsing Democratic presidential candidate Sen. Barack Obama in the presidential primary, brushing aside top Democratic candidate Hillary Clinton as being more experienced for the job.

Comment on this SOTT Focus

---

Soldier returning home after death of second brother in Iraq


AFP
2007-08-27 10:41:00

A US soldier has been withdrawn from Iraq after his two brothers were killed in action, echoing the Oscar-winning film "Saving Private Ryan", it was reported Friday.

Jason Hubbard, 33, will return to his family's home in northern California after younger brother Nathan, 21, was one of 14 soldiers killed in a Black Hawk helicopter crash in northern Iraq on Wednesday.

The death came three years after a roadside bombing claimed the life of another sibling, Jared, 22, in Fallujah in 2004, reports said.

Jason was withdrawn under the military's "sole survivor" policy aimed at preventing parents losing all of their children to war.



The case bears a striking similarity to Steven Spielberg's 1998 film about a mission to recover a soldier from northern France after all his brothers are killed during the D-Day landings.




Comment on this SOTT Focus

---
UK & Euro-Asian News
---
British Armed Forces staff shortage crisis

Thomas Harding
Telegraph
2007-08-27 11:17:00

The Armed Forces are missing thousands of specialised soldiers, sailors and airmen crucial to continuing the fight against insurgents in Iraq and Afghanistan, The Daily Telegraph has learned.

New figures show an alarming shortage of vital staff, with more than a third of Army medical posts now vacant - leading to fears that lives are being put at risk.



Across the Navy, Army and RAF, experienced personnel are leaving, fed up with the demands of continuous operations and often taking up highly-paid jobs in private security.


Comment on this SOTT Focus

---

Seven killed in car crashes in Central Russia


RIA Novosti
2007-08-27 09:59:00

Two major accidents have killed seven people in the Voronezh Region on a federal highway linking Moscow and the southern city of Rostov-on-Don, a local police source said Monday.

A six-year-old boy and his father were killed early Monday when a coach bound to Nalchik, in the North Caucasus, capsized about 310 miles south of Moscow.

All 27 passengers on board were injured and seven remain hospitalized. According to preliminary reports, the driver either lost control or fell asleep at the wheel.

The second accident occurred Sunday at 1:45 p.m. Moscow time (9:45 a.m. GMT). A driver of a Lada car crossed into oncoming traffic and collided with a minibus. The driver, his three passengers and a man in the minibus died at the scene.

The network of Russian highways is one of the world's longest, but only 20% of regional roads meet international safety standards. The Don federal highway is considered one of the country's most dangerous.


Comment on this SOTT Focus

---

Chechen-born gang leader behind Politkovskaya murder -prosecutor


RIA Novosti
2007-08-27 09:55:00

The Chechen-born leader of a Moscow organized crime group is behind the murder of Russian investigative journalist Anna Politkovskaya, Russia's prosecutor general said Monday.

Politkovskaya, known for her criticism of the Kremlin's policy in Chechnya, was gunned down in an apparent contract killing in an elevator in her apartment bloc October 7, 2006 in Moscow.


Comment on this SOTT Focus

---

Flashback: Chronicle of a death foretold: Review - Anna Politkovskaya's 'A Russian Diary'

Bridget Kendall
The Guardian
2007-04-07 17:36:00

Anna Politkovskaya's A Russian Diary reveals the courage and tenacity of a martyr to the truth, says Bridget Kendall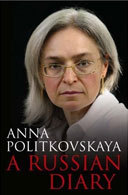 ©Harvill Secker



A Russian Diary
by Anna Politkovskaya, translated by Arch Tait
Pub. Harvill Secker

Not long before she was gunned down on the steps of her apartment building in Moscow last October, Anna Politkovskaya gave an interview to the Russian filmmaker Andrei Nekrasov. With a wry smile, she observed that there was no need for the Russian authorities to worry about what she wrote, no matter how trenchant her criticism. Although her books and articles were read by some in Russia, almost no one took any notice of them.

Comment on this SOTT Focus

---
Around the World
---
US-NATO occupation of Afghanistan raises poppy production to record level

DAVID ROHDE
New York Times
2007-08-27 16:10:00

Afghanistan produced record levels of opium in 2007 for the second straight year, led by a staggering 45 percent increase in the Taliban stronghold of Helmand Province, according to a new United Nations survey to be released Monday.

Comment on this SOTT Focus

---

'Eighteen Afghan civilians killed in NATO airstrike'


Indo-Asian News Service
2007-08-27 16:08:00

Residents of a province in southern Afghanistan reported on Sunday that some 18 civilians were killed and over 22 wounded in a NATO airstrike.

Comment on this SOTT Focus

---

Fire Erupts at Dubai Chemical Warehouse

Barbara Surk
Associated Press
2007-08-27 11:10:00

Fire broke out early Monday in a warehouse containing hazardous chemicals at Dubai's Jebel Ali port, sending plumes of thick black smoke into the sky before firefighters brought it under control three hours later.

A police officer at port said no one was injured in the fire, which broke out around 4 a.m. A port official said the fire, which was under investigation, did not affect shipping and handling at the busy port. Both officials spoke on condition of anonymity because they were not authorized to speak to the media.

Ahmed Abdul Hussain, the director Dubai's Environment, Health and Safety Regulatory Authority said there was no noticeable environmental damage.


Comment on this SOTT Focus

---

3 men who met on 'crime mates' website arrested over random murder of Aichi woman


Japan Today
2007-08-27 10:50:00

Aichi police arrested three men Sunday on suspicion of abandoning the body of a woman who investigators suspect was kidnapped and murdered by the men after they robbed her. Police said the victim, whose body was found in a forest in Gifu Prefecture, was Rie Isogai, a 31-year-old office worker from Chikusa Ward, Nagoya, Aichi Prefecture.

The three suspects admitted to abandoning her body and told the investigators they met via a mobile phone Internet site for seeking "crime mates."


Comment on this SOTT Focus

---

Soldiers die in Uganda road crash


BBC
2007-08-27 10:04:00

More than 70 people, including 57 soldiers, have died when a truck overturned in east Uganda's mountains.

The army says the soldiers and their families were being moved from the border with Kenya to their base when their truck hit a concrete barrier.

The accident is one of Uganda's worst in recent history. There are 31 seriously injured soldiers now in nearby hospitals, the army says.


Comment on this SOTT Focus

---

Three dead, 10 injured in building collapse in India


RIA Novosti
2007-08-27 10:01:00

At least three people have been killed and 10 injured after a six-story building collapsed in the city of Mumbai in western India, a local police source said Monday.

Mumbai, formerly known as Bombay, is the capital of the state of Maharashtra, the most populous city in India, and by some measures the most populous city in the world, with an estimated population of about 13 million.

"The clearing of the debris is almost over, the injured are receiving medical assistance, and an investigation into the incident is underway," the source said.

The police earlier said that a total of six firefighter crews and four ambulances had been involved in the rescue effort.


Comment on this SOTT Focus

---
Big Brother
---
Other states following Arkansas' lead with anti-smoking legislation

Rob Moritz
Arkansas News Bureau
2007-08-26 16:14:00

After then-state Rep. Bob Mathis opposed the governor's signature proposal to ban smoking in public places during a 2006 special session, few lawmakers took him seriously when he proposed an anti-smoking bill of his own.

But Mathis pushed his bill through the Legislature, and the measure has made Arkansas a national trendsetter and the Democrat from Hot Springs something of an international celebrity.

Comment on this SOTT Focus

---

US won't tell Britons why they're banned from travelling to America

Jason Lewis
Daily Mail
2007-08-27 15:36:00

British holidaymakers and businessmen banned from travelling to America under anti-terror laws will no longer have any right to know why they have been turned away.

The US Department of Homeland Security, set up following the September 11 attacks, last week applied for a blanket ban on disclosing the information it holds on Britons and other EU citizens.

Comment on this SOTT Focus

---

UK: Outrage at 500,000 DNA database mistakes

Toby Helm
Telegraph
2007-08-27 10:33:00

Civil liberties campaigners and MPs have raised doubts about the national DNA database after the Home Office confirmed it contained more than 500,000 false or wrongly recorded names.

Suspects arrested over any imprisonable offence, including rape and murder, can have their DNA held even if they are not charged or are acquitted.

The database, the biggest in the world, contains about four million names.

But it has been dogged by problems. Statistics released by the Home Office show it contains around 550,000 files with wrong or misspelt names.


Comment on this SOTT Focus

---

Got Fascism? US government refuses to share info on terror database


AFP
2007-08-27 10:27:00

The US government's terrorist screening database flagged Americans and foreigners as suspected terrorists almost 20,000 times last year, but only a small fraction of those questioned were arrested or denied entry into the United States, it was reported Saturday.

The Washington Post said these numbers were raising concerns among critics about privacy and the list's effectiveness.

Slightly more than half of the 20,000 encounters last year were logged by Customs and Border Protection officers, who turned back or handed over to authorities 550 people, most of them foreigners, the report said, citing unnamed Customs officials.


Comment on this SOTT Focus

---
Axis of Evil
---
Middle East chaos could cause world war if US doesn't get it's way: U.S. envoy and PNAC co-signatory


Reuters
2007-08-27 17:07:00

Upheaval in the Middle East and Islamic civilization could cause another world war, the U.S. ambassador to the United Nations was quoted as saying in an Austrian newspaper interview published on Monday.

Zalmay Khalilzad told the daily Die Presse the Middle East was now so disordered that it had the potential to inflame the world as Europe did during the first half of the 20th century.

Comment on this SOTT Focus

---

U.K. file on Entebbe reveals Israel behind hijacking


Haaretz
2007-08-27 16:13:00

Newly released British documents contain a claim by an unnamed contact that the Shin Bet security service collaborated with the Popular Front for the Liberation of Palestine to hijack the June 1976 flight from Israel that was diverted to Entebbe, Uganda, the BBC reported Friday.

Comment on this SOTT Focus

---

CIA said to step up operations against Iran as hawks seek to tie Iraq bombs to Tehran; 'They still need a trigger'

Larisa Alexandrovna
Raw Story
2007-08-27 16:02:00

In an effort to build congressional and Pentagon support for military options against Iran, the Bush administration has shifted from its earlier strategy of building a case based on an alleged Iranian nuclear weapons program to one invoking improvised explosive devices (IEDs) purportedly manufactured in Iran that are killing US soldiers in Iraq.

Comment on this SOTT Focus

---

Chertoff to replace Gonzales as AG?

Paul Bedard
Washington Whispers; US News and World Report
2007-08-27 09:08:00

The buzz among top Bushies is that beleaguered Attorney General Alberto Gonzales finally plans to depart and will be replaced by Homeland Security Secretary Michael Chertoff. Why Chertoff?

Comment on this SOTT Focus

---

Officials say Gonzales has resigned

JENNIFER LOVEN and LARA JAKES JORDAN
AP
2007-08-27 09:05:00

Attorney General Alberto Gonzales has resigned, ending a months-long standoff with Republican and Democratic critics who called for his ouster over the Justice Department's botched handling of FBI terror investigations and the firing of U.S. attorneys, officials said Monday.

Comment on this SOTT Focus

---

Zionist Propaganda Alert! Hamas seeks 'large-scale' attack in Israel: official


AFP
2007-08-27 04:42:00

JERUSALEM - Hamas is seeking to launch a "large-scale" suicide attack inside Israel to torpedo chances of a peace deal with moderate Palestinians, a senior security official warned on Sunday.

The second in command of Israel's Shin Beth internal security services was quoted by a senior government official as telling ministers during the weekly cabinet meeting that the Islamist group's exiled leadership in Damascus is calling for such an attack.



Comment on this SOTT Focus

---
Middle East Madness
---
The Next War Draws Nearer

Scott Horton
Harper's Magazine
2007-08-27 16:41:00

Hardly a week passes in which I don't get a message from someone within the great bureaucratic wasteland on the Potomac about the Bush Administration's latest schemes relating to war against Iran. Now we're going through another one of those periods in which the pace is quickening and the pitch is becoming more intense. I continue to put the prospects for a major military operation targeting Iran down as "likely," and the time frame drawing nearer. When will Bush give the go ahead? I think late this year or early next would be the most congenial time frame from the perspective of the war party. Some of the developments that go into my call:

Comment on this SOTT Focus

---

Flashback: Iraqi, US forces sweep through volatile Iraqi city, find EFP factory; Myth that Iran behind resistance blown apart


Reuters
2007-08-27 16:26:00

Iraqi and US forces clashed with Shia militia loyal to the radical cleric Moqtada al-Sadr yesterday in a dawn operation aimed at returning the volatile city of Diwaniya to government control. In Ramadi, west of Baghdad, a truck bomb killed at least 10 people and wounded 24 in the latest in a string of attacks that have spewed poisonous chlorine gas into the air, three Iraqi police officers said. A fourth officer put the toll at 35 dead.

Comment on this SOTT Focus

---

Israel wages war on army of objectors

Annette Young
Scotsman.com
2007-08-26 16:22:00

When Arik Diamant's mother discovered her son was to refuse to do reserve duty for the Israeli army she pleaded with him to reconsider his decision, even offering to resign her job and work in a charity of his choice.

But the former paratrooper and now software engineer was determined. "My parents were terrified that the ramifications of such a decision would destroy my life and endanger my career opportunities," said the 34-year-old co-founder of the Courage to Refuse movement.

Comment on this SOTT Focus

---

More WMD lies exposed

Chris Ames
New Statesman
2007-08-27 16:15:00

Alastair Campbell's diaries show the Government decided it wanted a strongly worded dossier days before they knew the view of intelligence, reports Chris Ames

Comment on this SOTT Focus

---

Iraq: British retreat descends into chaos as Shia militia occupy police centre

Anne Penketh, Diplomatic Editor and Robert Verkaik
The Independent
2007-08-27 16:06:00

Shia militia loyal to the firebrand cleric Muqtada al-Sadr have scuppered an attempt by British forces to hand over the Basra joint police command centre to Iraqi police.

Comment on this SOTT Focus

---

Flashback: Kidnapped by Ansar Al-Islam: How Scott Taylor Survived and Was Saved in Iraq

Christopher Deliso
balkanalysis.com
2004-09-18 15:14:00

Veteran Canadian war reporter Scott Taylor has to be one of the luckiest men alive right now. Although his long experience in war zones in the Balkans and Iraq has been marked by many narrow escapes, last week's kidnapping and torture by one of the world's most notorious Islamic mujahedin groups, in the middle of a pitched battle in lawless Iraq, tops them all.

This interview, conducted by phone on Friday, should be read in conjunction with the narrative Taylor himself has penned describing his imprisonment and release. It builds on the testimony he provides therein - while also including previously unreported vital information regarding the event.


Comment on this SOTT Focus

---
The Loan Gunmen
---
Five rate rises bring UK housing boom to August standstill

Larry Elliot
The Guardian
2007-08-27 15:50:00

Britain's house-price boom ground to a halt in August as five interest rate rises in a year resulted in the slowest growth in 20 months, according to a report released today.

The monthly survey from the housing intelligence company Hometrack reported the fifth consecutive month of slower growth in property prices and warned of a weaker market in the months to come.

Comment on this SOTT Focus

---

US Home re-sales fall while inventories soar

Joanne Morrison
Reuters
2007-08-27 15:47:00

The pace of sales of pre-owned homes fell slightly in July but the inventory of unsold properties soared to the highest level in over 15 years as troubles in the subprime mortgage market continued to wreak havoc on the housing sector.

Home sales slid 0.2 percent in July to a seasonally adjusted 5.75 million unit annual rate, according to the National Association of Realtors.

That brought the supply of unsold homes at the current sales pace to 9.6 months' worth, the highest level on record since 1999, when the association began tracking all types of properties, such as condominiums, together with single-family homes.

Comment on this SOTT Focus

---

Mortgage meltdown claims new set of victims

Loren Steffy
Houston Chronicle
2007-08-25 00:11:00

Rick Thompson watched from the sidelines this month as his company unraveled.

In a matter of weeks, Houston-based Aegis Mortgage, the company he co-founded 14 years ago, went from being a big nationwide mortgage lender to a bankrupt husk, undone by the mortgage meltdown rippling across the markets.

Aegis has told many of the 1,200 employees it had at the start of the month, including 300 locally, that their jobs will end by late September.

Comment on this SOTT Focus

---
The Living Planet
---
Oklahoma: Storm blows in trouble for Chouteau

Sommer Woodward
Pryor Daily Times
2007-08-27 13:23:00

Students at the Chouteau Elementary and Middle School were evacuated to buses Friday afternoon when a burning odor was discovered in a classroom during the thunderstorm.

Principal Steve Boone said he doesn't know for sure if lightning was the culprit, but he suspects lightning struck the building.

During the storm, Boone said despite a loud boom was heard over the normal thunder claps. Immediately following the boom, a burning plastic odor was smelled in a middle school classroom.


Comment on this SOTT Focus

---

Ukraine: Fire on slopes of Mount Ai-Petri in Crimea contained


Itar-tass
2007-08-27 11:38:00

A major forest fire on the slopes of Mount Ai-Petri in the Yalta Mountainous Preserve in the Crimea has been contained, the Ukrainian Ministry for Emergency Situations reported on Monday.

The fire is raging on the area of 50 hectares at the present moment. There is no threat for local settlement.

The manmade incident on the slopes of Mount Ai-Petri near the resort town of Alupka has claimed the lives of two people - the forest ranger and his wife. Their death has been officially confirmed.


Comment on this SOTT Focus

---

Earthquake rocks northern Japan


Associated Press
2007-08-26 10:48:00

A moderate earthquake with a preliminary magnitude of 5.6 jolted northern Japan on Sunday, the Japan Meteorological Agency said. No tsunami warning was issued.

The quake struck at 11:01 IST on Sunday and was centered off the eastern coast of Hokkaido, Japan's northernmost island, according to the agency.


Comment on this SOTT Focus

---

18 killed as deadly fires sweep parts of southern Europe


AFP
2007-08-25 10:37:00

Forest fires ravaged swathes of southern Europe Friday with blazes killing at least 17 people in Greece and prompting Athens to seek European aid, as an elderly man died in Italy and hundreds were evacuated from their homes.

Greek Prime Minister Costas Karamanlis, who Friday sought the help of the European Union to tackle the fires, described the situation as a "tragedy without precedent."

"We are today living in a tragedy without precedent," he said after meeting with firefighters in Zacharo in the country's south where 11 people died Friday.

"I wish to express my pain at the deaths of our countrymen," he said. "We are living in difficult times, in moments of responsibility and combat."


Comment on this SOTT Focus

---

US: Tornado kills one in North Dakota town


Associated Press
2007-08-27 10:22:00

A tornado destroyed a mobile home park, killing one person, and blew out windows in a nursing home and school, officials said Monday. At least 18 people were injured.

"This town is a mess. This town is a disaster," said Kevin Dean, a spokesman for the town's emergency operations center. "There's virtually nothing ... that hasn't been damaged."

Residents of the town's health center, which includes a small hospital and a 77-bed nursing home, were moved into corridors before the storm struck and no one was injured, said nursing director Carla Sletten.


Comment on this SOTT Focus

---

Moderate Earthquake Shakes Western Greek Island


Novinite
2007-08-27 10:19:00

A moderate earthquake with a magnitude of 5.1 hit Monday the western Greek island of Kefalonia, the Athens Geodynamic Institute said.

There were no immediate reports of damages or injuries.


Comment on this SOTT Focus

---
Health & Wellness
---
New warning issued for Indian toothpaste

Iain Marlow
thestar.com
2007-08-25 16:06:00

A popular brand of toothpaste imported from India contains dangerously high levels of harmful bacteria, Health Canada says.

Yesterday's warning comes a month after the agency revealed Neem Active Toothpaste with Calcium also contains a poison used in antifreeze.

Comment on this SOTT Focus

---

Chemicals in non-stick pans may retard babies' growth

Geoffrey Lean
The Independent
2007-08-26 15:40:00

Chemicals used in non-stick pans, fast-food containers, carpets, furniture and a host of other everyday household products are retarding babies' growth and brain development, two startling new studies suggest.

The studies - from the United States and Denmark, both published in the past month - found that babies with increased levels of the chemical in their umbilical cords were born smaller and with reduced head sizes. Though the changes were small, reductions in weight and brain development at birth have been associated with health problems throughout life.

Comment on this SOTT Focus

---

Italian police to investigate abortion of wrong twin

John Hooper
The Guardian
2007-08-27 11:08:00

Italian police have been asked to investigate a case in which doctors treating a 40-year-old woman who was pregnant with twins aborted a healthy foetus while leaving a second, malformed one untouched.

The San Paolo hospital in Milan yesterday confirmed a report of the blunder in the daily Corriere della Sera. A statement from the hospital said the twins had changed places inside the womb between the first ultrasound scan and a second one carried out shortly before the operation, which took place in the 18th week of the pregnancy. It said it had handed the case notes to the "competent authorities".


Comment on this SOTT Focus

---

Who gives parents a break? Not the USofA that's for sure

MrKen45
MrKen45sWorld
2007-08-26 22:08:00

Who Gives Parents a Break? Here is yet another indicator that the U.S. lags behind most other countries in providing health care benefits.

Comment on this SOTT Focus

---
Science & Technology
---
Presence Of Essential Molecule In Space Could Support Life On Other Planets


Space Daily
2007-08-27 11:12:00

Some of the elements necessary to support life on Earth are widely known - oxygen, carbon and water, to name a few. Just as important in the existence of life as any other component is the presence of adenine, an essential organic molecule. Without it, the basic building blocks of life would not come together.

Scientists have been trying to find the origin of Earth's adenine and where else it might exist in the solar system. University of Missouri-Columbia researcher Rainer Glaser may have the answer.


Comment on this SOTT Focus

---

Grape genome unpicked

Michael Hopkin
Science
2007-08-27 10:54:00

A French-led team of geneticists has cemented the country's reputation as the world's wine capital - by compiling the complete genetic code of a Pinot Noir grape. Perhaps unsurprisingly, they have discovered that the species has a large repertoire of genes that produce compounds known to give complex flavours to fruit.

Among the almost half-billion DNA 'letters' pieced together by the researchers are a host of genes that encode terpenes and tannins - which any wine buff will tell you are essential for a fine vintage.


Comment on this SOTT Focus

---

Suitcase Science On The Moon


Moon Daily
2007-08-20 07:53:00

In October 1963, two cartographers with the Air Force Aeronautical Chart and Information Center saw a strange glow on the moon. Using the 24-inch refractor telescope at Lowell observatory in Flagstaff, Arizona, James Greenacre and Edward Barr saw a deep, ruby-red glow coming from the crater Aristarchus. The sighting might have been glowing gas from volcanic activity, and a second sighting in November of that year was verified by Dr. John Hall, Director of the observatory at the time.

Throughout history, there have been many more. There have been rumbles from other areas on the moon as well. For example, when Dr. Yosio Nakamura of the University of Texas, Austin, and his colleagues reviewed seismology data from the Apollo missions, they discovered there was a magnitude 5.7 moonquake near the lunar south pole, a possible site for a future lunar base.



Comment on this SOTT Focus

---

2000-Year-Old Meteors to Rain Down on August 31, 2007

Peter Jenniskens, Ph.D., Meteor Astronomer, Carl Sagan Center, SETI Institute
Space.com
2007-08-23 04:13:00

The meteors that are about to rain down in the early morning of September 1 date from around 4 A.D., the latest calculations show.

Comment on this SOTT Focus

---
Our Haunted Planet
---
We are not alone: lights in the sky

GEOFF TAYLOR
Waikato Times
2007-08-27 06:15:00

Some call them crazy. But for people who believe they have seen UFOs, it is a very real experience.

Comment on this SOTT Focus

---
Don't Panic! Lighten Up!
---
Finns crush cellphone-throwing competitors


AFP
2007-08-27 11:05:00

Far from the World Athletics Championships in Osaka a Finn has emerged at the top of his game-- in mobile phone-throwing, organisers of the event announced Sunday.

Competitors were reduced to silence when Tommi Huotari threw his cellphone 82.62 metres (294 feet) at the eighth annual tournament in Finland, home of Nokia, the world's number one handset manufacturer.


Comment on this SOTT Focus

---

House made of 13,500 plastic bottles


ZeeNews
2007-08-27 11:00:00

A Serbian pensioner is hoping to get in the record books by building a house, completely out of plastic bottles.

Tomislav Radovanovic, from the central town of Kragujevac, celebrated his retirement by moving into the unique house, which he created out of 13,500 bottles in five years, reports Ananova.

According to the national news agency Tanjug, all parts of the house are made of plastic bottles that Tomislav had been collecting for years, except for the foundation, which is of concrete.


Comment on this SOTT Focus

---
---

Remember, we need your help to collect information on what is going on in your part of the world!
Send your article suggestions to: sott(at)signs-of-the-times.org

---
Click here to return to the Signs of the Times Archive
Click here for today's Signs Page