---
Sections on today's Signs Page:
---
SOTT Focus
---
Insiders and Outsiders in Everyday Life

Henry See
Signs of the Times
2007-08-23 14:04:00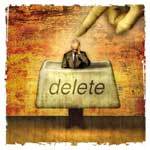 We all know stories of qualified and skilled people who can't find work or who are passed over for promotion when someone who specializes in office politics gets the nod. This situation is another example of the insider/outsider dichotomy I discussed in my last article. It not only applies to Washington, it also applies to the facts and events of our daily lives. How many Americans are working for companies that are "offshoring" jobs to India and China? Ordinary people are on tenterhooks with the announcement of each round of layoffs while management have that glassy-eyed glare of bigger stock options and pay-offs when the year's profit margins improve and stock prices soar.

Comment on this SOTT Focus

---
Best of the Web
---
No new articles.
U.S. News
---
Insurance company sends private fire crew to Idaho to protect expensive homes

Matt Christensen
Times-News
2007-08-23 17:55:00

KETCHUM - Yes, the rich are different than the rest of us.

A private fire crew dispatched by a national insurance company that caters to wealthy clients is guarding 22 high-end homes threatened by the Castle Rock Fire, a blaze that has forced the evacuation of hundreds of million-dollar homes west of Ketchum.

The crew will protect only homes insured by AIG Private Client Group, an insurance company that offers "loss-prevention services" to its wealthiest customers. A truck and two-man crew sent by AIG from Montana arrived in Ketchum about 2 p.m. Wednesday to start dousing properties with Phos-Chek, the same fire retardant dropped from U.S. Forest Service aircraft.

Comment on this SOTT Focus

---

Hysteria responsible for reaction to Hasher's flour


NBC30.com
2007-08-23 17:48:00

NEW HAVEN, Conn. -- New Haven police have charged two people they believe are responsible for spreading a white powder around the parking lot of the IKEA store and Bank of America in the city's Long Wharf area.

The suspects, 35-year-old Daniel Salchow of New Haven and his sister, 31-year-old Dorothee Salchow of Hamburg, Germany, were arrested and charged with breach of peace in the first degree, a class D felony.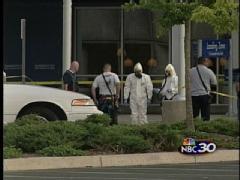 ©NBC30.com
Comment on this SOTT Focus
---

Suspicious item evacuates Seattle ferry

Scott Gutierrez
Seattlepi.com
2007-08-22 16:33:00

A suspicious item -- which officers later determined might have been used to smoke marijuana -- was found aboard a Seattle-to-Bainbridge ferry Wednesday, shutting down the Colman Dock and prompting an evacuation of the boat at the height of the morning commute.

A State Patrol bomb squad removed the item and determined it posed no threat. Service on the ferry Puyallup resumed about 90 minutes later.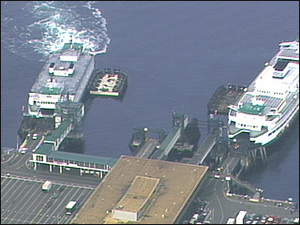 ©Komotv.com
Washington state ferry Puyallup, right, is seen at the Colman Dock in Seattle on Wednesday, August 22, 2007.
Comment on this SOTT Focus
---

FBI asks: Who are the men in this photo from ferry?

Mike Carter and Jennifer Sullivan
Seattle Times
2007-08-24 16:28:00

The FBI wants to identify two men who reportedly rode as many as six different ferry routes in recent weeks - snapping photos of doorways and going to areas of the boats where passengers don't normally go - and is asking the public to help.

In a rare move, the federal agency has released photographs of the men taken by a ferry employee.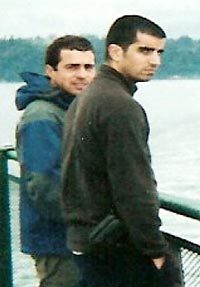 ©AP
The Seattle FBI has released photos of two men who agents believe were "exhibiting unusual behavior" aboard Washington State Ferries.
Comment on this SOTT Focus
---

USA Today: Bush hails freedom, but can he handle a lousy T-shirt?


USA Today
2007-08-24 00:22:00

President Bush's speech at the state capitol in Charleston, W.Va., on Independence Day in 2004, invoked the nation's highest ideals: "On this Fourth of July, we confirm our love of freedom, the freedom for people to speak their minds. ... Free thought, free expression, that's what we believe," Bush told the crowd.

Ringing words. Unfortunately, the White House advance team didn't get the memo. Or the message.

Comment on this SOTT Focus

---

FBI issues alert for "Middle Eastern" looking men, aka Israelis; Paper refuses to publish photos, citing racism

Rob Woollard
AFP
2007-08-24 14:49:00

The release of a controversial FBI security alert has highlighted the post-9/11 balancing act law enforcement agencies must perform as they attempt to prevent a new terror strike in the United States, analysts say.

Comment on this SOTT Focus

---
UK & Euro-Asian News
---
China searches for 8 kg of "missing" uranium


Reuters
2007-08-24 17:08:00

Eight kg (17 lb) of radioactive uranium has gone missing in China, delaying the verdict in a trial of four men charged with attempting to sell it on the black market, state media said on Friday.

A court in Guangzhou, capital of China's southern province of Guangdong, heard the four tried to sell the material between 2005 and January 2007, the China Daily said.

The men were arrested in January after a potential buyer in Hong Kong reported them to the authorities, the paper said.

However, despite having the four men in custody, police were unable to locate the uranium.

Comment on this SOTT Focus

---

Georgia Says It Fired on Russian Plane


AP
2007-08-24 16:23:00

Georgian forces fired on a Russian plane flying over Georgian territory earlier this week, a government official said Friday, claiming residents nearby reported an explosion and forest fire afterward.

"The day before yesterday, at 22:24 hours, fire was opened at a Russian plane over Upper Abkhazia," Interior Ministry spokesman Shota Utiashvili told The Associated Press.

Comment on this SOTT Focus

---

Princess Diana still an icon a decade on

Jill Lawless
Associated Press
2007-08-24 14:11:00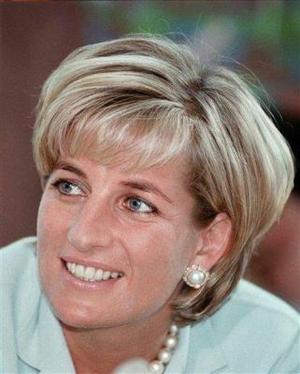 ©AP
Diana, the Princess of Wales smiles during her visit to Leicester England in this May 27, 1997 file photo. (AP Photo/Pool)


The mounds of flowers are long gone from the gates of Kensington Palace, but Princess Diana's presence lingers.

It has been 10 years since Diana's death in a Paris car crash, when many Britons were poleaxed by grief for a vivacious and troubled woman who was at once style icon, charity worker and tabloid celebrity.

Comment on this SOTT Focus

---

Czech mayors form association against radar base


CTK
2007-08-24 13:53:00

Czech mayors from surroundings of the Brdy military grounds today formed a free association of towns and villages against the planned construction of the U.S. radar base in the Czech Republic, the mayors told CTK.

The radar base may be built near Misov, west Bohemia, some 90 km southwest of Prague, on the Brdy military training grounds.

The mayors' association is to negotiate with the government. Its constituent document was signed by 31 of 34 municipal representatives present, 27 of whom were from central Bohemia.


Comment on this SOTT Focus

---

ETA Blamed for Bomb Hitting Basque Police Station


Associated Press
2007-08-24 10:25:00

A van loaded with explosives blew up Friday outside a police station in a Basque city, slightly injuring two officers in the first major attack by separatist group ETA since it called off a cease-fire in June, officials said.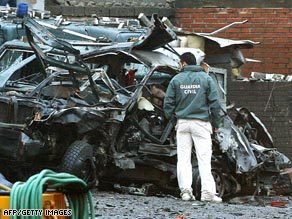 ©AFP/GETTY
The car bomb caused serious damage to a police station, shattering windows and damaging nearby vehicles.


Whoever set off the bomb in Durango, about 25 miles south of Bilbao, fled in a car and then detonated it in a vacant lot in the nearby town of Amorebieta, according to the Spanish Interior Ministry office in the Basque regional capital, Vitoria.

Comment on this SOTT Focus

---

Royal family have "ice water in veins"

Paul Majendie
Reuters
2007-08-24 10:12:00

The British royal family must have "ice water in their veins," says the father of Princess Diana's lover who will forever be convinced their deaths in a Paris car crash were not an accident.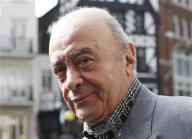 ©Reuters
Mohamed al-Fayed


"They took a young girl who was only 19 and they made her life hell," said Mohamed al-Fayed, an implacable foe of the House of Windsor, reflecting on Diana's fairytale marriage to Prince Charles that ended in bitter divorce.

Comment on this SOTT Focus

---
Around the World
---
Flashback: The Bush Administration's Afghan Carpet: Bridas, Unocal and the Afghanistan pipeline

Larry Chin
Centre for Research on Globalisation
2002-03-10 14:52:00

During the final months of the Clinton administration, the Taliban was officially a rogue regime. After nearly a decade of fierce competition between the US-supported Unocal-CentGas consortium and Bridas of Argentina, neither company had secured a deal for a trans-Afghanistan pipeline.

Immediately upon seizing the White House, George W. Bush resumed relations with the Taliban.


Comment on this SOTT Focus

---

The War No Politician (or Oil Exec) Objects To: The Ongoing Tragedy of Afghanistan

John Wright
Counterpunch
2007-08-23 14:23:00

The tragedy which is the history of Afghanistan was lost in the wake of 9/11. From that moment, in the eyes of a West now baying for revenge, it was a country reduced to nothing more than a terrorist base and training camp run with the blessing of a regime that gave new meaning to the word evil. Yet before 9/11 those same terrorists had won the paternal affection of government apparatchiks in Washington as a band of courageous liberation fighters who, with 'our' help, had successfully forced the Soviet Union to abandon a country it had invaded in order to add to is evil empire ­ at least according to Reagan and the coterie of right wing zealots who formed his administration back then.


Comment on this SOTT Focus

---

Flashback: Police accused of using provocateurs at summit


Canadian Press
2007-08-22 11:54:00

OTTAWA - Protesters are accusing police of using undercover agents to provoke violent confrontations at the North American leaders' summit in Montebello, Que.

Comment on this SOTT Focus

---

Quebec police admit agents posed as protesters

Steve Lambert & Sidhartha Banerjee
Canadian Press
2007-08-24 14:02:00

With the proof caught on video, Quebec provincial police were forced to admit yesterday that three undercover agents were playing the part of protesters at this week's international summit in Montebello, Que.


Comment on this SOTT Focus

---

Unmanned US spy plane crashes near inter-Korean border


AFP
2007-08-24 13:58:00

An unmanned US military spy plane used to monitor North Korean troop movements has crashed near the heavily fortified inter-Korean border, US officials said Friday.

The Shadow 200 went down Thursday night near the Camp Casey US army base at Dongducheon, 18 kilometres (11 miles) south of the Demilitarised Zone which bisects the peninsula, a US military spokesman said.

'The drone crashed in an unpopulated area that is densely vegetated and mountainous, causing no human losses,' he told Agence France Presse.


Comment on this SOTT Focus

---

US trained Colombian soldiers jailed for working with drug cartel


Associated Press
2007-08-24 12:49:00

Seven Colombian officers accused of working for the country's biggest cocaine cartel were trained by the U.S. military to help Colombia fight leftist rebels and its illegal drugs industry, a human rights group said Friday.

Comment on this SOTT Focus

---
Big Brother
---
No new articles.
Axis of Evil
---
Flashback: 'Leave the bin Ladens alone' Bush told agents before September 11


The Herald (Glasgow)
2001-11-08 13:42:00

America's special agents were told to back off the bin Laden family and Saudi royals soon after George W Bush became president - but that has all changed since September 11, it has been claimed.



Comment on this SOTT Focus

---

Israel police Interpol liaison under investigation for arranging American visas to underworld figures; denies charges

REBECCA ANNA STOIL
Jersualem Post
2007-08-24 13:10:00

Sources close to Dep.-Cmdr. Asher Ben Artzi spoke out Thursday against the charge that

he had arranged visas to the United States for Israeli underworld figures

, even as US Embassy officials told The Jerusalem Post that investigators had never contacted them regarding the claims against him.

Comment on this SOTT Focus

---

Karl Rove's Evil Facade - Why Dick Cheney Really Is That Bad

Scott Ritter
Truthdig
2007-08-21 07:26:00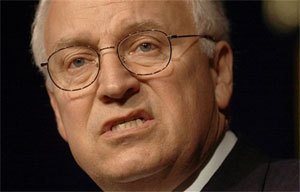 ©AP/Mark Humphrey


Karl Rove, interchangeably known as "Boy Genius" or "Turd Blossom," has left the White House. The press conference announcing his decision to resign has been given front-page treatment by most major media outlets, but the fact of the matter is the buzz surrounding Rove's departure is much ado about nothing, especially in terms of coming to grips with the remaining 16 months of the worst presidency in the history of the United States.

Comment on this SOTT Focus

---

A history lesson for the President: Was George Bush right about Vietnam?

Rupert Cornwell
The Independent
2007-08-24 01:58:00

There have been surreal moments aplenty in the presidency of George W Bush. Few, however, can match his invocation of Graham Greene in defence of America's policy in Iraq. Where Bush is the most faith-driven of leaders, so unafflicted by self-doubt, Greene is the mouthpiece par excellence of seedy ambiguity, tattered faith and human frailty.

Comment on this SOTT Focus

---
Middle East Madness
---
Layla Anwar: That "Oriental thang" ...

Layla Anwar
An Arab Woman Blues
2007-08-24 15:09:00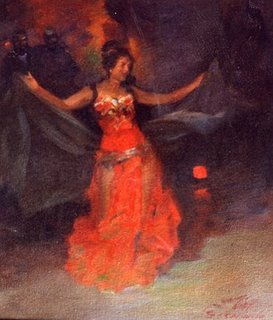 Painting: Iraqi artist, Said Shnin



Why do Americans say "thang" instead of "thing" ?

Thang or thing, it's all the same... An objectification. A turn him/her into a thing.

I bet you anything if my blog was about "oriental" sex, I would make it to the highest traffic...

Ha!

I am not judging. Far from it. After all, sex is more pleasant than death...

It tintillates, entices, excites, raptures...But Iraq does not. I understand.


Comment on this SOTT Focus

---

Republican senator: Bush should begin Iraq withdrawal


Reuters
2007-08-24 02:40:00

President George W. Bush should announce on September 15 a small initial pullout of U.S. troops from Iraq to spur the Iraqi government to take steps toward political reconciliation, an influential Republican senator said on Thursday.

Virginia Sen. John Warner said Bush should "announce on the 15th that in consultation with our senior military commanders he has decided to initiate the first step in a withdrawal of our forces."

Comment on this SOTT Focus

---

A Psychopath's Recommendation: Drop Marine Murder Case

By ELLIOT SPAGAT
Associated Press
2007-08-23 22:56:00

SAN DIEGO - A Marine accused of murdering Iraqi civilians, including children, in the town of Haditha should have all charges dropped against him because of weak evidence, an investigating officer recommended on Thursday.

Comment on this SOTT Focus

---

Gaza power plant back online after EU resumes aid


AFP
2007-08-22 19:22:00

Gaza's only power plant is back online after the European Union (EU) resumed paying for fuel supplies, ending days of blackouts after moves to ensure Hamas would not benefit from the aid.

"We received three trucks of fuel - enough for one day," Rafiq Maliha said. The plant turned its generators back on, but "we need one hour to resume electricity production."

It was the first time in six days that Gaza's sole generating plant - which according to the EU provides between 25 and 30 per cent of the territory's electricity - was fully operational again.

Comment on this SOTT Focus

---

Israeli army kidnaps Palestinian kids out fishing

Ameen Abu Warda
IMEMC
2007-08-22 12:46:00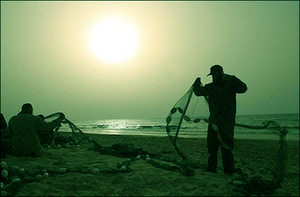 ©Unknown
Palestinian fishermen at Rafah sea



The Israeli army abducted 8 Palestinian fishermen on Wednesday morning from the Rafah Sea.

Eyewitnesses reported that Israeli gun boats, reinforced by Israeli aircrafts, besieged the fishermen and opened fire at them.

Comment on this SOTT Focus

---
The Loan Gunmen
---
Bank of China Reports Heavy Exposure to Subprime Crisis


Bloomberg
2007-08-24 16:18:00

Bank of China Ltd. had its biggest drop since going public last year after the nation's second- biggest bank said it holds almost $9.7 billion of securities backed by U.S. subprime loans, the most of any Asian company.

Bank of China shares fell 5.4 percent to HK$3.87 at the market close in Hong Kong after earlier plunging as much as 8.1 percent. Almost 1.5 billion shares were traded, more than four times the daily average over the previous six months.

Comment on this SOTT Focus

---

For the first time, Britons' personal debt exceeds Britain's GDP

Martin Hickman
The Independent
2007-08-24 16:15:00

Britons have racked up so much debt on loans and credit cards that the total borrowed now exceeds the entire value of the economy, new research shows today. The financial consultant Grant Thornton is forecasting that gross domestic product (GDP) will hit £1.33 trillion this year, less than the £1.35trn which was outstanding on mortgages, credit cards and personal loans in June.

The symbolic overtaking is the first time that the country's 60 million people owe more to the banks than the value of everything made by every office and factory in the country. It prompted a warning that personal borrowing was so out of control that many more people would be pushed over the "financial edge". The runaway housing market is the biggest reason why consumer debt has spiralled, totalling £1.131trn. Debt on personal loans and credit cards totals £214bn. Overall, individuals owe the staggering sum of £1,344,721,000,000.

Comment on this SOTT Focus

---

Economic Cannibalism


new-enlightenment.com
2007-08-23 22:23:00

America is a war zone; our people are being cannibalized (1) before our very eyes.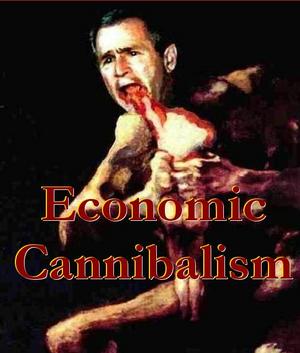 ©Unknown



Looting and plundering the world is the primary goal of the criminal cabal that controls America. We've previously demonstrated how they amass wealth by the destruction of people and material through the tactic of unending war.

In the late nineteenth and the early part of the twentieth century, their destruction was primarily targeted at foreign peoples such as the Cubans and Filipinos (Spanish-American War), Germans (World Wars I and II), Japanese (World War II), and Soviet citizens (Cold War). Beginning in the early part of the twentieth century, this international gang turned on Americans and began in earnest to cannibalize us.

Comment on this SOTT Focus

---

Free trade and offshoring jobs are the problems, not China

Paul Craig Roberts
Online Journal
2007-08-20 18:32:00

At a time when even the Wall Street Journal has disappeared into the maw of a huge media conglomerate, the New York Times remains an independent newspaper. But it doesn't show any independence in reporting or in thought.

Comment on this SOTT Focus

---
The Living Planet
---
Death toll rises as remnants of Hurricane Dean cause landslides in Mexico


AFP
2007-08-23 16:10:00

The remnants of the once mighty Hurricane Dean triggered deadly mudslides in Mexico Thursday as driving rain drenched a large part of the country, bringing the storm's death toll to at least 25.

And with river levels swelling rapidly and pounding rain hitting unstable mountain flanks, officials warned the crisis was far from over, even though Dean was downgraded to a tropical depression.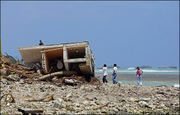 ©Omar Torres/AFP
People look at the remains of a destroyed house on Mahahual's beach, 80 km from Chetumal, after the passage of Hurricane Dean, 22 August 2007.
Comment on this SOTT Focus
---

New storms bear down on Midwest, Chicago


AP
2007-08-24 16:04:00

The Windy City and northern Illinois were braced for a second punch Friday after a sudden storm with 70 mph wind slammed into the Chicago area Thursday evening, tearing down huge trees and damaging buildings.

In the suburbs Thursday, part of an industrial facility's roof collapsed, injuring 40 people, and a tornado struck western Michigan, downing about 700 trees in Montcalm County.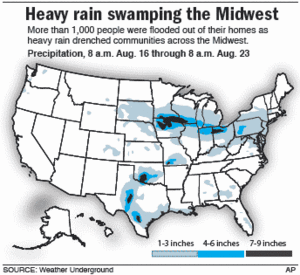 ©Weather Underground



Early Friday, another band of thunderstorms dumped more rain along a line from southern Iowa into Wisconsin.

Comment on this SOTT Focus

---

Two new papers make extraordinary claims about comets and life - and NASA goes into damage control

David Morrison
NASA
2007-08-24 08:20:00

Napier et al. assert that life originated in comets, not on planets like Earth. Kennett et al. believe that a large comet impacted North America just 13,000 years ago, causing a mass extinction. For a critique, read on.

Comment on this SOTT Focus

---

Disease hits Tennessee deer populations

Bryan Brasher
commercialappeal.com
2007-08-17 18:37:00

Stricken whitetails reported in Fayette and across Tenn.

A disease that causes whitetail deer to develop high fever, drink water incessantly and bleed gruesomely has been noted all over Tennessee, leading wildlife officials to fear that one of the state's worst outbreaks is imminent.



Comment on this SOTT Focus

---
Health & Wellness
---
'World's fattest GM mouse' appears immune to diabetes

Roxanne Khamsi
New Scientist
2007-08-24 02:40:00

The "world's fattest mice", genetically engineered to overproduce a key hormone, weigh five times as much as normal mice do - but bizarrely do not develop diabetes, reveals a new study. The findings shed light on how current diabetes medications work and point to new drug targets to treat the disease, say the study's researchers.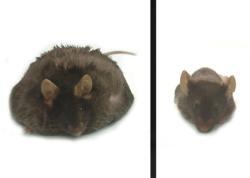 ©Ja-Young Kim/Dave Gresham
A mouse (pictured on the left) engineered to overproduce the hormone adiponectin weighs 100 grammes - five times as much as a normal mouse (pictured on the right)
Comment on this SOTT Focus
---

Soda and Food Warning! High-fructose Corn Syrup Linked To Diabetes, New Study Suggests


Science Daily
2007-08-23 21:03:00

Researchers have found new evidence that soft drinks sweetened with high-fructose corn syrup (HFCS) may contribute to the development of diabetes, particularly in children. In a laboratory study of commonly consumed carbonated beverages, the scientists found that drinks containing the syrup had high levels of reactive compounds that have been shown by others to have the potential to trigger cell and tissue damage that could cause the disease, which is at epidemic levels.

Comment on this SOTT Focus

---

Flashback: More Dangerous Than Smoking? Death by Soda

By Joshua Frank
Alternet
2006-12-27 12:00:00

Drinking one soda a day could cause you to gain 15 pounds a year. Other related health risks include type 2 diabetes, heart disease, bowel cancer and nerve damage.

We are a country of overweight people. Americans are tipping the scales in record numbers, with approximately 130 million who are presently considered overweight or obese. Perhaps most alarmingly of all, half of all women aged 20 to 39 in the United States are included in these figures. Many factors contribute to the growing problem, from our sedentary lifestyles to our overindulgence in high-energy, low nutritional foods. Dealing with the crisis is not easy. The marketing of energy dense foods is a multi-billion dollar industry, and manufacturers of such products go to great lengths to ensure their shareholders continue to profit from the sales of nutrition-less foods.

Comment on this SOTT Focus

---

Secondhand Smoke, Firsthand Ignorance

The Southern Avenger
smokersclubinc
2007-07-20 20:21:00

As the smoking ban marches on here in Charleston, South Carolina, as have similar bans across the country, anti-smoking activists have been able to implement such legislation by claiming they have science on their side. By convincing a significant portion of the population that secondhand smoke is not merely annoying, but a serious health risk, anti-smoking activists have been victorious, while business owners have been forced to bear the cost of lost rights and revenue. This is a shame, because gutting the primary argument of smoking ban proponents from the get-go - the health argument - might have produced an entirely different outcome.

Comment on this SOTT Focus

---
Science & Technology
---
Fossil find pushes human-ape split back millions of years


AFP
2007-08-24 14:07:00

Ten million-year-old fossils discovered in Ethiopia show that humans and apes probably split six or seven million years earlier than widely thought, according to landmark study released Wednesday.

The handful of teeth from the earliest direct ancestors of modern gorillas ever found -- one canine and eight molars -- also leave virtually no doubt, the study's authors and experts said, that both humans and modern apes did indeed originate from Africa.


Comment on this SOTT Focus

---

Sony develops bio battery with sweet tooth


Reuters
2007-08-24 10:29:00

Sony has developed an environmentally-friendly prototype battery that runs on sugars and that can generate enough electricity to power a music player and a pair of speakers, the Japanese company said.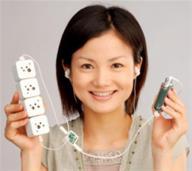 ©Reuters
Comment on this SOTT Focus
---

Astronomers excited about nothing

SETH BORENSTEIN
AP
2007-08-24 08:44:00

Astronomers have stumbled upon a tremendous hole in the universe. That's got them scratching their heads about what's just not there.

The cosmic blank spot has no stray stars, no galaxies, no sucking black holes, not even mysterious dark matter. It is 1 billion light years across of nothing. That's an expanse of nearly 10 billion trillion kilometres of emptiness, a University of Minnesota team announced Thursday.

Comment on this SOTT Focus

---

Martian soil may contain life: study

Ben Hirschler
Reuters
2007-08-24 02:37:00

The soil on Mars may contain microbial life, according to a new interpretation of data first collected more than 30 years ago.

The search for life on Mars appeared to hit a dead end in 1976 when Viking landers touched down on the red planet and failed to detect biological activity.


Comment on this SOTT Focus

---

Scientists Study Out-Of-Body Experiences

By RANDOLPH E. SCHMID
Associated Press
2007-08-23 23:15:00

WASHINGTON - The stories seem strange but riveting. A heart attack victim recalls floating in the air, watching paramedics revive him. A surgical patient remembers hovering, watching the doctors operate. Such widely reported out-of-body experiences have long been the territory of theology, philosophy and scary movies. Now scientists have turned their attention to the topic.


Comment on this SOTT Focus

---

Astronomers Puzzled by Cosmic Black Hole

By SETH BORENSTEIN
Associated Press
2007-08-23 22:45:00

WASHINGTON - Astronomers have stumbled upon a tremendous hole in the universe. That's got them scratching their heads about what's just not there. The cosmic blank spot has no stray stars, no galaxies, no sucking black holes, not even mysterious dark matter. It is 1 billion light years across of nothing. That's an expanse of nearly 6 billion trillion miles of emptiness, a University of Minnesota team announced Thursday.


Comment on this SOTT Focus

---
Our Haunted Planet
---
No new articles.
Don't Panic! Lighten Up!
---
Panda gives birth to cub at Austria zoo

VERONIKA OLEKSYN
AP
2007-08-24 01:58:00

VIENNA - A giant panda on loan from China gave her Austrian zookeepers a surprise Thursday: the first panda cub born in Europe in 25 years. Caretakers at the Schoenbrunn Zoo detected the cub on a surveillance camera after hearing little squeals coming from an enclosed compound where the mother, Yang Yang, had retreated. Zookeepers had not been certain Yang Yang was pregnant.

A photograph released by the zoo showed Yang Yang, a first-time mother, holding the tiny creature in her mouth and looking up toward the camera.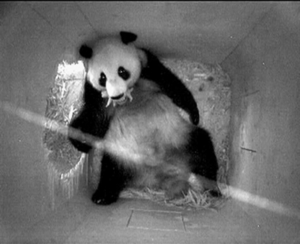 ©AP/Tiergarten Schoenbrunn
In this photo taken by a surveillance camera and released by the Schoenbrunn zoo in Vienna, female panda Yang Yang holds her newborn baby in her mouth, on Thursday, Aug. 23, 2007. For the next two or three month Yang Yang and her baby will spend in the enclosed area where she gave birth.
Comment on this SOTT Focus
---

Woman, 71, Arrested for 'Special' Plant


Associated Press
2007-08-23 23:08:00

GREENSBORO, N.C. - A 71-year-old woman was arrested on drug charges after a chest-high marijuana plant was found in her yard, a plant she said was meant to keep animals away from her garden.

Comment on this SOTT Focus

---
---

Remember, we need your help to collect information on what is going on in your part of the world!
Send your article suggestions to: sott(at)signs-of-the-times.org

---
Click here to return to the Signs of the Times Archive
Click here for today's Signs Page