---
Sections on today's Signs Page:
---
SOTT Focus
---
No new articles.
Best of the Web
---
No new articles.
U.S. News
---
Feds Pull Funding for L.A. Hospital

Robert Jablon
AP
2007-08-11 17:25:00

Federal regulators said Friday that they are pulling $200 million in funding from a troubled hospital that serves one of the city's poorest neighborhoods, forcing it to all but shut down.

The decision came after the county-run Martin Luther King Jr.-Harbor Hospital failed two federal inspections.

Comment on this SOTT Focus

---

Learn from the fall of Rome, US warned by the comptroller general of the US

Jeremy Grant
Financial Times
2007-08-14 12:07:00

The US government is on a 'burning platform' of unsustainable policies and practices with fiscal deficits, chronic healthcare underfunding, immigration and overseas military commitments threatening a crisis if action is not taken soon, the country's top government inspector has warned.

Comment on this SOTT Focus

---

Military families live in dread, while the rest of America is busy shopping

Gary Younge
The Guardian
2007-08-14 11:56:00

With the army stretched by Iraq to the brink of restoring the draft, US politicians rely on the distraction of a tax cut


Comment on this SOTT Focus

---

At least 3% of all American deaths in Iraq are suicides

Greg Mitchell
Editor and Publisher
2007-08-14 11:48:00

You'd never know that at least 3% of all American deaths in Iraq are due to self-inflicted wounds. And that doesn't include the many vets who have killed themselves after returning home.

Comment on this SOTT Focus

---

Church refuses memorial service for a gay man

Jason Trahan
Dallas Morning News
2007-08-13 15:15:00

The pastor of Arlington's High Point Church told his congregation Sunday that he stood by the church's decision to retract an offer to host a memorial service for a gay man, prompting applause from the hundreds in the crowd.

"With all the negative e-mail we are receiving right now, it seems that the homosexual community, God bless them all, are very organized," said the Rev. Gary Simons, referring to the reaction to the church's decision, which has generated news coverage around the world and lighted up gay and religious blogs.

Comment on this SOTT Focus

---

Flashback: DOJ, DHS top brass implicated in House of Death cover-up, DEA testimony shows

Bill Conroy
Narco News
2007-06-01 13:20:00

Michele Leonhart, the deputy administrator of DEA, which is under the Department of Justice (DOJ), and Mike Furgason, the former chief of operations at DEA, reveal in vivid detail the behind-the-scenes mechanizations that led to the House of Death cover-up in court testimony recently obtained by Narco News. That testimony shows that the U.S. Attorney General himself, as well as a number of other high-level DOJ and Department of Homeland Security (DHS) officials, were actively involved in the "handling" of the House of Death mass murder case after it imploded.

Comment on this SOTT Focus

---
UK & Euro-Asian News
---
Russia said flying more missions near U.S. territory

Kristen Roberts
Reuters
2007-08-14 16:58:00

Russian bombers are flying more missions than normal near U.S. territory, including Alaska, demonstrating their long-range strike capability, U.S. and Canadian officials said on Monday.

Russian aircraft carrying cruise missiles ran an aviation exercise near Alaska two weeks ago, according to Canadian Col. Andre Dupuis, an officer at the North American Aerospace Defense Command (NORAD), a U.S.-Canadian operation responsible for protecting both countries' airspace.

Comment on this SOTT Focus

---

Manipulation continues: Two New Foot And Mouth Zones


Sky News
2007-08-14 13:57:00

Two more possible cases of foot and mouth disease have been discovered.

A temporary control zone has been set up in Surrey - outside the existing surveillance zone, the Department for Environment Food and Rural Affairs said.

Chessington World of Adventures and Zoo, which is outside the new zone, has shut down its zoo as a precaution after a sheep was found to be unwell.


Comment on this SOTT Focus

---

Russian serial killer claims more than 60 victims

MISHA JAPARIDZE
Globe and Mail / AP
2007-08-13 05:05:00

MOSCOW - One by one, the squares on the chessboard filled up with numbers - each commemorating a murder.

Alexander Pichushkin allegedly killed most of his victims in a sprawling Moscow park, smashing their skulls with a hammer or throwing them into sewage pits after getting them drunk. He boasted he had nearly reached the last square, No. 64, by the time police captured him last year.

"For me, a life without murder is like a life without food for you," he told investigators in a nationally televised confession. "I felt like the father of all these people, since it was I who opened the door for them to another world."

Comment on this SOTT Focus

---

Russian train derailment likely due to bomb: authorities


AFP
2007-08-14 02:18:00

Russian authorities said on Tuesday that a bomb blast was the likely reason for a train derailment on the railway line between Moscow and the former imperial capital Saint Petersburg in which 60 people were injured.

"According to preliminary information, the accident happened due to a planted handmade explosive device," state-owned Russian Railways said in a statement.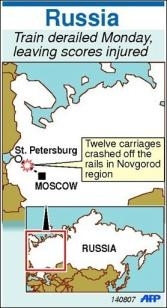 ©AFP
Russian train derailment likely due to bomb
Comment on this SOTT Focus
---

22 Killed in China Bridge Collapse

Alexa Olesen
AP
2007-08-14 02:18:00

A bridge being built as a tourist attraction in central China collapsed, killing at least 22 people and leaving 46 missing, China Central Television reported Tuesday.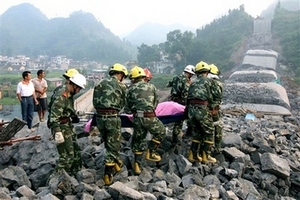 ©AP



The official Xinhua News Agency said 64 people were rescued, including 22 who were injured when the 1,049-foot bridge spanning the Jiantuo River in Hunan province collapsed Monday. The cause of the collapse was under investigation, it said.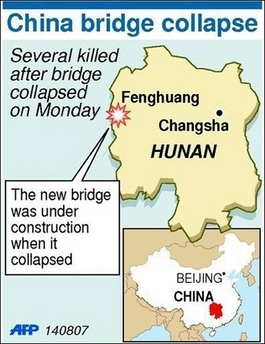 ©AFP
Comment on this SOTT Focus
---
Around the World
---
Army chiefs from 19 nations in secret Sydney meeting


Reuters
2007-08-14 16:41:00

Army chiefs from 19 nations, including the United States, Japan, Indonesia and Malaysia held a secret meeting in Sydney in the lead-up to an Asia-Pacific summit, Australia's top soldier said on Tuesday.

The generals met at a Sydney hotel last week to discuss counter-terrorism, peacekeeping and other areas of joint concern such as disaster relief, Lieutenant-General Peter Leahy said.

Comment on this SOTT Focus

---

Chased By Crocodiles, An Australian Man Stays Seven Days On A Tree


Reuters
2007-08-14 13:51:00

An Australian man tumbled into a bed of crocodiles and was forced to scurry up a tree where he stayed for seven days before being rescued by a military helicopter.

"Every night, I was stalked by two crocs who would sit at the bottom of the tree staring up at me," David George, 53, an outback cattle farmer told Reuters. "All I could see was two sets of red eyes about six metres away from the tree."


Comment on this SOTT Focus

---

Japanese biker drives 2 km before noticing severed right leg


RIA Novosti
2007-08-14 13:46:00

A Japanese motorcyclist collided with a highway crash barrier losing half his right leg, but carried on driving for over a mile before noticing the damage, police in Hamamatsu, south-central Japan, said.

Kazuo Nagata, 54, was driving from Hamamatsu to Gifu, central Japan, with a group of ten friends early Monday morning. He lost control while turning his bike, and veered at high speed onto a median strip, grazing a crash barrier.


Comment on this SOTT Focus

---

Nail in the head no excuse for traffic infractions

Cindy E. Harnett
Times Colonist
2007-08-13 13:25:00

Gavin Docherty got nailed twice when he was hit with a wayward nail to the head and then, to add insult to injury, was stopped for speeding on the way to Saanich Peninsula Hospital.

Docherty, a construction foreman, was accidentally hit by a co-worker's powerful nail gun last week.

A first-aid officer jumped in his vehicle and raced Docherty to the hospital, a couple of kilometres away. But about halfway there, the pair was stopped on Central Saanich Road by a police officer conducting a speed trap.

Comment on this SOTT Focus

---

Final reckoning days away for Musharraf

Jo Johnson
Financial Times
2007-08-14 12:10:00

Confronted by the gravest crisis of his eight-year rule, Pervez Musharraf, Pakistan's president, faces an ever-shrinking menu of options. In recent weeks he has spent much of his time shut away in his military camp in Rawalpindi, surrounded by self-interested advisers, increasingly intolerant of criticism and displaying signs, diplomats say, of growing paranoia.

Comment on this SOTT Focus

---

Nicaragua's Ortega says 'unexpected interests' behind U.S. DEA


Associated Press
2007-08-14 09:22:00

Nicaraguan President Daniel Ortega said he does not trust the U.S. Drug Enforcement Administration because its operations mask "unexpected interests" and "terrible things."

Comment on this SOTT Focus

---
Big Brother
---
Diebold, CIA, Microsoft, and Congress caught editing Wikipedia entries

John Borland
Wired
2007-08-14 14:07:00

On November 17th, 2005, an anonymous Wikipedia user deleted 15 paragraphs from an article on e-voting machine-vendor Diebold, excising an entire section critical of the company's machines. While anonymous, such changes typically leave behind digital fingerprints offering hints about the contributor, such as the location of the computer used to make the edits.

In this case, the changes came from an IP address reserved for the corporate offices of Diebold itself. And it is far from an isolated case. A new data-mining service launched Monday traces millions of Wikipedia entries to their corporate sources, and for the first time puts comprehensive data behind longstanding suspicions of manipulation, which until now have surfaced only piecemeal in investigations of specific allegations.

Comment on this SOTT Focus

---

Medical science aims to microchip you

Tanya Talaga
Toronto Star
2007-08-14 04:30:00

Imagine a microchip the size of a grain of rice, implanted under your skin, that doctors can scan in order to retrieve your medical information.

The American Medical Association has endorsed the use of implantable microchips to help reduce medical errors and adverse drug reactions.

It said the chips may help to identify patients, "thereby improving the safety and efficiency of patient care," reports the latest issue of the Canadian Medical Association Journal.

But the AMA's policy recommendation was filled with cautions, since the security of the microchips hasn't been established. Some observers fear the potential for loss of privacy and misuse of medical records might outweigh the benefits.

Comment on this SOTT Focus

---

Police to use terror laws on Heathrow climate protesters

John Vidal and Helen Pidd
The Guardian
2007-08-13 22:05:00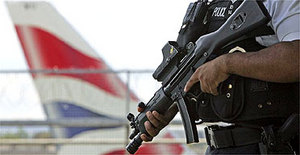 ©Scott Barbour/Getty images
An armed British police officer on patrol outside Heathrow airport.



Armed police will use anti-terrorism powers to "deal robustly" with climate change protesters at Heathrow next week, as confrontations threaten to bring major delays to the already overstretched airport.


Comment on this SOTT Focus

---
Axis of Evil
---
Australian High Court radically expands scope of military power

Mike Head
WSWS
2007-08-14 12:13:00

Australia's High Court on August 2 upheld the constitutional validity of a "control order" imposed on a Melbourne worker, Jack Thomas, sanctioning one of the central features of the 2005 Anti-Terrorism Act.

Comment on this SOTT Focus

---

UK new defence secretary: Afghanistan operation 'is a long-term commitment'

Kim Sengupta
The Independent
2007-08-14 03:09:00

The Defence Secretary, Des Browne, acknowledged yesterday that Afghanistan was a "long-term commitment" for Britain. He said he had "never underestimated the degree of difficulty we face" in the country, a very different position from the one taken by his predecessor, John Reid, who declared when he sent UK forces into Helmand at the beginning of last year that the mission would last three years and might end "without a shot being fired in anger".

Comment on this SOTT Focus

---
Middle East Madness
---
Israeli jet fighter fires missiles at crowd of civilians in the Gaza Strip

Rami Almeghari
IMEMC
2007-08-14 14:50:00

Israeli jetfighter has fired several missiles at a crowed of Palestinian civilians in the village of Abassan east of Khan Younis city in the southern part of the Gaza strip on Tuesday midday.


Comment on this SOTT Focus

---

A Palestinian Miracle at the UN?

Ramzy Baroud
Palestine Chronicle
2007-08-11 14:22:00

A few months ago, one would have thought such an event to be simply impossible: A Palestinian delegation, lobbying tirelessly at the UN to block a UN call for helping half of the Palestinian population living in complete isolation.


Comment on this SOTT Focus

---

Israel's ethnic cleansing and apartheid in Palestine

Mazin B. Qumsiyeh
Palestine Chronicle
2007-08-14 14:17:00

I just returned from my latest trip to Palestine, or at least to the part of Palestine I still have access to as a Palestinian Christian. You see, we Palestinians from the Bethlehem area (the birthplace of Jesus) are now denied entry to over 90 percent of Palestine and even to our capital and major economic center, Jerusalem (which is merely 7 miles from Bethlehem).

Israeli colonies dot the landscape from the Mediterranean to the River Jordan on land stolen from the native people. Six of the 10 million Palestinians in the world are now refugees or displaced people and the remaining Palestinians live in increasingly shrinking and impoverished ghettos (à la South African Bantustans at the time of Apartheid).


Comment on this SOTT Focus

---

Suprising: UK blocks Israel arms deals


Jerusalem Post
2007-08-14 08:27:00

The British government has blocked almost one third of British military exports to Israel this year, citing possible threats to regional stability and fears the equipment might facilitate human rights violations.

According to official figures, the value of UK military sales arms to Israel declined by one third last year, and has fallen by a drastic 75 percent since 2005.

"There is evidence that the British government's export control policy to Israel may have been tightened up," said Parliament's new 2007 Strategic Export Controls report, issued by the Quadrapartite Commission, which comprises representatives from four ministries.


Comment on this SOTT Focus

---

British firm under scrutiny for selling machine guns to corrupt Iraqi officials

Jamie Doward and Johnny McDevitt
The Guardian
2007-08-14 12:02:00

MPs and Amnesty International demand to know if a Nottingham-based company has breached the United Nations arms embargo

Comment on this SOTT Focus

---

Fatigue cripples US army in Iraq

Peter Beaumont
The Guardian
2007-08-14 11:53:00

Exhaustion and combat stress are besieging US troops in Iraq as they battle with a new type of warfare. Some even rely on Red Bull to get through the day. As desertions and absences increase, the military is struggling to cope with the crisis

Comment on this SOTT Focus

---
The Loan Gunmen
---
Home Depot Net Income Falls 15% on U.S. Housing Slump

Matthew Clothier
Bloomberg
2007-08-14 17:31:00

Home Depot Inc., the world's largest home-improvement retailer, said profit fell 15 percent and revenue dropped for the first time in four years after a U.S. housing slump reduced demand for appliances and remodeling.

The company said it may halve plans to buy back $22.5 billion of its shares should a sale of its contractor-supply unit fall through. The stock fell 4.9 percent.

Comment on this SOTT Focus

---

Menaced by this weapon of mass credit - derivatives

Simon Watkins
thisismoney.co.uk
2007-08-12 17:21:00

More than four years ago, billionaire investor Warren Buffett coined the phrase 'financial weapons of mass destruction' to describe the mind-numbingly complex and tangled world of the credit derivatives market.

At the time many dismissed it as grandstanding by the man known for his forthright views and eagerness to share them with the wider world. But given the turmoil of last week, those sceptics should perhaps think again.

Comment on this SOTT Focus

---

Sentinel halts client redemptions

Anuj Gangahar, Jeremy Grant and Doug Cameron
Financial Times
2007-08-14 17:12:00

Sentinel Management Group, a fund firm that invests cash accumulated by commodity traders and other investors, has halted client redemptions after failing to meet mounting requests from investors to withdraw their money.

US stock market losses accelerated on Tuesday after the reports of Sentinel's move further fuelled worries about a broader financial liquidity crunch.

Sentinel invests in areas such as short-term commercial paper, investment-grade bonds and Treasury notes mainly in the overnight interbank lending market.

Comment on this SOTT Focus

---

Coventree Says Lenders Balking at Emergency Funding

Sean B. Pasternak and Doug Alexander
Bloomberg
2007-08-14 17:07:00

Coventree Inc., the Canadian firm that failed to sell asset-backed commercial paper because of a credit crunch, said some lenders balked at providing emergency funding for C$700 million ($661 million) of maturing debt. The stock plunged as much as 74 percent before trading was halted.

The largest non-bank issuer of commercial paper in Canada requested funding because it was unable to refinance debt that matured yesterday. Coventree's funds are among 17 asset-backed commercial paper issuers in Canada seeking emergency funding, said rating company DBRS.

Comment on this SOTT Focus

---

Stocks fall 1 percent as credit woe spreads; Walmart disappoints, blames subprime woes

Jennifer Coogan
Reuters
2007-08-14 12:05:00

Stocks dropped on Tuesday, sending the three major indexes more than 1 percent lower, as worries about tightening credit conditions spread to the money market area.

Comment on this SOTT Focus

---

Crashing Florida property market

Tom Brown
Reuters
2007-08-14 10:10:00

Phone books that were delivered but never opened rot away next to empty driveways and overgrown lawns, telltale signs that once-booming southwest Florida is now the center of the U.S. housing storm.

Until two years ago, middle-class retirees vied with property speculators for houses and apartments in Cape Coral, a town near Fort Myers on Florida's sun-drenched Gulf Coast. Now almost every other house on some of its streets has a for-sale sign outside.

Comment on this SOTT Focus

---
The Living Planet
---
At least 14 killed by floods overnight in north Indian region


RIA Novosti
2007-08-14 13:48:00

At least 14 people died Monday night in the north Indian state of Himachal Pradesh as monsoon floods continued to devastate the region, local radio said.

About 30 people have been killed in the province over the past three days in ongoing torrential rains and landslides, which have destroyed buildings, roads and rail lines, and disrupted water and power supplies.


Comment on this SOTT Focus

---

Microburst Throws Barn 200 Feet in Colorado

Lauri Martin
kktv.com
2007-08-12 13:39:00

A microburst blew through the town of Midway, a small area south of Fountain, lifting a barn and throwing it into a house. A microburst is straight-line winds with wind gusts up to 100 miles-per-hour that are confined to a small area.

"The force blew pieces of the barn through the house and ended up 200 feet over there," Mike Harder said as he points out the damage to his home.

Comment on this SOTT Focus

---

Floods hit southern Norway


UPI
2007-08-13 13:18:00

Heavy rains caused flooding in southern Norway Monday, forcing many residents to leave their homes.

Floods ripped through the northern tip of Randsfjord in southern Norway, Aftenposten reports.

Several homes were destroyed or severely damaged and cars were swept away after the heavy rains caused a dam to break, sending torrents of water rushing down the Nordraak River.

Comment on this SOTT Focus

---

Bad weather hampers search for Kenyan landslide victims


AFP
2007-08-13 11:48:00

Torrential overnight rain hampered a search on Monday for at least 16 people buried alive in a weekend landslide in western Kenya, police said.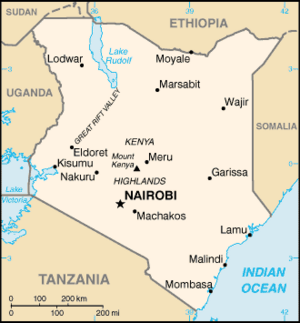 ©Unknown



"We still believe there are more bodies buried in the rubble but rescuers have not been able to retrieve them due to bad weather. Overnight rains have hampered the exercise," said Peter Kavila, police chief of the Western Province.

Rescue teams from the national police force, the Kenya Red Cross Society, the ministry of works and the National Youth Service are sifting through rubble at Kuvasali village, 290 kilometres (180 miles) northwest of Nairobi, where a landslide that began on Friday buried scores of houses and livestock.

Comment on this SOTT Focus

---

Quake shakes Hawaii as preparations for hurricane continue


Associated Press
2007-08-14 09:31:00

An earthquake on Monday jolted the Big Island of Hawaii, which is already under a hurricane watch and a tropical storm warning.

The magnitude 5.3 temblor struck at 7:38 p.m. local time, about 25 miles south of Hilo, according to a preliminary report from the U.S. Geological Survey.

Comment on this SOTT Focus

---

Global Warming Debate Reignited After NASA Quietly Corrects Temperature Data

David Silverberg
Digital Journal
2007-08-14 09:08:00

A Toronto blogger discovered a problem with how NASA records U.S. temperatures, concluding that 1934 is actually the hottest year on record, not 1998. The climate change controversy is heating up once again.

Comment on this SOTT Focus

---
Health & Wellness
---
Peddling Poison - Bitter battle in sweeteners

Mike Hughlett
Chicago Times
2007-08-11 16:43:00

NutraSweet is one of the most recognized names in the artificial sweetener world, but for years the Chicago-based company hasn't actually marketed a product under that name. That's changing, and in a big way.

NutraSweet Co., known primarily for imbuing diet pop with sugariness, this month launched its first offensive into another big sugar-substitute market: tabletop sweeteners -- the little packets that coffee and tea drinkers dump into their beverages.

Comment on this SOTT Focus

---

Even low levels of weekly exercise drive down blood pressure


BMJ-British Medical Journal
2007-08-14 14:19:00

Randomized controlled trial of home-based walking programs at and below current recommended levels of exercise in sedentary adults

Even low levels of weekly exercise drive down blood pressure and boost overall fitness, suggests a small study in the Journal of Epidemiology and Community Health.

To stave off ill health, adults are currently recommended to indulge in 30 minutes of moderately strenuous exercise on at least five days of the week.

But few people meet these recommendations, with lack of time cited as the most common reason for failing to do so.

The study authors invited 106 healthy but sedentary civil servants between the ages of 40 and 60 to take part in an exercise programme for 12 weeks.


Comment on this SOTT Focus

---

Flashback: The link between monosodium glutamate (MSG) and obesity

Dani Veracity
NewsTarget.com
2005-07-09 13:46:00

If fried snack chips had a warning printed right on the bag that said, "Warning: these chips will make you obese," would you still buy them? Would you still eat them? Well, in a sense, you do see that warning on chips; just read the ingredient list. Research suggests that monosodium glutamate causes obesity, making unhealthy snacks even unhealthier than you may have suspected.

I'm sure you already know that tortilla and potato chips aren't health foods, right? They're made with fried fats, they almost always harbor hidden toxic chemicals (acrylamides), and if they're flavored, they usually contain monosodium glutamate (MSG). This is basically a recipe for obesity.

But how does MSG cause obesity? Like aspartame, MSG is an excitotoxin, a substance that overexcites neurons to the point of cell damage and, eventually, cell death. Humans lack a blood-brain barrier in the hypothalamus, which allows excitotoxins to enter the brain and cause damage, according to Dr. Russell L. Blaylock in his book Excitotoxins. According to animal studies, MSG creates a lesion in the hypothalamus that correlates with abnormal development, including obesity, short stature and sexual reproduction problems.

Comment on this SOTT Focus

---

UK: How do we tackle the rise in the number of children on anti-depressants?


The Independent
2007-08-13 22:19:00



The tragic side effects include suicide, addiction and self-harm



When Stephen Bailey was eight years old, he was prescribed Librium by his doctor. That was the beginning of a 24-year addiction to mind-altering drugs which, Bailey says, changed the course of his life and saw him descend into a world of fits, screaming and violence whenever he tried to withdraw. A commonly-used tranquilliser, Librium is one of the benzodiazepine family, and was prescribed to calm Bailey after he suffered from migraines and flashing lights in response to a routine set of vaccinations.

Comment on this SOTT Focus

---
Science & Technology
---
Researchers map Angkor's ancient sprawl

Roger Highfield
telegraph.co.uk
2007-08-14 17:02:00

Carpeted today with vegetation, obscured by a cloak of low-lying cloud and raided by thieves, Angkor in Cambodia once thrived between the 9th and 16th centuries, reaching a peak of many hundreds of thousands of people in the 13th century

Today, in the Proceedings of the National Academy of Sciences, a new map reveals its heart spread over 400 square miles - compared with Greater London's 600 square miles - and the associated sprawl extended out another several hundred square miles.


©PNAS
''Village temple'' configuration at Angkor
Comment on this SOTT Focus
---

Birds learn to fly with a little help from their ancestors


The University of Sheffield
2007-08-14 14:16:00

A researcher at the University of Sheffield has discovered that the reason birds learn to fly so easily is because latent memories may have been left behind by their ancestors.

It is widely known that birds learn to fly through practice, gradually refining their innate ability into a finely tuned skill. However, according to Dr Jim Stone from the University of Sheffield´s Department of Psychology, these skills may be easy to refine because of a genetically specified latent memory for flying.


Comment on this SOTT Focus

---

Earthquake Warning In Less Than Five Minutes

GFZ Potsdam News Release
Science Daily
2007-08-13 09:45:00



Determination of earthquake location and size in Indonesia dramatically improved due to German Tsunami Early Warning Project (GITEWS).



The M 7.6 West Java earthquake on August 8 was detected, located and sized after only 4 minutes and 38 seconds by the German Tsunami Early Warning System (GITEWS) currently under construction in Indonesia.

The location of the earthquake had been established after just 2 minutes and 11 seconds. For comparison: The Pacific Tsunami Warning Center (PTWC) in Hawaii published the location and magnitude of this earthquake after about 17 minutes.


Comment on this SOTT Focus

---

Fiery rock will test whether life came from space

David Shiga
New Scientist
2007-08-14 08:06:00

A rock will be hurled into space on a rocket and subjected to the fiery heat of re-entry into Earth's atmosphere to test whether life could have hitched a ride from one planet to another in debris from an asteroid strike.

The rock is one of 35 experiments to fly on a European Space Agency mission called Foton M3, which is set to launch on 14 September from the Baikonur Cosmodrome in Kazakhstan.

Some scientists say life could have spread around the solar system by hitching rides inside rocks blasted from one planet or moon to another by asteroid impacts.


Comment on this SOTT Focus

---

Are Planetary Systems Filled to Capacity?

Steven Soter
Astrobiology Magazine
2007-08-14 02:46:00

Steven Soter is a research associate in the Department of Astrophysics at the American Museum of Natural History in New York City, and scientist-in-residence at New York University, where he teaches on subjects ranging from life in the universe to geology and antiquity in the Mediterranean region. His research interests include planetary astronomy and geoarchaeology. He collaborated with Carl Sagan and Ann Druyan to create the acclaimed Cosmos television series in 1980.

In part one of this two-part essay, Soter explains how computer simulations suggest that planetary systems, including our own, contain as many planets as they can hold without becoming unstable. He says that observations of extrasolar systems should provide the ultimate test of this hypothesis.

Comment on this SOTT Focus

---

Firefox leak could divulge sensitive info

Dan Goodin
Channel Register
2007-08-13 22:37:00

How to remotely share your settings with people you've never met.

A security researcher has discovered a vulnerability in Firefox that could allow criminals to remotely siphon private information stored in plugins and call sensitive functions.

Comment on this SOTT Focus

---
Our Haunted Planet
---
UFO sightings flooding in from south London area


South London Press
2007-08-14 17:09:00

REPORTS of UFO sightings have come flooding in to the South London Press following trails of bright lights being spotted in the night skies.

A number of witnesses have come forward after we reported on the mysterious lights being spotted flying in formation above East Dulwich on August 4.

Mike Hall, 62, of Therapia Road, East Dulwich, was in his back garden when the UFOs passed directly overhead.

Comment on this SOTT Focus

---

Risky Business - Colombia meteorite

Kelly Beatty
SkyandTelescope.com
2007-08-13 12:16:00

Here at Sky & Telescope we get wind of all kinds of reports of meteorite falls. Few are legitimate. But on July 6th the sky really was falling over South America, when an incoming object broke apart in the lower atmosphere with a trio of ferocious explosions that shattered windows and shook the ground violently. Moments later, stones rained from the sky and pelted homes in the poor barrios surrounding the notorious city of Cali, Colombia.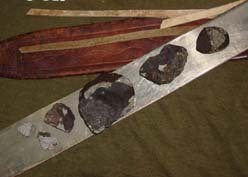 ©Michael Farmer
Comment on this SOTT Focus
---
Don't Panic! Lighten Up!
---
Italian town to pay residents to shed flab


Reuters
2007-08-14 13:26:00

Overweight residents of an Italian town will be paid to lose weight, the mayor said on Monday.

Men living in the northwestern Italian town of Varallo will receive 50 euros ($70) for losing 4 kg (9 pounds) in a month, Mayor Gianluca Buonanno said. Women will get the same amount for shedding 3 kg (7 pounds).

If they can keep the weight off for 5 months, they will get another 200 euros ($280), he told Reuters.


Comment on this SOTT Focus

---

But Officer, I really didn't see the stop sign - Blind driver caught again

Reuters
Reuters News Service
2007-08-13 22:14:00

An Estonian man who was caught driving a car even though he is blind has been at it again, police said on Monday, and this time he faces jail.

Comment on this SOTT Focus

---
---

Remember, we need your help to collect information on what is going on in your part of the world!
Send your article suggestions to: sott(at)signs-of-the-times.org

---
Click here to return to the Signs of the Times Archive
Click here for today's Signs Page