---
Sections on today's Signs Page:
---
SOTT Focus
---
No new articles.
Best of the Web
---
"If Soldiers Came From Another Country And Did This To My Family, I Would Be An Insurgent Too" - War Vet Describes Iraq House Raid

Amy Goodman; Staff Sgt. Timothy John Westphal; Sgt. Dustin Flatt
Democracy Now
2007-07-12 16:04:00

Staff Sergeant Timothy John Westphal, who served in Iraq for one year, recalls raiding a sprawling farm on the outskirts of Tikrit in 2004 and the screams he can still hear of the man he woke up inside. Sgt. Westphal says, "He was so terrified and so afraid for his family. I thought of my family at the time and thought 'If I was the patriarch of the family, if soldiers came from another country and did this to my family, I would be an insurgent too.'" We also speak with Sgt. Dustin Flatt who describes unarmed civilians being shot or run over by U.S. military convoys.

Comment on this SOTT Focus

---

War and Dissociation

Susan Rosenthal, MD
Counterpunch
2007-07-16 21:58:00



A Psychological Defense Against Suffering and Feelings of Powerlessness



When Tina Turner sang, "Who needs a heart when a heart can be broken," we all knew what she meant. In a world filled with pain, nature provides a defence against suffering called dissociation.

Experiences that are too horrible to be integrated into our understanding of the world are split off from conscious awareness. Dissociation provides a mental escape when there is no physical escape.

Dissociation separates contradictory experiences to avoid internal conflict, making it possible to love our own children and support wars that kill other people's children; to want freedom and support wars that deny others their freedom. To feel outrage at being robbed and support wars that rob the people of other lands.


Comment on this SOTT Focus

---

Just another day in Iraq: 100 more fathers, mothers, sons and daughters killed

Patrick Cockburn
The Independent
2007-07-17 19:48:00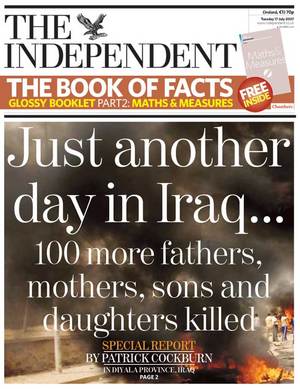 ©The Independent



The United States surge, the use of the American troop reinforcements to bring violence in Iraq under control, is bloodily failing across northern Iraq. That was proved again yesterday when a suicide bomber detonated a truck packed with explosives in Kirkuk killing at least 85 people and wounding a further 183.

Comment on this SOTT Focus

---
U.S. News
---
Dynamite-Shaped Novelty Item Sparks Hysterical Reaction In N.J.


wcbstv.com
2007-07-16 17:06:00

WEST ORANGE - An area that included the Edison National Historic Site was evacuated Monday, but what authorities first called a suspicious device turned out to be a novelty item designed to look like two sticks of dynamite attached to an alarm clock, police said.

The object, found around 10:30 a.m. in a pile of household garbage next door to a propane business, was destroyed by the Essex County bomb squad as a precaution, West Orange police spokeswoman Amy Simon said.

Comment on this SOTT Focus

---

More entering Army with criminal records

Bryan Bender
The Boston Globe
2007-07-13 13:15:00

Nearly 12 percent of U.S. Army recruits who entered basic training this year needed a special waiver for those with criminal records, a dramatic increase over last year and more than twice the percentage four years ago, according to new Army statistics obtained by the Globe.

Comment on this SOTT Focus

---

Ex- convicts and addicts may get DoD clearance

Elana Schor and Roxana Tiron
The Hill
2007-07-15 06:34:00

At the Pentagon's request, Senate defense authorizers tucked deep within a defense bill a repeal of the department's restriction on granting security clearances to ex-convicts, drug addicts and the mentally incompetent.

The repeal provision now is creating discord between the Senate Armed Services and the Intelligence committees. In its markup of the 2008 defense authorization bill, the Intelligence panel voted to delete the Armed Services provision.

Comment on this SOTT Focus

---

Hysterical Overreaction To An Urn Of Human Ashes Leads To Miami Airport Evacuation


Reuters
2007-07-17 11:06:00

A concourse at Miami International Airport was briefly evacuated on Monday after a luggage screener mistook an urn of human ashes and other suspicious items for a possible bomb, officials said.

Comment on this SOTT Focus

---

Bush claims power to wage war on US citizens

Len Hart
The Existentialist Cowboy
2007-07-17 10:29:00

Bush proves himself a "state absolutist", arrogating unto himself the power to wage war on the American people.


The President is now claiming, and is aggressively exercising, the right to use any and all war powers against American citizens even within the United States, and he insists that neither Congress nor the courts can do anything to stop him or even restrict him.

- Glenn Greenwald: The NSA Fight Begins - Strategies for Moving Forward
Comment on this SOTT Focus
---

Meet the Pentagon's New Spin Unit: Bush Administration hacks court bloggers, talk radio

Ken Silverstein
Harpers
2007-07-17 09:33:00

The Bush Administration has installed hacks across the federal bureaucracy, with Michael Brown, the man who helped destroy New Orleans while director of FEMA, as only the most notorious example. Now the Pentagon's public affairs division has become a dumping ground for administration cronies.

Comment on this SOTT Focus

---
UK & Euro-Asian News
---
Publishing boss killed at home outside Moscow with rare dagger

Tony Halpin
Times Online
2007-07-17 16:31:00

An executive of a German publishing house was stabbed to death with a rare dagger from a collection owned by her.

Marina Pisareva, 47, was found dead at the weekend at her cottage outside Moscow, the regional prosecutor's office said yesterday. "The presumed murder weapon has been taken from the scene - a collector's dagger that belonged to the victim," the office said.

Comment on this SOTT Focus

---

The Litvinenko case - a timeline

Ros Taylor
Guardian Unlimited
2007-07-17 12:39:00

Ros Taylor details key events before and after the death of former Russian spy Alexander Litvinenko


Comment on this SOTT Focus

---

Secret list of UK universities facing collapse

Polly Curtis and James Meikle
The Guardian
2007-07-07 09:34:00

A secret list of nearly 50 universities and colleges at risk of financial failure has been drawn up by government officials since tuition fees were introduced, the Guardian has learned.

Comment on this SOTT Focus

---

US Has Removed Nuclear Weapons From Base in Germany


Deutsche Welle
2007-07-17 09:29:00

The Ramstein air base in southwestern Germany, long the largest US nuclear storehouse in Europe, has been completely emptied of its atomic arsenal according to experts who say the weapons are out of the country.

Comment on this SOTT Focus

---

Hot n'Cold Games: Cold war diplomacy is back as UK expels spies

Luke Harding in Moscow, Ian Cobain and Julian Borger
The Guardian
2007-07-17 08:29:00

The British government was last night bracing itself for an inevitable diplomatic backlash after expelling four Russian intelligence officers in protest at the Kremlin's refusal to hand over the prime suspect in the polonium-210 poisoning affair.

In an attempt to underline the government's anger and alarm over the murder of Alexander Litvinenko, the Foreign Office announced it was ceasing cooperation with Moscow on a range of issues, starting with the imposition of restrictions on visas issued to Russian officials seeking to visit the UK.


Comment on this SOTT Focus

---

German military hospital evacuated after bomb alert


AFP
2007-07-17 01:52:00

German authorities on Monday evacuated more than a thousand patients and staff from the military hospital in Ulm after receiving a bomb threat, a police spokesman in the southern city said.

Comment on this SOTT Focus

---
Around the World
---
Hysteria Alert!: Sydney Mayor rolls out 'terror in a bag' campaign

Sunanda Creagh
Sydney Morning Herald
2007-07-17 17:38:00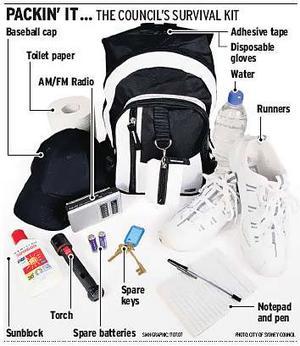 ©Sydney Morning Herald
Mayor urges: "Let's Get Ready for Terror Sydney!"



TORCH? Check. Maps? Check. Sense of impending doom? Check.

Comment on this SOTT Focus

---

12 killed in Islamabad explosion


Press TV
2007-07-17 14:39:00

A suspected suicide bomber has killed twelve people and wounded 40 others at an Islamabad rally for Pakistan's suspended chief justice.


Comment on this SOTT Focus

---

Pak tribal gunmen abandon peace deal


Press TV
2007-07-15 14:29:00

Pro-Taliban gunmen on Pakistan's border have said they scrapped the controversial September peace agreement with Pakistan's government.


Comment on this SOTT Focus

---

Argentine loo cash minister quits


BBC
2007-07-17 08:24:00

Argentina's economy minister has resigned after being asked to testify about storing $64,000 (47,000 euros; £32,000) in her office toilet.
Felisa Miceli said the cash was lent to her by her brother to buy a house.

But a prosecutor investigating the case called on Mrs Miceli to be questioned under oath about the money.

The case has caused embarrassment for the government in Argentina, where tax evasion is common and officials are often suspected of corruption.


Comment on this SOTT Focus

---

Bangladesh arrests former PM


AFP
2007-07-17 02:32:00

Bangladesh on Monday moved against the leaders of its two main political parties, both former prime ministers, as it intensified efforts to clean up the nation's famously corrupt politics.

Comment on this SOTT Focus

---

Divide and Rule! Somali PM says he is 'not aware' of oil deal with China


AFP
2007-07-17 01:52:00

Somalia's interim prime minister said in an interview published Tuesday that he was not aware of a deal struck between Chinese energy companies and his government allotting them oil exploration rights.

Comment on this SOTT Focus

---
Big Brother
---
Gotham's Sky Spies: Surveillance network expands in Manhattan

Alex Kingsbury
U.S. News
2007-07-15 18:09:00

Plans to network together thousands of private and public video surveillance cameras in New York City have been in the works for years.

Comment on this SOTT Focus

---
Axis of Evil
---
Document reveals US torture techniques


Raw Story
2007-07-17 17:21:00

After conducting a 10-month investigation that consisted of more than 70 interviews, as well as a detailed review of public and classified documents, Vanity Fair writer Katherine Eban delivers the fullest portrait yet of James Mitchell and Bruce Jessen, the C.I.A.-contracted psychologists who were put in charge of designing the aggressive interrogation methods known as 'SERE school' techniques (Survival, Evasion, Resistance, Escape) that came to be used during the Iraq war," states a press release sent to RAW STORY. "Eban also reveals a never-before-seen memo that details how the U.S. military sought to treat detainees at Guantanamo Bay."

Comment on this SOTT Focus

---

CIA dissenters aided secret prisons report: author

Marcin Grajewski
Reuters
2007-07-17 17:19:00

- Dissident U.S. intelligence officers angry at former Defense Secretary Donald Rumsfeld helped a European probe uncover details of secret CIA prisons in Europe, the top investigator said on Tuesday.

Comment on this SOTT Focus

---

'IDF preparing for all-out war'

Haman Greenberg
Ynet News
2007-07-17 14:03:00

General who served in Second Lebanon War says army's premise now completely different than before war which 'proved we were wrong in 2000 when our military power was aimed at Palestinian terror; now we realize that we should be preparing for something completely different'

Comment on this SOTT Focus

---

Israel's Mossad involved in assassination of former Lebanese Minister Eli Hbeika


Syria Times
2007-07-17 09:26:00

Admissions of the Israeli spy network members arrested in Lebanon in 2004 unveiled the Israeli Intelligence service Mossad involvement in assassinating former Lebanese Minister Eli Hbeika and three bodyguards in a car bomb explosion, the Lebanon News Agency reported yesterday.

Comment on this SOTT Focus

---
Middle East Madness
---
Israeli patrols forcibly evicting cattle herds in Negev area

Nisreen Qumsieh
IMEMC
2007-07-17 14:26:00

Israeli patrols backed by a force of border guards have been forcibly evicting hundreds of cattle herds belong to families in Um Khashoom in the Negev area.


Comment on this SOTT Focus

---

44,000 Iraqi Suspects Let Go - Fewer Than 600 Prosecuted

Noah Shachtman
Wired
2007-07-17 11:41:00

"U.S. and Iraqi government officials have released approximately 44,000 of 65,000 suspected Iraqi insurgents or sectarian killers detained at the theater level since March 2003," Inside the Pentagon is reporting. "Over the same time period, fewer than 600 captives have been transferred to the Iraqi government for prosecution."

Comment on this SOTT Focus

---

Iraq base plans left on open servers

Lewis Page
The Register
2007-07-17 11:38:00

Reporters trawling un-indexed FTP servers have recently been able to download large amounts of secret US military data, it has been revealed.


Comment on this SOTT Focus

---

Iran's "Security Outlook"

Farideh Farhi
Middle East Report Online
2007-07-09 06:12:00

Widespread apprehension attended the June 2005 election of Mahmoud Ahmadinejad to the presidency of the Islamic Republic of Iran, at least among those Iranians who had approved of the country's direction under the reformist clerics led by President Mohammad Khatami. Their worries had little to do with Ahmadinejad's signature campaign issue, the flagging Iranian economy, and much to do with potential reversal of the political and cultural opening under Khatami, now that hardline conservatives controlled every branch of the government. The opening had begun to close long before the hardliners' accession to power, of course, but many Iranians feared that Ahmadinejad would seal it tight, by shuttering the remaining opposition or independent publications, for instance, or by censoring books, music, film and theater, dismantling satellite dishes, imprisoning political activists and more rigorously imposing an "Islamic" dress code.

Comment on this SOTT Focus

---

Neocon "Vision" for a Palestinian State: More Mass Murder, Thievery, and Unending Duplicity

Kurt Nimmo
Another day in the Empire
2007-07-17 03:54:00

According to Einstein's observation, insanity is doing the same thing over and over again and expecting different results. In regard to Israel and the Palestinians, however, doing the same thing over and over is not insanity but rather a calculated act on the part of Israel designed to produce a predictable and long sought after result, namely to submerge the Palestinians in formaldehyde. Recall Dov Weisglass, former Ariel Sharon chief of staff and now "point man in the US," declaring that "disengagement" from Gaza supplied "the amount of formaldehyde that is necessary so there will not be a political process with the Palestinians," as the Israelis have no intention of allowing a Palestinian state, let alone obeying international law and various United Nations resolutions calling for an end to the occupation of Palestinian land.

Comment on this SOTT Focus

---

Pace: Number of US troops in Iraq could rise

ROBERT BURNS
AP
2007-07-17 02:24:00

BAGHDAD - The U.S. military is weighing new directions for Iraq, including an even bigger troop buildup if President Bush thinks his "surge" strategy needs a further boost, the chairman of the Joint Chiefs of Staff said Monday.



Comment on this SOTT Focus

---
The Loan Gunmen
---
American angst grows over globalization "menace"

Emily Kaiser
Reuters
2007-07-15 13:52:00

The stock market is at an all-time high, unemployment is near record lows, yet poll after poll shows American workers uneasy over job security and worried that they are losing out in a global economy.

The disconnect between the seemingly rosy economic data and the dour mood has caught the attention of some influential politicians who are concerned the middle class has soured on globalization, tingeing the debate on hot-button issues ranging from immigration to trade.

Comment on this SOTT Focus

---

New poverty and wealth maps of Britain reveal inequality to be at 40-year high


JRF
2007-07-17 08:37:00

A new way of comparing poverty and wealth trends across Britain shows inequality has reached levels not seen for over 40 years. This is according to research released today (17 July) by the Joseph Rowntree Foundation. A second report, published simultaneously, has found that the public believes the gap between rich and poor people is too large.

Researchers working on the first report found that households in already-wealthy areas have tended to become disproportionately wealthier and that many rich people live in areas segregated from the rest of society. At the same time, more households have become poor over the last 15 years, but fewer are very poor.


Comment on this SOTT Focus

---

Biofuel mania ends days of cheap food

Gwynne Dyer
New Zealand Herald
2007-07-16 18:38:00

The era of cheap food is over. The price of maize has doubled in a year, and wheat futures are at their highest in a decade. The food price index in India has risen 11 per cent in one year, and in Mexico in January there were riots after the price of corn flour - used in making the staple food of the poor, tortillas - went up fourfold.

Comment on this SOTT Focus

---
The Living Planet
---
Sydney shivers in record chill


Sydney Morning Herald
2007-07-17 09:26:00

Sydneysiders woke up to their coldest July morning in 21 years today, when the thermometer dipped to 3.7 degrees.

The minimum temperature was reached at 6.54am today and beat by one degree a July record set just yesterday.

Comment on this SOTT Focus

---

Strong earthquake jolts Tanzania


Reuters
2007-07-17 16:52:00

A strong earthquake hit East Africa on Tuesday, the latest in the region in several days, the United States Geological Survey (USGS) said.

The USGS said the quake struck in northern Tanzania, 167km from the western town of Arusha, and measured 6,1 on the Richter scale of magnitude.

Comment on this SOTT Focus

---

Large dust storm hits Arizona


NBC6.net
2007-07-17 13:38:00

A large Arizona dust storm caused visibility to drop near zero in some places on Monday.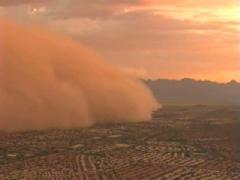 ©NBC6.net
Comment on this SOTT Focus
---

'Dead zone' off Louisiana may expand


LA Times / AP
2007-07-17 08:33:00

Researchers predict that the oxygen-depleted "dead zone" that recurs off the Louisiana coast will expand this summer to 8,543 square miles - its largest area in at least 22 years.

The forecast, released Monday by the Louisiana Universities Marine Consortium, is based on a federal estimate of nitrogen compounds from the Mississippi River watershed that will reach the Gulf of Mexico. It discounts any effect storms might have.


Comment on this SOTT Focus

---

Update: Japan Quake Causes 9 Deaths, Nuke Leak

By KOJI SASAHARA
Associated Press
2007-07-16 22:38:00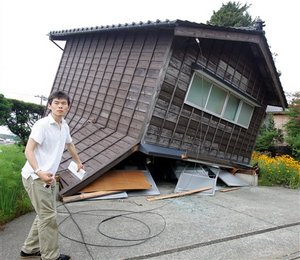 ©AP Photo/Koji Sasahara
A journalist stands outside a collapsed house following a powerful quake that hit Japan's northwest coast in Kashiwazaki



KASHIWAZAKI, Japan - A strong earthquake shook Japan's northwest coast Monday, setting off a fire at the world's most powerful nuclear power plant and causing a reactor to spill radioactive water into the sea _ an accident not reported to the public for hours.

Comment on this SOTT Focus

---

Czech Republic hit by heat wave

Ruth Frankova
Radio Prague
2007-07-16 19:18:00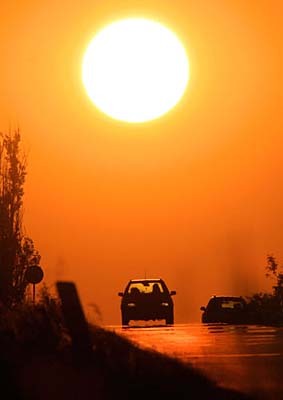 ©CTK



A heat wave coming all the way from Africa arrived in the Czech Republic at the weekend, with Prague seeing a new record temperature of 35.8 degrees Celsius (96F) on Sunday. But Czechs are now bracing themselves for even hotter weather: forecasters say Monday could be the hottest day ever recorded in this country, with temperatures of up to 39 degrees Celsius expected.

Comment on this SOTT Focus

---
Health & Wellness
---
Boy Murders Brother Over Video Game


Associated Press
2007-07-17 14:46:00

A 13-year-old boy fatally stabbed his brother with a steak knife after the 16-year-old refused to turn over a video game controller, authorities said.



Comment on this SOTT Focus

---

Choking risk for babies prompts Gerber recall


Reuters
2007-07-17 02:29:00

U.S.-based babyfood company Gerber is recalling around half a million packs of organic rice and oatmeal cereal because of a risk babies might choke on the product, a spokesman said on Monday.

Comment on this SOTT Focus

---

US loses by an inch - Dutch now taller than Americans

Matt Crenson
Associated Press
2007-07-17 00:22:00

America used to be the tallest country in the world.

From the days of the Founding Fathers through the Industrial Revolution and two world wars, Americans literally towered over people of other nations.
But America's predominance in height has faded. Americans reached a height plateau after World War II, gradually falling behind nations around the world.

Comment on this SOTT Focus

---

Does plastic make us fat?

Andrew Leonard
Salon
2007-07-16 21:35:00

The efforts of the chemical industry to combat findings that a ubiquitous synthetic chemical (traces of which can be found in the urine of just about every living human being in the United States ) might cause developmental and reproductive defects in humans, even when ingested in low doses, are not surprising. But there is one aspect to this story that is quite eye-opening.

There appears to be evidence that the damage done by bisphenol A during embryonic development may be scrambling the signals that fat cells normally receive during prenatal and neonatal development. After the initial distortion, the affected fat cells never work properly again. Affected animals are unable to properly metabolize their normal diets, leading to obesity. And guess what? The introduction of bisphenol A into the human environment in significant quantities tracks pretty closely, in timing, to the advent of the so-called obesity epidemic in the United States.

Comment on this SOTT Focus

---
Science & Technology
---
Puzzle expert takes a crack at Stonehenge riddle

Chris Hooper
Salisbury Journal
2007-07-12 17:34:00

Through painstaking analysis of the structural properties of Stonehenge, Mr Bedlam has come up with a theory that the stones we now see standing alone on the site were once the foundation blocks of a giant wooden structure.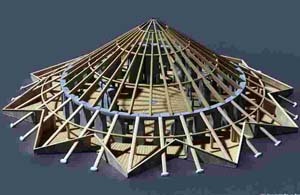 ©Salisbury Journal
A computer-generated mock-up of how Stonehenge may have looked in all its glory as the foundation of a magnificent wooden structure.



A puzzle expert believes he may have solved one of the greatest mysteries in the history of mankind by coming up with a computer programme showing how Stonehenge was built.

Comment on this SOTT Focus

---

Ancient settlement discovered in Egypt


AFP
2007-07-17 17:01:00

A settlement dating back to the time of the pyramid builders was discovered in Egypt's western desert, the first find of its kind there, Egypt's Supreme Council for Antiquities (SCA) said on Monday.

"A joint Egypt-Czech archaeological mission found a city dating to the Old Kingdom (2687-2191 BC) in the Garat al-Abyad region in Bahariya," SCA chief Zahi Hawass said, referring to an isolated oasis 400km south-west of Cairo.

Comment on this SOTT Focus

---

Debris from meteorite that hit Sudbury found in Minnesota

Denis St. Pierre
The Sudbury Star
2007-07-17 12:36:00

A Laurentian University geologist says he is intrigued, but skeptical of a report that rock from the meteorite that created the Sudbury basin has been found 700 kilometres away in the United States.


Comment on this SOTT Focus

---

Archaeologists Find Old Mask in Bulgaria


Associated Press
2007-07-16 23:20:00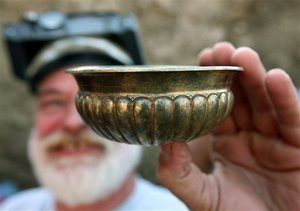 ©AP Photo/Petar Petrov
A Bulgarian archeologist holds up an ancient Thracian gold artifact at a Thracian tomb near the village of Topolchane



SOFIA, Bulgaria - A 2,400-year-old golden mask that once belonged to a Thracian king was unearthed in a timber-lined tomb in southeastern Bulgaria, archaeologists said Monday.

Comment on this SOTT Focus

---
Our Haunted Planet
---
No new articles.
Don't Panic! Lighten Up!
---
Ariz. hospital sends patient a $49M bill


AP
2007-07-16 17:29:00

Hundreds of people who were treated at a southern Arizona hospital received exorbitant medical bills as high as $49 million because of a computer error.

A malfunction in new computer software occurred July 2 and affected statements for 587 patients who were treated at Northern Cochise Community Hospital in Willcox, said Kim Aguirre, director of patient financial service for the hospital.

Comment on this SOTT Focus

---

It's a miracle! Elvis' face found in a rock


Associated Press Writer
2007-07-17 00:06:00

You can't think about rock without thinking of Elvis. Not this rock, anyway.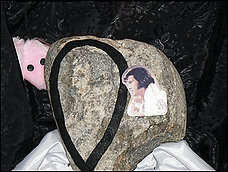 ©AP Photo/ The Coloradoan
LaDell Alexander displays a rock with an image resembling Elvis Presley, circled, July 12, 2007, in Estes Park, Colo. Placed next to the rock is a photo of Elvis Presley. Alexander, 60, plans to sell it on eBay on the 30th anniversary of Presley's death.
Comment on this SOTT Focus
---

Man Calls 911 to Save Him From Police


Associated Press
2007-07-16 22:31:00

LARGO, Fla. - A 38-year-old man was arrested after he called 911 and told a dispatcher he was surrounded by police officers and needed help, authorities said.


Comment on this SOTT Focus

---
---

Remember, we need your help to collect information on what is going on in your part of the world!
Send your article suggestions to: sott(at)signs-of-the-times.org

---
Click here to return to the Signs of the Times Archive
Click here for today's Signs Page