---
Sections on today's Signs Page:
---
SOTT Focus
---
Signs Economic Commentary for 16 July 2007

Donald Hunt
Signs of the Times
2007-07-16 10:24:00


Gold and oil rose sharply in dollars last week and also to a lesser degree in euros. In the U.S. retail sales were down and food prices continue to rise. In fact, the prices of most commodities are rising, or, to say the same thing in another way, all currencies are falling, some are just falling faster than others.

Once they pull the plug on the bubble economy and institute the crash, the pathocrats may believe that is their chance to take total control. However, the vast majority of normal people may decide they have had enough and stop obeying them. But, as Laura Knight-Jadczyk points out, that can only happen when normal people are fortified by knowledge of the true nature of their enemy...
Comment on this SOTT Focus
---
Best of the Web
---
Plan Iraq - Permanent Occupation

Stephen Lendman
S J Lendman Blog
2007-07-16 13:38:00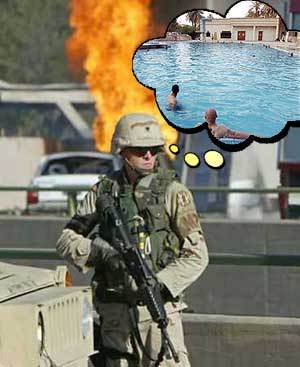 ©Signs of the Times



Congress is back from its July 4 break and with it more bluster and political posturing on changing course to keep things the same, including everything not working in place. It's the same old scheme, back again, to fool enough of the people all the time and most all of them long enough to move on to the next change of course mission shift starting the whole cycle over again. Even the blind can see the hopelessness of staying the course in Iraq. Aside from its lawlessness and immorality, pushing on with a failed effort qualifies as a classic definition of insanity - continuing the same failed policies, expecting different results.

Comment on this SOTT Focus

---
U.S. News
---
Man Shot and Killed at Colorado Governer's Office


msnbc
2007-07-16 17:00:00

Denver - An unidentified man armed with a gun was shot and killed outside Colorado Gov. Bill Ritter's office on Monday, Ritter's spokesman said.

Comment on this SOTT Focus

---

Ice-cream makers frozen out as corn price rises

Suzy Jagger and Carl Mortished
Times Online
2007-07-16 16:58:00

What's the connection between ethanol, the biofuel produced from corn, and a cherry vanilla ice-cream?

Answer: the first is responsible for pushing up the price of the other.

This month, the price of milk in the United States surged to a near-record in part because of the increasing costs of feeding a dairy herd. The corn feed used to feed cattle has almost doubled in price in a year as demand has grown for the grain to produce ethanol.

Comment on this SOTT Focus

---

Thousands of Americans Fleeing Bush's Wars Seek Canadian Safety Net

MARK LARABEE
The Oregonian
2007-07-16 09:23:00

Thousands of US Army deserters are fleeing to Canada in the hopes of avoiding returning to Iraq and Afghanistan. "I thought people needed to be free there. But when I went there it was all about captures and kills and it felt like we messed things up over there.", says James Burmeister who worked at Wal-Mart and in pizza joints in Eugene, Oregon, until he joined the U.S. Army 18 months ago because he wanted to make a difference.



Comment on this SOTT Focus

---

Absurd! Family fighting for their home because of a $1.63 tax bill that was never delivered

Charlie Chapple
The Times-Picayune
2007-07-15 00:10:00

In 1996, the St. Tammany Parish Sheriff's Office mailed a paltry $1.63 property tax bill for the Slidell-area home of Kermit and Dolores Atwood that never reached its destination.

The seemingly innocuous, misaddressed bill was the start of a bizarre legal ordeal that threatens to leave the couple homeless and now stands at the door of the state Supreme Court.

Comment on this SOTT Focus

---

Army Sniper Shoots Wife Through Restaurant Window


AP
2007-07-15 23:34:00

Cheyenne, Wyoming - Police say the man suspected of shooting his estranged wife through a glass door at an Old Chicago restaurant in Cheyenne might have fled for the woods.



Comment on this SOTT Focus

---
UK & Euro-Asian News
---
Flashback: Galloway vs. The US Senate: Transcript of Statement


Times Online
2005-05-17 16:17:00

"Senator, I am not now, nor have I ever been, an oil trader. and neither has anyone on my behalf. I have never seen a barrel of oil, owned one, bought one, sold one - and neither has anyone on my behalf.

"Now I know that standards have slipped in the last few years in Washington, but for a lawyer you are remarkably cavalier with any idea of justice. I am here today but last week you already found me guilty. You traduced my name around the world without ever having asked me a single question, without ever having contacted me, without ever written to me or telephoned me, without any attempt to contact me whatsoever. And you call that justice.

Comment on this SOTT Focus

---

Setting up and Silencing decent! Galloway to be suspended from Commons over Iraq

Robert Winnett and Holly Watt
Times Online
2007-07-16 15:55:00

George Galloway, the MP who campaigned against the Iraq war, is to be suspended from parliament over his links to the United Nations oil-for-food programme in Iraq.

The parliamentary standards watchdog will rule this week that Galloway failed properly to declare his links to a charitable appeal partially funded from money made by selling Iraqi oil under Saddam Hussein, according to a source close to the inquiry. The one-month suspension for Galloway, often referred to as "Gorgeous George", is one of the most severe given to an MP.

Comment on this SOTT Focus

---

Russia: Prison guard shoots three colleagues, takes own life


RIA Novosti
2007-07-16 13:01:00

A pre-trial detention center guard killed himself after shooting three of his colleagues in a Volga Area republic jail early Monday, the federal penitentiary service said.

"Warrant officer A. Stepanov entered the guardroom after his shift in a sentry tower and fired at the chief of the guard and two other officers, injuring them, at 6:15 a.m. Moscow time (2:15 a.m. GMT) Monday and killed himself after that," the service said.

Prosecutors in Chuvashia said later Tuesday the three died, one of them shortly after the shooting and the other two in the hospital.

Prosecutors said an examination of the site was continuing and witnesses were being questioned.


Comment on this SOTT Focus

---

Russian Energy Pipeline Giants to Form Corporate Armies


AP
2007-07-16 12:59:00

Lawmakers voted Wednesday to give Russia's natural-gas and oil pipeline monopolies the right to set up armed security units to protect the country's energy infrastructure.

Comment on this SOTT Focus

---

Russian army chief warns Poles: if you want U.S. shield, buy gas masks


RIA Novosti
2007-07-16 12:50:00

Russia's highest-ranking military officer condemned Monday U.S. plans to deploy a missile shield in Europe, and jokingly warned Poles that they might need to prepare themselves by buying gas masks.

When a journalist from Trybuna, a Polish daily, suggested that Poles might need to think about buying warm clothes to prepare for being sent to Siberia in the case of a Russian retaliation to the missile shield project, General Yury Baluyevsky, Chief of Staff of the Russian Armed Forces, said it wasn't warm clothes they would need, but protective equipment.

"The decision to place [the shield] on Polish soil was taken by the Polish government. It seems to fully realize what kind of retaliation this may lead to... What they really should be concerned about is what will happen in the event that the shield works at all," Baluyevsky said.

"Intercepted missiles will disperse over your territory, and you will need to think not about warm clothes, but about acquiring gas masks and other protective equipment," he said.


Comment on this SOTT Focus

---

Russia pressured to play nice: UK expels four Russian diplomats


BBC
2007-07-16 12:24:00

The UK is to expel four Russian diplomats in response to Moscow's refusal to extradite the prime suspect in the murder of Alexander Litvinenko.

Foreign Secretary David Miliband also said co-operation with Russia on a range of issues was under review.

Prosecutors want Andrei Lugovoi, an ex-KGB officer, to face trial in the UK. He denies involvement.

Former KGB agent Mr Litvinenko died of exposure to radioactive polonium-210 in London in November 2006.


Comment on this SOTT Focus

---
Around the World
---
Kids at India graveyard school face nightmares


Reuters
2007-07-12 16:59:00

Scores of Indian children attending a school located in a graveyard were having recurring nightmares about ghosts and have appealed to authorities to shift them from the site, officials and residents said.

"I have stopped going to school after many dead people walked out of their graves and came into my dreams, ordering me to reach school on time," said six-year-old Raqib Ansari.

This week, hundreds of children at the school in the eastern state of Bihar, accompanied by their parents, marched to the office of a senior district official, asking for the school to be shifted away from the Muslim graveyard.

Comment on this SOTT Focus

---

UN warns it cannot afford to feed the world

Javier Blas and Jenny Wiggins
Financial Times
2007-07-16 15:06:00

Rising prices for food have led the United Nations programme fighting famine in Africa and other regions to warn that it can no longer afford to feed the 90m people it has helped for each of the past five years on its budget.

Comment on this SOTT Focus

---

Flashback: UN Study Confirms Fidel Castro Warnings


Prensa Latina
2007-06-05 11:23:00

A new study on children"s malnutrition in Central America, carried out by independent UN agencies, has confirmed Cuban President Fidel Castros warnings against the dangers threatening humankind.

Since March 28 and in his reflections on the US campaign to turn food into biofuels, the Cuban president warned that three billion people would die of hunger and thirst as a result of that policy.

Comment on this SOTT Focus

---

US backed Ethiopia slaps life sentences on more than 30 opposition figures


AFP
2007-07-16 11:36:00

Ethiopia's high court on Monday sentenced 35 opposition leaders to life imprisonment for inciting rebellion, after the prosecution had asked for the death penalty.



Comment on this SOTT Focus

---

Radioactive water 'leaked' from Japan nuke plant after quake


AFP
2007-07-16 11:11:00

Water containing some radioactive materials leaked from a nuclear power plant in Japan after a strong earthquake Monday, a spokesman for the firm running the facility said.



Comment on this SOTT Focus

---

Flashback: Nuclear accident shakes Japan


BBC
1999-07-16 11:11:00

Japan is facing an unprecedented nuclear emergency after a major uranium leak.

Radiation levels at the Tokaimura nuclear fuel-processing plant in north-east Japan are 15,000 times higher than normal.


Comment on this SOTT Focus

---
Big Brother
---
Anti-war T-Shirts illegal. Punishable by jail

Howard Fischer
Capitol Media Services
2007-05-14 16:12:00

PHOENIX -- State lawmakers voted Monday to enact new laws designed to stop the sale of anti-war T-shirts with the names of dead soldiers -- a measure a veteran media lawyer says is "unconstitutional about three or four different ways."

On a 28-0 margin, the Senate agreed to make it punishable by up to a year in jail to use the names of deceased soldiers to help sell goods. The measure, SB 1014, also would let families go to court to stop the sales and collect damages.

Comment on this SOTT Focus

---
Axis of Evil
---
Bush announces new steps to revive Mideast peace process


China View
2007-07-16 16:23:00

President George W. Bush, amid growing isolation at home over his Iraq policy, made a fresh effort on Monday to revive the stalled Middle East peace process, announcing new financial assistance to the Palestinians and calling for a new international conference this fall.



"In recent weeks debate in our country has rightly focused on the situation in Iraq. Yet Iraq is not the only pivotal matter in the Middle East," Bush said in a televised speech at the White House.

Comment on this SOTT Focus

---

Flashback: Terminator kill-bots to be run by system called 'Skynet'

Lewis Page
The Register
2007-05-15 07:50:00

Following the announcement of the new Flying-HK-style "Reaper" death machines for the British forces, the prophetic nature of the Terminator movies has been further confirmed.

Not only will the UK MoD deploy airborne cyber-gunships remarkably similar to those in the films, the flying robot assassins will be controlled by an IT project named "Skynet".

Comment on this SOTT Focus

---

Cheney pushes Bush to act on Iran

Ewen MacAskill
The Guardian
2007-07-16 07:08:00

· Military solution back in favour as Rice loses out
· President 'not prepared to leave conflict unresolved'

Comment on this SOTT Focus

---

Surprise surprise! Israel grants amnesty to wanted Fatah fighters

Eric Silver
The Independent
2007-07-16 00:03:00

Israel has proclaimed an amnesty for at least 178 Fatah gunmen on its "wanted" list in the West Bank. Most of them immediately pledged to stop targeting Israel and placed themselves under the supervision of President Mahmoud Abbas's Palestinian security services.



Comment on this SOTT Focus

---

Peres sworn in as Israel's president


AFP
2007-07-15 23:54:00

Israel's elder statesman and Nobel peace laureate Shimon Peres was sworn in president on Sunday, crowning an unrivaled career stretching back half a century.

Comment on this SOTT Focus

---
Middle East Madness
---
"If Soldiers Came From Another Country And Did This To My Family, I Would Be An Insurgent Too" - War Vet Describes Iraq House Raid

Amy Goodman; Staff Sgt. Timothy John Westphal; Sgt. Dustin Flatt
Democracy Now
2007-07-12 16:04:00

Staff Sergeant Timothy John Westphal, who served in Iraq for one year, recalls raiding a sprawling farm on the outskirts of Tikrit in 2004 and the screams he can still hear of the man he woke up inside. Sgt. Westphal says, "He was so terrified and so afraid for his family. I thought of my family at the time and thought 'If I was the patriarch of the family, if soldiers came from another country and did this to my family, I would be an insurgent too.'" We also speak with Sgt. Dustin Flatt who describes unarmed civilians being shot or run over by U.S. military convoys.

Comment on this SOTT Focus

---

US updates travel advisory for in and around Israel

Yitzhak Benhorin
ynetnews.com
2007-07-14 13:58:00

The American State Department updated its travel warning Friday to citizens and residents of the US living in Israel and the territories.

The warning called on all American citizens to leave the Gaza Strip immediately.

Although this recommendation has been force since the deadly roadside bombing of a US embassy convoy in October 2003, the updated travel warning notes "the considerable violence in recent months" in the Gaza Strip, "both between Palestinian factions and between Israeli security forces and armed Palestinian groups."

Comment on this SOTT Focus

---

Air Force quietly building Iraq presence - preparing for Iran?

Charles J. Hanley
AP
2007-07-14 13:16:00

Away from the headlines and debate over the "surge" in U.S. ground troops, the Air Force has quietly built up its hardware inside Iraq, sharply stepped up bombing and laid a foundation for a sustained air campaign in support of American and Iraqi forces.

Squadrons of attack planes have been added to the in-country fleet. The air reconnaissance arm has almost doubled since last year. The powerful B1-B bomber has been recalled to action over Iraq.

The escalation worries some about an increase in "collateral damage," casualties among Iraqi civilians. Air Force generals worry about wear and tear on aging aircraft. But ground commanders clearly like what they see.

Comment on this SOTT Focus

---

Robot air attack squadron bound for Iraq

CHARLES J. HANLEY
AP
2007-07-16 12:56:00

BALAD AIR BASE, Iraq - The airplane is the size of a jet fighter, powered by a turboprop engine, able to fly at 300 mph and reach 50,000 feet. It's outfitted with infrared, laser and radar targeting, and with a ton and a half of guided bombs and missiles.

Comment on this SOTT Focus

---

AIPAC Throws Support Behind Palestinian Fatah Quislings

Nathan Guttman
The Forward
2007-07-11 12:15:00

Pro-Israel lobbyists and legislators have become unexpected cheerleaders for the Palestinian leadership after the new Fatah-led Cabinet took action against Hamas.

In a memo sent out to congressional offices this week, the American Israel Public Affairs Committee commended the new Palestinian government for taking important steps needed for peace and for breaking ties with Hamas, which now rules Gaza.

Comment on this SOTT Focus

---

Operation Gladio type scenarios discussed at US think tank


Today's Zaman
2007-07-16 10:05:00

A Washington-based think tank is reported to have had participants at a closed-door meeting, including Turkish military officials and civilian experts, discuss various crisis scenarios for Turkey in a brainstorming session.

Comment on this SOTT Focus

---
The Loan Gunmen
---
UK Profit warnings at highest level since dot-com crash


The Independent
2007-07-15 16:49:00

Profit warnings among the UK's listed companies are running at the highest level since the dot-com crash, adding to growing fears that the economy is weakening. Research to be issued tomorrow by Ernst & Young reveals that in the first half of 2007, 191 profit warnings were issued by UK-quoted companies, 13 per cent up on the first half of 2006, which saw 169 profit warnings.

Comment on this SOTT Focus

---

Retail Food Prices Up 4 Percent In Second Quarter


The Voice of Agriculture
2007-07-12 12:54:00

Retail food prices at the supermarket increased

slightly

in the second quarter of 2007, according to the latest American Farm Bureau Federation Marketbasket Survey. The informal survey shows the total cost of 16 basic grocery items in the second quarter of 2007 was $42.95, up about 4 percent or $1.61 from the first quarter of 2007.



Of the 16 items surveyed, 14 increased, one decreased and one stayed the same in average price compared to the 2007 first-quarter survey. Compared to one year ago, the overall cost for the marketbasket items showed an increase of about 8 percent.

Comment on this SOTT Focus

---
The Living Planet
---
Worms Fall from the Sky in Louisiana


WAFB
2007-07-12 17:14:00

Jennings Police Department employee, Eleanor Beal was just crossing the street to go to work when something dropped from the sky.

The sky wasn't falling. She says it was worms, large tangled clumps of them.

Beal says, "When I saw that they were crawling, I said, 'It's worms! Get out of the way!'"

She even called her co-worker outside to prove she wasn't making it up.

Comment on this SOTT Focus

---

Ponds in Colorado closed after several see large reptile


cbs4denver.com
2007-07-14 16:54:00

LOVELAND - A group of ponds and the 30-acre natural recreation area around it are closed until further notice in Loveland because of an unusual guest.

The city says it has confirmed sightings of a large reptile in the Jayhawker Ponds Natural Area. The animal is believed to be between 5 to 7 feet long and may be an alligator or caiman.

A boy was fishing with friends Wednesday night when he says the reptile lunged out of the water and scared them.

Comment on this SOTT Focus

---

Quake causes radioactive leak in Japan


RIA Novosti
2007-07-16 10:56:00

The earthquake that killed at least seven in western Japan Monday morning has caused a radioactive leak from the country's largest nuclear power plant, the operator company said.

Tokyo Denryoku said the incident occurred at the sixth reactor of the Kashiwazaki-Kariwa nuclear power plant hit by the first of three waves of the earthquake measuring 6.8 on Richter scale, which also left over 800 people injured. The discovery was made during regular maintenance checks of the reactor. The company suggested the water could have leaked from a special storage facility for used uranium rods.

Shortly after the first tremors, the company said four reactors that were operating at the time had automatically shut down by the safety system. But after a while, reports emerged that a transformer had caught fire on the external side of the third reactor. The fire was put out, and the company said there had been no radiation leak.


Comment on this SOTT Focus

---

Greece: Wind whips up brush fires


eKathimerini
2007-07-16 10:03:00

Firefighters combat more than 100 blazes as gales blow across Greece.

Strong winds across Greece fanned more than 100 brush fires - some of which firefighters were still battling last night - and disrupted sea travel during one of the busiest times of the year for ferry companies.

Comment on this SOTT Focus

---

Update! Strong earthquake jolts northwestern Japan


MSNBC
2007-07-15 22:47:00

A strong earthquake jolted northwestern Japan on Monday morning and caused buildings in the capital Tokyo to sway. The Meteorological Agency said small tsunamis as high as 20 inches were believed to have hit coasts in the area.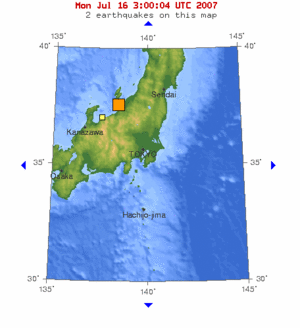 ©USGS
Comment on this SOTT Focus
---

Earthquakes rattle northeastern Tanzania, tremors felt in Kenya


AFP
2007-07-15 00:27:00

Earthquakes measuring up to 5.5 on the Richter scale have been rattling northeastern Tanzania in the past four days and tremors were also felt in neighbouring Kenya, officials said Sunday.

Kenya Meteorological Department official Peter Ambenje said the tremors, which lasted about one minute, were last recorded in northeastern Tanzania at around 2:24 pm (1124 GMT) on Sunday.

Comment on this SOTT Focus

---
Health & Wellness
---
Too Much White Rice, Pasta and Bread may Increase Chances of AMD


ANI
2007-07-16 12:38:00

A study has revealed that high consumption of foods like white rice, pasta and bread, which have high-glycemic-index, increase the chances of developing age-related macular degeneration (AMD).

However, whole-wheat versions of rice, pasta and bread are examples of foods that have a low-glycemic-index. These foods are often considered higher quality carbohydrates because they are associated with a slower and less dramatic rise and fall of blood sugar.

AMD it is the leading cause of central vision loss (blindness) and in the United States.

Allen Taylor, PhD, director of the Laboratory for Nutrition and Vision Research at the Jean Mayer USDA Human Nutrition Research Center on Aging (USDA HNRCA) at Tufts University, and colleagues said that AMD link and vision loss may be connected to the quality of carbohydrates an individual consumes.


Comment on this SOTT Focus

---

Polish baby born drunk


AFP
2007-07-16 12:28:00

A Polish baby came into the world under the influence of alcohol because his mother was drunk during labour, police said Friday.

Tests 12 hours after the boy's birth revealed a level of 1.2 grammes of alcohol per 1,000 grammes of blood - the equivalent of a bottle of wine or two litres of beer for an adult drinker.

In comparison, blood-alcohol limit for drivers in Poland is 0.2 grammes.

The baby was in intensive care on Friday, and although he was in a stable condition, doctors said they feared his brain could have suffered lasting damage.


Comment on this SOTT Focus

---

Mobile phones 'dumbing down brain power'

Ben Quinn
telegraph.co.uk
2007-07-15 00:36:00

An over reliance on technology is leading to a dumbing down of the nation's brain power, according a study published today.

In a society flooded with mobile phones, Blackberry devices and computers of various shapes and sizes, a quarter of all Britons do not know their own landline number while as little as a third can recall more than three birthdays of their immediate family.

Comment on this SOTT Focus

---
Science & Technology
---
August Meteor Shower Will Be 'A Great Show'

Robert Roy Britt
Space.com
2007-07-12 15:01:00

The annual Perseid meteor shower is expected to put on a great show this year, peaking in mid-August with a display of dozens of shooting stars each hour.

The Moon will be out of the way, leaving dark skies for good viewing as Earth plunges through an ancient stream of comet debris. Little bits, most no larger than sand grains, will vaporize in Earth's atmosphere, creating sometimes-dramatic "shooting stars."

Comment on this SOTT Focus

---

Forest Fire Leads to Ancient Meteorite Discovery


Space.com / AP
2007-07-16 13:03:00

A forest fire has led to a chance discovery of debris from the impact of a meteorite 1.85 billion years ago, more than 450 miles away at Sudbury, Ontario.

Geologists had scheduled a field trip in May along the Gunflint Trail in northeastern Minnesota, but most areas they wanted to explore were closed because of a wildfire that charred more than 118 square miles.

Geologist Mark Jirsa of the Minnesota Geological Survey went up the trail to scout new locations and, in a spot he had never visited before, stumbled across debris now linked to the Sudbury impact.

That impact created a crater more than 150 miles across, scattering rock and dust over nearly a million square miles.

"It's fairly dark rock,'' Jirsa said. "They look like concrete, but in this concrete you would throw pieces of rock of all sizes and shapes and in all possible orientations.''


Comment on this SOTT Focus

---
Our Haunted Planet
---
No new articles.
Don't Panic! Lighten Up!
---
Couple: 'Angels' Spotted In Florida Sky Photos


Local6.com
2007-07-16 17:02:00

A couple from South Carolina vacationing in Florida said family photos of the sky show angels in the clouds.

Rev. Glenn Fulton and his wife Linda were celebrating their 15th wedding anniversary in Amelia Island, Fla. during the Fourth of July weekend when they went for a walk to pray.

As the couple asked God for guidance, they said they snapped some photographs of the sunrise.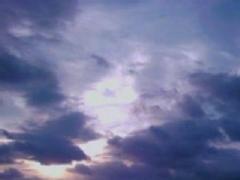 ©Local6.com
Comment on this SOTT Focus
---

Squirrel Spy Ring in Iran? Thats Nuts!


Sky News
2007-07-16 12:43:00

Police in Iran are reported to have taken 14 squirrels into custody - because they are suspected of spying.

The rodents were found near the Iranian border allegedly equipped with eavesdropping devices.

The reports have come from the official Islamic Republic News Agency (IRNA).

When asked about the confiscation of the spy squirrels, the national police chief said: "I have heard about it, but I do not have precise information."

The IRNA said that the squirrels were kitted out by foreign intelligence services - but they were captured two weeks ago by police officers.


Comment on this SOTT Focus

---

Iceland ranks top in happy citizen table

Duncan Campbell
The Guardian
2007-07-15 23:09:00

Iceland is the leader in a league table judging the European country best able to give citizens a long and happy life. Estonia comes bottom of the 30-nation survey while the UK lurks below Romania, at number 21 in the chart.

Comment on this SOTT Focus

---
---

Remember, we need your help to collect information on what is going on in your part of the world!
Send your article suggestions to: sott(at)signs-of-the-times.org

---
Click here to return to the Signs of the Times Archive
Click here for today's Signs Page