---
Sections on today's Signs Page:
---
SOTT Focus
---
Ponerology of Apathy and War

S. La Chance
SOTT
2007-07-10 18:17:00





Understanding the science of ponerology presents a real and viable opportunity to create a life affirming world rather than the current world ruled by the inhuman laws of war and apathy.

Comment on this SOTT Focus

---
Best of the Web
---
WHAT TO DO? WHAT TO DO? Taking Action In The Face Of Collapse

Carolyn Baker
Speaking Truth to Power
2007-07-10 13:58:00

Every time I write an article on collapse such as my most recent one "Happy Independence Day; You Have No Government", I am bombarded with emails asking me "what should I do?" For those who have just discovered this site, that is a legitimate question because for them, the reality of collapse may be new. Those who have been following this site for some time have heard many suggestions on what to do, but this article will offer those and other suggestions again more clearly and more adamantly than they have been offered here before.

The intensity you are likely to hear in this piece is driven by the urgency which I and many of my peers are feeling at this moment. Quite frankly, it's time to quit screwing around with talking about collapse and start acting. The Rubicon has been crossed, we're not living in Kansas anymore, and we are living in the closest thing we've seen to pre-World War II Germany than anything since then. Suit up and stop theorizing and speculating.

It's showtime.

Comment on this SOTT Focus

---
U.S. News
---
Bush orders Miers not to testify - and always gets what he wants


AP Dictatorship Department
2007-07-11 16:26:00

President Bush ordered his former White House counsel, Harriet Miers, to defy a congressional subpoena and refuse to testify Thursday before a House panel investigating U.S. attorney firings.

Comment on this SOTT Focus

---

Flashback: A War of Words: 'Declare' vs. 'Make' and Its Allies

By Dana Milbank
The Washington Post
2006-02-24 12:00:00

For generations, civics students have learned that the Constitution gives Congress the power to declare war. Yesterday, the man who built the legal underpinnings of the Bush administration's terrorism strategy revised the curriculum.



John Yoo, the former Justice Department official whose writings justified the administration's treatment of military prisoners and the National Security Agency eavesdropping program, announced that Congress's warmaking powers are just a figment of the "popular imagination."



Comment on this SOTT Focus

---

John Yoo - Architect of Torture

Nat Hentoff
Village Voice
2007-07-10 20:36:00

The rush of attention on June 26, when the CIA released 700 pages of what it internally calls its "crown jewels" detailing lawless acts - many of them dangerously reckless crimes - committed from the 1950s through the 1970s, led General Michael Hayden, director of the CIA, to explain smoothly: "That was a very different era - a very different agency."

In the descriptions of assassination plots and the tight surveillance of journalists detailed in the papers, I found much that I had already written about during those years - such as the CIA's sprinkling of LSD in New York subways to test riders' reactions, and the suicide of a particular person of interest to the CIA, given LSD without his knowledge by the agency. But by and large, I agree with James Bamford, the expert on warrantless surveillance by the National Security Agency under Bush: "Looking back, it seems so minor compared to what the CIA is doing today."

Comment on this SOTT Focus

---

Former Bush surgeon general says he was muzzled

Will Dunham
Reuters
2007-07-11 02:29:00

The first U.S. surgeon general appointed by President George W. Bush accused the administration on Tuesday of political interference and muzzling him on key issues like embryonic stem cell research.

Comment on this SOTT Focus

---

Gonzales faces new 'firestorm' in Congress

Thomas Ferraro
Reuters
2007-07-11 02:27:00

Embattled U.S. Attorney General Alberto Gonzales faced a new firestorm on Tuesday sparked by a report he may have misled lawmakers in 2005 about civil liberty violations by the FBI.



Comment on this SOTT Focus

---

Reporter Caught on Video With Source

By MEGAN REICHGOTT
The Guardian
2007-07-10 22:08:00

CHICAGO - A television reporter left her job Tuesday after she was caught on video in a swimsuit at the home of a man whose wife disappeared two months ago - a story she was assigned to cover - raising ethical questions about her conduct.

Comment on this SOTT Focus

---
UK & Euro-Asian News
---
New questions about Jim Morrison's death

Angela Doland, Associated Press Writer
Yahoo News
2007-07-11 15:26:00

PARIS - The official story goes like this: On the last night of Jim Morrison's life, the rocker went to a movie in Paris, listened to records, fell ill and died of heart failure in his bathtub at the age of 27.

But rumors have always swirled around the death of The Doors frontman and, 36 years later, a former Paris nightclub manager is telling a different story. In a new book, Sam Bernett says that Morrison died in a toilet stall of his club after what he believes was a heroin overdose.

Comment on this SOTT Focus

---

Some Chinese families allowed to have two children


RIA Novosti
2007-07-11 11:41:00

Chinese authorities have liberalized the country's birth-control policy allowing urban families to have two children in some circumstances, the Xinhua news agency quoted a senior official at the family planning commission as saying Wednesday.

Except for the country's most densely populated province of Henan, Central China, which has a population of around 97 million people, couples can have two children if both parents were only children.

Since the 1970s, China has maintained its "one-child policy," restricting the number of children to one in urban families. Rural regions are governed by the "one-and-a-half children" policy, where couples can have a second child if their first is a girl. No birth restrictions have been imposed on national minorities.

Those who violate the law are fined and have to cover all social costs, including health care and education.


Comment on this SOTT Focus

---

Over 4,000 missing in Chechnya since 1994 - human rights chief


RIA Novosti
2007-07-11 11:37:00

More than 4,300 people are considered missing in Russia's North Caucasus republic of Chechnya since 1994, the republic's human rights ombudsman said Wednesday.

"Our records indicate that over 2,800 people disappeared in 2000-2007, and 1,500 disappeared in 1994-1996," Nurdi Nukhazhiyev told a news conference.

Chechnya, with a population of over a million people as of 2002, was devastated by two military campaigns, in 1994-1996 and 1999-2001. In recent years, Moscow has substantially scaled down its military presence.

However, gunfights and terrorist attacks still occur in the area, despite a widely publicized amnesty for gunmen announced by Russian authorities.

Russian authorities have been criticized by the West for alleged human rights violations in Chechnya.


Comment on this SOTT Focus

---

U.K. to curb ties with Russia over Lugovoi; Russia "perplexed"


RIA Novosti
2007-07-11 11:34:00

British media quoted a government spokesman Wednesday chastising Russia over its refusal to extradite a prime suspect in the poisoning of a Russian defector and U.K. national, while Russia has said it was "perplexed" by the British position.

Russia has refused to extradite Andrei Lugovoi to stand trial for the murder of former FSB officer and Kremlin critic Alexander Litvinenko last November, saying it runs counter to its Constitution.

The prime minister's spokesman said Tuesday the refusal was "extremely disappointing," The Times reported. The paper also quoted the spokesman as saying Downing Street "did not have full confidence" that Moscow's alternative offer to try Lugovoi in Russia "would meet the standards of impartiality and fairness we would deem necessary."


Comment on this SOTT Focus

---

Russia: Nine coaches of passenger train run off tracks in Urals


Itar-Tass
2007-07-11 11:26:00

A technical defect found in a car of a passenger train derailed in the Sverdlovsk region on Tuesday caused the railway accident, Press service chief of the Interior Department of the Sverdlovsk region Valery Gorelykh told Tass, citing a preliminary conclusion.


Comment on this SOTT Focus

---

Vatican reiterates hardline on primacy of Catholic Church


AFP
2007-07-11 02:26:00

The Vatican set itself on a collision course with other Christian faiths Tuesday, reaffirming the primacy of the Roman Catholic Church in a corrective document which it said was designed to clear up recent "erroneous" doctrine.



Comment on this SOTT Focus

---
Around the World
---
Algeria suicide attack kills eight soldiers


AFP
2007-07-11 11:10:00

A suicide bomber killed eight soldiers and wounded 20 in an attack on an Algerian barracks Wednesday just a few hours before the start of a major African sporting event in the capital, security sources said.



Comment on this SOTT Focus

---

US mining firm in dock for war crimes over Colombia murders

Leonard Doyle
The Independent
2007-07-11 02:59:00

The bus carrying 50 tired and grimy miners had just left La Loma mine when gunmen forced it to stop and dragged two union leaders off. One was shot dead on the spot, the gunmen pumping four bullets into his head. The other was tortured and then killed. Six months later another union leader who had come to the mine was also assassinated.

Comment on this SOTT Focus

---

Rebel cleric shot dead as commandos storm mosque to end siege

Declan Walsh
The Guardian
2007-07-11 02:59:00

Commandos killed the rebel cleric Abdul Rashid Ghazi yesterday, at the climax of a blistering battle for control of the besieged Red Mosque complex in central Islamabad. At least 58 others also died.

Comment on this SOTT Focus

---

Mexico Confirms Attacks on Pipelines

MARK STEVENSON
AP
2007-07-11 02:59:00

Mexico's government on Tuesday called a series of gas pipeline explosions a threat to the nation's democratic institutions and vowed to step up security after a guerrilla group claimed responsibility for the blasts.


Comment on this SOTT Focus

---

Gunbattle in East India Leaves 49 Dead

ASHOK SHARMA
AP
2007-07-11 02:49:00

Maoist rebels using mortars and machine guns battled police in eastern India in an hours-long fight that left 24 policemen and 25 rebels dead, a police official said Wednesday.


Comment on this SOTT Focus

---

Convenient timing! Dozen boys among 17 dead in Afghan 'suicide' blast


AFP
2007-07-11 02:02:00

Seventeen civilians, a dozen of them schoolboys, were killed and 30 others wounded when a suicide bomber blew himself up near a NATO convoy in southern Afghanistan, officials said Tuesday.




Comment on this SOTT Focus

---
Big Brother
---
Road with 100 cameras is plagued by crime - UK

Martin Beckford
telegraph.co.uk
2007-07-11 17:14:00

A crime-ridden high street in north London has been branded the most spied-upon road in Britain, after it emerged that it is watched over by more than 100 closed circuit television cameras.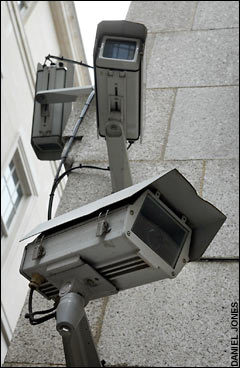 ©Daniel Jones
There are 102 CCTV cameras monitoring crime on the two-mile Holloway Road.



In one 650-yard section of Holloway Road, that runs from Archway to Highbury Corner, there are 29 cameras mounted on shops and lampposts, a church and a courtroom.

Comment on this SOTT Focus

---

UK: Top Firms 'Breaching Privacy Rules'


Sky News
2007-07-11 12:11:00

A "horrifying" number of banks, shops and Government departments are failing to adequately protect the sensitive information they hold on people, according to a report.

Barclays and NatWest are among several High Street banks which have been rapped by the Information Commissioner's Office for breaching data protection rules.

They were found guilty of dumping customers' personal details in public waste bins outside their premises.

Information Commissioner Richard Thomas said: "The roll call of banks, retailers, Government departments, public bodies and other organisations which have admitted serious security lapses is frankly horrifying."


Comment on this SOTT Focus

---

'Stealth advertising' sliding under radar into TV newscasts


EurekAlert / University of Oregon
2007-07-11 10:58:00

Advertisers' messages are infiltrating small-market television newscasts at about the same percentage that owners of digital video recorders are skipping the commercials, say researchers at the University of Oregon.

What's disturbing about this trend of "stealth advertising" is that viewers seldom are aware of potential slants in coverage because the connection of a story to an advertiser rarely is disclosed, said Jim Upshaw, a professor of journalism. Stealth advertising, he said, uses commercial messages that are intended to promote a product or service "that are cloaked in some other garment than a normal commercial."

"Stations are not telling their viewers that what they are putting on the air in news or feature stories or in other news content is being done to court a specific advertiser," Upshaw said. "I think people need to learn to be media literate, informed viewers of television. We may not be able to stop these practices but we need to be aware that these practices do exist."

Upshaw and colleagues monitored two evening newscasts a month at 17 U.S. stations over four months in early 2004, including a February ratings sweeps week in which stations target larger audiences and thereby increase advertising revenues. The markets were affiliated with the four major commercial networks (ABC, CBS, NBC and Fox).


Comment on this SOTT Focus

---

Data on Americans mined for "terror" risk

Lara Jakes Jordan
Associated Press
2007-07-10 22:53:00

WASHINGTON - The FBI is gathering and sorting information about Americans to help search for potential terrorists, insurance cheats and crooked pharmacists, according to a government report obtained Tuesday.


Comment on this SOTT Focus

---
Axis of Evil
---
Conference brings Israeli, US apologists together to 'fine tune' international law

Yaakov Lappin
Ynet News
2007-07-11 13:15:00

The Geneva Convention on armed conflict and the 100 year-old Hague Rules on war need to be "fine tuned" to meet the challenges posed by 21st century asymmetrical warfare, Israeli and American experts said during a conference in Herzliya on Monday.



Comment on this SOTT Focus

---

Former CIA Official: U.S., Allies Should be More 'Brutal' In Its Fight On Terror

Geoffrey Spencer
All Headlines News
2007-07-11 13:12:00

A former senior CIA officer, who once led the hunt for Osama bin Laden, says the United States and its allies must become more "brutal" in the fight against Islamic insurgents in Iraq and Afghanistan. Michael Scheuer told a security conference in Sydney on Tuesday that the West is losing the war on terror.

Comment on this SOTT Focus

---

Chertoff has a "gut feeling" for a Bush saving terror strike this summer; Predicts closed borders, detention camps

E.A. Torriero
Newsday
2007-07-11 13:06:00

Fearing complacency among the American people over possible terror threats, U.S. Homeland Security Secretary Michael Chertoff said in Chicago Tuesday that the nation faces a heightened chance of an attack this summer.

"I believe we are entering a period this summer of increased risk," Chertoff told the Chicago Tribune's editorial board in an unusually blunt and frank assessment of America's terror threat level.

"Summertime seems to be appealing to them," he said of al-Qaeda. "We do worry that they are rebuilding their activities."

Comment on this SOTT Focus

---

One rape scandal after another. MK sexually assaulted me, Israeli political activist says


Ynet
2007-07-11 11:13:00

A political activist in the Pensioners Paty's Knesset faction recently asserted that Knesset Member Izhak Ziv sexually assaulted her and continues to harass her, it was reported Wednesday.

According to the woman, the assault took place before the March 2006 Knesset elections, while she toured the MK's home.


Comment on this SOTT Focus

---

New report reveals Gonzales may have misled (lied to) lawmakers


AXcess News
2007-07-10 20:15:00

Washington - A national newspaper exposed Attorney General Alberto Gonzales for having knowledge of reports of potential abuse by the FBI of violating the civil rights of individuals under the Patriot Act when having read the reports sent to the president's Intelligence Oversight Board in 2005. The news brought about a new wave of cries for Gonzales to resign.


Comment on this SOTT Focus

---

The Consequences of the Partition of Palestine (ORE 55)


CIA FOIA
1993-09-22 17:45:00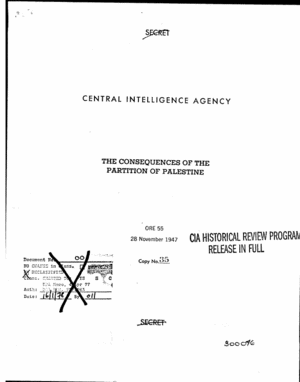 ©.
Comment on this SOTT Focus
---
Middle East Madness
---
Hamas official describes its goals for all of Palestine

Mousa Abu Marzook
Los Angeles Times
2007-07-10 14:06:00

Hamas' rescue of a BBC journalist from his captors in Gaza last week was surely cause for rejoicing. But I want to be clear about one thing: We did not deliver up Alan Johnston as some obsequious boon to Western powers.

It was done as part of our effort to secure Gaza from the lawlessness of militias and violence, no matter what the source. Gaza will be calm and under the rule of law - a place where all journalists, foreigners and guests of the Palestinian people will be treated with dignity. Hamas has never supported attacks on Westerners, as even our harshest critics will concede; our struggle has always been focused on the occupier and our legal resistance to it - a right of occupied people that is explicitly supported by the Fourth Geneva Convention.


Comment on this SOTT Focus

---

Syria urges Syrians to leave Lebanon by next week ahead of "Military Eruption"


UPI
2007-07-11 13:03:00

Syria is calling on its citizens who are in Lebanon to leave the country ahead of an expected military "eruption" expected to take place next week.

Arab and Iranian news reports predict Lebanon's political crisis may become a violent conflict next week, Israel's YNetnews.com reported. Reports from the area suggest civil war is possible.



Comment on this SOTT Focus

---

War against Syrian people will be "at least 10 times worse" than against Lebanese says IDF

YAAKOV KATZ
Jerusalem Post
2007-07-11 13:01:00

Predicting that war with Syria could erupt if Prime Minister Ehud Olmert does not begin peace negotiations with Damascus, the latest IDF assessment also states that such a conflict would be "at least 10 times worse" than last summer's conflict with Hizbullah.

Military Intelligence is also identifying and pinpointing targets for the IDF in the event that a strike is launched against Iran's nuclear facilities.

Comment on this SOTT Focus

---

Olmert talks of peace with Syria to build up public image before launching invasion


UPI
2007-07-11 12:18:00

Israeli Prime Minister Ehud Olmert said Monday he was willing to meet Syrian President Bashar Assad "anywhere he wants" and discuss peace.


Comment on this SOTT Focus

---

Scores flee refugee camp in Lebanon

Zeina Karam
Associated Press
2007-07-11 11:59:00

At least 150 Palestinians fled a northern refugee camp Wednesday in anticipation of an assault by the Lebanese army battling Islamic militants holed up inside.

Most of the refugees left with the help of the Palestinian Red Crescent, said Samar Kadi, an International Committee of the Red Cross communications officer.

Comment on this SOTT Focus

---

Flashback: Israeli agents accused of creating fake al-Qaeda cell

Sophie Claudet in Gaza City AFP December 9 2002
Sophie Claudet in Gaza City AFP December 9 2002
2006-12-26 12:00:00

A senior Palestinian security official says his services have uncovered an Israeli plot to create a fake al-Qaeda cell in the Gaza Strip, a charge Israel has dismissed as absurd.



The head of preventive security in Gaza, Rashid Abu Shbak, said Israeli agents posing as operatives of al-Qaeda recruited Palestinians in the Gaza Strip.



"Over the past nine months we've been investigating eight [such] cases," Mr Abu Shbak said.



His claims came after the Israeli Prime Minister, Ariel Sharon, said al-Qaeda militants were operating in the Gaza Strip and in Lebanon, raising fears of an intensification of Israeli military occupations.

Comment on this SOTT Focus

---
The Loan Gunmen
---
UK Huge increase in those forced to default on mortgages payments

Bill Hickman
The Independent
2007-07-11 17:28:00

Britain faces a mortgage crisis with payment arrears rising sharply as 18 million homeowners struggle to meet the fifth rise in interest rates in less than a year.

It is being predicted that high earners who have stretched themselves to buy a home will join less prosperous social groups in experiencing problems as they juggle finances to adjust to rises in monthly payments.

Comment on this SOTT Focus

---

Dollar plunges to new lows against Euro

Stephen Foley
The Independent
2007-07-11 17:23:00

The dollar has plunged to its lowest level ever against the euro amid evidence that the American housing market slowdown may be leaching into other areas of the economy.

And sterling also hit a fresh 26-year high against the US currency, with £1 at one point buying close to $2.03.

The dollar's decline came amid warnings of worsening conditions in the housing market. The rating agency Standard & Poor's predicted more defaults among low-income borrowers who have taken out so-called "sub-prime" mortgages, while the biggest home improvement chain, Home Depot, issued its second profit warning in two months.

Comment on this SOTT Focus

---

US housing slowdown weighs on retailers

Jonathan Birchall
Financial Times
2007-07-10 15:50:00

Home Depot and Sears Holdings - two of the three largest US retailers - have both issued gloomy earnings forecasts that in part reflect the impact on their businesses of the downturn in the US housing market.

Comment on this SOTT Focus

---

Banks and brokers shares fall on subprime woes

Dan Wilchins
Reuters
2007-07-10 20:16:00

NEW YORK - The shares of U.S. commercial and investment banks fell on Tuesday after two bond rating agencies started to downgrade billions of dollars of securities backed by subprime bonds, triggering concerns that bond sales and lending businesses could slow.


Comment on this SOTT Focus

---

Wall St's fear gauge lights up as U.S. stocks slide

Doris Frankel
Reuters
2007-07-10 20:13:00

CHICAGO - The Chicago Board Options Exchange Volatility Index jumped on Tuesday, suggesting that many investors are buying options to manage their stock market risk as U.S. stocks tumbled.


Comment on this SOTT Focus

---
The Living Planet
---
China floods 75 villages to ease swollen river


Reuters
2007-07-10 02:39:00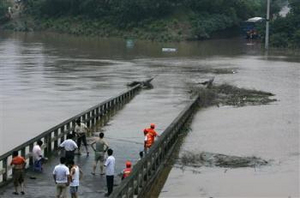 ©Reuters
Local residents check a bridge which is partially submerged by the floods in southwest China's Chongqing municipality



China flooded dozens of evacuated villages on Tuesday to ease pressure from a swollen river after torrential rains that have killed more than 100 people nationwide.


Comment on this SOTT Focus

---

Switzerland experiences unseasonably cold weather


Xinhua
2007-07-10 17:23:00

Heavy rain and unseasonably low temperatures have marred the beginning of the summer holiday period in many parts of Switzerland, the official Swiss info website reported on Tuesday.

While the mixed weather appears to have had no major impact on tourism, the authorities issued warnings as the levels of several lakes reached a critical point, according to the report.

Comment on this SOTT Focus

---

Mega-mushroom in Mexico


AFP
2007-07-10 16:01:00

A more than 20-kilo (41-lb) mushroom has been picked in a forest in Mexico's southernmost state of Chiapas, university officials said Tuesday.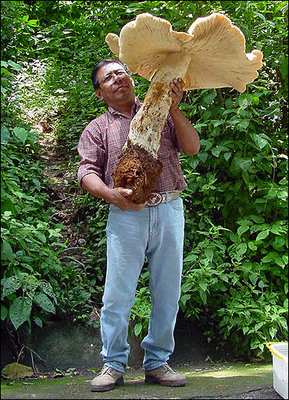 ©AFP
Comment on this SOTT Focus
---

Jellyfish swarms threaten Mediterranean beach bums

Debora MacKenzie
New Scientist
2007-07-11 11:57:00

Unusual concentrations of the mauve stinger jellyfish, Pelagia noctiluca, have been discovered off Spain's Balearic Islands, as well as elsewhere in the Mediterranean. It is feared the creatures, which can give a painful sting, will show up on tourist beaches in August.

Pelagia noctiluca grows up to 10 centimeters wide, and is sometimes also called the nightlight jellyfish because it produces a blue-green luminescent mucus, most often seen as a glow in ships' wakes. But its more common name, mauve stinger, reflects the species' most noticeable effect on people.

Mauve stingers normally live in the open ocean, so they are often seen around offshore islands such as the Balearics. But they approach mainland beaches in late summer when rainfall drops, and freshwater runoff into coastal seas diminishes, making inshore waters more salty and suited to jellyfish.


Comment on this SOTT Focus

---

Giant squid washes up in Australia


Physorg / AFP
2007-07-11 11:49:00

A rare giant squid measuring eight metres (26 feet) in length and weighing in at more than 250 kilogrammes (550 pounds) has washed up on an Australian beach, scientists said Wednesday.

The massive sea monster was found on the island state of Tasmania late Tuesday by a member of the public near the town of Strahan, Tasmanian Museum invertebrate expert Genefor Walker-Smith said.

"It's a whopper," Walker-Smith said. "The main mantle of the squid is about one metre across and its total length is about eight metres.

"It's a very exciting discovery."

The giant squid, Architeuthis Dux, is one of the world's largest invertebrates, although little is known about the creatures because they live at depths of about a kilometre.

A group of Japanese zoologists made the first recording of a live giant squid in 2005, showing the animals were far faster and more active predators than previously thought.

The creatures are a legend among seafarers, the source of tales of tentacled monsters able to grab a ship and pull it down to its doom.


Comment on this SOTT Focus

---

Floods in China leave more than 130 dead


RIA Novosti
2007-07-11 11:43:00

Heavy rain and storms have caused flooding in the south and east of China leaving 131 people dead and 31 missing, with a further 1.2 million people being forced from their homes, the Ministry of Civil Affairs said.

The rain and storms raging since the end of June have affected around 36 million people, causing damage to 99,000 homes and buildings, as well as devastating more than 2.5 million hectares of farmland, the local media said citing the ministry.


Comment on this SOTT Focus

---
Health & Wellness
---
Hidden Danger of Swimming Pools for Children

Dr. Mercola
Mercola.com
2007-06-15 16:05:00

A new study published in the journal Pediatrics found that children who spend a lot of time at indoor swimming pools during their early years are more prone to developing asthma, recurrent bronchitis, and other breathing problems as they grow older, compared to others who do not frequent indoor pools.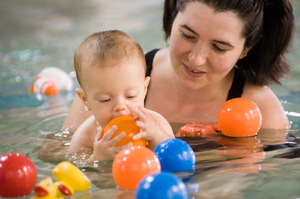 ©Mercola.com
Comment on this SOTT Focus
---

Taunting may affect health of obese youths

Stephen Smith
The Boston Globe
2007-07-11 12:15:00

Remember that time in third grade when you called the pudgy boy in gym class "fatso?"

It wasn't just mean. It might have inflicted lasting wounds, according to a Yale University study released yesterday that found that overweight and obese children who are subjected to verbal taunts and physical bullying are substantially more prone during childhood to suicidal thoughts, eating disorders, and high blood pressure than their peers.

Yale clinical psychologist Rebecca M. Puhl and a colleague from the University of Hawaii at Manoa reviewed four decades' worth of psychological, social and medical research on childhood obesity -- more than 100 studies. They discovered that taunts, shoves, and social isolation can wreak emotional and physical harm in childhood and possibly beyond that is distinct from the health consequences of being overweight.


Comment on this SOTT Focus

---

Blood test can spot hidden body fat

Roxanne Khamsi
NewScientist
2007-07-11 12:03:00

A blood test could be used to detect dangerous hidden belly fat, - even if it is buried so deep within the abdomen that a person outwardly appears lean. Scientists say new research indicates that a diagnostic test could be developed to help identify these individuals, who have a higher risk of heart disease and diabetes.

For most people, a simple tape measure can indicate if they are winning the battle of the bulge. But while doctors acknowledge that waist circumference generally correlates with fitness, some seek more sophisticated methods of assessing patients' health.

"Waist circumference correlates to some extent, but it's really a crude measure," explains Barbara Kahn at the Beth Israel Deaconess Medical Center in Boston, Massachusetts, US.


Comment on this SOTT Focus

---

Obesity Rates Continue to Climb in the United States


Johns Hopkins Bloomberg School of Public Health
2007-07-11 11:06:00

The U.S. obesity prevalence increased from 13 percent to 32 percent between the 1960s and 2004, according to researchers at the Johns Hopkins Bloomberg School of Public Health Center for Human Nutrition. The prevalence of obesity and overweight has increased at an average rate of 0.3 - 0.8 percentage points across different sociodemographic groups over the past three decades. Some minority and low socioeconomic status groups - such as non-Hispanic black women and children, Mexican-American women and children, low socioeconomic status black men and white women and children, Native Americans and Pacific Islanders - are disproportionately affected. The meta-analysis was published online on May 17, 2007, in advance of the 2007 issue of the journal Epidemiologic Reviews.


Comment on this SOTT Focus

---

I told the truth all along, says doctor at heart of autism row


The Guardian
2007-07-11 07:26:00

In his only interview before he appears in front of the General Medical Council to face serious charges of malpractice, the campaigner against the MMR vaccine tells Denis Campbell that he has no regrets

Comment on this SOTT Focus

---

Medics Continue To Push Psychotropic Drugs Like There Is No Tomorrow

Elizabeth Cohen
CNN
2007-07-11 05:49:00

Dr. Ronald Dworkin tells the story of a woman who didn't like the way her husband was handling the family finances. She wanted to start keeping the books herself but didn't want to insult her husband.

The doctor suggested she try an antidepressant to make herself

feel better

.



She got the antidepressant, and she did feel better, said Dr. Dworkin, a Maryland anesthesiologist and senior fellow at Washington's Hudson Institute, who told the story in his book "Artificial Unhappiness: The Dark Side of the New Happy Class." But in the meantime, Dworkin says, the woman's husband led the family into financial ruin.



"Doctors are now medicating unhappiness," said Dworkin. "Too many people take drugs when they really need to be making changes in their lives."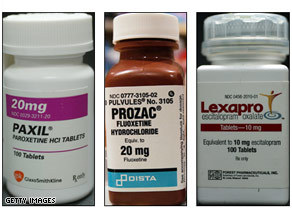 Antidepressants are America's most-prescribed drugs.
Comment on this SOTT Focus
---
Science & Technology
---
Mathematics proves the silliness of 'silly walks'


Physorg / AFP
2007-07-11 12:29:00

Scientists have explained mathematically why the famous "silly walks" of Monty Python's John Cleese have never caught on in the long history of Homo sapiens.

The giant, leg-twirling strides of silly walks may enable an individual to leap around swiftly but are simply too expensive in metabolic energy compared to conventional locomotion, according to a paper published on Wednesday by Britain's Royal Society.

Manoj Srinavasan and Andy Ruina, researchers in applied mechanics at New York's Cornell University, drew up a geometrical model of human walking and running.

They found that, in essence, each leg is a "telescoping actuator" that can change its length.

In walking, the body vaults forwards in circular arcs, driven forward by the pendular swing of the legs, with the toe and heel providing the push-off and landing point for each movement. In running, though, the body travels from one parabolic arc to the next, with a bounce in between.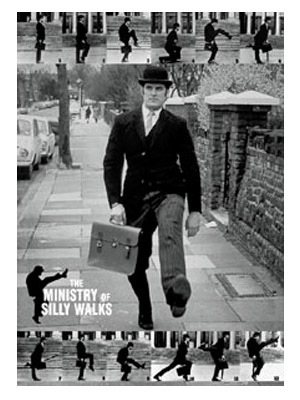 ©n/a



Srinavasan and Ruina then factored in the metabolic cost of three drains on energy on both movements.

These are the energy expenditure required to keep the body's basic functions ticking over; the cost of swinging the legs; and the cost incurred when a leg is in contact with the ground.


Comment on this SOTT Focus

---

Baby mammoth discovery unveiled


BBC
2007-07-11 11:22:00

A baby mammoth unearthed in the permafrost of north-west Siberia could be the best preserved specimen of its type, scientists have said.

The frozen carcass is to be sent to Japan for detailed study.

The six-month-old female calf was discovered on the Yamal peninsula of Russia and is thought to have died 10,000 years ago.

The animal's trunk and eyes are still intact and some of its fur remains on the body.


Comment on this SOTT Focus

---

NASA testing for impact of sonic booms on housing

Matthew C. Durkee
Victorville Daily Press
2007-07-11 08:46:00

EDWARDS AFB - If your house shakes and you hear a mysterious boom during the next nine days, look up.

NASA's Dryden Flight Research Center will be experimenting with sonic booms today through July 20 to assess the impact on modern housing construction.

Called the Housing Structural Response to Sonic Booms Test, the experiment consists of an F-18 research aircraft flying at supersonic speeds to subject an Edwards base house to sonic booms.

Comment on this SOTT Focus

---

South Dakota Wins Federal Lab Project

By MARY CLARE JALONICK
Associated Press
2007-07-10 21:58:00

WASHINGTON - The National Science Foundation on Tuesday chose South Dakota's closed Homestake Gold Mine as the site for a new underground physics lab to study the history and makeup of the universe.

Comment on this SOTT Focus

---
Our Haunted Planet
---
UFO seen above Hungerford...again

Miles Amoore
Newbury Weekly News
2007-07-11 11:29:00

Taxi driver spots orange shapes in sky over Hungerford and man sees UFO the size of four football pitches above Thatcham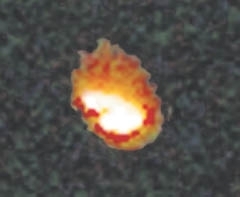 ©Newbury News
Comment on this SOTT Focus
---
Don't Panic! Lighten Up!
---
Chinese city offers bounty for dead flies


Ananova
2007-07-11 12:07:00

A Chinese city is offering to buy dead flies from residents to promote public hygiene.

Officials in the Xigong district of Luoyang city are offering the equivalent of 3p for each dead fly, reports Henan Business News.

"We think giving people money will be more effective than fining them to keep the city clean," says Hu Guisheng, administrative director of Xigong district.

Hu says that in only one day, his office has collected more than 2,000 dead flies in six communities, and paid out more than £65.


Comment on this SOTT Focus

---

Unusual robbery disguise: Bandit's as thick as a plank

Jano Gibson
The Sydney Morning Herald
2007-07-11 11:54:00

If you're going to rob a bank, it's not a bad idea to wear a disguise.

A balaclava will probably do the trick. So too, a pair of stockings slipped over the head. You might even get away with painting your face like a clown.

James Coldwell, 49, decided to go against the grain when he strolled into the Elm Street branch of the Citizens Bank in Manchester, New Hampshire, in the United States on Saturday morning, police say.

"Right after the bank opened a subject walked into the bank with tree branches and leaves duct-taped all over his body," Detective Sergeant William Davies told the Herald.


Comment on this SOTT Focus

---
---

Remember, we need your help to collect information on what is going on in your part of the world!
Send your article suggestions to: sott(at)signs-of-the-times.org

---
Click here to return to the Signs of the Times Archive
Click here for today's Signs Page