---
Sections on today's Signs Page:
---
SOTT Focus
---
No new articles.
Best of the Web
---
'Cult of the Founding Fathers' is Obscuring America's Worldview

Thomas Klau and translated By Ulf Behncke
Financial Times Deutschland
2007-07-06 03:57:00


"This allows the United States to persist in describing itself as the freest country on earth, although by nearly every objective criterion, most European nations are more liberal and free than the United States."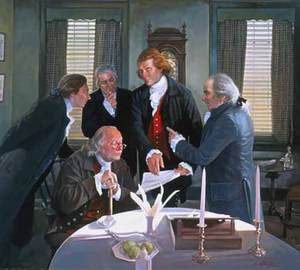 ©n/a
The Founding Fathers: Are Americans Stuck in a Colonial Time Warp?
Comment on this SOTT Focus
---
U.S. News
---
Majority polled in U.S. favor Cheney impeachment. Plurality Bush.


AFP
2007-07-06 17:20:00

WASHINGTON - Nearly half of the US public wants President George W. Bush to face impeachment, and even more favor that fate for Vice President Dick Cheney, according to a poll out Friday.

The survey by the American Research Group found that 45 percent support the US House of Representatives beginning impeachment proceedings against Bush, with 46 percent opposed, and a 54-40 split in favor when it comes to Cheney.



Comment on this SOTT Focus

---

Plague of bioweapons accidents afflicts the US, WMD central

Debora MacKenzie
New Scientist
2007-07-05 14:37:00

Deadly germs may be more likely to be spread due to a biodefence lab accident than a biological attack by terrorists.

Plague, anthrax, Rocky Mountain spotted fever - these are among the bioweapons some experts fear could be used in a germ warfare attack against the US. But the public has had near-misses with those diseases and others over the past five years, ironically because of accidents in labs that were working to defend against bioterrorists. Even worse, they may be only the tip of an iceberg.

Comment on this SOTT Focus

---

UFO expert suing Islander to retrieve research materials

FRANK DONNELLY
Staten Island Advance
2007-07-06 13:45:00

A UFO expert and international science journalist alleges that a 65-year-old Mariners Harbor woman is playing Darth Vader by demanding a whopping $100,000 for research materials, books and family photos of his that she obtained through a storage-house auction.

Comment on this SOTT Focus

---

Updated! Setting the Stage? Feds Probe Threat Against Goldman Sachs


CBS/AP
2007-07-06 13:03:00

The FBI is investigating anonymous threats against the Goldman Sachs investment firm contained in handwritten letters warning that "hundreds will die."

Sent to newspapers across the country, the letters threaten the investment titan, warning, "We are inside. You cannot stop us."

The Star Ledger of Newark reported the letters were all mailed from Queens, and signed "A.Q., U.S.A." One of the letters, postmarked June 27, was received recently by the newspaper.

Comment on this SOTT Focus

---

No Surprise! Court Nixes Suit Against Spying Program


AP
2007-07-06 12:57:00

A federal appeals court on Friday ordered the dismissal of a lawsuit challenging President Bush's domestic spying program, saying the plaintiffs had no standing to sue.

The 2-1 ruling by the 6th U.S. Circuit Court of Appeals panel was not on the legality of the surveillance program. But it vacated an order by a lower court in Detroit last Augist that the post-911 warrantless surveillance aimed at uncovering terrorist activity was unconstitutional, violating rights to privacy and free speech and the separation of powers.

Comment on this SOTT Focus

---

4 Wounded in Vegas Casino Shooting


Associated Press
2007-07-06 10:13:00

LAS VEGAS - A man on a walkway over the New York-New York casino floor opened fire on the gamblers below early Friday, wounding four people before he was tackled by officers and patrons, police said.

Comment on this SOTT Focus

---
UK & Euro-Asian News
---
EU consumer chief wants "fire-safe" cigarettes

Darren Ennis
Reuters
2007-07-05 15:09:00

The European Union's consumer chief aims to prevent thousands of fire-related deaths and injuries each year by making all cigarettes sold in EU countries self-extinguishing, European Commission officials said.

The "fire-safe" cigarettes stop burning automatically after a few seconds if not puffed, due to small gaps in the cigarette paper which cuts the circulation of oxygen.

Comment on this SOTT Focus

---

Russia says U.K. refusal to open case vs. Berezovsky ungrounded


RIA Novosti
2007-07-06 11:19:00

Russia's top prosecutor's office said Friday British authorities' refusal to open a criminal case against fugitive oligarch Boris Berezovsky over his calls to overthrow President Vladimir Putin was unjustified.

"Calls for a violent change of power are a criminal offense in any civilized country. The Prosecutor General's Office does not share its British colleagues' view," a prosecutor said.

Britain's Crown Prosecution Service said Monday that it had examined Berezovsky's April 13 online interview with The Guardian and determined he was rather calling for civil disobedience, and that therefore he could not be stripped of his refugee status granted in 2001, which would mean his extradition to Russia.

Russia has been seeking Berezovsky's extradition since 2002 on charges of money laundering, fraud, and plotting a coup in Russia.

Berezovsky told the newspaper that he had bankrolled Kremlin insiders conspiring to overthrow President Vladimir Putin. Earlier in January, the businessman also said in an interview with Russia's Ekho Moskvy radio station that he was "working" to stage a coup in the country.


Comment on this SOTT Focus

---

Belgian king accused of causing fatal accident 35 year ago


RIA Novosti
2007-07-06 11:17:00

Colonel Noel Vaessen, former adviser to Belgian Prince Laurent, has accused King Albert II of Belgium of a 35-year-old road accident that killed two people, a local television station said Friday.

The colonel has published a book in which he accuses King Albert of being behind the wheel of a speeding car that crashed into an oncoming vehicle.

In 1972, the young prince was said to have been riding in a car driven by his friend Patrick Lang in the city of Stavelot, in the province of Liege. Lang reportedly lost control and crashed into a car belonging to a German couple, killing them both on the spot.


Comment on this SOTT Focus

---

Belgium: Dinner guest discovers bodies in freezer

David Charter and Rory Watson
The Times
2007-07-06 10:05:00

A dinner party ended with a gruesome midnight discovery when a helpful guest stored the leftovers in the freezer and discovered the body of her host's wife.

The guest fled Didier Charron's house in the small town of Verviers in eastern Belgium and called police who not only found the corpse of Chantal, 46, but also that of her son Bryan, 11.

Mr Charron, 42, who will appear in court today, was Bryan's stepfather and was well known to police for his violent rows with his wife, according to Christine Wilwerth, the Brussels public prosecutor.

Mrs Charron had announced a few weeks earlier that she wanted a divorce on the ground of continual beatings at the hands of her husband, Ms Wilwerth said. "It was really by luck that we have become involved in this sad affair. The woman discovered the first body by wanting to put away in the freezer the remains of a meal organised by Mr Charron," she said.


Comment on this SOTT Focus

---

UK's turn to fire up patriotic insanity: Brown lifts ban on national flag


BBC
2007-07-06 09:15:00

The union flag is flying over Downing Street after Gordon Brown scrapped a rule saying it could be flown only on certain days of the year.

The prime minister said it will now be up to individual public offices when they fly Britain's national flag.

He said: "When I came into government I realised that you could only fly the flag on 18 days in the year and I thought that was wrong."

He said he also wanted to promote British values of liberty and fairness.



Mr Brown made "Britishness" a key theme in his pitch for the Labour leadership, often appearing against a union flag backdrop.


Comment on this SOTT Focus

---

Birds of a feather: Sarkozy discusses climate change, Iraq with McCain


AFP
2007-07-05 23:09:00

PARIS - French President Nicolas Sarkozy Thursday met with US Senator John McCain, one of the main contenders for the 2008 Republican nomination, and discussed a raft of issues including climate change and Iraq.


Comment on this SOTT Focus

---
Around the World
---
In Vogue! Pakistan president's plane fired on: intelligence official


AFP
2007-07-06 11:55:00

Gunmen fired on Pakistan President Pervez Musharraf's plane using an improvised Taliban-style anti-aircraft gun after it took off from a military airbase on Friday, intelligence officials said.



Comment on this SOTT Focus

---

President Chavez Announces 'Petrochemical Revolution'

Chris Carlson
Venezuelanalysis.com
2007-07-06 11:51:00

Venezuelan President Hugo Chavez announced the launch of a "Petrochemical Revolution" for Venezuela yesterday, emphasizing that it is vital for the diversification of the economy and for national development. Focusing on developing industry to work with oil derivatives, the Chavez government announced plans to build several large petrochemical plants and to expand other existing plants to supply national industry with raw materials.

Comment on this SOTT Focus

---

Everyone wants to play: Japan stresses need for military reform, missile shield


RIA Novosti
2007-07-06 11:05:00

Japan's Defense Ministry published Friday a document that prioritizes the broader use of the Japanese military in global peacekeeping operations and the creation of a national missile shield.

The White Paper on national defense is an annual revision of the country's basic defense program, which this year reflects the Japanese leadership's drive to change the country's pacifist Constitution, drafted by U.S. occupational authorities in 1947.

"Globalization has stripped traditional meaning from national borders, and Japan's responsibilities today include utilizing its defense capabilities...for international peace cooperation activities," the White Paper 2007 said.

The current Constitution bans the use of military force as a means of resolving international disputes, and the government, led by Prime Minister Shinzo Abe, aims to amend articles that prohibit Japan from having its own armed forces.

The defense report also reflects Japan's desire to build its own missile shield in cooperation with the United States amid fears of a potential missile threat from North Korea and China's drive to boost its military power.


Comment on this SOTT Focus

---

Some 50,000 Tajikistanis freed from slavery in 2002-2007


RIA Novosti
2007-07-06 11:02:00

Some 50,000 Tajiks forced into slave labor in a number of former Soviet republics and some Asian nations were freed between 2002 and 2007, a regional official with the International Labour Organization (ILO) said Friday.

Firuz Satorov said that since the beginning of the year, Tajikistan has already launched 11 cases on charges of trafficking in minors and six cases on charges of recruiting people for exploitation.

"Our compatriots go abroad in order to earn money legally, but instead they are exploited as slaves," he said.


Comment on this SOTT Focus

---

Baby born with four legs in South Africa


AFP
2007-07-06 10:04:00

A baby girl who was born with four legs in South Africa is to undergo an operation to amputate two of her limbs, health officials said on Friday.

Doctors believe the surgery will enable the unnamed youngster, who was born near the northeastern town of Polokwane on Thursday afternoon, to make a full recovery and live a normal life.


Comment on this SOTT Focus

---

Afghan prison bodies discovered


BBC
2007-07-06 09:37:00

An underground prison containing hundreds of bodies has been discovered in Afghanistan.

The prison, a former military barracks on the outskirts of the capital, Kabul, dates from the Soviet occupation of the 1980s, officials say.

A senior police officer in Kabul says that many of the bodies were found blindfolded with arms tied.

The find was revealed by a 70-year-old Afghan who worked for the Russians and only recently returned to the country.


Comment on this SOTT Focus

---
Big Brother
---
California: Stop Sign Cameras Installed on LA Canyon Roads


thenewspaper.com
2007-07-06 15:57:00

The Mountains Recreation and Conservation Authority (MRCA) has installed the first-ever automated camera in the US designed to ticket drivers who make "boulevard stops" or slow to a crawl at a stop sign without fully ceasing forward motion. The little-known agency will begin issuing $100 fines next Monday, July 9, at Franklin Canyon in the heart of Los Angeles, located off of Mulholland Drive and at the top of Topanga.

Comment on this SOTT Focus

---
Axis of Evil
---
Greg Felton: As major events unfold in Palestine, the media keeps us ignorant and distracted

Greg Felton
Canadian Arab News
2007-07-05 23:22:00

To illustrate the willful ignorance that plagues mainstream news reporting - as if further proof were necessary - I'd like to describe the bizarre behaviour of a local radio station after I called to inquire about its international coverage.


Comment on this SOTT Focus

---
Middle East Madness
---
Abbas's popularity at its lowest ebb; Hamas's Haneyya would win elections again, poll shows


Palestinian Information Center
2007-07-06 15:58:00

An opinion poll conducted by the website of the Palestinian Al-Quds newspaper has shown that PA chief Mahmoud Abbas's popularity was at its lowest ebb with only 13.47% voting for him as president if elections were held now.

Comment on this SOTT Focus

---

Israeli Defense Force carries out massive exercise on Golan

Yuval Azoulay
Haaretz.com
2007-07-05 13:00:00

The Israel Defense Forces this week carried out one of the largest infantry exercises of recent years in the Golan Heights region, training for conflict with Syria and Hezbollah.

Supplies were air-dropped, tanks provided covering fire and infantry forces trained in nonconventional warfare and countering anti-tank missile attacks.

"We are training for every possible scenario. Syria, Hezbollah, Hamas in the Gaza Strip and terror organizations in the West Bank," an officer says.

Comment on this SOTT Focus

---

Israel: Man killed in Jaffa beer barrel blast


Jerusalem Post
2007-07-06 09:57:00

A 40-year-old man was killed and six people were injured - one moderately and five lightly - in an explosion on a truck carrying beer barrels in Jaffa on Friday afternoon.

The blast was apparantly caused by a leaking gas canister.

The truck, which was traveling on the city's Yafat Street, hit a building but it was unclear whether the crash occurred before or after the blast.

MDA officials said that the fatality was seemingly a foreign worker.


Comment on this SOTT Focus

---

Is the United States Killing 10,000 Iraqis Every Month? Or Is It More?

Michael Schwartz
AlterNet
2007-07-06 09:17:00

300 Iraqis killed by Americans each day sounds like an impossible figure, but a close look at the reported numbers of violent deaths and rate of armed patrols makes it all too likely.

A state-of-the-art research study published in October 12, 2006 issue of The Lancet (the most prestigious British medical journal) concluded that -- as of a year ago --

600,000 Iraqis had died violently due to the war in Iraq

. That is, the Iraqi death rate for the first 39 months of the war was just about

15,000 per month

.


Comment on this SOTT Focus

---

Israel kills 11 Palestinians in Gaza raid

Nidal al-Mughrabi
Reuters
2007-07-05 23:04:00

GAZA - Israeli troops and armored vehicles crossed into the central Gaza Strip on Thursday, killing 10 Palestinian militants, including nine from the Islamist Hamas group, and a civilian.


Comment on this SOTT Focus

---

Right's group: Israel ruining economy in Gaza Strip

Dan Izenberg
Jerusalem Post
2007-07-04 21:36:00

The virtually total closure imposed on the Gaza Strip since Hamas's takeover in June has almost destroyed the Palestinian economy and threatens to turn its 1.4 million residents into charity cases, Gisha, the Legal Center for Freedom of Movement, charged in a report released Wednesday.


©AP
Palestinians wait to cross to the Israeli side of the Erez Crossing.



Israel has completely shut down the Karni crossing between Israel and the Gaza Strip, which was the primary artery for the import and export of almost all commercial items including goods and raw materials.

Comment on this SOTT Focus

---
The Loan Gunmen
---
Hedge Fund United Capital won't let investors withdrawal funds


LA Times
2007-07-04 17:26:00

Hedge fund operator United Capital Markets Holdings Inc. said Tuesday that it was limiting withdrawals from its funds - some of which invest in bonds backed by sub-prime mortgages - to prevent a forced sale of assets.

"We have received an unusually high number of redemption requests," United Capital, based in Key Biscayne, Fla., said in a statement.

One investor wanted to withdraw about a quarter of the funds' assets under management, the firm said.

Comment on this SOTT Focus

---

Flashback: Subprime Mortgage Unit Option One Continues to Drag on H&R Block

Michael Lyster
Orange County Business Journal
2007-06-21 13:15:00

Kansas City-based H&R Block Inc. saw an $85.5 million loss for the quarter through April, driven by its Irvine subprime mortgage unit Option One Mortgage Corp.

Troubles at Option One couldn't overcome an 8% gain in H&R Block revenue amid a surge in tax preparations in the quarter.

H&R Block said Thursday it's moving ahead with plans to sell Option One Mortgage Corp. to an arm of Cerberus Capital Management LP, a New York-based private equity firm.

Comment on this SOTT Focus

---

H&R Block mortgage unit loses $1.5 billion loan line


Bloomberg
2007-07-06 13:13:00

H&R Block's mortgage unit lost a $1.5 billion credit line, falling "dangerously close" to the minimum needed to satisfy terms of an agreement to sell the money-losing business.

The warehouse credit facility for Irvine-based Option One Mortgage Corp. wasn't renewed by Lehman Brothers Holdings Inc. when it expired on June 28, H&R Block said in a filing with the U.S. Securities and Exchange Commission on July 3.

Comment on this SOTT Focus

---

Squeezing the Money Supply

Gary Duncan, Economics Editor, and Grainne Gilmore
Times Online
2007-07-06 07:12:00

The Bank of England pushed ahead with a fifth rise in interest rates in less than a year yesterday, lifting borrowing costs to a six-year high just as millions more homebuyers face a sudden jump in their mortgage bills.

The decision to order another quarter-point increase in base rates, to 5.75 per cent, the highest level since February 2001, will turn up the heat on hard-pressed households. Economists said yesterday that homeowners and businesses should

get ready for further increases in rates this year

.

The Bank's move comes as many homeowners are hit by an abrupt end to cheap mortgage deals that have so far insulated them from the four previous rate rises.

Comment on this SOTT Focus

---

UK: Taxman wants power to seize cash from accounts

by CHARLOTTE BEUGGE
Daily Mail
2007-07-05 23:54:00

The taxman is demanding powers to seize unpaid tax straight from our bank accounts.

HM Revenue & Customs would snatch money from bank or building society accounts without the taxpayer's consent, it was revealed.

Comment on this SOTT Focus

---

More Americans fall behind on debts

E. Scott Reckard and Andrea Chang
LA Times
2007-07-04 21:52:00

Slow job growth and declining home prices are causing financial problems for more Americans, who are falling behind on consumer debt, including home equity loans, at the highest rate since 2001, the American Bankers Assn. said Tuesday.

Credit counselors said consumers were paying the price for reckless attitudes about debt fostered by years of easy credit, particularly in the mortgage market.

"It's a monster we all created," said Todd Emerson, president of Springboard, a nonprofit consumer credit management organization in Riverside.

Comment on this SOTT Focus

---
The Living Planet
---
Missouri 'Easter Freeze' damage assessed - costliest on record?

Jerilyn Johnson
Missouri Ruralist
2007-07-05 16:16:00

"The Easter Freeze of 2007 will go down as a historical event with lingering effects for years to come" says the climatologist for the University of Missouri Commercial Agriculture Program. "The magnitude of the hard freeze is nothing short of amazing considering all 114 counties in Missouri were affected. When including all the economic impacts of this event on agriculture and horticulture and the far-reaching impacts on communities as a whole, the April freeze will likely rank as one of the most costliest natural disasters on record for Missouri."

Comment on this SOTT Focus

---

9-legged frog raises concerns


11Alive.com
2007-07-06 15:53:00

If you are a parent, then you know kids will sometimes bring home a new pet. But when a little boy brought a 9-legged frog home to Kansas, some adults got worried.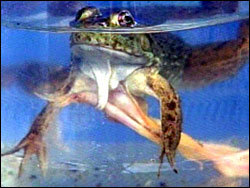 ©11Alive.com
The 9-legged frog is raising concerns about a former landfill.



Looking from above, the frog may seem normal. But with a closer look, it's clear there is a problem.

Comment on this SOTT Focus

---

Erosion of Alaska's north coast speeding up

David Perlman
SFGate.com
2007-07-05 14:27:00

The speed of coastal erosion on Alaska's far northern coast has doubled over the past 50 years and coastal cliffs saturated with melting permafrost have crumbled into the sea as the world's climate has warmed, scientists report.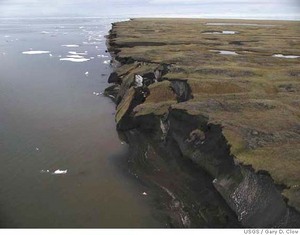 ©USGS/Gary D. Clow
A cliff collapses into the Beaufort Sea on Alaska's north coast, as the permafrost melts and no longer holds that earth solid.



Using evidence from satellite observations and aerial photographs, two geologists at the U.S. Geological Survey have concluded that pack ice shrinking rapidly over the Beaufort Sea has probably caused the waves to surge more powerfully against the weakened cliffs.

Comment on this SOTT Focus

---

Alarm over high number of sea-bird deaths

Tom Leonard
telegraph.co.uk
2007-07-04 12:46:00

Hundreds of emaciated seabirds have washed up dead along the south-eastern coast of America, alarming scientists who fear changes in the ocean could have affected the fish that the birds normally eat.

More than a thousand shearwaters, large gull-like birds that spend most of their lives far out to sea, have been found dead over the past two weeks on beaches stretching from the Bahamas to the Carolinas, say wildlife biologists.

Comment on this SOTT Focus

---

More dead birds discovered floating in Bahamian waters

By SHEENA BUTLER
Freeport News
2007-07-02 23:54:00

An alarming number of dead birds are being discovered floating along the shores of the northern Bahamas causing concern among some residents in the Grand Bahama community. A week after the first incident was reported, accounts of dead birds floating in Bahamian waters are still filing in.

Comment on this SOTT Focus

---

Seabirds' die-off puzzles scientists

Peter Frost
McClatchy Newspapers
2007-07-03 12:40:00

HILTON HEAD ISLAND --State and federal wildlife officials are investigating the deaths of hundreds of seabirds turning up on the coasts of South Carolina, Georgia and Florida.

Wildlife biologists say more than 1,000 shearwaters - large, gull-like water birds that spend most of their lives far offshore until they nest - have been found dead over the past two weeks on Southeastern beaches. Since last week, more than 160 of the dead birds have been found in South Carolina, including at least 22 on Hilton Head Island.

Comment on this SOTT Focus

---
Health & Wellness
---
CDC: Out of Excuses on the Autism Study that "Should be Done"

David Kirby
Huffington Post
2007-06-27 16:37:00

A simple study of autism rates among vaccinated and unvaccinated children "could be done and should be done" to help settle the raging debate that has now spilled into the U.S. Federal Courts.

Comment on this SOTT Focus

---

Vaccinated Children Two and a Half Times More Likely to Have Neurological Disorders Like ADHD and Autism, New Survey in California and Oregon Finds


PR Newswire
2007-07-06 16:33:00

As the first trial in Vaccine Court explores the relationship between vaccines and autism, a new survey released today indicates a strong correlation between rates of neurological disorders, such as ADHD and autism, and childhood vaccinations.

Comment on this SOTT Focus

---

Researcher sees link between vitamin D and autism

MARTIN MITTELSTAEDT
Globe and Mail
2007-07-06 16:05:00

The growing prevalence of autism is one of the biggest scientific whodunits in the medical world, with few clues for its rising incidence.

But a U.S. researcher is advancing a controversial hypothesis: that autism is related to vitamin D deficiency during fetal development and early childhood.

Comment on this SOTT Focus

---

From the corner of the eye: Paying attention to attention


EurekAlert / Salk Institute
2007-07-06 11:26:00

Every kid knows that moms have "eyes in the back of their heads." We are adept at fixing our gaze on one object while independently directing attention to others. Salk Institute neurobiologists are beginning to tease apart the complex brain networks that enable humans and other higher mammals to achieve this feat.

In a study published in the July 5, 2007 issue of Neuron, the researchers report two classes of brain cells with distinct roles in visual attention, and highlight at least two mechanisms by which these cells mediate attention. "This study represents a major advance in our understanding of visual cognition, because it is the first study of attention to distinguish between different classes of neurons," says system neurobiologist John Reynolds, Ph.D., associate professor in the Systems Neurobiology Laboratory at the Salk Institute.


Comment on this SOTT Focus

---

Chronic fatigue: clues in the blood


UNSW
2007-07-06 11:23:00

Researchers at UNSW believe that blood may hold vital insights into what is happening in the brain of patients with chronic fatigue syndrome (CFS).

In a study unparalleled in its scope, a team led by UNSW Professor Andrew Lloyd of the Centre for Infection and Inflammation Research, has studied the differences in gene expression patterns in the blood of people who either recover promptly after acute glandular fever or develop the prolonged illness called post-infective syndrome.

The researchers examined six million pieces of gene expression information for analysis in the project, known as the Dubbo Infection Outcomes Study. The study is named after the NSW town in which the work was conducted. The team studied the expression of 30,000 genes in the blood, testing each of the 15 individuals between four and five times over a 12-month period.

The team was able to narrow its findings to the expression of just 35 genes whose pattern of expression correlated closely with the key symptoms of the illness when examined from onset through to recovery. Gene expression is significant because it is the process by which a gene's DNA sequence is converted into the proteins which ultimately determine the manifestations of disease.


Comment on this SOTT Focus

---

Organic food 'better' for heart


BBC
2007-07-05 22:33:00

Organic fruit and vegetables may be better for you than conventionally grown crops, US research suggests.

A ten-year study comparing organic tomatoes with standard produce found almost double the level of flavonoids - a type of antioxidant.



Comment on this SOTT Focus

---
Science & Technology
---
Countries Most At Risk Of 'Small' Asteroid Impact Identified


Science Daily
2007-07-06 17:38:00

Researchers at the University of Southampton have developed a software package for modelling asteroid impacts that enables them to assess the potential human and economic consequences across the globe.

The software, called NEOimpactor, has been specifically developed for measuring the impact of 'small' asteroids under one kilometre in diameter, and early results indicate that the ten countries most at risk are China, Indonesia, India, Japan, the United States, the Philippines, Italy, the United Kingdom, Brazil and Nigeria.

Comment on this SOTT Focus

---

Scientists try to solve mystery of Hambo Lama Itigilov in Buryatia


Itar-Tass
2007-07-06 15:16:00

Scientists and theologians from around the world are trying to solve the mystery of the incorruptible body of Hambo Lama Itigilov known as the "Buryat Nostradamus".

About 150 researchers and theologians from Europe, Mongolia and Russia are attending the first-ever international conference "Pandito Hambo Lama Itigilov" underway at the official residence of the Buddhist traditional church of Russia - the Ivolginsky Datsan -- near Ulan Ude.

Hambo Lama died in 1927 while meditating in lotus posture and praying for the repose of his soul. The body stayed in the ground for 75 years. In 2002, when the tomb was opened, Buddhist monks saw that the body of their teacher had not decayed.


Comment on this SOTT Focus

---

New Chinese Ballistic Missile Submarine Spotted on Google Earth

Hans M. Kristensen
Strategic Security Blog
2007-07-06 10:44:00

A commercial satellite image appears to have captured China's new nuclear ballistic missile submarine. The new class, known as the Jin-class or Type 094, is expected to replace the unsuccessful Xia-class (Type 092) of a single boat built in the early 1980s.

The new submarine was photographed by the commercial Quickbird satellite in late 2006 and the image is freely available on the Google Earth web site.

A Comparison of SSBN Dimensions

Two satellite images are now available (see figure below) that clearly show two missile submarines with different dimensions. One image from 2005 shows what is believed to be the Xia-class (Type 092) SSBN in drydock at the Jianggezhuang Submarine Base approximately 14 miles east of Qingdao. The submarine is approximately 390 feet (120 meters) long of which the missile compartment makes up roughly 80 feet (25 meters). Twelve missile launch tubes are clearly visible.


Comment on this SOTT Focus

---

Icy stars reveal the secret of their patterns

Jon Cartwright
PhysicsWeb
2007-07-06 10:42:00

Some physicists gaze at the stars in the sky, but Victor Tsai of Harvard University and John Wettlaufer of Yale University in the US gaze at the stars on frozen lakes. Such star patterns often surround holes in ice, but the origin of their shape has always been a mystery. Now, by modelling their formation, the researchers have discovered that the shape is governed by the properties of the snow that covers the ice.

Wettlaufer was first inspired to investigate star patterns when he and his wife were looking out of an aeroplane window landing in Chicago and noticed a frozen lake peppered with the distinct shapes. "We were absolutely struck," he said. "My wife is from Sweden and she knew these as the harbingers of dangerous ice skating, but had never seen so many."


Comment on this SOTT Focus

---

Copper rods "swarm" like fish

Jon Cartwright
PhysicsWeb
2007-07-06 10:19:00

"Swarming" is often seen in the animal kingdom, for example when schools of fish rapidly change direction to evade a predator. Now physicists in India and the US have made collections of tiny copper rods swarm by vibrating them between two plates. The researchers claim that their experiment shows how simple small-scale interactions can give rise to large-scale changes in behaviour and could provide a better understanding of swarming in living organisms.

A swarm can be thought of as a system in which the density of particles fluctuates wildly from place to place. One such system is a school of fish, which exhibit density fluctuations as the fish rapidly change direction. Although physicists have tried to develop mathematical models of swarming, there are few simple experimental systems available for testing them.

Now, however, Vijay Narayan of the Indian Institute of Science in Bangalore and colleagues have demonstrated swarming in a table-top experiment involving very simple inanimate objects - thousands of short copper rods less than a millimetre thick vibrated between two horizontal plates. The system is similar to a so-called "active nematic" liquid crystal - a fluid made up of long, symmetrical molecules.


Comment on this SOTT Focus

---

NASA buys $19 million Russian toilet system for international space station


Associated Press
2007-07-06 09:53:00

In space, a loo costs a lot.

NASA has agreed to pay $19 million (€13.93 million) for a Russian-built toilet system for the international space station. The figure may sound astronomical for a toilet in space, but NASA officials said it was cheaper than building their own.

"It's akin to building a municipal treatment center on Earth," NASA spokeswoman Lynnette Madison said Thursday, explaining the cost of the new toilet system.

Also, astronauts are familiar with how it works since it is similar to one already in use at the space station. The new system will be able to transfer urine to a device that can produce drinking water.

The new system is scheduled to be delivered to the U.S. side of the space station in 2008. It will offer more privacy than the old toilet system, which will definitely be needed: The space station crew is expected to grow from three to six people by 2009.


Comment on this SOTT Focus

---
Our Haunted Planet
---
UFO hunters scour Sweden for tips


The Local (Sweden)
2007-07-06 05:02:00

Members of the organization UFO-Sweden are currently knocking on doors nationwide in a bid to follow up on reports of strange phenomena sighted in the skies.


Comment on this SOTT Focus

---
Don't Panic! Lighten Up!
---
China Public Restroom Has 1,000 Stalls


Associated Press
2007-07-06 15:13:00

They're flush with pride in a southwestern Chinese city where a recently-opened porcelain palace features an Egyptian facade, soothing music and more than 1,000 toilets spread out over 32,290 square feet.

Officials in Chongqing are preparing to submit an application to Guinness World Records to have the free four-story public bathroom listed as the world's largest, the state-run China Central Television reported Friday.

"We are spreading toilet culture. People can listen to gentle music and watch TV," said Lu Xiaoqing, an official with the Yangrenjie, or "Foreigners Street," tourist area where the bathroom is located. "After they use the bathroom they will be very, very happy."


Comment on this SOTT Focus

---

Money falls from sky in German town


Reuters
2007-07-05 15:05:00

A German motorist surprised by euro notes swirling in the air around her car hit the brakes and collected a "substantial amount of money" before turning it over to police, authorities in Worms said on Thursday.

A police spokesman in the small western town said the 24-year-old woman saw the money flying through the air in her rear view mirror late on Wednesday. She pulled over and tried to collect all the notes, unsuccessfully.

Comment on this SOTT Focus

---

Ethanol Blamed for Beer Inflation


WGAL.com
2007-07-05 20:07:00

LANCASTER, Pa. -- It's the latest example of the trickle-down economics of ethanol -- beer is getting more expensive.

Compared to this time last year, beer prices are up about 3 percent across the nation, according to the Labor Department. The increase marks the largest jump in more than two years.

One big reason, according to some brewers, is the rising cost of barley. A high demand for corn-based ethanol has many farmers devoting more fields to their corn crop and less to barley.

Comment on this SOTT Focus

---
---

Remember, we need your help to collect information on what is going on in your part of the world!
Send your article suggestions to: sott(at)signs-of-the-times.org

---
Click here to return to the Signs of the Times Archive
Click here for today's Signs Page