---
Sections on today's Signs Page:
---
SOTT Focus
---
Bush Overrules US Judicial System, Frees Libby, Can We Say Fascism Now?

Joe Quinn
Signs of the Times
2007-07-02 14:59:00


©Monte Wolverton



Today, the decider in chief of America over-ruled the decision of a U.S. court in June this year to jail Lewis "Scooter" Libby, Dick Cheney's former chief of staff, for two and a half years. Libby was convicted in March this year of lying to investigators probing the 2003 leak of CIA official Valerie Plame's identity.

Comment on this SOTT Focus

---
Best of the Web
---
A Declaration of Independence From Israel

Chris Hedges
Truthdig
2007-07-02 09:56:00

Israel was born at midnight May 14, 1948. The U.S. recognized the new state 11 minutes later. The two countries have been locked in a deadly embrace ever since....

The alliance, which makes no sense in geopolitical terms, does makes sense when seen through the lens of domestic politics. The Israel lobby has become a potent force in the American political system. No major candidate, Democrat or Republican, dares to challenge it. The lobby successfully purged the State Department of Arab experts who challenged the notion that Israeli and American interests were identical. Backers of Israel have doled out hundreds of millions of dollars to support U.S. political candidates deemed favorable to Israel. They have brutally punished those who strayed, including the first President Bush, who they said was not vigorous enough in his defense of Israeli interests. This was a lesson the next Bush White House did not forget. George W. Bush did not want to be a one-term president like his father.

Comment on this SOTT Focus

---

All in the Crime Family: Bush commutes sentence for Libby; Did we expect otherwise?


ASSOCIATED PRESS
2007-07-02 18:22:00

President Bush commuted the sentence of former aide I. Lewis "Scooter" Libby Monday, sparing him from a 2 1/2-year prison term in the CIA leak case.

Grant of Executive Clemency


A Proclamation by the President of the United States of America



WHEREAS Lewis Libby was convicted in the United States District Court for the District of Columbia in the case United States v. Libby, Crim. No. 05-394 (RBW), for which a sentence of 30 months' imprisonment, 2 years' supervised release, a fine of $250,000, and a special assessment of $400 was imposed on June 22, 2007;

NOW, THEREFORE, I, GEORGE W. BUSH, President of the United States of America, pursuant to my powers under Article II, Section 2, of the Constitution, do hereby commute the prison terms imposed by the sentence upon the said Lewis Libby to expire immediately, leaving intact and in effect the two-year term of supervised release, with all its conditions, and all other components of the sentence.

IN WITNESS THEREOF, I have hereunto set my hand this second day of July, in the year of our Lord two thousand and seven, and of the Independence of the United States of America the two hundred and thirty-first.

GEORGE W. BUSH
Comment on this SOTT Focus
---
U.S. News
---
Creative experiment: Seattle buskers get crime-busting gig

Lynn Marshall
LA Times
2007-07-03 13:51:00

These crime fighters aren't in uniform and don't carry weapons or badges. They wield guitars, Hula-Hoops, washboards, paintbrushes, and will hopefully have the ability to draw a crowd.

Last week, Seattle parks began paying street performers - mostly musicians, but also a few visual artists and some vaudevillians - to entertain in five downtown parks in hopes that with more people around, a park will be less hospitable to illegal activity.

Mayor Greg Nickels organized a special city task force in 2005 to study the problems of urban public spaces and parks. The group's report, released last year, hailed these areas as "potentially great assets" to downtown, but concluded that "the parks don't feel safe or welcoming, and ... there are few reasons for people to visit them."

Four of the five parks - Westlake, Hing Hay, Pioneer Square and Freeway - are in the city's urban core. The fifth park, Waterfront, is on a pier next to the city's newly remodeled aquarium and near the cruise ship terminal.


Comment on this SOTT Focus

---

Happy Independence Day; You Have No Government

Carolyn Baker
Speaking Truth to Power
2007-07-02 12:00:00

William Butler Yeats, a highly intuitive poet, wrote "The Second Coming" in 1921 as Hitler was getting warmed up and learning to speak in front of large crowds. Yeats knew that somehow things were falling apart and that the center could not hold. His poem now reverberates down through the decades to our time and our "second coming." This will not be the second coming of the LaHaye-Jenkins crowd. No Rapture nor extraterrestrial throngs will sweep away the "faithful", followed by the destruction of the earth by Jesus and his followers. No, Jesus' so-called followers are doing that here and now - and have been doing so in his name for the past two thousand years, calling it "having dominion over the earth." And in my opinion, those progressives who pride themselves in their optimism, who refuse to face the collapse of civilization, blinded by their illusions, are no more enlightened than the fundamentalist Christians or New Age devotees who are waiting for the second coming of Jesus or the arrival of rescuing aliens from other worlds.

Comment on this SOTT Focus

---

San Francisco Universal health care initiative starts up

Heather Knight
SFGate.com
2007-07-03 11:21:00

So have the city's elected leaders, who in a rare display of unanimity agreed last summer to begin providing health care to all San Franciscans. At a time when the broken state of the health care system is at center stage -- in the race for president in 2008 and at movie theaters where Michael Moore's documentary "Sicko" is filling a lot of seats -- San Francisco is the first city in the country to try to tackle the problem itself.

The initiative, dubbed Healthy San Francisco, aims within 18 months to cover all 82,000 people in the city who lack health insurance. It is opposed by segments of the business community because it demands contributions from employers who don't provide health care coverage to their workers.

Comment on this SOTT Focus

---

Food prices soar nationwide


ASSOCIATED PRESS
2007-07-03 09:55:00

Corn prices are as high as an elephant's eye - and shoppers are paying for it in higher prices for many items at the supermarket.


Comment on this SOTT Focus

---

CIA's darkest secret

James Carroll
Boston Globe
2007-07-03 07:05:00

EVERY SO often, the front page trumpets ethical and legal lapses committed by US intelligence agencies. In Iraq, they have run the gamut from pre war falsification of weapons data to surveillance of American citizens to kidnapping to torture of prisoners. During the Cold War, it was "black operations" that included staging coups, assassinating foreign leaders, infiltrating American organizations, conspiring with Mafia groups, spying on journalists -- perhaps even murder.

Comment on this SOTT Focus

---

Attack Survivor Dies in Cruise Ship Jump

By JOE STINEBAKER and LIZ AUSTIN PETERSON
Associated Press
2007-07-02 23:45:00

HOUSTON - David Ritcheson hated being known as "that kid" _ the teenager who was beaten unconscious and sodomized with a plastic pole during a party where one of his assailants shouted "White Power!" Ritcheson didn't want to stand out from his classmates because of the assault, but he acknowledged in an interview that "it was just really hard to hold your head up, even to walk outside with everyone almost in the world knowing what happened." That anguish may have contributed to his decision to leap Sunday from a cruise ship to his death in the Gulf of Mexico.

Comment on this SOTT Focus

---
UK & Euro-Asian News
---
He reminded them why they need him! Brown's leadership rating soars in poll after terrorist attacks

Peter Riddell
The Times
2007-07-03 13:43:00

Gordon Brown has got off to flying start as Prime Minister with his poll ratings as a leader and for strength soaring following his handling of the terrorist attacks.

A new Populus poll for The Times confirms the strength of the "Brown bounce", in contrast with a decline in David Cameron's leader rating.

Labour has gained four points to 37 per cent since early last month and the Tories are down two points at 34 per cent. The Liberal Democrats are up one point at 18 per cent and other parties down three points at 11 per cent. This is in line with two other recent polls and suggests that 14 months of a sustained Conservative lead has ended.

The Labour advance has fuelled talk of an early election, but Mr Brown has dismissed such speculation. He wants to establish his new Government and is likely to be cautious.


Comment on this SOTT Focus

---

Hysteria UK style: 'Gas Canister' Pair Held In Terror Probe


Sky News
2007-07-03 13:33:00

Two men have been arrested on suspicion of terror offences after they apparently tried to collect a delivery of large gas canisters at an industrial estate in Blackburn.

Lancashire Police say it is too early to say whether the arrests are connected to the attempted terror attacks in Glasgow and London.

The pair, both believed to be Asian and in their 30s or 40s, are being held at a police station in Lancashire under the Terrorism Act 2000.

Officers swooped after the Calor gas canisters were taken to a unit on the Furthergate Industrial Estate in Birley Street.

Eyewitness Cameron Mason said: "A delivery man was waiting outside the unit to drop off around three or four large red gas canisters.

"Two Asian men arrived to collect them and just after they started speaking to the delivery man an unmarked police car turned up.


Comment on this SOTT Focus

---

No Shock. Israeli-style airport checks urged in UK

Dan Milmo
The Guardian
2007-07-02 11:16:00

Security experts have called for Israeli-style vehicle checkpoints at British airports in response to Saturday's attempted suicide bombing at Glasgow airport that brought chaos to terminals yesterday.

Air passengers endured a day of traffic jams and hold-ups and drivers were barred from dropping off and picking up passengers at all terminal forecourts. The vehicle ban brought traffic at Gatwick airport to a standstill as the three-mile tailback spilled on to the M23, while cars trying to reach Glasgow airport were backed up four miles on to the M8.

Comment on this SOTT Focus

---

Yet Again, Another Security Alert at London Heathrow


BBC
2007-07-03 10:39:00

Thousands of passengers travelling from Heathrow Airport's Terminal 4 are facing delays after a suspect bag sparked a security alert.

The Metropolitan Police said it was dealing with the item at the terminal, which had been evacuated and all roads leading to it closed.

Comment on this SOTT Focus

---

China to raise minimum wages as food prices soar


Times of India
2007-07-03 09:57:00

Chinese local governments have been told to raise minimum wages in a phased manner to prop up living standards in view of soaring food prices this year.

Comment on this SOTT Focus

---

Japan's defence minister resigns on atomic bombing remarks


Independent Online
2007-07-03 03:53:00

Tokyo - Japanese Defence Minister Fumio Kyuma resigned on Tuesday after sparking outrage with remarks seen as justifying the World War II atomic bombings of Japan by the United States.


Comment on this SOTT Focus

---
Around the World
---
Clashes at Pakistan mosque leave 9 dead, and the propaganda continues...

Stephen Graham - Associated Press Writer
Yahoo News
2007-07-03 15:36:00

ISLAMABAD, Pakistan - The tension long brewing around a radical mosque in Pakistan's capital burst into street battles Tuesday between security forces and masked militants who challenged the government by mounting a vigilante anti-vice campaign. At least nine people were killed and scores wounded in the clash, which underlined the concern at the spread of extremism in a country struggling to combat Taliban and al-Qaida militants.

Comment on this SOTT Focus

---

Pakistan eases house arrest on scientist who sold nuclear secrets

Andrew Buncombe
The Independent
2007-07-02 23:30:00

The Pakistan government has eased the house arrest conditions imposed on A Q Khann, the scientist who helped develop the country's nuclear arsenal before selling many of those secrets to Iran and North Korea, while it continues to refuse the US access to him.

Comment on this SOTT Focus

---

Flashback: Twisting Dr. Nuke's Arm

Nicholas D. Kristof
The New York Times
2004-09-25 01:07:00

Islamabad - President Bush has been searching vainly for Osama bin Laden for three years now, so I've decided to help him out. I'm traveling through Pakistan and Afghanistan to see whether I can find Osama, bring him back in my luggage and claim that $25 million reward.

Comment on this SOTT Focus

---

Divide and Rule! African leaders at odds over visions for future


AFP
2007-07-02 23:04:00

Major splits emerged on Monday at a summit of African leaders over how to forge a closer union, with some heads of state urging their peers not to move too fast and focus more on regional integration.

Comment on this SOTT Focus

---

Message delivered? Chad president's son murdered in Paris with fire extinguisher


AFP
2007-07-02 22:11:00

PARIS -The son of Chadian President Idriss Deby Itno, once seen as his possible successor, was found murdered on Monday in a Paris suburb, apparently choked to death with powder from a fire extinguisher.


Comment on this SOTT Focus

---

Nine killed in Yemen attack on Spanish tourists


AFP
2007-07-02 22:11:00

Seven Spanish tourists and two Yemeni drivers were killed on Monday when a suicide bomber rammed his explosives-laden car into their convoy at an ancient temple in Yemen, officials said.

Comment on this SOTT Focus

---
Big Brother
---
Yard Junk Dispute Lands Pregnant Woman in Jail

Blair Meeks
11Alive.com
2007-06-30 12:35:00

Georgia - A Gwinnett County woman's grass is high; there are cars in her front yard, and now the 21-year-old pregnant woman has gone to jail because of it.

It's part of a new clean-up initiative in Gwinnett County -- but Nicole Schandera's family has said that the clean-up has gone too far.

Comment on this SOTT Focus

---
Axis of Evil
---
Flashback: The Doors Of Perception: Why Americans Will Believe Almost Anything

Tim O'Shea
Mercola.com
2001-08-15 12:54:00

We are the most conditioned, programmed beings the world has ever known. Not only are our thoughts and attitudes continually being shaped and molded; our very awareness of the whole design seems like it is being subtly and inexorably erased.

The doors of our perception are carefully and precisely regulated. Who cares, right?

It is an exhausting and endless task to keep explaining to people how most issues of conventional wisdom are scientifically implanted in the public consciousness by a thousand media clips per day. In an effort to save time, I would like to provide just a little background on the handling of information in this country.

Comment on this SOTT Focus

---

Flashback: World's Largest Media Source Controlled by World's Largest Drug Company

Joseph Mercola
Mercola.com
2003-11-22 12:45:00

Reuters supplies the global business community and news media with a range of products including real-time financial data, transaction systems, access to numeric and textual historical databases, news and pictures. In my view they are the strongest news collection agency in the world, and they supply the majority of the news you hear on the radio, see on TV or read in the paper. They are also a major source of news for my Web site and my blog.

Three years ago Glaxo Wellcome-SmithKline merged with Beecham to create the world's largest drug company. This company is one of the primary distributors of hepatitis B vaccine, which I frequently warn about.

Comment on this SOTT Focus

---

Nixon's Lawyer: Cheney "Defies logic."

Luke O'Brien
Wired
2007-07-03 12:32:00

The former White House counsel for Richard Nixon broke down the legal gyrations of Dick Cheney last Friday in FindLaw's online "Writ" magazine, writing that "it is becoming increasingly difficult to find a law that Cheney believes does apply to him, whether that law be major or minor." Much like you Threat Levelers have already done, John Dean, the White House lawyer during Watergate, analyzed existing law, executive orders and the Constitution to determine that our current vice president's argument that he is not an "entity" or an "agency" within the executive branch and therefore immune to oversight is "absolutely absurd."

Comment on this SOTT Focus

---

Flashback: Weapons the U.S. pretended not to see; The Samson Option: Israel's Nuclear Arsenal And American Foreign Policy

GEOFFREY STEVENS
The Toronto Star
1991-11-16 12:15:00

Seymour Hersh, the reporter who in 1969 first revealed the horror of the My Lai massacre in Vietnam - and won a Pulitzer Prize for his work - is one of North America's finest investigative journalists. In books and in articles, mainly for the New York Times, he has probed such issues as the United States bombing of Cambodia, domestic spying by the Central Intelligence Agency, the excesses of Panama's Manuel Noriega, the power of Henry Kissinger, and the U.S. cover-up in the shooting down of a Korean airliner in Soviet airspace.

In his new book, The Samson Option, Hersh brings the same investigative skills, eye for intrigue, and meticulous footnoting to the story of Israel's emergence as a nuclear power.

Comment on this SOTT Focus

---

British terror probe focuses on doctors

Ben McConville
Associated Press
2007-07-03 09:20:00

GLASGOW, Scotland - British police focused Tuesday on at least four physicians with roots outside Britain - including a doctor seized at an Australian airport with a one-way ticket - in the investigation into failed car bombings in Glasgow and London.


Comment on this SOTT Focus

---

The unintended consequences of the "cakewalk war"

Paul Craig Roberts
ICH
2007-07-02 18:06:00

The unintended consequences of the "cakewalk war" are already far outside the Bush administration's ability to manage and will plague future governments for many years.

Comment on this SOTT Focus

---
Middle East Madness
---
No Surprise! Iraq draws up plans to sellout country thru privatisation

Helen Power
telegraph.co.uk
2007-07-03 14:30:00

The Iraqi government has begun preparing the groundwork for what could be one of the biggest privatisations of state-owned assets.

The Sunday Telegraph has learned that officials from the government have recently held talks with banking and legal advisers in London. City sources said Iraq's minister for industry, Fawzi Hariri, was looking to appoint advisers to draw up a memorandum of understanding to sell off the country's non-oil assets, ranging from petrochemical plants to construction companies, hotels and airlines, as early as this month.

Comment on this SOTT Focus

---

Trigger Happy Oppressors: IDF kills Palestinian youth holding fake gun

Efrat Weiss
Ynet
2007-07-03 14:07:00

An IDF force operating in Hebron on Tuesday shot and killed a 16-year-old Palestinian thought to be armed but who the soldiers say was actually holding a fake M-16 assault rifle modeled out of plastic.

The military has launched an investigation into the incident, which took place in the West Bank city's Loza district.

Palestinian sources said Ahmed Ascapi was playing with his friends when soldiers spotted him running with a toy gun in his hand and proceeded to open fire. The sources said the youth was not running toward the troops and made no threatening gestures.

The teenager's body was taken to a hospital in the city. Doctors said he was shot several times in the upper body.


Comment on this SOTT Focus

---

Iran, Venezuela in "axis of unity" against U.S

Parisa Hafezi
Reuters
2007-07-02 23:26:00

The presidents of Iran and Venezuela launched construction of a joint petrochemical plant on Monday, strengthening an "axis of unity" between two oil-rich nations staunchly opposed to the United States.

Comment on this SOTT Focus

---

Major Propaganda! U.S. Implicates Iran in January Attack

By LEE KEATH
Associated Press
2007-07-02 23:19:00

BAGHDAD - The U.S. military accused Iran on Monday of a direct role in a sophisticated militant attack that killed five American troops in Iraq, portraying Tehran as waging a proxy war through Shiite extremists.


Comment on this SOTT Focus

---
The Loan Gunmen
---
Late Payments Rise for Home Equity Loans

Jeannine Aversa
AP
2007-07-03 11:36:00

Late payments on home equity loans climbed to a 1 1/2-year high in the opening quarter of this year, while delinquencies on credit card bills fell, painting a mixed picture of how people are managing their debt.

The American Bankers Association, in its quarterly survey of consumer loans, reported Tuesday that late payments on home equity loans rose to 2.15 percent in the January-to-March quarter. That was up sharply from 1.92 percent in the final quarter of last year and was the highest since the late summer of 2005.

Comment on this SOTT Focus

---

Wal-Mart Collected On Deaths, Secretly Issued Life Insurance Policies

Elaine Silvestrini
Tampa Tribune
2007-07-03 11:29:00

When Karen Armatrout died in 1997, her employer, Wal-Mart, collected thousands of dollars on a life insurance policy the retail giant had taken out without telling her, according to a lawsuit filed in U.S. District Court.

Armatrout was one of about 350,000 employees Wal-Mart secretly insured nationwide, said Texas attorney Michael D. Myers, who estimated the company collected on 75 to 100 policies involving Florida employees who died.

Comment on this SOTT Focus

---

Fidelity says 2.3 million records stolen


Associated Press
2007-07-03 10:09:00

Fidelity National Information Services, a financial processing company, said Tuesday a subsidiary's employee stole 2.3 million consumer records containing credit card, bank account and other personal information.

Comment on this SOTT Focus

---

US consumers pay highest energy bills in decades

Ron Scherer
Christian Science Monitor
2007-07-02 09:58:00

The summer heat is sweltering, so you turn up the air conditioning. The kids need a trip to the beach, but first you need to fill up the family car. And your freelance business requires that you spend a few hours on the computer tonight.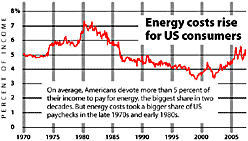 ©US Bureau of Economic Analysis; Moody's Economy.com/Rich Clabaugh - Staff



Kilowatts, gallons - they all add up. Energy is now sucking money out of Americans' bank accounts at a record level - hitting $612 billion at an annual rate in the month of April, the last month of data. Over the past two years, energy bills as a share of income have risen and are now at their highest point since 1987, but still below the levels of the 1970s and early 1980s. For low-income households, some economists estimate energy consumption as a percentage of income is closing in on 10 percent.

Comment on this SOTT Focus

---

Carlyle to buy Manor Care nursing home group for $4.9 billion


Reuters
2007-07-02 20:09:00

WASHINGTON - Manor Care Inc., the largest U.S. owner of nursing homes, on Monday said it agreed to be acquired by Carlyle Group for $4.9 billion, the latest health-care provider taken off the public market by a private equity buyer.

Manor Care shareholders will receive $67 per share, a 20 percent premium to the stock's closing price on April 10, the day before the company said it was putting itself up for sale, and a 2.6 percent premium to Friday's close.

The total value of the deal, including assumed debt, is $6.3 billion, the company said.

Comment on this SOTT Focus

---
The Living Planet
---
Two earthquakes shake Monterey Bay area, California


cbs5.com
2007-07-03 14:27:00

Two earthquakes shook an area just west of the Monterey Bay early this morning, according to initial reports from the U.S. Geological Survey.

Both earthquakes had epicenters 5 miles southeast of Aromas, around 12 miles west of Hollister, according to the USGS.

The first quake was felt at 1:30 a.m. and measured at a magnitude of 2.2, while the second quake occurred at 4:12 a.m. and had a magnitude of 2.1.

Two other earthquakes occurred in the area Monday afternoon and measured at magnitudes of 3.0 and 4.3.

Comment on this SOTT Focus

---

Albatross native to South America, India seen in UK for first time


mirror.co.uk
2007-07-03 10:20:00

An extremely rare albatross has been seen for the first time ever in Britain after it lost its way in bad weather.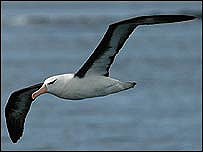 ©BBC



The young yellow-nosed albatross, which has only been seen once in Europe, was found at a holiday camp exhausted.

Camp owner Hugh Harris, 76, said: "It was most unusual. It was just squatted down - I think it was absolutely worn out."

Comment on this SOTT Focus

---

Global Warming Drying Up Ancient Arctic Ponds

Mason Inman
National Geographic News
2007-07-03 07:27:00

Arctic ponds that have hosted diverse ecosystems for thousands of years are now disappearing because of global warming, according to a new study.

These ponds, which lie atop bedrock, freeze solid in the winter and then melt for a few months each summer, becoming hot spots of activity in the forbidding Arctic terrain.

Comment on this SOTT Focus

---

More dead birds discovered floating in Bahamian waters

By SHEENA BUTLER
Freeport News
2007-07-02 23:54:00

An alarming number of dead birds are being discovered floating along the shores of the northern Bahamas causing concern among some residents in the Grand Bahama community. A week after the first incident was reported, accounts of dead birds floating in Bahamian waters are still filing in.

Comment on this SOTT Focus

---

Australia: Evacuations urged as waters rise

Chris Evans, Daniel Ziffer and Paul Heinrichs
The Age
2007-07-01 19:15:00

Residents of the four most vulnerable flood-affected areas in Gippsland were last night being urged to evacuate rather than risk being stranded by waters expected to reach 1.6 metres above normal levels.

Authorities were suggesting evacuations as Gippsland entered its fourth day of flooding after the heaviest rainfalls in almost 40 years.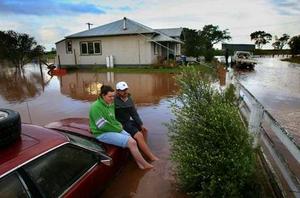 ©Craig Sillitoe
Not going anywhere: Scott Elliott and partner Ashlee Holmes survey the water surrounding their Newry home.
Comment on this SOTT Focus
---

India: Huge waves submerge two villages


Headlines India
2007-06-29 13:00:00

Huge waves crashed against the coast in the district of Kendrapara on Friday, submerging at least two seaside villages and affecting around 200 families. Under the impact of the deep depression formed over northwest Bay of Bengal, huge sea waves inundated two villages under Satbhaya panchayat of Kendrapara district. Ten to 12 feet high waves, churned up by strong winds, marooned Kanhupur and Satbhaya villages damaging several houses including a primary school building, Sasmita Das, Sarpanch of Satbhaya Panchayat, said.

Comment on this SOTT Focus

---
Health & Wellness
---
Disturbing! War trauma set to increase in the UK


The University of Notingham
2007-07-03 14:42:00

The number of UK veterans suffering the debilitating effects of war trauma is set to increase, according to a University of Nottingham academic.

Research by Dr Nigel Hunt, Associate Professor in the Institute of Work, Health and Organisations, shows that, with no end in sight for the conflicts in Iraq and Afghanistan, more and more veterans will return home suffering the effects of war trauma. The condition covers a variety of problems relating to stress and emotion, and memory, social, work and family difficulties.



But by looking at the varying ways that different countries cope with their afflicted veterans, Dr Hunt hopes to identify the most effective ways of treating the condition. He has already visited Finland to examine the country's well-established infrastructure for supporting veterans. And after speaking at Tehran's First Annual Congress of Social Security and Justice in May, Dr Hunt hopes to further explore support networks in Iran.

War trauma is a psychological condition caused by experiencing a traumatic event during conflict. The memory of the event triggers strong emotions, causing any number of reactions - from depression and self-harm to anger, violence and drug addiction. Often, the symptoms will be so extreme that the veteran will be unable to live a normal life. Work prospects, family life and other relationships may be affected, exacerbating the symptoms and leading to an ever-increasing sense of isolation and worthlessness.


Comment on this SOTT Focus

---

Many insomniacs turn to valerian and melatonin to help them sleep


EurekAlert / American Academy of Sleep Medicine
2007-07-03 14:41:00

A study published in the July 1st issue of the journal SLEEP finds that large segments of the U.S. population use valerian or melatonin to treat their insomnia.

The study, authored by Donald L. Bliwise, PhD, of Emory University in Atlanta, Georgia, focused on the data collected from 31,044 individuals from the 2002 Alternative Health/Complementary and Alternative Medicine Supplement to the National Health Interview Survey (NHIS).

Dr. Bliwise discovered that, of the survey sample, 5.9 percent used valerian and 5.2 percent used melatonin. Relatively greater use occurred in individuals under the age of 60. The decision to use such substances was made in consultation with a health care provider less than half of the time.

"Within the United States, usage of alternative and complementary medicine is rising dramatically," said Bliwise. "Within the limitations on the NHIS methodology, the usage of valerian and the usage of melatonin appear to be relatively high. Specific data on valerian usage and on melatonin usage in general populations, however, are relatively scarce."

However, an evaluation of common oral non-prescription treatments for insomnia conducted by the American Academy of Sleep Medicine's (AASM) clinical practice review committee did not find a beneficial effect for many of the herbal supplements, dietary changes and other nutritional supplements popularly used for treating insomnia symptoms, including valerian and melatonin. The AASM does not support the use of such products for treating symptoms of insomnia. The evaluation was published in the April 15th, 2005, issue of the Journal of Clinical Sleep Medicine.


Comment on this SOTT Focus

---

When the Surgeon Is Infected, How Safe Is the Surgery?

By RONI CARYN RABIN
The New York Times
2007-07-03 00:03:00

A few years ago, two Long Islanders with hepatitis C met in a support group and soon discovered they had something in common: both had become infected with the virus after open-heart surgery - by the same surgeon.


Comment on this SOTT Focus

---
Science & Technology
---
Stellar fireworks through Hubble's eyes


ESA
2007-07-03 14:35:00

Nearly 12.5 million light-years away, in the dwarf galaxy NGC 4449, stellar fireworks on display have been captured by the Hubble Space Telescope.

NGC 4449 belongs to a group of galaxies in the constellation Canes Venatici, 'the Hunting Dogs'. Astronomers think that NGC 4449's episode of star formation has been influenced by interactions with several of its neighbours. It is likely that the current widespread starburst was triggered by interaction or merger with a smaller companion.

The NASA/ESA Hubble Space Telescope's Advanced Camera for Surveys observed NGC 4449 in the visible (blue and green), infrared, and hydrogen-alpha regions of the spectrum.

Hundreds of thousands of vibrant blue and red stars are visible in this new image. Hot bluish white clusters of massive stars are scattered throughout the galaxy, interspersed with numerous dustier reddish regions where star formation is taking place. Massive, dark clouds of gas and dust are silhouetted against starlight.


Comment on this SOTT Focus

---
Our Haunted Planet
---
I saw aliens at Roswell, claims PR man at Roswell AFB


The Register
2007-07-02 16:21:00

The public relations officer at the Roswell air base in 1947 has released claims that he saw a crashed spacecraft and the bodies of aliens at the site, despite a lifetime spent denying any such things.

In the affidavit, Lieutenant Walter Haut says the weather balloon was a cover story, and that the real crashed object had been stored by the military. He also claims to have handled the material from which the crashed craft had been constructed.

Haut died last year, but left instructions that his statement should be opened after his death.

In it, Haut described a meeting he attended on the morning of the crash:


Comment on this SOTT Focus

---
Don't Panic! Lighten Up!
---
Hemp field becomes a folly in the mad spirit of King Ludwig


The Times
2007-07-03 14:29:00

A picture of Neuschwanstein Castle, the retreat of King Ludwig II of Bavaria, took 1,200 hours to plough in a hemp field in Utting, Germany. The enterprise celebrates a king who was a promoter of the arts and architecture and littered Bavaria with imaginative castles.

Bavarians revere the eccentric King. Musicals and songs have been composed about him and Bavarian pubs still carry his portrait.

The King's current popularity is based on admiration for his almost poetic love of building impractical castles.


Comment on this SOTT Focus

---

Dangerous games: Woman charged over WOW love


EuroGamer
2007-07-03 14:11:00

An Australian woman who forged a relationship with a younger World of Warcraft player has been arrested in the US as she attempted to meet with the chap and his family.

31-year-old Tamara Broome had met the 17-year-old in Azeroth when he was a year younger, and News.com.au - who we're nicking all this off, obviously - claimed that he had previously attempted to fly over there, and that they aimed to get married.


Comment on this SOTT Focus

---

Iran president rejects Oliver Stone documentary

Nasser Karimi
Associated Press
2007-07-03 09:17:00

TEHRAN, Iran - Iranian President Mahmoud Ahmadinejad has rejected a proposal by Oscar-winning movie director Oliver Stone to make a film about him because Stone is part of the "Great Satan" cultural establishment, a semiofficial news agency reported.


Comment on this SOTT Focus

---

Hair Hackers Chop Off Brazil Girl's Mane


Forbes
2007-07-03 00:09:00

Assailants wielding a knife and a pair of scissors attacked a young woman walking home from church and cut off most of her waist-length hair, police said on Monday.


Comment on this SOTT Focus

---
---

Remember, we need your help to collect information on what is going on in your part of the world!
Send your article suggestions to: sott(at)signs-of-the-times.org

---
Click here to return to the Signs of the Times Archive
Click here for today's Signs Page