---
Sections on today's Signs Page:
---
SOTT Focus
---
Signs Economic Commentary for 2 July 2007

Donald Hunt
Signs of the Times
2007-07-02 09:56:00




The rise in U.S. interest rates may be the most significant change during the past quarter. The United States and indeed the world has been enjoying a low interest rate environment for more than a decade. Low interest rates have propped up property values world-wide and have alleviated the burden of lower pay in developed countries. With all the debt out there, higher interest rates could easily send the world into a deep recession.

Looking back over two and a half years, nothing cataclysmic has happened in the economy. That conforms to the new paradigm in the derivative era where crises are avoided until... they're not. And because of the way they were avoided, the correction, when it does come, becomes a cataclysm. The push off the cliff may happen due to forces internal to the economy or through an external shock. It is hard to imagine that we will be as lucky during the next quarter-decade, but in a non-linear environment, predictions are difficult.


Comment on this SOTT Focus
---
Best of the Web
---
Beavis and Butthead in London jihad

Thomas C Greene in Dublin
The Register
2007-06-29 19:38:00

Huh-huh-huh, let's break somethin'

Police and securocrats know that there aren't enough real terrorists in the world, which is why they have to keep manufacturing them. This is because citizens tire of being watched by cameras, frisked and x-rayed, having their belongings searched, giving fingerprints to so-called friendly nations on entry, contemplating the myriad government databases where their details and activities are preserved, and wondering if some dour little bureaucrat is reading their email or listening to them on the phone.

Comment on this SOTT Focus

---
U.S. News
---
Pipe Bomb-Like Device Explodes at Disney World

Travis Reed
AP
2007-07-02 16:14:00

A device similar to a pipe bomb exploded in a trash can early Monday at a remote parking lot at Walt Disney World, authorities said. No one was injured and no serious damage was reported in what officials called "an isolated incident."

Orange County sheriff's deputies responded to a 12:30 a.m. call from Disney. An employee heard a loud noise and saw white smoke coming from the can near the Downtown Disney shopping and entertainment district, Sheriff Kevin Beary said.

Comment on this SOTT Focus

---

Lieberman calls for wider use of surveillance cameras in USA

Klaus Marre
The Hill
2007-07-02 13:00:00

Sen. Joe Lieberman (D-Conn.), the chairman of the Senate Committee on Homeland Security and Governmental Affairs, said Sunday he wants to "more widely" use surveillance cameras across the country.

"The Brits have got something smart going in England, and it was part of why I believe they were able to so quickly apprehend suspects in the terrorist acts over the weekend, and that is they have cameras all over London and other of their major cities," Lieberman said.

"I think it's just common sense to do that here much more widely," he added. "And of course, we can do it without compromising anybody's real privacy."

Comment on this SOTT Focus

---

Massachusetts: Shooting victim discovered in Roslindale

Javier C. Hernandez
The Boston Globe
2007-07-02 12:27:00

A man was found shot to death outside a public housing complex in Roslindale early yesterday, police and residents said.

Police would identify the victim only as an Hispanic male, and did not provide any information on a possible suspect.

Residents of the Archdale Road apartment complex who saw the man's body said yesterday that he appeared to have been shot at least three times in the back. None of the neighbors said they recognized the victim.

The man was pronounced dead at the scene, where police responded about 2:30 a.m., after receiving a report of a body, authorities said. His body lay across a cement pathway near an apartment building and a neighborhood basketball court, residents said.


Comment on this SOTT Focus

---

Chicago: Wife's lover to pay for stealing her affections


LA Times
2007-07-02 11:17:00

Stealing someone's heart can cost you. Just ask German Blinov.

A jury has ordered Blinov to shell out $4,802 after he was sued by a husband from a Chicago suburb for stealing the affections of the man's wife.

Arthur Friedman used a little-known state law to mount the legal attack against Blinov.

The alienation-of-affection law lets spouses seek damages for the loss of love.

Only a handful of states still have such a law.

But Natalie Friedman, the woman at the center of it all, says her husband asked her to have sex with other women and men - including Blinov - to spice up their relationship.


Comment on this SOTT Focus

---

Oswald 'had no time to fire all Kennedy bullets'

Tim Shipman
The Telegraph
2007-07-02 07:44:00

Lee Harvey Oswald could not have acted alone in assassinating President John F Kennedy, according to a new study by Italian weapons experts of the type of rifle Oswald used in the shootings.

Comment on this SOTT Focus

---

Kingdom of programmed fear and paranoia! Backpack shuts down part of Georgetown, Wash DC


AP
2007-07-01 00:21:00

Everything is clear in Georgetown after a suspicious package shut down a significant area around the Wisconsin and M Street intersection late Saturday night.

Restaurants were evacuated and police blocked off the streets with yellow tape. M Street was closed to all traffic from the Key Bridge to Wisconsin.

Comment on this SOTT Focus

---
UK & Euro-Asian News
---
Propaganda Alert!: 'Al Qaeda™ car bombers' ringleader is brilliant NHS doctor


Daily Mail
2007-07-02 21:51:00

An Iraqi junior doctor and a brilliant neurologist working for the NHS are among the suspects being quizzed over the series of bomb attacks across Britain, it emerged today.

The news came as it emerged that an eighth person has been arrested in the terror enquiry.

Comment on this SOTT Focus

---

Europe set to life ban on GM frankenfood crops


Times Online
2007-07-01 17:22:00

The European commission is about to give the go-ahead to the first commercially grown genetically modified crops since a public outcry nine years ago halted their cultivation, writes Jonathan Leake.

The commission has begun the final approval stages for at least four applications by biotech companies to let farmers grow GM potatoes and maize in British and European fields.

Comment on this SOTT Focus

---

Floods are judgment on society - gays and morals the problem, say bishops

Jonathan Wynne-Jones
telegraph.uk.co
2007-07-02 16:23:00

The floods that have devastated swathes of the country are God's judgment on the immorality and greed of modern society, according to senior Church of England bishops.


©Getty
The Bishop said pro-gay laws were to blame for the floods




One diocesan bishop has even claimed that laws that have undermined marriage, including the introduction of pro-gay legislation, have provoked God to act by sending the storms that have left thousands of people homeless.

Comment on this SOTT Focus

---

Berezovsky charged with plotting coup in Russia - lawyer


RIA Novosti
2007-07-02 11:32:00

Fugitive Russian oligarch Boris Berezovsky has been charged with plotting a coup in Russia, his lawyer said Monday.

"The charge of conspiring to seize power has been brought [against Berezovsky]," Andrei Borovikov said, adding the accusation had come from the domestic security agency the FSB and was based on an interview with Britain's The Guardian in mid-April.

Berezovsky told the newspaper that he had bankrolled Kremlin insiders conspiring to overthrow President Vladimir Putin. Earlier in January, the businessman also said in an interview with Russia's Ekho Moskvy radio station that he was "working" to stage a violent coup in the country.

Russia's repeated demands for the extradition of Berezovsky, who lives in London as a political emigre and is wanted in Russia on other charges, including large-scale embezzlement and money laundering, have so far been refused.

Earlier Monday, a Moscow court postponed until July 12 a trial in absentia of Berezovsky, who is accused of embezzling over 214 million rubles ($8.3 million) of Aeroflot airline money and laundering over 16 million rubles ($620,000) of the national flagship's funds in the late 1990s.


Comment on this SOTT Focus

---

Update: Missing U.S. diplomat in Cyprus found dead


Earthtimes.org
2007-07-02 23:18:00

Nicosia - A US embassy staff member who had been missing in Cyprus for four days was found dead Monday by police near the village of Lefka around 46 kilometres west of the capital Nicosia, local media reported. The missing man, 45-year-old Thomas Mooney, was found in an out of the way area. Further details were not yet available. The cause of death is pending a coroner's investigation.



Comment on this SOTT Focus

---

Europeans see US as Biggest Threat to Peace

Daniel Dombey and Stanley Pignal
Financial Times
2007-07-02 06:45:00

Europeans consistently regard the US as the biggest threat to world stability, a new poll reveals on Monday.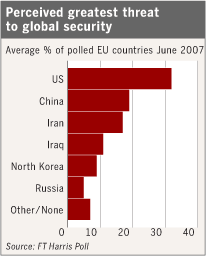 ©FT
Comment on this SOTT Focus
---
Around the World
---
N. Korea successfully tests short-range missile - U.S.


RIA Novosti
2007-07-02 11:40:00

North Korea successfully launched advanced short-range missiles last week, South Korea's Yonhap news agency quoted the commander of U.S. Forces Korea as saying Monday.

General B.B. Bell said the weaponry are modern, solid-fuel missiles, which means that they are easy to handle and capable of being fired rapidly.

"These were successful tests," he said.

North Korea has carried out test of at least three short-range missiles in the past month.

North Korea test fired a missile on May 25, and another June 7. In May 2005, the country launched short-range missiles from its eastern coast, and in July 2006 a total of seven missiles, including the Taepodong-2, which has a range of up to 6,000 km (3,700 miles).


Comment on this SOTT Focus

---

UFOs, Disclosure and Distraction

Victoria Hardy
American Chronicle
2007-06-30 09:12:00

I am intrigued by conspiracy theories, absolutely drawn in by the alternate ideas of known events. The conspiracy theorists are usually described as the lunatic fringe, nut jobs or the ever popular tin foil hat wearers, but I have found that some of the ideas I thought were purely conspiracy are beginning to find their way into the public pool of ideas, global warming or climate change, missing honeybees, North American Union FoxNews.com and now UFOs? FoxNews.com and Chicago Tribune

Comment on this SOTT Focus

---

Surprise, Surprise! Anti-poverty targets in Africa will not be met, UN warns

Larry Elliott
The Guardian
2007-07-02 05:29:00

The whole of sub-Saharan Africa - the poorest region of the world - will fail to meet the goals set seven years ago for eradicating global poverty by 2015 - the United Nations warned today.

Comment on this SOTT Focus

---

Castro charges CIA more murderous than ever


Reuters
2007-07-02 05:42:00

HAVANA - Convalescing Cuban President Fidel Castro charged on Sunday the release of classified CIA documents detailing past abuses was a smoke screen behind which the Bush administration hoped to hide even worse methods.

Comment on this SOTT Focus

---

Tauranga Airport, New Zealand, closed over heavy cardboard box


NZPA
2007-07-01 00:26:00

A suspicious package which closed Tauranga Airport for six hours today turned out to be "nothing sinister", police say.

Navy bomb squad officers this evening examined the unattended cardboard package, found just before midday, and gave it the all clear, Senior Sergeant Glenn Saunders said.

The bomb squad was called after a staff member at the airport found the package and alerted security teams after finding it heavier than he expected.

Comment on this SOTT Focus

---

Iran and Venezuela discuss "defeating imperialism"


Reuters
2007-07-01 23:19:00

Venezuelan President Hugo Chavez told his Iranian counterpart on Sunday the two oil-rich states, which have forged close ties in opposition to the United States, should cooperate to defeat imperialism, Iranian media said.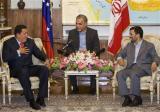 ©REUTERS/Raheb Homavandi
Iranian President Mahmoud Ahmadinejad (R) meets his Venezuelan counterpart Hugo Chavez in Tehran July 1, 2007.



Chavez and Iran's Mahmoud Ahmadinejad, who both regularly rail against Washington, met during an official visit by the Venezuelan leader to the Islamic Republic. Chavez arrived on Saturday after visiting Russia and Belarus.

Comment on this SOTT Focus

---
Big Brother
---
No new articles.
Axis of Evil
---
Pathological arrogance: How Cheney abused his power in war on terror

Tim Shipman
Sunday Telegraph
2007-07-01 09:28:00

Vice-President Dick Cheney was personally responsible for American policies that subjected terrorist suspects to cruelty and denied them the right to a fair trial, according to revelations from senior US government officials.

The details have laid bare more than ever before the remarkable influence of Mr Cheney in shaping the prosecution of the war on terror which led to the scandals at Guantánamo Bay and Abu Ghraib.

Comment on this SOTT Focus

---

Dead 'Mossad spy' was writing exposé

Uzi Mahnaimi
timesonline.com
2007-07-01 18:46:00



After mysteriously falling from a London balcony, Ashraf Marwan was found to be halfway through an expose of his life



AN Egyptian millionaire who mysteriously fell to his death from the balcony of his London flat after being named as a Mossad spy was writing a book that threatened to expose the murky world of Arab-Israeli espionage.

Comment on this SOTT Focus

---
Middle East Madness
---
Egyptian convicted of spying for Israel dies in jail


RIA Novosti
2007-07-02 11:42:00

An Egyptian, serving a 15-year sentence for spying for Israeli intelligence, was found dead by prison officers in a jail near Cairo Monday morning, the local media said.

Egyptian special services arrested al-Filali in 2000 on charges of supplying Israel's Mossad with military, political, and economic information about Egypt in exchange for money. Israel denied any involvement.

Sherif al-Filali was first acquitted of the charges in 2001 but convicted a year later in a retrial ordered by President Hosni Mubarak.

The cause of al-Filali's death is being investigated.


Comment on this SOTT Focus

---

Israeli nuclear whistleblower, Vanunu, to return to prison for violating the terms of his parole

Nir Hasson
Haaretz
2007-07-02 11:00:00

The Jerusalem Magistrate's Court has sentenced nuclear whistleblower Mordechai Vanunu to six months in jail for violating the terms of his parole.

Comment on this SOTT Focus

---

US War propaganda: Senior Iran leaders aware of Qods Force in Iraq


Reuters
2007-07-02 05:29:00

Senior Iranian leaders know about the operations of Iran's Revolutionary Guards Qods Force in stirring up violence in Iraq, the U.S. military said on Monday.



Comment on this SOTT Focus

---
The Loan Gunmen
---
Oil above $71 a barrel for first time in 10 months

John Wilen
Associated Press
2007-07-02 20:48:00

Oil prices rebounded Monday from early declines to settle above $71 for the first time in 10 months as traders focused on a refinery outage in Kansas and new accusations about Iran's role in Lebanon and Iraq.

Comment on this SOTT Focus

---

Dollar drops against euro on static U.S. interest rates

Min Zeng
Bloomberg
2007-07-02 16:55:00

The dollar dropped to the lowest level against the euro in almost a month after U.S. reports showed inflation had eased and consumption increased less than economists' forecasts, reducing the currency's appeal.

The U.S. dollar posted a third straight weekly loss last week as the data fueled speculation the Federal Reserve would keep borrowing costs unchanged this year while other central banks extended increases. The dollar may extend the decline this week on statistics expected to show that U.S. job growth slowed last month while a gauge of the service sector declined.

Comment on this SOTT Focus

---

U.S. finance firms are finding themselves major real estate owners as foreclosures mount


Bloomberg News
2007-07-02 15:02:00

Only the possums are enjoying the backyard of 2035 Lilac Lane in Decatur, Georgia, where the Wall Street titan Bear Stearns was just another homeowner by default.

Comment on this SOTT Focus

---

Asia marks Financial meltdown Anniversary with confidence and ambition

Carmel Crimmins
Reuters
2007-07-02 05:29:00

Asian countries said on Monday they were in a better position now to deal with the sort of financial meltdown that crippled the region 10 years ago, but warned against complacency.


Comment on this SOTT Focus

---

State-backed giants who want to buy the world


The Guardian
2007-07-01 17:51:00

Protectionism is making a comeback. At least, that is the fear of many influential figures - from senior officials at finance ministries to politicians and independent economists. These experts are, generally speaking, pointing their fingers from West to East, from the US and Europe to China, Russia and the Gulf, and they are being specific about the threat.

A new breed of global investment behemoths, the so-called 'sovereign wealth' funds (SWFs) - effectively state-controlled investment funds bankrolled by huge foreign exchange surpluses or petrodollars - want to buy up, among other things, western companies. This could provoke protectionist calls from populist politicians.

Comment on this SOTT Focus

---
The Living Planet
---
Gypsy moth caterpillars attack New Jersey and Penn.


UPI
2007-07-01 16:58:00

New Jersey and Pennsylvania are seeing their worst invasion of damaging Gypsy moth caterpillars in nearly two decades, it was reported Sunday.

The caterpillars have stripped nearly 1.6 million acres in the two states in the last three months, leaving bare an area the size of Delaware, The Philadelphia Inquirer reports.



Comment on this SOTT Focus

---

US: More bears coming out of the woods

Julie Masis
The Boston Globe
2007-07-02 12:32:00

Construction worker Kevin Forrence was loading up his truck one recent morning, getting ready to start his day at Gate City Fence on Ledge Street, when he noticed an unfamiliar shape on the other side of the canal.

"It was 5 a.m.; the sun wasn't out, but you could see," he said. "I just turned around, and it caught my eye. There was a black bear casually walking down the bike trail."

Forrence, 36, said he yelled out to the bear to try to make it stop, so he could get a better look and maybe capture the animal on his cellphone camera. But it was too dim, and the bear too far away. It stopped for a moment, glanced over at Forrence, and continued walking away. Later, other people reported seeing it poking into a D umpster near a Dunkin' Donuts.

"I've never seen a bear in the wild," said Forrence, who spends considerable time hiking and camping in the White Mountains. "All of a sudden, I'm in the center of Nashua, and there's a bear walking down the trail. Nashua is the last place I'd ever thought to see it."


Comment on this SOTT Focus

---

Early fire risk for mountains near Los Angeles


University of Utah / EurekAlert
2007-07-02 12:13:00

Researchers at the University of Utah and elsewhere have developed a new way to predict when vegetation dries to the point it is most vulnerable to large-scale fires in the Santa Monica Mountains near Los Angeles. And this year's forecast says the highest-risk fire period will begin July 13 - weeks earlier than usual.

Despite that, the new study also shows that unlike other areas of the western United States, global warming has not caused any apparent long-term trend toward early fire seasons in the Santa Monicas.

The scientists eventually hope to expand their unique fire-risk forecasting method to all of Southern California and beyond.

"We developed a way to predict when the time of highest fire danger begins in the Santa Monica Mountains, based on the amount of spring precipitation," says the study's principal author, Philip Dennison, an assistant professor of geography at the University of Utah. "We estimate that this year, the highest fire danger will begin July 13."

The study found the amount of March-April-May precipitation can be used to predict the date at which high fire-risk thresholds are reached.


Comment on this SOTT Focus

---

100 killed, millions homeless in cyclone in Pakistan


RIA Novosti
2007-07-02 11:37:00

Relief efforts are being hindered by a cyclone that caused torrential rain and strong winds in southern Pakistan, with about two million people currently affected, local media reported Monday citing official reports.

The Balochistan province in southwestern Pakistan has been hit hardest, where some 100 people have died and hundreds are reported missing. Over 200,000 houses in 15 districts of Balochistan have been damaged, with communications interrupted, power cut off, and fields flooded. Residents in flood-hit districts have insufficient food, medicines, and fresh water.

"There is a desperate need for tents, and we have already addressed the global community for assistance," Raziq Bugti, official spokesman for the Balochistan government, said. "We need at least 100,000 tents for homeless families."


Comment on this SOTT Focus

---

Piranhas have had a raw deal in Hollywood


The Telegraph
2007-07-02 10:38:00

In Hollywood films piranhas have a reputation for being so aggressive that they can strip a body of flesh in just minutes - they were, for example, Bond villain Blofeld's favoured instrument of death in You Only Live Twice.

But it seems these Latin American freshwater fish are not the insatiable man-eaters of folklore, after all.

From today the new findings about piranhas - plus a tank full of them - will be on display at the Royal Society Summer Science Exhibition in London.

According to research, the main reason the scary fish patrol in shoals is for protection from their own predators.

The widely held view that piranhas form "co-operative hunting groups" is a myth that has helped turn them into film legends.

However, a research team from the University of St Andrews and the Mamiraua Sustainable Development Institute in Brazil say piranhas are not dangerous. The researchers have been studying piranha behaviour in the flooded forests of the Amazon.

Prof Anne Magurran, of St Andrews, said: "Contrary to popular belief, piranhas are omnivores. They are scavengers more than predators, eating mainly fish, plant material and insects.


Comment on this SOTT Focus

---

Californians urged to cut water after driest year

Jill Serjeant
Reuters
2007-07-02 09:52:00

LOS ANGELES - Southern Californians, fond of their private pools, golf courses, garden sprinklers and the ubiquitous car wash, are being urged to reform their water-guzzling ways after the region's driest year on record.

A mere 3.2 inches of rain -- less than a quarter as much as usual -- fell on downtown Los Angeles in the year beginning on July 1, 2006, the lowest since records began 130 years ago.

A hot summer of short showers is forecast to follow.

Comment on this SOTT Focus

---
Health & Wellness
---
A Brave New World! New Drug Deletes Bad Memories

Bill Christensen
Live Science
2007-07-02 15:57:00

Do you have a really bad memory, or past heartache, that you would prefer to forget?

Researchers at Harvard and McGill University (in Montreal) are working on an amnesia drug that blocks or deletes bad memories. The technique seems to allow psychiatrists to disrupt the biochemical pathways that allow a memory to be recalled.

Comment on this SOTT Focus

---

Why we learn from our mistakes


EurekAlert / University of Exeter
2007-07-02 11:46:00

Psychologists from the University of Exeter have identified an 'early warning signal' in the brain that helps us avoid repeating previous mistakes. Published in the Journal of Cognitive Neuroscience, their research identifies, for the first time, a mechanism in the brain that reacts in just 0.1 seconds to things that have resulted in us making errors in the past.

Previous research has shown that we learn more about things for which we initially make incorrect predictions than for things for which our initial predictions are correct. The element of surprise in discovering we are wrong is conducive to learning, but this research is the first to show how amazingly rapid our brain's response can be. This discovery was made possible through the use of electrophysiological recordings, which allow researchers to detect processes in the brain at the instant they occur.

'It's a bit of a cliché to say that we learn more from our mistakes than our successes,' said psychologist Professor Andy Wills of the University of Exeter, 'but for the first time we've established just how quickly the brain works to help us avoid repeating errors. By monitoring activity in the brain as it occurs, we were able to identify the moment at which this mechanism kicks in.'


Comment on this SOTT Focus

---

Babies not as innocent as they pretend

Richard Gray
Telegraph
2007-07-02 11:02:00

Whether lying about raiding the biscuit tin or denying they broke a toy, all children try to mislead their parents at some time. Yet it now appears that babies learn to deceive from a far younger age than anyone previously suspected.

Behavioural experts have found that infants begin to lie from as young as six months. Simple fibs help to train them for more complex deceptions in later life.

Until now, psychologists had thought the developing brains were not capable of the difficult art of lying until four years old.


Comment on this SOTT Focus

---

Brain Scans Reveal Why Meditation Works

Melinda Wenner
LiveScience
2007-07-02 10:35:00

If you name your emotions, you can tame them, according to new research that suggests why meditation works.

Brain scans show that putting negative emotions into words calms the brain's emotion center. That could explain meditation's purported emotional benefits, because people who meditate often label their negative emotions in an effort to "let them go."

Comment on this SOTT Focus

---
Science & Technology
---
Building found in China tomb


Herald Sun
2007-07-02 17:09:00

The tomb of China's first emperor, guarded for more than 2000 years by 8000 terracotta warriors and horses, has yielded another archaeological secret.

Archaeologists have confirmed that a 30m-high building is buried in the vast mausoleum of Emperor Qinshihuang near the former capital, Xian.

Comment on this SOTT Focus

---

Understanding Smooth Eye Pursuit - The Incredible Targeting System of Human Vision


UPENN
2007-07-02 12:18:00

Researchers at the University of Pennsylvania have shed new light on how the brain and eye team up to spot an object in motion and follow it, a classic question of human motor control. The study shows that two distinctly different ways of seeing motion are used - one to catch up to a moving object with our eyes, a second to lock on and examine it.

"Without the ability to lock our eyes onto a moving target, something called smooth pursuit, athletes cannot 'keep their eye on the ball,' and a person walking down the street cannot examine the facial expression or identity of a passerby," said Jeremy Wilmer, postdoctoral fellow in the Department of Psychology in Penn's School of Arts and Sciences and lead author of the study.

Researchers found that volunteers showed a range of capabilities when it came to sensing and following motion, and the careful measurement of such differences produced novel insights into the workings of the smooth pursuit system.


Comment on this SOTT Focus

---

Flashback: Test run? Hackers target Internet's 13 root servers

James Simpson
Earthtimes.org
2007-02-07 07:19:00

Hackers hit the heart of the Internet yesterday when they launched an attack on three of the 13 root servers that are responsible for directing all web traffic. The computers were disabled for 12 hours before resuming routine operations.


The hackers hit the UltraDNS company, which directs traffic to websites containing the .info and.org suffixes. The attacks went unnoticed for several hours because legitimate traffic remained unaffected.


Comment on this SOTT Focus

---

A glitch in the Matrix, or a hungry exploit? Weird internet behaviour. What's going on?

Sûnnet Beskerming
The Register
2007-06-30 08:29:00

Sûnnet Beskerming researchers observed an interesting deviation in global network trafficover the last 24 hours, particularly for South American, Asian, and Australian networks. Normally, global Internet traffic (as observed by the Internet Traffic Report) oscillates around nine per cent packet loss, with global response times of 138 ms, and the internally derived traffic index at around 79.

Sustained over the last 24 hours, the traffic index has dipped almost five per cent, packet loss has climbed to 11 per cent, and the global response time to almost 150 ms.

Normal spikes and dips as observed on the Internet Traffic Report show up as no more than three- or four-hour blocks of odd results before settling back into normalcy. This latest spike and dip has been sustained for at least 18 hours, with a rapid ramp up in the six hours prior to the peaks (and lows) being reached.


Comment on this SOTT Focus

---
Our Haunted Planet
---
No new articles.
Don't Panic! Lighten Up!
---
Indians use condoms as toys

Rahul Bedi
Telegraph
2007-07-02 11:29:00

India is struggling to prevent millions of condoms from being made into toys or sold as balloons.

The contraceptives were distributed free to control the country's population and restrict the Aids virus.

However, they are being used instead to strengthen roads, provide extra waterproofing for houses and to carry water.

Health activists said millions of condoms were melted down for their latex and made into toys. Others were dyed and sold as balloons.

In rural areas, villagers used them as water containers. India's soldiers covered their gun barrels with condoms as protection against dust.

Only a quarter of about 1.5 billion condoms made each year were "properly utilised", the activists said.


Comment on this SOTT Focus

---

Unbelievable cruelty! Man beats peacock he says was vampire


Associated Press
2007-07-02 10:57:00

A peacock that roamed into the parking lot of a fast-food restaurant was attacked by a man who vilified the bird as a vampire, animal-control authorities said.

Beaten so fiercely that most of his tail feathers fell out, the bird was euthanized, said Richard Gentles, a spokesman for the city's Center for Animal Care and Control.

"It's just unbelievable that someone would do something to a poor, defenseless animal and do it in such a cruel fashion," he said.


Comment on this SOTT Focus

---

India: 'Shiva lingam at Amarnath completely melted'


The Times of India
2007-07-02 10:53:00

The naturally-formed ice Shiva lingam at the holy cave shrine of Amarnath in Jammu and Kashmir has completely melted, Chief Executive Officer of Shree Amarnathji Shrine Board Arun Kumar said on Sunday.

The ice Shiva lingam has melted down owing to the rise in temperature, Kumar, who accompanied Union Home Minister Shivraj Patil to the cave on Sunday, said.


Comment on this SOTT Focus

---

London Bomb 'Not Scary Enough', Brown Tells MI5


The Daily Mash
2007-07-02 06:52:00

PRIME Minister Gordon Brown has dismissed the latest London bomb scare as "feeble" and "unlikely to frighten the public".



Comment on this SOTT Focus

---

What do you get if you cross a zebra with a horse?


NZ Herald
2007-06-29 05:00:00



A Zorse





Eclyse the zorse is striking proof of how an offspring inherits genes from both parents - which in her case was a male zebra and a female horse. The result is shown in her amazing coat which looks like a zebra's that has been partly covered in white paint.

Comment on this SOTT Focus

---
---

Remember, we need your help to collect information on what is going on in your part of the world!
Send your article suggestions to: sott(at)signs-of-the-times.org

---
Click here to return to the Signs of the Times Archive
Click here for today's Signs Page