---
Sections on today's Signs Page:
---
SOTT Focus
---
Political Ponerology

stardust
SOTT
2007-06-19 09:24:00



Comment on this SOTT Focus

---
Best of the Web
---
Reviewing Michel Chossudovsky's "America's War on Terrorism"

Stephen Lendman
SJLendman Blog
2007-06-18 18:38:00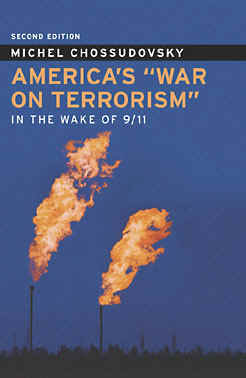 ©Global Research
Michel Chossudovsky, America's "War on Terrorism", Global Research 2005
"America's War on Terrorism" - An Overview

Chossudovsky's book is a greatly expanded version of his 2002 book titled, "War and Globalization: The Truth behind September 11." The current newly titled 2005 edition (post-9/11 and the 2003 Iraq invasion and occupation) includes 12 new chapters with those in the original edition updated. The author states the book's purpose is "to refute the official narrative and reveal - using detailed evidence and documentation (not speculation based on opinion alone)" - the true nature of America's "war on terrorism," that's as relevant now as when the book was first published.
Comment on this SOTT Focus
---
U.S. News
---
Tools of pathocracy discarded: Help sought for hurt soldiers' families

Hope Yen
AP
2007-06-18 14:20:00

Families of injured soldiers poured out tales of frustration Monday, telling a presidential panel they were forced to become full-time caregivers because of an overwhelmed health system.

In its final weeks before issuing a final report, the nine-member commission heard testimony on the support available to loved ones of those hurt in battle in Iraq and Afghanistan.

Comment on this SOTT Focus

---

15-year-old boy found dead after shooting that killed 1 Indiana deputy and wounded another


Associated Press
2007-06-19 14:16:00

A 15-year-old boy was found dead early Tuesday, hours after he fatally shot one sheriff's deputy and seriously wounded another in a confrontation outside his southern Indiana home, authorities said.


Officers entered the home shortly after midnight and found the boy dead on the floor, state police Sgt. Jerry Goodin said.

Floyd County Coroner Greg Balmer confirmed Tyler Dumstorf's death, but neither he nor police would say how the teen died.


Comment on this SOTT Focus

---

'Tornado of flames' kills 9 firefighters


Associated Press
2007-06-19 14:09:00

Fire swept through a furniture warehouse, collapsing the building's roof and claiming the lives of nine firefighters in a disaster the mayor described Tuesday as "difficult to fathom or quantify."


"Nine brave, heroic, courageous firefighters of the city of Charleston have perished fighting fire in a most courageous and fearless manner, carrying out their duties," Charleston Mayor Joseph P. Riley said at a morning news conference. "To all of their loved ones, our heart goes out to them."


Two employees in the building were rescued from the blaze, which broke out at about 7 p.m. Monday in the Sofa Super Store and warehouse, Riley said.


One was rescued quickly, and firefighters punched a hole through a wall of the warehouse to reach them, he said.


Firefighters, police officers and other rescue workers saluted as the bodies were carried from the warehouse during the night.


Comment on this SOTT Focus

---

White House on Security Alert as Vehicle Is Checked


Bloomberg
2007-06-18 12:46:00

A building that is part of the White House complex was evacuated and the area placed under a security lock down after a bomb sniffing dog detected possible explosives in a vehicle parked nearby.


Reporters were evacuated from the building housing the news media at Jackson Place, across the street from the main White House grounds and adjacent to Blair House, where Israeli Prime Minister Ehud Olmert is staying prior to his meeting tomorrow with President George W. Bush. The vehicle that caused the alert is assigned to the delegation.


The area is under heightened security because of Olmert's presence. The Secret Service closed off streets in a two-block area west and north of the White House just as the afternoon rush hour was about to begin.


There was no indication that the executive mansion where Bush lives and works was affected. Administration staff continued to work in the White House, though the north lawn inside the gates of the complex was cleared of television crews and reporters.


Comment on this SOTT Focus

---

Being offensive and manipulative, are we? US lawmaker compares Putin's muscle-flexing to Popeye

Susan Cornwell
The New Zealand Herald
2007-06-19 12:43:00

Russian President Vladimir Putin's muscle-flexing over the country's huge energy profits is undermining Moscow's relations with the West, a senior US lawmaker said today, comparing the Kremlin leader with the cartoon character Popeye.


"They're eating the spinach of petroleum revenues, and the billions are flowing into the Kremlin, and with every billion ... Putin's muscles bulge more powerfully," Rep Tom Lantos, chairman of the House of Representatives Foreign Affairs Committee, told Reuters in an interview.


But while today's Kremlin may act as though its vast reserves of oil and minerals have given it "energy power over Europe," it should become more cooperative as it grows accustomed to its oil boom, Lantos said as he prepared to meet his Russian counterparts this week.


"I am convinced that when this euphoria of energy revenues will be taken more routinely, the Kremlin leadership will understand that their future lies with cooperation with the United States and Europe in a mutually respectful and civilised fashion," he said.


Comment on this SOTT Focus

---

Keeping everyone in line: House invests $50M for nuclear fuel bank

Jim Abrams
Associated Press
2007-06-19 12:32:00

The House on Monday approved a $50 million fund to create an international nuclear fuel bank, an idea aimed at negating
Iran's argument that it needs its own nuclear fuel program.


The bill, passed by voice vote, gives the president authority to make voluntary contributions to the International Atomic Energy Agency to set up the bank that would guarantee reactor fuel to qualifying countries.


Countries seeking to purchase from the reserve would have to meet IAEA safeguards and refrain from operating uranium enrichment or spent-fuel reprocessing facilities.


"This bill is a dramatic step forward in the epic struggle to contain the spread of nuclear arms around the globe," said House Foreign Affairs Committee Chairman Tom Lantos (news, bio, voting record), D-Calif., adding that it would "expose the subterfuge that we know Iran is perpetrating in order to further its nuclear weapons pursuit."


Comment on this SOTT Focus

---
UK & Euro-Asian News
---
£80,000 reward to 'execute' Rushdie as knighthood row escalates


This is London
2007-06-19 17:42:00

The international row over Salman Rushdie's knighthood escalated after Islamic extremists placed a £80,000 bounty on the writer's head.

The British Government expressed its "deep concern" over reported comments by one of Pakistan's ministers which suggested Rushdie's knighthood could justify suicide attacks.

The announcement comes amid continuing protests in Pakistan over the awarding of the honour to the controversial author.

Comment on this SOTT Focus

---

G8 False Flag Terror Attack Averted?

Joseph Watson
Prison Planet
2007-06-10 16:26:00



US "security men" attempted to smuggle C4 plastic explosive past checkpoint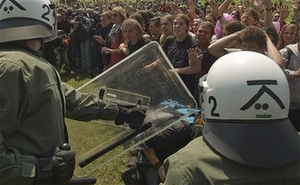 ©n/a
Comment on this SOTT Focus
---

Woman suspected of selling 118 babies arrested in China


RIA Novosti
2007-06-19 14:33:00

Chinese police have cracked down on a baby-trading ring, arresting a woman suspected of organizing the criminal group and selling 118 babies in 2003, a Chinese newspaper said Tuesday.


The Shanghai Daily cited a newspaper in central China's Henan province as saying: "suspect Ji Xiulan allegedly sold 118 babies with the help of her husband, son Liu Yujie and his wife in 2003."


The four-member ring are believed to have bought baby girls from the Guangxi Zhuang Autonomous Region and sold them in the Guangxi, Henan, Anhui and Hubei provinces, the newspaper said.


Comment on this SOTT Focus

---

Rasputin the 'savior'? Britain killed Rasputin, claims Russian film

Adrian Blomfield
Telegraph
2007-06-19 14:20:00

Grigori Rasputin, the infamous Siberian mystic, was murdered as part of a British Government plot to depose Tsar Nicholas II and replace him with a malleable Anglophile bisexual, a major new Russian book and film are to claim.


In a country that loves a good conspiracy theory, especially if a western power is the conspirator, both are likely to have a significant impact at a time when Britain is once again accused of scheming to weaken and discredit Russia.


Rasputin's sensational murder in 1916 has long been the source of fascination and speculation, in part because of his stubborn refusal to die.


Disputed reports claim he survived poisoning, bludgeoning and several shootings before he was finally drowned in the icy waters of St Petersburg's Neva river. Allegations of British involvement in the murder are not entirely new.


Comment on this SOTT Focus

---

This is ridiculuos: Do not light up at home, council tells smokers


Telegraph
2007-06-19 13:51:00

Smokers are to be asked not to smoke in their own homes to protect council staff.


Health and safety officers at Liverpool city council have drawn up plans to request residents not to smoke at least half an hour before a visit by staff and to open windows and not light up during a home visit.


The plans are to protect employees from exposure to second-hand smoke. The council says the rules are not a "ban" and it will not be able to force householders to comply.


But if residents insist on smoking at home during a visit from a council employee the visit will be ended and they will be asked to attend a council office - which comes under the nationwide smoking ban from July 1.


The rules will apply to residents in both council houses and private homes being visited by staff, including social workers, enforcement officers and planning officers.


Comment on this SOTT Focus

---

Hitler bunkers revealed - real and virtual

Kate Connolly
The Guardian
2007-06-19 11:05:00

Experts in Berlin's wartime bunkers have announced the discovery of a forgotten Nazi military school buried under a man-made hill on the western edge of the city.
The army academy, designed by Nazi architect Albert Speer, is encased in the Teufelsberg (Devil's Mountain), a 116-metre (380ft)-high mound in Berlin which was constructed from the 26m cubic metres of the capital's wartime rubble.


The unfinished building, for which Nazi leader Adolf Hitler laid the foundation stone in 1937, was meant to become part of Germania, the huge capital of the 1,000-Year Reich. But "war-specific" problems, according to an internal Nazi memorandum, caused building work to be stopped just three years later.


The British occupation forces planned to turn the building into their headquarters, until it proved too difficult to convert. It was also too sturdy to demolish. Instead, half of Berlin's rubble - equivalent to 400,000 buildings - was poured on top, along with grass-seed, and so the Teufelsberg was born.


Comment on this SOTT Focus

---
Around the World
---
Doomsday prophecies have more than a few worried

Diana Washington Valdez
El Paso Times
2007-06-19 15:30:00

Let's hope Nostradamus, Edgar Cayce and Jeane Dixon are wrong.

These psychics predicted the world would experience a cataclysmic event -- perhaps a meteor strike or a reversal of Earth's electromagnetic poles -- in 2012. That's the year the Mayan calendar ends.

This year, the History Channel (cable Channel 58) is showing "Doomsday 2012: The End of Days," a program about predictions that link such an event to the Mayan calender. The show also points to changes in Earth's climate as possible signs of future disaster.

Comment on this SOTT Focus

---

110 people killed in NKorean explosion: aid group


AFP
2007-06-19 15:30:00

A South Korean aid group said Tuesday that about 110 people were killed in a gasoline pipeline blast 10 days ago in the northwest of North Korea.


The group, Good Friends, said all the dead perished in flames when the pipeline blew up in Sonchon county in North Pyongan province on June 9.


"Informed sources told us about 110 people were killed in the blast," Noh Oh-Jae, a group official, told AFP. She refused to further identify the sources.


Noh said the disaster occurred when villagers gathered around a previously cracked pipeline to collect gasoline.


"Someone ignited a flame by mistake, causing a huge explosion that sent flames and smoke billowing up, engulfing people," she said.


Comment on this SOTT Focus

---

Australian police hunt biker accused of killing lawyer


AFP
2007-06-19 15:29:00

An Australia-wide manhunt was underway Tuesday for a Hell's Angel accused of killing a Melbourne lawyer amid calls for authorities to use Hong Kong's tough anti-triad tactics against biker gangs.


There was shock and outrage in Australia at Monday's shooting of lawyer Brendan Keilar, who tried to rescue a woman being dragged by her hair down a busy central Melbourne street during the morning rush hour.


When Keilar and a 25-year-old Dutch backpacker tried to intervene, the assailant shot them and the woman he was attacking, killing the 43-year-old father of three and critically injuring the Dutchman and the 24-year-old woman.


Police have launched a nationwide manhunt for Christopher Hudson, 29, whom they describe as "extremely dangerous."


Comment on this SOTT Focus

---

Space, defense, energy, trade top Putin's talks with Malaysia PM


RIA Novosti
2007-06-19 14:28:00

Negotiations between the Russian president and the Malaysian prime minister on the second day of his Moscow visit covered space and defense cooperation, energy partnership and bilateral trade Tuesday.


Vladimir Putin met with Abdullah Ahmad Badawi who arrived in Moscow for a four-day visit at the invitation of the Russian president in a year which marks 40 years of diplomatic ties.


"This year, we celebrate the 40th anniversary of diplomatic relations, and this fall a Malaysian astronaut will fly to the International Space Station (ISS)," Putin said.


Space


The first Malaysian astronaut, locally referred to as Angkasawan, is being trained in Russia for his flight in October. Doctor Sheikh Muszaphar Shukor Al Masrie will fly on the Russian Soyuz-TMA-11 spacecraft together with the next ISS mission.


Comment on this SOTT Focus

---

Cultural bigotry rises as India sees social change


Gulf Times / Reuters
2007-06-19 14:02:00

A barrage of kisses on Shilpa Shetty's cheeks, paintings of naked Hindu gods, Valentine's Day, Fashion TV and sex education - all are unacceptable according to India's increasingly sensitive moral police.


Small but growing and ever more vocal groups of cultural vigilantes are attacking anything that does not conform to their notion of purity and morality, from paintings, books and films to modern dress, Western attitudes and even beauty salons.


It is an assault some ascribe to the dislocation caused by a booming economy, and the gap between an affluent, urban youth embracing Western values and the more traditional rest of society, whether older or poorer.


"Lopsided economic growth has created a dispossessed population which cannot relate to Western cultural values and norms," said S Parasuraman, head of the Tata Institute of Social Sciences. "The political class exploits this."


More often than not, the religious card gets played. As the Hindu nationalist Bharatiya Janata Party tries to reach out to the moderate centre of Indian politics and redefine itself after its national election defeat in 2004, its radical fringe is looking for issues to reinvigorate itself.


Comment on this SOTT Focus

---

Indian police uncover human bone smuggling racket

Bappa Majumdar
Reuters
2007-06-19 12:22:00

Indian police have discovered a stash of hundreds of human skulls and thigh bones and arrested a gang for allegedly smuggling them to the Himalayan kingdom of Bhutan for use in Buddhist monasteries.


"During interrogation they confessed that the hollow human thigh bones were in great demand in monasteries and were used as blow-horns, and the skulls as vessels to drink from at religious ceremonies," investigating officer Ravinder Nalwa said on Tuesday.


It was the second cache of bones found in eastern India since April and police now believe the region could be the centre of a much broader trade in human bones. They suspect some bones may even have ended up as far away as Thailand and Japan.


Officers found the latest collection in Jaigaon, a town in eastern India on the border with Bhutan, and arrested four people who said they were smuggling them across the border, Nalwa told Reuters by telephone from Siliguri.


Comment on this SOTT Focus

---
Big Brother
---
London Airport boss snared by no-fly list in U.S.

Randy Richmond
The London Free Press
2007-06-19 16:54:00

Steve Baker, head of the London International Airport, knows first-hand the pain Canadian flyers may now face.

On the day a new no-fly security list threatened to ground an unknown number of Canadian air travellers, Baker yesterday revealed he was on the U.S. version of that list -- which bars people from flying -- about a year ago.

Comment on this SOTT Focus

---

Cameras May Watch You Take Tests Online


Associated Press
2007-06-19 15:46:00

New technology will place cameras inside students' homes to ensure that those taking exams online don't cheat.


This fall, Troy University in Alabama will begin rolling out the cameras for many of its approximately 11,000 online students, about a third of whom are at U.S. military installations around the world.


The device, made by Cambridge, Mass.-based Software Secure, is similar in many respects to other test-taking software. It locks down a computer while the test is being taken, preventing students from searching files or the Internet. The latest version also includes fingerprint authentication, to help ensure the person taking the test isn't a ringer.


But the new development is a small Web cam and microphone that is set up where a student takes the exam. The camera points into a reflective ball, which allows it to capture a full 360-degree image. (The first prototype was made with a Christmas ornament.)


Comment on this SOTT Focus

---

Criminalizing the Classroom

Linda Flores
Counterpunch
2007-06-19 13:59:00


"They're treating us like criminals, like we're animals."

-- Student at Curtis High School, Staten Island, New York City

"Sometimes the classroom feels like a jail cell."

-- Jane Min, Flushing High School, Queens, New York City
Comment on this SOTT Focus
---

Swedes Revolt Against Online Snooping

LOUISE NORDSTROM
AP
2007-06-19 03:33:00

Want to know how much your boss earns? Or whether your daughter's fiance is in debt? For Swedes, it takes just a few clicks on the Internet to find out.

Comment on this SOTT Focus

---

UK - Fingerprinting and eye scans for children as young as five

Marie Woolf
The Independent
2007-06-17 21:59:00

Schools are to get the go-ahead to fingerprint pupils as young as five, in new measures to be approved by the Government.

Ministers will issue guidance telling schools they have the right to collect biometric data and install fingerprint scanners.

But the decision has angered opposition MPs who say collecting fingerprints from children will be a gift to identity thieves.

Comment on this SOTT Focus

---
Axis of Evil
---
Legacy of CIA Himalayan Operation Could Imperil Millions

Amitabh Pal
The Progressive
2007-06-15 14:42:00

Talk about harebrained schemes.

The CIA has had its share of dimwitted operations (the plot to make Castro's beard fall off comes to mind), but an expedition to plant a nuclear-powered sensor on a 25,000-foot-plus mountain in the Himalayas is in a league of its own. The aim of putting the plutonium-run device on Nanda Devi (which feeds the Ganges river) in 1965 was to track nuclear and missile tests in China. The operation was a collaboration between the U.S. and Indian intelligence agencies, thus putting a wrinkle into the notion that the United States and India were consistently on opposing sides during the Cold War.

Comment on this SOTT Focus

---

Bush-Cheney '08

Nick Cooper
The Narcosphere
2007-06-19 08:19:00

Sure, you've heard of the Patriot Act, and you know about the NSA warrantless surveillance controversy. Many Americans are cynical about the human rights record of the Bush administration. But, what do you know about these directives and acts Bush signed into law in the past few months -- The John Warner Defense Appropriation Act, The Military Commissions Act, The National Security and Homeland Security Presidential Directives? These acts and directives give dictatorial powers to the President of the United States, and leave open the question -- are these guys planning to leave office?

Comment on this SOTT Focus

---

Agent Orange appeal hearing begins in New York

Thu Thuy
Thanh Nien- Vietnam
2007-06-19 04:35:00

A New York appeals court began hearing Monday a suit filed by Vietnamese victims of Agent Orange against US producers who supplied the defoliant for use during the war in Vietnam.

The lawsuit seeks compensation, clean-up, and medical monitoring and support by the chemical companies that profited from the production and supply of toxic defoliants used by the US Army in Vietnam between 1961 and 1971.

Comment on this SOTT Focus

---

U.S. open to negotiations on cluster bombs but no ban


Reuters
2007-06-19 02:57:00

The United States supports launching negotiations on a global treaty to reduce civilian casualties from cluster bombs, but does not back a ban on the weapons, a U.S. official said on Monday.




Comment on this SOTT Focus

---

Propaganda! Iraqis assure Bush progress being made

LARA JAKES JORDAN
AP
2007-06-19 02:49:00

President Bush had a nearly hour-long secure video teleconference with Iraqi leaders on Monday and came away impressed and reassured by the progress they're making on political, security and economic reforms, the White House said.



Comment on this SOTT Focus

---

Blair's final nonsensical ramblings in defence of Iraq war


AFP
2007-06-18 17:54:00

Tony Blair on Monday strongly defended intervening in Iraq for the final time as prime minister before parliament's top scrutiny body.

Comment on this SOTT Focus

---
Middle East Madness
---
Iran says won't rule out using oil as a weapon


Reuters
2007-06-19 17:20:00

Iran will not rule out using oil as a weapon if the United States resorts to military action against the Islamic Republic over its nuclear program, an Iranian oil official said in remarks published on Tuesday.

"When the Americans say that military action in regard to the nuclear issue has not been put aside, Iran can also say that it will not put aside oil as a tool," Iran's OPEC governor, Hossein Kazempour Ardebili, told Iran's Sharq newspaper.

Comment on this SOTT Focus

---

Truck bomb kills more than 60 in Baghdad


AFP
2007-06-19 15:26:00

A massive truck bomb exploded near a Shiite mosque in the centre of the Iraqi capital on Tuesday, killing more than 60 people, security and hospital officials said.


The bomb ripped through the capital as 10,000 US and Iraqi troops launched a major air and ground assault on Al-Qaeda strongholds in the restive Diyala province, the biggest such operation seen in the violence-ridden area.


The explosion, the deadliest in Iraq since mid-April and the latest in a wave of tit-for-tat attacks against Sunni and Shiite mosques, spared the green dome of Al-Kholani mosque in the Sinak area but destroyed its main prayer hall.


Security officials said at least 61 people were killed and 130 others wounded, evacuated to five separate hospitals. The blast left a crater measuring six-metres (20-feet) by three metres, an AFP journalist said.


Comment on this SOTT Focus

---

Levitate the Pentagon

Pepe Escobar
Asia Times
2007-06-19 11:12:00

"I read the news today oh boy." - The Beatles, A Day in the Life, 1967.

"The only enemy of Iraq is the occupation." - Muqtada al-Sadr, 2007.

Forty years ago down in sunny Monterey, California, an ultra-cool black cat from Seattle named James Marshall Hendrix set the world on fire. "Respect" by Aretha Franklin (written by Otis Redding) was the No 1 hit single in the US (to be replaced, a month later, by "Light My Fire" by The Doors). Hendrix and Otis in Monterey merged into the Summer of Love - the apotheosis of Make Love Not War, vinyl treasures and Indian mottoes dressed in caftans and granny dresses.

Comment on this SOTT Focus

---

US makes Iraq become prime training ground for export of Jihadists

Michel Moutot
AFP
2007-06-19 11:10:00

Iraq has overtaken Afghanistan as an ideal training ground for Jihadists to export their battle across and beyond the Middle East, experts say.

Comment on this SOTT Focus

---

U.S. says 10,000 troops in major Iraq offensive

Dean Yates
Reuters
2007-06-19 08:32:00

BAGHDAD - The U.S. military deployed 10,000 soldiers backed by attack helicopters in a big offensive against al Qaeda north of Baghdad on Tuesday as a truck bomber struck in the capital, killing 75 people near a Shi'ite mosque.

Comment on this SOTT Focus

---

Those who denied poll result in Palestine were the real coup plotters

Peter Beaumont
The Observer
2007-06-19 07:13:00

The reality is that the only people who are really behind Salam Fayyad are the European and US diplomats who have long sung his praises behind the scenes to any journalist prepared to listen.

Comment on this SOTT Focus

---
The Loan Gunmen
---
German Investor Confidence Unexpectedly Fell in June

Christian Vits
Bloomberg
2007-06-19 17:16:00

German investor confidence unexpectedly fell in June as borrowing costs climbed, suggesting economic growth may have reached a plateau.

The ZEW Center for European Economic Research in Mannheim said its index of investor and analyst expectations declined to 20.3 from 24 in May. Economists expected a reading of 29, according to the median of 38 forecasts in a Bloomberg News survey.

Comment on this SOTT Focus

---

Food costs take bigger bite of budgets

Barbara Hagenbaugh
USA Today
2007-06-19 17:13:00

Food and beverage costs rose 3.9% in May from a year earlier, outpacing the overall inflation rate by more than a full percentage point and is the biggest increase in three years, the Labor Department said Friday. Costs for a variety of goods, including meat, milk, soft drinks and fresh fruit all rose from April.

Higher prices are being seen not only at grocery stores, but also at restaurants. The cost of dining out has risen 3.3% in the last year.

A combination of forces, including bad weather, heightened demand for corn to produce ethanol, strong buying from consumers and higher energy costs, is boosting prices.

Comment on this SOTT Focus

---

U.S. Home builders' confidence falls to 16-year low

Rex Nutting
MarketWatch
2007-06-18 17:04:00

The outlook for U.S. home building is the worst in 16 years, the National Association of Home Builders reported Monday. The builders' housing market index fell by two points to 28 in June, the lowest since February 1991.

The market probably won't turn around until next year, said David Seiders, chief economist for the builders. "We expect housing to exert a drag on economic growth during the balance of 2007."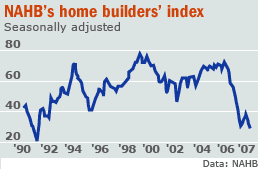 ©NAHB
Comment on this SOTT Focus
---

U.S. Economy: Housing Starts Drop; Slump May Persist

Bob Willis
Bloomberg
2007-06-19 17:01:00

Home starts in the U.S. fell for the first time in four months in May as interest rates rose, suggesting the worst housing recession in 16 years will persist.

Builders broke ground on new houses at an annual rate of 1.474 million, down 2.1 percent from the prior month, the Commerce Department said today in Washington. Building permits increased 3 percent to 1.501 million.

The slump, which has lasted almost two years, is restraining economic growth even as inflation is too high for the comfort of Federal Reserve officials. Meanwhile, the average rate on a 30-year fixed mortgage has jumped to the highest in more than a year, putting pressure on first-time buyers and raising the prospect of additional defaults.

Comment on this SOTT Focus

---

Mortgages Give Wall St. New Worries

Vikas Bajaj and Julie Creswell
The New York Times
2007-06-19 16:58:00

After the first cracks in the subprime mortgage business appeared late last year, several large lenders were forced into bankruptcy.

Now, the stress is sending tremors down Wall Street, as investment funds that bought a stake in those loans are starting to wobble.

Industry officials say they expect this second act to be longer and slower, unwinding over the next 12 to 18 months. The fallout could further constrict consumers with weak, or subprime, credit while helping to prolong the housing downturn.

Comment on this SOTT Focus

---

Nazi connotations: Barclays eagle is causing a flap after 317 years

Patrick Hosking
The Times
2007-06-19 12:48:00

Barclays is poised to drop its 317-year-old eagle logo in response to concerns from ABN Amro, its Dutch merger partner, that the design has Nazi connotations.


Sources close to the British bank said that it had come under pressure to scrap the logo. "It is rather a Teutonic looking eagle and has unfortunate connotations," one insider said.


Barclays, which has already agreed to move its head office to Amsterdam as the price of its proposed £96 billion merger deal, is instead preparing to adopt ABN's stylised heraldic shield worldwide.


Many in the Netherlands, which was occupied for five years during the Second World War, are deeply sensitive to Nazi imagery.


Comment on this SOTT Focus

---
The Living Planet
---
Strong earthquake hits off Papua New Guinea


AFP
2007-06-18 15:22:00

A strong 6.4-magnitude earthquake struck off Papua New Guinea on Monday but there were no immediate reports of casualties or damage, a spokesman for Geoscience Australia said.

Comment on this SOTT Focus

---

Moderate earthquake jolts central Iran


Xinhua
2007-06-19 15:19:00

A 5.9-magnitude earthquake shook Iran's central areas on Monday, and there was no immediate reports of casualties or damage, state media reported.

The epicenter of the tremor, which occurred at 17:59 local time (1429 GMT), was 19 km from Qom, about 150 km south of Tehran, the official IRNA news agency reported.

Comment on this SOTT Focus

---

Climate models consistent with ocean warming observations


EurekAlert
2007-06-19 14:49:00

Climate models are reliable tools that help researchers better understand the observed record of ocean warming and variability.


That's the finding of a group of Livermore scientists, who in collaboration with colleagues at Scripps Institution of Oceanography, had earlier established that climate models can replicate the ocean warming observed during the latter half of the 20th century, and that most of this recent warming is caused by human activities.


The observational record also shows substantial variability in ocean heat content on interannual-to-decadal time scales. The new research by Livermore scientists demonstrates that climate models represent this variability much more realistically than previously believed.


Using 13 numerical climate models, the researchers found that the apparent discrepancies between modeled and observed variability can be explained by accounting for changes in observational coverage and instrumentation and by including the effects of volcanic eruptions.


The research, which will appear in the June 18 early online edition of the journal Proceedings of the National Academy of Sciences, casts doubt on recent findings that the top 700-meters of the global ocean cooled markedly from 2003-2005.


"Our analysis shows that the 2003-2005 'cooling' is largely an artifact of a systematic change in the observing system," said Krishna AchutaRao, previously of Livermore's Program for Climate Model Diagnosis and Intercomparison (PCMDI), now at the Indian Institute of Technology Delhi and the lead author of the paper. "The previous research was based on looking at the combined ocean temperature observations from several different instrument types, which collectively appear to have a cooling effect. But if you look at the observational instruments individually, there is no cooling."


Comment on this SOTT Focus

---

Glacial Source of Ganges Is Receding

Emily Wax
Washington Post
2007-06-17 14:46:00

But the prayer rituals carried out at the water's edge may not last forever -- or even another generation, according to scientists and meteorologists. The Himalayan source of Hinduism's holiest river, they say, is drying up.

In this 3,000-year-old city known as the Jerusalem of India for its intense religious devotion, climate change could throw into turmoil something many devout Hindus thought was immutable: their most intimate religious traditions. The Gangotri glacier, which provides up to 70 percent of the water of the Ganges during the dry summer months, is shrinking at a rate of 40 yards a year, nearly twice as fast as two decades ago, scientists say.

Comment on this SOTT Focus

---

Qatar: High temperatures hit fish supplies


Met Office
2007-06-18 14:39:00

A number of retailers in Qatar have been forced to shut up shop as high temperatures have hit fish catchments.

The Peninsula reports on June 18th that the combined effects of warm seas and cyclonic winds have hit the available supply of fish, including King Fish and Hamur.

Comment on this SOTT Focus

---

Purdue aids in nation's honeybee research

Bob Caylor
FortWayne.com
2007-06-18 14:27:00

Purdue University could play a role in hardening European honeybees, the bees agriculture most depends on, against threats they face.

Greg Hunt, an associate professor of entomology at Purdue, sees great potential in uncovering secrets of bee behavior, then breeding lines of bees with traits that help preserve their bee colonies.

Comment on this SOTT Focus

---
Health & Wellness
---
UK: Level of abortions reaches record high of 200,000 a year


This is London
2007-06-19 15:47:00

More than 200,000 women had abortions last year, the highest number ever, figures show today.


Almost 4,000 of the 201,173 procedures carried out in England and Wales were on girls under 16, the legal age of consent for sex.


The total rose by almost four per cent last year on 2005. The increase is being blamed on a crisis in contraception services.


Lambeth had the highest rate of abortions among under-18s - 44 for every 1,000 women having a termination. Across London, 24 in every 1,000 under-18s had an abortion last year.


Comment on this SOTT Focus

---

Six-year-old boy treated for anorexia


This is London
2007-06-19 15:33:00

A six-year-old is the youngest boy to be treated for anorexia, a study reveals today. It also shows more young boys than girls are being treated for eating disorders such as anorexia.


Figures show 51 hospital admissions last year of boys under 11 with eating disorders and 36 admissions of girls.


Dr Jon Goldin, a consultant child psychiatrist at Great Ormond Street Hospital, said: "There is a whole range of eating disorders that young children suffer from, including compulsive overeating, food phobias or fear of swallowing, and refusing to eat.


"Young boys are more likely to be suffering from selective eating, where they will only eat a very narrow range of foods.


Comment on this SOTT Focus

---

Attention Training May Help Older Adults Improve Concentration


Science Daily
2007-06-17 15:39:00

Can a fitness program for your brain improve thinking and concentration the way lifting weights can increase muscle strength? Early results from a Wake Forest University Baptist Medical Center study suggest that attention training can change brain activity so older adults can block out distractions and improve concentration.

Comment on this SOTT Focus

---

Is America Too Sweet On Sugar?


CBS
2007-06-17 14:50:00

Dr. David Ludwig treats childhood obesity at Boston Children's Hospital and he is stunned by America's consumption of empty calories. In fact, he says that the average convenience store is a nutritional disaster area.

"All sugar-containing foods aren't bad," he told CBS News correspondent Susan Spencer. "For example, an apple has its main calories come from sugar. But it's surrounded by fiber, so it digests slowly and keeps blood sugar under control."

Including refined sugar, high fructose corn syrup and artificial sweeteners, the average American wolfs down 142 pounds a year, or roughly 2 ½ pound a week. That is up 23 percent in the last 25 years, and is a major factor in soaring rates of obesity and diabetes.

Comment on this SOTT Focus

---

Scots more likely than English to reach university, though background still counts


EurekAlert
2007-06-19 14:39:00

Whilst young people in Britain increasingly value education and stay on at school, the proportion gaining qualifications and going to college and university over the past 20 years has been 'consistently and substantially' greater in Scotland, according to a unique study funded by the Economic and Social Research Council (ESRC).


But the project, led by Dr Linda Croxford with Professor David Raffe of the University of Edinburgh, found that while the Scottish system encouraged young people to study beyond the age of 16, middle class students took most advantage.


Using carefully constructed sets of data drawn from ongoing surveys of thousands of young people aged 16-19, researchers were able for the first time to analyse the effects of social change on their experiences through and beyond the education system, and to map trends across Britain.


The report says that more than half of Britain's 16-year olds in the mid-1980s felt that school had done little to prepare them for life, compared with just a third by 1999. And those feeling it had helped give them confidence to make decisions rose from 52 to 70 per cent.


The research compared the success rates of young people from working-class and middle-class backgrounds. Their findings for England present a more positive picture than other recent studies which show class inequalities remaining stable or even increasing. Inequalities in attainment at age 16 changed little over the period, but at 'A' level and entry to higher education in England, they narrowed slightly over the period.


Comment on this SOTT Focus

---

Dietary calcium is better than supplements at protecting bone health


EurekAlert
2007-06-19 14:36:00

Women who get most of their daily calcium from food have healthier bones than women whose calcium comes mainly from supplemental tablets, say researchers at Washington University School of Medicine in St. Louis. Surprisingly, this is true even though the supplement takers have higher average calcium intake.


Adequate calcium is important to prevent osteoporosis, which affects an estimated 8 million American women and 2 million American men. Another 34 million Americans have low bone mass, placing them at increased risk for osteoporosis. Calcium consumption can help maintain bone density by preventing the body from stealing the calcium it needs from the bones.


The researchers' conclusions about calcium intake, published in the May issue of the American Journal of Clinical Nutrition, came from a study of 183 postmenopausal women. The researchers asked the women to meticulously detail their diet and their calcium supplement intake for a week. "We assumed that this sample represented each woman's typical diet," says senior author Reina Armamento-Villareal, M.D., assistant professor of medicine in the Division of Bone and Mineral Diseases and a bone specialist at Barnes-Jewish Hospital. "In addition to analyzing the volunteers' daily calcium intake, we tested bone mineral density and urinary concentrations of estrogen metabolites."


The researchers found that the women could be divided into three groups: one group, called the "supplement group," got at least 70 percent of their daily calcium from tablets or pills; another, the "diet group," got at least 70 percent of their calcium from dairy products and other foods; and a third, the "diet plus supplement group," consisted of those whose calcium-source percentages fell somewhere in between these ranges.


Comment on this SOTT Focus

---
Science & Technology
---
Roman road found at gas pipeline


BBC News
2007-06-17 15:44:00

A Roman road has been found by workers building a controversial £840m natural gas pipeline across Wales.
The historic roadway was discovered in the Brecon Beacons, on the path of the 190-mile (320km) National Grid pipe from Milford Haven to Gloucestershire.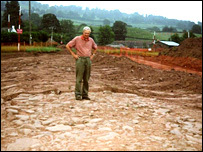 ©BBC
Richard Field on the Roman road found on the pipeline's route.
Comment on this SOTT Focus
---

Blocked China Web users rage against Great Firewall


Reuters
2007-06-19 15:43:00

Yang Zhou is no cyberdissident, but recent curbs on his Web surfing habits by China's censors have him fomenting discontent about China's "Great Firewall".


Yang's fury erupted a few days ago when he found he could not browse his friend's holiday snaps on Flickr.com, due to access restrictions by censors after images of the 1989 Tiananmen Square massacre were posted on the photo-sharing Web site."


"Once you've complained all you can to your friends, what more can you do? What else is there but anger and disillusionment?" Yang said after venting his anger with friends at a hot-pot restaurant in Beijing.


Comment on this SOTT Focus

---

Fossil proves that giant panda was once pygmy

Lewis Smith
The Times
2007-06-19 12:54:00

A fossilised skull of the earliest giant panda has been discovered and reveals that two million years ago the animal was a pygmy.


It is the first skull of the extinct species to be found and provides a clear idea of what the ancient creature would have looked like.


It dates back at least two million years and the remains show that, at 3ft (1m) long, it was little more than half the size of the modern giant panda, which is 5ft long.


Apart from size, however, it was much the same as the modern species anatomically. The structure of the teeth shows that it had already developed a taste for bamboo.


Comment on this SOTT Focus

---

Six Inch Tall Tree: Genetic Modification Used To Control Height Of Trees


Science Daily
2007-06-19 00:04:00

Forest scientists at Oregon State University have used genetic modification to successfully manipulate the growth in height of trees, showing that it's possible to create miniature trees that look similar to normal trees -- but after several years of growth may range anywhere from 50 feet tall to a few inches.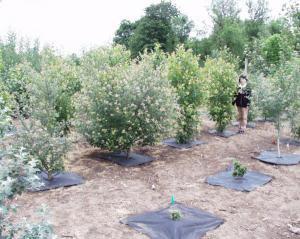 ©Oregon State University
All of these genetically modified trees are from the same poplar variety, were planted at the same time, and are two years old but clearly are growing to very different heights, shapes and colors.
Comment on this SOTT Focus
---
Our Haunted Planet
---
Unidentified light pulsates over town in New Hampshire

Maddie Hanna
Concord Monitor
2007-06-14 15:25:00

A "strange bright light" flashing on and off earlier this week awoke a Chichester woman and her husband, who said it was unlike anything they ever saw.

Shari Demers, who lives on Main Street, said she looked out the window and saw other people pulled over in their cars - presumably also because of the light, she said.

Comment on this SOTT Focus

---
Don't Panic! Lighten Up!
---
India: Man gulps 117 coins in hope of TB cure


Indian Times
2007-06-19 14:06:00

Pradeep Hode, a 30-year-old from Diva in Thane, was seeking a cure for tuberculosis. But, he got to see the other side of the coin.


A chronic patient of tuberculosis of the abdomen, Hode, over the past few months, had swallowed 117 coins, which were removed on Friday after a surgery by doctors at KEM Hospital, Parel.


Hode had been suffering from severe abdominal pain for the past few months. Based on hearsay and some bizarre logic of his own, Hode started swallowing coins hoping that the heavy metal would reduce abdominal pain and create pressure for regular bowel movements. However, his condition only got worse.


Comment on this SOTT Focus

---

You shall not drive! Vatican issues 10 Commandments for drivers


Jerusalem Post / AP
2007-06-19 13:40:00

The Vatican on Tuesday issued a set of "Ten Commandments" for drivers, telling motorists not to kill, not to drink and drive, and to help fellow motorists in the case of accidents.


The "Drivers' Ten Commandments," as listed by the document, are:


1. You shall not kill.


2. The road shall be for you a means of communion between people and not of mortal harm.


3. Courtesy, uprightness and prudence will help you deal with unforeseen events.


4. Be charitable and help your neighbor in need, especially victims of accidents.


5. Cars shall not be for you an expression of power and domination, and an occasion of sin.


Comment on this SOTT Focus

---

Euro MPs spurn 'pure vodka' bid


BBC
2007-06-19 10:49:00

The European Parliament has voted down a bid by MEPs from Poland, Finland, the Baltic states, Sweden and Denmark to tighten the legal definition of vodka.
The so-called "vodka belt" countries wanted to restrict the term to spirits made only from potatoes or grain.


But a majority of MEPs voted in favour of a looser definition.


Vodka made from anything other than potatoes or grain will have to say so on the label - but no minimum size for the declaration will be stipulated.


MEPs agreed on a looser definition taking in sugar beet, grapes and even citrus fruit, which are used as ingredients by producers in countries such as Britain, France and Germany. They account for nearly a third of EU vodka production.


Comment on this SOTT Focus

---

Customs find snakes in garden gnomes

Erik Jensen
Sydney Morning Herald
2007-06-19 05:17:00

[Australian] Customs and Quarantine officers have broken a smuggling racket in which snakes and lizards were sent as gifts, concealed in the hollow spaces of pottery figurines and garden gnomes.

Garden gnomes sent to an address in Blacktown were seized on June 10 when a customs officer saw snakes moving in the package, a customs spokesman said.

Comment on this SOTT Focus

---

I'll take a six-pack of pizza-beer please. What?


AP
2007-06-18 23:38:00

Just in time for summer, Kane County real estate broker Tom Seefurth says he has managed to bring two of the Chicago area's favorite warm-weather tastes into one glass.

Seefurth brews beer and ale at his home in Campton Township, and he's proud of his latest creation -- pizza-flavored beer. It grew out of an experiment last fall in which he added tomatoes, oregano, garlic and basil to one batch of brew. He calls the result Mamma Mia Pizza Beer.

Comment on this SOTT Focus

---

Doggie DaVincis paint abstract works of art - and they're selling


AP
2007-06-18 22:37:00

The owner of a fledgling dog-training academy in Salisbury has come up with a bizarre money-raising scheme.

Mary Stadelbacher figured that if she could teach dogs to become service animals for the disabled, why couldn't she teach them to hold a paintbrush and swab a piece of art?
Two years later, the owner of Shore Service Dogs has a collection of abstract paintings created by her three service dogs in training. Twenty of the works are being shown this month at a gallery at Salisbury University.

Comment on this SOTT Focus

---
---

Remember, we need your help to collect information on what is going on in your part of the world!
Send your article suggestions to: sott(at)signs-of-the-times.org

---
Click here to return to the Signs of the Times Archive
Click here for today's Signs Page