---
Sections on today's Signs Page:
---
SOTT Focus
---
No new articles.
Best of the Web
---
Bush Doctrine Routed in Gaza

ALI ABUMINAH
Counterpunch
2007-06-15 11:53:00

The dramatic rout of the US and Israeli-backed Palestinian militias in Gaza by forces loyal to Hamas represents a major setback to the Bush doctrine in Palestine.

Ever since Hamas won the Palestinian legislative elections in the occupied territories in January 2006, elements of the leadership of the long-dominant Fatah movement, including Palestinian Authority chairman Mahmoud Abbas and his advisors have conspired with Israel, the United States and the intelligence services of several Arab states to overthrow and weaken Hamas. This support has included funneling weapons and tens of millions of dollars to unaccountable militias, particularly the "Preventive Security Force" headed by Gaza warlord Mohammad Dahlan, a close ally of Israel and the United States and the Abbas-affiliated "Presidential Guard." US Deputy National Security Advisor Elliott Abrams -- who helped divert money to the Nicaraguan Contras in the 1980s and who was convicted of lying to Congress in the Iran-Contra scandal -- has spearheaded the effort to set up these Palestinian Contras. Abrams is also notorious for helping to cover up massacres and atrocities committed against civilians in El Salvador by US-backed militias and death squads.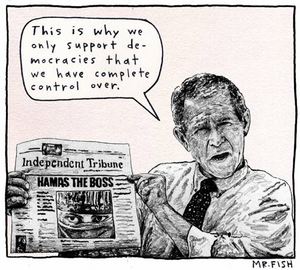 ©Mr. Fish
Comment on this SOTT Focus
---

Nixon Ignored Subpoenas Too!

David Swanson
opednews.com
2007-06-15 03:30:00

Condoleezza Rice is refusing to comply with a subpoena to appear before Congress. The Justice Department is refusing to produce subpoenaed documents. Harriet Miers and Sara Taylor will almost certainly refuse to comply with subpoenas to appear. Dick Cheney has said that if he is subpoenaed he will not testify. Karl Rove has made his refusal to obey the law so clear that Congressional Committees that have approved subpoenas for him are afraid to actually issue them. The White House has shamelessly indicated that it does not intend to start obeying any of these subpoenas anytime soon.

The Bush-stacked courts appear to be a venue insufficiently friendly to the Constitution to enforce compliance with subpoenas. Holding the subpoenaed individuals in "inherent contempt" of Congress and instructing the Capitol Police to sieze them for a trial on Capitol Hill would work if we weren't talking about a Congress afraid of its own shadow. But these are not the only options. It's important to remember that President Richard Nixon's White House refused to comply with subpoenas as well.

Comment on this SOTT Focus

---

Americans Unready to Revolt, Despite Revolting Conditions

Joel S. Hirschhorn
opednews.com
2007-06-15 03:15:00

What is historically unique about America is that even the most oppressed and unfairly treated people are distracted by affordable materialism, entertainment, sports, gambling, and myriad other aspects of our frivolous, self-absorbed culture. Even failed school and health care systems do not drive people, paying enormous sums to fill up their SUVs, to rebellion. So, Americans are aware of their oppression, but the power elites have successfully drugged them with a plethora of pleasure-producing distractions sufficient to keep them under control.

The latest NBC/Wall Street Journal national poll results vividly show a population incredibly dissatisfied with their nation's political system. In other countries in other times such a depressing level of confidence in government would send a signal to those running the government that a major upheaval is imminent. But not here in the USA. Why?

Comment on this SOTT Focus

---
U.S. News
---
Duke prosecutor admits making "unprofessional statements"

John Valenti
Newsday
2007-06-15 13:53:00

Embattled Durham County prosecutor Michael Nifong, on trial before the North Carolina Bar Association grievance committee for his handling of the Duke University lacrosse rape case, testified before a packed courtroom Friday that he made improper statements to the media while attempting to prosecute the case -- statements that, when he saw them, made him "cringe."

Comment on this SOTT Focus

---

Surviving War, Slowly Dying at Home

Aaron Glantz
Inter Press Service
2007-06-13 13:52:00

The U.S. Vets Westside Residence Hall is a hulking eight-story structure a few blocks from Los Angeles International Airport. It's the largest transitional housing and employment centre for homeless veterans in the country, hosting 700 veterans annually.

Michael Hall is one of its residents. The 31-year-old Army staff sergeant enlisted shortly after high school and served as a heavy equipment mechanic and technical weapons specialist in Bosnia, Cuba, Kuwait and Afghanistan before being severely injured in Iraq in 2003.

Comment on this SOTT Focus

---

Fined For Using Bio Fuel

Bruce Henderson
The Charlotte Observer
2007-06-15 12:47:00

Bob Teixeira decided it was time to take a stand against U.S. dependence on foreign oil.

So last fall the Charlotte musician and guitar instructor spent $1,200 to convert his 1981 diesel Mercedes to run on vegetable oil. He bought soybean oil in 5-gallon jugs at Costco, spending about 30 percent more than diesel would cost.

His reward, from a state that heavily promotes alternative fuels: a $1,000 fine last month for not paying motor fuel taxes. He has been told to expect another $1,000 fine from the federal government.



Comment on this SOTT Focus

---

FEMA may have authorized flood insurance overbilling

Rebecca Mowbray
The Times-Picayune
2007-06-14 12:49:00

The private insurance industry's alleged practice of overbilling the National Flood Insurance Program for Hurricane Katrina damage has Congress clamoring for answers and a federal judge calling for the Justice Department's intervention.

But there's one problem with the calls to action.

The Federal Emergency Management Agency may have told the insurance industry that it was OK to load up damages on the taxpayer-funded flood program while shorting people on their wind damage payments.

Comment on this SOTT Focus

---

7 Sex Offenders Who Use MySpace Arrested

Monica Rhor
Associated Press
2007-06-15 11:36:00

Seven convicted sex offenders with profiles on MySpace.com have been arrested in what Texas officials said was the country's first large-scale crackdown of registered offenders who use the social networking Web site.


The men were arrested in Houston, Austin, Round Rock, and Glenn Heights during a two-week operation by the Texas Attorney General's Cyber Crimes and Fugitive units.


They were picked up after MySpace.com released the names of offenders with online profiles to the state Attorney General's Office, which had issued a subpoena for the site's subscriber information.


"Texans will not tolerate criminals who prey on our children," Attorney General Greg Abbott said in a statement.


After it was criticized for failing to protect underage subscribers, the site supplied names to attorneys general in other states, and began checking subscribers' criminal histories through Sentinel Safe, a database of registered sex offenders.


Comment on this SOTT Focus

---

Va. Tech panel gets gunman's records

Dena Potter
Associated Press
2007-06-15 10:51:00

A panel investigating the Virginia Tech massacre obtained university mental health records of the student gunman after weeks of negotiation with his family, officials said yesterday.


Federal privacy laws governing health and student information had prevented the panel from reviewing Seung-Hui Cho's records. Its chairman, W. Gerald Massengill, had said he would go to court if necessary to obtain them.


"This is not all the records that we will need," Massengill said, "but this is certainly some that we felt a strong need to take a look at."


Virginia Tech officials had been in negotiations with the family since the panel met in Blacksburg last month, using "some law enforcement organization" as a liaison, school spokesman Larry Hincker said.


Comment on this SOTT Focus

---
UK & Euro-Asian News
---
Guantanamo inmate told: You can't return to UK, you've been away too long

Ben Russell
The Independent
2007-06-15 13:36:00

Gordon Brown is being urged to intervene to stop the Home Office banning a British resident from returning home after more than four years at the Guantanamo Bay prison in Cuba.

Campaigners expressed fury after ministers said Jamil el-Banna's permission to stay in Britain had lapsed during the four-and-a-half years he has been held without charge at the US detention camp.

Comment on this SOTT Focus

---

Kremlin aide says surprise successor to president may surface


RIA Novosti
2007-06-15 10:40:00

A senior Kremlin official has said a successor for President Vladimir Putin, whose tenure expires next year, could be someone not widely considered as a potential candidate.


Two first deputy prime ministers and close associates of Putin, Sergei Ivanov and Dmitry Medvedev, are currently viewed as the most likely successors to the president.


Igor Shuvalov, speaking at a the Center for Strategic and International Studies in Washington, said: "People talk about two possible candidates, but the president could come up with another surprise, and perhaps later this year you could learn about another possible figure."


The current leader has presided over an economic and political revival in Russia following the turbulent 1990s, and has been pressed by supporters to stay on for a third term. Putin's backing will be of key importance for presidential contenders in the March 2008 elections.


Comment on this SOTT Focus

---

Berezovsky fraud case goes to court


RIA Novosti
2007-06-15 10:38:00

The case of fugitive tycoon Boris Berezovsky, accused of embezzling Aeroflot funds, has been sent to a Moscow court, a court spokesperson said Friday.


"The case has been submitted to the Savyolovsky Borough Court, but no date for the hearing has been set yet," Anna Usachyova said.


Berezovsky has been charged with embezzling over 214 million rubles ($8.3 million) of the airline's funds and laundering over 16 million rubles ($620,000), the Prosecutor General's Office said. He could face up to 10 years in prison if convicted.


His defense lawyer said the hearing could take anywhere from two to three days to several months.


"There are only 14-15 witnesses in the case, but a huge amount of documents," Semyon Aria said, adding that if these documents are read out in court, the examination could run for months.


Comment on this SOTT Focus

---

Chinese authorities step up efforts against slave labor


RIA Novosti
2007-06-15 10:35:00

Almost 470 slave laborers have been released in China over the past month as a result of a nationwide campaign launched by the country's leadership against the use of forced labor, state Chinese media said Friday.


President Hu Jintao and other top Chinese leaders ordered an investigation into reported incidents of slave labor at small coal and iron mines and brick kilns, after a group of fathers appealed in an open letter for help in tracking down their missing sons, believed to have been sold into slavery to kiln bosses.


The letter claimed that some 1,000 children, some as young as eight, were forced to work more than 14 hours a day with no pay at kilns in the northern provinces of Henan and Shanxi, and were often beaten and starved by their bosses.


According to the state news agency Xinhua and China Central Television, a total of 217 slave laborers, including 29 youths, were released following recent police raids in the Henan province, and another 251 workers were freed in Shanxi, including 80 boys.


Comment on this SOTT Focus

---

War in Orbit: Lasers versus missiles

Andrei Kislyakov
RIA Novosti
2007-06-15 10:31:00

A closer look at controversy surrounding the United States' initial efforts to deploy a National Missile Defense (NMD) system in 2006-2007 highlights Russia's obvious reluctance to discuss its own anti-ballistic missile system as an adequate response to American plans.


Moscow prefers nuclear-missile build-up as a simpler and cheaper option to a hi-tech ABM system worth billions of dollars.


The Soviet Union and Russia have already invested heavily in a national ABM system featuring numerous unique technical solutions, whose importance has not been fully appreciated.


It appears that Russia does not want to take advantage of its leading position in the ABM sphere because, in spite of numerous test launches, each costing the equivalent of an average annual municipal budget, the world's first missile-interceptor system, set up around Moscow, proved ineffective.


Comment on this SOTT Focus

---

Russians silent on U.S. missile plans

Lolita C. Baldor
Associated Press
2007-06-15 09:44:00

Defense Secretary Robert Gates' assertion that the Bush administration will not replace its plan for a missile defense system in Eastern Europe with Russia's counterproposal for a radar site in Azerbaijan was met Friday with silence.


Gates met briefly with Russian Defense Minister Anatoly Serdyukov, and told reporters afterward that the hotly debated missile defense plan simply did not come up.


"I guess I would have to say, honestly, I was somewhat surprised," said Gates, who is attending a two-day meeting of
NATO defense ministers here. "I don't know how to read it, to be honest."


The silence came a day after other Russian officials blasted the U.S. plan, and warned that the new sites could be targeted.


Comment on this SOTT Focus

---
Around the World
---
Argentine Gas Distributors Cut Supplies due to Cold Wave

Bill Faries and Eliana Raszewski
Bloomberg
2007-06-15 17:22:00

Argentina's two largest natural gas distributors cut off supplies to some industrial customers indefinitely as a cold wave sent temperatures plunging at the start of the Southern Hemisphere's winter.

Comment on this SOTT Focus

---

North Korea Executes People Caught with Mobile Phones


Cellular News
2007-06-15 10:24:00

A South Korean government think tank has claimed that North Korea has increased its public executions of people caught owning a mobile phone. The Korea Institute for National Unification said in a white paper that executions of those who "circulate South Korean leaflets and sell videos and use cell phones are on the rise" without citing numbers.


A GSM phone network was built at the Rason (formerly Rajin-Sonbong) free trade zone by a private consortium, Loxley Pacific. Another phone network also Pyeongyang and Hyangsan, Pyeongyang and Gaeseong and Wonsan and Hamheung, although it is not clear who built that network or which technology it used. Both networks was apparently shut down, or at least forbidden to the general public following a train explosion in 2004, which some claim was an attempt on the life of the ruling dictator, Kim Jong-Il.


Comment on this SOTT Focus

---

Canada: Judge orders guilty man not to have a girlfriend for the next three years

Galen Eagle
Peterborough Examiner
2007-06-15 10:21:00

Mr. Justice Rhys Morgan told a 24-year-old, characterized as having a dependent personality disorder, yesterday he could not have a girlfriend for the next three years.


The unusual order was added to Steven Cranley's probation order after he pleaded guilty to six charges relating to an argument he had with his former girlfriend and a roommate Jan. 17.


Reacting to the recent breakup of their relationship, Cranley began an argument with his girlfriend who he shared a home with, court heard. The argument began escalating and when his girlfriend tried to call the police, Cranley entered her room, cut her phone cord with wire cutters and began slapping and punching her, Crown attorney Shonagh Pickens said.


Comment on this SOTT Focus

---

India sex selection doctor jailed


BBC
2007-06-15 10:06:00

A doctor in India and his assistant have been sentenced to two years in jail for revealing the sex of a female foetus and then agreeing to abort it.


This is the first time medical professionals have been jailed in such a case.


Under Indian laws, ultrasound tests on a pregnant woman to determine the gender of the foetus are illegal.


It has been estimated that 10m female foetuses may have been terminated in India in the past 20 years.


Comment on this SOTT Focus

---

Nicaruagan Army Chief Strengthens Ties with US Armed Forces


The Financial Times Limited; BBC Monitoring International Reports
2007-06-15 09:24:00

Text of report by Nicaraguan newspaper El Nuevo Diario website on 13 June

[Report by Vladimir Lopez: "Halleslevens Strengthened Ties With US Military Officers"]

The Nicaraguan Army strengthened the ties of friendship and cooperation with the US Armed Forces during the visit to Washington by General Omar Halleslevens, Army spokesman Colonel Adolfo Zepeda said.



Comment on this SOTT Focus

---

Iranian, Nicaraguan presidents call for just world order


JTW News
2007-06-15 09:19:00

The presidents of Iran and Nicaragua said on Sunday that they want to establish a just world order.

Iran and Nicaragua will work together to establish a world order based on peace and justice, President Mahmud Ahmadinejad told reporters after welcoming his Nicaraguan counterpart Daniel Ortega at Tehran's Mehrabad Airport.

"We hope we can change the current world order and create a new order based on the global economic situation," Ortega told reporters.

Comment on this SOTT Focus

---
Big Brother
---
No new articles.
Axis of Evil
---
Flashback: Israelis Have Spied on U.S., Secret Papers Show

Scott Armstrong
Washington Post
2007-06-15 15:37:00

February 1, 1982, Monday, Final Edition

Israeli intelligence agencies have blackmailed, bugged, wiretapped and offered bribes to U.S. government employes in an effort to gain sensitive intelligence and technical information, according to classified American documents captured when Iranian militants took over the U.S. Embassy in Tehran.

The documents, seized in November, 1979, have been reprinted in one of 13 volumes of documents and commentary published as paperback books in Iran.

Comment on this SOTT Focus

---

U.S., Israel plan to ease sanctions to boost Abbas - as long as the democratically elected Hamas never get any power

Adam Entous
Reuters
2007-06-15 13:22:00

JERUSALEM - The United States, Israel and European states are prepared to ease a ban on aid to the Palestinian government that President Mahmoud Abbas is forming in the West Bank after sacking Hamas, officials said on Friday.

Palestinian officials said they were informed by the Bush administration that it would lift aid restrictions, first imposed on the Palestinian Authority when Hamas came to power in March 2006, once Abbas's emergency government was in place in the occupied West Bank.

Comment on this SOTT Focus

---

Debunking the North American Union Conspiracy Theory

Joshua Holland
AlterNet
2007-06-15 08:53:00

The North American Union, an increasingly popular conspiracy theory about a group of shadowy international "elites" who are planning to "replace the United States" with a transnational government, is a manifestation of xenophobia that would do the John Birch Society proud.

Comment on this SOTT Focus

---

Propaganda! US says nothing to fear from new nuclear warheads


AFP
2007-06-15 02:26:00

The United States Thursday defended plans to overhaul its sea-based nuclear arsenal with a new generation of warheads, arguing the program did not pose any extra threat to nations like Russia.



Comment on this SOTT Focus

---

Somalis yearn for Islamic rulers to return and tame the warlords

Steve Bloomfield
The Independent
2007-06-15 02:06:00

The ruins of the old sugar factory in Marere, in the southern interior of Somalia, tower over the wooden shacks and brick huts which shelter the 2,000 or so people still living here. This used to be the second-largest sugar factory in the world, employing more than 20,000 people. Now, its rusting steel frame, chimneys and pipes sunk deep into the tall grass provide a painful echo of the wreck which Somalia has become.

Comment on this SOTT Focus

---

Flashback: Destabilizing the Horn: American-Backed Warlords Invade Somalia

By Salim Lone
TomPaine.com
2007-01-09 07:23:00

The Bush administration, undeterred by the horrors and setbacks in Iraq, Afghanistan and Lebanon, has opened another battlefront in this oil-rich quarter of the Muslim world.

Comment on this SOTT Focus

---
Middle East Madness
---
Blowback Across Lebanon: The Failed Sunni Army Solution

Franklin Lamb
Counterpunch
2007-06-15 14:44:00

Whoever killed anti-Syrian Lebanese MP Walid Eido Wednesday knew Syria would be blamed and that the country would move closer to civil war. Pro-government factions turned out in force along Beirut's Roauche sea front chanting anti-Syrian and anti-Hezbollah slogans but no serious fighting has been ignited yet.


Comment on this SOTT Focus

---

Hamas uncovers PA, CIA intel trove


Press TV
2007-06-15 14:41:00

Hamas has uncovered a trove of thousands of documents, including classified correspondence with Israeli forces.


Comment on this SOTT Focus

---

Shin Bet: 'Now you are paralyzed, as we promised'

Gideon Levy
Haaretz
2007-06-15 13:49:00

"We have to make you do a little sports," the Shin Bet interrogator said, launching four successive days of questioning accompanied by brutal physical torture. The result: Luwaii Ashqar can no longer stand on his feet. He sits in his wheelchair, dressed in a fashionable quasi-military suit, super-elegant, new Caterpillar-brand shoes on his paralyzed feet.

Comment on this SOTT Focus

---

Baghdad under security lockdown

Lauren Frayer
Associated Press
2007-06-15 10:58:00

A citywide clampdown emptied Baghdad's streets of all vehicles yesterday in attempts to hold off what authorities dread: a storm of Shi'ite attacks in revenge for the bombing of one of their main shrines.


The tactic appeared to keep a lid on widespread violence, but extremists fired shells into the city's protected Green Zone during a visit by the State Department's number two official.


The barrage of rockets and mortars included one that hit on a street close to the Iraq parliament less than a half-hour before Deputy Secretary of State John Negroponte passed nearby.


The attack again showed militants' resilience -- including their ability to strike the heavily protected zone -- despite a US-led security crackdown across the city that began exactly four months ago. But officials paid much closer attention to any signs that Shi'ites could unleash another wave of retaliation against Sunnis for the Wednesday blasts at the Askariya mosque compound in Samarra.


Comment on this SOTT Focus

---

Iran's Leader: Unfair trend of international ties heading towards destruction


BBC Worldwide Monitoring
2007-06-15 09:30:00


The unfair trend of international ties is heading towards destruction and a completely different future, the Supreme Leader of the Islamic Revolution Ayatollah Ali Khamene'i said Sunday.

Speaking in a meeting with the visiting President of Nicaragua Daniel Ortega, the leader said "Maintaining their unity and resistance against US policies, the world independent countries and nations will strengthen a front which supports a justice-based trend of international ties."

Comment on this SOTT Focus

---

Hamas Seizes U.S.-Financed Weapons, Equipment


ME Newsline
2007-06-15 09:13:00

Hamas has captured thousands of assault rifles and scores of combat vehicles financed by the United States and supplied by Egypt and Jordan to the Palestinian Authority.

Comment on this SOTT Focus

---
The Loan Gunmen
---
Flashback: Aid flap is new threat to New Orleans rebuilding

By Gina Keating
Reuters
2007-04-08 22:22:00

NEW ORLEANS - As homes in New Orleans' flood-stricken zones inch toward habitability, a bureaucratic storm is brewing between state and federal relief agencies that could derail the city's recovery from Hurricane Katrina.


Comment on this SOTT Focus

---

New Orleans turns to international aid

Becky Bohrer
AP
2007-06-15 12:54:00

The cash-strapped city of New Orleans is turning to foreign countries for help to rebuild as federal hurricane-recovery dollars remain slow to flow.

Kenya Smith, director of intergovernmental relations for Mayor Ray Nagin, said city leaders are talking with more than five countries. He wouldn't identify the countries, saying discussions were in the early stages. But he said the city is "very serious" about pursuing foreign help.

Comment on this SOTT Focus

---

Are global market bubbles set to blow?

Ben Richardson
BBC News
2007-06-14 12:08:00

There is a strange fascination in blowing a bubble, when despite your better judgement, you keep willing it to get bigger regardless of the dangers.

Then, suddenly, the violent pop that leaves you picking bubblegum off your eyebrows, or crying soapy tears.

For many observers, global markets are getting dangerously close to such a bursting point.

Comment on this SOTT Focus

---

It's Official: The Crash of the U.S. Economy has begun

Richard C. Cook
Global Research
2007-06-14 12:03:00

It's official. Mark your calendars. The crash of the U.S. economy has begun. It was announced the morning of Wednesday, June 13, 2007, by economic writers Steven Pearlstein and Robert Samuelson in the pages of the Washington Post, one of the foremost house organs of the U.S. monetary elite.

Comment on this SOTT Focus

---

Lawmakers profit from investments

Jim Abrams
Associated Press
2007-06-15 09:49:00

The political fortunes of new congressional leaders Nancy Pelosi and Harry Reid soared last year, and financial disclosure forms revealed Thursday they're also doing well in personal money matters.


New House Speaker Pelosi, through her investor husband, holds stocks and property worth well into the millions. Senate Majority Leader Reid, a gold miner's son, reported property around his hometown of Searchlight, Nev., as well as investments valued at several million dollars.


They are hardly the richest members of Congress. Sen. Edward Kennedy (news, bio, voting record) D-Mass., reported four Kennedy family trust funds worth $20 million to $100 million.


Senate Intelligence Committee Chairman Jay Rockefeller, D-W.Va., heir to his family's oil fortune, has three blind trusts worth more than $80 million.


Comment on this SOTT Focus

---

Stocks extend rally after inflation data

MADLEN READ
AP
2007-06-15 03:09:00

Wall Street surged again Thursday, launching the Dow Jones industrial average to its best two-day advance since last July after data showed that wholesale inflation, excluding energy and food costs, is rising at a gentle pace.



Comment on this SOTT Focus

---
The Living Planet
---
Magnitude 6 earthquake shakes Papua New Guinea


ABC Radio Australia
2007-06-15 17:29:00

An earthquake with a magnitude measuring six has been recorded on the Papua New Guinea island of New Britain.

There are no immediate reports of damage from the affected region and the United States Geological Survey office says it is unlikely to have caused a tsunami.

Comment on this SOTT Focus

---

Kentucky seeing driest weather since 1895


AP
2007-06-15 17:27:00

The Environmental and Public Protection Cabinet has issued a water shortage watch for 61 counties in Kentucky.

A water shortage watch is issued when drought conditions have the potential to threaten the normal availability of drinking water supply sources.

State Climatologist Stuart Foster says precipitation deficits for the past four months place Kentucky's four climatic divisions in the driest periods on record since 1895. Drought conditions across Kentucky range from moderate to severe.

Comment on this SOTT Focus

---

Magnitude 5.6 quake jolts Philippine town


AP
2007-06-15 17:25:00

An earthquake of at least magnitude 5 jolted a central Philippine farming town where a landslide killed more than 1,000 people last year, but no casualties or damage were reported from the quake, officials said Friday.

The earthquake, which the U.S. Geological Survey said measured magnitude 5.6, struck late Thursday, sending residents of St. Bernard township in Southern Leyte hurrying from their beds.

Comment on this SOTT Focus

---

UK, Floods after month's rain falls in one day


Reuters
2007-06-15 17:17:00

The Environment Agency issued flood warnings across many parts of Britain on Friday as torrential rain swamped northern and central areas and weather forecasters warned there could be more downpours overnight.

Homes in Northamptonshire and South and West Yorkshire were hit by flooding on Friday, while train services were suspended between Birmingham and the east Midlands.

The Met Office said 88 millimetres (3.5 inches) of rain had fallen on Birmingham in 24 hours, more than it normally gets in a month at this time of year.

Comment on this SOTT Focus

---

Study: Avoiding Predators Has Its Price

JOHN FLESHER
AP
2007-06-15 14:09:00

It hardly seems fair, but water creatures nimble enough to avoid being gobbled up by predators might harm their species more than help, new research suggests.

Comment on this SOTT Focus

---

Gypsy Moths Attack Mid-Atlantic Forests

Genaro C. Armas
AP
2007-06-14 12:25:00

Picnickers in East Coast woods may get some hungry visitors this summer. But at least they won't ask for sandwiches.

Leaf-eating gypsy moth caterpillars are out in force in parts of the mid-Atlantic following a warm, dry spring - just the kind of weather that can make the insects thrive.

Experts are predicting an especially bad year for trees, primarily oaks, which are the caterpillars' favorite snack. The moths will also munch on 475 types of foliage.

Comment on this SOTT Focus

---
Health & Wellness
---
Brain gets a thrill from charity: study

Julie Steenhuysen
Reuters
2007-06-15 12:47:00

CHICAGO - Knowing your money is going to a good cause can activate some of the same pleasure centers in your brain as food and sex, U.S. researchers said on Thursday.

People who participated in a study got a charge knowing that their money went to a charity -- even when the contribution was mandatory, like a tax. They felt even better when they voluntarily made a donation, researchers found.

Comment on this SOTT Focus

---

Scientific research on sense of humour sheds light on psychological profiles


University of Granada
2007-06-15 11:32:00

Is it possible to scientifically measure someone's sense of humour? Are there universally good or bad jokes that make people laugh no matter their gender, profession or cultural background? These are some of the questions answered by the doctoral thesis Sentido del Humor: Construcción de la Escala de Apreciación del Humor (Sense of humour: building of the appreciation of humour scale), carried out by Hugo Carretero Dios, researcher in the Department of Social Psychology and Methodology of Behavioural Science at the University of Granada.


This study, directed by researchers Cristino Pérez Meléndez and Gualberto Buela Casal, is the first work in Spain stemming from Psychology aimed at measuring people's sense of humour to analyse the psychological variables related to humour. Carretero Dios analysed more than 1,500 people between the ages of 18 and 80 and a similar number of men and women.


This study focused on the following types of humour: sexual humour, black humour, humour degrading to men, humour degrading to women, simple humour and complex humour. The study provided the first scientifically approved evaluation instrument in Spain to evaluate humour appreciation. Moreover, it helped to improve other instruments used in other countries.


Comment on this SOTT Focus

---

Flashback: Evidence Grows: Tamiflu Induces psychosis, hallucinations and suicide in young people

Justin Norrie, Tokyo
The Age
2007-03-01 05:43:00

JAPANESE health authorities are investigating a flu medication also available in Australia after a teenager who took it jumped 11 storeys to his death - at least the 18th juvenile fatality linked to the drug in 17 months.

Comment on this SOTT Focus

---

Doctor advises caution over flu drug


EurekAlert
2007-06-15 11:21:00

In this week's BMJ, a senior doctor advises caution over the use of the antiviral drug oseltamivir (Tamiflu).


His concern follows advice by the Japanese authorities in March 2007 against prescribing oseltamivir to adolescents after the separate suicides of two 14 year olds who jumped to their deaths while taking the drug.


So far, oseltamivir has been thought to be well tolerated and safe, but the recent events in Japan have prompted a reappraisal, writes Simon Maxwell from the University of Edinburgh.


Before 2007, there had already been more than 100 reports of neuropsychiatric events (including delirium, convulsions, and encephalitis) with oseltamivir in children, almost entirely from Japan, which has the highest usage of oseltamivir worldwide. But a Food and Drug Administration (FDA) review concluded that these events were not clearly drug related.


Comment on this SOTT Focus

---

Army food is 'cheaper than a dog's dinner'

Kirsty Walker
Daily Mail
2007-06-15 10:15:00

The Army spends more feeding its dogs than its soldiers, it has been claimed.


Figures obtained by a Tory MP show that £1.51 a day goes on meals for troops, compared with £2.63 for military dogs.


Even prisoners - who cost £1.87 a day to feed - fare better than servicemen. Schoolchildren get £1.55 for lunch alone.


Comment on this SOTT Focus

---

Child obesity 'a form of neglect'


BBC
2007-06-15 10:08:00

Obesity has been a factor in at least 20 child protection cases in the last year, the BBC has learned.


Some doctors now believe in extreme cases overfeeding a young child should be seen as a form of abuse or neglect.


The BBC contacted almost 50 consultant paediatricians around the UK to ask if they believe childhood obesity can ever be a child protection issue.


The British Medical Association is due to debate a motion on this issue at its annual conference at the end of June.


Earlier this year the case of one obese child hit the headlines when social workers became involved.


Comment on this SOTT Focus

---
Science & Technology
---
Scientists ponder plant life on extrasolar Earthlike planets

Tony Fitzpatrick
Physorg.com
2007-06-15 14:06:00

Plants on extrasolar planets resembling Earth could be as black as these eggplants. Scientists who speculate on plant life and what might constitute photosynthesis "out there" say that plant color depends on the size and light intensity that the planet feeds off from its star, or sun, as well as the extrasolar planet's atmospheric chemistry.

Comment on this SOTT Focus

---

No fix yet for space station computers

MIKE SCHNEIDER and VLADIMIR ISACHENKOV
Associated Press
2007-06-15 13:36:00

HOUSTON - Russian space officials said Friday they were considering moving up the launch of a Russian cargo ship as cosmonauts aboard the international space station struggled for a second day to reboot failed computers controlling the orbiting outpost's orientation.

Comment on this SOTT Focus

---

Neanderthal Man 'Was No Neanderthal'


Life Style Extra
2007-06-14 12:21:00

Big, brutish and stupid - it's a commonly held view that our prehistoric predecessors were as wild and unsophisticated as the animals they hunted.

But Neanderthal Man was not as slow-witted as he looked and was in reality as smart as we are, an archaeologist claims.

They were actually innovators who used different forms of tools to adapt to the ecological challenges posed by harsh habitats as they spread through regions of Europe.

Comment on this SOTT Focus

---

Tech researchers help find new sub-atomic particle - shollis


Latech
2007-06-15 11:16:00

Six Louisiana Tech researchers in the physics department played a role in discovering a new sub-atomic particle whose existence was announced this week.


The discovery was made by physicists of the DZero experiment at the U.S. Department of Energy's Fermi National Accelerator Laboratory in Batavia, Ill.


Discovery and measurement of the particle's mass will provide new understanding about the basic building blocks of matter.


Local participants in the experiment were physics faculty members Z.D. Greenwood, Lee Sawyer and Markus Wobisch; former post-doctoral researcher Julie Kalk; and current post-doctoral researchers Mike Arov and Joe Steele.


Comment on this SOTT Focus

---

U-M scientists simulate effects of blowing Mars dust


EurekAlert
2007-06-15 11:14:00

Gusting winds and the pulsating exhaust plumes from the Phoenix spacecraft's landing engines could complicate NASA's efforts to sample frozen soil from the surface of Mars, according to University of Michigan atmospheric scientist Nilton Renno.


Set to launch Aug. 3 from Florida, the $414 million Phoenix Mars Lander will use descent engines to touch down on the northern plains, where vast stores of ice have been detected just below the surface. A robotic arm will scoop frozen soil and dump it into science instruments that will analyze its chemical content to see if it has the potential to sustain microbial life.


With funding from NASA and the spacecraft's manufacturer, Lockheed Martin, Renno and his students are conducting a series of experiments to determine how much dust the 12 descent engines will kick up and whether martian winds could interfere with efforts to deliver soil to the onboard mini-lab.


Renno, an associate professor in the College of Engineering's Department of Atmospheric, Oceanic and Space Sciences, is a member of the Phoenix science team.


"I proposed that my engineering students look into some of the challenges that the Phoenix team will face when the spacecraft arrives at Mars," Renno said. "I wanted the students to contribute to the success of the mission in a meaningful way."


Comment on this SOTT Focus

---

Cyber Propaganda: Pentagon report claims China ready to launch cyber-attack

Gregg Keizer
InterGovWorld
2007-06-15 10:29:00

The Chinese military possesses dangerous first-strike cyberwar capabilities that include special units charged with developing viruses to attack enemy computer networks, a U.S. Department of Defense (DoD) report has warned.


"The PLA [People's Liberation Army] has established information warfare units to develop viruses to attack enemy computer systems and networks, and tactics and measures to protect friendly computer systems and networks," the Pentagon's annual report to Congress on China's military power said.


"In 2005, the PLA began to incorporate offensive CNO [computer network operations] into its exercises, primarily in first strikes against enemy networks."


The report shows how the Chinese military's thinking on information warfare has changed in recent years, says Andrew Macpherson, director of the technical analysis group at the University of New Hampshire's Justiceworks and a research assistant professor of Justice Studies.


Comment on this SOTT Focus

---
Our Haunted Planet
---
Space rock enters Earth's gravitational field


NewKerala.com
2007-06-15 17:32:00

An irregularly-shaped space rock nearly 4 m in length and 1.5 to 2.3 m across has entered Earth's gravitational field claimed an amateur astronomer.

''The rock,named 6RIODB9, suddenly entered our planet's gravitational field on June 12 and is slowly making revolutions along the Earth. On June 17, it will be at a distance of nearly 2,03,000 km from our planet. A similar 'rock' was observed in September 2006 by The University of Arizona's Catalina Sky Survey,'' said Dr Ram S Shrivastava.

Comment on this SOTT Focus

---

Search for Bigfoot in India's Meghalaya jungles


Monsters & Critics
2007-06-09 23:25:00

Tura (Meghalaya) - Indian authorities have announced a scientific study to ascertain bizarre claims by tribal villagers encountering mystical monsters in the jungles of this northeastern state.

'A team of wildlife officials and other experts would conduct a study to find out if there is any truth in claims made by locals about sighting some hairy giants similar to the elusive Bigfoot,' Samphat Kumar, the district magistrate of West Garo Hills, told IANS.

Comment on this SOTT Focus

---
Don't Panic! Lighten Up!
---
Racy ad to be removed from flight path


AP
2007-06-15 17:38:00

A giant silhouette of a naked pole dancer painted on a field beneath Gatwick Airport's flight path is disturbing the British countryside.

The 9,300 square metre advertisement is nearly invisible from the ground, but can be seen by airline passengers, Tandridge District Council spokeswoman Giuseppina Valenza said today.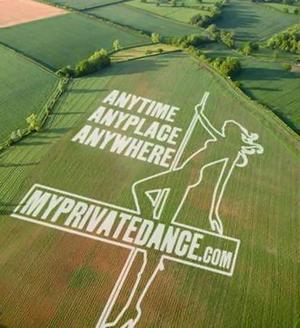 ©Unk
Comment on this SOTT Focus
---

Do not go gentle into that good night: singing seniors redefine rock songs

Jake Coyle - AP Entertainment Writer
ClarionLedger.com
2007-06-15 15:06:00

NORTHAMPTON, Mass. -- Fred Knittle wears his belt up high. His nose is tethered to an oxygen tank, and on stage he's confined to a folding chair. From this unlikely perch, he's turning rock 'n' roll on its head.

Singing Coldplay's "Fix You," Knittle transforms the song into a powerful ballad about a grandfather's healing wisdom. It means something different coming from an 80-year-old retiree suffering from congestive heart failure.

Comment on this SOTT Focus

---

Indian man, 73, fails school exams on 38th try


Reuters
2007-06-15 10:20:00

A 73-year-old Indian farmer who vowed not to marry before passing his high school exams has failed to get through for the 38th time.


Shiv Charan Yadav has been taking the exams -- normally given to schoolchildren at the age of 15 -- every year since 1969, without success.


He was in his 30s when he first decided to better himself through education.


This year, he failed everything except Sanskrit, scoring only 103 out of a possible 600 points.


Comment on this SOTT Focus

---
---

Remember, we need your help to collect information on what is going on in your part of the world!
Send your article suggestions to: sott(at)signs-of-the-times.org

---
Click here to return to the Signs of the Times Archive
Click here for today's Signs Page