---
Sections on today's Signs Page:
---
SOTT Focus
---
No new articles.
Best of the Web
---
Rabbi Weiss: "We Suffer with the Palestinian People!"


youtube.com
2007-06-14 10:07:00



On June 10, 2007, a leading proponent of the Anti-Zionism Orthodox Jewish Movement, Rabbi Yisroel Dovid Weiss, attended a rally on the West Lawn of the U.S. Capitol, voicing his support for the freedom of the Palestinian people.


Comment on this SOTT Focus

---
U.S. News
---
DePaul president and other officals may face faculty vote of no confidence

Dave Newbart
Chicago Sun-Times
2007-06-13 14:41:00

Faculty at DePaul University are considering taking votes of no confidence in the school president and other officials in the wake of tenure denials issued to two faculty members. Separate faculty councils are meeting today and Thursday to discuss the rejections of assistant professors Norman Finkelstein and Mehrene Larudee despite strong support from their academic departments and a College of Liberal Arts and Sciences committee.

The tenure bid of Finkelstein, son of Holocaust survivors, had drawn widespread attention because of his suggestions that some Jews had exploited their suffering. Harvard Law Professor Alan Dershowitz criticized Finkelstein's scholarship.

Comment on this SOTT Focus

---

General: China taking on U.S. in cyber arms race


Reuters
2007-06-13 14:27:00

China is seeking to unseat the United States as the dominant power in cyberspace, a U.S. Air Force general leading a new push in this area said Wednesday.

"They're the only nation that has been quite that blatant about saying, 'We're looking to do that,"' 8th Air Force Commander Lt. Gen. Robert Elder told reporters.

Comment on this SOTT Focus

---

Freedom of Information act stalled by parlor trick

Charles N. Davis
Times Argus
2007-06-10 13:27:00

Congress, apparently content to explore ever new depths in public disapproval, is on the verge of having a single member derail the most meaningful reform in years of the federal Freedom of Information Act.

How, you ask, when overwhelming majorities support the legislation in both the House and Senate?

The secret hold, of course. Ever heard of the secret hold? It's a beauty - a real relic of the stuffed shirts of yesteryear, smoke-filled rooms and fat cats with stogies guffawing over the latest bamboozle of the taxpaying schmucks. Think country clubs, secret handshakes and bizarre rituals.

Comment on this SOTT Focus

---

Duke case conspiracy denied. Lab director says DA never asked for final report

Aaron Beard
Associated Press
2007-06-14 09:41:00

A lab director who tested DNA in the Duke lacrosse rape investigation testified yesterday that the district attorney never asked for a final report on his work, but he and Mike Nifong did not conspire to hide evidence from the defense.


"We did not withhold anything," said Dr. Brian Meehan.


The North Carolina State Bar has charged Nifong, the Durham County district attorney, with violating rules of professional conduct through his handling of allegations that a stripper was raped at a party thrown by Duke's lacrosse team.


One of the charges cited by the bar said Nifong kept from the defense details of test results that found none of the players' DNA matched material found in and on the accuser.


Despite those results, Nifong won indictments against three players -- all of whom were later cleared by state prosecutors, who called them "innocent" victims of a rogue prosecutor's "tragic rush to accuse."


Comment on this SOTT Focus

---

Los Angeles: As woman lay dying, 911 operators refused to help, tapes show

Associated Press
The Boston Globe
2007-06-14 09:20:00

A woman who lay bleeding on the emergency room floor at a troubled hospital died after 911 dispatchers refused to contact paramedics or an ambulance to take her to another facility, newly released tapes of the emergency calls show.


Edith Isabel Rodriguez, 43, died of a perforated bowel May 9 at Martin Luther King Jr.-Harbor Hospital. The Los Angeles County coroner's office ruled her death accidental.


Relatives said Rodriguez was bleeding from the mouth and writhing in pain for 45 minutes while in a waiting area in the emergency room. Specialists have said she could have survived had she been treated early enough.


County and state authorities are now investigating Rodriguez's death. Relatives reported she died as police were wheeling her out of the hospital after the officers they had asked to help Rodriguez arrested her instead on a parole violation. Duane Allen, Sheriff's Department spokesman, said yesterday that the investigation is ongoing.


Comment on this SOTT Focus

---

Massachusetts: Maynard police warn of child predator. 9-year-old is latest target

Brian R. Ballou
The Boston Globe
2007-06-14 09:17:00

It was becoming dark, and most of the children who had filled Amory Avenue since early afternoon had returned home. But at the end of the cozy, tree-lined street, in front of a house with a lawn full of toys, a 9-year-old girl vigorously bounced a basketball.


A green pickup truck pulled alongside her, and a man got out, police said. He put his hand over the girl's mouth and started dragging her to his pickup truck. The suspect told the girl that if she told anyone, he was going to kill her, the girl later told police.


But the girl resisted, striking the man in the arm and pulling away. She screamed for her best friend, who lived at the house on Amory Avenue. The man jumped into his truck and sped away.


Comment on this SOTT Focus

---
UK & Euro-Asian News
---
Russia confirms arrest of space official for spying in Austria


RIA Novosti
2007-06-14 08:52:00

A Russian national detained by Austrian police on allegations of spying is a 51-year-old employee of the Russian Space Agency, an agency spokesman said Thursday.


"We confirm that a [Russian] citizen arrested in Vienna is an employee of the Russian Federal Space Agency," Igor Panarin said.


A popular Austrian daily, the Kurier, said Wednesday that police in the town of Gmunden in northern Austria had arrested a Russian citizen suspected of involvement in military espionage.


The paper also said an Austrian Air Force officer who allegedly passed on classified information to the Russian spy had been detained following a lengthy surveillance operation conducted by Austrian military counterintelligence.


Comment on this SOTT Focus

---

A good week for Putin? The G8 summit and the St. Petersburg Economic Forum

Ian Pryde
RIA Novosti
2007-06-14 08:41:00

At first sight, President Vladimir Putin and Russia had a good week.


During the G8 summit in Heiligendamm in Germany, Putin made a proposal on missile defense, suggesting that Russia and America use the Gabala radar station in Azerbaijan as an alternative to the US. plans to base the system in Poland and the Czech Republic.


It remains to be seen whether his proposal will ultimately be acceptable to the United States, but his suggestion has at least got the two sides talking again on the issue, a major advance after months of unfounded and counterproductive rhetoric which may not be quickly forgotten.


The three-day St. Petersburg International Economic Forum followed hard on the heels of the G8 summit and chalked up an impressive list of achievements: 8,966 people from 65 countries registered for the forum, with 9 presidents, 40 ministers, 40 ambassadors and luminaries such as James Wolfensohn, Yegor Gaidar and Francis Fukuyama in attendance.


Comment on this SOTT Focus

---

China: Internet addict murders mother for web fix

James Rivington
Teck.co.uk
2007-06-14 08:34:00

A teenage boy butchered his mother to death with a kitchen knife after she refused to give him money to visit an internet café. Said to be 'heavily addicted' to the internet, the boy also gravely injured his father when he was denied access to his favourite sites.


The boy, known as 'Wang' in the Chinese state media, had apparently decided to kill his parents over a month earlier. "After his dad got home, Wang hacked at him causing serious injury. Seeing what he had done, Wang went to his room and sat on his bed," the Beijing Youth Daily newspaper reported.


After barely surviving the brutal attack, Wang's father staggered bleeding from the family home to get help and call the police, after which his son was arrested.


Comment on this SOTT Focus

---

China school attack leaves child dead, 3 wounded


The Associated Press
2007-06-14 08:24:00

An attack at a southern China primary school left a 9-year-old boy dead and three other students seriously wounded, state media reported Thursday.


Xinhua News Agency said Su Qianxiao, 42, has been arrested after he broke into the Chiling Primary School in Guangdong province's Longtang township Wednesday morning and attacked the children with a kitchen knife.


Huang Tianhao, 9, was killed, and two 7-year-old girls and a 9-year-old boy were seriously wounded, Xinhua said.


Comment on this SOTT Focus

---

Daughters stabbed in 'row over their wild behaviour'


This is London
2007-06-14 08:01:00

Detectives are today investigating claims that a mother stabbed her two daughters to death after an argument over their wild behaviour.


Rekha Kumari-Baker, 39, was arrested after Jasmine, 13, and Davina, 16, were found stabbed to death at their home.


Police said they had been the victims of a "sustained attack".


Comment on this SOTT Focus

---

Olympic Committee president praises London's progress and "epileptic" logo


Reuters
2007-06-14 07:39:00

London 2012 chiefs have been given a timely boost by International Olympic Committee (IOC) president Jacques Rogge as a three day inspection of the city's progress concludes.


Members of an IOC Coordination Commission will announce their findings later on Thursday after a series of presentations from the London organizing committee (LOCOG) but Rogge is already confident that the project is on track.


"The reports I am getting show that in the initial period of two years, London is ahead of every host city we have had in the past. That includes Beijing," he said in an interview in the Daily Telegraph.


Comment on this SOTT Focus

---
Around the World
---
Scare Canada - The No-Fly List's False Sense of Security

Faisal Kutty
Counterpunch
2007-06-14 14:35:00

"Nothing personal sir, but your packages are not allowed on passenger airlines," said a United Parcel Service customer service agent, sitting in an American call centre. She was explaining to me that my package could not be delivered on an "early a.m." basis from Toronto to Peterborough.


Comment on this SOTT Focus

---

Flashback: Inflation in Zimbabwe Hits 3,714 Percent

Angus Shaw
Associated Press
2007-05-17 02:20:00

Zimbabwe's annual inflation rate surged to an unprecedented 3,714 percent at the end of April, the official state newspaper reported Thursday, as the government set up a commission to try to bring prices down to single digit levels.

Prices more than doubled last month as shown by a 100.7 percent increase - the highest on record - in the consumer price index calculated by the state Central Statistical Office, the Herald newspaper said. In the past year they increased 36-fold.

Comment on this SOTT Focus

---

Aid agencies fear hyperinflation doomsday scenario in Zimbabwe


AfricanCrisis
2007-06-14 14:01:00

If the worst happens, private consultants in Zimbabwe say, aid groups should brace for shops and businesses to close and for Zimbabwe to declare a state of emergency.

Households were already stockpiling durable foods in anticipation of worsening shortages of most basic goods, said a report compiled for the heads of charities and aid organisations. Aid agency officials said the report was compiled to raise awareness among international organisations, donors and their staffers in Zimbabwe of growing concern among economic commentators and in diplomatic circles.

Comment on this SOTT Focus

---

'Dramatic' Taliban resurgence detailed

Alan Freeman
Globe and Mail
2007-06-14 13:54:00

An analysis of the situation in Afghanistan last fall prepared for top levels of the Canadian government warned that the country was becoming "two Afghanistans" with the situation in the fractious South and West continuing to deteriorate and the position of President Hamid Karzai "weakening to a new low."


Comment on this SOTT Focus

---

China overtaking US for fast internet access as Africa gets left behind

Richard Wray
The Guardian
2007-06-14 13:18:00

Almost 300 million people worldwide are now accessing the internet using fast broadband connections, fuelling the growth of social networking services such as MySpace and generating thousands of hours of video through websites such as YouTube.

There are more than 1.1 billion of the world's estimated 6.6 billion people online and almost a third of them are now accessing the internet on high-speed lines. According to the internet consultancy Point Topic, 298 million people had broadband at the end of March and that is already estimated to have shot over 300 million. The statistics, however, paint a picture of a divided digital world.

Comment on this SOTT Focus

---

Venezuela's Chavez to finalise Russian submarines deal


AFP
2007-06-14 08:27:00

Venezuelan President Hugo Chavez is expected to finalise a deal on buying up to nine Russian submarines during a visit here later this month, a Russian newspaper reported on Thursday.

Caracas has already ordered five 636-type diesel submarines and four of a new model of diesel submarine, the 677E Amur, the Kommersant broadsheet said, quoting unnamed sources in the ship-building and arms export sectors.

Comment on this SOTT Focus

---
Big Brother
---
Flashback: Connecticut school play on Iraq banned - too anti-war

Alison Leigh Cowan
New York Times
2007-03-24 16:46:00

Student productions at Wilton High School range from splashy musicals like last year's "West Side Story," performed in the state-of-the-art, $10 million auditorium, to weightier works like Arthur Miller's "Crucible," on stage last fall in the school's smaller theater.

Timothy H. Canty, the principal of Wilton High School in Wilton, Conn., canceled the production, saying it lacked context and political balance.

Comment on this SOTT Focus

---

Teen actors moved by war denied a stage

Amy Goodman
Seattle Post-Intelligencer
2007-06-14 11:06:00

Last Sunday night, as millions of Americans tuned in to the two Tonys -- the final episode of "The Sopranos," to see whether Tony Soprano lived or died, and the Tony Awards, celebrating the best in American theater -- actor Stanley Tucci (who played "Nigel" in "The Devil Wears Prada") was in an off-Broadway theater, the Culture Project, watching high-school students perform a play about war.

The production, "Voices in Conflict," moved the audience to tears, ending with a standing ovation for the teenage actors, still reeling from a controversy that had propelled them onto the New York stage. Their high school principal had banned the play.

Comment on this SOTT Focus

---

FBI Data Mining Program Raises Eyebrows in Congress

Justin Rood
ABC News
2007-06-14 07:57:00

Lawmakers are questioning whether a proposed FBI anti-terrorist program is worth the price, both in taxpayer dollars and the possible loss of Americans' privacy.

Comment on this SOTT Focus

---

Secret Surveillance Evidence Unsealed in AT&T Spying Case


Electronic Frontier Foundation
2007-06-14 07:34:00

Whistleblower Declaration and Other Key Documents Released to Public

San Francisco - More documents detailing secret government surveillance of AT&T's Internet traffic have been released to the public as part of the Electronic Frontier Foundation's (EFF's) class-action lawsuit against the telecom giant.


Comment on this SOTT Focus

---

Report: FBI Finds It Frequently Overstepped in Collecting Data

John Solomon
The Washington Post
2007-06-14 07:20:00

An internal FBI audit has found that the bureau potentially violated the law or agency rules more than 1,000 times while collecting data about domestic phone calls, e-mails and financial transactions in recent years, far more than was documented in a Justice Department report in March that ignited bipartisan congressional criticism.


The new audit covers just 10 percent of the bureau's national security investigations since 2002, and so the mistakes in the FBI's domestic surveillance efforts probably number several thousand, bureau officials said in interviews. The earlier report found 22 violations in a much smaller sampling.


Comment on this SOTT Focus

---

FBI Terror Watch List 'Out of Control'

Justin Rood
ABC News
2007-06-13 08:55:00

A terrorist watch list compiled by the FBI has apparently swelled to include more than half a million names.

Privacy and civil liberties advocates say the list is growing uncontrollably, threatening its usefulness in the war on terror.

The bureau says the number of names on its terrorist watch list is classified.

A portion of the FBI's unclassified 2008 budget request posted to the Department of Justice Web site, however, refers to "the entire watch list of 509,000 names," which is utilized by its Foreign Terrorist Tracking Task Force.

Comment on this SOTT Focus

---
Axis of Evil
---
Flashback: No military solution enough to end violence in Iraq - US commander


Deutsche Presse-Agentur
2007-03-08 08:31:00

Baghdad - A US commander in Iraq said Thursday that military operations against sectarian violence in Iraq were not enough.

'Military action is necessary to help improve security, but it is not sufficient,' General David Petraeus said in his first press conference after assuming his position.

He said political progress would require talking and reconciling with 'some of those who have felt the new Iraq did not have a place for them.'

Comment on this SOTT Focus

---

Israel's new President: a war criminal par excellence

Khalid Amayreh
The Peoples' Voice
2007-06-13 14:16:00

To many in the West, Israel's new President Shimon Peres is a respectable statesman and man of peace. However, in truth, Peres is a repulsive racist and war criminal who has tons of innocent blood on his hands.


Comment on this SOTT Focus

---

Shimon Peres is new President of Israel

Staff Writer
Xinhua
2007-06-14 06:21:00

BEIJING, Shimon Peres has been elected Israel's ninth president, winning a national honor that crowns the political career of the Nobel Peace Prize laureate.

Israeli parliament chose Peres by a margin of 86 to 23 in a second round of voting on Wednesday. Peres ran as the sole candidate, after the two other contenders dropped out and threw their support behind the deputy prime minister.

Comment on this SOTT Focus

---

Flashback: The day Israel used a boy aged 13 as a human shield


BBC
2007-04-23 11:24:00

Israeli human rights activists have accused border police of using a 13-year-old Palestinian as a human shield.

Rabbis for Human Rights say that Mohammed Badwan was tied by police to a jeep during a recent demonstration in the West Bank village of Bidou.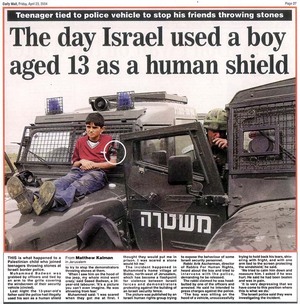 Israel's Supreme Court banned the use of human shields in 2002
Comment on this SOTT Focus
---
Middle East Madness
---
Violence Rising in Much of Iraq, Pentagon Says

David S. Cloud
The New York Times
2007-06-13 17:38:00

Violence increased throughout much of Iraq in recent months, despite a security crackdown in Baghdad that at least temporarily reduced sectarian killings there, according to a quarterly assessment of security conditions issued Wednesday by the Pentagon.

The report, which analyzed data from February through early May, said it was too early to say whether the security effort in Baghdad would achieve lasting security gains. And it described in more detail than officials had until now how security conditions in other parts of the country had worsened when American and Iraqi forces shifted in large numbers into the capital.

Comment on this SOTT Focus

---

Israeli homicide tank bombers shell Palestinian children, five siblings dead, bombers escape

DIAA HADID
AP
2007-06-14 11:15:00

[A]n Israeli tank shell struck a group of siblings near the southern Gaza Strip town of Rafah on Thursday, Hamas security officials said. Hospital workers said five children, all under 16, were killed.

Comment on this SOTT Focus

---

Tutu urges justice for Gaza town attack

ALEXANDER G. HIGGINS
AP
2007-06-14 08:07:00

GENEVA - Nobel peace laureate Desmond Tutu urged Israel on Wednesday to prosecute soldiers responsible for the deaths of 19 Palestinian civilians in a shelling attack on a Gaza town last year.

Comment on this SOTT Focus

---

Hamas captures major Fatah post in Gaza


AFP
2007-06-14 08:12:00

Hamas captured Fatah's main Gaza base on Thursday, expanding its control over the territory, as the Palestinian president mulled firing the fragile coalition cabinet the two rivals share.

Comment on this SOTT Focus

---

US forces shut down all Sadr city exits leading to central Baghdad


Kuwait News Agency
2007-06-14 08:02:00

US forces closed down on Wednesday all of Sadr city exits that connect the suburb to central Baghdad.

Comment on this SOTT Focus

---

Effect of False Flag operation? Three Sunni mosques burned south of Baghdad: police


Reuters
2007-06-14 07:31:00

Three Sunni Muslim mosques were attacked and burned by unidentified gunmen south of Baghdad early on Thursday, police said, a day after suspected al Qaeda militants blew up the minarets of a revered Shi'ite mosque.

Comment on this SOTT Focus

---
The Loan Gunmen
---
The Homeownership Myth: A contrarian asks whether homeownership really benefits low-income families

Howard Karger
dollars & sense
2007-06-14 10:03:00

Anyone who has given the headlines even a passing glance recently knows the subprime mortgage industry is in deep trouble. Since 2006 more than 20 subprime lenders have quit the business or gone bankrupt. Many more are in serious trouble, including the nation's number two subprime lender, New Century Financial. The subprime crisis is also hitting Wall Street brokerages that invested in these loans, with reverberations from Tokyo to London. And the worst may be yet to come. At least $300 billion in subprime adjustable-rate mortgages will reset this year to higher interest rates. CNN reports that one in five subprime mortgages issued in 2005-2006 will end up in foreclosure. If these dire predictions come true, it will be the equivalent of a nuclear meltdown in the mortgage and housing industries.

Comment on this SOTT Focus

---

Twenty Things You Should Know About Corporate Crime

Russell Mokhiber
Corporate Crime Reporter
2007-06-12 04:56:00

Or to simplify it, corporate crime is all about power politics.

Comment on this SOTT Focus

---
The Living Planet
---
Undular Bore in the Arabian Sea

Belay Demoz
Space.com
2007-06-14 17:55:00

A large cluster of wave clouds spans the Arabian Sea from Oman to India. This cloud formation is likely an undular bore, created by an interaction between cool, dry air in a low-pressure system with a stable layer of warm, moist air.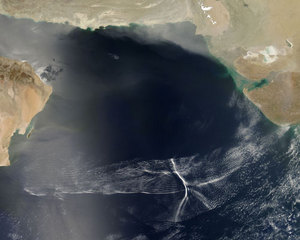 ©Jeff Schmaltz
Comment on this SOTT Focus
---

Meteor shower lights up sky, Fort Worth - Texas

Andrew Chavez
Star-Telegram.com
2007-06-14 17:30:00

Did you think you were wishing upon a falling star Wednesday night? Sorry, it was just burning space debris.

What many people saw was the beginning of a minor meteor shower, named after the constellation Bootes, according to Ron DiIulio, director of the University of North Texas' astronomy lab program.

What's causing this meteor shower? The Earth is passing through the tail of a comet.

Comment on this SOTT Focus

---

Norway and Sweden - From Summer to Snow


aftenposten
2007-06-14 17:06:00

After last week's record high temperatures have given way to an even more unusual contrast.

The sun chairs set out in Tynset in Hedmark County were covered in snow on Thursday morning.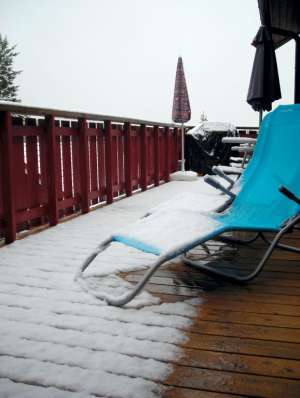 ©Mali Hagen Røe
Recently used summer furniture covered by snow.



"

This is extreme. We are after all in the middle of June

, and it is especially

remarkable given the high temperatures we have just had

. I cannot remember similar cases," Øyvind Johnsen at the Meteorologist Institute told Aftenposten.no.

Comment on this SOTT Focus

---

No mystery say officials: weather or climate change lowering Lake Superior

Michael Purvis
Osprey Media
2007-06-14 17:00:00

Global climate change could be causing staggeringly low water levels on Lake Superior, but normal variations in weather could also be behind the drop, say officials charged with monitoring lake levels.

Either way, weather is the reason for this year's unprecedented decline and it's going to take long periods of above-average precipitation to get things back to normal, insists David Fay, Canadian member of the International Lake Superior Board of Control.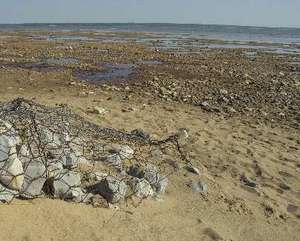 ©Michael Purvis
Low water levels are visible at Point Des Chenes, northwest of the Sault, where Lake Superior has receded far from the beach this year.



Shallow docks have been left high and dry this year and swimmers have been forced to walk further to get wet, as Lake Superior dropped to 53 centimetres below normal for the beginning of June and 40 centimetres below last year's level. That's just 10 centimetres higher than the record low, recorded in 1926.

Comment on this SOTT Focus

---

Once in 20 year event: Heavy snow falls in southern NSW, Australia


The Sydney Morning Herald
2007-06-14 13:59:00

Up to 15 cm of snow has fallen in parts of southern NSW in what the Bureau of Meteorology says is a once in 20 year event.


Comment on this SOTT Focus

---

Snakes alive! Unusual climate conditions bring out rattlers galore - California

Stephanie Bertholdo
The Acorn
2007-06-14 13:08:00

It's been a banner season for snake snatching, and the season has only just begun, Slyapich said. "After 20 years catching these guys, I've never seen a season like this."

Record rains over the last couple of years produced record plant growth, allowing the rodent population to flourish. More rodents means more food for snakes.

Comment on this SOTT Focus

---
Health & Wellness
---
Negative emotions lead to memory loss, dementia study finds


Eurekalert
2007-06-14 08:14:00

ST. PAUL, MN- People who are easily distressed and have more negative emotions are more likely to develop memory problems than more easygoing people, according to a study published in the June 12, 2007, issue of Neurology®, the scientific journal of the American Academy of Neurology.

Comment on this SOTT Focus

---

US: Chinese Manufacturer Used Lead Paint on 1.5 Million Toys, as Nation's Recall Rate Troubles Safety Experts

Brian Hartman
ABC
2007-06-14 07:55:00

One of the most-beloved toys in the world has joined the growing list of Chinese-made products to be pulled from store shelves for safety reasons.


RC2 Corp., which sells Thomas the Tank Engine toys, warned parents Wednesday to stop their children from using 1.5 million Thomas & Friends wooden railway vehicles and set components because their surface paint contains lead, a toxin that's dangerous if swallowed.


Comment on this SOTT Focus

---

"Obesity paradox" seen in range of heart ills


Reuters
2007-06-14 07:46:00

Among men with symptoms of heart disease, those who are obese tend to live longer than their normal-weight counterparts, a new study suggests.


Researchers found that among nearly 6,900 male veterans assessed for symptoms of heart disease, those who were obese were less likely to die over the next 7.5 years compared with normal-weight men.


Past research has linked obesity to longer survival among people with heart failure, a chronic condition in which the heart muscle is too weak to pump enough blood to meet the body's needs. Some studies also suggest that obese patients fare better following heart bypass surgery.


Now the new findings, published in The American Journal of Medicine, suggest that this so-called "obesity paradox" extends to other heart disease patients as well.


Comment on this SOTT Focus

---

Kellogg to Raise Nutrition of Kids'"Junk" Food

By MICHAEL J. SNIFFEN
Associated Press
2007-06-13 23:32:00

WASHINGTON - Kellogg Co., the world's largest cereal maker, has agreed to raise the nutritional value of cereals and snacks it markets to children. The Battle Creek, Mich., company avoided a lawsuit threatened by parents and nutrition advocacy groups worried about increasing child obesity. Kellogg intends to formally announce its decision Thursday.


Comment on this SOTT Focus

---

Vatican urges end to Amnesty International aid for 'promoting abortion'


BBC
2007-06-13 21:48:00

The Vatican has urged all Catholics to stop donating money to Amnesty International, accusing the human rights group of promoting abortion.

The Vatican also said it was suspending all financial aid to Amnesty over what it said was the group's recent change of policy on the issue.

Comment on this SOTT Focus

---
Science & Technology
---
Nintendo Wii Gets Another Adventure - Secret Files: Tunguska

Jared Black
vggen.com
2007-06-14 17:33:00

Koch Media has announced that it will port recently released PC adventure game Secret Files: Tunguska to both the Nintendo DS and Wii. 10TACLE Studios will handle development of the DS version, while Keen Games will handle development of the Wii version.

Comment on this SOTT Focus

---

Archaeologists in Bulgaria Find Labyrinth Resembling One in Crete


Sofia Echo Media
2007-06-14 17:25:00

The archaeological expedition Strandzha discovered a labyrinth, similar to the famous labyrinth on the island of Crete.

The discovery was made near the village of Golyam Derven, close to the Bulgarian-Turkish border.

Archaeologists also found a skeleton of a ruler in the labyrinth, BGNES news agency reported.

Comment on this SOTT Focus

---

Microsoft seeks answer to question 'Would global warming make for a good game?'

Frank Caron
ars technica
2007-06-11 13:21:00

Though some would have you believe that games are nothing but a breeding ground for murderers, one of the current console contenders is hoping that some of the industry's up-and-comers can convince us that games can change the world. In association with Games for Change - a movement that strives to use games as a means for social change - Microsoft is hosting a competition called the "Xbox 360 Games for Change Challenge" that will seek out new talent for the purposes of creating a game based on the current socio-political climate of the world today.

Comment on this SOTT Focus

---

The wet planet: There was life on Mars (probably)

Steve Connor
Belfast Telegraph
2007-06-14 12:00:00

Scientists now say that an ocean several miles deep once covered a third of the surface of the planet, enough water to support the origin and evolution of life. The red planet, they said, had once been a deep blue, just like Earth.

Comment on this SOTT Focus

---

Mystery Solved: Mars Had Large Oceans

Dave Mosher
Space.com
2007-06-14 11:55:00

Since 1991, planetary scientists have floated the idea that Mars once harbored vast oceans that covered roughly one-third of the planet. Two long shore-like lips of rock in the planet's northern hemisphere were thought to be the best evidence, but experts argued that they were too "hilly" to describe the smooth edges of ancient oceans.

The view just changed dramatically with a surprisingly simple breakthrough.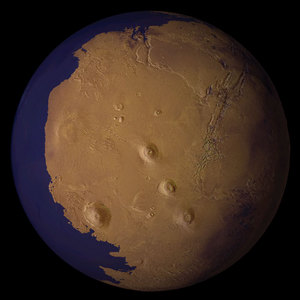 ©Taylor Perron/UC Berkeley
A view of Mars as it might have appeared more than 2 billion years ago, with an ocean filling the lowland basin that now occupies the north polar region.

Comment on this SOTT Focus
---

Public donates to UW scientist to fund backward-in-time research

TOM PAULSON
Seattle Post-Intelligencer
2007-06-14 10:36:00

It can take a village to save science -- a village that so far includes a Las Vegas music mogul, Kirkland rocket scientist, Port Townsend artist, Bothell chemist, Louisiana gas-and-oil man with a place in Port Angeles and a Savannah, Ga., computer programmer.

Comment on this SOTT Focus

---
Our Haunted Planet
---
Blimp 'UFO' in Salt Lake City Was Developed By Utah Man


KUTV
2007-06-14 08:04:00

A mysterious blimp-like object seen hovering over Salt Lake City on Wednesday was a small craft that was being developed by a resident - when it lost power and drifted over the valley, according to police.


The silver, zeppelin-type object was seen by dozens of witnesses at approximately 8:00 a.m. Witnesses reported that the object appeared to be approximately 100 feet long, but authorities say in actuality it was less than 30 feet in size.


The powerless blimp floated over Salt Lake City and eventually went down in the foothills east of downtown. Scott Duehlmeier, who works in the area where the blimp went down, ran over to see what it was. He picked it up and found it to be a balloon-type object.


Comment on this SOTT Focus

---
Don't Panic! Lighten Up!
---
Boy lives with broken neck for ten years, baffles doctors


Press Association
2007-06-14 17:47:00

A sports fanatic teenager has baffled medical experts by living for 10 years with a broken neck that could have killed him at any time.

Alfie Tyson-Brown, 14, led an active life playing rugby, surfing, mountain-bike riding and enjoyed rollercoasters unaware he had broken a bone in his neck when he was a toddler.

Comment on this SOTT Focus

---

Mom's Baby Monitor Picks Up Shuttle Astronauts


CBS
2007-06-14 16:37:00

A mother in Palatine, Ill., turned on her baby monitor recently and saw something that was literally out of this world, reports CBS station WBBM-TV in Chicago.

Comment on this SOTT Focus

---

Cover up!: $500 fine or six months in jail for baggy pants


BBC
2007-06-14 09:53:00

A mayor in the US state of Louisiana says he will sign into law a proposal to make wearing saggy trousers an act of indecent exposure.

Delcambre town council unanimously passed the ordinance earlier this week making it a crime to wear trousers that show underwear.

Comment on this SOTT Focus

---

Three hurt as squirrel goes nuts


Assocated Press
2007-06-14 07:53:00

An unusually aggressive squirrel attacked three people in a German town before its last victim finished it off with a crutch, police said Wednesday.


The rodent jumped through a living-room window in Passau, on the Austrian border, on Tuesday and bit its first victim. With the squirrel hanging on by its teeth, the woman ran out into the street, where she managed to shake the animal off.


The squirrel then bit a builder before fleeing into a nearby garden, where it bit a 72-year-old man who eventually killed it with his crutch, police said.


The dead animal was to be tested for rabies.


Comment on this SOTT Focus

---

Elderly care home for dogs to open in Japan


Reuters
2007-06-14 07:49:00

Japan's first elderly care home for dogs is set to open this week, tapping into a growing market as the problem of ageing spreads from humans to the pet population.


Saradi Corp. will accommodate up to 20 dogs at a facility set up in cooperation with a veterinary surgeon in the resort area of Nasu, north of Tokyo, Chief Executive Nana Uchida said on Thursday.


A veterinarian will be on call 24 hours a day and the dogs will have the opportunity to exercise, eat natural foods and mix with younger dogs to maintain their vitality, the company said in a statement.


Comment on this SOTT Focus

---

Hawk, Escaped Lamb Roam NYC Streets


Associated Press
2007-06-13 23:51:00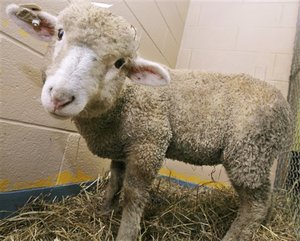 ©AP Photo/Kathy Willens
"Lucky Lady," a seven month-old lamb found wandering around in the Bronx, poses for a portrait



NEW YORK - A hawk down in midtown Manhattan? Another bird of prey grounded across town? A lamb on the lam in the Bronx? True. All in one day. The series of animal adventures began around 10 a.m. Wednesday when a former parks commissioner reported spotting a hawk that had crash landed. At about 11:30 a.m., several blocks away, came a report of another wounded bird, this time an American kestrel.


Comment on this SOTT Focus

---
---

Remember, we need your help to collect information on what is going on in your part of the world!
Send your article suggestions to: sott(at)signs-of-the-times.org

---
Click here to return to the Signs of the Times Archive
Click here for today's Signs Page