---
Sections on today's Signs Page:
---
SOTT Focus
---
No new articles.
Best of the Web
---
The Neoconservative Threat to American Freedom

Paul Craig Roberts
ICH
2007-06-11 18:22:00

The neoconservatives also believe that nuclear attack on Iran will isolate America in the world and, thereby, give the government control over the American people.


The Bush/Cheney White House, which told the American people in 2003 that the Iraqi invasion would be a three to six week affair, now tells us that the US occupation is permanent. Forever.

Comment on this SOTT Focus

---
U.S. News
---
FBI Probes Bogus Severe Weather Reports


TheKansasCityChannel.com
2007-06-11 16:38:00

Phony weather reports had some people running for cover in the Midwest.

Now, National Weather Service officials and the FBI are investigating.

Authorities said that since April, someone has been using the Internet to submit false severe weather reports to the NWS that look like the real thing.

Comment on this SOTT Focus

---

Rep. Kucinich announces plans for congressional hearings on 9-11 in September

operatorkos
Youtube
2007-06-12 16:16:00

Kucinich describes his plans for congressional hearings in September regarding 9/11 "financial issues". Recorded at Sonoma County Fair Grounds in California, 6-10-07


Comment on this SOTT Focus

---

The Biggest Scam in the World - Closing Down the Tax Haven Racket

Ralph Nader
Counterpunch
2007-06-12 14:56:00

Lucy Komisar of the Tax Justice Network-USA (taxjustice-usa.org) spoke at the Conference on Taming the Giant Corporation last week about "Closing Down the Tax Haven Racket." Her words were so compelling that the rest of this column is devoted to excerpts from her presentation:


Comment on this SOTT Focus

---

5 young children die in Pittsburgh fire

Ramesh Santanam
Associated Press
2007-06-12 12:37:00

Fire raced through a three-story row house early Tuesday, killing five children, and authorities said they were looking for a teenage baby sitter who was supposed to be watching them.


Neighbor Sontaya Perry, 22, said she could hear the children inside the house screaming as the fire raged from the windows before dawn. She said she tried to get in, but the wooden steps leading to the door were in flames.


"They were screaming, and five minutes later they stopped screaming," Perry said.


On the street outside, two boys were begging for someone to help for their brothers and sisters, she said.


The victims, ages 2 to 7, were all found on the second floor, authorities said. One was dead on arrival at West Penn Hospital and two others died in the emergency room, said Stephanie Waite, a hospital spokeswoman. The Allegheny County Medical Examiner's office said it had the bodies of a boy and a girl.


Comment on this SOTT Focus

---

Mueller Often Uses FBI Jet Bought for Counterterrorism as private toy!

John Solomon
Washington Post
2007-06-12 10:45:00

When the FBI asked Congress this spring to provide $3.6 million in the war spending bill for its Gulfstream V jet, it said the money was needed to ensure that the aircraft, packed with state-of-the-art security and communications gear, could continue to fly counterterrorism agents on "crucial missions" into
Iraq.

Comment on this SOTT Focus

---

Experts: NYC About Due For Major Hurricane

Lonnie Quinn
CBS
2007-06-12 10:13:00


When we talk about hurricanes, most of the time we talk about when they're going to hit the Southeast.

But on Monday, officials from the Department of Homeland Security and the Office of Emergency Management talked about a major hurricane hitting our area.




Comment on this SOTT Focus

---
UK & Euro-Asian News
---
Greek police nab two over nuns' murder


Associated Press
2007-06-12 12:26:00

Police have arrested two men over the murder in April of two elderly nuns in a convent in southern Greece, authorities said.


The men, a Greek and a Macedonian national, confessed to the killing after their arrest on Friday, police said.


The nuns were strangled during an overnight robbery at the Artokostas Convent on a rocky hillside near the town of Astros, about 130 km south-west of Athens. Police are looking for a third man, also Macedonian.


Comment on this SOTT Focus

---

Corruption: what does it cost Russia?

Mikhail Khmelev
RIA Novosti
2007-06-12 12:04:00

It is common knowledge that corruption is inevitable in any non-prosperous and socially and economically underdeveloped country.


Corruption is rampant in Russia despite its impressive economic progress of the preceding years. Bribery is on the increase in everyday life and in the corridors of power, experts say. Officials are of a different opinion.


Many organizations are studying corruption in Russia. The situation with bribery is extremely serious, if we are to believe them. As the INDEM Foundation, one of Russia's principal corruption fighters, alleges, bribes from companies to officials amount to an annual total of $316 billion. Up to 7% of corporate revenues goes to grease officials' palms.


The Center for Anti-Corruption Research and Initiative of the independent transnational organization Transparency International thinks corruption rent, i.e. prices bloated to cover bribes, accounts for as much as 15% of the costs of Russian consumer goods and services.


Comment on this SOTT Focus

---

Iran in talks with China to store strategic reserves


Reuters
2007-06-12 11:54:00

Iran is in discussions to store strategic oil in China, Oil Minister Kazem Vaziri-Hamaneh said yesterday, as it seeks secure outlets for its crude in the face of Western economic sanctions.

He said there is no shortage of crude in the market and the Organization of Petroleum Exporting Countries has no plans to increase supplies, in the latest producers' rebuff to consumer nation calls for more oil.

Comment on this SOTT Focus

---

Blair criticised for voicing Russia fears

Catherine Belton and Neil Buckley
Financial Times
2007-06-12 10:32:00

British business leaders have criticised the UK prime minister for expressing concerns over the investment climate in Russia even as Moscow steps up moves to take control of energy assets belonging to foreign companies.

At an investment forum in St Petersburg over the weekend, where dozens of global chief executives paid homage to Russia's growing economic might, Hans Jörg Rudloff, the chairman of Barclays Capital, said the British government was mistaken when it expressed public concern last week over the growing risks of investing in Russia.

Comment on this SOTT Focus

---

China faces reality! Moratorium on biofuels as food prices escalate

Jane Macartney in Beijing and Tim Reid in Washington
The Times
2007-06-12 10:25:00

China's communist rulers announced a moratorium on the production of ethanol from corn and other food crops yesterday at the very time that Western leaders are rushing to embrace alternative food-based fuel technology.

Beijing's move underlines concerns that ethanol production is driving up rapidly the costs of corn and grain. It appears to reflect a growing reality about food-based alternative fuel: it is far more expensive both economically and environmentally, than Western politicians are likely to admit.

Comment on this SOTT Focus

---

Two thirds of Chinese cities' water, air polluted


Reuters
2007-06-12 10:13:00

BEIJING -Nearly two-thirds of Chinese cities suffered from air pollution last year and had no centralized sewage treatment facilities, state media reported on Tuesday.

Only 37.6 percent of 585 cities surveyed had air quality "indicating a clean and healthy environment," down 7.3 percentage points from 2005, the China Daily said, citing a report by the State Environmental Protection Agency (SEPA).

Comment on this SOTT Focus

---
Around the World
---
US preparing air-strikes against Al-Qaeda™ in Somalia: official


AFP
2007-06-12 17:28:00

US warplanes are overflying the northern Somali region of Puntland in preparation for air-strikes against suspected Al-Qaeda fugitives, more than a week after US warships shelled the area, officials said Tuesday.

The semi-autonomous regional government had authorised the overflights to pursue Al-Qaeda members believed to be hiding in the moutainous area, Puntland's security minister Ibrahim Artan Ismail told reporters.

Comment on this SOTT Focus

---

'Sex trafficking - modern form of slavery'


IOL
2007-06-12 15:39:00

Sex trafficking of women and children to Greece has increased tenfold in the last 10 years, a situation worsened by the lack of protection and support offered by the government, Amnesty International said on Tuesday.


A new report by the organisation says thousands of women and girls, mainly from eastern Europe and Africa, have been brought illegally into the country only to find themselves forced into prostitution.


Their plight is made worse by gaps in the Greek legal system which do not help trafficked women and girls and require them to testify against suspected traffickers as the price for receiving legal and personal protection.


Comment on this SOTT Focus

---

Looters hit flooded Australian homes, shops


AFP
2007-06-12 13:03:00

Looters raided abandoned houses, businesses and cars during four days of violent storms in Australia, stealing everything from iPods to alcohol and cigarettes, outraged victims said Tuesday.


As a massive clear-up operation got into full gear after storms and floods that claimed nine lives, residents and traders said thieves had exploited the weekend's chaos to break in and steal.


About 5,000 residents in the Hunter and Central Coast areas north of Sydney have now returned home following the storms, which caused damage estimated at hundreds of millions of dollars.


Power utility EnergyAustralia said almost 30,000 homes were still blacked out and some may not be reconnected until the end of the week as technicians struggle to repair the worst damage to its network in 30 years.


Comment on this SOTT Focus

---

Croat Serb convicted of atrocities for ethnic cleansing campaign

Mike Corder
Associated Press
2007-06-12 12:34:00

The Yugoslav war crimes tribunal convicted a wartime leader of Croatia's rebel Serbs of murder, torture and persecution Tuesday and sentenced him to 35 years in prison for a brutal ethnic cleansing campaign of non-Serbs in Croatia.

©Reuters
Former Croatian Serb leader Milan Martic, accused of hundreds of murders and ordering the shelling of Zagreb, awaits his verdict in a courtroom of the Yugoslav War Crimes Tribunal in The Hague, the Netherlands, June 12, 2007.
Comment on this SOTT Focus
---

British paper reports that CIA ghost planes have base in Malta

Michael Carabot
Malta Independent
2007-06-12 12:18:00

The British newspaper The Daily Mail reported yesterday that one of the aircraft allegedly used in the CIA's "ghost flights" to transport terror suspects to interrogation centres was allegedly based in Malta.


Malta was, however, excluded from alleged secret detentions and unlawful inter-state transfers.


The Daily Mail linked the issue to a report compiled by a European Parliament committee which says the CASA-212 Aviocar in question, registration number N964BW, was on a list of "companies and aircraft used by the CIA for extraordinary rendition flights".


The Daily Mail said that, according to the American Federal Aviation Authority, the plane was operated by two companies, Aviation World Wide Services and a sister company, Presidential Airways.


The committee's November report said these were subsidiaries of Blackwater USA, described as "an important contractor for the CIA and the US military", which The Daily Mail said based its planes in Malta. The newspaper also reported that records showed the plane was owned by Blackwater USA, a CIA contractor described as "the most secretive and powerful mercenary army on the planet".


Comment on this SOTT Focus

---

Flashback: George Bush insists that Iran must not be allowed to develop nuclear weapons. So why, 6 years ago, did the CIA give the Iranians blueprints to build a bomb?


The Guardian
2006-01-05 12:00:00

She had probably done this a dozen times before. Modern digital technology had made clandestine communications with overseas agents seem routine. Back in the cold war, contacting a secret agent in Moscow or Beijing was a dangerous, labour-intensive process that could take days or even weeks. But by 2004, it was possible to send high-speed, encrypted messages directly and instantaneously from CIA headquarters to agents in the field who were equipped with small, covert personal communications devices. So the officer at CIA headquarters assigned to handle communications with the agency's spies in Iran probably didn't think twice when she began her latest download. With a few simple commands, she sent a secret data flow to one of the Iranian agents in the CIA's spy network. Just as she had done so many times before.

Article continuesBut this time, the ease and speed of the technology betrayed her. The CIA officer had made a disastrous mistake. She had sent information to one Iranian agent that exposed an entire spy network; the data could be used to identify virtually every spy the CIA had inside Iran.

Mistake piled on mistake. As the CIA later learned, the Iranian who received the download was a double agent. [...]

But it's worse than that. Deep in the bowels of the CIA, someone must be nervously, but very privately, wondering: "Whatever happened to those nuclear blueprints we gave to the Iranians?"

The story dates back to the Clinton administration and February 2000, when one frightened Russian scientist walked Vienna's winter streets. The Russian had good reason to be afraid. He was walking around Vienna with blueprints for a nuclear bomb.

To be precise, he was carrying technical designs for a TBA 480 high-voltage block, otherwise known as a "firing set", for a Russian-designed nuclear weapon. He held in his hands the knowledge needed to create a perfect implosion that could trigger a nuclear chain reaction inside a small spherical core. It was one of the greatest engineering secrets in the world, providing the solution to one of a handful of problems that separated nuclear powers such as the United States and Russia from rogue countries such as Iran that were desperate to join the nuclear club but had so far fallen short.

The Russian, who had defected to the US years earlier, still couldn't believe the orders he had received from CIA headquarters.

The CIA had given him the nuclear blueprints and then sent him to Vienna to sell them - or simply give them - to the Iranian representatives to the International Atomic Energy Agency (IAEA).



Comment on this SOTT Focus

---
Big Brother
---
EU approves visa biometric data system


Associated Press
2007-06-12 11:00:00

The European Union on Tuesday approved a European visa data system which will store biometric information like fingerprints and photos on 70 million visa-holders who pass through the EU's borderless travel zone each year.

Comment on this SOTT Focus

---

YouTube to test video ID with Time Warner, Disney

Kenneth Li and Eric Auchard
Reuters
2007-06-12 10:16:00

Top online video service YouTube will soon test a new video identification technology with two of the world's largest media companies, Time Warner Inc. and Walt Disney Co..

The technology, developed by engineers at YouTube-owner Google Inc., will help content owners such as movie and TV studios identify videos uploaded to the site without the copyright owner's permission, legal, marketing and strategy executives at YouTube told Reuters in an interview on Monday.



Comment on this SOTT Focus

---

Biometric IDs for Mumbai slum dwellers


Calcutta News.Net
2007-06-12 10:02:00

Maharashtra has decided to introduce a biometric ID system for slum dwellers to protect them from unscrupulous land sharks.


The identification system is meant for those under the state-sponsored slum redevelopment project in the megalopolis. It was mooted after the government received several complaints alleging that slum dwellers were being intimidated or lured into signing out their property by real estate developers to start construction on their plots.


'The move to bring in the biometric identification system comes in the wake of several cases filed by the slum dwellers who have complained that their plots were being developed without their consent,' said Swadhin Kshatriya, the state housing department principal secretary.


Comment on this SOTT Focus

---
Axis of Evil
---
Propaganda: U.S. Envoy Says Iran Is Arming Taliban


Associated Press
2007-06-12 13:19:00

A senior U.S. diplomat accused Iran on Tuesday of transferring weapons to Taliban insurgents in Afghanistan - the most direct comments yet on the issue by a ranking American official.

Undersecretary of State Nicholas Burns, speaking to reporters in Paris, said Iran was funding insurrections across the Middle East - and "Iran is now even transferring arms to the Taliban in Afghanistan."

Comment on this SOTT Focus

---

Lies and outrages... would you believe it?

Robert Fisk
The Independent
2007-06-09 16:55:00

Only the president of France, General de Gaulle, moved into political isolation by telling a press conference several months later that Israel "is organising, on the territories which it has taken, an occupation which cannot work without oppression, repression and expulsions - and if there appears resistance to this, it will in turn be called 'terrorism'".

It was Israel which attacked Egypt after Nasser closed the straits of Tiran


Comment on this SOTT Focus

---

We won't fight for Fatah, says Head of Zionist Occupation Olmert

Ronny Sofer
Ynet
2007-06-12 15:15:00

Israel keeps watchful eye on escalating events in Gaza, as Hamas moves in on northern strip. 'Hamas takeover of Gaza will affect entire region,' says PM, as defense minister warns clashing factions against attacking Israel.



Comment on this SOTT Focus

---

Propaganda Alert! U.S. relies on Sudan despite condemning it

Greg Miller and Josh Meyer
The LA Times
2007-06-12 04:09:00

Sudan has secretly worked with the CIA to spy on the insurgency in Iraq, an example of how the U.S. has continued to cooperate with the Sudanese regime even while condemning its suspected role in the killing of tens of thousands of civilians in Darfur.


Comment on this SOTT Focus

---

Norman Finkelstein an Israeli critic denied post at university

Leonard Doyle
The Independent
2007-06-12 03:47:00

A top American university has denied tenure to a prominent academic amid allegations of anti-Semitism and his defence of the Palestinian cause.



One of his main critics, Alan Dershowitz, an attorney and Harvard law professor, said: "It was plainly the right decision."
Comment on this SOTT Focus
---

US forces kill 7 Afghan police in not so friendly fire


AP
2007-06-12 03:25:00

U.S. forces mistakenly killed seven Afghan police and wounded four in an apparent friendly fire incident early Tuesday in eastern Afghanistan, Afghan officials said.

Police manning a remote checkpoint in Nangarhar province said an American convoy backed by helicopters approached and opened fire despite their protests and calls for them to stop.



Comment on this SOTT Focus

---
Middle East Madness
---
US signals permanent stay in Iraq

Howard LaFranchi
The Christian Science Monitor
2007-06-12 17:04:00

This spring's debate over a timetable for withdrawal from Iraq may have implied that the US presence there is likely to wind down soon, but recent comments from both the administration and military officials suggest a different scenario.

In Washington and among American military officers in Iraq, the idea of establishing permanent US bases there is under discussion - with one official citing as an example the decades-long presence of US troops in Korea. The aim would be to keep American soldiers on Iraqi soil well into the century as a support for the Iraqi government against outside aggression, a means of training and developing a new Iraqi military, and a platform from which the US could fight Al Qaeda and other war-on-terror opponents.

Comment on this SOTT Focus

---

Haneyya survives assassination attempt at hands of Israel's agents in Gaza


Palestine Information Centre
2007-06-12 14:39:00

Elements of the mutiny trend within Fatah faction, which is widely believed to be led and directed by Fatah MP Mohammed Dahalan, have fired an RPG projectile at home of PA premier Ismail Haneyya Tuesday in a clear attempt to kill him.


Comment on this SOTT Focus

---

Scream quietly...in the Blue.

Layla Anwar
An Arab Woman Blues
2007-06-11 14:22:00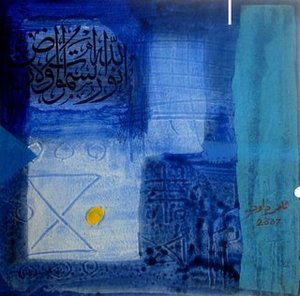 ©n/a
Painting: Iraqi artist, Thamer Dawood



I remember reading a book some years back. I cannot remember the name of the author though. I did warn you that I am bad with names. But the exact title is well lodged in my mind: "Scream quietly or the neighbors will hear".


Comment on this SOTT Focus

---

Kuwait says US cannot use bases for any Iran strike


AFP
2007-06-12 13:15:00

Kuwait, a staunch US ally, said on Monday it would not allow the United States to use its territory as a launch-pad for any attack on Iran over its nuclear programme.

"The United States did not ask (to use Kuwaiti military facilities for any attack) and even if it did, we will not allow anybody to use our territory," defence and interior minister Sheikh Jaber al-Mubarak al-Sabah told reporters.

Comment on this SOTT Focus

---

Flashback: Iran Caught Red-Handed Shipping Arms to Taliban?

Brian Ross and Christopher Isha
ABC News
2007-06-06 21:00:00

NATO officials say they have caught Iran red-handed, shipping heavy arms, C4 explosives and advanced roadside bombs to the Taliban for use against NATO forces, in what the officials say is a dramatic escalation of Iran's proxy war against the United States and Great Britain.

"It is inconceivable that it is anyone other than the Iranian government that's doing it," said former White House counterterrorism official Richard Clarke, an ABC News consultant.

Secretary of Defense Robert Gates stopped short earlier this week of blaming Iran, saying the U.S. did not have evidence "of the involvement of the Iranian government in support of the Taliban."

But an analysis by a senior coalition official, obtained by the Blotter on ABCNews.com, concludes there is clear evidence of Iran's involvement.





Comment on this SOTT Focus

---

Gambit to link Iran to the Taliban backfires

Gareth Porter
Asian Times
2007-06-13 13:05:00

A media campaign portraying Iran as supplying arms to the Taliban fighting US and North Atlantic Treaty Organization forces in Afghanistan, orchestrated by advocates in the US administration of a more confrontational stance toward Iran, appears to have backfired. Last week, US Defense Secretary Robert Gates and the commander of NATO forces in Afghanistan, General Dan McNeil, issued unusually strong denials.

The allegation that Iran had reversed a decade-long policy and was now supporting the Taliban, conveyed in a series of press articles quoting "senior officials" in recent weeks, is related to a broader effort by officials aligned with US Vice President Dick Cheney to portray Iran as supporting Sunni insurgents, including al-Qaeda, to defeat the United States in both Iraq and Afghanistan.

Comment on this SOTT Focus

---
The Loan Gunmen
---
Spain Is in Big Trouble

Tom Dyson
Daily Wealth
2007-06-05 16:51:00

In the last two months, Spain has dumped 80 tons of gold onto world markets. It has also flogged huge quantities of U.S. Treasuries, British gilts, and other similar reserve investments at a similar rate.

Why?

According to an article in London's Daily Telegraph, the Spanish government is running out of money. The Banco de Espana now has less than $17 billion in foreign currency and gold reserves left. This is enough for just 12 days of imports.

Comment on this SOTT Focus

---

India: CEOs and the wealth of notions

P. Sainath
The Hindu
2007-06-12 15:33:00

"THE PRIME Minister wants CEOs to create wealth for the nation. Then he wants them to take pay cuts." That's a slogan gracing the huge hoardings put up by a Mumbai newspaper. It's over two weeks since Manmohan Singh asked the Confederation of Indian Industry's annual general meeting "to resist excessive remuneration to promoters and senior executives and discourage conspicuous consumption." But the cries of wounded crorepatis still rent the air. [A crorepati has an annual income of more than 10 million rupees -- 1 crore -- which is just under $250,000. There are about 50,000 crorepati households in India now. AC/JSC.]



Comment on this SOTT Focus

---

China warns of retaliation over US Congress bill on yuan exchange rate


AFX News
2007-06-12 13:09:00

The government warned of a counter response if the US Congress adopts a bill on China's foreign exchange regime that could lead to higher US tariffs on Chinese imports.

"China has all along held that developing Sino-US bilateral trade is in the interest of both sides," foreign ministry spokesman Qin Gang told reporters.

But he added if the US Congress passed legislation which led to higher tariffs on Chinese goods "then the Chinese departments concerned will make a counter response." He gave no indication of the possible counter measures that Beijing might take.

Comment on this SOTT Focus

---

Wal-mart Tries To Become Your Bank With The "Wal-mart MoneyCard"


The Consumerist
2007-06-11 11:46:00

"Would you like to load your check onto a Wal-Mart MoneyCard?"

Get ready to hear this phrase whenever you cash a check at Walmart (which you shouldn't do anyway, but that's another post.) Walmart has launched a prepaid debit card, issued from the same bank that also issues their credit cards.

Comment on this SOTT Focus

---

Made in China or Made in Prison? Forced Labour Linked To Western Brands

Peter Sharp
Sky News
2007-06-12 09:56:00

Well-known brands in the West have been linked to unpaid Chinese prison labour in a Sky News investigation.


Both Coca-Cola and the giant US retailer Wal-Mart have been implicated in the prisons practice of forcing inmates to work - although the Chinese Embassy in London denies the claims.


Businessmen in Zhejiang Province in southern China told Sky News that finding prison labour was not a problem.


The private companies pay the authorities; the jails provide the labour; and the prisoners are paid nothing.


Human rights groups have condemned the use of forced labour in China's jails, which has been likened to modern-day slavery.


Briton John Sims was sent to prison in Ningbo last year on what he describes as trumped up charges. He found himself on a prison production line making Coca-Cola-branded Christmas decorations.


Comment on this SOTT Focus

---
The Living Planet
---
North American Birds Moving North As A Result Of Climate Change


Science Daily
2007-06-11 16:26:00

A new study in Conservation Biology analyzed the breeding ranges of North American birds over a 26-year period. The results show that the ranges have shifted northward; coinciding with a period of increasing global temperatures. These results were similar to those found in studies conducted in Great Britain, showing the worldwide extent of these distributional changes.

"Our results add to an increasing body of scientific research documenting the effects of global climate change," says study author Alan Hitch, a wildlife ecologist at Auburn University. "It also raises questions about whether moving north could be detrimental to some species."

Comment on this SOTT Focus

---

Up to eleven inches of rain, flooding in southwest Nebraska


AP
2007-06-12 15:57:00

Up to eleven inches of rain has lead to flooding in parts of southwest Nebraska. A flash Flood warning is in effect this for the area. Last night, the National Weather Service says storms dropped six inches or more of rain across Perkins and Chase counties. The service says the highest rain amount came just west of Champion, at nine-point-seven-three inches and over eleven inches was reported near Imperial. Extensive flooding has been reported in Imperial, Champion and Lamar. Officials say U-S Highway Six west of Imperial is under two feet of water, and many county roads in western Chase County are washed out. Frenchman Creek is also overflowing the dam at Champion.

Comment on this SOTT Focus

---

Flood may be third highest on record - Missouri

Wally Kennedy
The Joplin Globe
2007-06-12 15:49:00

Steve Henson knew it was raining hard, but when the water rose to within two feet of his house west of Waco on Monday, he decided that he and his expectant wife would head for higher ground.

"I did not want her to go into labor and we wouldn't be able to get out," he said. "There was so much rain, I could not believe it."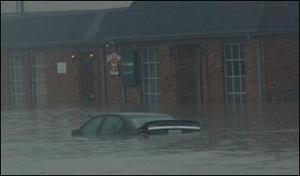 ©Roger Nomer
Water threatens to overtake a stalled car in Joplin, Missouri
Comment on this SOTT Focus
---

Series of Quakes Hit near Mammoth Lake California


KFSN-TV
2007-06-12 15:40:00

A 3.0 magnitude earthquake hit early Tuesday morning near Mammoth Lakes. It's one in a series of quakes since early in the morning.

People from Madera and Fresno have been calling the Action Newsroom Tuesday morning to report feeling the shaking.
The US Geological Survey says there have been 12 quakes since midnight. The strongest was a 4.9 magnitude quake.


Comment on this SOTT Focus

---

Torrential rain causes flooding and chaos in North Ireland


ireland.com
2007-06-12 15:35:00

Torrential rain caused massive flooding across Northern Ireland today as days of Mediterranean style weather ended in thunder storms causing traffic chaos.

The Northern Ireland Fire and Rescue Service (NIFRS) said it was inundated with more than 200 emergency calls in a 90-minute period as the province was the North was engulfed by the deluge.

Comment on this SOTT Focus

---

Interesting Discovery! Research shows leaderless, group dynamic honeybee organizing


EurekAlert
2007-06-12 14:09:00

Undergraduate education generally involves acquiring "received knowledge" - in other words, absorbing the past discoveries of scholars and scientists. But University of North Carolina at Charlotte senior biology major Andrew Pierce went beyond the textbooks and uncovered something previously unknown.


Pierce's discovery has to do with detecting a significant new detail concerning the behavior of the European honeybee - perhaps the most studied and economically important insect on Earth. Beyond agriculture, the finding may also have key implications for understanding the dynamics of all social animals, including man.


Pierce's recently reported his research in an article appearing in the behavioral biology research journal Ethology, with co-authors Lee Lewis and UNC Charlotte biology professor Stanley Schneider, Pierce's mentor. Pierce was first author on the paper - a rare achievement for an undergraduate.


"It was a very good work and an impressive achievement for a student researcher - he got a publication as an undergraduate," Schneider noted. "I really like working with our undergraduate honors students - they are so bright."


Pierce, age 22, has been working as a researcher in Schneider's lab for the past two years through a UNC Charlotte Honors College program that fosters research experiences for undergraduates.


Comment on this SOTT Focus

---
Health & Wellness
---
Bird Song Study Gives Clues to Human Stuttering


Weill Cornell Press Release
2007-06-12 13:51:00

Researchers at the Methodist Neurological Institute (NI) in Houston and Weill Cornell Medical College in New York City used functional MRI to determine that songbirds have a pronounced right-brain response to the sound of songs, establishing a foundational study for future research on songbird models of speech disorders such as stuttering, as reported today in Proceedings of the National Academy of Sciences U.S.A.


This is the first functional MRI study to determine how vocal sounds are represented within the brain of an awake zebra finch, a well-studied animal model of vocal learning. Because of many similarities between birdsong and human speech, this research could lead to a better understanding of the cause of stuttering and other speech problems.


By using specifically-tailored high-resolution fMRI in awake, mildly sedated zebra finches, scientists were able to look at the activity in the entire avian brain during song stimulation.


"While we found that both sides of the brain were activated by sounds in the songbirds, our research showed that the right side of their brains discriminated sounds better," said Santosh A. Helekar, M.D., Ph.D., lead author of the paper. Helekar is associate research professor of neuroscience at the Methodist NI and Weill Cornell. "If we can link what we find in birds to what we already know about human brains, then we could better understand the causes of speech disorders and, in the long-run, be able to provide treatments to patients."


Comment on this SOTT Focus

---

Alzheimer's cases around the world to quadruple by 2050

David Sanderson
Times Online
2007-06-11 12:35:00

A "global epidemic" of Alzheimer's disease could take hold by 2050 with the number affected set to quadruple, experts predicted yesterday.

The number of people living with the condition, which is estimated at 26 million worldwide, will grow to more than 106 million by 2050, with about half of them needing high-level care, the researchers said. The Alzheimer's Society said that about 1.7 million people will be living with the condition in the UK by 2050.

There are currently 700,000 people with dementia in the UK and 60,000 people die from it every year.

Comment on this SOTT Focus

---

21 people exposed to rabies in B.C. community


CBC News
2007-06-08 12:31:00

Twenty-one people in Maple Ridge are being vaccinated for rabies after a cat in the Lower Mainland city was diagnosed with the disease.

It's the first confirmed case of rabies in a domestic animal in B.C. since 1969, say health officials, who suspect the cat was bitten by a bat.

Comment on this SOTT Focus

---

Flashback: Agent Orange exposure tied to ills in Vietnam vets


Reuters
2006-11-10 12:00:00

Vietnam veterans who sprayed the herbicides like Agent Orange decades ago in Vietnam are at an increased risk of developing heart disease, diabetes, high blood pressure, and chronic breathing problems, a new study shows.

Agent Orange, a weed killer containing dioxin, was widely used during the Vietnam War, Dr. Han K. Kang of the Department of Veterans Affairs in Washington, DC and colleagues note in the American Journal of Industrial Medicine. Overall, two thirds of the herbicides used during the conflict contained dioxin.

Comment on this SOTT Focus

---

Two new cases of human H5N1 infection registered in Vietnam


RIA Novosti
2007-06-12 12:06:00

Health authorities in Vietnam said Tuesday two new cases of the lethal H5N1 strain of the bird flu virus have been registered in the country.


The head of Vietnam's Health Ministry's disease prevention department, Nguyen Huy Nga, told journalists two women in the country's north had contracted the virus, which makes the total number of cases registered in Vietnam this year four.


Reports in May said poultry, mainly unvaccinated ducks that died before reaching three months, had also been found to be infected with the H5N1 strain in five provinces.


Authorities in Vietnam say more than 100 million birds have so far been vaccinated, but fears of the disease spreading around the country still remains.


Comment on this SOTT Focus

---

Vietnam Agent Orange group takes its case to United States


AFP
2007-06-10 12:01:00

Today Quy has stomach cancer and liver and lung disease. His first child died at birth, he said, his 20-year-old son is paralysed, and his 18-year-old daughter is deaf and mute and suffers from mental retardation.

Quy blames dioxin, the highly toxic chemical and known carcinogen in the herbicides of which US forces sprayed up to 80 million litres (21 million US gallons) over southern Vietnam between 1961 and 1971.

Comment on this SOTT Focus

---
Science & Technology
---
NASA Scientist Finds a New Way to the Center of Mass of the Earth

Kandy Ringer
BBSNews
2007-06-11 16:30:00

Humans have yet to see Earth's center, as did the characters in Jules Verne's science fiction classic, "Journey to the Center of the Earth." But a new NASA study proposes a novel technique to pinpoint more precisely the location of Earth's center of mass and how it moves through space.

Knowing the location of the center of mass, determined using measurements from sites on Earth's surface, is important because it provides the reference frame through which scientists determine the relative motions of positions on Earth's surface, in its atmosphere and in space. This information is vital to the study of global sea level change, earthquakes, volcanoes and Earth's response to the retreat of ice sheets after the last ice age.

Comment on this SOTT Focus

---

Geologists may have found 'new' meteor crater - Montana

Annette Hayden
Havre Daily News
2007-06-11 16:03:00

Two geologists from Washington traveled to north-central Montana last week after an accidental discovery of what they believe is a "new" meteorite impact crater, located just southeast of Thornhill Butte.

The Havre Daily caught up with the two St. Martin University students at Havre's Fifth Street Grind and Short Stop Thursday. The discoverers were on their way to a local laundry to dry their clothes, drenched in the previous day's rain, before heading back out in their home-built buggy, "the Mule" designed for rugged terrain.

Joe D'Alelio and Gabriel Mainwaring of Shelton, Wash. Said they had been using Google Earth to locate fossil hunting grounds when "dumb luck" led the satellite view to scan over a formation familiar, yet very exciting. "We zoomed in and saw it had the form of a meteorite impact crater," D'Alelio said.

Comment on this SOTT Focus

---

Physicist cracks women's random but always lucky choice of X chromosome


Warwick Press Release
2007-06-12 13:30:00

A University of Warwick physicist has uncovered how female cells are able to choose randomly between their two X chromosomes and why that choice is always lucky.


Human males have both a X and a Y chromosome but females have two X chromosomes. This means that in an early stage in the development of a woman's fertilised egg the cells need to silence one of those two X chromosomes. This process is crucial to survival and problems with the process are related to serious genetic diseases.


Both X chromosomes in a cell have a suicide gene called XIST which, if activated, seals the chromosome behind a barrier of RNA preventing the activation of any other gene. Researchers believe that this suicide gene can be itself blocked by a plug of proteins forming on top of its specific location on the chromosome but they had little idea as to why this should happen randomly to one X chromosome's gene and not the other.


Comment on this SOTT Focus

---

Matter Flashed at Ultra Speed: Robotic Telescope Measures Speed of Material Ejected in Cosmic Death


ESO
2007-06-12 13:19:00

Using a robotic telescope at the ESO La Silla Observatory, astronomers have for the first time measured the velocity of the explosions known as gamma-ray bursts. The material is travelling at the extraordinary speed of more than 99.999% of the velocity of light, the maximum speed limit in the Universe.


"With the development of fast-slewing ground-based telescopes such as the 0.6-m REM telescope at ESO La Silla, we can now study in great detail the very first moments following these cosmic catastrophes," says Emilio Molinari, leader of the team that made the discovery.


Gamma-ray bursts (GRBs) are powerful explosions occurring in distant galaxies, that often signal the death of stars. They are so bright that, for a brief moment, they almost rival the whole Universe in luminosity. They last, however, for only a very short time, from less than a second to a few minutes. Astronomers have long known that, in order to emit such incredible power in so little time, the exploding material must be moving at a speed comparable with that of light, namely 300 000 km per second. By studying the temporal evolution of the burst luminosity, it has now been possible for the first time to precisely measure this velocity.


Comment on this SOTT Focus

---

The problem of space junk

Yury Zaitsev
RIA Novosti
2007-06-12 11:37:00

When it launched its first satellite, humankind not only opened a window on the Universe, but also unveiled a sort of garbage chute, which is quickly turning near-Earth space into a gigantic waste dump filled with space and rocket debris.


At altitudes of 200 kilometers and more, we find the last stages of launch vehicles, booster sections, nose cones and decommissioned and retired satellites. Add to that the ruins of exploded spacecraft, household refuse from manned craft and orbiting stations, and such "smaller items" as bolts, washers and even tools lost by astronauts as they work outside their craft.


Near-Earth space contains about 26,000 large man-made objects and three to five times as many small elements (assembly units, jettisoned cover lids, etc.). They constantly collide with each other, and each such collision increases the number of fragments by several times.


Comment on this SOTT Focus

---

Mysterious signal hints at subsurface ocean on Titan

David Shiga
NewScientist.com
2007-06-11 00:04:00

The tentative detection of low frequency radio waves on Saturn's icy moon, Titan, could signal an underground ocean of liquid water, a new study says. If so, it would be good news for the possibility of life beneath the surface of this bizarre world.

Titan's crust is thought to be made largely of water ice, kept rock hard by the prevailing surface temperature of -178° Celsius. But theoretical models of the moon's interior suggest that ammonia-rich water deep beneath the surface could stay liquid, perhaps forming a global ocean.

Comment on this SOTT Focus

---
Our Haunted Planet
---
Sarasota UFO challenges its witness

BILLY COX
Herald Tribune
2007-06-12 08:09:00

A few more UFO sightings over Arcadia, Port Charlotte, and Sarasota have been added to NUFORC's database this spring. Since they're all anonymously posted, it's hard to tell what, if any, impact these events have on witnesses.

But every now and then, someone like Cathy Mills will step up and volunteer some life-altering details.

Comment on this SOTT Focus

---
Don't Panic! Lighten Up!
---
'Leprechaun' robbery suspect arrested

Alex Branch
Star-Telegram
2007-06-12 12:59:00

Not exactly the top o' the morning for this lad.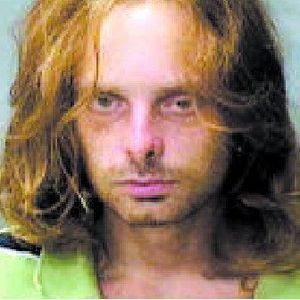 ©Star-Telegram
Richard Earl Kemp (aka 'Leprechaun Bandit')
Comment on this SOTT Focus
---

Australia: Man leaves finger behind after bar brawl


Associated Press
2007-06-12 12:32:00

A man who lost part of his finger in a bar brawl walked out of the pub and down the street before he noticed it was gone, police said Monday.


"He didn't know it was missing until he left the (pub)," police Inspector Mark Kellert told The Sydney Morning Herald newspaper. "He was out on the street and realized there was blood on his hand, noticed his finger was missing, and went to hospital."


Security guards later found the severed finger "and a large amount of blood" in the pub's bathroom, New South Wales state police said in a statement.


Comment on this SOTT Focus

---

Jumping sturgeon injures woman in Fla.


Associated Press
2007-06-12 12:27:00

A woman was injured over the weekend by a leaping sturgeon, the latest incident involving the flying fish on the Suwannee River, officials said.


Tara Spears, 32, of Bell, was knocked unconscious by the animal on Sunday while boating on the river north of Rock Bluff, the Florida Fish and Wildlife Conservation Commission reported.


She was taken to a hospital with non-life-threatening injuries and was expected to recover, the agency reported.


Comment on this SOTT Focus

---

Mystery of President Bush's watch in Albania

Richard Owen
The Times
2007-06-12 12:09:00

Now you see it. Now you don't.

George W Bush was visibly cheered when he received a hero's welcome in Albania at the weekend, with Albanians draped in the Stars and Stripes reaching out to hug him and shake his hand.

But perhaps the leader of the Western world should have exercised a little more caution and followed the standard advice to travellers in the Balkans to keep an eye on their belongings.

Film footage of the President being mobbed taken by the Albanian TV station News24 was broadcast today on Italian TV news bulletins and watched by thousands on YouTube - and it looks like Mr Bush may have had his watch stolen.


Comment on this SOTT Focus

---

Top criminals fixed Rio carnival result, say police

Tom Phillips
The Guardian
2007-06-12 10:06:00

Underworld figures fixed the results of Rio de Janeiro's carnival parade this year, according to Brazilian police. Press reports suggest that top criminals used bribes and a hitman to buy and intimidate members of the carnival jury.


The fixing allegations centre on Anisio Abraao David, 69, the honorary president of the Beija-Flor (hummingbird) samba school, whose empire includes a penthouse apartment on Copacabana beach complete with a swimming pool with a hummingbird motif on the bottom.


Comment on this SOTT Focus

---

Butts charged with stealing toilet paper from courthouse!


AP
2007-06-12 03:22:00

Police blame a woman named Butts for stealing toilet paper from a central Iowa courthouse, and while they're chuckling, the theft charge could put her in prison.

Comment on this SOTT Focus

---
---

Remember, we need your help to collect information on what is going on in your part of the world!
Send your article suggestions to: sott(at)signs-of-the-times.org

---
Click here to return to the Signs of the Times Archive
Click here for today's Signs Page