---
Sections on today's Signs Page:
---
SOTT Focus
---
No new articles.
Best of the Web
---
No new articles.
U.S. News
---
Sheen responds to New York Post Hit Piece

Charlie Sheen
Prison Planet
2007-05-28 17:22:00

Charlie Sheen has issued a brief statement in response to a New York Post article that claimed he was having "second thoughts" about his involvement in Loose Change Final Cut and the 9/11 Truth Movement as a whole.


Comment on this SOTT Focus

---

Propaganda Rag: SHEEN RETHINKS NUTTY 9-11 FILM


The New York Post
2007-05-27 16:59:00

Support for the loopy 9/11 documentary "Loose Change" - which argues that the World Trade Center terror attack was part of a secret U.S. government conspiracy - is quickly losing steam.

A source tells us Charlie Sheen "is having second thoughts" about being involved in an updated version of the flick, which has a huge following on YouTube. As Page Six reported in March, Sheen had agreed to narrate the ridiculous flick, presumably to give it some needed Hollywood sizzle.

Comment on this SOTT Focus

---

Grieving Moms vs. Washington Pols

Robert Parry
consortiumnews.com
2007-05-22 15:08:00

Every other month, Gold Star mother Teresa Arciola drives from her home in Westchester County, New York, to Arlington Cemetery in Virginia, sits on her son's grave and reads aloud from "Corduroy," his favorite baby book. Another mother spent winter afternoons in a sleeping bag stretched across her son's final resting place.

The unspeakable suffering of these parents of dead soldiers stands in marked contrast to the maneuvering over the Iraq War now underway across the river in Washington. There, George W. Bush appears quietly planning another escalation of the Iraq War - possibly doubling U.S. combat troops by Christmas - and many members of Congress are frightened of the political repercussions if they stand up to him.

Comment on this SOTT Focus

---

Group Threatens to Sue Pentagon Over Military Role in Evangelical Festival

Matt Renner
T r u t h o u t
2007-05-25 14:58:00

A scheduled three-day celebration of the US Air Force's 60th anniversary, sponsored in part by evangelical Christian organizations, has prompted a military watchdog group to threaten legal action against the Department of Defense.

The controversial event, sponsored by Task Force Patriot USA, an evangelical organization, and LifeWay Christian Resources, the publishing house of the Southern Baptist Convention (SBC), was described by the official publication of the Robins Air Force Base as "an official US Air Force 60th Anniversary event." The paper stated that the religious groups and the United States Air Force "have joined together to create a three-day celebration ..."

Comment on this SOTT Focus

---

They are joking, right?! Campaign Puts New Strain on Secret Service

Spencer S. Hsu
Washington Post
2007-05-30 11:03:00

The U.S. Secret Service expects to borrow more than 2,000 immigration officers and federal airport screeners next year to help guard an ever-expanding field of presidential candidates, while shifting 250 of its own agents from investigations to security details.


Burdened by the White House's wartime security needs, the persistent threat of terrorism and a field of at least 20 presidential contenders, the Secret Service was showing signs of strain even before the Department of Homeland Security ordered protection for Sen. Barack Obama (D-Ill.) as of May 3, the earliest a candidate has ever been assigned protection in an election season.


Its $110 million-plus budget for campaign protection -- two-thirds more than the record $65 million it spent for the 2004 election -- was prepared when the service did not expect to be guarding Obama or anyone else until January. The agency has already been forced to scale back its efforts to battle counterfeiting and cybercrime.


Comment on this SOTT Focus

---

US Prison Day Campers Don't Get Enough Schooling Warns OECD


Gulf Times
2007-05-30 08:57:00

School students in the US think they are just great at mathematics: but by the age of 14 they are two years behind the level in other industrialised countries and overall come 24th in a class of 29.

The causes are perplexing. But a central factor that has to be corrected is a climate of low school standards, low expectations and not enough exams.


Comment on this SOTT Focus

---
UK & Euro-Asian News
---
Drivers 'helpless' as petrol nears £1 a litre

Aislinn Simpson
Scotsman.com
2007-05-27 16:43:00

Average petrol prices could rise to £1 a litre within weeks because of global instability, supply shortages and refinery problems, experts warned last night.

Steady increases over recent weeks have prompted the AA motoring organisation to call for an independent inquiry by the Transport Select Committee into rising prices and tight supplies of petrol and diesel, saying drivers feel "helpless".

Comment on this SOTT Focus

---

China builds nuclear subs, US concerned

Demetri Sevastopulo and Mure Dickie
Financial Times
2007-05-25 15:33:00

China has surprised the Pentagon with the pace of development of a new class of submarine that threatens the nuclear balance by providing Beijing with a more robust nuclear deterrent.

According to the 2007 Pentagon China military power report - details of which were obtained by the FT - the Chinese navy is developing a fleet of five nuclear ballistic missile submarines [SSBNs]. The Jin class submarines would provide a much stronger nuclear deterrent because they would be armed with the new long-range JL-2 missile.

Comment on this SOTT Focus

---

UK lecturers urged to join academic boycott of Israel


IRNA
2007-05-30 13:03:00

Britain's largest professional body of lecturers Wednesday called upon its 120,000 members to join an international boycott of all Israeli academic institutions.


At its inaugural congress in Bournemouth, southern England, delegates from the University and College Union (UCU) were also urged to campaign for the restoration of all aid to the Palestinian Authority and revenues being withheld by Israel.


"Israel's 40 year occupation has seriously damaged the fabric of Palestinian society through annexation, illegal settlement, collective punishment and restriction of movement," a motion said raised by lecturers of Brighton and East London universities.


The resolution also deplored the denial of educational rights for Palestinians by "invasions, closures, checkpoints, curfews, and shootings and arrests of teachers, lecturers and students." "Congress condemns the complicity of Israeli academia in the occupation, which has provoked a call from Palestinian trade unions for a comprehensive and consistent international boycott of all Israeli academics," it said.


Comment on this SOTT Focus

---

UK: Pressure on Falconer as prison population hits all-time high. The crisis is expected to worsen when the smoking ban comes in on July 1

Clare Dyer
The Guardian
2007-05-30 12:24:00

The number of prisoners in England and Wales hit an all-time high of 80,846 yesterday, raising fears that the court service could run out of cell space this week if too few remand prisoners succeed in getting bail. The record numbers saw 450 prisoners housed in police and court cells made available for overspill.


At one point yesterday, prison governors estimated that every court cell on standby would be full by tonight, but later they said they expected enough remand prisoners to get bail to leave a few spaces available.


Comment on this SOTT Focus

---

Flashback: Prehistoric tooth found in wall


BBC News
2006-10-24 23:03:00

A tooth belonging to a prehistoric shark has been donated to a Kent museum after it was found in a wall.

The palm-sized incisor belonging to a creature called a Megladon was discovered by Angela Foster after her garden wall in Maidstone collapsed.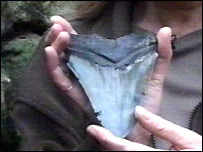 ©Unk
Angela Foster at first thought the tooth was an arrow head
Comment on this SOTT Focus
---

Phone mast locations kept from public

Geoffrey Lean
The Independent
2007-05-27 22:38:00

Mobile phone companies and the Government's official regulator are keeping information about the siting of radiation-emitting masts secret, despite rising concern about effects they may have on health.

The companies have stopped disclosing the sites of newly erected masts in what critics describe as "a fit of pique". And Ofcom, the communications industry regulator has refused to release information because it is afraid this might make the firms even more secretive.

Comment on this SOTT Focus

---
Around the World
---
9-11: an 'inside job?': Controlled demolition, claims California architect

Ross Romaniuk
SUN MEDIA
2007-05-28 17:08:00

Conspiracy buffs are in for a big treat.

California architect Richard Gage will be in Winnipeg this week to offer his explanation of why the World Trade Centre towers collapsed on Sept. 11, 2001.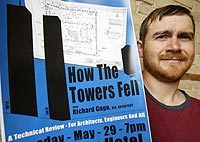 ©Marcel Cretain/Sun Media
Joe Hawkins holds a poster for an event that examines a theory about the terrorist acts of September 11, 2001.
Comment on this SOTT Focus
---

India: Fire traps many in Kanpur mall


NDTV
2007-05-30 11:12:00

A fire in the City Centre Mall in Kanpur has left many people trapped inside the building Wednesday evening.


There are no immediate reports of casualties. Television pictures showed people in the eight-storey building calling for help.


In a dramatic evacuation people moved out on ladders placed between buildings and an adjacent cinema hall was used in the rescue.


The fire started in the sixth floor of the building on the busy Mall Road.


Comment on this SOTT Focus

---

Indonesia gives death sentences to seven drug producers


Radio Australia
2007-05-30 08:33:00

Indonesia's Supreme Court has sentenced five Chinese men and two Europeans to death for producing millions of ecstasy pills.


They join an increasing number of other foreigners on Indonesia's death row, including nine Australians convicted of attempting to smuggle heroin out of Bali.


Geoff Thompson reports the validity of Indonesia's death penalty is currently being challenged by six members of the Bali Nine.


But a decision late yesterday has confirmed that the commitment to the death penalty remains undiminished.


Comment on this SOTT Focus

---

New Zealand Woman on Oxygen Dies After Electric Company Technician Cuts Power for Unapid Bill

RAY LILLEY
AP
2007-05-30 08:28:00

A 44-year-old woman who needed an electric oxygen pump to breathe died after an energy company cut the power to her home because of a $122 unpaid bill, her family claimed Wednesday.


Comment on this SOTT Focus

---

Japan to push ahead with humpback whale hunt


AFP
2007-05-30 01:54:00

Japan said Tuesday it was pushing ahead with its controversial plan to hunt humpback whales after key powers refused a compromise offer and despite warnings by Australia and New Zealand it would be a "provocative act."

"Japan is proceeding with its full research program as planned at this stage and this includes the humpbacks," Glenn Inwood, the spokesman for the Japanese delegation at the annual talks of the International Whaling Commission (IWC), told AFP.

Comment on this SOTT Focus

---

Indian Firm To Burn Toxic Waste from 1984 Industrial Disaster

By R.K. Misra
Associated Press
2007-05-29 21:48:00

AHMEDABAD, India -- An Indian firm plans to burn toxic waste from the Bhopal disaster, the world's worst industrial accident, despite environmentalists' objections.


Comment on this SOTT Focus

---
Big Brother
---
Revealed: Blair's secret stalker squad

Jason Lewis
The Daily Mail
2007-05-27 16:50:00

The Government has established a shadowy new national anti-terrorist unit to protect VIPs, with the power to detain suspects indefinitely using mental health laws.

The revelation is set to reignite the row over the Government's use of draconian measures to deal with terror suspects amid accusations they are abusing human rights.

The Fixated Threat Assessment Centre (FTAC) was quietly set up last year to identify individuals who pose a direct threat to VIPs including the Prime Minister, the Cabinet and the Royal Family.

Comment on this SOTT Focus

---

Del. farmers protest new security rules, registering propane and more

Jeff Montgomery
The News Journal
2007-05-29 14:18:00

Homeland security regulations set to take effect next month would require tens of thousands of businesses, including poultry growers, to register everything that could be considered a security hazard, even relatively small propane tanks.

The online surveys are designed to rank hazards at many types of companies, including soda bottlers, chemical plants, lawn care companies, rail carriers and municipal water treatment plants.

Comment on this SOTT Focus

---

Private Guards a Weak Link in Security

Larry Margasak
AP
2007-05-29 21:32:00

Legions of ill-trained, low-paid private security guards are protecting tempting terrorist targets across the U.S.

Richard Bergendahl is one of them. He fights the war on terrorism in Los Angeles, protecting a high-rise office building for $19,000 a year. Down the block is an even taller skyscraper, identified by President Bush as a building chosen for a Sept. 11-style airplane attack.

Comment on this SOTT Focus

---

Beverly Hills Considers Outdoor Smoking Ban


KTLA
2007-05-29 21:06:00

Officials in Beverly Hills will vote on a smoking ban tonight for outdoor diners.

The proposal prohibits smoking at restaurant patios and poolside bars and eateries at hotels.

Comment on this SOTT Focus

---
Axis of Evil
---
Israeli High Court permits Shin Bet's systematic torture of Palestinians: NGO

Aviram Zino
Ynet News.com
2007-05-30 12:06:00

Public Committee Against Torture in Israel says there is 'no effective barrier - not legal and certainly not ethical - that stands in the way of using torture'; Shin Bet in response: Interrogations help prevent thwart terror attacks

Comment on this SOTT Focus

---

Psycho Podhoretz 'hopes, prays' Bush will bomb Iran


Raw Story
2007-05-30 15:34:00

In a Wall Street Journal op-ed, prominent neoconservative Norman Podhoretz writes that he 'hopes' and 'prays' that President Bush will bomb Iran.

"Although many persist in denying it, I continue to believe that what Sept 11, 2001, did was to plunge us headlong into nothing less than another world war," writes the editor-at-large of Commentary, who also sits on the Council on Foreign Relations. "I call this new war World War IV, because I also believe that what is generally known as the Cold War was actually World War III, and that this one bears a closer resemblance to that great conflict than it does to World War II."

Comment on this SOTT Focus

---

Cheney Sounds Terror Warning At West Point's Graduation. Glimpse into psychopathy

Noam N. Levey
Los Angeles Times
2007-05-27 15:19:00

With the Bush administration laboring to persuade skeptical Americans to stick with its war effort, Vice President Dick Cheney delivered a graphic warning Saturday about the high stakes of the conflict in Iraq.

Comment on this SOTT Focus

---

Come on say it, LIE! GOP rivals embrace unproven Iraq-911 tie

Peter S. Canellos
The Boston Globe
2007-05-27 14:39:00

In defending the Iraq war, leading Republican presidential contenders are increasingly echoing words and phrases used by President Bush in the run-up to the war that reinforce the misleading impression that Iraq was responsible for the Sept. 11, 2001, attacks.

Comment on this SOTT Focus

---

Bush to Name Zoellick to Lead World Bank

By JEANNINE AVERSA
Associated Press
2007-05-29 21:23:00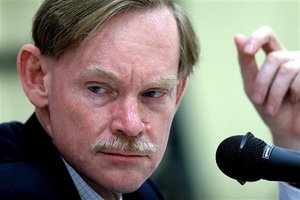 ©AP Photo/Alexandre Meneghini
President Bush has chosen Zoellick to lead the World Bank



WASHINGTON - Robert Zoellick, a nimble negotiator who has crisscrossed the globe as President Bush's trade chief and as the country's No. 2 diplomat, is the White House's choice to be the next World Bank president. Bush will announce the decision on Wednesday, according to a senior administration official.



Comment on this SOTT Focus

---
Middle East Madness
---
Sharon's Bastille Day Dream Materializes - Lebanon and the Planned US Airbase at Kleiaat

Franklin Lamb
Counterpunch
2007-05-30 14:21:00

On July 14, 1982, (Bastille Day) the late Bashir Gemayel sat with Ariel Sharon, Raphael Eytan, and Danny Yalon at the French flag draped Le Chef Restaurant in Ashifeyih, east Beirut for one of their working lunches.


Comment on this SOTT Focus

---

US Rescuers Ambushed in Iraq after Helicopter Shot Down, 10 Troops Killed

JOHN WARD ANDERSON
The Washington Post
2007-05-30 13:32:00

The U.S. military announced Tuesday that 10 American soldiers were killed in Iraq on Memorial Day, making May the deadliest month for U.S. troops in 2 1/2 years.


Comment on this SOTT Focus

---

American Al Qaeda 'catapults the propaganda', warns of attacks 'worse than 9-11'


AFP
2007-05-30 09:59:00

An American member of Al-Qaeda warned in an Internet video that US President George W. Bush should withdraw all his troops from Muslim land or face attacks worse than September 11.

Comment on this SOTT Focus

---

Freed innocent man to pay for jail time


BBC
2007-05-30 08:14:00

A 37-year-old man jailed for a crime he did not commit is being charged almost £7,000 for his time in prison.

Warren Blackwell from Woodford Halse, Northamptonshire, has been told the sum will be deducted from compensation to cover savings on rent and food.


Comment on this SOTT Focus

---

Two Palestinians killed in fresh Israeli air raid


AFP
2007-05-30 01:59:00

Two Palestinian militants were killed in an Israeli airstrike Wednesday after Palestinian president Mahmud Abbas announced plans to meet Israeli Prime Minister Ehud Olmert for the first time in almost two months.



Comment on this SOTT Focus

---

Desperate Iraqi Refugees Turn to Sex Trade in Syria

By KATHERINE ZOEPF
The New York Times
2007-05-29 22:38:00

MARABA, Syria - Back home in Iraq, Umm Hiba's daughter was a devout schoolgirl, modest in her dress and serious about her studies. Hiba, who is now 16, wore the hijab, or Islamic head scarf, and rose early each day to say the dawn prayer before classes.


Comment on this SOTT Focus

---
The Loan Gunmen
---
Ernst & Young partners charged in tax fraud case

Emily Chasan
Reuters
2007-05-30 12:35:00

Federal prosecutors on Wednesday accused four current or former partners of accounting firm Ernst & Young in a tax fraud conspiracy case arising out of the sale of tax shelters.

In an indictment filed in U.S. district court in Manhattan, prosecutors allege the defendants at the "Big Four" accounting firm created and marketed tax shelters from 1998 through 2004 based on false and fraudulent scenarios to allow wealthy individuals to reduce the federal taxes they would have to pay.

Comment on this SOTT Focus

---

The Cerberus-Chrysler deal: The case for public ownership of the auto industry

Editorial Board
World Socialist Web Site
2007-05-30 14:06:00

With the sale of Chrysler Corporation to the private equity firm Cerberus Capital Management, the most powerful Wall Street financial interests are in position to press ahead with their plans for a radical restructuring and downsizing of the North American auto industry. The buyout - the first by a private equity firm of a major auto producer - threatens the jobs and livelihoods of Chrysler's 80,000 workers in the US and Canada and sets a precedent for an intensified attack on all autoworkers.

The Cerberus takeover marks a new stage in the decades-long assault on the jobs and living standards of auto workers and industrial workers as a whole. It is the product not simply of the subjective greed of corporate executives and speculators, but of the crisis and failure of the capitalist system itself. Ever more brutally, the living standards of working people all over the world are being sacrificed to maintain a parasitic and socially destructive system that subordinates all social needs to the further enrichment of a financial elite.


Comment on this SOTT Focus

---

Short Sales Break Record on NYSE; Market Bulls Get More Bullish

Daniel Hauck and Michael Tsang
Bloomberg
2007-05-29 14:03:00

Short sellers are betting against U.S. stocks like never before as the Standard & Poor's 500 Index approaches an all-time high. That's making some of the biggest bulls even more optimistic.

''What the short seller appears to be doing is doubling down,'' said Kenneth Fisher, who oversees about $40 billion as chairman of Fisher Investments in Woodside, California. ''You love to see it, because if you believe there is a basic driver to the bull market, they're going to get run over.''

Comment on this SOTT Focus

---

Federal govt 'hiding' $1.3 trillion loss last year

Dennis Cauchon
USA Today
2007-05-30 07:36:00

Liability $516,348 per U.S. household

The federal government recorded a $1.3 trillion loss last year - far more than the official $248 billion deficit - when corporate-style accounting standards are used, a USA TODAY analysis shows.


Comment on this SOTT Focus

---
The Living Planet
---
NASA: Greenland snow melting faster, higher


Xinhuanet
2007-05-30 13:35:00

NASA, America's space agency, said Tuesday that

Greenland had more days of melting snow and at higher altitudes last year than the average established during the previous 18 years

that satellite measurements have been taken.

Areas along Greenland's western, southeastern and northeastern coast saw the largest number of melt days last year.

"The sensors detected that snowmelt occurred more than 10 days longer than the average over certain areas of Greenland in 2006," said Marco Tedesco, a scientist at the Joint Center for Earth Systems Technology, which is managed by NASA's Goddard Space Flight Center and the University of Maryland.

Comment on this SOTT Focus

---

Guinea: Strong earthquake hits Papua New Guinea's island

Zainab Osman
SomaliNet
2007-05-30 13:30:00

A magnitude 6.1 earthquake has struck the Papua New Guinea's island of New Britain, according to the U.S. Geological Survey.

The quake hit 740 km northeast of Papua New Guinea's capital of Port Moresby at 11:03 a.m. local time Tuesday (0103GMT) and the depth is 128 km below the earth's surface.

Comment on this SOTT Focus

---

Huge waves from one storm slam coasts some 6000 km apart


ESA
2007-05-30 12:31:00

Huge waves that struck Reunion Island and coastlines across Indonesia earlier this month all originated from the same storm that occurred south of Cape Town, South Africa, and were tracked across the entire Indian Ocean for some 10 000 kilometres over a nine-day period by ESA's Envisat satellite.


Waves reaching up to 11 metres devastated France's Reunion Island in the Indian Ocean when it slammed into the southern port of Saint Pierre on 12 May. Six days later waves created from the same storm measuring as high as seven metres began crashing into Indonesia coastlines from Sumatra to Bali, killing at least one person and causing some 1200 people to flee their homes.


Dr Bertrand Chapron of IFREMER, the French Research Institute for Exploitation of the Sea, and Dr Fabrice Collard of France's BOOST Technologies in Brest located and tracked the swells using standard processed Synthetic Aperture Radar (SAR) ESA Wave Mode products, as shown in the animation below.


Comment on this SOTT Focus

---

Freak snow, freezing temperatures and tropical storms hit across Europe


Daily Mail
2007-05-30 09:54:00

Freak snow, freezing temperatures and tropical storms across Europe are making the Bank Holiday washout here look almost pleasant.

In Spitzing in Germany, locals have been forced to wrap up after ten centimetres of snow brought out the snowploughs for the first time this year.

Comment on this SOTT Focus

---

Aboriginal whaling quotas renewed

Daisuke Wakabayashi and Yereth Rosen
Reuters
2007-05-30 09:35:00

The International Whaling Commission renewed a five-year whaling quota for indigenous people in the United States and Russia on Tuesday, allowing Alaska Natives to continue hunting bowhead whales for subsistence purposes.


By a consensus vote, Alaska Natives and the indigenous people of Chukotka, Russia, were allocated a shared catch limit of 280 bowhead whales over a period ending in 2012. The proposal maintained previous catch limits.


The whaling commission is holding its annual meeting near the icy coasts where Alaska Natives use whale meat as a staple in their diet and for cultural practices. The commission's U.S. delegation said its top priority was to obtain a renewal of their quota.


Comment on this SOTT Focus

---

Flashback: Moths drink the tears of sleeping birds

Debora MacKenzie
New Scientist
2006-12-20 09:20:00

A species of moth drinks tears from the eyes of sleeping birds using a fearsome proboscis shaped like a harpoon, scientists have revealed. The new discovery - spied in Madagascar - is the first time moths have been seen feeding on the tears of birds.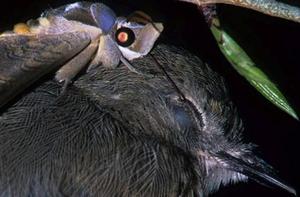 ©Roland Hilgartner / Mamisolo Raoilison
The moth uses its barbed proboscis (close-up below) to penetrate the eyelid of sleeping birds and drink tears
Comment on this SOTT Focus
---
Health & Wellness
---
Cancer Risks from Microwaves Confirmed

Dr. Mae-Wan Ho
ISIS
2007-05-24 16:16:00

Microwaves from wireless mobile phone transmitters may be more potent than lower frequency electromagnetic fields in promoting cancer.

Evidence linking weak electromagnetic radiation (EMR) to leukaemia and other cancers has been fast accumulating in recent years [1-3] ( Electromagnetic Fields Double Leukemia Risks , Mobile Phones & Cancer , SiS 18; Electromagnetic Fields, Leukaemia and DNA Damage , SiS 24). Such 'non-thermal' effects of EMR - due to levels well below that sufficient to bring about any heating - have been observed even before World War II [4] ( Non-Thermal Effects , SiS 17).

Comment on this SOTT Focus

---

Ethnic Weapons: Russia suspends human clinical tests abroad over terrorism threat


RIA Novosti
2007-05-30 10:47:00

A Russian daily reported Wednesday that Russia had suspended the export of human clinical specimens over bio terrorism concerns.


Kommersant said the move could affect dozens of patients and paralyze the Russian market for foreign clinical tests, which experts estimate is worth up to $150 million.


The paper said the decision came after a report on bio terrorism submitted by the head of the Federal Security Service (FSB) to the president in early May, which cites examples of major foreign medical centers using biological samples to develop genetic, "ethnically oriented" weapons.


Courier services DHL and TNT Express in Russia told their clients Tuesday that the suspension, effective as of May 29, was imposed by the Federal Customs Service, the paper said, adding a government resolution to this effect was signed by First Deputy Prime Minister Sergei Ivanov May 22.


Experts warn that the move would above all affect patients. "If this is true, it is an artillery strike against us," Alexei Mashchan, deputy head of the Pediatric Oncohematological Center, told Kommersant.


Comment on this SOTT Focus

---

'Expert' says: Dyslexia 'is just a middle-class way to hide stupidity'. And what about making a statement which reveals a lack of empathy?

Rebecca Camber
Daily Mail
2007-05-30 10:03:00

Dyslexia is a social fig leaf used by middle-class parents who fear their children will be labelled as low achievers, a professor has claimed.


Julian Elliott, a leading educational psychologist at Durham University, says he has found no evidence to identify dyslexia as a medical condition after more than 30 years of research.


"There is a huge stigma attached to low intelligence," he said.


"After years of working with parents, I have seen how they don't want their child to be considered lazy, thick or stupid.


"If they get called this medically diagnosed term, dyslexic, then it is a signal to all that it's not to do with intelligence."


Comment on this SOTT Focus

---

WHO urges smoking ban in public places. Don't you get it, sheep? It's for your own good!

Bradley S. Klapper
Associated Press
2007-05-30 09:42:00

The U.N. health agency on Tuesday issued its strongest policy recommendations yet for controlling tobacco use, urging all countries to ban smoking at indoor workplaces and in public buildings.


"The evidence is clear. There is no safe level of exposure to secondhand tobacco smoke," said Dr. Margaret Chan, director-general of the World Health Organization.


Tobacco use is the world's leading cause of preventable death, accounting for 10 percent of adult fatalities, according to WHO. It is responsible for 5.4 million deaths each year, a figure that is expected to rise to 8.3 million by 2030, the agency says.


Increasing numbers of nonsmokers will also die unless governments take action, WHO said in its 50-page report. It said governments of both rich and poor countries should declare all public indoor places smoke-free, by passing laws and actively enforcing measures to ensure that "everyone has a right to breathe clean air, free from tobacco smoke."


Comment on this SOTT Focus

---

US quarantines Air France, Czech Air passenger for TB, urges tests


AFP
2007-05-30 02:14:00

US health officials Tuesday urged that hundreds of travelers aboard two Air France and Czech Air flights be tested for a drug-resistant tuberculosis carried by a passenger now quarantined.

Julie Gerberding, head of the US Centers for Disease Control and Prevention (CDC), told reporters that the drug-resistant XDR strain of tuberculosis can cause severe illness or death.



Comment on this SOTT Focus

---

Drug-resistant bugs on rise outside hospital-study


Reuters
2007-05-28 22:41:00

Drug-resistant bacteria are infecting more people in community settings such as prisons and public housing, and not just in hospitals where such "superbugs" can run rampant, researchers said on Monday.

Over a five-year period, researchers at a Chicago hospital found a seven-fold increase in drug-resistant staph infections that had been contracted outside of any hospital.

Comment on this SOTT Focus

---
Science & Technology
---
Mystery of Runaway Black Holes Solved

Jeanna Bryner
Space.com
2007-05-30 12:57:00

A runaway black hole pummeling through space at millions of miles per hour should be as easy to spot as a dog dragging along its leash and stake.


Blazing trails of X-rays, produced by material getting sucked into the voracious beast, would be a dead giveaway of the escapee. Plus merged galaxies missing their black holes, sort of "empty nests," should be quite frequent.


But astronomers searching for such evidence have come up empty-handed, suggesting ejected black holes are less common than theory has predicted.


Two teams of astronomers presented research here today at a meeting of the American Astronomical Society revealing which galaxies could be potential launch platforms for an ousted black hole as well as reasons why ejectees are so rare.


Comment on this SOTT Focus

---

Radio 'screams' from the Sun warn of radiation storms


ESA
2007-05-30 12:37:00

ESA's SOHO has helped uncover radio screams that foretell dangerous Coronal Mass Ejections, or CMEs, which produce radiation storms harming infrastructure on ground, in space as well as humans in space.


Scientists made the connection by analysing observations of CMEs from ESA/NASA's SOHO (Solar and Heliospheric Observatory) and NASA's Wind spacecraft. The team includes researchers from Goddard, the Catholic University of America, Washington, the Naval Research Laboratory, Washington, and the Observatory of Paris.


A CME is a solar slam to our high-tech civilisation. It begins when the Sun launches a thousand million tons of electrically conducting gas (plasma) into space at millions of kilometres per hour.


A CME cloud is laced with magnetic fields and when directed our way, smashes into Earth's magnetic field. If the magnetic fields have the correct orientation, they dump energy into Earth's magnetic field, causing magnetic storms. These storms can cause widespread blackouts by overloading power line equipment with extra electric current.


Comment on this SOTT Focus

---

Ground breaking research to end in tears


Research Australia
2007-05-30 02:55:00

University of Western Sydney researcher, Associate Professor Tom Millar has approached the problem of dry eyes from a new perspective. He re-examined the structure and function of natural tears to find new clues for creating longer lasting artificial tears.

Tears protect and lubricate the cornea and conjunctiva of the eye and help provide a clear medium through which we see.

Comment on this SOTT Focus

---

Recalculating the explosion date of the Crab Nebula supernova

Rebecca Bailey
Dartmouth College Office of Public Affairs
2007-05-29 21:24:00

While the Crab Nebula's location in the sky agreed very well with the reported position of this bright new star, several studies of the expanding cloud of stellar debris unexpectedly indicated that it was expanding much too fast to be associated with a supernova explosion in 1054. Instead, these studies pointed later in time, toward an explosion date in the first half of the 12th century.

A team of astronomers has recalculated the explosion date of the famous Crab Nebula supernova and found excellent agreement between their measurements and the classic date of the 1054 A.D. appearance of a bright "guest star" seen in the constellation of Taurus the Bull.

Comment on this SOTT Focus

---
Our Haunted Planet
---
Channel Islands UFO spotter shocked by worldwide interest

Joel de Woolfson
This is Guernsey
2007-05-30 13:26:00

The Aurigny pilot's story was featured in The Sun and The Independent, which dedicated a whole page.
The internet took the sighting global, with hundreds of UFO websites featuring it.

But the biggest surprise for Captain Bowyer was a small article in the New Zealand Herald, that country's largest paper.

Comment on this SOTT Focus

---

UFO buffs to offer 'proof' of aliens


AP
2007-05-30 12:44:00

Proof that a 12-foot creature with fiery red eyes spooked Braxton County schoolchildren in 1952. Proof that aliens crashed a spaceship near Roswell, N.M., in 1947. Proof that the U.S. military engaged alien spaceships in battle over the Atlantic Ocean more than 50 years ago.


Comment on this SOTT Focus

---

Meteorites hit near Redwater, passed over Edmonton

Nicki Thomas
EDMONTON SUN
2007-05-29 20:41:00

The fireball that passed over Edmonton Friday night may have left more behind than experts originally thought.

"There's a good chance meteorites might have fallen," the University of Calgary's Dr. Alan Hildebrand told Sun Media.

Witnesses in Edmonton reported red fragments continuing toward the earth after the intense light of the meteor subsided.

Comment on this SOTT Focus

---
Don't Panic! Lighten Up!
---
Dogs Playing Pool


The Daily Mail
2007-05-30 17:22:00

Border collie Blue has amazed pub-goers by playing pool with his paws.

The pooch jumps up so his front two paws are resting on the table and then, standing on his hind legs next to owner Jeff Davies, looks down the cue sight. When he has a shot on, he sinks the ball into the pocket.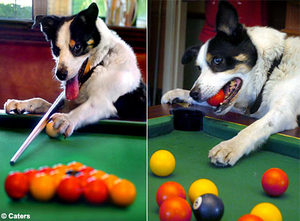 ©Caters
The 'Hurricane Higgins' of the dog world lines up a shot.
Comment on this SOTT Focus
---

Robber Asks Clerk for Date During Hold Up


WOAI
2007-05-30 12:28:00

A Milwaukee robber held up a store and then hit on the store clerk over the weekend.


Two men robbed a Milwaukee, Wisconsin U-Haul store Sunday afternoon. But one of them wanted more than cash.


"He stuck around and was trying to get the female employees number," U-Haul General Manager Patrick Sobocinski said. "She said he was just saying, 'Hey baby, you're pretty fine,'" Sobocinski added.


The two robbers pulled up to the store in a late 1980's model Cadillac. They got out then walked inside.


Comment on this SOTT Focus

---

Southern Chinese province to ban men from keeping mistresses


RIA Novosti
2007-05-30 10:53:00

Southern China's Guangdong Province, one of the country's richest regions, is set to draft a new law banning married men from keeping mistresses, local media reported Wednesday.


The law goes one step further than a new set of anti-corruption and ethics laws released by the central government on Sunday, which include banning government officials from using their influence to benefit their lovers.


The new law in Guangdong, also known as the Canton Province, is part of a set of laws on women's rights. The legislation forbids married men from setting up "love nests" for their mistresses, and is aimed at "preserving and enhancing marital stability," the Beijing News quoted Guangdong lawmaker Cheng Jingchu as saying.


The practice of Chinese businessmen setting up second homes for their lovers has become widespread in the country in recent decades.


Comment on this SOTT Focus

---

Artist eats corgi in royal fox protest stunt


AFP
2007-05-30 02:37:00

A British artist ate a corgi dog, famous for being Queen Elizabeth II's favourite breed, in protest after a group including her husband Prince Philip allegedly killed a fox earlier this year.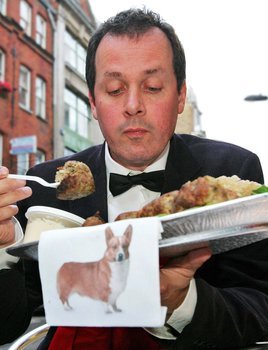 ©AFP
Mark McGowan ate a corgi in protest against the shooting of a fox by Prince Philip
Comment on this SOTT Focus
---

Light-fingered Japanese thieves nab 80kg gold tub


Reuters
2007-05-30 02:29:00

TOKYO - Japanese police are scratching their heads over how a gold bathtub worth 120 million yen ($988,100) and weighing some 80 kg was stolen from a hotel near Tokyo.


Staff discovered early on Wednesday that someone had stolen the tub from a shared bathroom for men on the 10th floor of the hotel in Kamogawa, by the Pacific Ocean.

Comment on this SOTT Focus

---

Japanese beer for children - Kodomo no nomimono


Cscout
2007-05-29 22:47:00

Can you imagine these products being marketed overseas? With so much concern about "the children" these days we doubt that fake beer for kids would make it past the pitch stage at any beverage company. Well, almost any company. Sure, there's the sparkling grape juice that kids sometimes get on New Years Eve in lieu of champagne, but to have it specifically marketed to kids is a different matter. While Americans would likely overreact and freak out, we haven't seen any such reaction here in Japan and these drinks have been out for a couple of years now.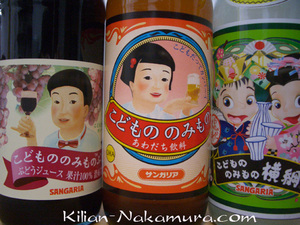 ©Unk
Comment on this SOTT Focus
---
---

Remember, we need your help to collect information on what is going on in your part of the world!
Send your article suggestions to: sott(at)signs-of-the-times.org

---
Click here to return to the Signs of the Times Archive
Click here for today's Signs Page