---
Sections on today's Signs Page:
---
SOTT Focus
---
Eyewitness to History: The Battle of Los Angeles

C. Scott Littleton
SOTT
2007-05-24 08:19:00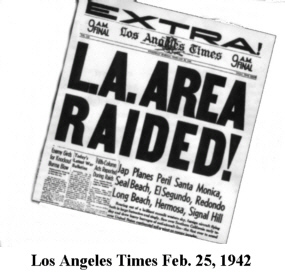 ©N/A
Los Angeles Times Feb. 25, 1942



I'm Professor of Anthropology, Emeritus, and former Chair of the Department of Anthropology at Occidental College in Los Angeles, CA. I joined the Oxy Faculty in 1962 and retired at the end of the spring semester, 2002, after forty years of teaching anthropology classes, as well as a variety of Cultural Studies courses and seminars in Oxy's Core Program in the Liberal Arts.

My professional specialties range across a wide spectrum and include comparative Indo-European mythology and folklore, cognitive and symbolic anthropology, urban anthropology, the origin and distribution of the Arthurian and Holy Grail legends, and Japanese culture, both ancient and contemporary, with an emphasis on Shinto, the indigenous Japanese religion. Indeed, I've spent close to three years in Tokyo studying a neighborhood Shinto shrine and its annual matsuri, or festival. I've also had a long-standing interest in the UFO phenomenon and its possible implications for mythology and folklore.

In terms of the current spectrum of anthropological theory and method, I would define myself as a "postmodern materialist," which is a fancy way of saying that I'm extremely eclectic in my approach to the discipline. Indeed, in my humble opinion, one of the most important problems facing contemporary anthropology is an unwillingness on the part of all too many of its practitioners to take seriously theories and methods that lie outside their own narrow specialties.

I'm a native Californian. I was born in Los Angeles and grew up in Hermosa Beach, and it was an incident during my growing up years that I want to talk about here: the "Battle of Los Angeles," the night that a UFO was fired upon by the U.S. repeatedly, with no apparent effect. I was an eye witness.

Comment on this SOTT Focus

---
Best of the Web
---
Is Bush Leading Us to Nuclear War?

William D. Hartung and Frida Berrigan
In These Times - AlterNet
2007-05-23 17:51:00

While the United States demands that other countries end their nuclear programs, the Bush administration is busy planning a new generation of nuclear weapons known as "Complex 2030."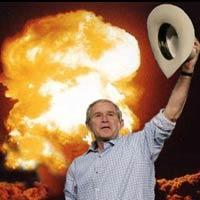 ©n/a
Dr. Strangelove?
Comment on this SOTT Focus
---
U.S. News
---
Racial demons resurface with nooses on Louisiana tree


AFP
2007-05-24 15:56:00

The racial demons of the Old South have resurfaced in a rural Louisiana town where black students who tried to sit on the white side of the school yard were met by three hangmen's nooses dangling from a tree.

The students and their parents were outraged by the stark reminder of the mob lynchings which had terrorized Southern US blacks until just a few decades ago.

Comment on this SOTT Focus

---

Ron Paul, CIA Big, to Rebut Giuliani at Press Confab, May 24


FreeMarketNews.com
2007-05-23 15:47:00

Presidential candidate Ron Paul (R-TX) will be joined by Michael Scheuer, former head of the CIA's Bin Laden Unit, to discuss flawed American foreign policy and its implications on terrorism, security and Iraq.

Comment on this SOTT Focus

---

Running on empty: Hit by high prices and fees, some gas station owners stop selling fuel

Thomas Content
JSOnline
2007-05-23 14:38:00

As gas prices hit another record last Friday, Jeff Curro couldn't take it anymore.

He wasn't a motorist at the pump fed up by the blur of numbers spinning higher as he filled his tank.

Curro is a gas station owner who has stopped selling gas to his own customers.

Comment on this SOTT Focus

---

No Surprise! Democrats give up on Iraq timeline

Anne Flaherty
AP
2007-05-24 14:27:00

Democratic presidential contenders on Capitol Hill will cast critical votes on the Iraq war this week, when lawmakers decide on a $120 billion bill to keep military operations afloat through September. The House planned to vote Thursday with the Senate to follow suit by week's end.



The legislation does not set the deadline for U.S. troop withdrawals many Democrats wanted

. Unable to achieve the two-thirds majority needed to override one presidential veto because of such a deadline - or the threat of another -

Democratic leaders announced Tuesday they would proceed to provide money for the war anyway because they wanted to support the troops

.

Comment on this SOTT Focus

---

Bush wants tougher sanctions on Iran

Terence Hunt, AP White House Correspondent
Associated Press
2007-05-24 12:00:00

President Bush said Thursday he would work with allies to beef up sanctions on Iran after a new U.N. report showing that Tehran is accelerating its uranium enrichment program in defiance of international demands.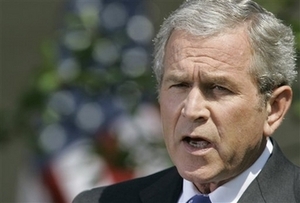 ©Associated Press
President Bush speaks at a news conference in the Rose Garden of the White House in Washington, Thursday, May 24, 2007. (AP Photo/Manuel Balce Ceneta)
Comment on this SOTT Focus
---

Engine coolant found in toothpaste from China; U.S. begins inspections


Reuters
2007-05-24 10:32:00

WASHINGTON - U.S. health officials are beginning to check all shipments of toothpaste coming from China after reports of tainted Chinese products in other countries, a government spokesman said Wednesday.


Comment on this SOTT Focus

---
UK & Euro-Asian News
---
Autistic boy ordered to change T-shirt

Lesley Richardson
Press Association Newsfile
2007-05-24 15:03:00

A 10-year-old autistic boy was ordered to change his T-shirt because its message was deemed politically incorrect, his parents said today.


Comment on this SOTT Focus

---

Blocked by U.S., China finds it own way to space

Jim Yardley
International Herald Tribune
2007-05-23 14:34:00

For years, China has chafed at efforts by the United States to exclude it from full membership in the world's elite space club. So, lately, China seems to have hit on a solution: create a new club.

Beijing is trying to position itself as a space benefactor to the developing world - the same countries, in some cases, whose natural resources China covets here on Earth. The latest, and most prominent, example came last week when China launched a communications satellite for Nigeria in a project that serves as a tidy case study of how space has become another arena where China is trying to exert its soft power.

Comment on this SOTT Focus

---

Kyrgyzstan will not allow U.S. to use airbase against Iran - PM


RIA Novosti
2007-05-24 10:08:00

Kyrgyzstan will not allow the U.S. to use an airbase on the republic's territory to wage war on Iran or Iraq, the prime minister said Thursday.


Located south of Bishkek, the country's capital, Manas airbase is the only U.S. base in post-Soviet Central Asia since Uzbekistan evicted American troops from its territory in 2005. Recent media reports hinted at the possibility of the U.S. using the base in the Central Asian state to deliver air strikes against Iran.


"We will on no account allow the airbase in Manas to be used to launch strikes on Iran or Iraq. Everything must be within the framework of the agreement," Almaz Atambayev told journalists.


At the same time, Atambayev said Kyrgyzstan cannot break the agreement with the U.S. on the deployment of the international antiterrorism coalition's airbase at the airport. "That is a very complicated agreement, and it is practically impossible to break," he said.


Comment on this SOTT Focus

---

Death toll in Siberia mine blast rises to 35


RIA Novosti
2007-05-24 07:29:00

A methane explosion in a coal mine in western Siberia Thursday morning killed 35 miners, three miners are missing, a Russian emergencies ministry spokesperson said.

The methane explosion at the Yubileinaya coal mine in the Kemerovo region, Russia's largest coal producing area, occurred at 7.40 a.m. Moscow time (11.40 a.m. local time, 3.40 a.m. GMT), when 217 miners were working underground. Different sources say 178 or 180 miners have been brought to the surface, with five to seven people injured.

Comment on this SOTT Focus

---

Flashback: Berezovsky's Dizzying Ups and Downs - Why He Has a Grudge Against Putin


SOTT
2007-03-30 10:18:00

Boris Berezkovsky, implicated in the Litvenenko murder by Russian authorities, has a personal grudge against Vladimir Putin. Putin wouldn't let him buy his way to the top as Yeltsin did.

In January 2006, Berezovsky stated in an interview to a Moscow based radio station that he was working on overthrowing administration of Vladimir Putin by force. Later that year, in November, Berezovsky accused Putin of ordering the poisoning of FSB defector and fellow dissident Alexander Litvinenko, who also lived in exile in the UK. The two were close associates. Berezovsky said he had no doubts that the Russian authorities were behind the poisoning.

A rich man with a grudge - especially with Israeli citizenship - is an easy tool in the hands of anyone who wishes to smear Putin for declining to join the frenzied witch hunt against Muslims, Iran in particular.

Comment on this SOTT Focus

---

Lugovoi be aware! Berezovsky says you are a dead man.

Tariq Panja
Associated Press / Forbes
2007-05-24 04:03:00

Russian billionaire Boris Berezovsky said Wednesday that the life of the man accused of killing former spy Alexander Litvinenko could now be in danger because of what the suspect knows about the plot.


British prosecutors said they have sufficient evidence to charge Andrei Lugovoi with the killing of Litvinenko, a former KGB agent who died in November after being poisoned by the radioactive substance polonium-210.


Berezovsky told The Associated Press that the poisoning had been carried out on behalf of the Russian government and that Lugovoi could be "killed within the next two or three years" because of the information he knows.


Comment on this SOTT Focus

---
Around the World
---
Australian jailed for plot to bomb Chinese restaurants


AFP
2007-05-24 07:28:00

An Australian man was jailed for more than two years Thursday for involvement in a white supremacist conspiracy to firebomb Chinese restaurants.


John Van Blitterswyk, 56, was convicted of plotting to attack four Chinese restaurants in the Western Australian state capital, Perth, in 2004 with members of the neo-Nazi Australian Nationalist Movement (ANM).


Judge Michael O'Sullivan called Van Blitterswyk "un-Australian" and sentenced him to two years and four months in jail.


Comment on this SOTT Focus

---

Tamil Tigers strike Sri Lanka capital, naval base


AFP
2007-05-24 07:25:00

Tamil Tiger rebels blew up an army bus in Sri Lanka's capital Thursday, killing at least one soldier, just hours after the guerrillas said they had also stormed a naval base and killed 35 sailors.

The escalation in violence came days after the Tigers, who have been fighting for a separate state for 35 years, vowed they would never return to peace talks unless the government halted a military campaign against them.

Comment on this SOTT Focus

---

Suspect in Toronto school shooting still at large

Jim Junkin, Austin Delaney and John Musselman
CTV Inc.
2007-05-23 21:35:00

School violence in Toronto leaves one dead.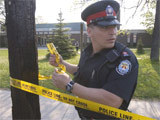 ©CP Canadian Press
A Police officer strings tape at C.W. Jefferys Collegiate Institute in Toronto on May 23, 2007.
Comment on this SOTT Focus
---
Big Brother
---
Police put 100,000 innocent children on DNA database

James Slack
Daily Mail
2007-05-23 17:41:00

The number of innocent children placed on the Government's vast DNA database for life has quadrupled in the past year to more than 100,000, it has emerged.

The astonishing increase, which follows a controversial change to the law, was described by opposition MPs as an "extremely sinister development".

It will fuel concerns that police are targeting for arrest youngsters who have done nothing wrong, simply to get their hands on their DNA.

Comment on this SOTT Focus

---

Google is watching you - and soon your DNA as well

Robert Verkaik
The Independent
2007-05-24 16:39:00

Google, the world's biggest search engine, is setting out to create the most comprehensive database of personal information ever assembled, one with the ability to tell people how to run their lives.

In a mission statement that raises the spectre of an internet Big Brother to rival Orwellian visions of the state, Google has revealed details of how it intends to organise and control the world's information.

The company's chief executive, Eric Schmidt, said during a visit to Britain this week: "The goal is to enable Google users to be able to ask the question such as 'What shall I do tomorrow?' and 'What job shall I take?'."

Comment on this SOTT Focus

---

Papers Please - and Your Biometric Data

Kurt Nimmo
Another Day in the Empire
2007-05-21 09:45:00

According to the New York Times, by way of Raw Story, the immigration bill currently wending its way through Congress "would require employers to re-verify the identity of every single person currently employed in the United States. Not only would it place a considerable burden on both government and business, but the verification system currently being tested has shown a significant rate of error."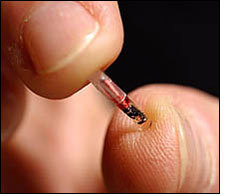 ©N/A
Comment on this SOTT Focus
---

'Super wardens' go on patrol

Alan Salter
Manchester Evening News
2007-05-23 11:38:00

PRIVATELY-employed 'super wardens' are to go on patrol in Greater Manchester wearing head-mounted video cameras.

The 20 parking attendants, who work for NCP Services, will be the first in the country to be issued with the equipment.


©Unk
"Tony" the Traffic Warden with his CCTV headset
Comment on this SOTT Focus
---

Ottawa's no-fly list won't sidetrack U.S. plans

JIM BRONSKILL
Canadian Press
2007-05-22 06:11:00

Ottawa - Canadian airlines will continue using the United States no-fly list even after the federal government unfurls its own roster of barred passengers next month.

A spokesman for the group representing Canadian airlines said carriers will "continue to use a wide variety of sources" to decide who is allowed to board flights.

Comment on this SOTT Focus

---
Axis of Evil
---
Bush grants presidency extraordinary powers


WorldNetDaily.com
2007-05-23 15:36:00

President Bush has signed a directive granting extraordinary powers to the office of the president in the event of a declared national emergency, apparently without congressional approval or oversight.

Comment on this SOTT Focus

---

Israel seizes Hamas leaders

Atef Sa'ad
Reuters
2007-05-24 10:19:00

Israeli forces seized a Palestinian cabinet minister and more than 30 other officials on Thursday in a new phase of a crackdown on Hamas Islamists that a United Nations envoy described as "troubling".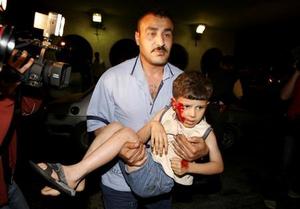 ©Reuters
A man carries a wounded Palestinian boy after an Israeli air strike in Gaza early May 24, 2007. REUTERS/Ibraheem Abu Mustafa
Comment on this SOTT Focus
---

Bush's Convenient Declassifications

Adam Howard
AlterNet
2007-05-23 08:52:00

President Bush releases classified Al Qaeda info in the hopes that it'll boost war support; it won't.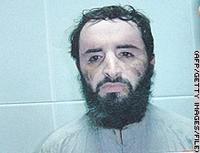 ©AFP/Getty
Now imprisoned and tortured Abu Faraj al-Libbi, was captured in Pakistan in 2005. He is now in American military custody in the Guantanamo Bay detention camp.
Comment on this SOTT Focus
---

"Shocking!" and extremely convenient: Iranian money found in Baghdad raid-U.S. military


Reuters
2007-05-24 07:30:00

A large quantity of Iranian currency was found when U.S. troops uncovered a cache of bomb-making materials in a raid on a Shi'ite stronghold in western Baghdad on Wednesday, the U.S. military said.


The United States has accused Iran of fomenting violence in Iraq by backing Shi'ite militias, and of providing weapons and the technology for particularly deadly roadside bombs.


The military said two militants were killed in Wednesday's raid and 19 people were detained during a search of 11 buildings in Sadr City, a sprawling Shi'ite slum which is a stronghold of anti-American cleric Moqtada al-Sadr.


"The individual targeted during the raid is suspected of facilitating weapons shipments from Iran to secret cell terrorist elements in Baghdad, Basra and Maysan provinces," the U.S. military said in a statement.


Comment on this SOTT Focus

---

Orwell spins in his grave: Iran 'plans attacks on British nuclear plants'

MICHAEL SETTLE
The Herald
2007-05-24 07:02:00

Iran is conducting reconnaissance missions on Britain's nuclear power stations in preparation for retaliatory attacks should the West strike against Tehran's nuclear installations, a European security analyst told MPs yesterday.

Comment on this SOTT Focus

---

Israeli Militants Invade West Bank, Kidnap Palestinian Lawmakers

ALI DARAGMEH
The Guardian
2007-05-24 06:51:00

NABLUS, West Bank (AP) - Israeli troops in the West Bank arrested more than 30 senior Hamas members Thursday, the army said, including a Cabinet minister, legislators and mayors.


Comment on this SOTT Focus

---
Middle East Madness
---
Rising anti-Semitism in Israel meets state's blind eye


International The News
2007-05-24 15:50:00

The number of incidents with a neo-Nazi, fascist or anti-Semitic streak has increased dramatically over the past 15 years in the Jewish state, which prides itself of being a safe haven for Jews from all over the world, according to the Dmir Centre, which monitors and assists victims of such attacks.

Comment on this SOTT Focus

---

Children of the dust

John Pilger
New Statesman
2007-05-24 14:17:00

As the Israeli army attempts to imprison an entire nation, it is the youngest who suffer most. Half of all Palestinians killed in the past six years are children.


Comment on this SOTT Focus

---

Inside Narh al-Bared and Bedawi Refugee Camps - Who's Behind the Fighting in North Lebanon?

Franklin Lamb
Counterpunch
2007-05-24 14:08:00

Wearing a beat-up ratty UNCHR tee-shirt left over from Bint Jbeil and the Israeli-Hezbollah July probably helped. As did, I suspect, the Red Cross jersey, my black and white checkered kaffieyh and the Palestinian flag taped to my lapel as I joined a group of Palestinian aid workers and slipped into Nahr el-Bared trying not to look conspicuous.


Comment on this SOTT Focus

---

Opium: Iraq's deadly new export following on the heels of another US "intervention"

Patrick Cockburn
Independent
2007-05-24 08:02:00

Amid the anarchy, farmers begin to grow opium poppies, raising fears that the country could become a major heroin supplier
Farmers in southern Iraq have started to grow opium poppies in their fields for the first time, sparking fears that Iraq might become a serious drugs producer along the lines of Afghanistan.


Comment on this SOTT Focus

---

100 Iraqis killed, found dead across nation after three months of US surging

ROBERT H. REID
AP
2007-05-24 07:07:00

A car bomb exploded Tuesday at an outdoor market in a Shiite area of Baghdad, killing 25 people and wounding at least 60 - the deadliest in a string of attacks that stoked sectarian tension in and around the capital.

Comment on this SOTT Focus

---

Palestinians make push for peace as Yahweh's storm troopers bomb, kidnap, and destroy during jewish holiday

SARAH EL DEEB
Independent Record
2007-05-24 06:56:00

Moderate Palestinian President Mahmoud Abbas and Prime Minister Ismail Haniyeh of Hamas made a new push Wednesday to restore a cease-fire with Israel that had collapsed under a barrage of Hamas rocket fire.

Comment on this SOTT Focus

---
The Loan Gunmen
---
Oil Industry Says Biofuel Push May Hurt at Pump

Jad Mouawad
The New York Times
2007-05-24 14:45:00

Gas prices are spiking again - to an average of $3.22 a gallon, and close to $4 a gallon in many areas.

And some oil executives are now warning that the current shortages of fuel could become a long-term problem, leading to stubbornly higher prices at the pump.

They point to a surprising culprit: uncertainty created by the government's push to increase the supply of biofuels like ethanol in coming years.

Comment on this SOTT Focus

---

Regional currency to replace dollar in Argentina-Brazil trade


RIA Novosti
2007-05-24 14:41:00

Argentina and Brazil, South America's two largest economies, will drop the U.S. dollar in favor of a regional currency in their bilateral trade starting in October 2007, Argentine Economics Minister Felisa Miceli said.


Comment on this SOTT Focus

---

Speed of subprime bust surprises lenders

Les Christie
CNNMoney.com
2007-05-23 12:26:00

The subprime mortgage meltdown has been a shock to industry insiders, but now they say it's hitting harder and faster than expected - even to those who predicted the crisis in the first place.

That was the message Monday from a panel of leading industry executives on the state of the mortgage lending industry at the Mortgage Bankers Association's National Secondary Market Conference & Expo in New York.

Comment on this SOTT Focus

---
The Living Planet
---
Early Trends May Point to Record Snakebite Season


PRIME NEWSWIRE
2007-05-24 14:56:00

"We've treated a lot of snakebites and it is still early in the season," said Dr. Sean Bush, Staff Emergency Physician & Envenomation Specialist, Loma Linda University Medical Center. "Depending on where you are in the U.S., warm weather patterns mean more snakes are out in search of food and water. Also, many of our housing developments coincide with snake habitats, and excursions into snake territory mean more people are at risk for snakebite." Roughly 8,000 venomous snakebites occur in the U.S. each year. About a dozen fatalities are reported annually.

Comment on this SOTT Focus

---

5.6 Earthquake in Gulf of Mexico


USGS
2007-05-24 12:47:00

Magnitude 5.6
Wednesday, May 23, 2007 at 19:09:15 (UTC)
Wednesday, May 23, 2007 at 1:09:15 PM = local time at epicenter
Location 22.025°N, 96.267°W
Depth 10 km (6.2 miles) set by location program
Region GULF OF MEXICO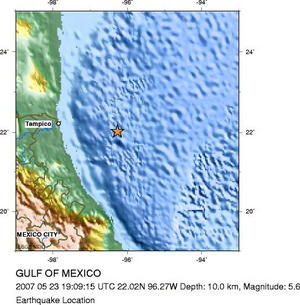 ©USGS
Comment on this SOTT Focus
---

Earthquake, Aftershock Strike Near Devore, CA


CNS
2007-05-23 12:31:00

A magnitude 3.8 earthquake and a 3.9 aftershock struck an area just southeast of Devore in San Bernardino County tonight, the U.S. Geological Survey reported.

The initial earthquake occurred at 11:11 p.m. two miles southeast of Devore, about 50 miles northeast of the downtown Los Angeles.

Comment on this SOTT Focus

---

Tsunami warning lifted after strong Indonesia quake


Reuters
2007-05-24 03:58:00

An strong undersea earthquake on Thursday off central Indonesia's Nusa Tenggara island chain sparked panic and prompted a brief tsunami warning, but there were no reports of casualties or major damage.


The quake struck near Sumbawa island at a depth of 19 km (11 miles), Fauzi, head of seismology at Indonesia's meteorological and geophysics agency, told Reuters.


"We have cancelled the warning. The quake had no tsunami potential," Sri Woro, the head of the agency, told Reuters.


Residents in Raba town on Sumbawa island said the quake sparked panic but no damage was reported.


Comment on this SOTT Focus

---

Lightning kills 7 in southwest China village


Xinhua
2007-05-24 03:50:00

A lightning strike killed seven students and injured 30 others in a village school on Wednesday afternoon in southwest China, said local authorities.


The lightning struck the school while children were attending class at around 4:00 p.m. on Wednesday, in a primary school in Xingye Village, Kaixian County of Chongqing Municipality, said officials.



Comment on this SOTT Focus

---

Weird Weather Continues in Rockies


Rocky Mountain News
2007-05-23 21:59:00

Don't set the holiday picnic table just yet. You might need to clear some snow first.

Comment on this SOTT Focus

---
Health & Wellness
---
Was Sally Clark's child killed by a vaccine?

Neville Hodgkinson
The Spectator
2007-05-24 15:12:00

Sally Clark spent three and a half years in jail wrongly convicted of murdering two of her babies after a jury was assured there was no other explanation for their sudden deaths than that she had deliberately smothered them. Yet five hours before her second child, Harry, was found lifeless in his baby chair, he had been injected with a combined vaccine with a long history of serious adverse reactions.



Comment on this SOTT Focus

---

Jewish, and uncircumcised

HAYLEY MICK
Globe and Mail
2007-05-22 11:00:00

It's no longer just a medical debate. A small but growing number of Jewish parents are questioning why they should circumcise their sons - and are deciding to reject a fundamental tenet of their faith


Comment on this SOTT Focus

---

Discrimination and hatred under cover of concern : Gay men still can't donate blood


NBC
2007-05-24 09:59:00

Gay men remain banned for life from donating blood, the government said Wednesday, leaving in place, for now, a 1983 prohibition meant to prevent the spread of HIV through transfusions.


The Food and Drug Administration reiterated its long-standing policy on its Web site Wednesday, more than a year after the Red Cross and two other blood groups criticized the policy as "medically and scientifically unwarranted."


"I am disappointed, I must confess," said Dr. Celso Bianco, executive vice president of America's Blood Centers, whose members provide nearly half the nation's blood supply.


Comment on this SOTT Focus

---

Firm makes 'healing super-water'


BBC
2007-05-24 09:44:00

US scientists have developed "super-oxidised" water which they say speeds up wound healing.


Oculus, the Californian firm which developed the water - made by filtering it through a salt membrane - says it kills viruses, bacteria and fungi.


It is also effective against MRSA and UK trials are being carried out on patients with diabetic foot ulcers, New Scientist magazine reported.


Experts said wound healing was a major problem for people with diabetes.


Comment on this SOTT Focus

---
Science & Technology
---
UD scientists build an "ice top" at the bottom of the world, look for neutrinos


University of Delaware
2007-05-23 12:57:00

The University of Delaware is helping to build a huge "IceCube" at the South Pole, and it has nothing to do with cooling beverages.

"IceCube" is a gigantic scientific instrument--a telescope for detecting illusive particles called neutrinos that can travel millions of miles through space, passing right through planets.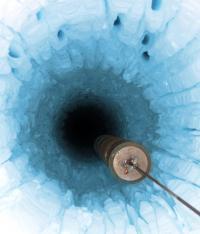 ©James Roth, University of Delaware
The IceCube telescope's optical detectors are deployed in mile-and-a-half deep holes in the Antarctic ice.



A poet might refer to them as stardust or ghosts from outer space. But to astrophysicists, neutrinos are the high-energy messengers from the universe, formed during such cataclysmic cosmic events as exploding stars and colliding galaxies.

Comment on this SOTT Focus

---

Astronomers identify a new class of cosmic explosions


CalTech News Release
2007-05-23 12:51:00

Astronomers are announcing today the discovery of a new class of stellar explosions. The finding is based on observations of a flash seen in the Virgo cluster in a galaxy known as Messier 85.

According to Shrinivas R. Kulkarni, the team leader announcing the discovery of M85OT2006-1, the event is thought to have resulted from the merger of two ordinary stars 49 million years ago.

Comment on this SOTT Focus

---

Gamma-ray burst discovery announced


UPI
2007-05-23 12:49:00

U.S. astronomers have determined flares seen after a gamma-ray burst are apparently a continuation of the burst itself.

Gamma-ray bursts release in seconds the same amount of energy the sun will emit during its expected 10 billion-year lifetime. That energy comes from the core of a massive star collapsing to form a black hole or neutron star.

Comment on this SOTT Focus

---

Mayday 23: World Population Becomes More Urban Than Rural


NCSU News
2007-05-24 09:56:00

There's no big countdown billboard or sign in Times Square to denote it, but Wednesday, May 23, 2007, represents a major demographic shift, according to scientists from North Carolina State University and the University of Georgia: For the first time in human history, the earth's population will be more urban than rural.


Working with United Nations estimates that predict the world will be 51.3 percent urban by 2010, the researchers projected the May 23, 2007, transition day based on the average daily rural and urban population increases from 2005 to 2010. On that day, a predicted global urban population of 3,303,992,253 will exceed that of 3,303,866,404 rural people.


Though the date is highly symbolic, the researchers - Dr. Ron Wimberley, Distinguished Professor of Sociology at NC State; Dr. Libby Morris, director of the Institute of Higher Education at the University of Georgia; and Dr. Gregory Fulkerson, a sociologist at NC State - advise avoiding the urge to interpret this demographic transition to mean that the urban population has greater importance than the rural.


Comment on this SOTT Focus

---

Genes shed light on fish fingers

Rebecca Morelle
BBC
2007-05-24 09:47:00

A genetic study has shed light on the mystery of how fish made the move from water to land millions of years ago.


Previous research had suggested that fish had made an abrupt genetic jump to acquire land-friendly limbs.


But a US team has now shown this event was not an evolutionary novelty and the transition was far more gradual.


The study, published in the journal Nature, follows the recent discovery of a fossil described as showing the "missing link" between fins and limbs.


Comment on this SOTT Focus

---

GM Corn Stalks Engineered to Self-Degrade into Fuel

Michael Schirber
Livescience
2007-05-24 07:58:00

With gas prices tipping the $3-a-gallon mark, many are looking at other ways to fill the tank. Ethanol made from corn is one promising substitute. Another idea is to use the inedible parts of corn plants-called biomass.

Comment on this SOTT Focus

---
Our Haunted Planet
---
New Crop Circle at Wexcombe Down

Steve Alexander
Crop Circle Connector
2007-05-24 08:18:00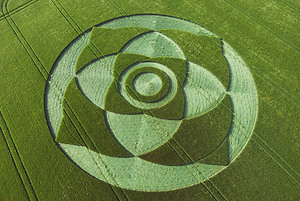 © Steve Alexander
Comment on this SOTT Focus
---

UFOs are frequent flyers in Akron-Canton Ohio area

R.J. VILLELLA
Ohio Independent
2007-05-24 06:27:00

Dispatchers say they had no unusual calls that night and there was nothing from the sheriff's department to explain the phenomena.

Controllers at the Akron-Canton Airport reported nothing out of the ordinary on their radar screens.

But Rosemary Lyons said she saw a UFO fly over the Loyal Order of Moose Lodge, 2935 Lincoln Way W., at 10:40 p.m. Friday, May 11.

Comment on this SOTT Focus

---
Don't Panic! Lighten Up!
---
Naked U.S. tourist shocks German city


Reuters
2007-05-24 10:07:00

A naked American tourist raised eyebrows when he went for a walk through a German city and told police he thought this was acceptable behavior in Germany.


"We have been having unusually hot weather here lately but, all the same, we can't have this," a spokesman for police in the southern city of Nuremberg said Tuesday. "The man said he thought walking around naked was tolerated in Germany."


Many Germans enjoy nude sunbathing which is allowed in public parks. The 41-year-old was carrying his clothes in a bag when police stopped him Monday evening after complaints from pedestrians.


Comment on this SOTT Focus

---

Do you want to improve your cows' milk quality? Play them Mozart


eitb24
2007-05-23 10:02:00

In an orderly fashion the 700 cows on the farm queue up for milking, with no fuss, no stress and very little mooing. The sharps and flats, bass and alto of Mozart's music have been found to be the perfect mix of tonality: enough to get the cows to relax but not too soothing that they fall asleep.

Comment on this SOTT Focus

---

Mozart to put sharks in the mood


AFP
2007-05-24 07:45:00

Scientists desperate for reluctant sharks to mate plan to pipe the romantic music of Mozart, Beethoven and Puccini into their north-west England aquarium tank.


Comment on this SOTT Focus

---

N.H. town fires 4 for gossip about boss

Beverley Wang
Associated Press
2007-05-24 07:25:00

Can you be fired for gossiping about your boss? Four town employees here say they were, raising questions about fairness, free speech and a staple of life in the American workplace.


The employees were fired in April after speaking to a lawyer the town hired as a fact-finder to rout out chatterboxes.


They say questions about a close relationship between Town Administrator David Jodoin and a female employee, identified only as "A" in the lawyer's report, drifted into Town Hall sometime in March. They say they weren't the only ones who discussed the rumor, and dismissed it as untrue after briefly talking about it.


"We didn't start the rumor, nor did we say there was an affair going on," Joanne Drewniak said Tuesday. "We didn't have time like they think ... to sit around and just gossip. That is so untrue."


Comment on this SOTT Focus

---

Timeless exposure: 100-year-old colour photos discovered in attic

David Usborne
The Independent
2007-05-24 07:23:00

Just how much cash they might have raised no one can say, but for students of photography the three glass-plate images that Charlotte Albright found in her attic in Buffalo, New York state, last summer are little short of priceless. Happily, the pictures are not bound for an auction house but rather the venerable George Eastman House museum in Rochester, which will display them this autumn. They are remarkable in many ways, not least because they are by Edward Steichen and - though a century old - are in colour.

Comment on this SOTT Focus

---

Can You Identify Those Panties, Ma'am?


Associated Press
2007-05-23 23:41:00

FORT COLLINS, Colo. - Police are asking Colorado women a rather delicate question: Are these your panties? As part of an investigation into widespread underwear theft, police have invited women to view photos of about 1,300 undergarments stolen from laundry rooms near Colorado State University.

Comment on this SOTT Focus

---
---

Remember, we need your help to collect information on what is going on in your part of the world!
Send your article suggestions to: sott(at)signs-of-the-times.org

---
Click here to return to the Signs of the Times Archive
Click here for today's Signs Page