---
Sections on today's Signs Page:
---
SOTT Focus
---
No new articles.
Best of the Web
---
Hersh: Bush administration arranged support for militants attacking Lebanon


Raw Story
2007-05-23 07:18:00



In an interview on CNN International's Your World Today, veteran journalist Seymour Hersh explains that the current violence in Lebanon is the result of an attempt by the Lebanese government to crack down on a militant Sunni group, Fatah al-Islam, that it formerly supported.

Last March, Hersh reported that American policy in the Middle East had shifted to opposing Iran, Syria, and their Shia allies at any cost, even if it meant backing hardline Sunni jihadists.

A key element of this policy shift was an agreement among Vice President Dick Cheney, Deputy National Security Advisor Elliot Abrams, and Prince Bandar bin Sultan, the Saudi national security adviser, whereby the Saudis would covertly fund the Sunni Fatah al-Islam in Lebanon as a counterweight to the Shia Hezbollah.

Comment on this SOTT Focus

---

Is it really just an Inter-Palestinian Fight?

Tony Sayegh
Palestinian Pundit
2007-05-17 07:15:00

It has become fashionable for friends and foes of the Palestinians to decry what they refer to as the inter-Palestinian fighting. Some have gone as far as calling it a civil war. Hamas and Fatah are equally blamed in what passes as astute observation and wisdom in various commentaries.


Comment on this SOTT Focus

---
U.S. News
---
Florida Bans Touch-Screen Voting Machines

Marc L. Songini
Computerworld
2007-05-23 15:17:00

Florida Gov. Charlie Crist Monday signed into law a bill requiring that all voting districts in the state replace most touch-screen electronic voting machines with optical scan machines.



Comment on this SOTT Focus

---

Politicians weigh renewal of Net access tax ban

Anne Broache
CNET News.com
2007-05-22 14:48:00

With only months left on a moratorium restricting state governments from taxing Internet access, the U.S. House of Representatives on Tuesday began a debate over whether the ban should be made permanent or allowed to lapse.



Comment on this SOTT Focus

---

Prisons' budget poised to trump state colleges'

James Sterngold
San Francisco Chronicle
2007-05-23 13:58:00

As the costs for fixing the state's troubled corrections system rocket higher, California is headed for a dubious milestone -- for the first time the state will spend more on incarcerating inmates than on educating students in its public universities.

Based on current spending trends, California's prison budget will overtake spending on the state's universities in five years. No other big state in the country spends close to as much on its prisons compared with universities.

Comment on this SOTT Focus

---

McClatchy's D.C. Bureau Claims It's Barred From Defense Secretary Plane

Joe Strupp
Editor & Publisher
2007-05-23 13:52:00

New York Staffers at McClatchy's Washington, D.C., Bureau -- one of the few major news outlets skeptical of intelligence reports during the run-up to the war in Iraq -- claims it is now being punished for that coverage.

Bureau Chief John Walcott and current and former McClatchy Pentagon correspondents say they have not been allowed on the Defense Secretary's plane for at least three years, claiming the news company is being retaliated against for its reporting.

Comment on this SOTT Focus

---

Student at Falwell's university arrested with bombs


CNN
2007-05-22 11:09:00

A first-year Liberty University student was arrested in what police said was a plot to detonate explosive devices Tuesday, the day of the Rev. Jerry Falwell's funeral.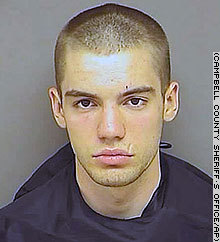 ©Associated Press
Liberty University freshman Mark David Uhl was arrested in a plot to detonate explosives the same day as the Rev. Jerry Falwell's funeral, police said.
Comment on this SOTT Focus
---

40 years ago, Israel attacked U.S.S. Liberty for overhearing they initiated the 6-day war

DOUG NASSIF SR.
Bismarck Tribune
2007-05-23 08:10:00

The tragic anniversary comes and goes each spring without even a minor observance, but a day of infamy, June 8, is soon to come to our nation.




Comment on this SOTT Focus

---
UK & Euro-Asian News
---
China Postpones Real Name Registration Requirement For Bloggers

Steven Schwankert
IDG News Service
2007-05-23 15:24:00

Bloggers in China will not be compelled to register using their real names, a quasi-government organization has announced.



Comment on this SOTT Focus

---

Accused: 'We didn't murder Earl'


Press Association
2007-05-22 12:41:00

A man accused of murdering the Earl of Shaftesbury protested his innocence and appealed to the new French president for justice.

In a dramatic court outburst, the flamboyant earl's former brother-in-law claimed the death was an accident and said: "I have been in prison for two-and-a-half years for nothing. It's scandalous. French justice is scandalous."

Comment on this SOTT Focus

---

Ex-spy on Litvinenko murder charge


Press Association
2007-05-22 12:28:00

An ex-KGB agent is to be charged in connection with the murder of poisoned former Russian spy Alexander Litvinenko, the Crown Prosecution Service said.

A warrant has been issued for the arrest of Moscow-based Andrei Lugovoy, although there is no extradition treaty with Russia.

Comment on this SOTT Focus

---

Britain: Lugovoi Murdered Soviet Spy


AP
2007-05-22 12:24:00

British officials said Tuesday that they will seek the extradition of Andrei Lugovoi from Russia to face a charge of murder in the poisoning death of former Soviet agent Alexander Litvinenko.

Comment on this SOTT Focus

---

Doctor suspected of murder for removing respirator from woman


AP
2007-05-22 12:20:00

Police have filed an investigation report with prosecutors on a physician who is suspected of murdering an 88-year-old brain-dead woman by allegedly removing her artificial respirator last year, police sources said Tuesday.

Comment on this SOTT Focus

---

Protests staged in S. China over birth-control policies: reports


Kyodo
2007-05-23 05:09:00

Thousands of people in southern China's Guangxi Province staged protests over the weekend over the country's harsh birth-control policies, with government buildings and vehicles set on fire, Hong Kong news outlets reported Monday.


Residents in about eight towns in the province's Bobai County have protested since Saturday against forced abortions, fines and confiscation of valuables at homes of people alleged to have violated China's birth control policies, according to the Apple Daily.


In one protest in the town of Shapo, the Chinese-language newspaper said about 20,000 people swarmed a government building.


After bulldozing through a wall, the protesters ransacked the building with bricks and sticks and set fire to some 20 motorbikes and vehicles while two high-ranking officials hid on the second floor of the building, the report said.


Comment on this SOTT Focus

---
Around the World
---
UN troops involved in DR Congo gold trade: BBC


AFP
2007-05-23 10:48:00

The UN said Wednesday it was investigating claims that its peacekeepers in the Democratic Republic of Congo traded gold and weapons with militia groups they were supposed to be disarming.


Comment on this SOTT Focus

---

Japan OKs $6 Billion Bill for U.S. Military Reorganisation

CHISAKI WATANABE
AP
2007-05-23 02:04:00

Japan passed a law Wednesday to fund the reorganization of U.S. forces in Japan and help move thousands of Marines from the country's south to the U.S. territory of Guam.

Tokyo and Washington agreed last year on a plan to streamline American troops and give Japan greater responsibility for security in Asia. The deal also envisioned easing the burden on local communities by downsizing U.S. bases and consolidating troops at other ones throughout the region.



Comment on this SOTT Focus

---
Big Brother
---
The FBI May Have the Inside Scoop on You

Frances Madeson
TomPaine.com
2007-05-23 15:05:00

Thanks to Justice Department Inspector General Glenn A. Fine's March 9 audit report detailing the FBI's handling of expanded surveillance powers granted under the USA PATRIOT Act, subsequent media reports and congressional hearings called to probe the findings, we now know that the FBI's been doing the same "heckuva job" with respect to information gathering and storage characteristic of other sectors of the Bush administration.

Comment on this SOTT Focus

---

Work bill would create new ID database

Declan McCullagh and Anne Broache
CNET News.com
2007-05-21 14:05:00

The U.S. Congress is poised to create a set of massive new government databases that all employers must use to investigate the immigration status of current and future employees or face stiff penalties.

The so-called Employment Eligibility Verification System would be established as part of a bill that senators began debating on Monday, a procedure that is likely to continue through June and would represent the most extensive rewrite of immigration and visa laws in a generation. Because anyone who fails a database check would be out of a job, the proposed database already has drawn comparisons with the "no-fly list" and is being criticized by civil libertarians and business groups.

Comment on this SOTT Focus

---

The van with x-ray vision


AS&E
2007-05-23 12:47:00

Z Backscatter Van Drive-By Screening System (Mobile System)

The U.S. Department of Homeland Security (DHS) knows the AS&E Advantage. Multiple agencies within DHS deploy the Z Backscatter Van for counterterrorism applications.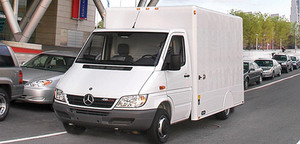 ©AS&E



A breakthrough in X-ray detection technology, AS&E's Z Backscatter Van (ZBV) is a low-cost, extremely maneuverable screening system built into a commercially available delivery van. The ZBV allows for immediate deployment in response to security threats, and its high throughput capability facilitates rapid inspections. The system's unique "drive-by" capability allows one or two operators to conduct X-ray imaging of suspect vehicles and objects while the ZBV drives past.

Comment on this SOTT Focus

---

New software can identify you from your online habits

Paul Marks
New Scientist
2007-05-23 07:14:00

IF YOU thought you could protect your privacy on the web by lying about your personal details, think again. In online communities at least, entering fake details such as a bogus name or age may no longer prevent others from working out exactly who you are.


Comment on this SOTT Focus

---

Google's goal: to organise your daily life

Caroline Daniel and Maija Palmer
Financial Times
2007-05-23 06:20:00

Google's ambition to maximise the personal information it holds on users is so great that the search engine envisages a day when it can tell people what jobs to take and how they might spend their days off.


Eric Schmidt, Google's chief executive, said gathering more personal data was a key way for Google to expand and the company believes that is the logical extension of its stated mission to organise the world's information.


Asked how Google might look in five years' time, Mr Schmidt said: "We are very early in the total information we have within Google. The algorithms will get better and we will get better at personalisation.


"The goal is to enable Google users to be able to ask the question such as 'What shall I do tomorrow?' and 'What job shall I take?' "


Comment on this SOTT Focus

---
Axis of Evil
---
War at All Costs! Bush Authorizes New Covert Action Against Iran

Brian Ross and Richard Esposito
The Blotter
2007-05-23 05:18:00

The CIA has received secret presidential approval to mount a covert "black" operation to destabilize the Iranian government, current and former officials in the intelligence community tell the Blotter on ABCNews.com.


The sources, who spoke on the condition of anonymity because of the sensitive nature of the subject, say President Bush has signed a "nonlethal presidential finding" that puts into motion a CIA plan that reportedly includes a coordinated campaign of propaganda, disinformation and manipulation of Iran's currency and international financial transactions.


"I can't confirm or deny whether such a program exists or whether the president signed it, but it would be consistent with an overall American approach trying to find ways to put pressure on the regime," said Bruce Riedel, a recently retired CIA senior official who dealt with Iran and other countries in the region.


Comment on this SOTT Focus

---
Middle East Madness
---
More surge - Bush could double force by Christmas

Stewart M. Powell
San Francisco Chronicle
2007-05-22 14:58:00

The Bush administration is quietly on track to nearly double the number of combat troops in Iraq this year, an analysis of Pentagon deployment orders showed Monday.

The little-noticed second surge, designed to reinforce U.S. troops in Iraq, is being executed by sending more combat brigades and extending tours of duty for troops already there.

The actions could boost the number of combat soldiers from 52,500 in early January to as many as 98,000 by the end of this year if the Pentagon overlaps arriving and departing combat brigades.

Separately, when additional support troops are included in this second troop increase, the total number of U.S. troops in Iraq could increase from 162,000 now to more than 200,000 -- a record-high number -- by the end of the year.

Comment on this SOTT Focus

---

Decoy! Bush may turn to UN in search for Iraq solution

Simon Tisdall
The Guardian
2007-05-23 14:25:00

The Bush administration is developing plans to "internationalise" the Iraq crisis, including an expanded role for the United Nations, as a way of reducing overall US responsibility for Iraq's future and limiting domestic political fallout from the war as the 2008 election season approaches.
The move comes amid rising concern in Washington that President George Bush's controversial Baghdad security surge, led by the US commander, General David Petraeus, is not working and that

Iran is winning the clandestine battle for control of Iraq.



Comment on this SOTT Focus

---

Palestinian refugees continue leaving Nahr al-Bared camp


RIA Novosti
2007-05-23 06:32:00

The stampede of Palestinians fleeing northern Lebanon's Nahr al-Bared refugee camp, which has been under tank and artillery fire for the past three days, is continuing.


People are trying to leave the camp taking advantage of a third attempt at a ceasefire between militant Palestinian factions and the Lebanese Army, which came into effect Tuesday. Vehicles filled with men, women and children are mainly going to another camp near Tripoli.


Since last night and early Wednesday morning, about 10,000 refugees have left the camp, the head of the camp emergencies committee said. "Some 25,000-30,000 people are still in Nahr al-Bared," Jamil al-Jabbawi told Al Jazeera. Other sources said half of the camp inhabitants had left.


At least 80 people have been killed since early Sunday, when fighting between units of the Lebanese Army and members of Fatah al-Islam broke out in the neighboring city of Tripoli.


Comment on this SOTT Focus

---

Nine U.S. warships enter Gulf for 'training'

Mohammed Abbas
Reuters
2007-05-23 02:29:00

Nine U.S. military ships entered the Gulf on Wednesday for a rare daylight assembly off Iran's coast in what naval officials said was the largest such move since the 2003 Iraq war.


U.S. Navy officials said Iran had not been notified of plans to sail the vessels, which include two aircraft carriers, through the Straits of Hormuz, a narrow channel in international waters off Iran's coast and a major artery for global oil shipments.



Comment on this SOTT Focus

---

Robert Fisk: The road to Jerusalem (via Lebanon)


The Independent
2007-05-23 01:46:00

Inspired by al-Qa'ida, a hitherto little-known militant group is behind the outbreak of bloody violence which has left scores dead


They came into Lebanon last summer when the world was watching Israel smash this small nation in a vain attempt to destroy the Hizbollah. But the men who set up their grubby little office in the Nahr el-Bared refugee camp, some of them fighters from the Iraq war, others from Yemen, Syria or Lebanon itself, were far more dangerous than America and Israel believed the Hizbollah to be. They had come, they told the few journalists who bothered to seek them out "to liberate" Jerusalem because "to free our territory is a sacred duty inscribed in the Koran".



Comment on this SOTT Focus

---

Opium: Iraq's deadly new export

Patrick Cockburn
The Independent
2007-05-23 01:28:00

Farmers in southern Iraq have started to grow opium poppies in their fields for the first time, sparking fears that Iraq might become a serious drugs producer along the lines of Afghanistan.

Rice farmers along the Euphrates, to the west of the city of Diwaniya, south of Baghdad, have stopped cultivating rice, for which the area is famous, and are instead planting poppies, Iraqi sources familiar with the area have told The Independent.

Comment on this SOTT Focus

---
The Loan Gunmen
---
Home Depot supply unit sale faces issues: report


Reuters
2007-05-22 12:08:00

Home Depot Inc. efforts to sell its supply unit, HD Supply, are facing headwinds due to a softer U.S. housing market and other complications, the New York Post reported on its Web site on Tuesday.

Comment on this SOTT Focus

---

China-US peace talks on the brink of trade war

Stephen Foley
The Independent
2007-05-23 08:05:00

While America and China make noises about strengthening trade links, mutual suspicions refuse to go away.

The drums are being beaten more insistently, the ominous sound of a march towards a trade war. As Hank Paulson, the US Treasury Secretary, stood with Wu Yi, the Vice-Premier of China, on a Washington stage draped in the flags of their countries, he warned that this historic economic summit would have to be more than a talking shop, if it is to lessen the protectionist pressures building in Congress.


Comment on this SOTT Focus

---

Unaccountable World Bank extortion racket struggles with identity crisis

Steven R. Weisman
International Herald Tribune
2007-05-23 07:24:00

The crisis has ended over Paul Wolfowitz, with his resignation as president of the World Bank last week. But the bank's identity crisis has just begun.


Comment on this SOTT Focus

---

Russian regulator says gas field owned by BP PLC joint venture may lose license

Associated Press
Internatinal Herald Tribune
2007-05-23 03:55:00

MOSCOW: BP's license to develop a giant Siberian gas field could be revoked in days, Russia's environmental watchdog said Tuesday, as pressure mounted on one of the last major foreign-controlled energy projects in Russia.

Losing its license to the 2.1 trillion-cubic-meter Kovykta field would be a painful blow for BP PLC: the company has appeared conspicuously eager to court favor with the Kremlin, which has aggressively expanded state control over the world's biggest oil and gas industry.

Analysts suggest that official complaints over production quotas at Kovykta will fade just as soon as an acceptable deal is struck that gives control of the project to state gas monopoly OAO Gazprom.

Comment on this SOTT Focus

---
The Living Planet
---
Early arrival of butterflies demonstrates impact of climate change

Michael McCarthy
The Independent
2007-05-22 14:52:00

Britain's astounding April, the warmest on record, has produced an astounding effect in the natural world, with at least 11 species of butterfly making their earliest recorded appearances this spring in what will be seen as the most remarkable demonstration yet of the effects of climate change on Britain's wildlife.

Comment on this SOTT Focus

---

Ferocious Insects Devour Fish

Dave Mosher
LiveScience
2007-05-21 14:11:00

Once the bugs locate prey, they stun it with a bite. "It's much, much worse than a bee or wasp sting," Sites said. "I was bitten in the pad of my little finger, and I felt intense pain all the way to my elbow for a good 30 minutes."

After the prey is stunned, the predatory insects whip a straw-like appendage out and pump toxins into their meal, liquefying it from the inside-out. "After that, they suck out the juice," Sites said.

Comment on this SOTT Focus

---

Snow kidding! Weather wacky


Rocky Mountain News
2007-05-23 13:54:00

The southwestern mountains of Colorado are under a snow advisory, with up to 8 inches of accumulation possible by early evening.

A freeze watch is in effect for tonight in the San Luis Valley region and much of southeastern Colorado is under a flash flood watch.

Comment on this SOTT Focus

---

Indian tiger numbers far lower than thought-experts

Nita Bhalla
Reuters
2007-05-23 11:07:00

Disappearing tigers: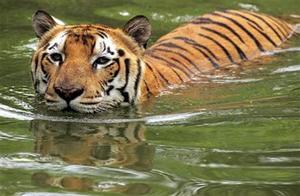 ©Signs of the Times
Disappearing tigers
Early results from a tiger census in India indicate the population of the endangered big cats is drastically lower than previously assumed, wildlife experts and conservationists said on Wednesday.
Comment on this SOTT Focus
---

Australia: Murray-Darling Rivers plan 'dead in the water'

Unknown
Australian Broadcasting Corp.
2007-05-22 19:18:00

Victorian Premier Steve Bracks says the proposed $10 billion federal takeover of the Murray-Darling basin is back to square one.

Mr Bracks has written to Prime Minister John Howard rejecting the second draft of the legislation.

He says the Federal Government had indicated it would no longer seek total control of the basin, but the new legislation still demands the states refer all their powers to the Commonwealth.

Comment on this SOTT Focus

---
Health & Wellness
---
Maritime mumps outbreak blamed on vaccination program


CBC News
2007-05-23 14:53:00

More than 300 cases of mumps have surfaced in May in the Maritimes - 56 in New Brunswick alone - and health officials say those in their late teens and early 20s are most at risk.

Jeannette Macey, the head of Disease Surveillance with the Public Health Agency of Canada, said the outbreak stems from waning immunity within that age group.

Comment on this SOTT Focus

---

Health fear over new airport scanners


thisislondon.co.uk
2007-05-22 14:01:00

New X-Ray scanners at British airports could be exposing passengers to potentially dangerous levels of radiation, according to one senior radiologist.

The machines are designed to "strip search" passengers by using low-level X-Rays, which produce an image of their bodies, revealing whether they are secretly carrying weapons, explosives or illegal drugs.

But the scanners may not be safe for certain people, particularly children and women in the early stages of pregnancy, according to Dr Sarah Burnett, who works as an independent radiologist in London.

Comment on this SOTT Focus

---

Finger length predicts SAT scores


live science
2007-05-23 11:25:00

"A quick look at the lengths of children's index and ring fingers can be used to predict how well students will perform on SATs, new research claims."





Comment on this SOTT Focus

---

Scientists find war vets' hand dexterity determines susceptibility to PTSD, and how it effects their role as a Human Killing Machines.


EurekAlert
2007-05-23 06:48:00

A recent study conducted by investigators with the Geisinger Center for Health Research shows a clear link between combat veterans' use of both hands for common tasks and the likelihood that they will experience post-traumatic stress disorder (PTSD).


Combat veterans with an extreme level of mixed handedness are nearly twice as likely to develop (PTSD) after combat compared to veterans who use both hands less often, according to the study, which is being published in the May issue of Psychosomatic Medicine.


The study also found that veterans with extreme mixed handedness and high combat exposure were nearly five times more likely to have PTSD than those with lower degrees of mixed handedness.


Joseph Boscarino, PhD, MPH and Stuart Hoffman, DO of the Geisinger Center for Health Research measured PTSD and handedness among a national sample of 2,490 Vietnam veterans exposed to combat.


Comment on this SOTT Focus

---

Police in southern Russia hunt anthrax-infected meat


RIA Novosti
2007-05-23 06:35:00

Local police and agriculture inspectors in southern Russia are searching for itinerant gypsies who may have contracted anthrax when they bought contaminated meat from a local farm, authorities said Tuesday.


Investigators, who followed medical workers cleaning the farm of Apatovo in Stavropol Territory of an anthrax case that killed a local resident May 12, learned that the man who had killed an infected ox six days earlier sold part of its meat to gypsies.


"Any anthrax case is an emergency," Alexei Alexeienko of Rosselkhoznadzor, the inspectorate overseeing compliance with standards and official requirements in the agricultural sector, said.


Comment on this SOTT Focus

---

Heart Attack Risk Seen in Drug for Diabetes

Stephanie Saul
The New York Times
2007-05-23 06:22:00

An article in a leading medical journal yesterday raised serious safety questions about the widely used diabetes pill Avandia and renewed skepticism about the vigilance of federal drug regulators.


The analysis, based on a review of more than 40 existing clinical studies involving nearly 28,000 patients, showed that Avandia significantly increased the risk of heart attacks, compared with other diabetes drugs or a placebo.


Both the study's lead author and the editors of The New England Journal of Medicine, in which the article appeared, cautioned that the research method used left the findings open to interpretation. But they said the study nevertheless raised important concerns.


And the publication of the study on the journal's Web site prompted the Food and Drug Administration to issue a public safety alert and advise users of the drug - an estimated million people in this country and two million worldwide - to consult their doctors about the potential cardiovascular risks.


Comment on this SOTT Focus

---
Science & Technology
---
The Truth About Lie Detectors

Christopher Wanjek
Live Science
2007-05-23 07:01:00

Washington is a city of lies, so perhaps it is no surprise that those in the nation's capital wishing to expose the truth have been fooled by lies about a polygraph's usefulness.


According to White House spokesman Tony Snow, earlier this month, the White House will consider administering a polygraph to Clinton-era National Security Adviser Sandy Berger, who pleaded guilty to lifting documents from the National Archives in 2002 and 2003. Some say the documents, now nowhere to be found, might point to failures of the Clinton administration to uncover the 9/11 terrorist plot.


Politics aside (it was 18 Republican congressmen who wrote to Attorney General Alberto Gonzales in January requesting that Berger take a polygraph, but that was before allegations of certain falsehoods on Gonzales' part made the request a little awkward), the polygraph is no way to get to the truth.


Comment on this SOTT Focus

---

Physicists Predict the Death of Cosmology while Spending Time and Resources on Pointless Speculations

Dave Mosher
Space.com
2007-05-23 06:58:00

Physicists are now foretelling the death of cosmology, or the study of our universe, as we know it. Thankfully, cosmologists won't be jobless for a couple trillion years.


The universe is rapidly expanding--perhaps not rapidly enough to rip to shreds, but enough that distant galaxies will eventually be moving away faster than the speed of light. This much has been known for decades.


Once all these galaxies blink out of existence, scientists ask in an upcoming issue of The Journal of Relativity and Gravitation, how will future intelligent beings study space if the human race's knowledge is long gone? Will they be able to figure out if the Big Bang happened? Or rediscover relativity?


Comment on this SOTT Focus

---

Somewhere over the rainbow: Astronomers seek life at end of rainbow

Marilyn Head
News in Science
2007-05-23 06:16:00

Rainbows may be the key to identifying habitable planets around nearby stars, according to a researcher who says light scattering could indicate the presence of liquid water.


Associate Professor Jeremy Bailey of the Australian Centre for Astrobiology at Macquarie University says looking at the way light bounces off droplets in a planet's atmosphere would be a sensitive indicator of liquid water in its clouds.


Bailey presents his case for using polarisation, the same property of light that produces rainbows, to look for liquid water in the latest issue of the journal Astrobiology.


"A rainbow is caused by light that is reflected in a water droplet that is scattered at a particular angle," he says.


Comment on this SOTT Focus

---

New York City is the testing ground for Hydra's "Secure Super Grids". Don't worry, Homeland Security taking care of everything!

Dan Caterinicchia
Physorg / AP
2007-05-23 06:04:00

"This is about Wall Street, this is about making the electric grid for the financial capital of the world ... more defensible against potential problems," including a terrorist attack, Jay M. Cohen, the agency's undersecretary for science and technology, told The Associated Press.


The agency last week signed a $1.7 million contract with American Superconductor Corp. to make high temperature cables, which will be used by New York utility Consolidated Edison Inc. under the terms of a separate contract.


Financial terms of the deal between the two companies were not disclosed, but Con Ed and American Superconductor are together providing one third of the funding for the project, according to the government.


The "secure super grids" use high-temperature superconductor wires and power cables to increase power while maintaining the ability to suppress surges, American Superconductor said.


Comment on this SOTT Focus

---

Virgin Shark Gives Birth!


Livescience
2007-05-23 02:44:00

Female sharks may not need males around anymore, because they can reproduce without having sex, surprised scientists have found.

The startling discovery, announced today, has a long history. It was initially made after the unexpected birth of a baby hammerhead shark in the aquarium of Nebraska's Henry Doorly Zoo in December 2001. The birth surprised zookeepers because the tank only contained female hammerheads, none of which had ever even been exposed to a male during their time in captivity, much less mated with one.

Comment on this SOTT Focus

---

Snake Cults Dominated Early Arabia

Jennifer Viegas
Discovery News
2007-05-17 00:09:00

Pre-Islamic Middle Eastern regions were home to mysterious snake cults, according to two papers published in this month's Arabian Archaeology and Epigraphy journal.

From at least 1250 B.C. until around 550 A.D., residents of what is now the Persian Gulf worshipped snakes in elaborate temple complexes that appear to have been built for this purpose, the studies reveal.

Comment on this SOTT Focus

---
Our Haunted Planet
---
UFO pictures increase in detail and number - are we witnessing a 'wave' ?

Brendan Burton
American Chronicle
2007-05-23 07:15:00

UFO pictures are usually blurry, grainy blobs. At best, a shiny round object far away in the distance.

But recently - since the current 'flap' which has hit the United States and Europe, a number of sightings have come forward which come with detailed pictures showing a UFO up close. The first one was the Coast to Coast UFO - featured in the American Chronicle last week. As mentioned in the article, within a few days, another series of UFO pictures came in from Lake Tahoe.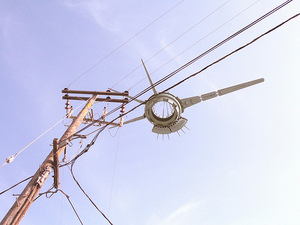 ©rajman1977
Comment on this SOTT Focus
---
Don't Panic! Lighten Up!
---
Who controls Lampedusa? Geography champ knows

Andy Sullivan
Yahoo - Reuters
2007-05-23 20:52:00

Snaring's interest in geography is unusual for the United States. Just half of college-age Americans can find New York on a map and only 37 percent can locate Iraq, according to a National Geographic poll released last year.

Comment on this SOTT Focus

---

Politicians stymied by great stink of Naples

Peter Popham
The Independent
2007-05-23 07:04:00

Life in Italy's second city threatened to grind to a standstill this week as the biggest ever Naples rubbish crisis came to an evil-smelling crescendo.


Huge piles of uncollected rubbish have accumulated across the city, more than 2,700 tons of it according to the city authorities. Hundreds of fires have been started in the rubbish by infuriated residents, only aggravating the problem.


Protests rage in five locations selected for emergency landfills; in one of them, the town of Serre outside the city, Italy's environment minister, Alfonso Pecoraro Scanio, has come out on the side of the protesters as the planned dump is only a few kilometres from a protected beauty spot.


The rubbish remains uncollected because the city has run out of places to dispose of it, and by the end of this week the one remaining dump in active use, at Villaricca, will close because it is full to the brim. Then the city does not know what it will do.


Comment on this SOTT Focus

---

Fashion chain Zara apologises for selling 'non-kosher' clothing

Graham Keeley
The Independent
2007-05-23 06:29:00

Zara, the fashion retailer, was forced to apologise to ultra-Orthodox Jews after its Israeli stores sold a men's suit with a mix of materials that are considered non-kosher to some strict religious Jews. The Spanish clothing empire took out a series of adverts in Israeli newspapers to apologise for the error, which it said happened after a mistake in one of its factories. The suit contained a combination of cotton and linen which some rabbinical authorities class as an "unnatural" blend, known as shatnez to ultra-Orthodox Jews.


In a statement, the company said: "Zara regrets this mistake and would like to reassure its clients in Israel and particularly Orthodox Jews that it will do everything possible to prevent it happening again." Zara has also promised to refund the cost of scientific checks for shatnez, which Orthodox Jews routinely carry out when they buy clothes. They return those which test positive.


Comment on this SOTT Focus

---

German man busted while drunk driving in wheelchair


Reuters
2007-05-23 06:27:00

A wheelchair-bound German stunned police when they pulled him over for using the road and found he was 10 times over the legal alcohol limit for drivers.


"He was right in the middle of the road," said a spokesman for police in the northeastern city of Schwerin on Tuesday. "The officers couldn't quite believe it when they saw the results of the breath test. That's a life-threatening figure."


The 31-year-old told police he had been out drinking with a friend and was about 2 km from home when a squad car stopped him as he passed through the village of Ventschow.


Comment on this SOTT Focus

---

Town dumps revenge on John Cleese

Peter Lewis
abc.net.au
2007-05-23 03:02:00

A New Zealand city on the receiving end of a tongue-lashing from British comedian John Cleese has hit back by re-naming its rubbish dump after him.

About a year ago, Cleese delivered a backhander to the North Island city of Palmerston North that his best-known character, Basil Fawlty, would have been proud of.


Comment on this SOTT Focus

---

Australia still has some sense of humanity: 'Bondi caveman' to keep his millionaire view


APF
2007-05-22 00:55:00

A homeless hermit who enjoys a million-dollar view from his camp perched on the cliffs overlooking Sydney's Bondi Beach was granted a reprieve Tuesday when the local council dropped plans to evict him.

Comment on this SOTT Focus

---
---

Remember, we need your help to collect information on what is going on in your part of the world!
Send your article suggestions to: sott(at)signs-of-the-times.org

---
Click here to return to the Signs of the Times Archive
Click here for today's Signs Page