---
Sections on today's Signs Page:
---
SOTT Focus
---
Signs Economic Commentary for 21 May 2007

Donald Hunt
Signs of the Times
2007-05-21 04:16:00




Consumer sentiment was up in early May in the U.S.. Why? I would just chalk it up to the fact that, in the northern temperate zone, ANY kind of sentiment is up in May. How could it not be the case with warmer weather, lilacs in bloom, leaves opening on trees and birds chirping? It almost can make a person forget all the storm clouds on the horizon.

Not least among those storm clouds is the move towards private equity firms taking public corporations private. This month's purchase of the Chrysler Corporation by Cerberus Capital Management is still reverberating. I find it interesting that Cerberus was named after the demon dog who guards the gates to Hades, the underworld realm of the dead, allowing the spirits of the dead to enter but none to exit. Nice.


Comment on this SOTT Focus
---
Best of the Web
---
Scores killed in Lebanon fighting - An Obvious Mossad Set Up

BBC News
With Signs of the Times Commentary
2007-05-21 03:37:00



Fighting between Lebanese troops and Islamist gunmen from a Palestinian refugee camp has killed at least 40 people in Tripoli, northern Lebanon.

Some 15 fighters from

the radical Fatah Islam group

and 23 Lebanese soldiers died in intense battles, reports said. At least two civilians were also killed and a further 40 reportedly hurt in

the worst internal fighting Lebanon has seen since the civil war ended in 1990.





Comment on this SOTT Focus

---

The Path of The Psycho

By Judy Andreas
judyandreas.com
2007-05-21 03:47:00

Dr. Robert Hare, Emeritus Professor of Psychology, University of British Columbia, has spent more than three decades researching psychopathy. He has developed the Psychopathy Checklist (PCL) and its revision, the Psychopathy Checklist Revised (PCL-R) These lists have proven extremely valuable for the proper assessment of psychopathy.

Hare describes psychopaths as "intraspecies predators who use charm, manipulation, intimidation and violence to control others and to satisfy their own selfish needs." They lack conscience, they take what they want and do as they please, without guilt or remorse. "What is missing, in other words, are the very qualities that allow a human being to live in social harmony."

Comment on this SOTT Focus

---
U.S. News
---
Hundreds of Illegals Have Registered to Vote in Bexar County. Officials are confident new procedures will purge them from the rolls

Jim Forsyth
WOAI
2007-05-21 15:49:00

Hundreds of illegal immigrants have registered to vote in Bexar County in recent years and dozens of them have actually cast ballots, canceling out the votes of U.S. citizens, 1200 WOAI news will report Thursday morning.


Figures obtained by 1200 WOAI news shows 303 illegals successfully registered to vote, and at least 41 cast ballots in various elections.


Bexar County Elections Administrator Jackie Callanan confirmed the figures, but she says a new form of voter registration card, which requires people to swear they are citizens when they register, should help cut the problem, because people who vote illegally can be charged with perjury.


And the county has some sly ways to catch them.


Comment on this SOTT Focus

---

'Bloomberg Gun Giveaway' Draws Hundreds

Matthew Barakat
Associated Press
2007-05-18 15:44:00

Openly armed firearms enthusiasts packed a normally sedate government building Thursday night, hoping to win a pistol or rifle and at the same time send a defiant message to gun-control advocates, especially New York Mayor Michael Bloomberg.


The Virginia Citizens Defense League, a gun-rights group, organized the "Bloomberg Gun Giveaway" in large part to thumb its nose at Bloomberg, who accuses some shops of allowing illegal purchases of firearms that later were used in crimes in his city.


The city has filed federal lawsuits against more than two dozen shops, including six in Virginia.


Two guns were awarded Thursday, a Para-Ordnance pistol and a Varmint Stalker rifle, each worth about $900. The winners did not immediately receive the weapons - they will still be required to undergo federal and state background checks.


The first winner, Jay Minsky, responded with an obscene hand gesture when asked what message he hoped to send to Bloomberg.


Comment on this SOTT Focus

---

Impeach Gonzales [VIDEO]

Robert Greenwald
AlterNet
2007-05-20 19:47:00

The Gonzales hearings have made plain for all to see that the highest law enforcement officer in the land is unwilling to tell the truth under oath. He doesn't recall, or he doesn't know, or he answers questions with questions, evading the issues. He can't remember his own name, his job title, details of meetings or decisions or strategies. And yet, he has not been fired. He continues to do damage to our country.



Comment on this SOTT Focus

---

Clinton aide forfeits law license in Justice probe

Jerry Seper
Washington Times
2007-05-21 15:23:00

Samuel R. Berger, the Clinton White House national security adviser who was caught taking highly classified documents from the National Archives, has agreed to forfeit his license to practice law.


In a written statement issued by Larry Breuer, Mr. Berger's attorney, the former national security adviser said he pleaded guilty in the Justice Department investigation, accepted the penalties sought by the department and recognized that his law license would be affected.


"I have decided to voluntarily relinquish my license," he said. "While I derived great satisfaction from years of practicing law, I have not done so for 15 years and do not envision returning to the profession. I am very sorry for what I did, and I deeply apologize."


Comment on this SOTT Focus

---

US Tells Brits They Won't Withdraw Troops From Iraq


Reuters
2007-05-21 09:44:00

Washington is confident British prime minister-in-waiting Gordon Brown will not pull British troops out of Iraq early, a senior U.S. official said on Monday.

Speaking on condition of anonymity, the official told reporters Washington had an "excellent level of discussion and dialogue" with the British government on future policy in Iraq.

Comment on this SOTT Focus

---

Workers of the World Unite Against Starbucks

Liza Featherstone
The Nation
2007-05-21 09:15:00

When you pay $4 for a cup of coffee-flavored foamy milk at Starbucks, part of what you're buying is an illusion of environmental responsibility. How they treat their workers is a different story.

Comment on this SOTT Focus

---
UK & Euro-Asian News
---
Romania to announce referendum results on discharging president


Itar-Tass
2007-05-21 14:51:00

The first results of the referendum on discharging the country's President Trajan Basesku, which was held on May 19, will be announced by the Central Election Bureau in Bucharest on Sunday.


According to preliminary data, the Romanian head of state, removed from his post by the parliament, won the victory during the voting: he was backed by 75 percent of voters, against 25 percent.


Under the law, the constitutional court is to discontinue the president's impeachment procedure within 24 hours after receiving official data on the voting results, and Basesku is to return to his office. However, despite claims about his victory at the referendum, nothing is said so far about the number of voters who came to the polls.


Comment on this SOTT Focus

---

Sarkozy adviser may stand trial for corporate espionage in Belgium


RIA Novosti
2007-05-21 14:00:00

French President Nicolas Sarkozy's new legal adviser found himself in the unwanted media spotlight this past weekend as a business magazine said he could face trial in a long-running corporate espionage case in Belgium.


Capital weekly said Patrick Ouart, former secretary general of the French energy group Suez, could be tried for suspected involvement in illegally obtaining confidential information about Belgian subsidiary Electrabel.


Ouart and other Suez executives are believed to have ordered the hacking of Electrabel's computer system and the tapping of its top management's telephone conversations ahead of the Belgian utility's takeover in 2005.


Ouart, confirmed in his government post last Thursday, told France Info radio that the case, dating back from February 2004, would probably never have resurfaced if not for his new appointment.


Comment on this SOTT Focus

---

UK orders new nuclear attack submarine for Royal Navy - MoD


RIA Novosti
2007-05-21 13:49:00

Britain's Ministry of Defense said Monday it had placed an order for the construction of a new nuclear-powered attack submarine with a UK-based company.


The submarine, to be named HMS Audacious, is the fourth of the Astute class, the largest and most powerful generation of nuclear boats designed for the Royal Navy. The 7,800-ton submarine will be built by BAE Systems at estimated cost of 200 million British pounds (about $395 million).


"We need a versatile maritime force across the operational spectrum," the MoD statement quoted First Sea Lord Admiral Sir Jonathon Band as saying. "These boats will help protect Britain's interests overseas for decades to come."


The statement also quoted Lord Drayson, Minister for Defense Equipment and Support, as saying: "Today's announcement demonstrates our commitment to the attack submarine program, as set out in the Defense Industrial Strategy."


Comment on this SOTT Focus

---

Hidden Color revolution??? Georgian opposition leader gunned down


AP
2007-05-21 10:07:00

TBILISI, Georgia - The leader of a Georgian opposition movement was gunned down Sunday evening on a street in a central part of the capital, Tbilisi, the Interior Ministry said.

The ministry's press service did not give further details, but local television reports said the 67-year-old Guram Sharadze was shot five times and died at the scene.


Comment on this SOTT Focus

---

Blair still refuses to release WMD document


BBC News
2007-05-21 09:53:00

The government must release a draft of a 2002 dossier on Iraq's weapons of mass destruction, the Information Commissioner has ruled.

The campaigner who requested the draft says it may contain the first reference to Saddam Hussein having WMD which could be used in 45 minutes.

It was written by the then Foreign Office press secretary, John Williams. He denies it contains the claim.

Foreign Secretary Margaret Beckett [a Zionist politician who recently took over as Foreign Secretary from Jack Straw, a Jewish politician who changed his name from Jack Strauss] is expected to take the final decision.

Comment on this SOTT Focus

---

Farmers riot in China over "one child" policy


AFP
2007-05-21 08:27:00

Police clashed violently with protesters in southern China as thousands of angry farmers rioted over the nation's controversial "one-child" family planning policies, residents said Monday.

Angry farmers besieged up to four township governments in Guangxi province on Friday and Saturday, with police and protesters clashing in at least one demonstration, they said.

Comment on this SOTT Focus

---
Around the World
---
Response to B'nai Brith hate complaint: Regarding Israel: A Hateful Weekend

Chris Cook
Pacific Free Press
2007-05-20 14:43:00

As the bombs continue to fall over Palestine, the bodies piling higher by the hour, I'm spending my weekend (thanks to Queen Victoria, a mercifully long one) reading over 18 "offending" articles published at my former home Peace, Earth, and Justice.


Comment on this SOTT Focus

---

Australia: New citizenship test revealed

Ben Packham
AdelaideNow
2007-05-21 14:05:00

Would-be Australians will have to know what the flag looks like, how long Aborigines have lived here, and the name of our national flower in a new citizenship test.


They should also know when European settlers arrived, what Anzac Day commemorates, and the name of our first prime minister.


The likely content of a new citizenship test, to come into effect later this year, means that the dreams of hundreds of thousands of immigrants will hinge on whether they can answer the 20-question quiz.


One of the questions is likely to be: "Which city is the capital of Australia: Sydney, Melbourne, Canberra or Hobart?"


Comment on this SOTT Focus

---

One dead, dozens injured in Bangladesh factory clash


Reuters
2007-05-21 12:10:00

DHAKA (Reuters) - Clashes between police and rioting garment workers demanding payment of wages left one person dead and about 60 people injured in Bangladesh.


Comment on this SOTT Focus

---

Flashback: US Marines closed Haiti's only teaching hospital after overthrow of Aristide


Democracy Now
2004-03-08 11:15:00

At approximately 7:20 am EST (Monday), Democracy Now! managed to reach exiled Haitian President Jean-Bertrand Aristide by cell phone in the Central African Republic. His comments represent the most extensive English-language interview Aristide has given since he was removed from office and his country.
Moments before the Democracy Now! interview, Aristide appeared publicly for the first time since he was forced out of Haiti in what he has called a US-backed coup. The authorities in the Central African Republic allowed Aristide to hold a news conference after a delegation of visiting US activists charged that the Haitian president was being held under lock and key like a prisoner. The delegation included one of Aristide's lawyers, Brian Concannon, as well as activists from the Haiti Support Network and the International Action Center, representatives of former US Attorney General Ramsey Clark. Shortly after they arrived in Bangui on Sunday, the delegation attempted to meet with Aristide at the palace of the Renaissance. The CAR government rebuked them.

Shortly after, the country's foreign minister held a press conference in Bangui. Armed men threatened journalists in the room, warning them not to record the minister's remarks. Mildred Aristide, the Haitian First lady, was brought into the room, but was not permitted to speak. The CAR foreign minister told the journalists that President Aristide would hold a news conference within 72 hours. Hours later, Aristide was allowed to address journalists.
In his interview on Democracy Now!, Aristide asserted that he is the legitimate president of Haiti and that he wants to return to the country as soon as possible. He details his last moments in Haiti, describing what he called his "kidnapping" and the coup d'etat against him. He responds to Vice President Dick Cheney's comment that Aristide had "worn out his welcome" in Haiti.


Comment on this SOTT Focus

---

Babies live short lives under Haiti's pitiless poverty

Isabelle Lignier
AFP
2007-05-21 11:12:00

The cries of Pia Francesca's wailing mother echo in the corridors of this Haitian town's hospital, as her baby's tiny body lies lifeless under a white sheet just four months after her birth.

The 20-year-old mother, Alcindor Macula, has just learned that the grinding poverty plaguing the people of the poorest nation in the Americas was too much for her fragile baby.

Hunger and dehydration took Pia Francesca's life.

Comment on this SOTT Focus

---

China and USA in New Cold War over Africa's Oil Riches

F. William Engdahl
Global Research
2007-05-21 09:23:00

To paraphrase the famous quip during the 1992 US Presidential debates, when an unknown William Jefferson Clinton told then-President George Herbert Walker Bush, "It's the economy, stupid," the present concern of the current Washington Administration over Darfur in southern Sudan is not, if we were to look closely, genuine concern over genocide against the peoples in that poorest of poor part of a forsaken section of Africa.

No. "It's the oil, stupid."

Comment on this SOTT Focus

---
Big Brother
---
Big Brother Society: Spy In The Sky Unveiled


Sky News
2007-05-21 13:34:00

The latest weapon in the war against crime has been unveiled - a remote controlled "spy in the sky".


Merseyside Police are the first in the UK to test the device, which has evolved from military reconnaissance work.


The mini helicopter, fitted with CCTV and night vision cameras, will be used by officers to track criminals and record anti-social behaviour.


It is only one metre wide, weighs less than a bag of sugar, is virtually silent, can be scrambled in three minutes and is able to record images from a height of 500m.


Assistant Merseyside chief constable Simon Byrne rejected concerns about privacy.


He said: "People clamour for the feeling of safety which cameras give.


Comment on this SOTT Focus

---
Axis of Evil
---
Mr. Gonzales's Incredible Adventure


The New York Times
2007-05-17 15:42:00

There were many fascinating threads to the testimony on Tuesday by the former deputy attorney general, James Comey, who described the night in March 2004 when two top White House officials tried to pressure an ailing and hospitalized Attorney General John Ashcroft into endorsing President Bush's illegal wiretapping operation.


But the really big question, an urgent avenue for investigation, is what exactly the National Security Agency was doing before that night, under Mr. Bush's personal orders. Did Mr. Bush start by authorizing the agency to intercept domestic e-mails and telephone calls without first getting a warrant?


Mr. Bush has acknowledged authorizing surveillance without a court order of communications between people abroad and people in the United States. That alone violates the 1978 Foreign Intelligence Surveillance Act. Domestic spying without a warrant would be an even more grievous offense.


Comment on this SOTT Focus

---

The Secret History of Jerry Falwell - Links to Terrorism

Daniel Hopsicker
Mad Cow Morning News
2007-05-21 15:30:00

At the same time the Rev. Jerry Falwell was accusing pagans, abortionists, feminists, gays, lesbians, the ACLU and People For the American Way of sharing responsibility for the 9/11 attack the televangelist owed over one million dollars in unpaid loans to the owner of the terror flight school in Florida which trained Mohamed Atta and Marwan Al-Shehhi, the MadCowMorningNews has learned.


In the days after terrorist hijackers murdered almost 3000 people, almost the entire American nation was numb and speechless with shock and horror.


Not Jerry Falwell.


The Baptist minister from Lynchburg, VA wasted no time in pointing a finger of blame for the attack. He said, "I point the finger in their face and say, 'You helped this happen.'"


Falwell made no mention, then or ever, of his curious debt to secretive Green Bay financier Wallace J. Hilliard, whose flight school abetted, if unwittingly, the terrorist presence in the United States.


Strangely, this is not Jerry Falwell's only link to covert activity at the tiny Venice, FL airport.


Comment on this SOTT Focus

---

Marie Cocco: Watergate Without the Break-In

Marie Cocco
Peace and Justice
2007-05-21 15:19:00

It is time to stop referring to the "fired U.S attorneys scandal" by that misnomer, and call it what it is: a White House-coordinated effort to use the vast powers of the Justice Department to swing elections to Republicans.


This is no botched personnel switch. It is not even a political spat between the fired U.S. attorneys and Bush administration officials who deemed some of them insufficiently zealous in promoting the department's law enforcement priorities. Connect the dots and you see an insidious effort to corrupt the American electoral system. It's Watergate without the break-in or the bagmen.


The emerging picture is one in which widespread Republican claims of "voter fraud" - unsubstantiated in virtually every case examined closely by law enforcement officials, local journalists, state elections officials and academics - were used to stymie Democratic-leaning voter registration groups and create a taint around Democrats. The Justice Department's own statistics show that only a handful of people were convicted of voting illegally since it began a "voter integrity" initiative in 2002. Its top election crimes official, a career prosecutor, has told the U.S Election Assistance Commission that the proportion of "legitimate to illegitimate claims of fraud" hasn't changed.


The "voter fraud" claims that White House political adviser Karl Rove promoted before last year's congressional elections were in battleground states such as New Mexico, Pennsylvania and Wisconsin with closely contested races. He also has complained about alleged fraud in hotly competitive states such as Washington, Florida and Missouri. Curiously, states where elections often are decided by wide margins - New York, for instance - don't turn up on his lists.


According to McClatchy Newspapers, Rove pressed Justice officials about voter fraud probes in October. Complaints from Republican activists wound up in the hands of Kyle Sampson, former chief of staff to Attorney General Alberto Gonzales and a key figure in the imbroglio. Five of the 12 U.S. attorneys who were canned or targeted for removal were singled out for alleged laxity in pursuing voter-fraud prosecutions, The Washington Post has reported.


Comment on this SOTT Focus

---

Caller ID: It's not whether the president called. It's what he did.


Washington Post
2007-05-21 15:17:00

It doesn't much matter whether President Bush was the one who phoned Attorney General John D. Ashcroft's hospital room before the Wednesday Night Ambush in 2004. It matters enormously, however, whether the president was willing to have his White House aides try to strong-arm the gravely ill attorney general into overruling the Justice Department's legal views. It matters enormously whether the president, once that mission failed, was willing nonetheless to proceed with a program whose legality had been called into question by the Justice Department. That is why Mr. Bush's response to questions about the program yesterday was so inadequate.


"I'm not going to talk about it," Mr. Bush told reporters at a news conference with departing British Prime Minister Tony Blair. "It's a very sensitive program. I will tell you that, one, the program is necessary to protect the American people, and it's still necessary because there's still an enemy that wants to do us harm."


Comment on this SOTT Focus

---

Plame Scandal: Judge Told Leak Was Part of 'Policy Dispute'

Carol D. Leonnig
Washington Post
2007-05-21 15:13:00

Attorneys for Vice President Cheney and top White House officials told a federal judge yesterday that they cannot be held liable for anything they disclosed to reporters about covert CIA officer Valerie Plame or her husband, former ambassador Joseph C. Wilson IV.


The officials, who include senior White House adviser Karl Rove and Cheney's former chief of staff, I. Lewis "Scooter" Libby, argued that the judge should dismiss a lawsuit filed by the couple that stemmed from the disclosure of Plame's identity to the media.


Comment on this SOTT Focus

---

Flashback: Israeli officials boast they now have a number to call CNN to pull any story they do not like

Chris McGreal
The Guardian
2004-04-01 10:49:00

The Israeli government has written to the BBC accusing its Middle East correspondent, Orla Guerin, of anti-semitism and "total identification with the goals and methods of the Palestinian terror groups" over a report on a 16-year-old would-be suicide bomber last week.


Comment on this SOTT Focus

---
Middle East Madness
---
Supporting the troops to death


Nordicity - Al Pope
2007-05-21 15:12:00

Hamid Karzai, president of Afghanistan, announced new restrictions on freedom of the press last week. It's not clear why he bothered since press freedom was already a myth in that country. Reporters and editors risk assault, harassment, death threats, arbitrary arrest and detention, torture and murder. A day after Karzai's announcement, Canada's prime minister Stephen Harper was telling the families of soldiers serving in Afghanistan that opposition questions about the torture of prisoners only served to detract from the good work our troops are doing.


Karzai's method of stifling dissent is the more direct of the two, involving as it does the threat of incarceration in some of the world's most notorious dungeons, but there's a lot to be said for Harper's way. Beating the "support the troops" drum worked for George W. Bush long after the mainstream U.S. press began to report on illegal detention of prisoners, assaults on civilian populations, the use of food and water as weapons, torture, chemical warfare, and Bush's repeated lying about the reasons for it all. With the loyal backing of Fox News and other Republican tub-thumpers, Bush got away with exploiting military families for their public relations value just as Harper is doing now.


Comment on this SOTT Focus

---

Israeli Military fire on Palestinian and International journalists

John Smith
IMEMC News
2007-05-21 15:07:00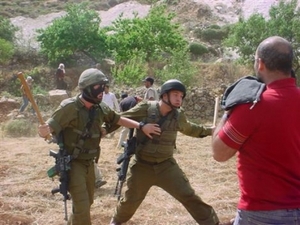 ©IMEMC
Israeli troops attack farmers who attempted to replant trees uprooted by the Army on Sunday



In an unprovoked attack, the Israeli Military fired on a number of Palestinian and International journalists in the village of Ertas, near the southern West Bank city of Bethlehem, on Monday afternoon.


Comment on this SOTT Focus

---

CNN's Martin: Paul's 9-11 explanation deserves to be debated


CNN
2007-05-21 15:07:00

Former New York Mayor Rudy Giuliani was declared the winner of Tuesday's Republican presidential debate in South Carolina, largely for his smack down of Texas Rep. Ron Paul, who suggested that America's foreign policy contributed to the destruction on September 11, 2001.


Paul, who is more of a libertarian than a Republican, was trying to offer some perspective on the pitfalls of an interventionist policy by the American government in the affairs of the Middle East and other countries.


"Have you ever read about the reasons they attacked us? They attack us because we've been over there. We've been bombing Iraq for 10 years," he said.


That set Giuliani off.


"That's really an extraordinary statement," said Giuliani. "As someone who lived through the attack of September 11, that we invited the attack because we were attacking Iraq; I don't think I've ever heard that before and I've heard some pretty absurd explanations for September 11."


Comment on this SOTT Focus

---

Moscow voices alarm over escalating armed conflict in Gaza


RIA Novosti
2007-05-21 13:52:00

Moscow is concerned over the escalating Palestinian-Israeli conflict in Gaza, and condemns Palestinian rocket attacks on Israel, a spokesman for the Foreign Ministry said Monday.


On Sunday the Israeli government sanctioned expanded operations in Gaza, directed at armed radical groups Hamas and Islamic Jihad, who have fired more than a hundred rockets into southern Israel over the past week.


"A dangerous escalation around the Palestinian territories provokes growing concerns in Moscow," Mikhail Kamynin said. "We absolutely condemn rocket launches against Israel, which claim civilian lives. We have spoken about this more than once."


The spokesman said Russia also disapproves of Israel's attacks on the Palestinian territories, and urged both sides to do everything possible to prevent further violence, and to refrain from 'an for an eye' logic.


Comment on this SOTT Focus

---

Palestinian group urges Rolling Stones to boycott Israel

Tamar Sukenik
Haaretz
2007-05-21 13:20:00

A Palestinian group lobbying for boycotts against Israel has urged the Rolling Stones to cancel their scheduled September performance in Israel, comparing performing in Israel to performing in apartheid South Africa and noting that the legendary rock band had supported the boycott of South Africa in the 1980s.


An open letter calling on the Rolling Stones not to appear in Israel was sent to the band by the Palestinian Campaign for the Academic and Cultural Boycott of Israel (PACBI) on Sunday.


The letter listed groups that have blacklisted Israel and then asked, "Is it too much, then, to expect conscientious artists like the Rolling Stones to similarly uphold the values of freedom, equality and justice for all by supporting the growing boycott against Israel?"


Comment on this SOTT Focus

---

Israeli Military is turning the West Bank into a squatter state


Haaretz
2007-05-21 09:59:00

A kind of military coup

Does Israel still uphold that proper state of affairs in which the elected government sets policy and civil servants carry it out? According to an article published in Haaretz yesterday ("The spirit of the commander prevails" by Meron Rapoport), it seems that with regard to the army, the answer is negative. While ministers speak about a two-state solution, a kind of military coup is taking place in the West Bank, in which the Israel Defense Forces are turning the area into the state of the settlers. While the Palestinian population is being suffocated, the settlements are flourishing.

Comment on this SOTT Focus

---
The Loan Gunmen
---
Saudi chemical giant to buy GE Plastics for $11.6 billion


AFP
2007-05-21 12:16:00

NEW YORK - US conglomerate General Electric said Monday it had agreed to sell its plastics division, GE Plastics, to state-controlled Saudi Basic Industries Corporation (SABIC) for 11.6 billion dollars.

GE Plastics is a global supplier of plastic resins used in numerous industries, including the automotive, healthcare, building and construction, and telecommunications sectors.


Comment on this SOTT Focus

---

Beijing to buy Blackstone stake for $3bn

By Francesco Guerrera
Financial Times
2007-05-21 05:24:00

The Chinese government is to use $3bn of its vast foreign exchange reserves to buy a 9.9 per cent stake in Blackstone, the US buy-out fund, in an unprecedented move that underlines Beijing's desire to tap into the private equity boom.

The investment will coincide with Blackstone's landmark $40bn stock market listing, expected in the next few months, and will allow the private equity group to nearly double its original target of raising $4bn.

Comment on this SOTT Focus

---

Kuwait abandons pegging currency to US dollar


PressTV
2007-05-20 23:25:00

Kuwait's Central Bank says the country has abandoned pegging its currency to the US dollar and returned to linking it to a basket of currencies.

Comment on this SOTT Focus

---
The Living Planet
---
Americans Discover the Allure of Off-Grid Living

Joseph B. Frazier
Associated Press
2007-05-21 15:09:00

Before power lines, people had no choice. They used lanterns, lit fires for warmth and packed away winter ice against hot summers.


But now, a growing number of Americans are shunning power lines, choosing to live "off the grid," without commercial power -- and still enjoying their computers and large-screen televisions.


In the 250-home Oregon community of Three Rivers, everyone gets most of their power from solar panels on their rooftops or on nearby structures positioned to more efficiently capture the sun.


The solar power easily handles their lights, microwave ovens, refrigerator-freezers and other needs. Some supplement the solar power with windmill-generated energy.


Comment on this SOTT Focus

---

City parks could cool urban areas by 4°C

Catherine Brahic
New Scientist
2007-05-21 14:47:00

Creating more parks and green spaces in urban areas could cool cities by up to 4°C - possibly enough to offset the warming from climate change - say researchers.


"If you look at infrared maps of cities, the woodland areas are 12°C cooler than city centres with no trees," says Roland Ennos at Manchester University in the UK, who carried out the study with colleagues.


Ennos's team used the city of Manchester as a template for their study. With two computer models - one to calculate changes in temperature and one to calculate changes in rainwater run-off - they investigated how the urban climate would change if world greenhouse-gas emissions continue to rise at the current rate.


Comment on this SOTT Focus

---

Fish Virus Reaching Epidemic Proportions


Live Science
2007-05-21 14:41:00

A deadly fish virus is approaching epidemic proportions in the Great Lakes and their neighboring waters, lining the beaches of Lake Erie with fish carcasses and threatening New York's $1.2 billion sport-fishing industry, a scientist says.


The Great Lakes "viral hemorrhagic septicemia virus" (VHSV) poses no health threat to humans, but people should always avoid eating fish or game that looks or acts strangely. Not all infected fish, however, exhibit symptoms as they might be carriers and symptoms vary from species to species. The virus causes anemia and internal bleeding in fish, said Paul Bowser, Cornell University professor of aquatic animal medicine.


Comment on this SOTT Focus

---

Volcanic ash cloud stretches for 500 km above Kamchatka


RIA Novosti
2007-05-21 14:02:00

Volcanic ash from an eruption of Eurasia's highest volcano, Klyuchevskoi, on the Kamchatka Peninsula in Russia's Far East, is stretching over 500 km above the Bering Sea, a local volcanology institute spokesman said Monday.


Satellite data show a distinct ash cloud northeast of the volcano at a height of 8.2-8.7 km, which started to erupt on February 15. Although the ash cloud is making monitoring almost impossible, seismic reports suggest that the eruption could escalate.


"Ash is a hazard to aircraft flying into the ash cloud above the Bering Sea," the source said. "Ash particles with a diameter of up to 2mm can destroy engines if they get into turbines."


Comment on this SOTT Focus

---

South Florida Drought Sapping Resources

By TRAVIS REED
Associated Press
2007-05-21 06:06:00

PALM BEACH GARDENS, Fla. - The fairways here are flecked, the greens mottled brown. The PGA National Resort & Spa doesn't look like a marquee golf course.

"We'll talk to people about it in the pro shop when they check in and say, 'You might notice things are a little bit browner today,'" said Joel Paige, managing director at the course.

Florida's bottom half is in an 18-month drought, and signs of the problem are everywhere - from the links to the nursery and sugar cane industries.

Comment on this SOTT Focus

---

So how did An Inconvenient Truth become required classroom viewing? Even climate change experts say many of the claims in Al Gore's film are wrong.

Kevin Libin
National Post
2007-05-21 05:37:00

First it was his world history class. Then he saw it in his economics class. And his world issues class. And his environment class. In total, 18-year-old McKenzie, a Northern Ontario high schooler, says he has had the film An Inconvenient Truth shown to him by four different teachers this year.

Comment on this SOTT Focus

---
Health & Wellness
---
Influenza-Associated Pediatric Mortality and the Increase of Staphylococcus aureus co-infection


Health Alert Network
2007-05-21 15:48:00

CDC is requesting that states report all cases of influenza-related pediatric mortality from the 2006-2007 influenza season.


Since 2004, the Influenza-Associated Pediatric Mortality Surveillance System, part of the Nationally Notifiable Disease Surveillance System, has collected information on deaths among children due to laboratory-confirmed influenza, including the presence of other medical conditions and bacterial infections at the time of death. From October 1, 2006 through May 7, 2007, 55 deaths from influenza in children have been reported to CDC from 23 state health departments and two city health departments. Data on bacterial co-infections were reported for 51 cases; 20 (39%) had a bacterial co-infection, and 16/20 were infected with Staphylococcus aureus. While the number of pediatric influenza associated deaths is similar to that reported during the two previous years, there has been an increase in the number of deaths in which both influenza and pneumonia or bacteremia due to S. aureus were identified. Only one influenza and S. aureus co-infection was identified in 2004-2005, and 3 were identified in 2005-2006. Of the 16 children reported with S. aureus so far in 2006-2007, 11children had methicillin-resistant (MRSA) isolated from a sterile site (9) or sputum (2), and 5 had methicillin-susceptible S.aureus isolated from a sterile site (3) or sputum (2). The median age of children with S. aureus co-infection was older than children without S.aureus co-infection (11 years versus 4 years, p<.01) Children with influenza and S. aureus co-infections were reported to be in good health before illness onset but progressed rapidly to severe illness. Influenza strains isolated from these children have not been different from common strains circulating in the community and the MRSA strains have been typical of those associated with MRSA skin infection outbreaks in the United States.


Comment on this SOTT Focus

---

DPA Objects to Travel Law Punishing Past Drug Use


Drug Policy News
2007-05-21 15:40:00

DPA's core principle that people should not be punished for what they put into their own bodies absent harm to others has inspired us to get involved in the case of Andrew Feldmar, a Canadian psychologist.


Feldmar has been coming to the U.S. from Vancouver for years to visit his children, both of whom live in American cities. But the last time he tried to cross the border, a guard pulled him aside and searched for his name on the internet. This turned up a journal article Feldmar wrote about his use of LSD in Canada and the U.K. almost 40 years ago.


U.S. government officials have said that because Feldmar admitted drug use, he will never be allowed in the U.S. again unless he obtains an expensive special waiver in which he certifies that he has been rehabilitated.


Speaking to The New York Times, Feldmar asked, "Rehabilitated from what?"


Comment on this SOTT Focus

---

A few facts about biological agents the government and media will never tell you about

Curt Maynard
Politically Correct Apostate
2007-05-21 15:26:00

The following is a compilation of facts I extracted from a psychology thesis I wrote several years ago entitled "A STUDY FOCUSING ON THE FORMATION OF OPINION, AND THE KNOWLEDGE ASSOCIATED WITH ITS DEVELOPMENT."


The study itself is long and boring but there are some facts I'd like to bring to light about the United States government and the history of biological weapons and warfare, especially as it relates to the aforementioned government.


I want to make this absolutely clear, this particular article should not frighten the reader, the truth is that biological agents are very unpredictable and can harm those that unleash them just as it can those targetted. To sum it up neatly, after decades of research the United States government's conclusion concerning defense against biological agents is that there is no defense against them, a virus can be quickly and inexpensively "tweaked" so that all known vaccines are rendered ineffective, meaning that vaccine manufactureres would have to start all over from the beginning, which is quite time consuming and expensive, thus there really is no point if you get my meaning.


Comment on this SOTT Focus

---

Company Recalls 129,000 Pounds of Beef


AOL Money News / AP
2007-05-18 15:21:00

A meat company is recalling 129,000 pounds of beef products in 15 states because of possible E. coli contamination, the U.S. Department of Agriculture said.


The meat products are made by Davis Creek Meats and Seafood and were made for Gordon Food Service stores, the USDA said Wednesday on its Web site.


The beef products were made between March 1 and April 30 and were shipped to distribution centers and retailers in Arkansas, Florida, Illinois, Indiana, Iowa, Kansas, Kentucky, Michigan, Missouri, Ohio, Pennsylvania, Tennessee, Virginia, West Virginia and Wisconsin.


Comment on this SOTT Focus

---

Start school later in the morning, say sleepy teens


EurekAlert
2007-05-21 14:38:00

A survey of sleep-deprived teens finds they think that a later start time for school and tests given later in the school day would result in better grades. The survey was presented at the American Thoracic Society 2007 International Conference, on Sunday, May 20.


The survey of 280 high school students confirmed what most parents with a teenager know: they are not getting enough sleep. More sleep would translate into improved academic performance, according to the teens questioned. They all attended Harriton High School in suburban Philadelphia, where the school day begins at 7:30 a.m. and ends at 2:25 p.m.


The survey found that:


* 78% of students said it was difficult to get up in the morning

* Only 16% said they regularly had enough sleep

* 70% thought their grades would improve if they had more sleep

* 90% thought their academic performance would improve if school were to start later


Comment on this SOTT Focus

---

'Star Trek'-type scanning may reveal genetic activity of tumors, Stanford study shows


EurekAlert
2007-05-21 14:35:00

Peering into the body and visualizing its molecular secrets, once the stuff of science fiction, is one step closer to reality with a study from researchers at the Stanford University School of Medicine and the University of California, San Diego School of Medicine.


The research team is reporting that by looking at images from radiology scans - such as the CT scans a cancer patient routinely gets - radiologists can discern most of the genetic activity of a tumor. Such information could lead to diagnosing and treating patients individually, based on the unique characteristics of their disease. The study will be published May 21 in the advance online edition of Nature Biotechnology.


"Potentially in the future one can use imaging to directly reveal multiple features of diseases that will make it much easier to carry out personalized medicine, where you are making diagnoses and treatment decisions based exactly on what is happening in a person," said co-senior author Howard Chang, MD, PhD, assistant professor of dermatology at Stanford, who led the genomics arm of the study.


The study's other senior author is Michael Kuo, MD, assistant professor of interventional radiology at UCSD, who said their work will help doctors obtain the molecular details of a specific tumor or disease without having to remove body tissue for a biopsy. "Ideally, we would have personalized medicine achieved in a noninvasive manner," said Kuo, who spearheaded the project in 2001 while he was a radiology resident at Stanford.


Comment on this SOTT Focus

---
Science & Technology
---
"Unusual" Tomb of Egyptian Courtier Found

Christine Dell'Amore
National Geographic
2007-05-21 14:43:00

Archaeologists got a royal surprise last week when they stumbled upon the tomb of a powerful official of the Egyptian court from 4,000 years ago.


Scientists from Belgium's Leuven Catholic University discovered the intact tomb in the Deir Al-Barsha necropolis in Minya, about 150 miles (241 kilometers) south of Cairo, while excavating another burial site, Egypt's culture ministry reported Sunday.


The tomb is of Henu, a courtier and real estate manager during the tumultuous First Intermediate period (2181 to 2050 B.C.) of Egyptian history.


Comment on this SOTT Focus

---

Math Tales: A mighty number falls


EurekAlert
2007-05-21 14:28:00

Mathematicians and number buffs have their records. And today, an international team has broken a long-standing one in an impressive feat of calculation.


On March 6, computer clusters from three institutions - the EPFL, the University of Bonn and NTT in Japan -- reached the end of eleven months of strenuous calculation, churning out the prime factors of a well-known, hard-to-factor number that is a whopping 307 digits long.


"This is the largest 'special' hard-to-factor number factored to date," explains EPFL cryptology professor Arjen Lenstra. (The number is 'special' because it has a special mathematical form -- it is close to a power of two.) The news of this feat will grab the attention of information security experts and may eventually lead to changes in encryption techniques.


Although it is relatively easy to identify huge prime numbers, factoring, or breaking a number down into its prime components, is extremely difficult. RSA encryption, named for the three individuals who devised the technique (Ronald Rivest, Adi Shamir and Leonard Adleman), takes advantage of this. Using the RSA method, information is encrypted using a large composite number, usually 1024 bits in size, created by multiplying together two 150-or-so digit prime numbers. Only someone who knows those two numbers, the "keys", can read the message. Because there is a vast supply of large prime numbers, it's easy to come up with unique keys. Information encrypted this way is secure, because no one has ever been able to factor these huge numbers. At least not yet.


Comment on this SOTT Focus

---

Breathtaking views of Deuteronilus Mensae on Mars


ESA Mars Express
2007-05-21 14:20:00

The High Resolution Stereo Camera (HRSC) on board ESA's Mars Express has captured breathtaking images of the Deuteronilus Mensae region on Mars.


The images were taken on 14 March 2005 during orbit number 1483 of the Mars Express spacecraft with a ground resolution of approximately 29 metres per pixel.


They show the Deuteronilus Mensae region, located on the northern edge of Arabia Terra and bordering the southern highlands and the northern lowlands. Situated at approximately 39° North and 23° East, Deuteronilus Mensae are primarily characterised by glacial features. The scene is illuminated by the Sun from the south-west (from bottom left in the image).


Comment on this SOTT Focus

---

Martian sands shift slowly but surely

Hamish Johnston
Physics Web
2007-05-21 13:28:00

Physicists may have solved a long-standing mystery about sand dunes on Mars. The dunes looks as if they should have been created by the action of wind, but the Martian atmosphere is so still and thin that it was thought impossible for wind to have played a part. New computer simulations suggest that the wind can indeed drive the sand dunes on Mars -- it's just that the dunes are formed far more slowly than back on Earth.


Astronomers have long been puzzled by the sand dunes on Mars, which were first discovered in 1971. The dunes look very much like those on Earth, which suggests they were created by the action of wind. The problem is that the Martian atmosphere is so thin and still -- so how could the wind have played a part?


Even more curious is the fact that successive missions to Mars have not detected any change in the positions of the dunes, whereas the dunes on Earth are shifting constantly. Some scientists have therefore suggested that the dunes were created long ago, when the Martian atmosphere could have been much denser than it is today.


Comment on this SOTT Focus

---

Ice Age space rock blast 'ravaged America'


BBC News
2007-05-21 10:54:00

A controversial new idea suggests that a large space rock exploded over North America 13,000 years ago.

The blast may have wiped out one of America's first Stone Age cultures as well as the continent's big mammals such as the mammoth and the mastodon.

The blast, from a comet or asteroid, caused a major bout of climatic cooling which may also have affected human cultures emerging in Europe and Asia.


©unk
A space rock may have exploded in the air over North America
Comment on this SOTT Focus
---

Japanese use bacteria DNA to store data


aap
2007-05-20 23:15:00

Tomita's team successfully inserted into a common bacterium Albert Einstein's famous "E equals MC squared" equation and "1905," the year the Nobel Prize-winning physicist published the special theory of relativity.

Comment on this SOTT Focus

---
Our Haunted Planet
---
No new articles.
Don't Panic! Lighten Up!
---
Hey girl, want to spend time alone with your Muslim colleague? Breast feed him.


Improvisations: Arab Woman Progressive Voice
2007-05-21 13:37:00

I really had to read this three times to make sense of it! I still don't get it, but here it is. It's hilarious. (Fortunately in Arabic)


See these guys at Al Azhar University may seem like they have too much time on their hands, but in fact they are not sitting around twiddling their thumps; they are working hard on coming up with Fatwas to help Muslims deal with some of the challenges facing them in these challenging times.


Comment on this SOTT Focus

---

The Alchemist's Revenge; A thriller suggests Isaac Newton was murderously ambitious

Reviewed by Ron Charles
Washington Post
2007-05-21 08:58:00

GHOSTWALK

By Rebecca Stott

Spiegel & Grau. 304 pp. $24.95

To concoct this cerebral thriller about 17th-century alchemy, Rebecca Stott grinds two parts of historical research into a fine powder, folds in some human blood, adds a pinch of the occult, and heats the mixture over an open flame. By the time Ghostwalk begins to boil, it's a hypnotic brew of speculation, intrigue and murder.

Comment on this SOTT Focus

---

Wealthy Saudi's yacht runs aground at Cannes festival


AFP
2007-05-21 05:57:00

One of the world's biggest private yachts, a 108-metre (354-foot) vessel belonging to Saudi billionaire Nasser Al-Rashid, sparked a beach pollution alert at the Cannes film festival Sunday after running aground.

The luxury vessel, the Lady Moura, hit a submerged rocky outcrop near the port in this French Riviera resort as it was navigating a short distance off-shore Saturday. Its passengers were evacuated.

Comment on this SOTT Focus

---

Pakistani Husband Accused of Being Woman

By ASIF SHAHZAD
Associated Press
2007-05-20 20:03:00

LAHORE, Pakistan - Police on Sunday arrested a couple who are accused of lying to a Pakistani court about the gender of the husband, who was born female and had sex reassignment surgery 16 years ago.

Comment on this SOTT Focus

---

NBC to Donald Trump: "You're Fired!"


Reuters
2007-05-20 19:18:00

Donald Trump, whose low-rated reality show "The Apprentice" was left off the new prime-time schedule unveiled this week by NBC, says the network can't fire him -- he quits.





Comment on this SOTT Focus

---
---

Remember, we need your help to collect information on what is going on in your part of the world!
Send your article suggestions to: sott(at)signs-of-the-times.org

---
Click here to return to the Signs of the Times Archive
Click here for today's Signs Page