---
Sections on today's Signs Page:
---
SOTT Focus
---
No new articles.
Best of the Web
---
Palestinian Pinochet Making His Move?

Tony Karon
Centre for Research on Globalization
2007-05-18 12:51:00

There's something a little misleading in the media reports that routinely describe the fighting in Gaza as pitting Hamas against Fatah forces or security personnel "loyal to President Mahmoud Abbas." That characterization suggests somehow that this catastrophic civil war that has killed more than 25 Palestinians since Sunday is a showdown between Abbas and the Hamas leadership - which simply isn't true, although such a showdown would certainly conform to the desires of those running the White House Middle East policy.

The Fatah gunmen who are reported to have initiated the breakdown of the Palestinian unity government and provoked the latest fighting may profess fealty to President Abbas, but it's not from him that they get their orders. The leader to whom they answer is Mohammed Dahlan, the Gaza warlord who has long been Washington's anointed favorite to play the role of a Palestinian Pinochet. And while Dahlan is formally subordinate to Abbas, whom he supposedly serves as National Security Adviser, nobody believes that Dahlan answers to Abbas - in fact, it was suggested at the time that Abbas appointed Dahlan only under pressure from Washington, which was irked by the Palestinian Authority president's decision to join a unity government with Hamas.


Comment on this SOTT Focus

---

Book Excerpt: Al Gore - The Assault on Reason

Al Gore
Time
2007-05-16 17:25:00

Not long before our nation launched the invasion of Iraq, our longest-serving Senator, Robert Byrd of West Virginia, stood on the Senate floor and said: "This chamber is, for the most part, silent - ominously, dreadfully silent. There is no debate, no discussion, no attempt to lay out for the nation the pros and cons of this particular war. There is nothing. We stand passively mute in the United States Senate."



Why was the Senate silent?



Comment on this SOTT Focus

---
U.S. News
---
Veterans take antiwar call on road

Brian MacQuarrie
The Boston Globe
2007-05-17 16:04:00

The Boston chapter of Iraq Veterans Against the War, formed this month in an Allston restaurant by a handful of former soldiers and Marines, is planning to take its call for immediate withdrawal from Iraq to all major military bases along the East Coast.

Comment on this SOTT Focus

---

Mexicans fear U.S. immigration plan

TRACI CARL
AP
2007-05-18 13:50:00

Congress' new immigration plan was bad news for tens of thousands of poor Mexicans who depend on a U.S. guestworker program for temporary jobs in agriculture and other seasonal work, such as landscaping and construction.

Comment on this SOTT Focus

---

US military begins planning for avian flu pandemic

Jim Mannion
AFP
2007-05-10 13:46:00

The US military has begun to plan for a possible avian flu pandemic that could kill as many as three million people in the United States in as little as six weeks, a Pentagon planning document said.

Comment on this SOTT Focus

---

Flashback: Immigrants From China Pay Dearly To Be Slaves

DONATELLA LORCH
New York Times
2007-05-18 13:48:00

January 3, 1991

Hundreds of illegal Chinese immigrants pay tens of thousands of dollars to become modern-day indentured servants in the New York City area in return for counterfeit identification papers and passage to the United States, law-enforcement authorities said yesterday.


Comment on this SOTT Focus

---

Tomgram: Welcome to Reality, Class of '07

Tom Engelhardt
TomDispatch.com
2007-05-17 13:36:00

Graduates of the class of 2007, close your eyes.

No kidding. That's my advice in a nutshell.

Okay, take a last look around if you want, you who entered college in September 2003, when it still wasn't apparent to most Americans that our President had crash-landed on the deck of the aircraft carrier, the USS Abraham Lincoln, to give his famed May Day speech declaring "major combat operations in Iraq" at an end.

Comment on this SOTT Focus

---

Louisiana Mom Leaves Boy on Side of Road


Associated Press
2007-05-18 12:43:00

LIVINGSTON, La. - The mother and aunt of a legally blind 10-year-old boy were booked on cruelty charges after briefly leaving him on the side of a highway because he was misbehaving, a sheriff's spokesman said.


Comment on this SOTT Focus

---
UK & Euro-Asian News
---
Zionists deny free debate: Italian university bars Holocaust denier

Marta Falconi
Associated Press
2007-05-18 16:50:00

An Italian university closed one of its campuses for the day Friday to prevent a planned lecture by a retired French professor who denies gas chambers were used in Nazi concentration camps.


Robert Faurisson, who has been convicted five times in France for denying crimes against humanity, had been expected to speak at a local hotel instead but that conference too was later canceled after scuffles with protesters.


Faurisson had been invited to lecture at the University of Teramo, in central Italy, by Claudio Moffa, a professor of Asian and African history and director of a master's program in Middle East studies.


Comment on this SOTT Focus

---

Corpses sold for Chinese 'weddings of the dead'

Jonathan Watts
The Guardian
2007-05-18 13:03:00

Chinese police have arrested a corpse trader who killed six women so he could sell their bodies for superstitious "weddings of the dead". The Xinhua news agency said the man - only identified by the surname Song - was part of a network supplying "ghost brides" to families seeking afterlife spouses for their dead sons.


Arranged marriages for the dead are an ancient tradition in parts of China. Although the custom declined after the communists took power in 1949, it is said to have made a comeback in rural areas.


Comment on this SOTT Focus

---

Russian govt. plans consolidation in radio electronics, space


RIA Novosti
2007-05-18 12:04:00

Russia's government plans to establish vertically integrated holding companies in radio electronics and the space industry, the country's first deputy prime minister said Friday.


"We are setting up large integrated holdings in key areas of the defense industry," Sergei Ivanov told the Public Chamber, a body set up as a link between the government and the public.


Comment on this SOTT Focus

---

Russia: Man sentenced to 20 years for religious hate murder of Imam


RIA Novosti
2007-05-18 12:02:00

A Stavropol Territory court has sentenced a man to 20 years in prison for the murder of the Kislovodsk Imam, who publicly condemned extremism.


Roman Koyushev, from the Predgorny district in southern Russia, was found guilty of a religiously motivated murder, illegal possession of a weapon, and wounding a police officer. He was also ordered to pay 1.2 million rubles ($46,000) compensation to the Imam's family.


The verdict said Roman Koyushev, a supporter of Wahhabism, "felt hatred towards the Imam because he publicly condemned religious extremism."


Comment on this SOTT Focus

---

Sarkozy names seven women and socialist to new French government


AFP
2007-05-18 09:58:00

French President Nicolas Sarkozy on Friday unveiled a 15-minister government that includes seven women and the leftwing human rights champion Bernard Kouchner as foreign minister.

Sarkozy demonstrated his declared aim of breaking with France's political past by giving half the cabinet jobs to women, reaching out across the political divide, and including a minister of North African origin.


Comment on this SOTT Focus

---

China Moves to Let Currency Rise

JOE McDONALD
AP
2007-05-18 09:54:00

BEIJING - China took steps Friday to let its currency appreciate faster against the dollar and to cool its sizzling economy ahead of what are expected to contentious talks in Washington over Beijing's soaring trade surplus.

American officials hope a stronger yuan will help to narrow the multibillion-dollar U.S. trade deficit with China by making Chinese goods more expensive. But the Chinese central bank cautioned that the latest change will not lead to "large appreciations" for the yuan.


Comment on this SOTT Focus

---
Around the World
---
Greenpeace Builds Replica of Noah's Ark


AP
2007-05-16 13:41:00

Environmental activists are building a replica of Noah's Ark on Mount Ararat - where the biblical vessel is said to have landed after the great flood - in an appeal for action on global warming, Greenpeace said Wednesday.

Comment on this SOTT Focus

---

Zimbabwe: Ministry Confirms UNDP Car at Centre of Diamond Row

Clemence Manyukwe
Financial Gazette - Harare
2007-05-18 12:57:00

A ministry of Foreign Affairs letter has confirmed claims by Bubye Minerals that one of the vehicles at the centre of its diamond row with River Ranch Limited is registered in the name of the United Nations Development Programme (UNDP).


Bubye Minerals is entangled in a long running dispute with River Ranch Limited over ownership of River Ranch diamond mine, situated in Beitbridge.


Bubye has implicated the UNDP in the row, by claiming that the agency's vehicles could have been used by its rivals to smuggle diamonds. The company identified one of the vehicles as a Toyota and gave its registration number as 200 TCE 666.


Both the UNDP and River Ranch Limited have denied Bubye's claims.


Comment on this SOTT Focus

---

Venezuela Invests US$20 Billion in Development

Chris Carlson
Venezuelanalysis.com
2007-05-18 11:22:00

Venezuelan Finance Minister Rodrigo Cabezas reported to the National Assembly yesterday that the National Development Fund (Fonden) has received a total of US$ 27.3 billion from the Central Bank and PDVSA, of which US$ 20.2 billion have been invested in public projects. Cabezas emphasized that the fund has become the fundamental means of increasing investment in the country.

Comment on this SOTT Focus

---

Five killed in Indian mosque bombing


AFP
2007-05-18 10:13:00

A bomb tore through one of India's oldest and biggest mosques Friday, killing five people and seriously wounding 17 others as thousands of worshippers attended prayers, officials said.

The bomb was placed close to the prayer area in the ancient Mecca Mosque in the southern city of Hyderabad, officials said, adding that two other unexploded "improvised devices" were defused following the explosion.

Comment on this SOTT Focus

---

Hostage standoff enters second day in Japan


AFP
2007-05-18 01:21:00

A hostage standoff in Japan entered a second day Friday after a former gangster killed a police officer, shot three others and took his companion captive.

The assailant, identified by police as 50-year-old Hisato Obayashi, opened fire on his family in central Japan on Thursday in the latest of a spate of gun crimes to shock the famously safe country.

Comment on this SOTT Focus

---
Big Brother
---
Feeling safer yet?: Sinister object at LAX turns out to be sprinkler


Associated Press
2007-05-17 17:41:00

A terminal at Los Angeles International Airport was partially evacuated Thursday when an item found in luggage triggered a security alert. The object turned out to be a sprinkler.

Comment on this SOTT Focus

---

Global net censorship 'growing'


BBC
2007-05-18 15:58:00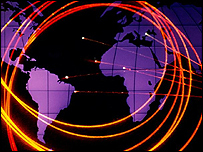 ©BBC
The report said net censorship was spreading across the globe



The level of state-led censorship of the net is growing around the world, a study of so-called internet filtering by the Open Net Initiative suggests.

The study of thousands of websites across 120 Internet Service Providers found 25 of 41 countries surveyed showed evidence of content filtering.

Comment on this SOTT Focus

---

Road test: Lockdowns proposed for Baltimore


Associated Press
2007-05-17 10:30:00

A city council leader, alarmed by Baltimore's rising homicide rate, wants to give the mayor the power to put troubled neighborhoods under virtual lockdown.

"Desperate measures are needed when we're in desperate situations," City Council Vice President Robert W. Curran told The (Baltimore) Sun. He said he would introduce the legislation next week.

Comment on this SOTT Focus

---
Axis of Evil
---
US government fans homeland terrorism fear

Larry Chin
Global Research
2007-05-15 12:47:00

The US government and Washington elites are aggressively ramping up their "war on terrorism" rhetoric and propaganda, stoking fear and paranoia in order to bolster their war agenda, and reinvigorate the mass public perception of new and growing "homegrown terrorism" threats to the US homeland.

Comment on this SOTT Focus

---

Immunity for Cheney, others sought in Plame case

CAROL D. LEONNIG
Washington Post
2007-05-18 11:55:00

WASHINGTON - Attorneys for Vice President Cheney and top White House officials told a federal judge Thursday they cannot be held liable for anything they disclosed to reporters about covert CIA officer Valerie Plame or her husband, former Ambassador Joe Wilson.


Comment on this SOTT Focus

---

Of Actions and Consequences, Torture and Troops

William Rivers Pitt
truthout
2007-05-15 10:48:00

Recall, for context, our national debate over torture, renditions, and the rights of prisoners captured in the "War on Terror." Recall the secret memos, endorsed by then-White House Counsel Alberto Gonzales, that slapped aside Geneva Convention prohibitions against the torture of prisoners. Recall Abu Ghraib, and the shameful photos documenting the absence of those prohibitions in living, bleeding color.

It was theoretical at the time, that debate, an exercise in nationalist rhetoric and sound-bite showmanship. Those who voiced warnings, who tried to remind us that actions have consequences, hardly made a dent. Abu Ghraib was exposed, and we were outraged, and then we forgot. The mangled morality of state-sanctioned brutality continued as mere fodder for this theoretical argument, and the horrors within those faraway prison walls simply got folded into the main.

It isn't theoretical anymore.

Comment on this SOTT Focus

---

Insight into the psychopath's mind! The Poodle's Final Favor For His Owner

Chris Floyd
Lewrockwell.com
2007-05-18 10:21:00

During the trial, Blair's top foreign policy wonk, Sir Nigel Sheinwald, offered this notable justification for jailing faithful government servants whose consciences had been shocked into action by the discovery of a plot for mass murder by the "leader of the free world":


In evidence at the trial, Sir Nigel Sheinwald...said private talks between world leaders must remain confidential however illegal or morally abhorrent aspects of their discussions might be.
Comment on this SOTT Focus
---

Never enough injustice: Romney calls for doubling Guantanamo population!

Nick Juliano
The Raw Story
2007-05-15 10:05:00

Debating the treatment of foreign detainees at Tuesday night's debate, former Massachusetts Gov. Mitt Romney said he thought the US should "double" the number of prisoners held in Guantanamo Bay Cuba.

Comment on this SOTT Focus

---

Change of Psychopath! 'Blair in frame at World Bank'


The Press Association
2007-05-18 01:23:00

Outgoing Prime Minister Tony Blair is a contender for the job of president of the World Bank, according to one of America's most respected economists.

The news comes after the board of the World Bank announced its president Paul Wolfowitz would resign at the end of next month.

Comment on this SOTT Focus

---
Middle East Madness
---
Two ABC News journalists killed in Iraq


Reuters
2007-05-18 16:12:00

Gunmen killed two ABC News employees in Iraq in the latest attack on journalists in the war-torn country, the U.S. news organization said on Friday.

Comment on this SOTT Focus

---

Hamas' armed wing denies plan to target Abbas


IMEMC News
2007-05-18 14:21:00

Abu Obaida, spokesperson of the Al Qassam brigades, the armed wing of Hamas, denied on Thursday any plan to target the Palestinian president Mahmoud Abbas when he return to the Gaza Strip.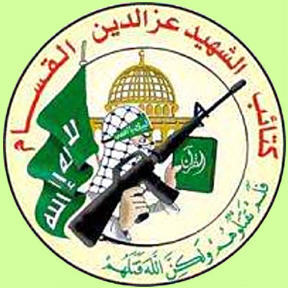 ©n/a
Logo, Qassam Brigades
Comment on this SOTT Focus
---

Russia ForMin calls on Israel to stop rocketing Palestine


Itar-Tass
2007-05-18 13:06:00

Russia is concerned over an escalation of tension in the Palestinian-Israeli relations, the Russian Foreign Ministry said on Friday.


"We denounce the missile attacks by the Israelis, victims of which are the civilian population, and we demand an immediate stop to them. Equally unacceptable are the excessively tough measures of the Israelis as a retaliation, this will inevitably plunge the sides into a closed circle of a forceful standoff."


The Foreign Ministry called on leaders of Israel and Palestine "to show restraint and political far-sight, resolutely stop the outbreaks of violence and counter-violence, the target of which mostly become innocent Palestinians and Israelis."


Comment on this SOTT Focus

---

The Intimate History of Collaboration: Arab Citizens and the State of Israel

Yoav Di-Capua
Middle East Report Online
2007-05-18 01:10:00

(Yoav Di-Capua is assistant professor of Middle East history at the University of Texas-Austin.)

Sometime in the late 1990s, employees in the Israeli State Archive unintentionally declassified an array of police documents. Many of the files consisted of the unremarkable personal data of prostitutes, petty thieves and black marketeers, but others dealt with a far more sensitive matter: the Palestinian Arab minority in Israel during the 1950s and 1960s. Though these "Arab files" also contained records of mundane criminal cases, most of the documents concerned the politically explosive subject of Palestinian Arab collaboration with the Jewish state. By means of the mistaken declassification, the actions, methods and goals of multiple Israeli security agencies among the Palestinian Arabs of Israel -- in short, the entire history of two decades of espionage directed at a group of Israeli citizens -- lay exposed. At the heart of these documents was detailed information about individuals and families and the well-guarded secrets of what they "gave" and what they "got" in return. Many retired collaborators are still alive.

Hillel Cohen, than a graduate student at the Hebrew University in Jerusalem, immediately recognized the potential of this material. It was not long after he and other scholars first saw these files that the archivists' error was discovered and the material was reclassified and sealed, this time probably for good. Yet, in many respects, the state's reaction came too late, for the files had opened a window for an unprecedented reevaluation of Arab life in 1948-1967, the early years of the state of Israel, lamented by many Israeli Jews as a long-lost golden age of normalcy. It is a little-known fact in the West, and a vague memory among Israeli Jews, that for almost all of those years the Arab minority was under military rule.

Comment on this SOTT Focus

---

8 Israeli Airstrikes in Gaza Kill at Least 7

By STEVEN ERLANGER
The New York Times
2007-05-17 23:38:00

JERUSALEM, Friday, May 18 - Israel moved a small number of tanks and soldiers over the Gaza border and hit Hamas with eight airstrikes on Thursday and early Friday, killing at least seven Palestinians, while five other Palestinians died in factional fighting despite a new cease-fire.


Comment on this SOTT Focus

---

Gaza Strip teetering on the brink of chaos

Carolynne Wheeler
The Globe and Mail
2007-05-17 21:24:00

Palestinian Authority president Mahmoud Abbas was urged by his parliamentary faction to declare a state of emergency in the Gaza Strip yesterday, as the week's death toll from heavy factional fighting climbed to 44.

Comment on this SOTT Focus

---
The Loan Gunmen
---
An Open Letter to LeBron James: Being Ali or Being Owned

Dave Zirin
Counterpunch
2007-05-17 15:19:00

Dear LeBron:

At the tender age of 22, you have the galactic talent to make us wonder if a mad scientist had Magic and MJ genetically spliced. But talent ain't wisdom. In a recent interview, you said that your goal in sports was to become "the richest man on earth." You also told ESPN, "I'm trying to be a global icon ... on the level of Muhammad Ali."

These dreams are compatible only if you choose to emulate Ali the icon and not Ali the man. Ali the icon is used to sell books, computers, snack foods, and anything not nailed down. Ali the man sacrificed his health, future, and untold millions by standing up to racism and war. No one is demanding you do the same. No one is insisting you get in front of a microphone and say, "I aint got no quarrel with them Iraqis."

But you should understand that the reason Ali remains a "global icon" is precisely because he didn't define himself by his corporate sponsors. When his handlers told him to stop throttling the golden goose of fame he said, "Damn the money! Damn the white man's money!"


Comment on this SOTT Focus

---

China prime minister tries to reassure world over markets, planned company to invest reserves

Joe McDonald
AP
2007-05-16 13:08:00

China's prime minister tried to reassure the world about its financial goals Friday, saying a planned company to invest some of its $1 trillion in reserves won't affect dollar-denominated assets and promising to reform unruly Chinese stock markets.

Comment on this SOTT Focus

---

Time to end the slavery of debt

Hugh Evans
Herald Sun
2007-05-18 12:00:00

IMAGINE if every Australian child were given a credit card bill they could never pay, thanks to interest rates and job prospects, writes Hugh Evans.

Sound unlikely?

Every child in Africa is born with a financial burden that a lifetime's work cannot repay.


Comment on this SOTT Focus

---
The Living Planet
---
Heavy rains hit parched Australia


BBC
2007-05-18 17:06:00

Heavy rains have been falling in south-eastern Australia, bringing welcome relief for the region's drought-stricken farmers.

Some areas recorded their best rainfall in years, but farmers warned that much more was needed to end the six-year drought - Australia's worst on record.

Comment on this SOTT Focus

---

Drought Saps Fla. Growers, Golf Courses

Travis Reed
AP
2007-05-18 14:03:00

South Florida is in an 18-month drought, and signs of the problem are everywhere - from the links to the nursery and sugar cane industries.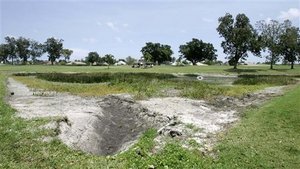 ©AP Photo/Alan Diaz
A dried up lake is shown at the PGA National golf course in Palm Beach Gardens, Fla., Thursday, May 17, 2007, due to the most severe water restrictions in South Florida history. The bottom half of Florida is in a year and a half long drought
Comment on this SOTT Focus
---

Huge waves hit Indonesian coastlines


Khaleej Times Online / Reuters
2007-05-18 12:08:00

Massive waves have hit coastlines across Indonesia, sending hundreds of panicky residents rushing from their homes and also destroying fishing boats and beachside shacks, officials and media reports said on Friday.


Television footage showed high waves crashing into the tourist island of Bali, parts of the southern coast of Java island and Sukabumi area in West Java where dozens of residents scrambled inland as flood waters flowed into a little village.


"More than 400 people escaped from their houses since the Meteorology and Geophysics Agency said the tidal waves will last for three days," Memo Hermawan, deputy regent of West Java's Garut area near Sukabumi, told Reuters.


Weather officials said the waves which began hitting the Indonesian coast on Thursday and continued on Friday were unusual and not linked with the annual weather pattern.


Waves as high as 4-5 metres (13-16 feet) struck Bali's Jimbaran known for its string of beachfront seafood restaurants, destroying at least 100 fishing boats and sending waiters out to rescue chairs and tables.


Comment on this SOTT Focus

---

Drought and negligence threaten Turkey's lakes, rivers


Todays Zaman
2007-05-18 12:06:00

Turkey has suffered a dramatic fall in the level of its potable
water supply in recent months, with the water level in dams dropping alarmingly low and major rivers and lakes -- particularly in central Anatolia -- beginning to dry up.


Experts say that unregulated irrigation, together with pollution and global warming, are to blame for the country's looming water shortage, which may pose threats both economic and natural. Officials are urging citizen s to take measures for water conservation in the hope of mitigating the effects of what increasingly appears


to be a drought, perhaps a severe one.This year İstanbul is bracing itself for what looks to be an arid summer. Authorities and city residents alike are both wondering if the painful days of the past water shortage the city endured less than two decades ago once again lie around the corner. The amount of water stored in İstanbul's dams has fallen to less than 50 percent of capacity.


Comment on this SOTT Focus

---

The Climate Engineers

James R. Fleming
The Wilson Quarterly
2007-05-18 06:42:00

Beyond the security checkpoint at the National Aeronautics and Space Administration's Ames Research Center at the southern end of San Francisco Bay, a small group gathered in November for a conference on the innocuous topic of "managing solar radiation." The real subject was much bigger: how to save the planet from the effects of global warming. There was little talk among the two dozen scientists and other specialists about carbon taxes, alternative energy sources, or the other usual remedies. Many of the scientists were impatient with such schemes. Some were simply contemptuous of calls for international cooperation and the policies and lifestyle changes needed to curb greenhouse-gas emissions; others had concluded that the world's politicians and bureaucrats are not up to the job of agreeing on such reforms or that global warming will come more rapidly, and with more catastrophic consequences, than many models predict. Now, they believe, it is time to consider radical measures: a technological quick fix for global ­warming.

Comment on this SOTT Focus

---
Health & Wellness
---
Lower Brain Serotonin Responsiveness In Childhood Predicts Antisocial Personality Disorder


Medical News Today
2007-05-18 14:11:00

Lower serotonin responsiveness in the brain during childhood predicts the development of antisocial personality disorder in early adulthood, according to a new study.


Low levels of serotonin, a neurotransmitter in the central nervous system, have been associated with several disorders, including increased aggression and depression.


It is known that impulsive aggression in adulthood is associated with disturbances in serotonergic function, but until now research examining this association in childhood has produced inconsistent results.


This prospective study, published in the May issue of the British Journal of Psychiatry, examined the relationship between serotonergic function measured in childhood and the later emergence of personality disorder.


Comment on this SOTT Focus

---

Revealing the origins of morality -- good and evil, liberal and conservative


EurekAlert
2007-05-18 13:21:00

How much money would it take to get you to stick a pin into your palm? How much to stick a pin into the palm of a child you don't know? How much to slap a friend in the face (with his or her permission) as part of a comedy skit? Well, what about slapping you father (with his permission) as part of a skit? How you answer questions such as these may reveal something about your morality, and even your politics - conservatives, for example, tend to care more about issues of hierarchy and respect, while liberals concentrate on caring and fairness. (You can take a short test of your moral intuitions by visiting www.yourmorals.org).





In a review to be published in the May 18 issue of the journal Science, Jonathan Haidt, associate professor of psychology at the University of Virginia, discusses a new consensus scientists are reaching on the origins and mechanisms of morality. Haidt shows how evolutionary, neurological and social-psychological insights are being synthesized in support of three principles: 1) Intuitive primacy, which says that human emotions and gut feelings generally drive our moral judgments; 2) Moral thinking if for social doing, which says that we engage in moral reasoning not to figure out the truth, but to persuade other people of our virtue or to influence them to support us; and 3) Morality binds and builds, which says that morality and gossip were crucial for the evolution of human ultrasociality, which allows humans - but no other primates - to live in large and highly cooperative groups.





Comment on this SOTT Focus

---

Good decision-makers may be made, not born, says Carnegie Mellon study


EurekAlert
2007-05-18 13:17:00

People who do well on a series of decision-making tasks involving hypothetical situations tend to have more positive decision outcomes in their lives, according to a study by decision scientists at Carnegie Mellon University and the RAND Corp. The results suggest that it may be possible to improve the quality of people's lives by teaching them better decision-making skills. The study is being published in the May issue of the Journal of Personality and Social Psychology, and will be presented May 25 at the Association for Psychological Science's annual convention in Washington, D.C.


The paper marks an important step forward for decision science, because it shows that tasks developed to study decision-making errors in psychological labs can be used to gauge decision-making ability in real life. The study also shows that, although decision-making competence is correlated with verbal and nonverbal intelligence, it is still a separate skill.


"Intelligence doesn't explain everything. Our results suggest that people with good decision-making skills obtain better real-life outcomes, even after controlling for cognitive ability, socio-economic status and other factors," said Wändi Bruine de Bruin, a researcher in the Department of Social and Decision Sciences at Carnegie Mellon and the lead author of the study. "That is good news, because decision-making skills may be taught."


The study recruited 360 people with diverse backgrounds. Each completed seven tasks measuring "Adult Decision-Making Competence," or their ability to avoid common decision-making errors. For example, a good decision-maker should be able to make choices independent of how information is presented, or framed. Imagine that you are learning about a type of medication that is 99 percent effective, for instance. You should be equally likely to use it if it is described as 1 percent ineffective.


Comment on this SOTT Focus

---

Black Wednesday at the FDA

Mark Thornton
investorvillage
2007-05-18 10:51:00

May 9, 2007, should be cited in the annals of cancer immunotherapy as Black Wednesday. Within an eight-hour period that day, the FDA succeeded in killing not one but two safe, promising therapies designed and developed to act by stimulating a patient's immune system against cancer. The FDA's hubris will affect the lives and possibly the life spans of cancer patients from nearly every demographic, from elderly men with prostate cancer to young children with the rarest of bone cancers.

Comment on this SOTT Focus

---

Marks & Spenscer bans artificial additives from their food


The Daily Mail
2007-05-15 10:13:00

Marks & Spenscer has become the latest store chain to announce it will remove artificial colours and flavours from 99 per cent of its food products by the end of the year.

Asda revealed it was doing the same with 9,000 own-brand items earlier this week.

Comment on this SOTT Focus

---

ID will be required to buy many cough medicines

GateHouse News Service
Peter Reuell
2007-05-17 20:34:00

Starting next week, if you are headed to Stop & Shop to get some relief from a cough, you had better have more than a few bucks in your pocket. You may also need ID.

Spurred by concerns about the abuse of a drug in many cough suppressants and cold medicines, the grocery chain yesterday announced it will require young people to produce identification before buying the products.

Comment on this SOTT Focus

---
Science & Technology
---
How geology came to help Alexander the Great

Ned Stafford
Science
2007-05-18 14:24:00

Historians need not be quite so impressed by Alexander the Great's defeat of the island of Tyre in 332BC. Geological studies of the region show that Alexander's army had help reaching the island, in the form of a natural land-bridge lying just a metre or two below the water's surface.


Alexander the Great was just 23 years old when he stood on the coast of what is now Lebanon, gazing offshore at the tiny Phoenician island city of Tyre, a powerful commercial centre. Alexander knew that Tyre had to be seized before he could safely move south to Egypt and then turn inland to conquer the Persian Empire.


In a determined attack, Alexander's engineers used timber and ruins from the old centre of Tyre on the coast to build a 1-kilometre-long 'mole', or causeway, to the island. Months later, his army broke through the fortress walls and brutally crushed Tyre.


Comment on this SOTT Focus

---

Baby Stars Hatching in Orion's Head


Physorg
2007-05-18 14:09:00

A new image from NASA's Spitzer Space Telescope shows infant stars "hatching" in the head of Orion, the famous hunter constellation visible from northern hemispheres during winter nights. Astronomers suspect that shockwaves from a 3-million-year-old explosion of a massive star may have initiated this newfound birth.


The region featured in the Spitzer image is called Barnard 30. It is located approximately 1,300 light-years away and sits on the right side of Orion's head, just north of the massive star Lambda Orionis.


"When we decided to study this region, it was barely known, despite the fact that its properties made it a nice target. Our aim was to carry out a comprehensive study of the region's different properties," said David Barrado y Navascués, of the Laboratorio de Astrofísica Espacial y Física Fundamental in Madrid, Spain, who led the Spitzer observations.


"We now know, thanks to Spitzer, that there is a large population of low-mass stars and brown dwarfs [or failed stars]," he added.


Comment on this SOTT Focus

---

"Hot Ice" Planet Discovered, Covered in "Solid Water," Experts Say

John Roach
National Geographic
2007-05-18 14:05:00

A Neptune-size planet likely covered in hot - but solid - water has been discovered in a snug orbit around a nearby star, a team of astronomers announced today.


While this planet is not fit for life, the finding suggests astronomers may soon detect habitable planets in similar alien solar systems, said Michaël Gillon of the University of Liège in Belgium.


"We are just at the door of a very exciting era," he said in an email interview.


The exotic water detected on the planet is known to form under extremely high pressure - conditions that can only be replicated on Earth in laboratories.


The planet, called GJ 436 b, orbits a cool, red star at a distance of only 2.5 million miles (4 million kilometers).


Comment on this SOTT Focus

---

Ancient Maya Tomb Found: Upright Skeleton, Unusual Location

Kelly Hearn
National Geographic
2007-05-18 13:28:00

Archaeologists working in Honduras have discovered an entombed human skeleton of an elite member of the ancient Maya Empire that may help unravel some longstanding mysteries of the vanished culture.


The remains, seated in an upright position in an unusual tomb and flanked by shells, pottery, vessels, and jade adornments, suggest a surprisingly diverse culture and complex political system in the influential Maya city of Copán around A.D. 650.


Comment on this SOTT Focus

---

Fill your car up with aluminum?

Julie Steenhuysen
Reuters
2007-05-18 13:38:00

Pellets made out of aluminum and gallium can produce pure hydrogen when water is poured on them, offering a possible alternative to gasoline-powered engines, U.S. scientists say.


Comment on this SOTT Focus

---

Study: Polar ocean 'soaking up less CO2'


BBC
2007-05-18 11:51:00

One of Earth's most important absorbers of carbon dioxide (CO2) is failing to soak up as much of the greenhouse gas as it was expected to, scientists say.


The decline of Antarctica's Southern Ocean carbon "sink" - or reservoir - means that atmospheric CO2 levels may be higher in future than predicted.


These carbon sinks are vital as they mop up excess CO2 from the atmosphere, slowing down global warming.


The study, by an international team, is published in the journal Science.


This effect had been predicted by climate scientists, and is taken into account - to some extent - by climate models. But it appears to be happening 40 years ahead of schedule.


Comment on this SOTT Focus

---
Our Haunted Planet
---
UFO sighted over Sutton, UK

Stephen Thirkill
Mansfield Today
2007-05-18 10:54:00

COULD this strange sighting be a UFO hovering above the skies of Sutton?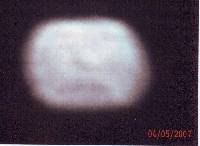 ©Mansfield Today
"It was very clear and could be seen for miles around"
Quote By : John Gregory

Comment on this SOTT Focus
---
Don't Panic! Lighten Up!
---
Sailor rescued by neighbour - 6,500 km from home


metro.co.uk
2007-05-17 16:31:00

British sailor who was adrift in the Caribbean for two days without food was shocked when his mayday was answered - by a neighbour.

Comment on this SOTT Focus

---

Limousine Passenger Robs Bank


Associated Press
2007-05-18 13:05:00

Evonne Maurice apparently wanted to get away in style. The 22-year-old pleaded guilty yesterday in federal court to trying to rob a bank at a drive-up window while traveling in a hired limousine.


Authorities said Maurice had a limousine take her to a Citizens Bank branch in Cranston and told the driver she needed to withdraw cash to pay for the ride. Then she walked up to the window and handed the teller an envelope with a note demanding money and saying there were two bombs in the bank.


Comment on this SOTT Focus

---

Taiwan MPs put on wrestling shows for publicity

Ralph Jennings
Reuters
2007-05-18 11:58:00

Taiwan politicians know how to put on a good show. But the brawling and histrionics in parliament that have put Taiwan politics on the world map for the past 20 years are staged acts, legislators and political observers say.


They are planned in advance to generate media attention and garner favour with voters who like to see their representatives fight as hard as they can on tough issues.


Lawmakers even call up allies to ask that they wear sports shoes ahead of the choreographed clashes. They have been known to meet up afterwards for drinks.


"It's really a media event, staged for media coverage," said Nationalist Party (KMT) legislator Joanna Lei. "They have a strategy session, like a war plan."


Comment on this SOTT Focus

---

25-year-old advert fools homebuyers

Hilary Osborne
The Guardian
2007-05-18 11:40:00

At a time when the average house price across the UK is around £200,000, an advert offering a four-bedroom house in Edgbaston for £53,500 was bound to catch the eye.


Unfortunately for a host of potential buyers, and the home's owners Anne and Tony Edwards who were deluged with calls and visits, the advert was 25 years out of date.


Details of the property, a detached home with two bathrooms, were included in an archive issue of the Birmingham Mail, reprinted to celebrate Aston Villa's European Cup success in 1982.


Comment on this SOTT Focus

---

Spring Brings Nudity to Vermont Town


Associated Press
2007-05-17 23:15:00

BRATTLEBORO, Vermont - Spring has arrived in this southeastern Vermont town known for its live-and-let-live culture. The trees are less bare, and some local residents are more so.

Comment on this SOTT Focus

---
---

Remember, we need your help to collect information on what is going on in your part of the world!
Send your article suggestions to: sott(at)signs-of-the-times.org

---
Click here to return to the Signs of the Times Archive
Click here for today's Signs Page