---
Sections on today's Signs Page:
---
SOTT Focus
---
No new articles.
Best of the Web
---
Dobson Hallucinates Iranian "Existential Threat"

Kurt Nimmo
Another Day In The Empire
2007-05-17 10:14:00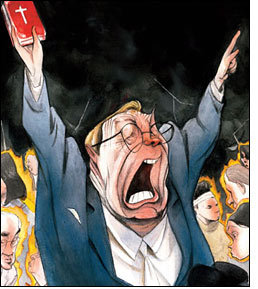 ©unk



Calling the ding-a-lings together, Bush sketched out the "existential threat to the United States from a nuclear Iran," as Max Blumenthal explains it. "I was invited to go to Washington DC to meet with President Bush in the White House along with 12 or 13 other leaders of the pro-family movement," James Dobson, chairman of the board of Focus on the Family, told his radio audience. "I heard about this danger [from Iran] not only at the White House but from other pro-family leaders that I met during that week in Washington," he said. "Many people in a position to know are talking about the possibility of losing a city to nuclear or biological or chemical attack. And if we can lose one we can lose ten."

Comment on this SOTT Focus

---

A Bullet Journey

Osama Qashoo
Current TV UK
2007-05-17 10:00:00





This film is a personal story made in memory of my friend Haza' who was killed while we were together. I was filming when one single bullet hit his heart, terminating his life forever and changing the lives of all those who knew him. I managed to capture some footage of his death and in this film I am trying to show the journey of a bullet and the effect it leaves behind.

Comment on this SOTT Focus

---

Bush meets with theocrat Dobson to rally Fundie Christian support for Iran attack

Max Blumenthal
Raw Story
2007-05-16 08:40:00



Bush has a new advisor on his Iran policy--the Christian right.

President George W. Bush met privately with Focus on the Family Founder and Chairman James Dobson and approximately a dozen Christian right leaders last week to rally support for his policies on Iraq, Iran and the so-called "war on terror."

Comment on this SOTT Focus

---
U.S. News
---
Democrats seek "meaningless" no confidence vote on Gonzales

Thomas Ferraro
Reuters
2007-05-17 04:39:00

Democrats announced on Thursday they will seek a U.S. Senate vote of "no confidence" in Attorney General Alberto Gonzales, hopeful it will prompt President George W. Bush's embattled friend to resign.

But the White House brushed off the Democrats' latest move in a long-running battle with Gonzales as "nothing more than a meaningless political act" and said the attorney general had "the full confidence of the president."



Comment on this SOTT Focus

---

Wrongly jailed U.S. man gets $5 million

Av Harris
Reuters
2007-05-17 11:21:00

A man jailed for 18 years for a rape he did not commit was paid $5 million in compensation by the state of Connecticut.

James Tillman, now 45, was arrested in 1988 and sentenced to 45 years in prison a year later. He was exonerated in 2006 and released after a DNA test proved his innocence.

Comment on this SOTT Focus

---

Shock Video: Sex Attack In NY Church

Scott Weinberger
CBS 2
2007-05-17 01:56:00

It's supposed to be a sanctuary, but instead it turned into the most unexpected place for an attack.

Middletown police right now are looking for a man who sexually assaulted a woman inside a local church. They got a good look at him thanks to surveillance video that was rolling during the entire attack.

Comment on this SOTT Focus

---

Hear no evil: Michigan GOP leader wants Paul barred from future debates

Jim Davenport
Associated Press
2007-05-16 19:07:00

The chairman of the Michigan Republican Party said Wednesday that he will try to bar Ron Paul from future GOP presidential debates because of remarks the Texas congressman made that suggested the Sept. 11 attacks were the fault of U.S. foreign policy.

Comment on this SOTT Focus

---

Bush hails deal on immigration reform

Julie Hirschfeld Davis
Associated Press
2007-05-17 15:55:00

WASHINGTON - Key senators in both parties and the White House announced agreement Thursday on an immigration overhaul that would grant quick legal status to millions of illegal immigrants already in the U.S. and fortify the border.


Comment on this SOTT Focus

---

Worm attacked voter database in notorious Florida district

Brad Friedman
Computerworld
2007-05-16 13:18:00

The computer database infrastructure of Sarasota County, Fla., was attacked by a notorious Internet worm on the first day of early voting during the 2006 election, which featured the now-contested U.S. House race between Democrat Christine Jennings and Republican Vern Buchanan in Florida's 13th Congressional district.

Comment on this SOTT Focus

---
UK & Euro-Asian News
---
Fillon Named French Prime Minister

EMMANUEL GEORGES-PICOT
AP
2007-05-17 08:04:00

PARIS - President Nicolas Sarkozy on Thursday gave the post of prime minister to fellow conservative Francois Fillon, who promised to carry out Sarkozy's sweeping program for change and assure France an "eminent" place in the world.

Comment on this SOTT Focus

---

It's not over yet! Harry has got new war role - looking after the injured


Daily Mail
2007-05-17 08:02:00

Army chiefs want to find a way of letting Prince Harry fulfil his dream of seeing frontline action.


Desperate to repair the public relations disaster caused by the decision not to send him to Iraq, they are trying to find him a secret war role by switching him to another unit.


There are two options: he could be deployed to a United Nations force, which would enable him to serve in trouble spots in Africa or Bosnia, where there is a smaller risk of being directly targeted by insurgents. The other would be to switch him to another regiment so that he could see action in Afghanistan.


Comment on this SOTT Focus

---

Question mark over Harry's role as he is barred from joining his men in Iraq

Michael Evans
The Times
2007-05-17 07:55:00

Prince Harry's future role in the Army was under question last night after he was barred from joining his men in Iraq.

General Sir Richard Dannatt, the head of the Army, who had initially concluded that the Prince should serve with his men for a six-month tour of duty, changed his mind after a visit to Basra last week.


Comment on this SOTT Focus

---

UK:Half of all A&E units marked for closure

David Rose and Philip Webster
timesonline
2007-05-17 07:46:00

Up to half of all hospital accident and emergency departments face cuts or closure under plans to improve patient care, presenting Gordon Brown with a massive dilemma as he takes over as Prime Minister.

Ninety-two out of 204 A&E departments are under threat if guidance attributed to the Department of Health by NHS trusts is followed, the Conservatives claimed last night.

Comment on this SOTT Focus

---

IT expert targeted in hunt for Madeleine

David Brown and Steve Bird
timesonline
2007-05-17 07:41:00

The home of a computer expert employed by Robert Murat - the only suspect in the abduction of Madeleine McCann - was searched last night as police continued their hunt for the missing girl.


Comment on this SOTT Focus

---

Strikes paralyse Pakistan


news.com.au
2007-05-17 01:01:00

STRIKES called by opposition parties brought Karachi and other cities to a standstill overnight as gunmen killed a top court official in continued violence over the suspension of Pakistan's top judge.

Comment on this SOTT Focus

---
Around the World
---
Inflation in Zimbabwe Hits 3,714 Percent

Angus Shaw
Associated Press
2007-05-17 02:20:00

Zimbabwe's annual inflation rate surged to an unprecedented 3,714 percent at the end of April, the official state newspaper reported Thursday, as the government set up a commission to try to bring prices down to single digit levels.

Prices more than doubled last month as shown by a 100.7 percent increase - the highest on record - in the consumer price index calculated by the state Central Statistical Office, the Herald newspaper said. In the past year they increased 36-fold.

Comment on this SOTT Focus

---

Chinese student stabs two classmates to death and injures four because of bullying


Associated Press
2007-05-17 06:05:00

A junior high school student went on a stabbing rampage in southern China, killing two classmates and wounding four in an apparent rage over bullies who demanded a protection fee from him, local media said Thursday.


Wu Jianguo, 17, attacked his classmates in a stairwell of the Dianbai County No. 3 Middle School in Guangdong province on Tuesday night when students were gathered for a study session, China Central Television reported during its regular noon broadcast.


The NewExpress, a local Guangdong paper, reported on its Web site that Wu was angry because classmates had demanded he pay them protection money.


Comment on this SOTT Focus

---

Young black activist has press for lunch

Royson James
Toronto Star
2007-05-16 23:05:00

The press came to a Ryerson University meeting room yesterday morning to hang the leader of the New Black Panther Party for his published racist comments against Jews.


Comment on this SOTT Focus

---
Big Brother
---
Digg revolt over HD DVD codes


AustralianIT
2007-05-02 13:34:00

THE world's most popular technology news website collapsed today after a revolt by its users.

Digg.com was unavailable this afternoon after users began attacking the site after it censored stories reporting how to hack high-definition DVD discs.

Digg is a so-called "social news" site that publishes stories and ranks them according to votes by its users. It accounts for 1 per cent of the total internet traffic in the US market.


Comment on this SOTT Focus

---

Oh the freedom! Roadblock targets Route 9 travelers

Diana Graettinger
Bangor Daily News
2007-05-15 01:07:00

Dubbed Operation Lobster Claw, the checkpoint by the Washington County Sheriff's Department was set up on Route 9 to stop traffic. Three K-9 units, the Maine State Police Vehicle Enforcement, along with the Maine Drug Enforcement Agency, also were there.

It wasn't a roadblock, because roadblocks are illegal, according to the U.S. Supreme Court.

It was a safety inspection.

"There's a difference between a checkpoint and a roadblock," Sheriff Donnie Smith said Monday. "We have the legal right to check vehicles. [We] go to secondary [check] if for some reason they stand out, that's legal," Smith said.

Comment on this SOTT Focus

---
Axis of Evil
---
Israeli tanks invade Gaza as air force targets Hamas leadership

Jonathan Ferziger and David Rosenberg
Bloomberg
2007-05-17 09:52:00

Israel moved tanks into the Gaza Strip and staged a third airstrike in two days, after Prime Minister Ehud Olmert vowed to take tougher measures to stop Palestinian rocket fire over the border.

Comment on this SOTT Focus

---

White House Seizes Control of National Guard Forces as Pentagon Rejects Post-Katrina Command Plan


UPI
2007-05-17 09:48:00

The Pentagon has rejected a post-Katrina proposal that would put all federal National Guard troops under the command of a state governor in times of crisis.

Comment on this SOTT Focus

---

U.S. calls on Japan to help in "pre-emptive strike" enabling shield surrounding Russia and China


Japan Times
2007-05-17 08:42:00

U.S. Defense Secretary Robert Gates has urged Japan to declare the right to collective defense so its missile defense shield can be used to intercept North Korean ballistic missiles targeted at the United States, according to Japanese and U.S. diplomatic sources.

Comment on this SOTT Focus

---

Appropriate' force used in civilian slaughter; US exonerates itself, blames victims for their own deaths


AFP
2007-05-17 08:38:00

A US military commander used "appropriate level of force" during a battle last month in western Afghanistan in which dozens of civilians were reported killed, a senior US military official said Wednesday.

Comment on this SOTT Focus

---

Lies and Manipulation: U.S. House of Representatives rejects proposal aimed at prohibiting attack on Iran


Associated Press
2007-05-17 06:08:00

The House of Representatives rejected two measures that would have required President George W. Bush to seek congressional approval before attacking Iran.


The proposals were offered as amendments to a $646 billion (€475.9 billion) defense policy bill for the budget year that starts Oct. 1.


The first proposal, by Democratic Rep. Robert Andrews, would have prohibited money in the bill from being used to strike Iran without Congress' blessing; it fell by a 216-202 vote. A similar, but more sweeping measure offered by Rep. Peter DeFazio, also a Democrat, was rejected by a 288-136 vote.


Comment on this SOTT Focus

---

Shin Bet says: Doctors Without Borders staffer confessed during a Shin Bet interrogation that for months, he had been plotting to kill Olmert

Yaakov Katz
Jerusalem Post
2007-05-17 04:30:00

A Palestinian from the Gaza Strip who works for the humanitarian organization Doctors Without Borders has been arrested for allegedly plotting to assassinate Prime Minister Ehud Olmert, the Shin Bet (Israel Security Agency) revealed Thursday.





Mazab Bashir, 25, from Deir el-Balah began working with Doctors Without Borders five years ago.


On April 19, he confessed during a Shin Bet interrogation that for months, he had been collecting intelligence on senior Israeli officials - including Olmert and a number of Knesset members.





Bashir met with the Popular Front for the Liberation of Palestine in September 2006, and said that the assassination was meant to avenge the deaths of Palestinian civilians.


Comment on this SOTT Focus

---
Middle East Madness
---
Israeli airstrikes kill or wound dozens in illegal Gaza attack

Nidal al-Mughrabi
Reuters
2007-05-17 15:49:00

GAZA - Israel launched air strikes in Gaza on Thursday against a Hamas security force, killing at least four people and plunging Palestinians deeper into turmoil after six days of fierce internal fighting verging on civil war.


Comment on this SOTT Focus

---

N. Korea tests defensive missile shield

Richard Spencer
The Telegraph
2007-05-17 08:40:00

North Korea has used a launch-pad in Iran to test-fire a new long-range missile capable of hitting American bases in the Pacific, according to reports from Japan and South Korea.


Comment on this SOTT Focus

---

Essential Psychopath: Murder suspect allegedly kills hundreds of cats

Raanan Ben-Zur
Ynet
2007-05-17 07:54:00

Over 500 cat carcasses and skins were found in the apartment of a murder suspect in central Israel. A gag order on the case was removed Thursday.


Rostislas Bugoslavsky, an 18-year-old from Petach Tikva, has been arrested for allegedly committing two murders, an attempted murder and killing approximately 500 stray cats.


The suspect initially denied the allegations; however, the police investigation team has gathered evidence linking him to the crimes.


The investigation began in March, when a 68-year-old man was stabbed in the neck and left to bleed to death. A prior, similar attack that wounded a 32-year-old, gave rise to the possibility that this was the doing of a serial killer and a gag order was put on the investigation.


Comment on this SOTT Focus

---

Mortar Barrage Again Hammers Green Zone

By KIM GAMEL
Associated Press
2007-05-16 23:02:00

BAGHDAD - Mortar rounds hammered the U.S.-controlled Green Zone for a second day Wednesday, killing at least two people, wounding about 10 more and raising new fears for the safety of workers at the nerve center of the American mission in Iraq.

Comment on this SOTT Focus

---
The Loan Gunmen
---
Spain risks crisis over vanishing reserves - But where has the money gone?

Ambrose Evans-Pritchard
UK Telegraph
2007-05-17 17:43:00

Spain's foreign reserves have plummeted to wafer-thin levels,

leaving the country exposed to a possible banking crisis

if the property market swings from boom to bust - despite membership of the eurozone.

The Banco de Espana's holdings of foreign currencies and gold have fallen to €13.2bn (£9.02bn),

equivalent to 12 days of imports.



Over the past two months the Banco de España has sold off 80 tonnes of gold, flooding the world market with enough bullion to dampen the usual spring rally. The bank has reduced its holdings of US Treasuries, British gilts, and other investments at a similar rate.

Comment on this SOTT Focus

---

Bernanke, lying, sees no spillover from mortgage woes


Reuters
2007-05-17 16:01:00

CHICAGO (Reuters) - A rash of U.S. mortgage delinquencies is not expected to hurt the broader economy, Federal Reserve Chairman Ben Bernanke said on Thursday.

"We believe the effect of the troubles in the subprime sector on the broader housing market will likely be limited, and we do not expect significant spillovers from the subprime market to the rest of the economy or to the financial system," he said in remarks to a Chicago Fed conference.


Comment on this SOTT Focus

---

The Cerberus takeover of Chrysler - what it means for auto workers

Shannon Jones
World Socialist Web Site
2007-05-17 15:34:00

Chrysler CEO Tom LaSorda called for cuts in retiree health benefits one day after the announced sale of the North American unit of DaimlerChrysler to the private equity firm Cerberus Capital Management. The statement by LaSorda, who will continue to head Chrysler under Cerberus ownership, confirms that the sell-off of Chrysler is the preparation for a wholesale assault on North American auto workers.


Comment on this SOTT Focus

---

No Freedom of Info on Plunge Protection Team

John Crudele
New York Post
2007-05-15 14:48:00

My request for information about the actions of the secretive Working Group on Financial Markets at the Treasury Department "seems to have fallen through the cracks," according to the wording of an internal government document I just got my hands on.

Comment on this SOTT Focus

---

Lending's next tsunami?

Mathew Padilla
The Orange County Register
2007-05-13 13:02:00

Alt-A loans once were limited to people with good or pretty good credit who didn't qualify for the best mortgage rates. The original Alt-A borrowers had little money for a down payment or a minor credit issue, and so received an interest rate higher than prime but not as high as subprime.

Over time, more and more borrowers took advantage of the ability to qualify for a loan while providing less documentation.

Comment on this SOTT Focus

---

N.Y. sues Dell over sales practices

SAMANTHA GROSS
AP
2007-05-17 12:50:00

New York Attorney General Andrew Cuomo accused Dell Inc. and its financial services affiliate in New York Supreme Court on Wednesday of "bait and switch" advertising practices and failing to deliver on promised customer service.

Comment on this SOTT Focus

---
The Living Planet
---
Flashback: UK enjoys 'warmest April for 142 years'

Ian Morgan
24dash.com
2007-04-28 13:09:00

Britain has basked in the warmest April for more than 140 years, a weather expert has said.

Comment on this SOTT Focus

---

That was chilliest April in 32 years

Ad Crable
Lancaster New Era
2007-05-03 12:16:00

If it seemed April did not deliver on the promise of spring, you are correct. It was the coldest April in 32 years.

"The warm weather of recent days is in stark contrast to the persistent chill that enveloped the region much of the month," notes Eric Horst of Millersville University's Weather Information Center.

Comment on this SOTT Focus

---

Permanent ice fields are resisting global warming and not melting


EurekAlert
2007-05-17 09:26:00

The small ice caps of Mont Blanc and the Dôme du Goûter are not melting, or at least, not yet. This is what CNRS researchers1 have announced in the Journal of Geophysical Research. At very high altitudes (above 4200 meters), the accumulation of snow and ice has varied very little since the beginning of the 20th century. But if summer temperatures increase by a few degrees during the 21st century, the melt could become more marked, and could affect the "permanent" ice fields.


Alpine glaciers, which are mainly at an altitude between 2000 and 4000 meters, shrank considerably during the 20th century and particularly during the past twenty years, losing an average of 1 to 1.5 kilometers in length. However, the situation is different above 4200 meters.


At the altitude of the Dôme du Goûter (4300 m) or the summit of Mont Blanc (4810 m), all precipitation is solid, falling as snow. The ice fields melt very little, and only in extreme conditions such as the 2003 heatwave. Variations in the mass of glaciers only depend on the accumulation of snow and the downward flow of the glacier, as the ice is deformed under its own weight.


Comment on this SOTT Focus

---

Journal details how global warming will affect the world's fisheries


EurekAlert
2007-05-17 09:24:00

Watching the ebb and flow of populations of fisheries around the world can provide some insight into understanding the effects of global warming on our planet, according to a group of researchers writing in the summer 2007 issue of Natural Resource Modeling. The fact that fisheries are closely tied to human health and species health across the globe adds to their significance.


"Fisheries are a globally important economic activity, not the least from the perspective of human nutrition and underdeveloped societies," writes Rognvaldur Hannesson, of the Norwegian School of Economics and Business Administration, in the issue's introduction. "Fisheries, due to their primitive nature, are among the human activities most exposed to climate changes."


The output of fisheries, as well as their costs and benefits, are "directly and strongly affected by variations in natural conditions," Hannesson adds. "Habitat conditions, which are the main determinants of the productivity and location of fish stocks, are strongly affected by ocean and atmospheric temperatures. The current prospect of substantial global warming, therefore, leads to concern about what this is likely to mean for the world's fisheries."


Comment on this SOTT Focus

---

Spain sends out jellyfish patrols

Dale Fuchs
The Guardian
2007-05-17 08:09:00

The Spanish environmental ministry is braced for a summer season plagued by jellyfish and plans patrols to scour the seas and remove the offending creatures before they reach the shores.


Josep María Gili, a professor at the Spanish High Council for Scientific Research, told La Vanguardia newspaper that the council planned a survey of the jellyfish population - and its growth potential - from the Costa Brava to Cádiz.


"From an environmental point of view, leaving them in the water isn't a bad solution, because they would be food for other animals, but for the population in general, and bathers in particular, they pose a health problem," Mr Gili said. He advised sifting for toxic tentacles in the sand.


Comment on this SOTT Focus

---

Global warming hot air? Geologist disputes claims human activity heating the earth

ELIZA BARLOW
Edmonton Sun
2006-11-06 08:06:00

A northern Alberta geologist has embarked on a crusade to stop what he says is the madness of the prevailing wisdom that human activity is heating the Earth.


Comment on this SOTT Focus

---
Health & Wellness
---
Chromium in US drinking water causes cancer

Jill Serjeant
Reuters
2007-05-17 09:19:00

A type of chromium highlighted in the film "Erin Brockovich" causes cancer in lab animals when they drink it in water, and it could be harmful to people, the U.S. National Institutes of Health said on Wednesday.

Hexavalent chromium, also called chromium 6, already has been shown to cause lung cancer when inhaled and is controlled by the Environmental Protection Agency as well as by states.

Comment on this SOTT Focus

---

West Nile hitting harder than believed

Jeremy Manier
Chicago Tribune
2007-05-17 09:24:00

West Nile virus has prompted a long-term crash in the population of bluebirds, crows and other bird species that once dominated the suburban landscape, according to a new study that dashes hopes that the disease might cause only a temporary drop.


©Centers for Disease Control
Culex quinquefasciatus mosquito (Centers for Disease Control)
Comment on this SOTT Focus
---

Nutrition and heredity are genetically linked


EurekAlert
2007-05-17 09:31:00

A challenging goal in biology is to understand how the principal cellular functions are integrated so that cells achieve viability and optimal fitness under a wide range of nutritional conditions. Scientists from the French research centers INRA and CNRS showed by genetic approaches that, in the model bacterium Bacillus subtilis, central carbon metabolism (which generates energy from nutrients) and replication (which synthesizes DNA), two key functions in the fields of nutrition and heredity, are tightly linked. The results appear in the May 16th issue of the online, peer-reviewed, open-access journal PLoS ONE.


The discovered link involves the activity of a small region of the central carbon metabolism (the terminal reactions of a process called glycolysis that burns sugars) and several enzymes of the replication machinery that synthesizes DNA. It is proposed that the link depends on metabolic signals generated as a function of the activity of the terminal reactions of glycolysis which are sensed, directly or indirectly, by replication enzymes. This system would then adjust the speed of DNA synthesis and the stability of the replication machinery to the nutritional richness of the environment, and thus to the cell's growth rate.


Comment on this SOTT Focus

---

UC Irvine researchers reveal first images of brain changes associated with memory


Today UCI
2007-05-17 09:18:00

University of California, Irvine researchers have developed the first images of the physical changes in brain cells thought to underlie memory, a discovery that is already uncovering clues about memory loss linked to cognitive disorders.


Three decades of work by neuroscientists have established that a physiological effect known as long-term potentiation (LTP) encodes everyday forms of memory. In the Journal of Neuroscience today, a UC Irvine research team led by neuroscientists Christine M. Gall and Gary Lynch presents these unique images, which show that the size and shape of synapses were changed by LTP.


"The way is now open to mapping where in the brain memories are laid down," said Lynch, a professor of psychiatry and human behavior. "Seeing memory-related physical changes to synapses means that we can at last use mouse models to test if the effects of retardation, aging and various cognitive disorders involve a specific, long-suspected defect in the connections between cortical neurons."


Comment on this SOTT Focus

---

Hyperactivity and academic achievement could be linked by genetics


EurekAlert
2007-05-17 09:14:00

Children who are hyperactive tend to do worse academically than their peers who are not hyperactive. Although the relationship between such behaviors as overactivity, impulsivity, and inattentiveness in children and poor achievement in math, reading, language, and other areas has been well documented, little is known about the reasons for this link. New research shows that the tie may be due to genetic influences.


The study, conducted by researchers at Boston University and at the Social Genetic and Developmental Psychiatry Centre, Institute of Psychiatry in London, appears in the May/June 2007 issue of the journal Child Development. The researchers examined the extent to which common genetic and environmental factors operate across hyperactivity and achievement in nearly 2,000 7-year-old pairs of twins taking part in the U.K.-based Twins Early Development Study. In the study, both parents and teachers provided ratings of twins' hyperactive behavior problems (e.g., restlessness, fidgeting, distractibility, impulsivity, and attention span). Academic achievement was based on teacher assessments of English and mathematics skills conducted at the end of the first year of primary school (equivalent to first grade in the United States).


Comment on this SOTT Focus

---

University of Missouri Study on Link Between Autism and Mercury a Discredit to Sound Science, Says SafeMinds


PRNewswire
2007-05-17 07:50:00

Undisclosed industry funding, unsubstantiated conclusions on vaccines, and study sample alteration undermine credibility on controversial topic

A recent press release from the University of Missouri announced the results of a study on autism and Rh immune globulin (RhIg) injections, some of which contained a mercury preservative called thimerosal. SafeMinds reviewed information about this study and found several troublesome aspects, including undisclosed industry funding, unsubstantiated conclusions on vaccines and mercury, and deviation from acceptable scientific practice.


Comment on this SOTT Focus

---
Science & Technology
---
Secrets Of Titan's Smog


Science Daily
2007-05-17 14:12:00

Researchers have identified molecules in the atmosphere of one of Saturn's moons that are responsible for its smog-like haze.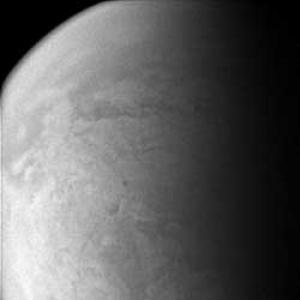 ©NASA/JPL/Space Science Institute
Titan's murky atmosphere.



The findings, published in the 11 May 2007 issue of 'Science', were gathered using the Cassini spacecraft, cooperative mission of NASA, the European Space Agency and the Italian Space Agency.

The atmosphere of Titan is of great interest as it is the only one in the solar system remotely like that of Earth, containing a nitrogen-rich mix of gases.

Comment on this SOTT Focus

---

Biologists convert protein sequences into classical music


Physorg
2007-05-17 09:48:00

"We converted the sequence of proteins into music and can get an auditory signal for every protein," said Jeffrey H. Miller, distinguished professor of microbiology, immunology and molecular genetics, and a member of UCLA's Molecular Biology Institute. "Every protein will have its unique auditory signature because every protein has a unique sequence. You can hear the sequence of the protein."


"We assigned a chord to each amino acid," said Rie Takahashi, a UCLA research assistant and an award-winning, classically trained piano player. "We want to see if we can hear patterns within the music, as opposed to looking at the letters of an amino acid or protein sequence. We can listen to a protein, as opposed to just looking at it."


The building blocks of proteins are linear sequences of 20 different amino acids. Assigning one note for each amino acid therefore results in a 20-note scale.


"A 20-note scale is too large a range," Takahashi said. "You need a reduced scale, so we paired similar amino acids together and used chords and chord variations for each amino acid. We used each component of the music to indicate a specific characteristic of the protein. We are faithful in the conversion from the sequence to the music. The rhythm is dictated by the protein sequence."


Comment on this SOTT Focus

---

Hybrid embryos get go-ahead

David Batty
Guardian Unlimited
2007-05-17 07:32:00

The [British] government has announced a U-turn on its ban on the creation of human-animal embryos and has now proposed allowing them to be used to develop new treatments for incurable diseases such as Parkinson's and Alzheimer's disease.

The proposal in a new draft fertility bill published today would allow scientists to create three different types of hybrid embryos.

Comment on this SOTT Focus

---

Fruit flies display rudimentary free will

Bob Holmes
New Scientist
2007-05-17 06:16:00

Fruit flies have free will. Even when deprived of any sensory input to react to, the zigs and zags of their flight reveal an intrinsic, non-random - yet still unpredictable - decision-making capacity.


If evolution has furnished humans with a similar capacity, this could help resolve one of the long-standing puzzles of philosophy.


Science assumes that effects have causes, and that if we understand the causes well enough we can predict the effects. But if so, our experience of being free to make choices is an illusion, since we are in effect just sophisticated robots responding to stimuli. If our behaviour is unpredictable, this is only because random events prevent us from responding perfectly to our environment.


Comment on this SOTT Focus

---
Our Haunted Planet
---
UFO Sightings Keep Rolling In From Ontario Canada

Brian Vike
American Chronicle
2007-05-16 15:06:00

Reports from Canada are coming in as usual, but in one province UFO sightings are way up for this time of the year. A massive 73 reported written sightings and a number of telephone interviews places the total for Ontario to a whopping 81 cases as of May 15, 2007 to come into HBCC UFO Research which is located in Houston, British Columbia and UFOINFO located in the United Kingdom.

Comment on this SOTT Focus

---

Shed from the sky unexplained


AP
2007-05-16 12:25:00

It may go down in the books as an unexplained phenomena, although for insurance purposes there might be a case for an act of God.

Last Monday afternoon, skies were virtually clear and there was only a light breeze at Elkhorn in Casey County when a four-thousand pound aluminum storage building rose from the rear of a church and fell onto the church roof.

Comment on this SOTT Focus

---
Don't Panic! Lighten Up!
---
UK: 2,500 post offices will be closed


Ananova
2007-05-17 09:34:00

Around 2,500 post offices are to close under plans to put the network on a sustainable footing for the "email age", the Government confirmed today.


Trade and Industry Secretary Alistair Darling told MPs that the current size of the network could not be maintained after revealing that losses had grown to £4 million a week.


The Government also unveiled a £1.7 billion package, including an annual subsidy of £150 million, to prevent further closures and help the Royal Mail attract new business.


No details of where the cuts will fall were given on Thursday but consultations will now be held to identify branches which will close.


Comment on this SOTT Focus

---

Dog Nurses Tiger Triplets at China Zoo


AP
2007-05-17 08:14:00

BEIJING - It's a dog's life for three newborn tiger triplets in eastern China. The cubs, whom officials at the Jinan Paomaling Wild Animal World in Shandong province are so far just calling "One," "Two" and "Three," have been nursed by a dog since they were rejected by their tiger mother shortly after birth, said Paomaling manager Chen Yucai.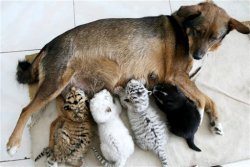 ©n/a
Comment on this SOTT Focus
---

India: Train passengers asked to get out and push


Reuters
2007-05-17 08:07:00

Hundreds of Indian rail passengers got more than they had bargained for when the driver of their train asked them to get out and push.


It took more than half an hour to move the stalled electric train 12 feet so that it touched live overhead wires and was able to resume its journey, officials said on Wednesday.


The incident occurred in the eastern state of Bihar on Tuesday after a passenger pulled the train's emergency chain and it halted in a "neutral zone," a short length of track where there is no power in the overhead wires.


Comment on this SOTT Focus

---

Most in America flunk in religious knowledge

SUSAN CAMPBELL
The Hartford (Conn.) Courant
2007-05-17 07:40:00

Quick: Name the four Gospels. How about the Ten Commandments? The Four Noble Truths of Buddhism? Seven Catholic sacraments? Hello? Anybody?

America purports to be a religious nation, yet what we know about religion is, well, sinful. In his new book, "Religious Literacy: What Every American Needs to Know -- And Doesn't," Stephen Prothero, head of Boston University's religion department, says it's time to teach religion in America -- not devotion, but religion.

Comment on this SOTT Focus

---

Police arrest 'hugging bandit'


AP
2007-05-16 23:35:00

BUFFALO, N.Y.- The "Hugging Bandit" - the plus-size pickpocket who put the squeeze on tipsy men and their wallets in upstate New York - is behind bars, police said. Myra Castleberry, 48, was being held without bail and police hoped they had seen the last of a decade-long spree of thefts.

Comment on this SOTT Focus

---

Tinky Winky says bye-bye to Jerry Falwell (Satire)

King Kaufman
Salon
2007-05-16 18:35:00

May 16, 2007 | Eight years ago the Rev. Jerry Falwell warned parents that BBC children's television star Tinky Winky was a hidden symbol of homosexuality. Falwell died Tuesday at 73, and the world wanted to talk to Tinky Winky.

"They're calling again, again, again," he said by phone from his home in Islington, in London. A spokesman said the former "Teletubbies" costar got more than 100 calls from reporters in the hour following news of Falwell's death.

"Oh dear, it's easy to say the wrong thing here," he said. "Tinky Winky sad whenever someone dies, but ..." He left it hanging there.


Comment on this SOTT Focus

---
---

Remember, we need your help to collect information on what is going on in your part of the world!
Send your article suggestions to: sott(at)signs-of-the-times.org

---
Click here to return to the Signs of the Times Archive
Click here for today's Signs Page