---
Sections on today's Signs Page:
---
SOTT Focus
---
Selling the Mea Culpa - Bill Moyers Journal "Buying the War"

chuck
Signs Of The Times
2007-05-01 13:37:00

In the week leading up to its PBS broadcast on April 25, 2007, Bill Moyers Journal - "Buying the War" was billed as a hard-hitting documentary exposing the weaknesses of the american press and how they "got it so wrong" in the run up to the invasion of Iraq.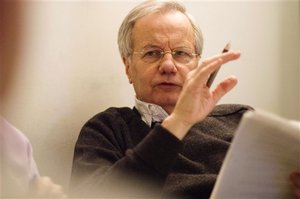 ©pbs
Bill Moyers
Comment on this SOTT Focus
---
Best of the Web
---
How Rumsfeld Micromanaged Torture

Andrew Cockburn
CounterPunch
2007-05-01 11:33:00

When Secretary of Defense Donald Rumsfeld boasted, as he did frequently, of his unrelenting focus on the war on terror, his audience would have been startled, maybe even shocked, to discover the activities that Rumsfeld found it necessary to supervise in minute detail. Close command and control of far away events from the Pentagon were not limited to the targeting of bombs and missiles. Thanks to breakthroughs in communications, the interrogation and torture of prisoners could be monitored on a real time basis also.


Comment on this SOTT Focus

---

Mutiny?

Felicity Arbuthnot
UN Observer
2007-05-01 09:52:00

When (UK) Private Paul Barton (27) of the First Battalion of the Staffordshire Regiment returned from Basra, just days ago, he did the unthinkable. He telephoned his local paper, the Tamworth Herald and told the truth about the war that is lost and the extent of the disaster it has become. "Basra is lost .... the government are just trying to save face", he said. In the first hour they were there, he asserted, fifteen mortars and three rockets were fired into their base and they were "mortared every hour of the day", reported The Independent. Corporal Richard Bradley also spoke out saying: "Blokes are dying for no cause at all and getting injured for no cause at all." Every patrol they went on, said Barton: "We were either shot at or blown up by roadside bombs", concluding: "We have overstayed our welcome ... we should pull out and call it quits."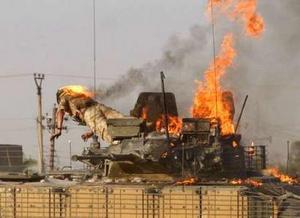 Iraqi demonstrators set British tanks on fire September 19, 2005
Comment on this SOTT Focus
---
U.S. News
---
Miss America won't testify in sex predator sting

Alfonso A. Castillo
Newsday
2007-05-01 15:09:00

The case against at least one -- and probably more -- of the 11 men arrested in Suffolk with the help of the beauty queen and the television show "America's Most Wanted" is in jeopardy because representatives for Miss America 2007 Lauren Nelson have told prosecutors she won't return to Long Island to testify, said Suffolk District Attorney Thomas Spota.


Without Nelson available as a star witness, every case she actively participated in during the undercover police sex sting may be up in the air, said Spota. He called the police operation well-intended but "nothing more than a publicity stunt."


"Given the fact that we have now determined that Miss America was actually speaking to one of those arrested, I have instructed prosecutors not to present any more cases to the grand jury until we can determine her involvement," said Spota, who added that police didn't tell his office about the April 20 operation until the afternoon before it went down.


Comment on this SOTT Focus

---

Preparations for future events: Exercise tests responses to hurricane, nuke and terrorists


AFP
2007-05-01 15:05:00

A hurricane roars ashore in Rhode Island. A nuclear device goes off in the Midwest. And terrorists begin wreaking havoc in Alaska. What do you do?


The Pentagon and other US and Canadian agencies plan to answer that question in a major exercise called Ardent Sentry-Northern Edge 07 that began Monday and will play out over the next 18 days, involving thousands of US troops and state and local officials.


The US Northern Command said it is "the largest and most complex exercise" it has undertaken, combining natural and man-made disasters to test preparedness plans on a national level.


"The intent obviously is to stress the system," said Mike Kucharak, a spokesman for the Northern Command in Colorado Springs, Colorado.


Comment on this SOTT Focus

---

A mere coincidence? Fire guts 2 historic sites in D.C

Lubna Takruri
Associated Press
2007-05-01 08:48:00

Two fires ravaged historic sites in the nation's capital Monday, one gutting part of the 134-year-old Eastern Market and the other destroying irreplaceable documents and art at the Georgetown public library branch.


Fire Chief Dennis L. Rubin said there was absolutely no suspicion that the fires were related.


The first blaze tore through the southern half of the Eastern Market, a Capitol Hill landmark listed on the National Register of Historic Places. The city-owned building was empty at the time and there were no injuries, Rubin said.


Hours later, a blaze rushed through the D.C. Public Library's Georgetown branch. The building, in the Georgetown National Register Historic District, was undergoing renovations. There were no injuries.


Comment on this SOTT Focus

---

American Dictatorship! US court rejects Guantanamo case


BBC News
2007-05-01 08:46:00

The US Supreme Court has refused to hear a case lodged by two Guantanamo Bay prisoners who sought to challenge the legality of US military courts.

The court gave no reason for its decision but three out of nine judges said they would have heard the case.

A total of four votes would have been sufficient to have the case heard by the Supreme Court.

The case was brought by Salim Ahmed Hamdan, from Yemen, and Omar Khadr, a Canadian citizen.

Ahmed Hamdan won a landmark case last year when the US Supreme Court ruled the military tribunal system illegal.

The decision forced US President George W Bush to return to Congress to obtain the legal authority to continue with the system of military tribunals.

Approaching trials



Lawyers for the pair of Guantanamo detainees claim that the new system is identical to the old one which the Supreme Court rejected a year ago.



Comment on this SOTT Focus

---

Caterpillar Says Employee Data Stolen


Breitbart / AP
2007-05-01 08:44:00

Caterpillar Inc. said late Friday that a laptop computer containing personal data on employees was stolen from a benefits consultant that works with the company.


Caterpillar spokesman Rusty Dunn declined to provide many details Friday.


"This is an open investigation and we're not prepared to get into any specifics," Dunn said.


He said one laptop computer was stolen earlier this month, but didn't say where the theft took place or identify the consultant.


Dunn declined to say how many employees were affected. He said the majority are based in the U.S. and letters have been sent to notify them. Dunn said a call center is being established to take their inquiries.


Comment on this SOTT Focus

---

Bush Has Destroyed Iraq and America

Paul Craig Roberts
lewrockwell.com
2007-04-30 22:28:00

Every American who voted Republican shares responsibility for the great evil America has brought to the Middle East.

The evil that America brought to Iraq transcends the tens or hundreds of thousands of Iraqi civilians who have been killed and maimed in the conflict. The evil goes beyond the destruction of ancient historical artifacts and the civilian infrastructure of a secular state and the decimation of the lives, careers, and families of millions of Iraqis.

Comment on this SOTT Focus

---
UK & Euro-Asian News
---
UK: Accused murderer denies all charges


TV3
2007-05-01 17:39:00

A forklift truck driver in England, accused of murdering five prostitutes in Suffolk, has denied all the charges when he appeared in court overnight.


49-year-old Steve Wright was arrested after one of England's biggest ever manhunts in December last year - he has been sent for trial next year.


The naked bodies of the victims were found dumped at rural locations around the town of Ipswich, all within the space of ten days.


Comment on this SOTT Focus

---

Campaigners call Sarkozy: "French George W. Bush"- It's not a demonization but an exact description

Charles Bremner
The Times
2007-05-01 15:26:00

Ségolène Royal intensified a desperate final effort yesterday to tar Nicolas Sarkozy, her presidential opponent, as a dangerous tyrant whose election would threaten the peace of France.


Ms Royal, the left-wing candidate who is about four points behind the conservative Mr Sarkozy in polls, denounced her opponent for the "great violence" and "brutality" of a campaign that she maintained was frightening away voters.


She will use a critical television debate with her opponent tomorrow to contrast her "France at peace with itself" with Mr Sarkozy's "France of the hard Right".


Ms Royal's line of attack, five days before the country goes to the polls, was amplified yesterday by aides and supporters. In the latest torrent of anti-Sarko vitriol, 100 stars of the arts and sciences declared that "Sarkozy embodies a hard radicalised Right . . . with all its fears and hates. Entrusting the presidency to a demagogue like this means real danger."


Comment on this SOTT Focus

---

BP CEO Browne resigns hours after ruling


Associated Press
2007-05-01 12:53:00

BP PLC's chief executive, John Browne, resigned Tuesday only hours after a judge cleared the way for a newspaper to publish details of his private life.

Comment on this SOTT Focus

---

How psychopaths party! Sony's depraved promotion stunt creates uproar

GLEN OWEN and RHODRI PHILLIPS
Daily Mail
2007-05-01 11:57:00

Electronics giant Sony has sparked a major row over animal cruelty and the ethics of the computer industry by using a freshly slaughtered goat to promote a violent video game.


The corpse of the decapitated animal was the centrepiece of a party to celebrate the launch of the God Of War II game for the company's PlayStation 2 console.




Comment on this SOTT Focus

---

UK Observers forced to 'negotiate' for evote access


The Register
2007-05-01 09:05:00

Independent observers are being blocked from properly observing the trials of electronic voting at the UK's forthcoming local elections.

Jason Kitcat, e-voting coordinator for the Open Rights Group (ORG), says that one of the councils involved in the pilots of electronic and remote voting technologies has refused to allow the ORG's observers access to the servers on which the votes will be stored and counted. He declined to name the council concerned.

Comment on this SOTT Focus

---

Le Pen urges French voters to abstain from run-off

Anna Willard
Reuters
2007-05-01 08:38:00

French far-right leader Jean-Marie Le Pen urged supporters on Tuesday to abstain from Sunday's presidential run-off rather than vote for either front-runner Nicolas Sarkozy or Socialist Segolene Royal.


"I invite the voters who showed their confidence in me to give their vote neither to Madame Royal nor to Mr Sarkozy," Le Pen told thousands of supporters at a rally in Paris to commemorate the medieval heroine Joan of Arc.


"I invite them to abstain massively."


Le Pen shocked France by defeating the Socialist candidate in the last election in 2002 before being thrashed in the second round by President Jacques Chirac. Le Pen was disappointed with fourth place in the first round this time.


Comment on this SOTT Focus

---
Around the World
---
Guyana Woman Accused As Vampire Lynched


Associated Press
2007-05-01 15:32:00

A crowd of Guyanese villagers lynched an elderly woman they accused of being an evil spirit who drinks the blood of human babies, police said Monday.


Authorities in the South American country said the woman raised suspicions with unusual behavior and was set upon by villagers who apparently believed she was an "Old Higue" - the equivalent of a vampire in the local Obeah religion that blends folk magic and African rituals.


The woman, who has not been identified, was beaten to death and her remains were found on Saturday in a village 15 miles east of Georgetown, police said.


Police have arrested three people and are questioning others, Superintendent Balram Persaud said.


"We are still investigating," he said.


Comment on this SOTT Focus

---

Venezuela takes operations from big oil companies

Brian Ellsworth
Reuters
2007-05-01 11:41:00

Venezuela stripped the world's biggest oil companies of operational control over massive Orinoco Belt crude projects on Tuesday, a vital move in President Hugo Chavez's nationalization drive.


Comment on this SOTT Focus

---

Japan hospital tests first "baby hatch"


Reuters
2007-05-01 10:01:00

Japan's first "baby hatch", where mothers can drop off babies they can't care for, completed a test-run on Tuesday with a doll, clearing the way for the controversial facility to start operating in about a week.


Jikei Hospital in the southwestern city of Kumamoto, which has links with the Catholic church, has built an incubator-like hatch with access from the outside of the building to allow babies to be dropped off safely and anonymously.


Hospital staff hope the hatch, nicknamed the "cradle of storks", will protect the lives of abandoned babies. The system is already in use in Germany and a similar facility opened in Italy recently.


But critics say the scheme may encourage people to leave their babies, and Prime Minister Shinzo Abe has been quoted as saying he opposes the idea of creating a system where parents can abandon a child anonymously.


Comment on this SOTT Focus

---

Venezuela to leave IMF, World Bank


AFP
2007-05-01 01:41:00

Venezuela's President Hugo Chavez announced Monday his country's decision to pull out of the World Bank and the International Monetary Fund, accusing them of exploiting small countries.

Comment on this SOTT Focus

---

Propaganda Alert! Report says terror attacks up sharply

By MATTHEW LEE
Associated Press
2007-04-30 23:51:00

Terrorist attacks worldwide shot up more than 25 percent last year, killing 40 percent more people than in 2005, particularly in Iraq where extremists used chemical weapons and suicide bombers to target crowds, the State Department said Monday.


Comment on this SOTT Focus

---

Judge dies of 'adult sudden death syndrome'


news.com.au
2007-04-30 22:21:00

A CHINESE judge charged with corruption died in his cell from "adult sudden death syndrome", Xinhua news agency said today.


Comment on this SOTT Focus

---
Big Brother
---
Verio to shut off controversial Web site

Nancy Gohring
InfoWorld
2007-04-30 19:59:00

The shutdown of cryptome.org has many privacy advocates worried that the move signals greater control over the Web by government and big businesses




Comment on this SOTT Focus

---
Axis of Evil
---
Analysts see Iraq war eclipsing toll from Vietnam; "Worst-case scenarios are the most likely thing to happen."

Thomas E. Ricks
Boston Globe
2007-05-01 10:46:00

WASHINGTON -- President Bush recently said that "there's a lot of differences" between the current war in Iraq and the Vietnam War.

As fighting in Iraq enters its fifth year, an increasing number of specialists in foreign policy and national strategy are contending that the biggest difference might be that the Iraq war will inflict greater damage to US interests than Vietnam did.

Comment on this SOTT Focus

---

US seeks to bar released right-wing terrorist from speaking of CIA ties


AFP
2007-05-01 10:28:00

The US government is seeking to bar former CIA agent Luis Posada Carriles, who is wanted in Venezuela and Cuba for the downing of an airliner, from talking about his links with the agency when he goes on trial in May.


Comment on this SOTT Focus

---

Massmedia plays the pity card for Condolizzard Rice

Arshad Mohammed
Reuters
2007-05-01 02:01:00

WASHINGTON For U.S. Secretary of State
Condoleezza Rice, April may have been one of the cruelest months.

There is little good news on U.S. foreign policy from Iraq and
Afghanistan to North Korea and Russia.

Comment on this SOTT Focus

---

82 Inmates Cleared but Still Held at Guantanamo

By Craig Whitlock
Washington Post
2007-04-30 21:57:00

LONDON -- More than a fifth of the approximately 385 prisoners at Guantanamo Bay, Cuba, have been cleared for release but may have to wait months or years for their freedom because U.S. officials are finding it increasingly difficult to line up places to send them, according to Bush administration officials and defense lawyers.

Comment on this SOTT Focus

---

Poor George Tenet; He Still Doesn't Get It

Ray McGovern
t r u t h o u t
2007-04-30 19:08:00

George Tenet's book shows that he remains, first and foremost, a politician - with no clue as to the proper role of intelligence work. He is unhappy about going down in history as "Slam Dunk Tenet." But, George protests, his famous remark to President Bush on December 21, 2002 was not meant to assure the president that available intelligence on weapons of mass destruction in Iraq was a "slam dunk." Rather he meant that the argument that Saddam Hussein had such weapons could be enhanced to slam-dunk status in order to sell war on Iraq.



Comment on this SOTT Focus

---

Wolfowitz to face World Bank panel


Press TV
2007-04-30 18:48:00

At the meeting with a World Bank investigatory committee, the former Pentagon number two, Paul Wolfowitz, will plead his case over revelations that he ordered a huge pay package for his girlfriend Shaha Riza.

Comment on this SOTT Focus

---
Middle East Madness
---
Ex-CIA Officers Among Tenet Critics

Dafna Linzer
Washington Post
2007-05-01 15:34:00

George J. Tenet's close friends said he anticipated criticism for some of the claims and anger he expressed in his new memoir about his former life as director of the CIA. He did not expect, they said, that his detractors would include former CIA and military officers, or that he would be blamed for the deaths of U.S. troops fighting a war in Iraq that he knew had been badly planned from the start.


As his book, "At the Center of the Storm," debuted yesterday, six former CIA analysts called on Tenet to donate a significant portion of royalties to families of service members killed or wounded in Iraq. They also called on him to return the Presidential Medal of Freedom he was awarded in December 2004.


The signed letter chastised Tenet for bottling up criticism of the Bush administration's handling of the Iraq war for three years and then publicly focusing on how the White House may have sullied his reputation. The letter -- written by officers who have been vocal in their opposition to the war -- was widely circulated by e-mail to CIA and military veterans groups and blogs. Several former CIA officers who worked closely with Tenet in the run-up to the war said they agreed with the letter but did not want to become embroiled in a public fight with their former boss.


Comment on this SOTT Focus

---

May Day is May 1, International Workers' Day: Ein al Zeitun

Haitham Sabbah
Sabbah Blog!
2007-05-01 12:48:00

May Day is May 1, International Workers' Day. It is recognized internationally for the celebration of the social and economic achievements of the international labor movement. But for Palestinians, this day has more than celebration. It is a mourn day.

Comment on this SOTT Focus

---

Fight yields ID cards for Green Zone - A warning?

Robert Burns
Associated Press
2007-04-30 21:22:00

WASHINGTON - Documents captured in recent fighting in Baghdad included two identity cards for access to the fortified Green Zone, which contains Iraqi government headquarters, and an ID card for access to the U.S. Embassy, the Pentagon says.



Comment on this SOTT Focus

---

Israeli nuclear whistle-blower convicted


Press TV
2007-04-30 19:31:00

A court in Israel has convicted a former nuclear technician of violating a military order banning him from speaking to foreign journalists.

The verdict could mean a fresh jail term for Mordechai Vanunu, who served 18 years in prison for revealing details of Israel's clandestine nuclear program.

Comment on this SOTT Focus

---
The Loan Gunmen
---
Massachusetts Declares Moratorium On Foreclosures


Boston Channel
2007-05-01 10:27:00

BOSTON -- Massachusetts has become the first state in the country to declare a moratorium on foreclosures stemming from predatory lending.

Homeowners will now be able to submit a complaint to the Division of Banking.

The division will then call the lender and ask them not to forclose.


Comment on this SOTT Focus

---

Wal-Mart seeks former intelligence officers for security

Marcus Kabel
Associated Press
2007-04-24 21:50:00

BENTONVILLE, ARK. - Wal-Mart Stores has been recruiting former military and government intelligence officers for a branch of its global security office aimed at identifying threats to the world's largest retailer, including from "suspect individuals and groups."


Comment on this SOTT Focus

---

Group: Wal-Mart violates workers' rights

Anne D'Innocenzio
Associated Press
2007-04-30 21:42:00

NEW YORK - Wal-Mart's exploitation of weak U.S. labor laws interferes with workers' rights to organize and violates the human rights of its employees, according to a report by Human Rights Watch, an independent nongovernment organization.


Comment on this SOTT Focus

---

Homebuilder Centex posts quarterly loss


Reuters
2007-04-30 21:31:00

CHICAGO - Centex Corp., the fourth-largest U.S. home builder, on Monday reported a wider-than-expected quarterly loss as it scrambled to deal with the real-estate slowdown by selling off land that was decreasing in value and exiting the sub-prime lending and commercial contracting businesses.


Comment on this SOTT Focus

---
The Living Planet
---
Over 160 homes flooded, 750 people evacuated in Urals


RIA Novosti
2007-05-01 09:55:00

Over 160 apartment buildings have been flooded and more than 745 people evacuated in Russia's industrial Urals region of Chelyabinsk, local emergencies officials said Tuesday.


"Torrential rains since late April 29 have raised the water level in the Sim river resulting in floods in the towns of Asha, Minyar and Sim," officials said.


In the three towns of the region - which is located in the watershed of the large rivers of Volga, Ural and Tobol - 166 homes have been flooded and 745 people evacuated. About 30 kilometers of the road linking Sim and Minyar have been flooded too.


Comment on this SOTT Focus

---

Pacific whale decline 'a mystery'


BBC News
2007-05-01 08:52:00

Grey whales in the eastern Pacific appear to be in some trouble, with the cause far from clear, scientists say.

Researchers with the conservation group Earthwatch found that whales are arriving in their breeding grounds off the Mexican coast malnourished.

The same thing happened just after the 1997/8 El Nino event, which warmed the waters and depleted food stocks.

Comment on this SOTT Focus

---

Surprise Surprise! Arctic melt faster than forecast


BBC News
2007-05-01 08:42:00

Arctic ice is melting faster than computer models of climate calculate, according to a group of US researchers.

Since 1979, the Arctic has been losing summer ice at about 9% per decade, but models on average produce a melting rate less than half that figure.

The scientists suggest forecasts from the Intergovernmental Panel on Climate Change (IPCC) may be too cautious.

The latest observations indicate that Arctic summers could be ice-free by the middle of the century.

Comment on this SOTT Focus

---

Nearly 1 meter of hail in a village near Lyon, France

SOTT viewer
France2.fr
2007-05-01 04:16:00

Near Lyon in France yesterday it was during the day 25 degree Celcius. In the evening all of a sudden a storm dumped closed to 1 meter of hail within not much of over 1 hour.

Comment on this SOTT Focus

---

Animal Extinction - the greatest threat to mankind


Julia Whitty
2007-04-30 18:32:00

Today we're living through the sixth great extinction, sometimes known as the Holocene extinction event. We carried its seeds with us 50,000 years ago as we migrated beyond Africa with Stone Age blades, darts, and harpoons, entering pristine Ice Age ecosystems and changing them forever by wiping out at least some of the unique megafauna of the times, including, perhaps, the sabre-toothed cats and woolly mammoths. When the ice retreated, we terminated the long and biologically rich epoch sometimes called the Edenic period with assaults from our newest weapons: hoes, scythes, cattle, goats, and pigs.

Comment on this SOTT Focus

---
Health & Wellness
---
'Epidemic' of sleep deprivation spreads among busy Britons


Daily Mail
2007-05-01 12:26:00

Getting eight hours' sleep a night has long been seen as one of the keys to a healthy and happy life.


But for most of us the figure is little more than an ideal, with the average worker losing two and a half years of sleep over the course of their career, according to a survey.


In fact, the average working adult loses just over ten hours' sleep every week, which adds up to more than one complete night's rest.


That adds up to 520 hours over a year or 23,140 hours (2.5 years) over the average working lifetime.


Comment on this SOTT Focus

---

Reversing Alzheimer's memory loss may be possible

By Will Dunham
Reuters
2007-04-30 23:40:00

Mental stimulation and drug treatment may help people with brain ailments such as Alzheimer's disease regain seemingly lost memories, according to research published on Sunday.


Comment on this SOTT Focus

---
Science & Technology
---
Pentagon to Merge Next-Gen Binoculars With Soldiers' Brains

Sharon Weinberger
Wired
2007-05-01 14:20:00



©Darpa
Darpa says a soldier's brain can be monitored in real time, with an EEG picking up "neural signatures" that indicate target detection.



U.S. Special Forces may soon have a strange and powerful new weapon in their arsenal: a pair of high-tech binoculars 10 times more powerful than anything available today, augmented by an alerting system that literally taps the wearer's prefrontal cortex to warn of furtive threats detected by the soldier's subconscious.


Comment on this SOTT Focus

---

What People Say May Not Be What They Know


Science Daily
2007-05-01 13:23:00

What a person says is not necessarily an indication of what that person knows because speech is motivated by social circumstances and the desire to influence the listener. Two researchers at the University of Missouri-Columbia have applied this principle to local environmental knowledge by indigenous peoples and are urging other scientists to incorporate more observation and skepticism into their studies.


Comment on this SOTT Focus

---

Cooler future: Earth's Climate Is Seesawing, According To Climate Researchers


Science Daily
2007-05-01 12:28:00

During the last 10,000 years climate has been seesawing between the North and South Atlantic Oceans. As revealed by findings presented by Quaternary scientists at Lund University, Sweden, cold periods in the north have corresponded to warmth in the south and vice verse. These results imply that Europe may face a slightly cooler future than predicted by IPCC, the Intergovernmental Panel on Climate Change.


The research group, currently consisting of Svante Björck, Karl Ljung and Dan Hammarlund, has retrieved cores of lake sediments and peat along a north-south transect of Atlantic islands and adjacent land areas: Greenland, Iceland, Faroes, Azores, Tristan da Cunha, Isla de los Estados, and the Antarctic Peninsula. Based on detailed analyses of geochemistry, mineral magnetism and pollen content, hitherto unknown details of Atlantic climate dynamics have been resolved. Extensive radiocarbon dating and rapid sedimentation rates in the terrestrial deposits allow a much higher temporal resolution of the data than provided by marine sediment cores.


Comment on this SOTT Focus

---

Google says Viacom lawsuit threat to Internet use


Reuters
2007-05-01 12:24:00

Viacom Inc.'s copyright infringement suit against Google Inc. and its YouTube video-sharing unit strikes at the heart of how the Internet works, Google argued on Monday in a U.S. federal court filing.


Responding in the filing to Viacom's more-than-$1 billion lawsuit, the Web search leader denied virtually all the claims, including that the popular video-watching site was engaged in "massive intentional copyright infringement."


"By seeking to make carriers and hosting providers liable for Internet communications, Viacom's complaint threatens the way hundreds of millions of people legitimately exchange information, news, entertainment and political and artistic expression," Google said in answer to Viacom's March 13 suit.


Comment on this SOTT Focus

---

Google Responds to Viacom's YouTube Suit


Associated Press
2007-05-01 12:16:00

Google Inc. on Monday filed a response to Viacom Inc.'s copyright infringement lawsuit over Google's massively popular video-sharing sharing site YouTube, arguing that the site's activities are legal.


Viacom had sued Google on March 13, claiming that YouTube has used digital technology to "willfully infringe copyrights on a huge scale," facilitating the unauthorized viewing of many pieces of Viacom's programing from MTV, Comedy Central and other networks, such as "The Daily Show with Jon Stewart."


Comment on this SOTT Focus

---

Spanish scientists point at climate changes as the cause of the Neanderthal extinction in the Iberian Peninsula


Science News
2007-05-01 10:31:00

- Recent studies carried out in Gorham's cave, on Gibraltar, proved to be definitive for this work.


- Results show that the Neanderthal extinction could have been greatly determined by environmental and climate changes and not by competitiveness with modern humans.


- The research work was recently published in Quaternary Science Reviews journal.


Comment on this SOTT Focus

---
Our Haunted Planet
---
No new articles.
Don't Panic! Lighten Up!
---
Life Cycle: Knut Steadily Getting Less Cute


Spiegel Online
2007-05-01 15:12:00

It's a tragic fact of life. Celebrity polar bear cub Knut, now almost five months old, is gradually mutating from a fluffy porridge-lapping cub into a heavy bruiser with a penchant for meat off the bone. But the visitors are still flocking to see him.


Knut's days of extreme cuteness are numbered now that he has acquired a markedly longer snout and weighs a chubby 17 kilograms (37 pounds), twice as much as when he first appeared before an adoring public five weeks ago.


"His teeth are sharper and he's stronger, he still gets porridge but we now feed him beef on the bone occasionally," the zoo's bear expert Heiner Klös told SPIEGEL ONLINE. "He's calmed down a bit, he doesn't potter around as much as he used to and he's happy to sit on his own more often. But he still wanders back to his keeper to tank up on security."


Comment on this SOTT Focus

---

Gorilla shares insight into Bush's mental state!


CNN
2007-05-01 03:37:00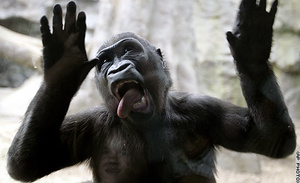 CNN
Kimani, a 2-year-old Western lowland gorilla shares an insight into Bush's mental state.
Comment on this SOTT Focus
---

Noah's Ark ready for floods in Holland


Daily Mail
2007-04-30 21:36:00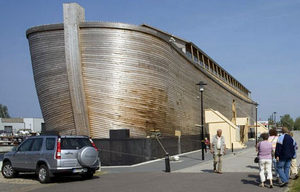 ©
Huibers' ark stands at 150 cubits (68 metres) - three-quarters of the length of a football pitch



Following in Noah's footsteps, Dutchman Johan Huibers is ready for any floods Holland may experience - thanks to his own special ark.


Comment on this SOTT Focus

---
---

Remember, we need your help to collect information on what is going on in your part of the world!
Send your article suggestions to: sott(at)signs-of-the-times.org

---
Click here to return to the Signs of the Times Archive
Click here for today's Signs Page