---
Sections on today's Signs Page:
---
SOTT Focus
---
No new articles.
Best of the Web
---
Great Moments in American Journalism: The Pat Tillman and Jessica Lynch frauds

Glenn Greenwald
Salon
2007-04-25 14:13:00

The American media did virtually nothing to investigate the Bush administration's absolute falsehoods about how Pat Tillman died. We know about it solely by virtue of the heroic relentlessness of the Tillman family -- led by his mother and brother, Kevin -- in doing the job which our press and Congress so profoundly failed to do.

And finally, we have the hordes of cowardly warmongers -- beginning with the President and Vice President -- who constantly hide behind the troops and crassly exploit them as props in service of their political agenda, even though their "concern" for the troops could not be any more exploitative and insincere.

Comment on this SOTT Focus

---

SHOCK! UK Guardian Spells It Out - Bush Administration Is A Dictatorship!

Naomi Wolf
UK Guardian
2007-04-24 17:00:00





Fascist America, in 10 easy steps



From Hitler to Pinochet and beyond, history shows there are certain steps that any would-be dictator must take to destroy constitutional freedoms. And, argues Naomi Wolf, George Bush and his administration seem to be taking them all

Comment on this SOTT Focus

---
U.S. News
---
Record of Iraq War Lies to Air This Wednesday, April 25, on PBS

David Swanson
AFP
2007-04-24 15:35:00

Bill Moyers has put together an amazing 90-minute video documenting the lies that the Bush administration told to sell the Iraq War to the American public, with a special focus on how the media led the charge. I've watched an advance copy and read a transcript, and the most important thing I can say about it is: Watch PBS from 9 to 10:30 p.m. on Wednesday, April 25. Spending that 90 minutes on this will actually save you time, because you'll never watch television news again - not even on PBS, which comes in for its share of criticism.


Comment on this SOTT Focus

---

Executed in U.S. may be awake as they suffocate

Jane Sutton
Reuters
2007-04-25 12:53:00

MIAMI - Some prisoners executed by lethal injection in the United States may die of suffocation while they are still conscious and in pain, University of Miami researchers said on Monday in a study that concluded the drugs do not work as intended.

Comment on this SOTT Focus

---

9-11 Flight 93 Rare Footage (video)


You Tube
2007-04-25 11:14:00

Debris 'Spread Over 3-4 Mile Radius'

Comment on this SOTT Focus

---

U.S. soldier hailed for bravery in Iraq says Pentagon spin doctors made it all up

By DAVID GARDNER
Daily Mail
2007-04-25 10:15:00

The American military has been accused of telling lies about two of its most famous soldiers.


Comment on this SOTT Focus

---

Psychopath Victim Chevy Chase: Mom and Stepdad Abused Me


eonline.com
2007-04-25 00:35:00

Veteran funnyman Chevy Chase admits in an upcoming biography that his mother and stepfather physically abused him when he was a kid growing up in New York.

Comment on this SOTT Focus

---

Democratic lawmaker seeks to impeach Cheney

Thomas Ferraro
Reuters
2007-04-24 21:30:00

WASHINGTON - A U.S. Democratic lawmaker opposed to the Iraq war initiated a bid on Tuesday to remove Vice President Dick Cheney from office that even his own party leaders dismissed as futile.

Rep. Dennis Kucinich of Ohio introduced three articles of impeachment in the Democratic-led House of Representatives against Cheney, accusing him of having misled the country into its 2003 invasion of Iraq and, more recently, threatening Iran without cause.



Comment on this SOTT Focus

---
UK & Euro-Asian News
---
Iran 'eight years' from operational nuke


The Register
2007-04-24 17:56:00

President's uranium enrichment claims 'misleading'

Experts have calculated that "severe technical difficulties" in Iran's nuclear programme mean it's eight years away from an operational nuclear weapon, the Telegraph reports.

President Mahmoud Ahmadinejad declared on 9 April that the country had commenced enrichment of uranium on an "industrial scale", but scientists call this "misleading" and estimate it could take Iran four years just to produce enough weapons-grade product for a single nuke.

Comment on this SOTT Focus

---

EU warns Russia against using energy for political purposes


RIA Novosti
2007-04-25 12:03:00

EU Energy Commissioner Andris Piebalgs and European MPs have urged Russia to abandon using energy as a political weapon and resume oil supplies to Lithuania.


They adopted a joint statement saying that Russia and the EU are mutually dependent on energy, and that the majority of problems arise from political disagreements.


Piebalgs told MPs in Strasbourg he intended to pressure Russia into ratifying the Energy Charter, adding he had received a letter from the Russian Industry and Energy Minister expressing hope that oil supplies along the Druzhba pipeline to Lithuania's Mazeikiu nafta refinery will be resumed in the near future.


Leaders of the 25-nation EU, increasingly concerned over energy security, are pushing for Russia to sign the Energy Charter, which would compel the country to open up its vast reserves and pipelines to European companies and to provide safeguards for investors.


Comment on this SOTT Focus

---

U.S. missile shield expansion may trigger new arms race - expert


RIA Novosti
2007-04-25 11:53:00

U.S. plans to expand and deploy elements of its missile defense system around the world threaten the start of a new arms race, a Russian expert said Wednesday.


In January, the U.S. announced plans to deploy a radar facility in the Czech Republic and a missile base in Poland to counter possible attacks from Iran or North Korea, whose nuclear programs have provoked serious international concerns. Moscow has strongly opposed the U.S. plans, saying they would threaten Russia's security and destroy the strategic balance of forces in Europe.


Sergei Rogov, head of the Institute of the U.S. and Canadian Studies, said that today strategic stability in the world is maintained by treaties limiting strategic offensive weapons and banning strategic missile defenses, which are due to expire in the near future.


"START I strategic arms reduction treaty will expire in two years. START II treaty will die without even coming into force and the Strategic Offensive Reductions Treaty will expire in six years," Rogov said. "Eventually, for the first time in 40 years Russia and the United States will have no treaties limiting offensive and defensive weapons. This would mean a game without rules."


Comment on this SOTT Focus

---

Former Polish minister commits suicide by shooting herself in the chest

Ryan Lucas
Associated Press
2007-04-25 11:29:00

A former Polish government minister committed suicide in her bathroom Wednesday morning as police searched her house in connection with corruption allegations, authorities said.


Officers from Poland's Internal Security Agency staged an early-morning search of Barbara Blida's home in the southern town of Siemianowice, agency spokesman Magdalena Stanczyk said.


Blida, a lawmaker for the post-communist Democratic Left Alliance from 1989-2005 and construction minister from 1993-1996, "was suspected of taking and receiving material gains," Stanczyk said.


Blida, 57, asked agents if she could use the toilet while they conducted their search.


Comment on this SOTT Focus

---

Bayrou refuses to back Royal or Sarkozy

Mark Tran
Guardian
2007-04-25 11:21:00

François Bayrou, the third-placed candidate in the first round of the French presidential elections, today refused to endorse either Nicolas Sarkozy or Ségolène Royal.


"I will not give any guidance about how to vote," Mr Bayrou, the leader of the centrist UDF party, told an eagerly-awaited press conference. He added that he believed both candidates would worsen France's problems.


He admitted he was currently unsure which party he would vote for, and said that although both Mr Sarkozy and Ms Royal had called him since Sunday's election, he had not spoken to either.


Comment on this SOTT Focus

---

Turkey's PM decides not to run for president


AFP
2007-04-24 23:17:00

Turkey's Islamist-rooted Prime Minister Recep Tayyip Erdogan on Tuesday named Abdullah Gul as the ruling party candidate for president, following harsh secularist objections to his own reported ambitions.

The choice of the moderate and widely respected foreign minister, is seen as a bid to compromise with the army-backed secularist establishment, but may not stamp out all objections since Gul also has an Islamist background.

Comment on this SOTT Focus

---
Around the World
---
Into the mind of the psychopath: Girls 'just felt right' murdering friend

Liza Kappelle
news.com.au
2007-04-23 12:59:00

TWO teenagers who wanted to experience murder told police it "felt right" to strangle a friend and bury her body in a shallow grave beneath her West Australian home.

Comment on this SOTT Focus

---

Missing yachstman's family fear foul play


AAP
2007-04-25 12:32:00

BRISBANE: Relatives of the skipper of an empty yacht found drifting off north Queensland say they believe the three missing crew members are alive, but in danger.

Comment on this SOTT Focus

---

Group urges the US to fulfill international obligations by extraditing terrorists


Venezuelanalysis.com
2007-04-25 09:11:00

The Non-Aligned Movement, an international organization grouping more than 100 states, expressed "great concern" over the release by a U.S. judge of Luis Posada Carriles, a Cuban-born Venezuelan citizen convicted in connection with the bombing of a Cuban airliner that killed 73 people.


Comment on this SOTT Focus

---

Mexico City lawmakers legalize abortion


AFP
2007-04-24 23:04:00

Mexico City lawmakers voted Tuesday to legalize abortion, making the Mexican capital one of the few places in Latin America after Cuba where women can terminate early pregnancies without restrictions.


Comment on this SOTT Focus

---

Political showdown in Ecuador


AP
2007-04-24 22:59:00

QUITO - Ecuador's popular president tightened his hold over all branches of government Tuesday, sending police to prevent the return of opposition lawmakers as his tentative majority in Congress dismissed all nine members of the nation's highest court.



Comment on this SOTT Focus

---
Big Brother
---
Google will know what you searched last summer

Fernando Cassia
The Inquirer
2007-04-25 15:35:00

WEB SERVICES giant Google quietly introduced "Google Web History" a feature which lets you take a look at your own web browsing trail, while the Corporation records every step you make.


Comment on this SOTT Focus

---

Spy Act Only Protects Vendors and Their DRM

Ed Foster
InfoWorld
2007-04-24 00:09:00

If H.R. 964, the Spy Act, becomes law, hardware, software, and network vendors will be granted carte blanche to use spyware themselves to police their customers' use of their products and services.

Comment on this SOTT Focus

---

Flashback: Keep Chickens, Go to Jail: Why You Should Oppose the USDA's Mandatory Property and Animal Surveillance Program


Dailykos
2005-10-25 09:18:00

(reprint of article by Mary Zanoni, Ph.D., contact info at the end)

Poultry fanciers and keepers of small flocks are facing a grave threat from a proposed government intrusion into their innocent choice of pastimes and way of life.


Comment on this SOTT Focus

---

Creeping Fascism Alert: Farmers Concerned About Livestock Identification Rule


Channel3000.com
2007-04-25 09:14:00

Some Wisconsin farmers said that a new livestock identification rule is going to be financially crippling.

Comment on this SOTT Focus

---
Axis of Evil
---
How (NOT) to prepare for alien invasion

Scott Hillis
Reuters
2007-04-25 15:09:00

SAN FRANCISCO (Reuters) - When the aliens finally invade Earth, you may wish you had listened to Travis Taylor and Bob Boan.


Comment on this SOTT Focus

---

Vanished Museum bus tells stories of Germans interned by U.S. during World War II

Roger Schlueter
Belleville News-Democrat
2007-04-25 14:36:00

At first glance, the stories seem ripped from today's headlines.

"Enemy aliens" seized from their American homes in the middle of the night. Others taken during raids on their schools and job sites. Still more kidnapped overseas by U.S. agents and brought here by force.


Comment on this SOTT Focus

---

Psychopathy in Action: A Grisly Problem, "Grateful" Dead Iraqis and a Grim Outlook

David Finkel
Washington Post
2007-04-25 12:25:00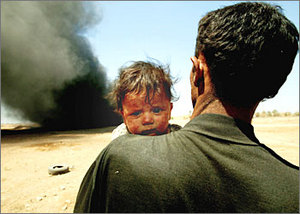 ©unk
Face of a grateful Iraqi baby




The soldiers called him Bob, and for the past several weeks, until Tuesday morning, he was the biggest obstacle to the success of an important mission in a small but crucial corner of the Iraq war.


"We can't get anybody to get Bob out. No one wants to do it," Army Maj. Brent Cummings, executive officer of the 2nd Battalion, 16th Infantry Regiment, 4th Infantry Brigade Combat Team, 1st Infantry Division, said with worry one recent morning as Bob's story began unfolding. Cummings was looking at an aerial photograph of an area in east Baghdad called Kamaliya, where there was an abandoned spaghetti factory with a hole in the courtyard, a hole in which some of his soldiers had discovered Bob.


Comment on this SOTT Focus

---

Gitmo Torturer: "Satan is your god"; Ex-Army chaplain says religion made him government target

Tom Kisken
Ventura County Star
2007-04-25 10:09:00

He had become one of them.

Like the suspected terrorists with whom he spoke as an Army Muslim chaplain at Guantanamo Bay, Capt. James Yee was accused of being an enemy to the country. He was detained at a Jacksonville, Fla., airport without being told why. All his wife knew back in Olympia, Wash., where he had been headed, was that he didn't show up.


Comment on this SOTT Focus

---

Crusaders Message in PBS's "Crossroads" Series: Some Muslims Are Not Bad

ALISON WEIR
Counterpunch
2007-04-25 08:50:00

I attended an extremely disturbing event Thursday night. It was hosted by WETA, the PBS station in Washington DC, and was part of the national launch of an 11-part PBS series, "America at a Crossroads," to begin airing April 15. It featured clips from the series followed by a panel discussion with some of those involved in the films, moderated by Robert MacNeil. The panel discussion represented a "wide" spectrum of opinions: all the way from, at one end, suggesting that all Muslims are terrorists to, at the other end, suggesting that some Muslims are not terrorists.



Comment on this SOTT Focus

---

The true colors show: Hillary rejects withdrawal from Iraq

By MICHAEL R. GORDON and PATRICK HEALY
The New York Times
2007-03-15 07:58:00

WASHINGTON - Senator Hillary Rodham Clinton foresees a "remaining military as well as political mission" in Iraq, and says that if elected president, she would keep a reduced military force there to fight Al Qaeda, deter Iranian aggression, protect the Kurds and possibly support the Iraqi military.



Comment on this SOTT Focus

---
Middle East Madness
---
Palestinian women in isolation in Israeli prisons

Mustafa Sabre
PNN
2007-04-25 17:26:00

(Qaqilia) One tooth is falling out, the ones in back are in pain, breathing is laborious and the eye pain unceasing. The skin is sensitive after the narrow isolation cells. These are not the ailments of people trapped in the dungeons of the Middle Ages, but rather those of Palestinian women currently in Israeli prisons.


Comment on this SOTT Focus

---

American military officer threaten the families of al-Adel area with al-Mahdi militias


HAQ agency
2007-04-24 17:11:00

Number of al-Adel area sons said that the American leader who is responsible for al-Adel area, who is called Michel and who's chevron is officer threaten number of al-Adel area families to allow al-Mahdi army militias to storm into the area and secure that if the attacks against the American army didn't stop in al-Adel area.


Comment on this SOTT Focus

---

UN says Iraq concealing casualty figures

Jay Deshmukh
AFP
2007-04-25 11:45:00

The United Nations Assistance Mission for
Iraq criticised Baghdad on Wednesday for concealing the casualty figures from its sectarian war and charged that many detainees have "disappeared".

Comment on this SOTT Focus

---

Israel preparing for major military offensive against Gaza

Wissam Afifah
IMEMC
2007-04-25 11:38:00

In a sign of what seems to be a possible Israeli military campaign against the Gaza Strip, Israeli war planes dropped warning leaflets on Monday at dawn in the northern areas of the Gaza Strip, eyewitnesses reported.



Comment on this SOTT Focus

---

Witch hunt continues: "Fugitive" Israeli Arab lawmaker suspected of aiding Israel's enemies


AP
2007-04-25 10:44:00

Israel - A fugitive Israeli Arab leader is suspected of aiding Israel's enemies and other security-related crimes, police said Wednesday after a gag order on a police investigation was partially lifted.


Comment on this SOTT Focus

---

Iraq's Forgotten Refugees

Dahr Jamail
Tomdispatch.com
2007-04-25 01:52:00

Since the shock-and-awe invasion of Iraq began in March 2003, that country's explosive unraveling has never left the news or long been off the front page. Yet the fallout beyond its borders from the destruction, disintegration, and ethnic mayhem in Iraq has almost avoided notice.



Comment on this SOTT Focus

---
The Loan Gunmen
---
Fighting the Corporate Theft of Our Water

Tara Lohan
AlterNet
2007-04-25 00:00:00

The Bush administration is helping multinationals buy U.S. municipal water systems, putting our most important resource in the hands of corporations with no public accountability.

Comment on this SOTT Focus

---

Toyota 'world's largest carmaker'


BBC
2007-04-24 11:59:00

Japan's Toyota has overtaken US rival General Motors to become the world's biggest carmaker, a spokesman for the company has said.

Comment on this SOTT Focus

---

Closing the circle of dependence: Wal-Mart to open 400 in-store "health" clinics

Nicole Maestri
Reuters
2007-04-25 10:20:00

NEW YORK (Reuters) - Wal-Mart Stores Inc. said on Tuesday that it will contract with local hospitals and other organizations to open as many as 400 in-store health clinics in the next two to three years.


Comment on this SOTT Focus

---
The Living Planet
---
Mobile phone mast sends swans in circle


Daily Mail
2007-04-25 10:59:00

When a group of swans began circling a church spire, villagers' bemusement soon turned to concern.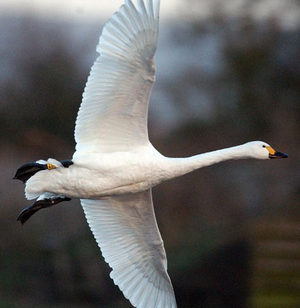 ©
A nature charity thinks a mobile phone mast could be interrupting the Bewick's swans' navigational senses
Comment on this SOTT Focus
---

10 die as storms hit Texas-Mexico border

Michelle Roberts
AP
2007-04-25 11:04:00

EAGLE PASS, Texas - Search teams worked their way through wreckage-strewn neighborhoods in this border town Wednesday after a tornado killed at least 10 people and destroyed two schools and more than 20 homes.


Comment on this SOTT Focus

---

Wildfire Forces Evacuations in Georgia

By RUSS BYNUM
Associated Press
2007-04-25 10:00:00

WAYCROSS, Ga. - Dozens of residents evacuated their homes for several hours early Wednesday after a wildfire jumped a road and spread toward two small communities.

Comment on this SOTT Focus

---

Earthquake shakes The Geysers

Bob Norberg
The Press Democrat
2007-04-25 09:33:00

A 4.5 earthquake rocked The Geysers geothermal field Tuesday afternoon.

Comment on this SOTT Focus

---

Storm Piles 16 Inches of Snow on Colorado


AP
2007-04-25 01:47:00

DENVER - A spring storm brought a strange brew of tornadoes, heavy snow, rain and hail to Colorado on Tuesday, damaging buildings and forcing schools and highways to close and stranding buses carrying dozens of schoolchildren.

The same system also brought flooding, tornadoes and high winds to many parts of the Plains. Storms overturned several mobile homes in Texas.

Comment on this SOTT Focus

---

Yellowstone Delisting Beginning of End For Grizzly bears

By Doug Peacock
Lowbagger.org
2007-04-24 21:29:00

Only A Federal Challenge Can stop The April 29, 2007 Delisting

On March 29, 2007, the Department of the Interior removed federal protection for Yellowstone's grizzly bears under the Endangered Species Act (ESA). On April 29th this 'de-listing' will take effect. Only a challenge in federal court can stop this final ruling.

Comment on this SOTT Focus

---
Health & Wellness
---
Lye in a Massachhusetts City Water Blamed for Burns


Associated Press
2007-04-25 14:09:00

SPENCER, Mass. - Several residents were taken to hospitals Wednesday with burns and rashes after the town's water supply was accidentally treated with too much corrosive lye, police said.

Comment on this SOTT Focus

---

Help Save Chocolate!


Guittard Chocolate Company
2007-04-25 11:58:00

The US Food and Drug Administration (FDA) is considering redefining 'chocolate' to allow substitution with less expensive and lower quality ingredients.

Comment on this SOTT Focus

---

Conscious suffering? Migraines May Boost Memory

Amanda Gardner
Washington Post
2007-04-25 11:37:00

There may be a silver lining to the dark cloud of migraines: improved memory.


U.S. researchers have found that women with a history of migraines had less cognitive decline as they aged than women who didn't have the debilitating headaches.


"This was a complete surprise," noted study author Amanda Kalaydjian, a research fellow at the National Institute of Mental Health. "We found that people with migraines, specifically people with migraines with aura -- which is even more counterintuitive -- didn't even decline over time at all."


Kalaydjian's team published its finding in the April 24 issue ofNeurology. Her research was conducted while a doctoral student at Johns Hopkins School of Public Health.


Other experts were similarly surprised by the finding.


Comment on this SOTT Focus

---

Friendly drug reps sway doctors' choices


Reuters
2007-04-24 21:42:00

CHICAGO - As much as doctors would like to deny it, subtle attention from friendly drug sales representatives can have a big impact on what drugs they prescribe, according to two U.S. studies published on Monday.


Comment on this SOTT Focus

---
Science & Technology
---
Canada to ban incandescent light bulbs by 2012


Reuters
2007-04-25 16:17:00

OTTAWA - Canada will ban the sale of inefficient incandescent light bulbs by 2012 as part of a plan to cut down on emissions of greenhouse gases, Natural Resources Minister Gary Lunn said on Wednesday.



Comment on this SOTT Focus

---

Novice tells of Bronze Age find


BBC News
2007-04-24 12:45:00

A metal-detecting novice who unearthed an "extremely important" hoard of Bronze Age artefacts has said his discovery was due to "sheer luck".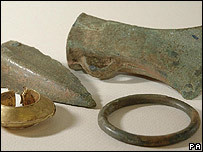 ©PA
John Minns found the items shortly after he started metal detection
Comment on this SOTT Focus
---

Cancer-Fighting Drug Found in Dirt

Charles Q. Choi
Livescience
2007-04-25 02:27:00

The bark of certain yew trees can yield a medicine that fights cancer. Now scientists find the dirt that yew trees grow in can supply the drug as well, suggesting a new way to commercially harvest the medicine.



Comment on this SOTT Focus

---

'Earth-like' planet discovered orbiting red dwarf

Andy McSmith
The Independent
2007-04-25 19:19:00

Scientists have discovered a planet not much bigger than Earth that could be covered in oceans and has the right temperature to support life. And it is only 20.5 light years away.

Comment on this SOTT Focus

---
Our Haunted Planet
---
A Mystery Wrapped in a Strange Black Rock is Chunk from Outer Space or Just a Piece of Poppycock?

Casey McNerthney
Seattle Post-Intelligencer
2007-04-25 09:04:00

Unidentified flying discs. Secret military missions. Government cover-ups.

The story Philip Lipson and Charlette LeFevre have been researching for years has almost all the elements of a made-for-TV movie.


Comment on this SOTT Focus

---

Possible alien stone found near Seattle


UPI
2007-04-25 09:02:00

University of Washington research engineer Bill Beaty is set to test a piece of stone purported to have fallen from an alien spacecraft 60 years ago.

Comment on this SOTT Focus

---
Don't Panic! Lighten Up!
---
The stats of life

Nick Britten
telegraph.co.uk
2007-04-25 12:18:00


©Channel 4
A little girl is fascinated by a lifetime of apples and carrots



The average person will eat over 10,000 bars of chocolate, shed 121 pints of tears and have sex more than 4,200 times, a television documentary will claim tomorrow.

Human Footprint, to be shown on Channel 4, aims to chart every aspect of our lives to give an insight into how much we eat, dream and pass wind from the cradle to the grave. It also looks at the effect each human being has on the planet during the 2,475,576,000 seconds that each of us will, on average, have on Earth.

Comment on this SOTT Focus

---

Man With Potent Pot Odor Seeks Permit


Associated Press
2007-04-25 12:18:00

LENOIR, N.C. - A man applying for a gun permit at the Caldwell County Sheriff's Office was instead charged with marijuana possession after authorities smelled it on his body.


Comment on this SOTT Focus

---

Stop-Smoking craze: Want to get a paid vacation? Say to your boss you want to quit smoking.


The Times
2007-04-25 11:47:00

Employees who smoke must be given time to attend clinics to help them to quit during working hours without loss of pay, new public health guidance recommends today.


The National Institute for Health and Clinical Excellence (NICE) claims that the proposal will cut the £5 billion annual cost of lost productivity, absenteeism and fire damage caused by smoking.


It believes that a business with five smokers could spend just £66 on providing advice, including the cost of lost employees' time, and see an overall saving of around £350 in improved productivity.


It is the first time that NICE has issued guidance that applies beyond the NHS, effectively including every workplace in England. The recommendations come as all workplaces, from offices to factories and pubs, prepare to go smoke-free on July 1.


Comment on this SOTT Focus

---

Planet find gets British bookies scared of aliens


AFP
2007-04-25 11:44:00

British bookmakers wasted no time slashing the odds on aliens being discovered after astronomers announced Wednesday that they had discovered an Earth-like planet.


William Hill cut the odds on proving the existence of extra-terrestrial life from 1,000-1 to 100-1.


"We felt we had to react to the news that an Earth-like planet which could support intelligent life had been discovered -- after all, we don't know for sure that intelligent extra-terrestrial life has not already been discovered, but is being hushed up," said spokesman Graham Sharpe.


Astronomers reported they they had found a "super-Earth" more than 20 light years away, the most intriguing world found so far in the search for extra-terrestrial life.


Comment on this SOTT Focus

---

Cheney Celebrates Earth Day By Breathing Oxygen (Satire)


The Onion
2007-04-25 09:17:00

WASHINGTON, DC - At a special Earth Day event Sunday, Vice President Dick Cheney inhaled his first-ever breath of oxygen.


Comment on this SOTT Focus

---

Ruh Roh - Scientists unearth Superman's "kryptonite"


Reuters
2007-04-24 23:16:00

LONDON - Kryptonite, which robbed Superman of his powers, is no longer the stuff of comic books and films.

Comment on this SOTT Focus

---
---

Remember, we need your help to collect information on what is going on in your part of the world!
Send your article suggestions to: sott(at)signs-of-the-times.org

---
Click here to return to the Signs of the Times Archive
Click here for today's Signs Page