---
Sections on today's Signs Page:
---
SOTT Focus
---
No new articles.
Best of the Web
---
The De-Zionization of Israel; An Interview with Ilan Pappe

jon the antizionist jew
Daily Kos
2007-04-16 10:59:00

Of all the Israeli historians, academics, and activists that I have read, Ilan Pappe stands out as the one who has made the strongest impact on my understanding of Israel and Palestine. Why is that? Well, I'd say it is due to the way his research and morality have come together, quite unlike many others. But let's be specific, and compare him with Benny Morris. Benny made a landmark study, no doubt, with his book The Birth of the Palestinian Refugee Problem. He helped dispell in the academic world, at least, the notion that Israel was blameless in the exodus of over 800,000 Palestinians during Israel's establishment. It took him until the follow-up to that study to acknowledge that Zionism, to some extent, had within it the seeds of the expulsion of the Palestinians in order to create a Jewish state in Palestine. But in an interview with Haaretz a few years ago, it became clear that whatever historical facts about Zionism and its crimes he had uncovered, his dedication to Zionism was unaffected.

Comment on this SOTT Focus

---
U.S. News
---
Gonzales Endures Harsh Session With Senate Panel

David Johnston and Eric Lipton
The New York Times
2007-04-20 13:31:00

Attorney General Alberto R. Gonzales, trying to salvage his job, endured withering questioning on Thursday from Senate Judiciary Committee members who expressed grave doubts about his truthfulness and judgment in the firing of federal prosecutors.


In more than five hours of often-combative testimony, Mr. Gonzales, grim-faced, clasping his hands and hunched over, struggled to offer a coherent explanation for the dismissals. He apologized for his mistakes in what he said was a flawed process, but defended the removal of eight United States attorneys as proper.


"Although the process was nowhere near as rigorous or structured as it should have been," Mr. Gonzales said, "and while reasonable people might decide things differently, my decision to ask for the resignations of these U.S. attorneys is justified."


Comment on this SOTT Focus

---

Vermont Senate: Impeach the president

Ross Sneyd
Associated Press
2007-04-20 13:23:00

Vermont senators voted Friday to call for the impeachment of
President Bush and Vice President Dick Cheney, saying their actions have raised "serious questions of constitutionality."

Comment on this SOTT Focus

---

Wreckage from secret 1947 mission found

Jack Penning
KGW Aviation
2007-04-20 12:19:00

It was a mysterious, secret government mission. It ended in a fiery plane crash, and a crash site that was all but unknown. Almost 60-years after that plane went down, a curious explorer has found the wreckage, and is now trying to uncover its secrets.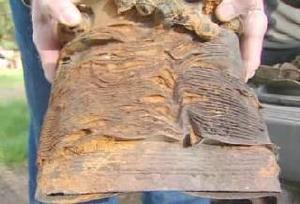 ©KGW.com
Comment on this SOTT Focus
---

U.S. Democratic leader says Iraq war "lost"


www.chinaview.cn
2007-04-20 11:33:00

·U.S. Senate Majority Leader Reid said Thursday the Iraq war was "lost" .

·Reid said that was the message he took to Bush at Wednesday meeting.

·Bush, Democratic leaders of Congress failed to reach agreement on an emergency war funding bill.

WASHINGTON, April 19 (Xinhua) -- U.S. Senate Majority Leader Harry Reid said on Thursday that the Iraq war was "lost" and that he had conveyed the message to President George W. Bush during a meeting at the White House on Wednesday.

Comment on this SOTT Focus

---

Narcissistic Family: Dad Makes Son Wear Sign For Using Drugs


WTKR
2007-04-20 07:01:00

A Tennessee father says he wasn't trying to shame his 14-year-old son when he made the boy wear a large sandwich-board sign saying, "I abused and sold drugs."


"I'm not out here doing this to humiliate my son," the father told WATE-TV as the teenager walked up and down the sidewalk Wednesday in front of Cedar Bluff Middle School.


"I'm doing this because I love him," he said. "We do have an extreme drug problem in America, and maybe it's time for extreme measures that parents need to take to monitor this problem that we have."


Comment on this SOTT Focus

---

School Threats Sweep Country

Allison Hoffman
Associated Press
2007-04-19 01:41:00

A Web designer was charged Thursday with posting on his own site a bogus threat to kill 50 San Diego State University students, then alerting a TV station to try to draw publicity, the FBI said.


Comment on this SOTT Focus

---
UK & Euro-Asian News
---
The Turkish-occupied north of Cyprus a human rights black hole

Angelos Marcopoulos reports from Strasbourg
Cyprus Weekly
2007-04-20 11:42:00

STRASBOURG - The Turkish-occupied north of Cyprus was denounced by key Council of Europe politicians as 'a Black Hole,' where the Human Rights of Greek Cypriot refugees are ignored.

At the same time, a large majority of the CoE parliament also criticised Turkey's refusal to include Human Rights issues in the proposed new round of peace talks on the basis of the UN July 8 agreement.

Comment on this SOTT Focus

---

British Bases in Cyprus no Longer Welcomed: Pay and get out!


The Cyprus Weekly
2007-04-20 11:15:00

[Cyprus] Parliament yesterday told the government it should ask London to pay up for money it owes to Cyprus for the use of the British Bases over decades.

Comment on this SOTT Focus

---

Propaganda Alert! Citing terror threat, U.S. boosts security in Germany


Reuters
2007-04-20 08:59:00

BERLIN - The U.S. embassy in Germany said on Friday it was increasing security at its facilities in response to what it described as an increased threat of terrorism in the country.



Comment on this SOTT Focus

---

Berlusconi eyes stake in Telecom Italia


AFP
2007-04-20 04:33:00

Former Italian prime minister Silvio Berlusconi, the owner of Mediaset television group's parent Fininvest, said Thursday he was ready to buy a non-controlling stake in Telecom Italia.



Comment on this SOTT Focus

---

Britain introduces new system for immigrants to enter UK


Itar-Tass
2007-04-20 06:11:00

Britain is introducing a new points-based system for immigrants who wish to live and work in the United Kingdom. The new system applies to citizens of countries that do not belong to the European Union. The new immigration rules come into force as of January 2008, the British Home Office said Wednesday.


The new system is based on a level of points gained by potential immigrants wishing to enter UK. Only applicants who gain the necessary number of points will be given a temporary residence permit in Britain with the right of extension.


The points will be counted, taking into account a potential immigrant' s age, profession, education and financial position,


Comment on this SOTT Focus

---

Flashback: French Candidates Try Softer Touch to Woo Minorities - Sarkozy Bombs

By ELAINE SCIOLINO
NY Times
2006-12-14 12:00:00

The conference was supposed to be a day of healing, a way for Nicolas Sarkozy, the interior minister who wants to be president, to rid himself of his image as the enemy of France's ethnic Arab and black African residents.

But no sooner had the invitation-only event in the Interior Ministry's crystal-chandeliered, velvet-draped reception hall begun on Wednesday than Mr. Sarkozy came under attack.

Comment on this SOTT Focus

---
Around the World
---
Zimbabwe: Sex work thrives as girls struggle to survive


IRIN
2007-04-18 17:05:00

BULAWAYO - Dressed in a tiny white skirt and a top, Linda, 16, (not her real name) struts into a nightclub in Madlambuzi, a sprawling rural settlement in Zimbabwe's Matabeleland South Province. Swinging to the deafening music, she scans the room for potential customers.


Comment on this SOTT Focus

---

Australian find an Aboriginal seat of the gods

James Woodford
Sydney Morning Herald
2007-04-21 07:03:00

A ROCK platform in the heart of the Wollemi wilderness may be the closest thing Australia has to Mount Olympus, the seat of the gods in Greek mythology.

Last spring archaeologists discovered an enormous slab of sandstone, 100 metres long and 50 metres wide, in the 500,000-hectare Wollemi National Park. It was covered in ancient art.

The gallery depicted an unprecedented collection of powerful ancestral beings from Aboriginal mythology.



Comment on this SOTT Focus

---

Why are Guatemala's Women Being Killed?

Jo Tuckman
Guardian Unlimited
2007-04-20 13:30:00

Thousands of women and girls have been murdered in Guatemala - and the toll is still rising. Yet the killers are rarely brought to justice. Jo Tuckman on a human rights emergency

Comment on this SOTT Focus

---

US Senator freezes Colombia aid on rights concerns

Patrick Markey
Reuters
2007-04-20 12:53:00

A leading U.S. senator has frozen $55.2 million in military aid to Colombia over concerns about human rights and accusations that Colombia's army chief colluded with illegal paramilitaries.


Comment on this SOTT Focus

---

Colombian Senator: Death Squads Met At Uribe's Ranch; Scandal Over Paramilitary Ties Widens

Juan Forero
Washington Post
2007-04-20 12:39:00

An opposition lawmaker on Tuesday alleged that paramilitary death squads met at the ranch of President Álvaro Uribe in the late 1980s and plotted to murder opponents, an explosive charge in a growing scandal that has unearthed ties between the illegal militias and two dozen congressmen.


Comment on this SOTT Focus

---

Chavez demands U.S. extradite anti-Castro terrorist wanted in 1976 airliner bombing


Associated Press
2007-04-20 09:25:00

CARACAS, Venezuela: Venezuela accused the U.S. government of being an "accomplice" to a terrorist after Cuban militant Luis Posada Carriles was freed on bail, and vowed to mount a diplomatic and legal offensive for him to be tried in the 1976 bombing of a Cuban airliner.


Comment on this SOTT Focus

---
Big Brother
---
Cattle Tales: Tag dementia sufferers - minister

Jon Welch
EDP24
2007-04-20 06:18:00

Plans to tag elderly people so they can be tracked by satellite were yesterday given a mixed reception.


Science minister Malcolm Wicks said technology could be used to help families keep tabs on frail or elderly relatives.


He said tags, similar to those used to monitor criminals, could help give more freedom to those suffering from dementia and Alzheimer's disease.


There are about 700,000 people in the UK with dementia. A large proportion of those have Alzheimer's disease.


That figure is set to rise to more than one million in 20 years and to 1.7 million by 2050 - an increase of 154pc over the next 45 years.


Comment on this SOTT Focus

---
Axis of Evil
---
Update! McCain jokes about bombing Iran

LIZ SIDOTI
Associated Press Writer
2007-04-19 20:16:00

WASHINGTON - Republican presidential contender John McCain, known for having a quirky sense of humor, joked about bombing Iran at a campaign appearance this week.

In response to the resulting uproar he said:

"Please, I was talking to some of my old veterans friends," he told reporters in Las Vegas. "My response is, Lighten up and get a life."

Asked if his joke was insensitive, McCain said: "Insensitive to what? The Iranians?

Comment on this SOTT Focus

---

Cementing in Democracy, Israeli style; US builds wall to keep Sunnis and Shias apart

Mark Tran
The Guardian
2007-04-20 12:30:00



US soldiers are building a three-mile wall to separate one of Baghdad's Sunni enclaves from surrounding Shia neighbourhoods

, it emerged today.

The move is part of a contentious security plan that has fuelled fears of the Iraqi capital's Balkanisation.



When the barrier is finished, the minority Sunni community of Adamiya, on the eastern side of the River Tigris, will be completely gated. Traffic control points manned by Iraqi soldiers will provide the only access, the US military said.

Comment on this SOTT Focus

---

Psychopathic Danish politician says Muslim head scarf is a "totalitarian symbol"


Jurnalo
2007-04-20 05:57:00

A Danish member of parliament on Thursday sparked angry reactions after comparing the Muslim head scarf, hejab, to a "totaliatarian symbol" like the swastiska.


Soren Krarup, a theologian and member of parliament for the populist Danish People's Party, made the remark in an interview published in Thursday's edition of the newspaper Jyllands-Posten.


He repeated in parliament that he stood by his views that "the head scarf is a totalitarian symbol comparable with totalitarian symbols we know from the Nazis and Communism. "


Comment on this SOTT Focus

---

Gonzales v. Gonzales


The New York Times
2007-04-20 00:01:00

If Attorney General Alberto Gonzales had gone to the Senate yesterday to convince the world that he ought to be fired, it's hard to imagine how he could have done a better job, short of simply admitting the obvious: that the firing of eight United States attorneys was a partisan purge.

Comment on this SOTT Focus

---

Abramoff fallout: Congressman resigns key post after FBI searches home


AP
2007-04-19 21:40:00

WASHINGTON -- Rep. John Doolittle, whose house was searched by the FBI in an influence-peddling investigation, said Thursday he will step down temporarily from the House Appropriations Committee.

Comment on this SOTT Focus

---
Middle East Madness
---
Israeli army invades villages near Hebron; demolishes homes and uproots trees

Ghassan Bannoura
IMEMC
2007-04-19 12:50:00

The Israeli army invaded the villages of Qawawis and Towani south of the city of Hebron in the southern part of the West Bank, uprooted trees and demolished houses on Thursday midday.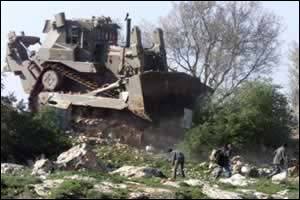 ©IMEMC
Comment on this SOTT Focus
---

Amnesty condemns Iraq execution rate, while it should condemn US

Natalie Paris
Telegraph
2007-04-20 06:54:00

So many executions are carried out in Iraq that the country is now the fourth highest executioner in the world, Amnesty International has said.


The figures raise concerns that Iraq is reneging on progress made since the US-led coalition suspended the death penalty in 2003.


Capital punishment was reinstated in 2004 leading to 270 death sentences being issued and at least 100 people have been put to death since then.


Comment on this SOTT Focus

---

Soldier leaves dying mother to return to war


Associated Press
2007-04-19 22:44:00

DECATUR, Ala. - A Decatur soldier with five months left on his enlistment tried unsuccessfully to get an extension on his two-week leave to stay with his dying mother, who is hospitalized on life-support.


Comment on this SOTT Focus

---

11 dead in Iraq fuel lorry bombing

AP
The Independent
2007-04-19 19:34:00

A suicide car bomber rammed into a fuel lorry today in central Baghdad, killing at least 11 people, police said.

Comment on this SOTT Focus

---
The Loan Gunmen
---
World Bank crisis: Emergency meeting ups heat on Wolfowitz

Krishna Guha and Eoin Callan
Financial Times
2007-04-19 23:24:00

The World Bank's board was poised for another emergency meeting on Thursday after one of Paul Wolfowitz's two deputies urged him to resign as its head.

Graeme Wheeler, managing director, made his call on Wednesday, in front of all the bank's senior officials, at an extraordinary session of their regular weekly meeting.

Comment on this SOTT Focus

---
The Living Planet
---
Australia's epic drought: The situation is grim

Kathy Marks
The Independent
2007-04-20 15:24:00

Australia has warned that it will have to switch off the water supply to the continent's food bowl unless heavy rains break an epic drought - heralding what could be the first climate change-driven disaster to strike a developed nation.

The Murray-Darling basin in south-eastern Australia yields 40 per cent of the country's agricultural produce. But the two rivers that feed the region are so pitifully low that there will soon be only enough water for drinking supplies. Australia is in the grip of its worst drought on record, the victim of changing weather patterns attributed to global warming and a government that is only just starting to wake up to the severity of the position.

Comment on this SOTT Focus

---

Red tide causes a stink

By Saffron Howden
The Daily Telegraph
2007-04-20 11:39:00

IT'S guilty of looking crook and causing an almighty stench, but innocent of leaving swimmers with itchy skin.

The stunning white sand beaches of Jervis Bay have been swamped with a bloom of red algae washed ashore by sea breezes.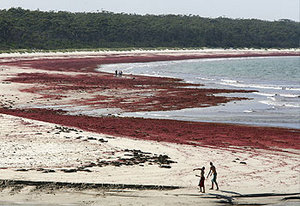 ©The Daily Telegraph
Crimson coast ... the usually white sands of the beach at Huskisson at Jervis Bay is turned red by an algae bloom.
Comment on this SOTT Focus
---

At least four quakes shake East China Sea


Press TV
2007-04-20 07:41:00

At least four earthquakes with a magnitude of about 6.0 on the Richter scale shook the East China Sea early Friday.

Comment on this SOTT Focus

---

Warming Climate Reverses Sex of Lizards

Jeanna Bryner
Live Science
2007-04-20 06:30:00

High temperatures can reverse the sex of dragon lizards before they hatch, turning males into females.


The finding, detailed in the April 20 issue of the journal Science, could have implications for the development of life as the planet's climate warms.


The research reveals that extreme temperatures could inactivate a gene on the male sex chromosomes of dragon lizards and thus turn male embryos into females. The sex-reversed lizards look female and have female organs but genetically they are male, said lead author Alexander Quinn of the University of Canberra in Australia.


Comment on this SOTT Focus

---

Conservation Officer: Wolf Chased Cars


Live Science / AP
2007-04-20 06:25:00

When conservation officer Steve Peterson got a call that a timber wolf was chasing vehicles on a country road near Brimson, he thought it was prank or a misidentified German shepherd. But then he saw it firsthand.


"I couldn't believe it. It was like a dog chasing cars,'' Peterson said. "It looked like a big, healthy male wolf. No mange.''


Responding to the call last Friday, Peterson saw the animal hide in the ditch as a pickup approached and then come bounding out to chase it.


The wolf did the same when Peterson drove to that spot, where he stopped his vehicle.


Comment on this SOTT Focus

---

Rocking and rolling: Small tsunami expected after strong Japan quake


AFP
2007-04-20 02:13:00

Japan has sounded an alert for small tsunami waves after a strong earthquake in the southern island chain of Okinawa.

Comment on this SOTT Focus

---
Health & Wellness
---
Care for a drink? Alcohol 'makes fruit healthier'


BBC
2007-04-20 15:03:00

Strawberries are good for you but having them in a cocktail may make them even healthier, a study suggests.


The fruit contains compounds that can protect against cancer, heart disease and arthritis.


But having them with alcohol, such as in a daiquiri, boosts these antioxidant properties, the Journal of the Science of Food and Agriculture says.


Nutritionists said the "detrimental effects" of such drinks could cancel out such benefits.


Comment on this SOTT Focus

---

Disputable findings! Scientists prove that salty diet costs lives

Nigel Hawkes
The Times
2007-04-20 08:44:00

Eating less salt reduces the chances of suffering a heart attack or stroke, the first long-term study of salt's impact on health confirms today.

Comment on this SOTT Focus

---

Delirium Could Be Prevented In A Third Of Cases


Medical News Today
2007-04-20 06:52:00

At least one third of cases of delirium could be prevented if better systems of care were in place according to a doctor in today's BMJ.


Delirium - a temporary state of acute confusion - is becoming a major burden on health care services in countries with ageing populations says Professor John Young.


Characterised by fluctuating awareness, confusion and impaired memory, delirium contributes substantially to rates of sickness and death in the population. The condition causes considerable distress to patients and families and it is expensive - Professor Young estimates the cost of treatment can run to an additional £1275 per patient.


It is the most frequent complication of hospital admission for older people and develops in up to half of older patients post-operatively, especially after a hip fracture or vascular surgery. People with delirium are also more likely to develop dementia and vice versa.


Comment on this SOTT Focus

---

Why Doesn't A Mothers Body Reject Her Fetus?


Medical News Today
2007-04-20 06:41:00

The immune system is designed to attack anything that is not the body's own tissues, such as pathogens and genetically nonidentical organ transplants, so why does the maternal immune system not attack a developing fetus? Several answers to this question are provided by a new study of mice from researchers at New York University School of Medicine.


In the study, which appears online on in advance of publication in the May print issue of the Journal of Clinical Investigation, Adrian Erlebacher and colleagues show that when maternal immune cells known as T cells interact with fetal cells they can't "see" proteins that only their fetus expresses. By contrast, the same maternal T cells were able to "see" the fetal proteins when other maternal immune cells began picking up the fetal proteins around mid-gestation.


Comment on this SOTT Focus

---

Juries Overwhelmingly Side With Doctors in Malpractice Cases

Melinda Wenner
Live Science
2007-04-19 23:41:00

Contrary to popular opinion, juries in malpractice suits side more often with doctors than with patients, according to a new study.

Even when cases are so strong that independent legal experts expect patient plaintiffs to win, juries still side with the defendants half the time.




Comment on this SOTT Focus

---

Unsafe sleepwalking, sleep driving linked to pills


CBC News
2007-04-19 18:50:00

Rare, bizarre and potentially dangerous side-effects of some prescription sleeping pills have prompted the U.S. Food and Drug Administration to warn patients and doctors about the medications, including one that is available in Canada.


Comment on this SOTT Focus

---
Science & Technology
---
Packaging - unwrapped

Jessica Marshall
Newscientist
2007-04-20 14:29:00

I LOST 2 pounds the week I gave up packaging. Among aisles and aisles of neatly wrapped goods almost everything at my local grocery store was off-limits. Only a selection of fruit and vegetables made the grade. For milk I could buy from a local dairy that refills bottles, and I found bread without a bag at a local bakery. That was it: everything else was forbidden even lettuce, which only came wrapped up. My conscience was clear, but my stomach wouldn't stop rumbling.

Comment on this SOTT Focus

---

Sudden Sea Level Surges Threaten 1 Billion

Michael Kahn
Reuters
2007-04-19 17:55:00

New mapping techniques show how much land would be lost and how many people affected by rapid sea level rises that are often triggered by storms and earthquakes.

Comment on this SOTT Focus

---

Uranus rings 'were seen in 1700s'

Paul Rincon
BBC News
2007-04-18 20:00:00

The rings around the planet Uranus may have been spotted nearly 190 years prior to the accepted date for their discovery, according to a theory.

Comment on this SOTT Focus

---

Giant Tsunami May Have Destroyed Atlantis

Harvey Lilley
BBC
2007-04-20 12:06:00

The legend of Atlantis, the country that disappeared under the sea, may be more than just a myth. Research on the Greek island of Crete suggests Europe's earliest civilisation was destroyed by a giant tsunami.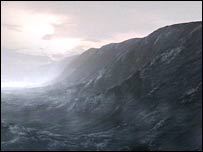 ©BBC
Comment on this SOTT Focus
---

Mites Resume Their Sex Life


newswise.com
2007-04-17 09:51:00

A group of researchers has discovered that a family of tiny mites found in the Southern Hemisphere has taken the unusual step of resuming sexual reproduction after years of producing offspring through asexual means, raising intriguing questions about evolutionary biology.

Comment on this SOTT Focus

---

Meteorite has message for humans, say scientists

Conor Sweeney
The Irish Times
2007-04-20 09:36:00

RUSSIA: ET may have already contacted humans through messages contained in what is believed to have been a meteorite that hit earth almost 100 years ago, Russian scientists claim.


Comment on this SOTT Focus

---
Our Haunted Planet
---
Crop circles are back


Wiltshire Gazette
2007-04-20 09:56:00

The first crop circle formation of the 2007 season has arrived - bigger and earlier than ever before.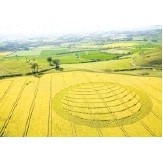 ©Wiltshire Gazette
The crop circle near Devizes
Comment on this SOTT Focus
---

... or maybe it was space junk: fiery ball presents puzzle

Michael Purvis
The Sault Star
2007-04-19 07:07:00

It wasn't a bird, and it sure wasn't a plane.

In fact, Dave Gough isn't quite certain exactly what he saw streak through the sky above the Churchill Plaza around 11 a.m. Thursday morning.

"I saw a fiery ball fly through the sky from east to west," said Gough, 54.

Local astronomy experts say it could have been anything from a meteor to a piece of space junk.

Comment on this SOTT Focus

---

'Ghost yacht' found off Australia


BBC
2007-04-20 06:04:00

Emergency services in Australia have launched a search for the three-man crew of a yacht found drifting off the North Queensland coast.


The vessel was found with its engine running, and a table laid for dinner, but there were no signs of any people.


An air and sea rescue operation has been launched to retrace the yacht's voyage, and pinpoint the search area.


The three-crew members are thought to have set sail for Townsville from Airlie Beach on Sunday.


The 12m (40 foot) catamaran was spotted by a helicopter on Wednesday, but a rescue team only reached the boat on Friday, and confirmed that there was no one aboard.


Comment on this SOTT Focus

---
Don't Panic! Lighten Up!
---
Dead alligator found clogging drain in Adams County

Rebecca S. Green and Becky Manley
The Journal Gazette
2007-04-20 09:38:00

An investigation into a plugged drainage tile led to the discovery of a dead 7-foot alligator inside a catch basin in southern Adams County.

Comment on this SOTT Focus

---

Bar of soap gives caffeine kick in the shower


Reuters
2007-04-20 06:58:00

Inventors have created a soap infused with caffeine which helps users wake up in the morning.


The soap, called Shower Shock, supplies the caffeine equivalent of two cups of coffee per wash, with the stimulant absorbed naturally through the skin, manufacturers say.


"Tired of waking up and having to wait for your morning (coffee) to brew?" ask the makers, thinkgeek.com.


Comment on this SOTT Focus

---

Dead HK billionaire leaves all to feng shui master

James Pomfret
Reuters
2007-04-19 21:33:00

HONG KONG - The sole beneficiary of Hong Kong tycoon Nina Wang's multi-billion dollar fortune is her feng shui master, a legal notice published on Friday showed, paving the way for a likely legal battle with her family.

Comment on this SOTT Focus

---

Berlin's polar bear cub Knut receives death threat

By Madeline Chambers
Reuters
2007-04-19 20:01:00

BERLIN - Germany's celebrity polar bear cub Knut has received an anonymous death threat, causing alarm at Berlin Zoo on Thursday and prompting heightened security.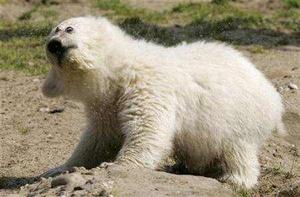 ©REUTERS/Arnd Wiegmann
Polar bear cub Knut shakes off water at an enclosure in Berlin zoo.
Comment on this SOTT Focus
---
---

Remember, we need your help to collect information on what is going on in your part of the world!
Send your article suggestions to: sott(at)signs-of-the-times.org

---
Click here to return to the Signs of the Times Archive
Click here for today's Signs Page