---
Sections on today's Signs Page:
---
SOTT Focus
---
No new articles.
Best of the Web
---
Please God, deliver us from the banality of evil

Jason Miller
Thomas Paine's Corner
2007-04-19 13:41:00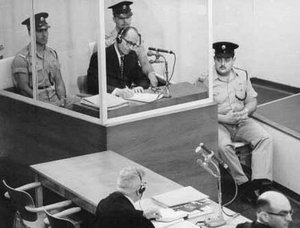 Adolf Eichmann during his trial in Jerusalem, Israel, May 29, 1961



I do not hesitate one second to state clearly and unmistakably: I belong to the American resistance movement which fights against American imperialism, just as the resistance movement fought against Hitler. - Paul Robeson

Virtually every day our mendacious corporate media publicizes the farcical "debate" between officials of the Bush Regime and Congress. While numerous polls have indicated that over 2/3 of US Americans want an end to the war in Iraq, and voters positioned the Democrats to exercise the will of the people, the war rages on.

Comment on this SOTT Focus

---

32 Senseless Deaths: A Chance for Empathy, Change of Heart, and Change of Course


Floyd Rudmin
2007-04-18 19:20:00

The tragedy at Virginia Tech tears at the heart of everyone. Thirty-two innocent students and teachers, in the normal activities of their lives, are suddenly shot dead. Each one of them has a mother, a father, friends, classmates, siblings, and others who held them dear. And all of these have had their hearts torn, or torn out. There is now emptiness and grief where once there was a person.

Americans in their sharing of this sadness should consider how others in the world have similar feelings when facing similar loss and tragedy. These 32 senseless deaths are a chance for empathy with other communities who have also lost 32 loved persons to sudden death.

Comment on this SOTT Focus

---
U.S. News
---
Pathocrats' plans for a future: White House outlines bioterrorism plan

Kevin Freking
Associated Press
2007-04-19 16:06:00

To deal with potential bioterrorism, the government will focus on buying new medicines for anthrax, smallpox and acute radiation syndrome, according to a Bush administration plan.


The plan's release came on the same day that Democratic lawmakers raised concerns about the government's efforts in preparing how to confront a weapon of mass destruction.


The Health and Human Services Department terminated the largest contract, $877 million for an anthrax vaccine, through a procurement program known as Project BioShield.


Comment on this SOTT Focus

---

Betraying Thomas Jefferson

Dave Lindorff
CounterPunch
2007-04-19 15:00:00

The enemies of the Constitution are growing in number and are to be found now, not just in the White House and the Congress, but also in state capitals, from Washington to Vermont.


Comment on this SOTT Focus

---

Student Arrested Over Virginia Tech Remarks

Associated Press
Breitbart.com
2007-04-18 03:22:00

BOULDER, Colo. - A University of Colorado student was arrested after making comments that classmates deemed sympathetic toward the gunman blamed for killing 32 students and himself at Virginia Tech, authorities said.

During a class discussion of Monday's massacre at Virginia Tech, the student "made comments about understanding how someone could kill 32 people," university police Cmdr. Brad Wiesley said.

Comment on this SOTT Focus

---

The Feminine Face of Poverty

Riane Eisler
AlterNet
2007-04-19 09:44:00

If you're a woman, or a man who cares about his mother, sister, or daughter, there's something you need to know. Seventy percent of those living in absolute poverty in our world -- that is starving or on the edge of starvation -- are female. Not only that, in our wealthy United States, women and children are the mass of the poor and the poorest of the poor.

Comment on this SOTT Focus

---

ES&S Touch-Screen Voting Systems Found Vulnerable to 'Serious' Viral Vote-flipping attack

Michael Richardson and Brad Friedman
Bradblog
2007-04-19 09:40:00

Scientific Report Finds 'Serious Security Vulnerability' Similar to 'Princeton Diebold Virus Hack' in Widely Used iVotronic System, Allowing a Single Person to Change Election Results Across Entire County Without Detection
Despite GAO Confirmed Mandate to Serve as Info 'Clearinghouse,' Embattled EAC Says They Will Take No Action to Alert Elections Officials, Public


Comment on this SOTT Focus

---

Unreported News: Tacoma Police Aggressively Attack Peace Demonstrators


thepeoplesvoice.org
2007-04-19 09:12:00

An Interview with Caitlin Esworthy of the Port Militarization Resistance of Olympia

Recently, a friend moved to the U.S. from China. She had never seen the Tiananmen Sq. demonstrations including that famous scene of the lone demonstrator standing in front of the Chinese tank. I thought how amazing that a billion people can be kept ignorant of something so important. Then, a week after the events described below I saw an amazing video about a peaceful demonstration in Tacoma, WA that turned violent when police opened fire with tear gas and firing rubber bullets at close range on the demonstrators.

Comment on this SOTT Focus

---
UK & Euro-Asian News
---
Russia sole target for U.S. missile shield in Europe - Ivanov


RIA Novosti
2007-04-19 16:28:00

The U.S. missile defense system in Europe is only directed against Russia, a Russian first deputy prime minister said in a recent interview with The Financial Times.


Sergei Ivanov, who in mid-February was promoted from defense minister and given a supervisory role in the country's nuclear power and defense sectors of industry, was interviewed in his Moscow office April 12.


He said there is no need to intercept medium-range missiles from Iran, and even less so from North Korea, adding that Iran is definitely not going to have ICBMs in the foreseeable future.


"Since there aren't and won't be ICBMs, then against whom, against whom, is this system directed? Only against us," he said.


Comment on this SOTT Focus

---

U.S. mulls radar placement in Caucasus, other parts of Europe


RIA Novosti
2007-04-19 16:25:00

U.S. missile defense radars could be placed not only in Caucasus, but in other parts of Europe, the director of the U.S. missile defense program said Thursday.


Air Force Lt. Gen. Henry Obering III said at a news conference in Brussels that the United States could place a mobile radar station in the Caucasus region and several stationary radars in other regions in Europe in the next few years.


He said the entire U.S. radar network should ultimately cover Central Europe, Italy, Greece and Turkey.


Comment on this SOTT Focus

---

Three blasts hit Northern Basque Country overnight, no injuries


EITB
2007-04-19 16:00:00

Simultaneous explosions occurred overnight in three towns in the Northern Basque Country (southwest of France), causing some damage to buildings but no casualties, a police source said on Thursday.


No-one has claimed responsibility for the blasts, which occurred at around 1900 GMT on Wednesday in Ziburu (Ciboure), Getaria (Guethary) and Donibane Lohizune (Saint-Jean-de Luz).


Comment on this SOTT Focus

---
Around the World
---
Japan lowers detention age


IOL
2007-04-19 16:30:00

Japan's parliament voted on Thursday to lower the age at which juveniles can be sent to detention facilities to 12, in the country's latest controversial measure to crack down on crime.


The lower house bill changes the age at which authorities can send minors to reformatories from the current 14 to "around 12," leaving room for 11-year-olds to be confined on a case-by-case basis.


The bill will also end restrictions on police inspecting criminal cases involving suspects under 14.


Comment on this SOTT Focus

---

Algeria toll 33 in twin blasts


Associated Press
2007-04-19 16:16:00

Police rolled out in force across Algeria's capital yesterday, establishing highway checkpoints to reinforce security a day after twin bombings killed 33 people, the government said.


Another 57 people remained in hospital from injuries suffered in Wednesday's blasts that struck the prime minister's office and a police station, said Interior Minister Yazid Zerhouni. About 222 people were injured in all.


The heavy security presence highlighted the menacing spread of Islamic militancy across North Africa and was reminiscent of the height of Algeria's Islamic insurgency in the 1990s.


Comment on this SOTT Focus

---

EU Official Criticizes U.S.-Mexico Wall

AP
Breitbart.com
2007-04-18 12:13:00

MEXICO CITY - European Union foreign policy chief Javier Solana on Tuesday criticized U.S. plans to extend barriers along its border with Mexico, saying immigrants should not be treated like criminals.

Comment on this SOTT Focus

---

Guatemalan Kids in Danger, UNICEF


Prensa Latina
2007-04-19 08:38:00

Guatemala - The United Nations Children's Fund (UNICEF) warned of the serious situation of children in Guatemala where 47 percent under five suffer chronic malnutrition.

Comment on this SOTT Focus

---

SWAZILAND: Stoicism in the face of the worst ever food crisis


Reuters / IRIN
2007-04-18 08:19:00

Mbabane - Squeezed between Swaziland's worst-ever food crisis and the world's highest HIV/AIDS prevalence rate, people are struggling to survive.

Abdoulaye Balde, Country Director for the World Food Programme (WFP) in Swaziland, reported to government officials this week that the signs indicated the worst food crisis in the small kingdom's modern history.

Comment on this SOTT Focus

---

Bush: Sudan has last chance to avoid US sanctions

Steve Holland
Reuters
2007-04-18 08:15:00

WASHINGTON - President George W. Bush warned Sudan's president on Wednesday he had one last chance to stop violence in Darfur or else the United States would impose sanctions and consider other punitive options.

Comment on this SOTT Focus

---
Big Brother
---
Group: Yahoo assisted China with torture

Anick Jesdanun
AP
2007-04-19 16:22:00

A human rights group launched a campaign Thursday against Yahoo Inc. on grounds the U.S. search company assisted China's communist government with torture by revealing information that led to the arrest of dissidents.


Comment on this SOTT Focus

---

Governor Signs Bill Defying U.S. ID Law

Associated Press
Billings Gazette
2007-04-18 23:59:00

Montana governor signs into law the nation's first non-compliance law aimed at the Real ID Act.

Comment on this SOTT Focus

---
Axis of Evil
---
More Draft Talk as US Wars Escalate

Rick Maze
Marine Times
2007-04-19 14:41:00

The Senate Armed Services Committee heard testimony Tuesday that increasing the size of the Army and Marine Corps may not resolve severe and growing personnel problems. There was even talk of returning to the draft to fill the ranks.


Comment on this SOTT Focus

---

Absurdity Alert: US warns Russia in line of fire of 'Iranian missile threat'


AFP
2007-04-19 09:30:00

US officials on Wednesday warned Moscow that it was in the line of fire of "the missile threat from Iran" and urged it to cooperate with plans to base a US missile defence system on Russia's doorstep.


Comment on this SOTT Focus

---

Murtha: President's Iraq war plan requires draft

Michael Roston
Raw Story
2007-04-19 09:24:00

Rep. John Murtha, a veteran of the U.S. Marines who served in the Korean and Vietnam Wars, said that President George W. Bush cannot continue to carry out his current war plans in Iraq without starting a draft.


Comment on this SOTT Focus

---

More lying and propaganda: Gates calms Israel on US's planned arms sale to Saudis


JPost
2007-04-19 08:47:00

US Defense Secretary Robert Gates on Thursday tried to ease Israeli concerns about a planned American weapons sale to Gulf Arab allies, saying the US remains committed to preserving Israel's military edge over its neighbors.

Gates also said his 24-hour trip to Israel did not include any discussions on taking military action against Iran. He reiterated his belief that diplomacy is the best course of action for halting Iran's nuclear program.


Comment on this SOTT Focus

---

US set for Russia missile talks


BBC
2007-04-19 04:41:00

The United States is stepping up its efforts to allay Russian concerns over its plan to deploy a limited missile defence system in Europe.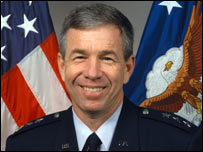 ©AP
Lt Gen Obering is one of the top officials in the US team
Comment on this SOTT Focus
---
Middle East Madness
---
Iraq may have twice as much oil as anyone (but Dick Cheney) thought


IranOilGas.com
2007-04-19 09:39:00

Iraq's promising oilfields can be tapped for less than $2 a barrel and could double the nation's output to 4 million barrels per day in five years provided security improves, consultancy group IHS said today.


Comment on this SOTT Focus

---

Propaganda alert! Bush reveals steps to pressure Sudan

HILARY LEILA KRIEGER
JPost
2007-04-18 08:54:00

Praising the US Holocaust Memorial Museum for its work to stop the genocide in Darfur, President George W. Bush declared during a speech there Wednesday that the US would intensify sanctions and other measures against Sudan if the country's leadership failed to take appropriate action.

Comment on this SOTT Focus

---

IRAQ: Insecurity and lack of funds prevent cleansing of polluted sites


IRIN
2007-04-19 08:34:00

BAGHDAD - There are up to 400 polluted sites in Iraq that are serious health hazards to the population and urgently need to be cleaned, according to a specialist in the Iraqi government. But ongoing violence, particularly the targeting of municipal workers, and a lack of funds is hampering clean-up efforts.

Comment on this SOTT Focus

---

Gates: Diplomacy With Iran Is 'Working'


AP
2007-04-18 22:27:00

TEL AVIV, Israel - Defense Secretary Robert Gates said Wednesday diplomatic efforts to resolve the standoff with Iran over its disputed nuclear program are "working."


Comment on this SOTT Focus

---

Fanning the flames of religious war: Three killed at Turkish Bible publisher


BBC
2007-04-18 21:03:00

Three people have been killed at a publishing house in Turkey that produced bibles, in an apparent attack on the country's Christian minority.


Comment on this SOTT Focus

---
The Loan Gunmen
---
Dollar's Outlook to Get Worse Before Improving

Kevin Plumberg
Reuters
2007-04-19 12:28:00

It's not easy being the greenback these days, and it's unlikely to get better soon.

Comment on this SOTT Focus

---

Flight from U.S. dollar gathers strength as greenback reaches historic lows

Jacqueline Thorpe
Financial Post
2007-04-19 09:17:00

The assault against the U.S. dollar intensifed yesterday as the greenback slumped to historic lows against currencies as diverse as the U.K. pound and the Polish zloty amid growing conviction among investors higher returns lie beyond U.S. borders.


Comment on this SOTT Focus

---

Dow Jones sets new all-time high


BBC
2007-04-18 21:11:00

The Dow Jones has hit a fresh all-time closing high, buoyed by strong results from banking giant JP Morgan Chase and easing inflation fears.


Comment on this SOTT Focus

---

Super-rich population surges in 2006: survey


Reuters
2007-04-18 20:36:00

NEW YORK - The number of U.S. households with a net worth of more than $5 million, excluding their primary residence, surged 23 percent to surpass one million for the first time in 2006, according to a survey released on Tuesday.


Comment on this SOTT Focus

---

Prodi denies Telecom meddling


ANSA.it
2007-04-18 19:32:00

Berlusconi group says it's not in talks for TI


©n/a
Italy's Prime Minister, Romano Prodi
Comment on this SOTT Focus
---
The Living Planet
---
Colombia Volcano Erupts, Thousands Flee

By FERNANDO VERGARA
Associated Press
2007-04-18 22:27:00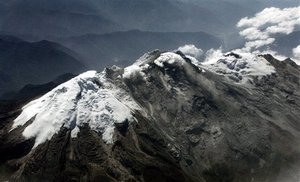 ©AP Photo/Fernando Vergara
The Nevado del Huila volcano is seen in this aerial view, at the southwestern state of Huila, Colombia



NEIVA, Colombia - Thousands of people were evacuated after a long-dormant volcano erupted late Tuesday and again early Wednesday, provoking avalanches and floods that swept away houses and bridges.


Comment on this SOTT Focus

---
Health & Wellness
---
Russian Teen Brain Dead After Surgery


AP
2007-04-19 16:51:00

OKLAHOMA CITY - A 16-year-old Russian boy found a hospital halfway around the world willing to remove his brain tumor for free.

Comment on this SOTT Focus

---

Jefferson researchers' discovery may change thinking on how viruses invade the brain


EurekAlert
2007-04-19 15:38:00

A molecule thought crucial to ferrying the deadly rabies virus into the brain, where it eventually kills, apparently isn't. The surprising finding, say researchers at Jefferson Medical College in Philadelphia, may change the way scientists think about how central nervous system-attacking viruses such as herpes viruses invade the brain and cause disease.


According to Matthias Schnell, Ph.D., professor of microbiology and immunology at Jefferson Medical College of Thomas Jefferson University, viruses such as rabies must be actively transported to the brain and central nervous system. The LC8 protein was thought to tether viruses to the cellular transport machinery in order to get there.


But Dr. Schnell and his co-workers found that this protein complex is instead a "transcription factor" that plays a role in virus reproduction. "We think that this finding has implications not only for rabies but many viruses that previously were thought to use this complex for transport, such as herpes viruses," he says. They report their results online this week in the journal Proceedings of the National Academy of Sciences.


To understand the role of LC8 in rabies disease in the brain, the team compared a rabies virus strain with the LC8 "binding domain" (where the rabies virus and LC8 protein interact) to a virus lacking it. They showed that in mice that were infected with rabies without the LC8 binding domain, the virus was still able to infect the brain, but did not cause disease. The virus' ability to reproduce was greatly diminished.


Comment on this SOTT Focus

---

Record 132M Flu Shots Planned for Fall

Mike Stobbe
Associated Press
2007-04-19 13:00:00

A record 132 million doses will be ready for the 2007-2008 flu season to meet the federal guidelines of vaccinating 218 million Americans.

Comment on this SOTT Focus

---

Flashback: From Aspartame to Political Ponerology


Rich Murray
2002-12-24 11:28:00

In 1985 Monsanto purchased G.D. Searle, the chemical company that held the patent to aspartame, the active ingredient in NutraSweet. Monsanto was apparently untroubled by aspartame's clouded past, including a

1980 FDA Board of Inquiry, comprised of three independent scientists, which confirmed that it "might induce brain tumors."



Comment on this SOTT Focus

---

New aspartame data to be presented


European Ramazzini Foundation
2007-04-13 11:01:00

A second study conducted by the European Ramazzini Foundation (ERF)

confirms the carcinogenicity of aspartame

. The results of this study will be presented April 23, 2007 at the Mount Sinai Medical School of New York, where ERF Scientific Director Morando Soffritti will receive the third Irving J. Selikoff Award. [vedi testo completo per l'italiano]



Comment on this SOTT Focus

---

Second tainted pet food ingredient found!

ANDREW BRIDGES
AP
2007-04-18 22:36:00

WASHINGTON - An industrial chemical that led to the nationwide recall of more than 100 brands of cat and dog food has turned up in a second pet food ingredient imported from China.

Comment on this SOTT Focus

---
Science & Technology
---
Giant Carbon Vacuums Could Cool Earth

Moises Velasquez-Manoff
The Christian Science Monitor
2007-04-19 17:45:00

In order to capture all of humanity's yearly carbon emissions, an area the size of Arizona would have to be planted with 250,000 300-foot high carbon-capturing devices.

Comment on this SOTT Focus

---

UCR chemists identify organic molecules that mimic metals


EurekAlert
2007-04-19 15:44:00

A limitation in using hydrogen as a fuel in hydrogen-powered vehicles is the difficulty involved in storing it in a cost-effective and convenient manner. While it is possible to store hydrogen using metals, the resulting products often can be prohibitively expensive and cause environmental problems.


Chemists at UC Riverside now offer a possible solution. A class of carbenes - molecules that have unusual, highly reactive carbon atoms - can mimic, to some extent, the behavior of metals, the chemists have found. Called cyclic alkyl amino carbenes or CAACs, these organic molecules, the researchers report, could be used to develop carbon-based systems for storing hydrogen.


Study results appear in the April 20 issue of Science.


In their experiments, the researchers found that the CAACs can split hydrogen under extremely mild conditions, a behavior that has long been seen in metals reacting with hydrogen.


"The mode of action of these organic molecules, however, is totally different from that of metals," said Guy Bertrand, a distinguished professor of chemistry who led the research. "Moreover, the CAACs are able to split ammonia as well - an extremely difficult task for metals."


Comment on this SOTT Focus

---

Sun's Atmosphere Sings

Jeanna Bryner
SPACE.com
2007-04-18 19:58:00

A study presented this week at the Royal Astronomical Society's National Astronomy Meeting reveals that the looping magnetic fields along the Sun's corona carry magnetic sound waves in a similar manner to musical instruments.

Comment on this SOTT Focus

---

Impossible things for breakfast; Our rigid notions of true and false just don't work for a quantum world. It's time to dish up a new logic

Robert Matthews
Newscientist
2007-04-19 11:28:00

CHRIS ISHAM has a problem with truth. And he suspects his fellow physicists do too. It is not their honesty he doubts, but their approach to understanding the nature of the universe, the laws that govern it and reality itself. Together with a small band of allies, Isham is wrestling with questions that lie at the very core of physics. Indeed they run even deeper, to such basic concepts as logic, existence and truth. What do they mean? Are they immutable? What lies beyond them?


Comment on this SOTT Focus

---

Fossil hunters uncover world's oldest tree


AFP
2007-04-18 23:57:00

Fossil hunters in the United States have found the world's oldest known tree, a palm-like giant of a species called a Wattieza that lived some 380 million years ago.

Comment on this SOTT Focus

---

First use of Deutsch's Algorithm in a cluster state quantum computer

Miranda Marquit
PhysOrg.com
2007-04-18 23:32:00

Finding a way to build a quantum computer that works more efficiently than a classical computer has been the holy grail of quantum information processing for more than a decade. "There is quite a strong competition at the moment to realize these protocols," Mark Tame tells PhysOrg.com.


Comment on this SOTT Focus

---
Our Haunted Planet
---
Ohio residents say mystery animals roaming woods resemble goats, sheep, deer


Canadian Press/AP
2007-04-19 13:53:00

CHESTERLAND, Ohio - Is it a goat? Is it a sheep? No, it's a ... what is that thing?


Comment on this SOTT Focus

---
Don't Panic! Lighten Up!
---
Donkey Becomes Witness in Dallas Dispute


Associated Press
2007-04-19 16:22:00

The first witness in a lawsuit Wednesday between two neighbors was a real ass. Buddy the donkey walked to the bench and stared at the jury, the picture of a gentle, well-mannered creature and not the loud, aggressive animal he had been accused of being.


The donkey was at the center of a dispute between oilman John Cantrell and attorney Gregory Shamoun that began after Cantrell complained about a storage shed Shamoun was building in his backyard in Dallas.


He said Shamoun retaliated by bringing Buddy from his ranch in Midlothian and putting him in the backyard.


Comment on this SOTT Focus

---

Sudan man forced to 'marry' goat


BBC News
2007-04-19 13:03:00

A Sudanese man has been forced to take a goat as his "wife", after he was caught having sex with the animal.

The goat's owner, Mr Alifi, said he surprised the man with his goat and took him to a council of elders.

They ordered the man, Mr Tombe, to pay a dowry of 15,000 Sudanese dinars ($50) to Mr Alifi.

"We have given him the goat, and as far as we know they are still together," Mr Alifi said.

Comment on this SOTT Focus

---

Why Are Americans Afraid of Being Naked?

Dara Colwell
Alternet
2007-04-19 11:33:00

In the Netherlands people can be naked in their gardens, the beach and recently the gym. But in America, even chocolate sculptures can't be without clothes. What gives?

Comment on this SOTT Focus

---

Pair Looking for Drug Dealer Dial 911


Associated Press
2007-04-19 10:19:00

POMONA, Calif. - Two men were arrested Tuesday after they mistakenly called 911 when they were trying to page a drug dealer, police said. Paul White, 38, and Ryan Ogle, 25, punched 911 as an urgent code to the dealer when they made the call from a pay phone around 3 a.m., Sgt. Michael Olivieri said.


Comment on this SOTT Focus

---
---

Remember, we need your help to collect information on what is going on in your part of the world!
Send your article suggestions to: sott(at)signs-of-the-times.org

---
Click here to return to the Signs of the Times Archive
Click here for today's Signs Page