---
Sections on today's Signs Page:
---
SOTT Focus
---
Signs Economic Commentary for 16 April 2007

Donald Hunt
Signs of the Times
2007-04-16 13:55:00




The dollar was under pressure last week, falling against the euro and gold. The danger is not a weaker dollar but a complete collapse of the dollar. Or, if interest rates are raised to prevent the dollar from collapsing, a complete collapse of the U.S. economy.

In the past, a collapse of the domestic U.S. economy would have been seen as a problem by those profiting from the economy. Now, however, those who own don't need those who work to actually do much consuming.


Comment on this SOTT Focus
---
Best of the Web
---
Ecuador Votes For Revolutionary Change

Stephen Lendman
sjlendman.blogspot.com
2007-04-16 12:57:00

Ecuadorean President Raphael Correa took office January 15 promising his people progressive, revolutionary social and economic change unlike anything this country of mostly impoverished people ever had before under its right wing only governments beholden solely to capital interests. Correa promised a "citizens' revolution" beginning by drafting a new Constitution in a Constituent Assembly for which a national referendum was held April 15 allowing Ecuadoreans the right to decide on it, not politicians.

Yesterday the people spoke loudly and clearly in favor of proceeding. The referendum was passed overwhelmingly by 78.1% in favor against a mere 11.5% opposed (with remaining ballots left blank or were void) according to a Cedatos-Gallup exit poll conducted among 40,000 voters with a margin of error around 2% that will be very close to the final official vote count due out in a week according to Ecuador's Supreme Electoral Council (TSE).

Comment on this SOTT Focus

---
U.S. News
---
UPDATE!! Shooting on Virginia Tech campus: 32 confirmed dead


MSNBC, Reuters, NY Times
2007-04-16 11:33:00



Scroll down for updated reports added as received.



BLACKSBURG, Va. - At least 22 people, including the suspected gunman, were killed and many others were wounded on Monday in a shooting rampage at Virginia Tech university, police and university officials said.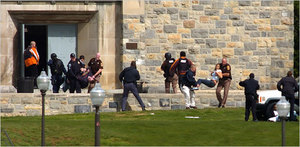 ©New York Times
Emergency responders today carrying the injured out of Norris Hall at Virginia Tech in Blacksburg, Va
Comment on this SOTT Focus
---

CNN: Dramatic increase in Army desertions

David Edwards and Josh Catone
Raw Story
2007-04-16 11:56:00

Phil McDowell joined the military because of patriotism he felt after 9/11, reports CNN. He then served a year in Iraq because he thought he was fighting for a just cause.

Comment on this SOTT Focus

---

Boy jailed for 12 days over clock change mix-up!


metronews.co.uk
2007-04-05 11:14:00

A fifteen-year old boy in America was incarcerated for twelve days, wrongly accused of making a hoax bomb threat - because his school had forgotten that the clocks had gone forward.

Comment on this SOTT Focus

---

Gonzales: I Made 'Mistakes' Public: They Were Political

Gary Langer
ABCNews / AP
2007-04-16 09:05:00

Americans by wide margins think political motivations fueled the Justice Department's firing of eight U.S. attorneys and disapprove of how Attorney General Alberto Gonzales has handled it. Fewer - though still a sizable group - say it should cost him his job.

Comment on this SOTT Focus

---

$1bn 'don't have sex' campaign a flop as research shows teenagers ignore lessons

Ed Pilkington
The Guardian
2007-04-16 07:38:00

It's been a central plank of George Bush's social policy: to stop teenagers having sex. More than $1bn of federal money has been spent on promoting abstinence since 1998 - posters printed, television adverts broadcast and entire education programmes devised for hundreds of thousands of girls and boys.


The trouble is, new research suggests that it hasn't worked. At all.


A survey of more than 2,000 teenagers carried out by a research company on behalf of Congress found that the half of the sample given abstinence-only education displayed exactly the same predilection for sex as those who had received conventional sex education in which contraception was discussed.


Comment on this SOTT Focus

---

Northwest Pilot Arrested on Drug Charge


Associated Press
2007-04-15 22:15:00

PORT HURON, Mich. - An off-duty Northwest Airlines pilot was suspected of driving under the influence of cocaine when he headed the wrong way on an interstate to avoid the U.S.-Canada border and led deputies on a chase, authorities said Sunday.

Comment on this SOTT Focus

---
UK & Euro-Asian News
---
Prices jump at mammoth auction in Paris


Reuters
2007-04-16 17:48:00

The skeleton of a 15,000-year-old Siberian mammoth was snapped up at auction in Paris on Monday for over one-and-a-half times the estimated price.


Dubbed "The President", the 3.8-metre-high tusked mammoth was sold for 260,000 euros (177,000 pounds) to an unknown bidder by Christie's in Paris, compared to a 150,000-180,000 euros guide price.


The skeleton of a woolly rhinoceros dating back some 10,000 years also beat its estimated price to sell for 100,000 euros, while rare bird and fish fossils went under the hammer along with a meteorite.


The widespread media coverage of the auction has caused mixed feelings among some scientists.


Comment on this SOTT Focus

---

Half of deaths in Russian army down to suicide in 2007


RIA Novosti
2007-04-16 14:19:00

Suicides accounted for more than a half of all deaths in Russia's Armed Forces so far this year, the Defense Ministry said Monday.


According to the ministry's official Web site, a total of 110 servicemen have been killed in crimes, accidents and suicides.


The deaths were mainly due to suicides (65), accidents (24), murder through negligence (7) and hazing (5).


Four soldiers were killed with only one being a combat casualty in the North Caucasus republic of Chechnya in February-March, where illegal armed groups have continued operating since the active phase of a war ended earlier in the 2000s.


The ministry said last December that a total of 514 servicemen had died in 18,198 accidents and other non-combat-related incidents in the Russian Armed Forces since the beginning of 2006.


Comment on this SOTT Focus

---

'Sleepy' BA pilot gives passengers a 12-hour nightmare

Sidhartha Roy
Hindustan Times
2007-04-16 14:14:00

A British Airways (BA) flight from Delhi to London, carrying 225 passengers, was delayed by more than 12 hours after the pilot refused to fly because he was "feeling sleepy", airport sources said.


Around 2.10 a.m. on Sunday, the passengers on BA Flight 142, who had already boarded the aircraft at the Indira Gandhi International Airport (IGI), were offloaded after the pilot expressed his unwillingness to fly because he felt he had not had proper sleep. The flight finally took off on Sunday afternoon, at 3.20 p.m.


Comment on this SOTT Focus

---

Suspect flees Spanish extradition in dramatic prison escape


Typically Spanish
2007-04-16 07:45:00

A suspect due to be extradited to Spain for fraud and robbery has been freed from prison in Belgium in a dramatic escape which hijacked a helicopter and lifted him to freedom from the prison yard.


It happened in the Lantin prison near Lieja, where the helicopter pilot was threatened with a live grenade to force him to touch down in the yard.


The suspect, 33 year old Erik Ferdinand from France, was wearing brightly-coloured clothing to allow him to be identified amongst the crowd of 80 prisoners.


Comment on this SOTT Focus

---

Russia Police Detain Dozens for 2nd Day

By STEVE GUTTERMAN
Associated Press
2007-04-15 22:25:00

ST. PETERSBURG, Russia - Riot police beat and detained dozens of anti-Kremlin demonstrators Sunday on a second day of protests that tested the weak opposition's ability to challenge widely popular President Vladimir Putin.

Comment on this SOTT Focus

---
Around the World
---
One dies, 27 injured in sea ferry accident near S Korean port


Itar-Tass
2007-04-13 17:44:00

One died and 27 were injured when a sea ferry collided with an unidentified object near the South Korean port of Pusan, port police said on Friday.


The collision occurred 14 miles southeast of Pusan on Thursday when the ferry returned from a Japanese port.


Passengers said they felt a strike, the ferry turned sharply and the water around the vessel became red-coloured.


Police suppose the ferry collided with a whale, what often happens in the region.


Comment on this SOTT Focus

---

Brazil: an helicopter crashes into a mountain and explodes


Avionews
2007-04-16 17:41:00

An helicopter, probably an helicopter ambulance with onboard doctors, a nurse and police men, crashed into a mountain in Espiro Santo district, in South-Eastern of Brazil, killing the six people onboard. For the identification of the victims will be necessary the DNA exam, because torn and charred.



Comment on this SOTT Focus

---

Military Plane Crashes in Guinea's State Broadcasting Centre


Novinite
2007-04-16 14:05:00

A military plane crashed into the Guinea's state broadcasting centre on Monday, setting the building on fire international media reported. Witnesses said the plane was a Soviet-made MiG.


"A Guinean army plane crashed into the roof. The building caught fire and the fire brigade are there now. Luckily everybody got out and at the moment there are no reports of injured or dead," said TV journalist Makale Soumah, who works at the building.


"The two pilots inside the plane were able to eject and use their parachutes," she said.


Comment on this SOTT Focus

---

Defiance: Venezuela and Its Neighbors Reject IMF Report

Chris Carlson
venezuelanalysis.com
2007-04-14 10:12:00

Mérida - Venezuela, along with other countries of the region, rejected the latest report by the International Monetary Fund on the economic growth of the region. The recent report released by the fund predicts that Latin America will not grow as much in 2007 as it did in 2006. Leaders of the region assured that the international organization keeps getting it wrong on Latin America.

Comment on this SOTT Focus

---
Big Brother
---
Flashback: Video: IBM, Verichip and the Fourth Reich

We the people will not be chipped movement
Google video
2006-07-22 15:15:00

This is a video to awaken the sheeple who believe microchipping the human population is a good thing.

So now are you going to do your homework and understand these words and terms below?: Human Chipping, Verichip, IBM , Nazi Germany , Hollerith Machine, George Orwell, 1984 , Mark of the beast, DNA chip, Forced chipping, identity protection, world database, cyborg, biometrics.

Comment on this SOTT Focus

---

Researchers explore scrapping Internet

By Anick Jesdanun
Associated Press
2007-04-13 18:57:00

'It's sort of a miracle that it continues to work well today'

NEW YORK - Although it has already taken nearly four decades to get this far in building the Internet, some university researchers with the federal government's blessing want to scrap all that and start over.



Comment on this SOTT Focus

---

School police, saying halls meaner, seek bulletproof vests

By Tracy Jan
Boston Globe
2007-04-14 18:14:00

Boston School Police officers say they want to start wearing bulletproof vests and carrying batons and pepper spray to protect themselves from increasingly brazen students who attack police officers as they break up fights.

Comment on this SOTT Focus

---
Axis of Evil
---
British journalists to boycott Israeli products

Rami Almeghari
IMEMC
2007-04-16 08:01:00

The National Union of Journalists in Britain and Ireland called for the boycott of Israeli products in protest of the continued Israeli aggression towards Gaza as well as the latest Israeli war on Lebanon.

Comment on this SOTT Focus

---

Adjusting Propaganda: Britain drops 'War on Terror' term


ITV News
2007-04-16 11:06:00

The War on Terror tag is being dropped by the UK Government and Development Secretary Hilary Benn is urging the US to do the same.

Mr Benn said the term, coined by the White House after the 9/11 attacks, made small terrorist groups feel too important.



Comment on this SOTT Focus

---

U.S. probe faults Marines for deaths of Afghan civilians

Ann Scott Tyson and Josh White
Washington Post/Buffalo News
2007-04-16 06:58:00

A preliminary U.S. military investigation indicates that more than 40 Afghans killed and wounded by Marines after a suicide bombing in a village near Jalalabad last month were civilians, the U.S. commander who ordered the probe said Saturday.


Comment on this SOTT Focus

---

Letter about shooting Korean War refugees went undisclosed;Official military report did not include high-level document that allowed for shooting approaching refugees in South Korea

Charles J. Hanley and Martha Mendoza
Associated Press/Indystar.com
2007-04-16 06:47:00

Six years after declaring the U.S. killing of Korean War refugees at No Gun Ri was "not deliberate," the Army has acknowledged it found but did not divulge that a high-level document said the U.S. military had a policy of shooting approaching civilians in South Korea.


Comment on this SOTT Focus

---

Darth Cheney: Democrats Will Back Down on Iraq

By BEN FELLER
Associated Press
2007-04-15 21:46:00

WASHINGTON - Vice President Dick Cheney says he is "willing to bet" that Democratic lawmakers will back down and approve a war-spending bill that doesn't call for U.S. troops to leave Iraq. Top Democratic leaders shot back that Cheney has lost all public credibility.

Comment on this SOTT Focus

---
Middle East Madness
---
'Building up' the Iraqi police force the American way.


dpa German Press Agency
2007-04-16 11:28:00

US soldiers mistakenly shoot dead three Iraqi police.

Comment on this SOTT Focus

---

Mentally disabled Palestinian shot by Israeli storm troopers; five other civilians abducted


BBC Monitoring Middle East
2007-04-16 11:11:00



Israeli Army storms Tulkarm, arrests five Palestinians



Comment on this SOTT Focus

---

Divide and conquer! Ruined bridges, US barricades signal Baghdad's division

Anne-Beatrice Clasmann
dpa German Press Agency
2007-04-15 08:16:00


For most Iraqis, especially minority communities who cannot rely
on armed groups to protect them, the eventual division of Baghdad
would be a real tragedy. Kurds, Turkmen and Christians are already
desperately looking for areas which give them an inkling of safety.
Comment on this SOTT Focus
---

"Sorry We Shot Your Kid, But Here's $500"

Greg Mitchell
Editor and publisher
2007-04-14 06:55:00

For the entire war in Iraq, the press has been kept largely in the dark concerning the number of civilians killed by our forces, and what happened in the aftemath. Now several hundred files posted online reveal some of the true horror while raising questions about lack of compensation.

Comment on this SOTT Focus

---

Nonsense on top of nonsense: Taliban blamed for spread of 'deadly phone virus' rumour

AFP
Physorg.com
2007-04-16 07:08:00



Afghan authorities on Monday blamed Taliban militants for spreading a rumour that a deadly virus is being transmitted via mobile telephones.



The rumour, which raced like wildfire late Sunday among the country's estimated two million cellphone users, said that anyone answering calls from certain numbers or codes would contract a fatal disease.

Comment on this SOTT Focus

---

Bombs Hit Baghdad Shiite Areas

By LAUREN FRAYER -Qassim Abdul-Zahra, Jennifer Quinn
SFGate.com
2007-04-15 14:29:00

Six powerful bombs, gunfire and artillery blasts enveloped Baghdad in a near-constant din that seemed a setback for the 9-week-old U.S.-Iraqi military campaign to pacify the capital.

Comment on this SOTT Focus

---
The Loan Gunmen
---
NY adds 13 more lenders to student loan probe

Joseph A. Giannone
Reuters
2007-04-16 16:48:00

NEW YORK - New York Attorney General Andrew Cuomo's office expanded a sweeping investigation into the student loan industry with subpoenas and information requests to 13 more lenders, including some of the largest U.S. banks.


Comment on this SOTT Focus

---

Venezuela pays off World Bank, IMF loans


AP
2007-04-16 13:11:00

Venezuela said Saturday it has paid off its debts to the International Monetary Fund and the World Bank and is cutting ties to the two institutions, which the government of President Hugo Chavez accuses of perpetuating poverty and economic ills.


Comment on this SOTT Focus

---

Gold hits seven-week high on soft dollar

Enid Tsui
Financial Times
2007-04-16 10:29:00

Gold hit a seven-week high on Monday, as the dollar continued its fall despite the release of stronger-than-expected March retail figures.


Comment on this SOTT Focus

---

More outsourcing boosts Infosys profits 70 percent

Staff
BBC
2007-04-16 12:23:00

The continuing global outsourcing boom has helped Indian software firm Infosys report a 70% leap in quarterly profits.

Comment on this SOTT Focus

---

Wal-Mart Dethrones Exxon on Fortune 500


Associated Press
2007-04-16 10:08:00

NEW YORK - Wal-Mart, the world's largest retailer, has reclaimed its position as the largest corporation in the U.S. among the Fortune 500, pushing Exxon Mobil down to number two.

Comment on this SOTT Focus

---

Continued signs of the nearing financial apocalyse: Sallie Mae bought!

Caroline Humer
Reuters
2007-04-16 01:44:00

NEW YORK - Sallie Mae, the largest U.S. student loan company, has agreed to be bought by two private-investment funds along with JPMorgan Chase & Co and Bank of America Corp. for $25 billion, the Wall Street Journal reported on its Web site on Monday.

Comment on this SOTT Focus

---
The Living Planet
---
Record storm soaks Northeast; Nearly 8 inches of rain fall on NYC's Central Park

DAVID BAUDER
AP
2007-04-16 16:16:00

Hundreds of people were evacuated from flooded homes Monday and refrigerators and trucks floated downstream as a fierce nor'easter drenched the Northeast with record rainfall, knocking out power to hundreds of thousands of homes and businesses.

Comment on this SOTT Focus

---

Storm floods Northeast, cuts power to 300,000


CNN
2007-04-16 13:41:00

People were evacuated from flooded homes Monday and hundreds of thousands had no electricity as a fierce nor'easter drenched the Northeast with record rainfall.

Residents in at least one New York City neighborhood paddled through streets in boats. And in suburban Mamaroneck, Nicholas Staropoli said a truck near his home "actually floated up on the riverbank."


Rain was still falling Monday morning in the New York area and New England after it began early Sunday along the East Coast from Florida to New England. The National Guard was sent to help with rescue and evacuation efforts in the suburbs north of New York City.


Firefighters plucked Kathleen Reale and her twin boys from their window in suburban Mamaroneck using a front-end-loader. Water reached up to her knees in her garage and basement and her family was evacuated to a shelter.


Comment on this SOTT Focus

---

Scientists fear flight of Britain's bumblebees!


Reuters
2007-04-16 09:55:00


"It would be a real shame if we lost it."
Comment on this SOTT Focus
---

East Coast Storm Nixes Over 400 Flights

By KAREN MATTHEWS
Associated Press
2007-04-15 22:01:00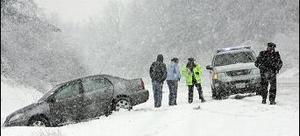 ©AP Photo/Cheryl Senter
Local police attend to a car that has spun off the road on RTE 9



NEW YORK - A powerful nor'easter pounded the East with wind and pouring rain Sunday, grounding airlines and threatening to create some of the worst coastal flooding some areas had seen in more than a decade.



Comment on this SOTT Focus

---
Health & Wellness
---
Gender and ethnicity affect court rulings and prison terms


EurekAlert
2007-04-16 14:56:00

New research in the Department of Sociology at the University of Haifa found that the gender and ethnicity of judges, defendants and victims effect court rulings and prison terms. A Jew who is found guilty of attacking an Arab has a 14% chance of receiving a prison term if an Arab judge presides over the case. In the opposite case, but also heard by an Arab judge, if an Arab is convicted of attacking a Jew, he has a 77% chance of being sent to jail. Female judges send 94% of guilty defendants to jail while male judges send 84% to jail.


The research, which was conducted at the Center for the Study of Crime, Law and Society at the University of Haifa by Dr. Hagit Turjeman, under the direction of Prof. Gideon Fishman and Prof. Arye Rattner, examined 1200 cases of violence that were heard in the district courts in Haifa and Nazareth between the years of 1985 and 1999. Cases that were related to terror attacks were not included in the study. The judicial process was examined to see if the gender or ethnicity of the defendant, judge or victim affects the court ruling or punishment. The cases evaluated were grouped according to severity of the crime and criminal history of the defendant.


On a positive note, the study revealed that gender and ethnicity do not affect the probability of conviction of a crime. However, in cases where a defendant was found guilty, consistent differences were found in the sentences given by male and female and Jewish and Arab judges.


Comment on this SOTT Focus

---

No sign that ethnic groups' genes cause diabetes, international research team says


UCI
2007-04-16 14:55:00

A study by U.S. and Australian researchers is helping dispel the 40-year-old "thrifty genotype theory," which purports that certain minority groups are genetically prone to diabetes.


The study, co-authored by UC Irvine anthropologist Michael Montoya, along with an epidemiologist and population geneticist, analyzed existing genetic studies published across a variety of disciplines. The team found no evidence to support the widely held thrifty genotype theory, which suggests that cycles of feast and famine early in human history created a gene that helps the body use scarce nutrients - a gene that leads to obesity and diabetes in comfortable, sedentary modern lifestyles.


Comment on this SOTT Focus

---

Guns In Homes Strongly Associated With Higher Rates Of Suicide


Medical News Today
2007-04-16 14:23:00

In the first nationally representative study to examine the relationship between survey measures of household firearm ownership and state level rates of suicide in the U.S., researchers at the Harvard School of Public Health (HSPH) found that suicide rates among children, women and men of all ages are higher in states where more households have guns. The study appears in the April 2007 issue of The Journal of Trauma.


"We found that where there are more guns, there are more suicides," said Matthew Miller, Assistant Professor of Health Policy and Management at HSPH and lead author of the study.


Suicide ranks as one of the 15 leading causes of death in the U.S.; among persons less than 45 years old, it is one of the top three causes of death. In 2004, more than half of the 32,439 Americans who committed suicide used a firearm.


Comment on this SOTT Focus

---

Imported Food (wheat gluten) Rarely Suspected

ANDREW BRIDGES
ABCNews /AP
2007-04-16 08:54:00

WASHINGTON - Just 1.3 percent of imported fish, vegetables, fruit and other foods are inspected yet those government inspections regularly reveal food unfit for human consumption.

Comment on this SOTT Focus

---

Mozart doesn't make you clever

Alison Abbott
Nature
2007-04-16 07:41:00

Passively listening to Mozart - or indeed any other music you enjoy - does not make you smarter. But more studies should be done to find out whether music lessons could raise your child's IQ in the long term, concludes a report analysing all the scientific literature on music and intelligence, which was published last week by the German research ministry.


The ministry commissioned the report - surprisingly the first to systematically review the literature on the purported intelligence effect of music - from a team of nine German neuroscientists, psychologists, educationalists and philosophers, all music experts. The ministry felt it had to tackle the subject because it had been inundated with requests for funding of studies on music and intelligence, which it didn't know how to assess.


Comment on this SOTT Focus

---
Science & Technology
---
Really Old Stars Perhaps Ideal for Advanced Civilizations

Edna DeVore
Space.com
2007-04-16 14:58:00

Planets abound in the galaxy. Over the past decade, scientists have discovered giant planets mostly by radial velocity techniques that detect the spectral shift in a star's light caused by the to and fro tug of an unseen planetary companion.


This method has detected more than 200 planets, dominantly large close-in planets called "hot Jupiters" that are inhospitable to life as we know it.


In the near future, with the launch of NASA's Kepler Mission in 2008, we'll have the tools to seek evidence of Earth-size planets in the habitable zone of distant stars.


The search for life beyond Earth is the search for a good place to live, a habitable planet, in orbit about a long-lived star where life may arise and evolve. The first place we looked was at stars like our own Sun, a middle-sized, middle-aged star. G-Stars like the Sun are stable for about 10 billion years, which is a good long time for planets to form, and life to evolve. We also expected to find solar systems like our own with small terrestrial planets near the star, and larger gaseous planets farther out. This particular pre-conception was discarded with the discovery of hot Jupiters on 4-day orbits about their stars.


Comment on this SOTT Focus

---

Astronomy Picture of the Day: Seven Dusty Sisters


APDOD
2007-04-13 14:27:00

Hurtling through a cosmic dust cloud a mere 400 light-years away, the lovely Pleiades or Seven Sisters star cluster is well-known in astronomical images for its striking blue reflection nebulae. At visible wavelengths, the starlight is scattered and reflected by the dust, but in this portrait in infrared light by the Spitzer Space Telescope, the dust itself glows.


The false color image spans about 1 degree or seven light-years at the distance of the Pleiades, with the densest regions of the dust cloud shown in yellow and red hues. Exploring this young, nearby cluster, the Spitzer data have revealed many cool, low mass stars, brown dwarfs or failed stars, and possible planetary debris disks. Want to see the Pleiades tonight? Look near Venus, the brilliant evening star in the west just after sunset.


Comment on this SOTT Focus

---

Chocolate bar is price for password


Financial Times
2007-04-16 14:08:00

British workers are not good at keeping their computer passwords secret, with two-thirds ready to reveal them to a stranger in exchange for a chocolate bar and a smile, a study has found.


The report, by Infosecurity Europe, the organisers of the annual IT security trade show, involved stopping commuters at London's train and underground stations and asking them to take part in a survey in exchange for a chocolate bar.


Researchers asked commuters if they knew what the most common password was and then asked them to reveal their own. About 40 per cent of commuters revealed their computer password straight away, with a further 22 per cent giving up details with a little further probing from the female researchers.


Comment on this SOTT Focus

---

Guidelines for autonomous killbots proposed


Engadget
2007-04-16 14:02:00

Suggestions in regard to robotic rights seem to be flying off the shelves these days, but an engineer at the Naval Surface Warfare Centre has concocted an interesting set of guidelines catering to autonomous killbots of the future. Most likely, it's just a matter of time before machine-on-machine violence becomes commonplace, and John Canning's "Concept of Operations for Armed Autonomous Systems" outlines just how lethal robots should handle themselves when faced with potentially deadly conflicts.


Interestingly, the document suggests the the bots should be allowed to make their own decisions when it comes to blasting or forgiving fellow robots, but before they pull the trigger on a human, it should request guidance from a flesh 'n blood friendly.


Comment on this SOTT Focus

---

Future Space Telescopes Could Detect Earth Twin


Physorg.com
2007-04-16 09:38:00

For the first time ever, NASA researchers have successfully demonstrated in the laboratory that a space telescope rigged with special masks and mirrors could snap a photo of an Earth-like planet orbiting a nearby star. This accomplishment marks a dramatic step forward for missions like the proposed Terrestrial Planet Finder, designed to hunt for an Earth twin that might harbor life.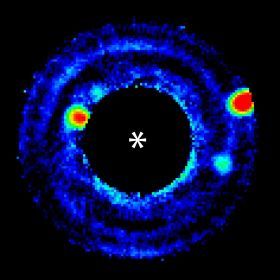 ©NASA/JPL-Caltech
Three simulated planets -- one as bright as Jupiter, one half as bright as Jupiter and one as faint as Earth -- stand out plainly in this image created from a sequence of 480 images captured by the High Contrast Imaging Testbed at JPL. A roll-subtraction technique, borrowed from space astronomy, was used to distinguish planets from background light. The asterisk marks the location of the system's simulated star.
Comment on this SOTT Focus
---

Knowledge Makes Learning Easier

Sara Goudarzi
LiveScience
2007-04-15 12:15:00

We learn better when the material meshes with what we already know, according to a new study of rats that researchers say could help explain human learning.

Comment on this SOTT Focus

---
Our Haunted Planet
---
Cyclists baffled by lights in sky

Richard Gurner
The Argus
2007-04-16 07:53:00

Strange lights were seen flying high above the coast during the early hours of Saturday morning.


Comment on this SOTT Focus

---
Don't Panic! Lighten Up!
---
Bullet removed from Vietnamese soldier's heart 39 years after war


The Star / AP
2007-04-16 13:45:00

Doctors have removed a bullet from the heart of a Vietnamese soldier nearly four decades after he was shot by U.S. troops during the Vietnam war, doctors said Monday.


Le Dinh Hung, 60, underwent surgery at a Hanoi hospital on Friday and is recovering quickly, said Dr. Nguyen Sinh Hien, who spent three hours operating on Hung.


"It is the strangest case that I have ever seen,'' Hien said. "Normally a person with a bullet in his heart would die immediately if they didn't have surgery right away.''


Hung said he feels much better now, and the pain in his chest had eased.


"I was very lucky to survive,'' he said from his hospital bed. "People believe in their fate and I do too.''


Comment on this SOTT Focus

---

Prozac maker launches antidepressant for dogs


CBC News
2007-04-16 12:47:00

Eli Lilly and Co., which built its reputation on insulin and the antidepressant Prozac, launched its first prescription medicine for pets on Friday.

The company will market Reconcile, a beef-flavoured chewable tablet that helps treat dogs for separation anxiety, in the United States.

The medicine is supposed to be used in combination with behaviour management training to help dogs that have difficulty being separated from their owners or family members.

Comment on this SOTT Focus

---

Hungarian motorway blocked by escaping rabbits


Reuters
2007-04-16 07:43:00

Hungary's busiest highway, connecting Budapest with the Austrian capital Vienna, was closed early on Monday after a truck carrying rabbits crashed, letting 5,000 of the animals loose on the road, police said.


The M1 motorway was closed around 40 km (25 miles) west of Budapest and could remain closed for hours while police try to capture the escaped animals, highway police spokeswoman Viktoria Galik said.


Comment on this SOTT Focus

---

Great Turtle Race Staged in Pacific

Heather Whipps
LiveScience
2007-04-13 10:12:00

Slow and steady might win a race among 11 leatherback turtles tagged with GPS transmitters and engaged in a heated swim contest from Costa Rica to the Galápagos.


Comment on this SOTT Focus

---

Computer To Help Orangutans Learn


Associated Press
2007-04-11 09:16:00

Researchers Give Video Games To Primates

ATLANTA -- Zoo Atlanta is using 21st century techniques to study the way orangutans think and learn.


Comment on this SOTT Focus

---
---

Remember, we need your help to collect information on what is going on in your part of the world!
Send your article suggestions to: sott(at)signs-of-the-times.org

---
Click here to return to the Signs of the Times Archive
Click here for today's Signs Page