---
Sections on today's Signs Page:
---
SOTT Focus
---
"Suicide Bombings" - The Cover Story For US Military Ops In Iraq

Joe Quinn
Signs of the Times
2007-04-13 08:05:00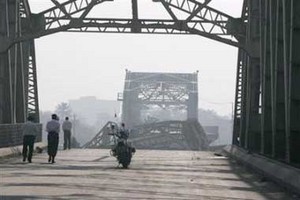 Al-sarafiya bridge which, until two days ago, spanned the Tigris in Baghdad, linking Shia and Sunni neighborhoods of the city.



"Suicide bombings" are a daily occurrence in Iraq, and are the major propaganda tool used by the US government and its mainstream media to convince the world that there is still some "freedom and Democracy" work to be done by US troops in Iraq. But what if they are a cover for something else?

Comment on this SOTT Focus

---
Best of the Web
---
Wall Street Journal and New York Times Attack Journalism

Stephen Lendman
sjlendman.blogspot.com
2007-04-13 07:57:00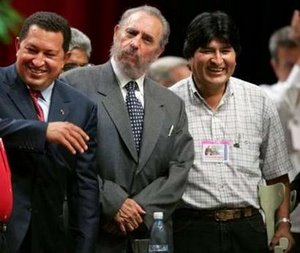 Hugo Chavez, Fidel Castro, Evo Morales - Three Latin American leaders who refuse to kowtow to the US



This article addresses two of the writer's favorite corporate media targets - the Wall Street Journal's far-right editorial page and New York Times on every page. Both broadsheets were recently in attack mode taking on two Latin American leaders deserving praise but never getting any other than occasional backhanded kinds from papers devoted to one dual core mission - supporting the power elite and their own bottoms lines. First, the Journal.

Comment on this SOTT Focus

---

Kurt Vonnegut on Psychopaths and the Pathocracy (Interview)

Joel Bleifuss
In These Times
2003-01-12 22:06:00

From an interview published in January, 2003

I myself feel that our country, for whose Constitution I fought in a just war, might as well have been invaded by Martians and body snatchers. Sometimes I wish it had been. What has happened, though, is that it has been taken over by means of the sleaziest, low-comedy, Keystone Cops-style coup d'etat imaginable. And those now in charge of the federal government are upper-crust C-students who know no history or geography, plus not-so-closeted white supremacists, aka "Christians," and plus, most frighteningly, psychopathic personalities, or "PPs."

To say somebody is a PP is to make a perfectly respectable medical diagnosis, like saying he or she has appendicitis or athlete's foot. The classic medical text on PPs is The Mask of Sanity by Dr. Hervey Cleckley. Read it! PPs are presentable, they know full well the suffering their actions may cause others, but they do not care. They cannot care because they are nuts. They have a screw loose!


Comment on this SOTT Focus

---

An Iraqi Life - $2500

NY Times
With SOTT Commentary
2007-04-12 19:07:00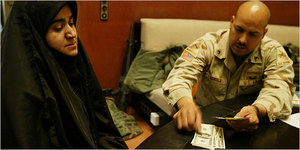 ©US Mil
The price of an Iraqi life - about $2500



In February 2006, nervous [trigger happy] American soldiers in Tikrit killed an Iraqi fisherman on the Tigris River after he leaned over to switch off his engine. A year earlier, a civilian filling his car and an Iraqi Army officer directing traffic were shot by American soldiers in a passing convoy in Balad,

for no apparent reason.



Comment on this SOTT Focus

---
U.S. News
---
US Government painfully force-feeds Guantanamo detainees


BBC News
2007-04-13 15:38:00

Thirteen detainees on hunger strike at the US military prison in Guantanamo Bay are being force-fed through tubes in their noses, the US Navy has said.

The feeding is required to ensure the good health and nutrition of the detainees, navy Cdr Robert Durand said.

Lawyers for the prisoners said they were striking over harsh conditions at a new maximum-security prison.

Rights groups called on the US to halt the "brutal" tactic, which includes strapping detainees to a chair.

US-based campaign group Physicians for Human Rights has called on the US to halt the "brutal and inhumane force-feeding tactics".

Comment on this SOTT Focus

---

Lindh moved to Supermax prison in Colorado


AP
2007-04-13 15:29:00

FLORENCE, Colo. - John Walker Lindh, serving a 20-year sentence after fighting for the Taliban in Afghanistan, has been transferred to Supermax, the federal government's most secure prison, authorities said Thursday.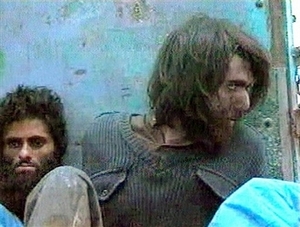 ©AP
Dec,1 2001, shows John Walker Lindh at right, claiming to be an American Taliban volunteer.
Comment on this SOTT Focus
---

Fired '60 Minutes II' producer defends Bush National Guard story

Robert J. Pohl
The Ranger Online
2007-04-13 13:57:00

"Journalism has its ups and downs," a former CBS producer said, "and I'm living proof."

Fired "60 Minutes II" producer Mary Mapes defended the controversial story she produced on President Bush's Texas Air National Guard service at the Society of Professional Journalists Region 8 conference March 31 in Clear Lake.

Comment on this SOTT Focus

---

N.J. governor critical after SUV crash on way to meeting with Don Imus

GEOFF MULVIHILL
AP
2007-04-13 10:10:00

Gov. Jon S. Corzine was in critical condition Friday but expected to recover after his SUV crashed into a guard rail while heading to a meeting between Don Imus and the Rutgers women's basketball team.

Comment on this SOTT Focus

---

L.A. Police Sued Over Immigrant Policy

Peter Prengaman
Associated Press
2007-04-13 08:26:00

Illegal immigration opponents have sued the Los Angeles Police Department, taking aim at its long-standing policy of ignoring most suspects' immigration status.


The lawsuit filed Wednesday in Superior Court seeks to force officers to inform federal immigration officials when illegal immigrants are arrested on drug charges.


The department prohibits officers from inquiring about the immigration status of suspects, a policy strongly supported by Police Chief William Bratton and Mayor Antonio Villaraigosa.


The lawsuit was brought on behalf of unidentified police officers who are afraid to speak out but argue the policy creates a situation where the same illegal immigrants are repeatedly arrested when they could have been deported, lawyer David Klehm said.


"Everyone I spoke to told me their hands were tied with this policy," Klehm said.


The lawsuit relies on a section of the state's Health and Safety Code that states that in drug cases involving a non-citizen, "the arresting agency shall notify the appropriate agency of the United States having charge of deportation."


Comment on this SOTT Focus

---

Sen. Leahy says Bush aides lying about lost e-mails


AP
2007-04-13 07:11:00

President Bush's aides are lying about White House e-mails sent on a Republican account that might have been lost, Senate Judiciary Committee Chairman Patrick Leahy suggested yesterday, vowing to subpoena those documents if the administration fails to cough them up.

Comment on this SOTT Focus

---
UK & Euro-Asian News
---
China poses risk to key U.S. satellites: top general


Reuters
2007-04-11 15:41:00

China's use of a missile to destroy a satellite in January put vital U.S. national-security satellites at risk, the top U.S. Air Force general said on Wednesday.

"It's not lost on this audience what a strategically dislocating event that was -- on a par with the October 1957 Sputnik launch" that put the old Soviet Union ahead of the United States in space, Air Force Chief of Staff Gen. Michael Moseley told a space industry conference.

On January 11, a Chinese ground-launched missile shattered in low polar orbit its target, an obsolete Feng-Yun 1C weather satellite. Moseley said the missile was fired from a mobile launcher.

Comment on this SOTT Focus

---

Ukraine: No to US missile proposal


HKT/HA/DB
2007-04-13 12:20:00

Ukraine's President Viktor Yushchenko says his country is not considering hosting any elements of a US anti-missile shield planned for Eastern Europe.


"This issue of a missile shield has never been raised and Ukraine has no intention of discussing it," Viktor Yushenko said .


In contrast, The White House has announced the US was working with Ukraine in deploying elements of the system, citing them as one of the 15 countries they have approached.


Comment on this SOTT Focus

---

Defence rules contradict Browne over role in stories-for-sale fiasco

Philip Webster
The Times
2007-04-13 10:52:00

Des Browne's battle to survive the naval stories-for-sale row suffered a fresh blow last night with doubts over how the decision was taken to permit the former captives to profit from their ordeal in Iran.


The suggestion by the Defence Secretary that it was solely a Royal Navy decision was thrown into confusion by the emergence of Whitehall documents which suggested that interview requests must be cleared by the Ministry of Defence before a decision is taken.


If guidelines that were brought in after the death of the government scientist David Kelly were followed, it would mean that Mr Browne's officials would have been involved in the decision.


Comment on this SOTT Focus

---

Dutch police gaffe makes Muslims pray in wrong direction


Reuters
2007-04-13 10:46:00

A Dutch police station trying to help Muslim detainees face Mecca for their prayers painted arrows in cells pointing in the wrong direction.


The Segbroek police station in The Hague borrowed the idea of putting compass marks on ceilings from an Amsterdam hotel, the Dutch daily De Telegraaf reported on Friday.


Muslims pray five times a day, facing east in the direction of Mecca. But the arrows in Segbroek pointed west.


Comment on this SOTT Focus

---

Russia vows legal action against Berezovsky on sedition charges


RIA Novosti
2007-04-13 09:02:00

Russian prosecutors said Friday they would take legal action against exiled tycoon Boris Berezovsky, who admitted in an interview with a major British newspaper that he was plotting a coup in Russia.


Berezovsky, who was granted political asylum in the U.K. in 2003 after fleeing prosecution in his home country on fraud and money laundering charges, told The Guardian that he has bankrolled Kremlin insiders conspiring to overthrow President Vladimir Putin.


"We need to use force to change this regime, because ... this regime is unconstitutional," The Guardian's Web site quoted Berezovsky as saying. "It means that I call to use force to recreate [a] constitutional regime."


Responding to the remarks, Russian Prosecutor General Yuri Chaika said: "Instructions have been given to react accordingly by launching new criminal proceedings [against Berezovsky], as [the Guardian interview] contains calls for a coup."


Comment on this SOTT Focus

---

Manipulation: Russians Are Coming! Number of spies in UK returns to cold war levels

Richard Norton-Taylor and Matthew Taylor
The Guardian
2007-04-13 08:19:00

The number of Russian intelligence agents based in London has reached cold war levels, reflecting the Kremlin's growing interest in London's dissident community, according to British security sources.


Counter intelligence officers say there are now 30 agents operating out of the Russian Embassy and trade mission - with the possibility that many more are working undercover for outside agencies across the capital. Sources say the Russians are keeping an eye on technological advances in the UK as well as monitoring senior figures within London's exile community.


Comment on this SOTT Focus

---
Around the World
---
Three dead, five missing as North Sea rig boat capsizes

Fiona Hamilton and Shirley English
The Times
2007-04-13 10:48:00

Three men died last night and a search was under way for five others missing after an oil rig support boat capsized in the North Sea.


There were fears that the missing five were trapped in the hull of the upturned boat, potentially submerged in very cold water with limited oxygen.


When the Norwegian vessel overturned off Shetland ten crew were rescued quickly but the coastguard confirmed late last night that three of them had died. The remaining seven were airlifted to the Gilbert Bain Hospital in Lerwick.


Five men, all Norwegian, were still missing hours after the Bourbon Dolphin overturned close to the rig, 75 miles northwest of Shetland, shortly after 5pm.


Comment on this SOTT Focus

---

Kurt Vonnegut: The great mockingbird

Anatoly Korolyov
RIA Novosti
2007-04-13 09:09:00

Famous novelist Kurt Vonnegut has died in New York at age 84. For my generation Vonnegut's death is comparable to the collapse of the Twin Towers.


Vonnegut was a real legend, the author of "Cat's Cradle." In the 1970s, this book was a bible for rebellious minds. In fact, it was a parody of the Bible, for example the Book of Bokonon with its amusing maxims.


When I heard about Vonnegut's death I got out my old paperback. It has a lot of scotch tape on it, some pages are torn up - about 50 people have read it.


This is not a book but a soldier of counter-culture. Well, Vonnegut was a soldier. He fought against the Nazis, was captured, and sent to a POW prison in Dresden, where he witnessed the devastating bombing of the city by the British in February 1945, just before the end of the war.


Dresden perished - it was a triumph of absurdity. Vonnegut survived by sheer miracle, and on his return to the United States he wrote his famous "Slaughterhouse Five."


Comment on this SOTT Focus

---

Police break up assassin group in Brazil, 18 arrested


Xinhua
2007-04-13 08:48:00

Brazils Federal Police Thursday arrested 18 people suspected of being involved in a contract killing gang accused of killing as many as 1,000 people in the past five years.


Police allege the gang, which is made up of police officers, hired guns and businessmen, took orders from local entrepreneurs, loan sharks and other people who wished to have someone killed. The group of assassins murdered between three and four people per week. They charged 500 dollars to 2,500 dollars for each of the 200 contract killings they made each year.


The gang is alleged to have operated mainly in the arid Agreste area of Pernabuco state, 1,900 kilometers northeast of the nation's capital, but also carried out killings in other states.


Comment on this SOTT Focus

---

World leaders decry Algeria blasts


Al Jazeera
2007-04-12 04:38:00

World leaders have denounced the suicide bombings in Algeria claimed by an al-Qaeda branch that killed 33 people and wounded 222 others in the capital on Wednesday.

On Wednesday, Marie Okabe, UN deputy spokeswoman, said Ban Ki-moon, the UN secretary-general, "strongly condemns the terrorist bombings that occurred today in Algeria".



Comment on this SOTT Focus

---

23 Killed, 160 Injured in Bomb Attacks in Algeria's Capital


FoxNews
2007-04-11 04:31:00

ALGIERS, Algeria - Bombs heavily damaged the prime minister's office and a police station Wednesday, killing at least 23 people and wounding about 160, the country's official news agency said. Al Qaeda's wing in North Africa claimed responsibility.

Prime Minister Abdelaziz Belkhadem, who was unhurt, called the attack a "cowardly, criminal terrorist act" as he spoke to reporters outside his wrecked offices.



Comment on this SOTT Focus

---

Deaths in Uganda forest protest

Staff
BBC
2007-04-12 21:50:00

At least three people have died in Uganda during violence at a protest against plans to allocate forest land to a sugar company, police say.


Comment on this SOTT Focus

---
Big Brother
---
No new articles.
Axis of Evil
---
Lawyer: Rove Assumed E-Mails Were Stored

By LAURIE KELLMAN
Associated Press
2007-04-13 17:17:00

WASHINGTON - Karl Rove's lawyer on Friday dismissed the notion that President Bush's chief political adviser intentionally deleted his own e-mails from a Republican-sponsored computer system.

Comment on this SOTT Focus

---

Pentagon opens civilian claim files against military

Ewen MacAskill
The Guardian
2007-04-13 08:31:00

Chilling accounts of hundreds of fatal encounters between the US military and civilians in Iraq and Afghanistan, providing a rare glimpse of the confusion and chaos of daily life in the conflict zones, were released by the Pentagon yesterday under the freedom of information act.


Four hundred and ninety-six files deal with Iraqi claims for compensation for family members killed by US forces between 2003 and 2006 and 17 from Afghanistan. The files, including handwritten notes from some of the soldiers involved, record the deaths of civilians killed mainly at checkpoints, or in their homes, or when US forces sprayed roads with gunfire to protect convoys.


Comment on this SOTT Focus

---

Shocking! Some e-mails sent by Rove may be missing

By Tom Hamburger and Richard A. Serrano
Los Angeles Times
2007-04-13 00:10:00

WASHINGTON -- The growing controversy over White House recordkeeping and disclosure swirled around presidential adviser Karl Rove on Thursday, as congressional Democrats said they were told some e-mails that Rove sent from a Republican National Committee account are missing.


Comment on this SOTT Focus

---

John Pilger: Iran may be the greatest crisis of modern times

John Pilger
ITV
2007-04-12 18:28:00

In a cover piece for the New Statesman, John Pilger evokes the memory of Germans 'looking from the side' at Bergen-Belsen to describe the challenge facing us in the West as the Bush/Blair 'long war' becomes 'perhaps the greatest crisis of modern times'.

Comment on this SOTT Focus

---
Middle East Madness
---
Report: "68 Palestinian women forced to give birth at IDF checkpoints, 33 infants and 4 women died"


IMEMC & Agencies
2007-04-13 15:18:00

The Palestinian Independent Commission for Citizens Rights (PICCR) reported that Israeli troops stationed at hundreds of roadblocks in the occupied territories barred dozens of pregnant women from crossing the checkpoints while in labor; 34 infants and four women died on their roadblocks.


Comment on this SOTT Focus

---

Iran envoy gives details of US torture: beatings and cable whippings


BBC News
2007-04-12 00:44:00



An Iranian diplomat kidnapped in Iraq has appeared before journalists in Tehran, saying that a US official was present while his captors tortured him.



Jalal Sharafi was brought to the news conference in a wheelchair flanked by nurses, a week after his release.

The second secretary at Iran's Baghdad embassy gave a detailed account of beatings and interrogations, including being whipped on his feet with cables.



Comment on this SOTT Focus

---

Iraqi leaders say bombing will unite them

By Yara Bayoumy and Mussab Al-Khairalla
Reuters
2007-04-13 12:26:00

BAGHDAD - Leaders from across Iraq's sectarian divide pleaded for unity at a special session of parliament on Friday, gathering under high security to condemn a suicide bombing that tore through the building the day before.


Comment on this SOTT Focus

---

Who is stupid enough to believe this? Troops Look For Bright Side of Longer Iraq Deployments


Fox News and The Associated Press
2007-04-12 23:56:00

WASHINGTON - Not all soldiers were surprised to learn that the Pentagon has decided to expand deployments in Iraq from 12 months to 15 months, though many who are speaking up say they were a little taken aback by the sudden nature of the announcement.


Comment on this SOTT Focus

---

Afghan bomb kills Canadian troops

Staff
BBC
2007-04-12 21:59:00

Two Canadian soldiers serving in southern Afghanistan have been killed in a bomb attack on their vehicle.


Comment on this SOTT Focus

---

Researcher: Israel Responsible for at least 97.8 Percent of Serious Human Rights Abuses in Conflict


dada.at
2007-04-12 19:00:00

As Israel comes under increasing pressure over its policies against Palestinians, an independent Swedish researcher today releases an extensive analysis of the Middle Eastern conflict since the formation of the state of Israel in 1948. According to Dr. Anthony Löwstedt, the vast majority of grave violations of human rights falls under the responsibility of the Jewish state.

In the third edition of his study, 'Apartheid: Ancient, Past, and Present', Löwstedt concludes that no less than 97.8 percent of gross human rights violations so far committed in the Palestinian-Israeli conflict are sole responsibilities of the Israeli Jews, and 2.2 percent, at the most, are Palestinian crimes.


Comment on this SOTT Focus

---
The Loan Gunmen
---
Mortgage fraud seen as undercurrent of subprime woes

Carey Gillam
Reuters
2007-04-13 09:32:00

KANSAS CITY, Missouri - On the surface, Brent Barber's Kansas City real estate investment company appeared to be serving a greater good -- refurbishing low-income housing across the city's blighted urban core.

But in reality Barber and a crew of eight others aimed to bilk eager lenders out of more than $11 million in 300 fraudulent mortgage loans, according to the FBI.


Comment on this SOTT Focus

---

Israeli fraud squad to question Lowy

Ed O'Loughlin
Sydney Morning Herald
2007-04-13 06:01:00

ISRAELI detectives are planning to travel to Australia to interview billionaire Frank Lowy about a corruption investigation involving Prime Minister Ehud Olmert, according to a report yesterday in Israel's leading newspaper.

Comment on this SOTT Focus

---

Turmoil Grows for Wolfowitz at World Bank

By STEVEN R. WEISMAN
The New York Times
2007-04-12 23:18:00

WASHINGTON - Paul D. Wolfowitz's tenure as president of the World Bank was thrown into turmoil on Thursday by the disclosure that he had helped arrange a pay raise for his companion at the time of her transfer from the bank to the State Department, where she remained on the bank payroll.

Comment on this SOTT Focus

---

China's foreign reserves balloon

Staff
BBC
2007-04-12 22:31:00

China's foreign reserves, already the largest in the world, surged to $1.2 trillion (£607.4bn) in the first three months of 2007, a state agency said.

The 37.4% rise over the same period last year comes despite the recent drop in the trade surplus and will add to calls for the yuan to appreciate.


Comment on this SOTT Focus

---
The Living Planet
---
Spring Snowstorm Blankets Upper Midwest

Nathaniel Hernandez
Associated Press
2007-04-12 08:58:00

More snow fell on parts of the Midwest Thursday, a day after a deadly storm grounded hundreds of flights, postponed a baseball game, iced up roadways and disappointed those longing for the warmth of spring.

A jet trying to land in heavy snow skidded 50 feet off a runway in Traverse City, Mich., early Thursday. The plane remained upright, and the 46 passengers and three crew members were unhurt, Pinnacle Airlines spokesman Phil Reed said.

Six deaths elsewhere were also blamed on the slick conditions.

Comment on this SOTT Focus

---

Giant Crystal Cave Comes to Light

Stefan Lovgren and Ted Chamberlain
National Geographic
2007-04-13 11:16:00

It's "the Sistine Chapel of crystals," says Juan Manuel García- Ruiz.


The geologist announced this week that he and a team of researchers have unlocked the mystery of just how the minerals in Mexico's Cueva de los Cristales (Cave of Crystals) achieved their monumental forms.


Buried a thousand feet (300 meters) below Naica mountain in the Chihuahuan Desert, the cave was discovered by two miners excavating a new tunnel for the Industrias Peñoles company in 2000.


The cave contains some of the largest natural crystals ever found: translucent gypsum beams measuring up to 36 feet (11 meters) long and weighing up to 55 tons.


Comment on this SOTT Focus

---

Earthquake Causes Coral Reefs to Die

By MICHAEL CASEY
Associated Press
2007-04-13 11:30:00

BANGKOK, Thailand - A 2005 earthquake off the coast of Indonesia raised an island nearly four feet out of the water, causing one of the biggest coral die-offs recorded, scientists said Friday.

Comment on this SOTT Focus

---

Bismarck sees record snowfall

Gordon Weixel
The Bismark Trinune
2007-04-13 11:14:00

A slow-moving, low-pressure system dumped a record amount of snow on Bismarck and even more on Mandan on Tuesday.


The National Weather Service's Len Peterson reported that total snowfall amounts in the area ranged from 2.8 inches in Linton to 7 inches in Mandan. Snow began accumulating Monday evening, running through Tuesday and into Wednesday, as the system moved southeast into Minnesota and Iowa.


Bismarck received a total of 6.2 inches, 5.5 of those coming Tuesday and eclipsing the single-day snowfall amount of 4.2 inches set in 1945. Halliday, which reported an 8-inch snowfall last week, received another 6.5 inches the past two days. Flasher and New Salem reported 5.8 inches, Hazelton 4.8, Trotters 5.2, Grassy Butte 5.1, Underwood 4.6, Dunn Center 4.5, Wilton and Watford City 4, and Fort Yates 3.


Comment on this SOTT Focus

---

Heavy crop losses reported in Southeast

Katrina A. Goggins
Associated Press
2007-04-13 11:09:00

Heavy crop losses have been reported throughout the Southeast after last weekend's frigid temperatures, and farmers are bracing for another expected cold snap next week.


In South Carolina, at least 90 percent of the peach crop was destroyed and officials said Wednesday they would seek federal aid.


"This is comparable to a hurricane," Agriculture Commissioner Hugh Weathers said of the damage to the state's $40 million-a-year industry. "Growers say we'll be fortunate to get 10 percent of a crop."


In Georgia, farmers and agriculture officials were still assessing the damage, but the weekend freeze may have wiped out more than half the state's peach crop.


Comment on this SOTT Focus

---

Brush Fire Burns Multimillion-Dollar Home In Franklin Canyon


KNBC
2007-04-13 11:01:00

Wind-whipped flames destroyed a multimillion-dollar home and damaged at least two other structures as fire consumed about 15 acres of brush in Franklin Canyon, along Beverly Drive, off Coldwater Canyon.


The fire started at about 1 p.m. in the 1600 block of North Beverly Drive. Fire officials initially reported about 50 acres burned but revised the estimate to 15 acres after surveying the burn area by air.


The blaze broke out after powerful winds toppled power lines, igniting brush behind a residence, Ron Myers of the Los Angeles Fire Department said.


Myers said strong winds spread embers onto dry vegetation. Formal evacuations were not ordered.


"I've never seen winds like this," a resident told NBC4. "It's unbelievable. The roads are covered with palm leaves and pine cones. It's a mess."

One massive home appeared to be completely destroyed.


Homeowners in the area scrambled to escape as fire crews rushed in to attack the flames. Other residents tried desperately to get into the area to check on their homes but were stopped by police and fire crews, who had blocked off streets.


Comment on this SOTT Focus

---
Health & Wellness
---
Sperm made from human bone marrow


BBC News
2007-04-13 11:41:00



Scientists say they have successfully made immature sperm cells from human bone marrow samples.



If these can be grown into fully developed sperm, which the researchers hope to do within five years, they may be useful in fertility treatments.

But experts have warned the findings from the German study should be interpreted with caution at this very early stage.

And proposed new laws would ban their use in fertility treatments in the UK.

Comment on this SOTT Focus

---

Food Scientists Say Pressured by Bush Administration Policies

Richard Johnson
Market Day
2007-04-13 12:23:00

Critics have asserted that the Bush Administration has used politicalpressure and a brilliant public relations strategy to define their ownbrand of science during George Bush, Jr.'s term as U.S. president.


According to findings released by two public interest groups, scientistsand staff members working for the Food and Drug Administration saypolitical and commercial pressures are compromising their mission toprovide truthful and accurate public health and safety information.


The Union of Concerned Scientists and Public Employees for EnvironmentalResponsibility said their survey of 997 FDA staff members suggests the"culture of science is under attack and struggling at the FDA."


Comment on this SOTT Focus

---

Board: Druggists Must Fill Prescriptions

By CURT WOODWARD
Associated Press
2007-04-13 11:51:00

SEATTLE - Druggists who believe "morning-after" birth control pills are tantamount to abortion can't stand in the way of a patient's right to the drugs, state regulators have decided.


Comment on this SOTT Focus

---

Developmental and behavioral problems can plague children with asthma


University of Virginia
2007-04-13 08:00:00

Much of the research surrounding childhood asthma has sought new approaches to managing the disease. However, little was done to address other conditions that often appear along with asthma including depression and Attention Deficit Hyperactivity Disorder (ADHD), which can negatively affect a child's ability to cope. Research completed at the University of Virginia Children's Hospital asserts that until these extra conditions or "co-morbidities" are addressed, asthma education programs will not be able to help young patients to the fullest. The results will be published in the April 12 issue of The Journal of Developmental and Behavioral Pediatrics.


"We can definitively state that families with asthmatic children not only report higher incidences of ADHD, but also of depression, anxiety and learning disabilities," said Dr. James Blackman, developmental pediatrician at the Kluge Children's Rehabilitation Center at UVa Children's Hospital and lead study author. "If we can manage these co-morbidities, we can better help children with asthma and their families to manage the disease in the healthiest way possible."


Comment on this SOTT Focus

---

CDC Says Gonorrhea Is Drug-Resistant

By DANIEL YEE
Associated Press
2007-04-12 23:09:00

ATLANTA - The sexually transmitted disease gonorrhea is now among the "superbugs" resistant to common antibiotics, leading U.S. health officials to recommend wider use of a different class of drugs to avert a public health crisis.


Comment on this SOTT Focus

---
Science & Technology
---
Red Square nebula displays exquisite symmetry

David Shiga and Maggie McKee
New Scientist
2007-04-12 19:00:00

A newly discovered nebula, called the 'Red Square', displays a dazzling, gem-like symmetry, new observations reveal. But the nature of the star or stars that produced it remains a mystery.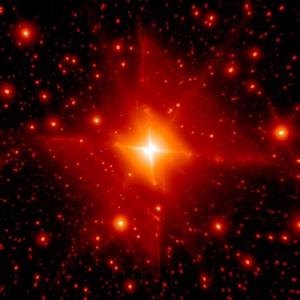 ©P Tuthill/Palomar Obs/Keck Obs
The Red Square is revealed in this infrared image made by combining data from the Hale telescope atop Mount Palomar in California, and the Keck II telescope atop Mauna Kea in Hawaii
Comment on this SOTT Focus
---

Electrons Caught in the Act of Tunnelling


Max Plank Society - Press Release
2007-04-13 08:08:00

We have to climb a mountain in order to conquer it. In quantum physics there is a different way: objects can reach the opposite side of a hill simply by tunnelling through it, instead of laboriously climbing over it. An international team of researchers working with Prof. Ferenc Krausz from the Max Planck Institute for Quantum Optics has now observed electrons in this tunnelling process. This effect is responsible for the ionization of atoms under the influence of strong magnetic fields. The electrons overcome the attraction of the atomic nucleus by tunnelling through a potential wall. The scientists used ultra-short laser pulses to show discrete stages of ionization in this process, each of which lasts 100 attoseconds - a fraction of a billionth of a second. The results make a significant contribution to understanding how electrons move around in atoms and molecules.


Comment on this SOTT Focus

---

Quantum Secrets of Photosynthesis Revealed


Research News - Berkeley Lab
2007-04-13 08:03:00

Through photosynthesis, green plants and cyanobacteria are able to transfer sunlight energy to molecular reaction centers for conversion into chemical energy with nearly 100-percent efficiency. Speed is the key - the transfer of the solar energy takes place almost instantaneously so little energy is wasted as heat. How photosynthesis achieves this near instantaneous energy transfer is a long-standing mystery that may have finally been solved.


A study led by researchers with the U.S. Department of Energy's Lawrence Berkeley National Laboratory (Berkeley Lab) and the University of California (UC) at Berkeley reports that the answer lies in quantum mechanical effects. Results of the study are presented in the April 12, 2007 issue of the journal Nature.


"We have obtained the first direct evidence that remarkably long-lived wavelike electronic quantum coherence plays an important part in energy transfer processes during photosynthesis," said Graham Fleming, the principal investigator for the study. "This wavelike characteristic can explain the extreme efficiency of the energy transfer because it enables the system to simultaneously sample all the potential energy pathways and choose the most efficient one."


Comment on this SOTT Focus

---

Researchers Decode T Rex Genetic Material

By RANDOLPH E. SCHMID
Associated Press
2007-04-13 00:32:00

WASHINGTON - Researchers have decoded genetic material from a 68 million-year-old Tyrannosaurus rex, an unprecedented step once thought impossible.

Comment on this SOTT Focus

---

Satellite to study source of 'night shining' clouds

Maggie McKee
New Scientist
2007-04-12 21:01:00

Iridescent, silvery blue clouds at the edge of space that may be connected to global warming will be studied by a NASA spacecraft set to launch on 25 April.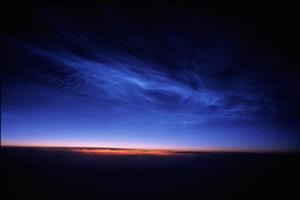 ©Hampton University
Noctilucent clouds were first observed in 1885, two years after the Krakatoa eruption. But most volcanic eruptions do not spew material high enough in the atmosphere to seed the formation of the icy clouds




The Aeronomy of Ice in the Mesosphere (AIM) mission will be the first satellite dedicated to studying the enigmatic phenomenon of "noctilucent", or night-shining clouds.

Comment on this SOTT Focus

---
Our Haunted Planet
---
CHILE: UFOs Reported Over Iquique

Translation by S. Corrales
UFOINFO / La Segunda
2007-04-11 17:34:00

Two unidentified flying objects were recorded Saturday night from the Tierra de Campeones stadium during a match between Municipal Iquique and Temuco.

A journalist for a sports channel managed to capture the image and only became aware of the phenomenon two days later upon reviewing the recording. He realized that two UFOs could be seen flying very close to the moon.

Comment on this SOTT Focus

---

Triangular UFO sighting in Shanghai


shanghaiist
2007-04-13 09:31:00

The hard working staff at Shanghaiist once again takes you to the front lines with a report of a UFO sighting over Hongkou and Yangpu districts on the night of April 12. According to the report (in Chinese), the UFO was seen by many residents, and pictures subsequently spread over the internet, starting (exclusively?) from the Fudan University BBS (they are in that area).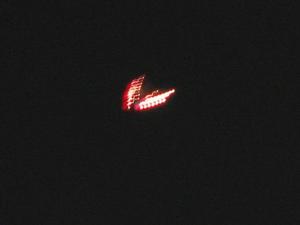 ©Fudan University BBS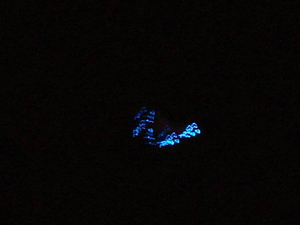 ©Fudan University BBS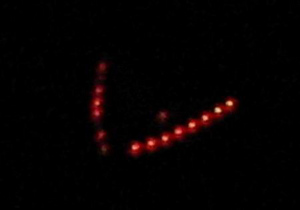 ©Fudan University BBS
Comment on this SOTT Focus
---

'Very lucky' folks on Maui possibly saw meteor

BRIAN PERRY
The Maui News
2007-04-12 07:43:00

WAILUKU - A brightly glowing object that streaked across the sky above Maui was reported by a few people up early enough Wednesday morning to witness the phenomenon.

The Maui News received several phone calls from people who said they saw what probably was a large meteor that moved from northwest to southeast or reporting an unusual cloud that remained in the sky after it passed.

Comment on this SOTT Focus

---

Meteorite hits roof..? No its just the wind..!

Gentry Braswell
Sierra Vista Herald
2007-04-12 19:12:00

Something made a mess of the clay tiles on the roof a Sierra Vista family's home on Monday.

The question now is: What made the mess? Was it a meteorite? Was it something else? The King family called the police to document the incident, concerned about how the damage will be paid for, said Karen King, a mother of two who lives in the home.

Comment on this SOTT Focus

---
Don't Panic! Lighten Up!
---
Cat adopts mouse


Ananova
2007-04-13 07:55:00

A mother cat in China has adopted a mouse, letting it join her family of newborns.


The cat was brought into a children's clothing store to catch mice, reports Yanzhao City News.


Ten days ago, the cat gave birth to five kittens.


"She stays in the box all day long, taking care of her babies, but three days ago, my colleague found a small mouse playing with the kittens," said a spokesperson for the store in Shijiazhuang city.


"The cat was protecting the mouse, and would become alert if anyone came too close."



Comment on this SOTT Focus

---

India may no longer require female civil servants to detail menstrual cycle

Staff
BBC
2007-04-12 22:18:00

The Indian government says it will review new appraisal forms requiring female civil servants to reveal details of their menstrual cycles.


Comment on this SOTT Focus

---
---

Remember, we need your help to collect information on what is going on in your part of the world!
Send your article suggestions to: sott(at)signs-of-the-times.org

---
Click here to return to the Signs of the Times Archive
Click here for today's Signs Page